Bienvenido Estados Unidos
A sad day as we leave the relative warmth and security of Playa Lucie .We even felt sorry for the poor street dog that adopted us , no more free feeds for him ( last fed with muslie and yoghurt ).
Avoiding the topes we hit the main "pay roads" for a quick exit to the States .To be honest , this goes against the grain for our type of travelling but Mexico City in less than a day !The rumbling from the back was yet another worn UJ , honestly you would think we didn't grease them ( we do , every 1500 miles ).My spare is pressed into use for the cost of $50 (peso).The march North and its getting colder .
Despite the pessimism we even get our us$200 back at the border .With hearts in hands we approach the US Border ,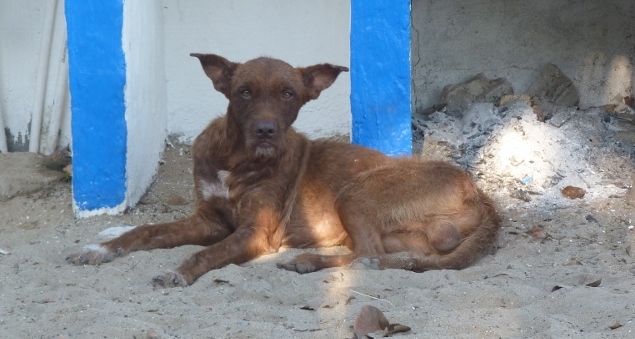 At least I liked him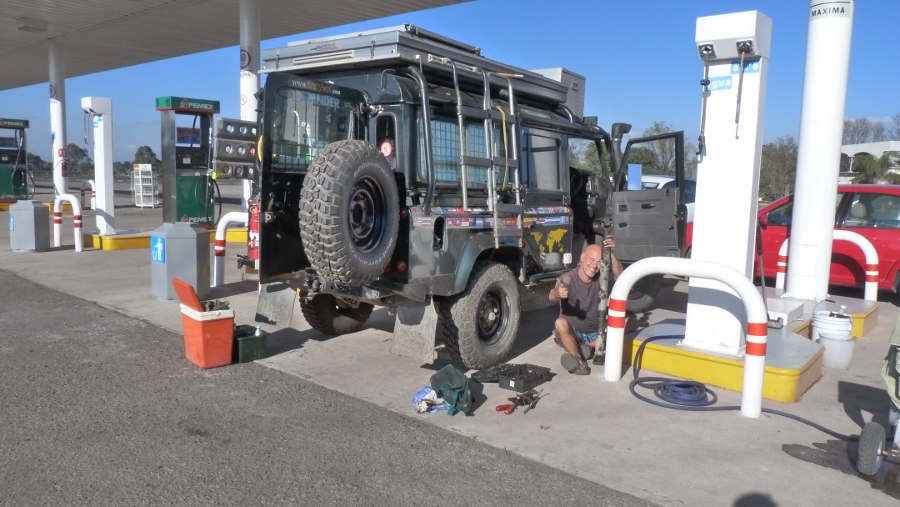 Dropping the prop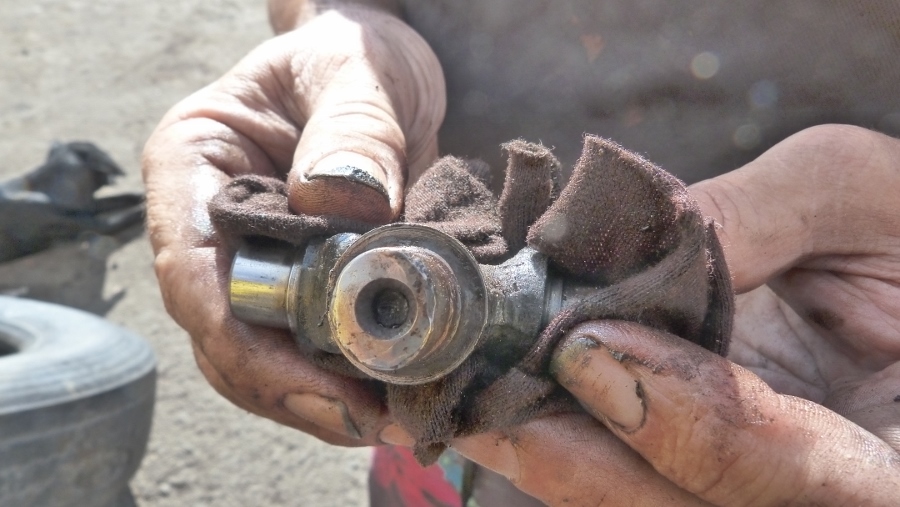 Bust UJ , dry as a bone despite greasing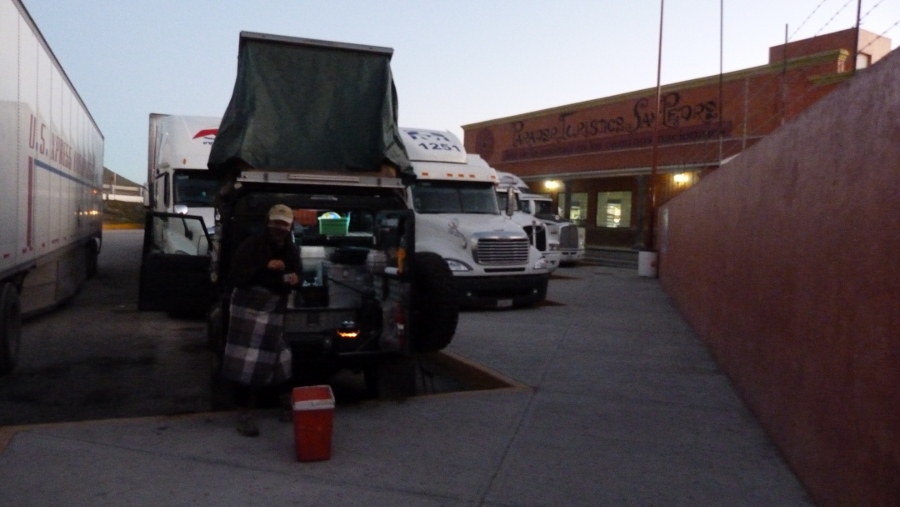 Back to Overland Camping, My god , its getting colder
And then their was one!
Tempus Fugit here in Playa Luces .A month has passed , people come and go. Playa Luces has been a great break , waking up to a warm , clear sky .It hasn't rained or blown a gale in the last 4 weeks .Not bad for £7 a day .Soon it will be our time to push on to the States .Trouble is , at the moment , apart from the oil leak on the rear axle , things are starting to wear out .The battery charger refuses to charge ( except 2 amp when it feels like it ), the inverter (£7 from Aldi ) that had been doing such a sterling job now refuses to invert .The nice new battery from Australia set all the battery alarms off when it ceased to batteryize anything .So left with one hard working battery , no chance to charge anything , it will be on a wing and a prayer if we make it .So near to the end of this journey ,I am somewhat reluctant to spend money .Mind you , two nice new Odyssey batteries are about £150 cheaper in the US than the UK , mmmmmm perhaps buy them for Lizzybus II .( new bigger fridge £230 cheaper , compressor £90 cheaper ,petrol cooker £40 etc , etc , etc )
Even or great Mexican neighbours have left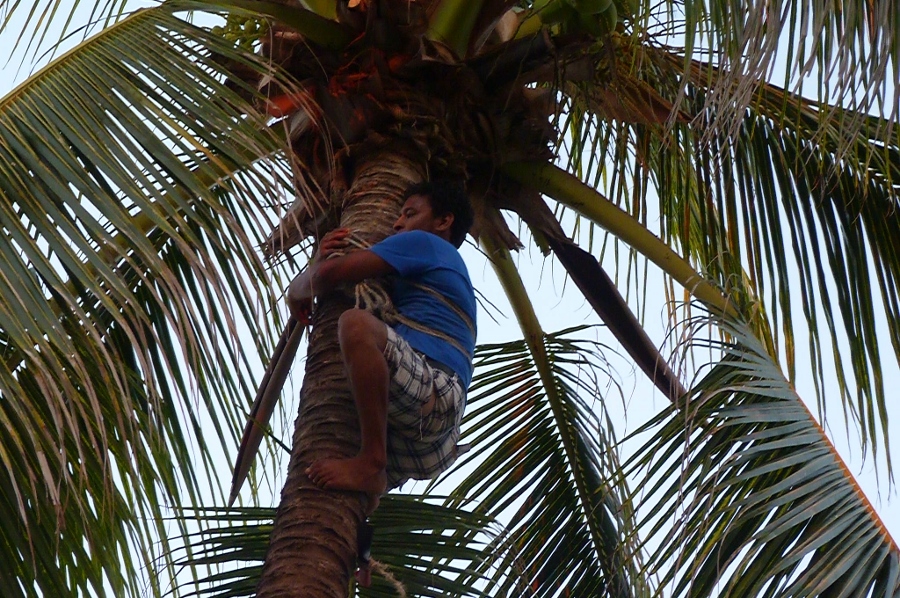 All Jayne asked for was "a fresh coconut drink"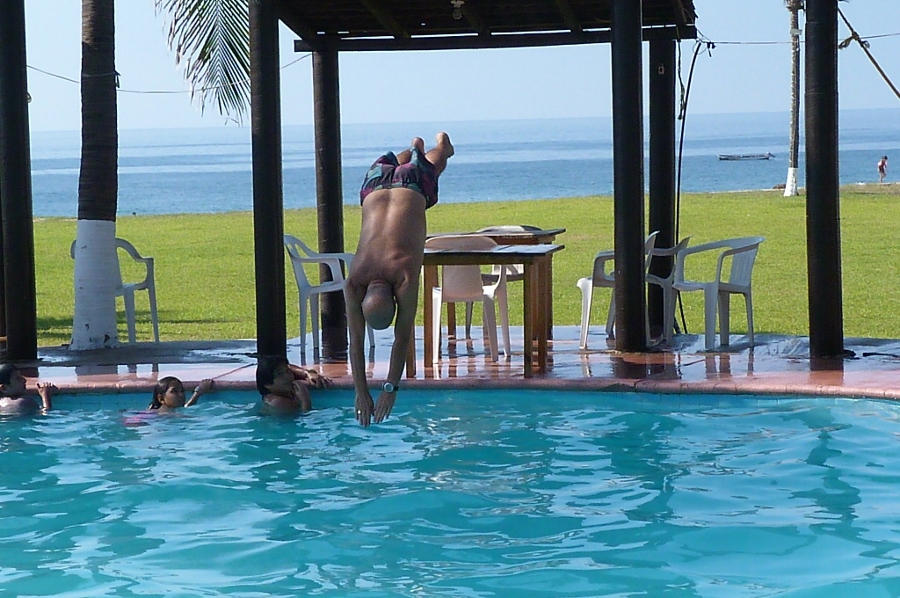 Practicing for the cliff diving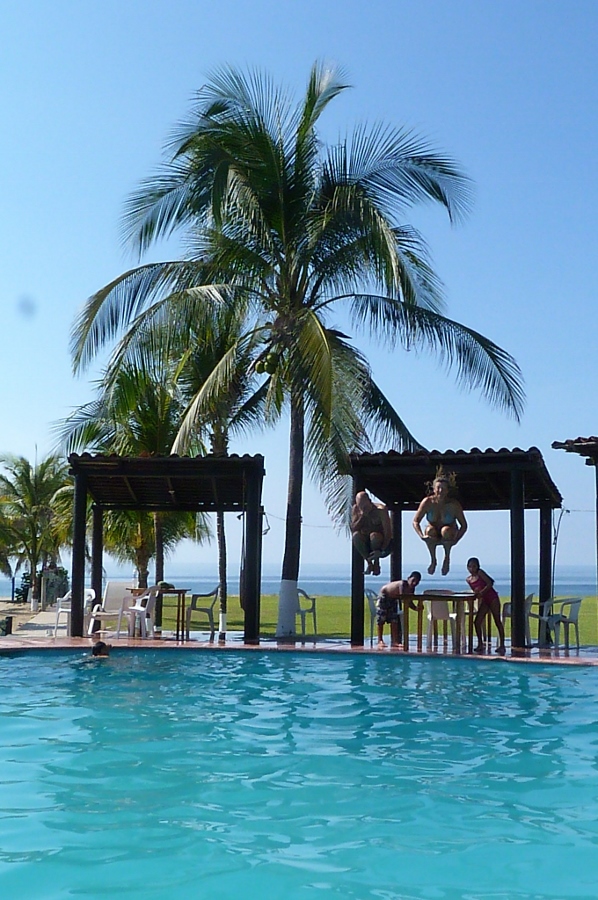 Double bomb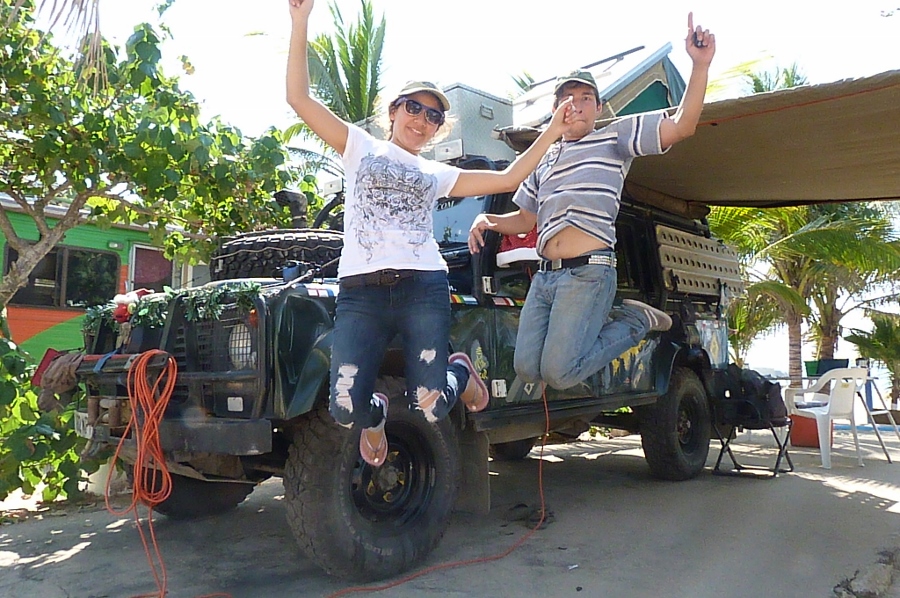 When jayne says "jump" we ask "how high"?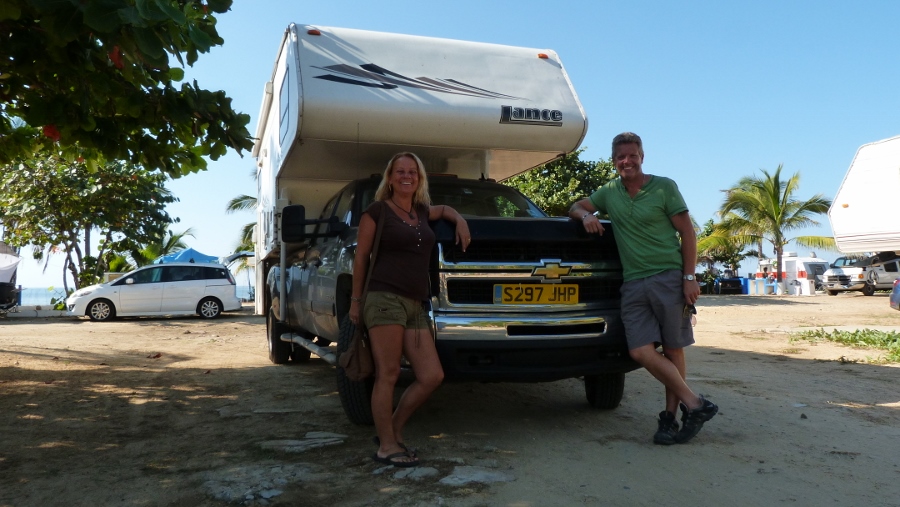 Alan and Julea on the off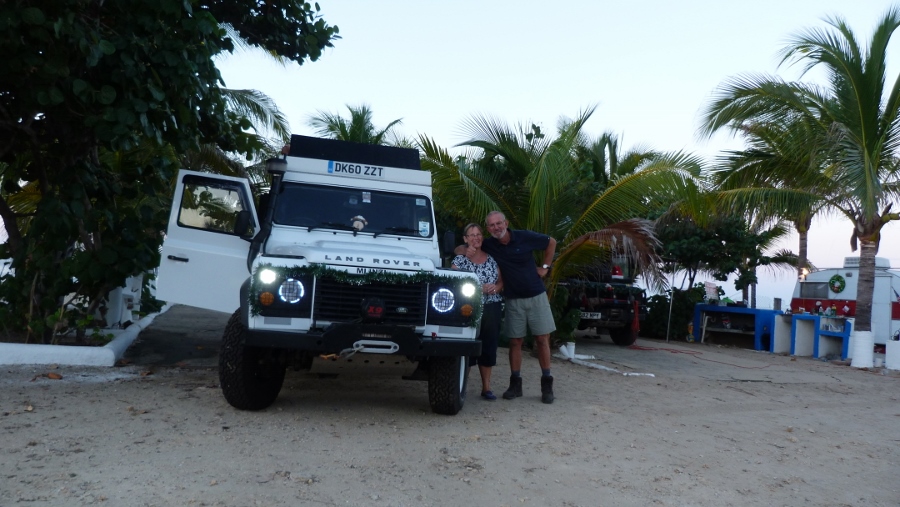 Steve and Wendy , the early off after a month
Two weddings and no funerals!
Two weeks already and no intentions of moving on till next year . For £7 a day we could stay here forever .Bus ride from hell into the city ( best 60 pence white knuckle ride in the world ). Only problem is that they organise wedding receptions on the grass pitch adjacent to our camping spot. Not normally a problem .They start at eight in the evening and the music finishes at four in the morning .Bad news when weddings are booked back to back , welcome to sleepless nights .As we are in Acapulco , no deaths at the amazing Cliff diving .
So merry Christmas everyone from the Lizzybus crew , sitting by the pool , in the sun and King Prawns ( 2kg) for our Christmas feast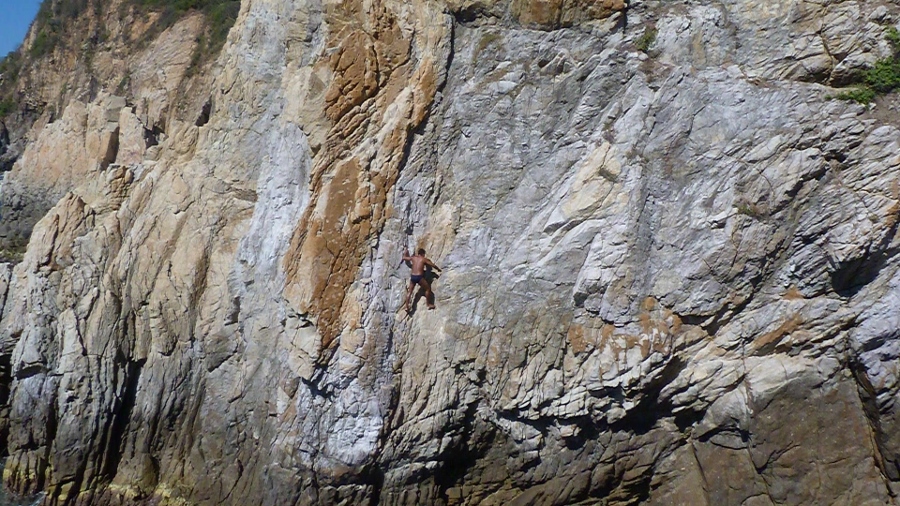 Spider man , Cliff diving , Acapulco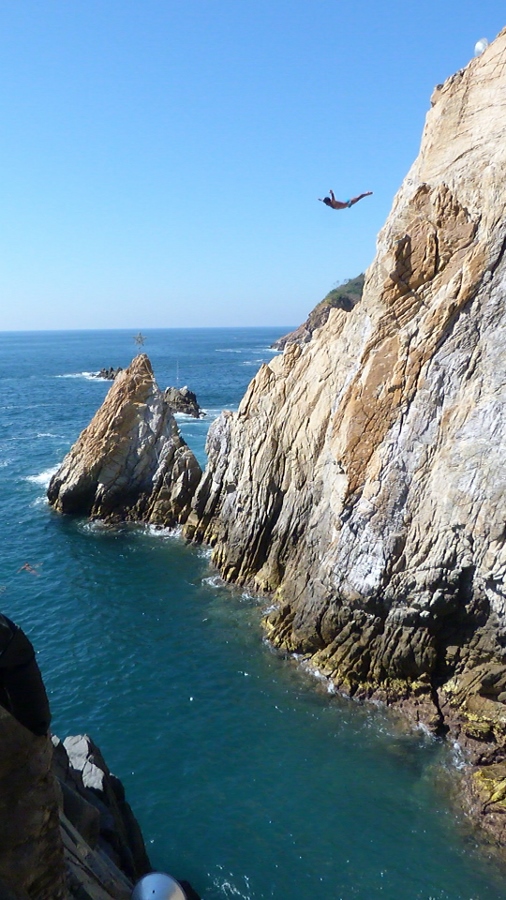 S**t it's a long way down.Big Cahones,Cliff diving , Acapulco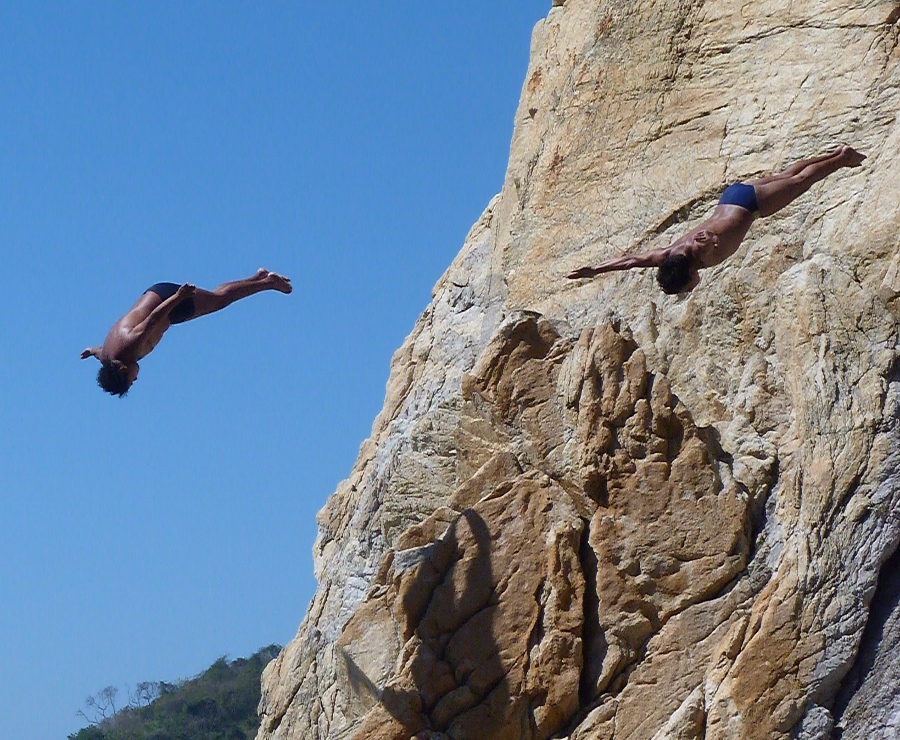 Double trouble . Cliff diving , Acapulco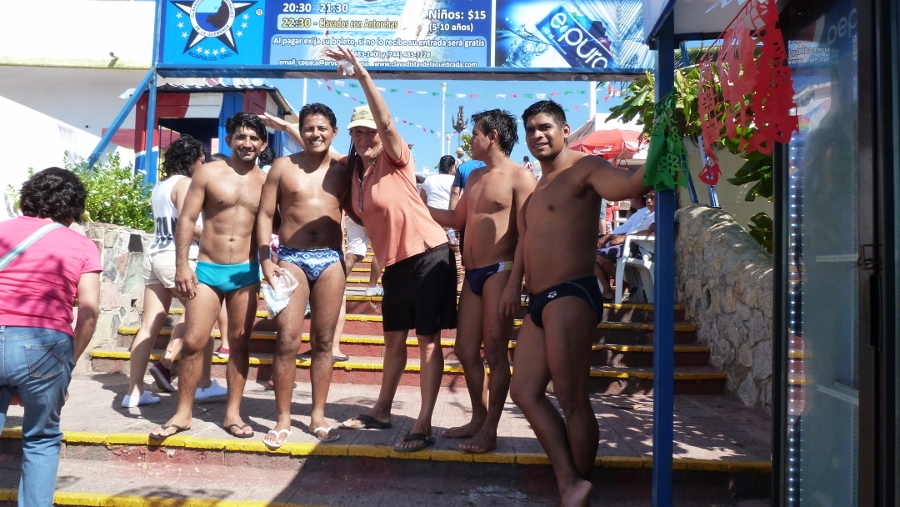 Jayne admiring the diving talent , Cliff diving , Acapulco
Local bus and only 30p a go!!

Moody Sunset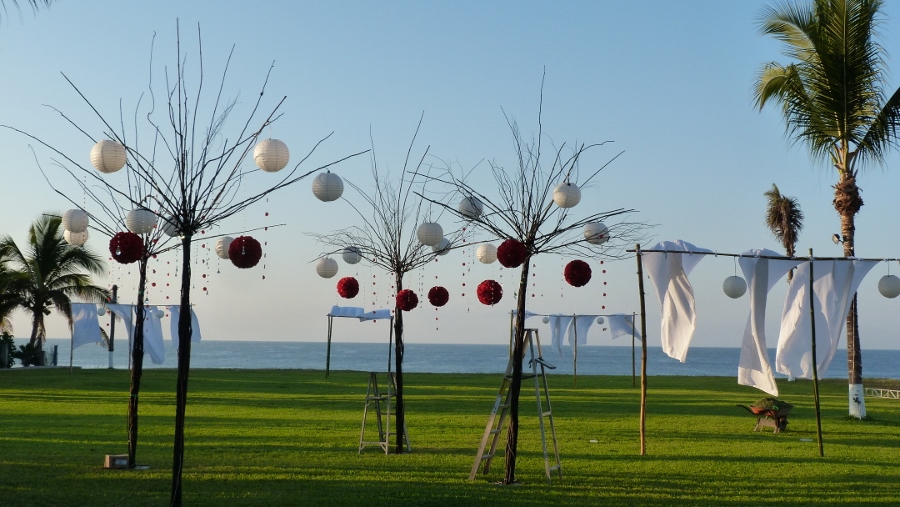 Set up for wedding 1 Acapulco,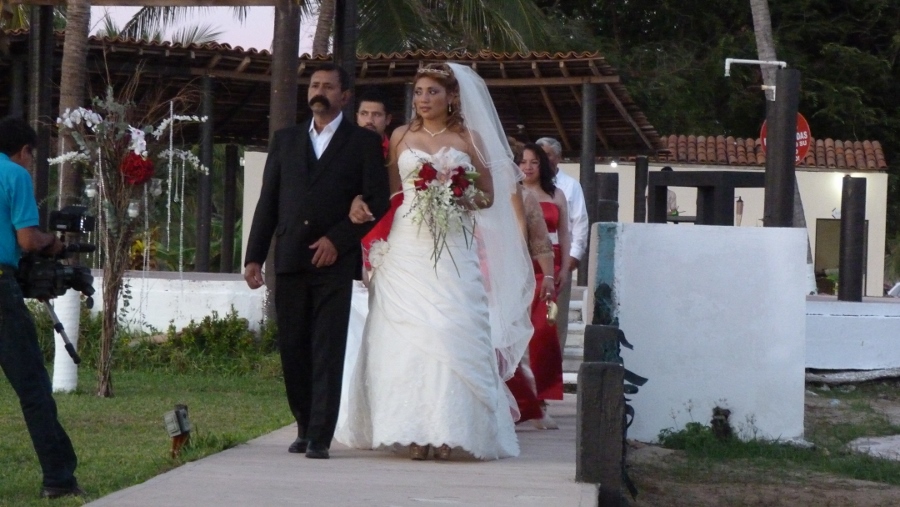 Great Tash ! Wedding No2 Acapulco,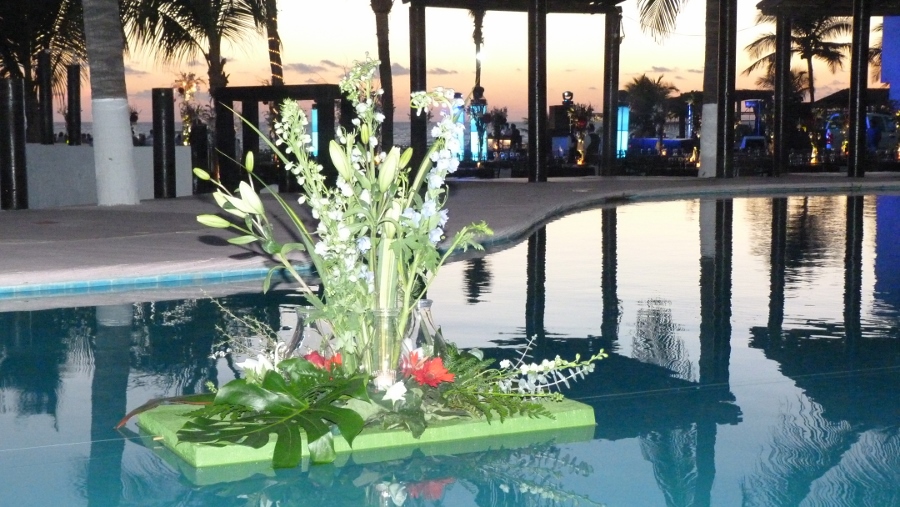 Who left the flowers in our pool , wedding No2 , Acapulco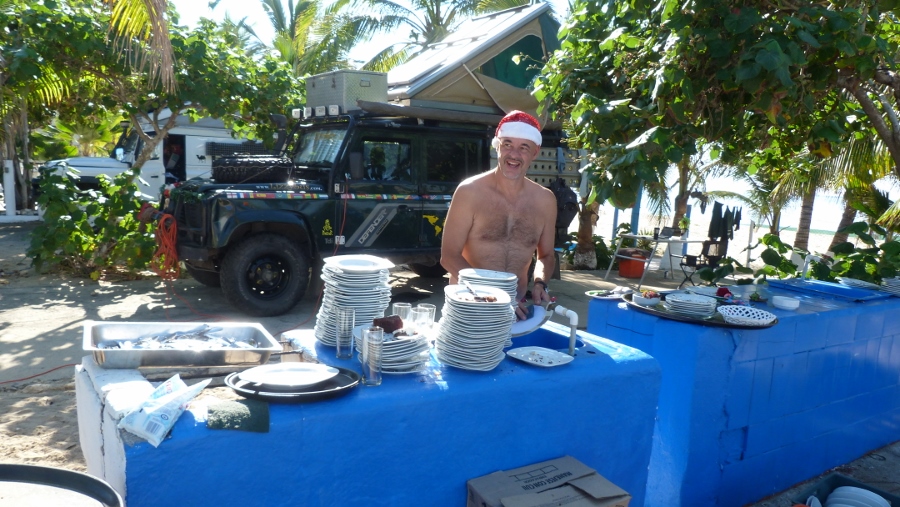 Why Me ? Washing up ,Acapulco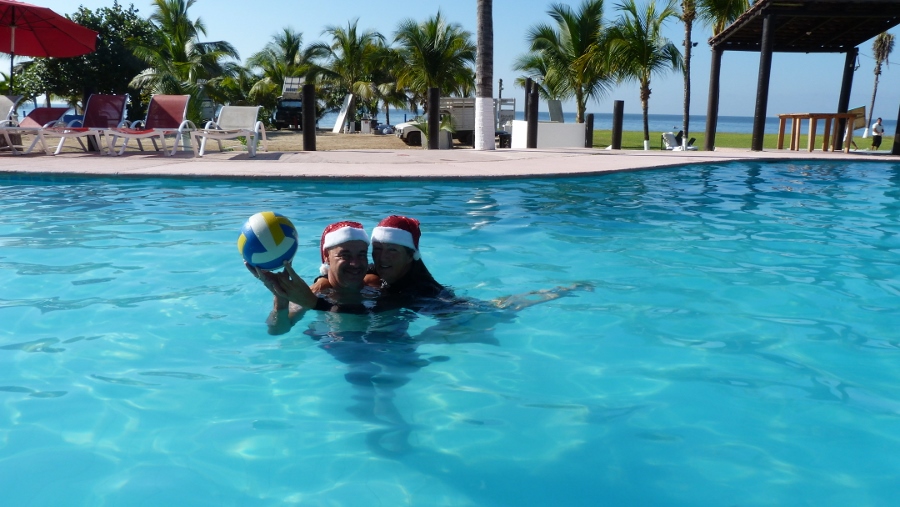 It's my ball , Christmas in pool , Acapulco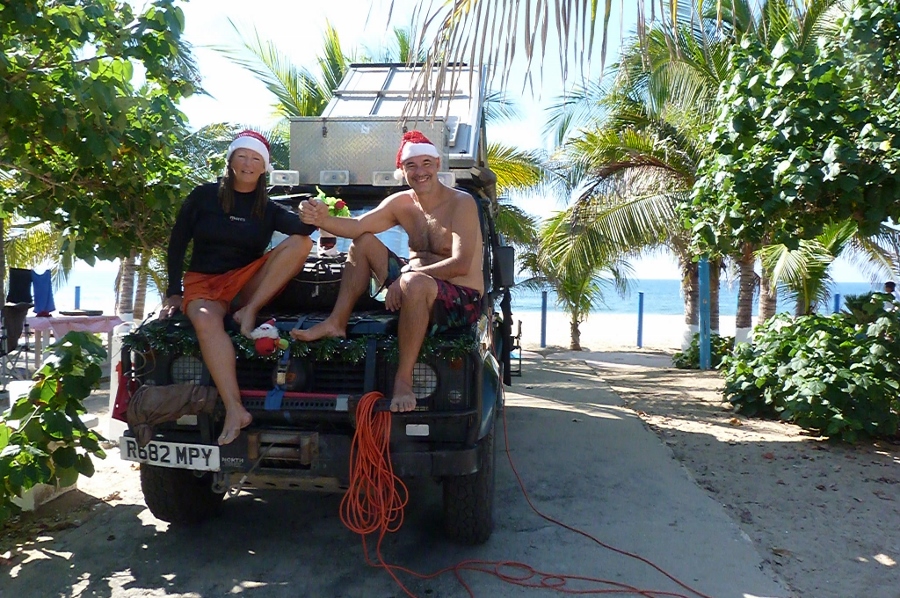 The Lizzybus Christmas Camp , Acapulco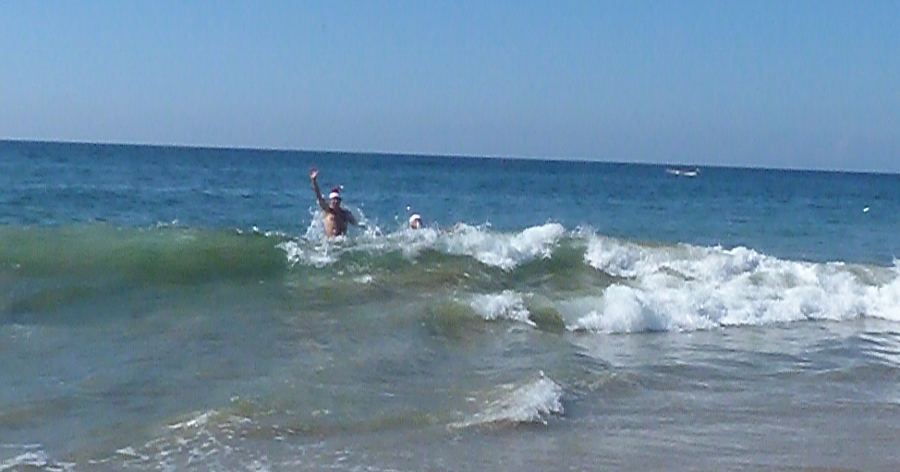 Christmas on the beach , Acapulco
Going Loco ?
Ah , the Siren voices of Casa de Paco call us back when we "away day" to Palanque . On the way we spot a Motel at $130 , but that was for three hours , they are mightily impressed when us Brits pay for the night , just to prove the truth of the virility of British , bald men .We had booked into one of the many , infamous "Love Hotels" But all good things must come to an end .Time to push on "Northish" and Overland Oasis in Oaxaca . Spending time at yet another fine establishment means we can carry out maintenance ( oiling and greasing everything ) and our great host Calvin even made a replacement mirror for the Lizzybus .As for a confession , it's better than a genuine Land Rover one .One week and a day later ( big discount for long stays ) , along with fellow Landy owners Steve and Mandy , we all hit the road again and head for ACAPULCO!!!!!! The Mexicans are in love with Topes , the dreaded Speed hump and progress is painfully slow.
So , for £7 a night , we are camped on the Acapulco sea front , big swimming pool , cold showers , power hook up and free internet . Days consist of swimming , helping the local fishermen pull in their catch and drinking beer . We are foregoing any further travel and decided to live here , in the warm sun .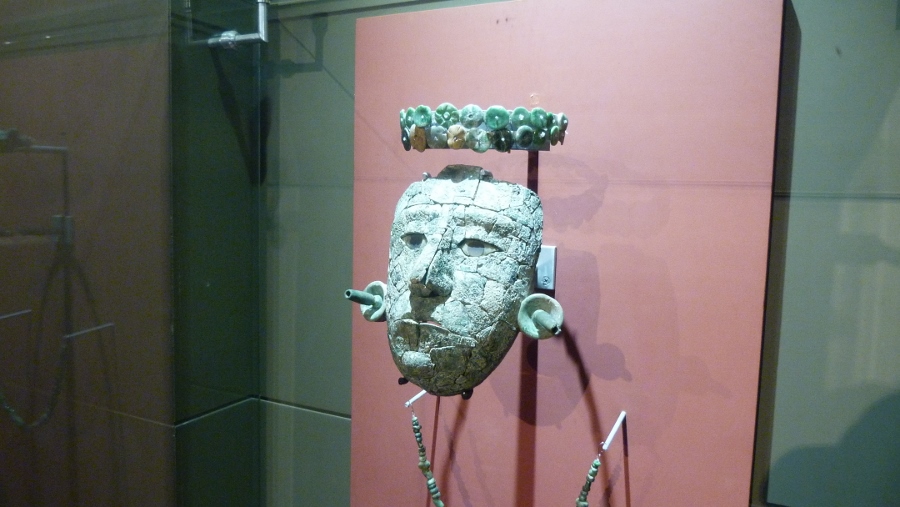 Palenque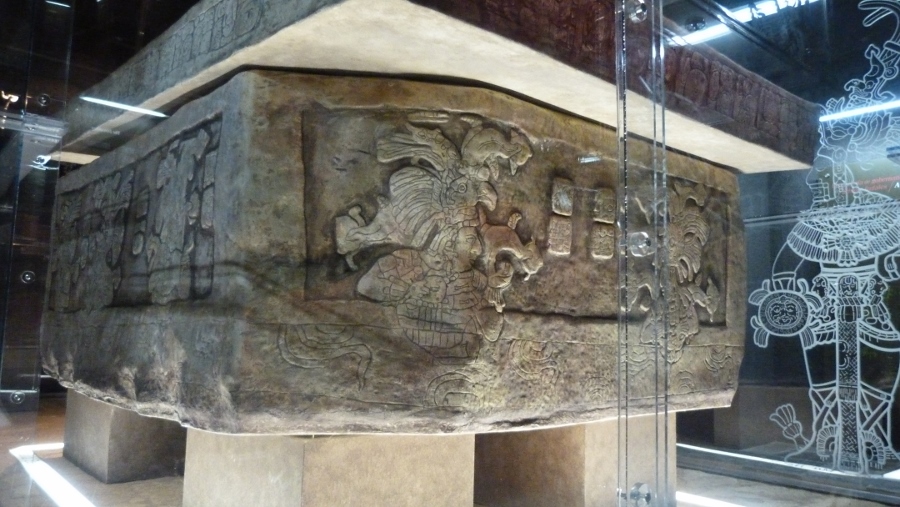 Palenque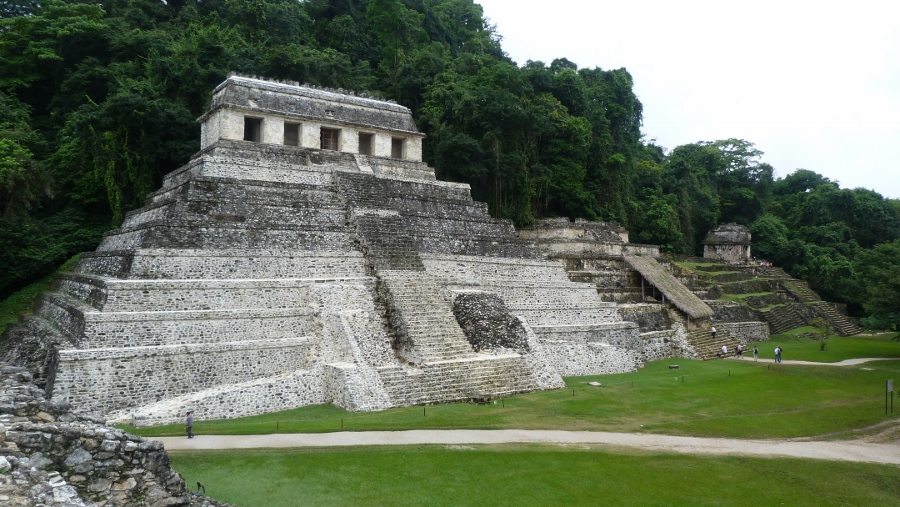 Palenque

Palenque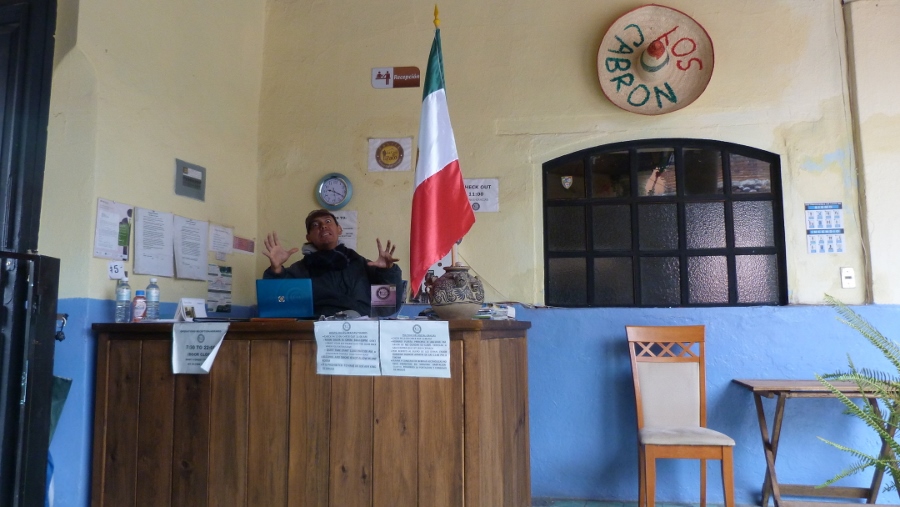 Paco , on hearing of the Lizzybus's return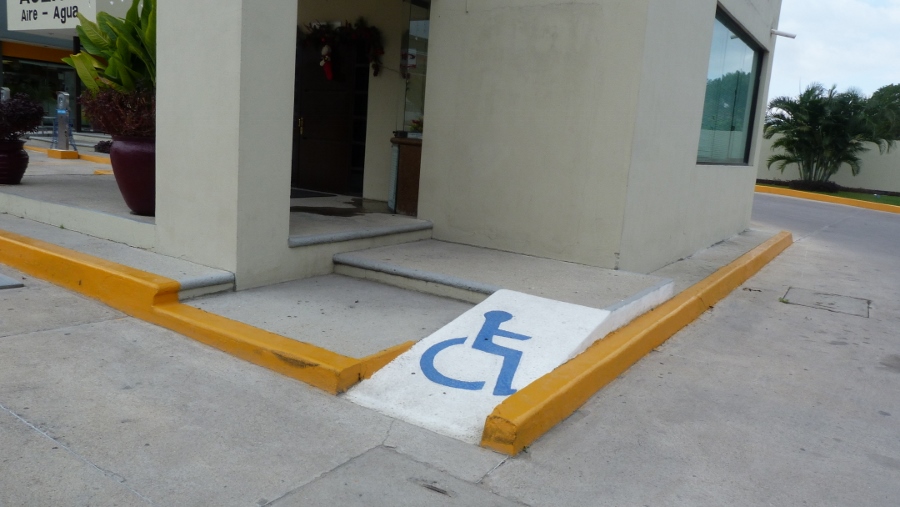 At least they btried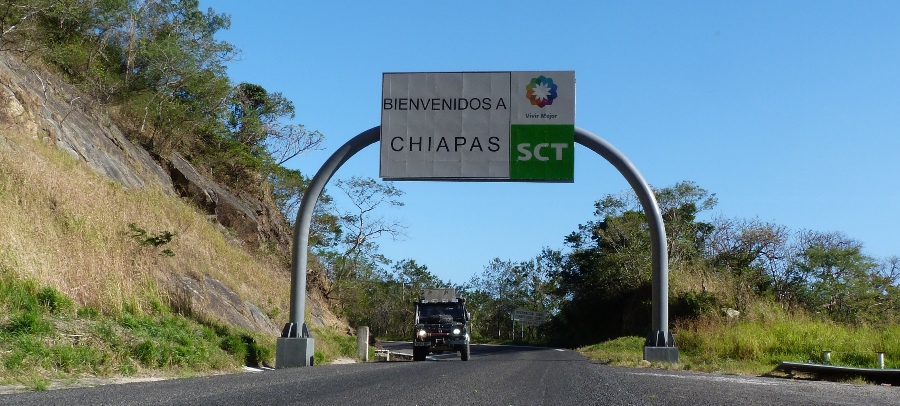 Leaving Chiapas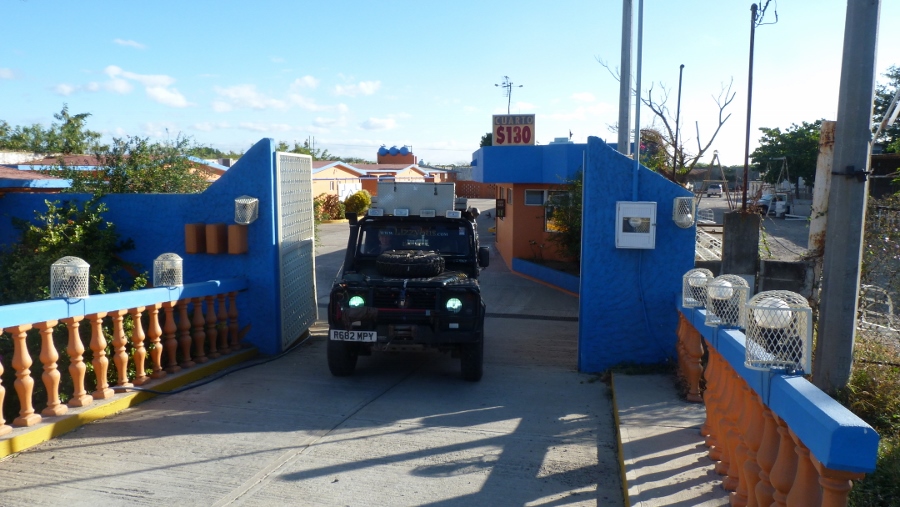 We STAYED all night !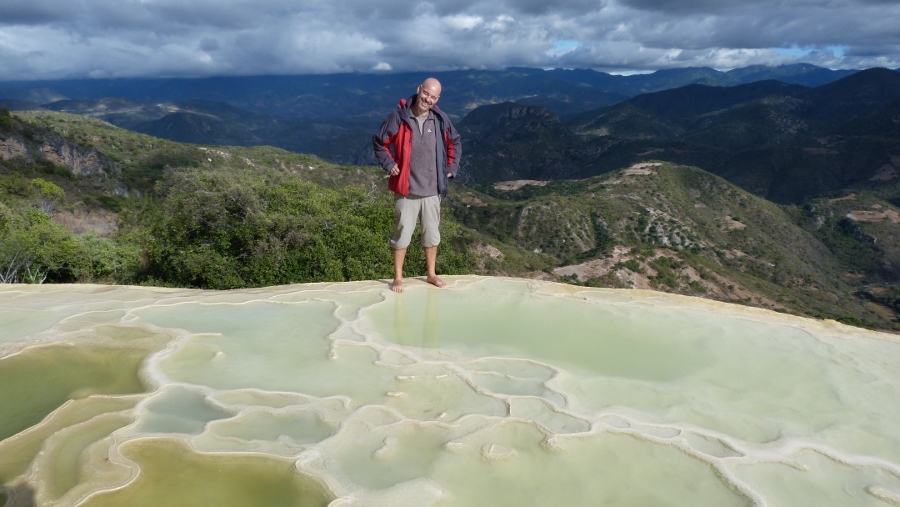 Jayne "just one step backwards" David , Hierve de Agua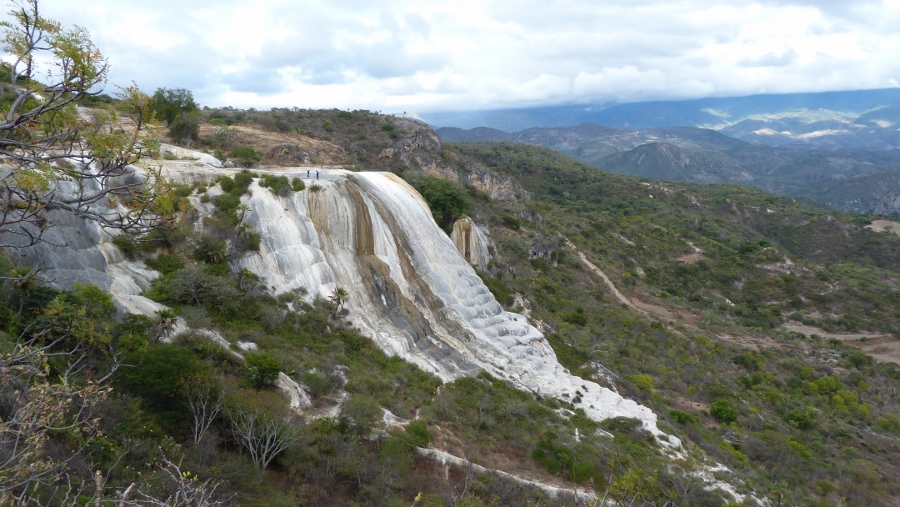 Hierve de Agua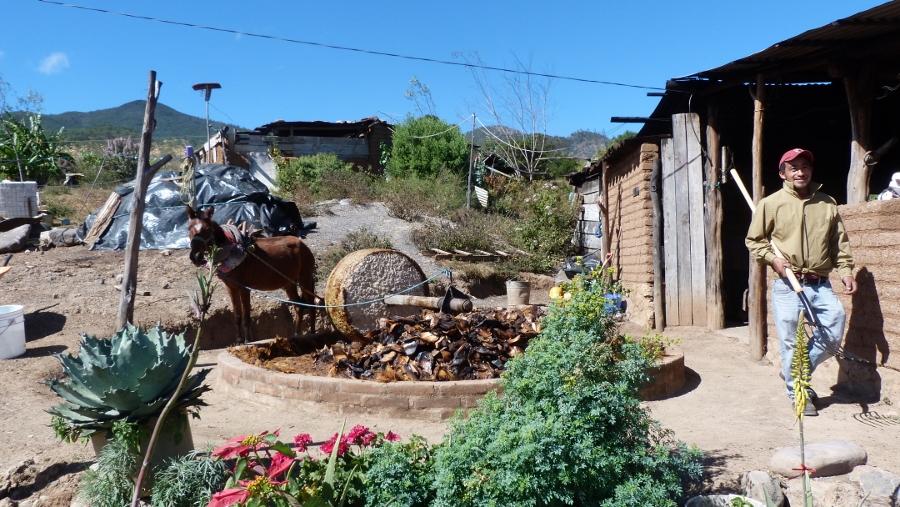 Locals making mezcal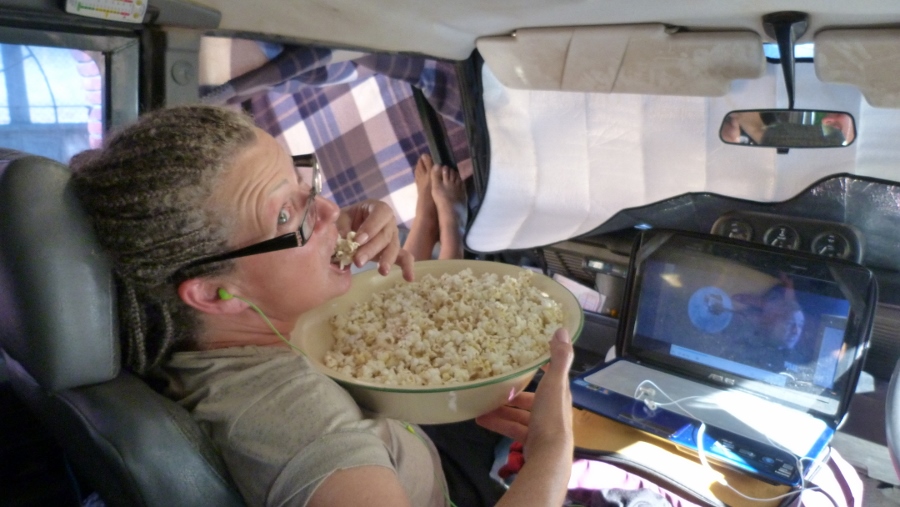 Going to the Cinema , lizzybus style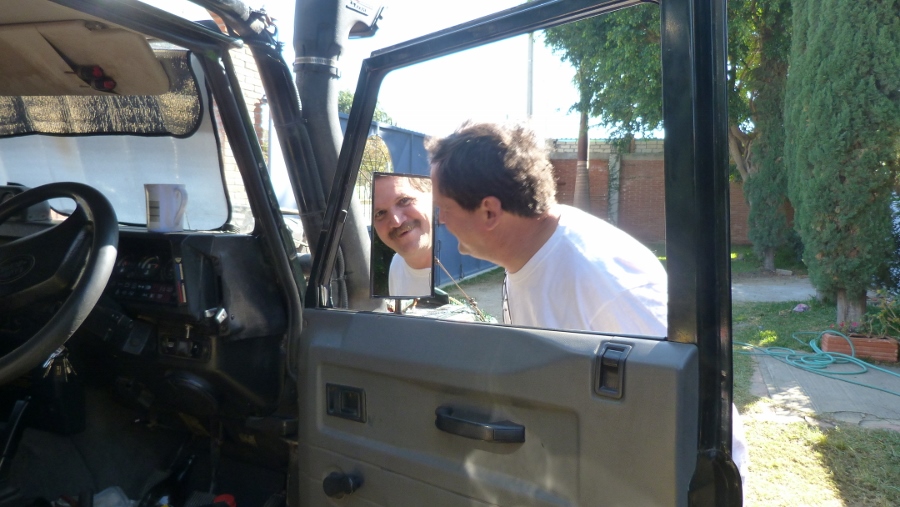 Calvin admiring his handywork ( or himself!)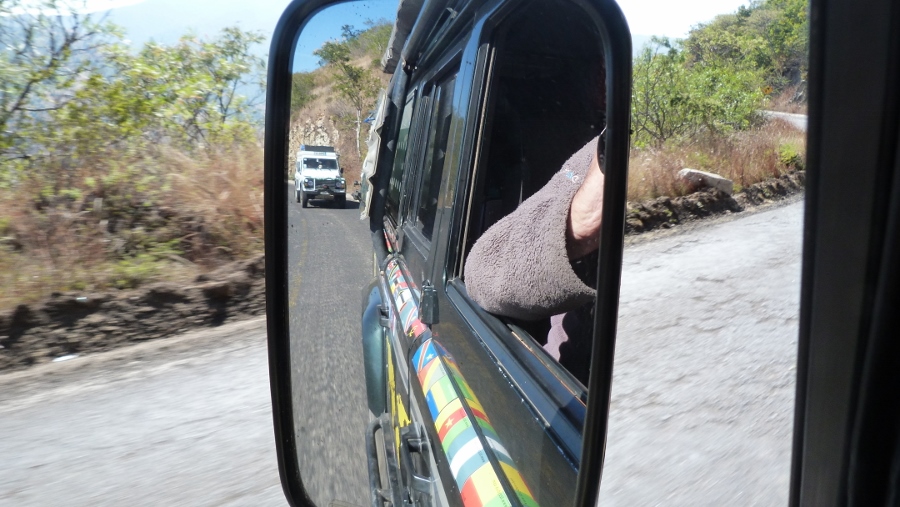 Convoy across the mountains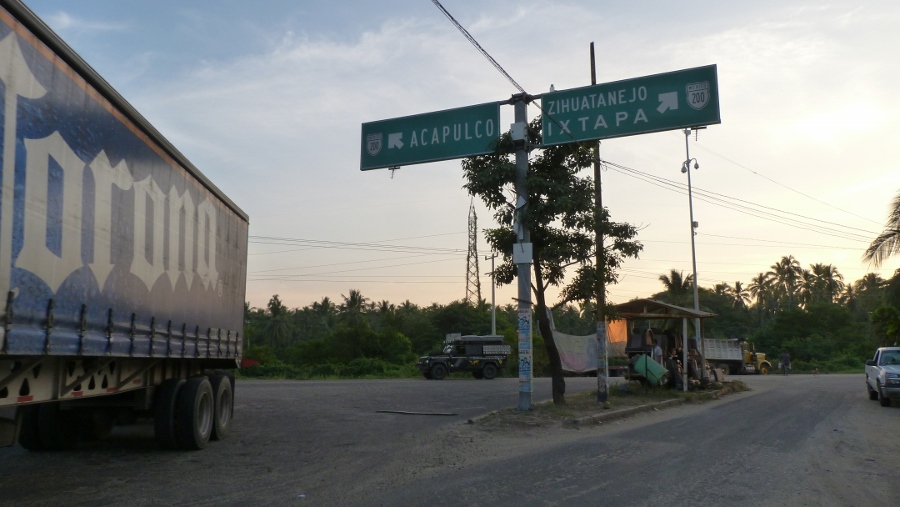 They heard that the Lizzybus crew were in Acapulco....more beer!!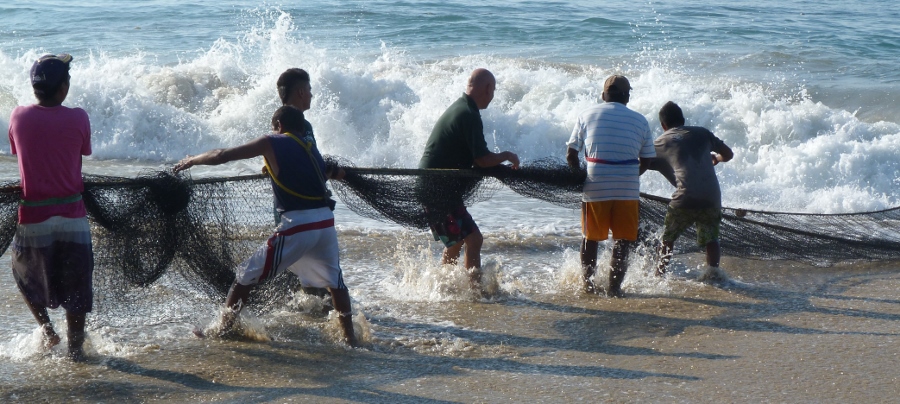 Helping with the catch , Acapulco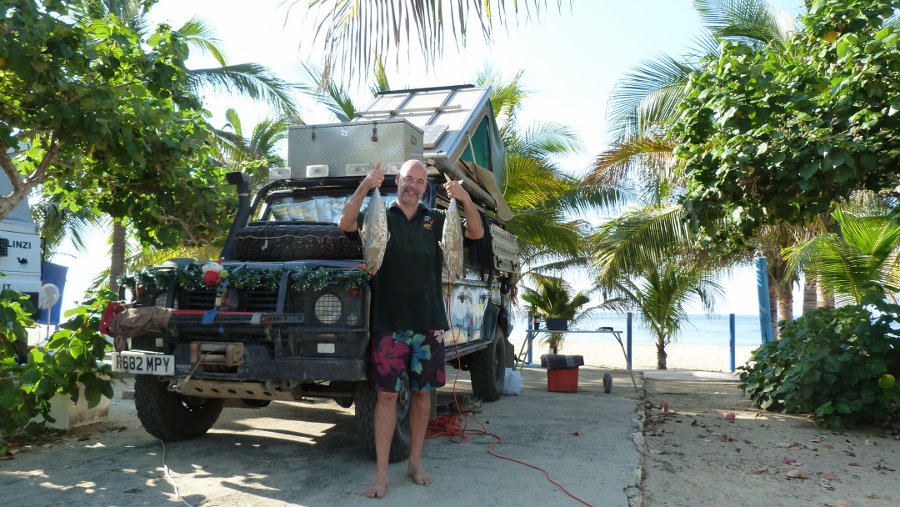 Couldn't be fresher (and thats just the fish)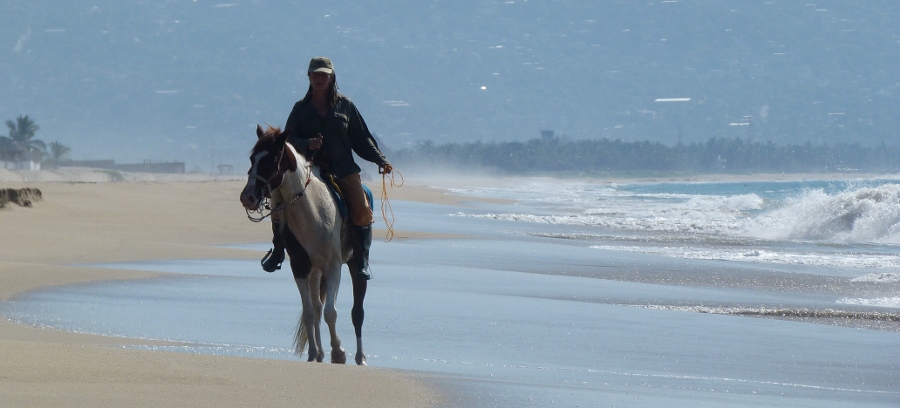 Beach riding , Acapulco
Thieving B***ards
The big problem when you Overland is the "Manyana Syndrome" .In its more serious form , its an infection that takes hold and nothing becomes a priority .It usually strikes when you are relaxed , have a good deal in the backpackers , near to a supermarket that sells cooked chicken ($p 60) ,cheap beer and good Wi-Fi ! Being in San Cristobal we have caught it pretty bad .Chilling out at Casa De Paco , over a week later we are still here .We must move , must force ourselves to leave and push North , but its to easy to stay a few more days .
Having parked the Lizzybus directly outside the Hostel ( cheaper than camping!) we have had our first incident .Apart from the attempted thefts in the Congo and Stellanbosch , some Tealeaf has wrenched the drivers door mirror off !!!Bloody cheek of it .No use to anyone , we are now blind sided on the drivers side .Either spares from UK or purchase one in the States .We also think we have found the cause of the "intermittent" cutting out of the starter. The immobilising spider is to blame .We can get a bypass unit for $36 in the States and hopefully this will cure it .This may have been to blame for most of the electrical gremlins that started in Turkey all those years ago .On Monday we will force ourselves to leave the fantastic atmospheres at Paco's ( having stocked up on cheap beer , roast chickens and cooked pasta sauce) and progress North , Inshala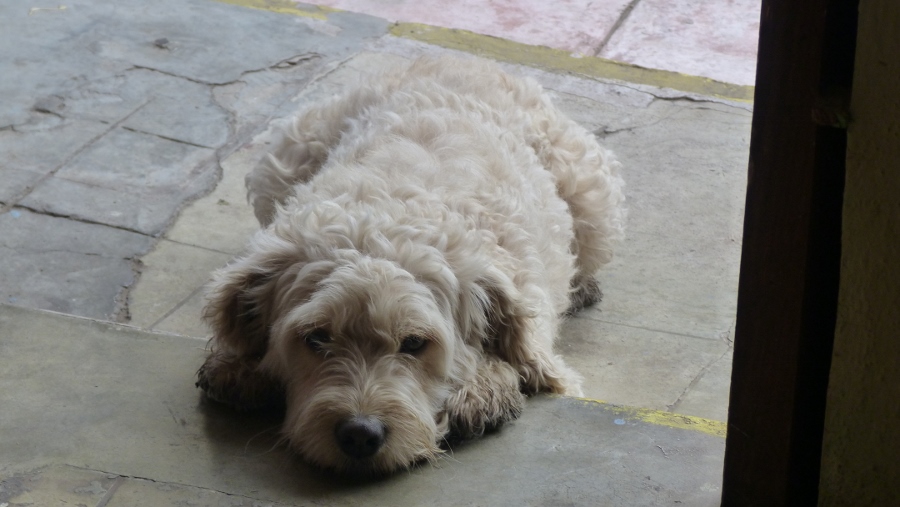 Please , can we have him?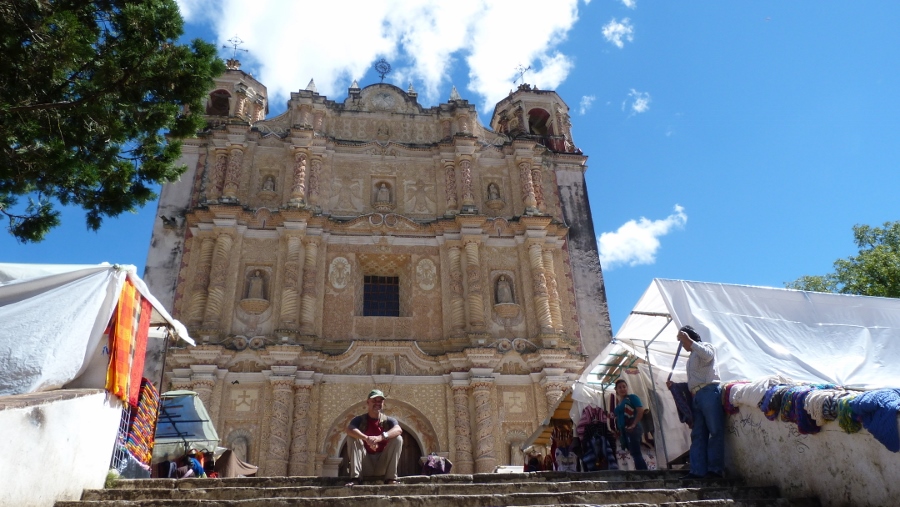 San Cristobal
San Cristobal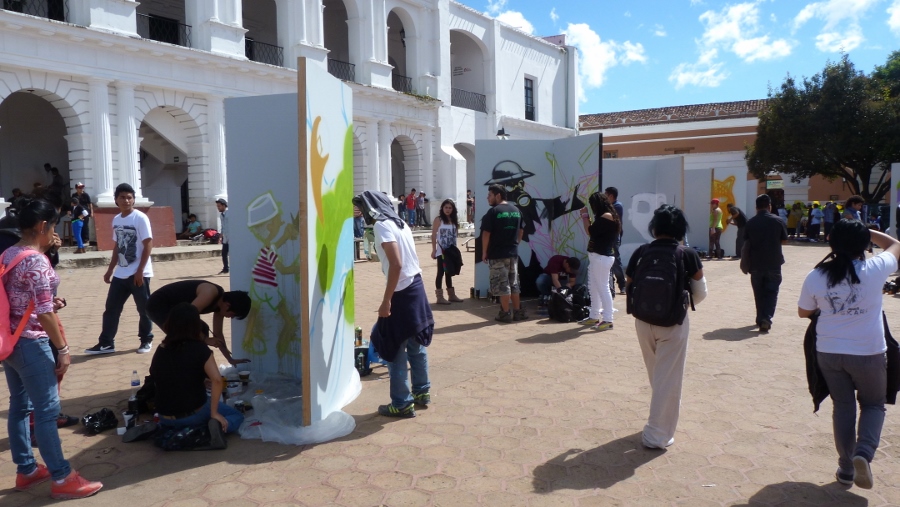 But is it art? San Cristobal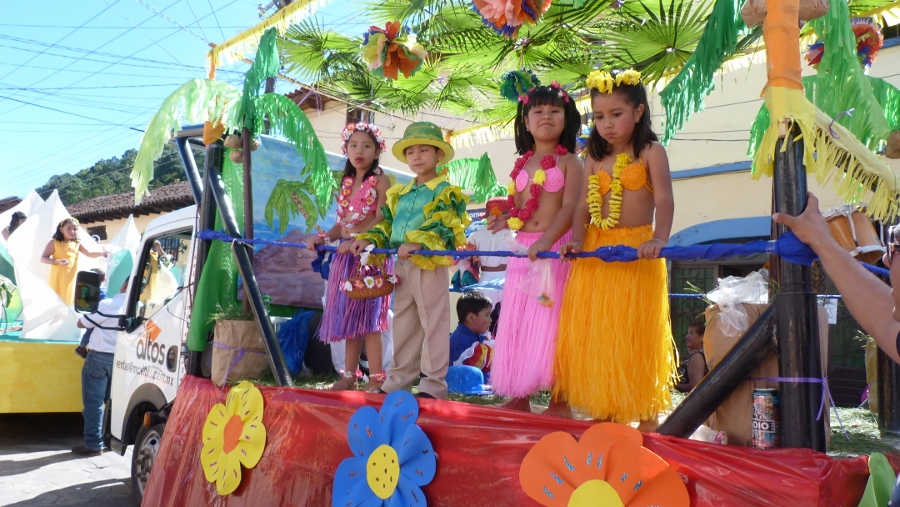 Party time , San Cristobal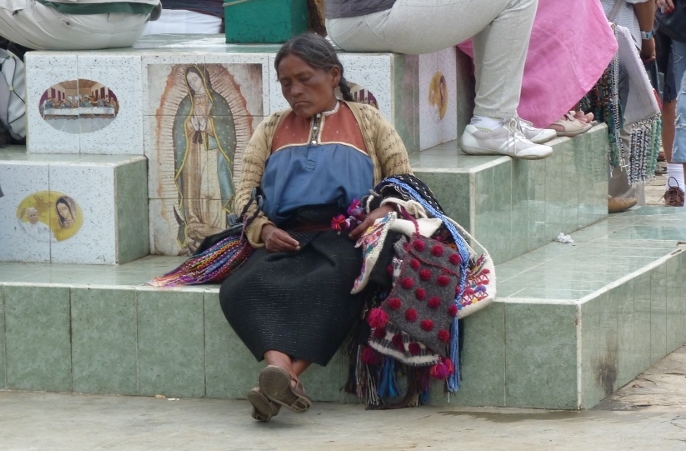 San Juan Chamula Locals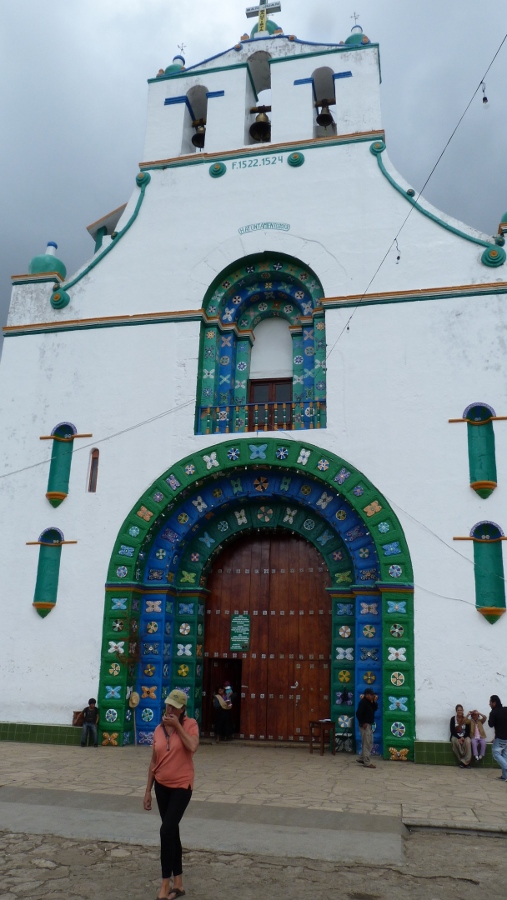 San Juan Chamula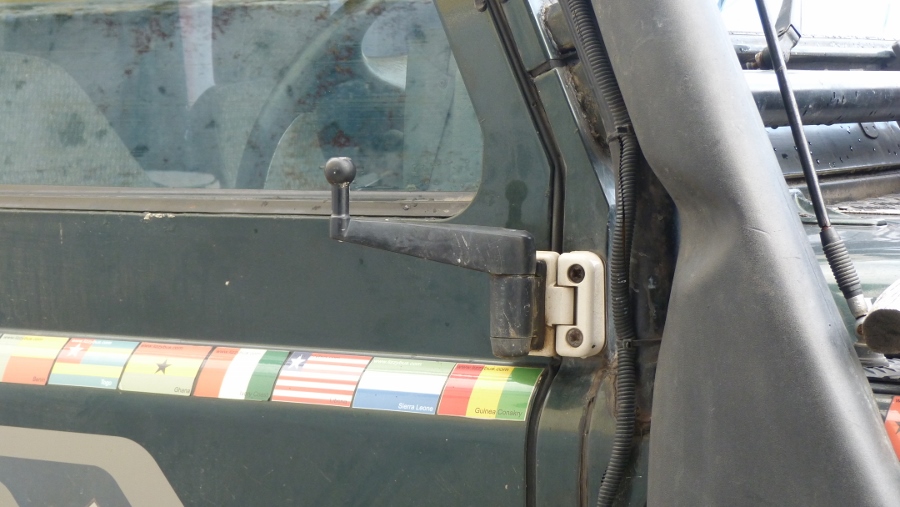 It was their when we left it.Bugger!
Bad Boys!
Having flashed out $320 on the credit card for the visas , photo and fingerprints are done the next day .The following day , dressed in best "Embassy outfit" (African Overlanders will understand ) we both of us attend the consulate for interviews .Personally ,I thought that we would have separate interviews in a private room ? Chatting to the nice US official , both of us together , through a bank type booth we are given the good news that we have secured our 6 month visas .Next day we collect the "Bad Boys" from the consulate . Big sigh of relief all around , we now have a degree of flexibility on our journey through the US .
Time now to push on South , Uxmal and the coast to Villahermosa , then on to San Cristobel . The main problem at the moment is the rainy season putting bit of a damper on camping .Mind you , the Marine Club outside Campeche wanted $350 (£17.50) to camp for 1 night , bush camping is order of the day .Then you find a hotel that charges $150 with hot showers and security for the Lizzybus , makes you wonder sometimes.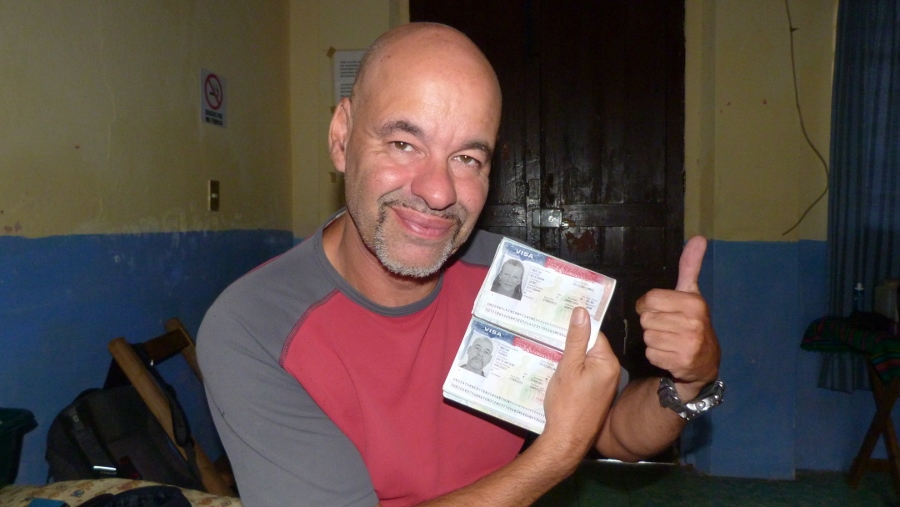 The "Bad Boys"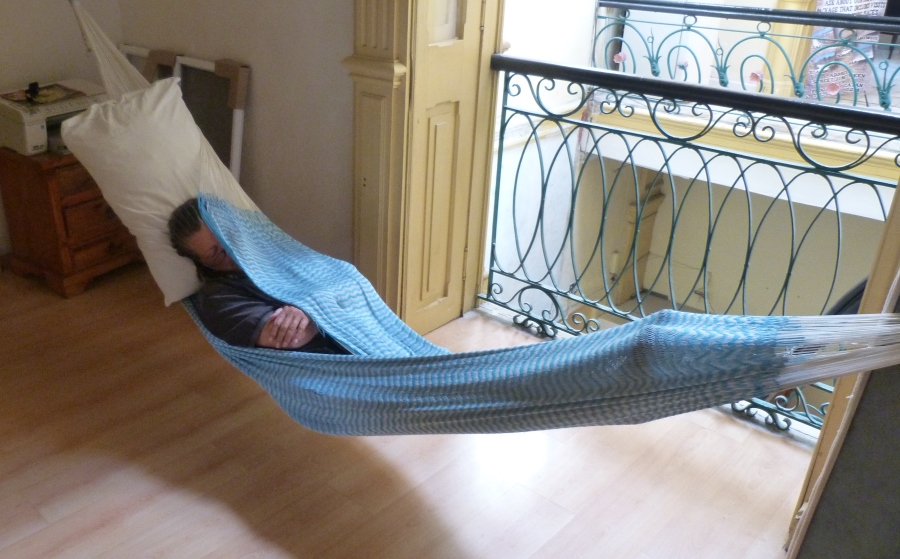 A hard day hunting visa's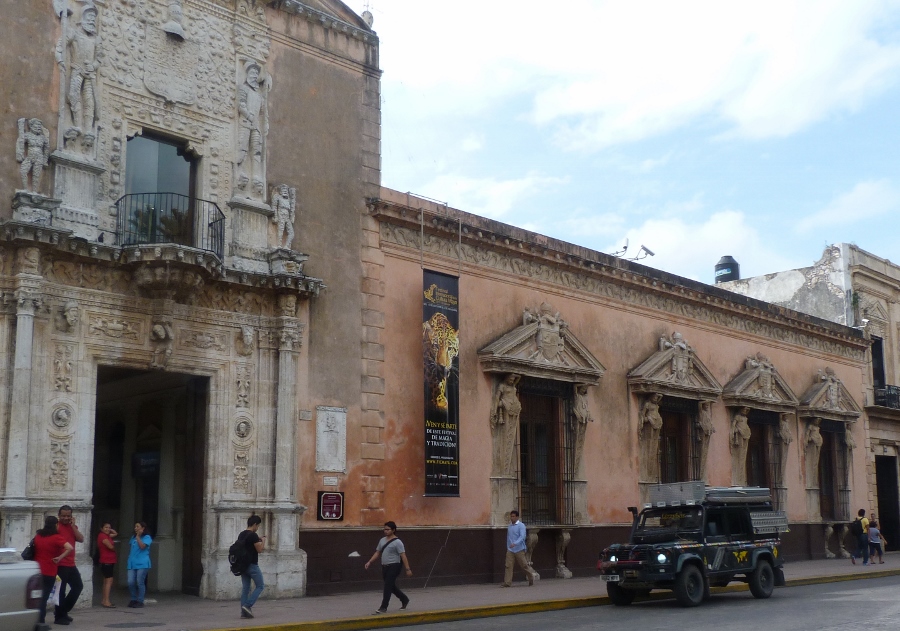 Merida centre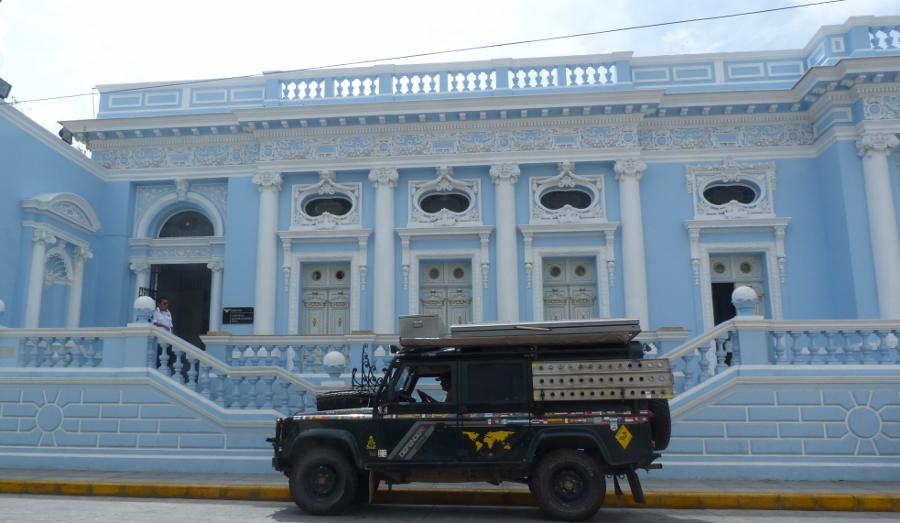 Uxmal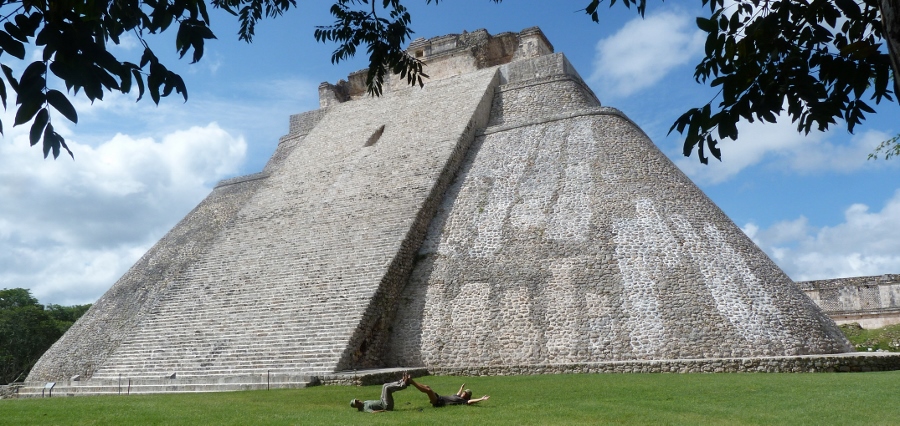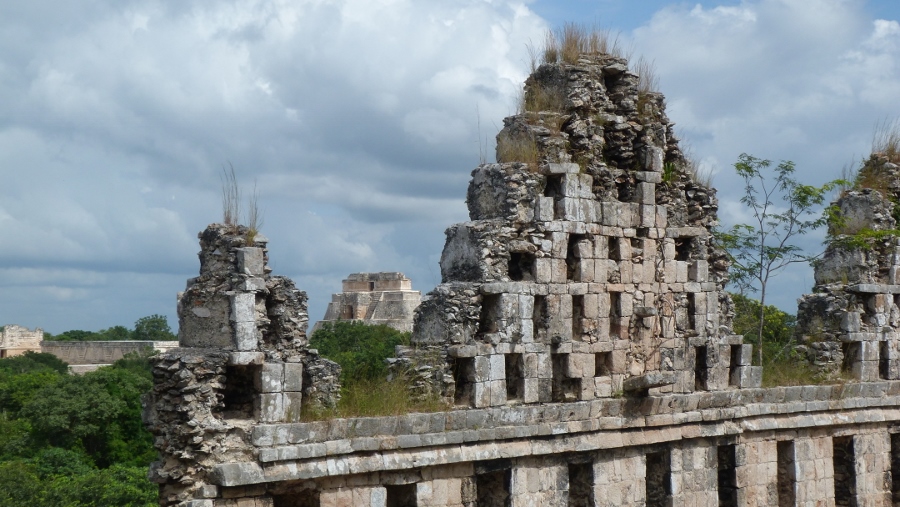 Uxmal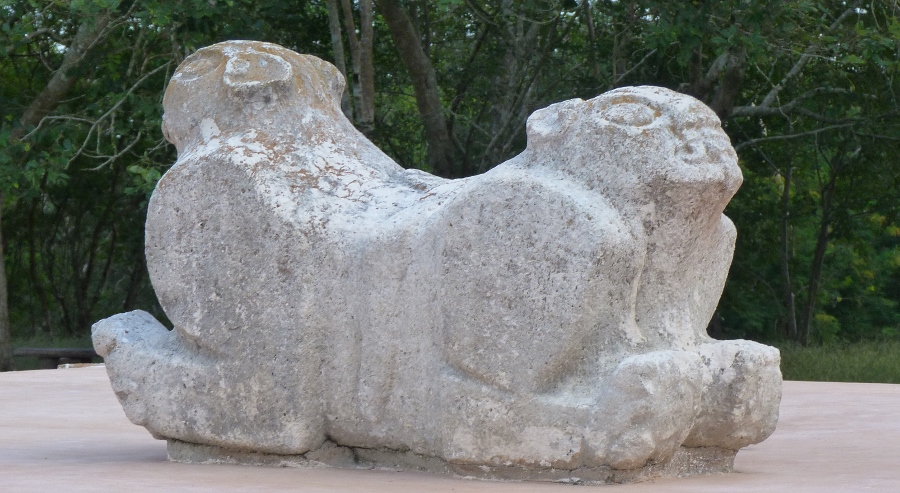 Jaguar Throne , Uxmal
Uxmal

Possibly Uxmal ?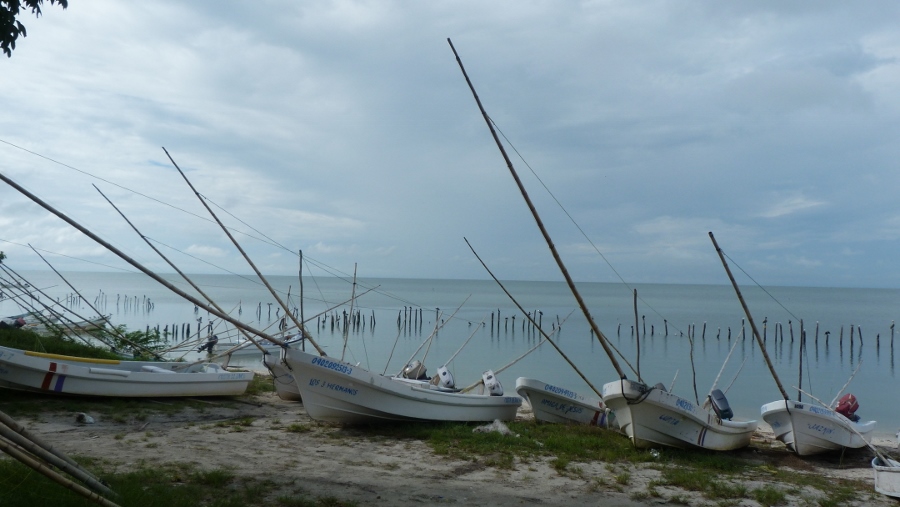 Gone fishing ,Chetumal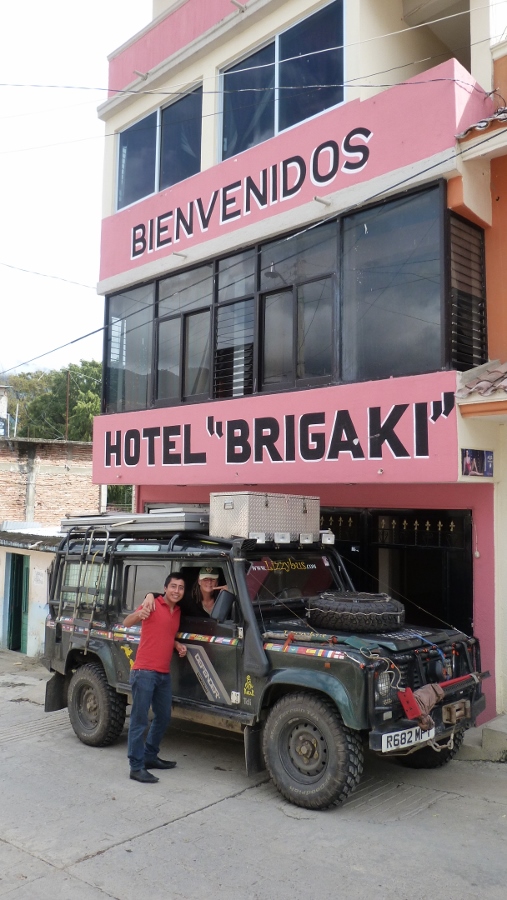 Great Hotel $150 a night ,Bochil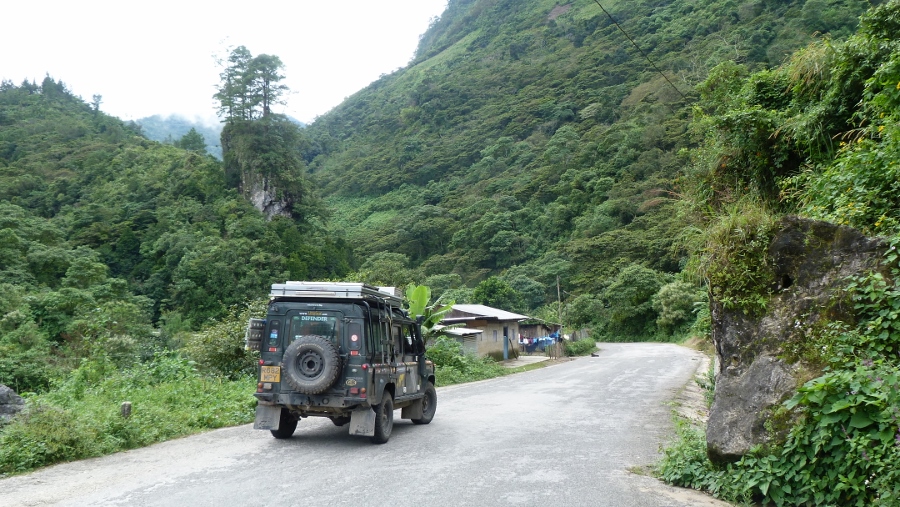 Road to San Cristobal
Embassy bound
Having said goodbye to our good friends we meander back to Tulum and our cheap beach camping .A chance then to do some Cenote diving ( Dos Ojos ) and get our dive computers serviced at a Suunto dealer ( very few and far between ).The diving was superb , an ambition we have harboured since we started diving .
We need US visas and the best place to get them is the historic city of Merida . According to the US web site ,the waiting time for an interview is only one day .Our journey takes us to Chichen Itza , an early start afforded , as we camp outside a wonderful old hotel , Piramide .A reminder of what this area was like for tourists before the main road from Cancun made it obsolete .The Americans used to drive down in their droves in their Rvs but now perceive Mexico as too dangerous ! We may sound dismissive and with all the countries we have been through but this is truly not the case. Mexico is wonderful .As we speak , Lizzybus is parked on the street about 4 blocks away and we are living it up in a cheap backpackers in the centre of Merida awaiting our fate and an American 6 month visa .If we are refused , it's a long swim home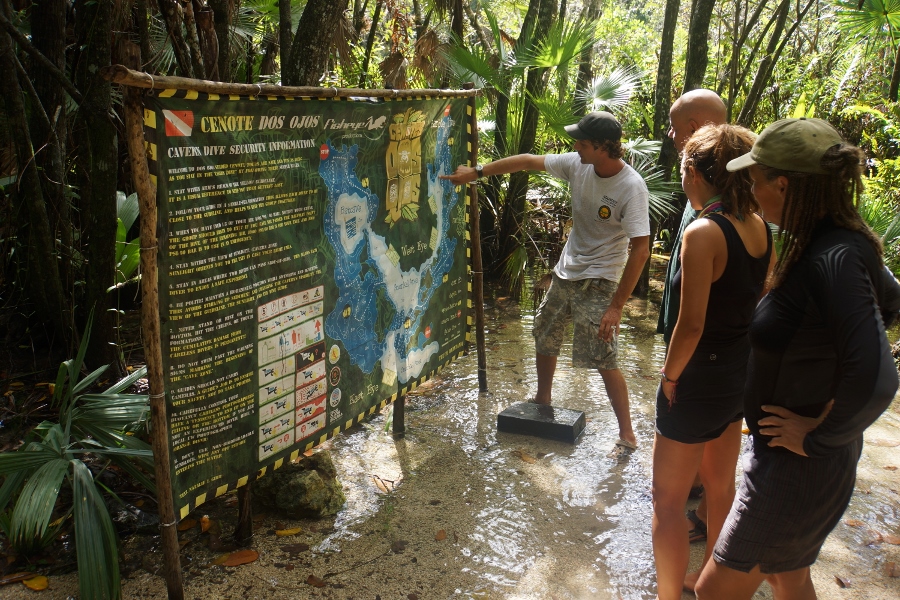 Dive planning , Doz Ojo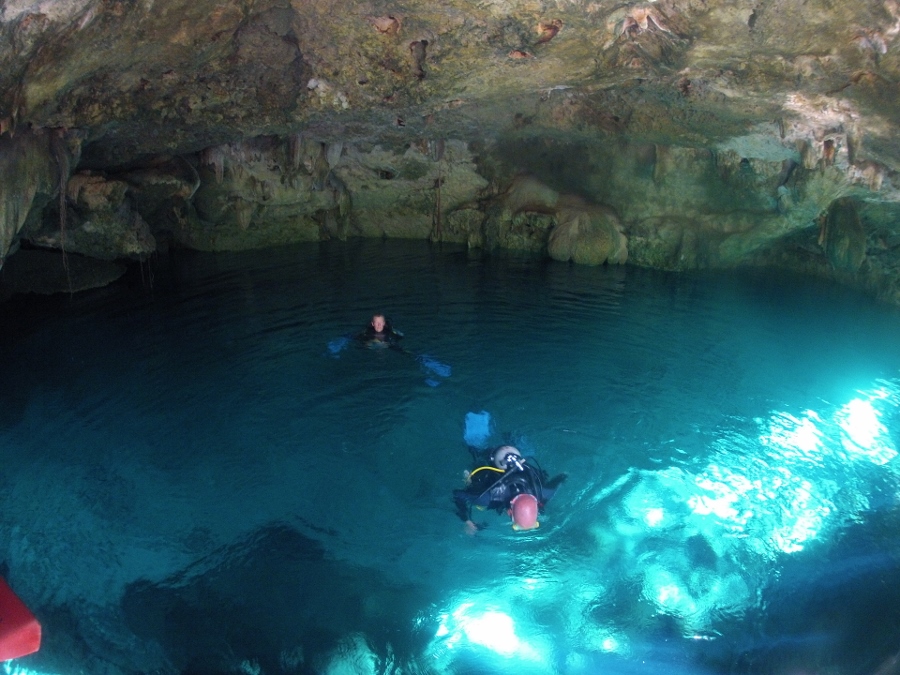 No , it's not a current check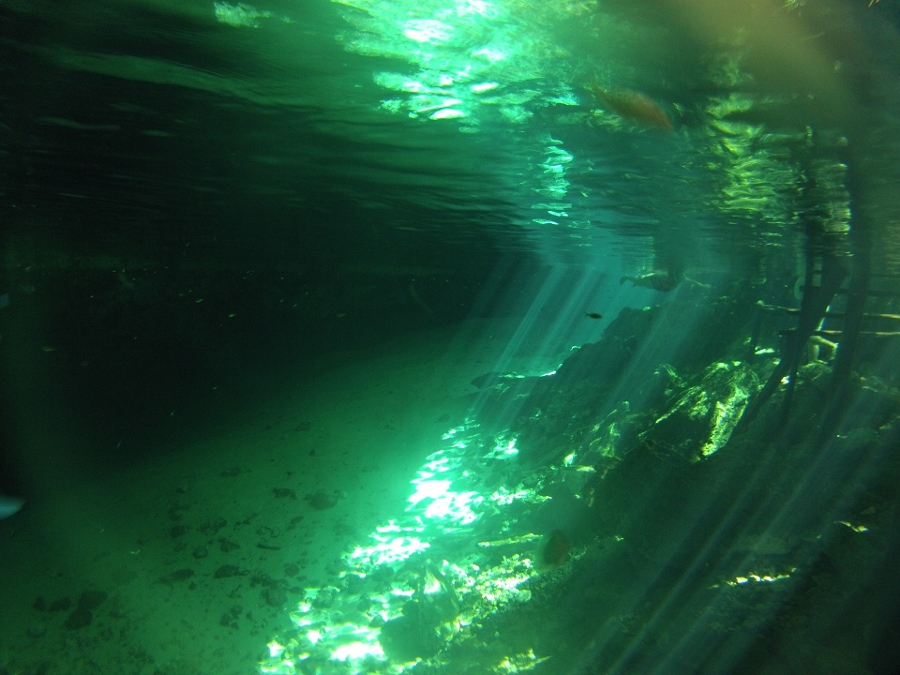 A new woirld , Dos Ojo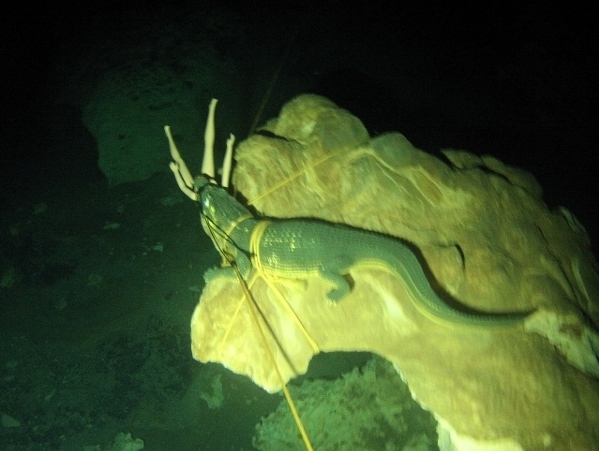 Strange and dangerous underwater creatures , Dos Ojo,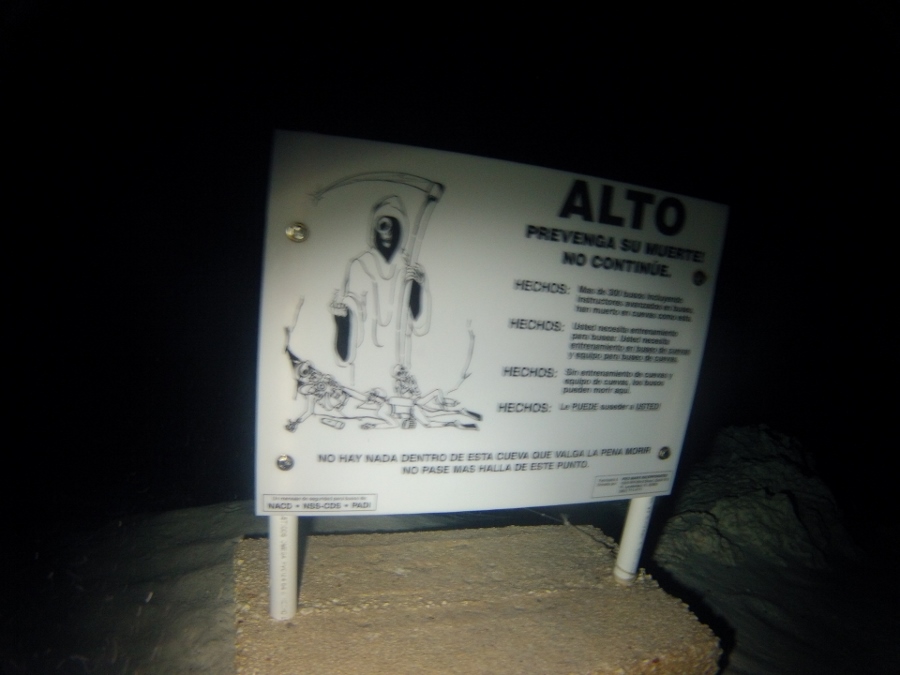 You have at least been warned , Dos Ojo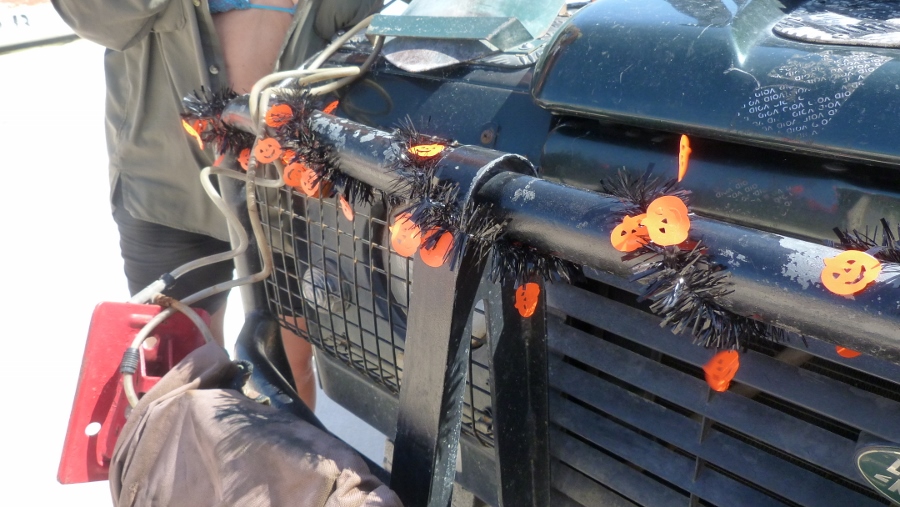 Halloween Lizzybus , Scary

Lizzybus on the beach , Tulum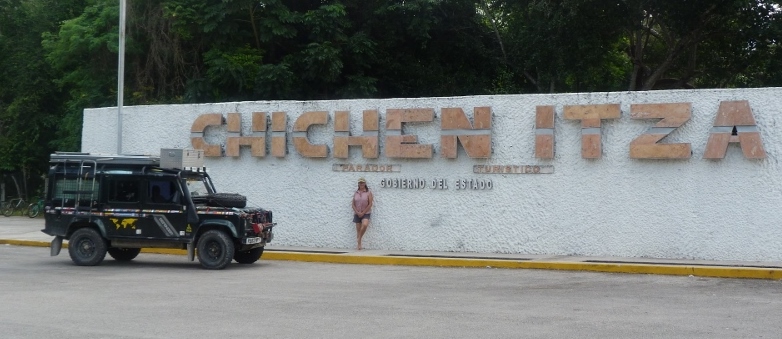 Can't think where we took this pucture , probably Mexico somewere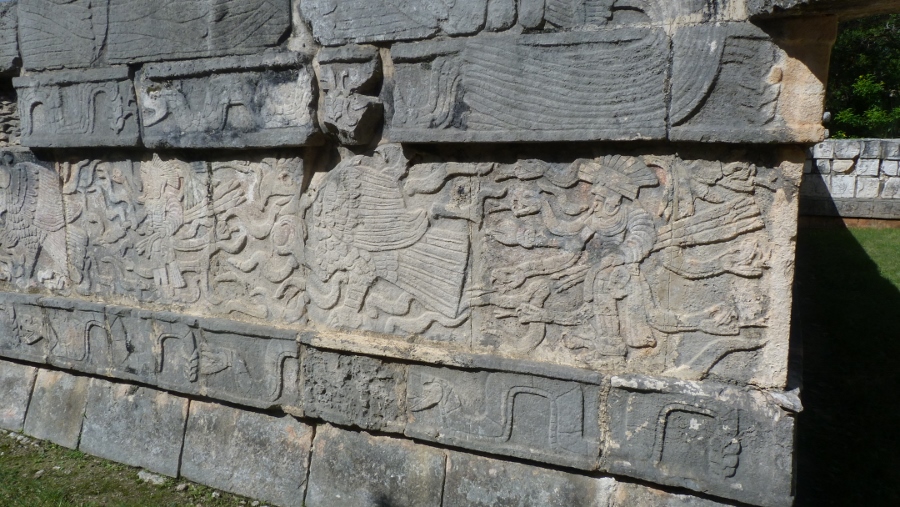 Chichen Itza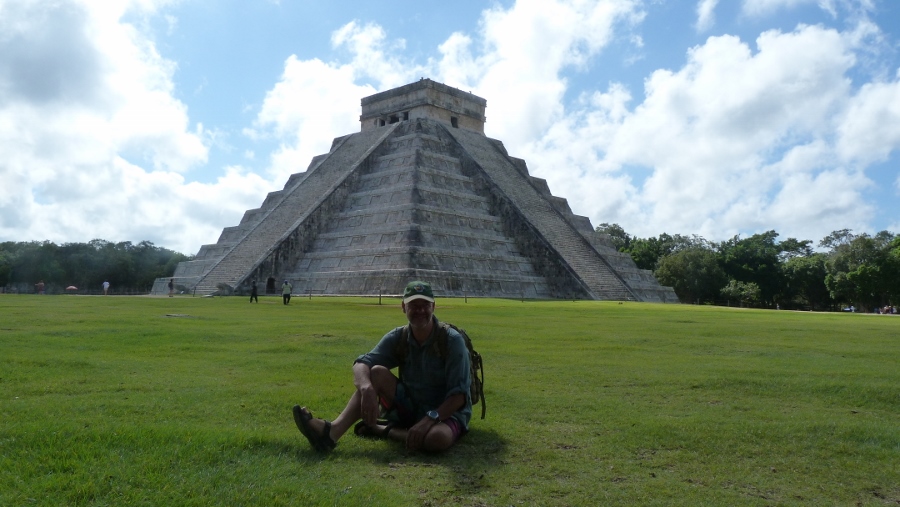 Chichen Itza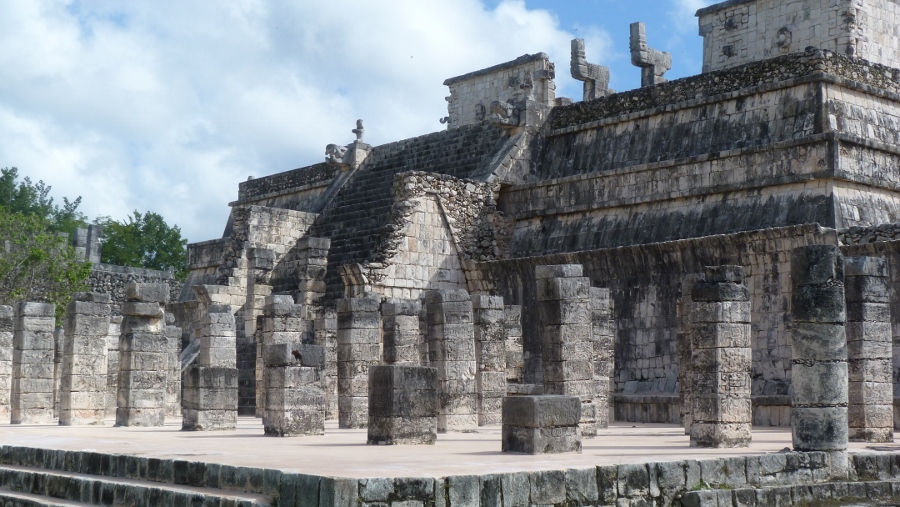 Chichen Itza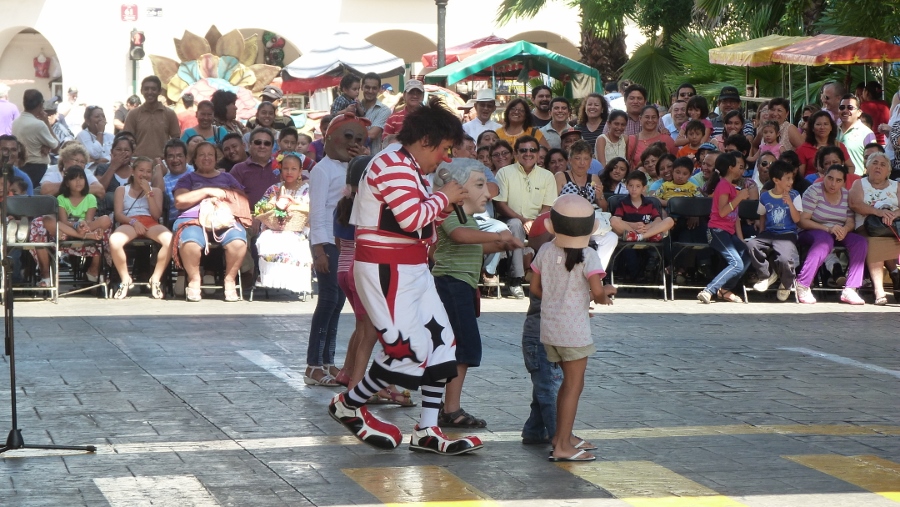 Clowning around ,Merida
Another crossing
And now it's two countries to go !!! Borders in this part of the world are a breeze .turn up , Migration stamp us in for 180 days and off to Aduana ( Banjercito) for the Lizzybus .$200 deposit to ensure she leaves the country , payable in US$ on a card .we decide to forgo using the card as it runs out next month and we envisage a raft of problems getting the money back on an expired card .Cash handed over , permit is m$650 and our exit fee m$590 , so job done . Nothing to pay now on exit (paid on our credit card ).All very simple if a little time consuming .So Mexico , here we are .
Camping for the first days to get our bearings in Chetumal , we discover Walmart and all things American .It is only at Tulum we finally find the real Caribbean .Up to now the sea and sand has under whelmed us .As we head to na cheap site we catch a glimpse of Azure blue seas , palm trees and white pristine sands . We meet up with Betti and John who have over landed down from Canada in a UK Mercedes truck .Friendships struck , we hang out for a week before they head South to cover the journey to Ushuaia .For the first time , a sense of parting as they go , most of our journey has been just the Lizzybus and normality never impinges .This time it does

Another stunning sunrise , Chetumal , Mexico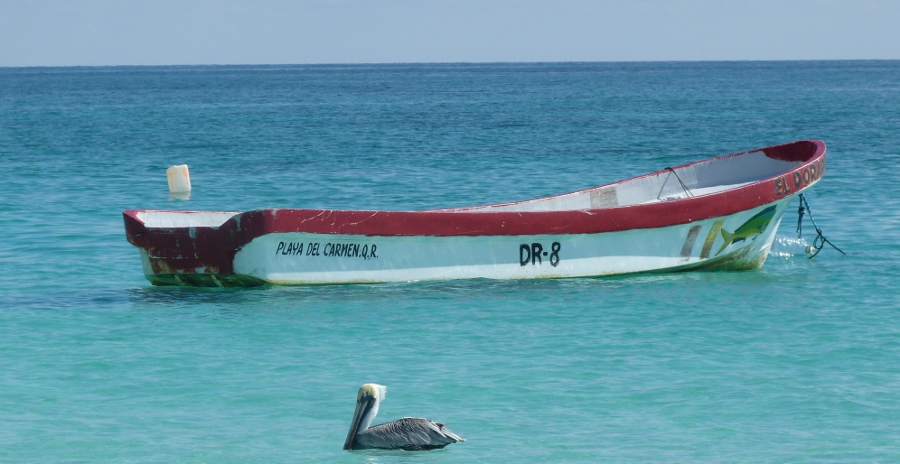 This is more like it , Tulum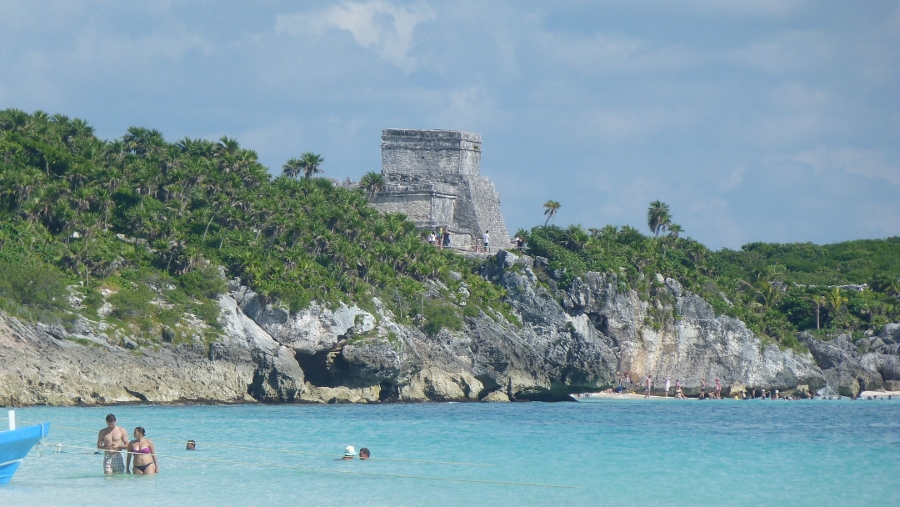 Tulum , Mexico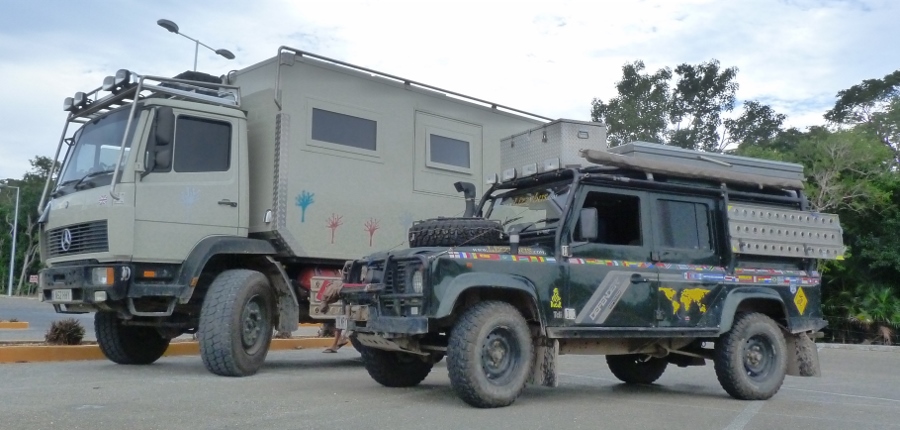 Lizzy and Burt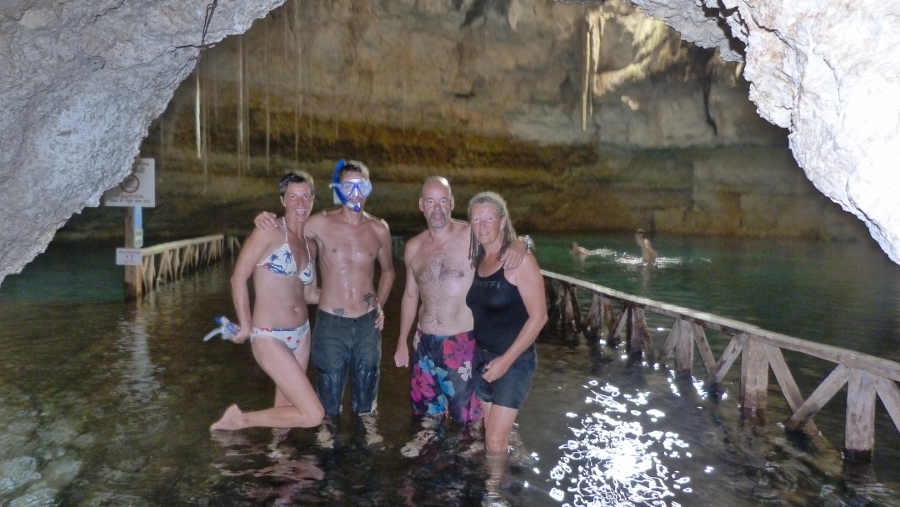 It's Cenote time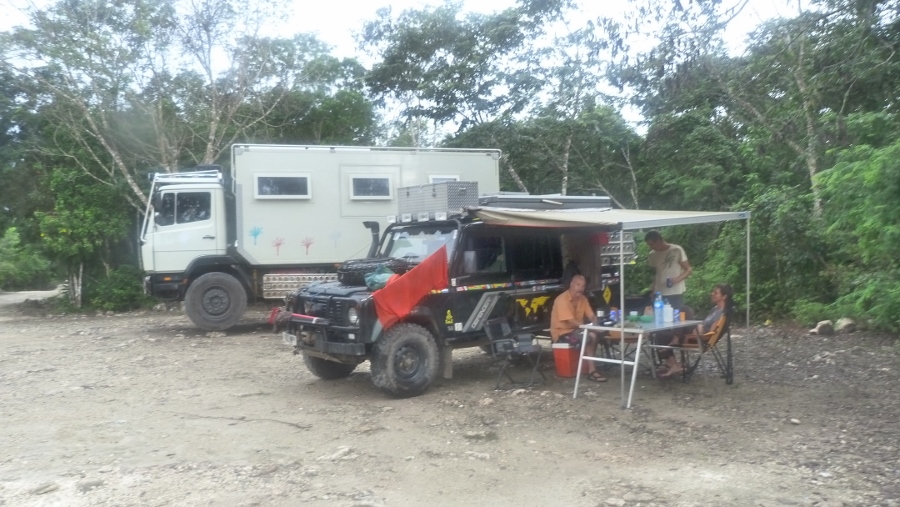 Chilling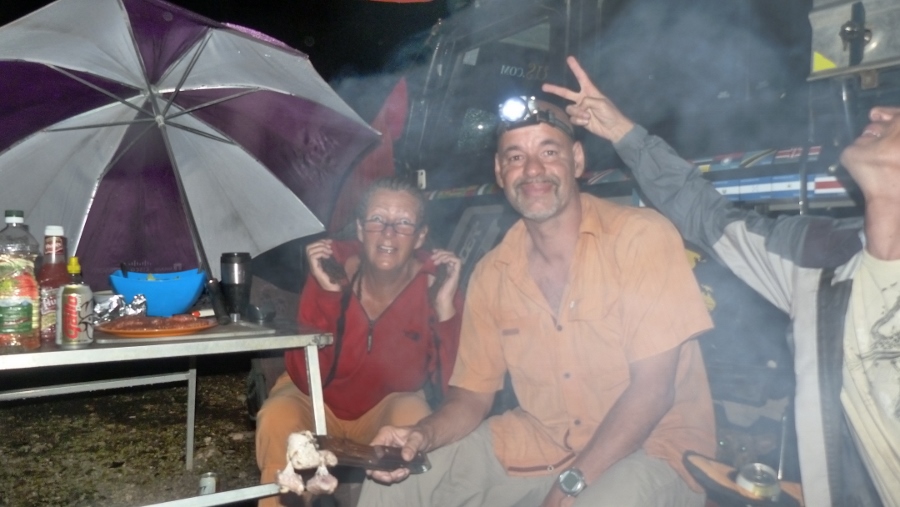 A very British BBQ......it's raining ( again )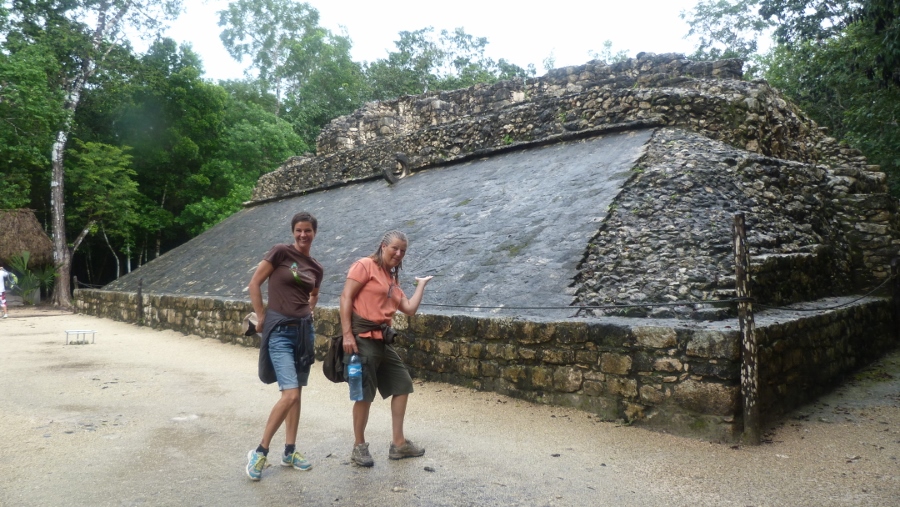 Mayan ruins , Coba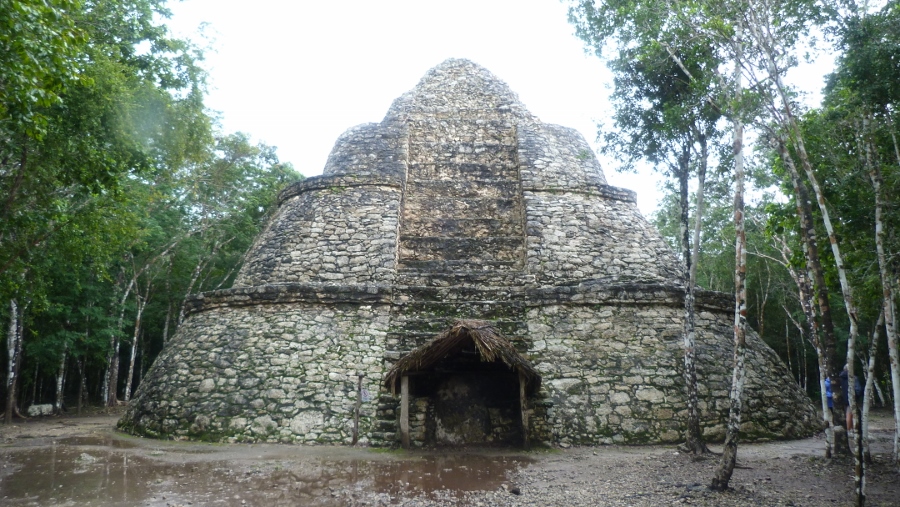 Mayan ruins , Coba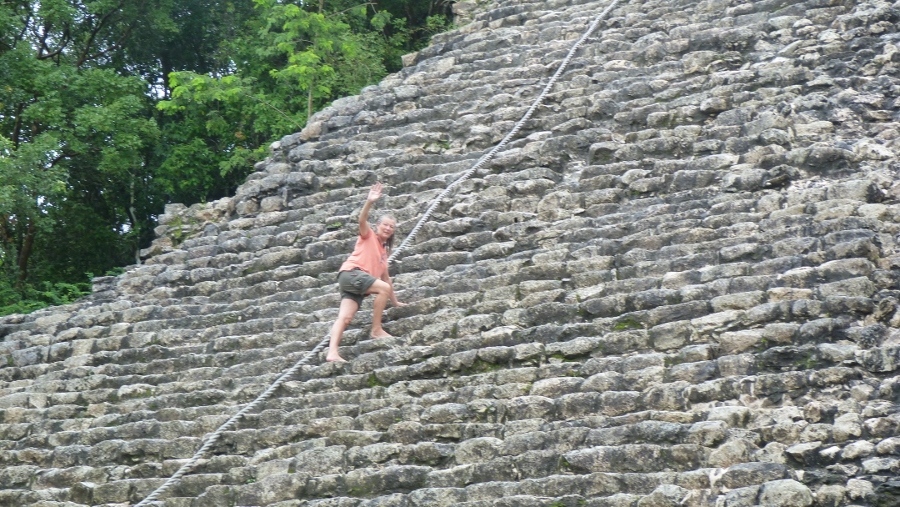 Jayne climbing Mayan ruins , Coba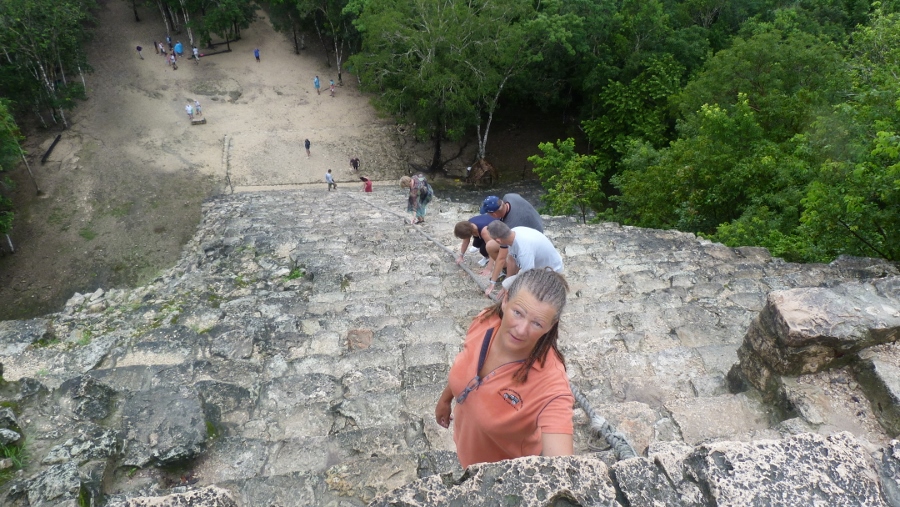 One way up , one way down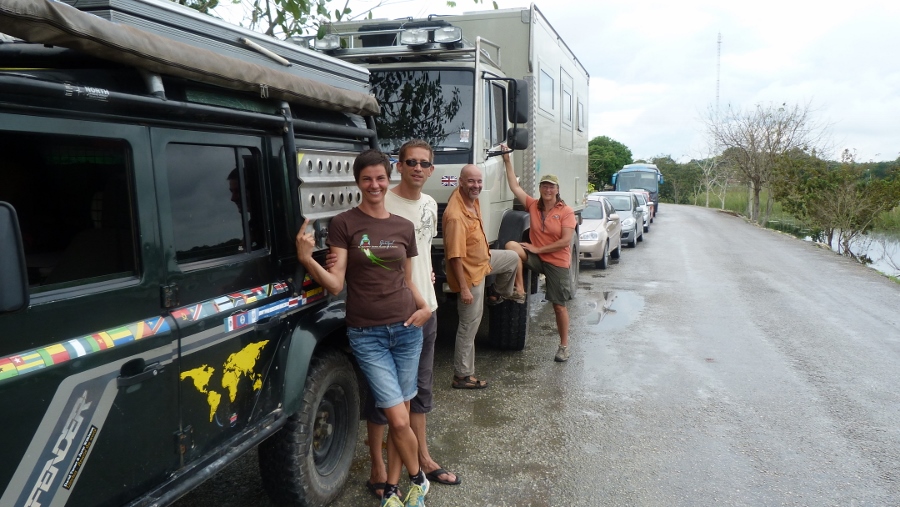 Sad day , time to depart , us North , Burt South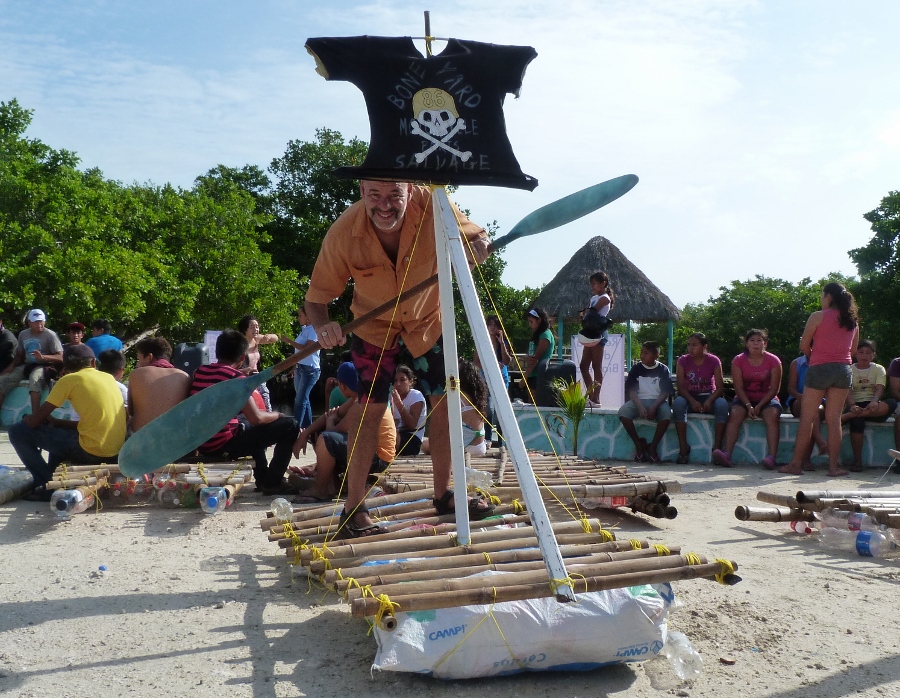 Not quite the Yacht I was looking for , Rio Lagartos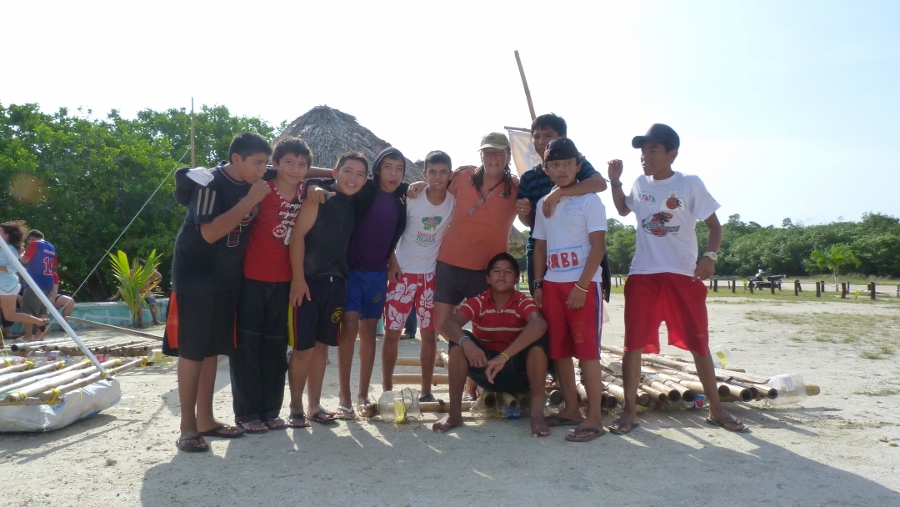 Scurvy bunch , Rio Lagartos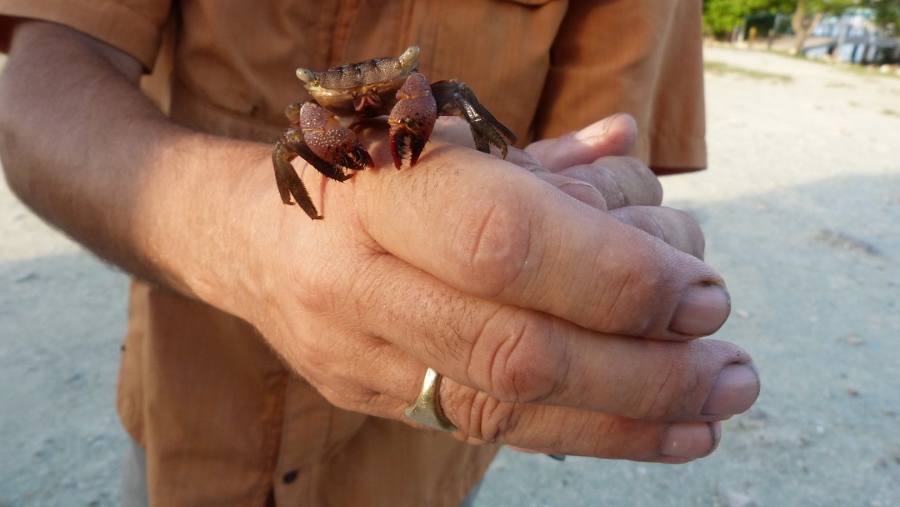 Eeek , David caught CRABS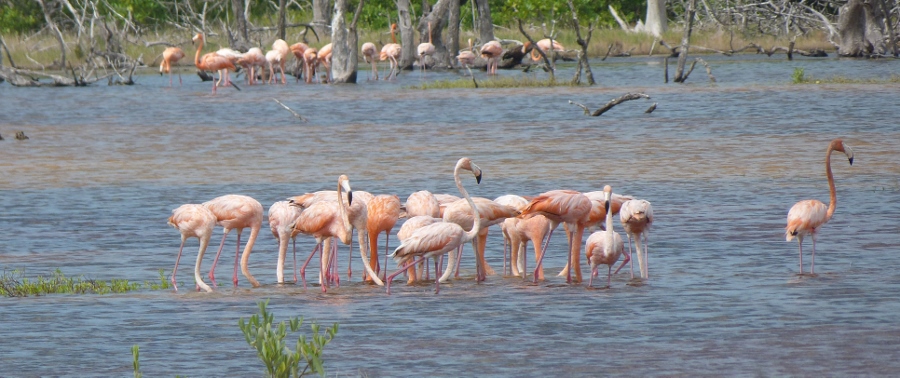 Pink things , Rio Legartos
And then there were three ?
The relentless march North and a chance to visit Tikal , Mayan Ruins on the Guatemala / Belize road did not disappoint . As is usual entrance fee is Q25 for a local and Q150 for us Gringo's .Still it was worth the visit ,
Border crossing into ENGLISH speaking Belize was a breeze . B$8 to spray the car and B$29 for a weeks insurance .We have decided to camp up at "Old Belize" , a Yacht Club ( just getting into this nautical theme ) for B$15 a night , power included if we want .Belize is a beautiful place , ragged around the edges and always one storm from being blown off the map .The rain here is intense and often .We have found a creature more ferocious than the mosquito , Belizean Sand flies .Totally invisible , they even like my blood resulting in a horrendous number of bites on my feet , arms , legs , trunk , well all over really .Only three more countries till the end of this adventure!

Through the canopy .Tikal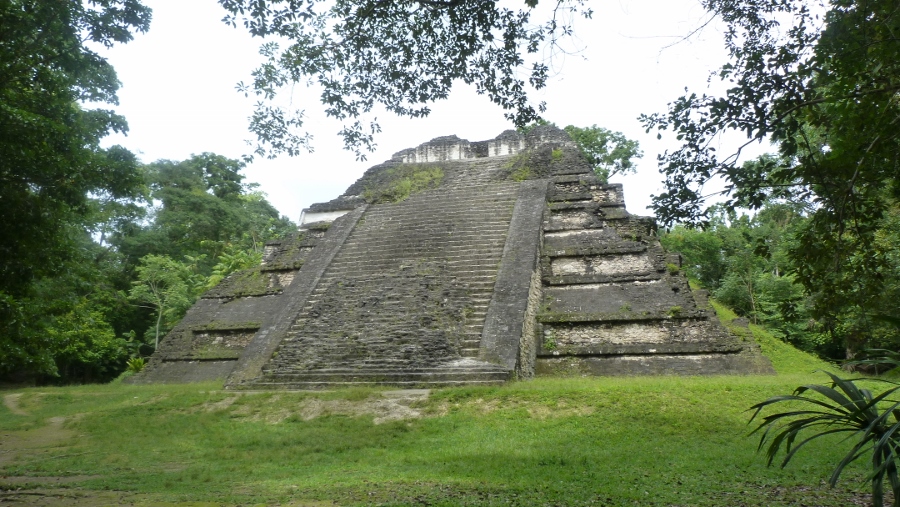 Tikal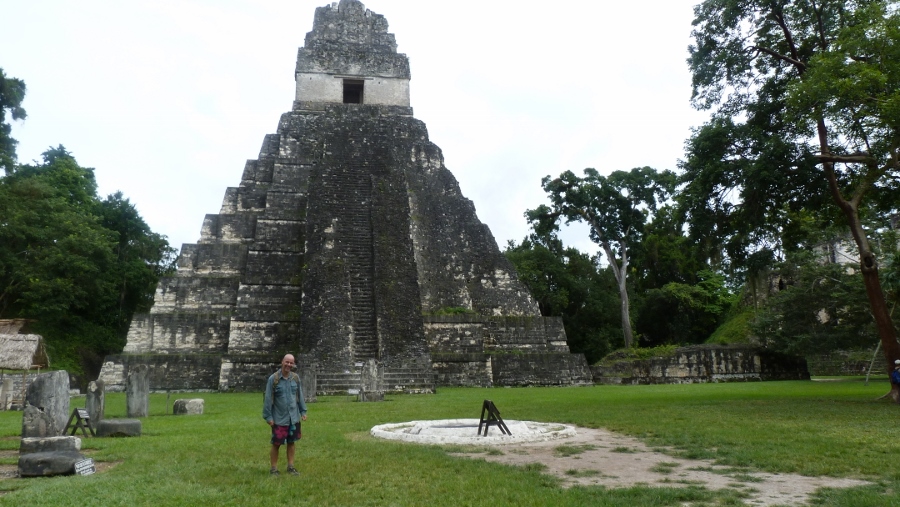 Tikal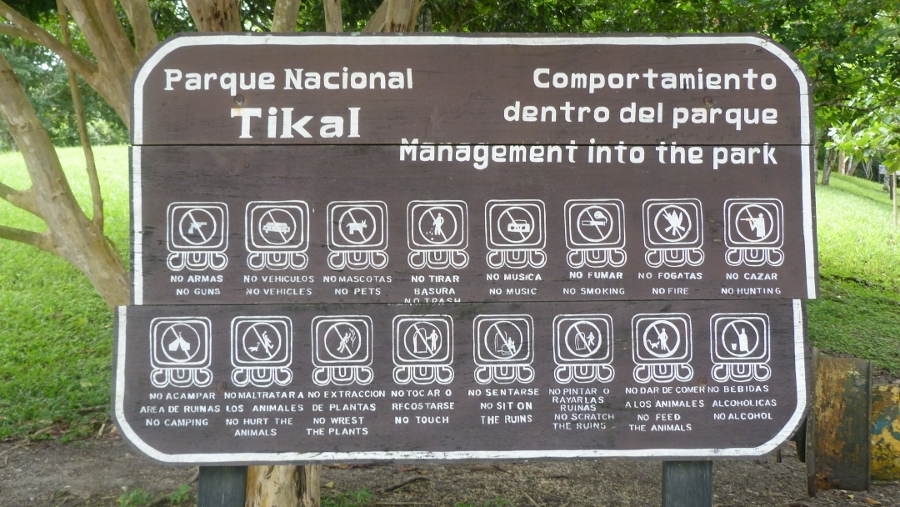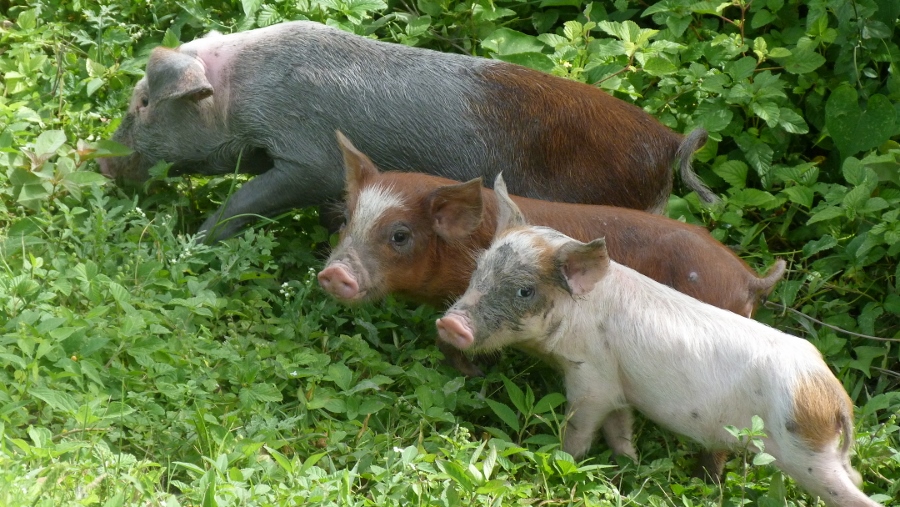 Pass the Apple ....it's suckling time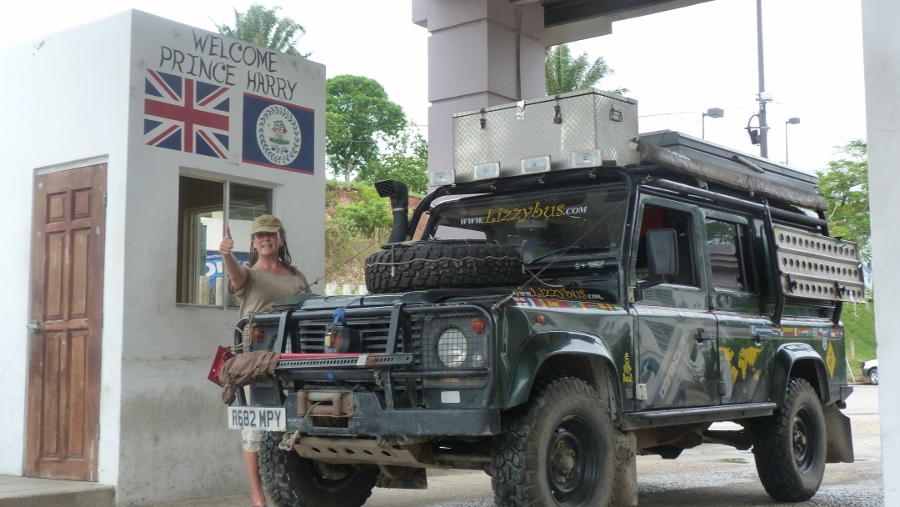 patriotic welcome , Belize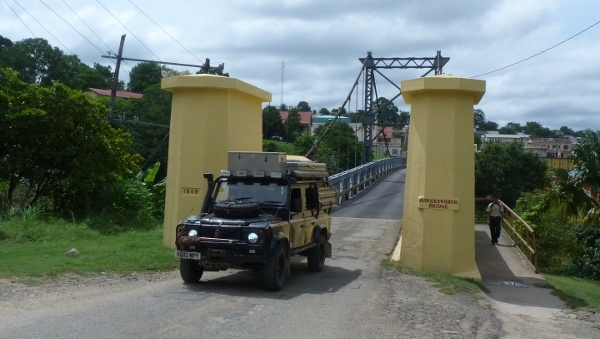 Belize Roads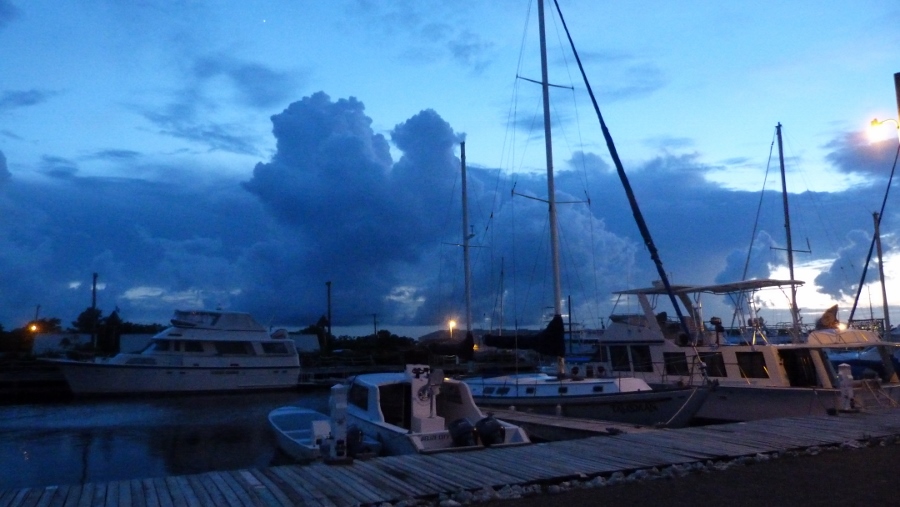 Moody evenings , Belize

Sunshine mornings , Belize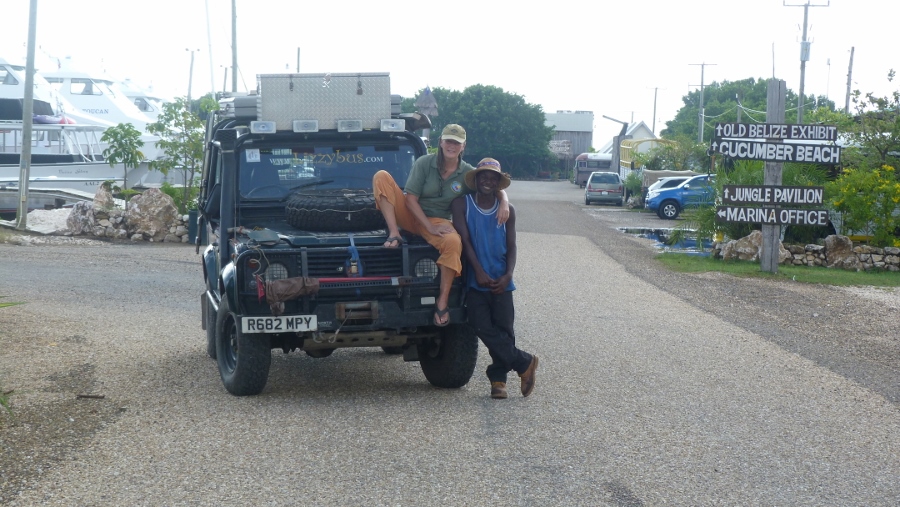 Leaving"Old Belize"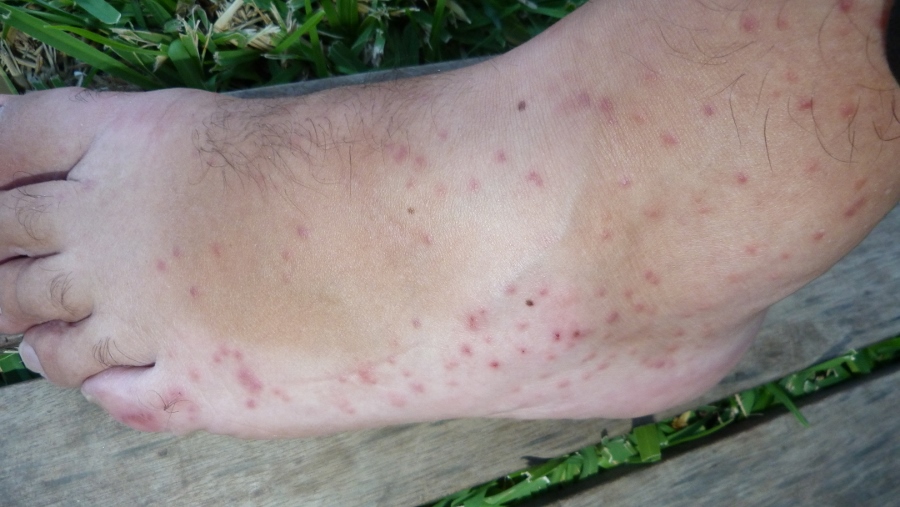 Foot v's Belizian Sand Flies , Sand Flies won
We are sailing
All jobs completed and its back North to Flores . Our natural break is at Rio Dulce and a camp in the grounds of Bruno's ( Hotel and Marina )Here they do magnificent full on chips ( great with our two day old spicy chilli ).Mixing it with the Sailing fraternity , attempts are made to seduce the Lizzybus crew with Siren calls to take up a nautical adventure next . A Czech couple(Jana and family ) to this end took us out on their sail boat .All I can say is thanks and I for one have been seduced .What to do next ?. Lizzybus II could be a Yacht !!!!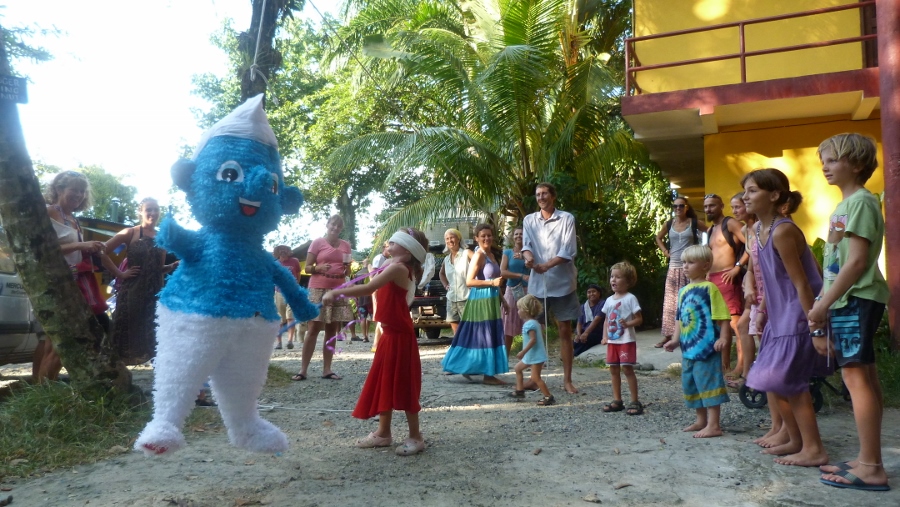 Pinyata , Party Time , Bruno's

Fort
Time for lunch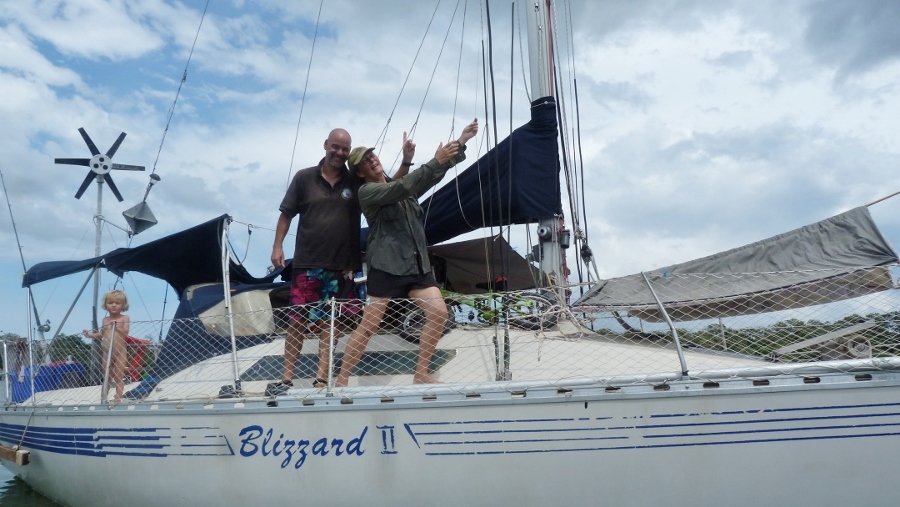 Salty Seadogs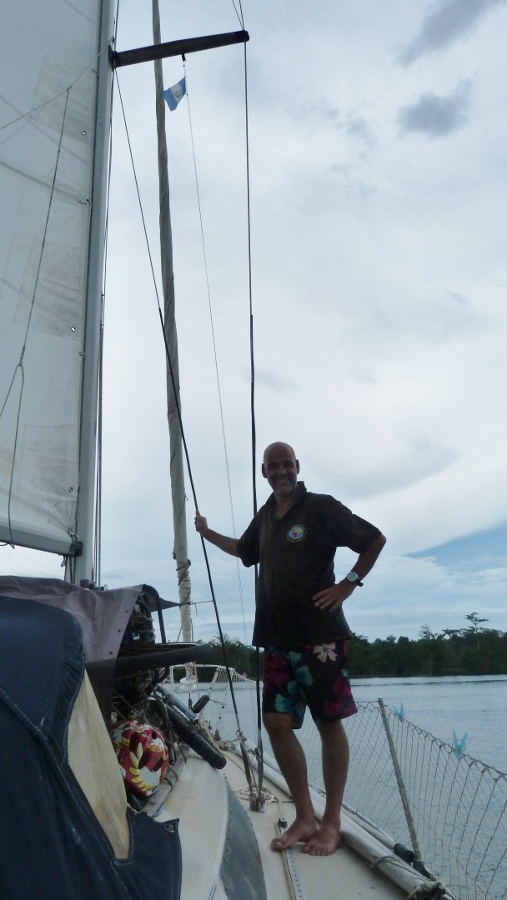 Scurvy dog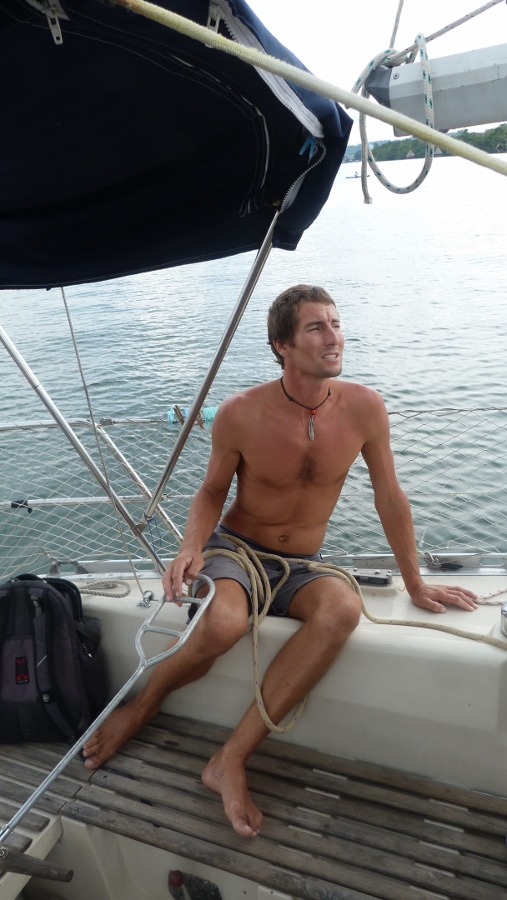 Jana's husband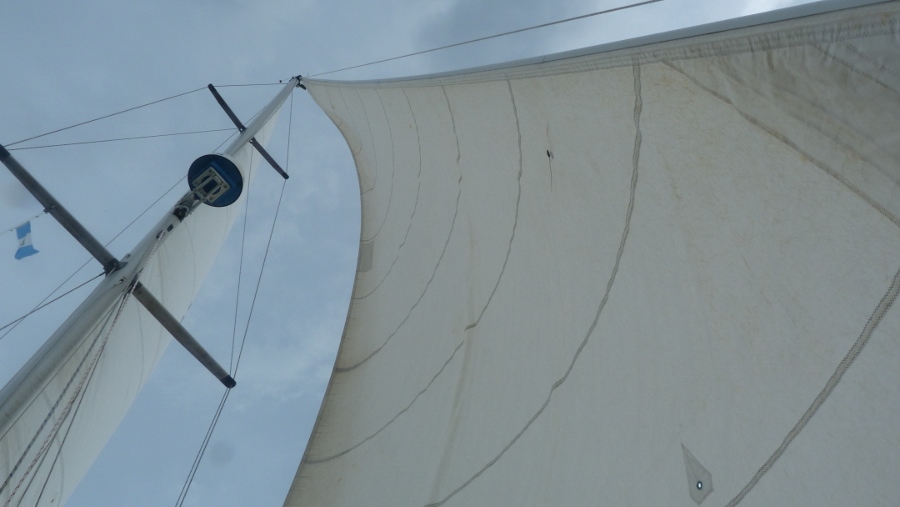 Wind at last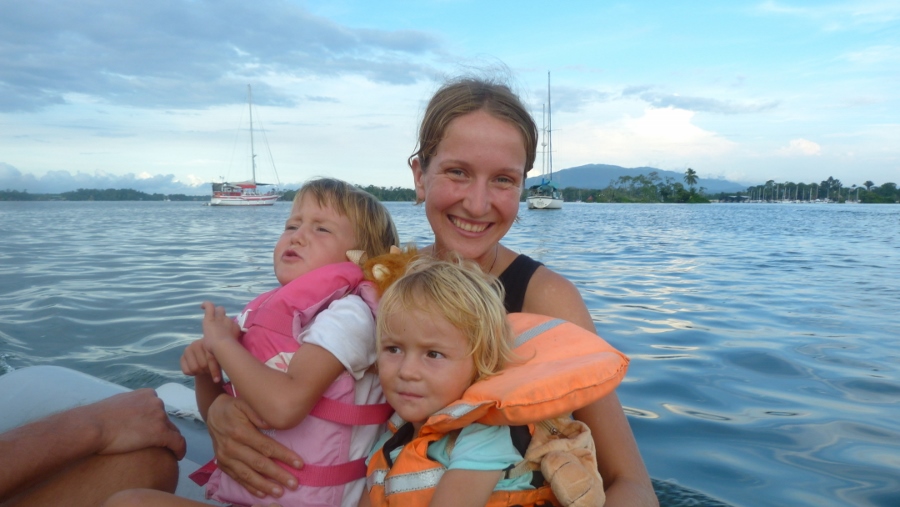 Jana and Family
Happy hundred!
Second anniversary for the Lizzybus , we have now done ( In just over 4 years ) 100,000 miles on this journey . Still have a few more to go .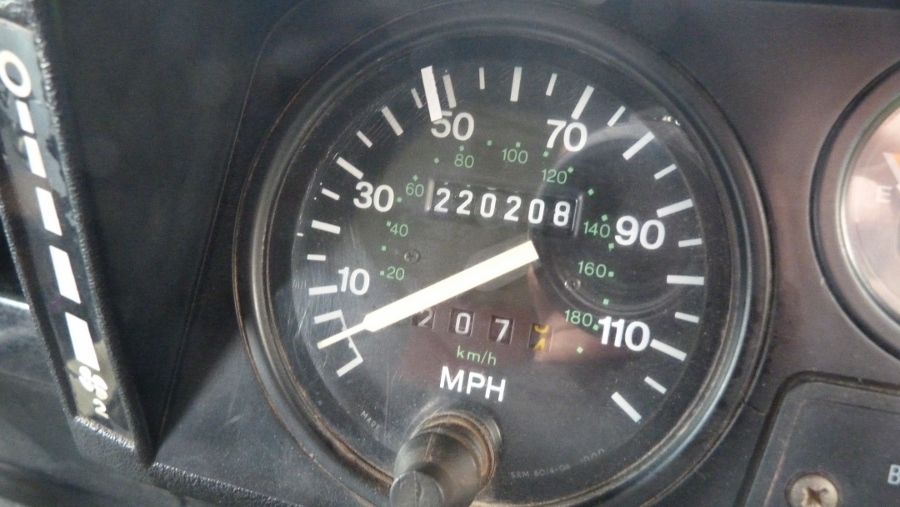 100,000 miles to date
A Land Rover that leaks oil ? Surely not !
Onwards and upwards , the plan takes form .Drive up to the Belize border via Tikal ( staying at Flores ) , cross into Belize and on to Mexico.
Bill , having crawled under , over and in our vehicle announces she is healthy but has an oil leak .Our retort , it's a Land Rover , no problem its less than 500mil top up between oil changes .Flores made , we stay in a cheap hotel with a secure car park .Parking on the concrete hard standing we notice after a day a very large patch of dirty , black , engine oil Yep , Bill had spotted a bigger leak .Mechanic David diagnoses a broken end plate on the vacuum pump .Skype to Bill , all that is needed is to take the pump off , drill the rivets out , mastic and bolt the plate back on , easy job .Ok , no option then other than to drive 300 miles back to Antigua and let Bill effect the repair .I'm not chancing my arm when there is an ace mechanic around the corner .So , still on the tourist police camp site ( FREE!!!) , meeting up with a few Over Landers , slowly getting the repairs done ( Bill has just put another pump on ) , with a MOT required in the UK when we get back ,we opt to have the front bushes changed .As always , the bolts that holds them in will not come out .Time for the angle grinder .Mind you , we have found an ace supplier of Defender spares in Guatemala City . Reyca SA . We are now proud owners of enough filters to complete the journey priced at £4 each.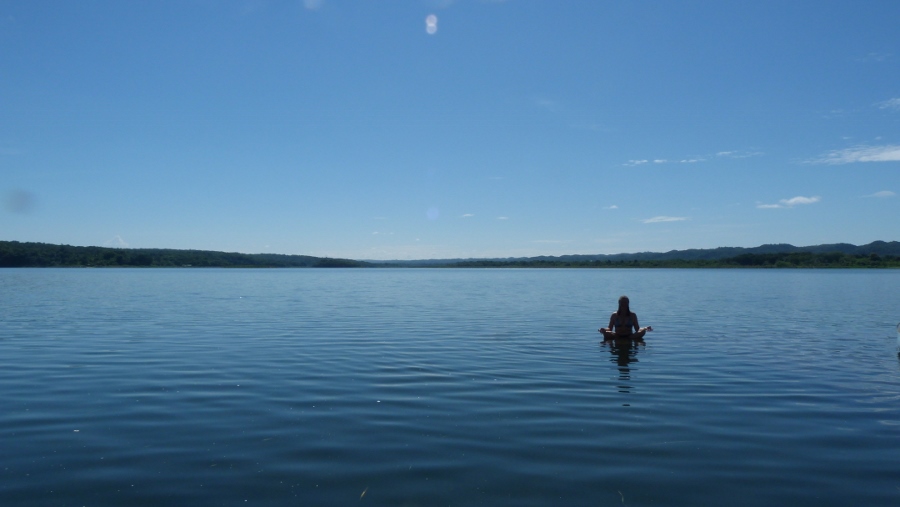 Zen qualities , Flores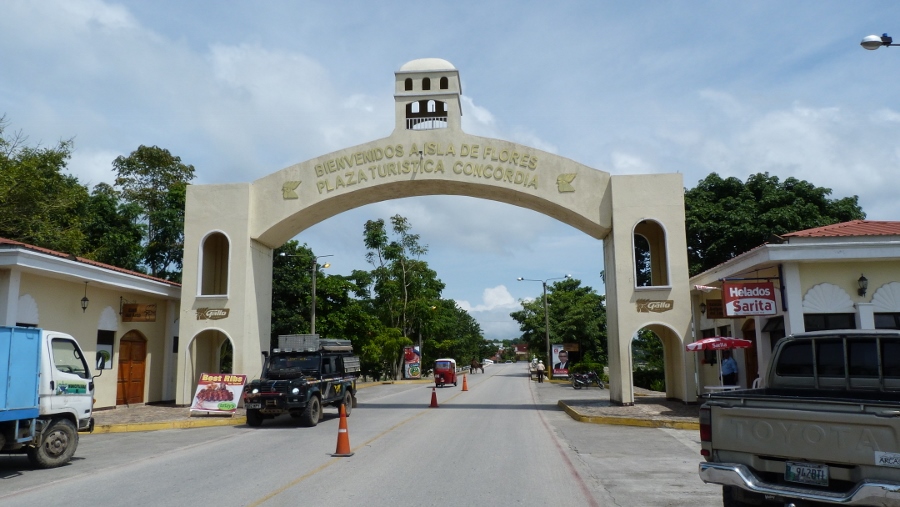 Flores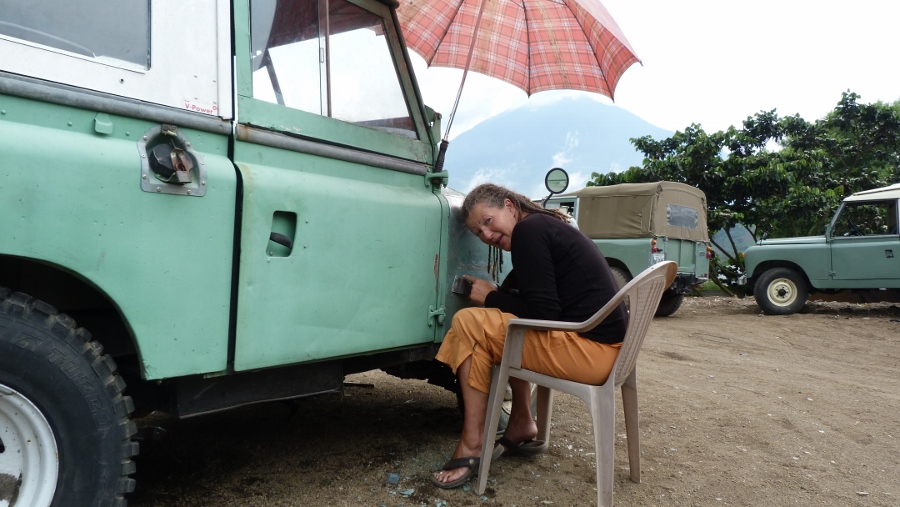 Jayne working on a Series Landy...Bills , Antigua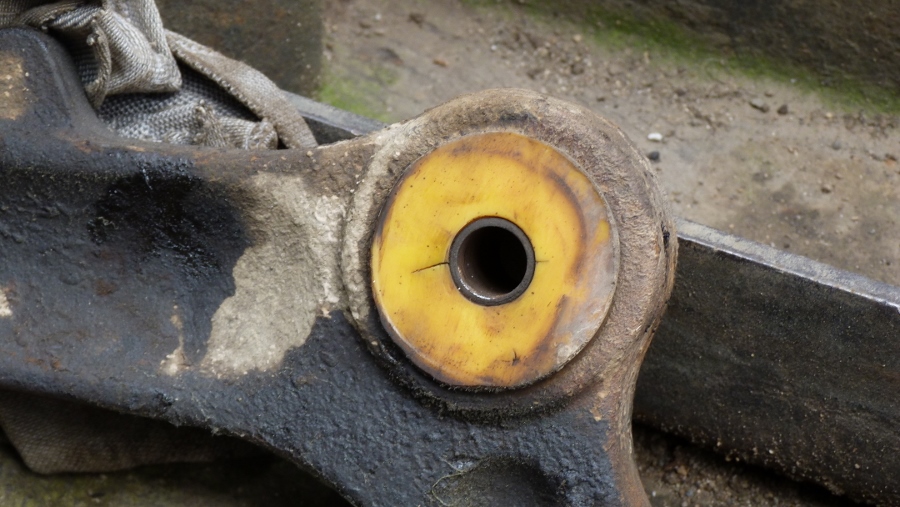 Worn bushes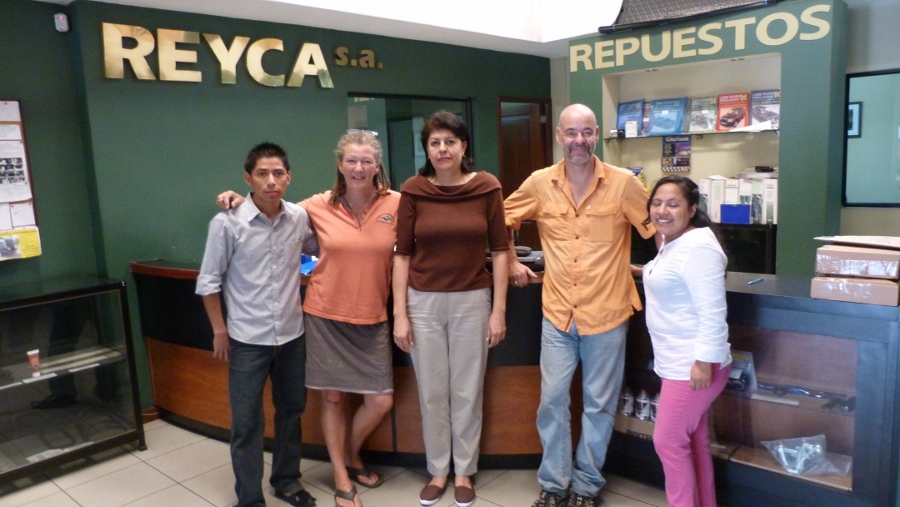 Spares supplier , Land Rover Heaven , Guatemala City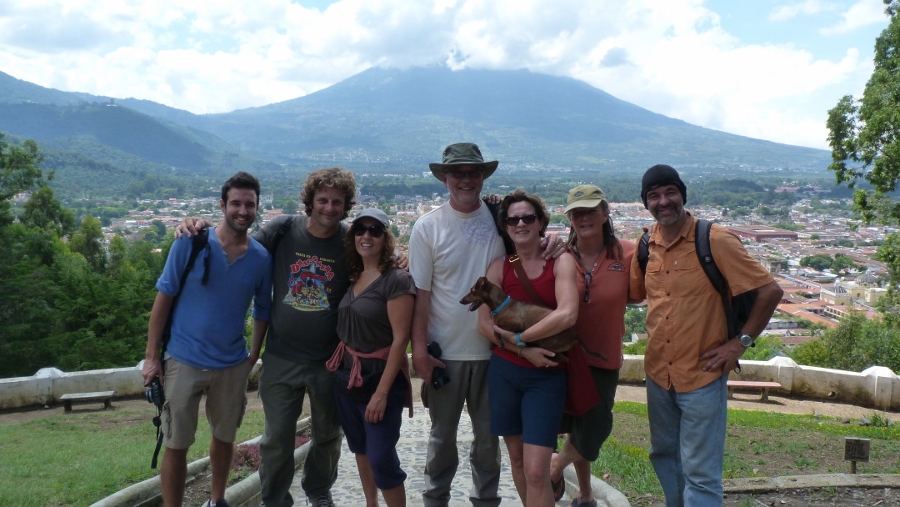 New found friends , Antigua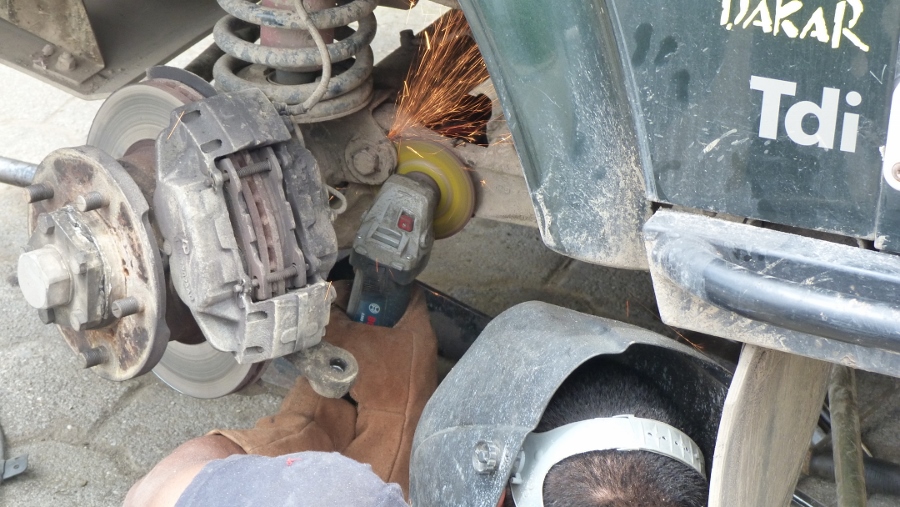 Only way to deal with stubborn bolts
Onwards , to Guatemala . We have a face book friend Isa , who is part of the Guatemala Land Rover scene .He put us in contact with Bill , a Canadian who specialises in all things old in Land Rovers .Both live in Antigua .A chance for someone expert enough to cast beady eyes over the Lizzybus . Good news because as we hit the border , on a concrete road we got the "death wobble" , severe oscillation through the steering causing much fright and a general slowing down . "not an expert mechanic " David diagnoses worn panhard rod bushes .
The beautiful "Gringo" city of Antigua , framed by volcanoes both dormant and active ( gulp ) will be our home while we sort out these problems .Camping at the tourist police headquarters for free , we celebrate on the Sunday , Guatemala Independence day .
Track down Bills , a quick check shows front wheel bearings need a tweak , pan hard rod bushes are kaput and front UJ has a bit of play .Parts sourced ( genuine Land Rover and GKN ) mean a price premium ( about double UK ) but confidence that after a few km they wont wear out .A day to fix , total price ? 970 q ( about £90 ) , labour is cheap .Looking at the quality of his rebuilds one was almost tempted to rent an apartment and get Lizzybus done .A few admiring glances of the roll cage , long range tank , gal chassis and corner protectors , caused agonising moments . If we broke her for spares out here we could make a fortune , we don't have the heart , Lizzybus WILL make it around the world .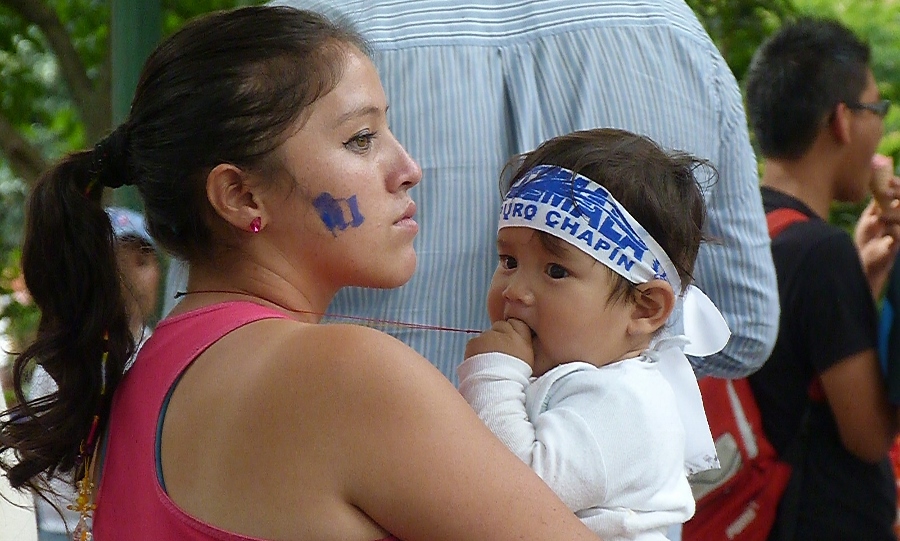 Independence Day Guatemala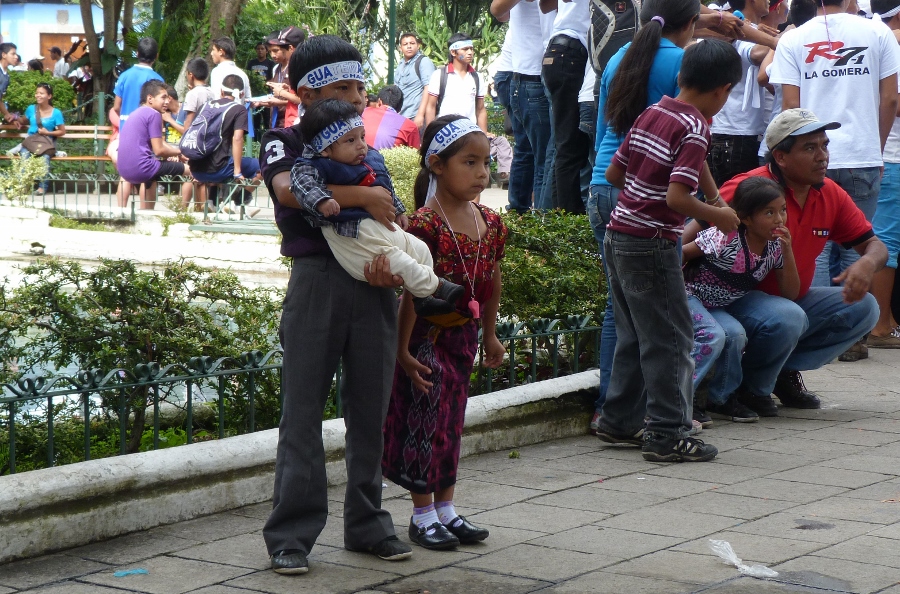 Independence Day Guatemala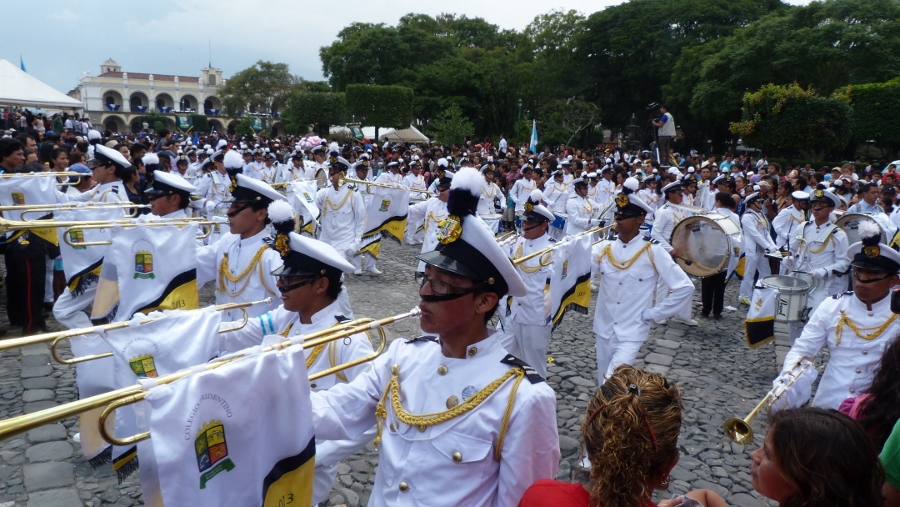 Marching Bands Independence Day Guatemala ,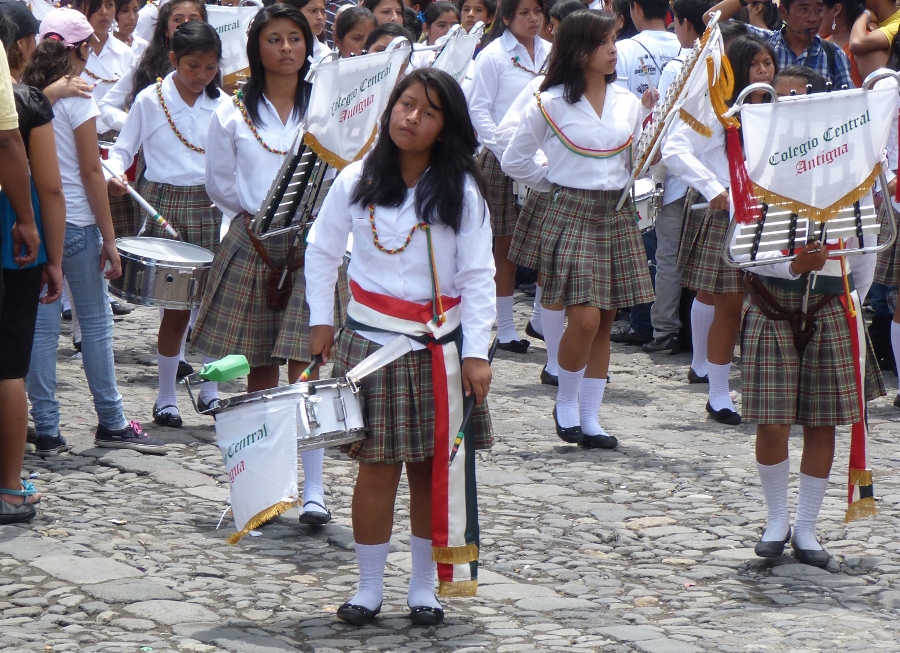 A Long Day ,Independence Day Guatemala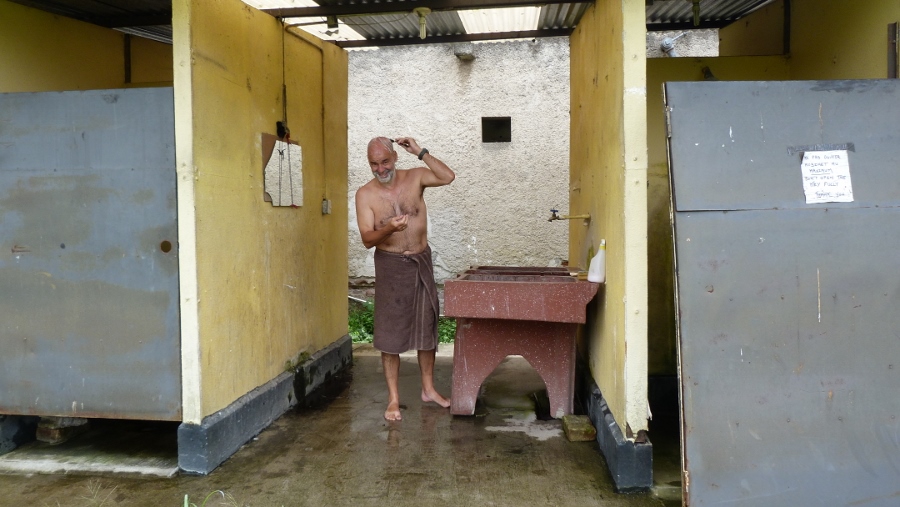 time for a COLD shave , Free Camp , Antigua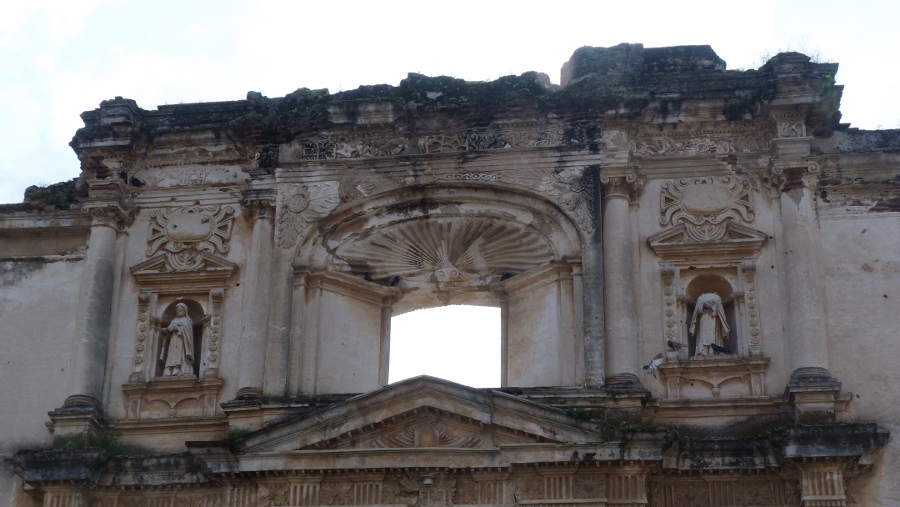 Antigua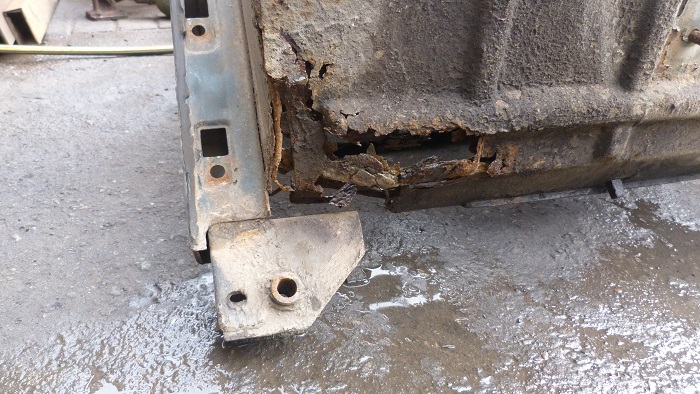 Lizzybus Rebuild!! Bills , Antigua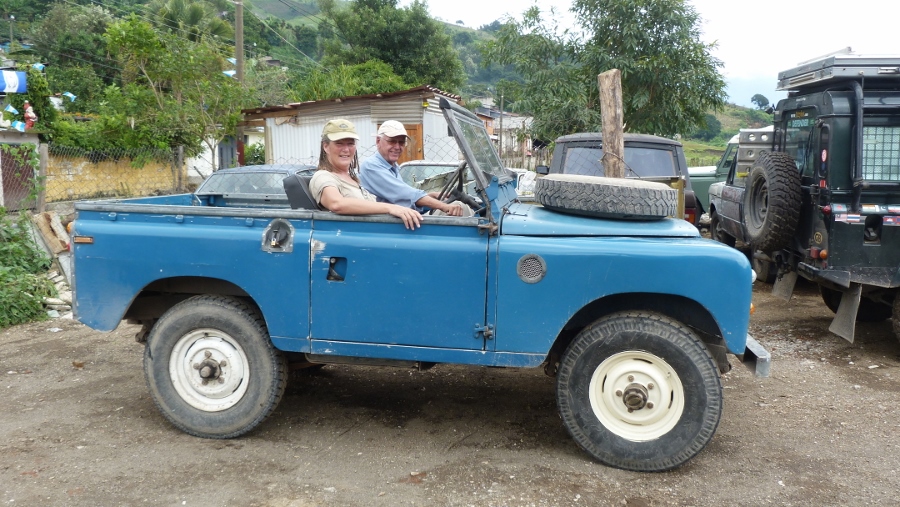 Jayne decides to trade us both for a series LR , Bills , Antigua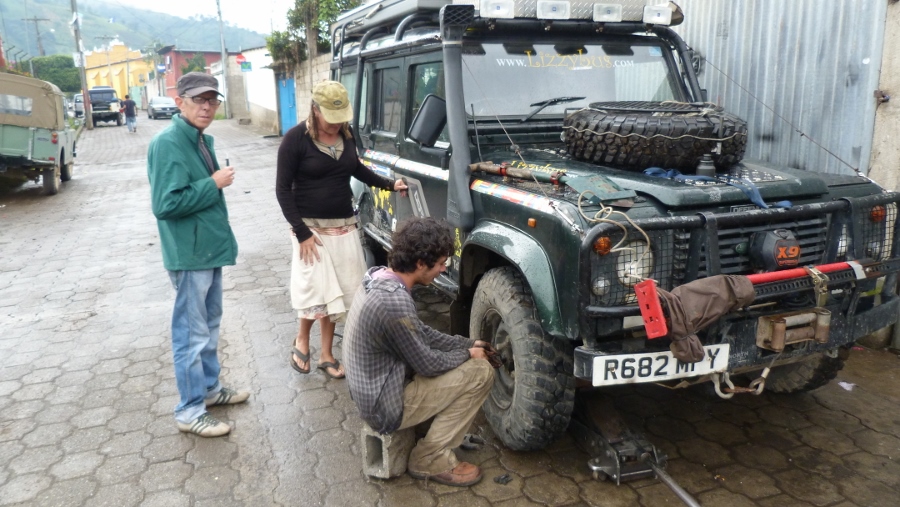 Its bearing time . Bills Antigua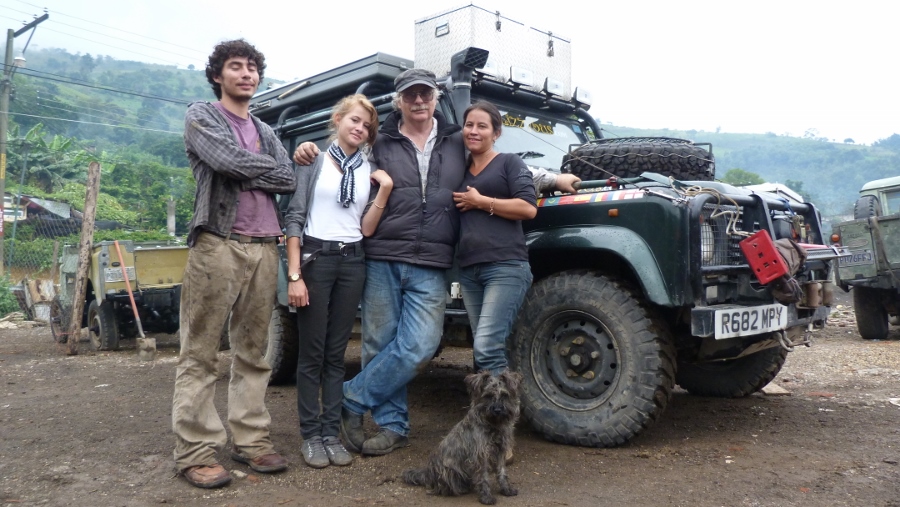 The Redoubtable Mr Bill and family
I am no expert!
Things were progressing down the injector ( i.e. very expensive ) route , not one to listen to advice , a few e mails to the Land Rover forum and a chat with Bill ( old Land Rover expert in Guatemala ) convinced me my diagnosis was right , it's the solenoid .Having almost removed the injector pump , it is re fixed and back to testing . On our free evenings ( everyone gone home ) I remove the solenoid plunger .Hey presto , she ran .So the problem was the power to the solenoid all the time .Repaired by running a new power supply , new rear axle input seal , new oil pressure switch and its job done after 4 days .Sounds dire , but we have been treated as celebrities by the LROC of San Salvador . Out in the day sight seeing , evening BBQ .The curse of Lizzybus caught up with us when the Rangie we where all in broke down . So , not just us then with electrical gremlins ! All in all ,a great time in ES, it has been fantastic and a privilege to have come here .The cost ? $100 for the parts , Labour FOC , thank you Land Rover Automotriz and an even bigger thanks to Jose Mario and all those at the LROCES for showing us such hospitality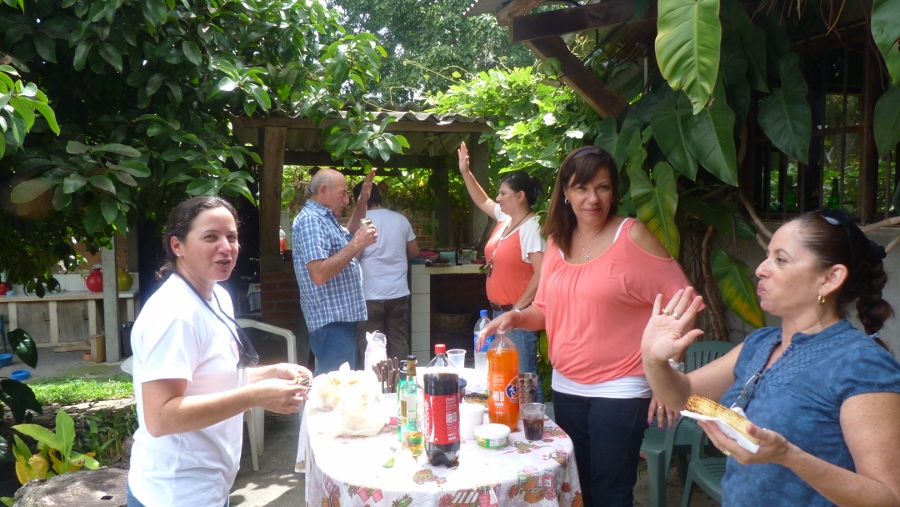 BBQ with LROES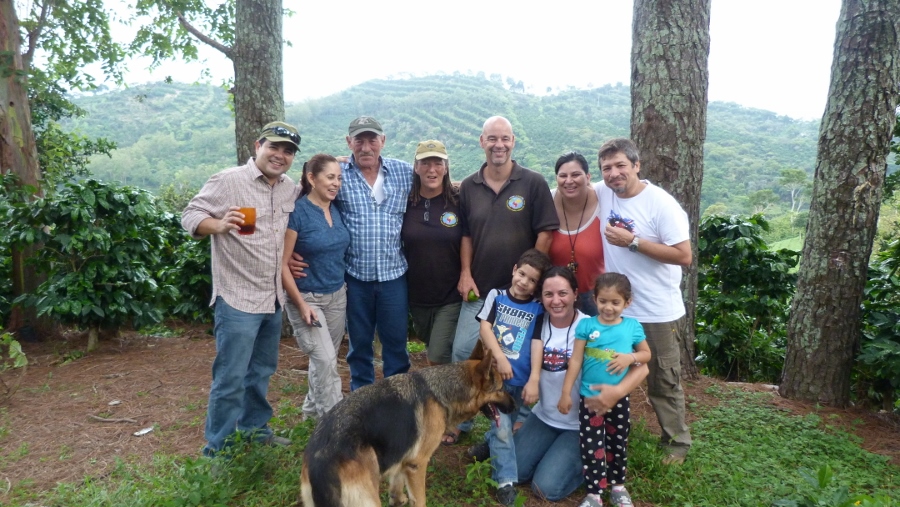 Coffee plantation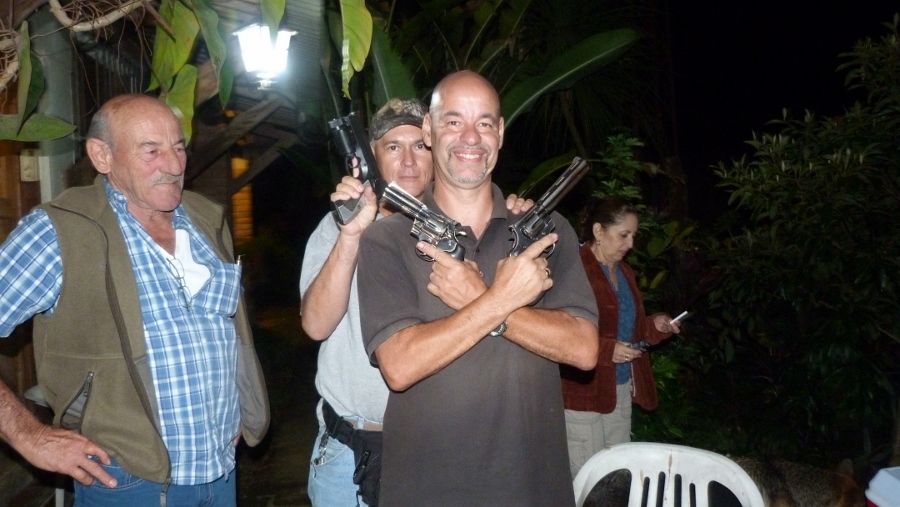 Guns! San Salvador style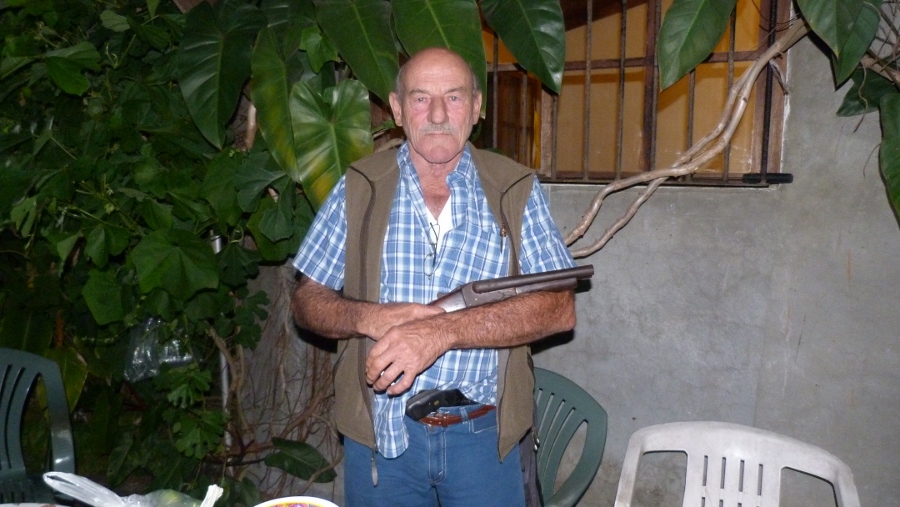 You wouldn't Argue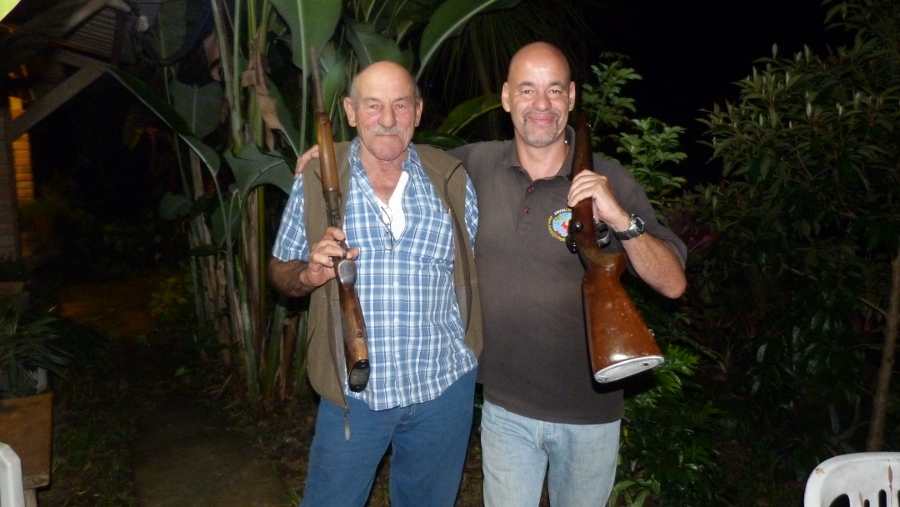 Give me more guns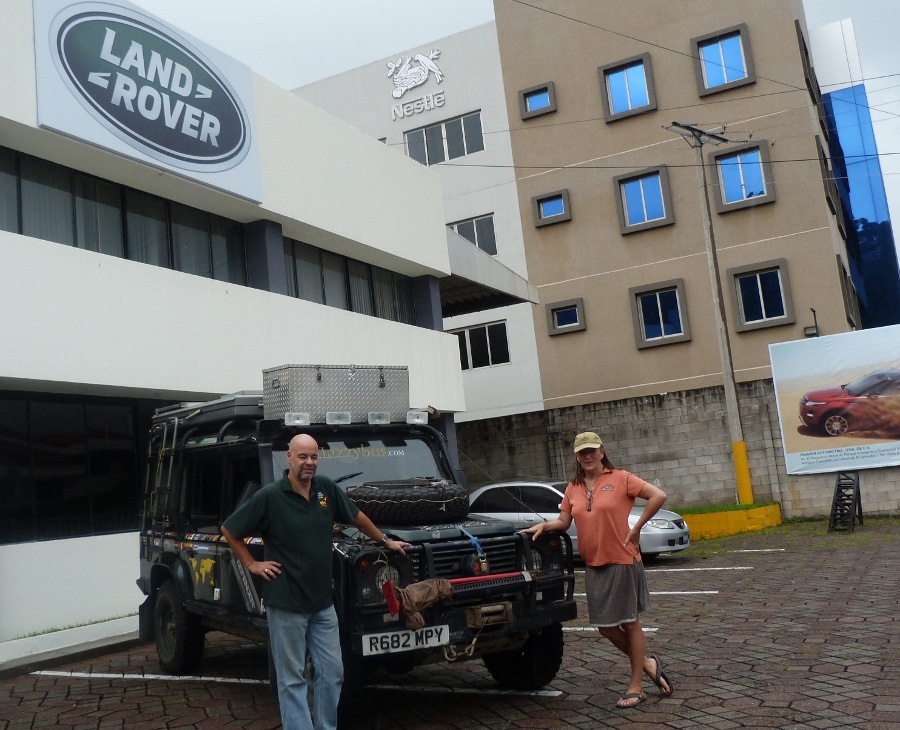 Land Rover San Salvador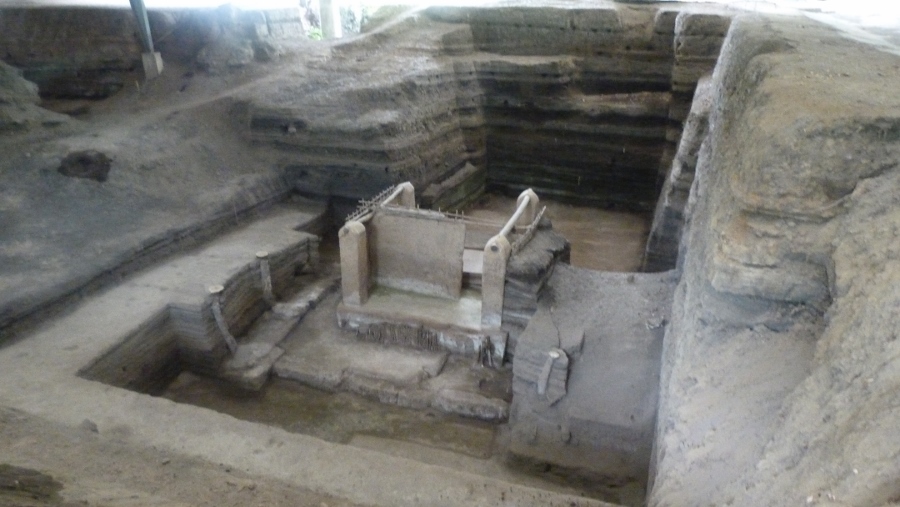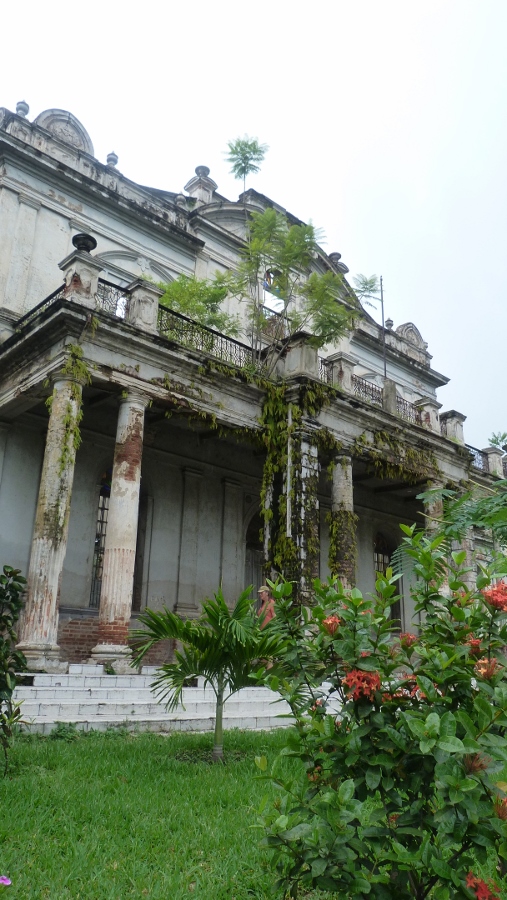 Santa Ana
Santa Ana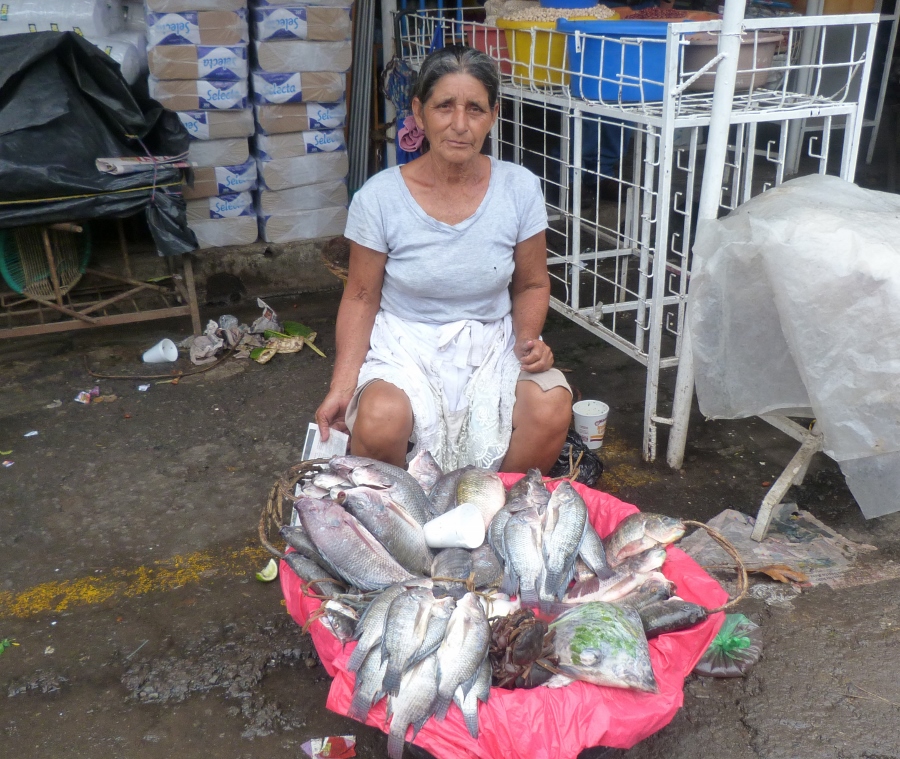 Markets Santa Ana
Markets Santa Ana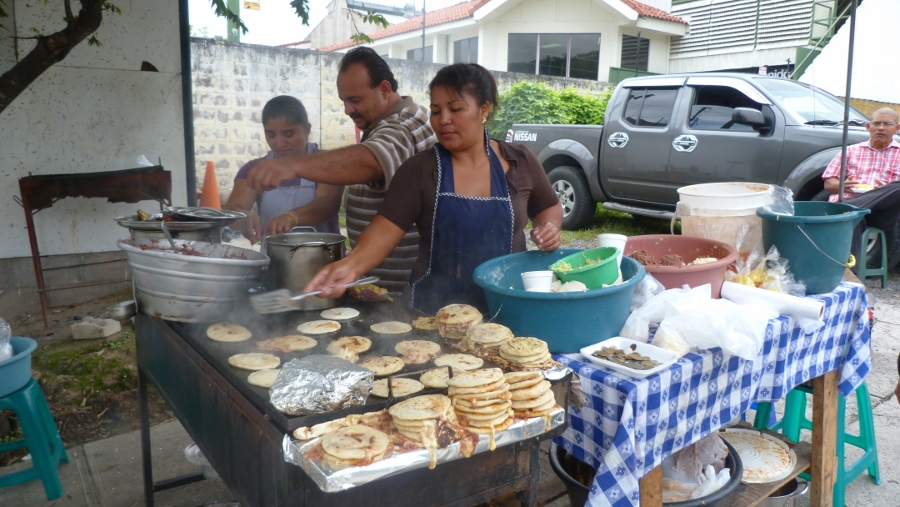 Lunch san Salvador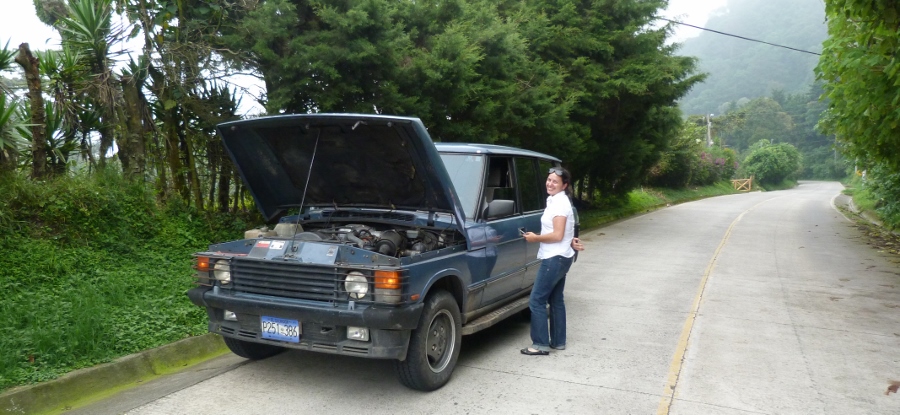 Curse of the Lizzybus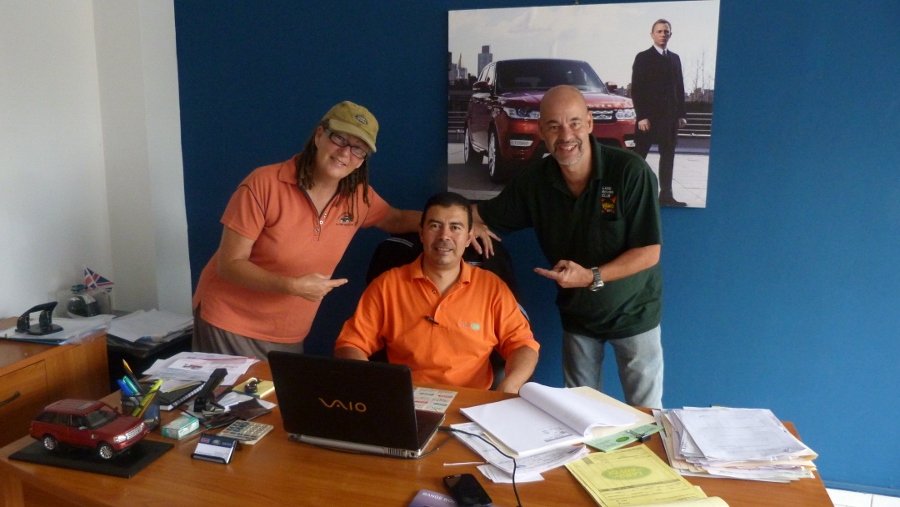 Mr LandRover himself .San Salvador
Smug
Smug , or should I say Smeg ? Ok , smeg it is and I told you so !
Having been so cool at spotting 50l of petrol going into the Lizzybus and the saving of a s**t load of money by not starting her and the associated new injector pump and injectors , my god was I SMUG .Well , crossing into El Salvador the Lizzybus stopped suddenly and refused to start , she did this a couple of times . Chilling down on the coast we return to the capital for a few MINOR repairs , she did it again , this time refusing to run for more than a few minutes .The ignominious tow by a flat bed truck to the dealership stung . My diagnosis of either fuel cut off or fuel lift pump are put in their place as each are replaced with no subsequent improvement in the patients health . Consensus of opinion is a Donald Ducked fuel injector pump .Tomorrow they will take one off another Tdi and then we will see .So , again , back in a dealers garage , every hospitality shown to us , we await our fate . We have beer , food , internet and the most amazing people who are prepared to0 help .Inshala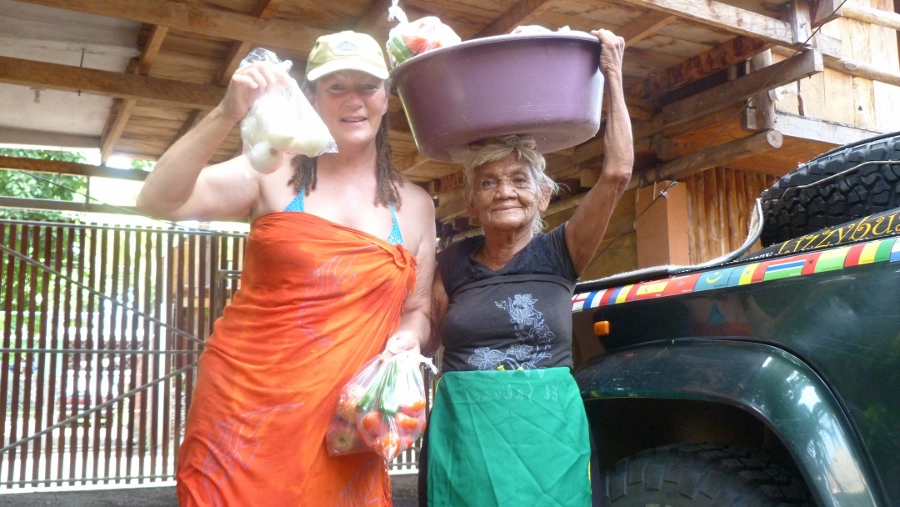 Buying Groceries ,Firewood hotel, El Tunco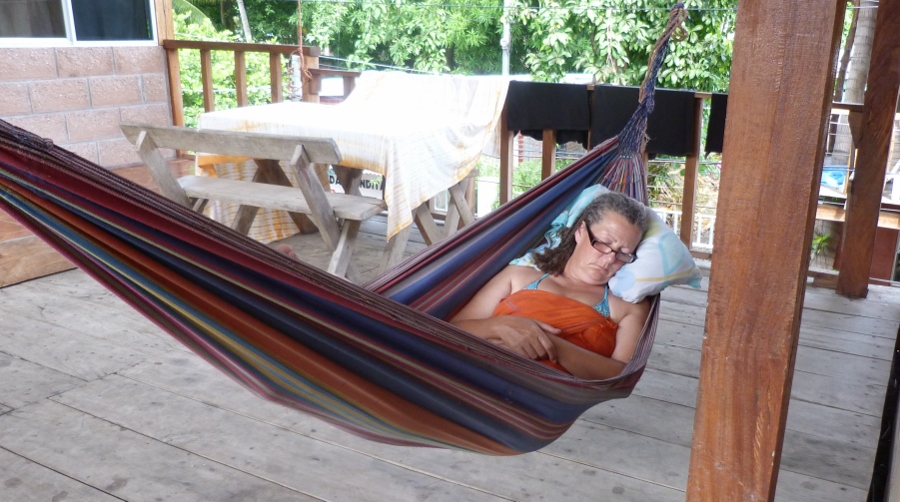 Siesta time at Firewood hotel, El Tunco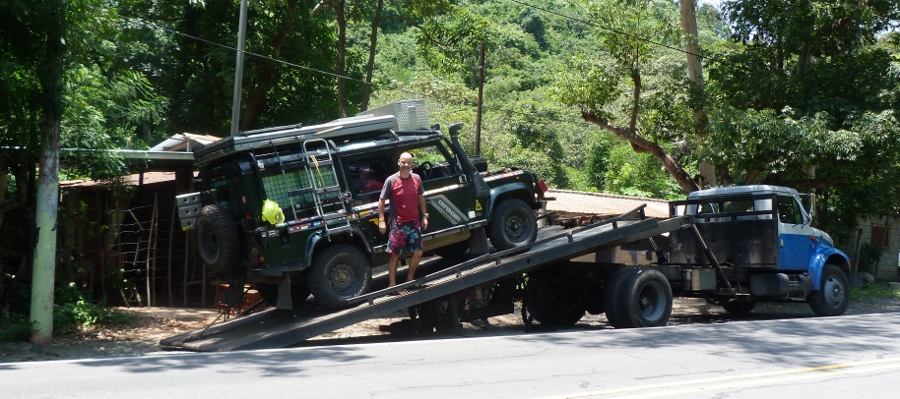 Again , not a Land Cruiser tow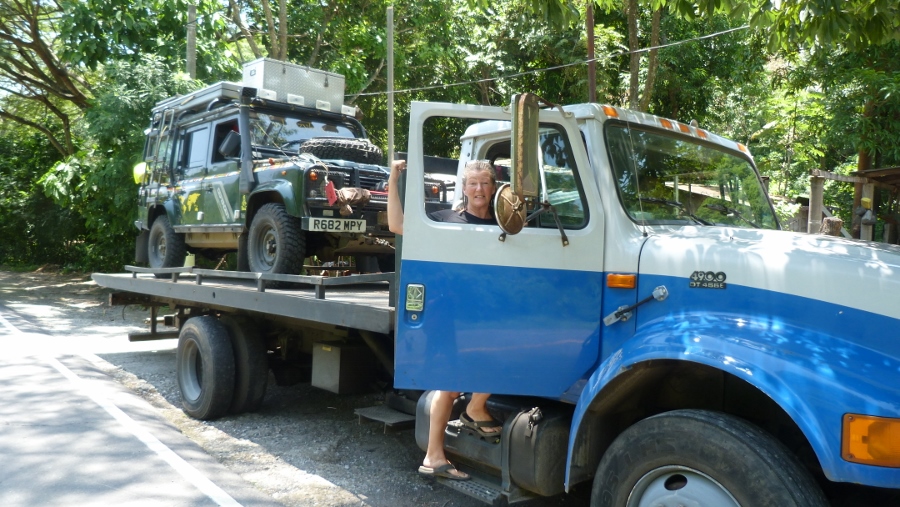 Time to go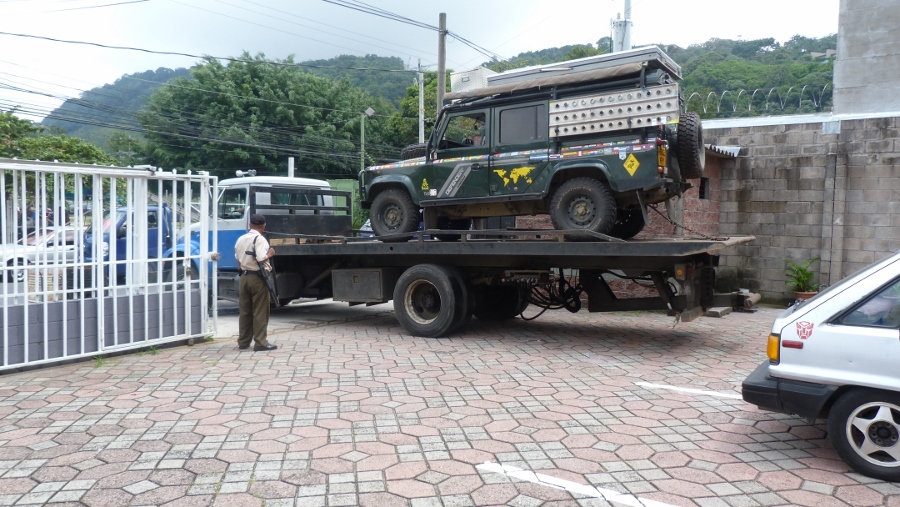 Dealer found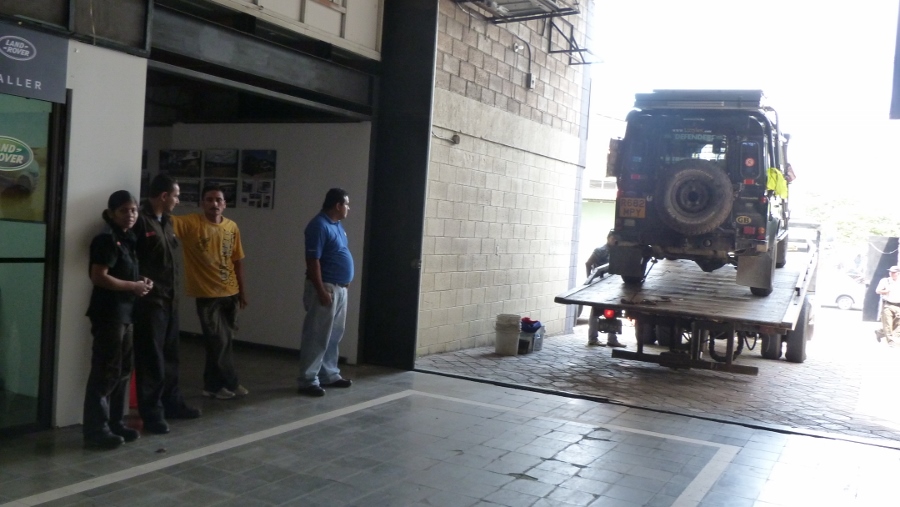 Arrival at Premier Automotriz , San salvador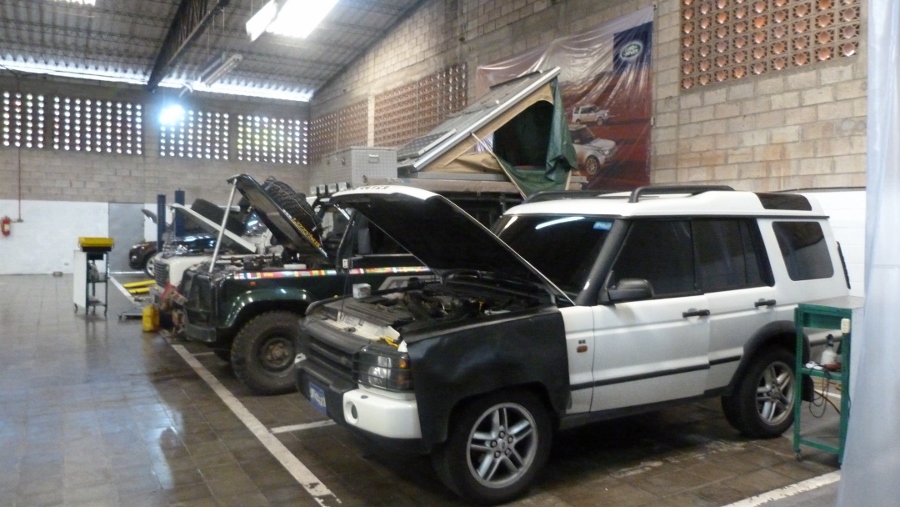 Dealer Camping , our home forthe forseable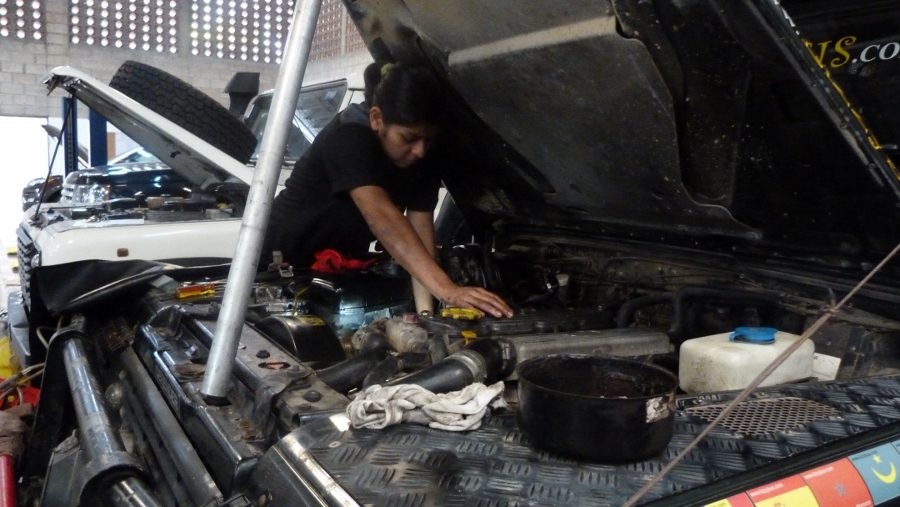 Official dealer.....no child labour
Volcanicity
Joy of joys , I love volcanoes .In this part of the world , you cant miss the big , towering , smoking beasties . We have been authorized ( with the BRILLIANT help of Jose Mario from the ES Land Rovers Club) to enter El Salvador from 1st of September .From the vast size of South America it is difficult to re calculate distances when you can cross a country in a day ! We have to slow down or we will end up in Mexico way to early .
Dominated by two giant volcanoes ( one still active ) we ferry across to Isle de Ometepe . Two nights on the island then off to a meeting with the ever helpful Jose Mario .Meeting people who are proud of their country and willing not only to give advice , but of their time has been one of the refreshing outcomes of our travels , JM being no exception .Turned up at our rather run down hotel ( it was cheap) he stayed for two hours whilst we talked about routes , contacts and general life changing issues ( leaking Land Rovers ) Great guy from a great country .So , there it is , in the shadow of towering volcanoes , we wait out a few days in a nice hostel in Leon before we cross into Honduras then ES .Cook all our food in the nice kitchen , drink the free coffee , wander around the old colonial town ( daren't move the Lizzybus , she has a prime parking spot outside the hostel ) sort out "online" USA visa applications .Mind you , still haven't done the oil change .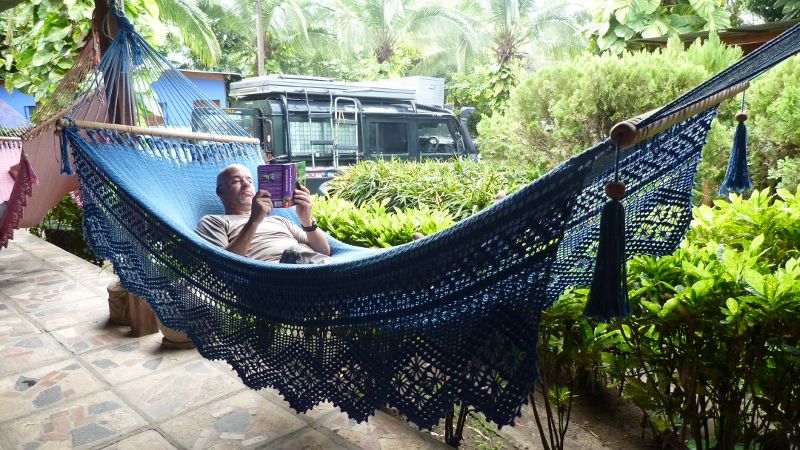 Just Chillin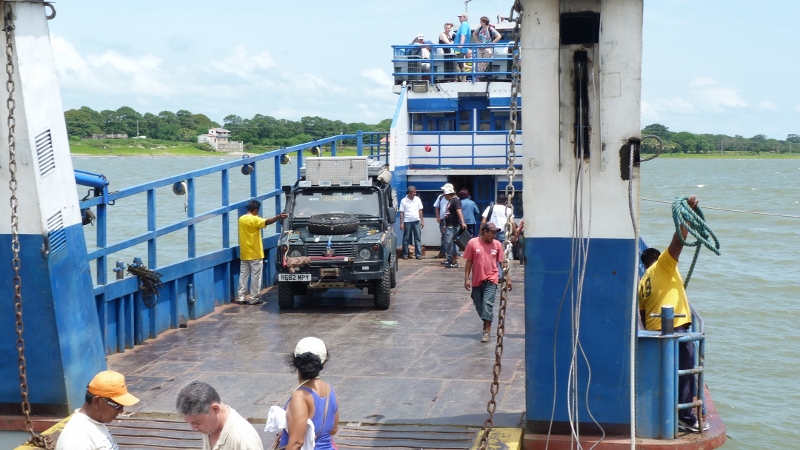 Ferry to Isla Ometepe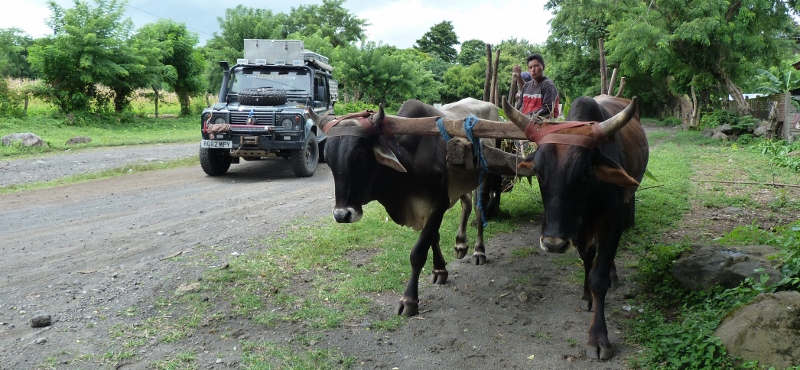 Around Ometepe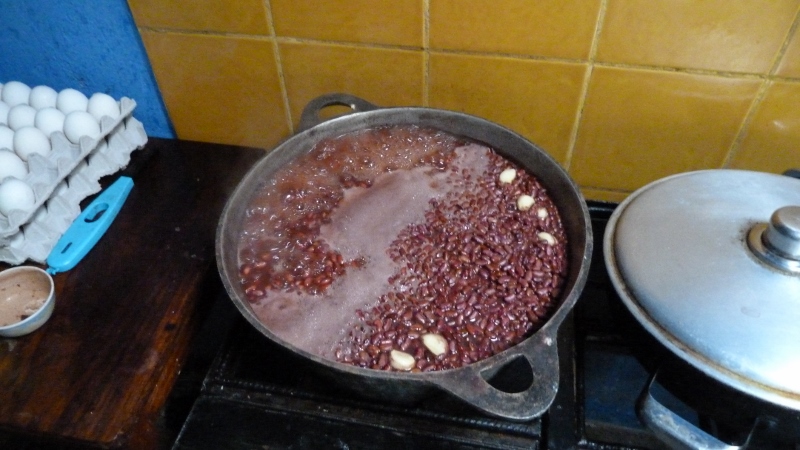 Not quite Heinz....breakfast

Ometepe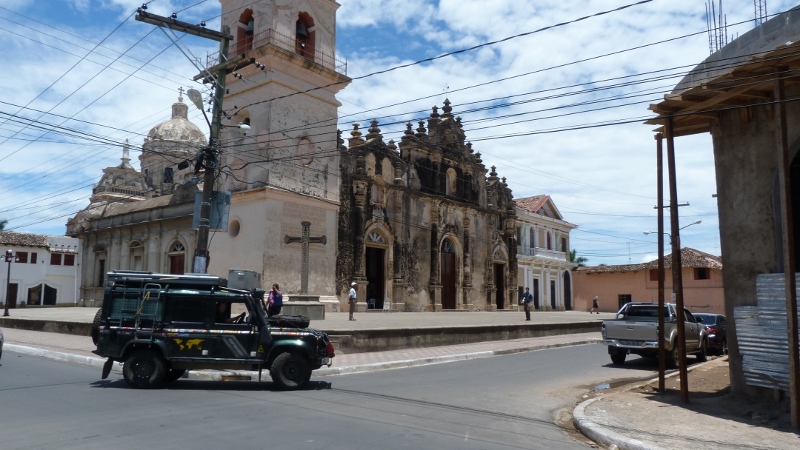 Granada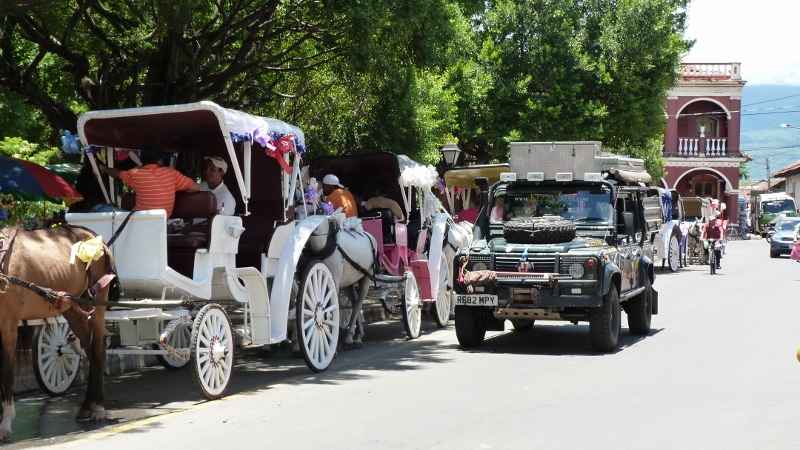 Granada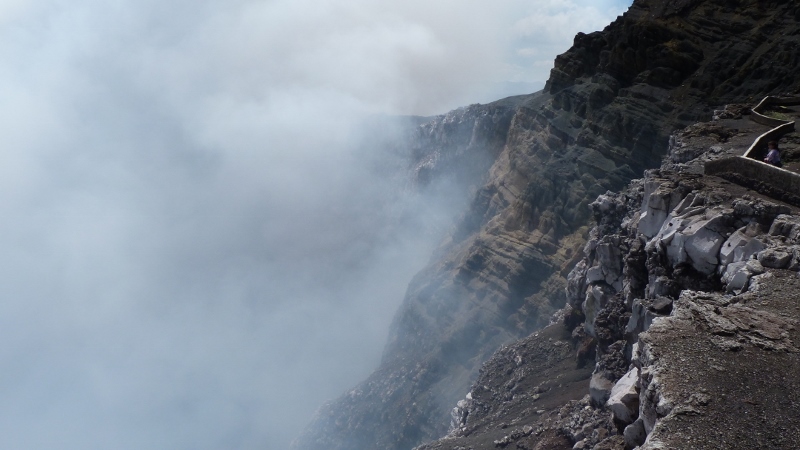 Volcanic activity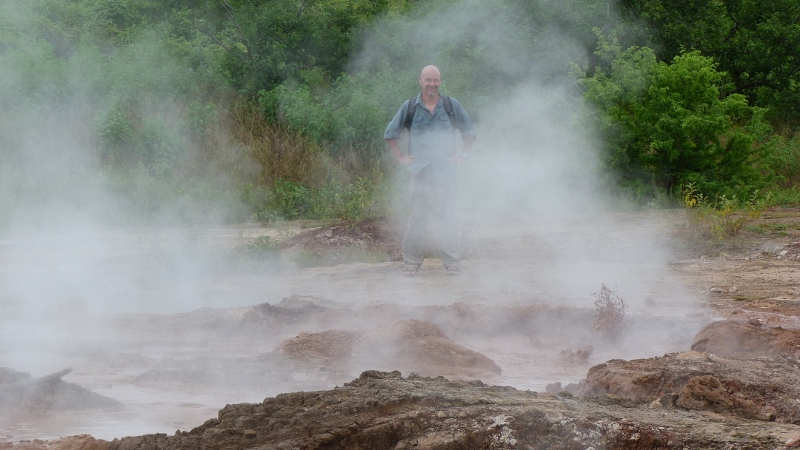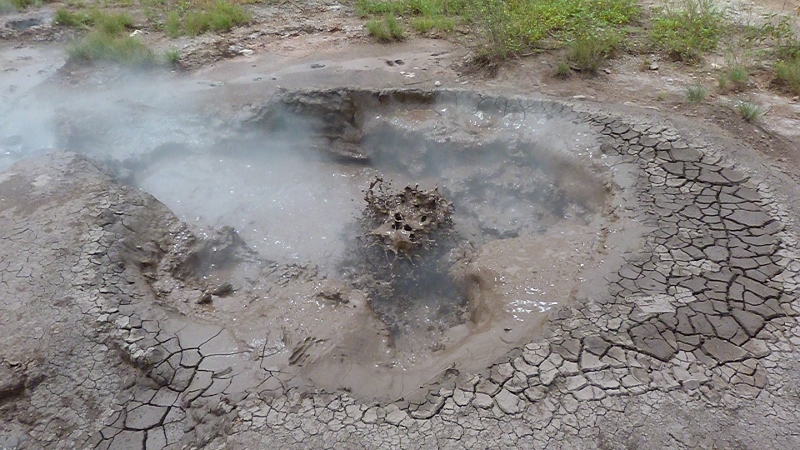 Volcanic mud pools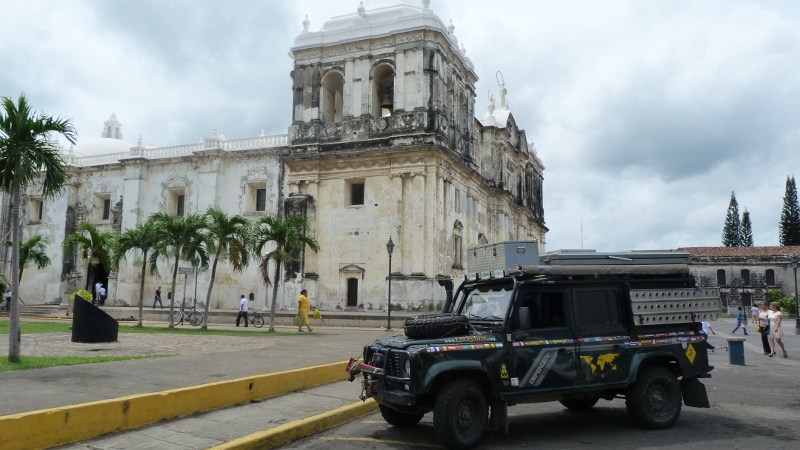 Leon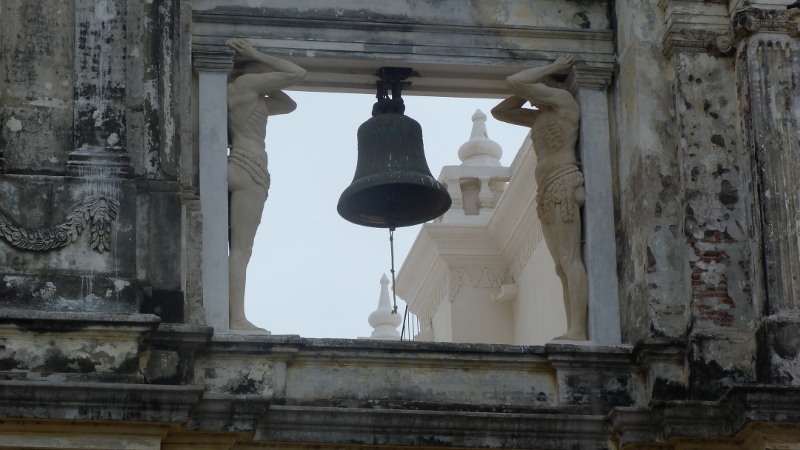 Leon
Pushing on
If you are following our adventures, this note is coming from Nicaragua .We pushed through Costa Rica in three days . Heresy , we hear you shout .Nothing wrong with Costa Rica , we even stayed at a brilliant hotel in San Isidro
Hotel Zima (N 9 22.669 W 83 42.173 , if you are over landing ,visit you will have a great reception ) , but in truth , the Lizzybus has sprung a leak from the back axle ( again ) and we want to get her fettled in El Salvador .Notwithstanding the repair , the weather is defiantly not conducive to camping .It rains a lot around here , of biblical proportions, so Hotels are the order of the day ( it was that wet we paid $60 for an apartment so we could have a dry night ) Costa Rica is so expensive we filled our tanks to the brim in Panama .It would have been nice if they had put diesel into the main tank and not petrol .Fortunately we noticed BEFORE we started the engine and saved a horrendous repair bill ( injector pump and injectors )So , back under the Lizzybus and time to get hands dirty , again . Shame we had to ditch the 50l of petrol ( would have kept the Coleman going for a year )which we didn't have to pay for , it all got poured back into the garages main tank .
The biggest worry for all Over Landers is the Nicaraguan border . You cannot go along the Isthmus without crossing through .After 54 countries you would think this wasn't a problem for the Lizzybus crew , BUT , you cannot import a right hand drive car ( even if you are in Transit ).
If they want ( and they have in the past ) you can be refused entry .Its either return to CR and ship around or "negotiate" a price .So armed with a hundred dollars we tentatively proceed with crossing . Dismissing paid offers of help from local "fixers" ( pointing out the 54 + crossings already completed ) we search out the relevant offices All we can say is that the weather worked for us this time .It was raining that hard , those police and customs who need to search / check your vehicle merely peered through the heavy , misty rain to a green Land Rover parked 200m away with Jayne sitting in the "passenger seat" , they either didn't spot the Right Hand drive , or , in all honesty , couldn't be bothered .No way did they want to get wet . 30secs per check , Aduana form stamped , $12 for insurance , $5 for permission and we where in .Phew , the last great obstacle ( except perhaps USA car insurance ) overcome.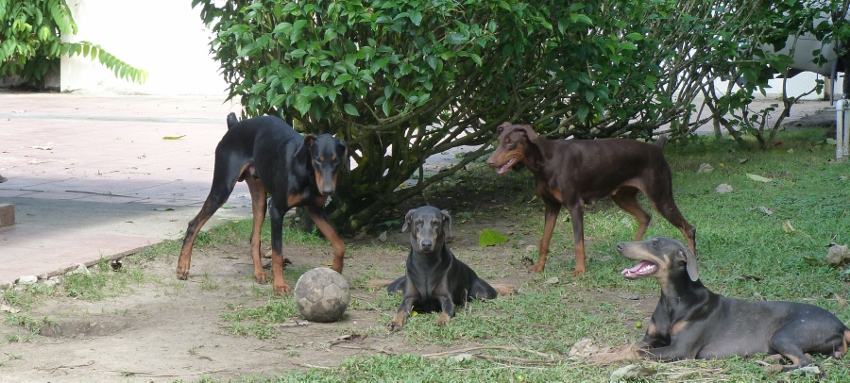 Honestly , you can keep the ball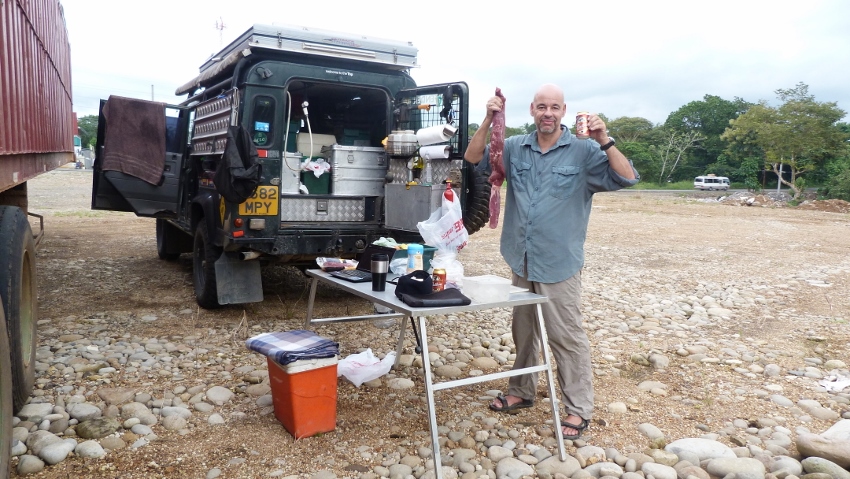 Beer and a kilo and a half of best fillet.....heaven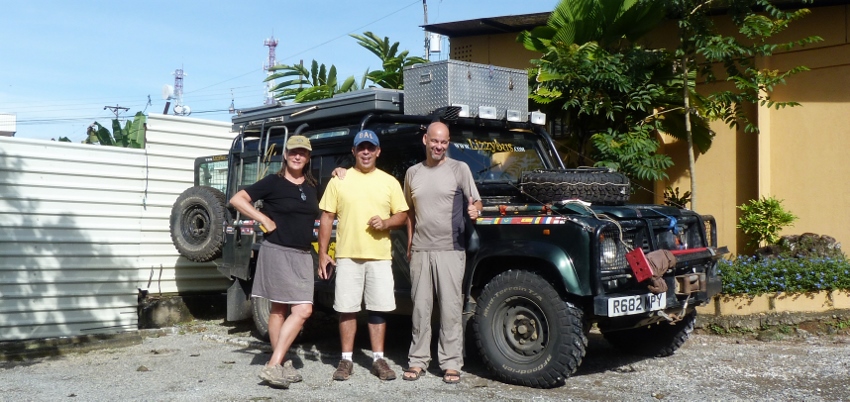 Hotel Sima...warm welcome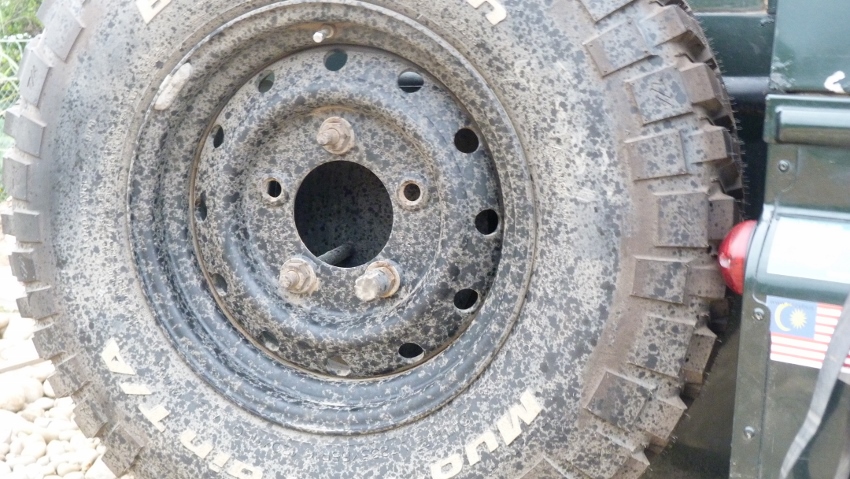 How to spot the oil leak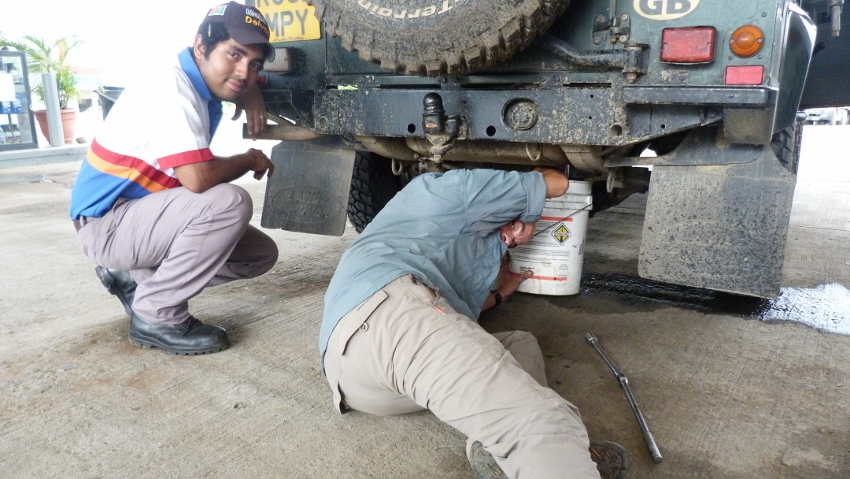 Drain the tank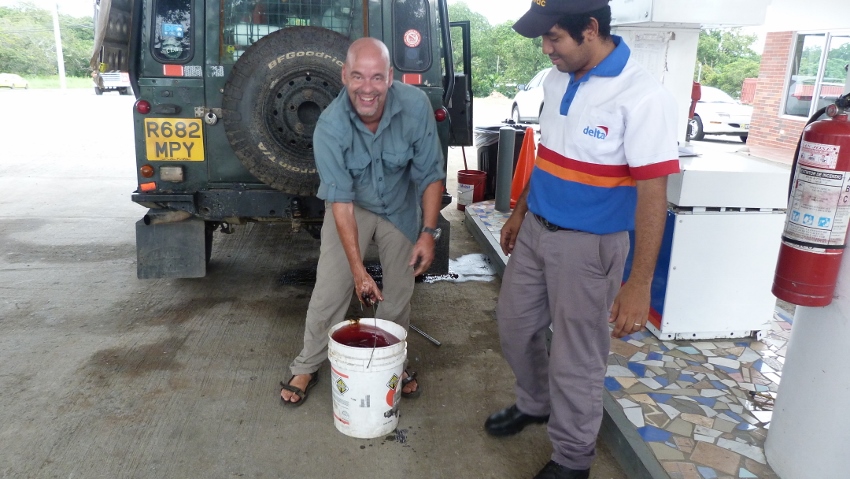 Took out 4 of these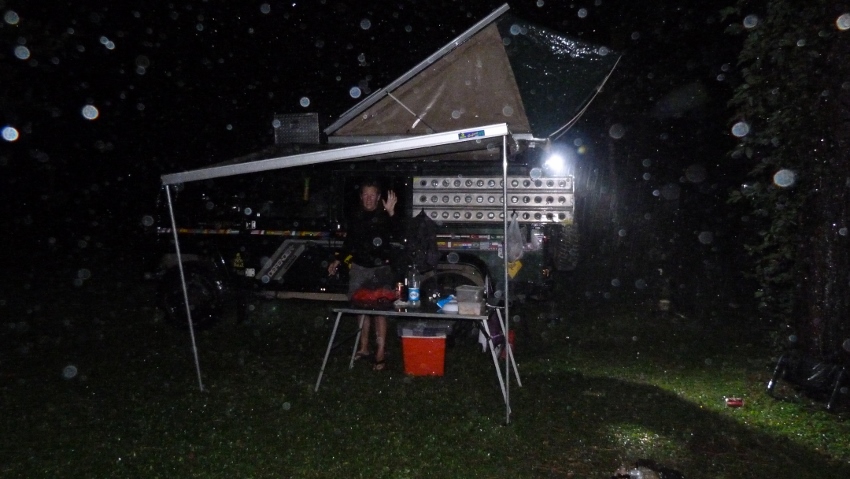 Why we have to press on ....RAIN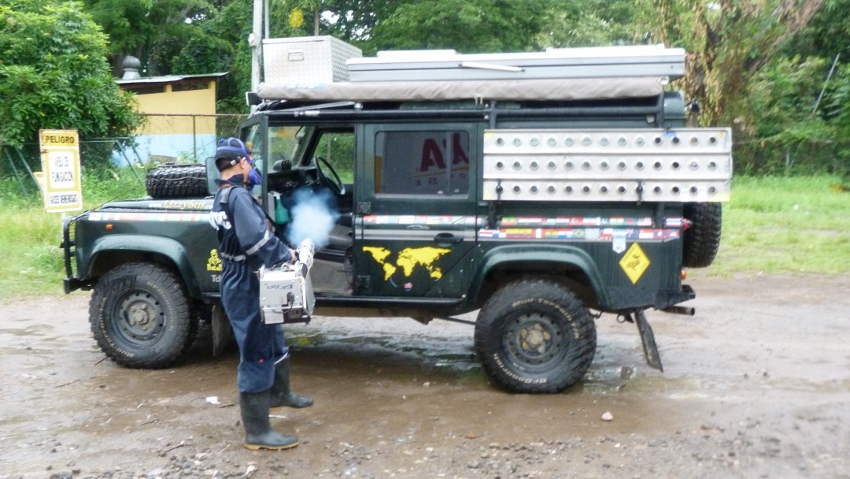 Lizzybus gets a good fumigation....Nicaragua
Definitely NOT Gas Street Basin
Back with the Lizzybus , we re-cross the Isthmus to Panama City .Vast metropolis that it is we will not be staying long .A chance then to visit the "cut" .Miraflors Locks was recommended , I had originally decided Gaytun Locks at Colon but Miraflores has a big Information centre .The centre and film are a major disappointment and at $8 each ( as opposed to $5 each to view only ) we should have gone to the other docks .When you view the docks , they are pretty impressive , but to get the full effect you need a "big ship" to pass through .Only a three hour wait then .Worth every minute .Ploughing on down the Pan American we have found a great little camp site with pool , internet , brilliant Rondoval , American run and all $10 per night ( as opposed to $40 for a cheap hotel! ).So the Lizzybus recommendation , if you travelling through , Camp at XS near Santa Clara ( N 08 23.326 W O8 06.612 ) , we will stay the extra day to sort out kit etc before we head for the Costa Rican border .The one thing we can say about Panama , hot , sticky , raining and very humid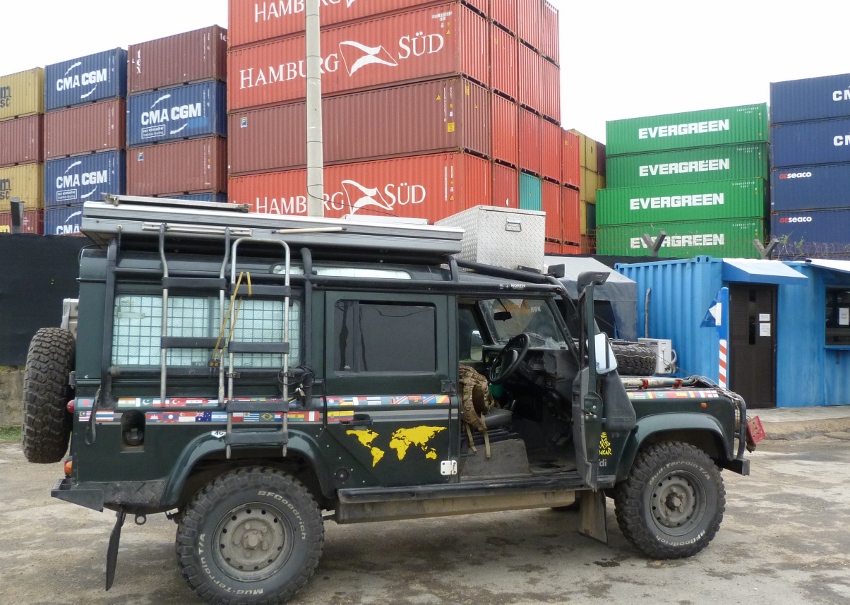 Say goodbye again Lizzybus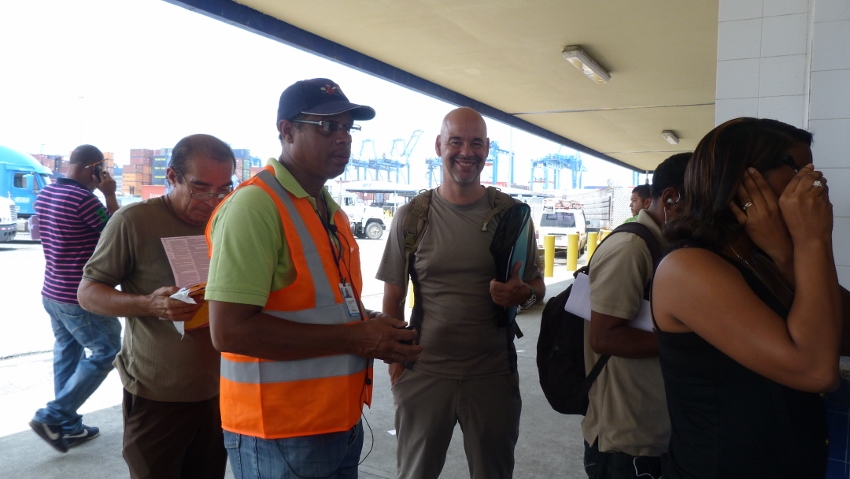 More documentation and Port Fees ( Colon , Panama )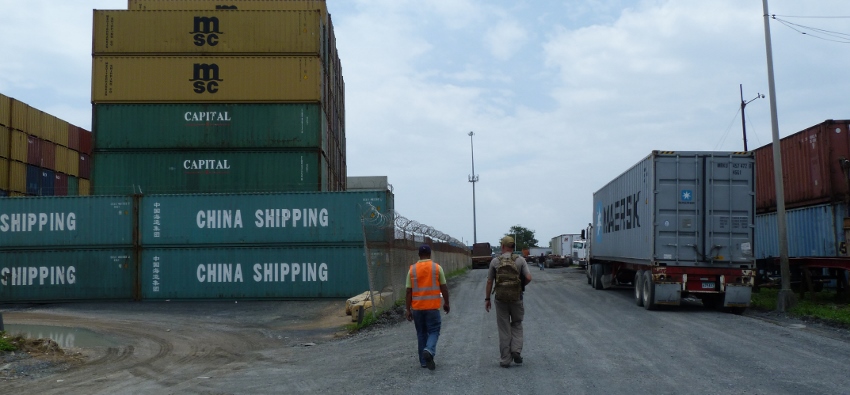 I just hope Lizzybus is here somewhere !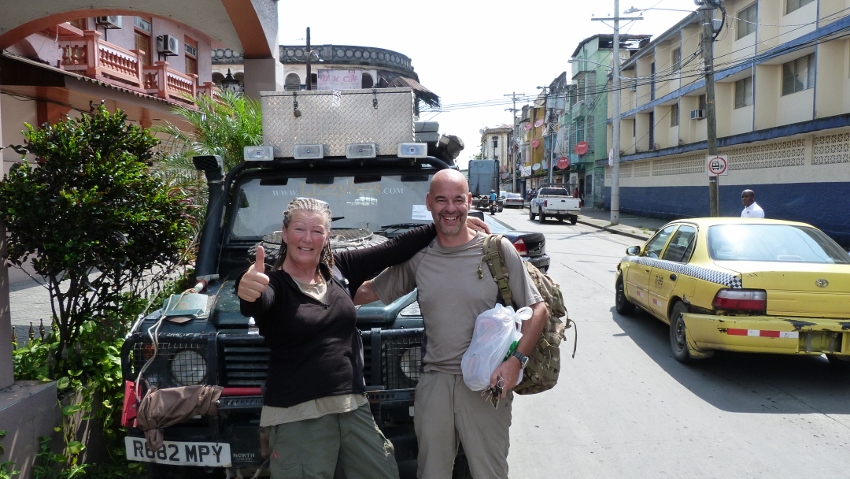 We didn't loose her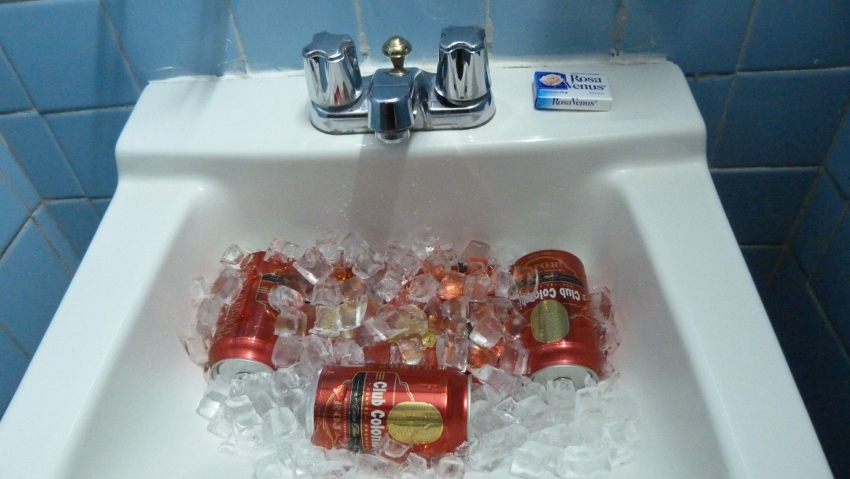 After all , Overlanding is the persuit of BEER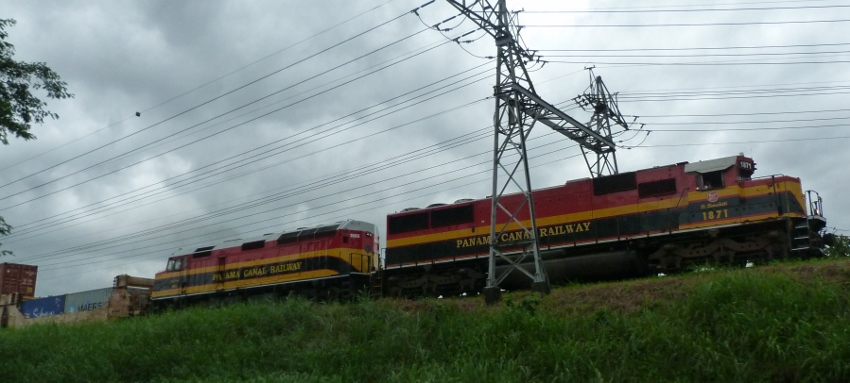 Panama Canal
Panama Canal

Panama Canal.....before

Panama Canal........after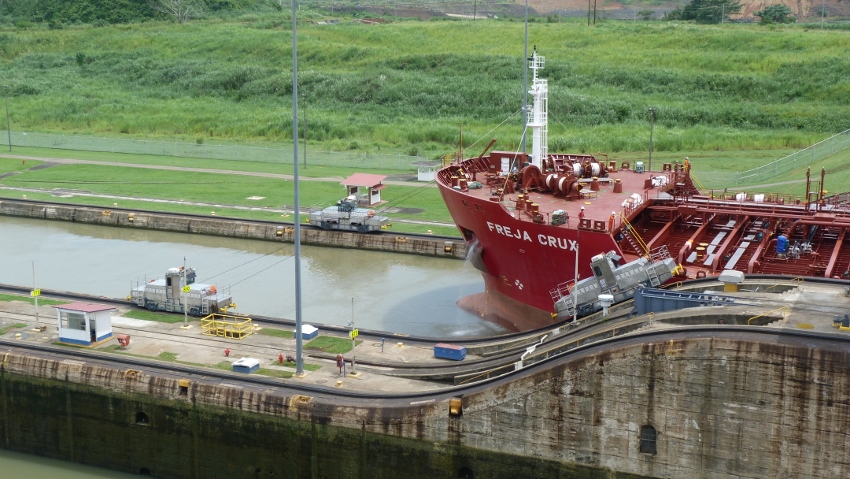 Panama Canal
Panama Canal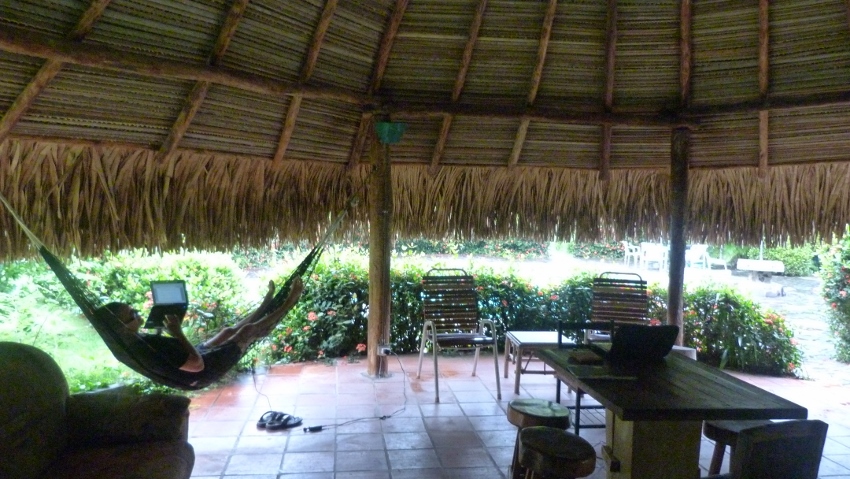 XSCamping , Santa Clara ...why not !
Colonoscopy!
Well , after a 40min flight ( costing $811 ) we touched down in Panama . Fixer , Boris had arranged a taxi to take us to the delightfully named port of Colon .Because of the debacle of the flight times a chance we thought to get Lizzybus back that day .Didn't take into account this is Central America , she wouldn't be unloaded until the following morning .So we can stay in our 5 star ( or do we take the $35 ) room .Ok , $35 later we are in the ar*se end of Colon , aircon room , big TV , ice machine .Next day Boris picked us up , attended all the paperwork and hey presto , we finally have Lizzybus back , parked outside the hotel and the promise from the armed guard "he would keep an eye out for her" .So it all worked .Boris , again another great find at $200 (sales3@everlogistics.net ) , only other fees was $80 at NAVES for the bill of lading and $68 port fees .
As this is being written , Jayne has announced that we have been on the road for exactly 4 years .My god , how time flies and how much have we seen .This is now the final leg of the journey , only another year and seven countries to go .So c;lose you can almost taste it ( and smell the EP90 )