The journey , not the destination !

The philosophy that the Lizzybus crew follow was described by TS Elliot as "The journey, Not the destination matters..." .Out here in central Asia that means we have to do the Pamir Highway and its off shoot ,the Wakhan Valley .Described as one of the last great drives , 700 km from Dushanbe to Osh .In part it is tarmac , but those of us with a sense of adventure take the more difficult Northern route , tarmac that was put down in the 1940's and has never been touched since .

All in all , a spectacular adventure that the guide book says can take about 2 days in a 4x4 , so , not a Land Rover called Lizzybus who did it in 10 . Feeling very "hardcore" we venture onto the dirt roads of the Pamir only to be confronted by people who have clearly been released from a mental institution…cyclists .As Mr Caine pointed out "farsands of em " .The Pamir , much to our surprise is the holy grail of cycling

We cross mountain ranges at passes up to 4800m , rivers , broken bridges , hot springs , remote villages, follow the Afgan border and cyclists .Hardcore , bone breaking , tooth loosening , spine shattering Land Rover crunching we make it to Osh .Altitude , cold , rain , sunshine and friendly people put a spell on us .We wanted it to go on for ever but the M41 as it is eventually runs out in Kyrgyzstan when we get a 45 day visa on the border .The only other comparable road is the Karakorum Highway , but it's a dead end to us with China and security is at the forefront of everyone's minds .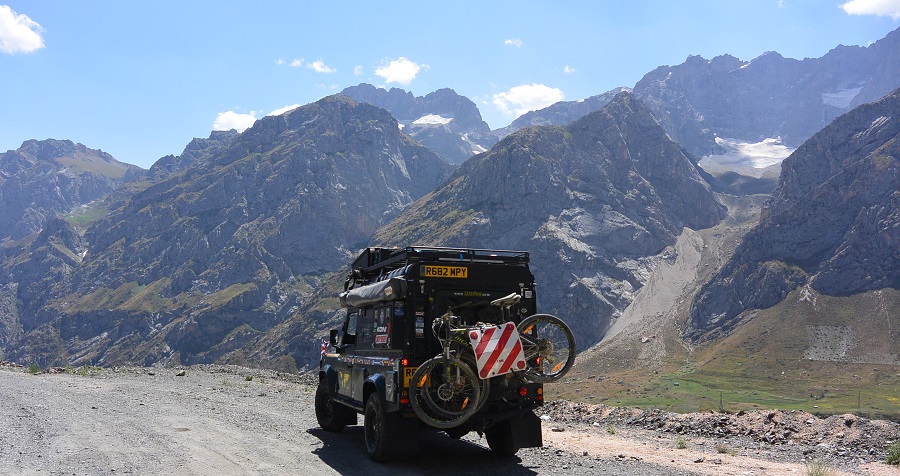 Taste of things to come , Tajikistan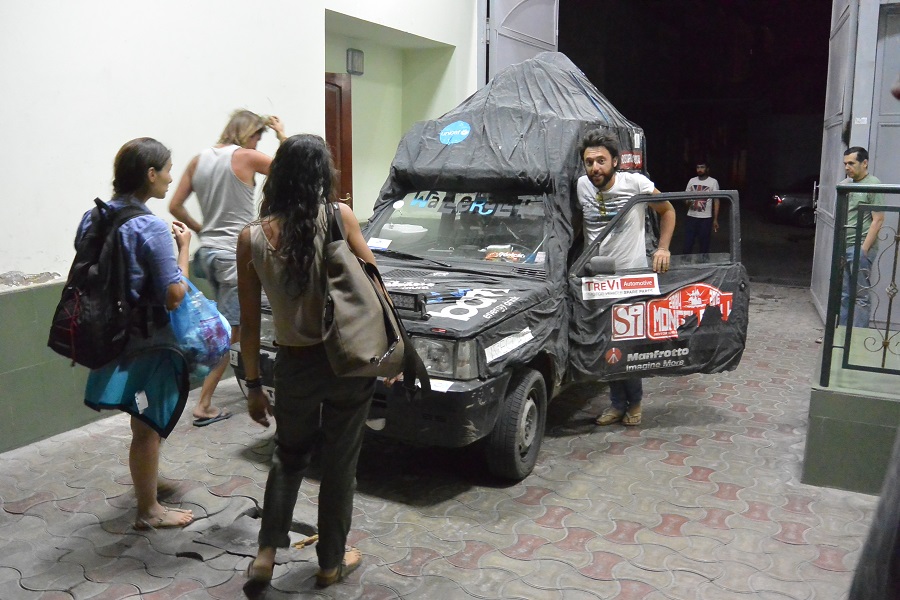 Amazing Mongol Rally competitors from Italy , Dushanbe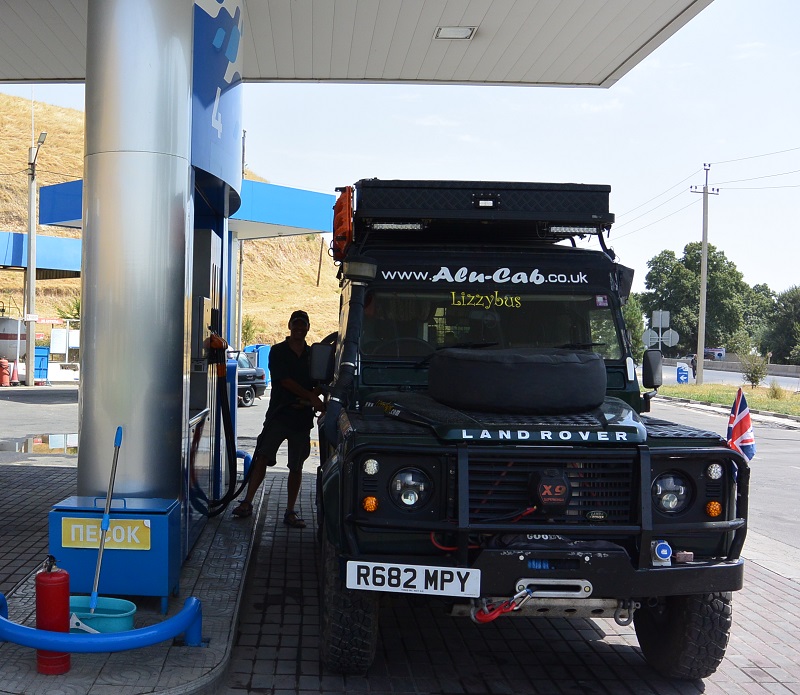 Clean Diesel ,from a pump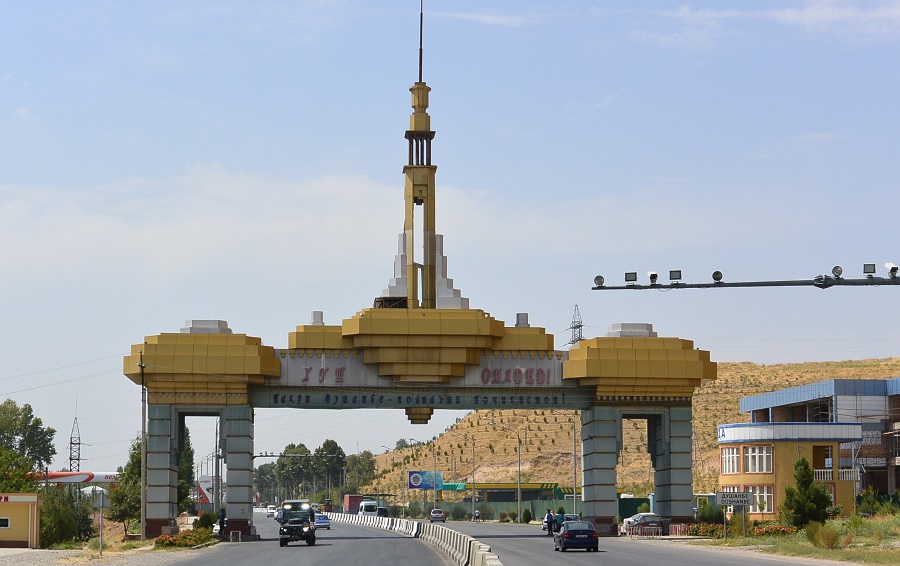 Full tanks leaving Dushanbe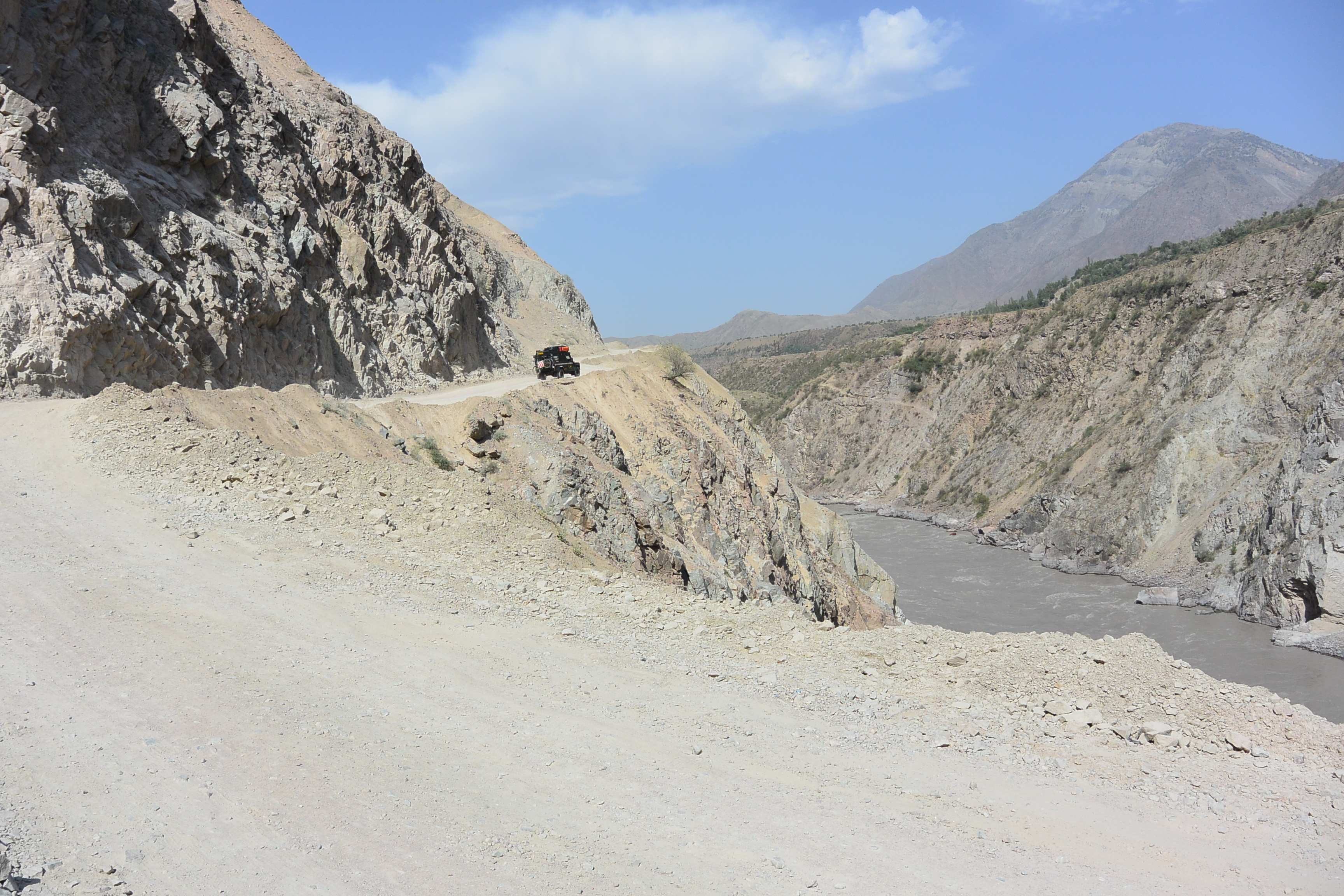 Pamir Highway
Pamir Highway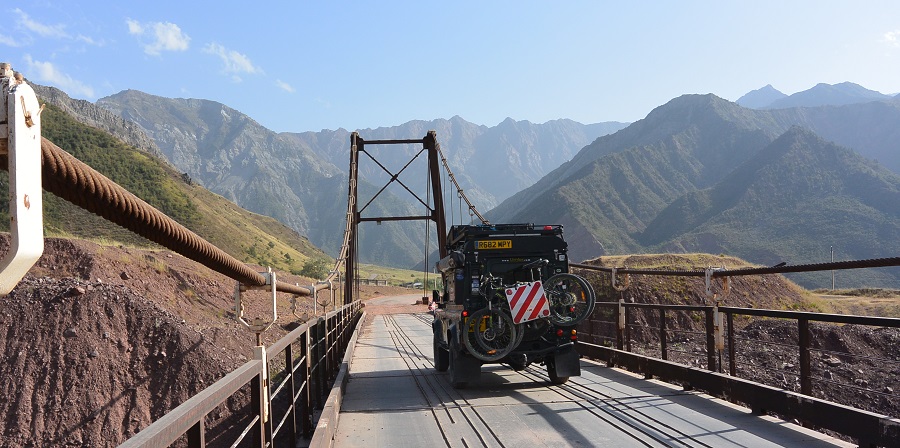 Start of the Wakham Valley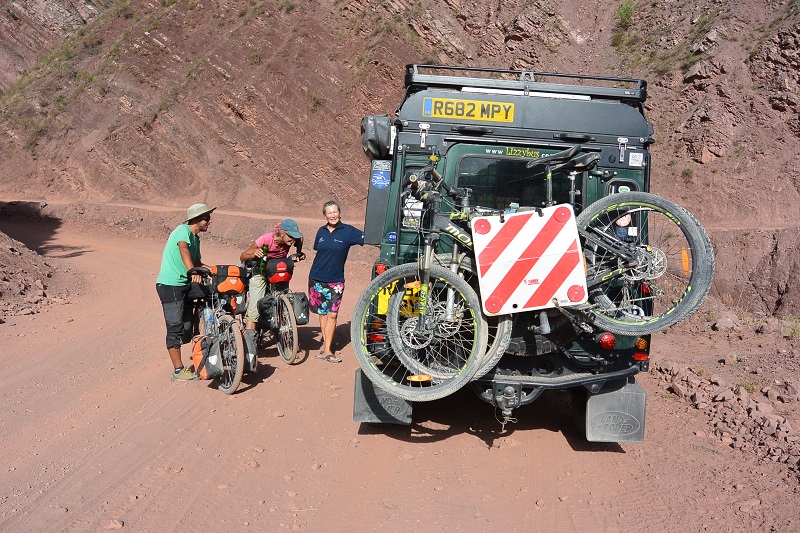 MAD people , Wakham Valley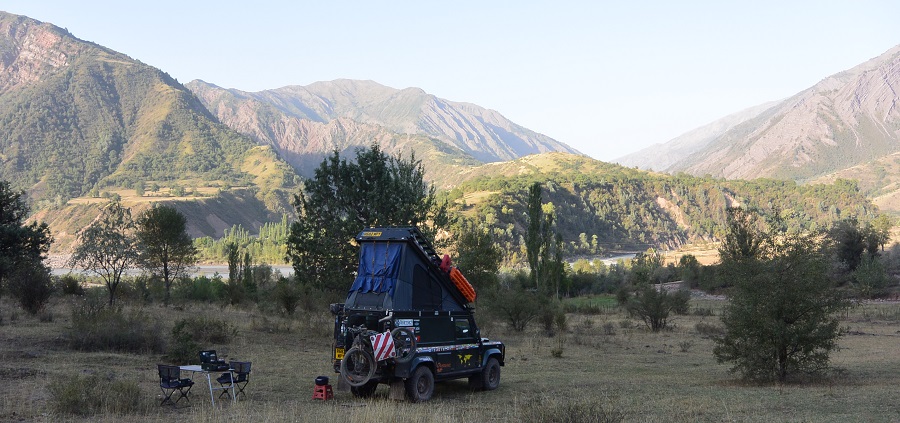 Bush Camping , Wakham Valley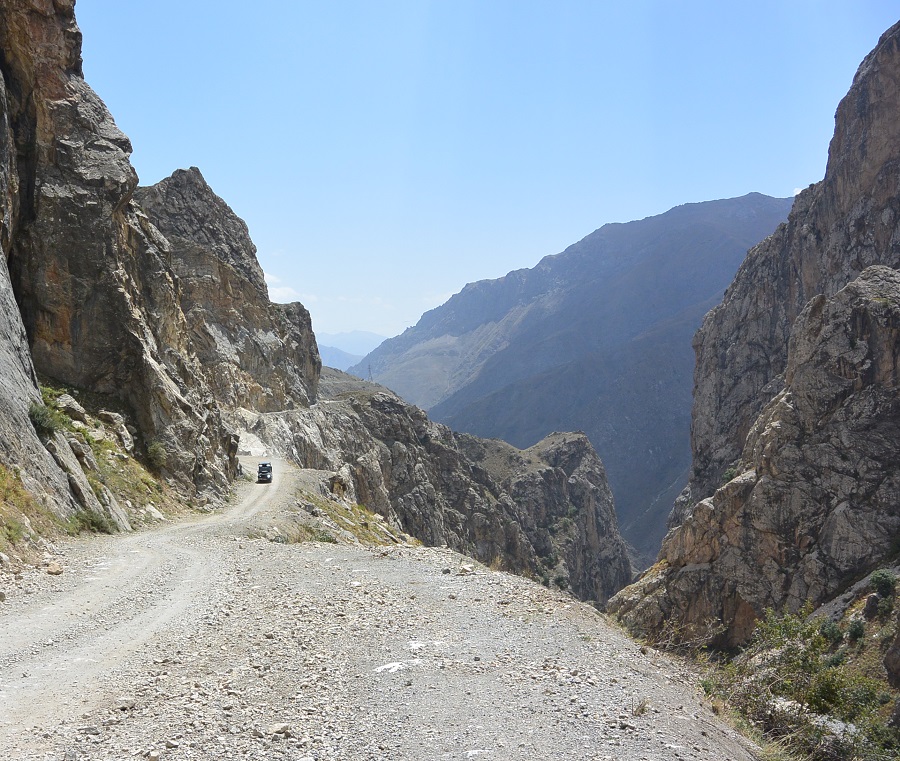 Wakham Valley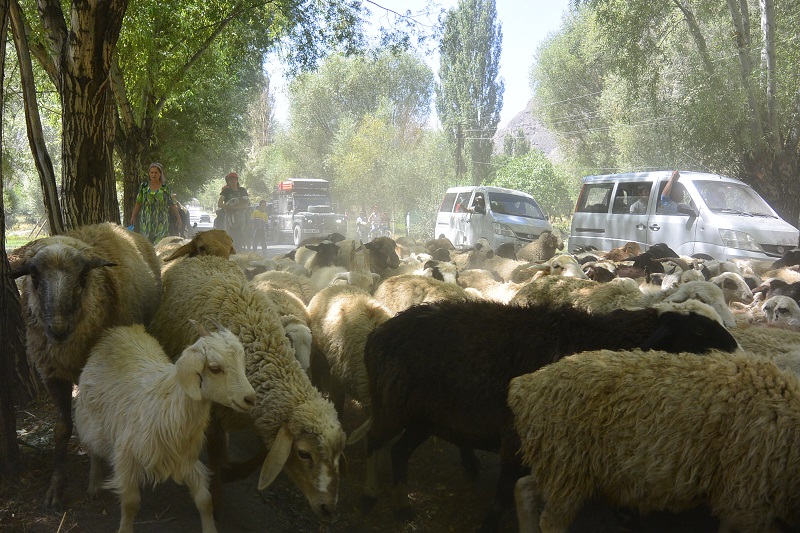 Wakham Valley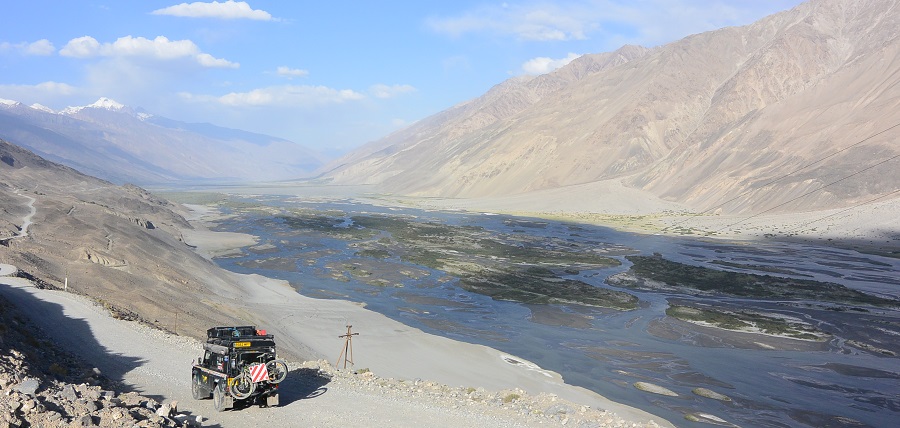 Wakham Valley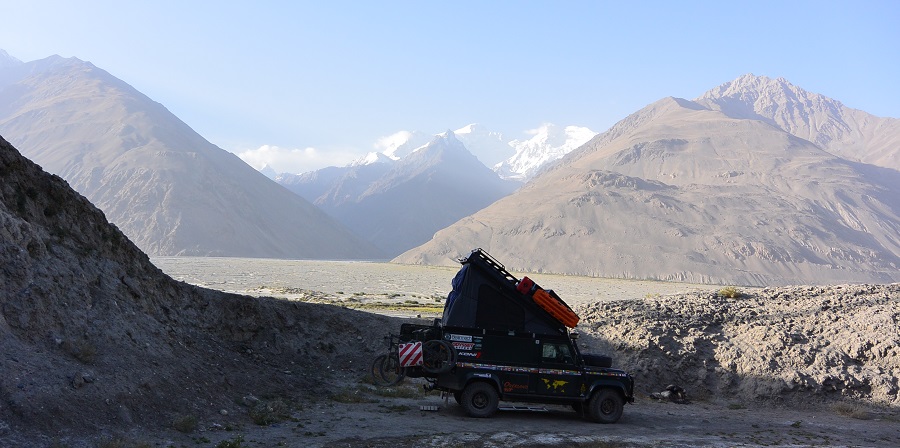 Why we bush camp , what a back drop , at 4000m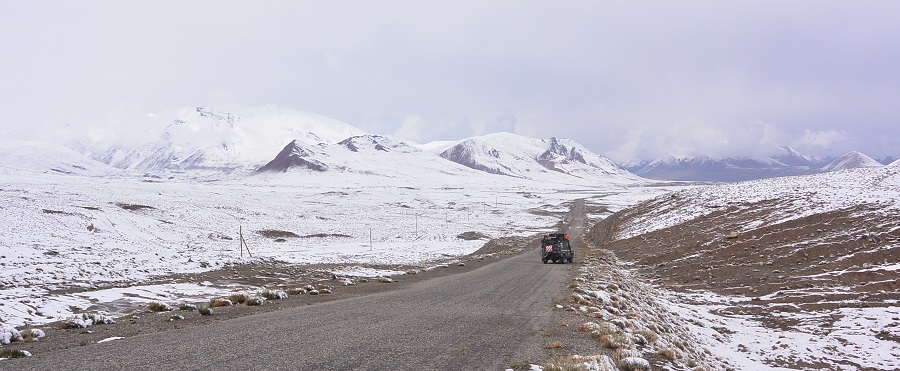 Wakham Valley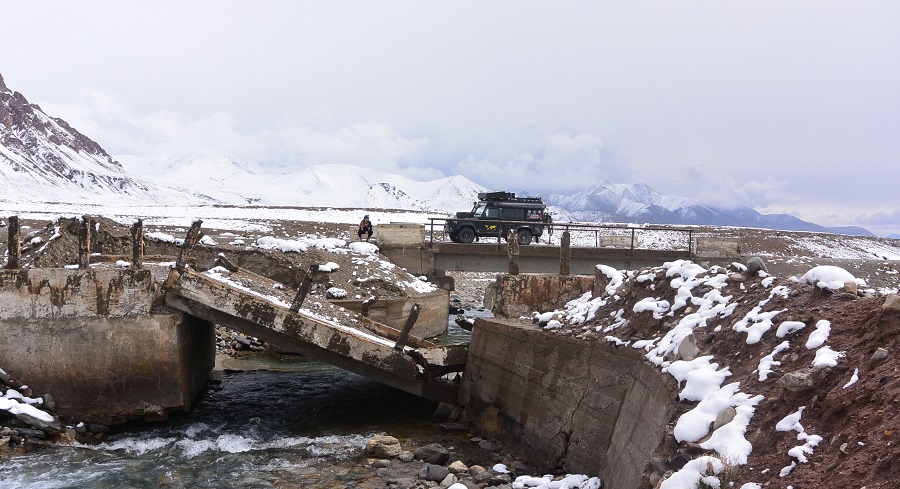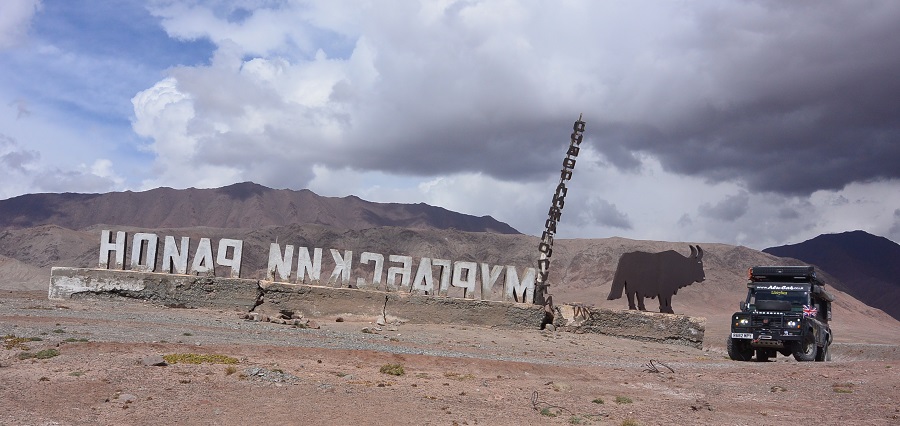 Heading for the Kyrgyzstan border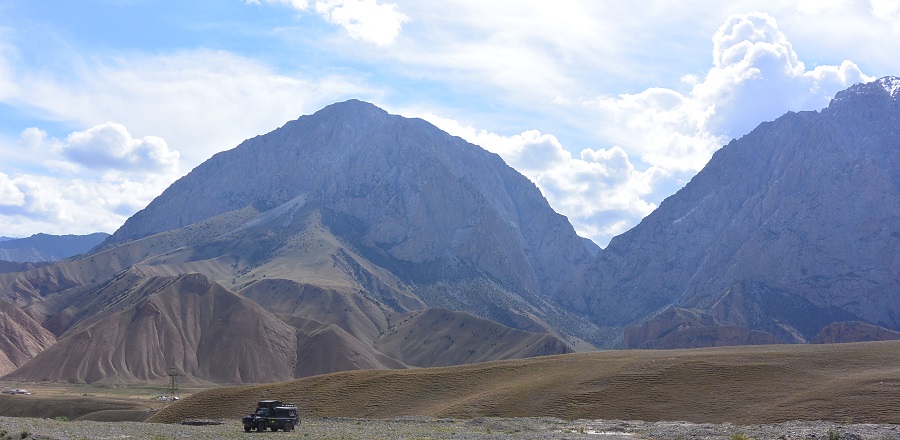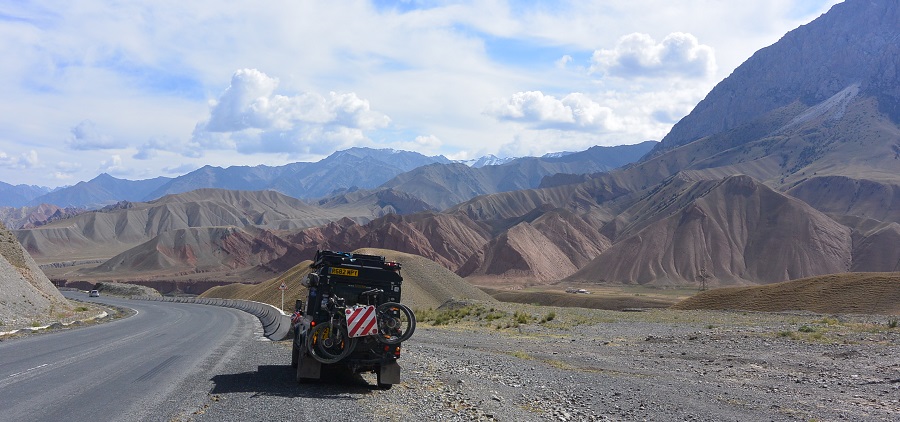 "this is the end, beautiful friend" OSH at last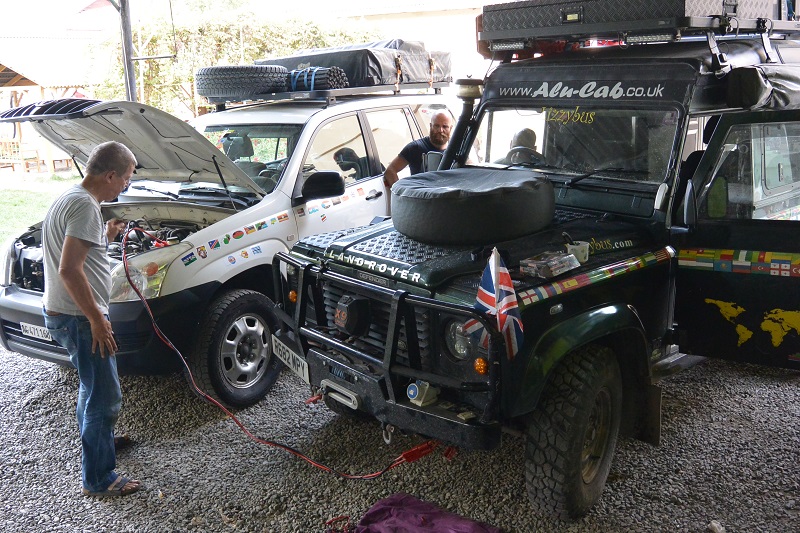 Something we all love to see , a Land Rover jumpstarting a broken Toyota
Following the Silk Road

The Silk Road is a collection of ancient trade routes , Uzbekistan and the cities of Khiva , Samarkand and Bukhara were at the heart of it .A chance to see the iconic images of that time .So , history here we come .As always , this adventure comes at a price .

We have to be registered at hotels , the rules seem quite unfathomable , some are saying every night as hotels are insistant on seing registration from the previous night before letting you book in .Others are saying 1 night in 3 is acceptable .Not wishing to have an "Azerbaijan moment" we opt for every night and no bush camping .

This is going to be expensive , but the current fixed exchange rate is 3000 som to the US$ .If you buy on the Black Market (or as they call it , the "commercial rate") you get 6400som .Booking .com prices up at official rate so it looked like we could get decent accommodation at half price .How wrong can you be , hotels , despite the reservation in som bump the price to commercial rate ….B***er .

Having travelled from Kazakhstan on full tanks of diesel , the road is so bad that we need more fuel .Fortunately I asked the host of the back packers where the best diesel was .The answer was truly shocking , no diesel in Khiva .

A few calls later and 40l is loaded into the back of a taxi and delivered to our hostel .3500som a l , Lizzybus was to be filled with a metal bucket .So money and fuel are black market options and the only option.

The roads so far have been so bad that our spade shuffled off its mortal coil .

The Silk Road doesn't disappoint .The cities are magnificent and the sites stunning .Roads however leave a lot to be desired but make for a sense of adventure .

After 10 days we make the capital Tashkent and a chance for a wash and brush up for the Lizzybus and a change of oil and a greasing for us .The annoying rattle that had developed on the rough roads showed its hand ,when , as Jayne was driving the table dropped onto the bonnet having sheared a mounting bolt and migrated along the roof , under the roof rack .Fortunately no damage was done. We have discovered that in Uzbekistan , diesel is more difficult to find than Unicorn poo .All has been purchased on the black market and , to be honest , of unknown quality. Fortunately the Lizzybus is designed to run on poor quality and the fact we have put secondary filters in the diesel lines certainly helps the fuel quality issues

Its been a hard but rewarding road for us .The Silk Road continues into Tajikistan , a change of scenery and emphasis .We will attempt the Pamir Highway , considered to be one of the last great adventure road trips .Up for anything us as we venture further away from home , deeper into uncharted territory and closer to Mongolia
Enter supporting content here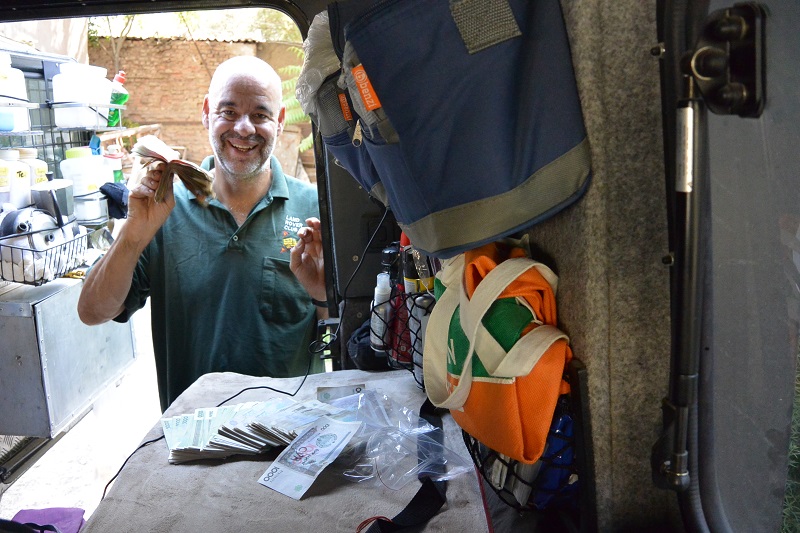 I only changed $100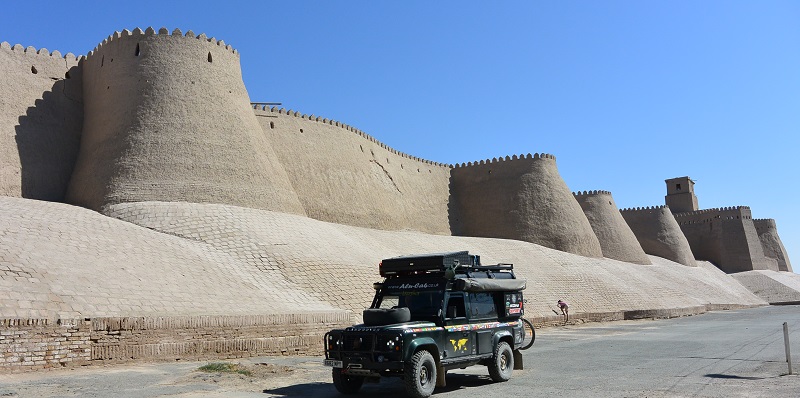 Khiva

Khiva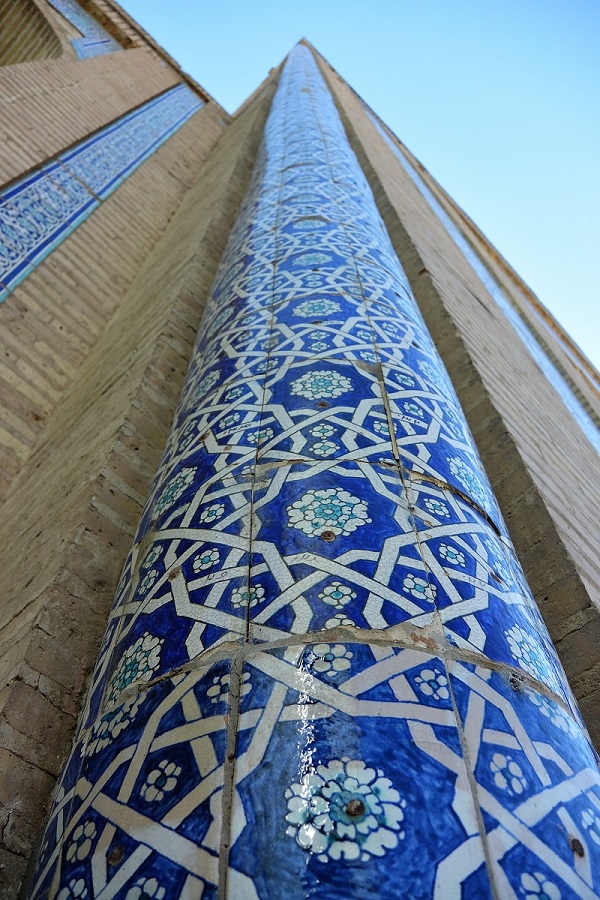 Khiva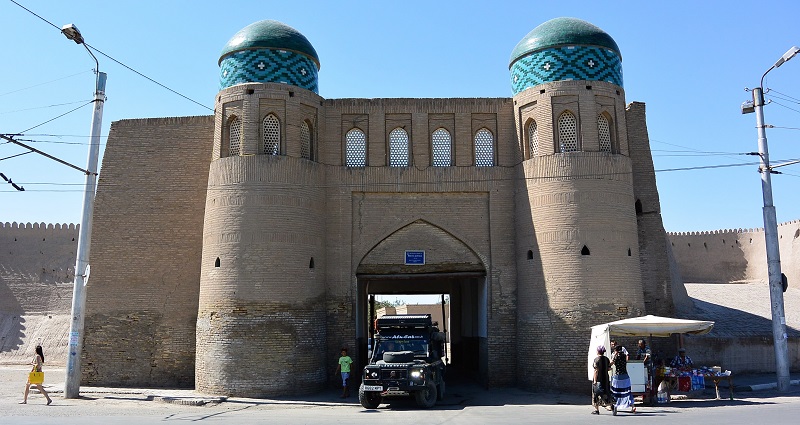 Khiva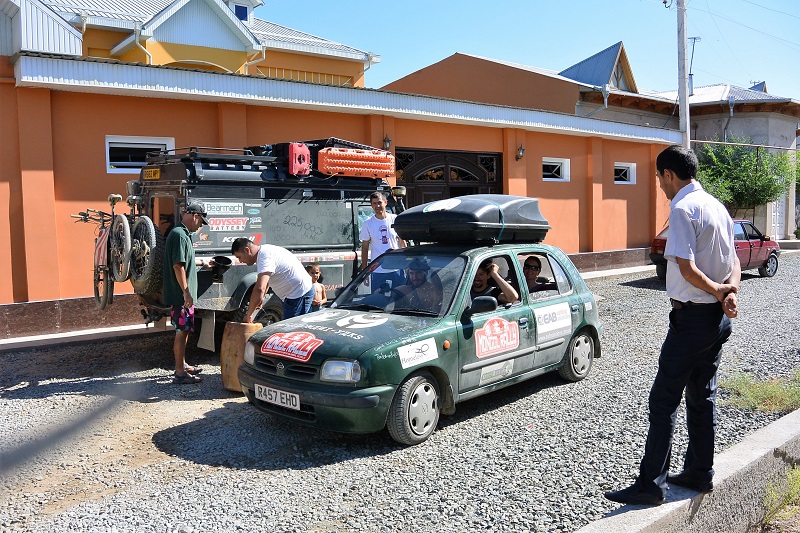 Mongol Rally watch as the Lizzybus gets blackmarket diesel,Khiva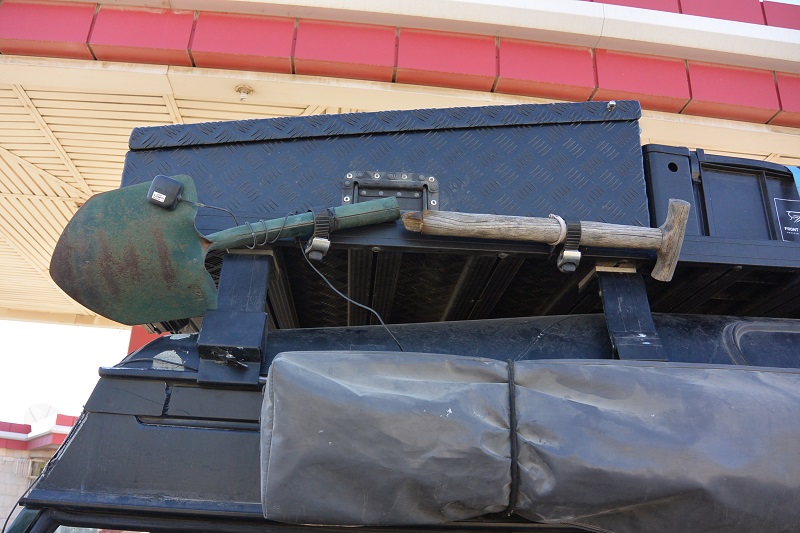 Roads so harsh they broke our spade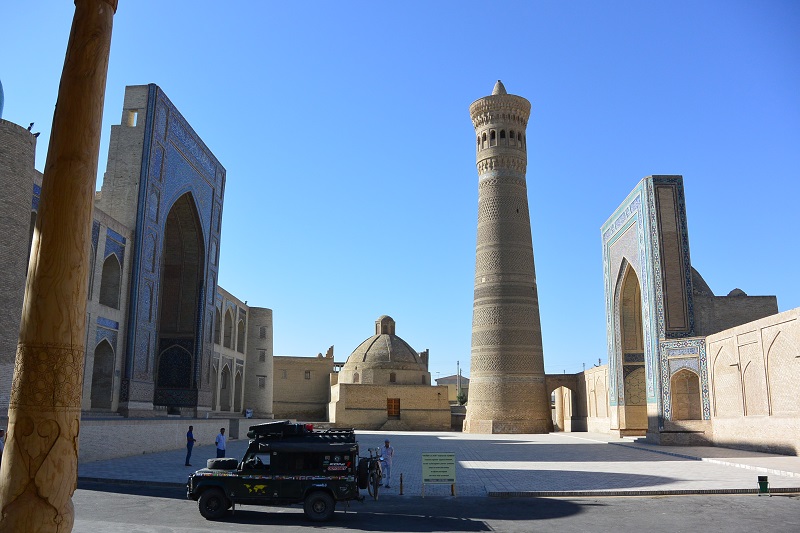 Bukhara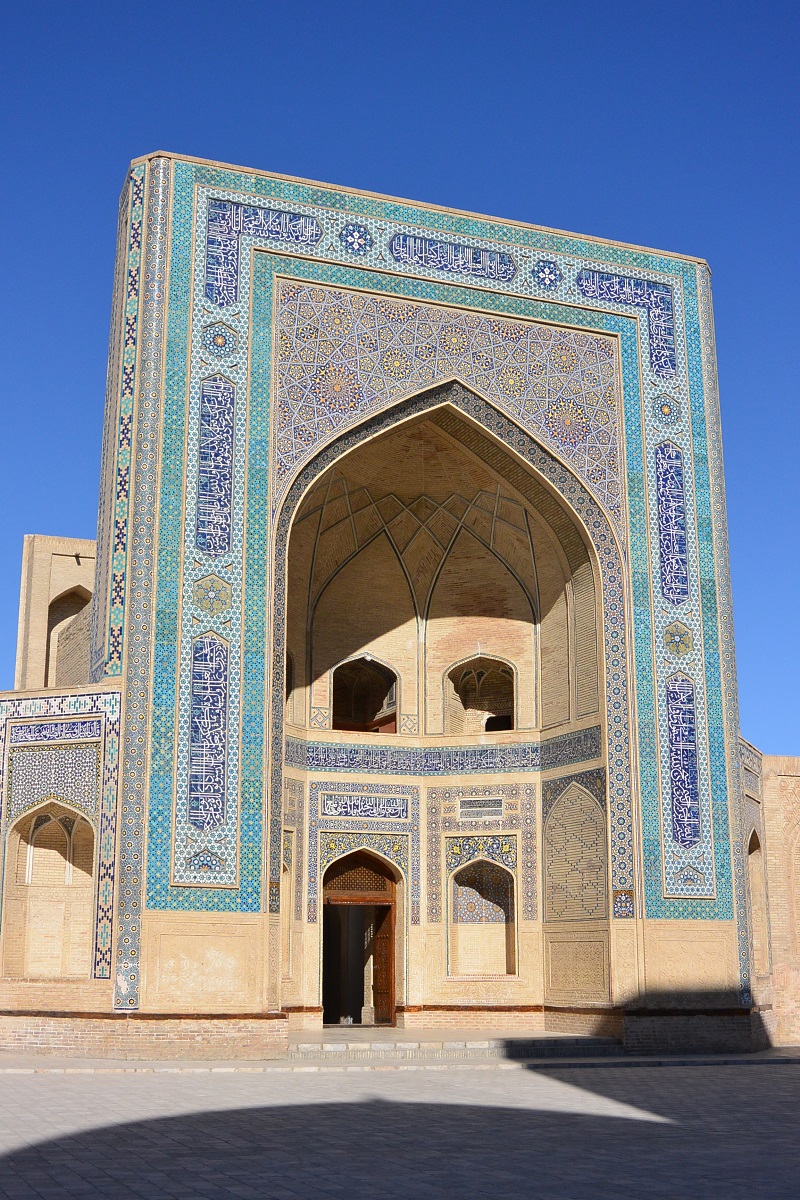 Bukhara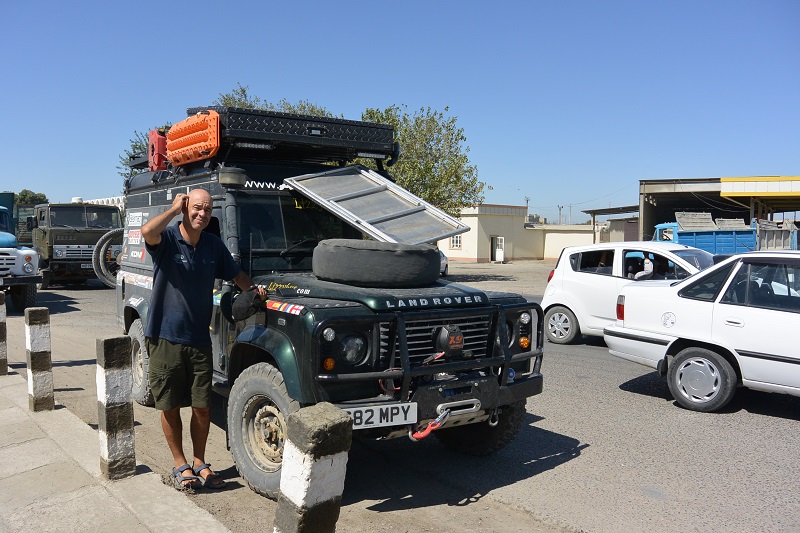 Figured out the starnge rattle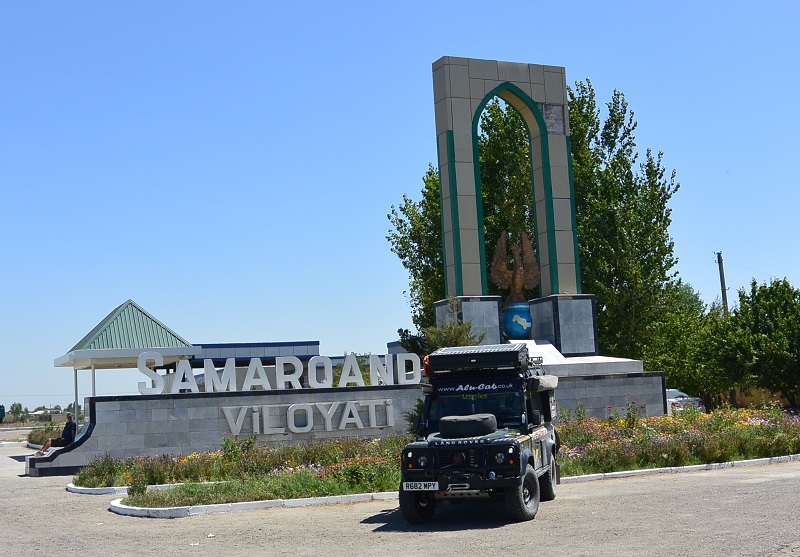 Entering Samarkand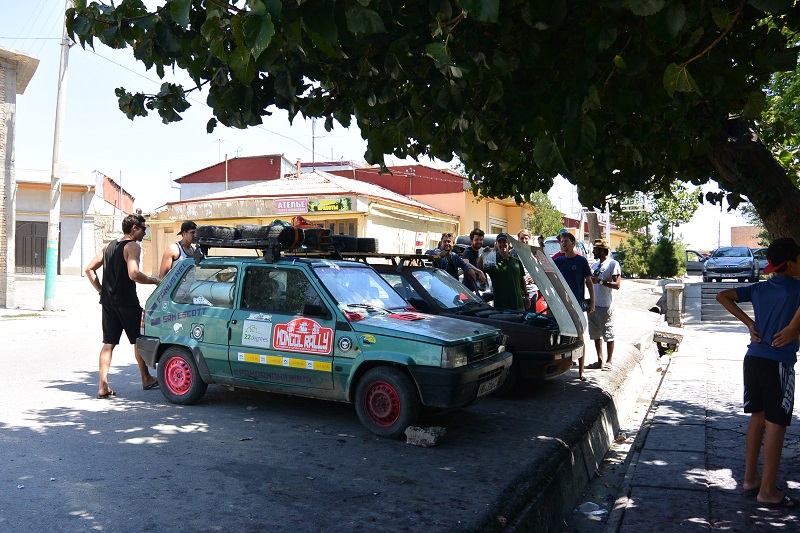 helping some Mongol Rally teams with a few spare parts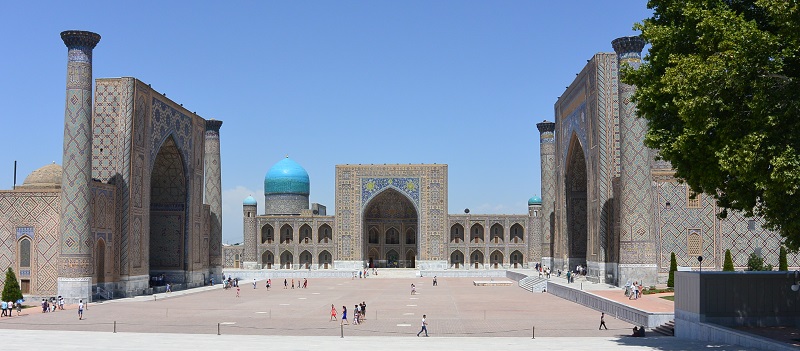 Samarkand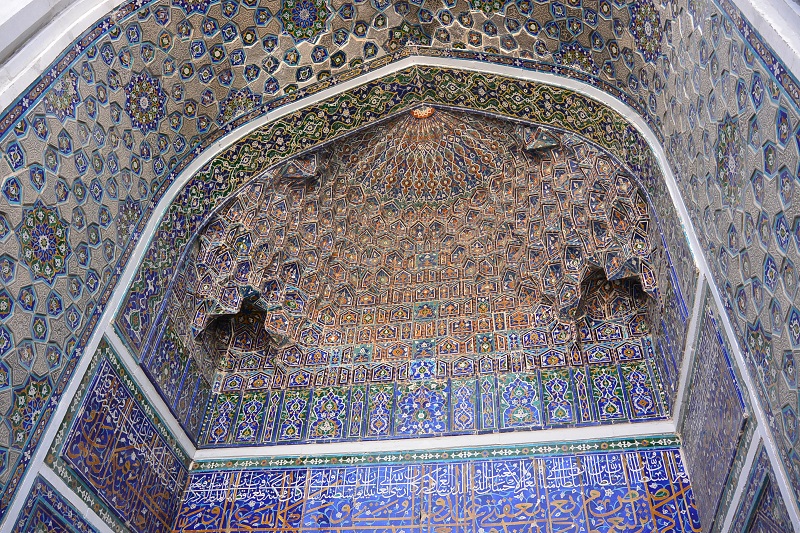 Samarkand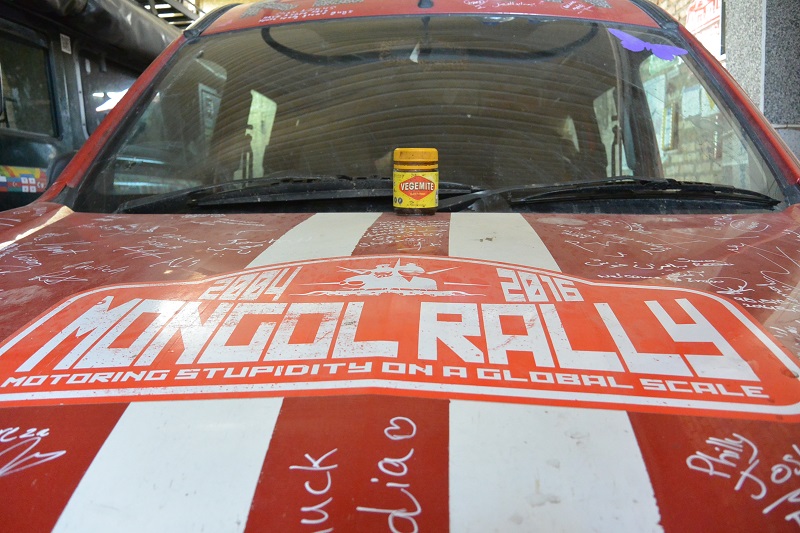 Australian competitors in Mongol Rally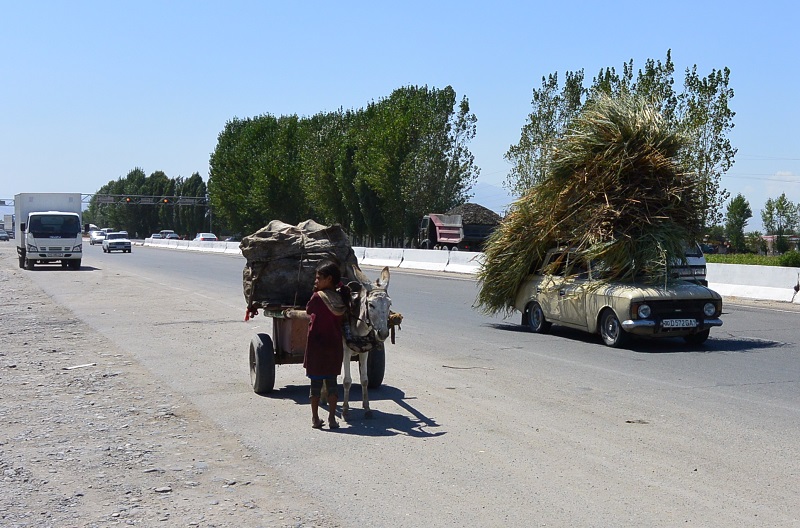 The road to Tashkent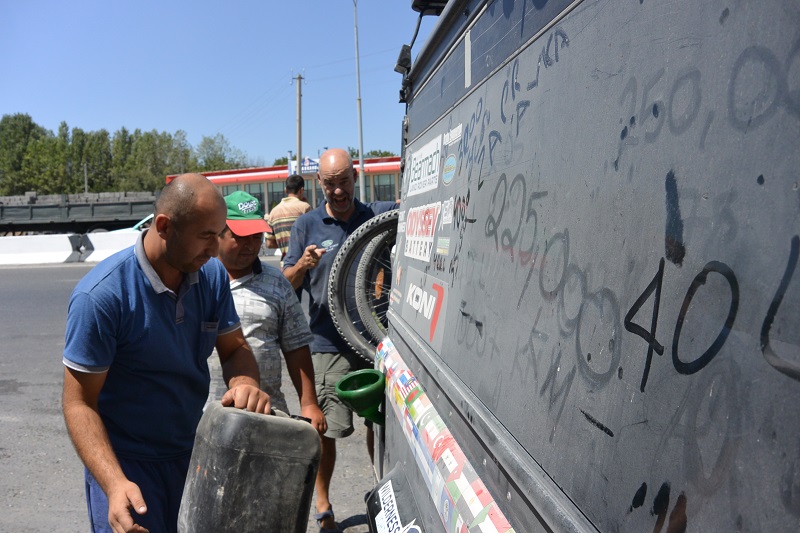 A final fill before Tashkent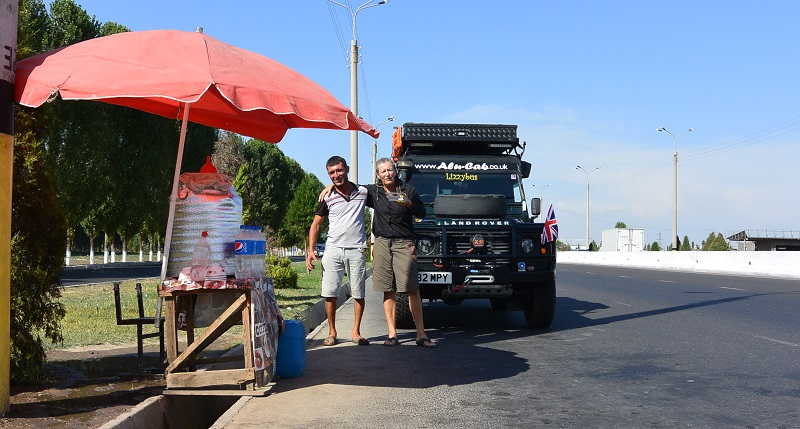 Selling the most delicious plum juice
Don't you just love Bureaucracy?

So , armed with Russian three day transit visas we head to the border .Three days should be adequate to cover the 600 miles to the Kazakhstan border , or so we thought .

A transit visa is dated , you can only start on that date and stay for three days .As we had waited two hours to get into the Azerbaijan border post their appeared to be an issue with our Azer visa .Our hotel was supposed to register us and this hadn't ( despite their promises ) happened .So , either a £300 fine for the both of us or a trip to the nearest immigration office (an hour ,60km away and $20 by Lada taxi ) and FREE deportation .Four hours later we finally cross to the Russian side .Another two hour wait to get into the post and the ever helpful Customs officers filling our forms for the Lizzybus using Google Translate apps .Ten at night we set down a side street for our first ever stealth camp .

Having lost the first day of our transit visa , insurance secure (after a three hour wait at the 24hr insurance shop) we hoof North.

Stop checks are plenty but only of the curiosity type .Having heard horror tales about the Russian police , all we can say was that we had no problems .On nice tarmac roads , heading for Astrakhan, the 215 road suddenly stops .A local points us in the direction of a dirt track and for the next 35km, along the railway track we continue hoping that we don't have to turn back as time on the visa was running out. Exactly 35km later the dirt road intersects the main highway and the Lizzybus is back on schedule.

Seems like waiting at borders is the way of the world , again a couple of hours to get in , quick processing and suddenly we are in Kazakhstan .The roads unfortunately remind us of Africa , un maintained , broken , pot holed tarmac .Fortunately we have a 15day visa from the border so time is not an issue . The level of welcome is overwhelming , everyone waiving , honking horns and chatting as they pass . The scenery is however flat and anonymous .

Three days to the Uzbekistan border .Arriving to the biggest queue we are directed to the front .Time for the fun and games to begin .They decided to search the vehicle , every box , container was rummaged through .Not a nice feeling , especially as one of the nicer English speaking guards had told us to look out for our valuables. They where very concerned if we had any Codeine pain killers (which we hadn't) and almost seized our stock of antibiotic's because all the instructions are Spanish and not Russian. At least they didn't see Jayne's Epi Pens , I think I would have struggled to explain those .

But we where in , but now have to register at hotels , so bush camping is not the order of the day .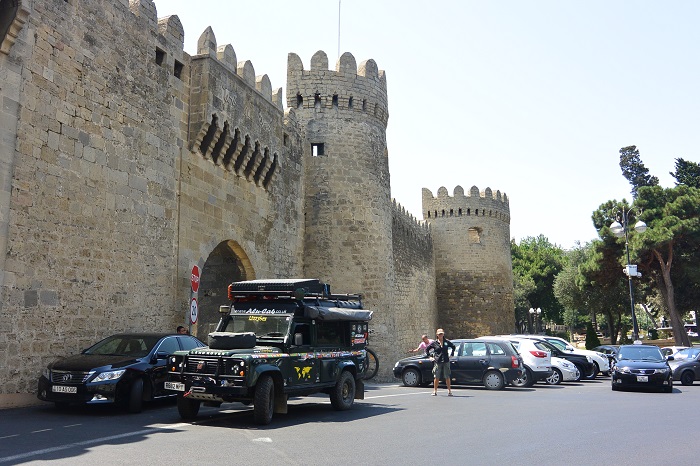 Baku , Azerbaijan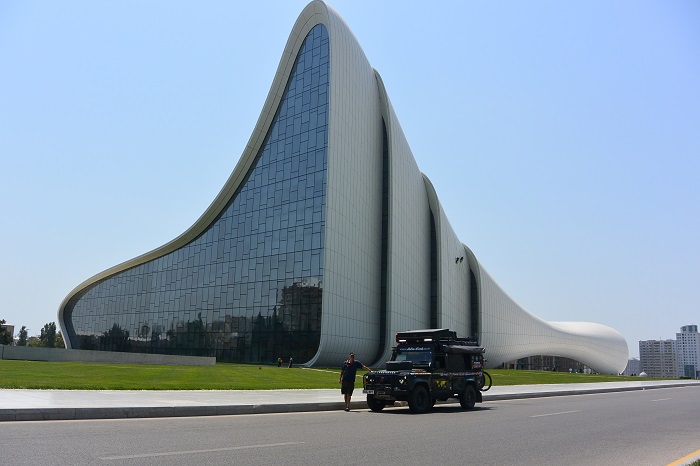 Baku , Azerbaijan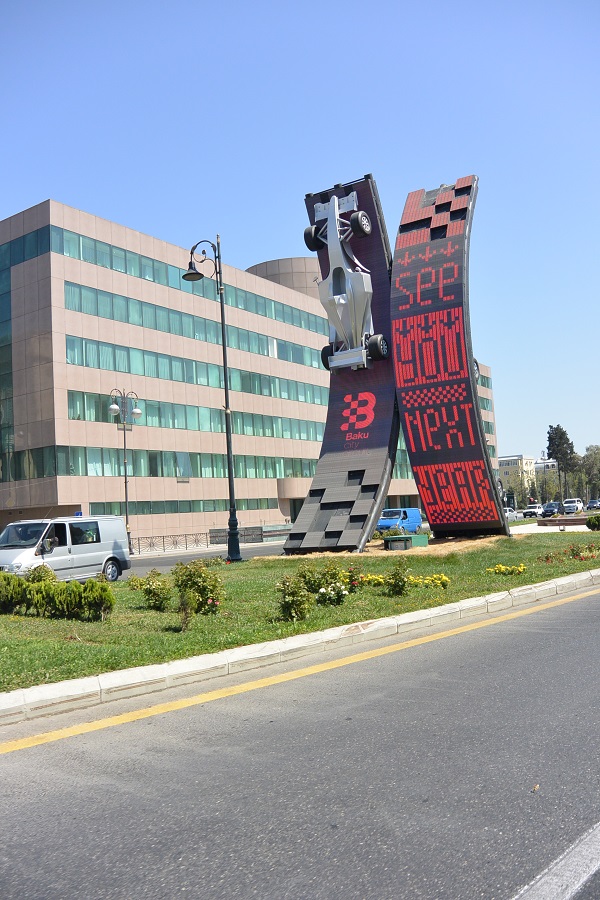 Baku , Azerbaijan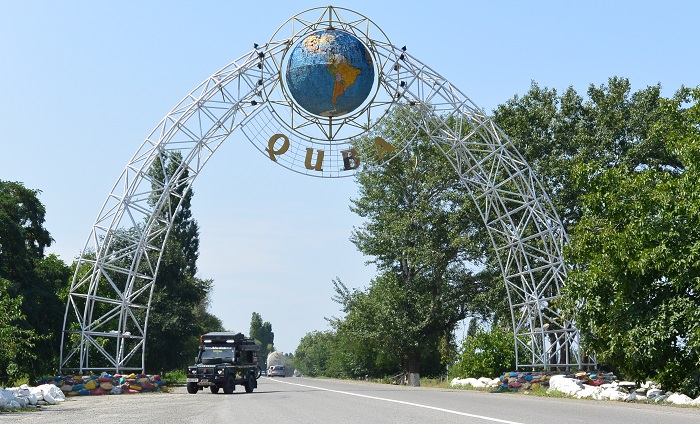 on way to Russian border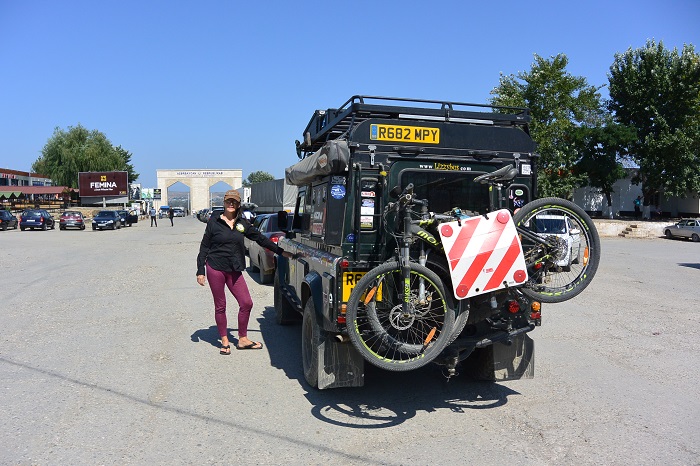 last stop Azerbaijan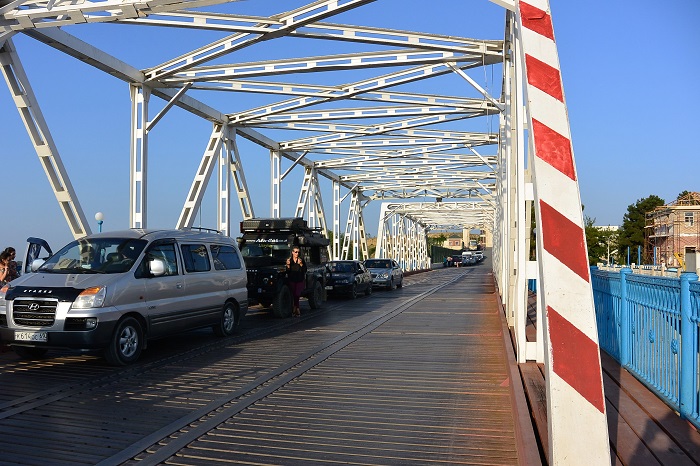 waiting at the Russian border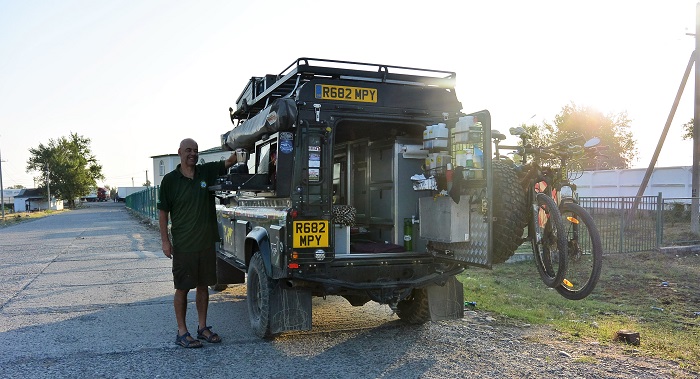 Russia, early morning coffee after a nights stealth camp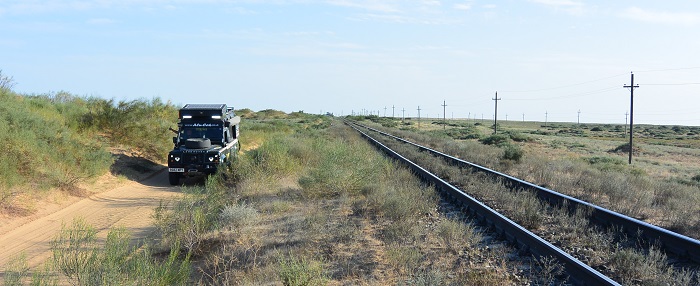 road to Astrakan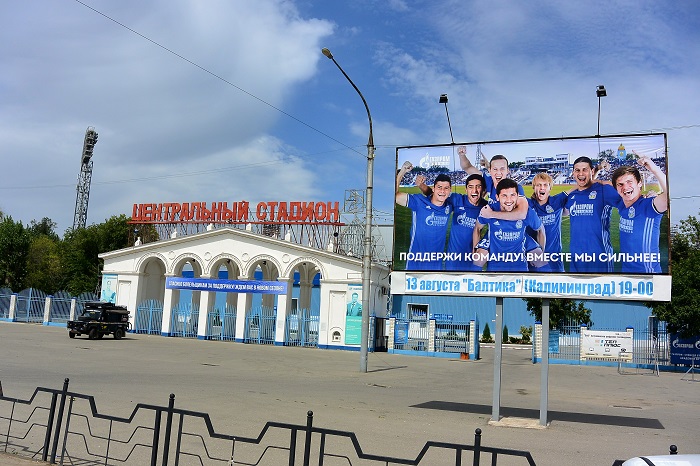 Astrakan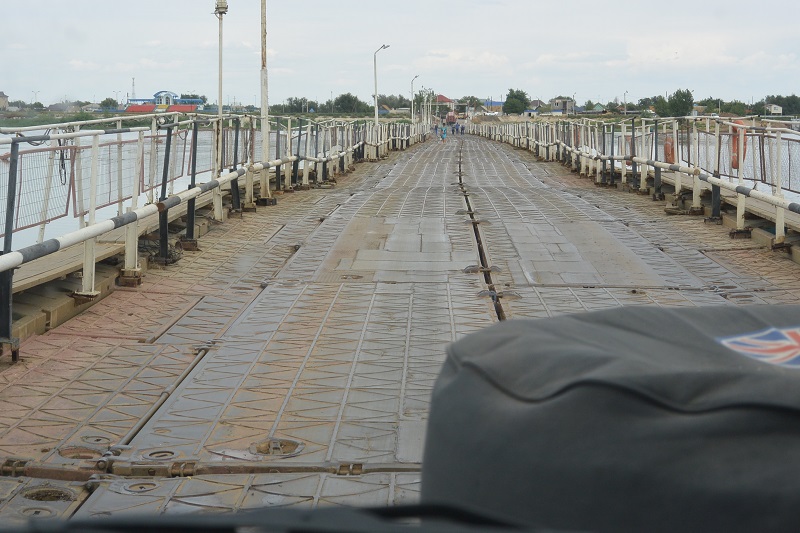 Russia , on way to Kazakhstan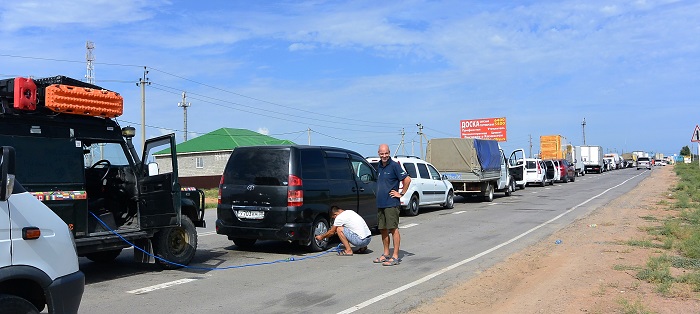 Russian border wait for Kazakhstan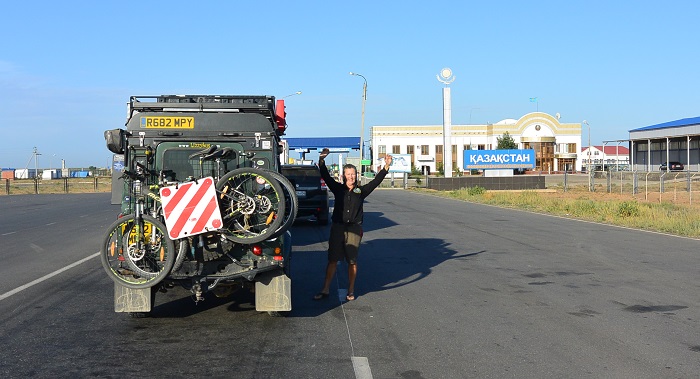 Kazakhstan border at last
Kazakhstan , its flag time

quality road from Kazakhstan border.....NOT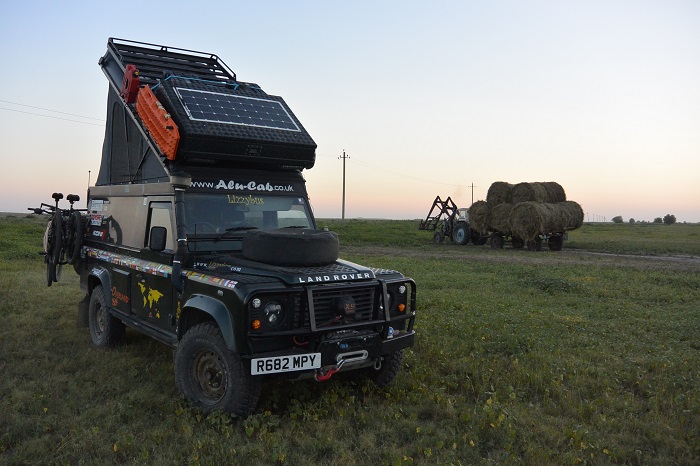 bush camping ,Kazakhstan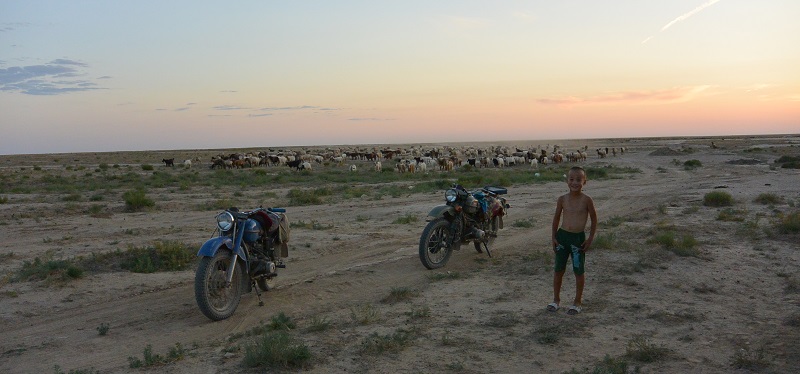 Kazakhstan locals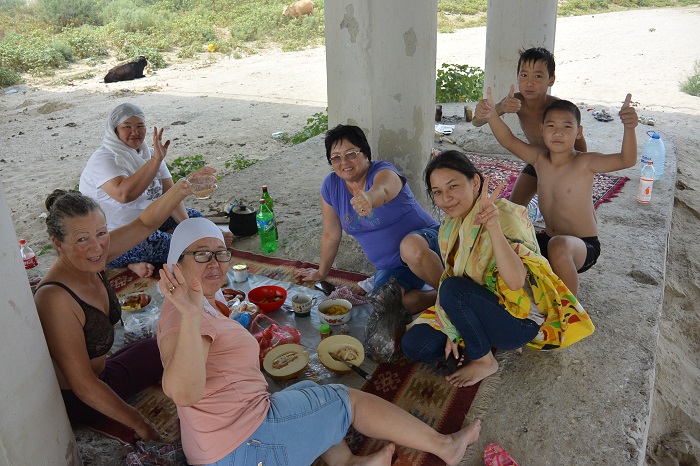 being fed....great people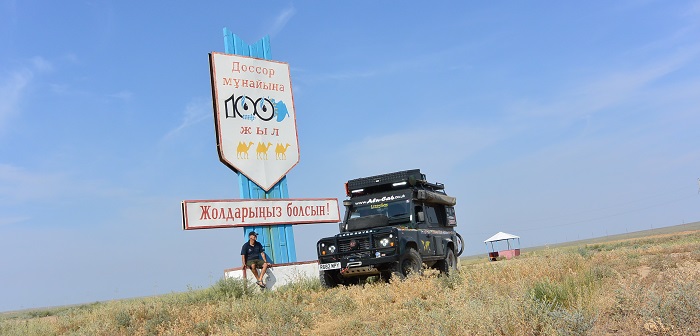 Kazakhstan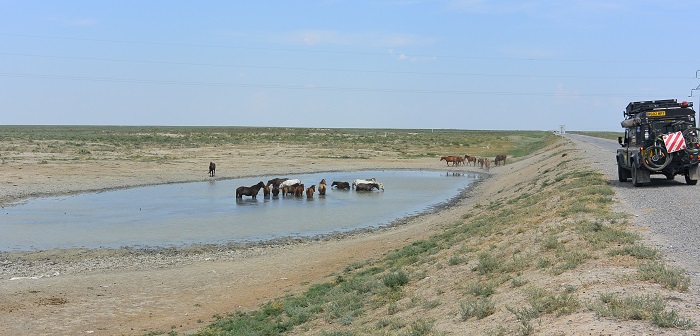 Horse country , Kazakhstan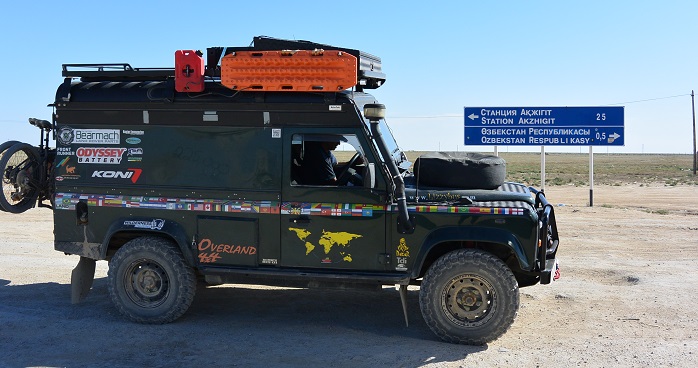 At last , Uzbekistan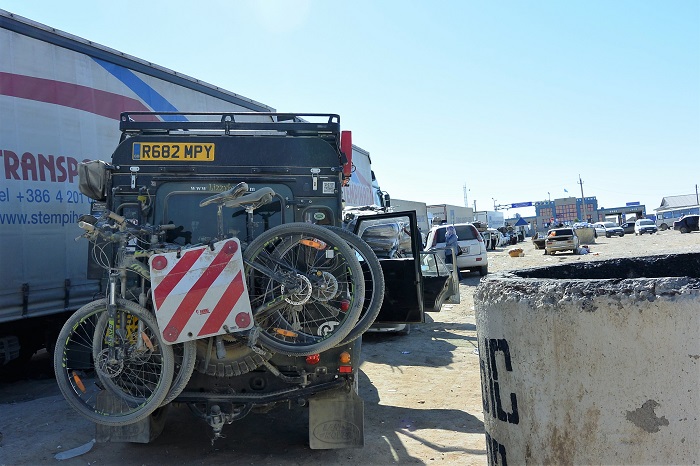 Border wait ,Uzbekistan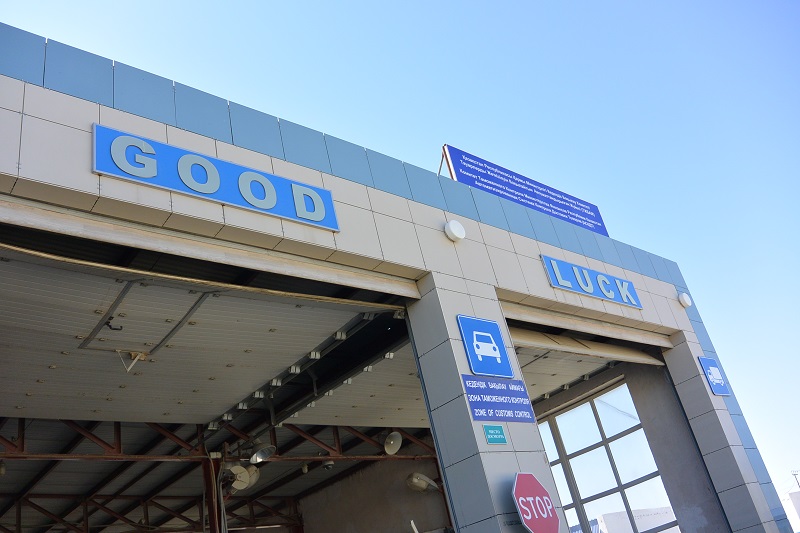 This doesnt bode well
Onwards and Eastwards

From Macedonia , South to Greece and head East .Again Euro borders pose no issues as we just drive straight through .We even find a free campsite at a Caravan shop , strange but true . As we are heading towards Turkey , we hop the border to Bulgaria to tick a box and met a French couple touring on a tandem (and they think we are mad)

Turkish Border crossing , €25 for entry , each and €80 for insurance .searched , x rayed and generally run ragged , after 3 hours we eventually make it in .This is our second visit , but first to the western side .As a short break we book a small hotel in Istanbul about 400m from the blue mosque .The hotel is deserted and we are the only guests .Once busy streets again a noticeable absence of tourists .A sad reflection of modern times .We feel safe , their are no issues here , lets face it , if your number is up it could just as well happen in France or Germany .This is our support for these beleaguered countries , we are not being dictated too or will we refrain from travelling because of bad people . A three day break ends up as a week .An invite from the Turkish Land Rover Defender club results in us camping on the streets of Istanbul for the night and yet another TV interview for a local adventure programme .Try doing that in your local city back home .Ankara and an application for the Uzbek visa which we will pick up in Baku rather than wait 7 days for its approval .With all things Land Rover we drop her into a garage at Kyseri , Umit Otto after chilling in Cappadocia for a week .We have used this garage in the past and gives us a chance to fettle before the tough leg through the Stans and Russia. A new fuel pump is sourced (never leave home without one ) plus a spare clutch master cylinder .Two bushes are replaced , new power steering pump , engine oil changed and all fluids checked .We love this place and have been stopping in a rather swank hotel .Bush camping up to the Georgian border we even helped with the Apricot harvest when a family let us camp in their orchard. Another 3 hour crossing out of Turkey and about 15 minutes into Georgia .

Batumi and a chance for our Azeri visas .Unfortunately the consulate opens Mon , Wed and Friday except the Wed we arrived……holiday time , come back Friday .So 3 days after submission we receive our visa's, the good news was that as of 2 weeks ago the visa price has dropped from $80 to $20 .The guy at the counter was incredibly helpful .We would have cycled more , up into the mountains , however the horrendous driving ment we didn't as we would like to live .Georgian drivers are perhaps the worst we have seen .Who needs a Highway code when you can under/over take , ignore lights and force pedestrians off the road .Zebra crossings are of course for Zebras .We did however discover the delights of Katchapuri , a small one would feed a family of 4 for a week .Beer comes in 2l plastic bottles, HEAVEN .

With our Azeri visas hot in our hands ,we experience the difficulties of border crossings in this part of the world .A three hour wait in the hot sun even before you get into the compound . $20 for a permit and insurance .We where now in Azerbaijan .Our first brush with authorities resulted in a requested( for crossing a white line whilst overtaking) $600 fine , Jayne beat them down to $25 .We need to put our West African hat back on and wise up again .Time to drive like Miss Daisy and stick to the rules (real and imaginary).Knowing nothing of Azerbaijan , the immaculate new city of Baku came as quite a shock .We booked into a hotel , abused their gym and sorted out transit visas for Russia . Again , the embassy was incredibly helpful and issued a 3 day transit visa to Kazakhstan in 8 days .We are now making friends with the guys on the Mongol Rally which is being run as we pass through .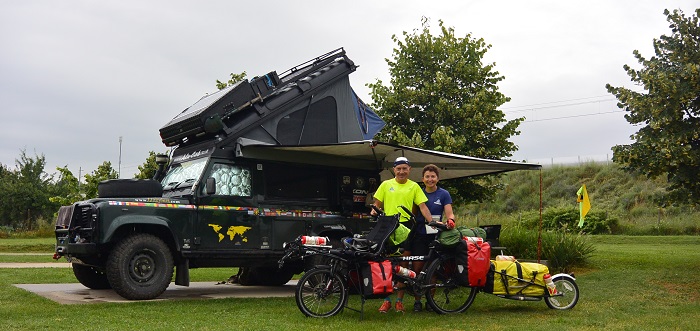 French Cyclists , Bulgaria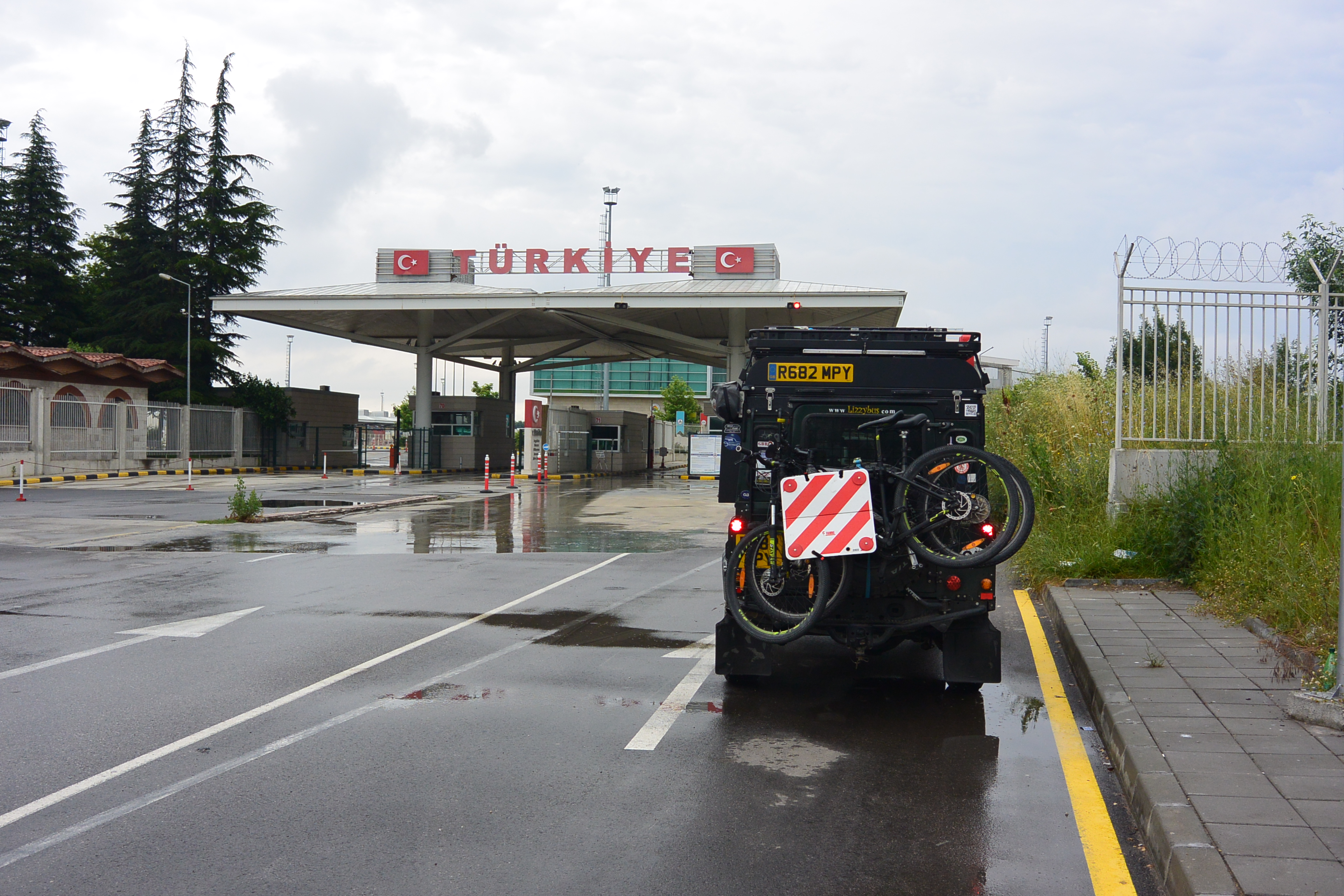 Turkish Border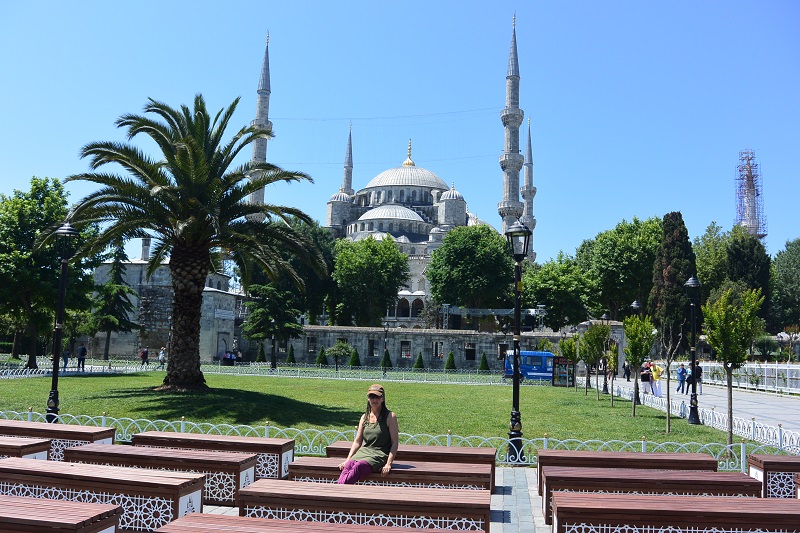 Blue Mosque , Istanbul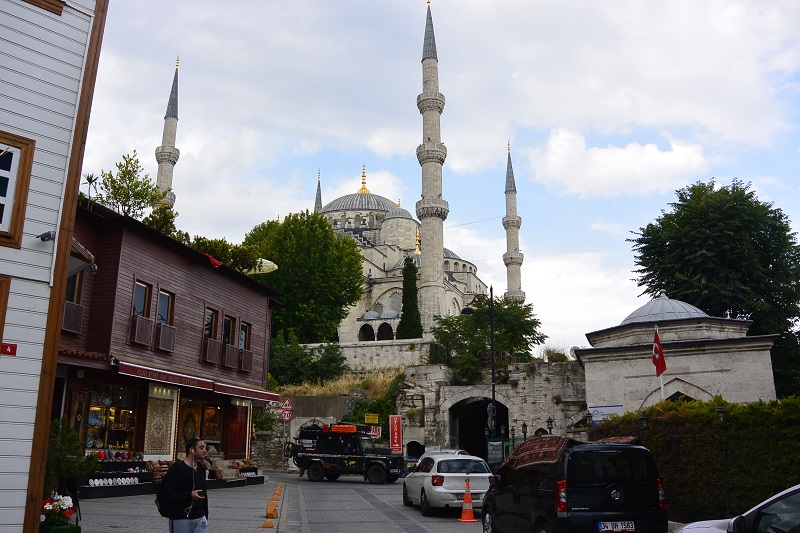 Blue Mosque , Istanbul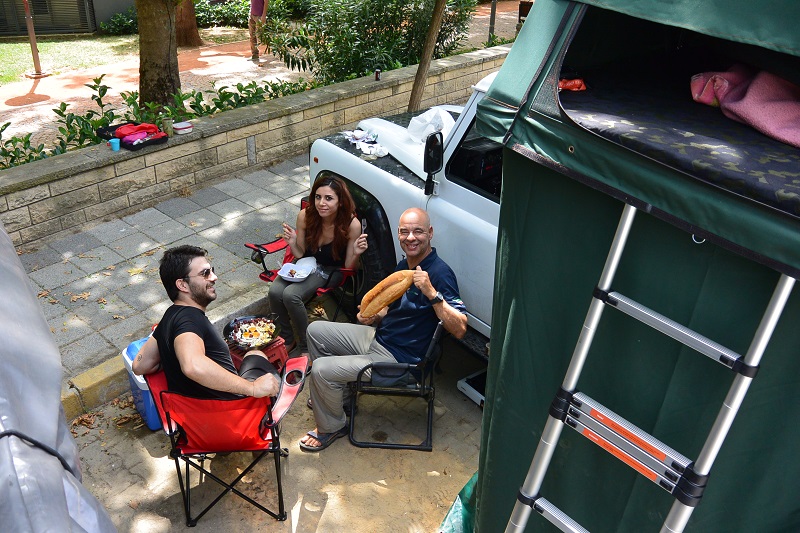 Breakfast camped up on the streets of Istanbul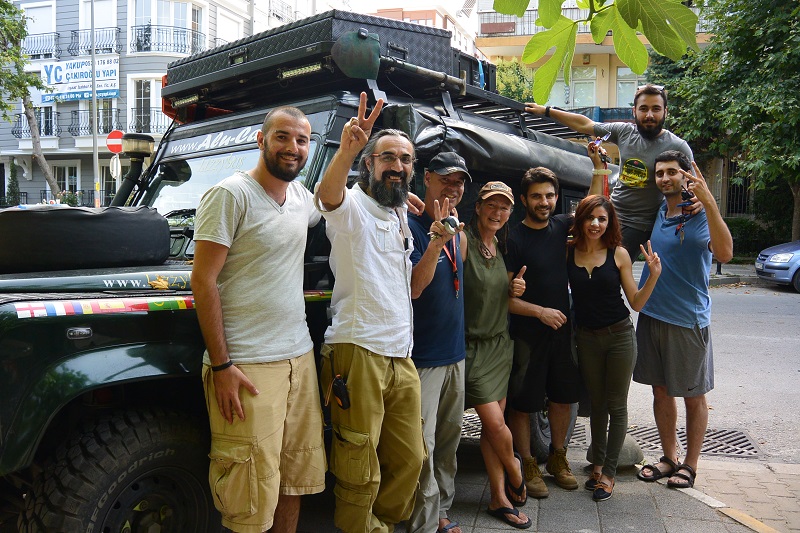 Turkish Defenders Club , Istanbul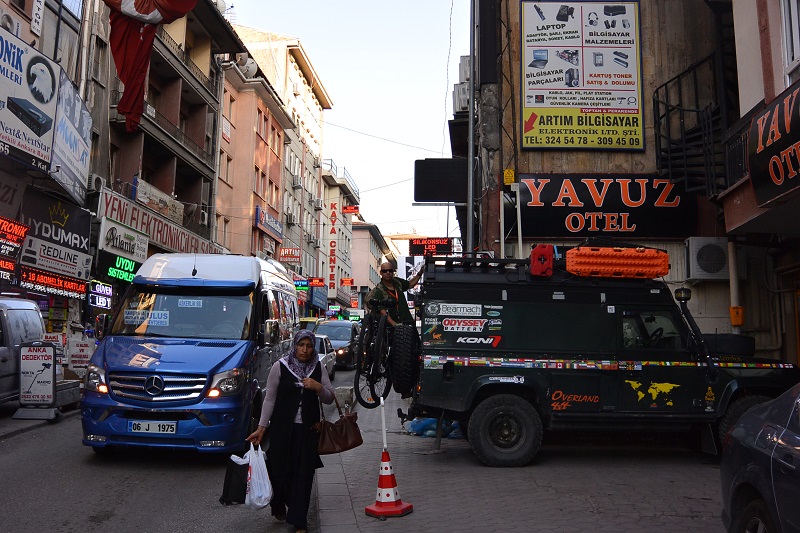 Secure parking outside our hotel ,Ankara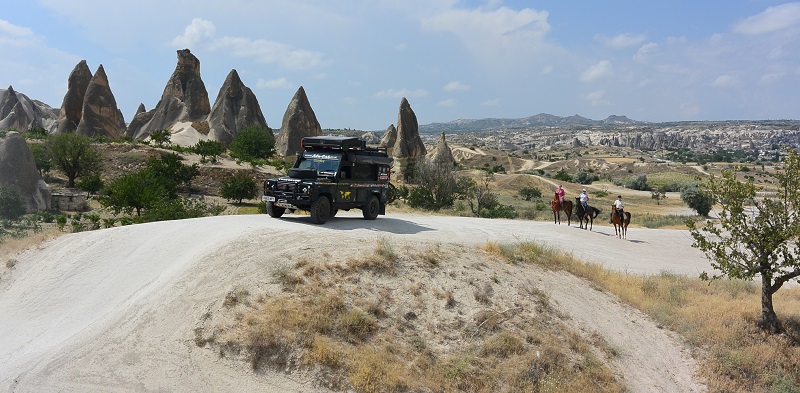 Cappadocia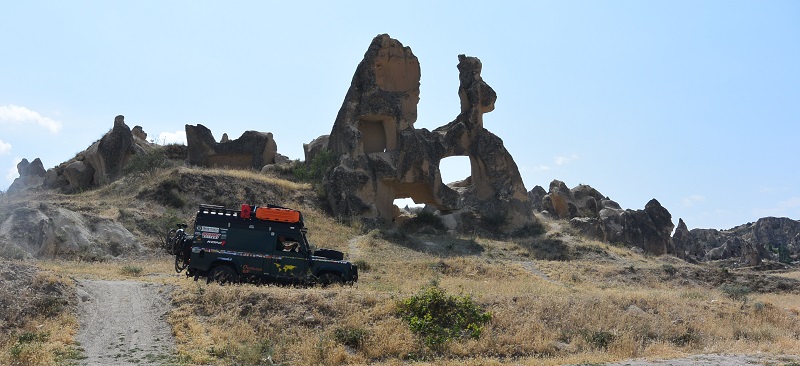 Cappadocia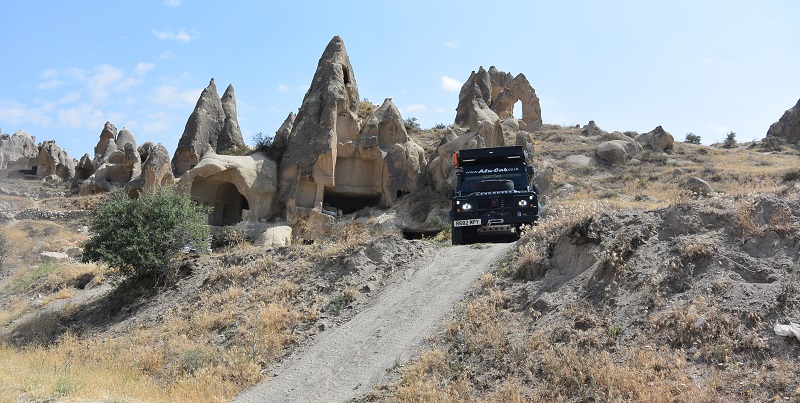 Cappadocia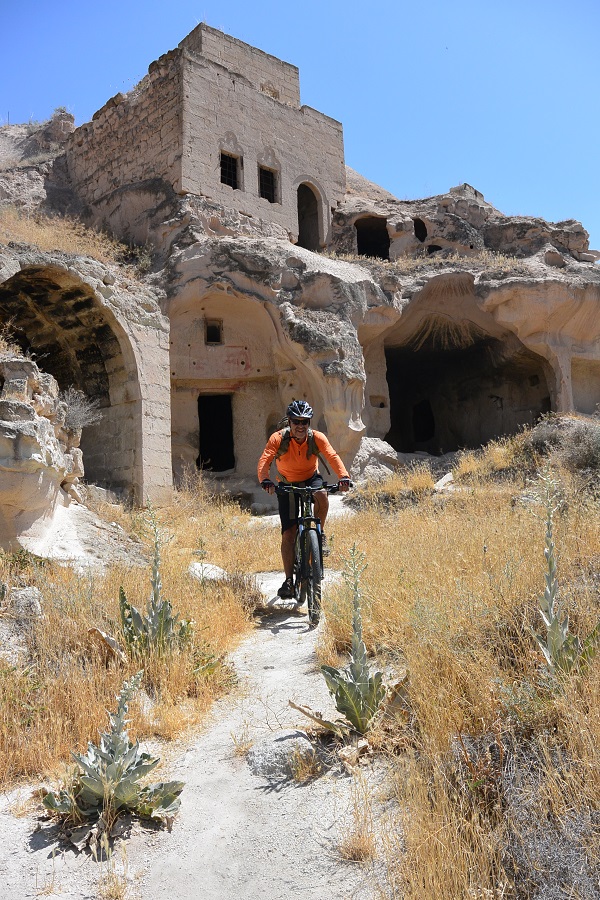 Biking in Cappadocia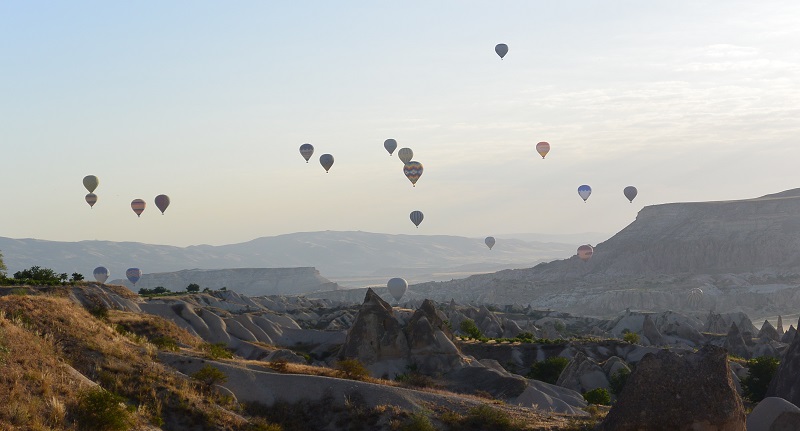 Cappadocia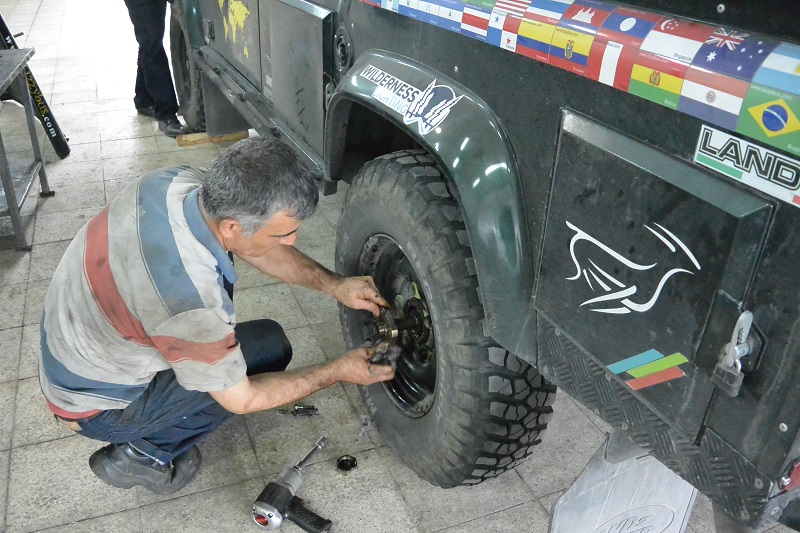 Running repairs Umit Otto , Kyseri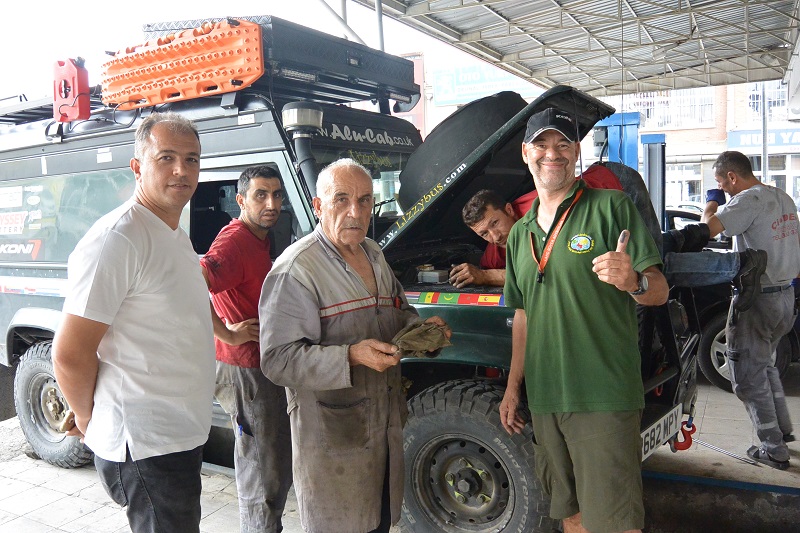 Running repairs Umit Otto , Kyseri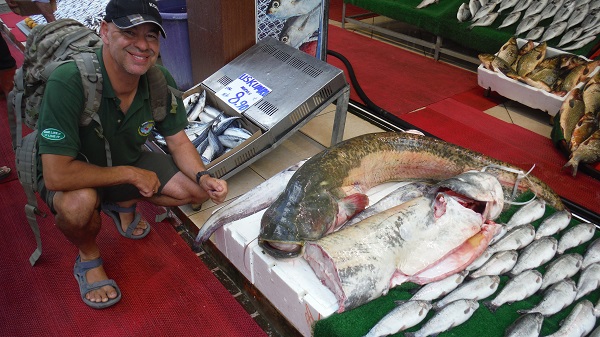 Imagine the one that got away.Kyseri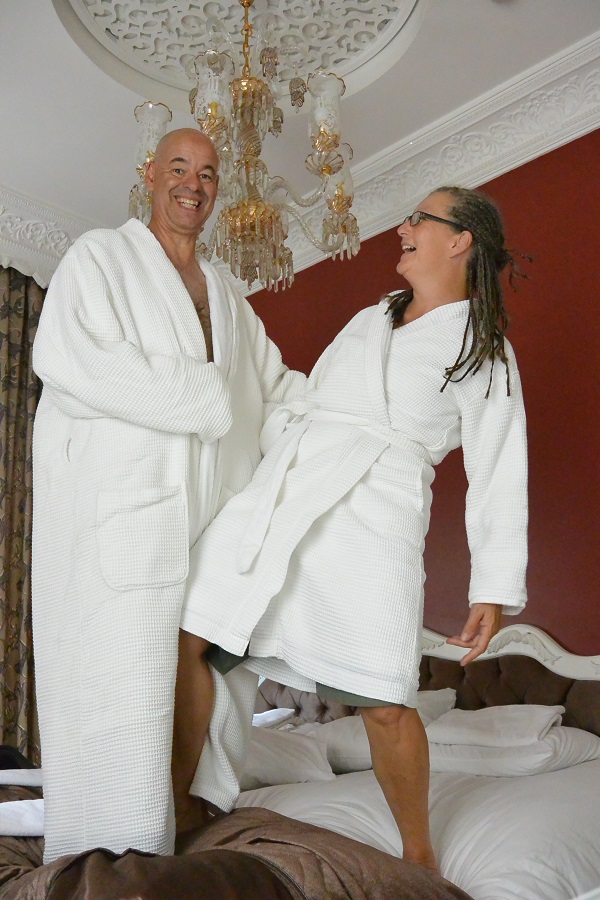 Quality hotel ,Kyseri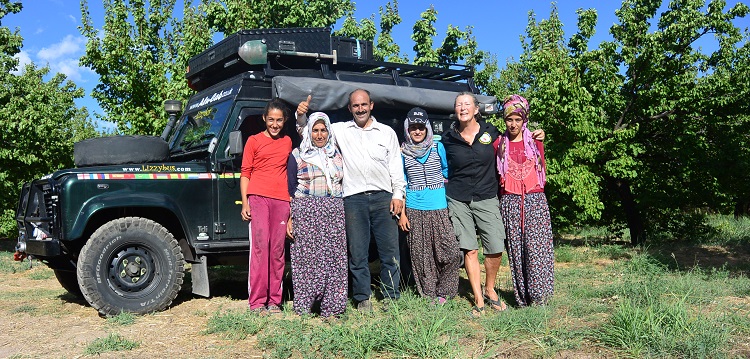 Family let us stay in their orchard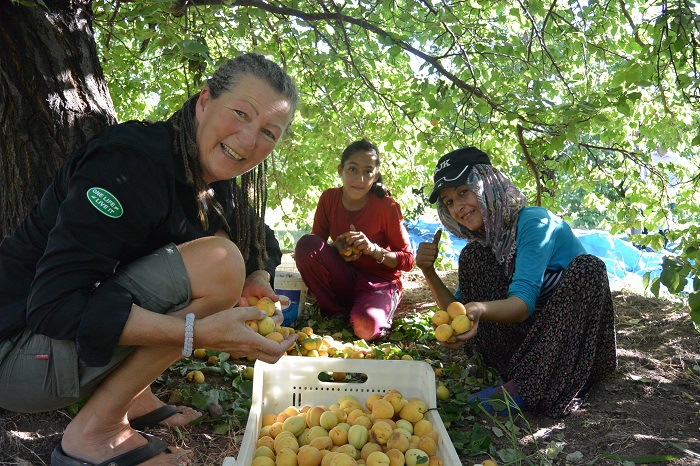 Helping with the apricot harvest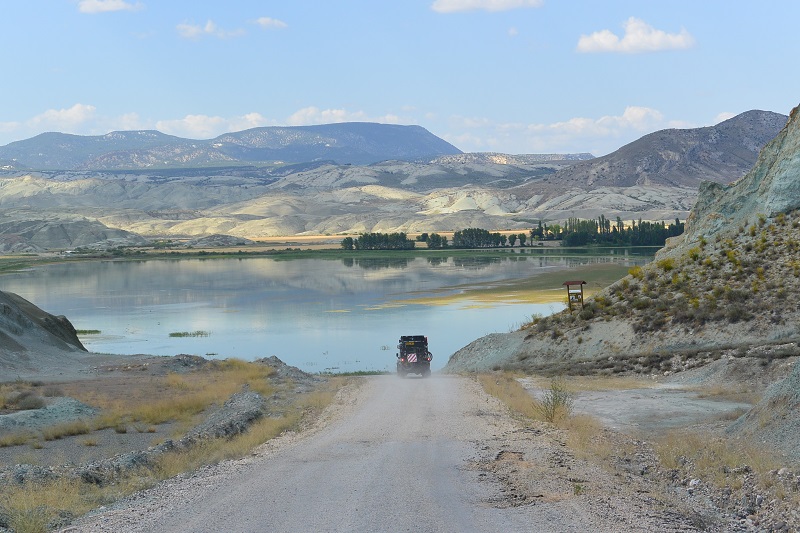 Turkish countryside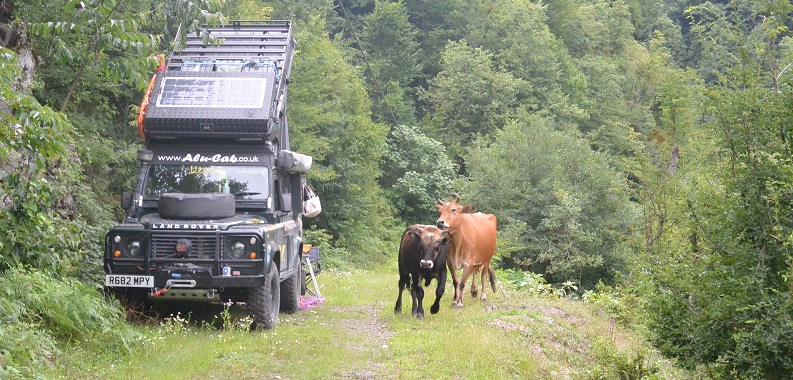 Bush camp visitors , Turkey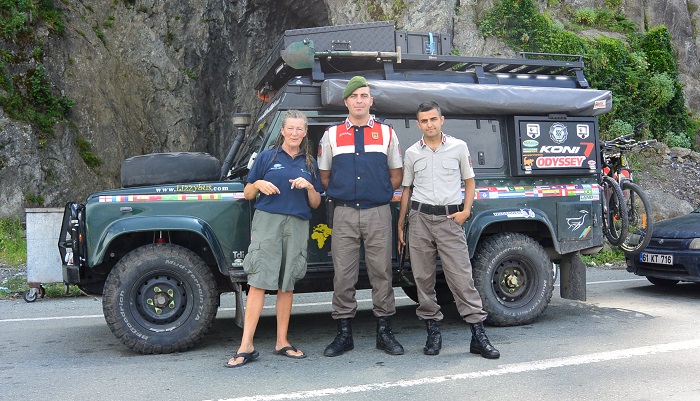 Cool guys at the Turkish/Georgian border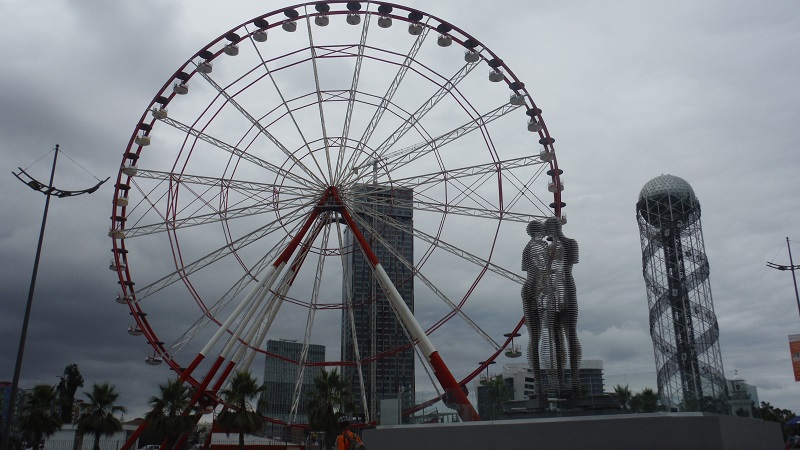 A rather grey Batumi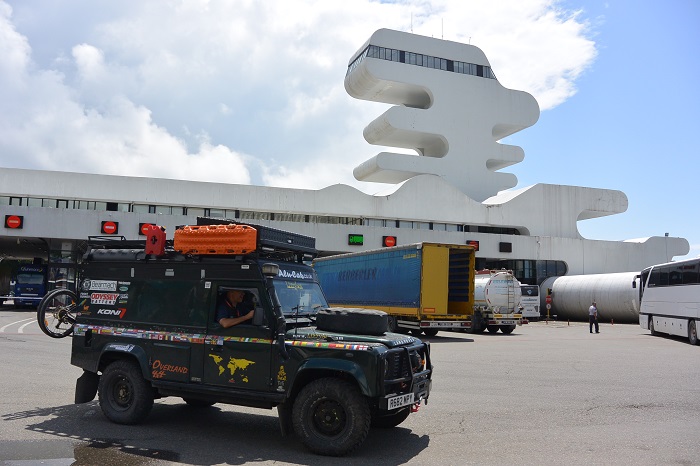 Georgian border post
Georgian food ROCKS ....Katchapuri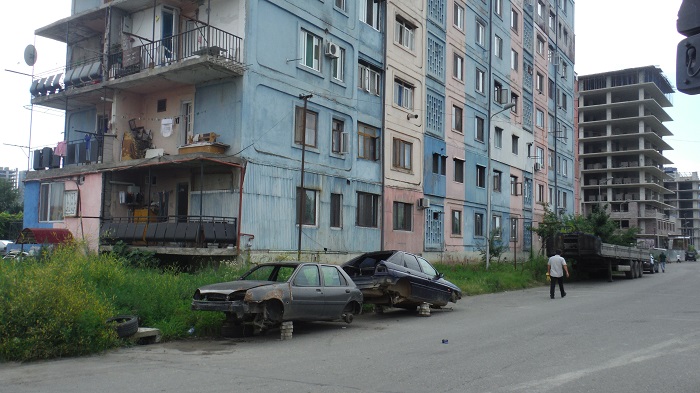 Down town Batumi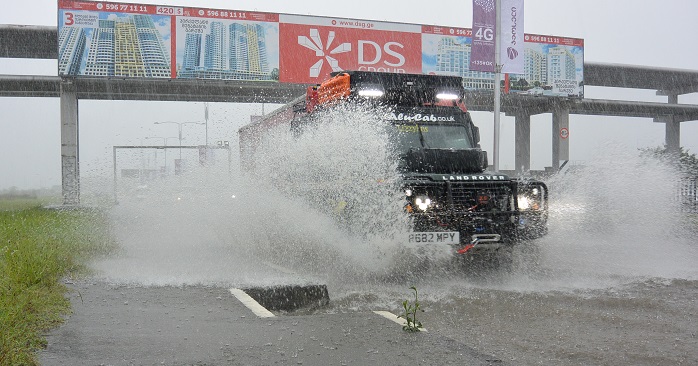 It rained in Batumi
Balkan bound

So , time to head towards the East in possibly the most convoluted route yet .Wonderful Italy became Slovenia . OK , € 20 may be acceptable for camping in most of Europe , but Slovenia ? I think not .Croatia and its stunning coast road certainly lived up to the hype .Tinged with jealousy as we see big bore bikes blast past . thundering down the winding mountain roads .Shame the Millie R had been sacrificed on the alter of the Lizzybus adventure , but at least we can camp and have a cold beer courtesy of the Engel fridge ..mmmmmmmm , cold beer !!! Bosnia and a flying visit to the bridge at Mostar .A region steeped in recent tragic history also shows us the resilience that people have to adversity .To this end , I will never be able to understand the complexity of Balkan politics , but I do know that if we go to Kosovo we cant then go to Serbia , so Kosovo it is !The people in this region are just so damned friendly .

Mountain roads lead to the small country of Montenegro and the wonderful Autocamp Naluka , Morinj ,the owner a most helpful guy who , to our shame can speak about 4 languages (we speak only one)and was a font of local knowledge .A weeks stay , cycling and visiting the wonderful castle at Kotor prepare us for Albania .Albania motorways are not great fun when the engine conks out .Hot , sweaty and seriously dangerous we come to a shuddering halt .A rescue truck offers to take us to a good mechanic for €200 .Bloody cheek of it , the best Land Rover mechanic here is me .Further negotiations and for €50 we are towed to a 24 hr garage 30km away .On the flat bed , the driver cuts across arnco and down a scary off road track with 3 tonne of Land Rover lurching around, cant see the AA doing that .My diagnosis is a knackered fuel pump , bit of a pisser as it was a new one on the rebuild , however its origins are unknown to me .Being the good 'boy scout' or because we have just been around the world an OEM Delphi pump sits in a side locker AND I know exactly which locker it is .Two hours to change (getting slow in my old age) we wave goodbye to a suitably impressed garage we cross into Kosovo .Again , this part of the world holds images in my mind of ethnic cleansing , civil war and destruction .Travel has made us realise that most of the world is not what we expect and always arrive with an open mind .You gauge a country by its border crossing , mmm border guards who speak English and have a sense of humour ! It was a wonderful stay , again an opportunity to meet proud , friendly people who are curious as two why two itinerant travellers in a green land rover would turn up in their neck of the woods , having opened their hearts to welcome us, thank you Kosovo .

Back on the road to Macedonia we slide back towards the Adriatic and enjoy a hospitable couple of days at Camping Sunrise, Kalishta .

Having been spotted driving around and looking a little out of the ordinary national Macedonian television tracked us down and filmed an interview with us .Its strange to see your interview dubbed into a foreign language . So for a few days we wile away the hours cycling into the mountains , our camp overlooking the lake and the helpful manger , fluent in English providing classic coffees and cold beers……for free .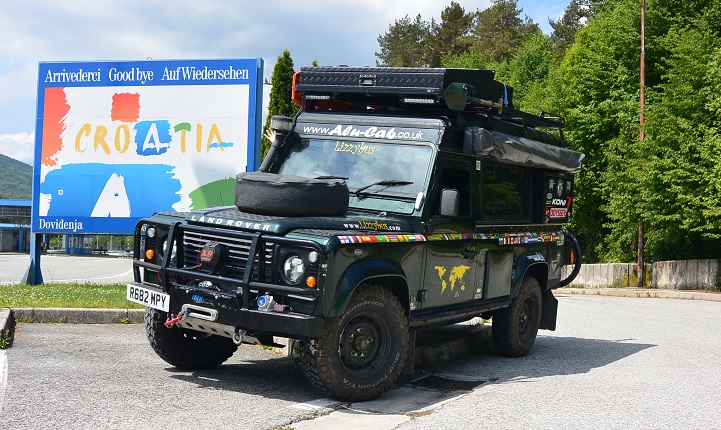 Arriving in sunny Croatia
Croatian Coast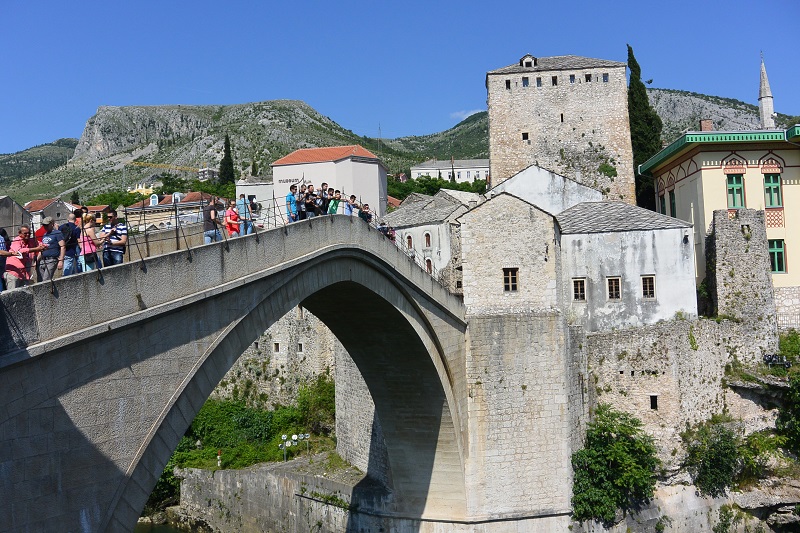 The Bridge at Mostar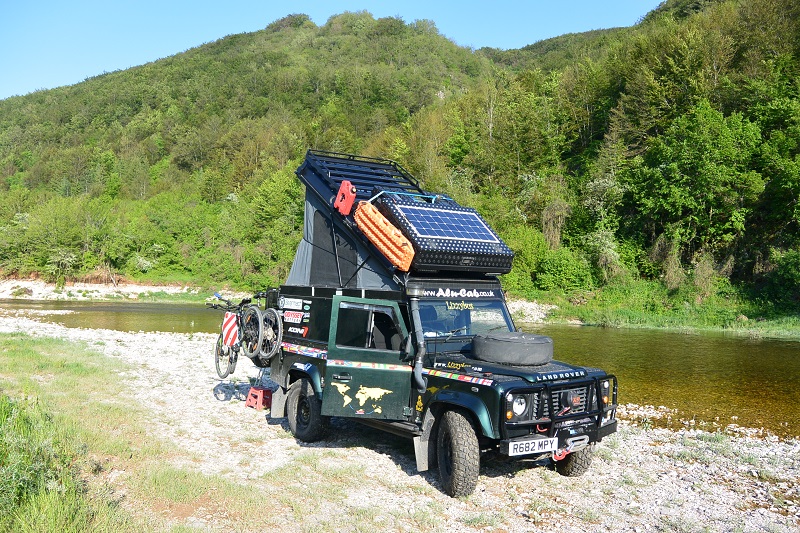 Bush Camping Bosnia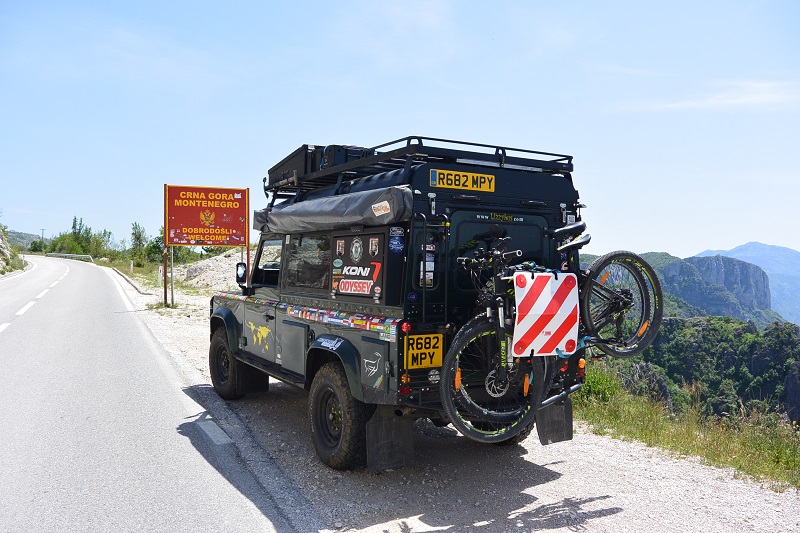 Mountain Pass to Montenegro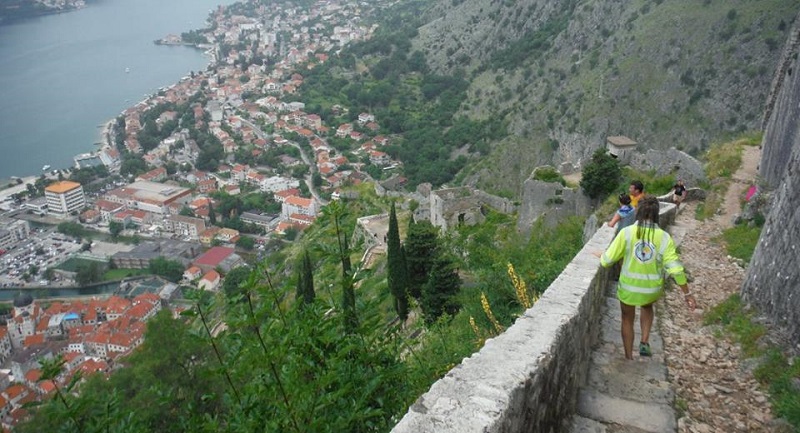 Stunning Kotor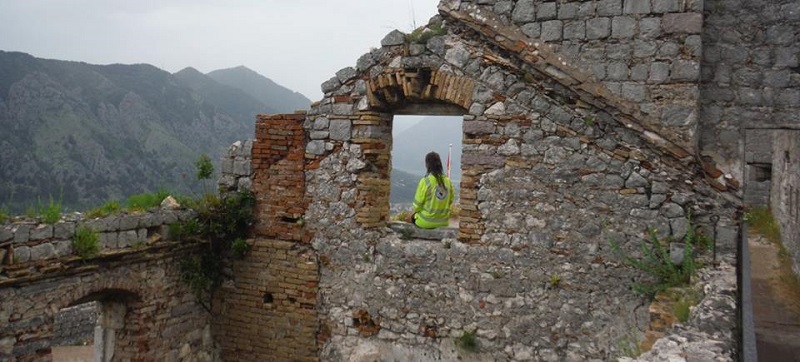 Stunning Kotor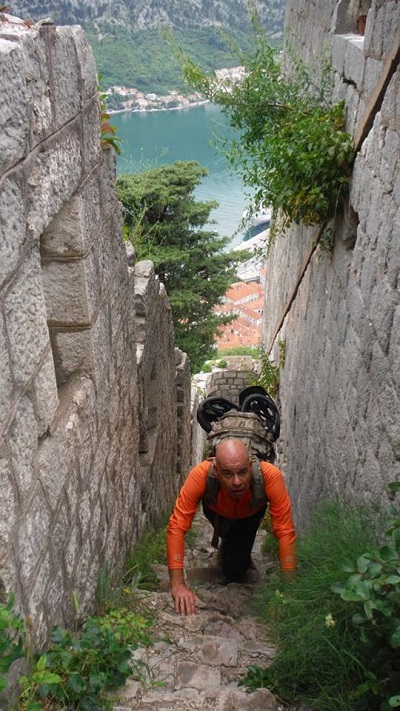 Stunning Kotor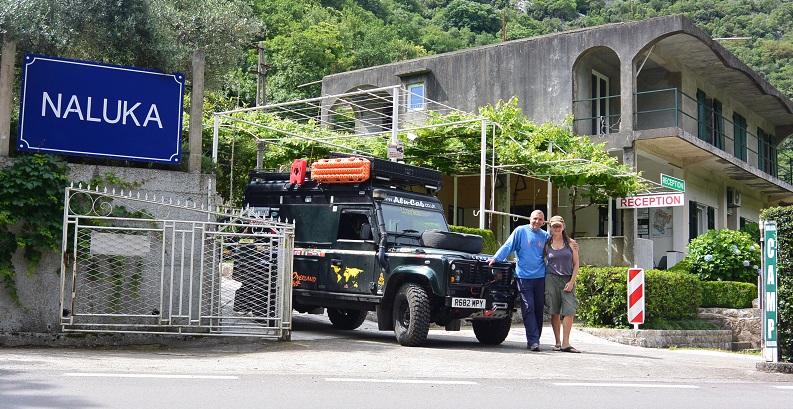 Another great campsite, Montenegro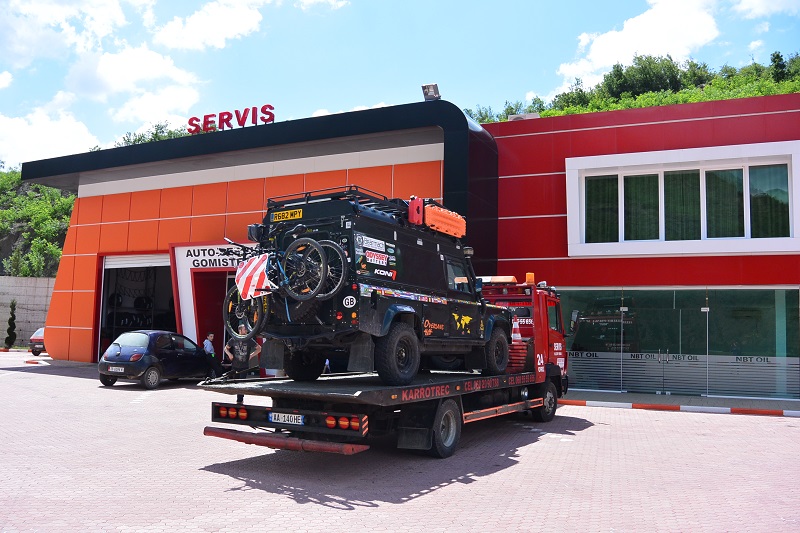 Flat bedded again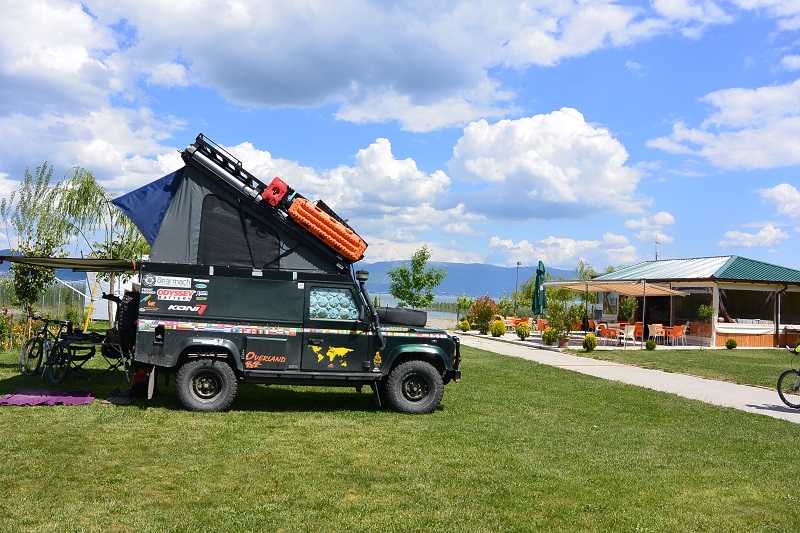 Camping Sunrise , Macedonia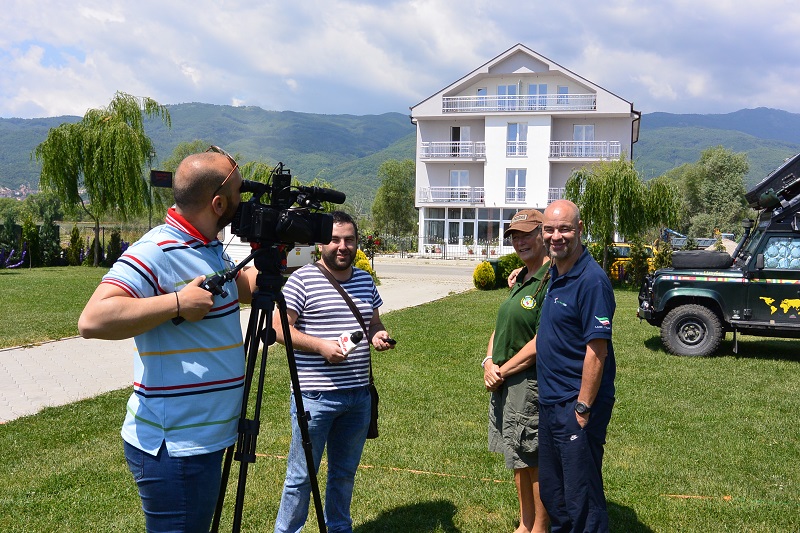 Local TV , Macedonia
Tempus Fugit(yet again!)
We have to meet up in Elba on the 13th May , so no chance of site seeing on the route across .One rule we normally stick too is that we never , EVER use pay motorways .Trouble is , the main roads are great but it knocks our average speed down to a snails pace , 30mph .So , rules are made to be broken and peage roads become the norm .Not a pleasant experience as we drive at about 55mph , but the routes are more direct .France dispatched in two days and into Italy .Opportunities to bush camp when taking the major roads are non existent , so its Garmin searches and Municipal Campsites for a while .
We meet up with Russ from LRO International Magazine and have a few pictures taken in Pisa and off to the beautiful Island of Elba as guests of the Registro Historico Italiano Land Rover Club .Again a chance to catch up with old friends and Colin Buckley , editor of Land Italia (cool Italian Magazine that covered us in a major feature )We are privileged to allowed on this rally as they normally only have series Land Rovers and the Lizzybus caused quite a stir .
Being in the cheap seats , we camped a distance away overlooking the sea , accompanied by an Italian family .The rest stayed in the 4*hotel , it was Land Rover heaven .I have to say we had a brilliant time and for once , where most upset when the weekend ended and we had to leave .We push on for the amazing Dalaman coast and Croatia .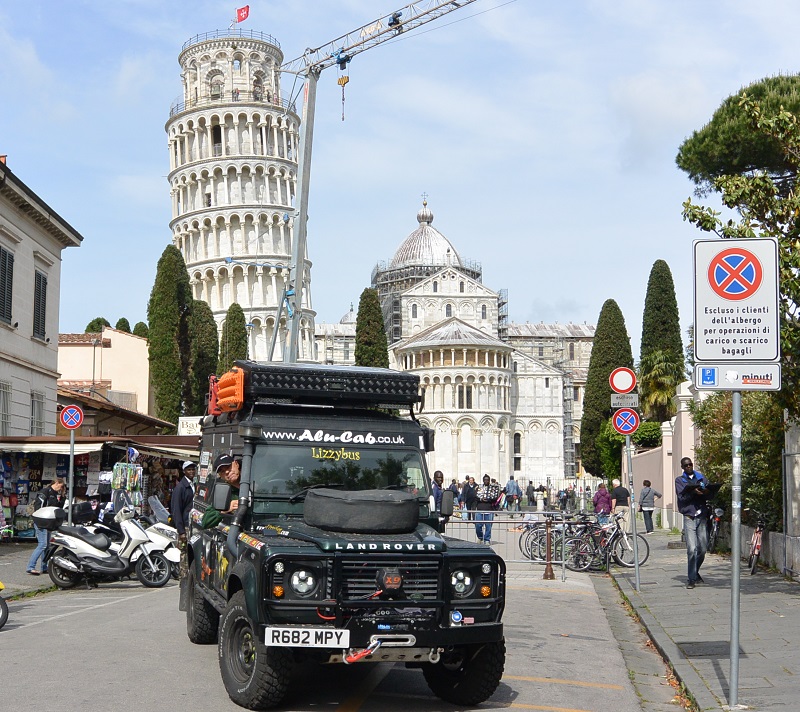 Parking in Pisa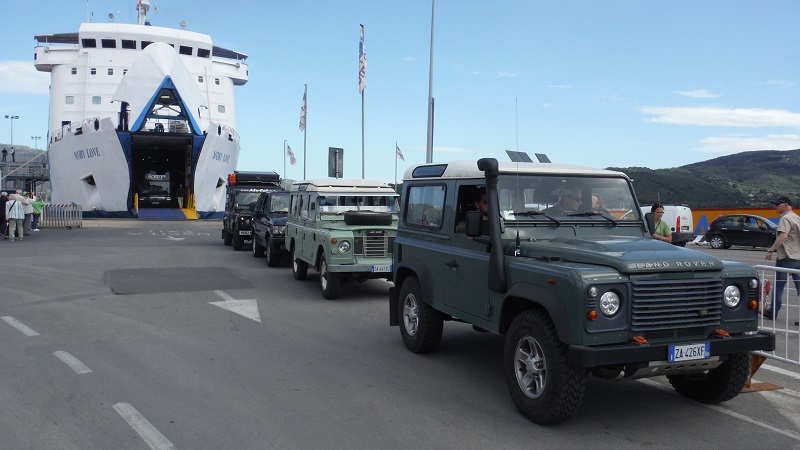 Arrival on Elba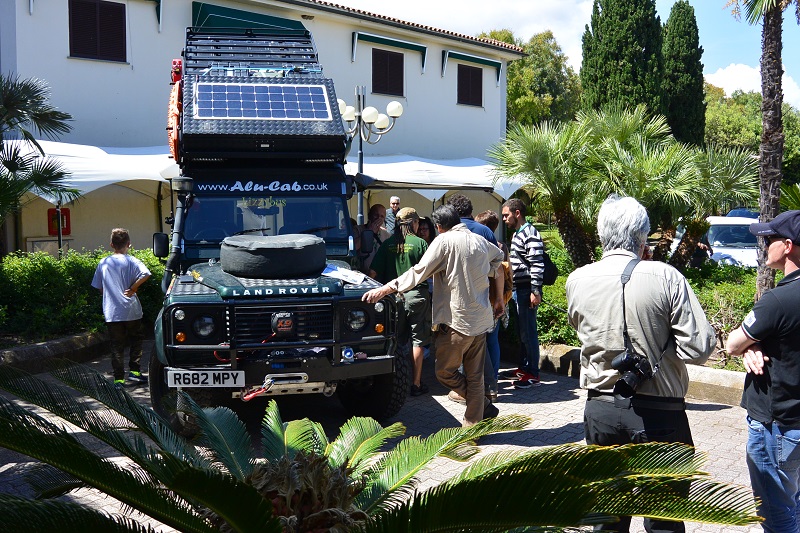 The Lizzybus has never been shy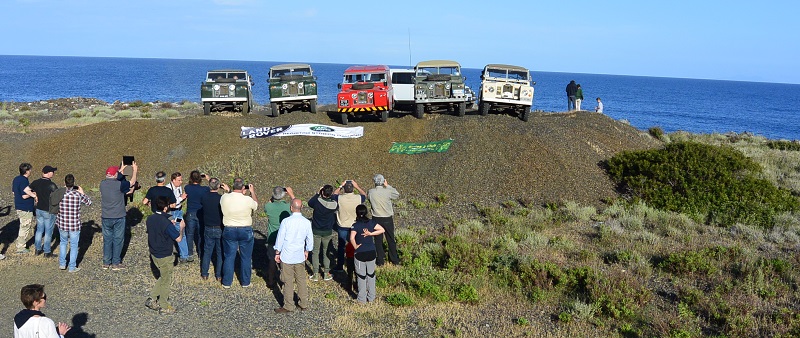 After all , it is the Registro Historico Italiano club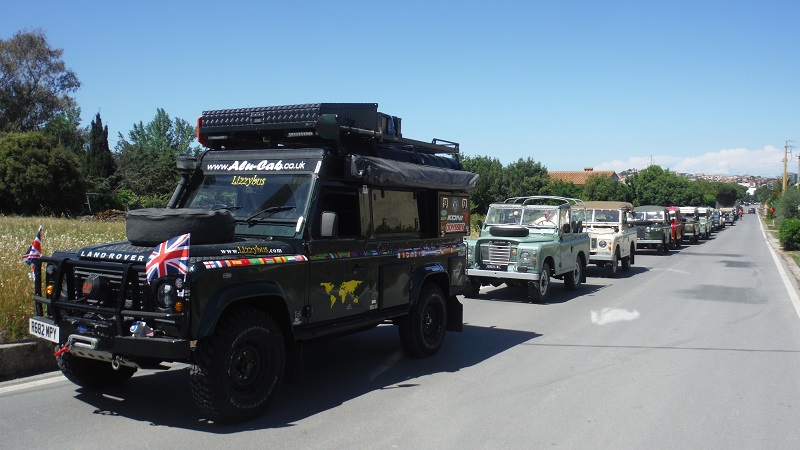 Proud to be British and lead the convoy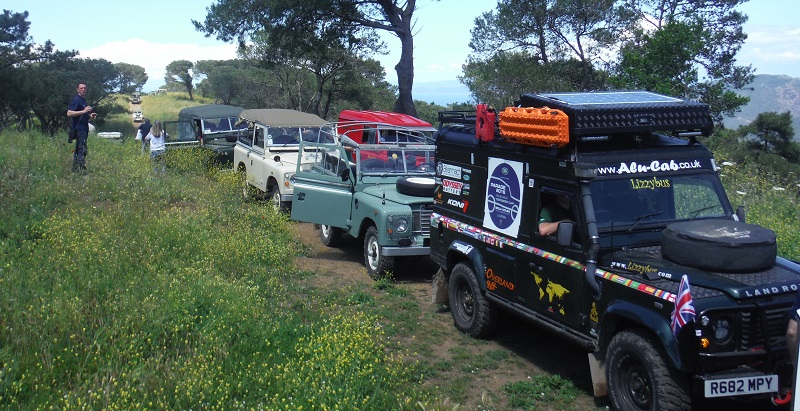 Lizzybus stealing the limelight as always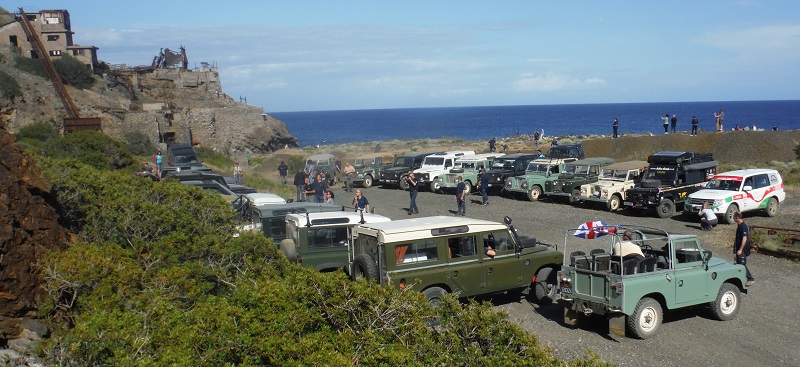 Land Rover heaven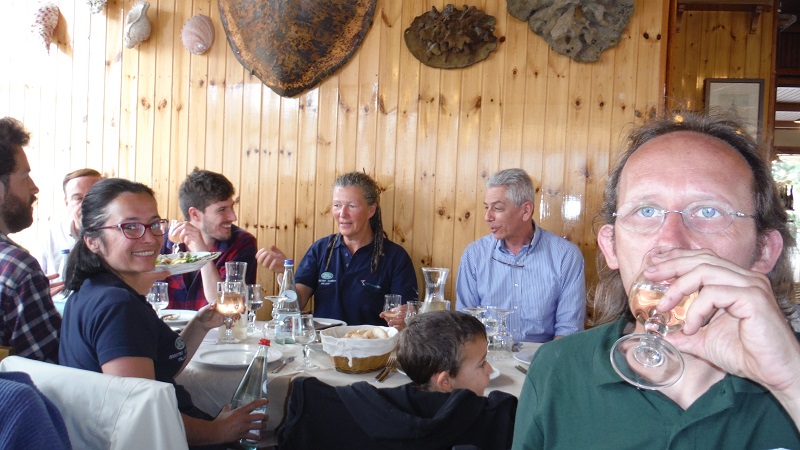 Jayne holding court with our new Italian friends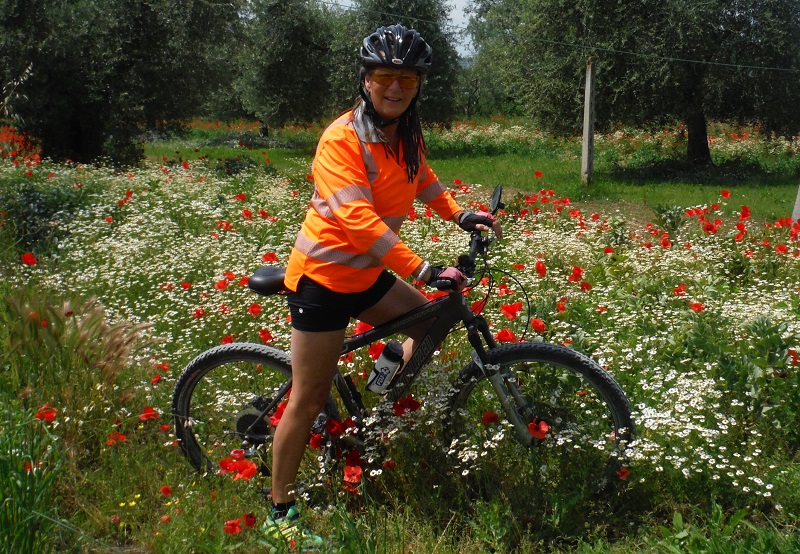 Cycling down time
193 Days Later

Probably sounding more like a film title than the continuing adventures of the Lizzybus ,but we have to admit to the truth .A friend once said that if you stay in one spot for more than 200 days you loose your overlanding status .Well our status as overlanders was hard fought and we weren't about to give it up lightly .We have been hanging out in Santa Pola , Spain all this time . Fees for the camp site dropped to 8 euro a day and coupled with cheap provisions , mountain bikes and great scenary we could have spent a year here . But an invite to the isle of Elba and a chance to be guests at the historic land rover series club rally couldn't be overlooked . So , 193 days after arriving in Santa Pola ,we depart . Fully fettled and still overlanders , its time to get going and head east and hopefully miss the cold Russian winter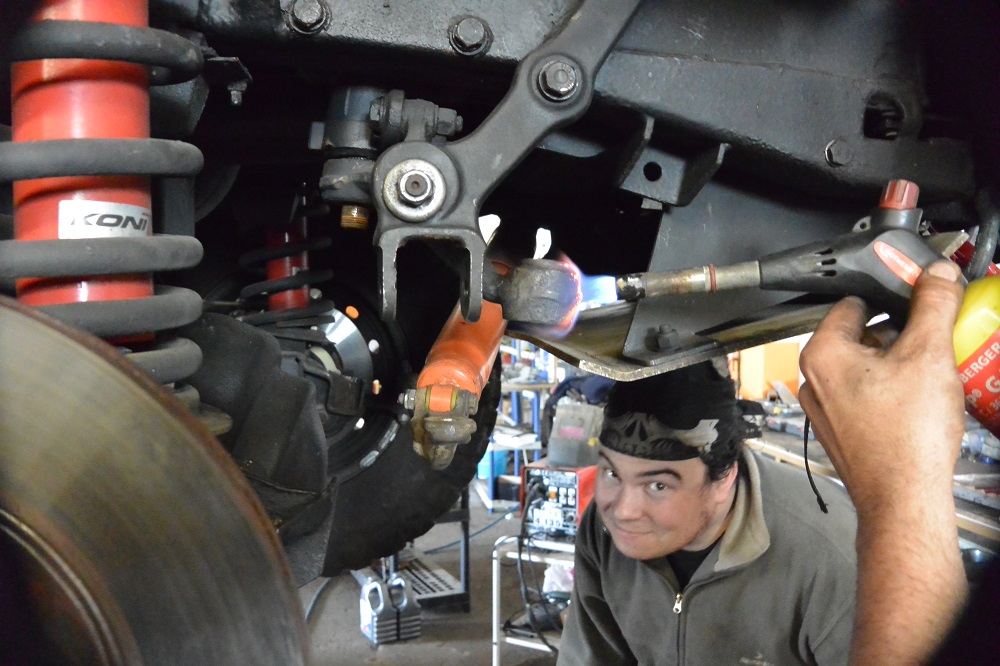 Just a little bit of fettling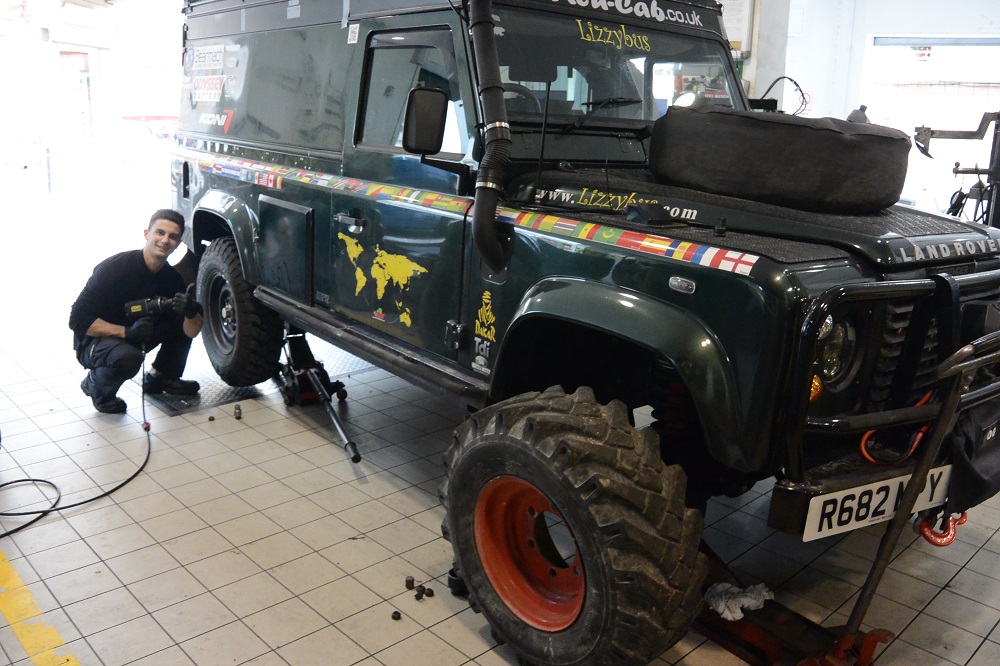 New style Overland tyres ?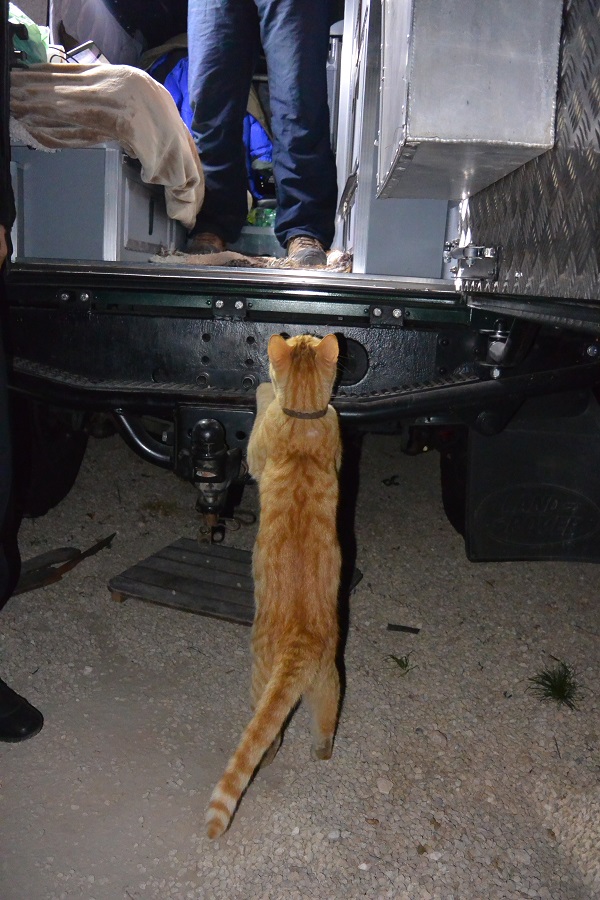 Fortunatly curiosity didn't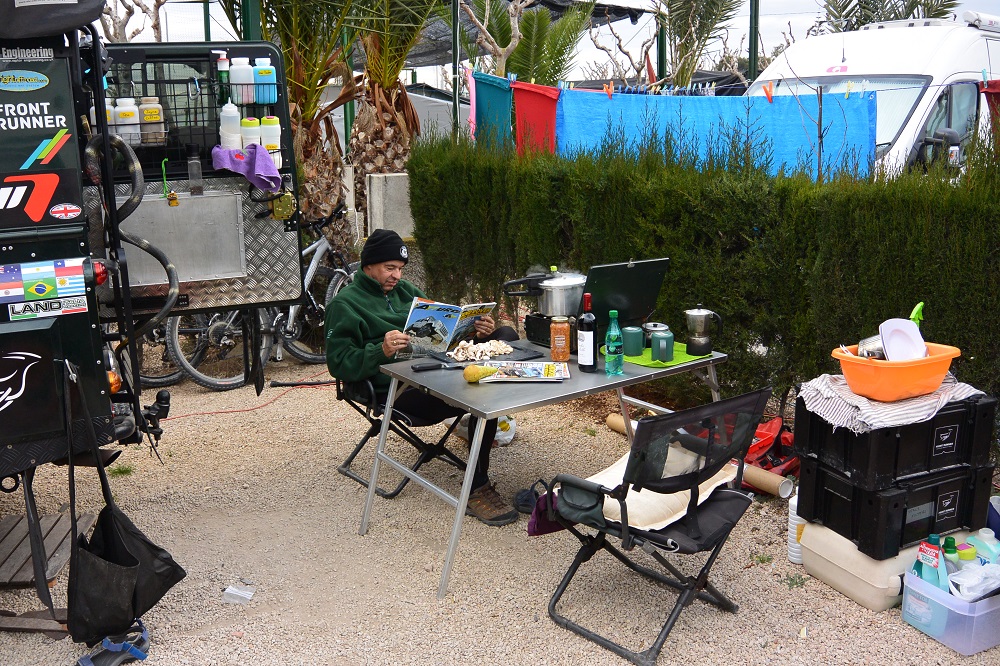 Hard times in Santa Pola
Hamacca time