Adiós Amigos
Well sitting in the departure lounge of Cartagena Airport we are finally on our way to the final continent .Flight , one way , is expensive and booking on line I managed to press the accept button .No problem except we wanted the one o clock afternoon flight not the quarter to seven in the morning one .Despite having no "onward" ticket COPA accepted the Bill of Lading and other Lizzybus documentation that we would be leaving Panama.
Shipping all sorted . For those that follow,
Agent , the most excellent Martha of RJ Logistica .Absolutely not a word of English and us , not a word of Spanish .Worked hard for us with the aid of Google translate .Recommended at $260 for their services ( mgonzaleznadaff@gmail.com ) and a mere $300 Port Fees ! ( think I saw the harbour master turn up his 911 GT3). E mail all your documents to them , turn up and have an authority notarized . Sign a few documents and be prepared for the narcotics search before your vehicle is sealed .Even had to wear long trousers , closed shoes and copy of holiday insurance before being allowed on the docks.
We booked RoRo with NAVES , again 1,300,000 peso .Speak to the ever helpful Angela in Bogota .She speaks excellent English (customerwwl@navescolumbia.com ) can do containers as well .We had planned on using an agent to sort it all out , the one recommended had stopped doing this service so we booked the shipping direct .This caused a slight problem as the shipping company needs to be paid after the sailing , in local currency at Helm Bank .So an extra day in Columbia awaiting the final invoice before raiding the cash machine and tracking down the bank .All in all , as always , shipping gets expensive .Will let you know the final outcome when we get to Panama and how our agent , Boris performed .Boring , I know but a lot of people are travelling around South /Central America . We can say it as we see it .
Our hotel Puerto Del Este in Bocogrande , a deserved thanks to Victor who speaks excellent English and now has a taste for Brazilian Espresso Coffee .TTFN , being called for flight .
Mud, Glorious Mud
Just for a minute , imagine, loads of young , tanned , luscious bikini clad Columbian women .Add to that sunshine and a large pit full of warm , sensual volcanic mud .Recipe for a fun time me thinks .Well with my imagination running wild that's exactly what we got , only South American style .This is one of the "to do" things around here Volcan del Totumo , exactly what it says on the tin, a volcanic mound of mud . A great laugh and not what I imagined .All the booking has been done , the basic fare for the vehicle was $450 has increased to $1300 with every bodies fees and at least $80 when we hit Panama .God , we hate shipping , but it's a necessary evil if you want to travel around the world .We can't fly until the vehicle is loaded and we have paid the shipping company , as the journey takes one day , we will be a few days behind the Lizzybus .Hope she doesn't get lonely .This is our last post from South America , so sad heart leaving but a renewed sense of adventure for Central America and all the fun it will bring .So adios from here , next post Panama (Inshala)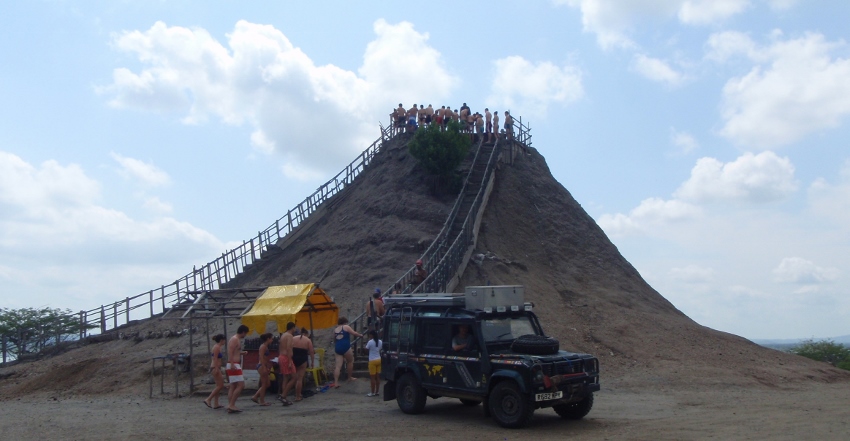 Mud Volcano !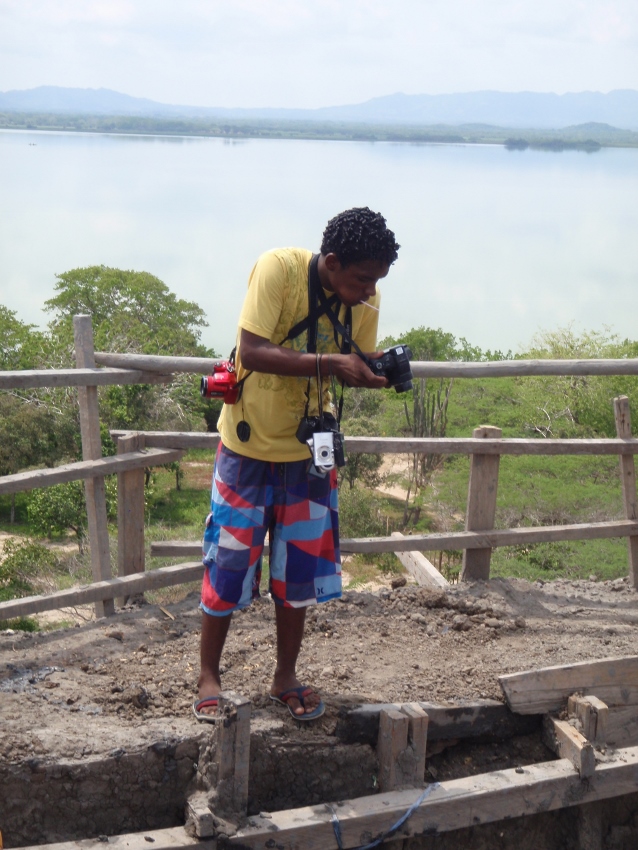 David Bailey , not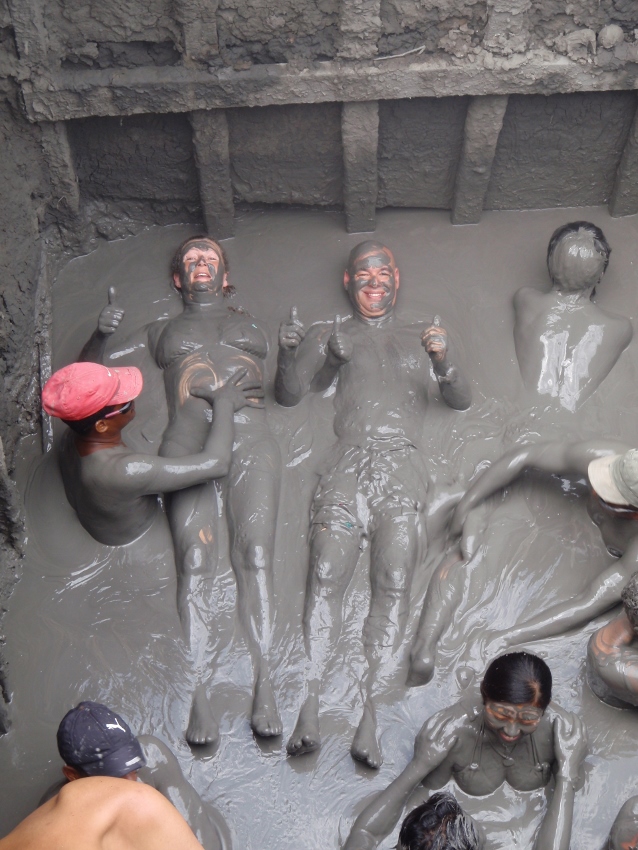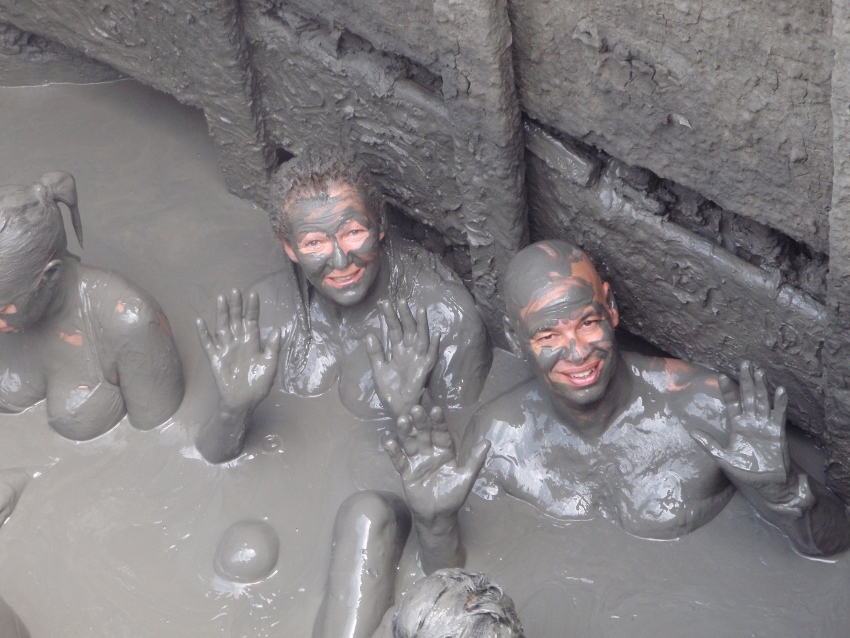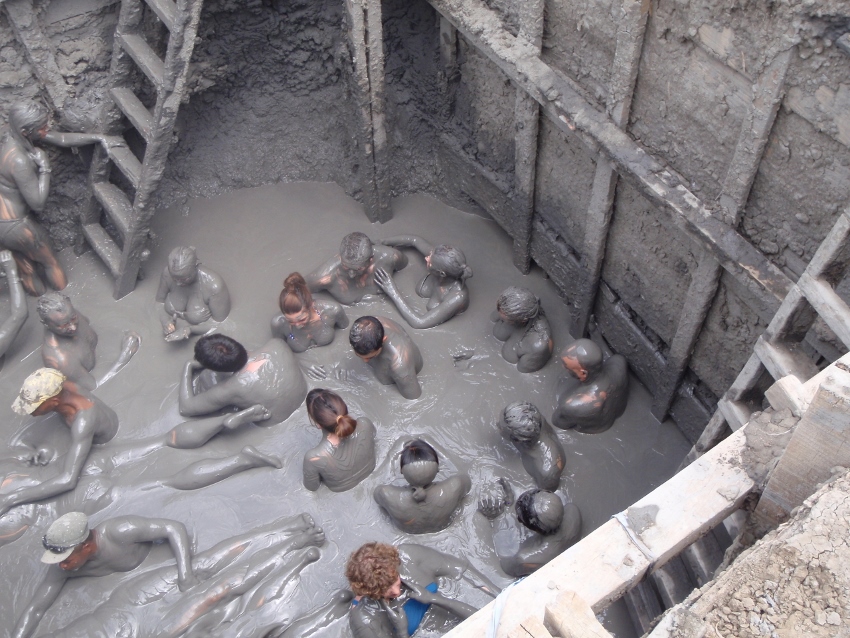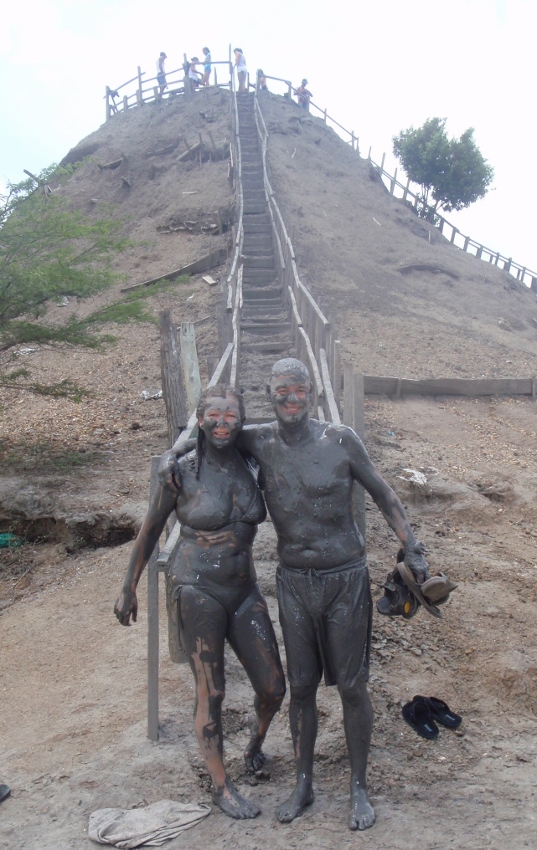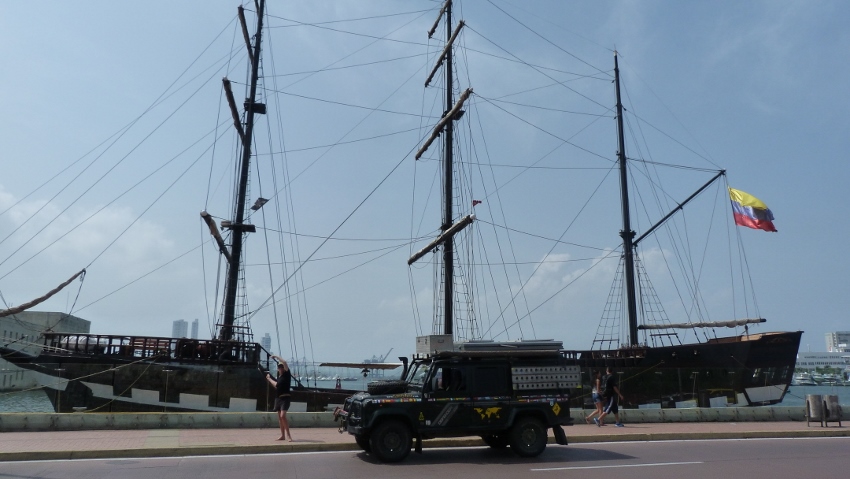 Cartagena

Cartagena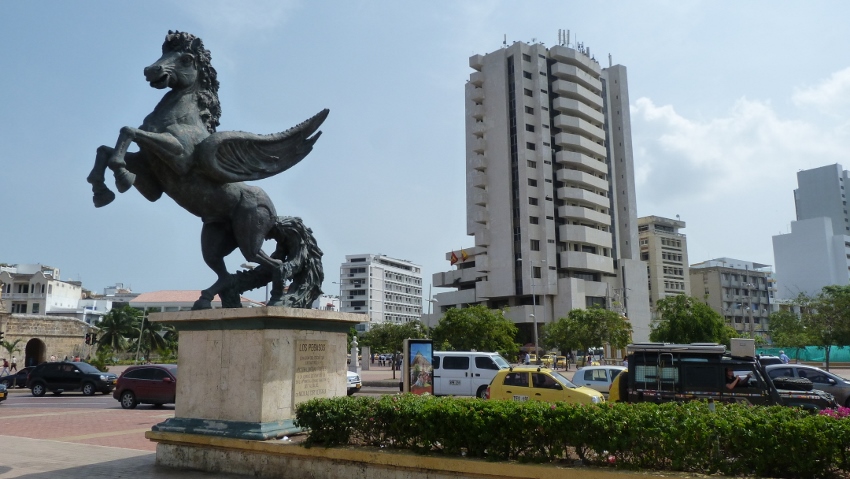 Cartagena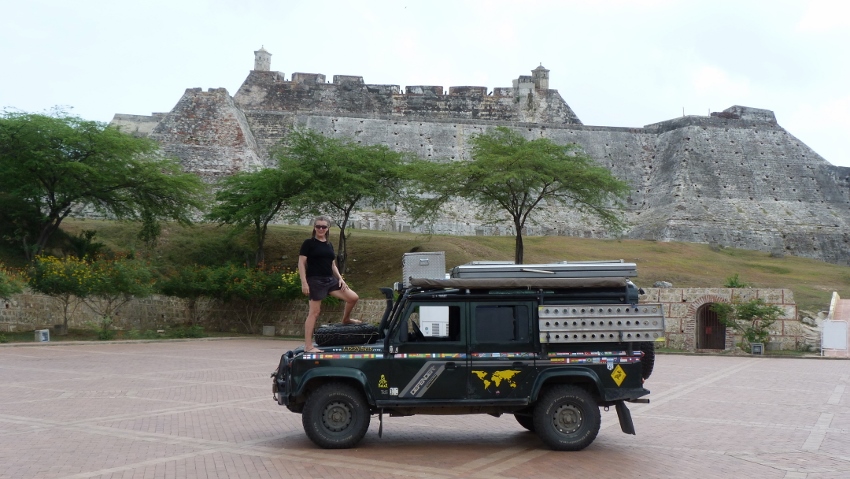 Cartagena
Continental Drift?
Well , it's the 1st Aug today and a chance to paddle in the Caribbean . Hot and humid we await the fateful day when the Lizzybus will be taken from South America and delivered to our final continent , North America .Yes folks we have made it all the way to Cartagena , Columbia .
A long tale then from our arrival at the Columbian border . Ecuador , with its mountains and live volcanoes was never a disappointment but the weather closed in so we missed seeing some of the stunning scenery .Quito , a magical city where we just managed to miss friends meant a stay in a rather run down backpackers who charged us for parking and even threatened to charge for using the kitchen ! But still , the city made up for it .with time pressures for shipping we headed on. We met Grahame , who put up ( or should I say , put up with ) two itinerant travellers whom he had never seen before who arrived , via E mail on his doorstep in Ecuador for a couple of days .He likes the interaction with Over Landers , so if you are heading North you could do far worse than give him a mail on gkersy @ hotmail.com and pop in .Border crossing into Columbia , given a hearty welcome from immigration and customs 90 days granted , the last country ( sorry Venezuela , next time for sure ) .Warned that we will need Insurance and don't drive at night welcome to the nightmare that should be Columbia .Thoughts of drug cartels , ATM kidnappings , corrupt police , drugs , poverty etc .Comments that even the GREAT Adventure Charlie Boorman wouldn't risk this part of the world ( or any part of South America ) it was with trepidation we carried on to our first Copec Campsite .
So Columbia , sum her up .Friendliest people in South America , no hint of any problems , no problems with the Police ( except negotiated the fine down from 200,000 to 20,000 for crossing a yellow line and having shook on the price , got change from a 50000 note ).Convoluted route over the mountains to Bogota and a route North that can only be described as sublime , despite the fact that every man and his lorry use it.
So there you have it .Cartagena , possibly one of the most beautiful cities in South America awaiting the go ahead to ship to Panama and again an aching feeling that we are leaving a wonderful part of the world that we hopefully we can return to and explore even more .This wont be our last post as we ship on the 12th ( Inshala)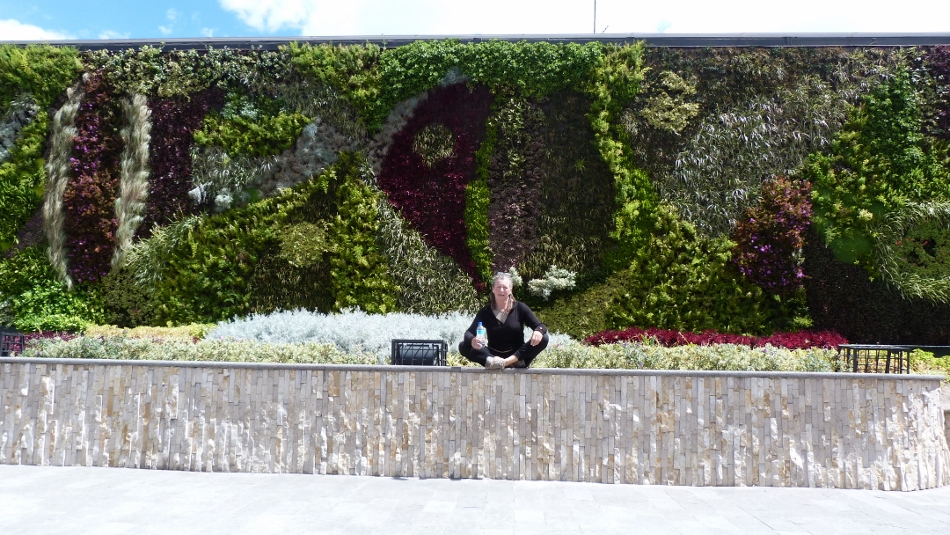 Quito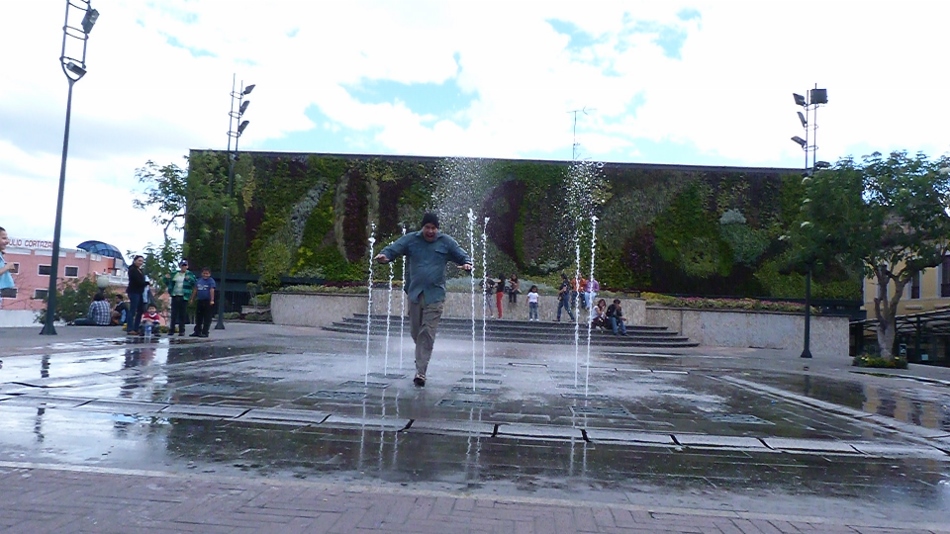 Getting wet .Quito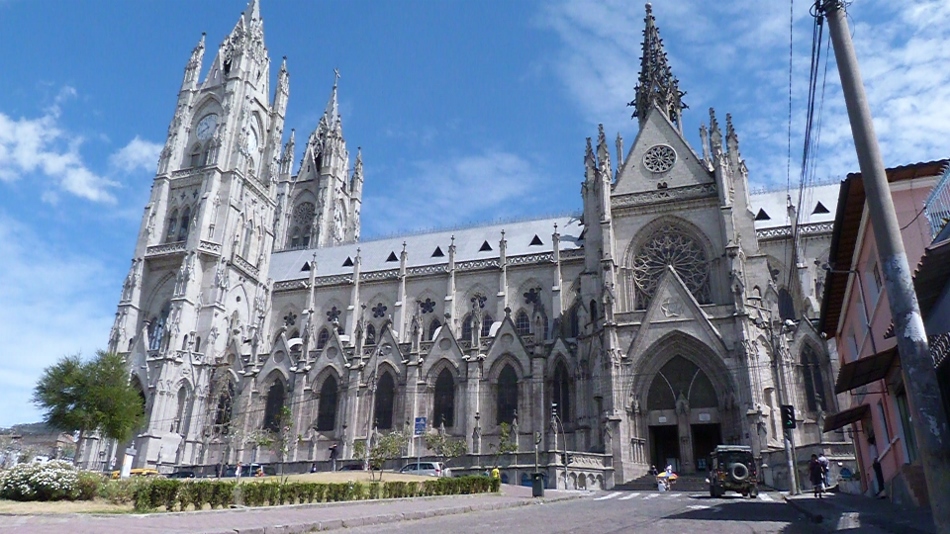 Quito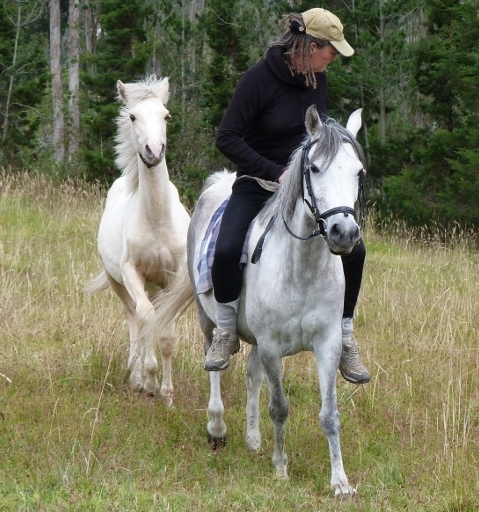 Rodeo Jayne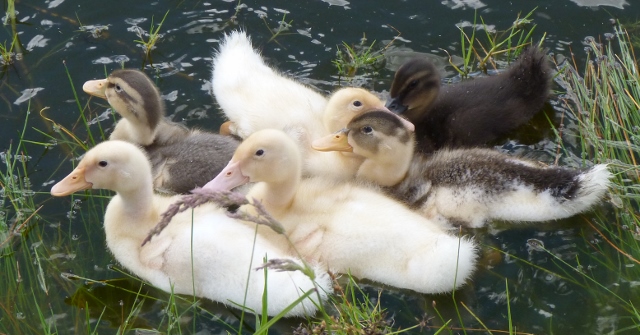 Pass the pancakes and hoisin sauce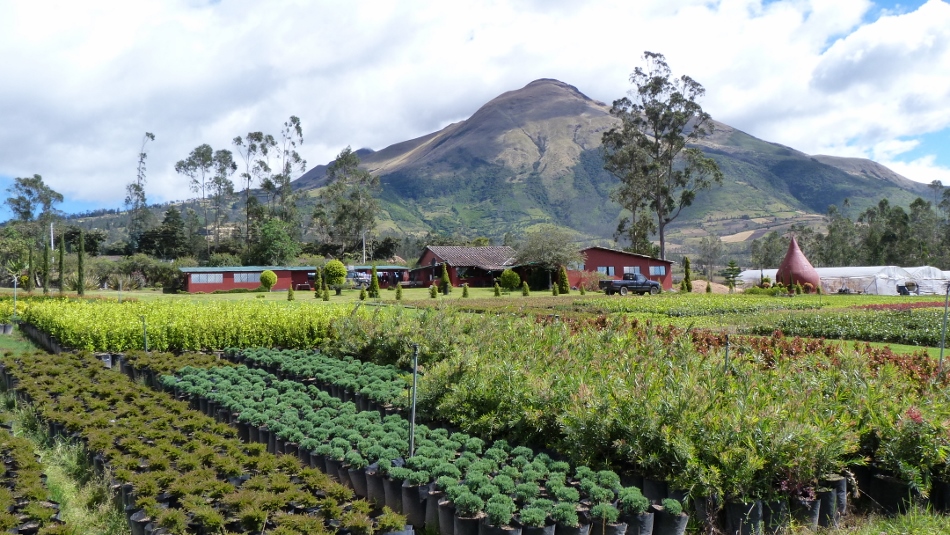 Nice gaff .Graham's Ecuador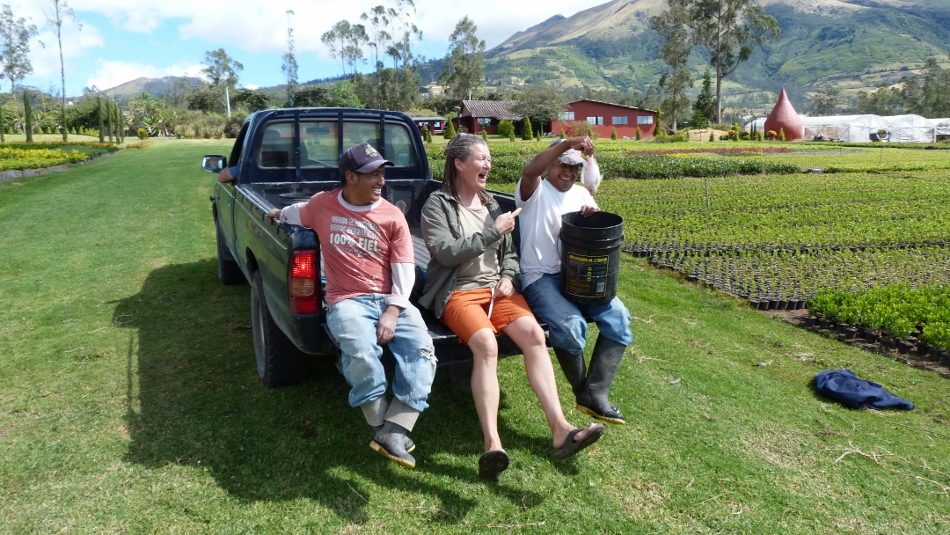 The one that didn't get away .Graham's Ecuador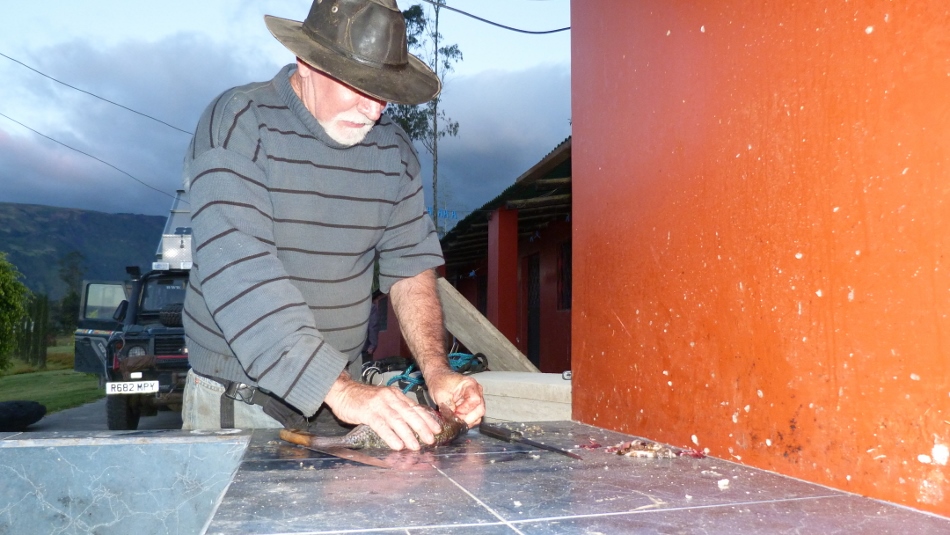 Grahame , and we just turned up!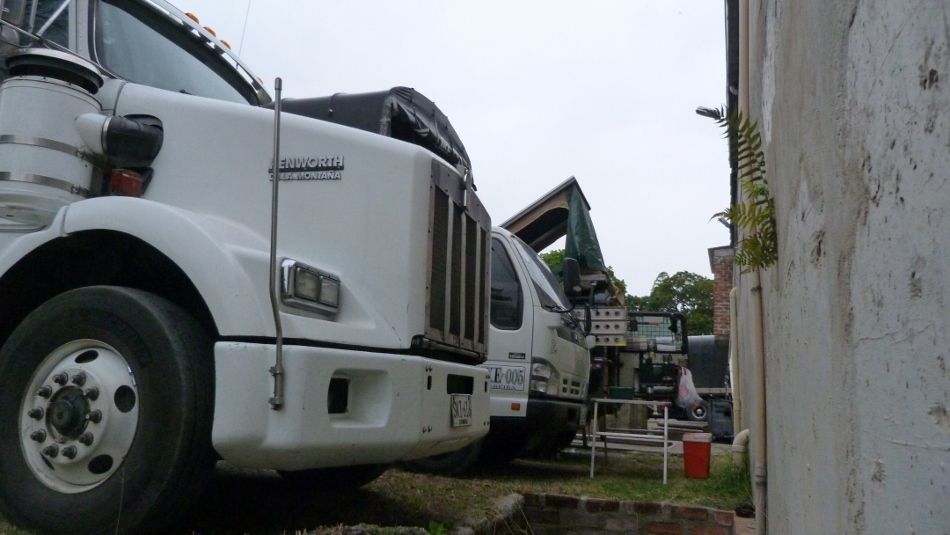 Typical camping
Underground Salt Cathedral .Columbia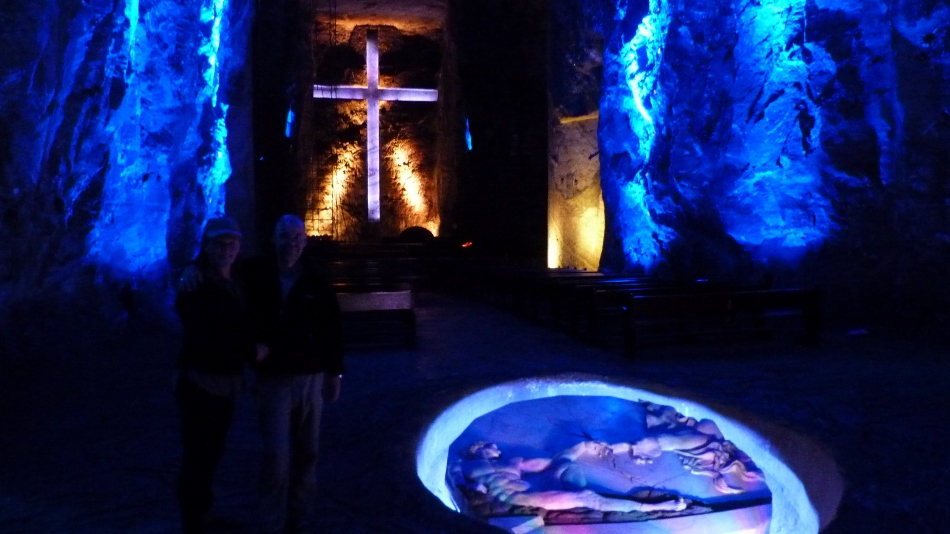 Underground Salt Cathedral .Columbia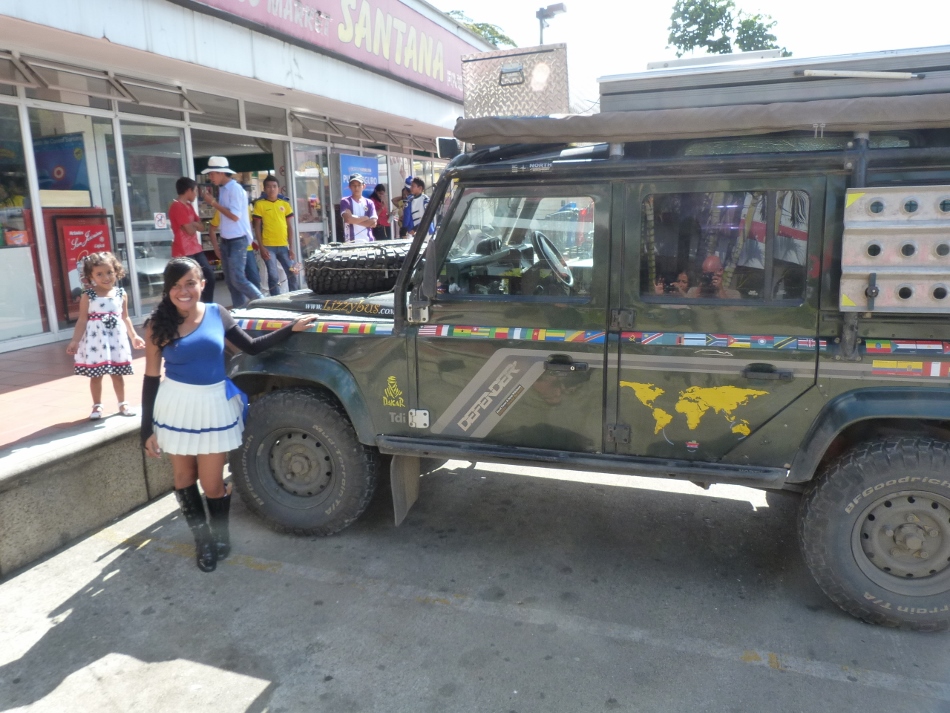 Everyone loves the Lizzybus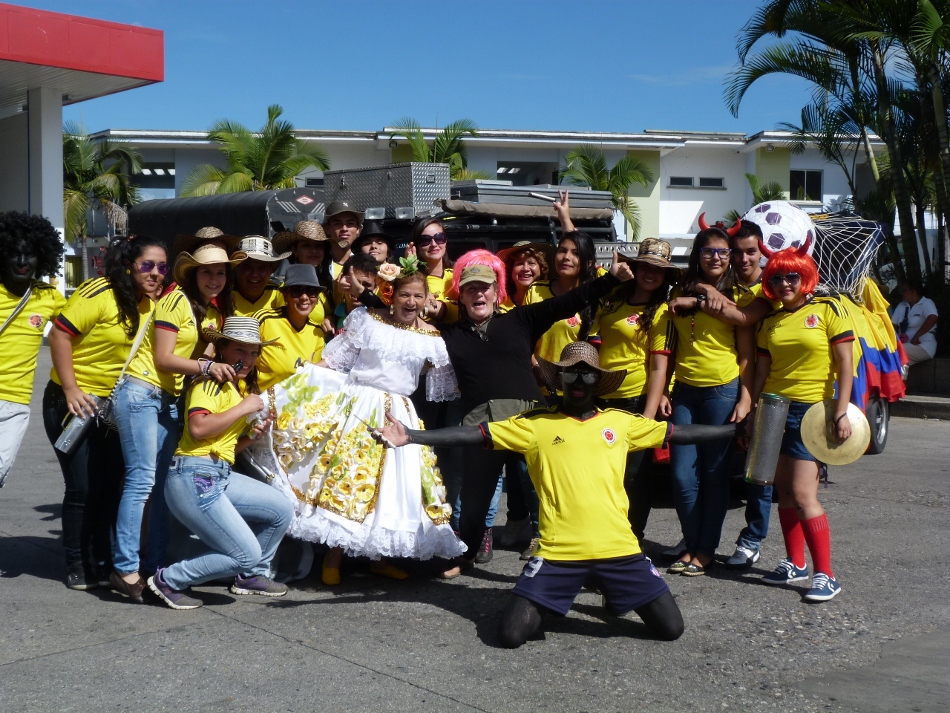 Party Time , Columbia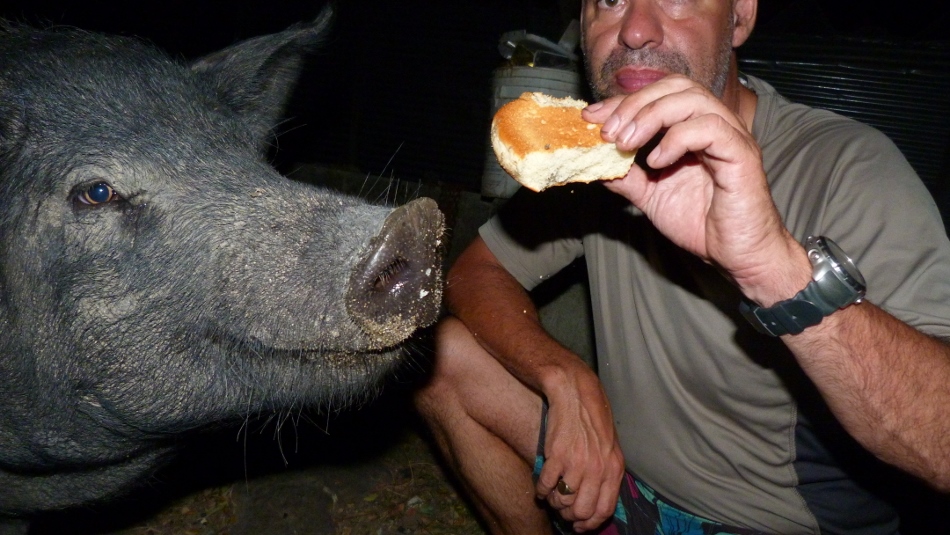 And just who is the bigger pig ?
Can we speak to Julian?
With a working clutch ( costing a lot more than expected ) we try and head for the border .The book says that the roads where being tarred from 2012 .Ok , this is South America , so they really hadn't progressed much .Camping 3k from the border at Sol de la Frontera , British run and a great break for the night .Crossing into Ecuador time for the mud challenge for 120k .Glad we had the Mud Terrains on , brilliant drive over the mountains to Vilcabamba , yet another "Gringo" capital .Big surprise when I thought Diesel was $1.03 a litre when in fact its per US gallon !Pan American again as we head north to Quito and advanced "sorting" of the shipping to Panama and American visa's.The scenery here is awesome , lots of green and , as always big mountains .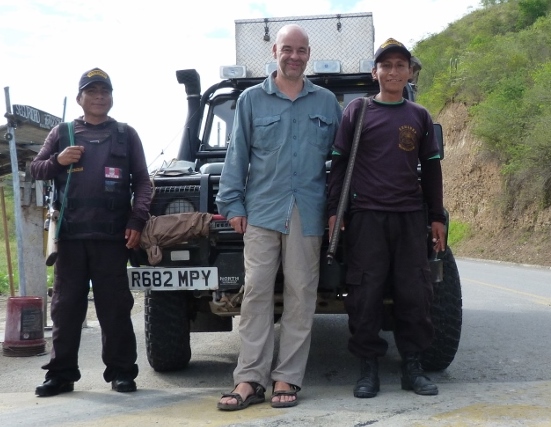 Local Road security ..Peru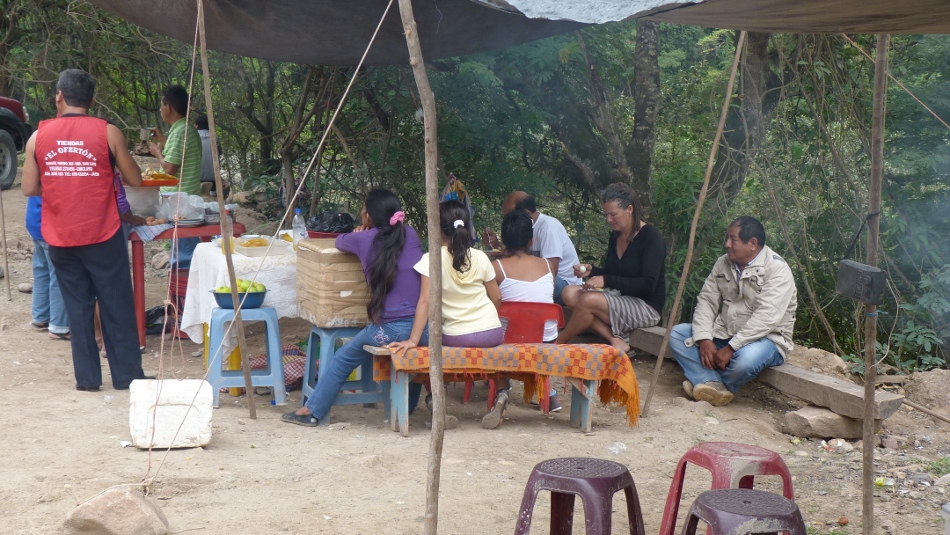 Eating as we await the road to open (everywhere!)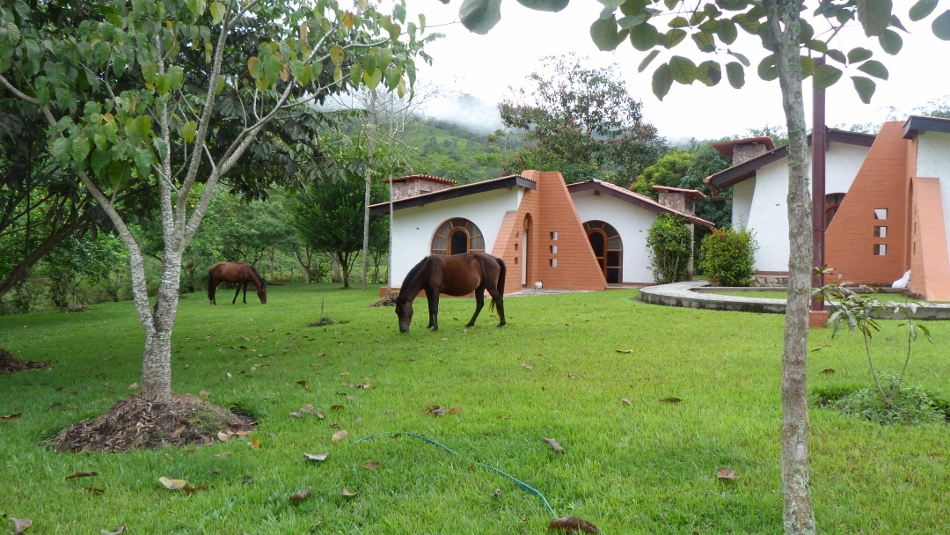 .Sol de la Frontera .Namballe/LaBalsa Border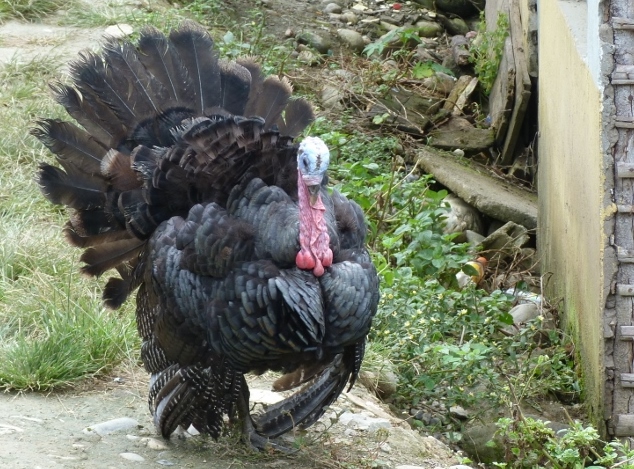 I didnt vote for Christmas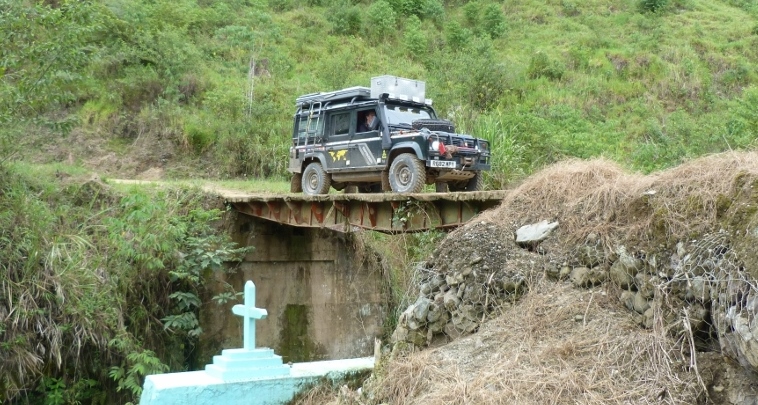 Road to Vilcabamba , Ecuador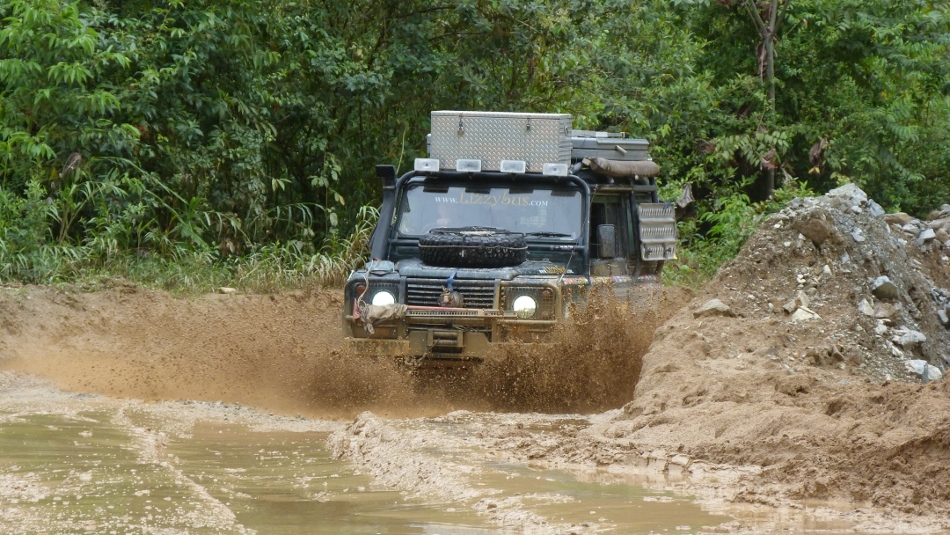 Mud and Mud Terrains , the PERFECT combination .Road to Vilcabamba , Ecuador.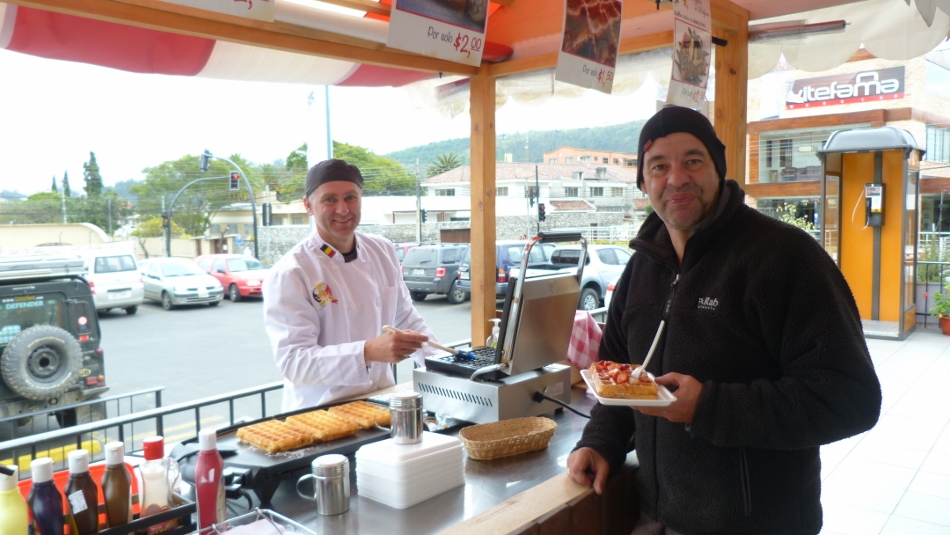 Best waffles in South America...and for free! Loja
Rate the eight
The Plan was simple , Pan American , turn right and head to Cajamarca then the routa 8 via Chacapoyas to Kuelap . As time has progressed we have gradually expanded the envelope for hard roads . So , to rate the 8 ? bloody awesome , clinging to the side of mountains , single tracks of dirt and gravel .this is better than the wmdr in Bolivia .Driving through sticky mud we make Kuelep , rewarded with a magnificent walled city. Having rained for two days we continue, only to find raging torrents of water have swelled the main rivers to bursting point .Mere mortals turn back , we walk the crossings ( over knee depth) and continue .
The envelope is a4 size now and our cahones getting bigger by the kilometer . So , a tar road to the sea or do we take the dirt road to the border at San Ignacio . Dirt road it is .Having passed through the town of Jaen we head for the border .Fifty kilometers out of town ,it happens ?.That feeling in your stomach when the clutch pedal hit's the deck to the sound of a bang cannot be adequately described .All I can say is I wouldn't wish it on my worst enemy . No gears and we've stopped . Locals wade in with helpful advice , it's the clutch slave cylinder leaking , top it up .If only it was so . We know it's a major problem as the grinding noise from the clutch when you push it down will haunt my every waking hour . Locals to the help and flag down a passing fuel truck , deal done at 60s + $5 and a 50 k tow back to town and a "reliable" mechanic .Running engine and braking when necessary produces the burnt brake smell and the constant worry that we will run into the back of the tanker , at least the quick flambé death would be glorious .Back street garage and a shaking of the head . Don't even think they have seen a Land Rover yet alone know where to get a clutch from .I carry a spare plate and actuator arm .My diagnosis is the arm has broken .If only it was simple ,gearbox split from engine the true extent of the horror unfolds . Yes the arm was broken , but it had split because the release bearing had collapsed . I don't have a spare and the mechanic speaks no English .Hotel booked , Prims , saw our fellow bikers from oz turn up and a party from UK on a tour . Lost in translation , we think 2 days from Lima for the parts .
Rating the 8 ? A full 10 out of 10 , one of the best roads yet
Inshalla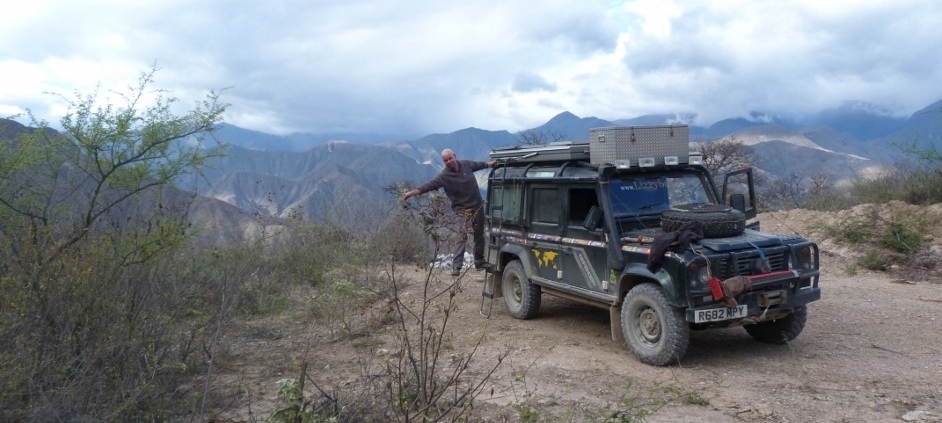 Routa8 backdrop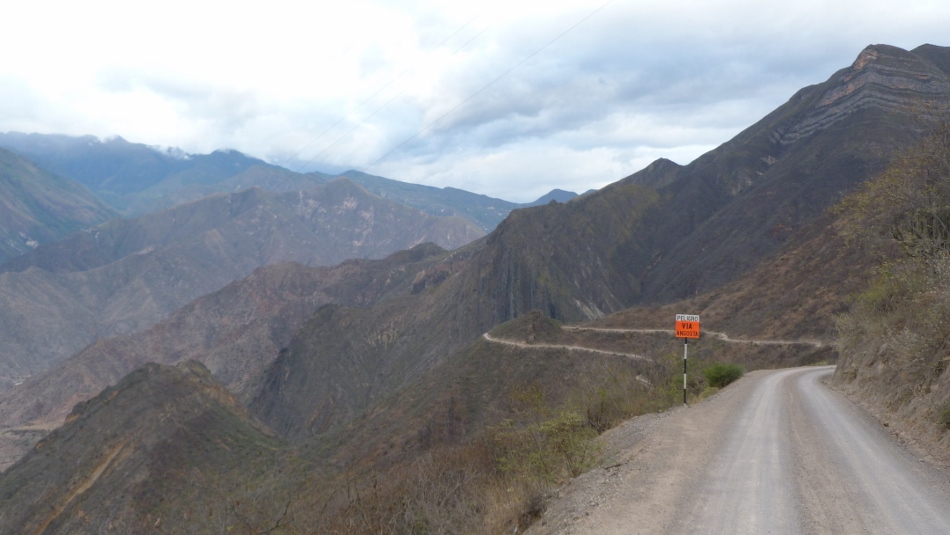 Routa8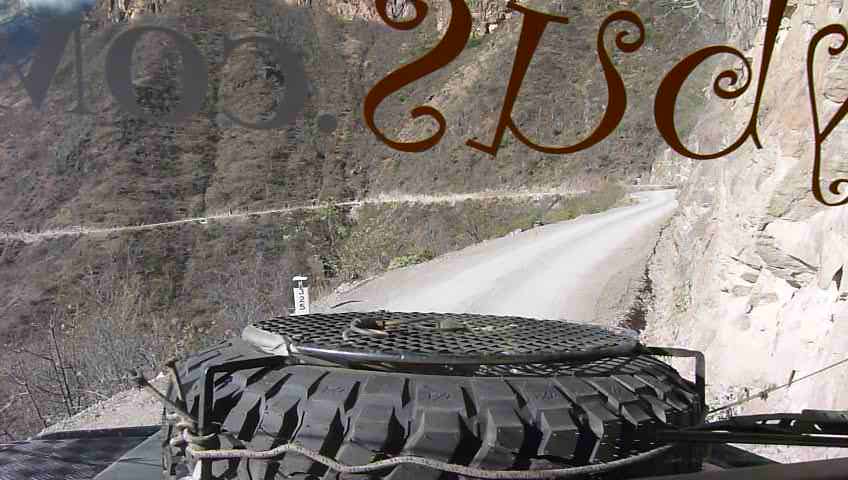 Routa8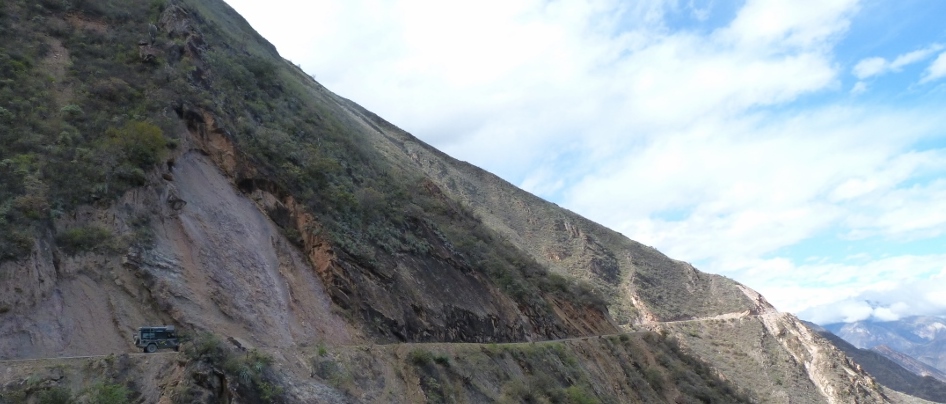 Guess where?Routa 8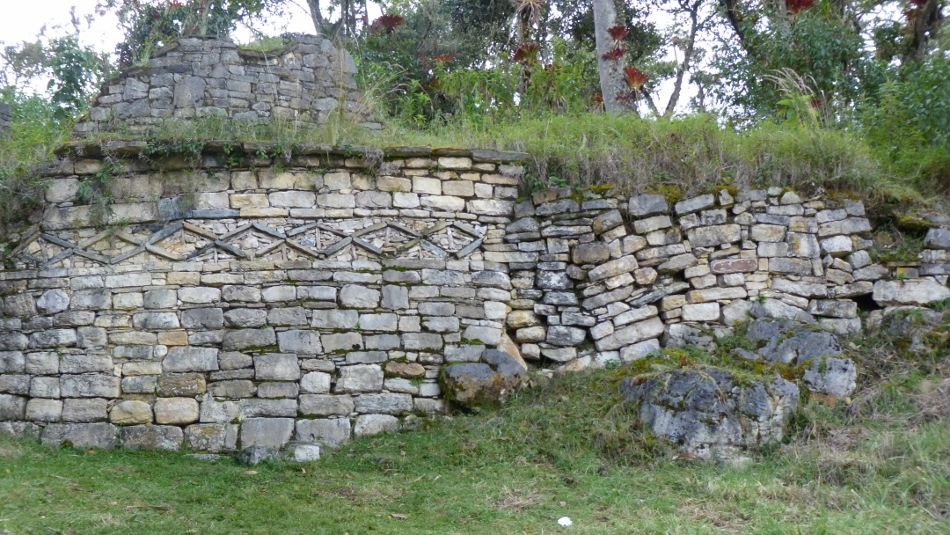 Kuelep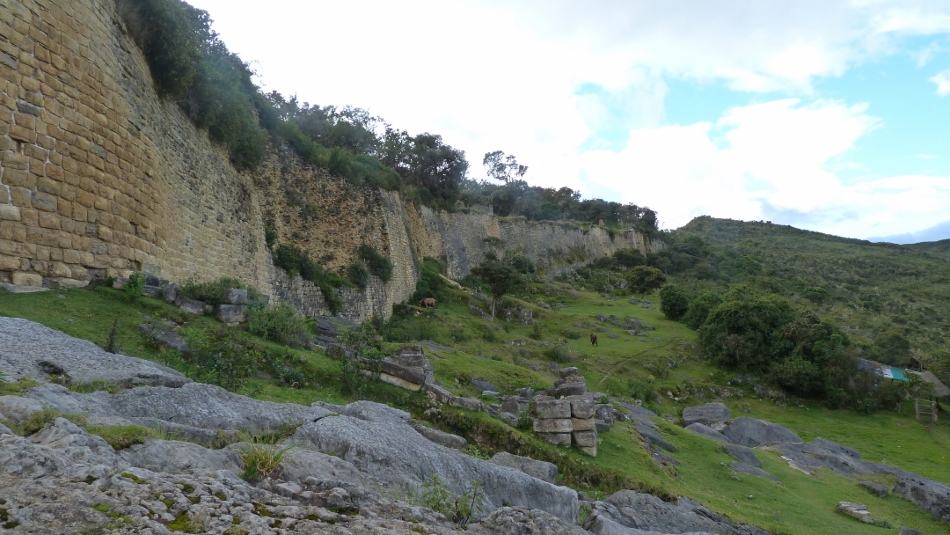 Kuelep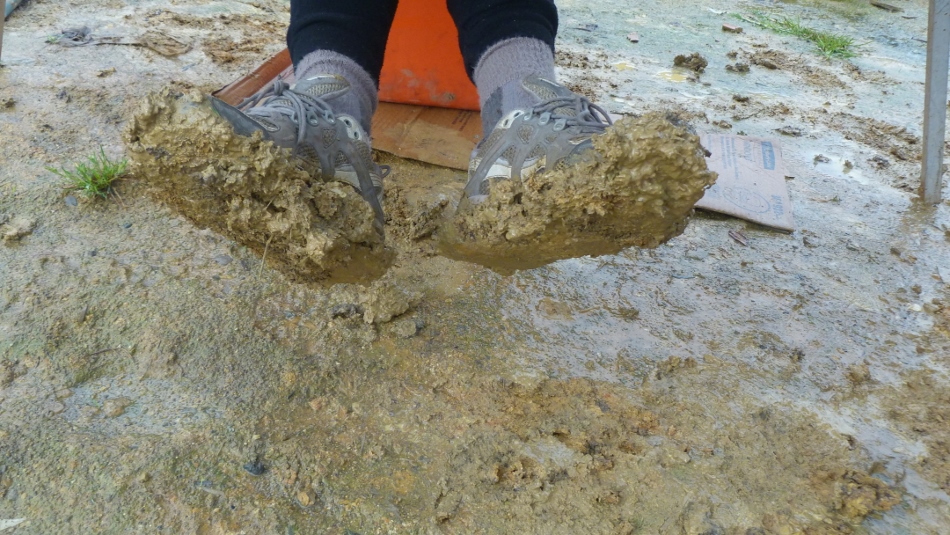 It got muddy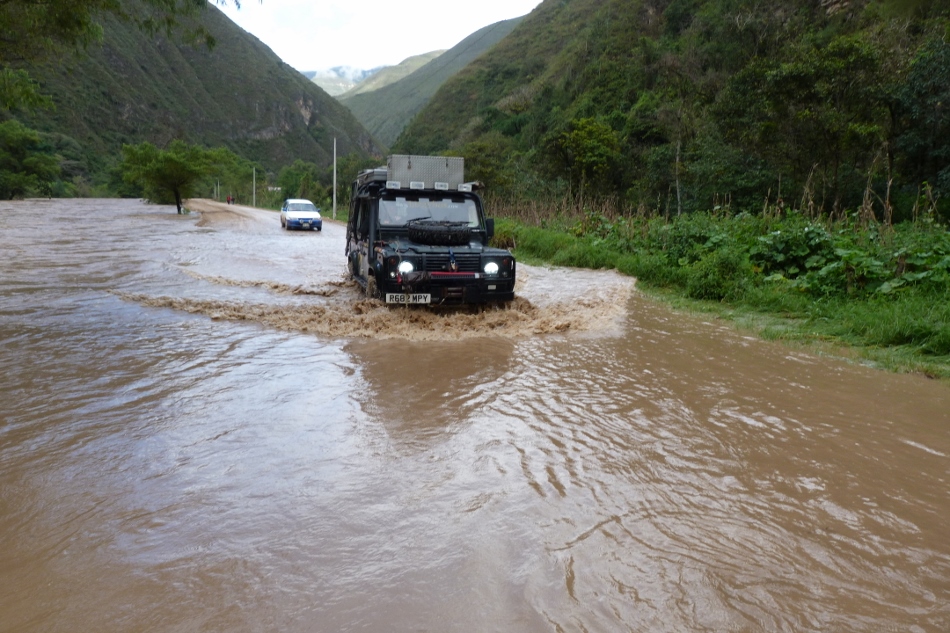 Flooded river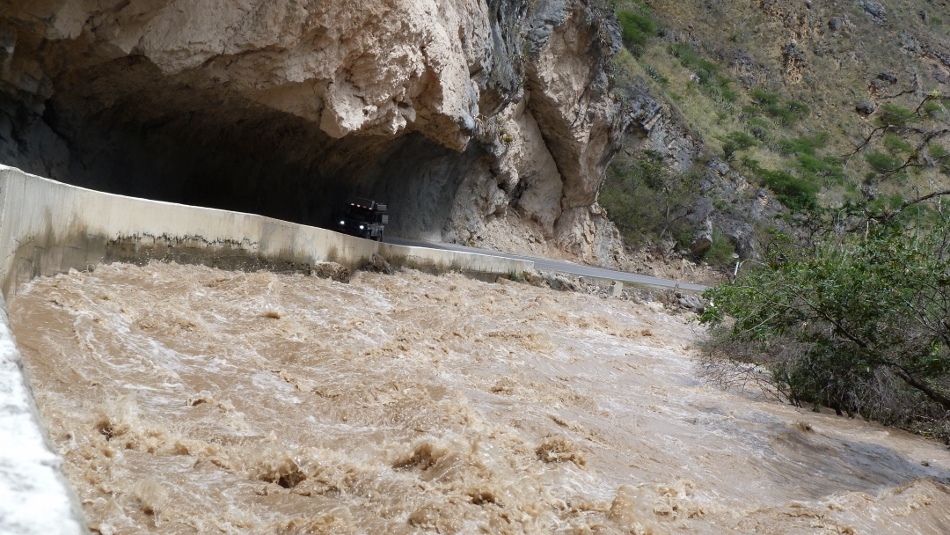 Full flood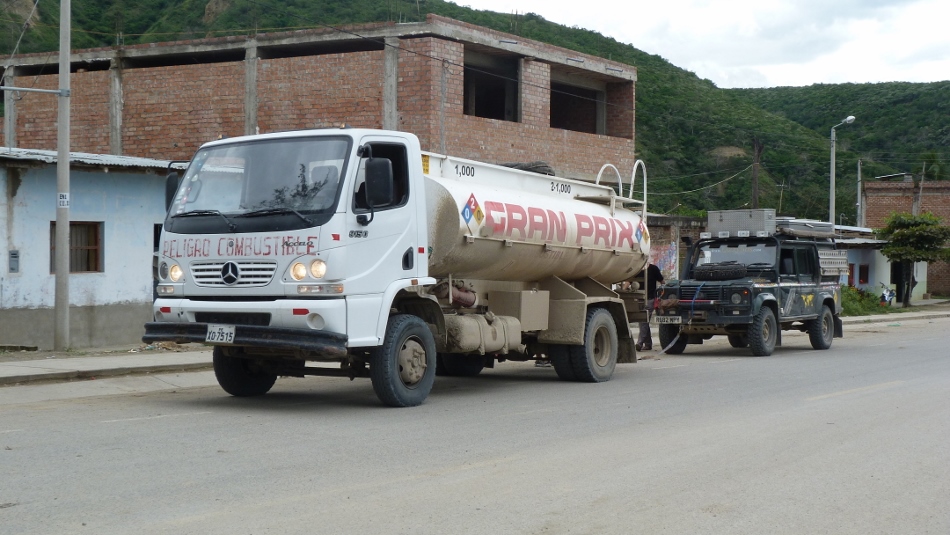 At least it wasnt a LandCruiser towing us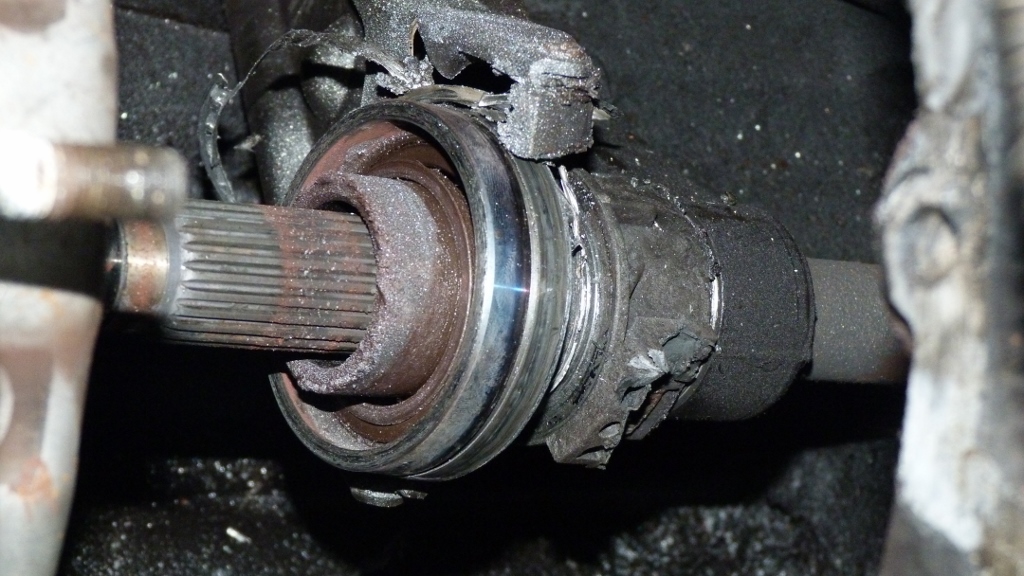 Donald Ducked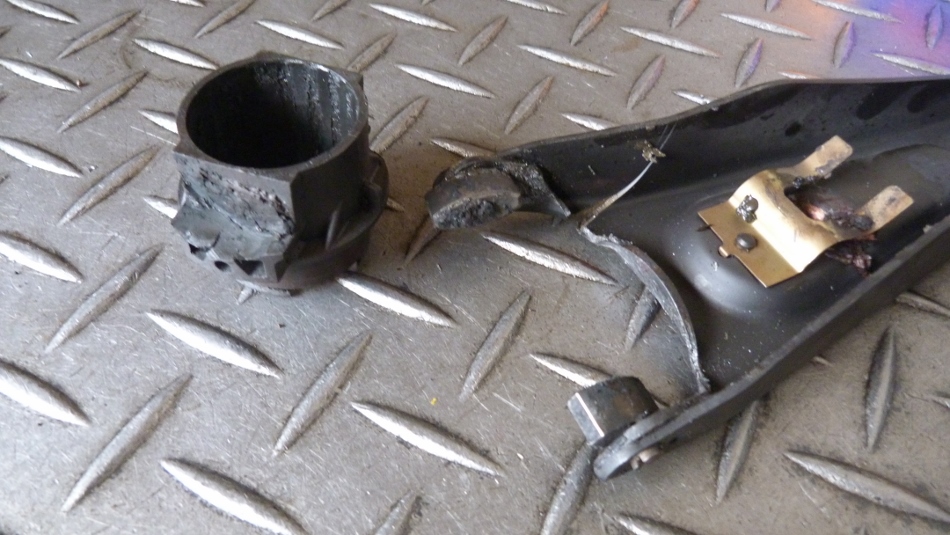 The offending parts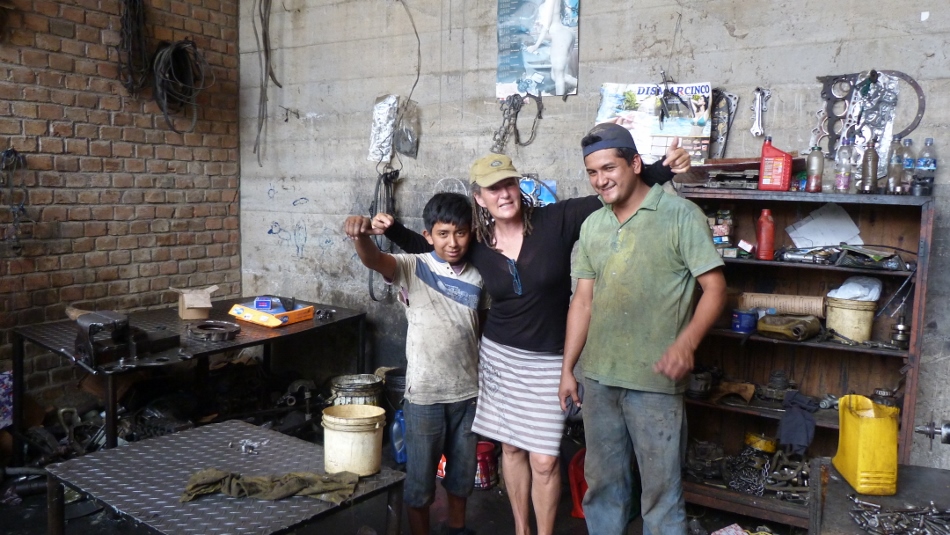 Ace mechanics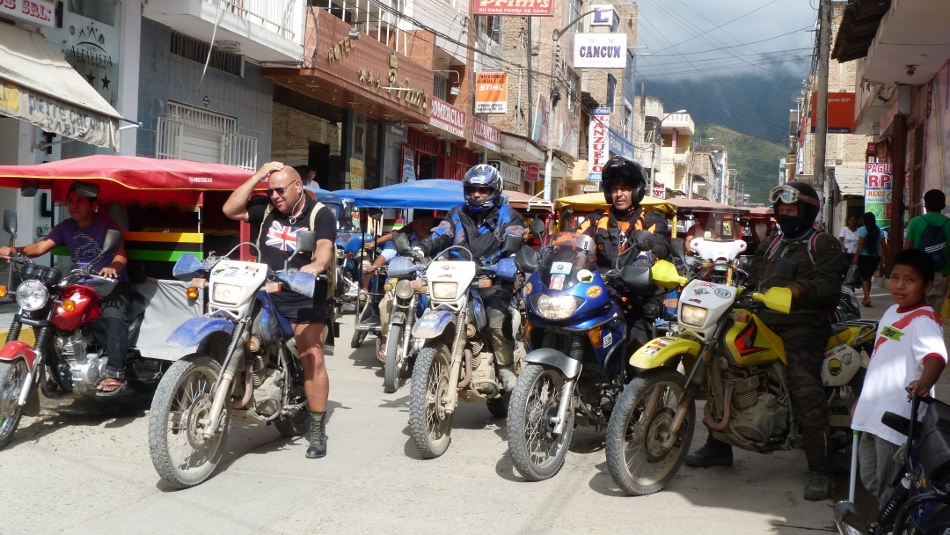 Bike tour Peruvian style
Grim up North ( reprise ) !
Shouldn't really say it , having survived 3 hours of traffic to get out of Lima , the road North is BORING ! The Pan American is not floating our boat .We will hopefully divert off and visit Kuelep in the Northern Highlands . We don't want to get templed out but this place is at the end of a stunning drive through the mountains , pre dates the Incas and is made of stone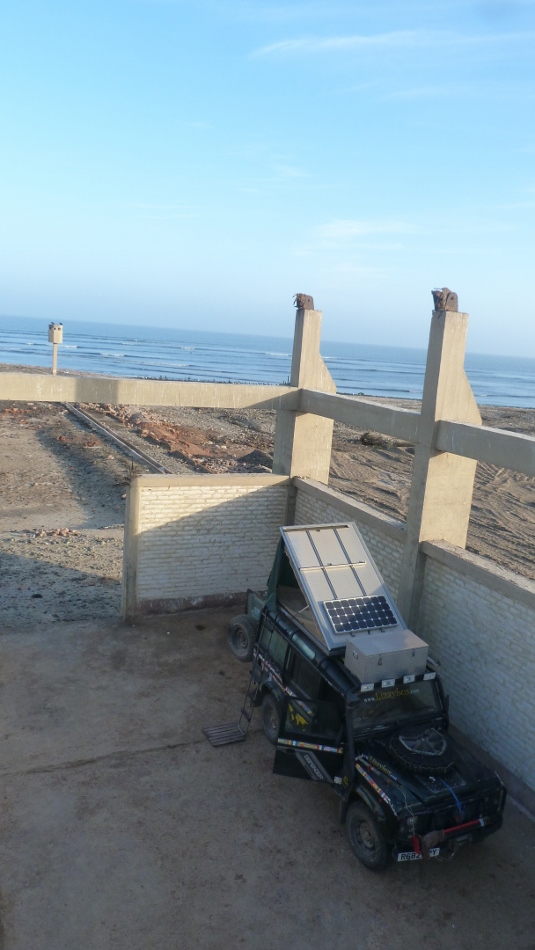 Intense smell...bush camp abandoned fish processing factory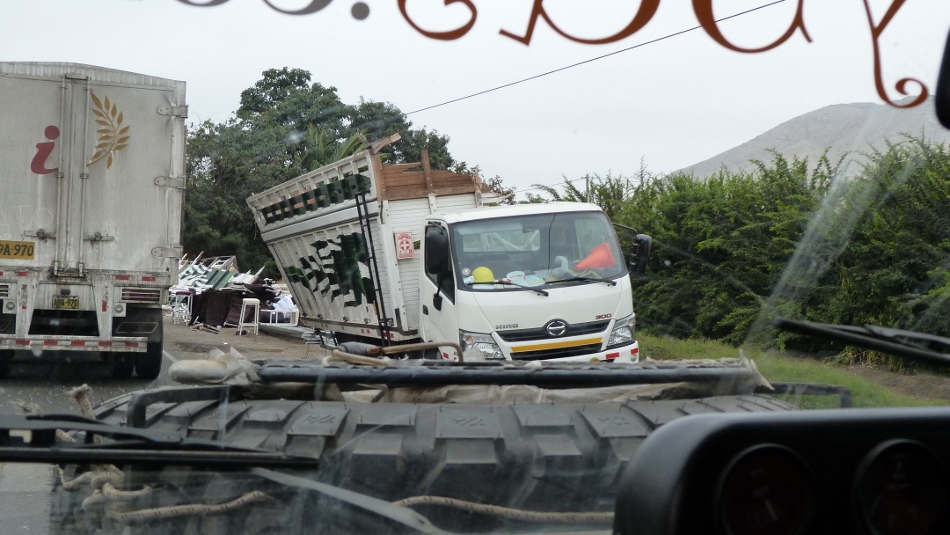 PanAmerica Highway welcomes carefull drivers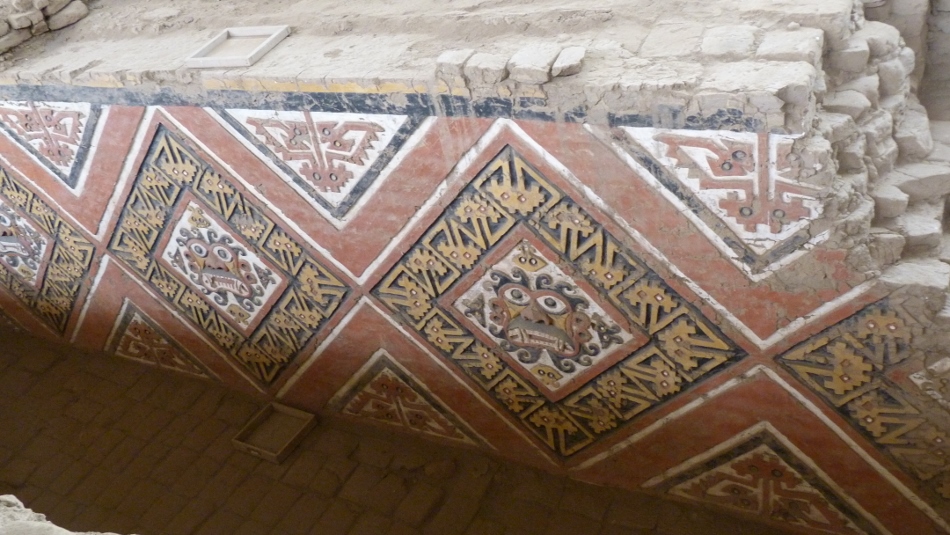 Temple de Luna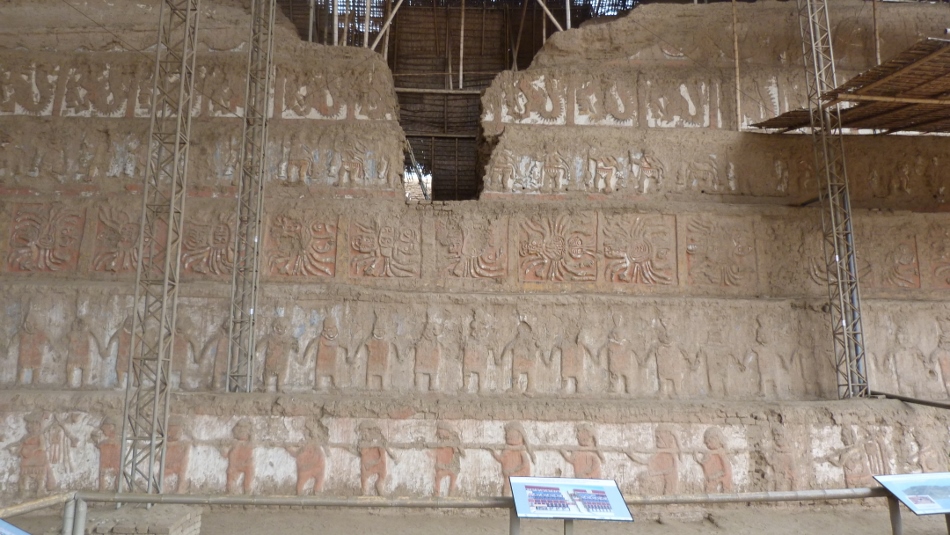 Forced entry , historic grave robbing .Temple de Luna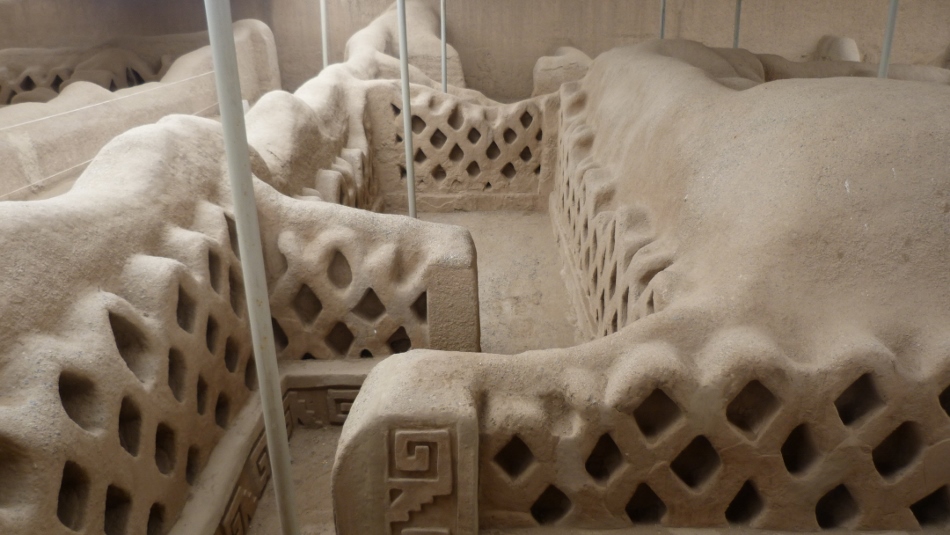 Chan Chan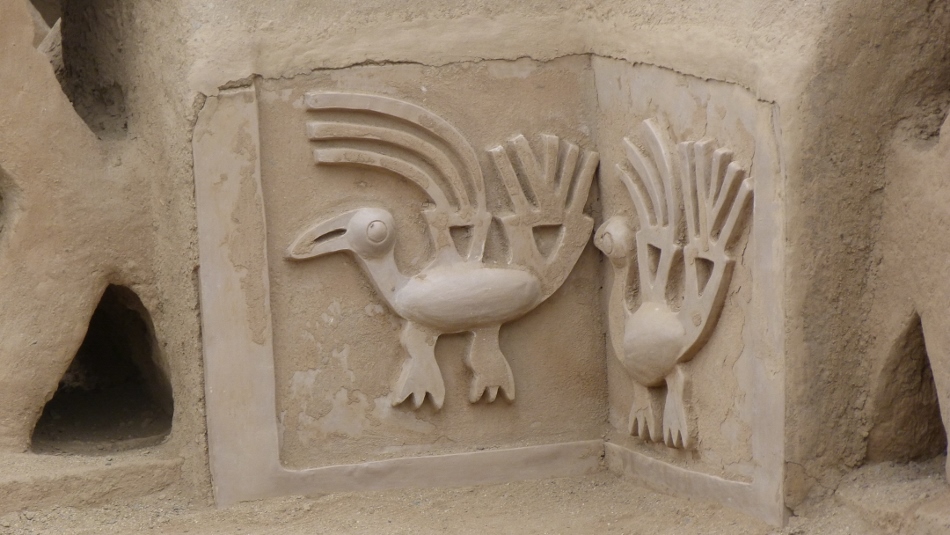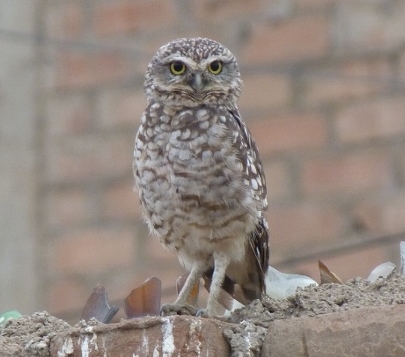 who you looking at ?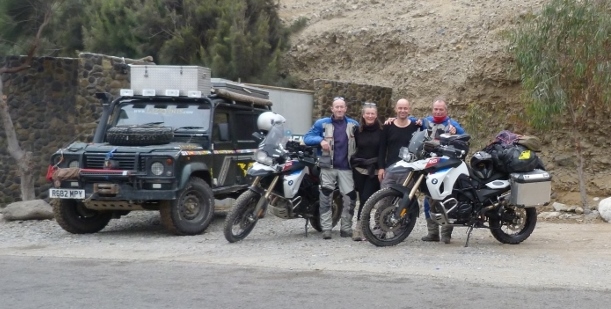 Making more friends , unfortunately Australian ( only kidding )
Paddington Bear
Blessed as we where , time to cross another border . As always , painless .The Carnet is not necessary in South America , but , as the "Aduana" pointed out "Simple" , less work for them .In , and a chance to change a handful of Chile Peso's .As ever , money changer got it WRONG …….. in our favour ! when he mistook 2000 for a 20000 note .Never left town so quick or with such a smile .Bush camping at altitude is becoming problematic .Over 3500 m up , starting in the sub zero mornings took all our prayers , the blessing and plenty of fuel de-icer. All we can say is "Africa for wild life , South America for scenery".
Gringo Capital , Cuzco and a re visit from 15 years ago , how things have changed .$500 each and a 6 month advance booking for the Inca Trail .Accepting it was a long time ago , we paid $150 for the two of us and went next day .So , no Inca Trail for us then .
Not wishing to venture old haunts we booked a hostel for the princely sum of s40 inc breakfast and explored in the Lizzybus the sacred valley .
Our visit (coincidently) coincided with Inti Raymi , the pumped up celebrations of Peruvian Incaism .Big parade in the town then off to Sacyayhuaman for the finale .Over a month at altitude , we cross the Andes (again) for the Pan American and off to Lima for some pre heaters and a few filters .Along the way , quick look at the stunning ( well by air , which we cant afford and did last time!)Nasca Lines .We are so blessed with what we have seen on our adventure.
Coast Road , not like our favourite in Northern Chile , two lanes , peages everywhere and a grey fog that never lifts .Finally into Lima , Big , Brash and not what we want .Locate the Land Rover dealer , checking the part number ( we have the complete parts inventory on PC , it's a Land Rover thing) no dice and no suggestions .Part of our forward thinking ( yes we do make the occasional plan ) , a visit to the American Embassy and it would appear that we can be interviewed for a visa in a third country if we wish .Trouble is that the interview in Lima has a waiting time of 31 days , Quito ( Ecuador) 1 days wait . Our crossing into USA will result in a 3 month , non extendable visa waiver .As we are meeting family etc , a 6 month visa would give us more flexibility . Not wishing to stay in the big city any longer , we camp up at the Germania club , making use of there hot showers , swimming pool , central location for free .time to press on north and Ecuador .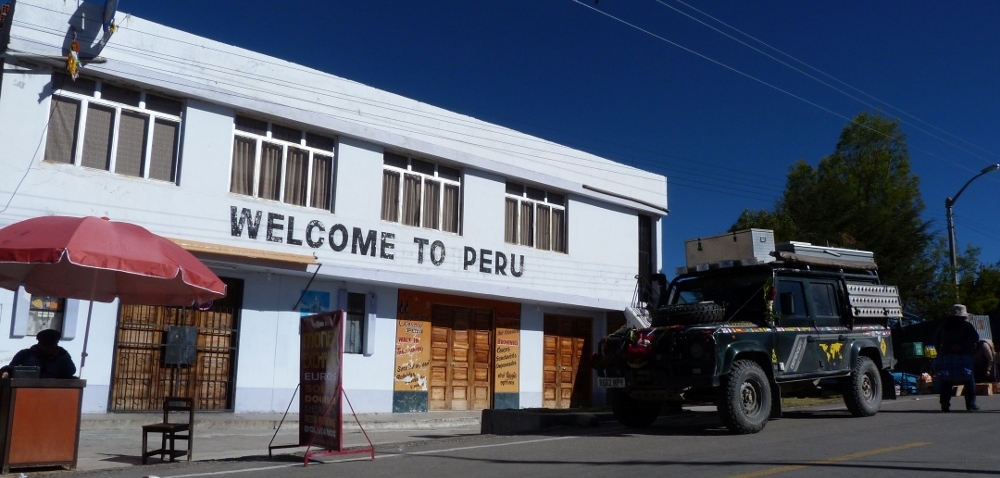 Border Crossing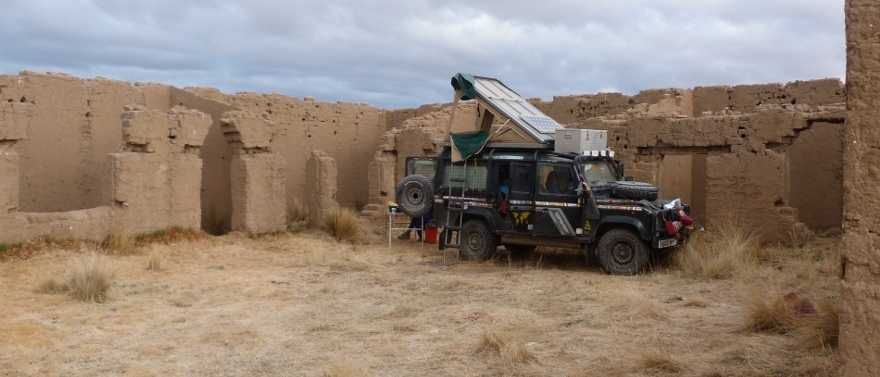 Bush Camp Peru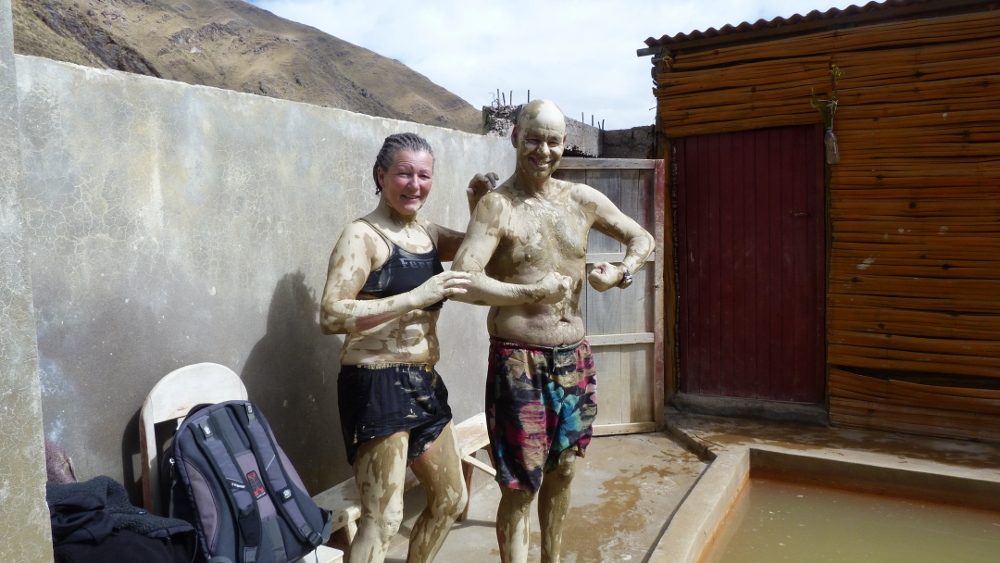 Adonis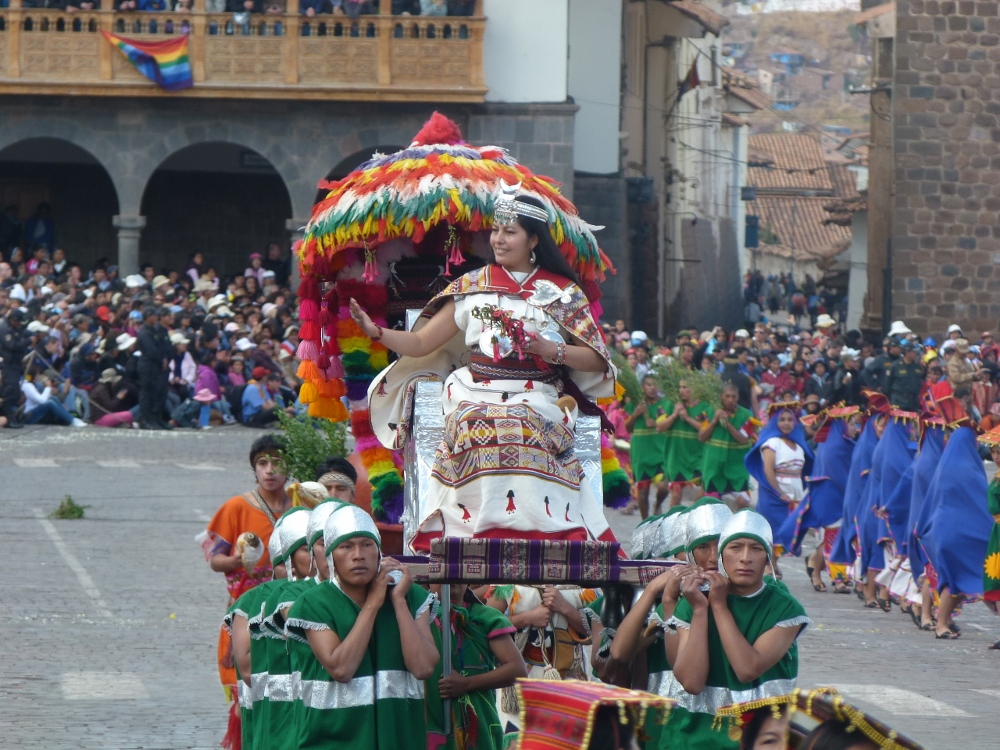 Inti Raymi Celebration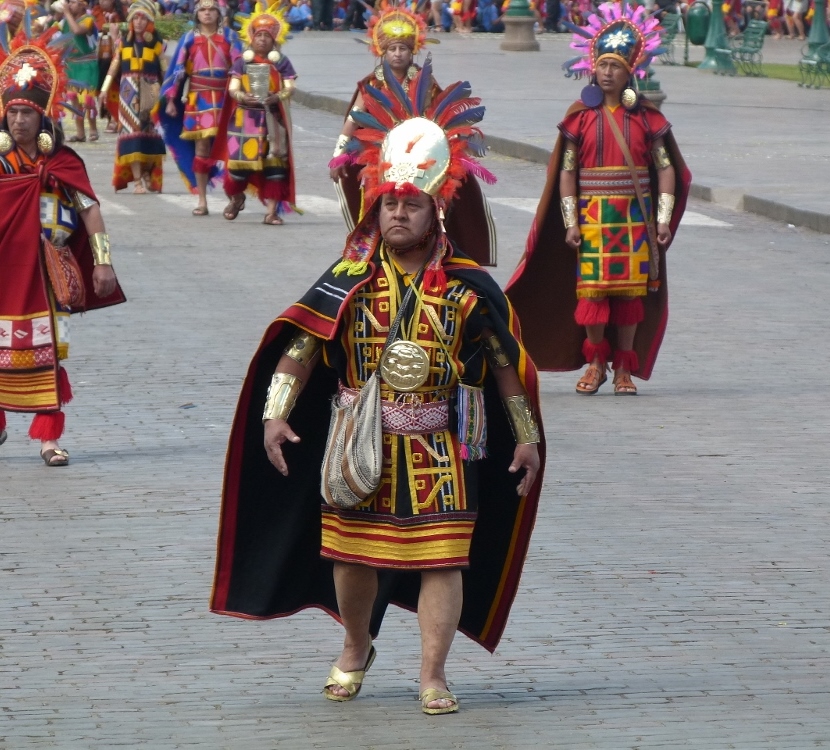 You wouldnt argue with him .Inti Raymi Celebration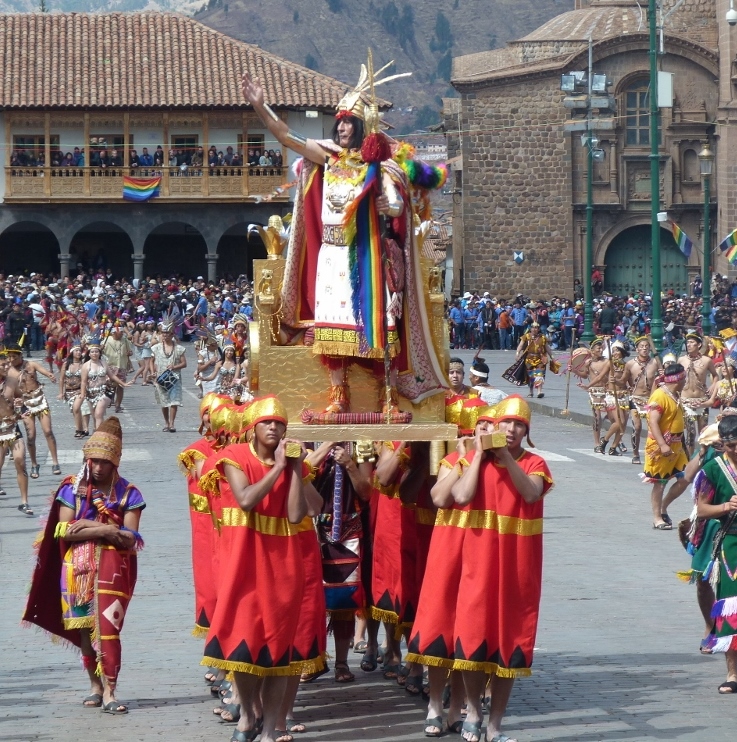 Inti Raymi Celebration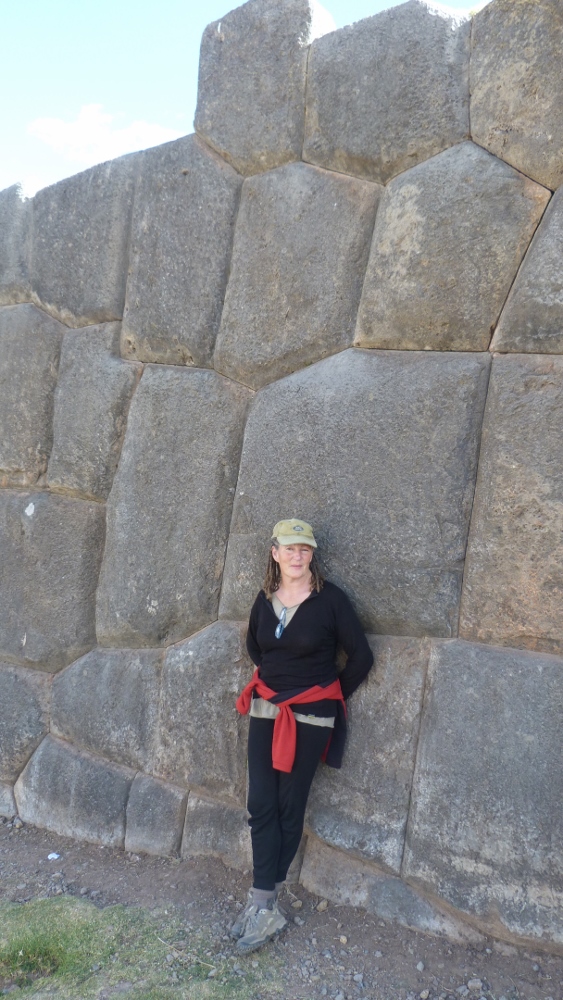 Inca Stonework.Sacsayhuaman
Inca Terracing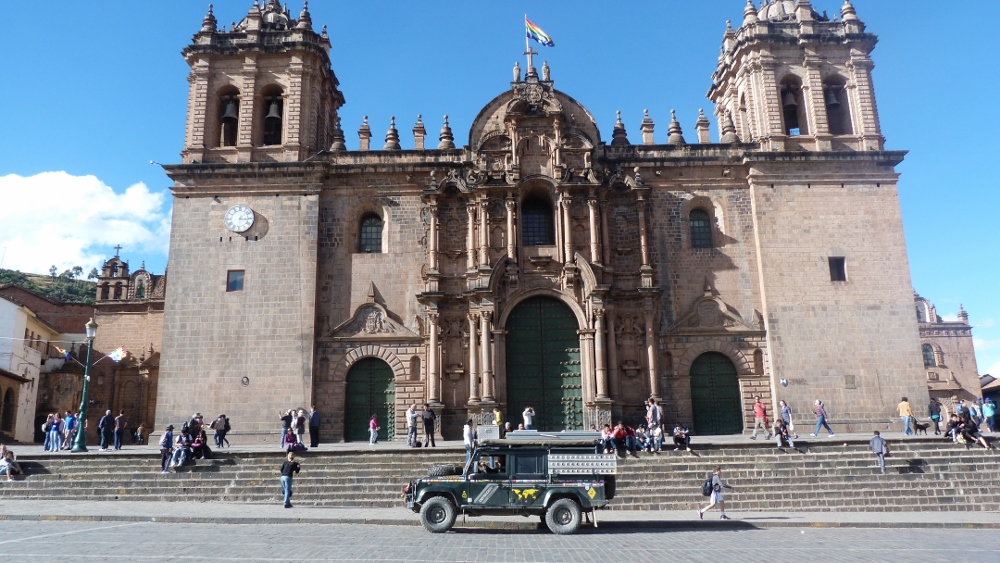 Cuzco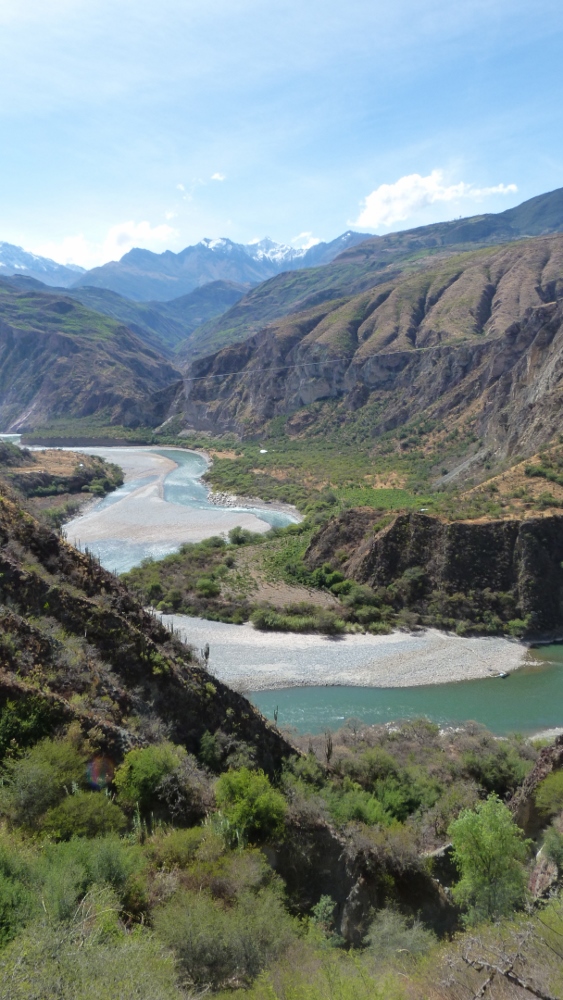 Not bad scenery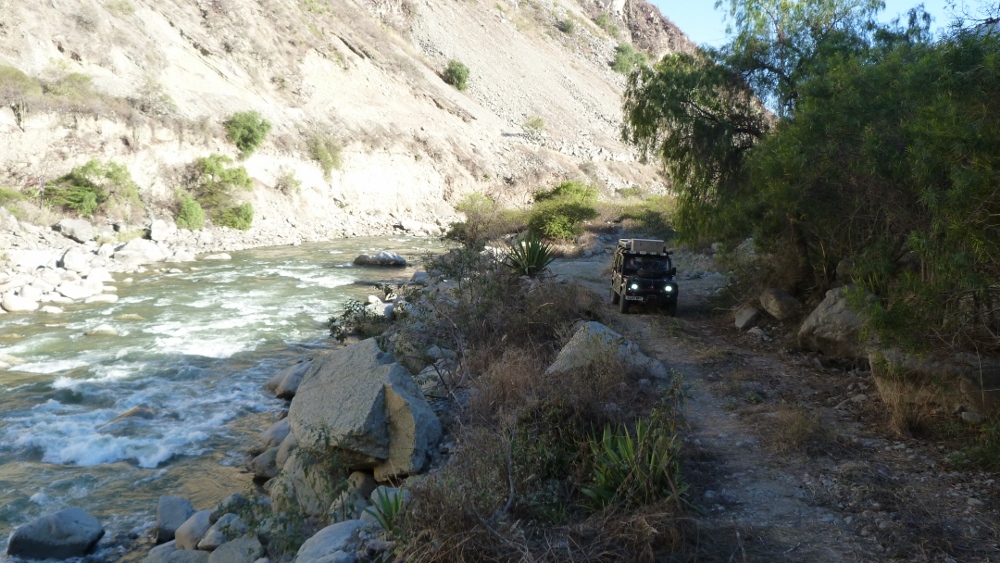 Another great bush camp
Graves at Chauchilla.Nazca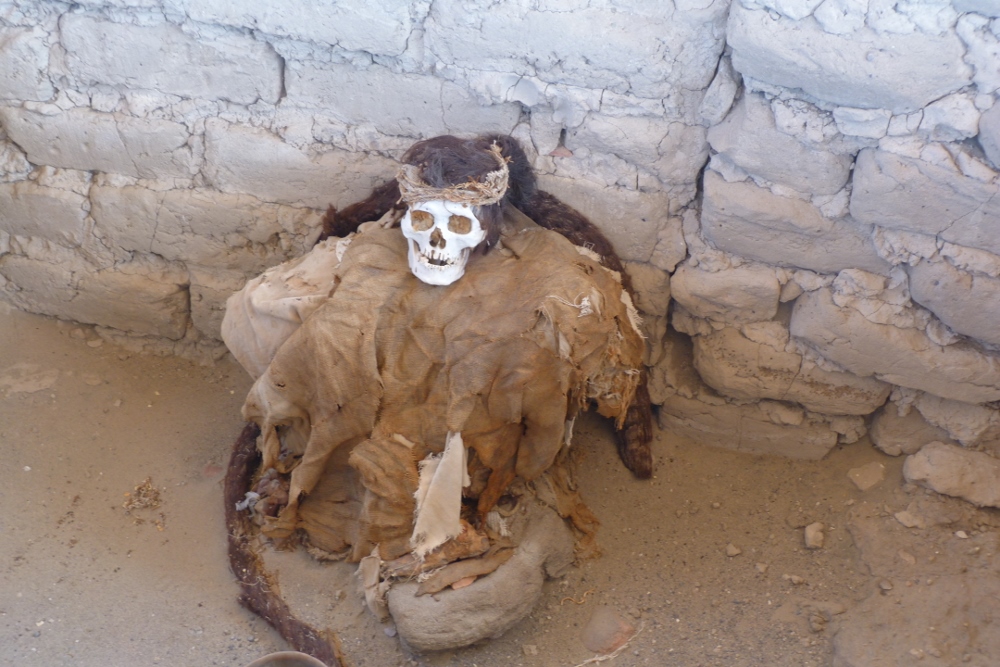 Graves at Chauchilla.Nazca

Cahuachi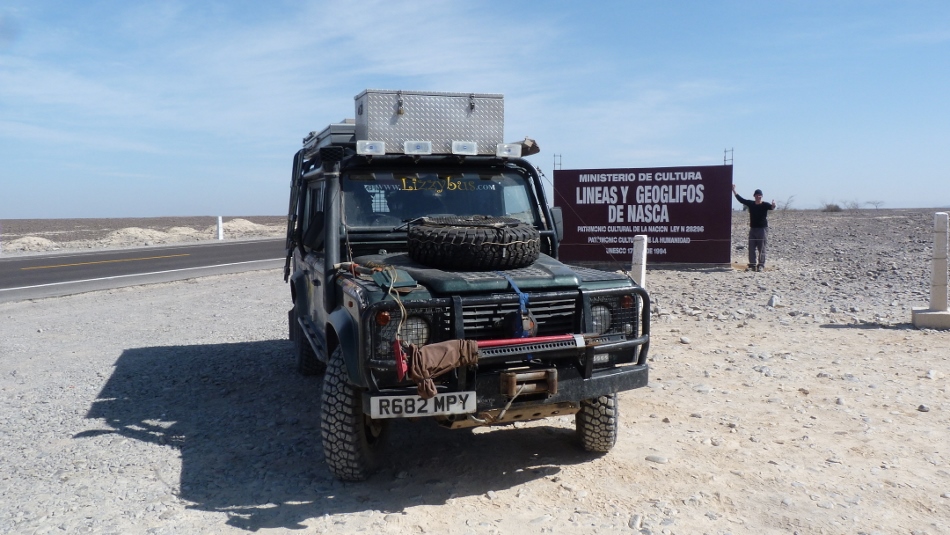 Shock , horror .Bolivia has WMDR !
Sitting in windy Arica at sea level time to press on .
We had been warned that Bolivia is ridden with civil disobedience and their favourite trick is to put up road blocks for up to a week .This would make travelling a "bit on the awkward side" . Couple this with the dual pricing of fuel for foreigners and a marked reluctance to do the paperwork could make fuel difficult to find. But b*****r that , we ARE the Lizzybus crew , venturer's of West Coast Africa .We bite our thumbs at these difficulties .Sea level to 4700m in a couple of hours leaves a strain on both us and the old girl ( and Jayne ).Border crossing is as painless as ever and its off to La Paz .This episode should have been called "Breathless in Bolivia" or "Panting in LaPaz" Its high , the air thin and very , very cold at night .LaPaz is a stunning city with the craziest road system ever .A chance to buy some diesel pre heaters from the spares area drew a blank .Lizzybus coughs into life every morning on one cylinder!
As top gear fans , the Lizzybus pays homage to Clarkson and Co by driving the WMDR ( Worlds most dangerous road) What can we say .If you are reading this , we made it .It was BLOODY AWESOME .
Copacabana , adjacent Lake Titicaca and our crossing into Peru gave us the opportunity to get us and the Lizzybus blessed .It's a Land Rover thing , we need all the help we can get especially as we will be at altitude (3500m+)for some time to come.

Border crossing Bolivia...stunning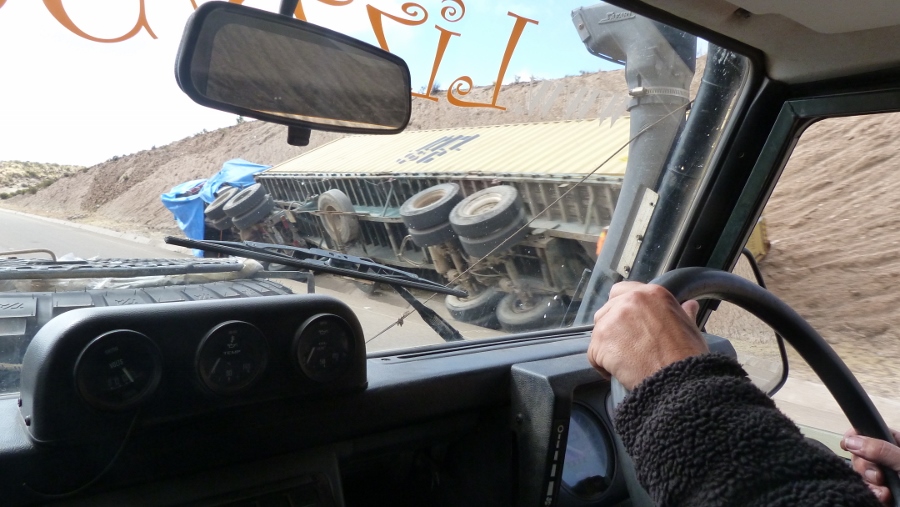 Be carefull how you drive!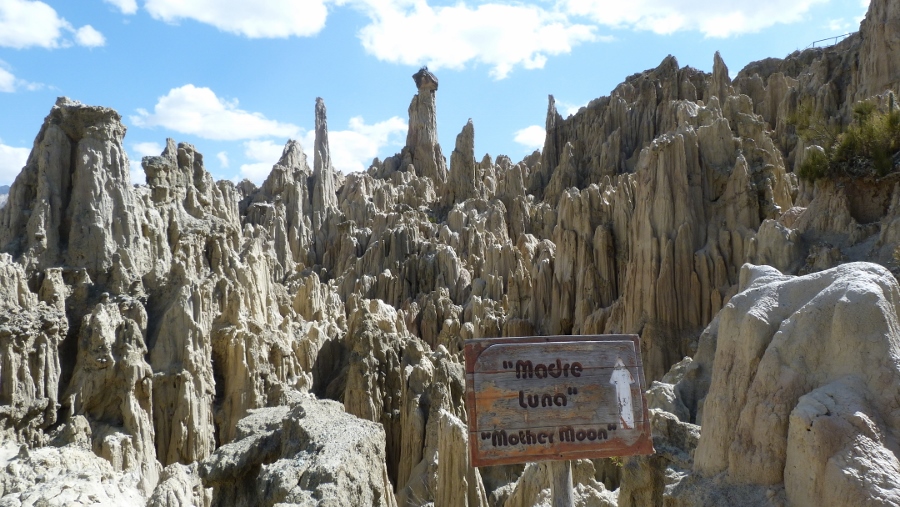 Valle de Luna ...La Paz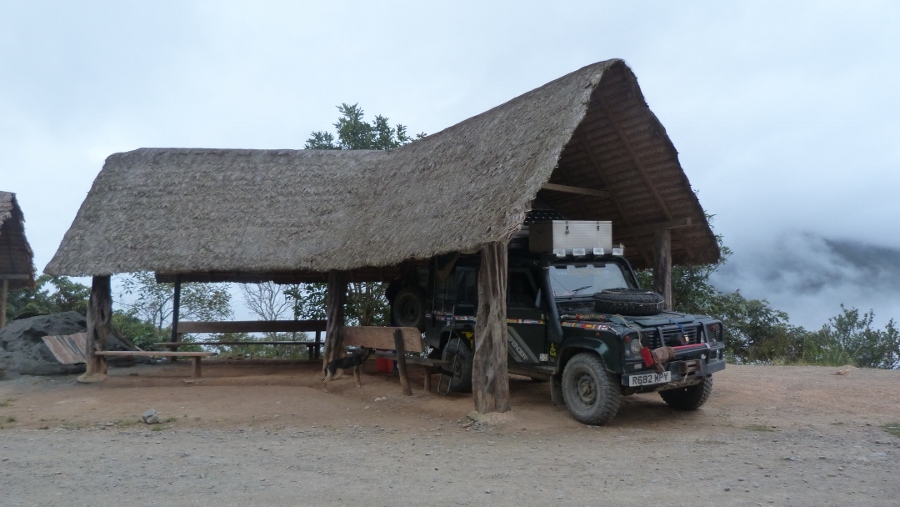 Overnight camping prior to the WMDR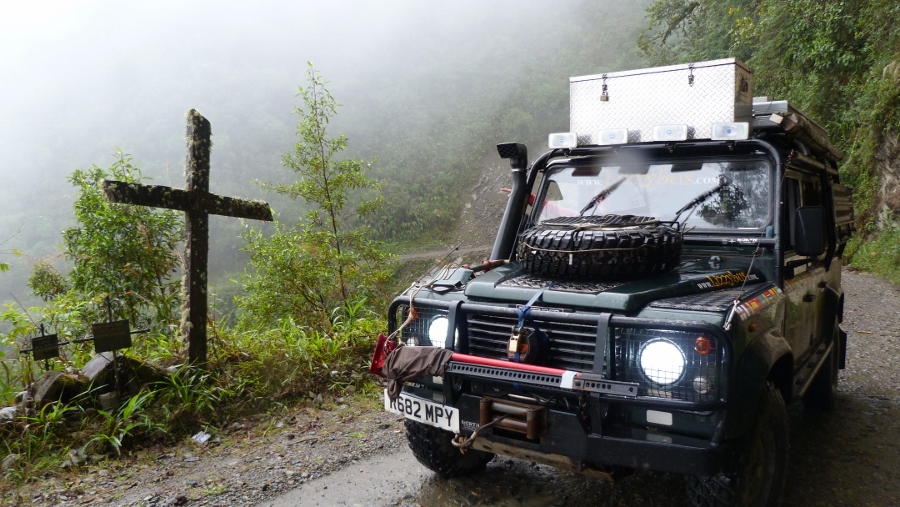 Subtle warning...WMDR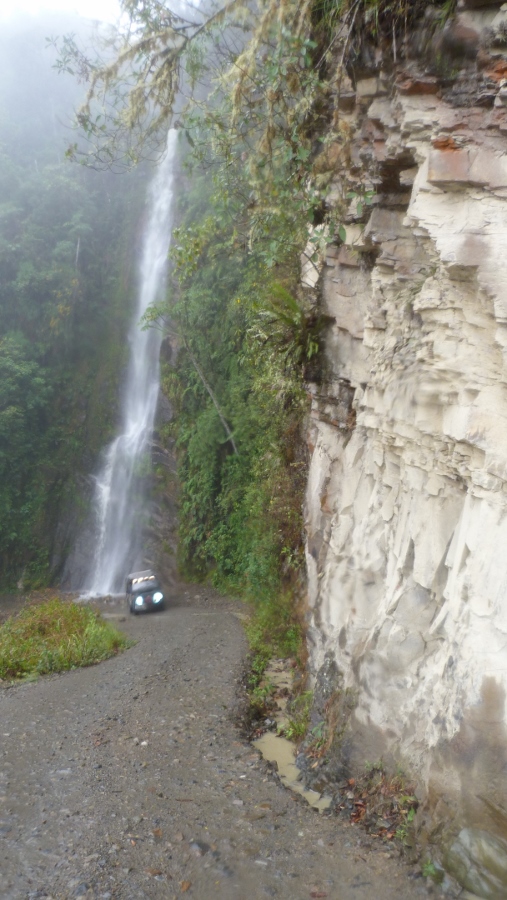 Lizzybus Special WMDR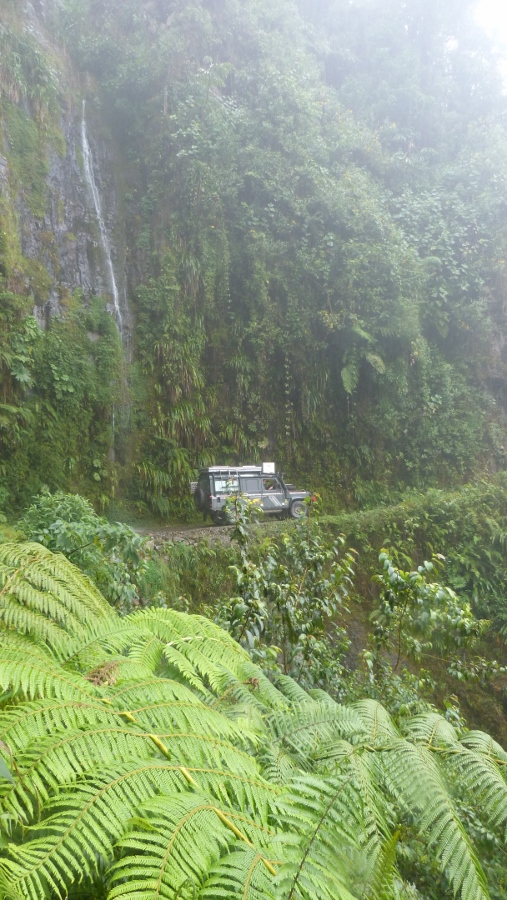 Lizzybus Special WMDR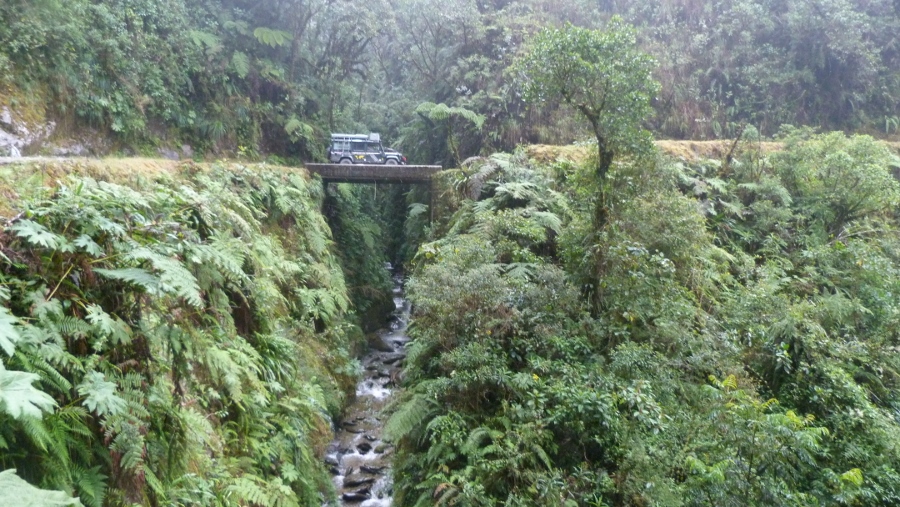 Lizzybus Special WMDR

Lake Titicaca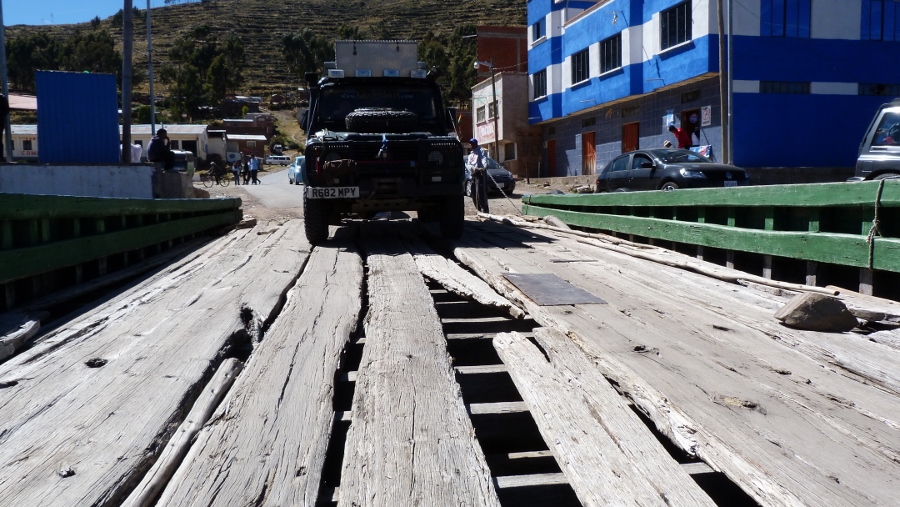 Boarding Ferry ! Lake titicaca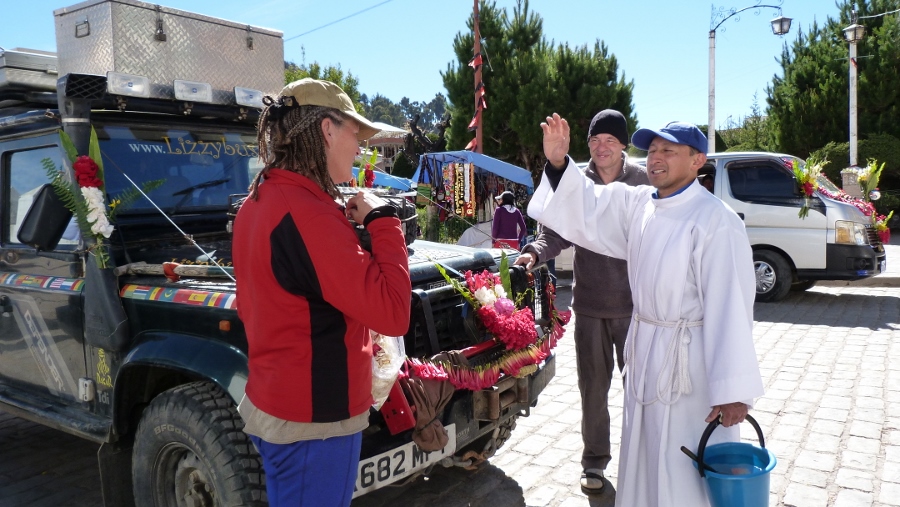 Lizzybus , Jayne and David get blessed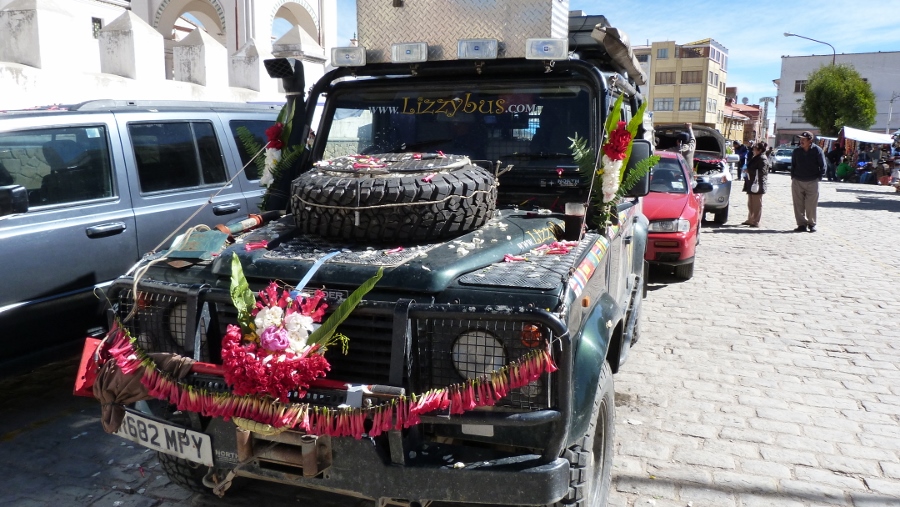 Lizzybus gets dressed for her blessing .Copacabana
Its grim up North
Rather than the main Routa 5 we plumb for the more scenic Routa 1 and follow the coast from Antofagasta .Completing just a short section in the Atacama Desert we visit the "big hand" .Camping again is either Petrol Stations but on the coast road an opportunity to bush camp by the waters edge , sometimes a little too close for comfort .At Iquique we have to go back onto the Pan American Routa 5 , currently being upgraded so a few delays slow us right down .Now on the outskirts of Arica , time to wash , dry , air everything .Check all the fluids on the old girl and gird our loins to cross into Bolivia and all the possible delays that civil strife can throw at us.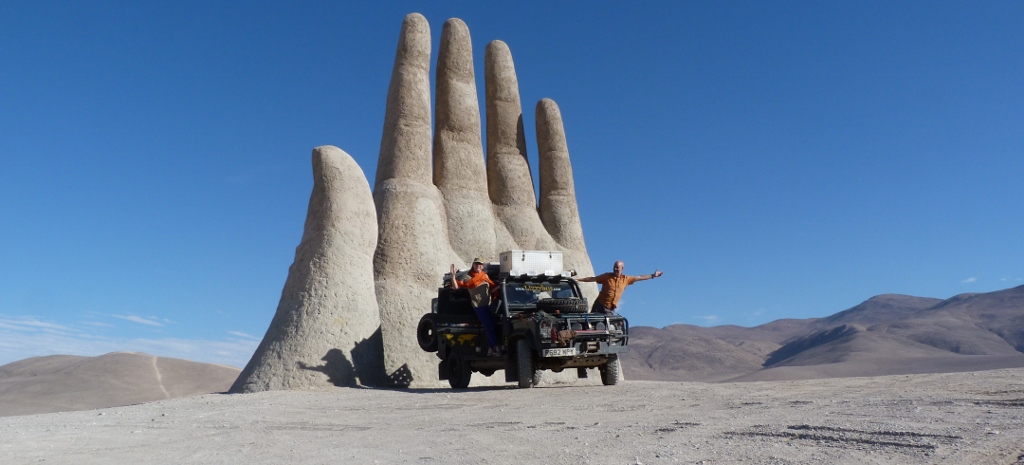 Big Hand , Atacama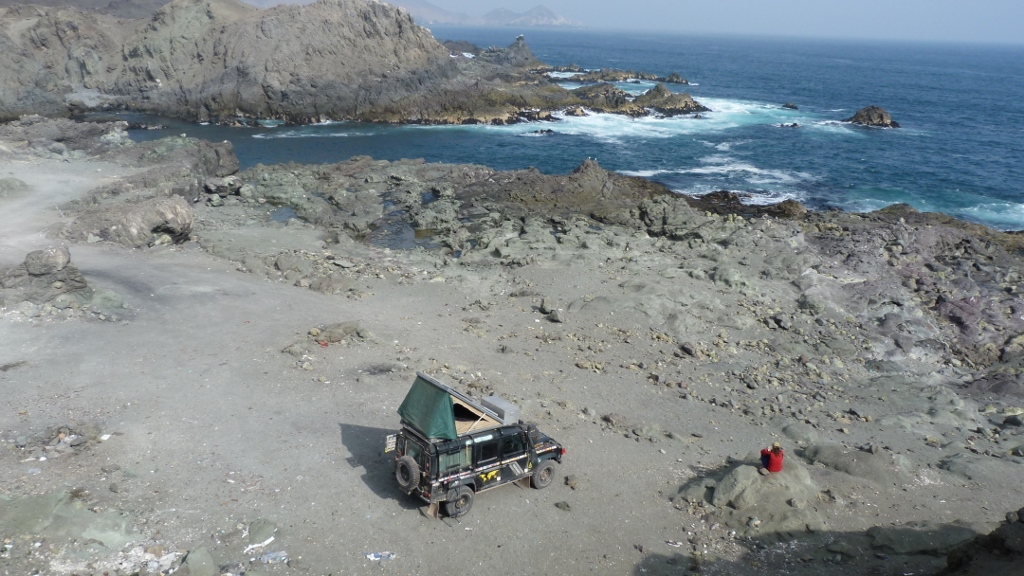 Bush Camp , Routa 1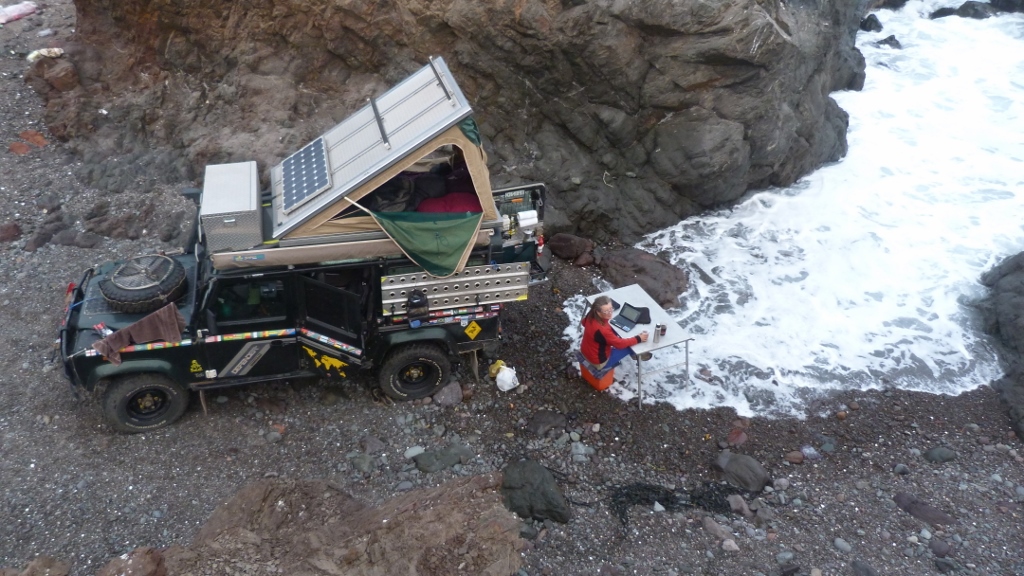 High Tide , a bit close for comfort .Routa 1
Another "Big Man" , not viewable from the ground!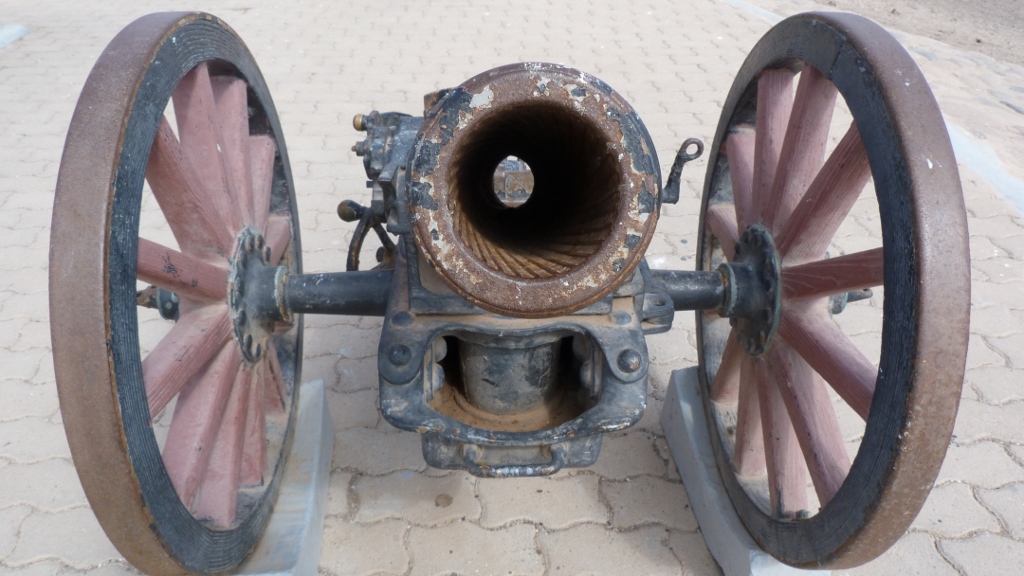 Arica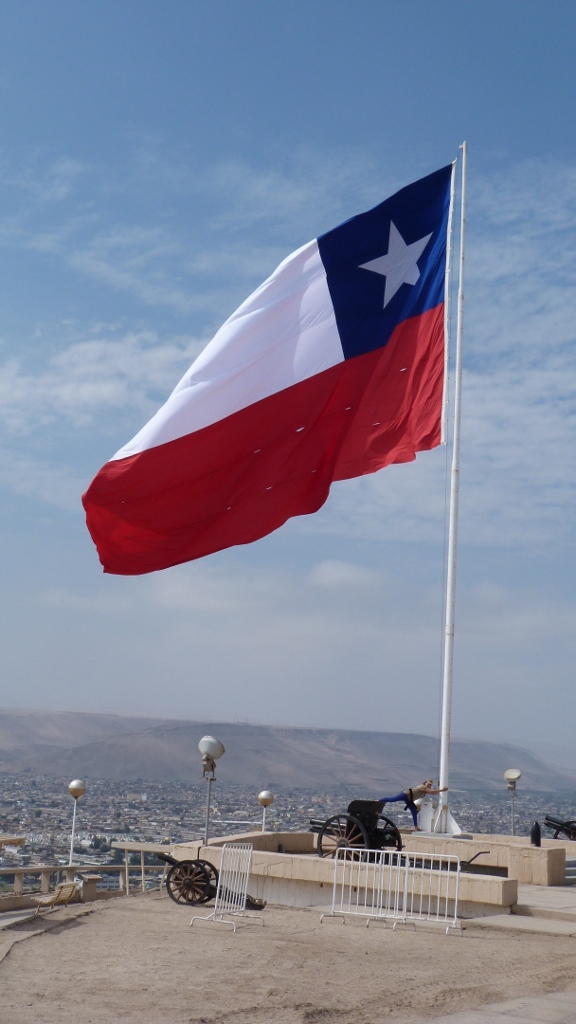 Big Flag ..Arica
Over the Andes by frog
From Hondo we catch up with our old favourite road , the Routa 40 . Awesome ,winding road into the mountains , ruins at Quilmes , small Andean Villages .Stocking up in Salta its time to play in the Altiplano .Unfortunately the Altiplano wants to play hard , at an altitude of over 3700m it gets mighty cold .At -15 , on waking Lizzybus has a hard fight to overcome the waxing of her fuel .
Having spent all our last Arg Pesos in town on beer , fags , red wine , red meat and fuel time to cross into Chile .Paso Sico ( dirt road ) we are reliably informed that it has frozen over , no options to take the easier , but still stunning Paso Jama to San Pedro .
4800 m and climbing , my heart goes out to the abuse we are putting the Lizzybus through , again the good old girl makes it. This has been our 3rd crossing of the Andes and no doubts wont be our last .
Bush camp by Valley de Luna we meet up with old friends .We will travel up the coast of Chile , paying homage to the desert hand and the magnificent coastal highway 1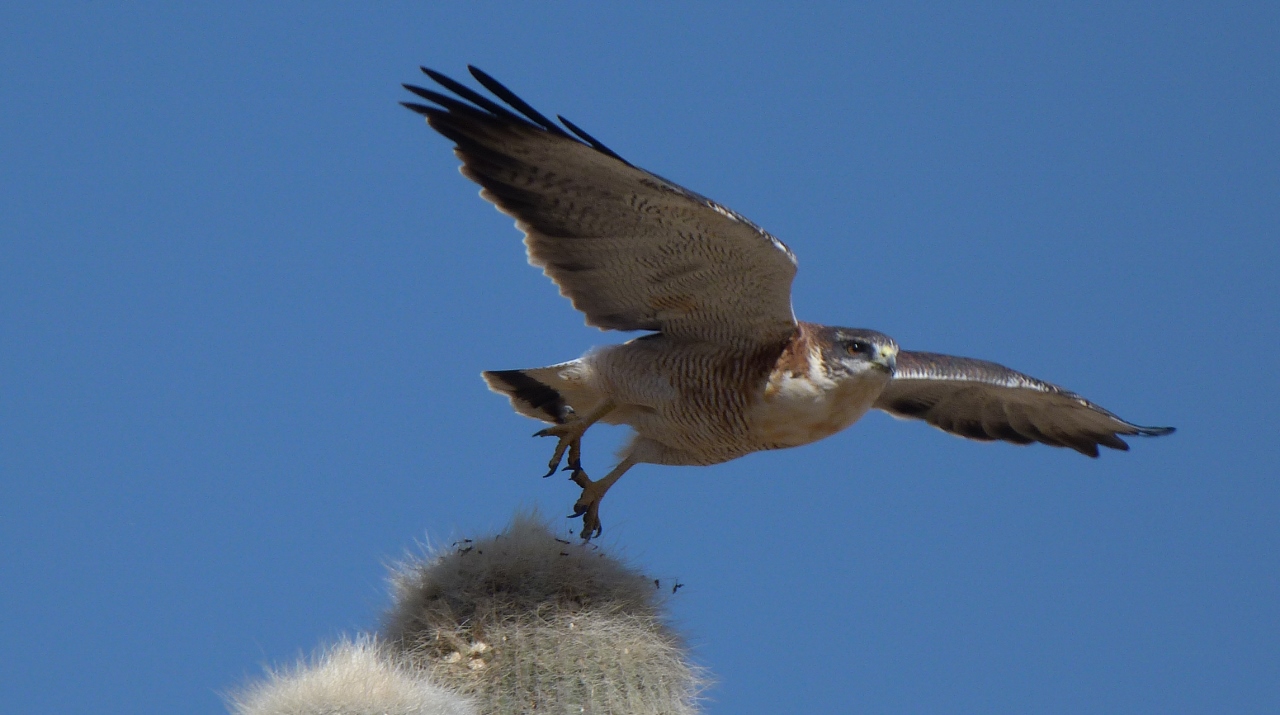 On the wing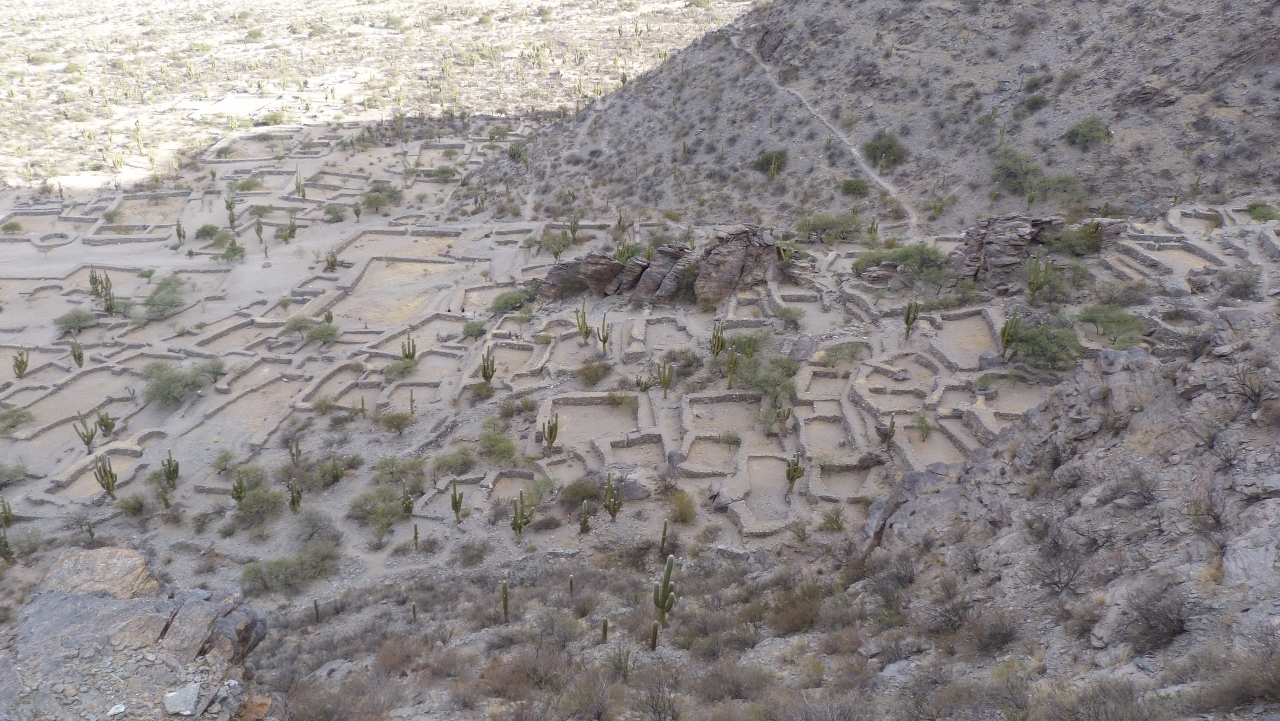 Ruins at Quilmes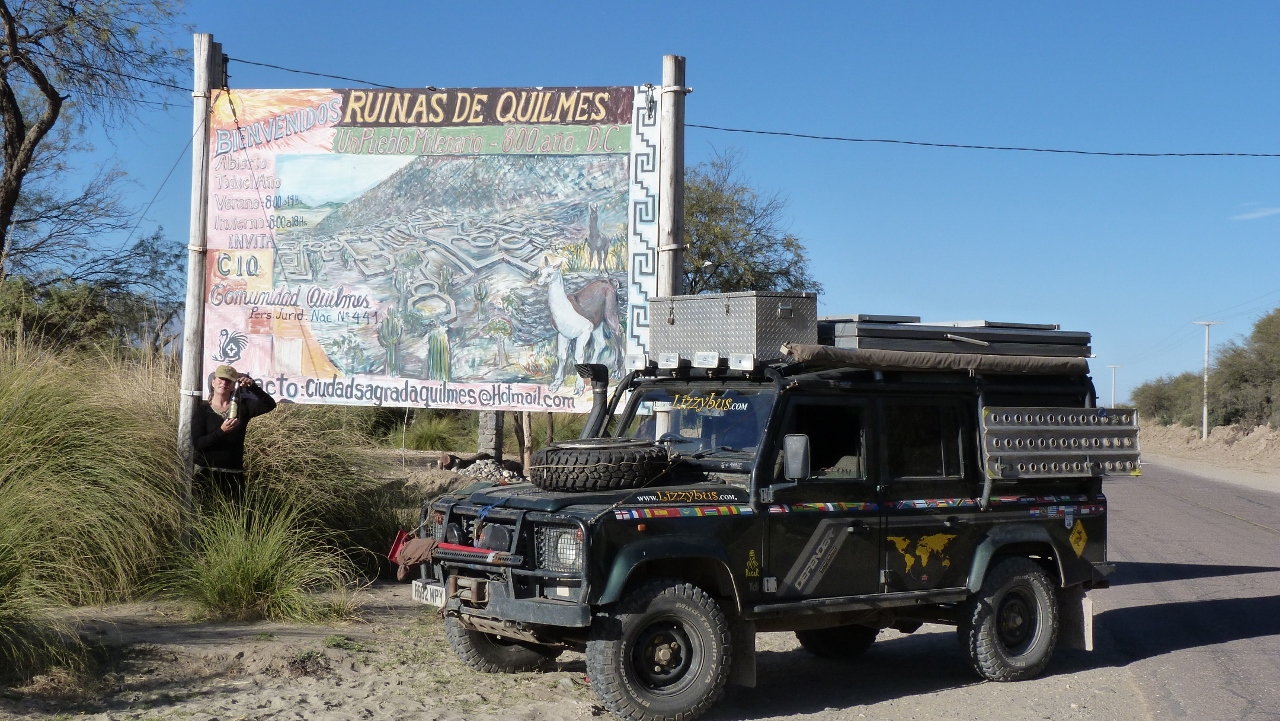 Quilmes with a bottle of Quilmes !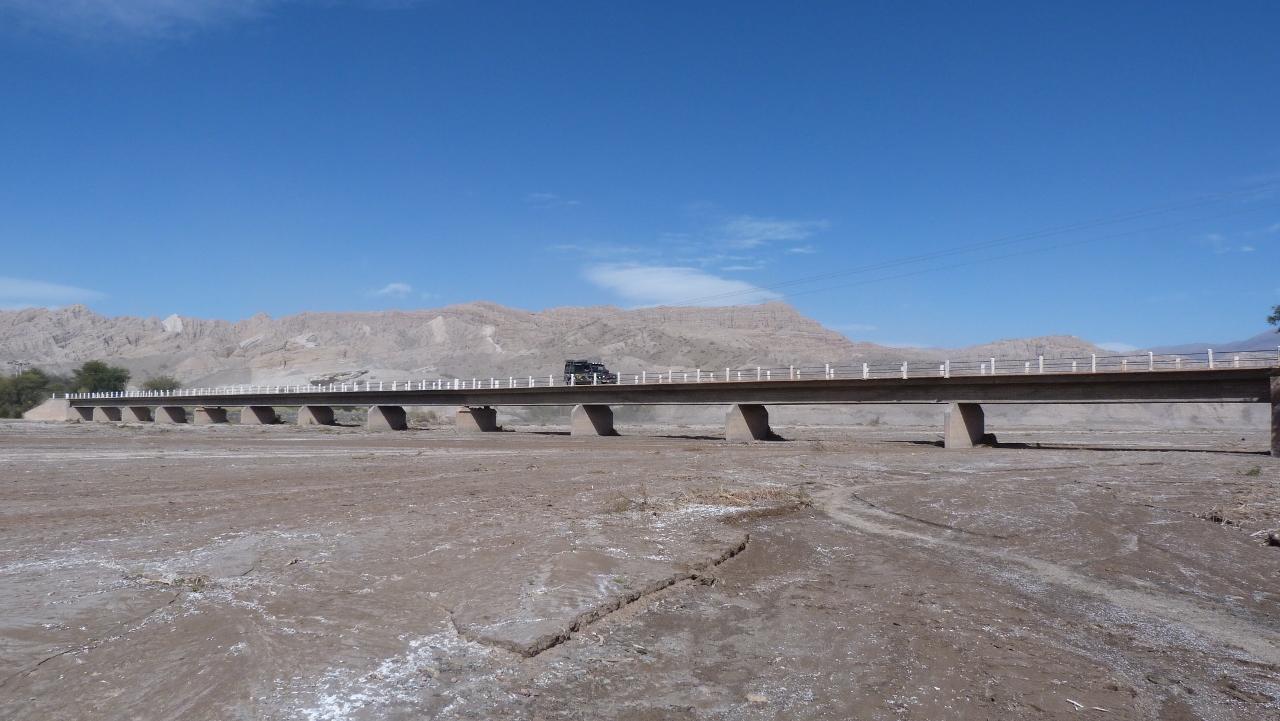 More Routa 40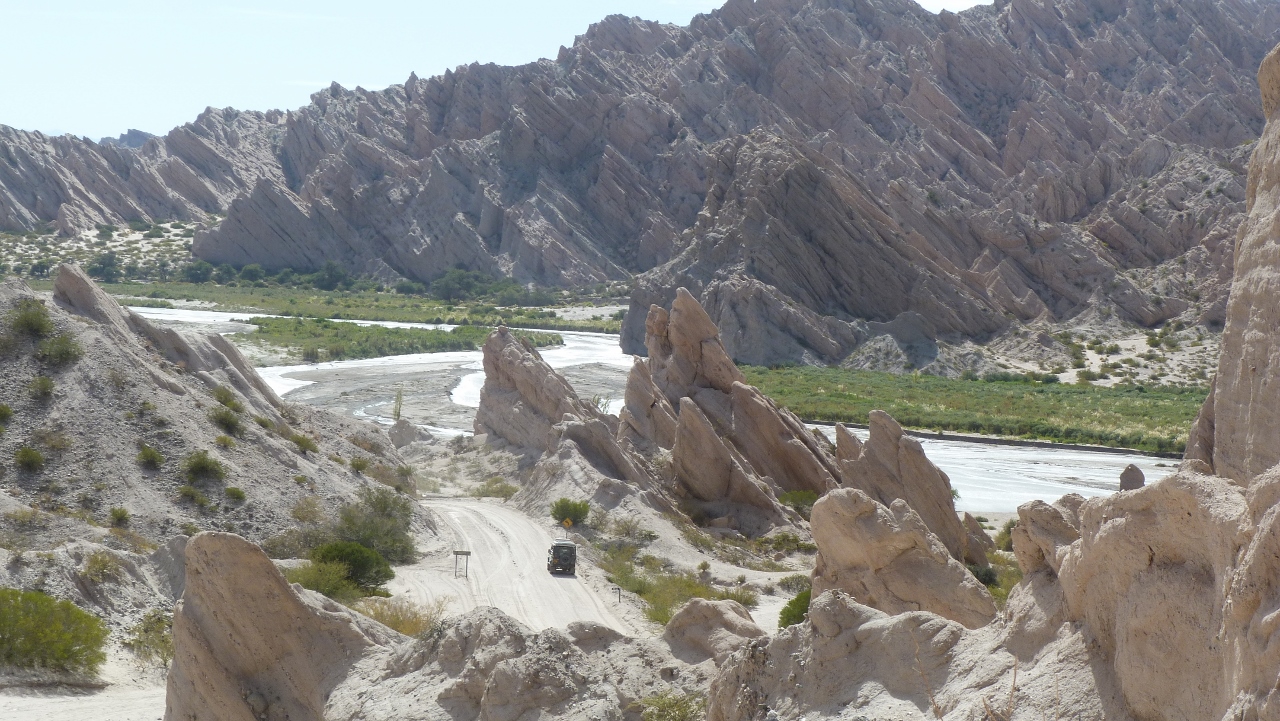 The sublime Rota 40....you know it makes sense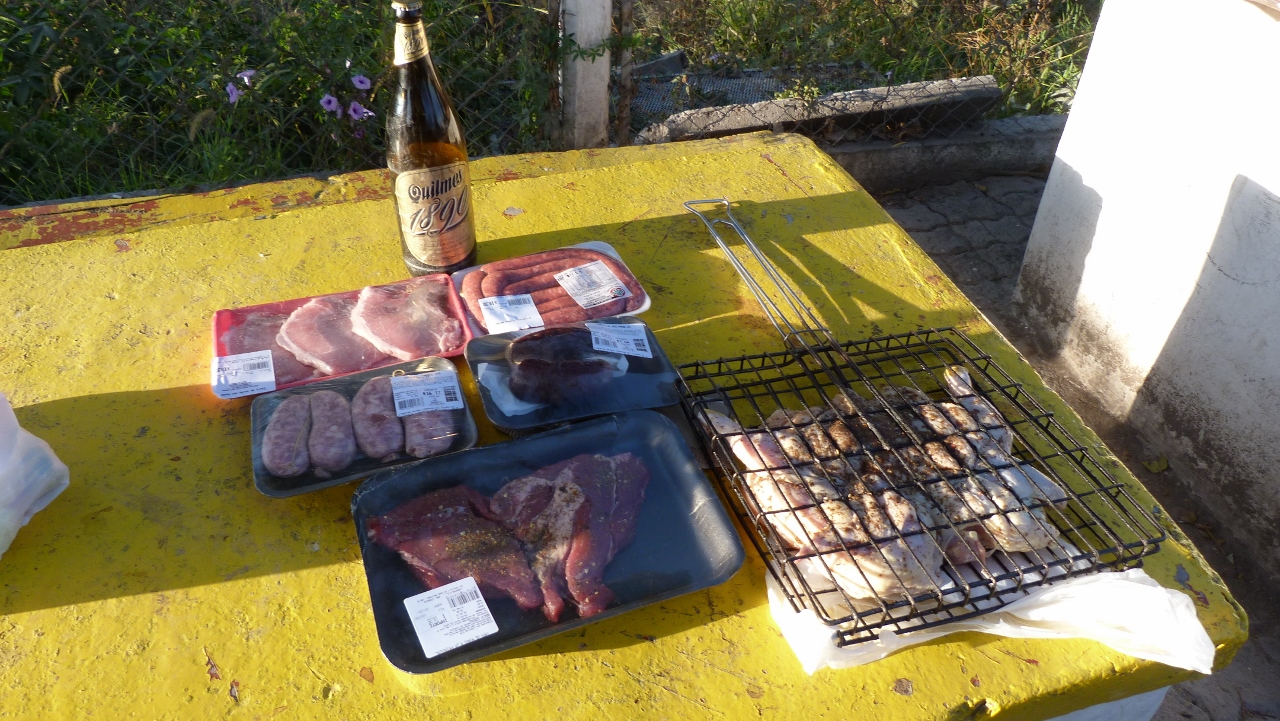 Typical David dinner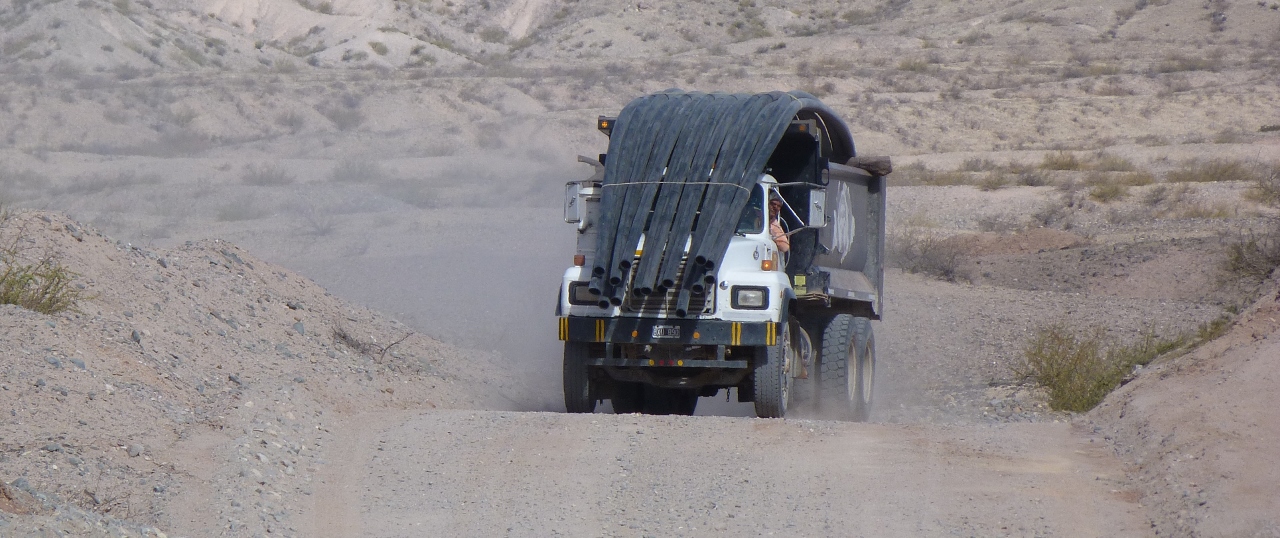 Defies logic sometimes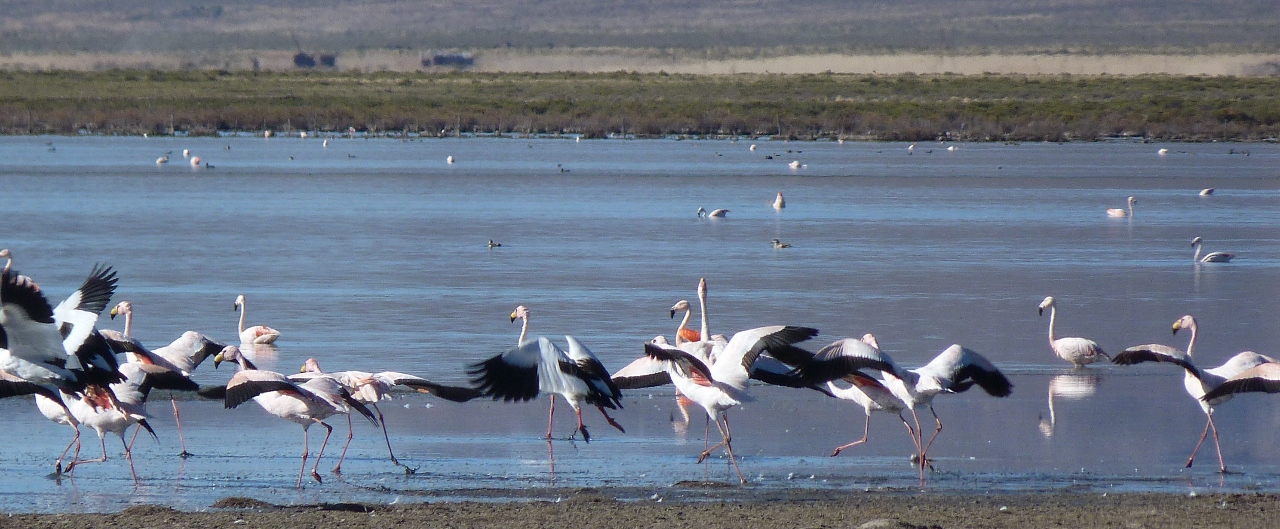 Salt Pan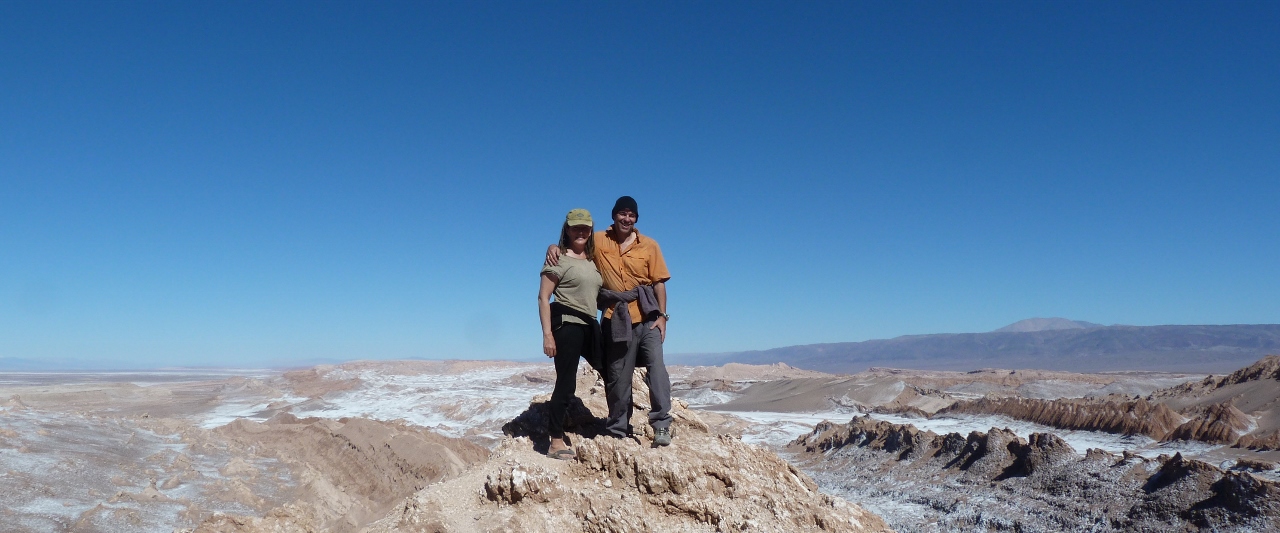 Top of the world

Valley de Luna

Valley de Luna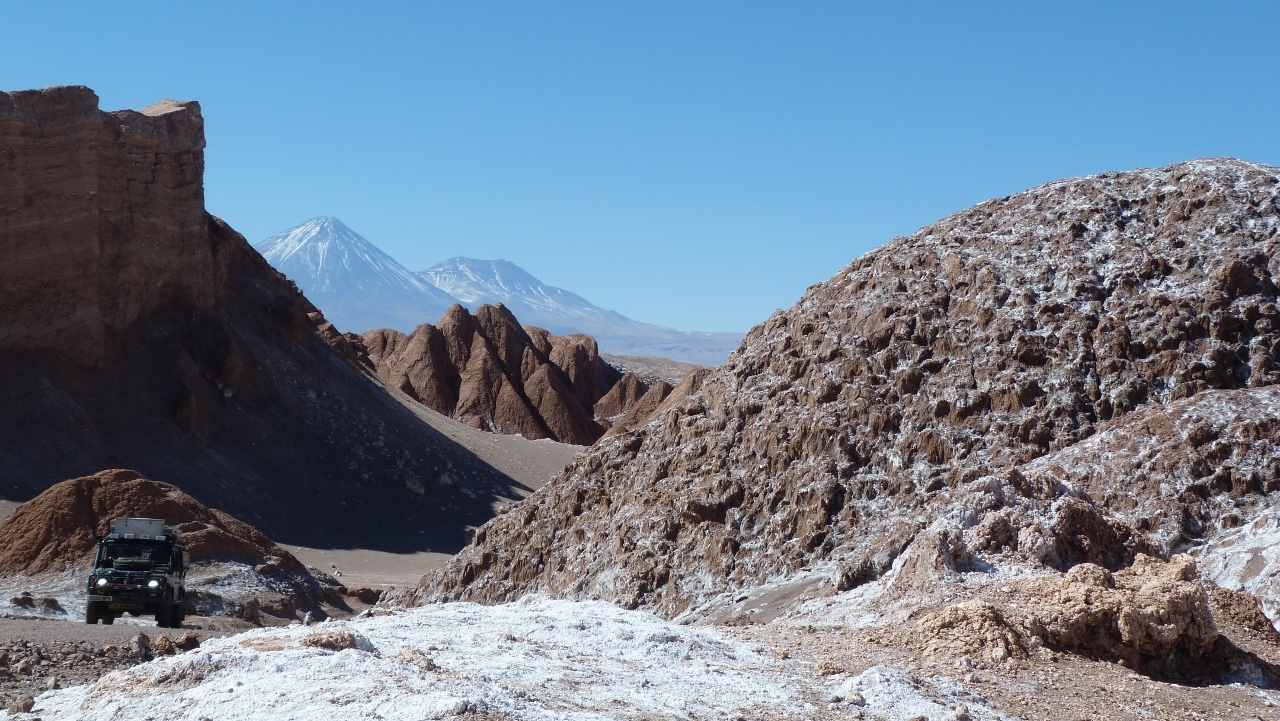 Valley de Luna
Dam Camping
Another day , another border crossing. Paraguay as with all the countries so far , an easy crossing .Lower sales tax sees the population of Brazil crossing home laden with every conceivable electrical items on the planet .Poorer by far our destination we have been given the location of two "free" camps .First is the massive Itaipu Dam complex .Not only free secure camping , a guided tour around the dam , nighttimes excursion to the illumination and a free concert .Paraguay is just a short drive through for us on the way down to Argentina .Again , hospitality is amazing , the people so friendly and very curious to a green right hand drive Land Rover . Tolls even paid in US$ and change given ,we camp at one of the Jesuit missions in Trinidad . If this is your bag it is an amazing region. How anyone ever set these places up only God knows .
Short trip admitted back into Argentina and a 19 day visa ( think they have been counting how many days we have been staying to date )
We are to head over to the West Coast , Bolivia , Chile and then into Peru. On the toss of a coin we stay at Chaco National Park on the basis its not a petrol station , free to get in and free camping with hot showers .Strangely the book was correct .The only trouble were the voracious mosquitoes .This was supposed to be the best time to visit!
Heading east , more petrol stations and Jaynes birthday spent at Termas rio Hondo with a bottle of Tia Maria !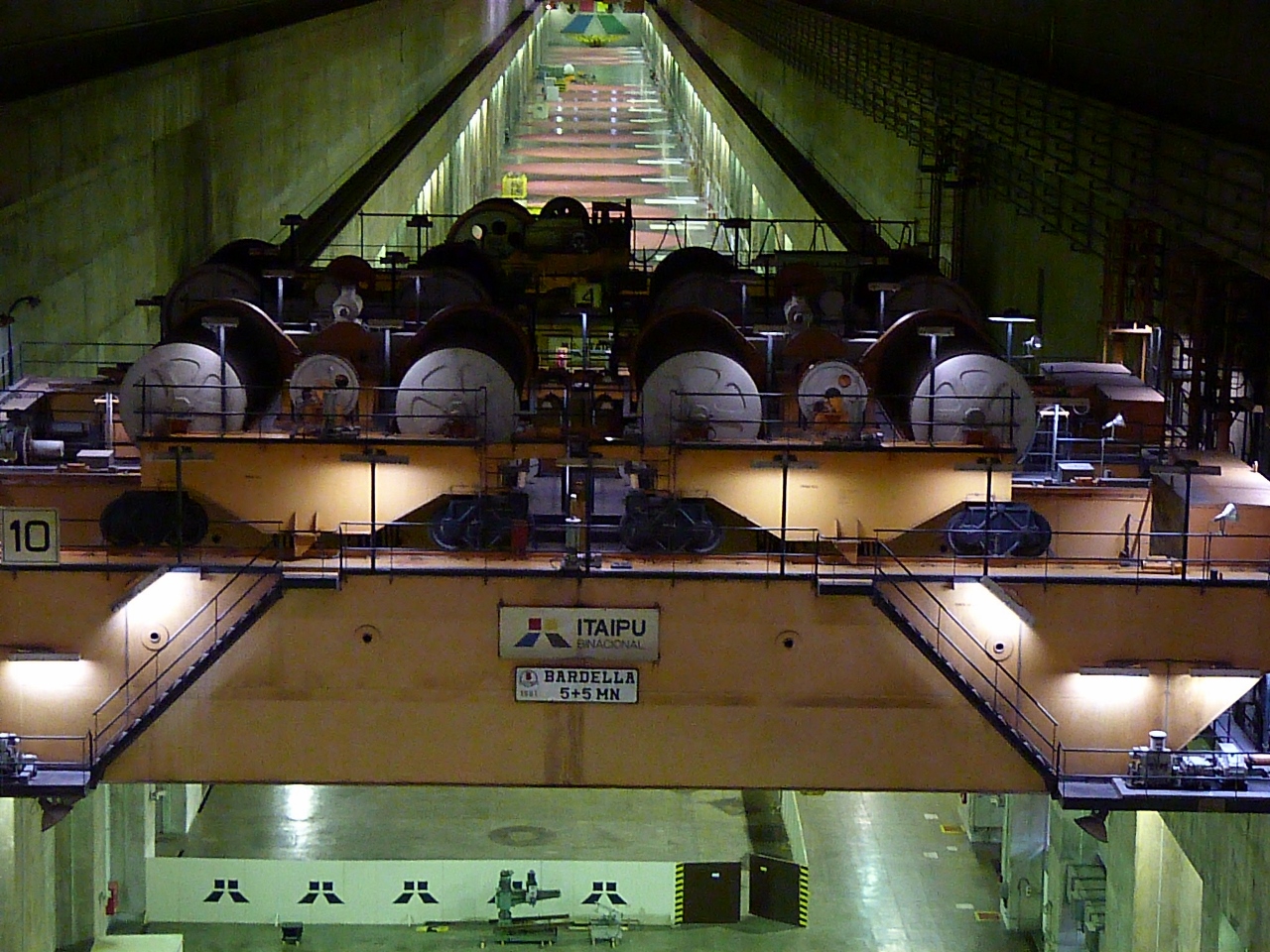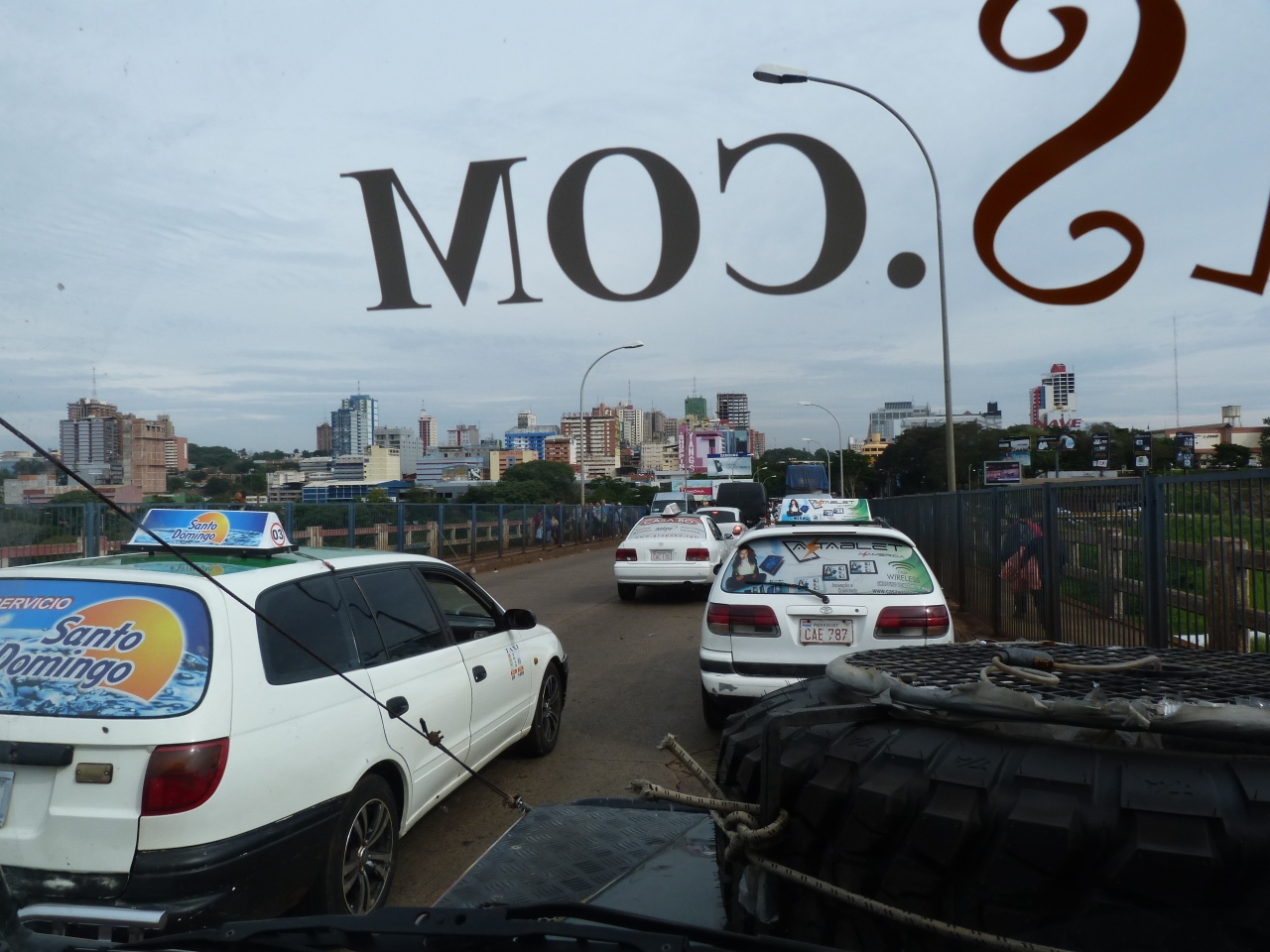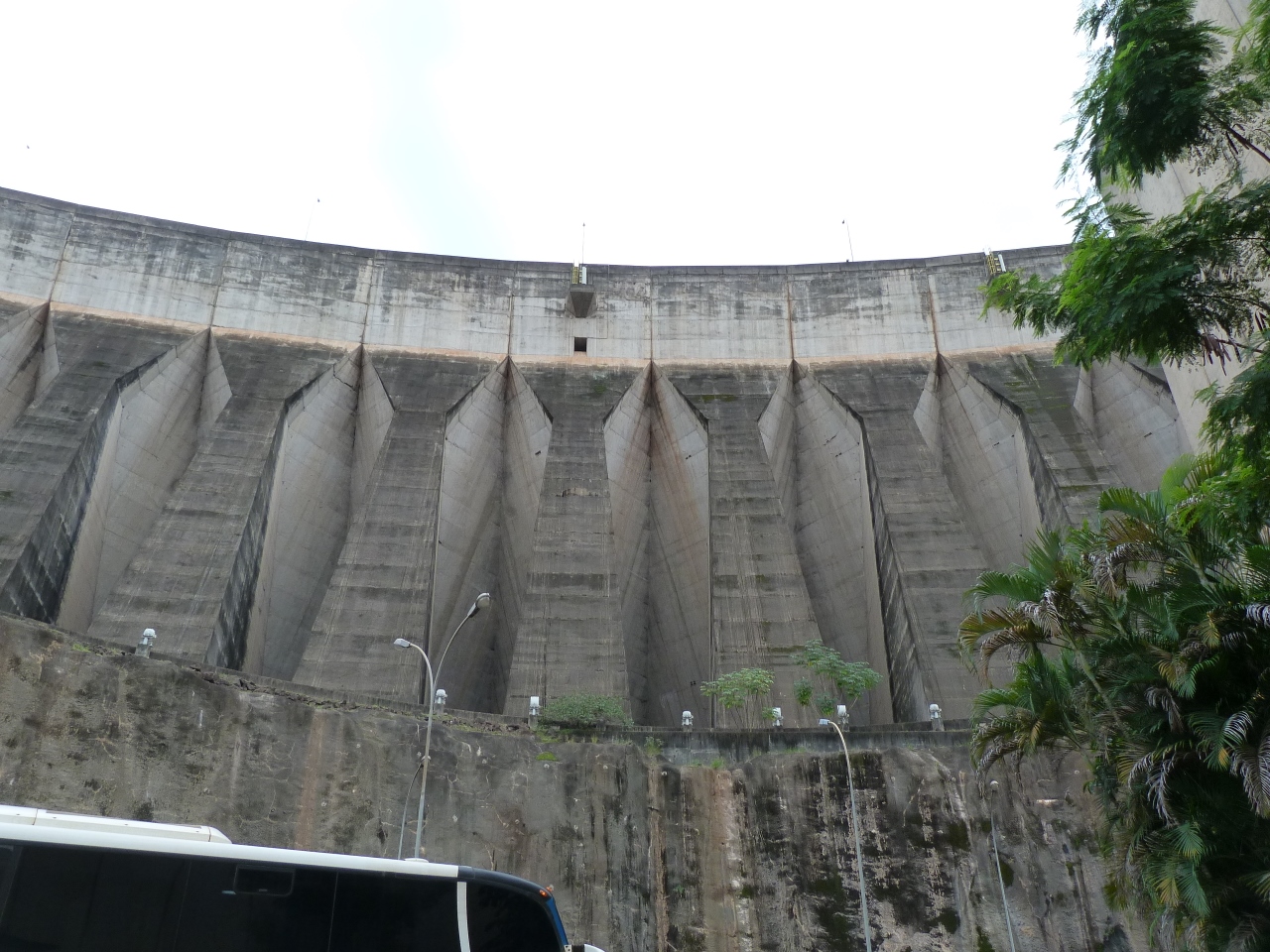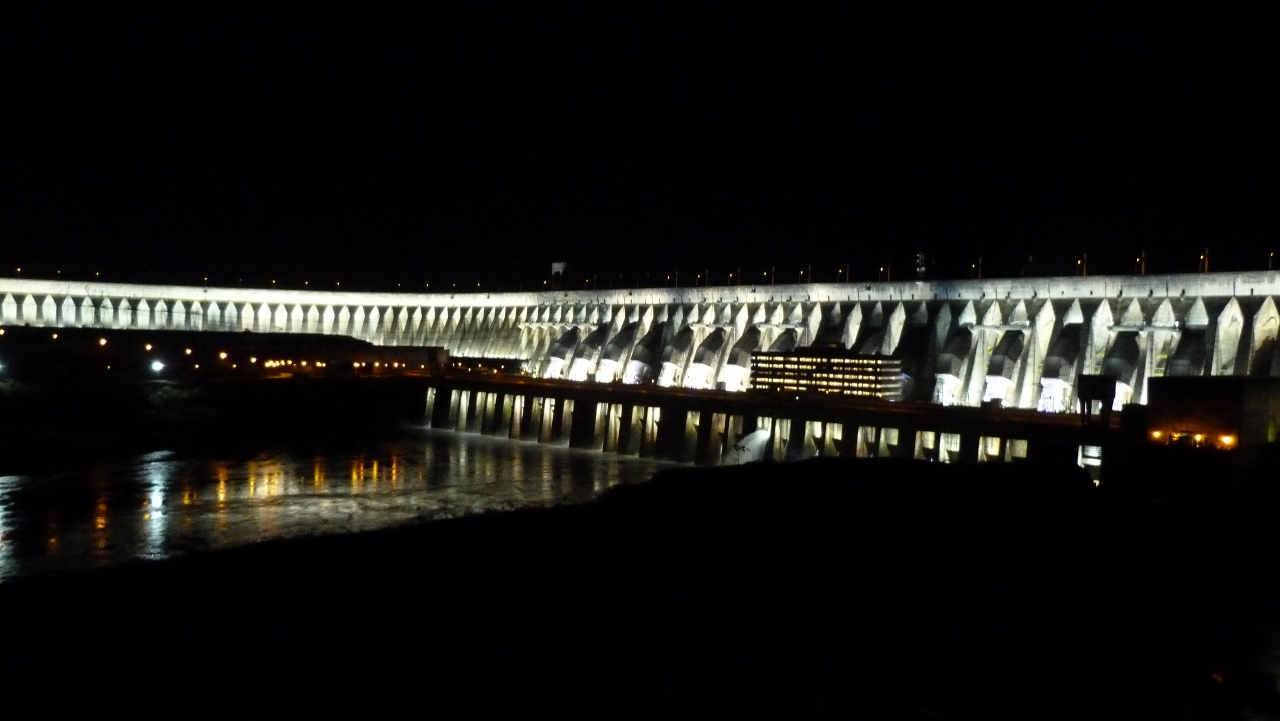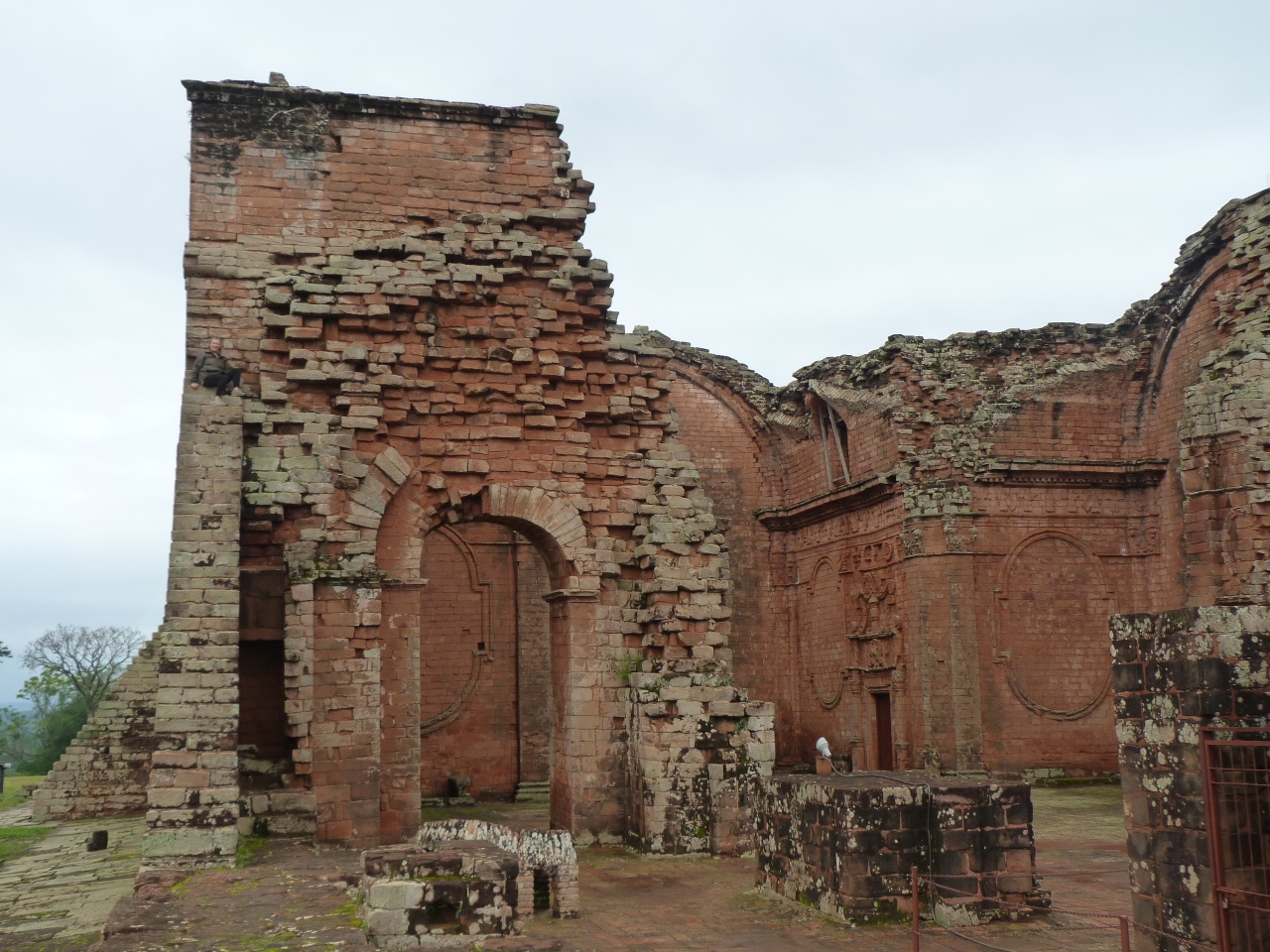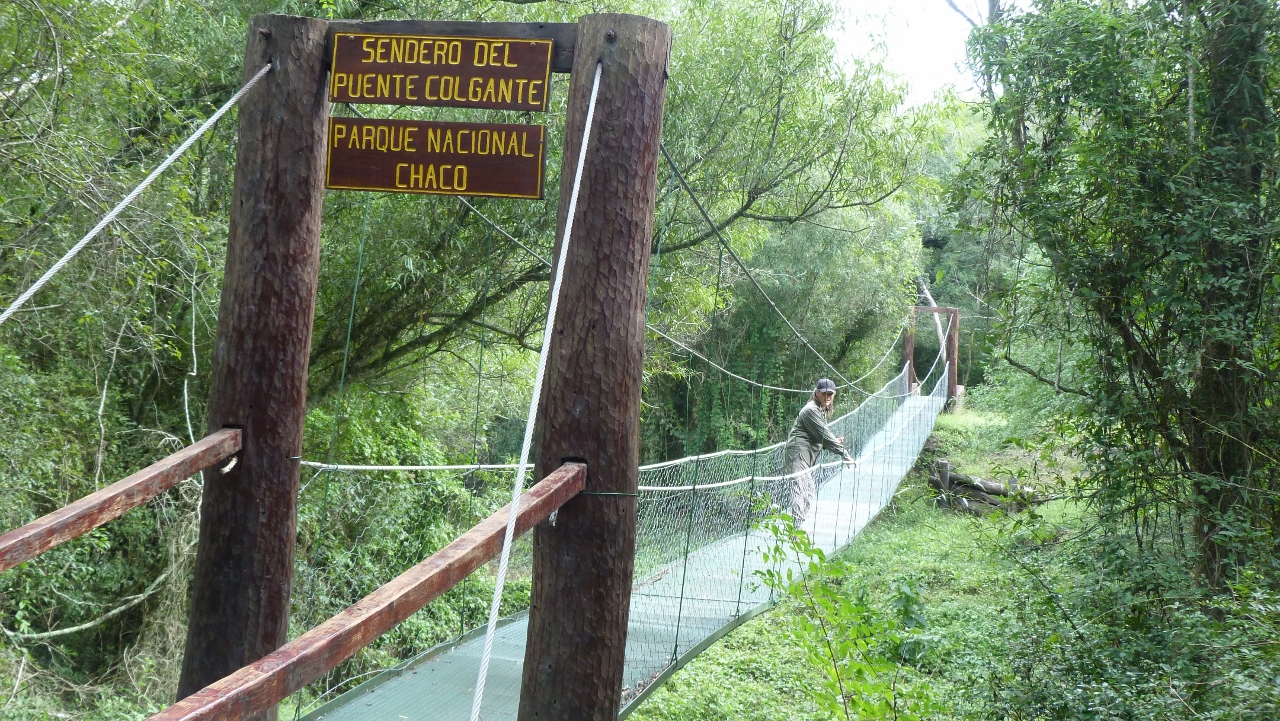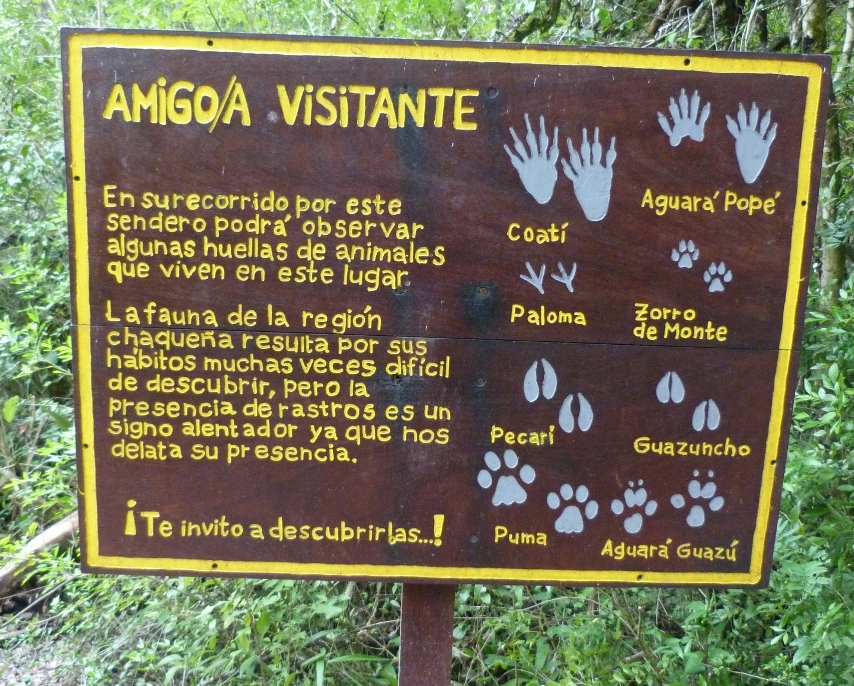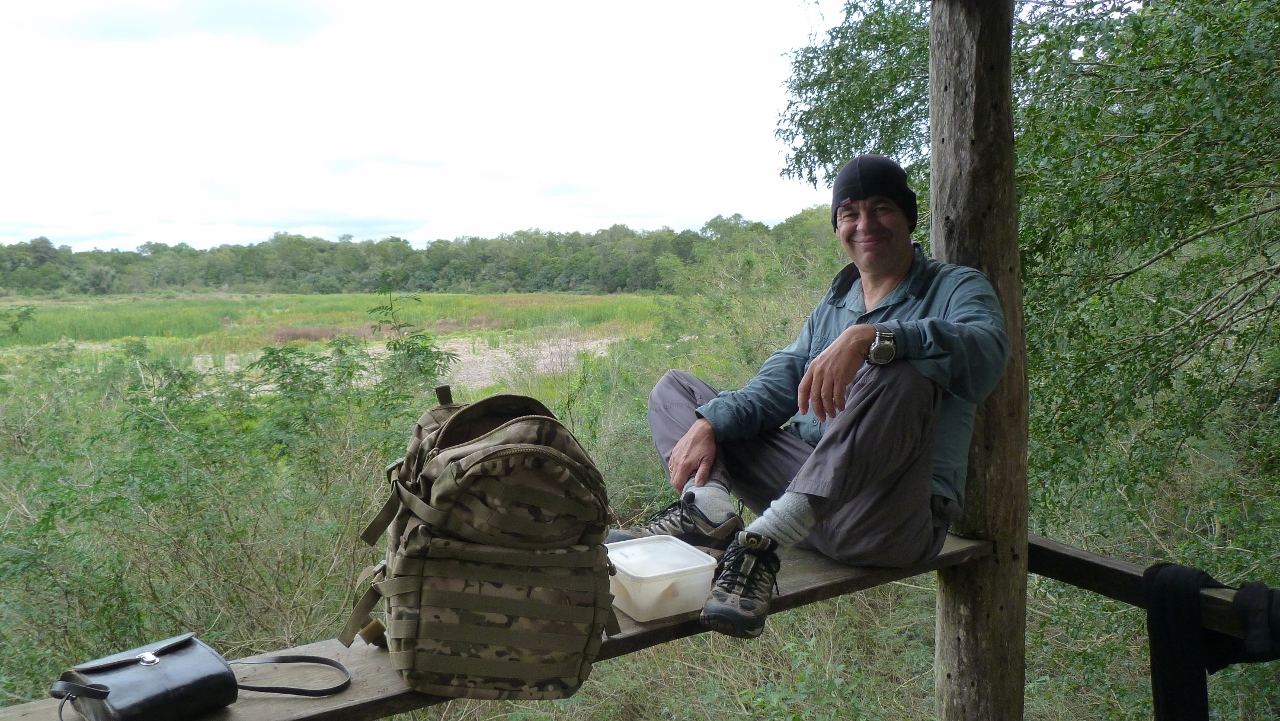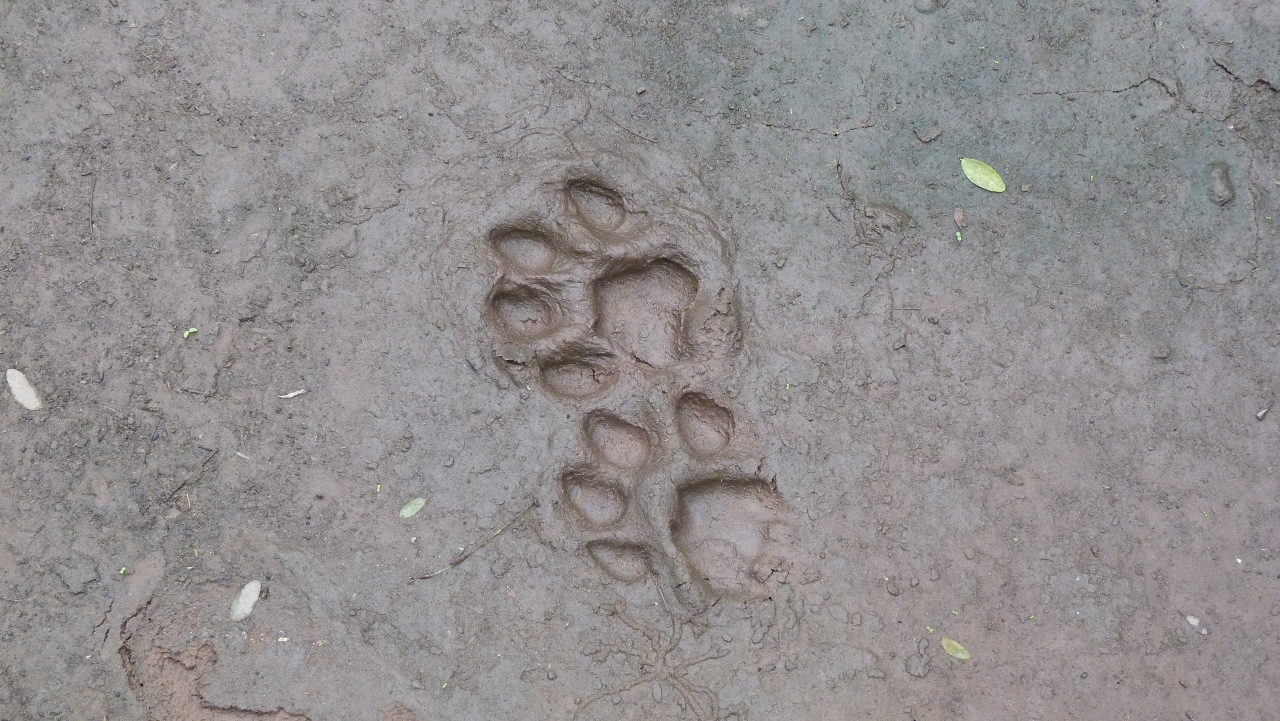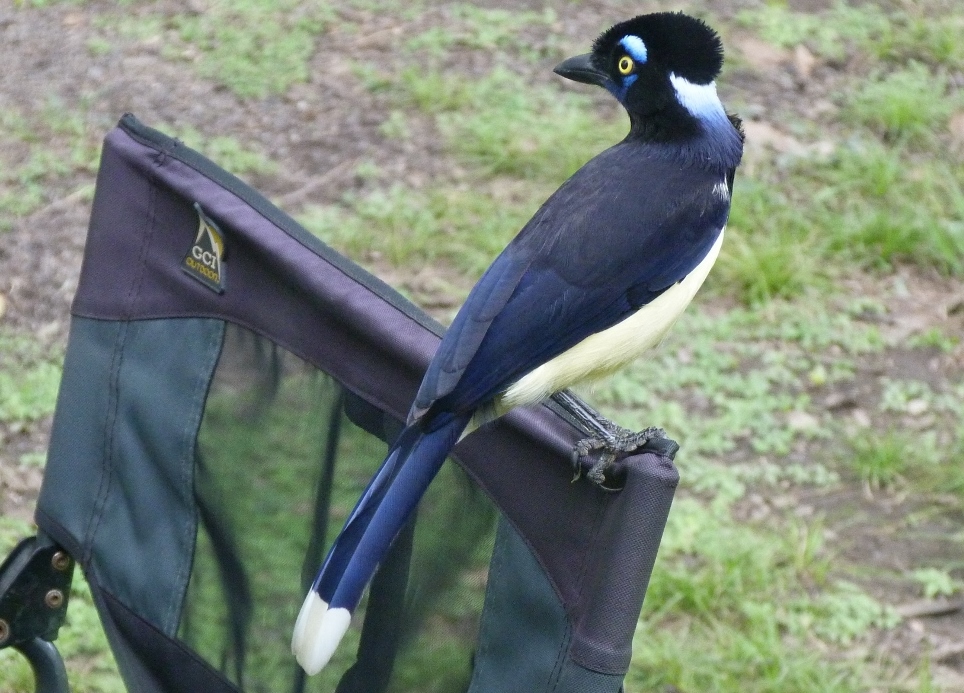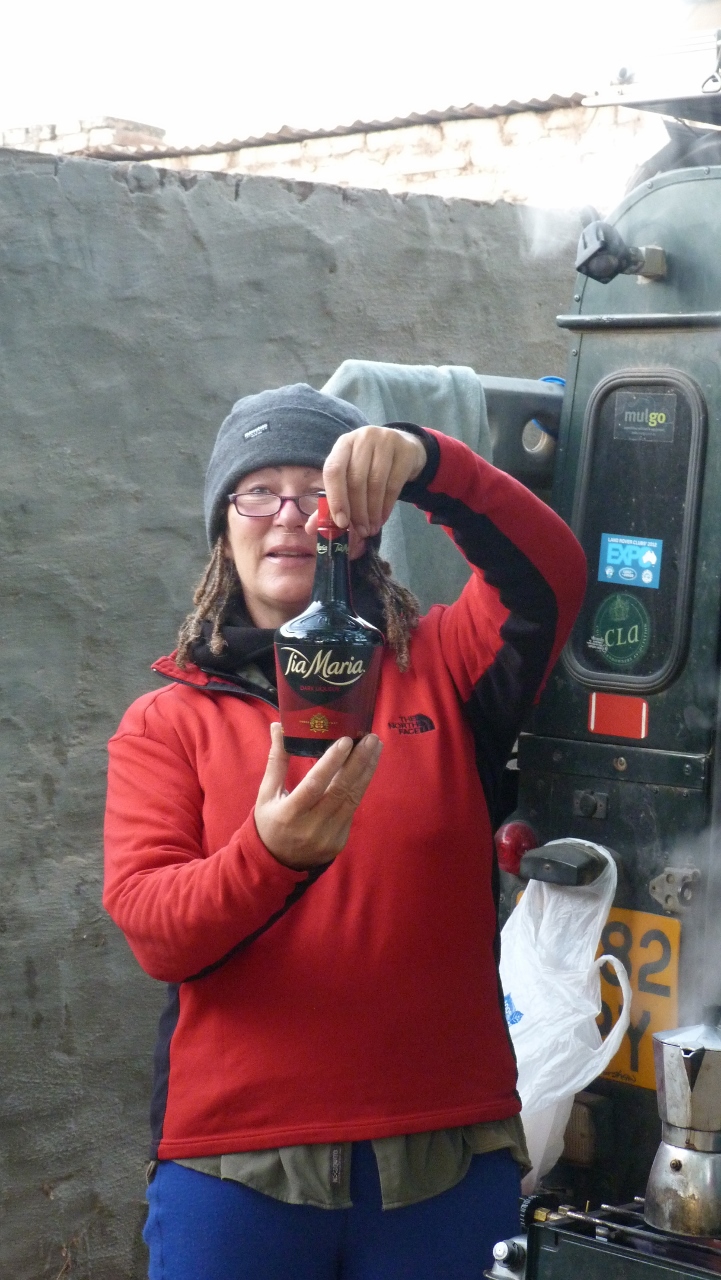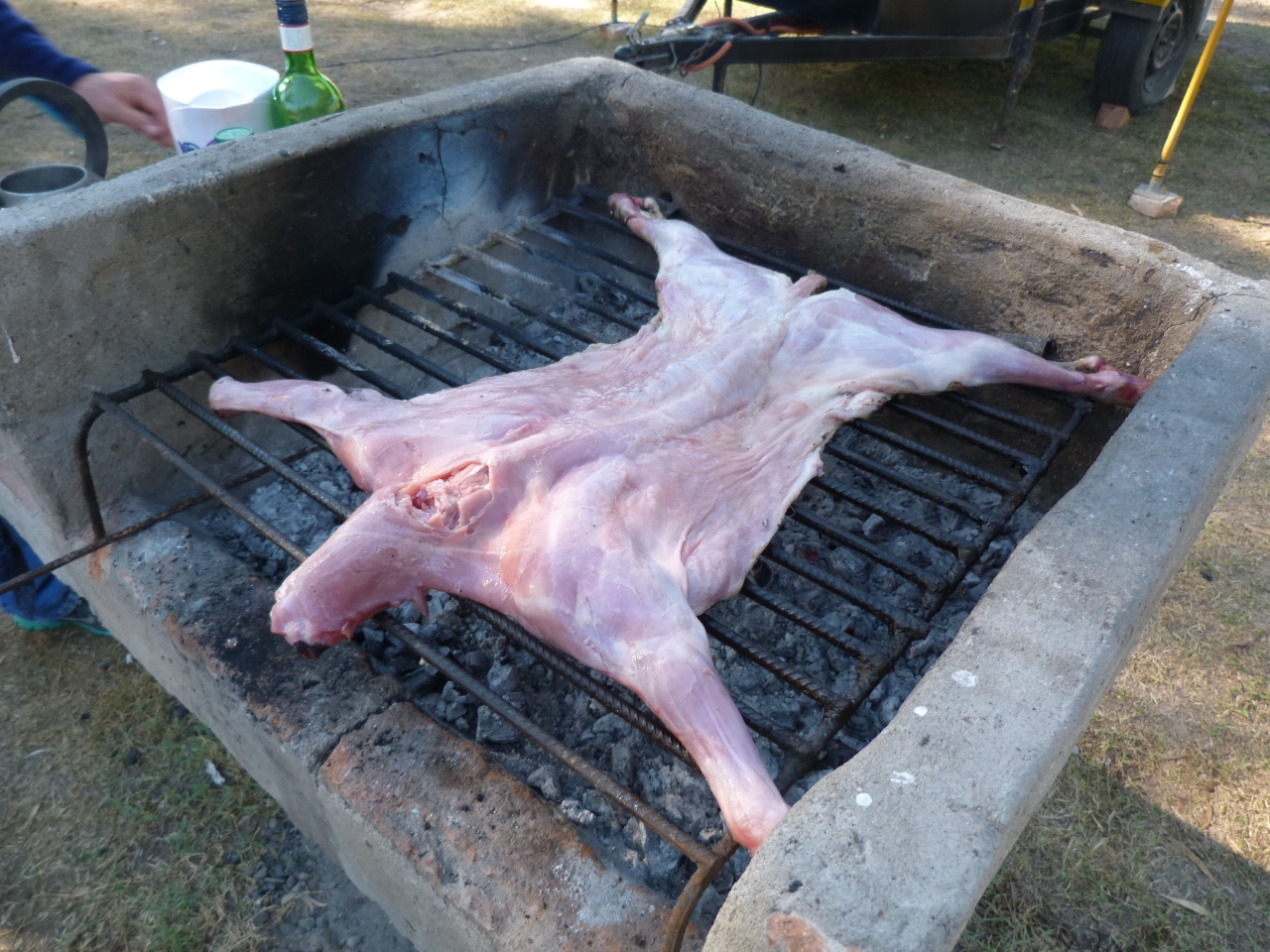 Don't mention INR !
Return leg , this time inland and head towards Paraguay! Why ? Because we can and its another flag on the side .
Great roads as we visit the historic city of Oura Preto and Congouhas .
The one thing we DON'T like about Brazil is the large number of pay stations on the road .We are averaging about £8 day in Road tolls , saving money by camping with the truckers in petrol stations .Most stations have a free shower and a hard standing you can camp on .Only problem is the noise of their engines when they either pull up or leave ( usually about 06.00 hrs)
So their you have it , four great weeks in Brazil and we are holed up at Foz De Iguaçu , in a great campsite ( hot showers , power , cooking facilities , pool and free breakfast ) at r40 day (£12.50).
The cunning plan had been to visit the falls , camp for two days , do all those little jobs like washing and drying before shipping on to Paraguay (5 k away) .The falls , visited in sunshine , are spectacular and well worth the visit .The camp site , Paudimar Hostel superb ..
I blame Jayne for what's happened .We have been stuck here for 4 days .Jayne casually mentioned "its not raining!" (INR) and lo and behold , it came to pass that the heavens did open and dump upon the Earth vast quantities of water .Bit Noahish at the moment except the good Ark Lizzybus leaks like a sieve .Its wet inside .Forecast says Thurs for the dry to kick in .so Thursday we wash , clean and dry everything then depart .
In UK we picked up a fly sheet , made by Compton 2000 ,( in Birmingham )so at least the tent is dry .cheers guys , its working a treat
Congoha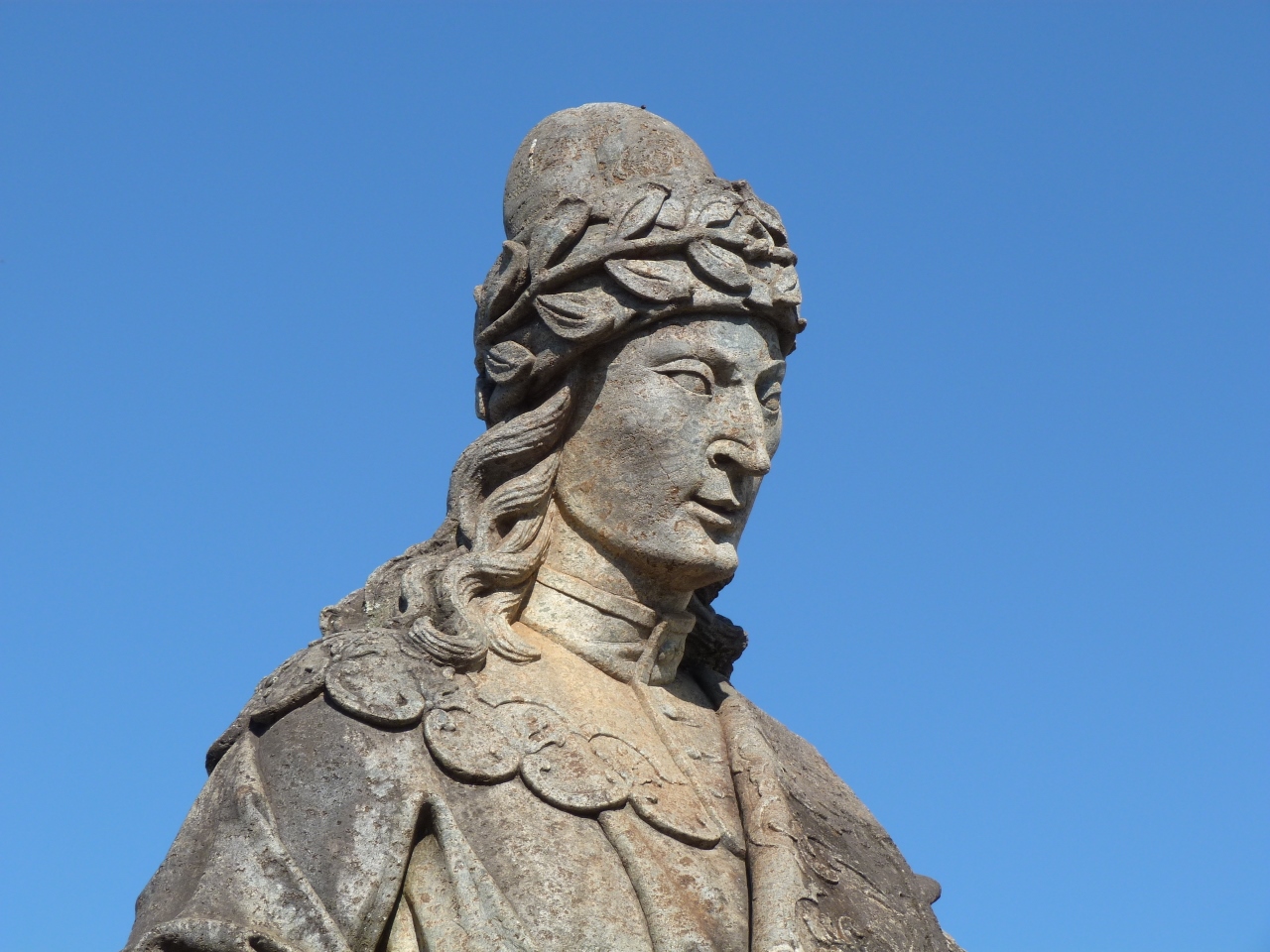 Congoha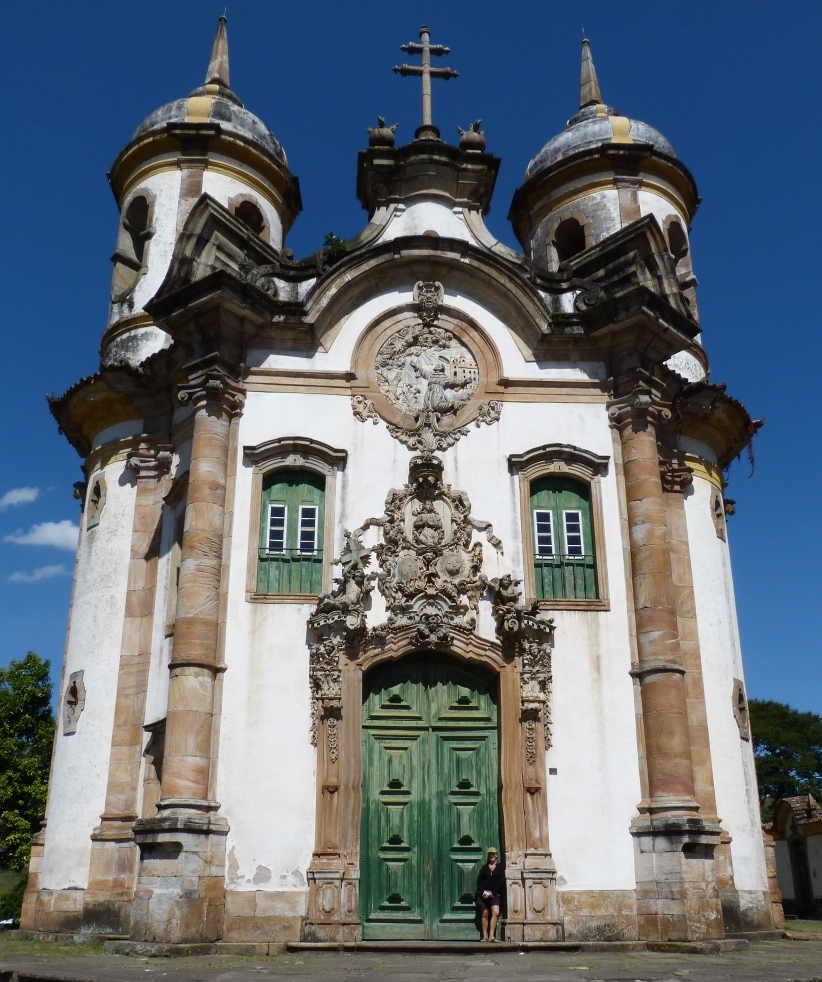 Oura Preto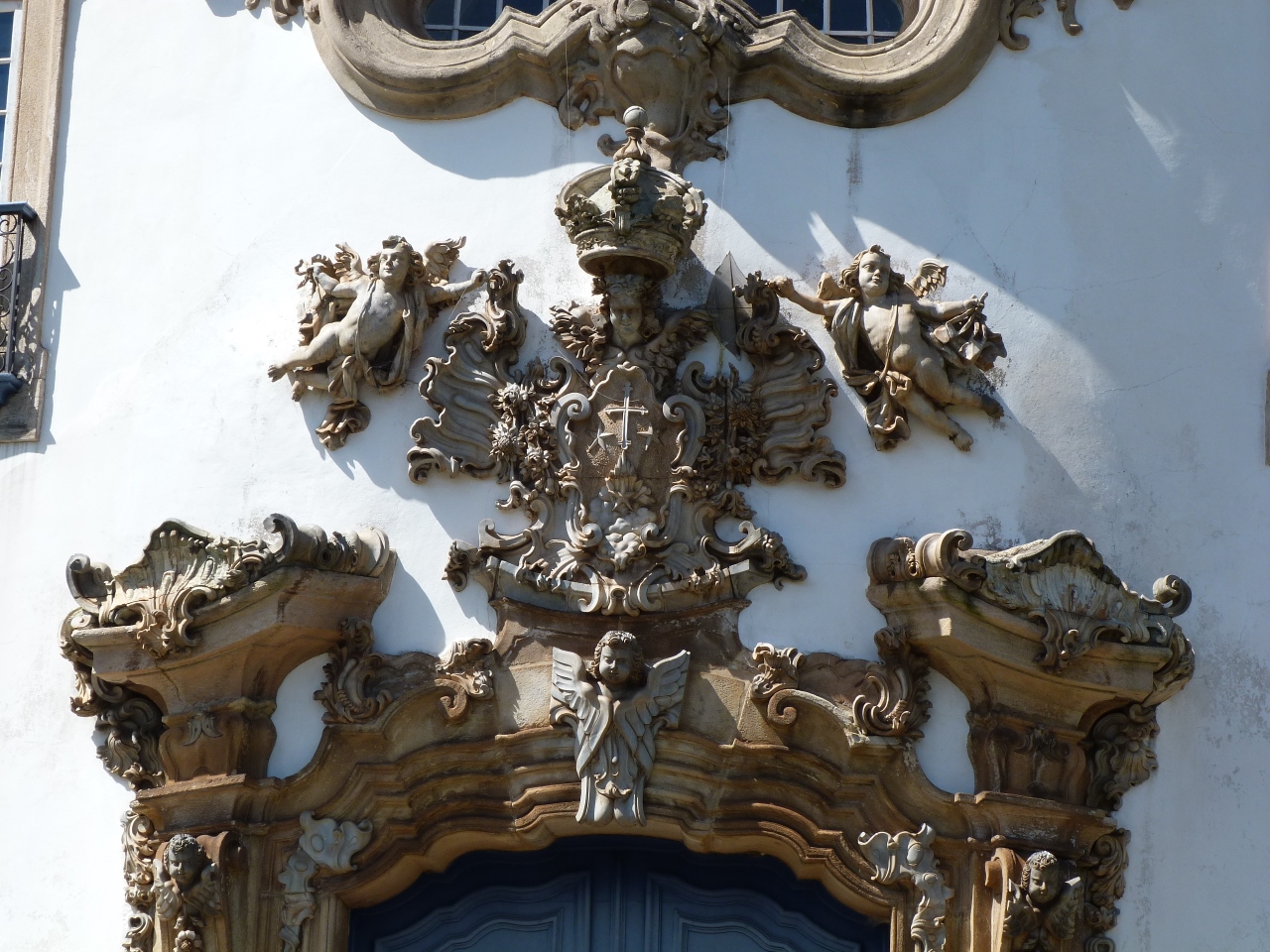 Oura Preto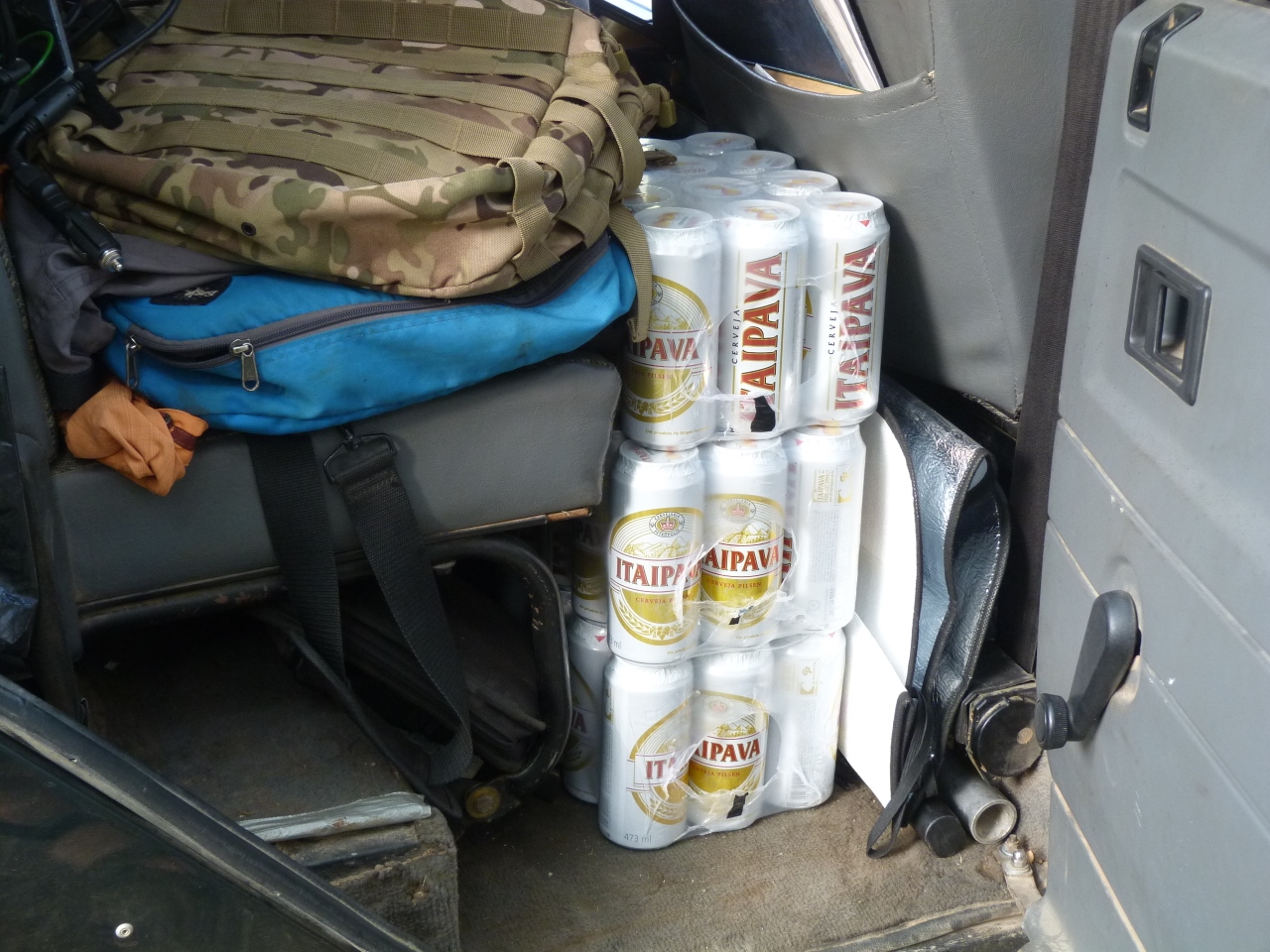 Beer ? Wot Beer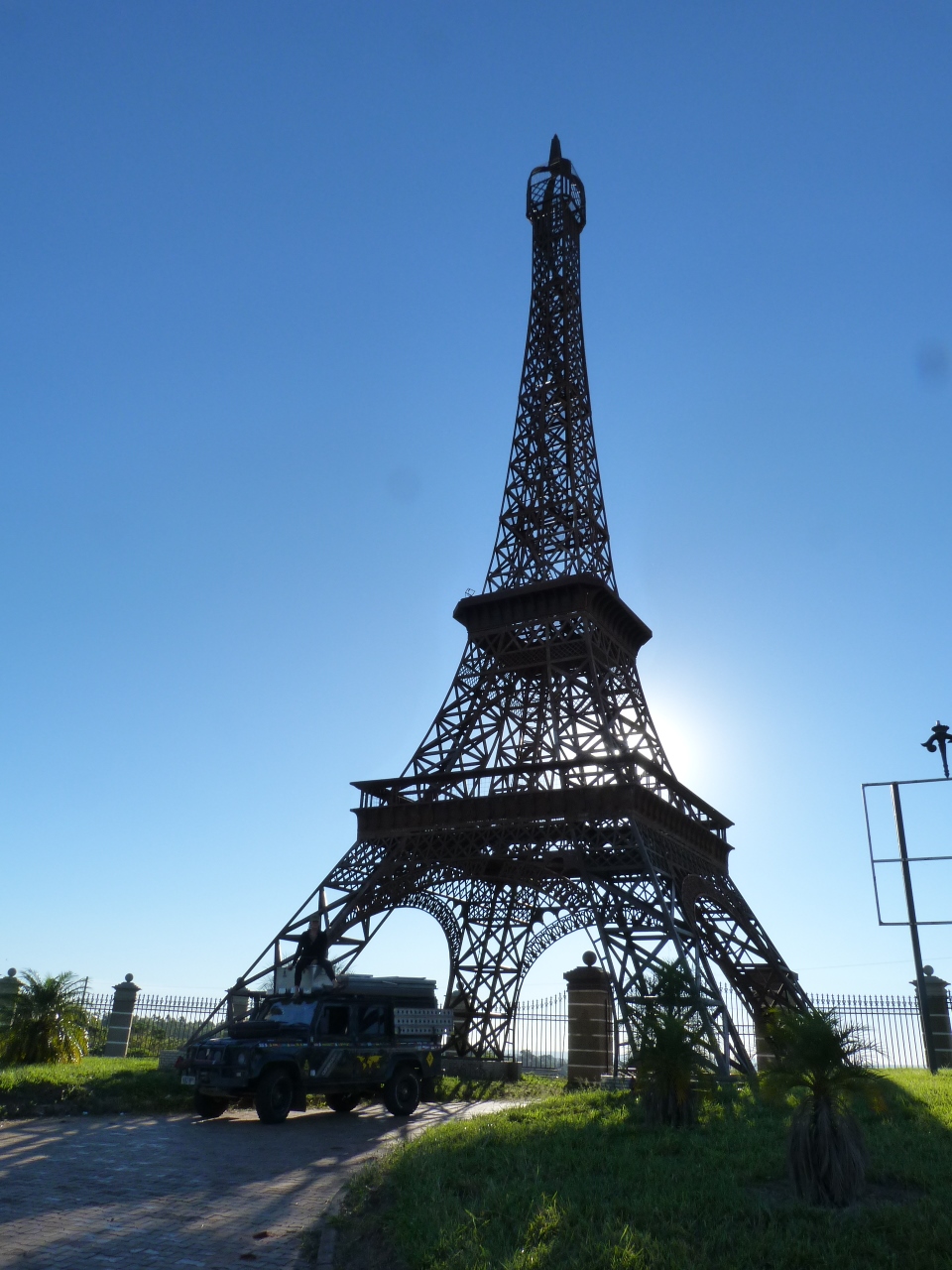 Its Blackpool Tower , Mr Eiffel based his "Inferior" design on it !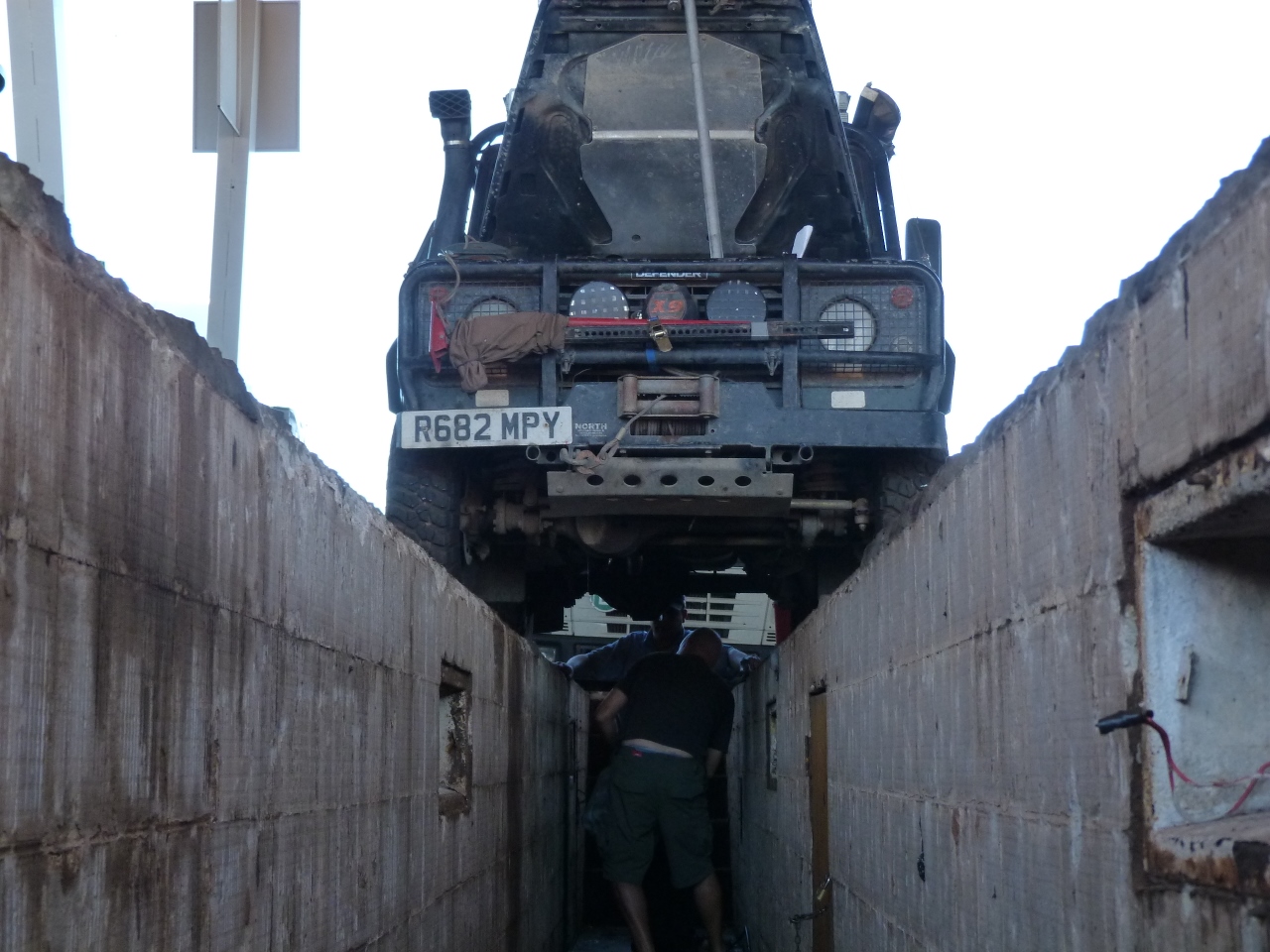 Time to change all the fluids

Sometimes its not quite as good as Bush Camping but its cheaper than a site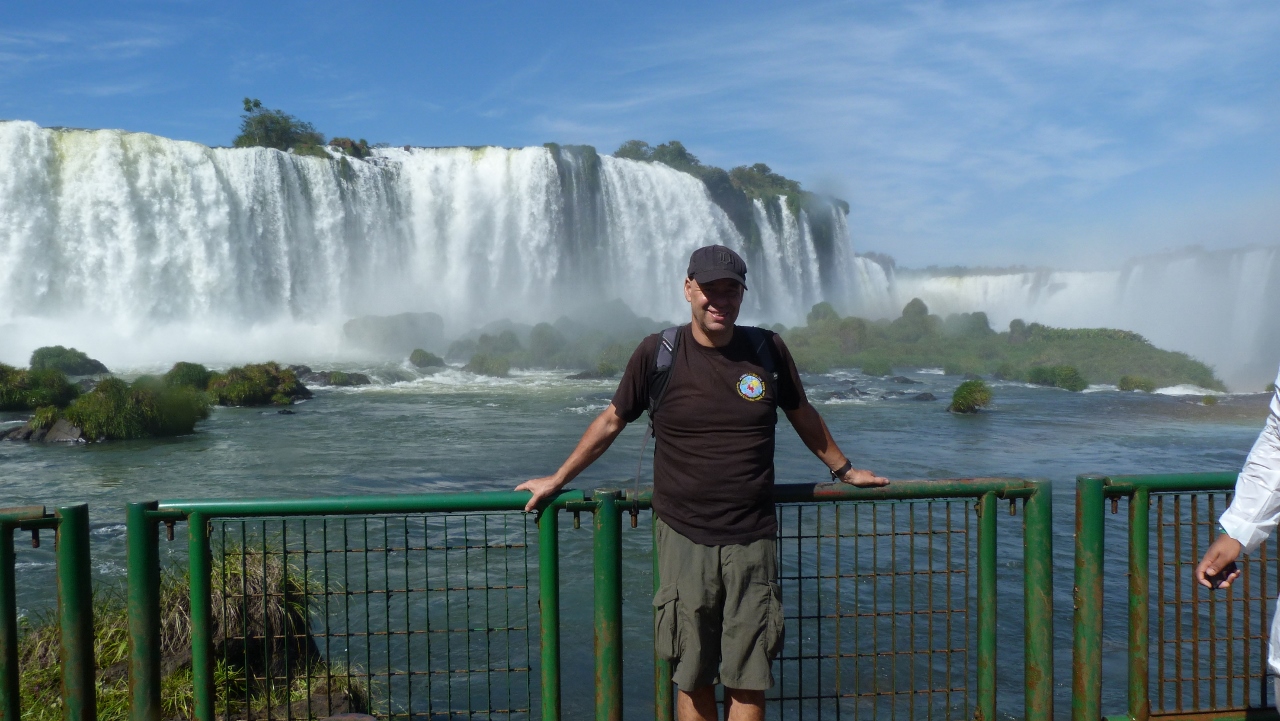 Iguazu or Iguacu Falls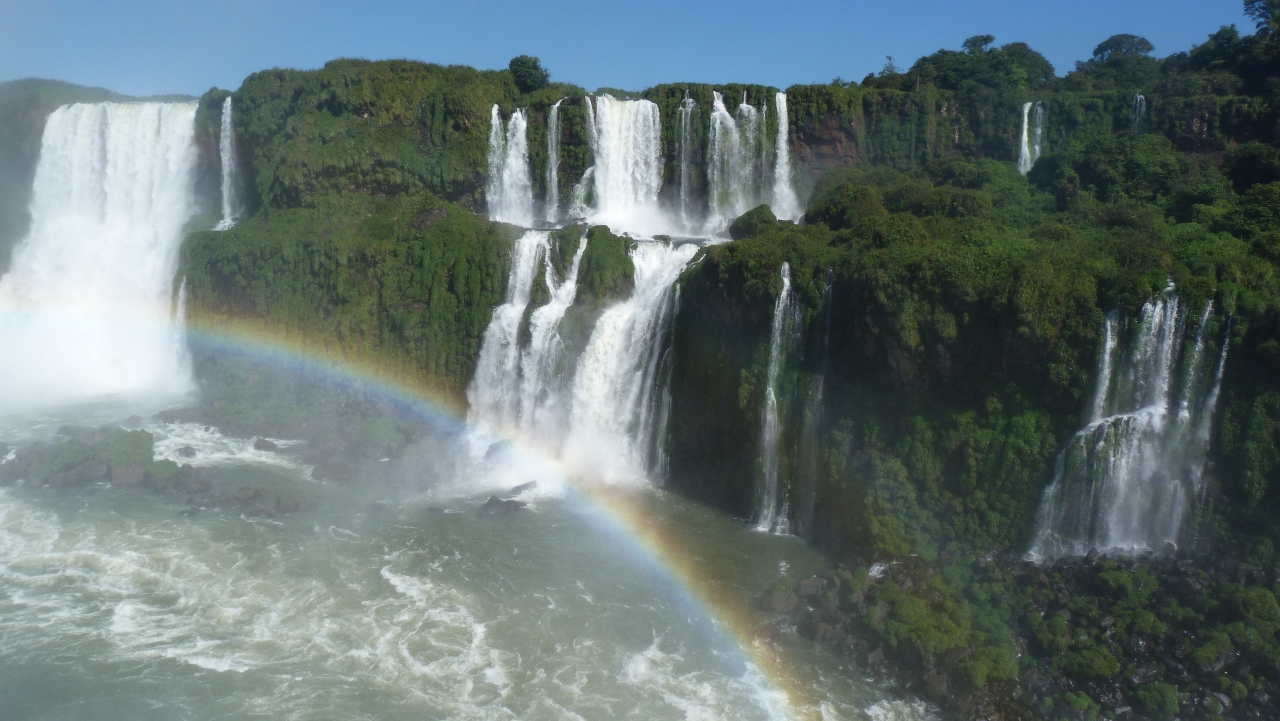 Iguazu or Iguacu Falls
Iguazu or Iguacu Falls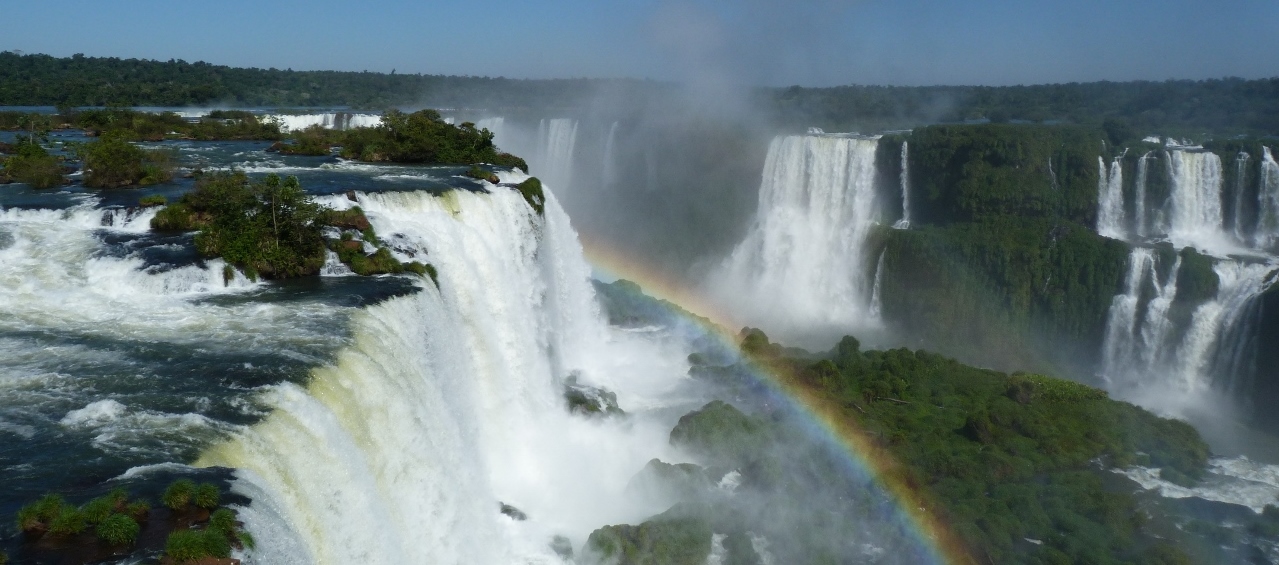 Iguazu or Iguacu Falls
Rio Bound
All good things come to an end as we depart Florianapolis and head along the coast up to Rio .Its about 1400km , so , like Australia , its local.
Camping is cost prohibitive ( min r40 a night ) for what can only be described as poor quality .As the coast road is quieter than the main roads opportunities to Copec camp are few and far between and we find ourselves having to camp on sites .We console ourselves that after Rio we can again go back to free camping .The journey is spectacular , winding roads following the coast , pristine beaches with Rain forest clinging to the hills .A chance to visit Parity , Old colonial town as we approach Rio.
Having checked on Google a camp site is available in Rio , Sat Nav gets us there but as we head towards it , their is an uncomfortable feeling that we have been sold a pup , no way could a camp site be in this area of town .Half an hour of fruitless searching and its out with the Backpackers Guide and tracking down of a hostel .Strangely an affiliated camp site outside of town works out more expensive than a dorm room , breakfast and free parking in the centre !
Rio is everything and more .Copacabana and Ipanema are non descript beeches , Christ the Redeemer , a scary drive up a 1in 1 mountain and everywhere alive and kicking . For the first time we arrived at a location at night , a different take and a fulfilling experience .Rio rocks and we love it .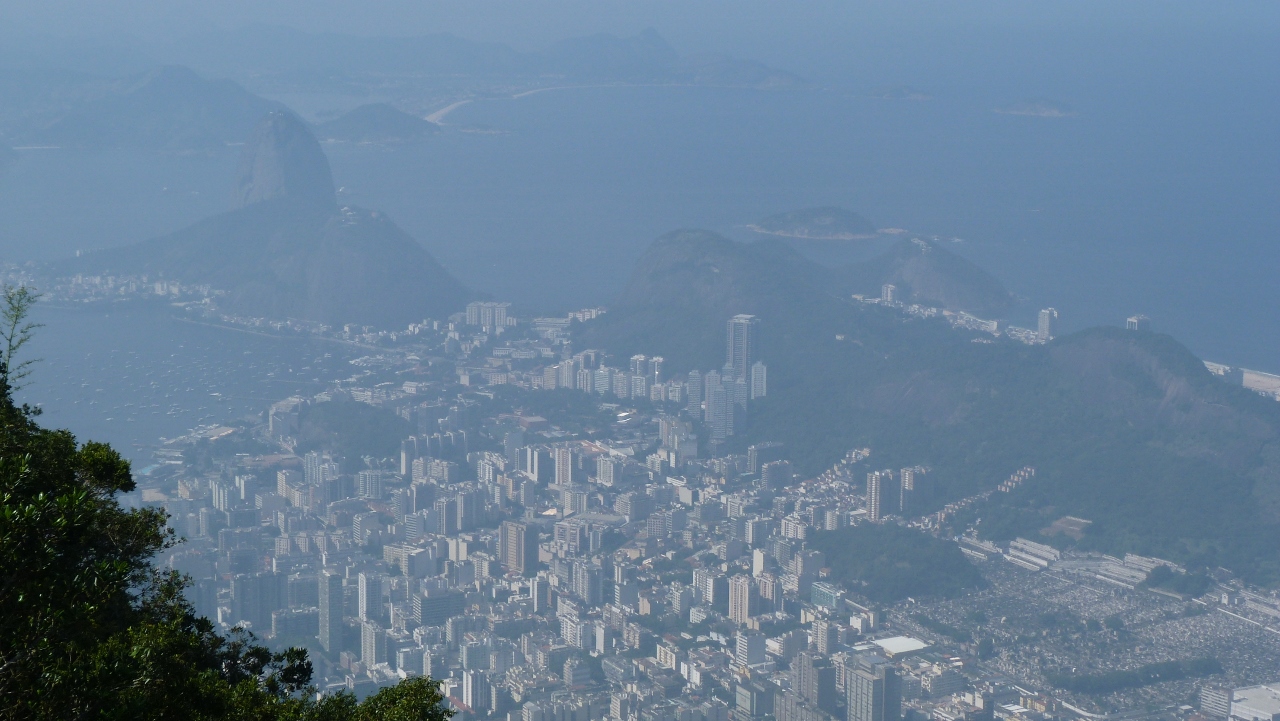 Rio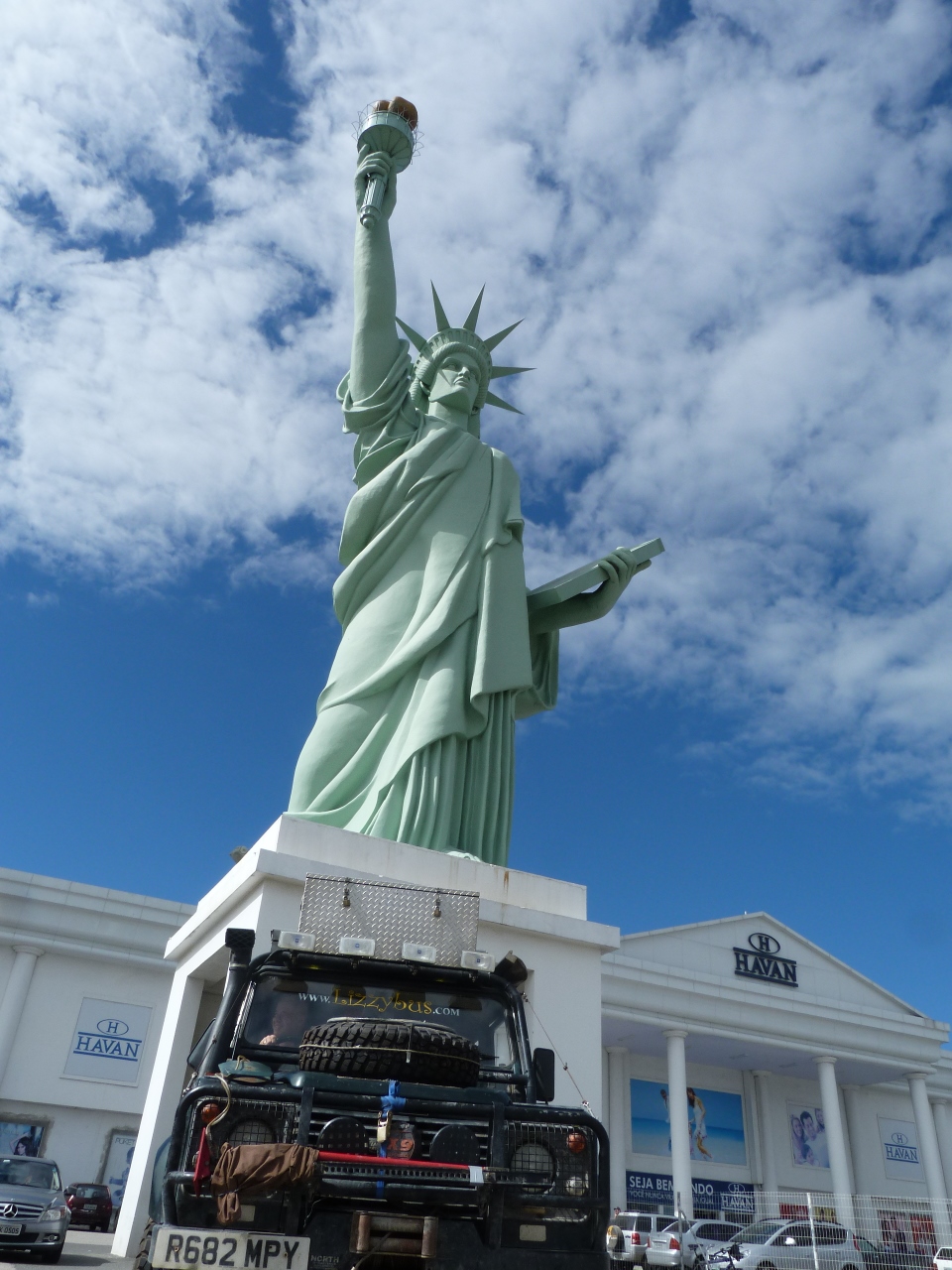 New York now off the list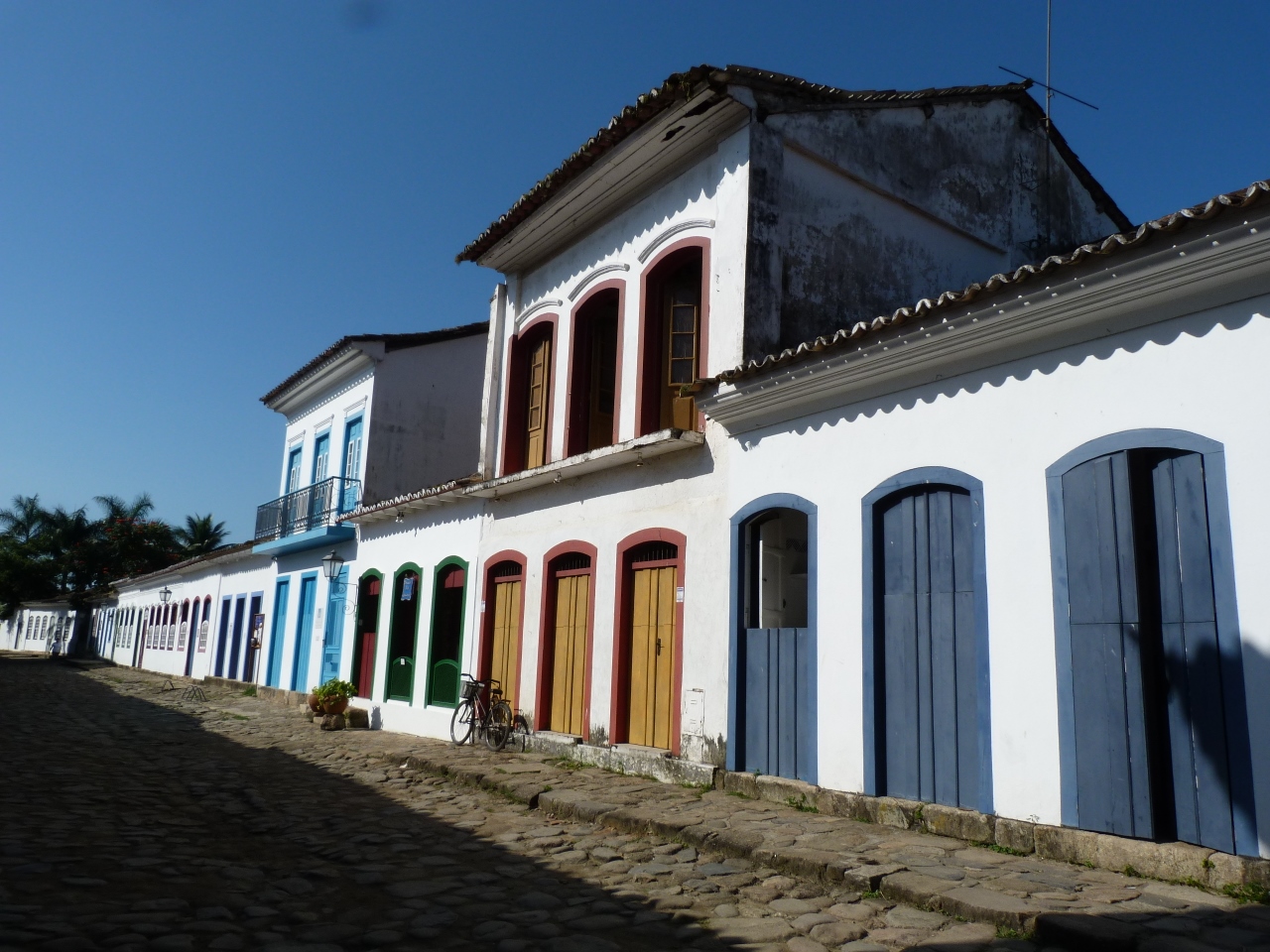 Parity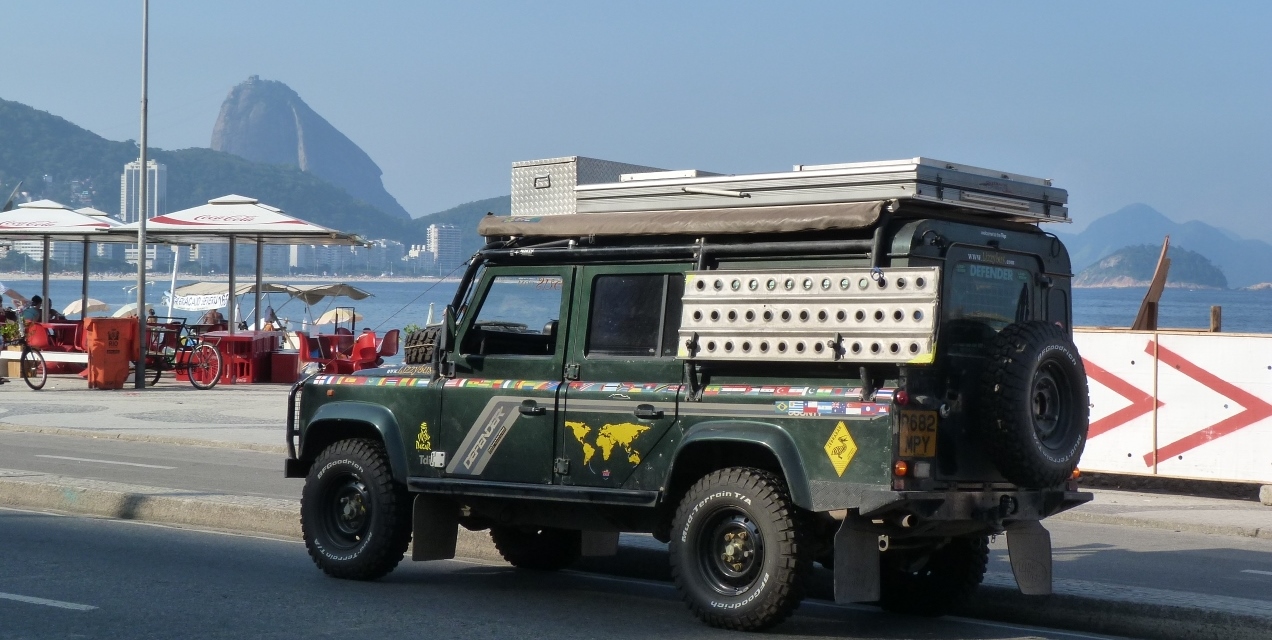 Copacabana Beach !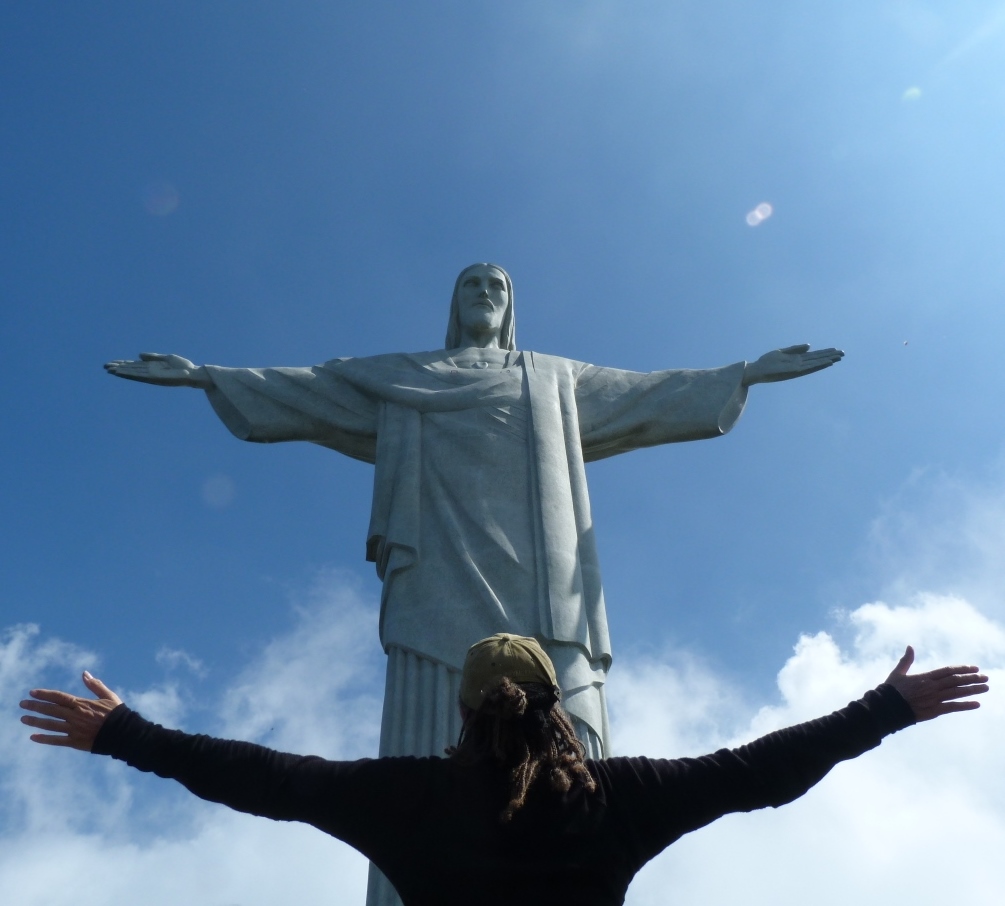 Christ the Redeemer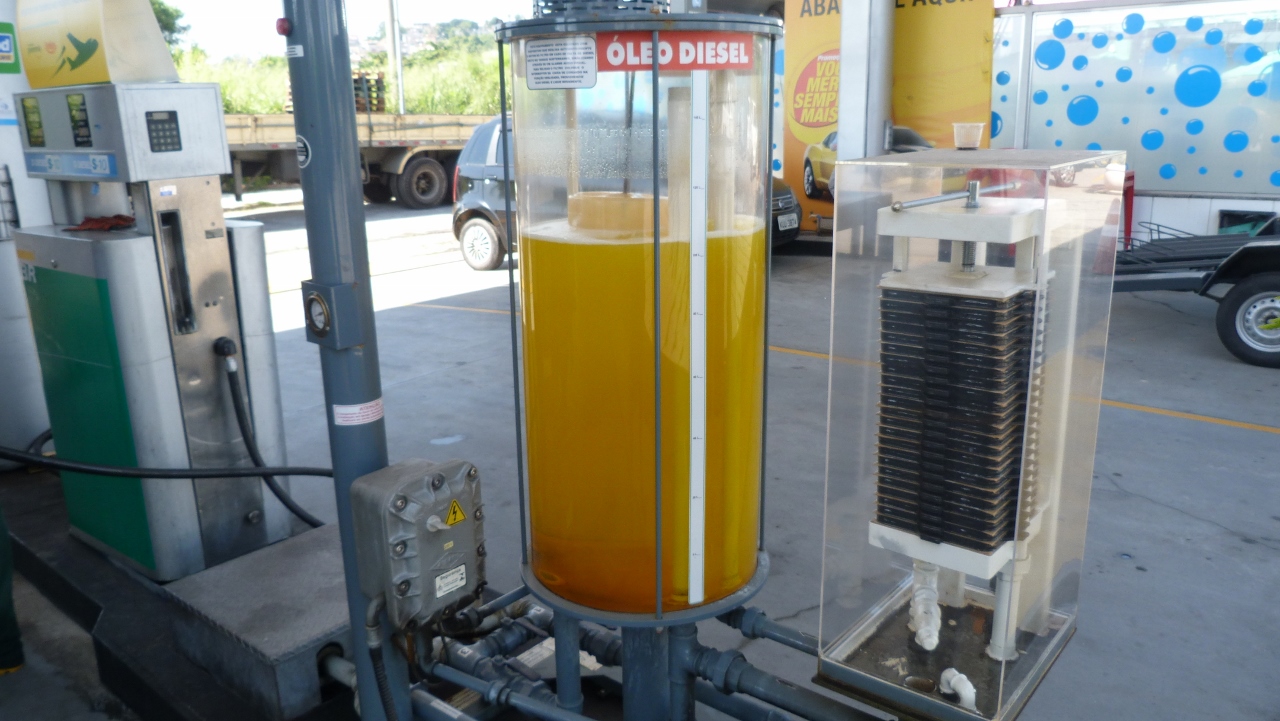 Perhaps the Lizzybus can be converted to run on Orange Juice

Top Cars , Top people !



So , their you have it .We have camped up for the last two days with hospitality of Top Cars in Florianopolis . We feel sorry for the poor electrician who has been tasked to sort our problem .We where put to the head of the queue and out came the dash .They are more used to nice , easy living Range Rovers ( a direction Land Rover have taken ) , so no dirty , oily , smelly hard working defenders here .

Well the problem is the wiring loom has chafed through on top of the gearbox .Various cables had become "live" and potentially a "game over" fire could have occurred .Its slow progress , everyone comes in and has a gander at the old girl , amazed at our stories .

Sitting in the swank showroom ,we make a conspicuous pair , some what out of sorts with the owners of new Range Rovers ( and Jaguars , Mini's and BMW bikes) , the cleanliness and sweet smell of civilised living .

Don't worry folks , they have a hot shower for us and copious amounts of fresh ground , Brazilian coffee that is dispensed "espresso" style .

All we can say to the guys and gals here , thanks for the help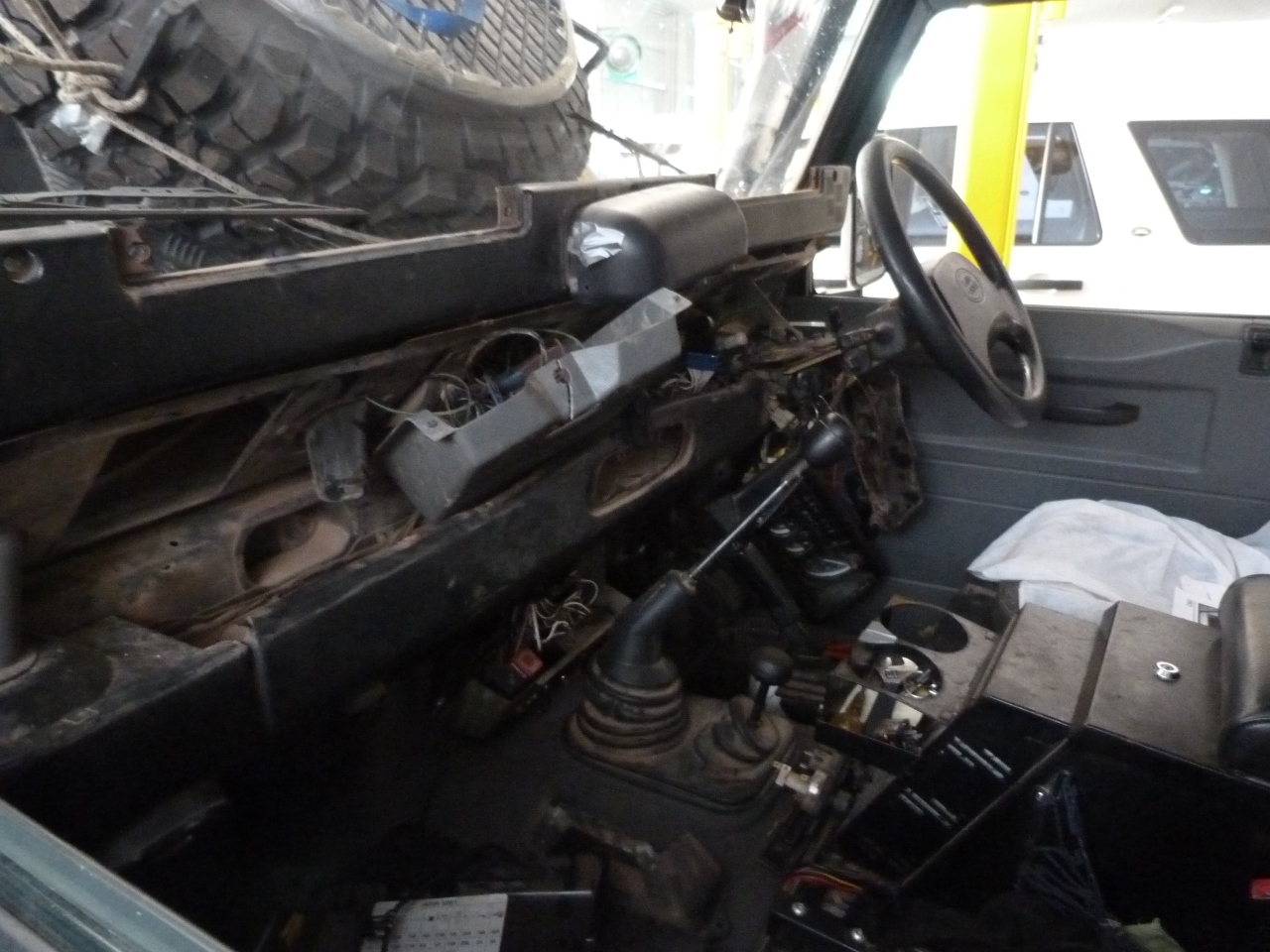 Dash out ,sparky has to put it all back !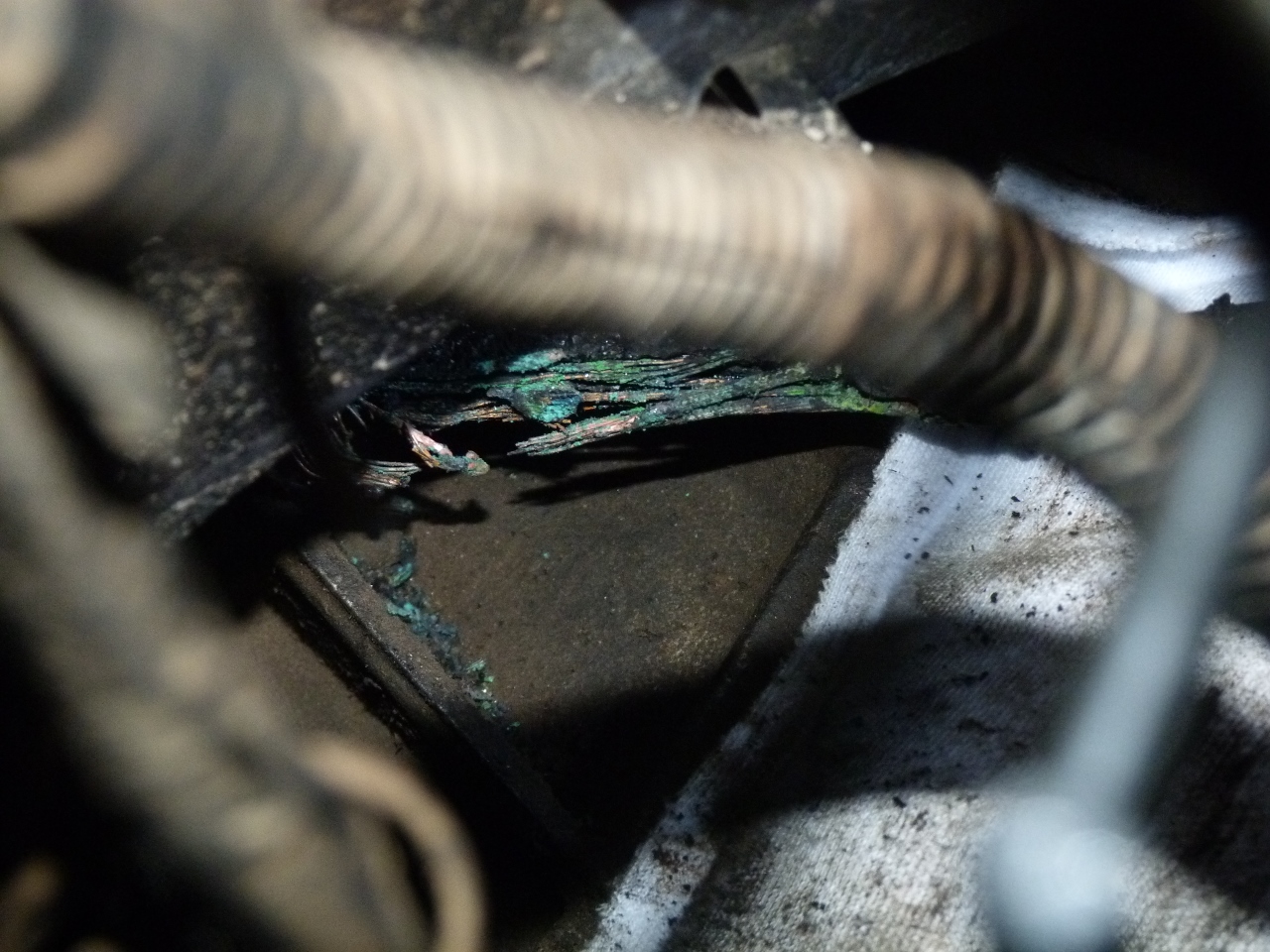 The problem: burnt wires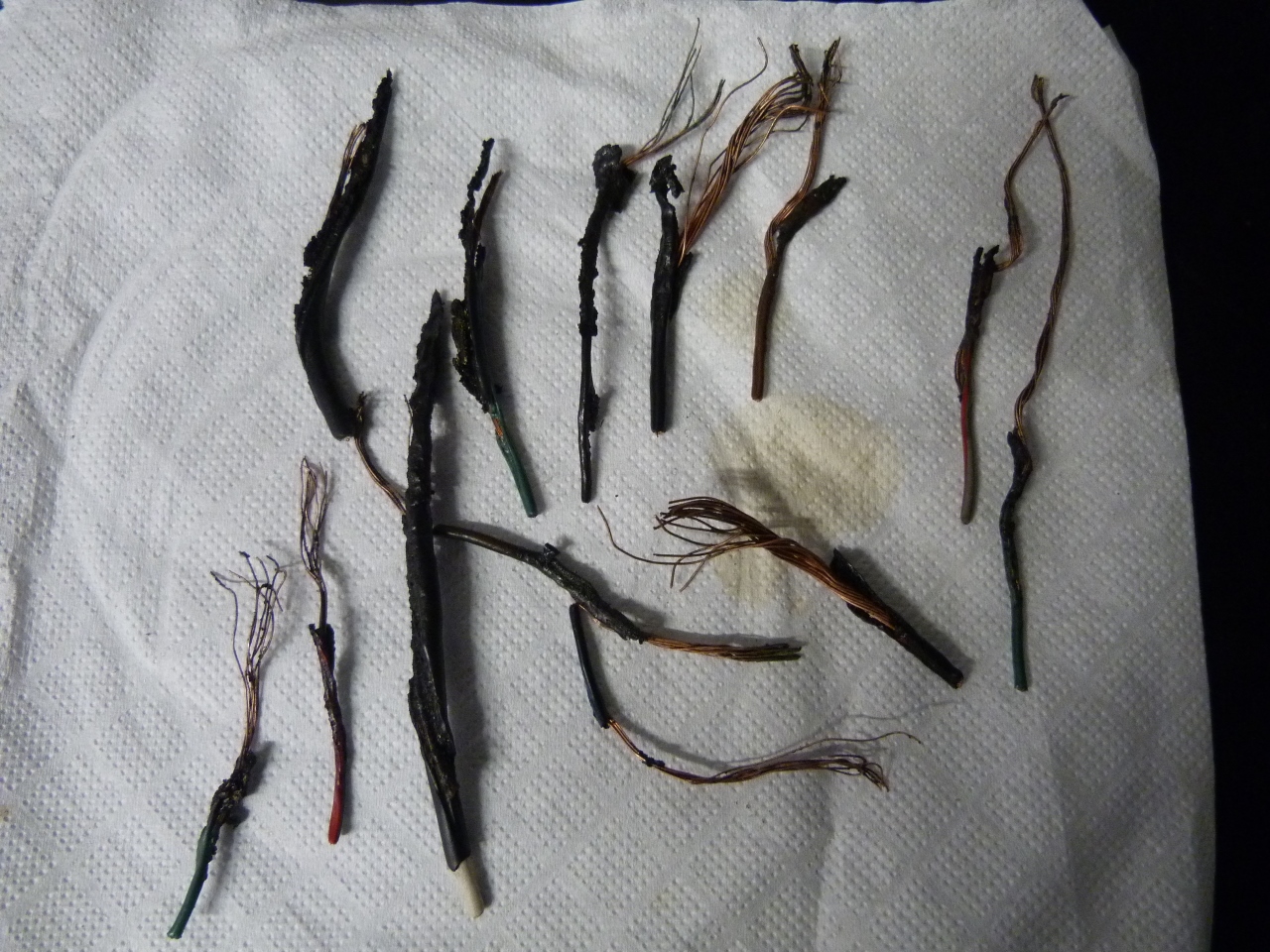 Replaced wires
Lizzybus, why hast thou forsaken us
Things where just going good , too good to be honest .New tyres are great .Crossed into Brazil , no problemo ! Brazil is awesome , everyone is so friendly , all waving , honking horns , wanting to have pictures of and with us and the Lizzybus .
So , camped up in a petrol station when we notice two lights illuminated on the dash .Not a problem you would think but the keys are out of the ignition so she is turned off. Checking , we fire her up and she wont turn off .Only way to stop her is to either stall or unplug the fuel cut off switch .My diagnosis is a faulty starter switch , Land rover garage say it's a short in the electrics .We are currently on day two , camped in the yard of Top Cars Land rover dealership , Florianopolis .The dash is out and they cant find the fault .Not looking good .They have been incredibly hospitable but god knows what the bill will be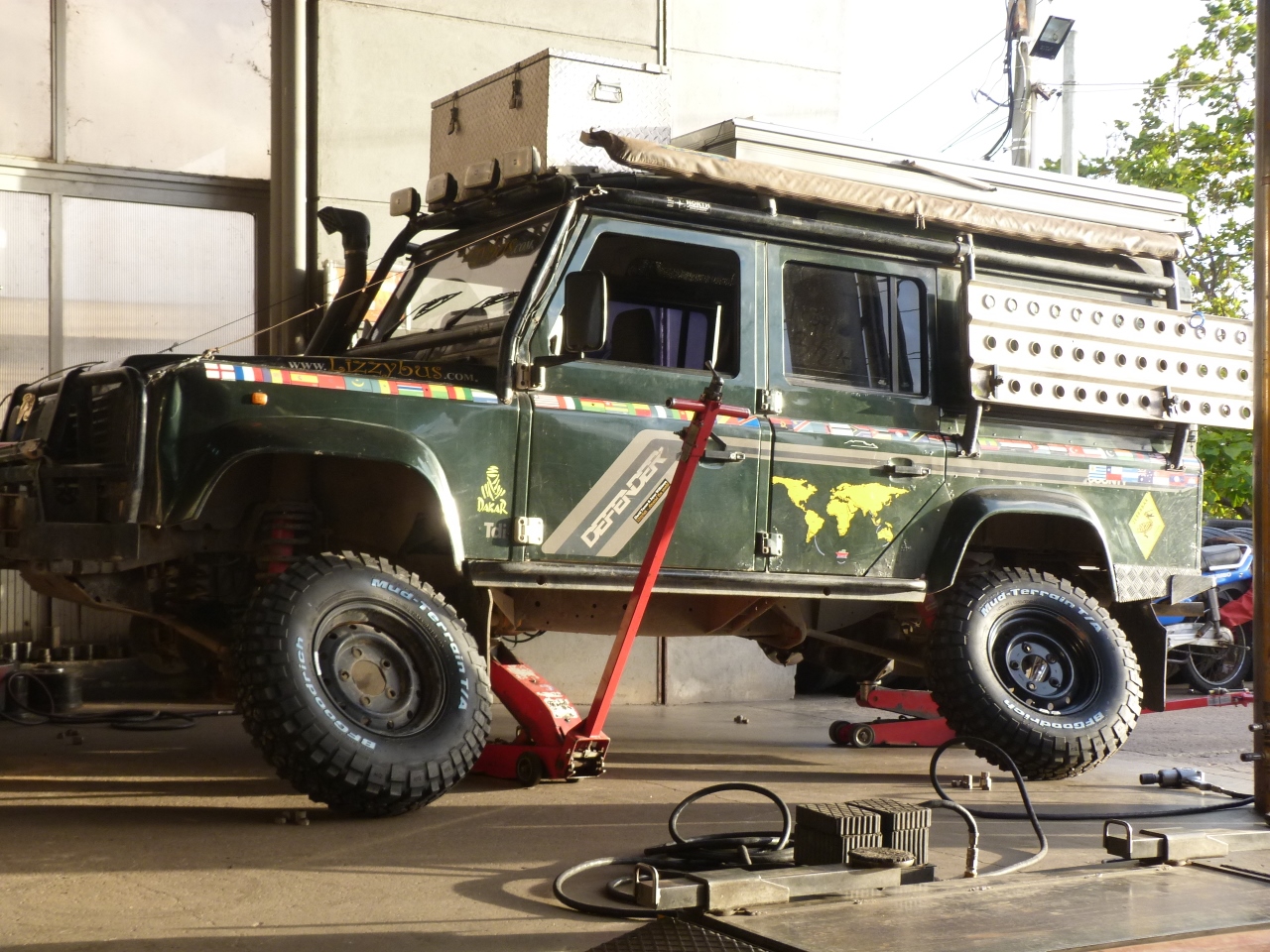 New tyres....again and again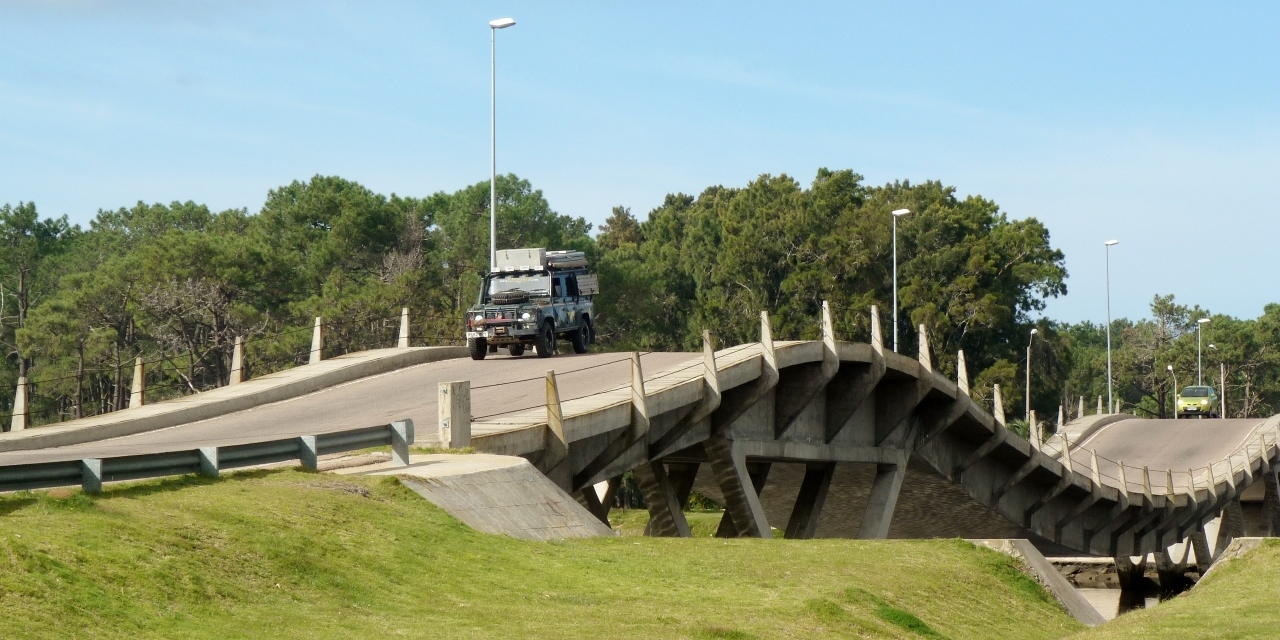 Wavy Bridge.....Uruguay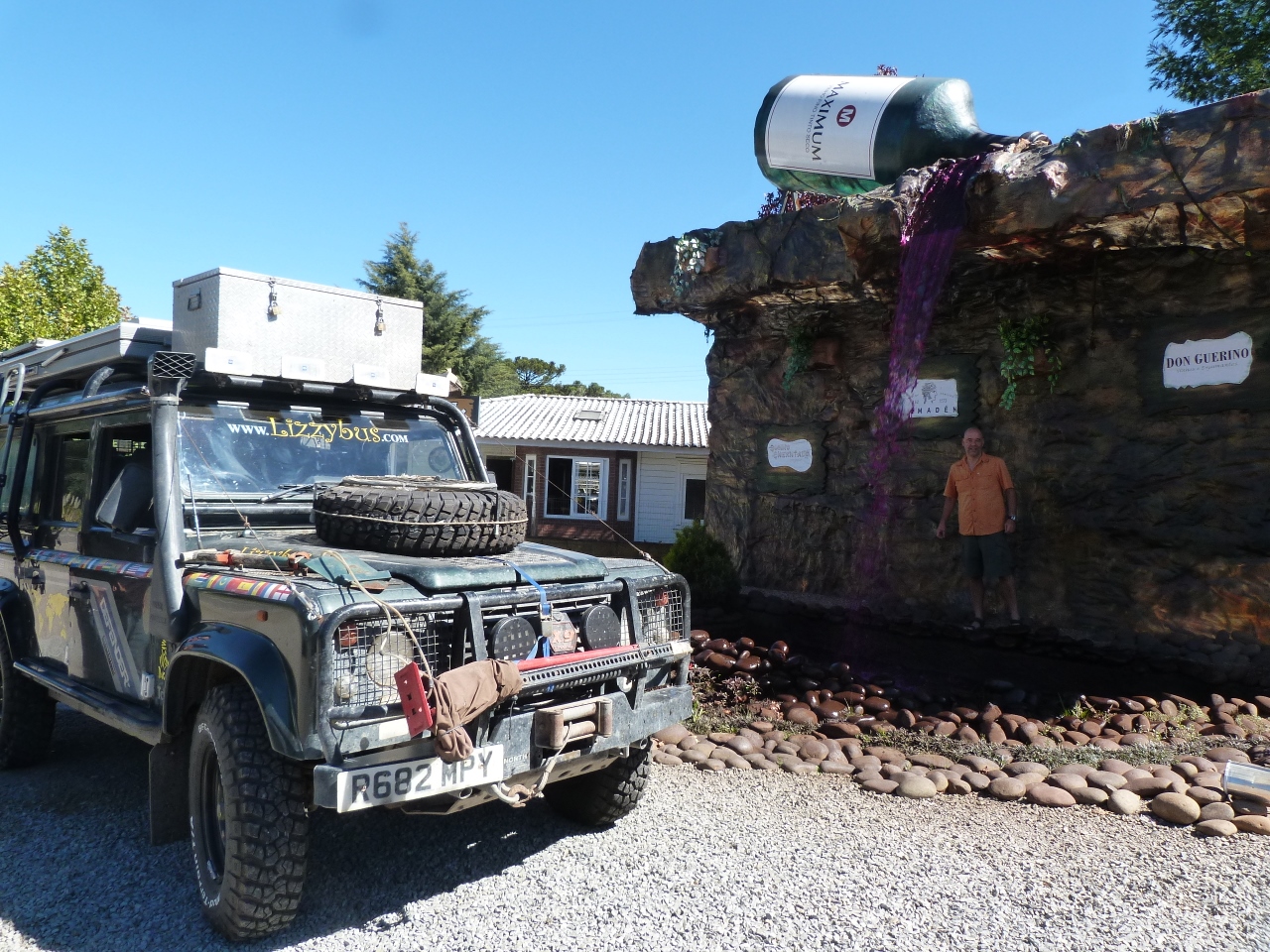 Why I love Brazil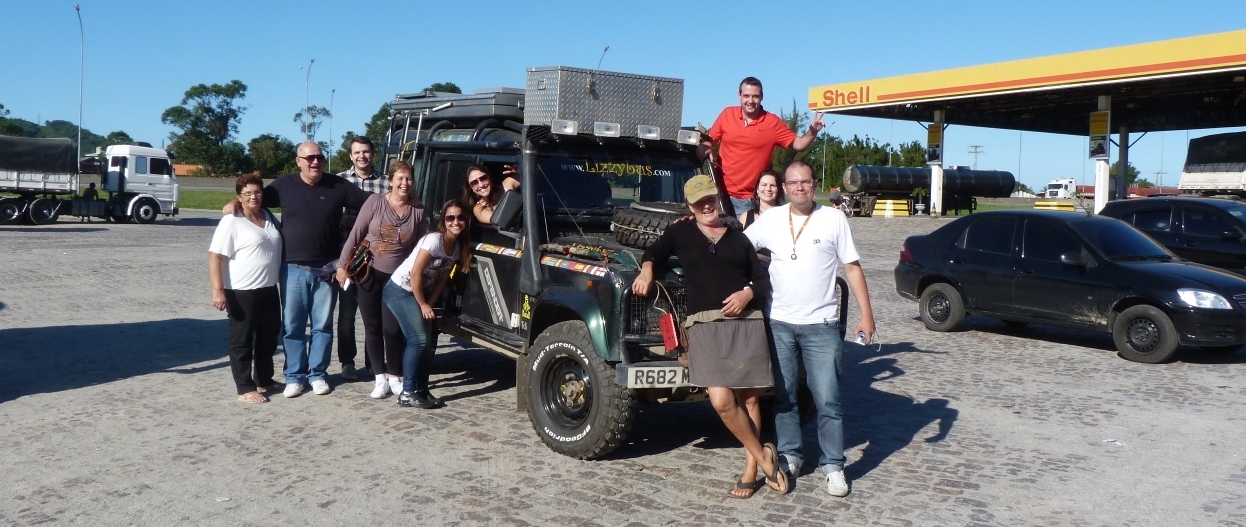 Everybody wants a piece of the lizzybus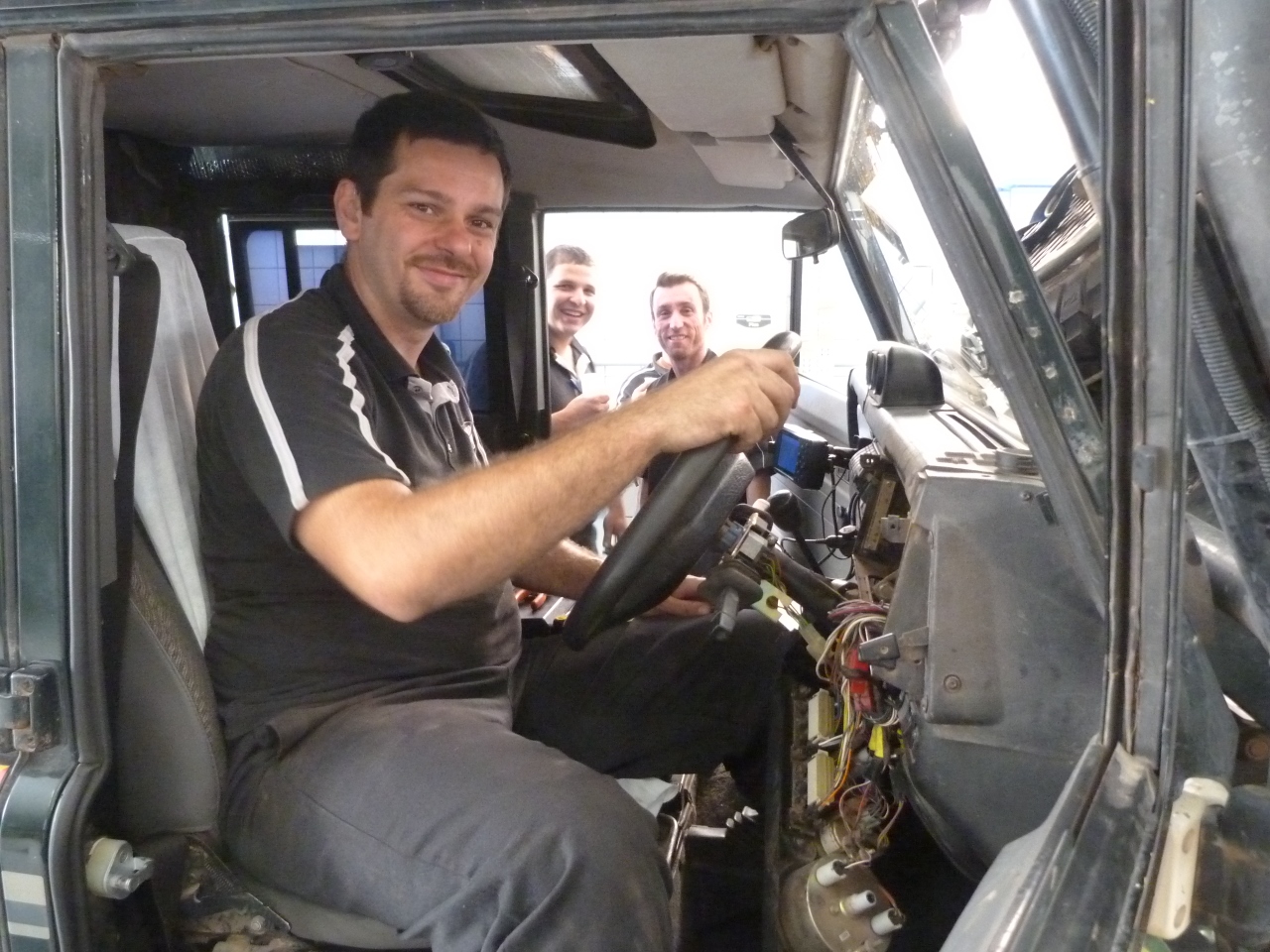 He drew the short straw !
One step forward ,two steps back !
Having crossed into Uruguay , Jayne surviving her anaphylactic shock time to press on to Montevideo and pick up the credit cards . Sent via DHL they took two days to arrive .A must visit was Fray Bentos but due to time considerations we didn't visit the Meat Packing Factory .Bush camping as normal , including driving inside an abandoned church to stay we press on .
It sort of went "Bang" when the rear tyre exploded .Side of road again changing the tyres .Cards recovered & found to be working we locate a tyre centre who announce that the only spare tyre we have ( punctured in Oz) cannot be fixed and two of our tyres have bulges .Ok , only £1600 to replace all 6 , B*****cks .Back to BF Goodrich and a skinnier tyre (if they can get them)
So camped up at an out of season campsite ( but not out of season prices ) we await with baited breath for the results of the Great Tyre Hunt.
It's a nice part of the world here , if a little expensive .Camped by the coast only a 100 miles from the border with Brazil .We await to see what will happen . Could be worse .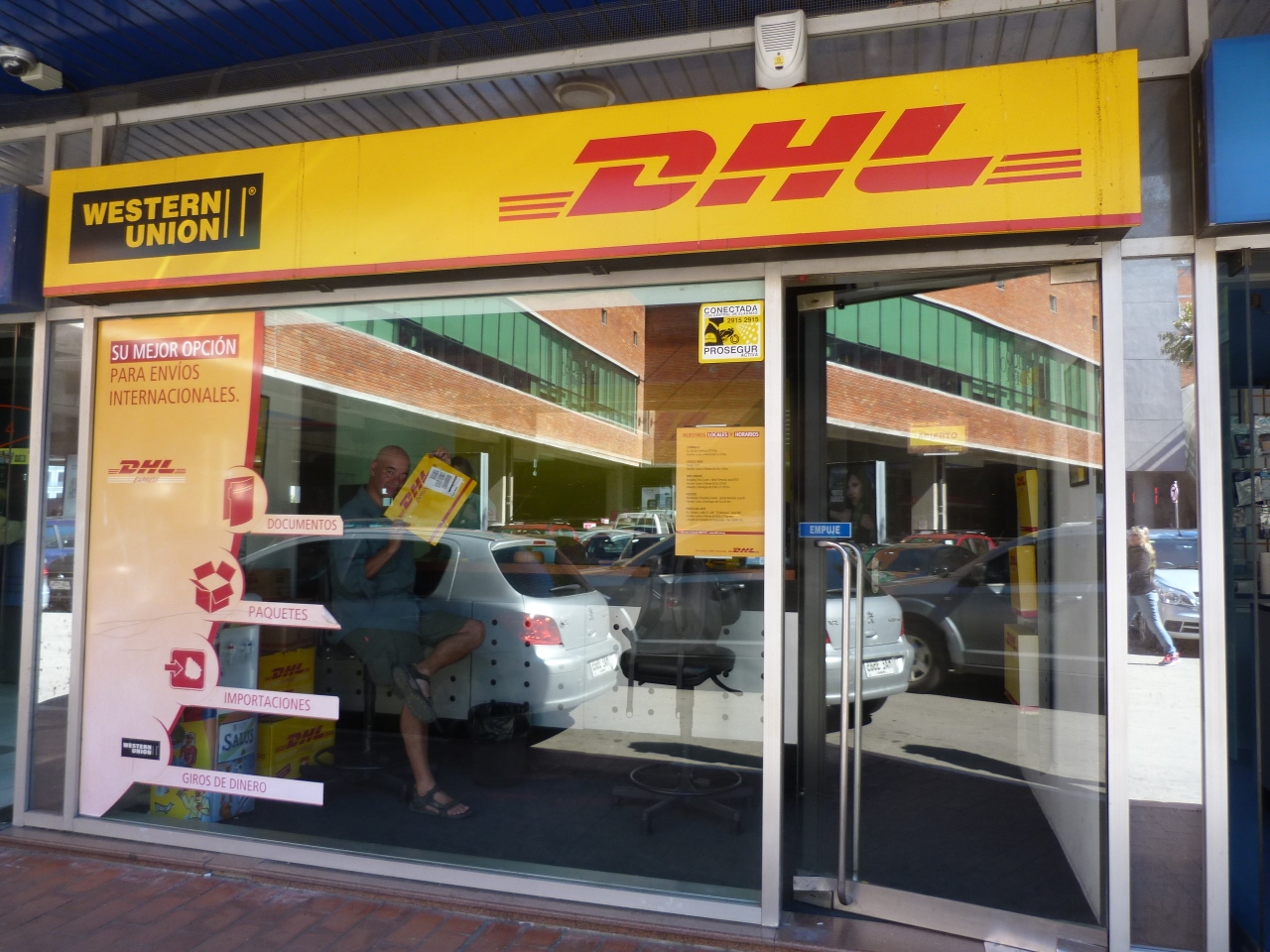 Credit Cards at last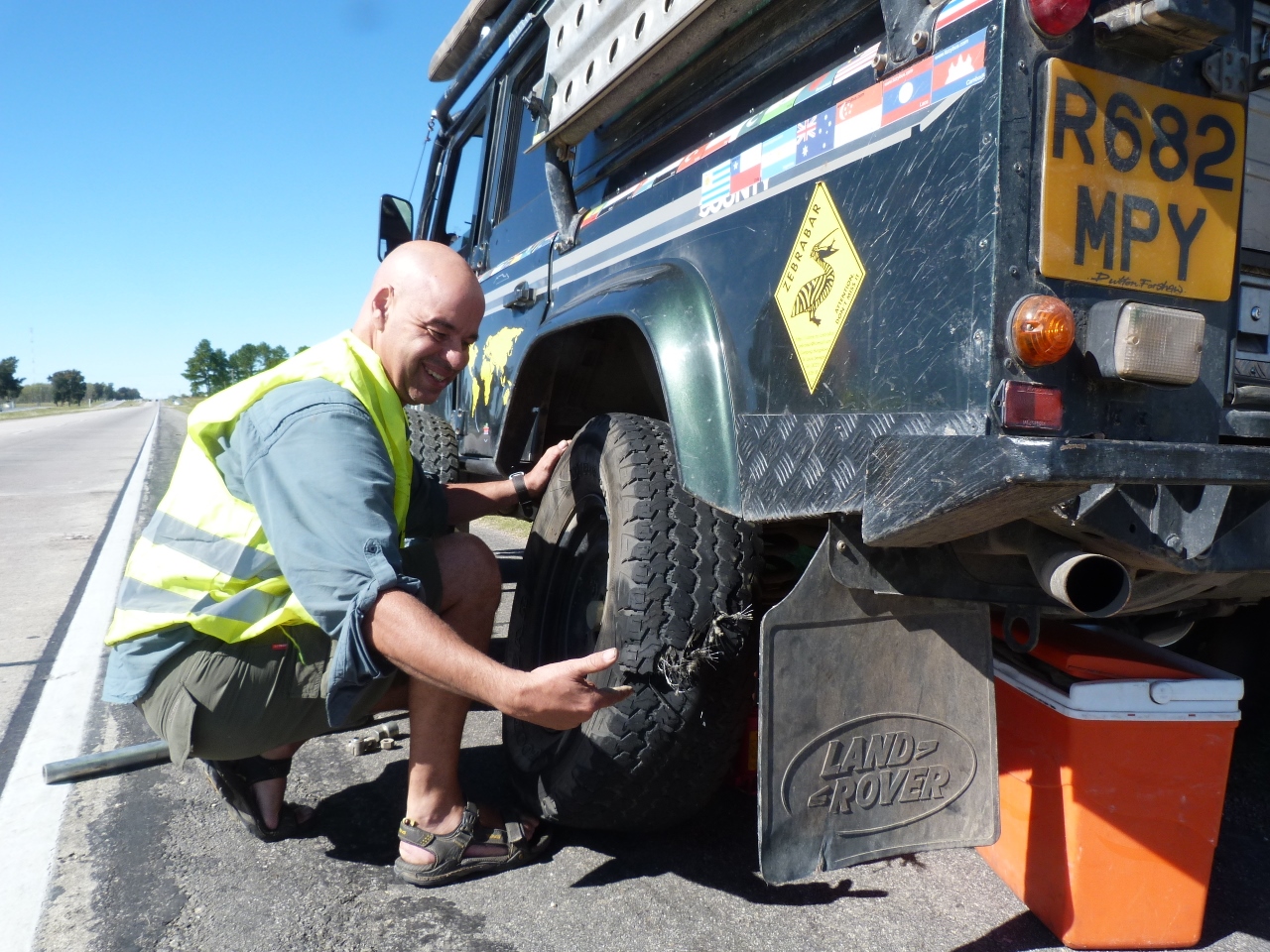 Deja vue ( for the eighth time )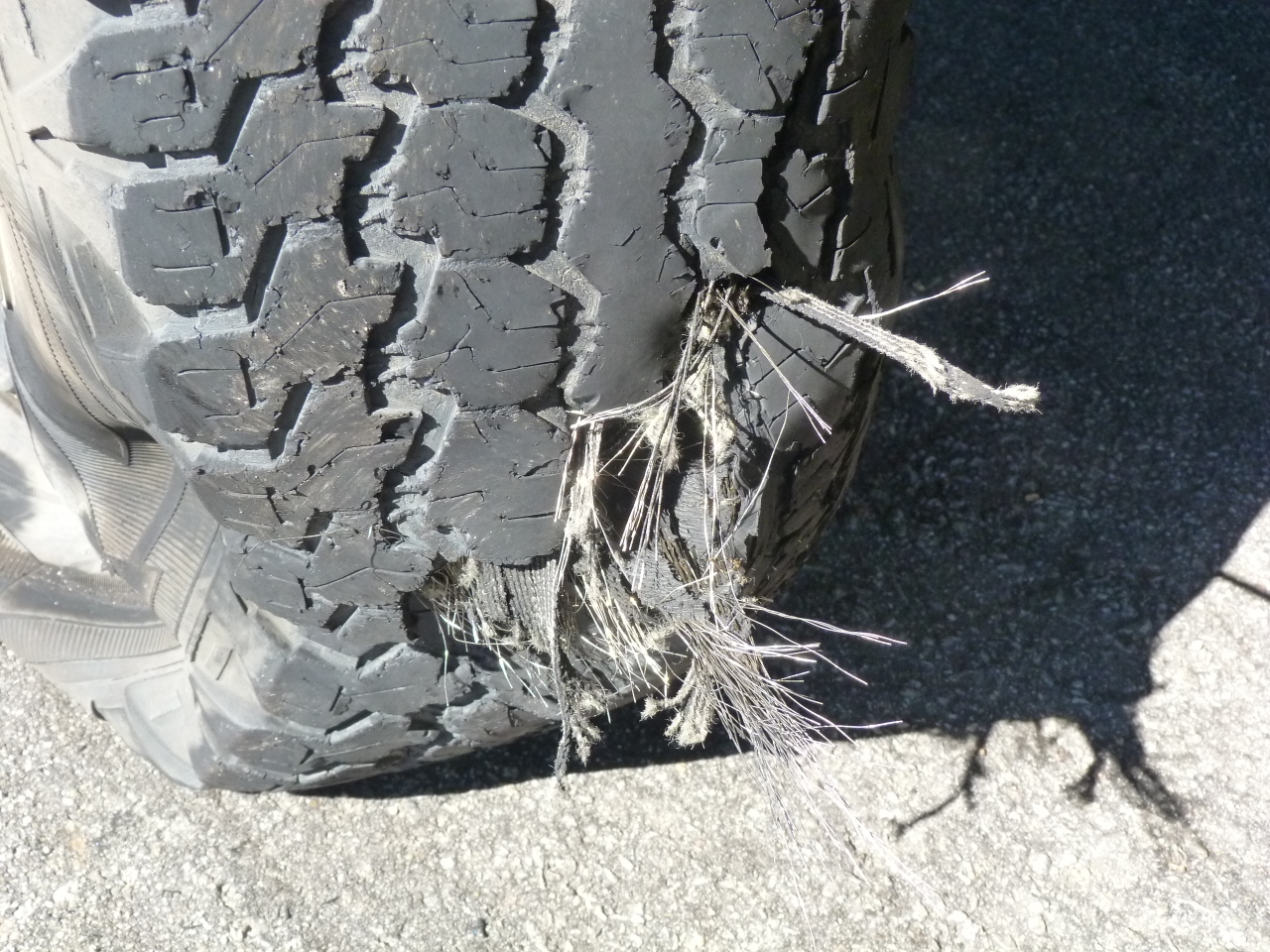 Donald Ducked , dont think I can string these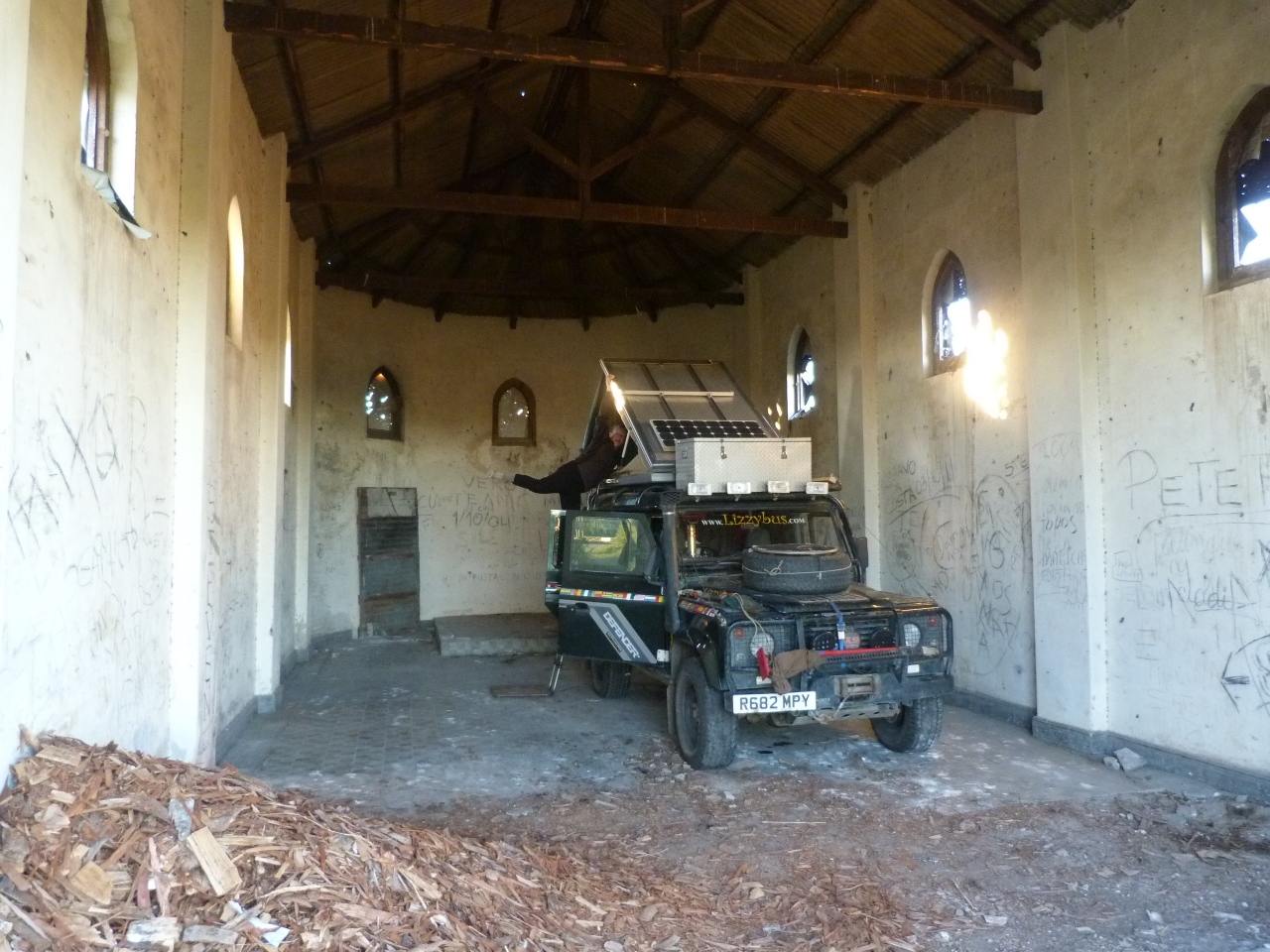 Church Camping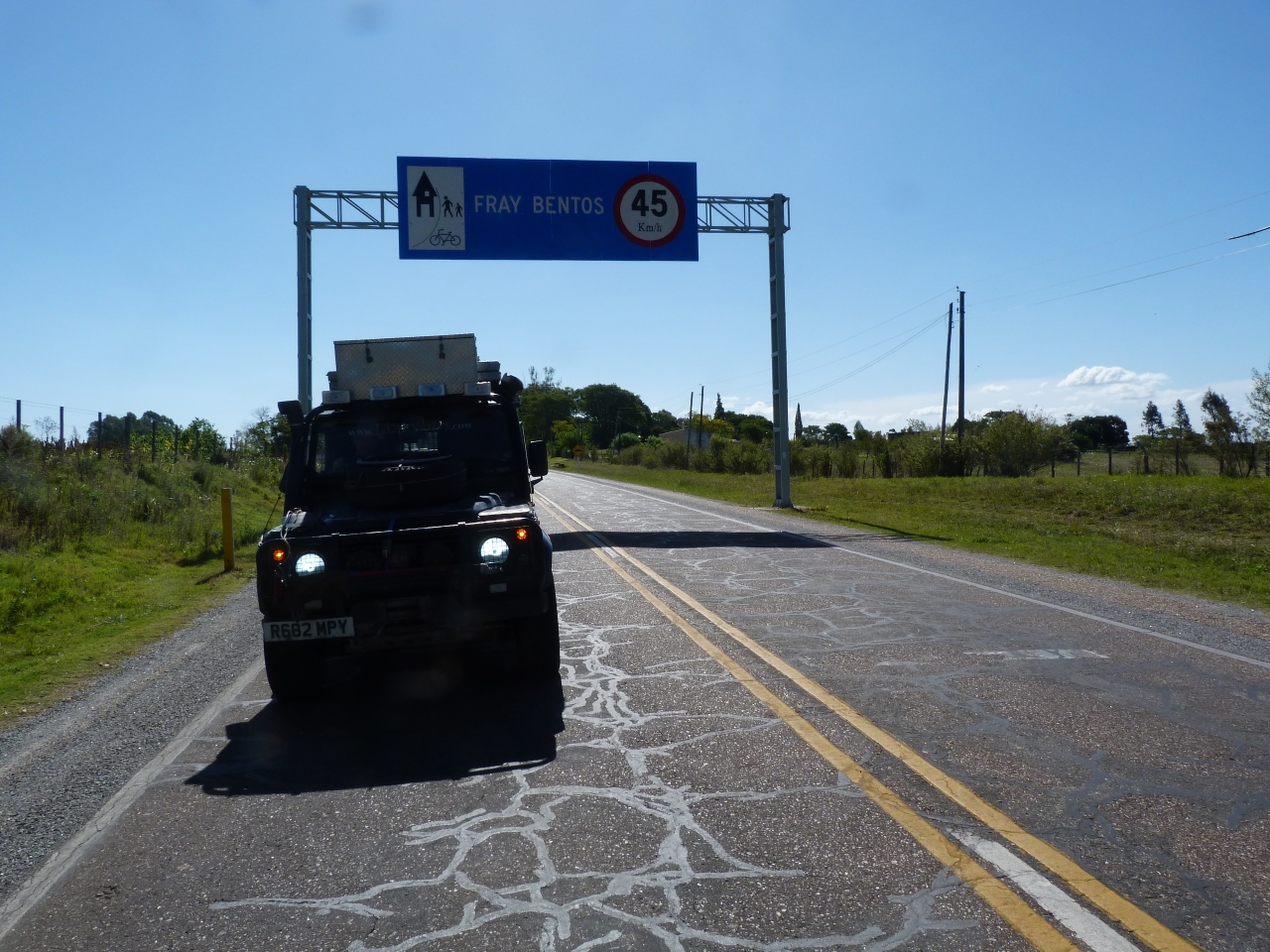 No Steak and Kidney pies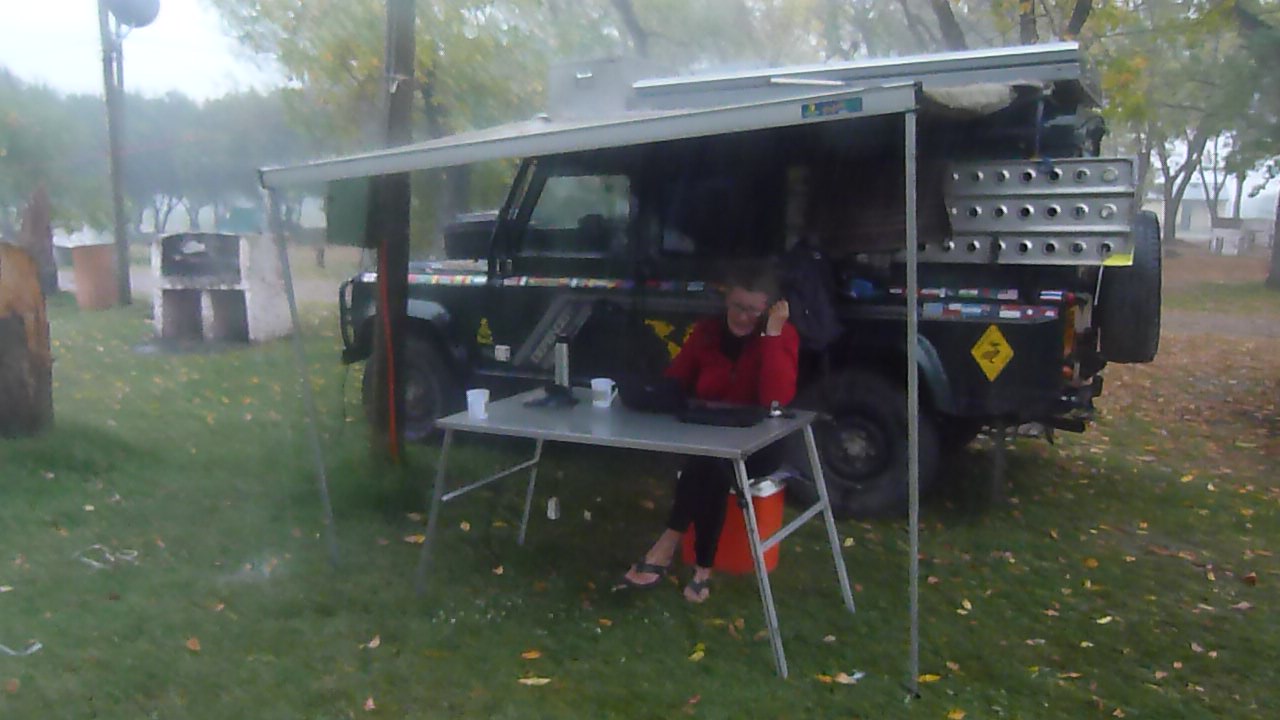 Bank Holiday weather
Reflections?
Well Lizzybus fans , despite what you may think about this momentous adventure , the borders , breakdowns and all the excitement we have been having all these years sometimes we have a chance to reflect .
Walking across the grass from our pitch to the thermal showers .It's a hot , clear blue skied day . Music , typically South American plays in the background .Families have pitched tent , Parillias on the go .The smell of cooking hangs heavy in the air. My walkman playing Pink Floyd . . How can this be so good , yet be so far away ? Just spent the day cleaning the truck out and tinkering with the old girl .Sleeping bags airing on the line , washing drying next to them .Despite everything I wouldn't swap this for anything .We are just so bloody lucky , life doesn't get any better . I have fully fallen for South America , sorry Australia you have been usurped . Still cant believe we have made it this far !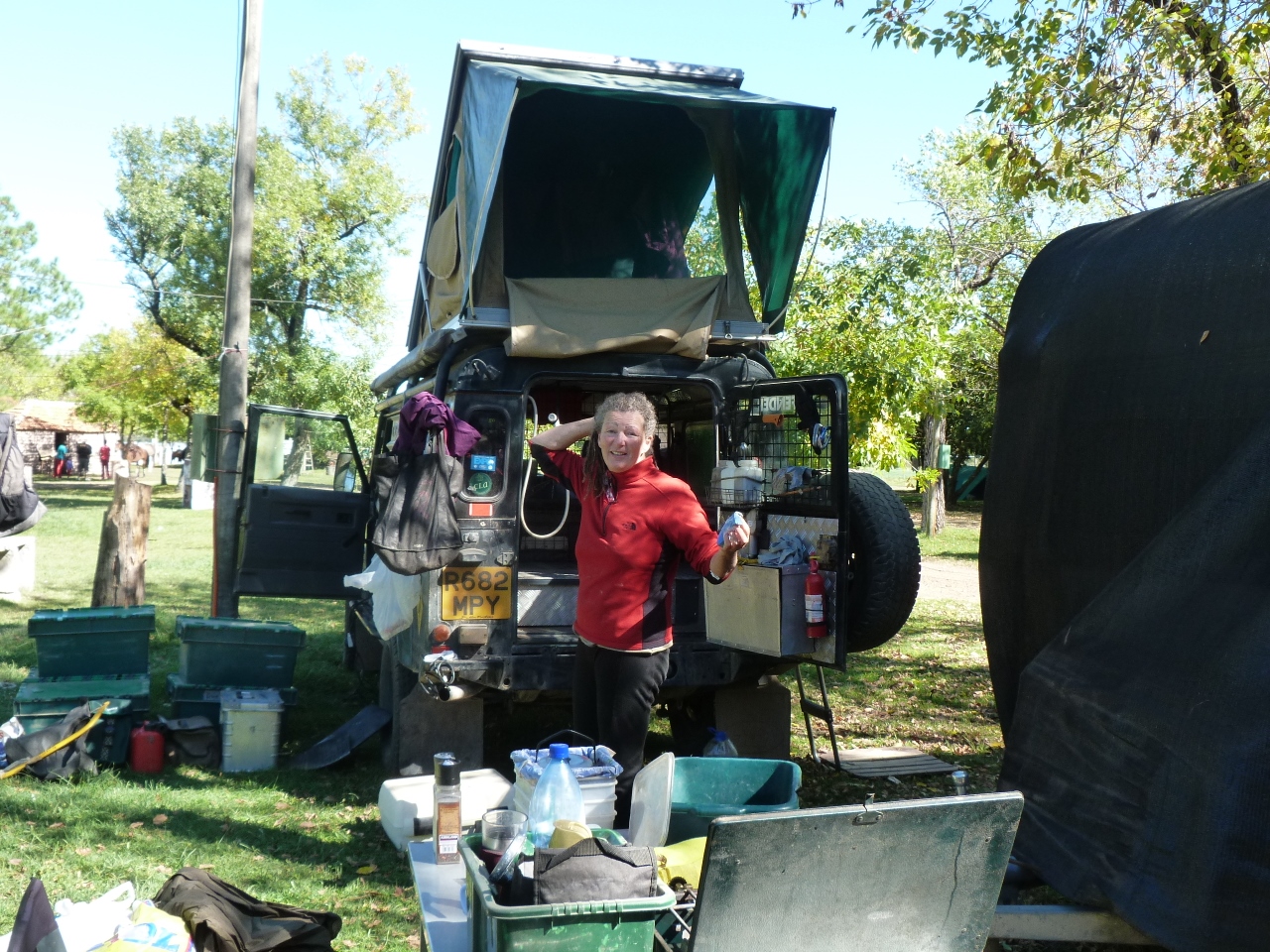 Clean out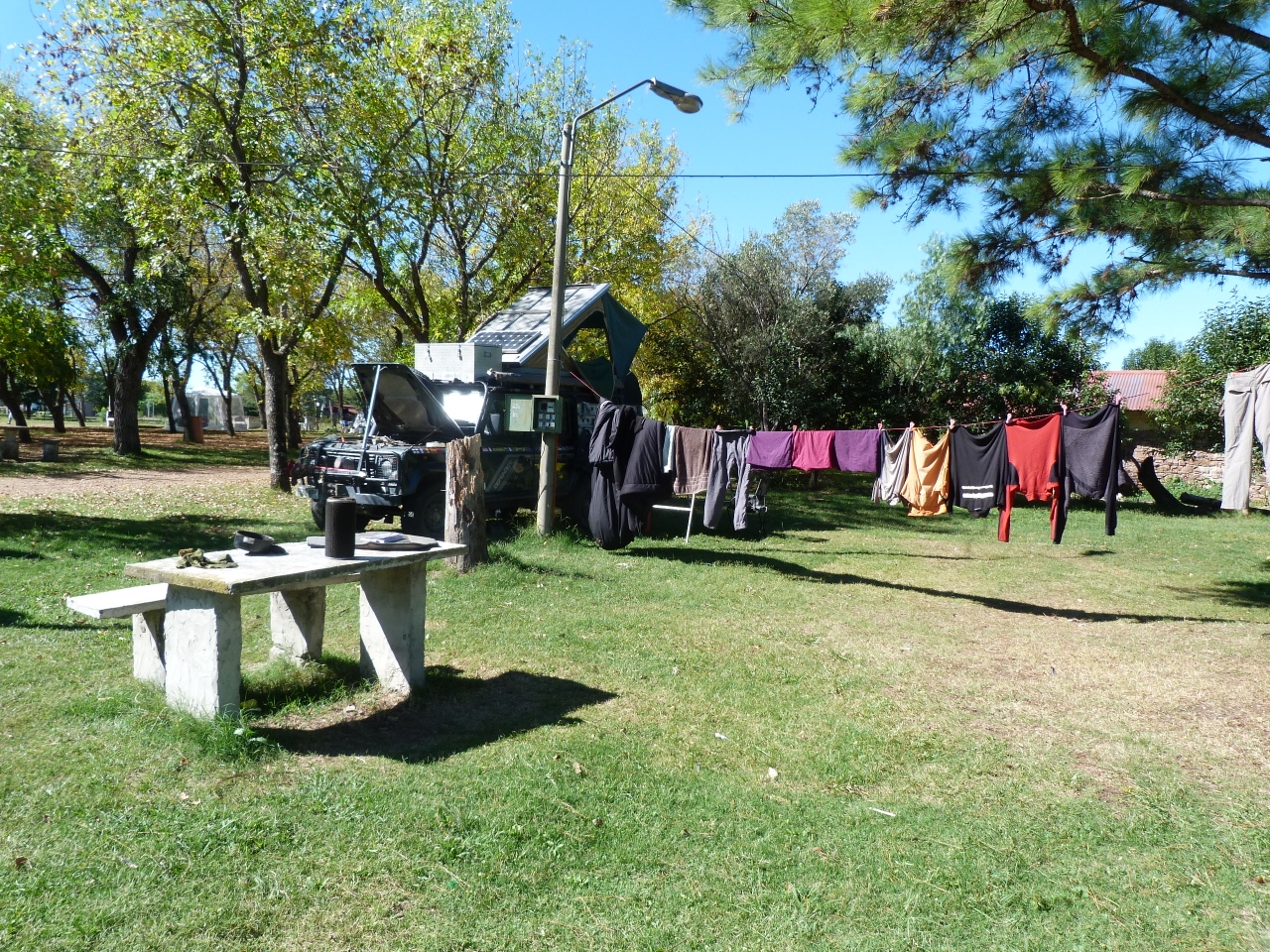 Washing time
Who the f*** is Annie?
We chose , as much as we can the coastal roads as we headed North to find a crossing into Argentina .The last one was full on Tar and went to the dizzy height of 1500m .Well we are the Lizzybus and despite everything we thrive on the challenge ( and regret the breakdowns).
We will , according to our German friend Klaus enjoy the pass at Aqua Negra . Copec Camping at most opportunities we head inland and onto the dirt road of the pass .Customs and Immigration dealt with we are informed that the Argentinean formalities are done 90 km away .Welcome to a stunning drive to 4770 m . At the pass obligatory pictures are taken , we get more invites around South America and the starter decides not to work .Tie this up with the vast amount of Black Smoke out of the exhaust (effect of altitude and fixed rate diesel injection) and a worrying first , blue smoke .Blue means that oil is getting in somewhere .No sign of head gasket blowing ( oil in the water and vice a versa) and due to the effects of high altitude we quickly wend our way down from the pass . Argentinean formalities completed ( confiscated our chicken! )we are free to continue our route East to Uruguay .
Taking roads less travelled again we are rewarded by some stunning scenery and visits to Ischigualasto NP and "Valley of the Moon" .It is here that we realise that , being Easter with a few extra days added for the "Malvinas Day Celebrations " every man and his dog is out visiting .This is , as back home , a Bank Holiday and typical Bank Holiday weather …….its raining . Nothing can dampen the spirits , the Cordoba region and its capital are simply stunning .
We have formulated a plan of action .As the Lizzybus is struggling ( always a feeling that something is about to let go , big time) we will try and make the States by Dec 2014 and have Christmas /New Year with my parents in Phoenix .A quick drive across to Florida and catch two weeks with family in February .This now gives us goals to work to rather than just meandering .
There you have it , eight and a half months to finish South and Central America .Surprisingly , not a long length of time .
And Anna ?
Jayne had a bad reaction to an insect bite . Swelling , massive, painful rash all over her body , throat closing off .She's had it once before ( anaphylactic ) and recognises the symptoms .Believe it or not but it is a very serious condition that nearly killed her last time .So , down to the local clinic for a few injections .Next day , right as rain .Welcome to Uruguay !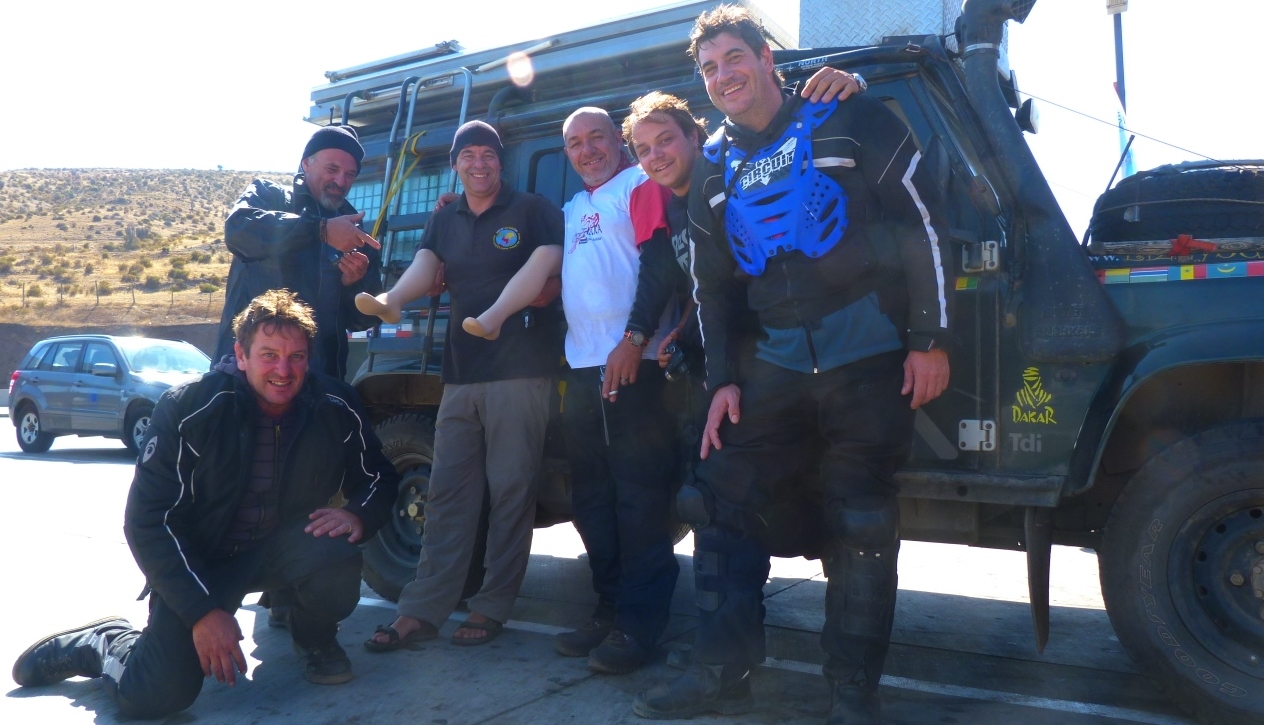 With argentinean Bikers.....Jayne took the photo?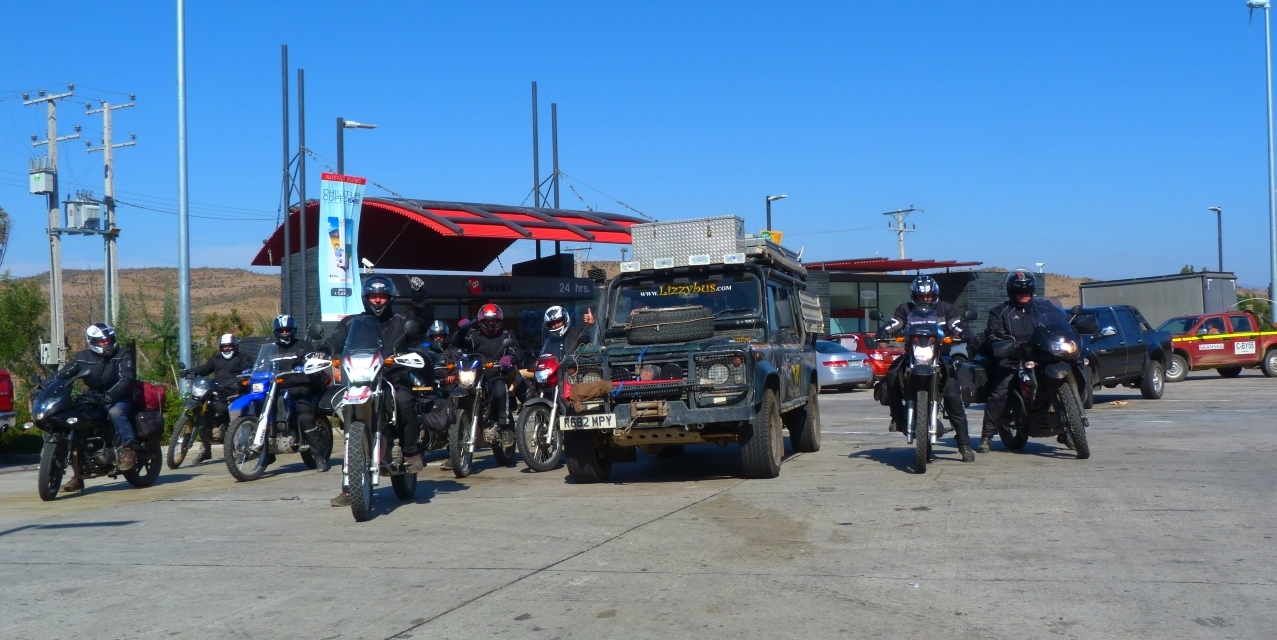 Lizzybus Escort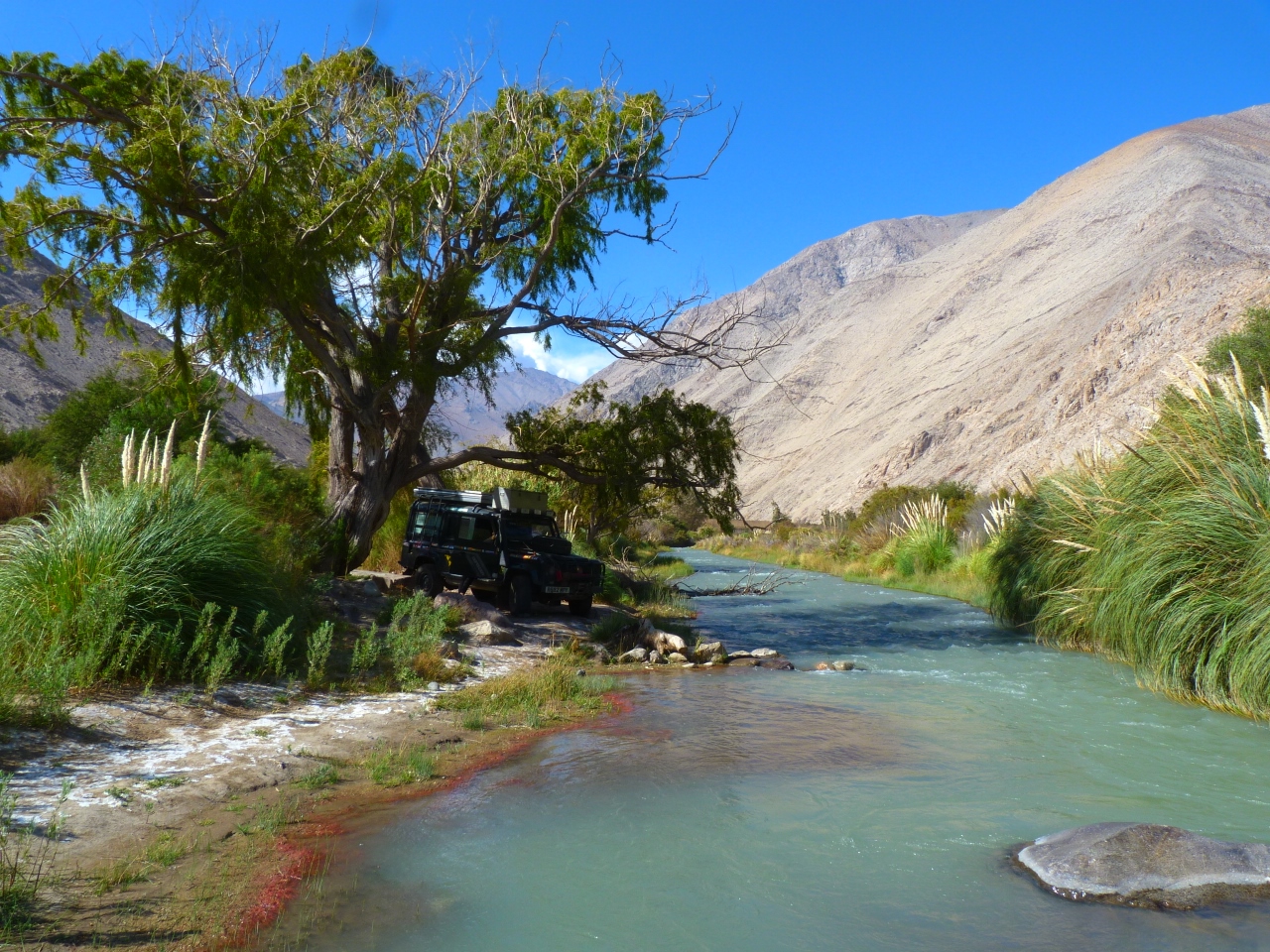 Another tough bush camp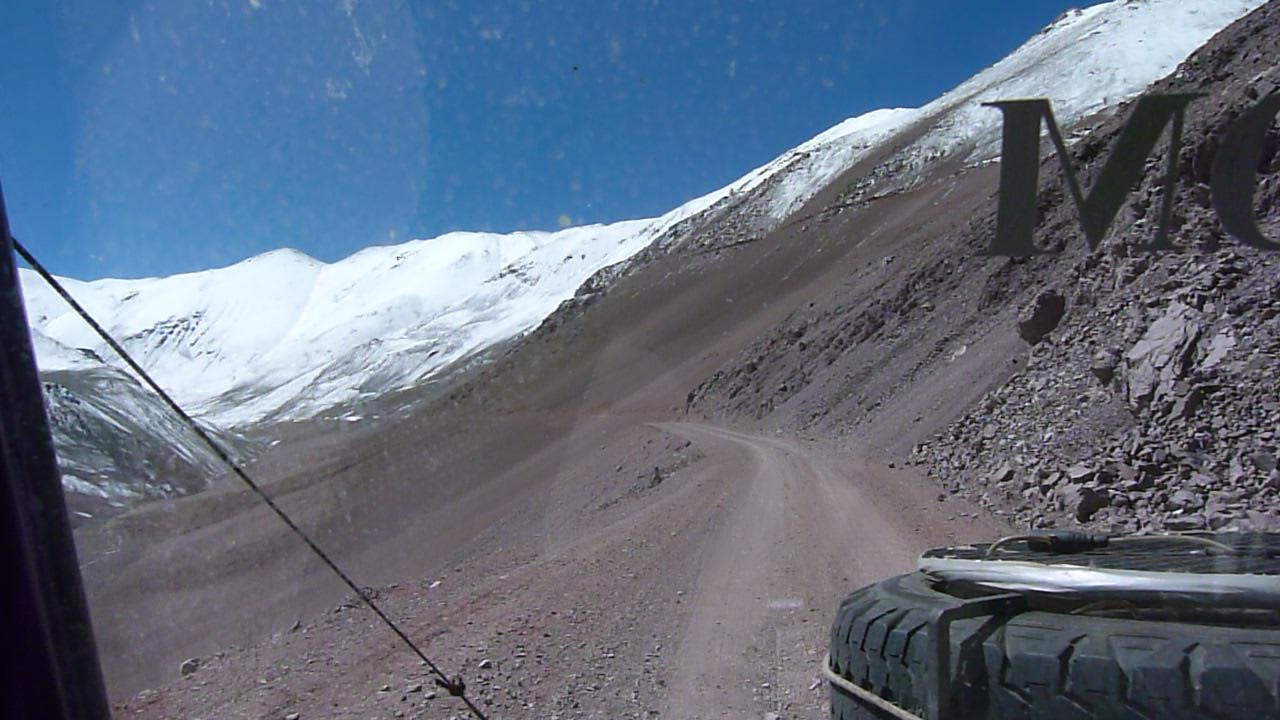 real border crossing ..Chile/Argentina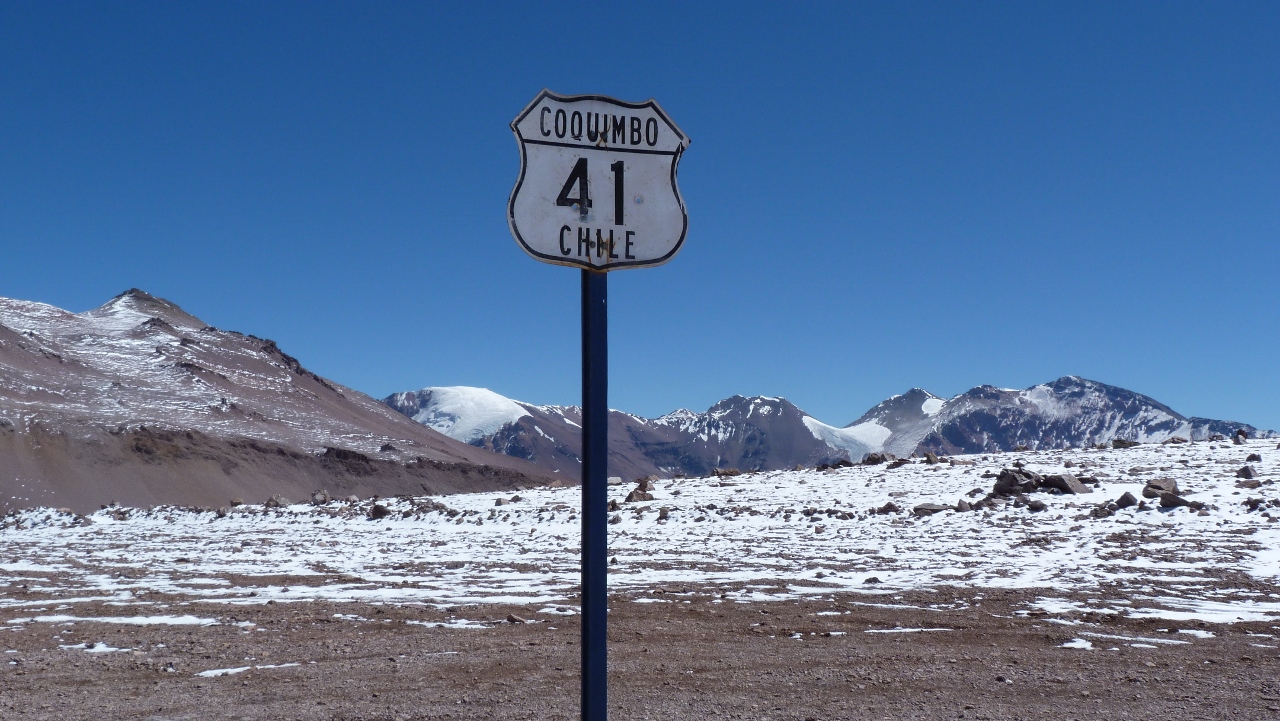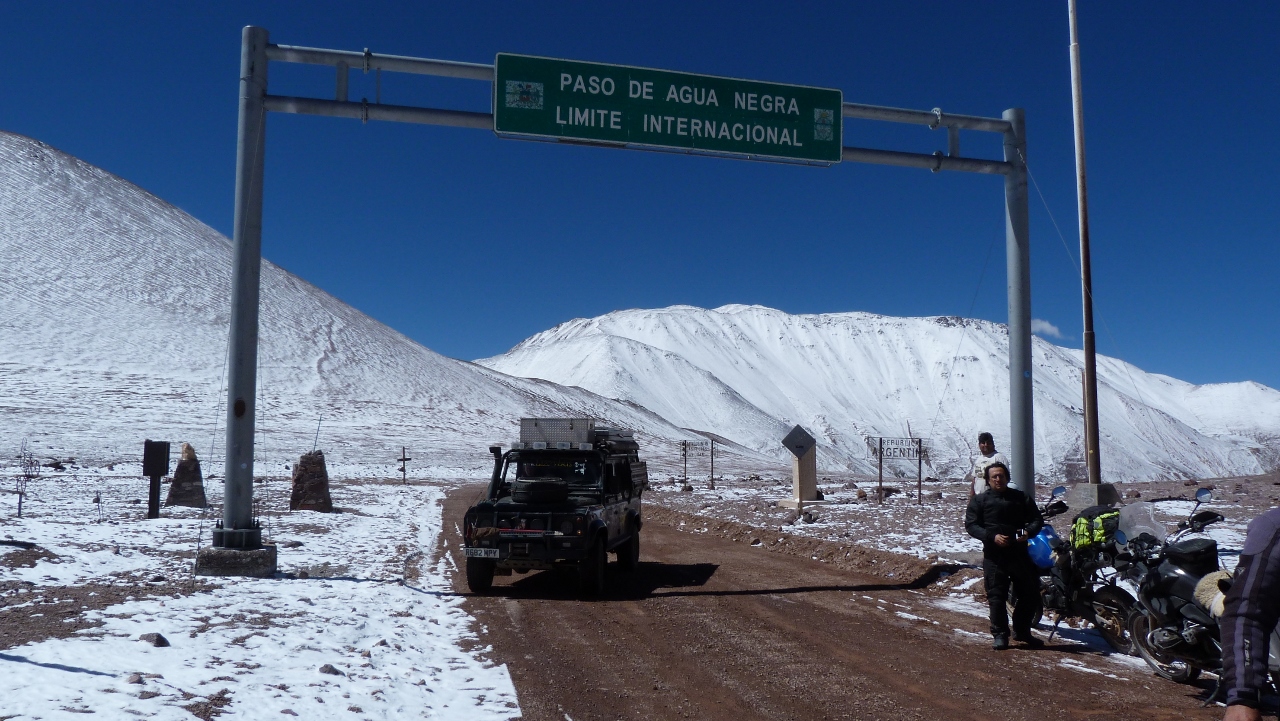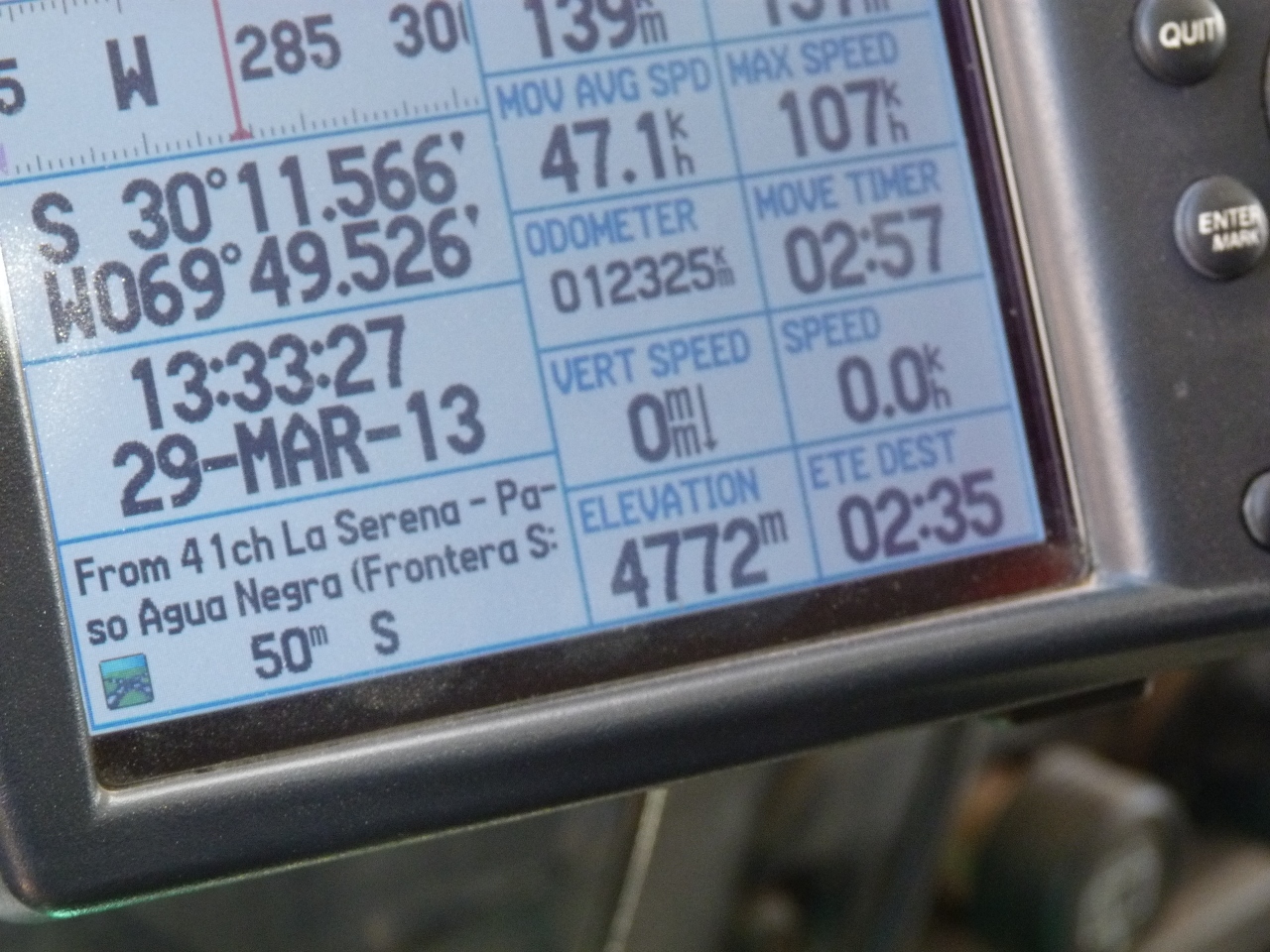 No Air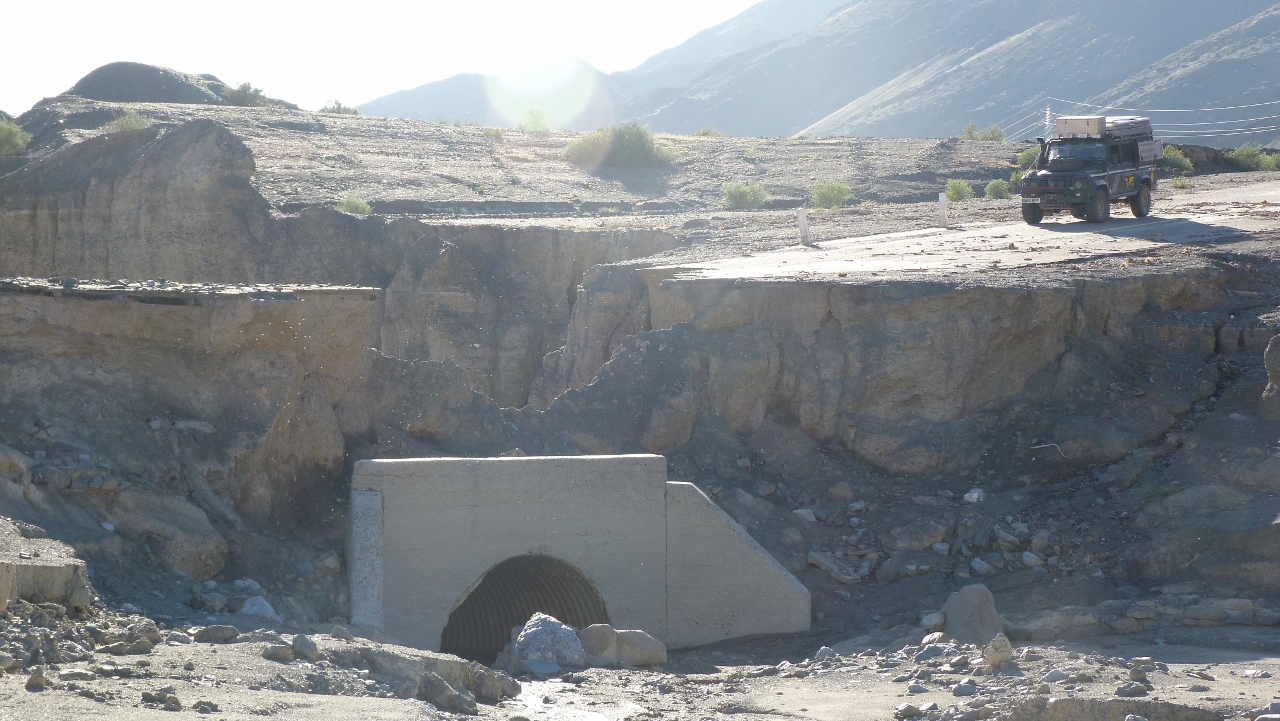 Ok , so who pinched the road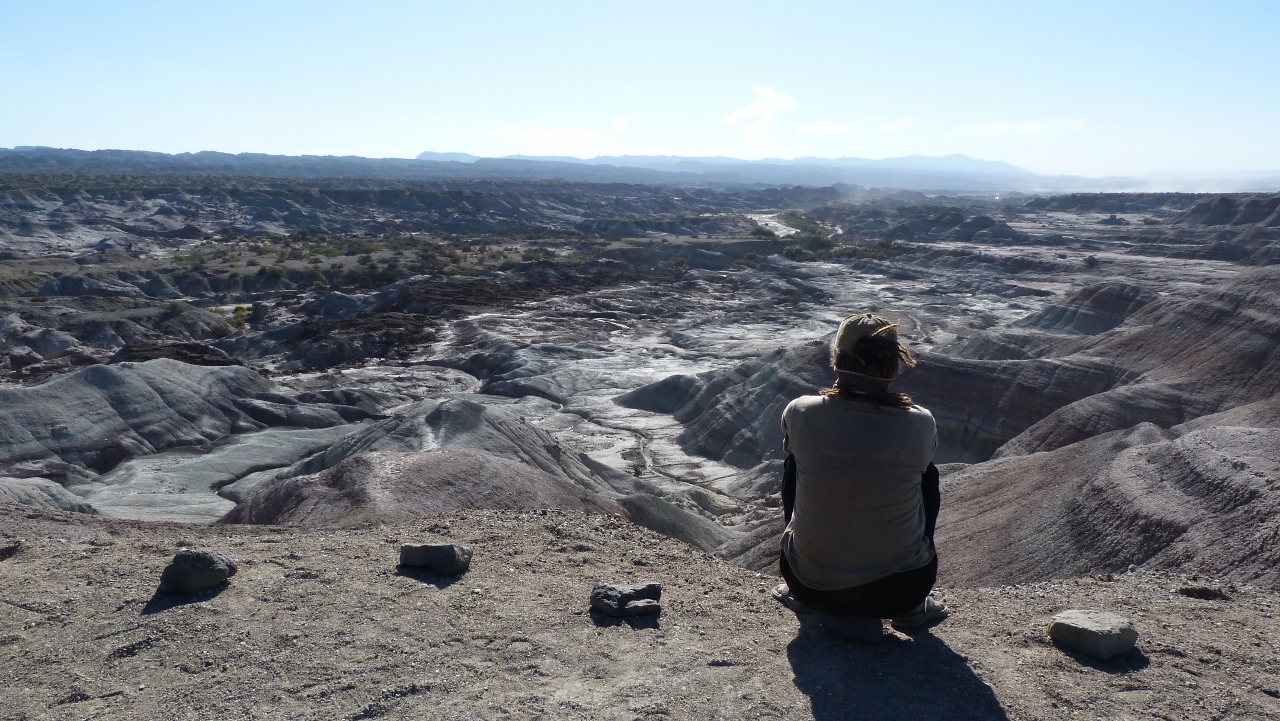 Contemplation...National Park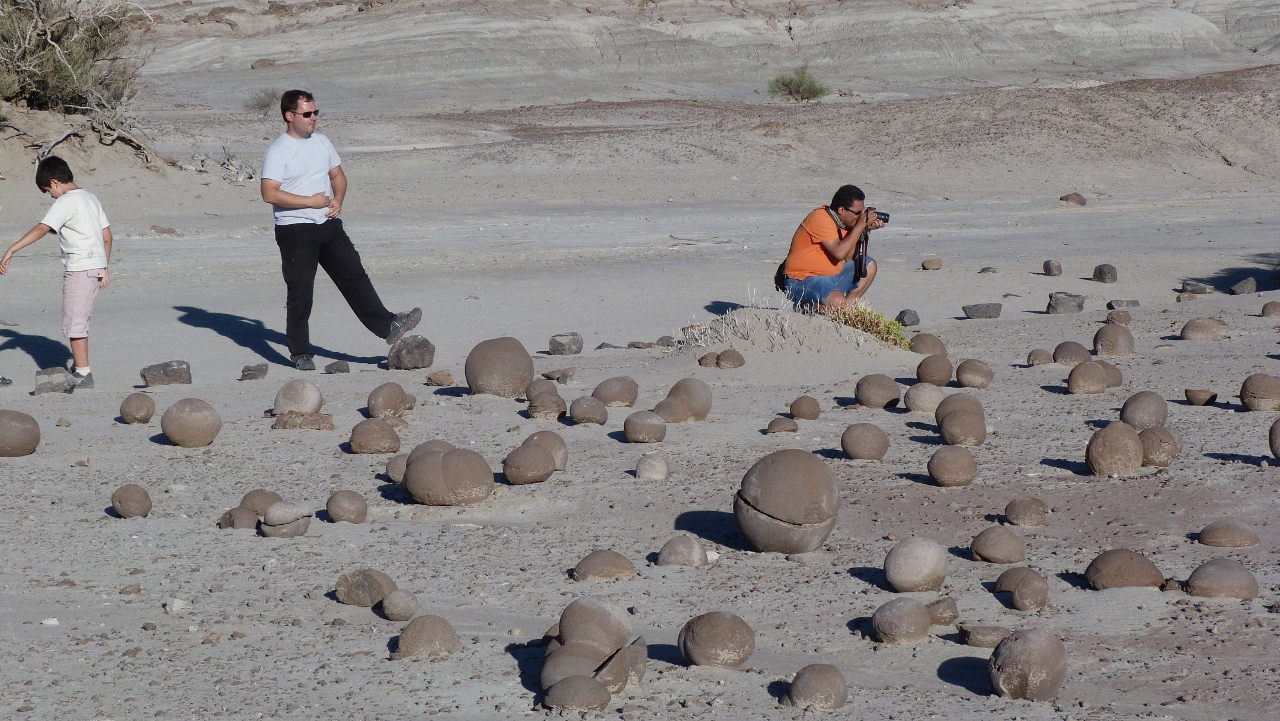 National Park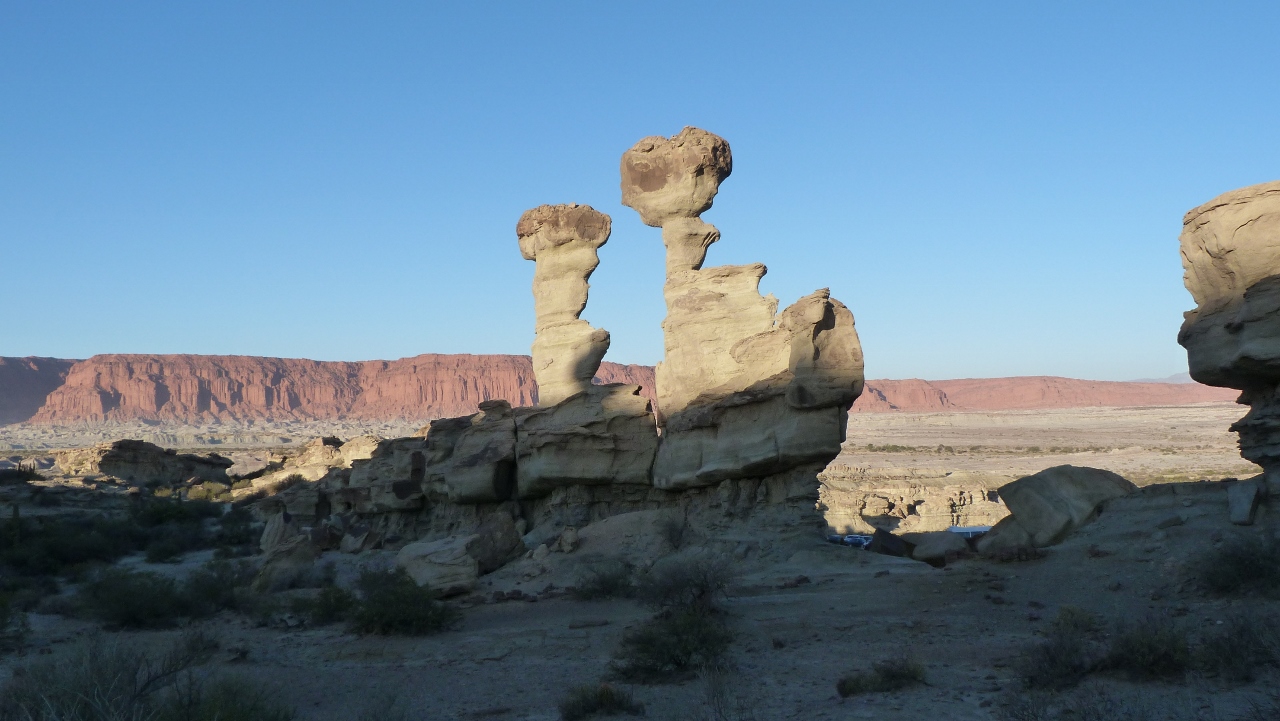 National Park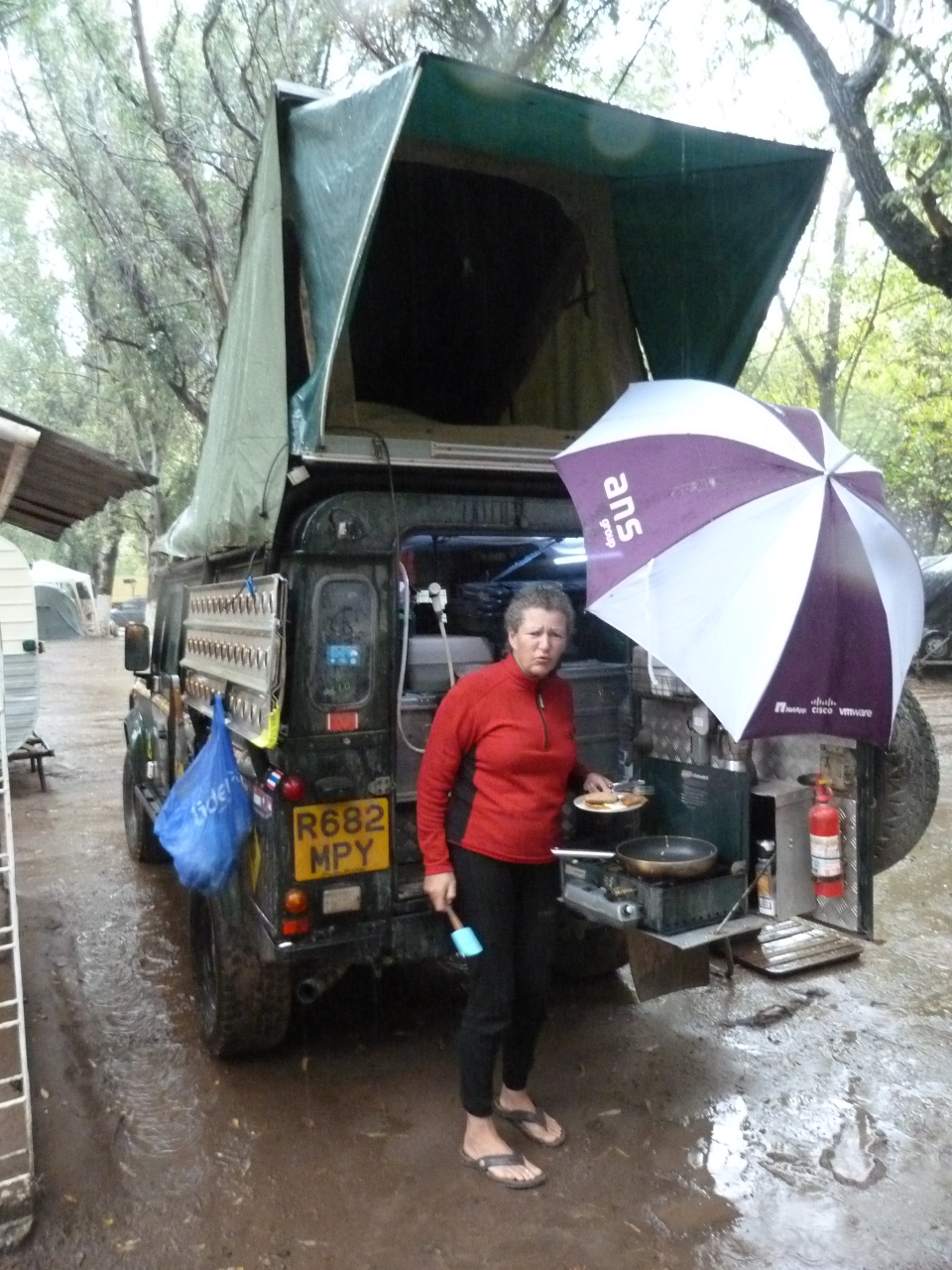 Bank Holiday , Just like home.......raining !
Copec Camping?
Well we took up the invite and went to Raphaels Estancia outside Bariloche .Argentinean hospitality took over and we had a great meal and superb company with his family .
We move on and again cross into Chile .This part of the world was devastated by a volcano two years ago , everywhere is still covered by a layer of pumice .As usual we are searched for contraband .In a new twist we actually declare some cheese and eventually loose onions , garlic and honey .That night we are forcibly told to come out for a meal with a Chilean / Canadian family .We think that hospitality is as good as Argentina.
Slow progress North , trying to avoid the road tolls of the Routa 5 we make it to Pucon and the magnificent Villarica volcano .All thoughts to climb it are put on hold as we had done it before 10 years ago .It still looks bloody huge .
Chile is a lot more expensive than Argentina but we looking to make Valparaiso and then Santiago for a bit of welding and a few oil filters.
Camping , hard site , security immaculate toilets and hot showers courtesy of Copec petrol stations , chance to save some money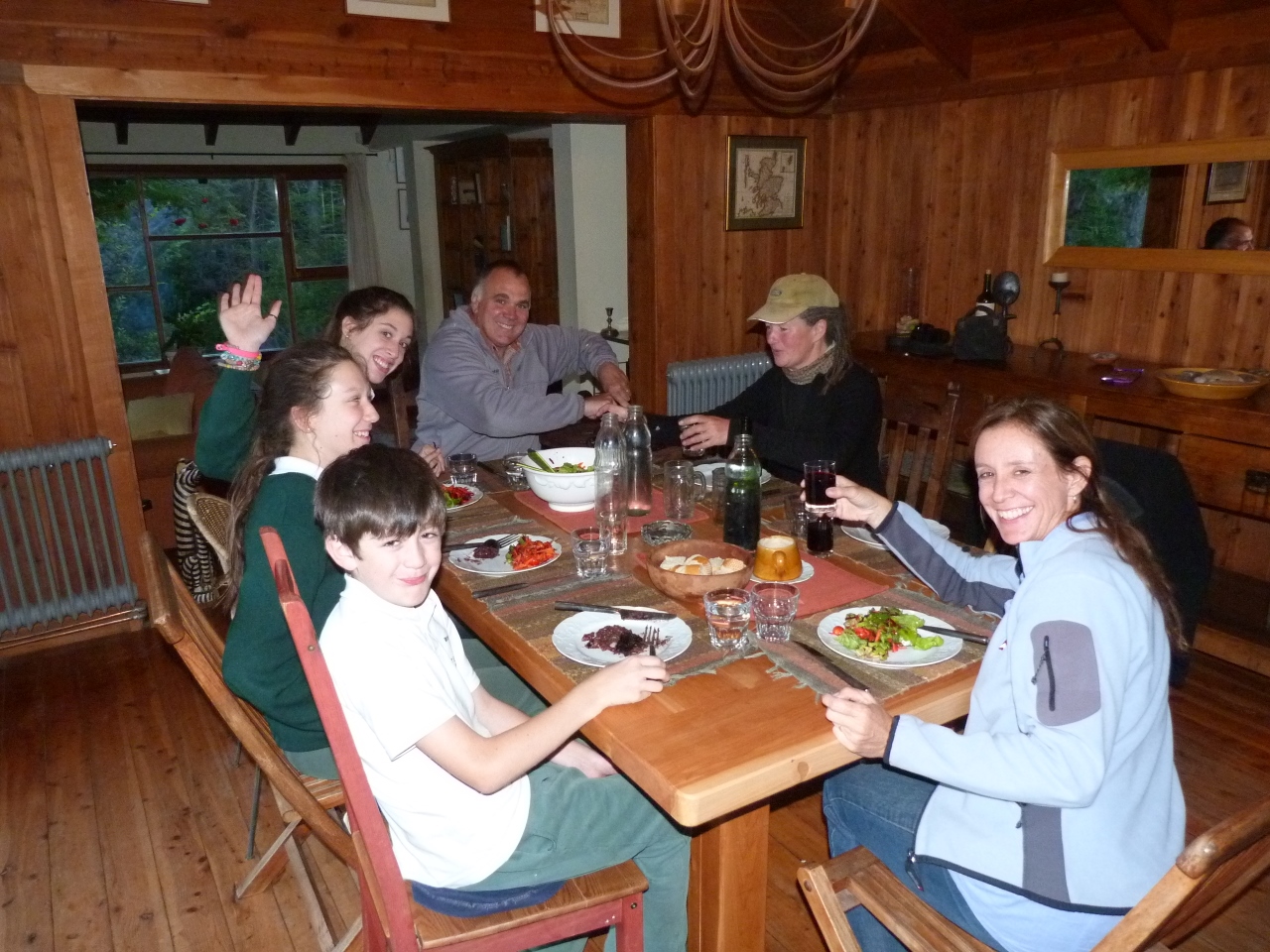 Argentinian hospitality at its best .....Raphael and family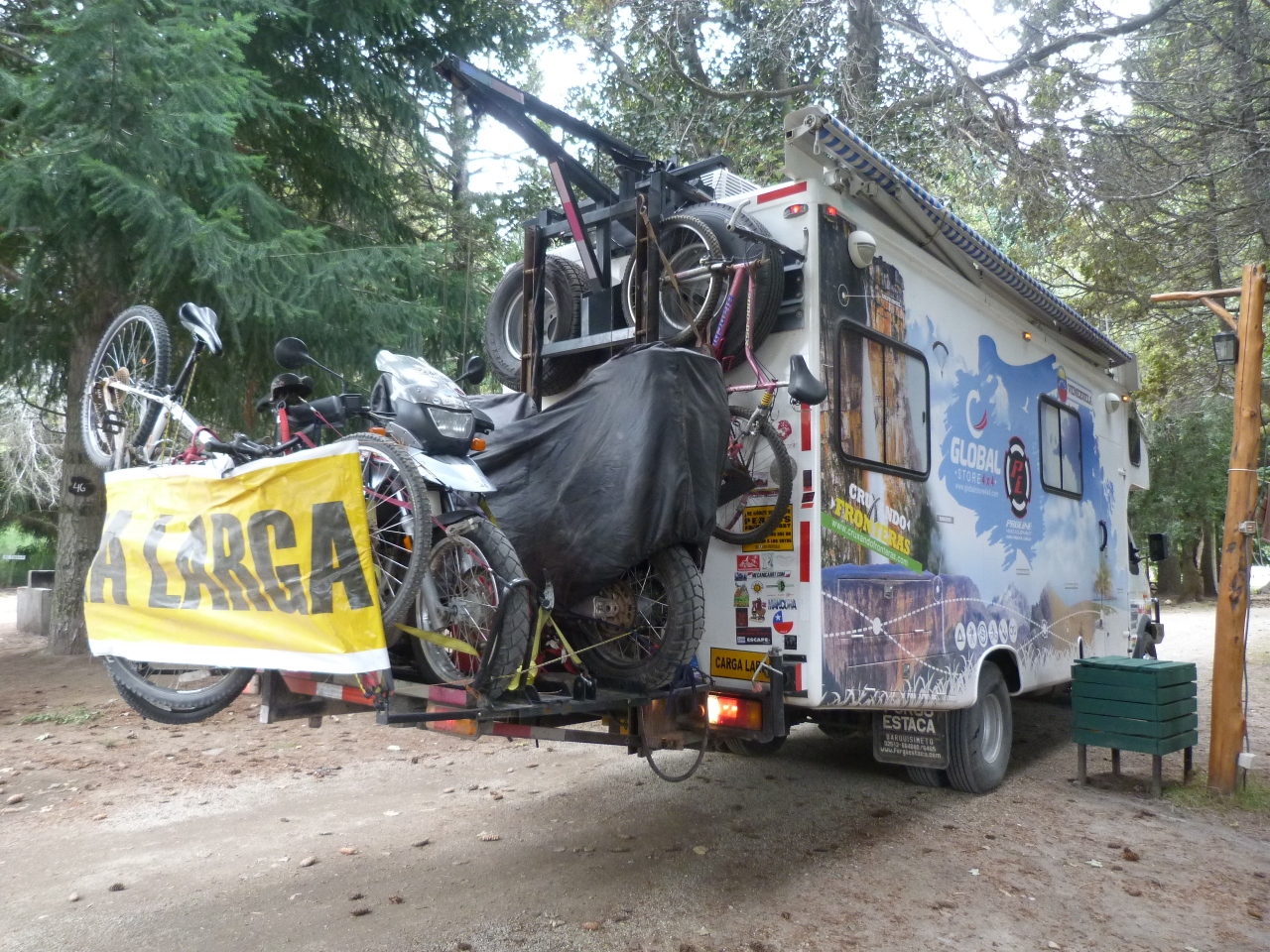 Another "Big Truck" from Venezuala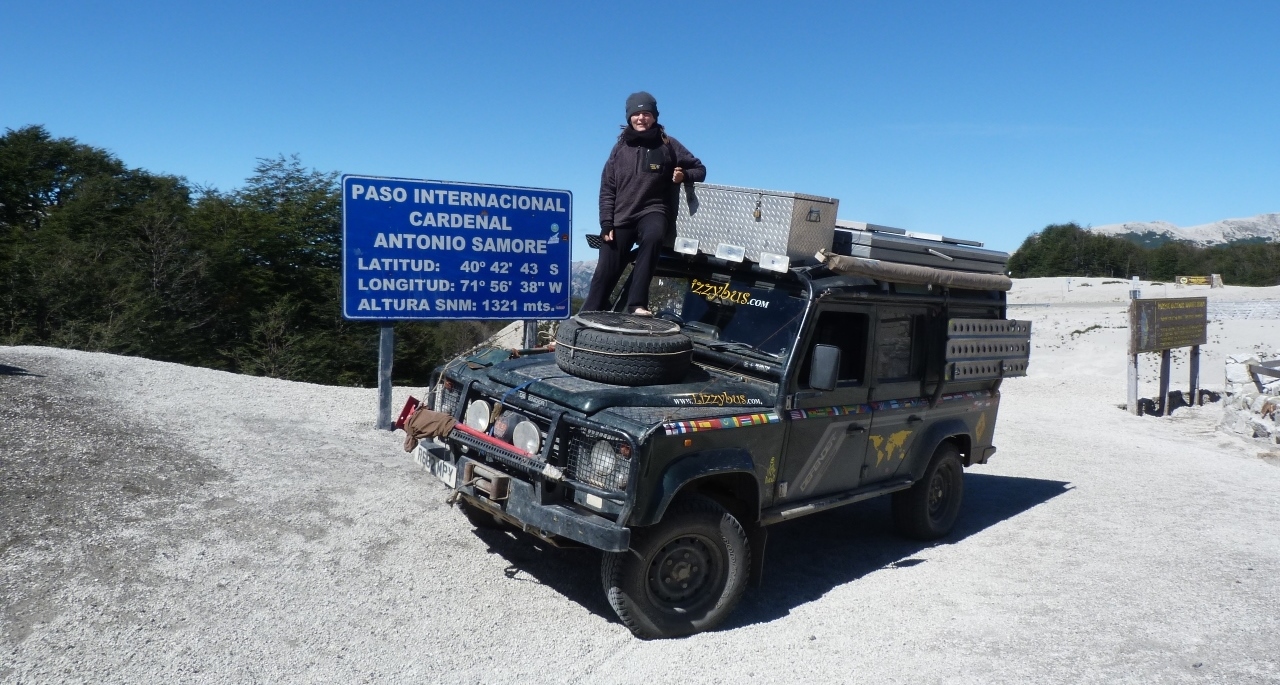 Crossing into Chile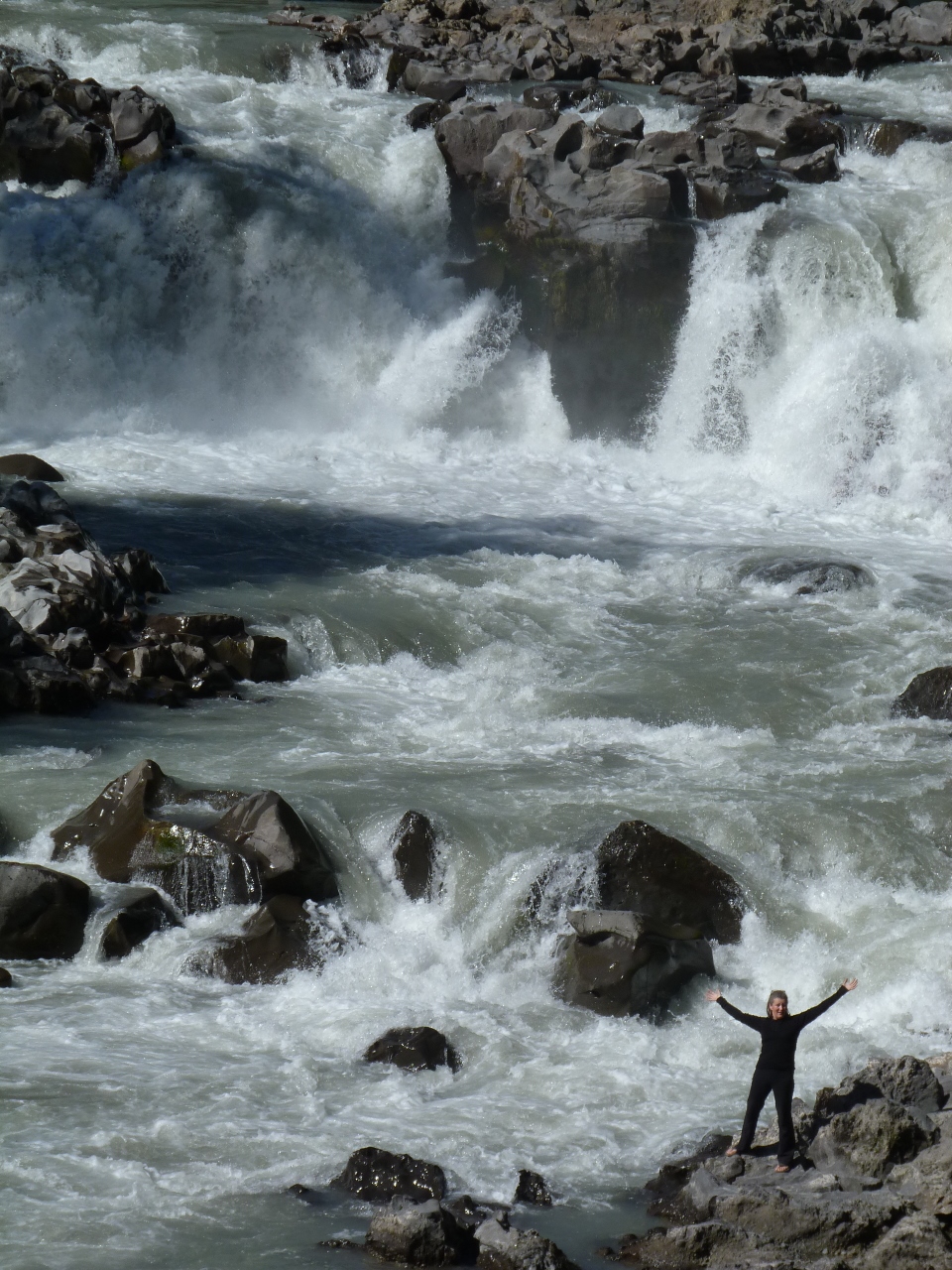 Waterfall ....Chile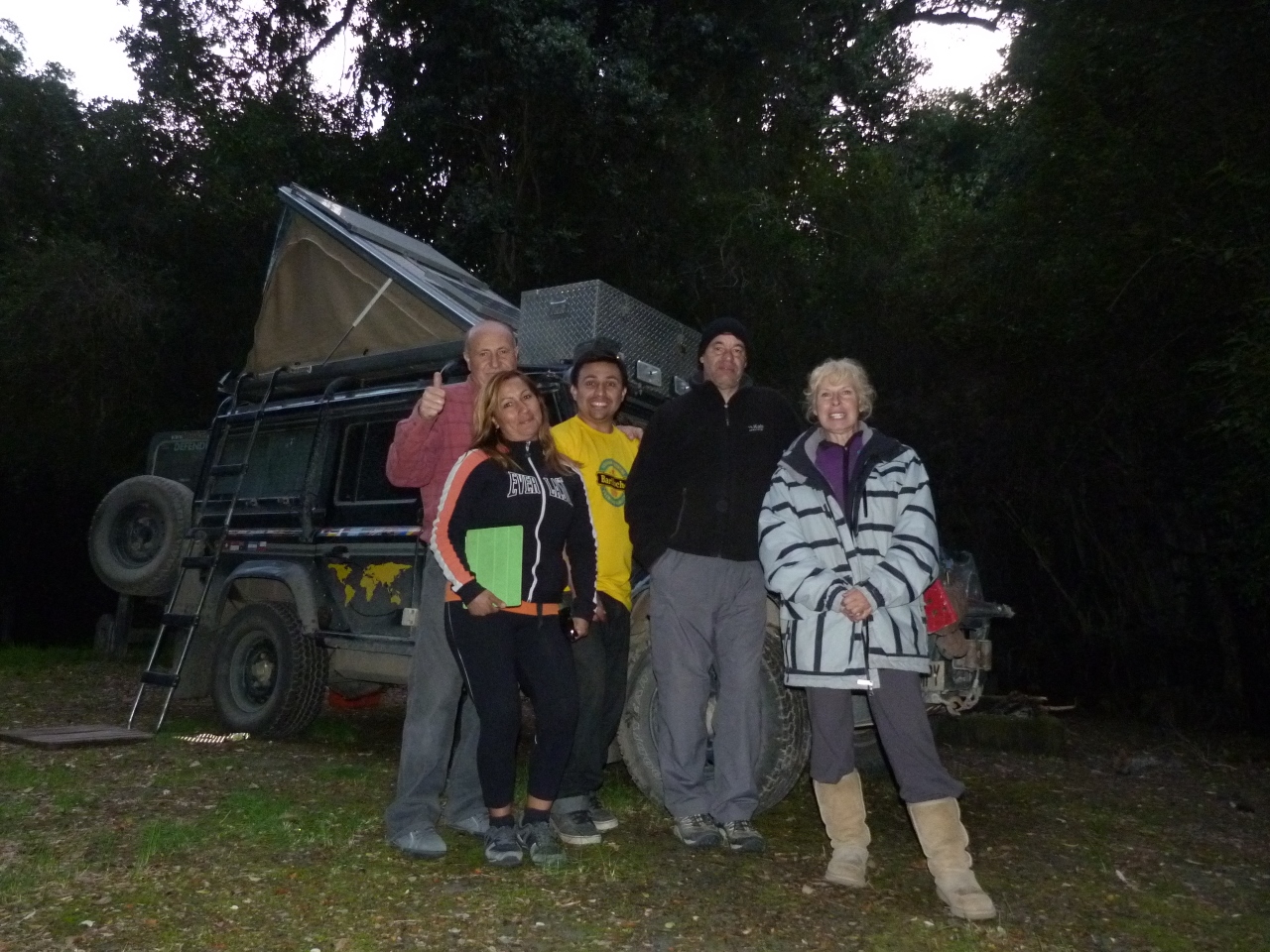 Chileanhospitality...taken out for dinner , refusal wasn't an option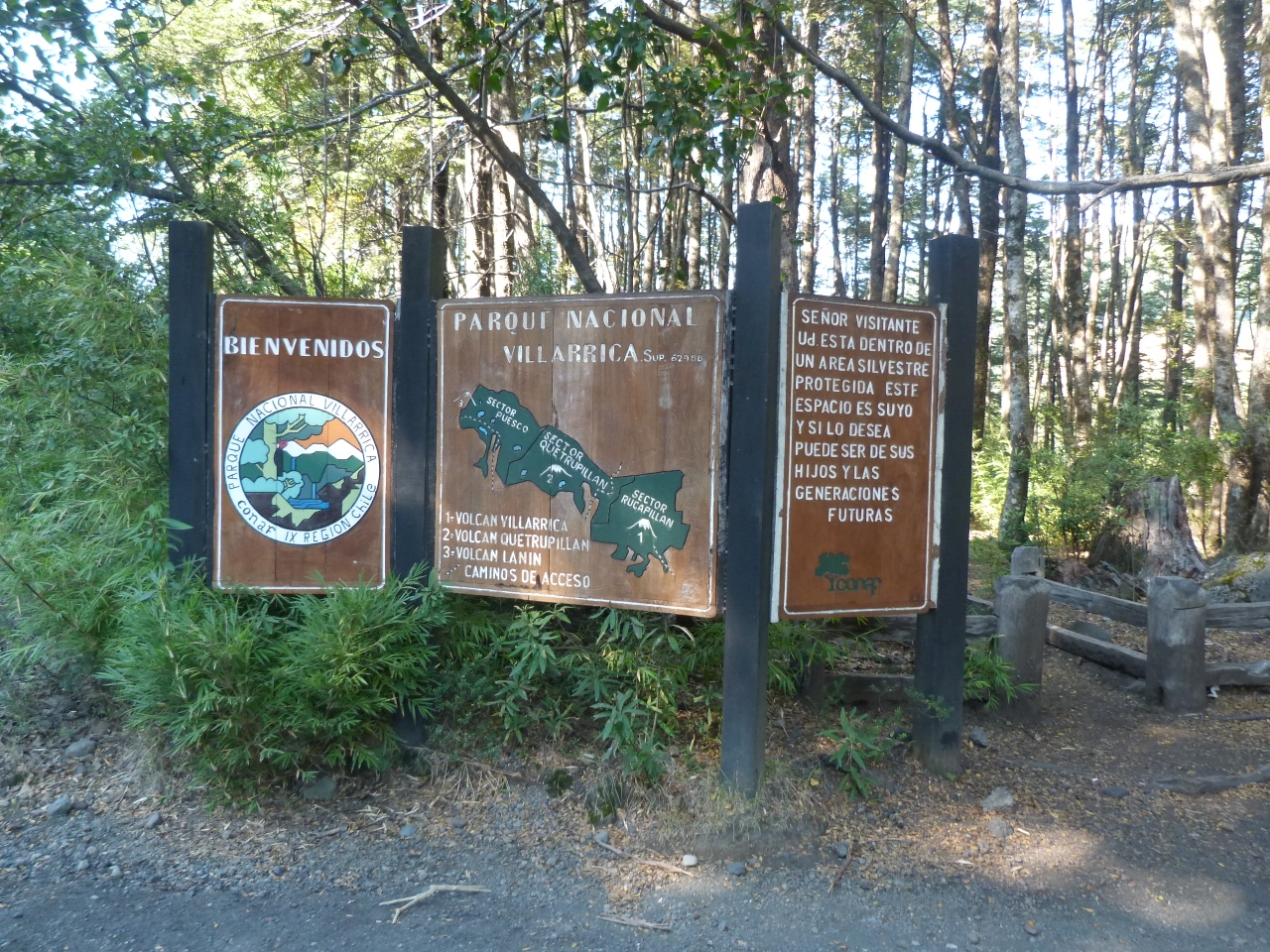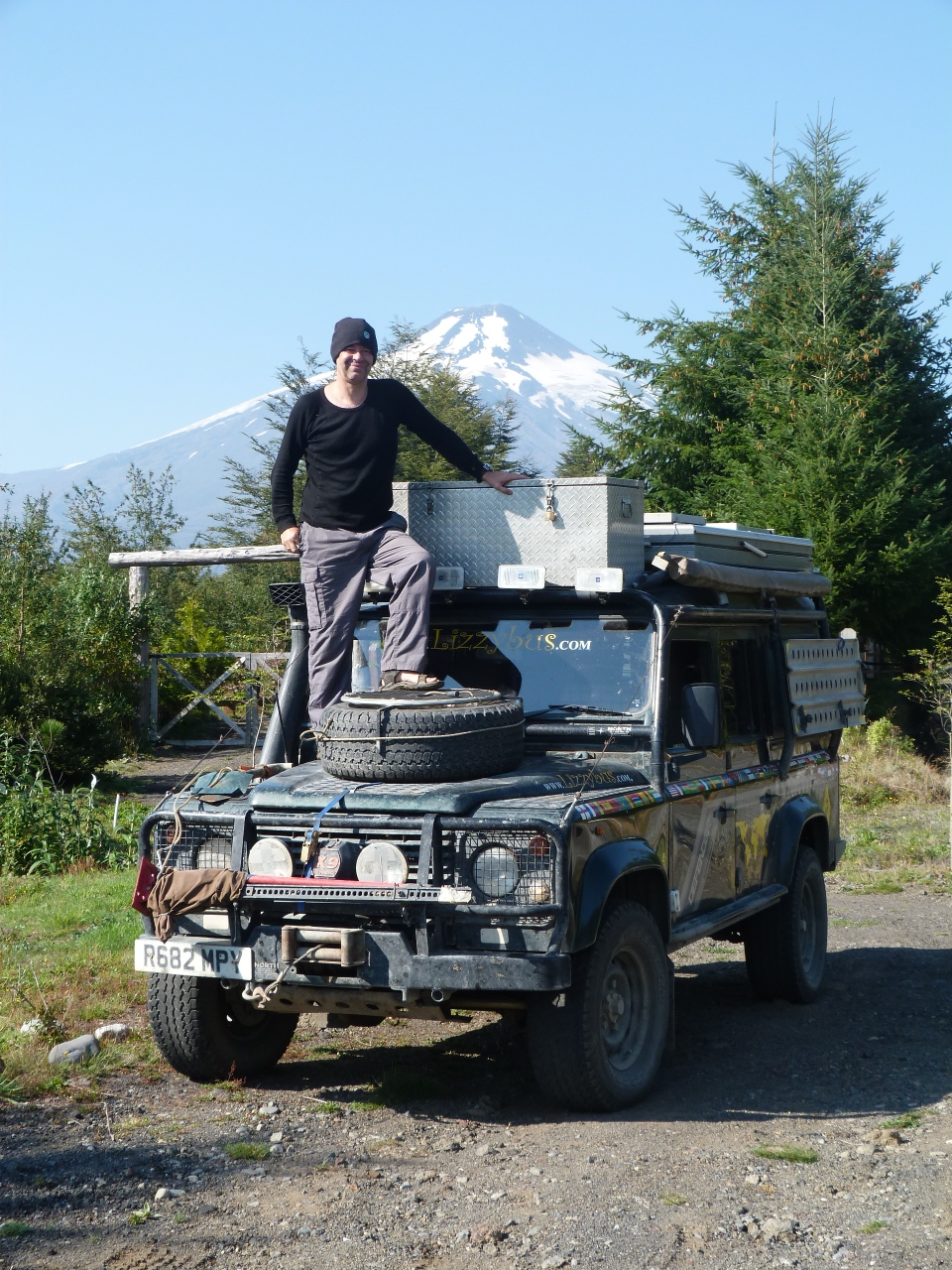 Help at last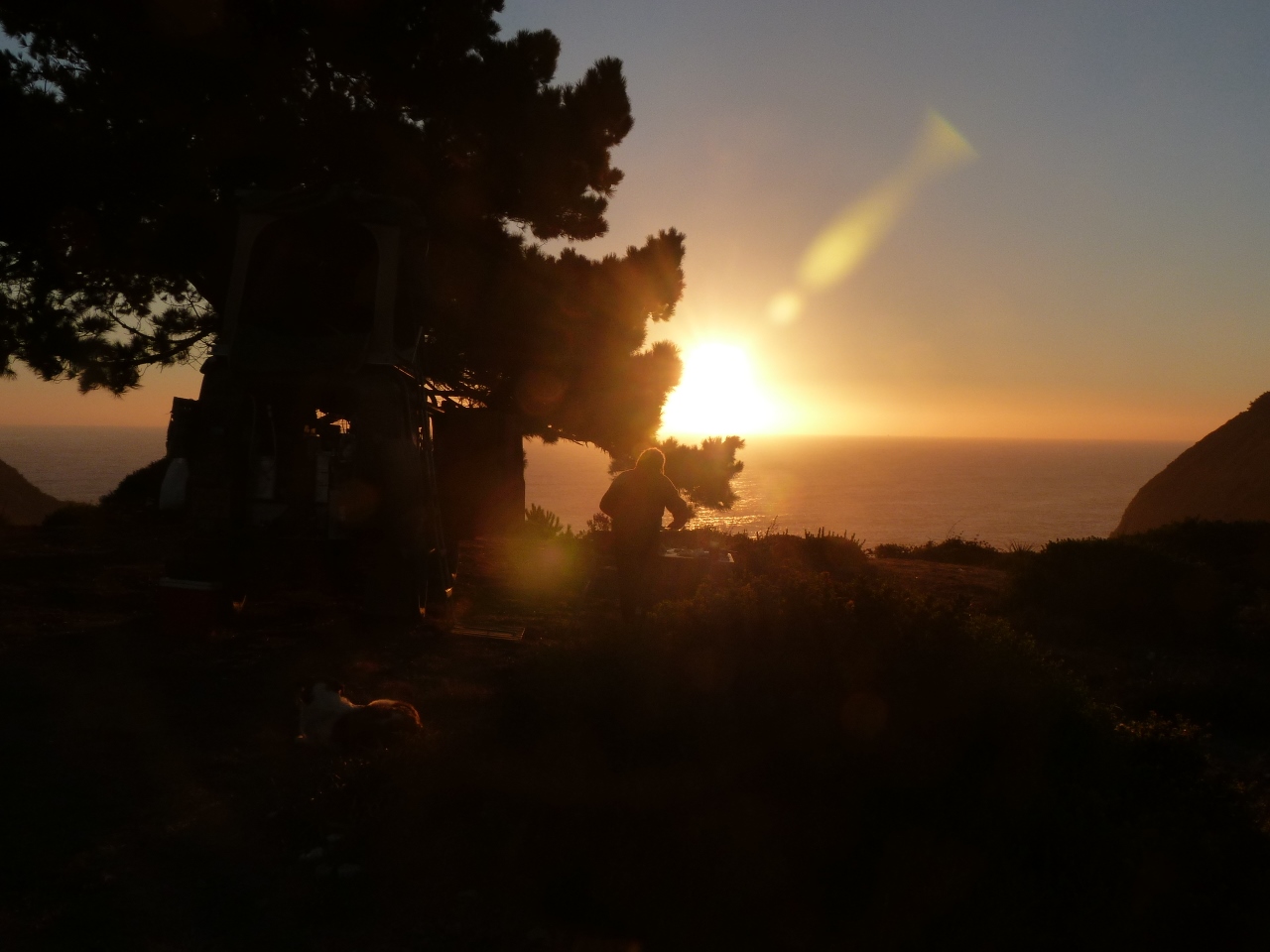 Why we Bush Camp !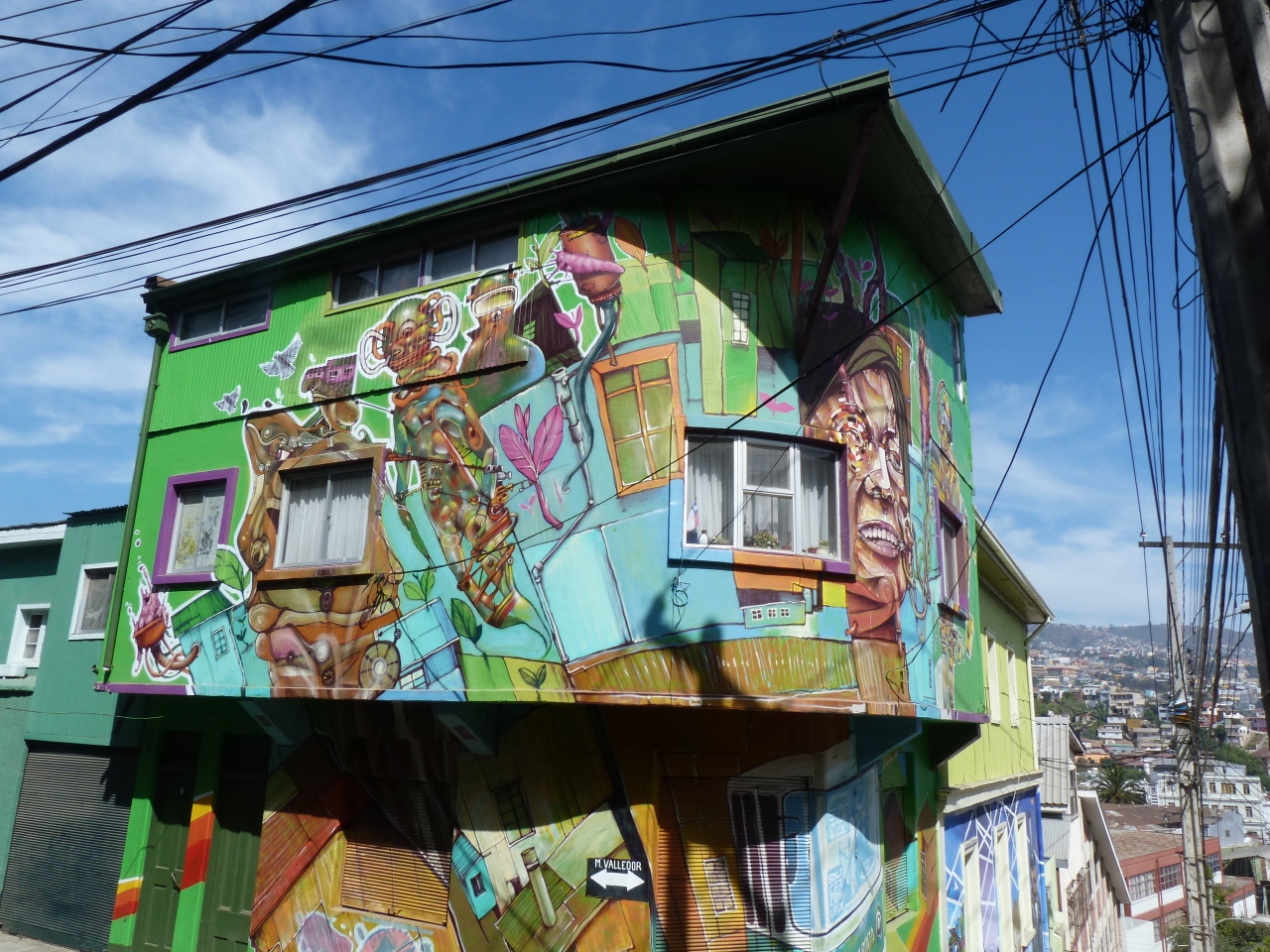 Graffiti , Valparaiso Style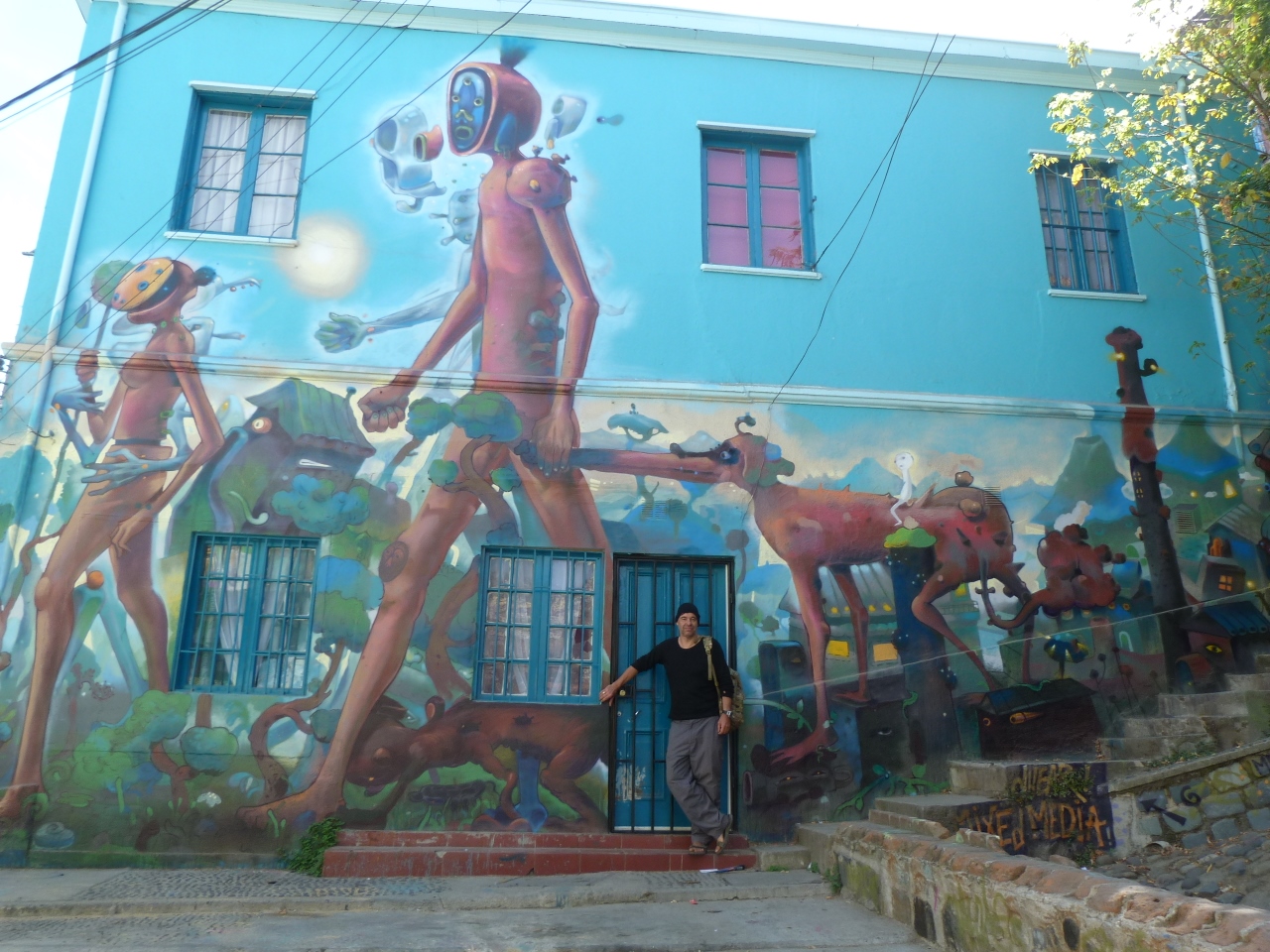 Graffiti , Valparaiso Style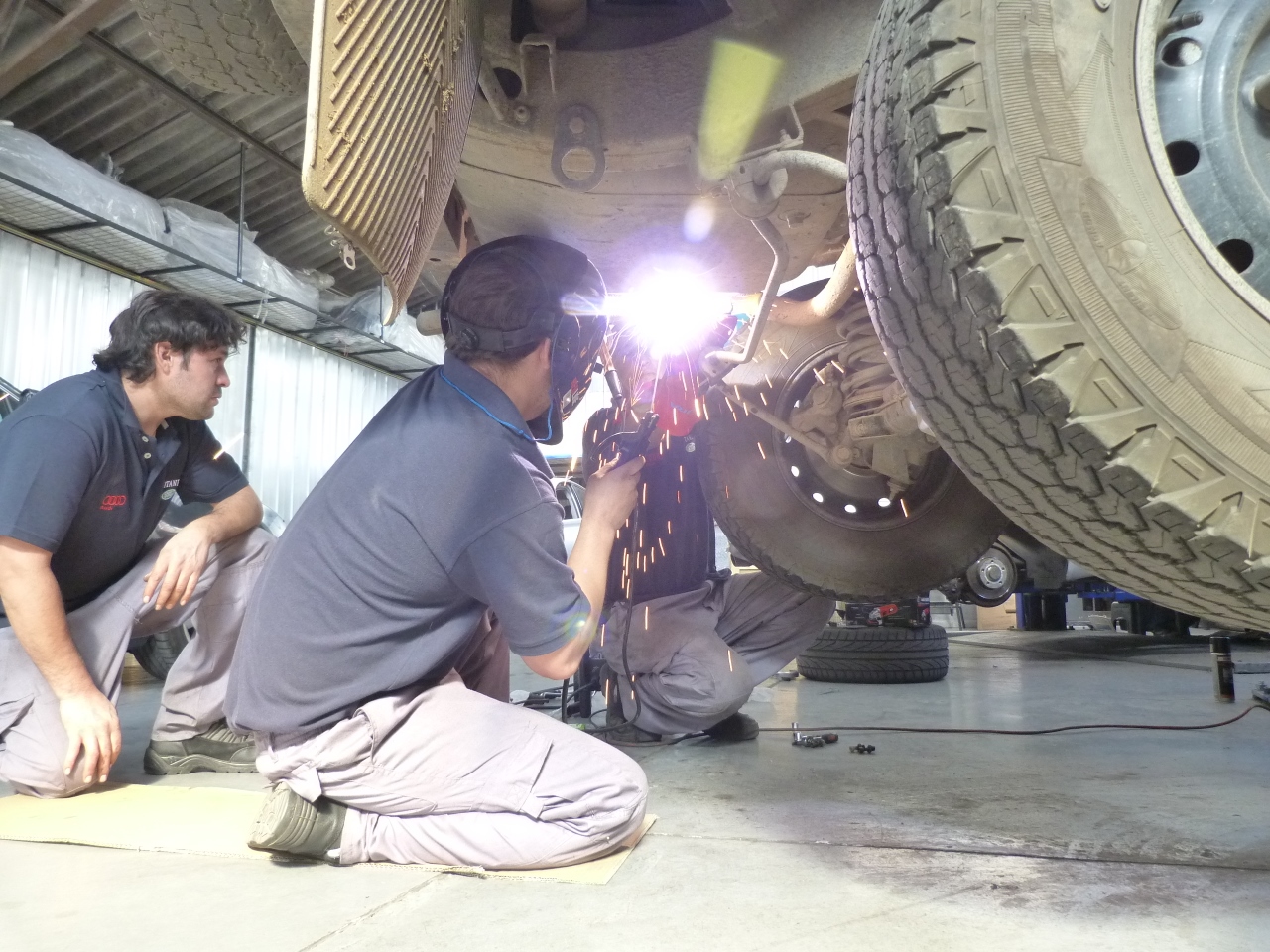 More Lizzybus work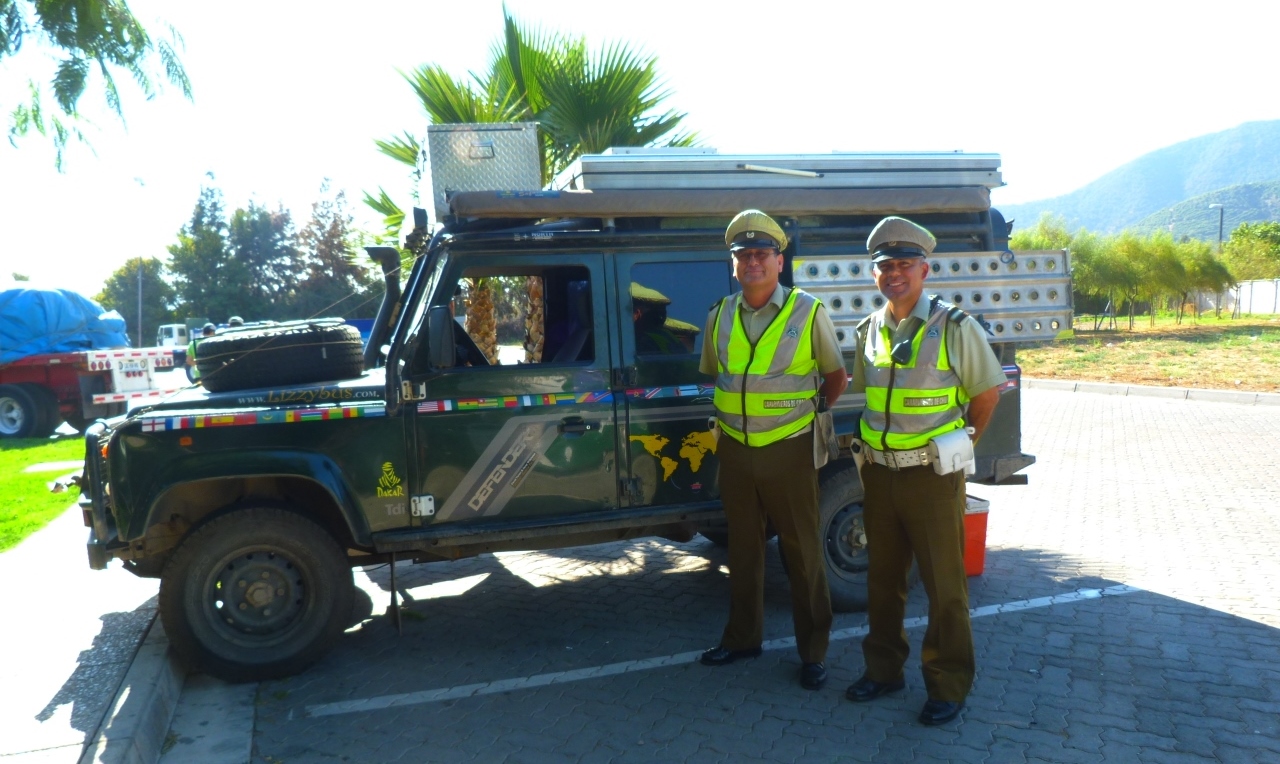 Didn't even look for a Tax Disc!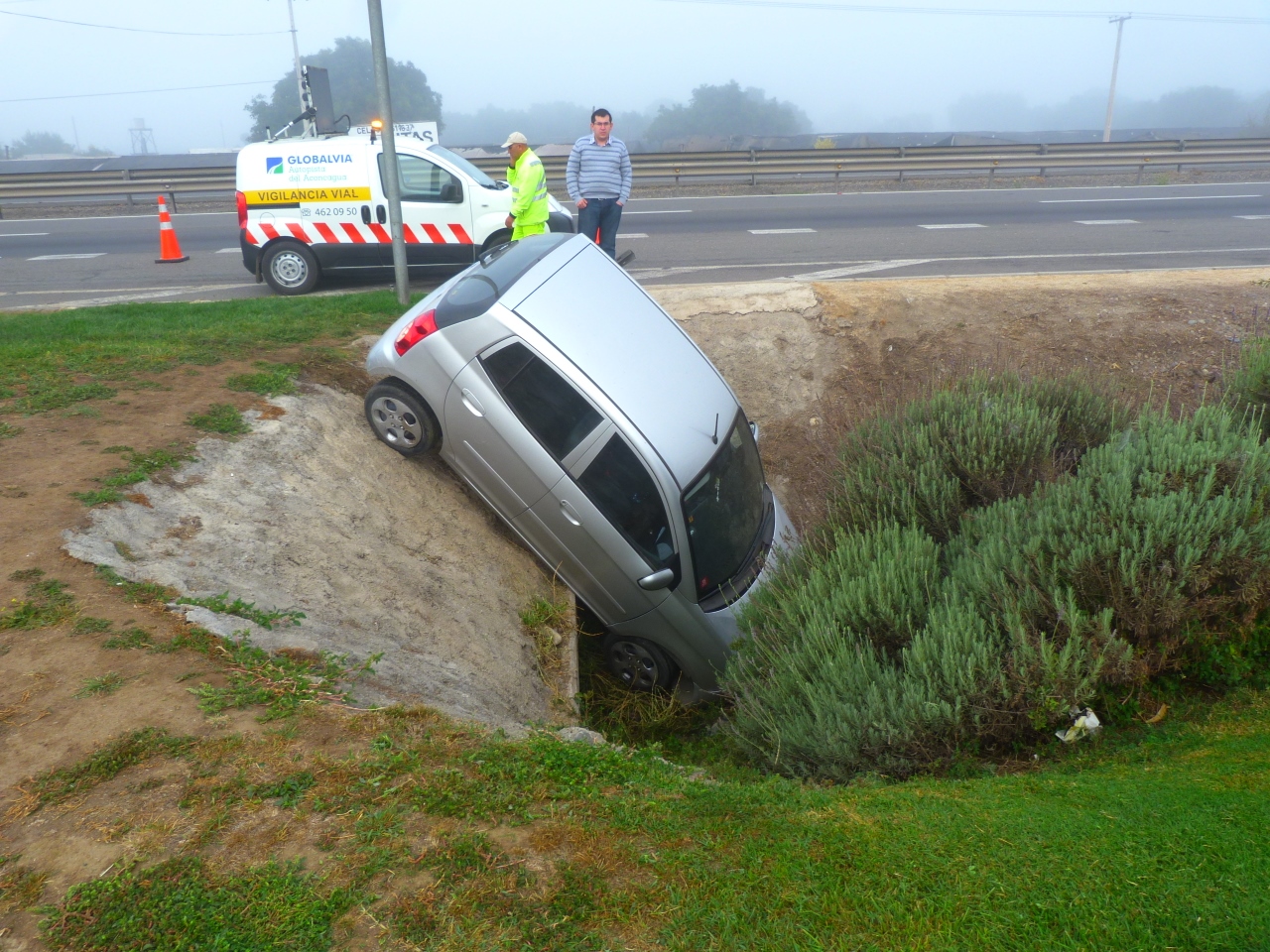 Missed the Copec Petrol Station turning
We are English !

So our journey takes us across the Chile / Argentina border on a number of occasions as we start to head North to complete our "Round the World" mission .It is a sad day when we leave Ushuaia , feeling a bit down as we have now completed all the Big journeys in life (London - Cape Town -Singapore - Sydney -Tierra Del Fuego ) , We are returning home and I am upset for that , though Jayne is ecstatic , pointing out we still have over a year of travel and 23 more countries to do.
We visit El Calafate and the Glaciers National Park .Amazed at ever changing scenery Argentina is turning out to be everything but more .
Conversations with locals elicit invites all over the country, in-fact all over the Continent .
Routes are discussed , normally we would take the more scenic routes on dirt roads , but we have already broken the mount for the rear roll bar and the Lizzybus is beginning to show her age .We have some "Backlash" and a clonk from the axle and it's a little bit concerning .If it goes , the bill will be hefty and as we are on the return leg , somewhat reluctant to spend money when it could be better used on Lizzybus 2 .So , a little more circumspect on the route from now on .
Picking up French hitchhikers , Stephan and Virginie , provide an ideal diversion and good fun .It is now , for the first time we have had any form of open hostility.
Trying to find a camp site in Bariloche , we come across the Lonely Planet recommended El Yeti .Our friends (whose command of Spanish is way better than ours) having talking to the owner are asked about our our Nationalities .French and English came the reply .The French can camp but not the English .Even we understood what was said .Shocked , we smile and all four of us move on .
This is the first time this has happened , all we can say about Argentina is that we love the country and love the people and this little incident will not dampen our enthusiasm .
A typical conversation at a petrol station leads to a discussion on Argentineans' who fought for the Allies in WW1 and 2 , places to visit and , if we go through Bariloche , visit our Estancia for some proper Argentinean food and hospitality .We cant wait.
She nearly got adopted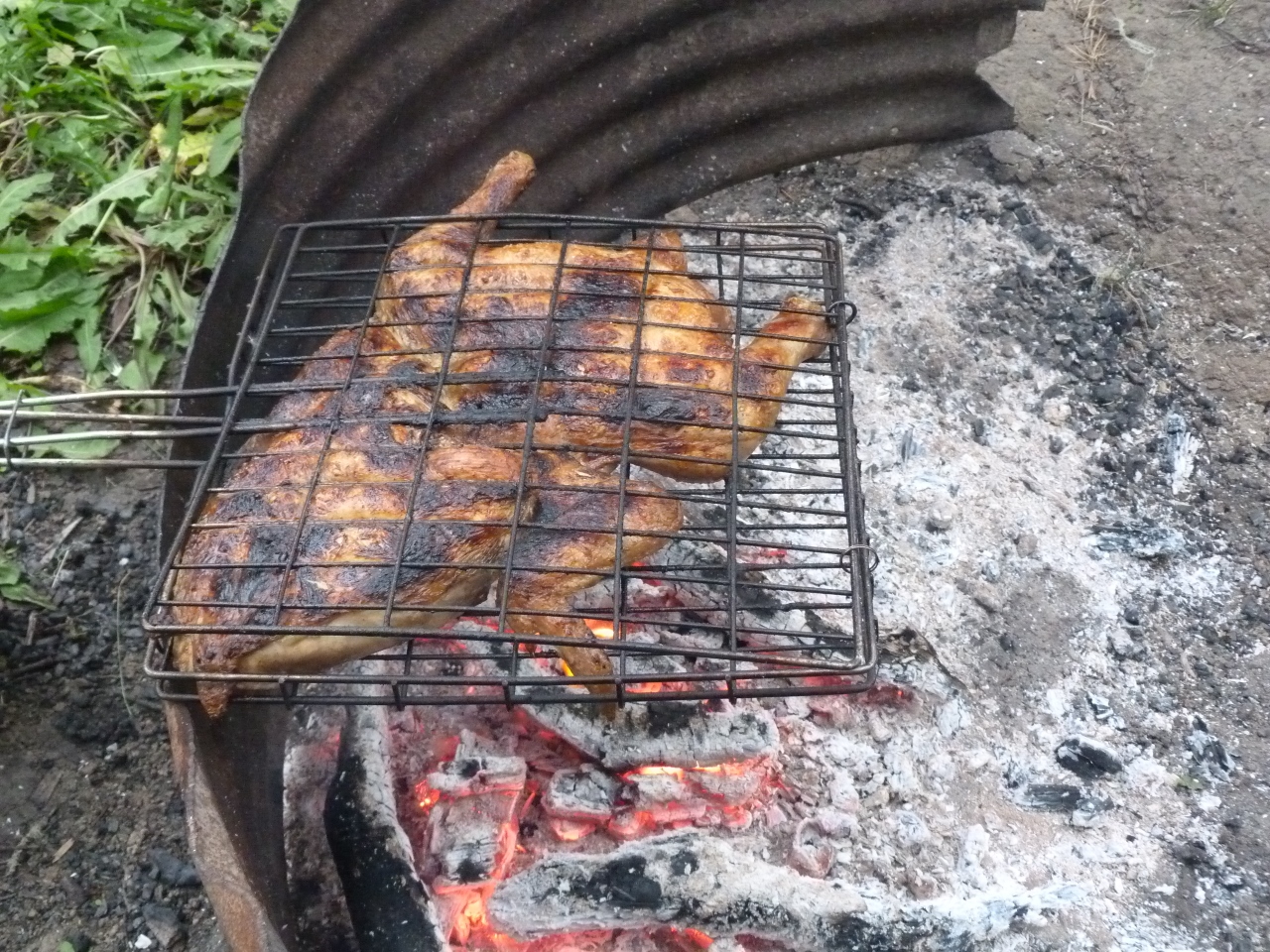 Sorry Dellibells , this is how we like chickens.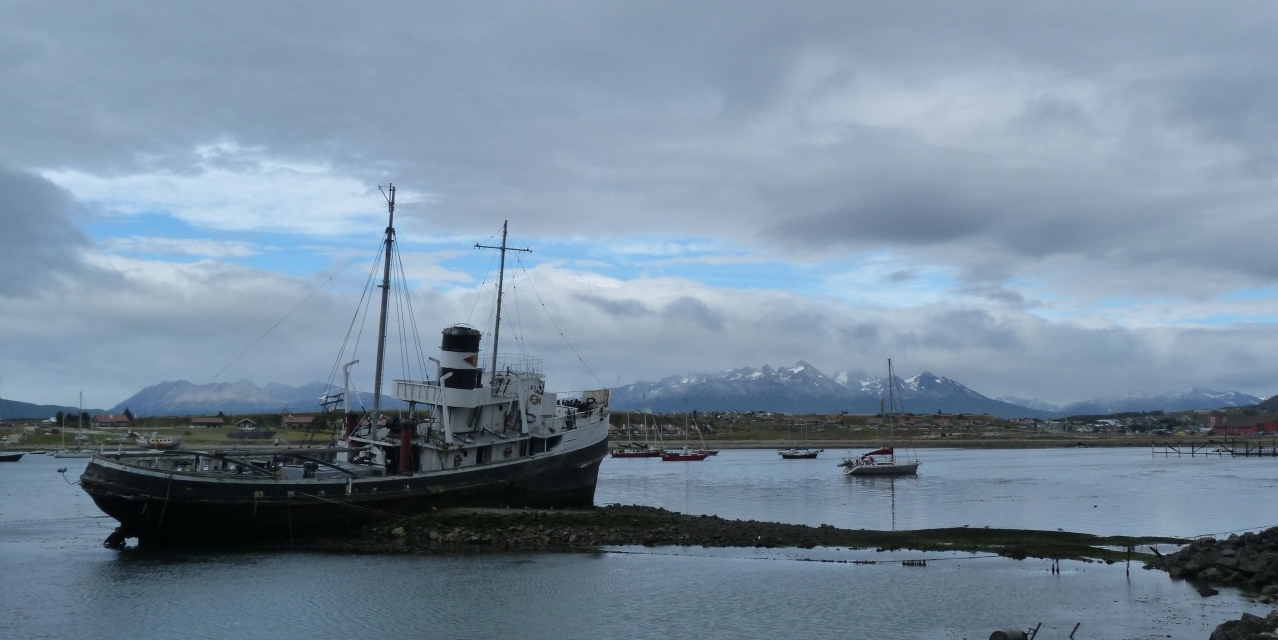 Ushuaia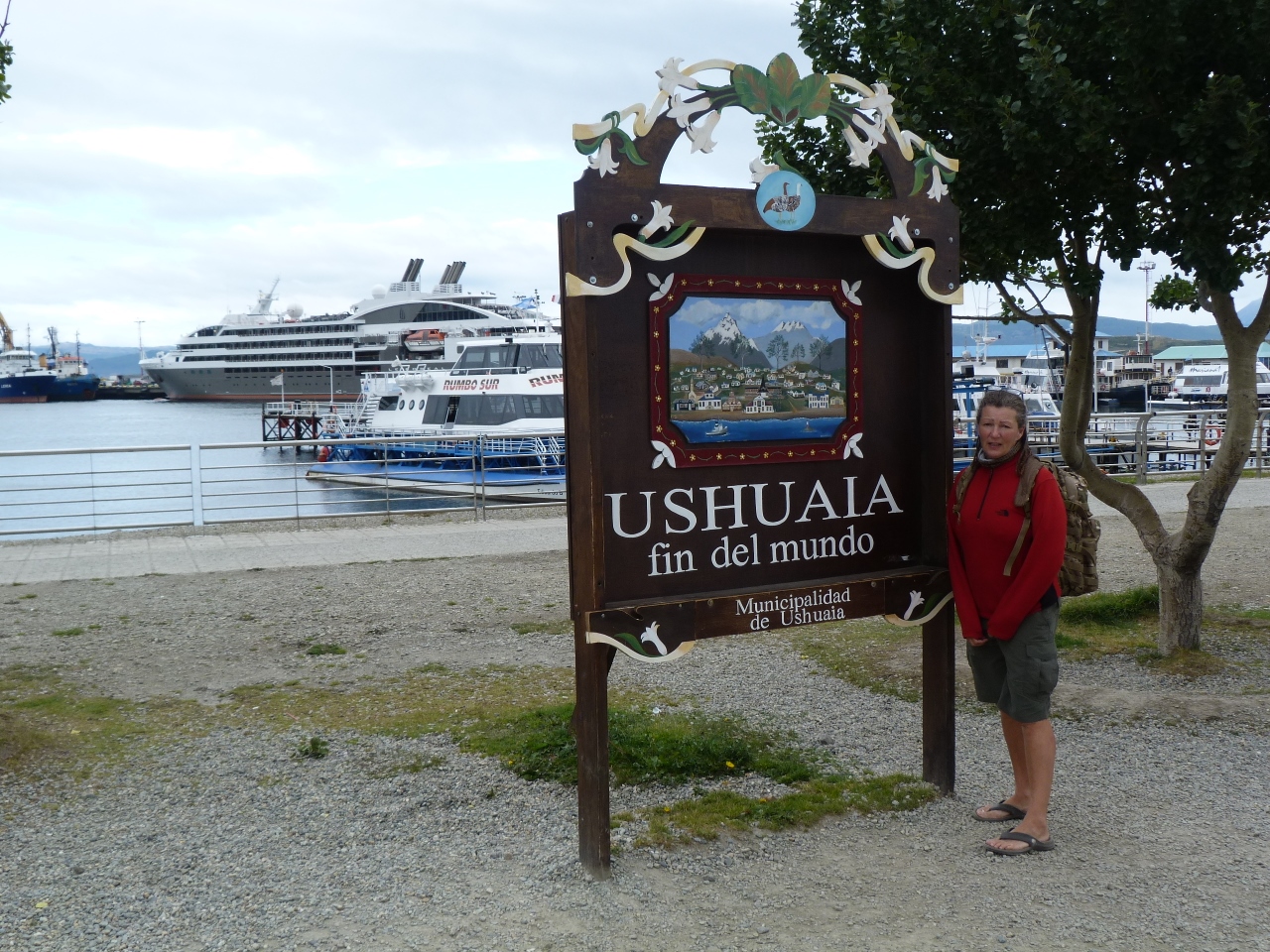 End of the World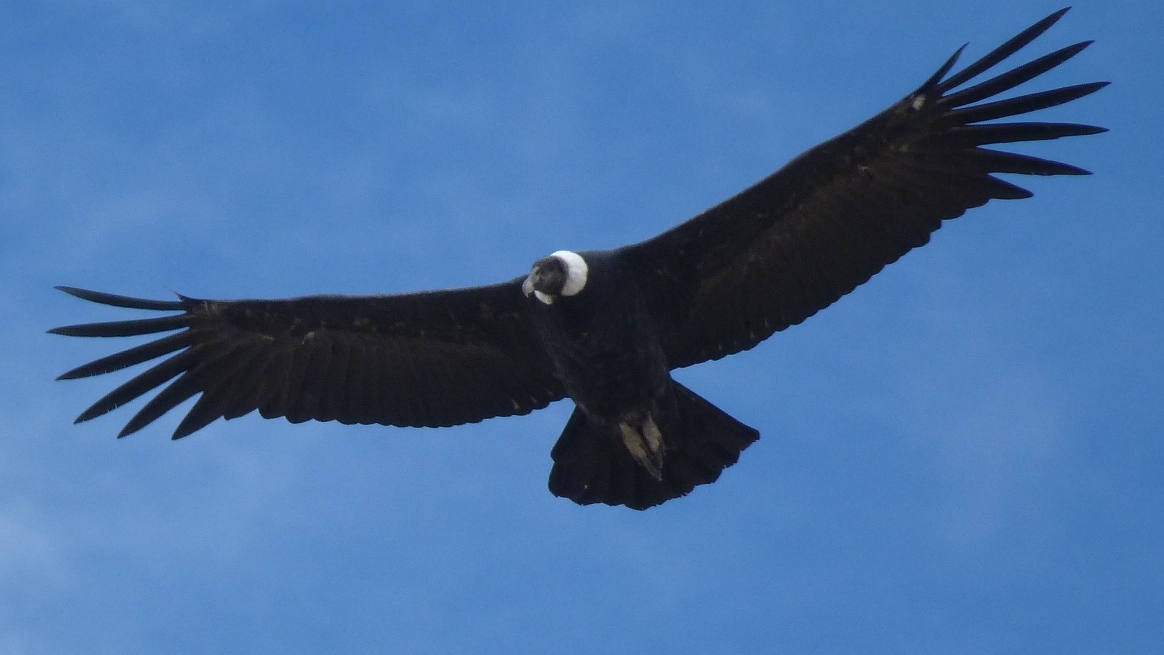 That Condor moment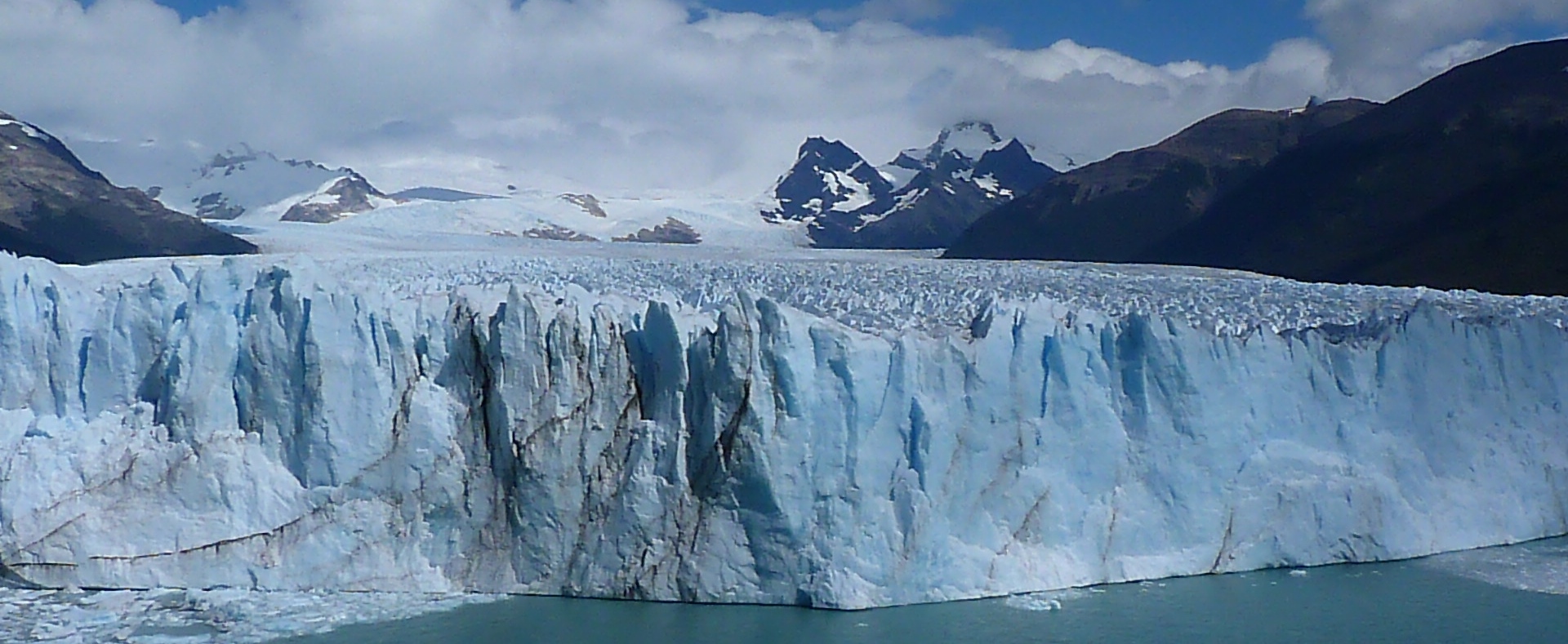 Perito Marino Glacier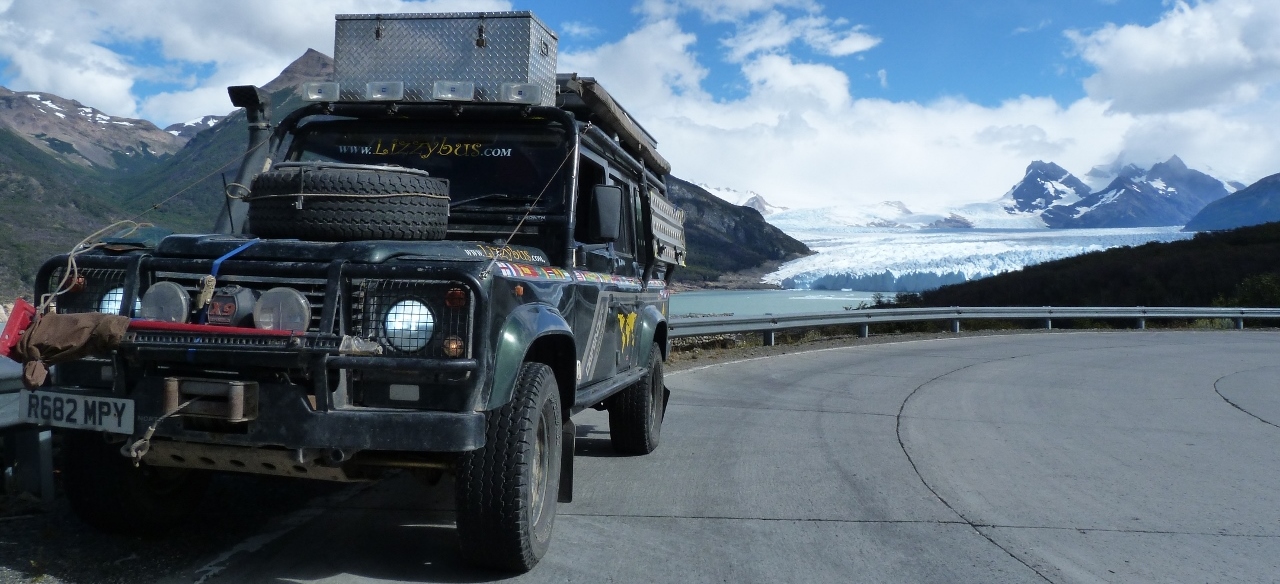 On way to Glaciers National Park


Not English !

Banged up abroad?

 

We have all watched the series "Banged up abroad"

.People doing stupid things and getting caught .Well we had already crossed into Chile and noted that they had a sniffer dog for contraband .We had a s**t load of contraband but managed to avoid the hound . Our second crossing and we noticed that the border had no dog .So fully loaded with our stash of goodies we crossed into Chile from Ushuaia . Then the problems began . Contraband was discovered .I was duly marched off and the officer showed me a copy of my entry document .In English I had signed to that fact we where carrying nothing illegal when in fact I was and now it had been found .Now , despite all advice and my great legal training I was signing documents written in Spanish , timed and countersigned by fellow officers .More documents later , again in Spanish and now before the "Commandante" all entered into the computer .Things are not going well .After two hours , lots of signatures we are released with a raft of documents .Beating a hasty retreat we leave and count our blessings . The offence , Two banana's and half a dozen eggs ! At least they didn't find the kilo of fillet and the chicken.
Naughty boy!
Lizzybus hits 200
Well follicles the Lizzybus hit the milestone of 200,000 miles on the clock , 80,000 done on this journey .No wonder she sounds like a bag of spanners!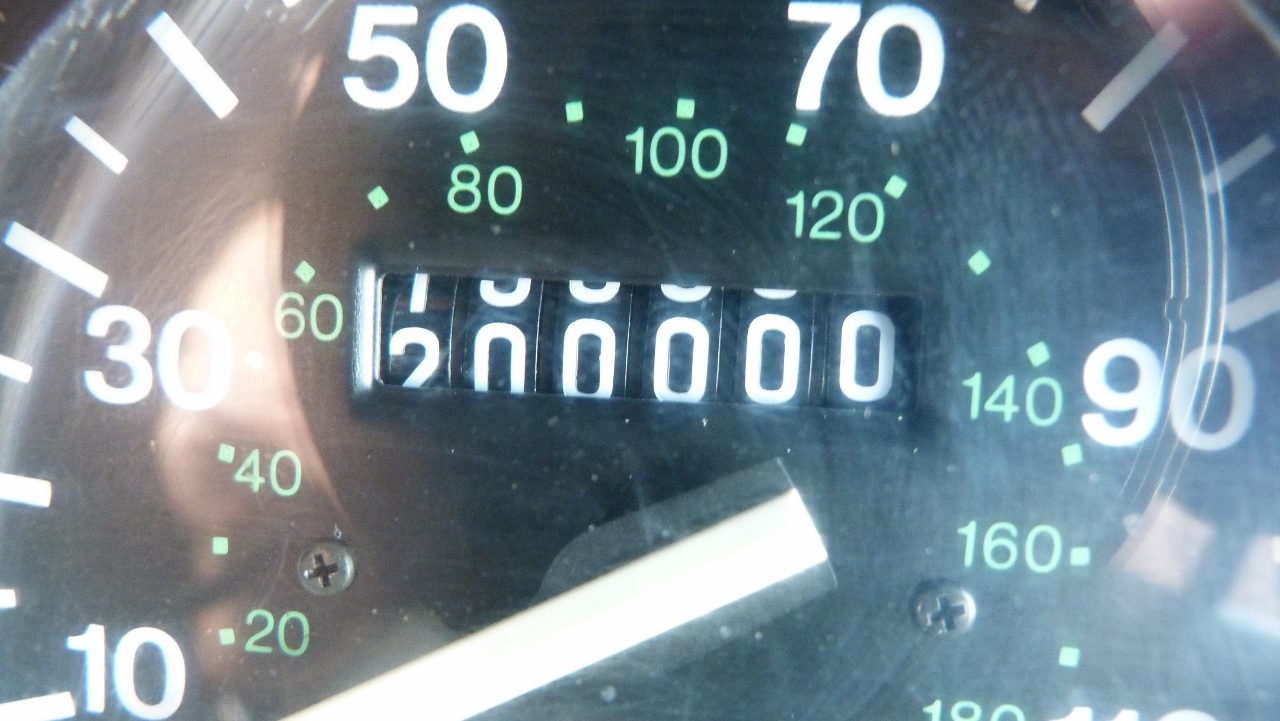 How far to the tar?
So , it's full stream ahead to make it down South and the End of the World , Ushuaia while the weather is still acceptable.
Cutting across Argentina we swing by the Valdez Peninsular to catch the Orcas who beach themselves and munch on baby seals .Trouble is that it only happens when Mr Attenborough is present. Disappointed we follow the general route South of the Routa 3 .Being Lizzybus we hit the back roads to an extent that the cry is "How far to the tar?". The banging on the back end is the anti roll bar mounting that has sheared due to the ripio abuse . The journey across the Chubut Valley and into desolate Patagonia is stunning . It is however , very windswept offering no cover to camp except at campsites that have tree cover .So there you have it , hitting campsites throughout Patagonia .
We cross into Chile as we head into Tierra Del Fuego and a sudden transformation of the scenery……trees!
It is truly magnificent , so remote , desolate yet hauntingly beautiful.Its either grey overcast and windy or sunny and windy . .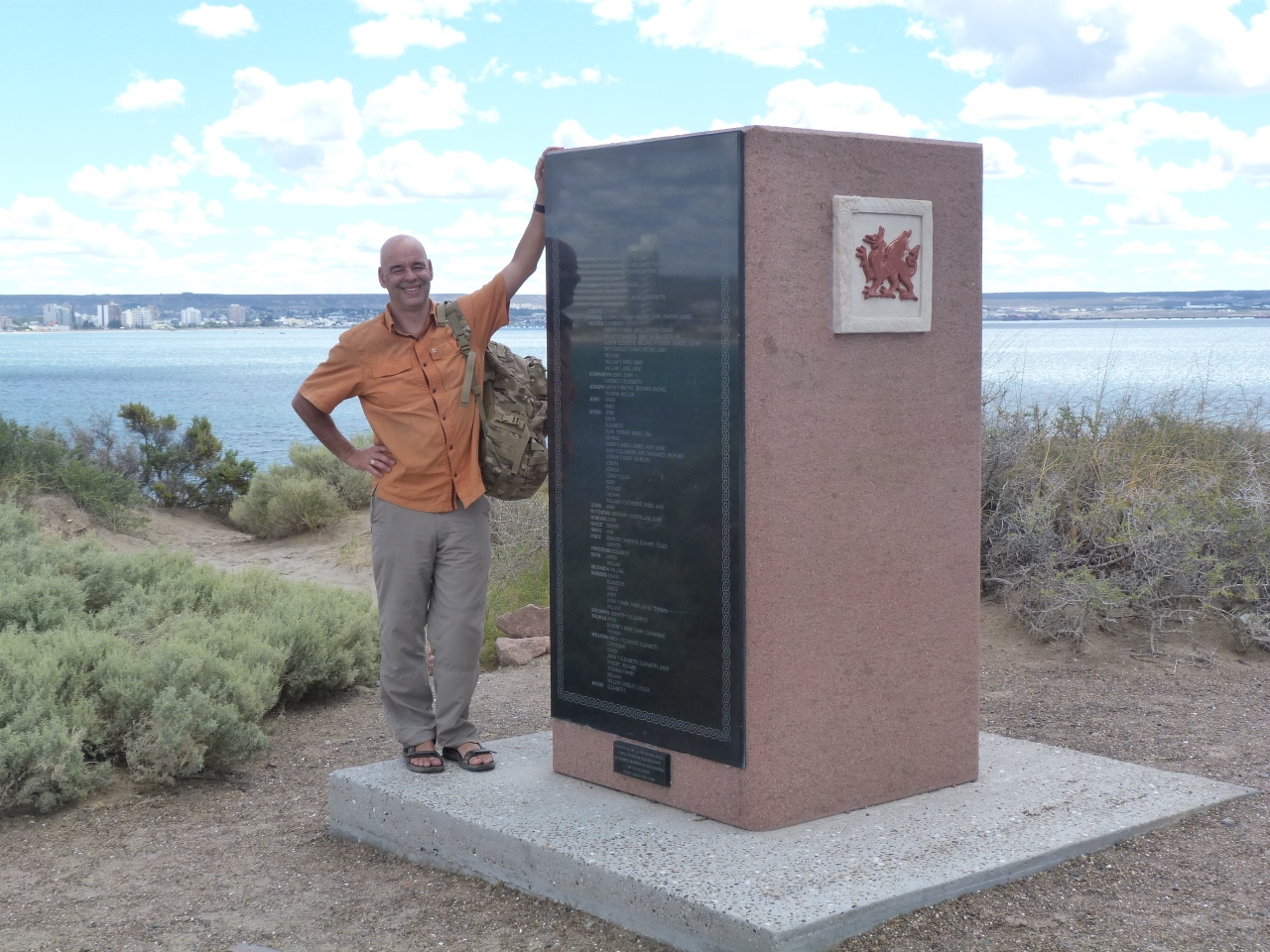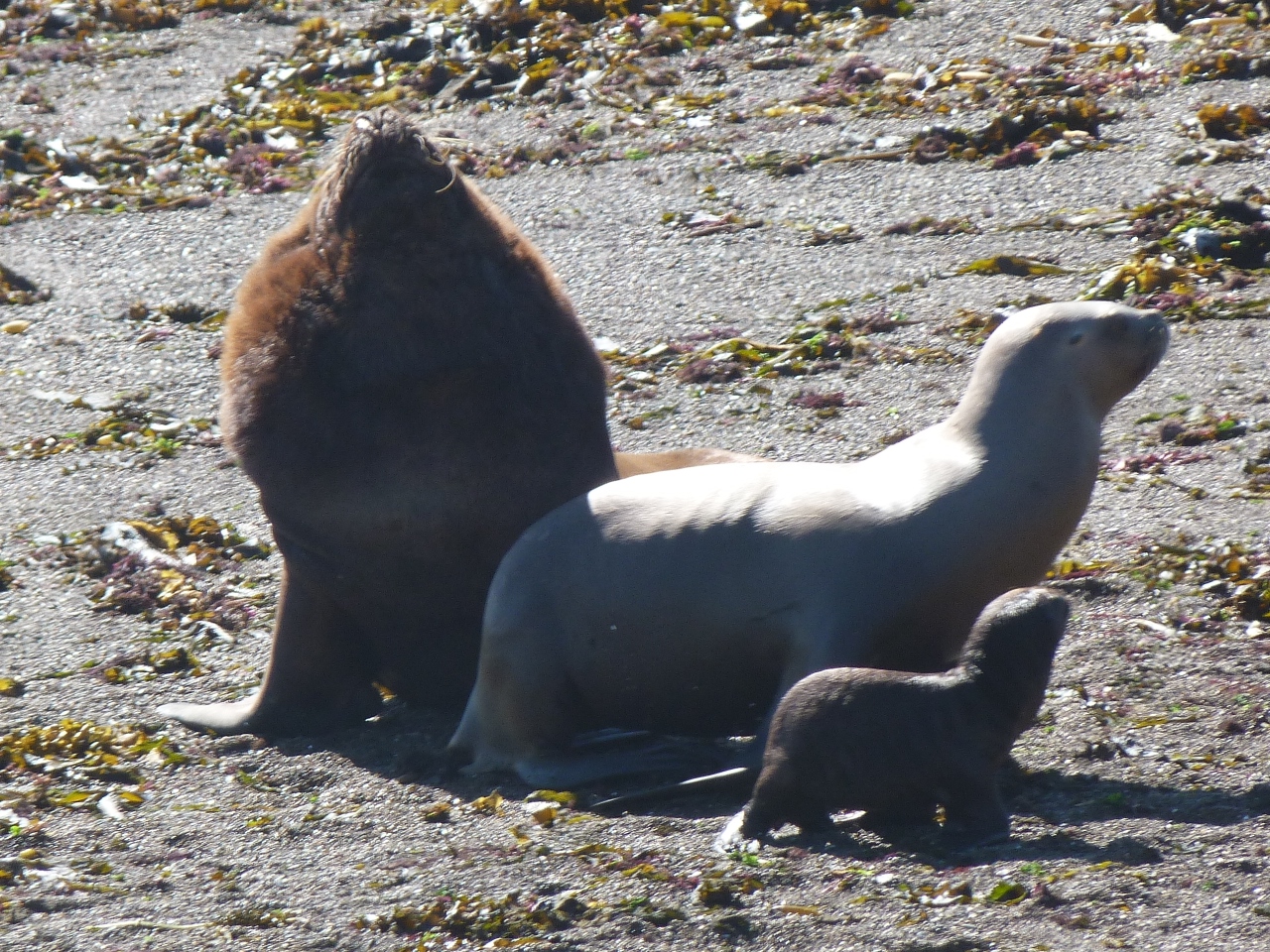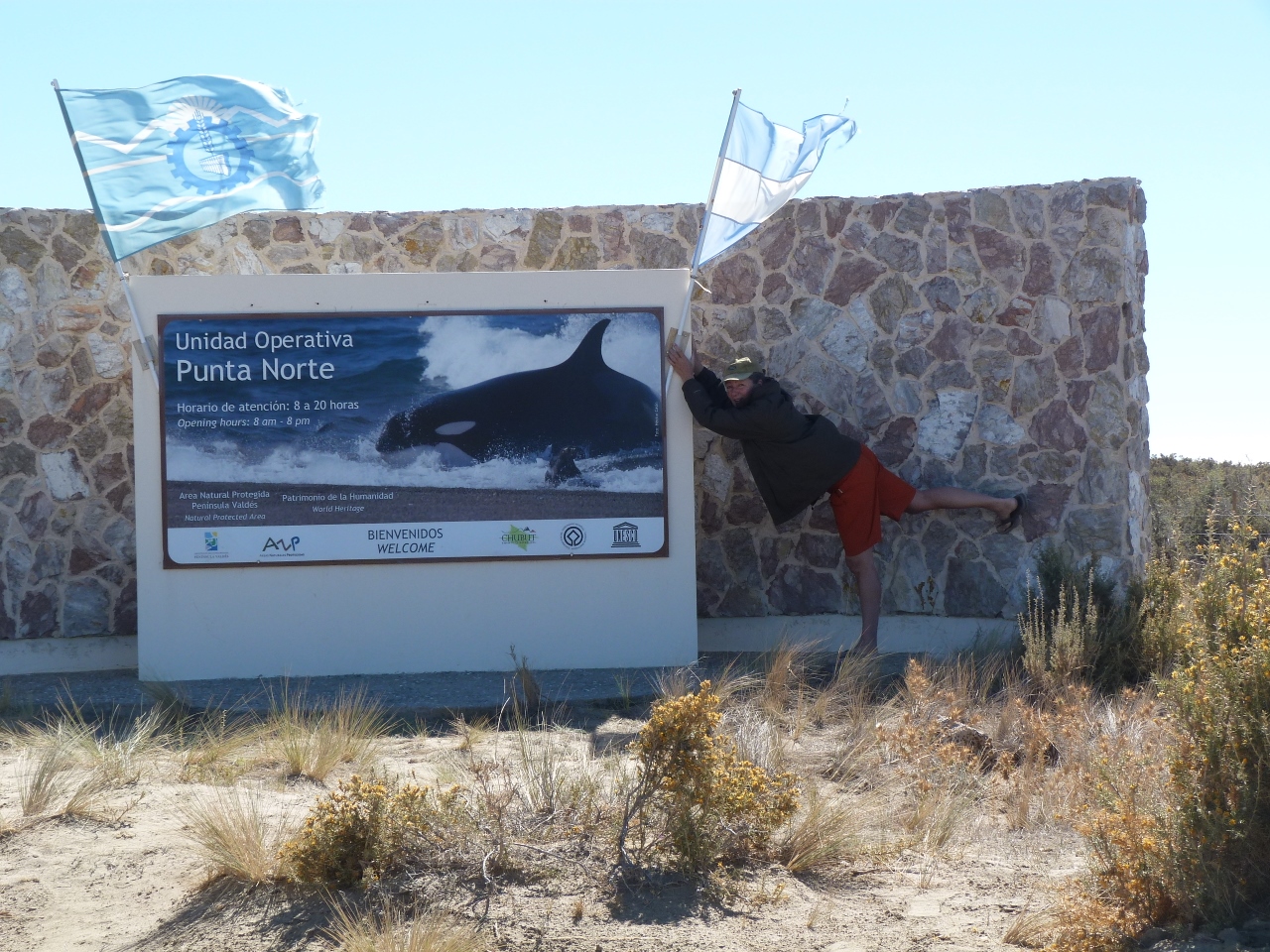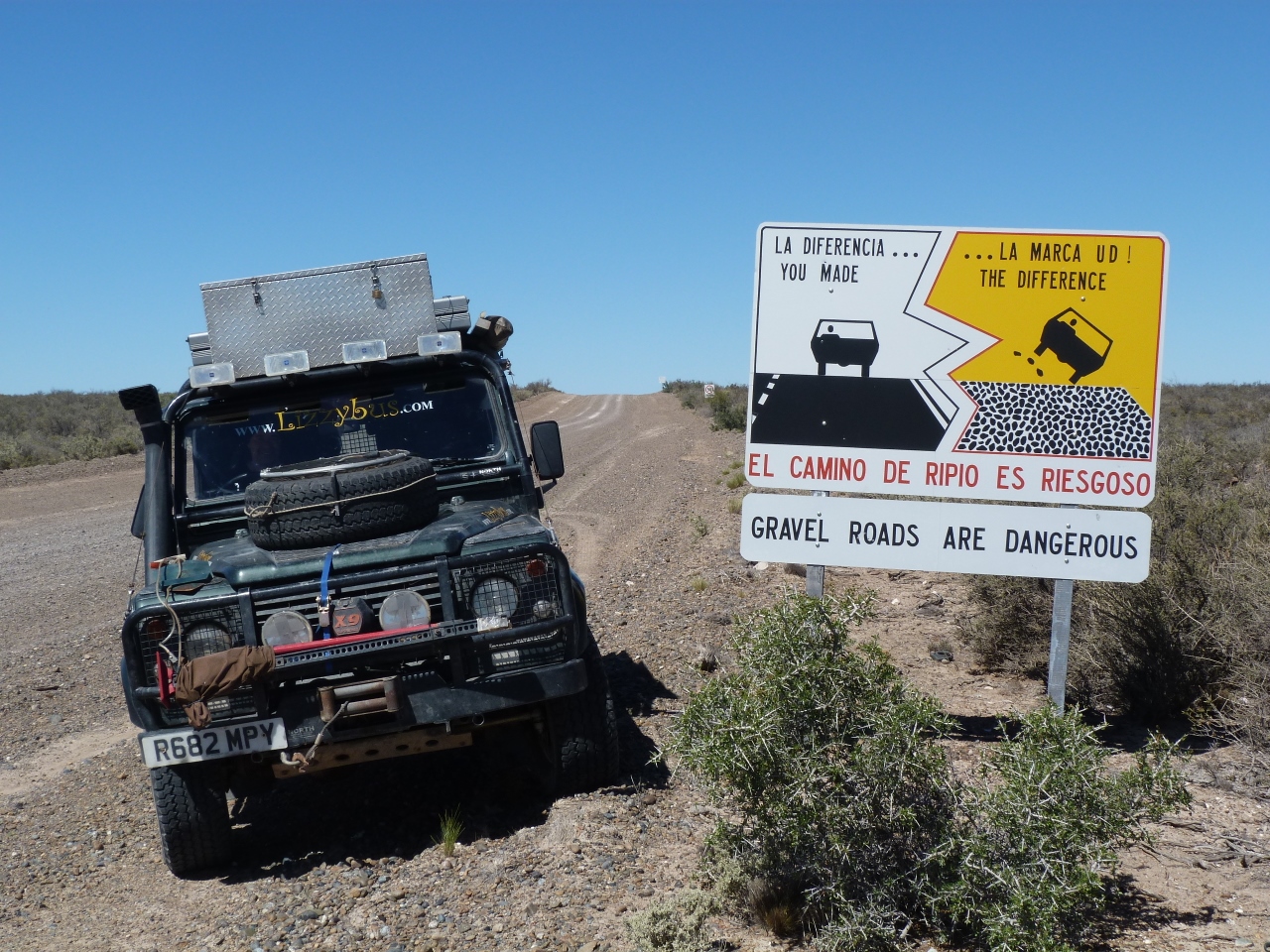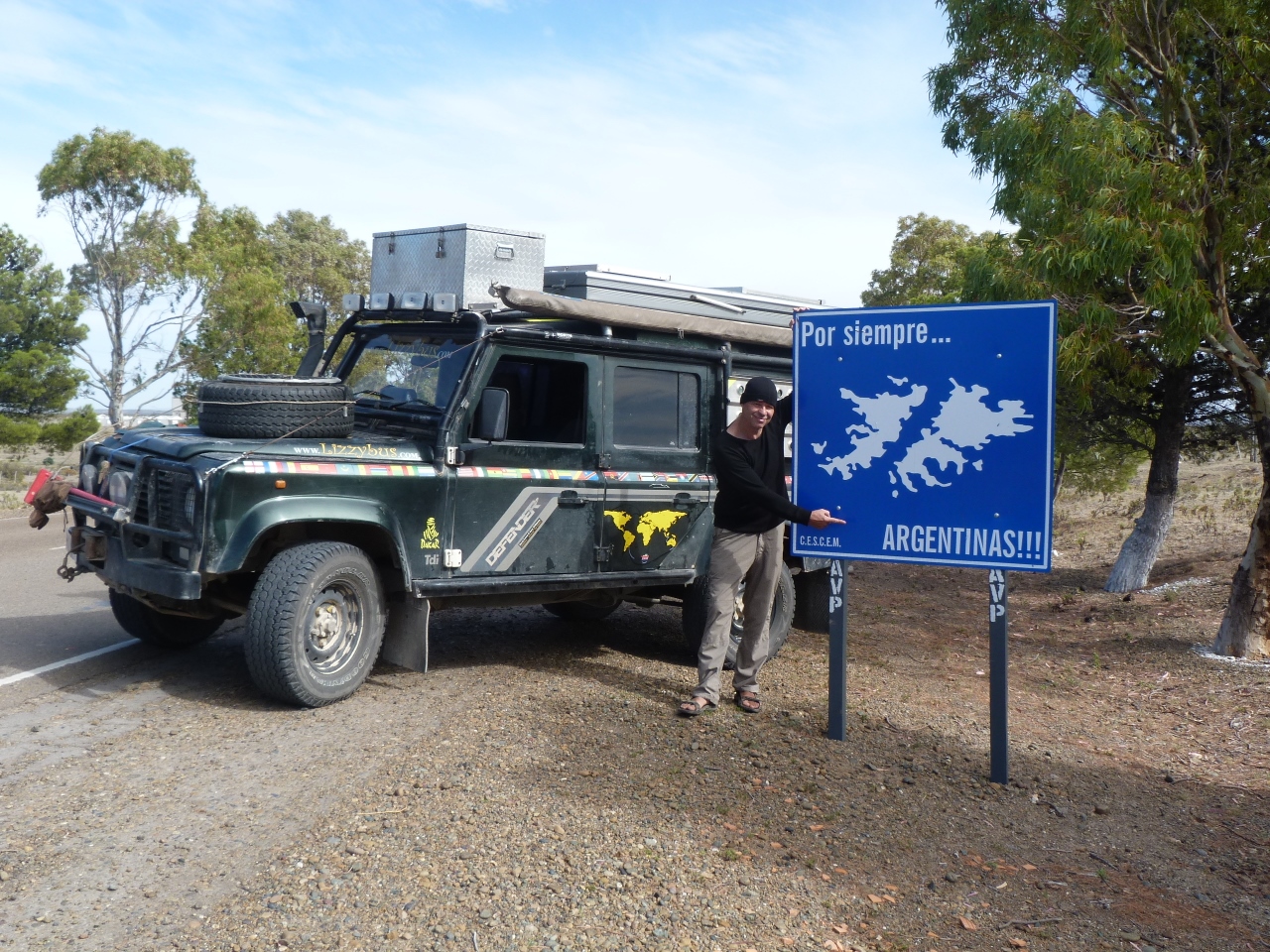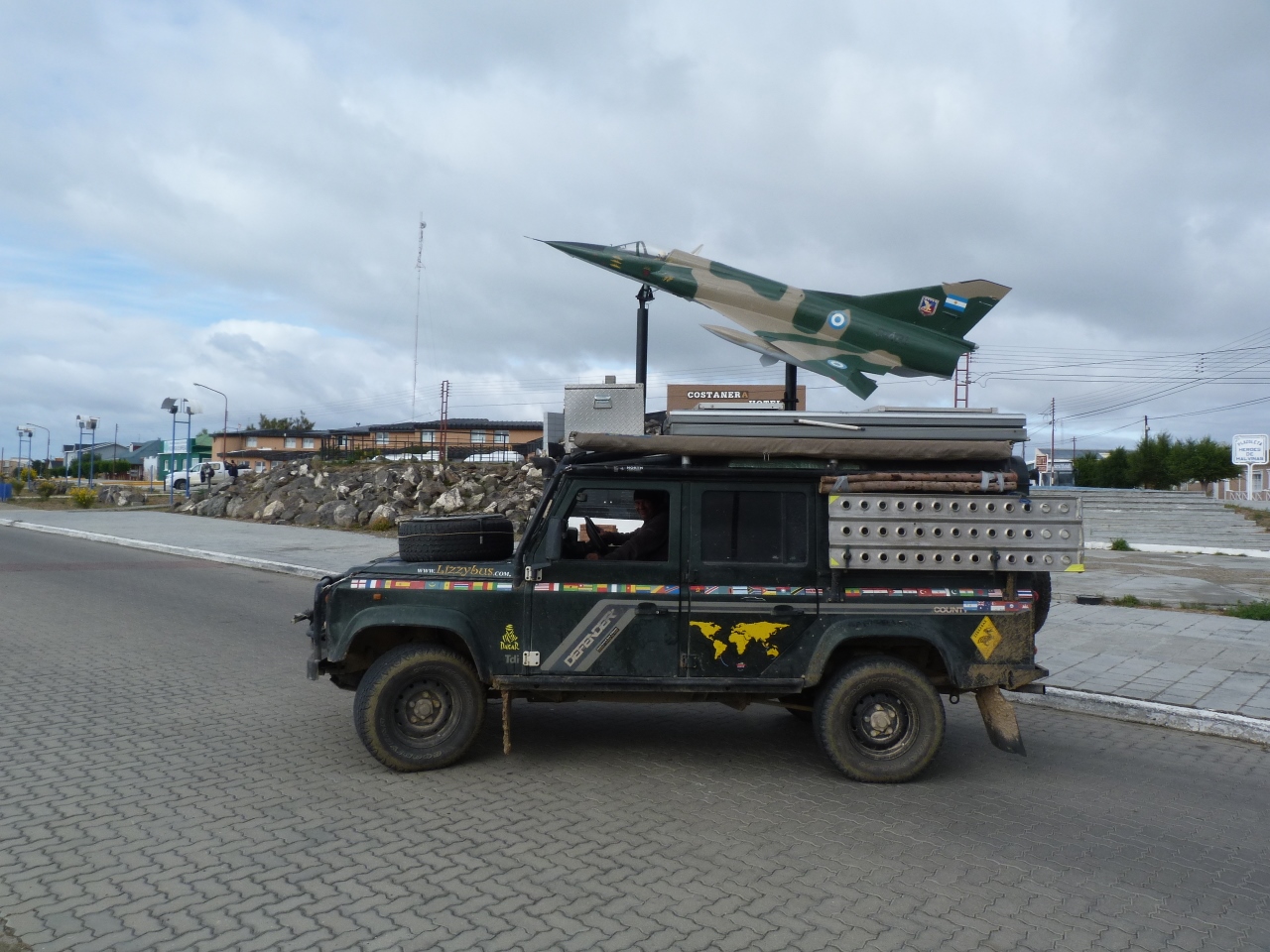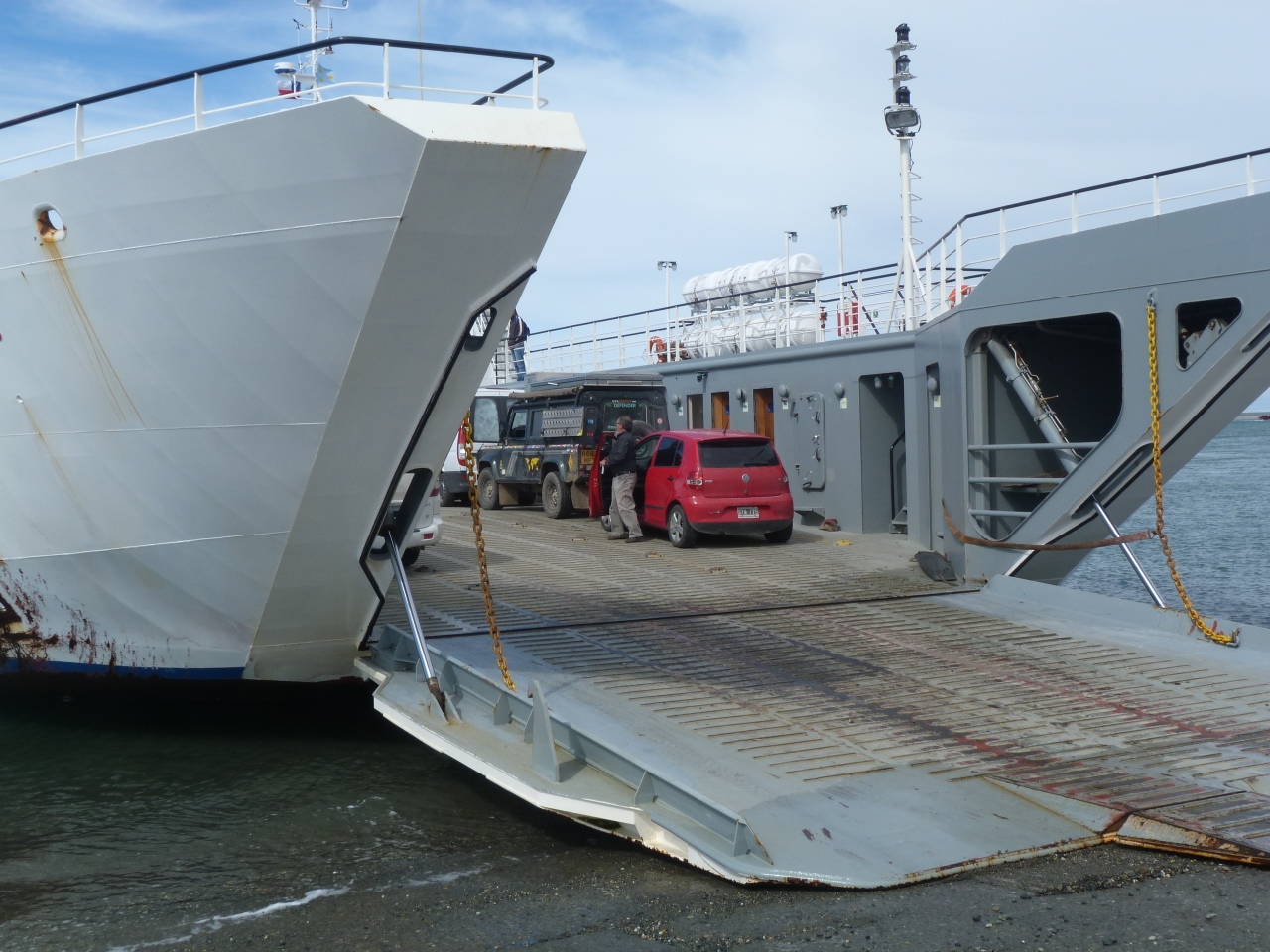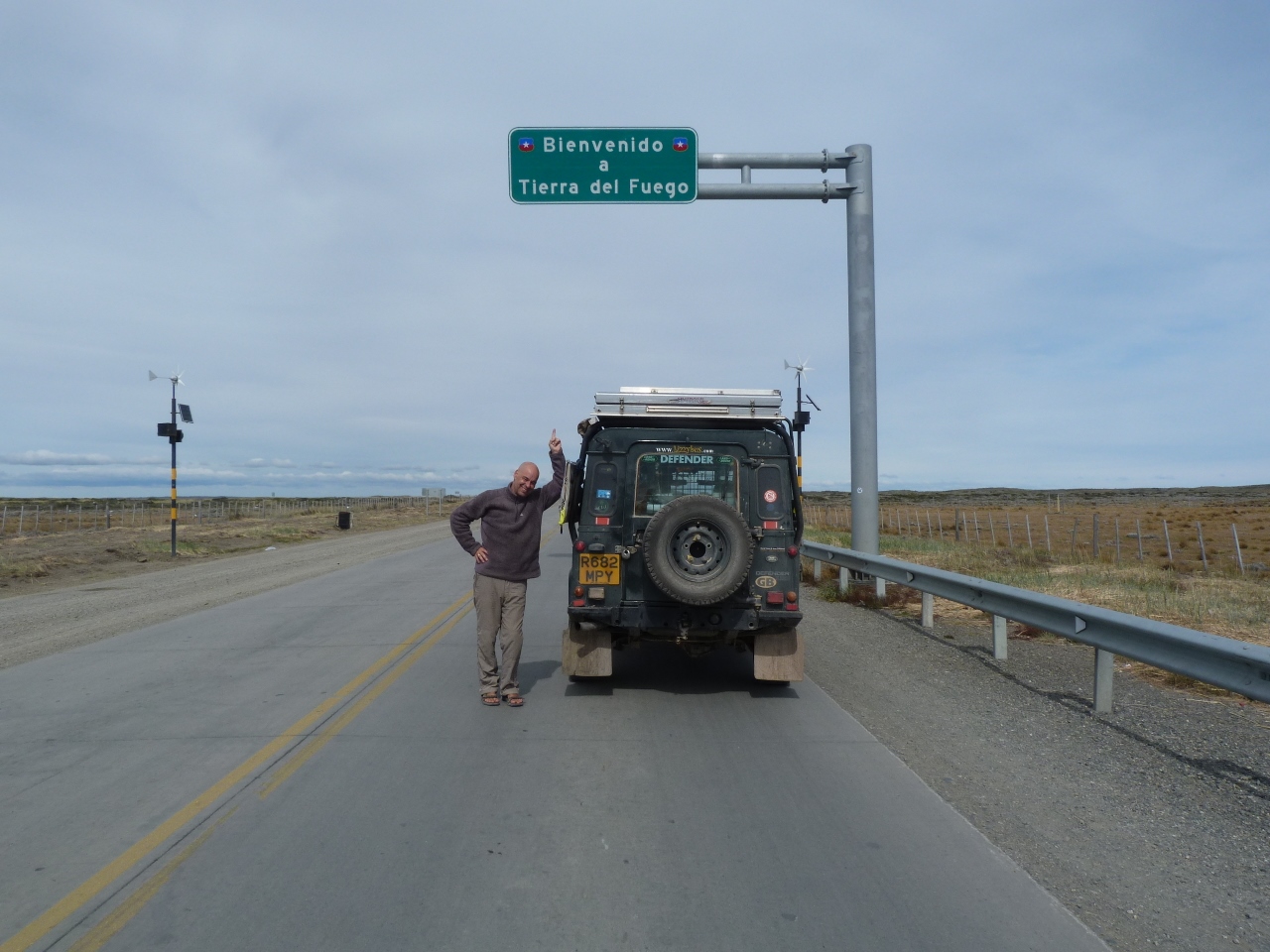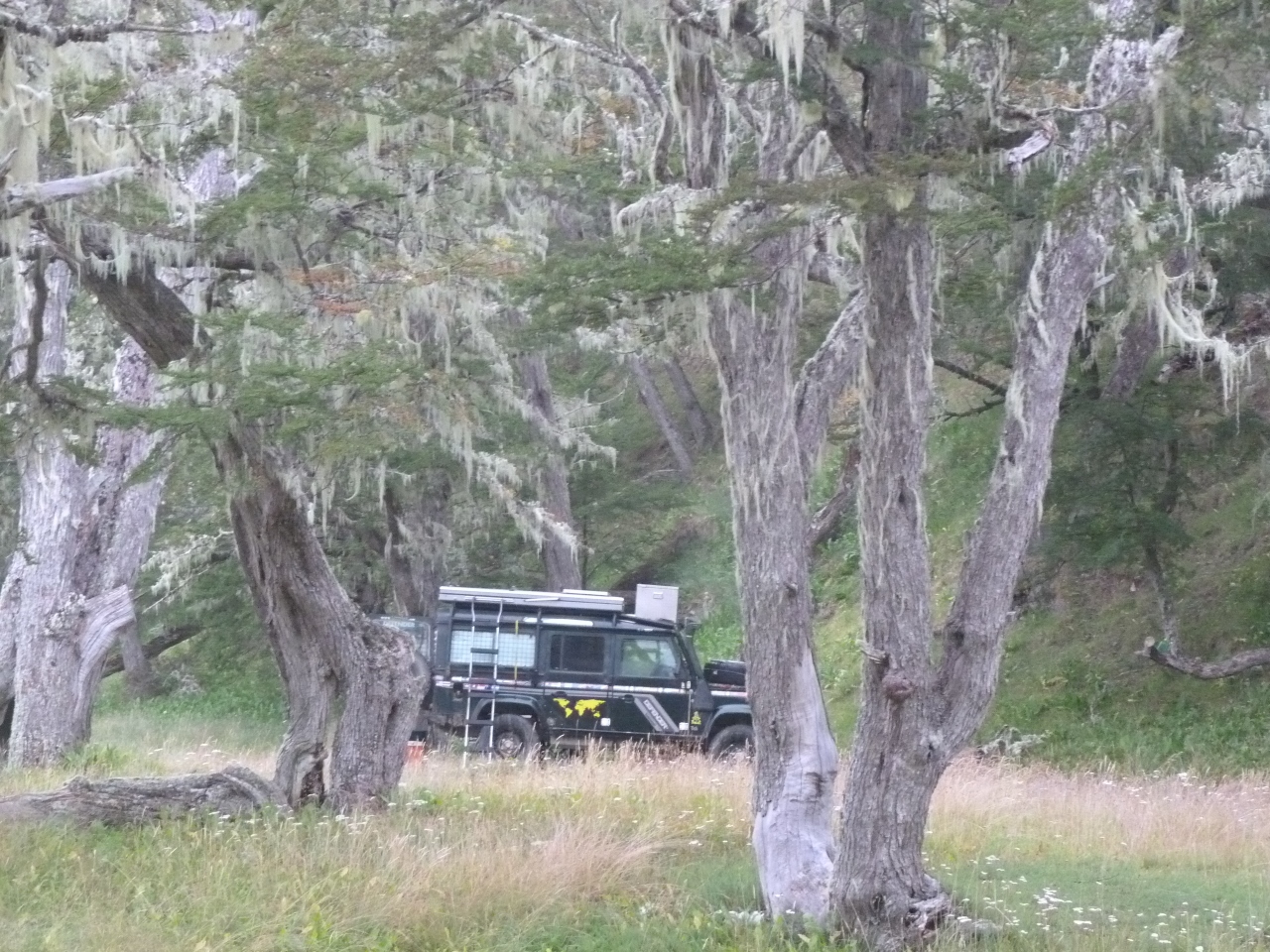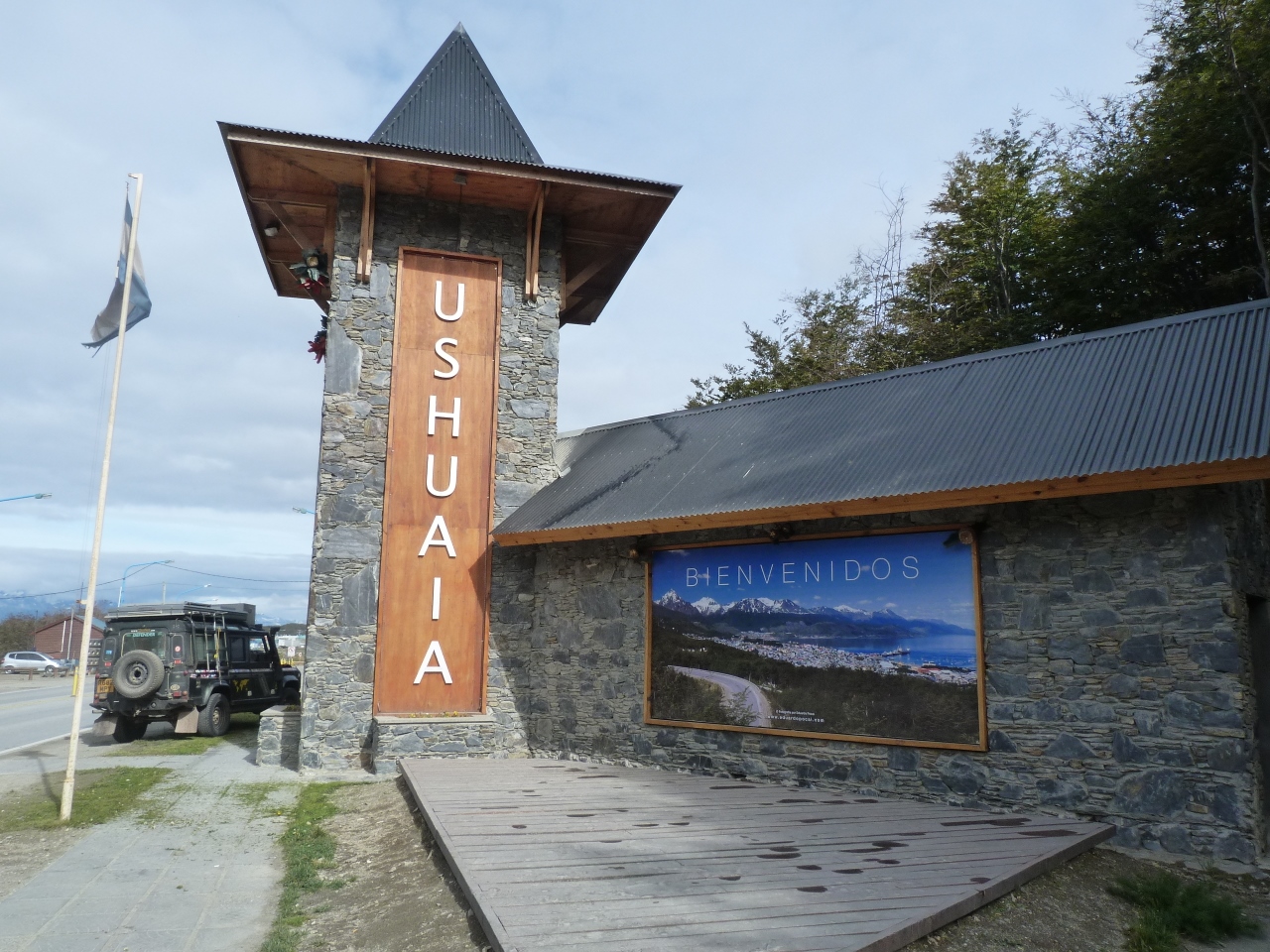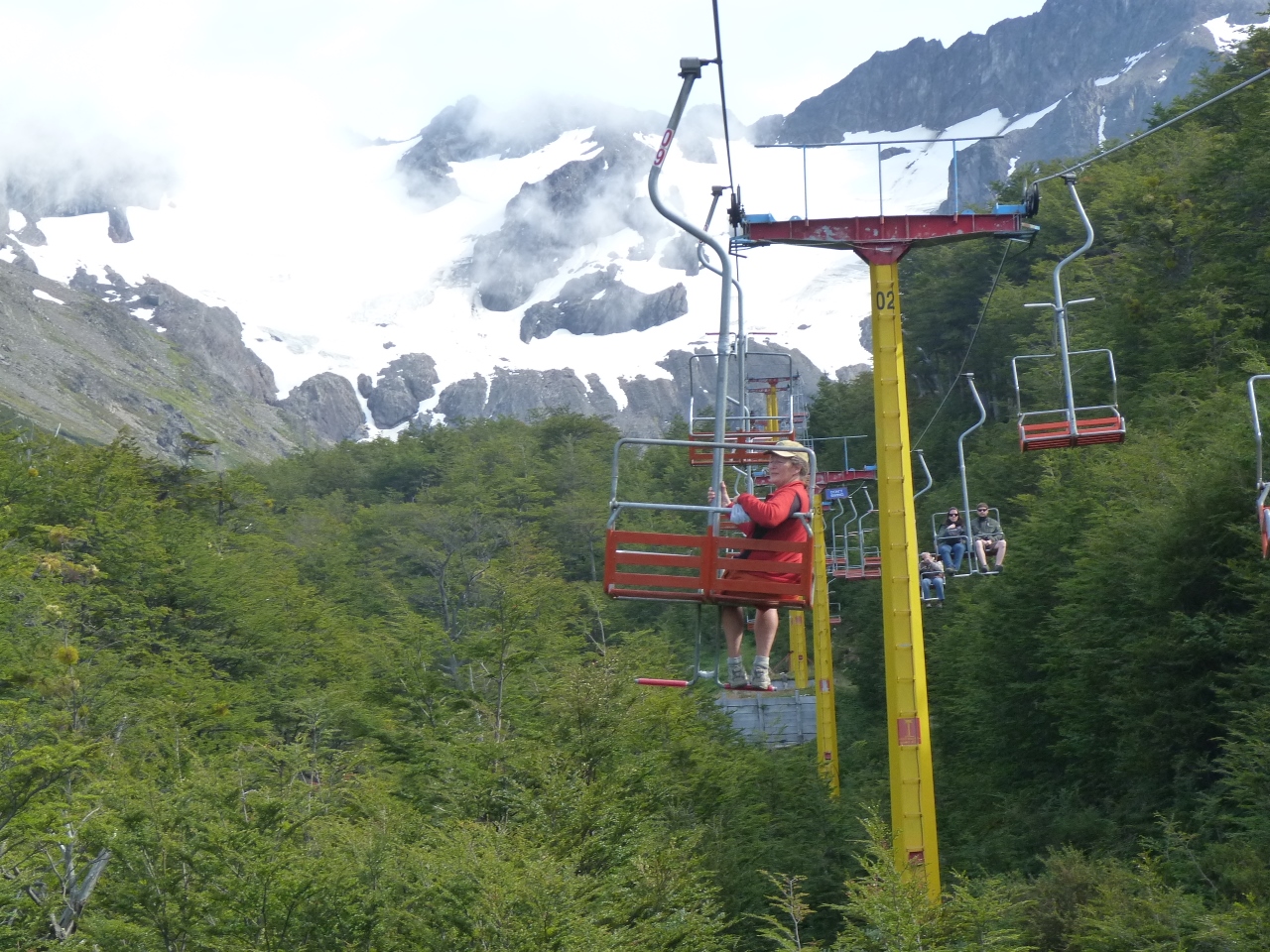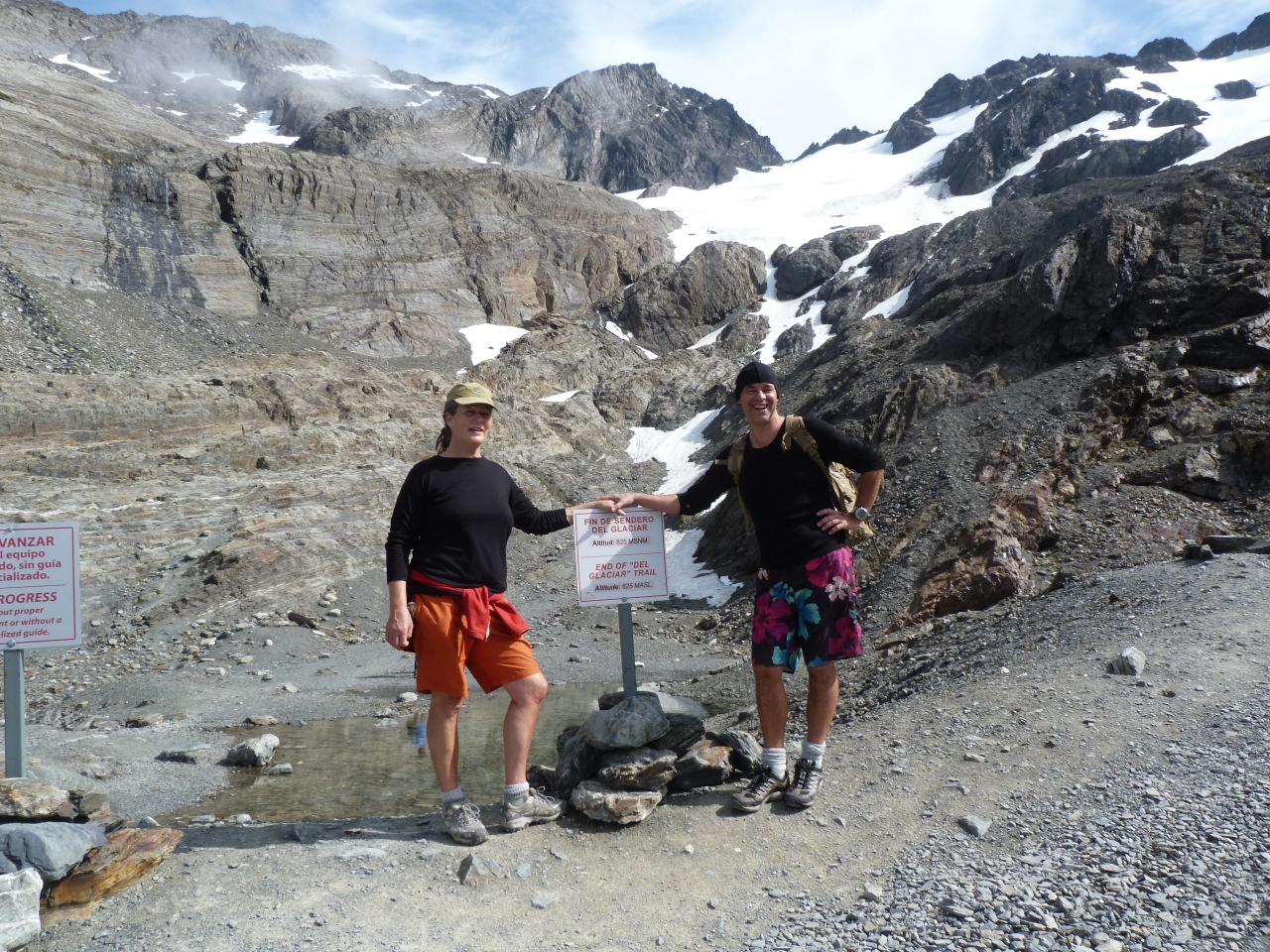 Time ?


"Tired of lying in the sunshine staying home to watch the rain.
You are young and life is long and there is time to kill today.
And then one day you find ten years have got behind you.
No one told you when to run, you missed the starting gun.

So you run and you run to catch up with the sun but it's sinking
Racing around to come up behind you again.
The sun is the same in a relative way but you're older,
Shorter of breath and one day closer to death."


Strange how we think we are not getting older .I started this journey when is was 48 and now , this year will be 52 .
Don't think I'm older ,I feel mid 30's but when I sat down in the small town of Chos Malal , in the park to munch a few Empanadas , putting my wallet down we just got up and walked off . It was only at the end of the day ( and some 350 miles) when we came to pay for a campsite that we realised I had left my wallet , cash and cards on the bench . I think I have to admit I am getting a bit older .Fortunately Mr T senior back in the UK cancelled all the cards , the money was about £60 but I am saddened by the loss of the "Bad Boy" , my black Diving Instructors card .We do however have enough local and US$ cash to last until replacements can be sent out .
Go West young man


Having sorted the Lizzybus with Insurance , 6 months for £130 ( to cover most of South America) we begin our grand tour heading West to avoid the tedious Routa 3 .We will follow the Andes South to Tierra Del Fuego on the more picturesque Routa 40 . Tigre , outside BA and we have met a French couple who we can only describe as "doing it in style" , their home being a purpose built overland truck .
But the call of the large mountains is great .Mendoza and its cheap wine are the gateway to Aconcagua , big mountain and a chance to marvel at the Andes .Do you know where the Andes are ?At the end of your wristies ! Yes it is stunning here if a little cold .The new additions to our kit , new warm sleeping bag for me , sorry I meant Jayne . Side awnings for the tent to keep the rain out are now fitted and are proving invaluable .New ( well 5 year old) Garmin on a new Ram mount looks the part and has replaced the older Street Pilot ( which finally gave up the ghost ) and the Coleman up and running.
So , just a bimble down to Bariloche and then across to Madryn Should be fun
West through Patagonia....bloody cold
A big hill
Bariloche
Bariloche
Happy with the discovery of the worlds only Chocolate Milk River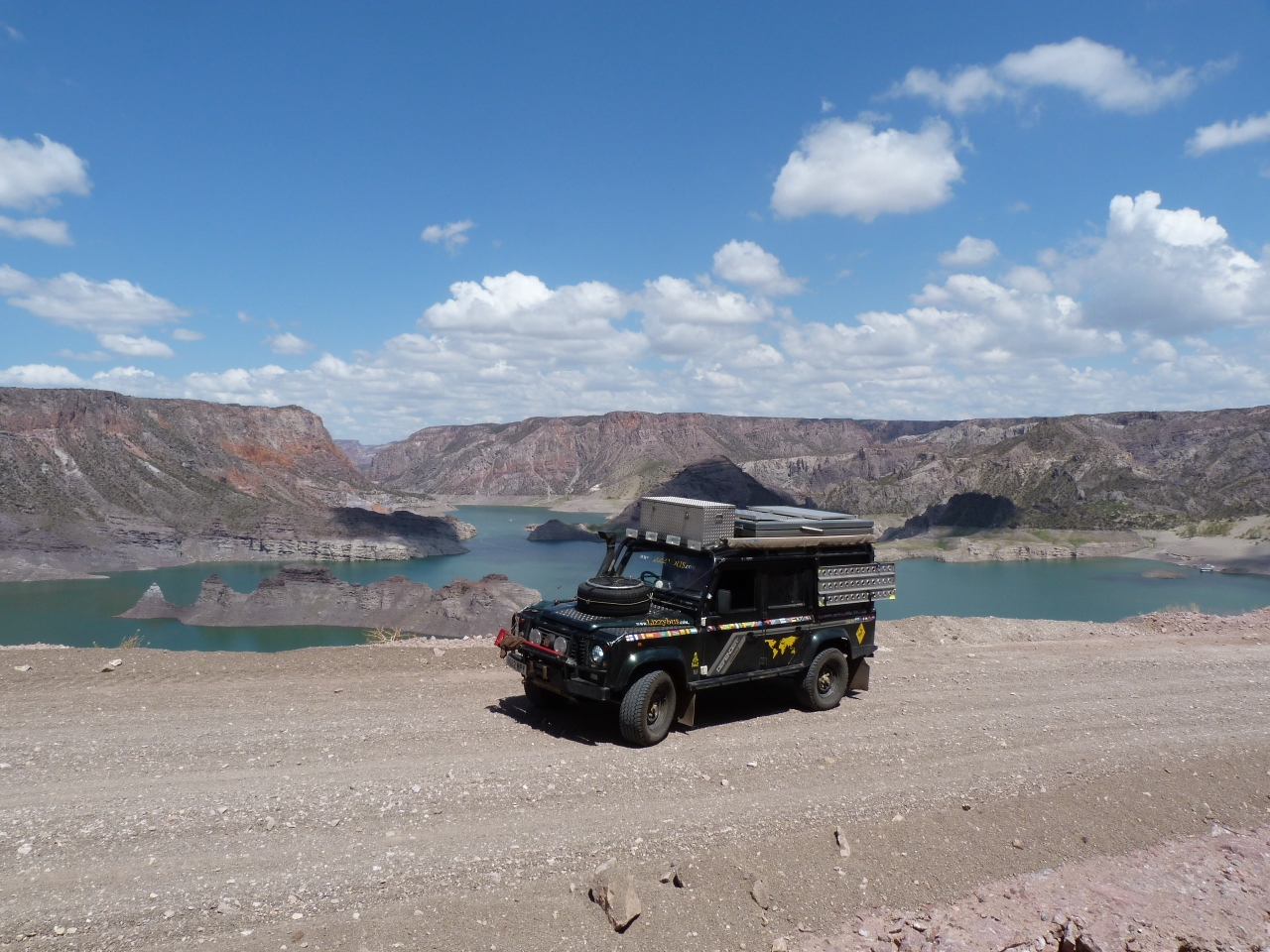 Road out of San Rafael
NowThats what I call a big truck 2
Road to the Andes
Out with the small tent ,,,
Road out of San Rafael
hE NEARLY GOT ADOPTED
It was going far to well!
As time progresses you begin to get the feeling that something is going to go wrong as everything is going so swimmingly well . Something must be on the horizon to put a spanner in the works.
Despite all the UK snow the coach got us to Heathrow , on time .
Airtalia haven't been delayed and we have a two hour wait till check in.
Nice lady behind the counter proudly announces that "as you have no return ticket (South Africa all over again) you will have to speak to a supervisor . Come back in two hours" Not very promising !
So ,we use a remote terminal and book ourselves in and just hand the luggage over.
Flight arrives on time in BA
All our luggage arrives , customs however take um-bridge at the Land Rover spares , despite the customs declaration of the parts , say vehicle parts cannot be imported , so don't do it again and let us in (not even a hint of money)
Taxi straight to hotel who have our booking.
Shipping agent is a five minute walk from the hotel , has all our details and is organising the container .Change money at the "Blue Rate" (7.35 cf 4.95 to the US$).
All too good. You bet.
Container is on the back of a low loader when customs notice the seal doesn't match that given on the Bill of Lading .Either bribe your way out or sort the seal issue , send the flat bed back and pay for a few days extra storage(Total , poss over a grand US$) Well hello , its bribe time again and $200 down on the deal.
But , despite the changed seal (done in Melbourne by the Freight Agency and should have let us know) we get Lizzybus back .Guess what , after 8 weeks she starts first go …….Land Rovers , don't you just love em !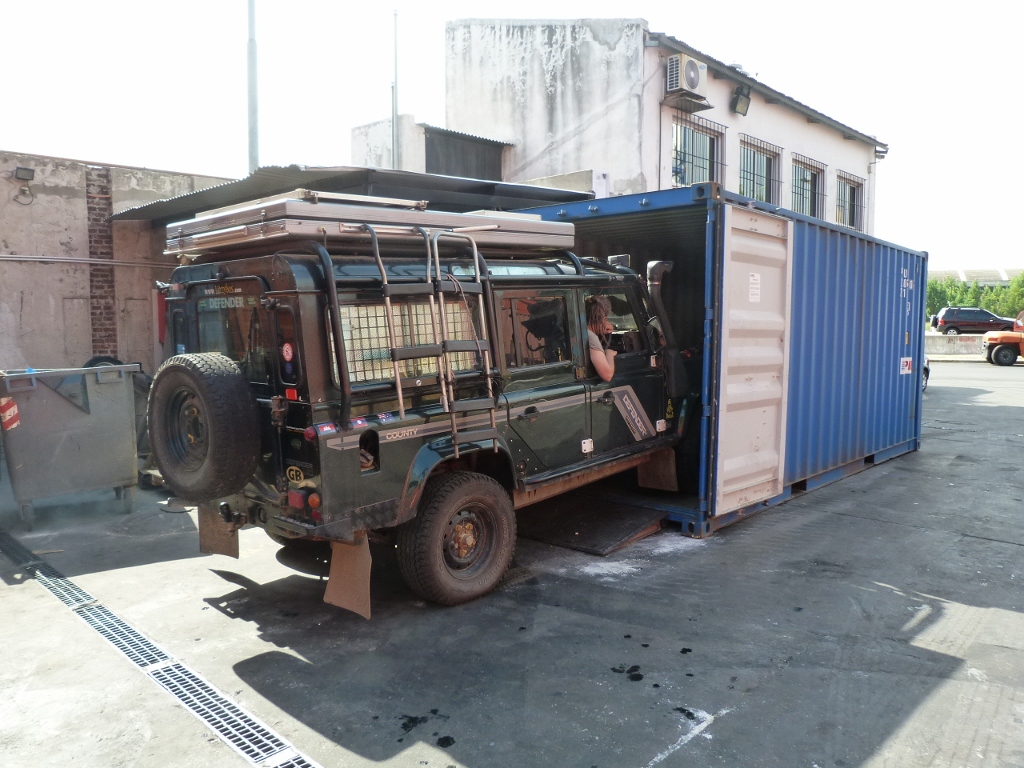 After 8 weeks she started first turn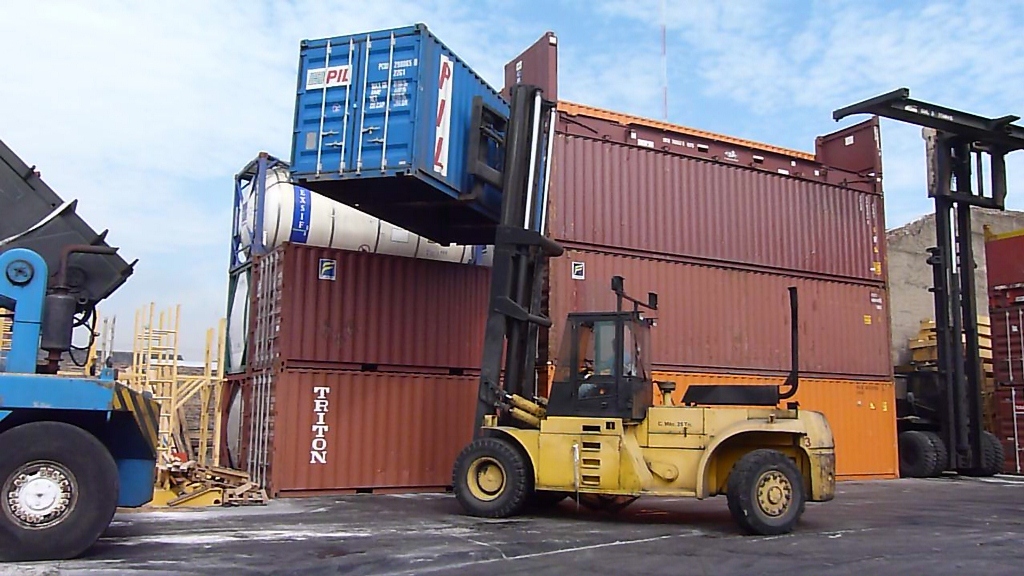 Carefully does it, precious cargo , the Lizzybus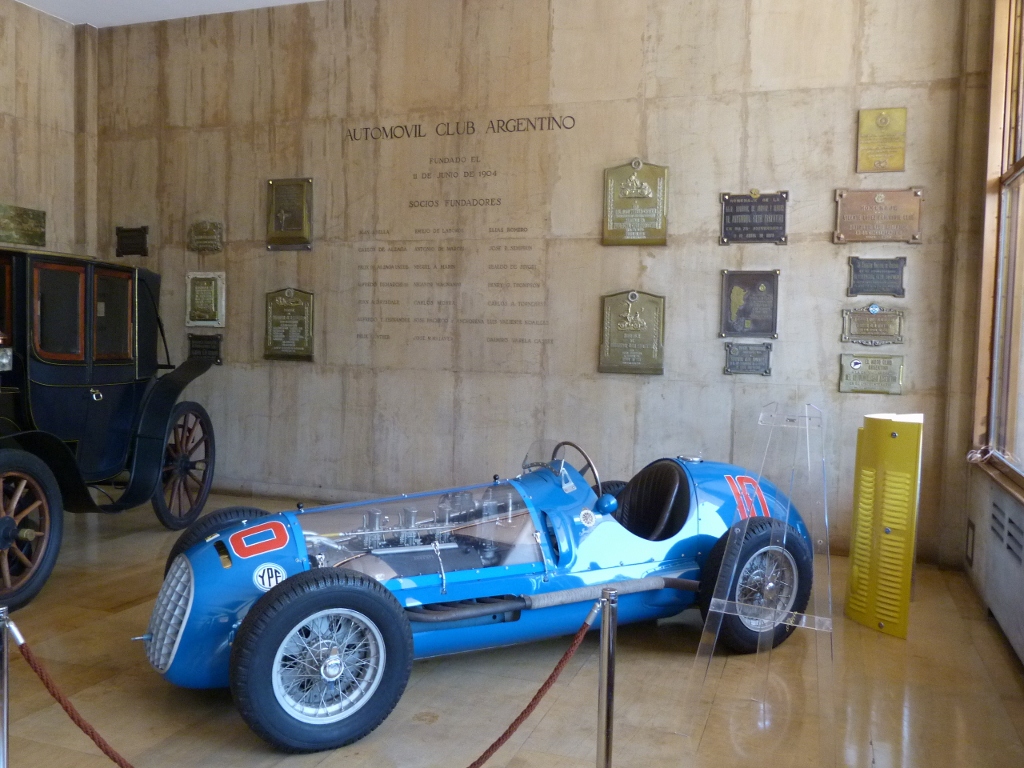 Foyer Automovil Club Argentino....bet the AA doesn't have one of these



So , 6 weeks back in the UK , plenty of snow and a chance to meet family and buy the essentials in life ( filters , pumps etc ).
Interestingly the Australian authorities where not impressed that we had overstayed by two and a half months and have "banned"us from returning for three years.Not to worry , our journey should take at least two and a half to complete.
Spares purchased and packed include a new generator for our Coleman Petrol cooker so its back to two burner cooking for us.
Interestingly and it is with a sad heart we leaernt that the "God of Carnet" at the RAC , Paul Gowan is no longer heading the department.They have changed the rules which means no new carnet without the return of the old ones (still in the landrover).
This means intrepid overlanders , a wait of at least a month to get a new carnet plus doubling up the bond to cover both old and new (untill old carnet recieved and bond released).The buggers even want to put a "proper" valuation on the beast and a HPI check.You have been warned.
Departure from this snowy cold Isle is on the 26th Jan to BA via Rome.Lizzybus has arrived and (at great expense) off loaded.
Big advice , if you are going to go to Argentina , investigate the "Blue Dollar" , parallel pricing of Peso/Dollar .Exchange rates are oficially pegged incl credit card withdrawls.Black market rates are 30% higher.So take a shed load of good quality high value dollars