Oi , geezer , no!!
Having tested the Lizzybus on a 1:10 hill for about 15 miles and no ill effects we head off for the great unknown. Destination Yellowstone and Teton National Parks .Bush camping has become the order of the day , except in the Parks where a fee of $20 is the norm .Teton , with its towering peaks is awe inspiring but , I am sorry to say , "Old Faithful" , impressive as she/he may be didn't .Too quite , one expected noise and ground shaking theatrics , but none occurred . Occasional Lizzybus would send the needle towards the red . Has the dreaded overheating returned ? Only time will tell .Onwards and upwards to Seattle and a couple of days with Brendan and Gill , a family looking to overland and looking for our input . Comfortable bed , good company and late nights quaffing beer bode well . Our visa time is running low so pressing on to the Canadian border is our priority .We have 6 month visas and have used 5 of them .Expending $290 we hope to get extensions , but despite a 2 week wait we have had no reply .Entry into Canada should "stop the clock" and give us more time in Alaska.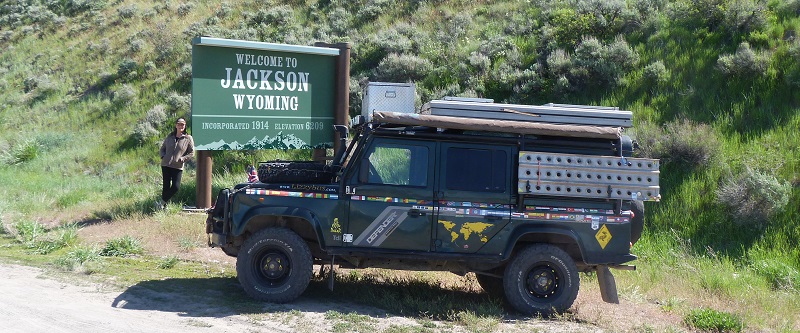 Heading North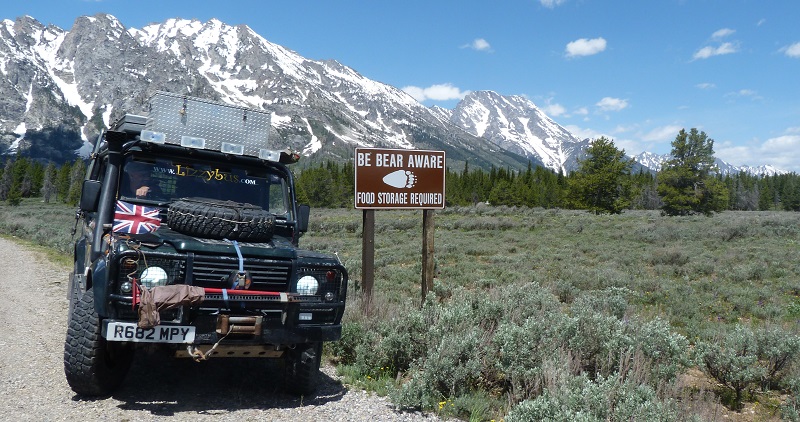 Teton National park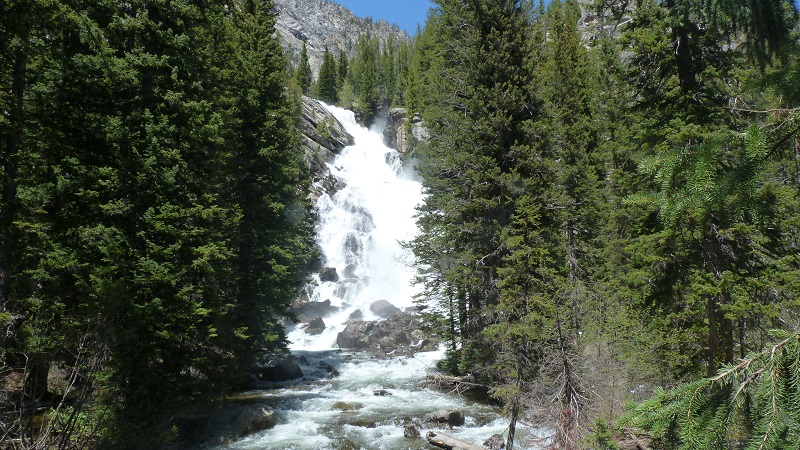 Teton National park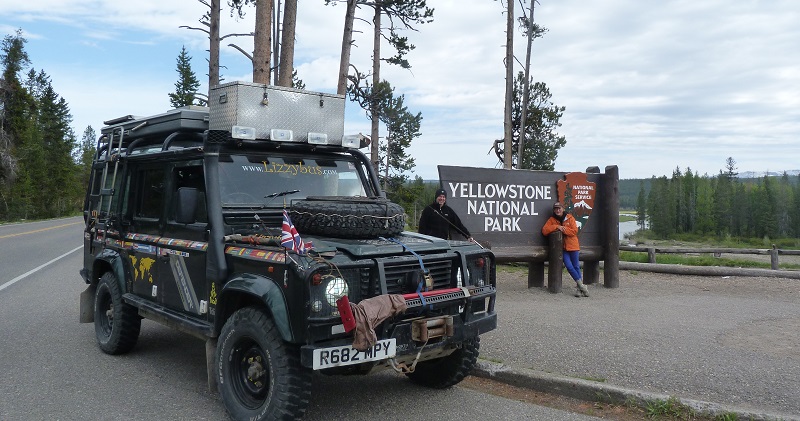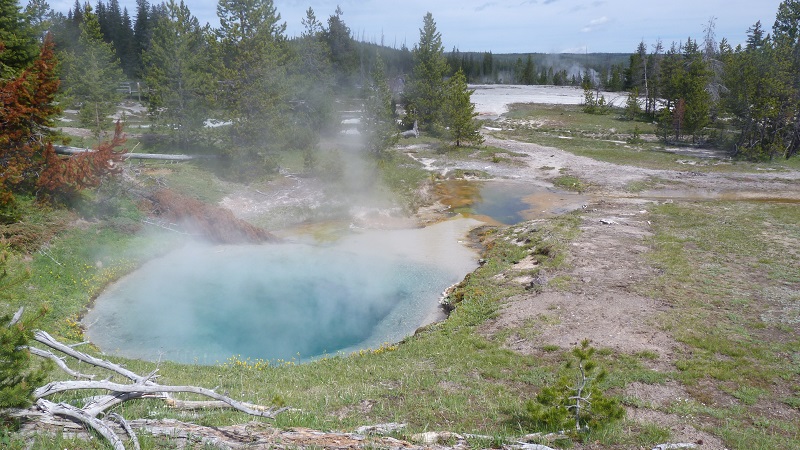 Yellowstone NP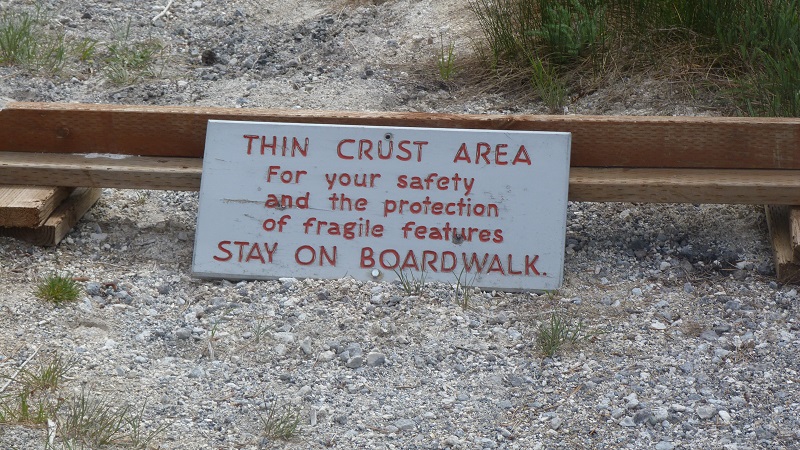 I thought they where talking Pizza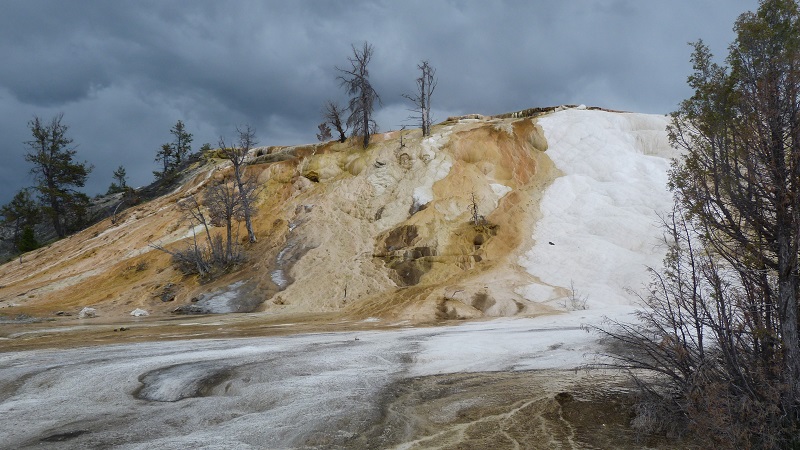 Yellowstone NP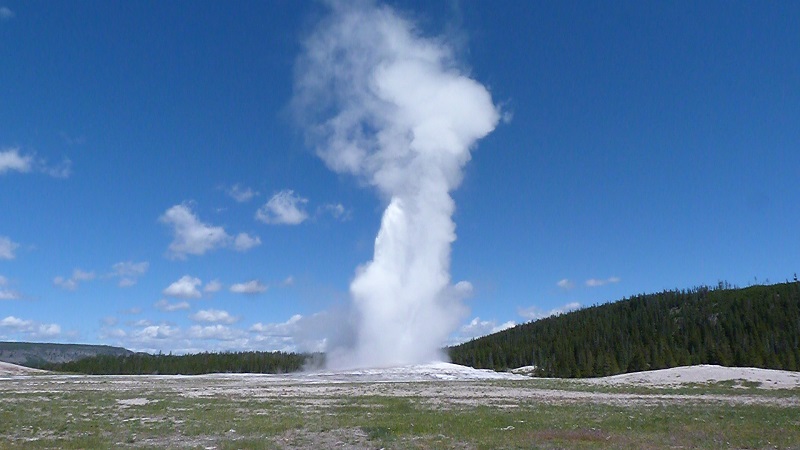 a very quite "Old Faithfull"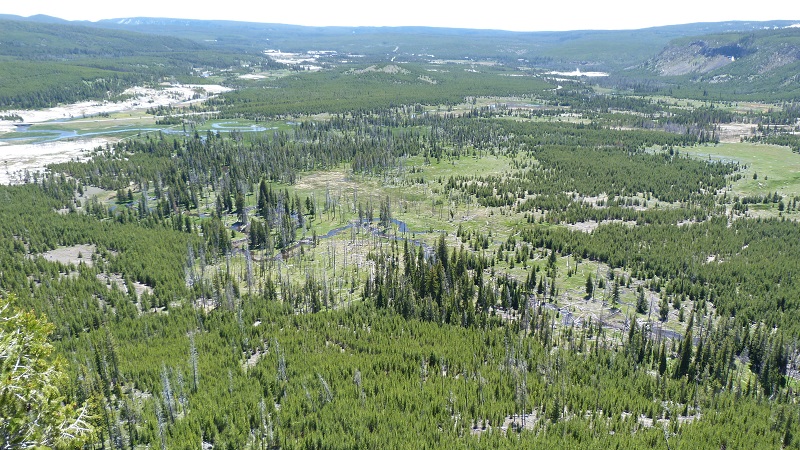 Yellowstone NP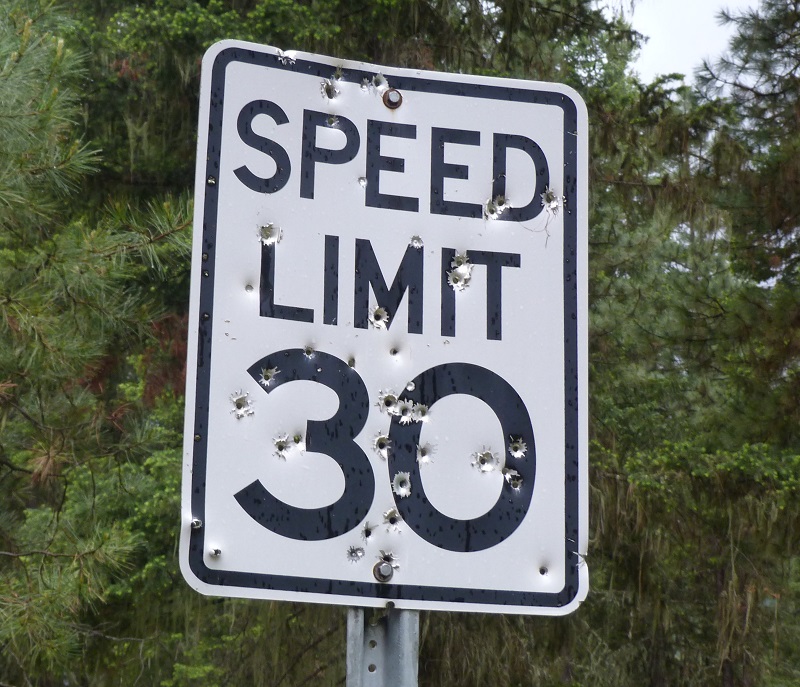 "what we have here is a lack of respect for the law"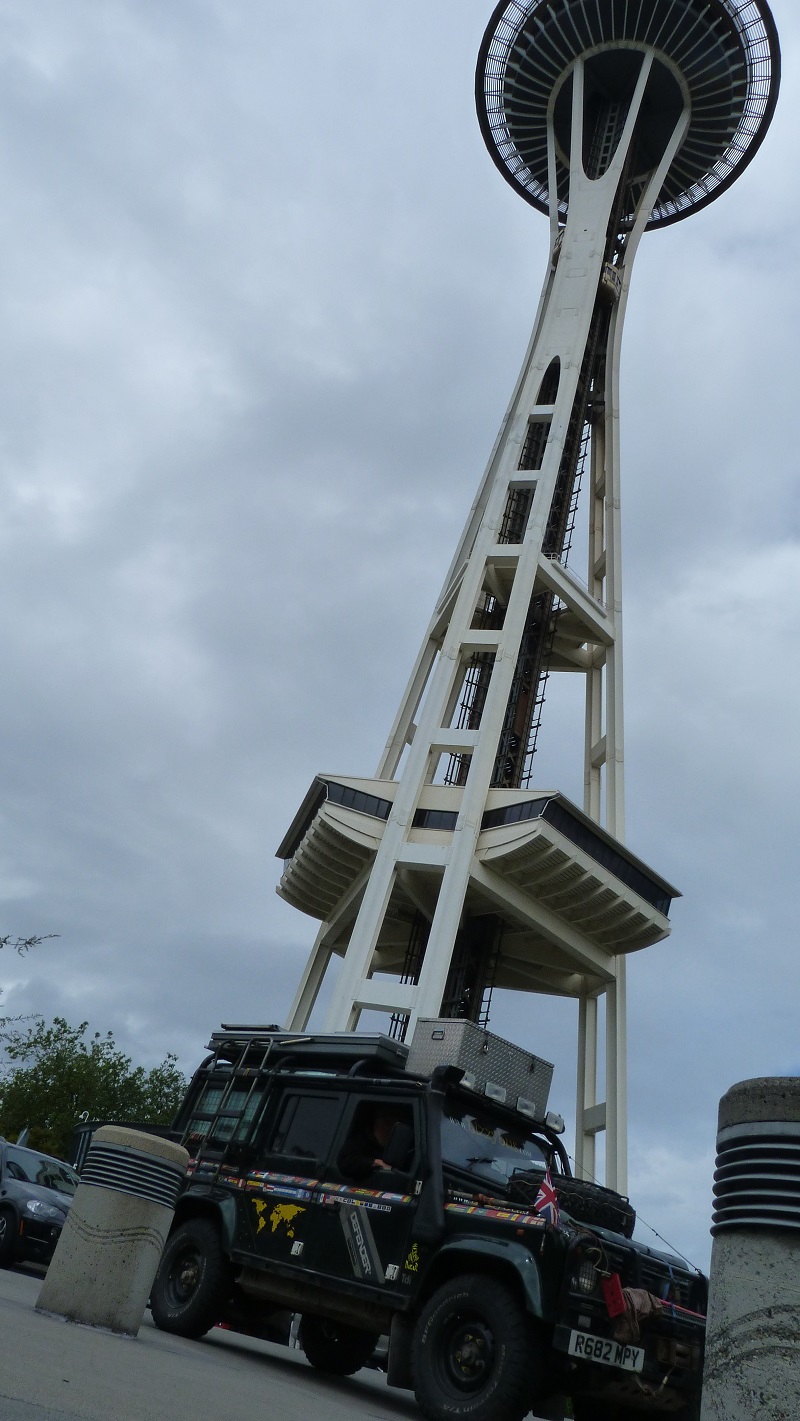 Iconic Seattle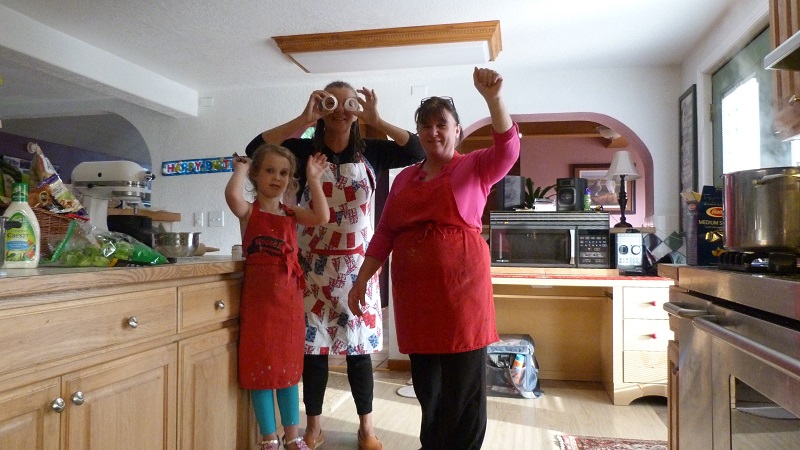 Jayne "helps out" with the cooking .Gill and Brendans
Very hot and very , very bothered!
Having prevaricated for a whole week , we departed North on the Monday for Monument Valley , Colorado ,Yellowstone and up to the border with Canada .That was our plan , visa time is running down and we would like to spend time in Alaska
As usual , the Lizzybus was singing from a different hymn sheet .In-fact she was singing the same tune that we had when we left for Flagstaff .Overheating at exactly the spots as the first journey .Not wishing to return to Mesa , again , we press on .Progress is slow as every hill has the needle racing to the red and us , easing the power off until she cools .Despite this we get to see Monument Valley ( $20 to get in and very touristy) we save the money and visit instead "Valley of the Gods" .A stunning gravel road through some awesome natural features .The name , to be honest says it all .Mechanic Dave decides the fault lies with the Viscous fan .To effect a repair , copious amounts of JB weld are used to lock the fan up .Good idea . Logical thinking all come to nought when the "hard as steel" weld is sheared as soon as the engine starts .Declining offers of rafting in Bluff ,we seek out Great Basin Rovers in Salt Lake City .Their considered opinion is a blocked rad , so biting the bullet we order a new rad and coupling , to be air freighted to them and book the local motel for 3 nights .Things are starting to get expensive .
If you don't own a Land Rover you will not understand what a find Bills place was .
Ever helpful , yard full of old landies we set about replacing fan and coupling .Expert advice on hand , parts and consumables as necessary .We even met up with Brit Overlanders Bill and Rosemarie , also on the same mission , sort out overheating and some general maintenance . As always ( at least with Land Rover Owners ) hospitality knew no bounds and a great Salmon Dinner and family meal provided for all present .Cheers guys ( and Gals)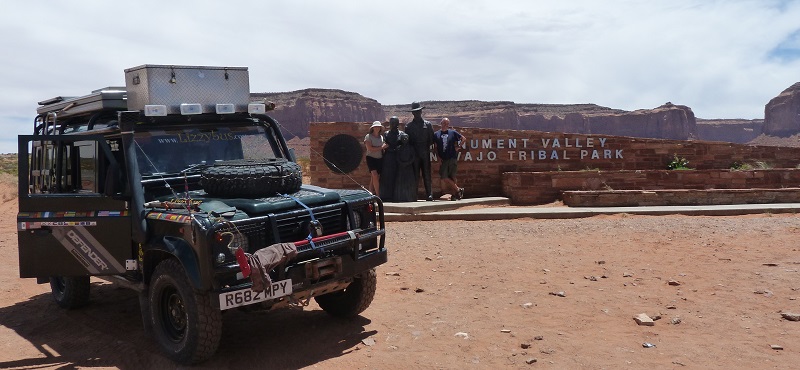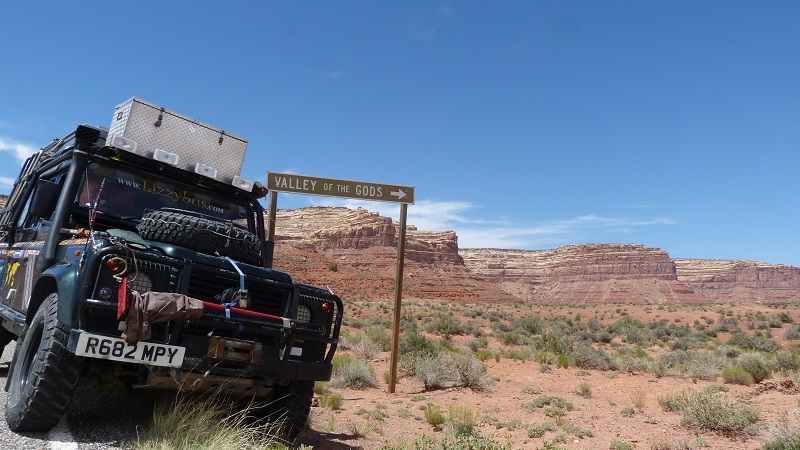 Valley of the Gods, Utah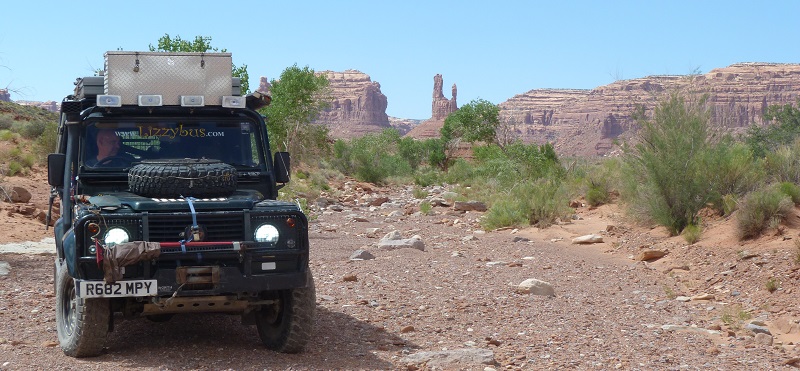 Valley of the Gods, Utah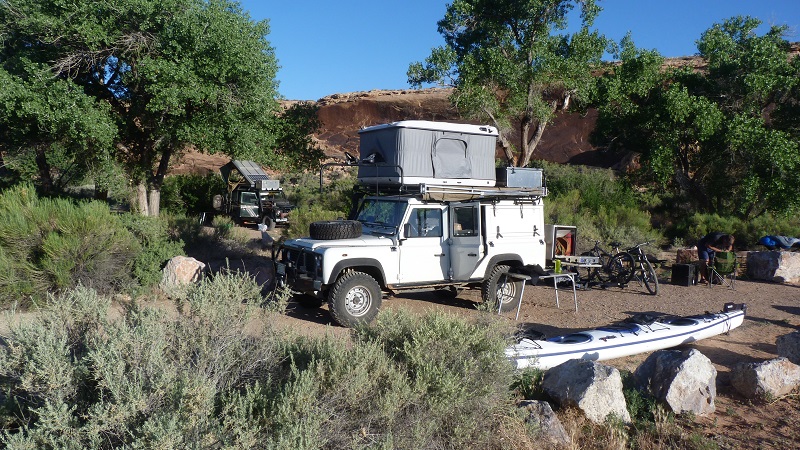 Met at Flagtaff ( Clarence and Isabella )Bluff , Utah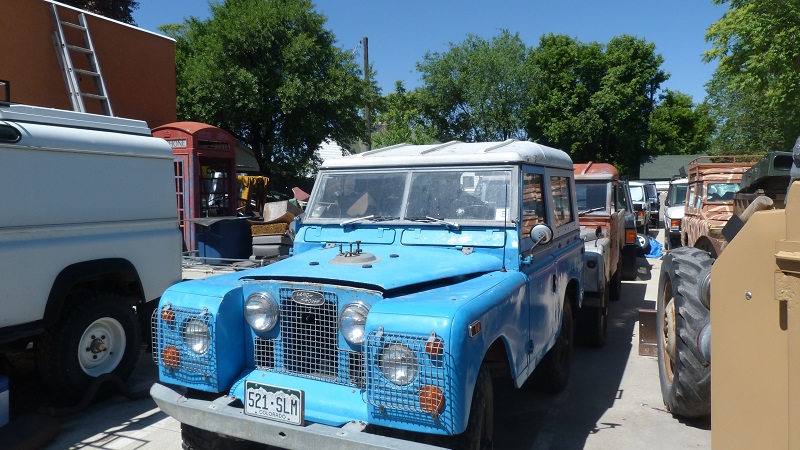 Bills Yard ( Great Basin Rovers , Salt Lake City )Awesome Place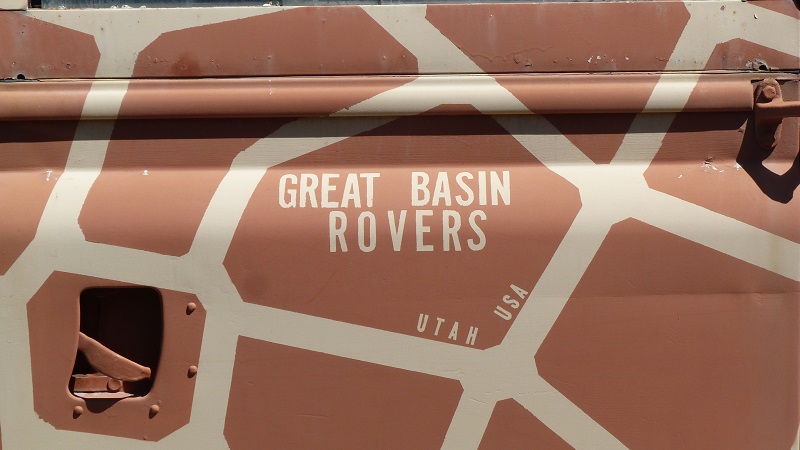 Fellow Overlanders arrive at Bills ( Bill and Rosemarie)
Time to fit the new rad
The joys of the internet
After five years on the road how things have changed from Africa .Internet everywhere .Land Rover forums scoured and the problem could be as simple as a blocked expansion hose pressurizing the system .On checking , hose from thermostat is blocked .It still could be a damaged head / gasket so we decide to change the simple things first .New water pump ( I have a new spare) replaces one that now appears , on inspection OK . Then we find Rovah Farm (http://www.rovahfarm.com/ ) and Trevor , ex pat Brit who can supply 300 TDi parts promptly and almost at UK prices .Heaven , so to cover all eventualities new head gasket , pipe and a few seals are ordered and delivered in 2 days .To check the coolant condition for a gasket failure Jerry at Hedrick Auto ( friend of John Condon ) ran the tester on the coolant and could find no combustion contamination . Having drained the system down , changed the anti freeze refused to accept payment for the fluids and an hours worth of his labour , great guy ( he tried to refuse a 6 pack of beer , but common sense took over )
So with all anticipated parts on board , expansion hose and cap replaced we hope we have cured the problem .Only a good set of hills will tell .Monument Valley and the Rockies , here we come ( well after Memorial day )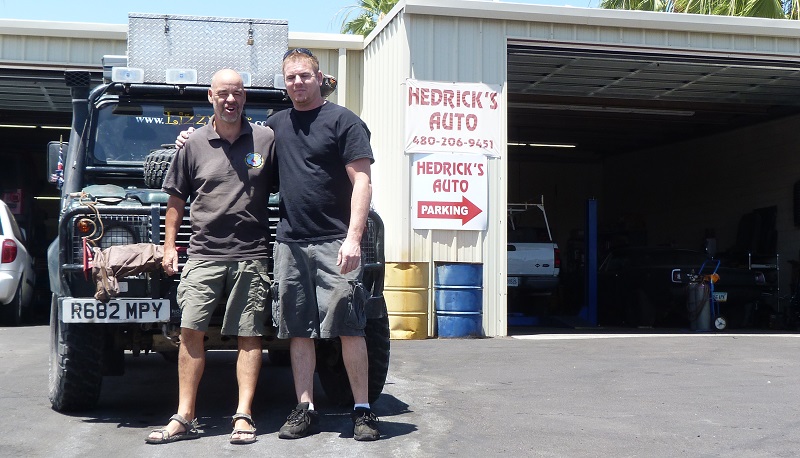 Great help , Jerry
Parts arrive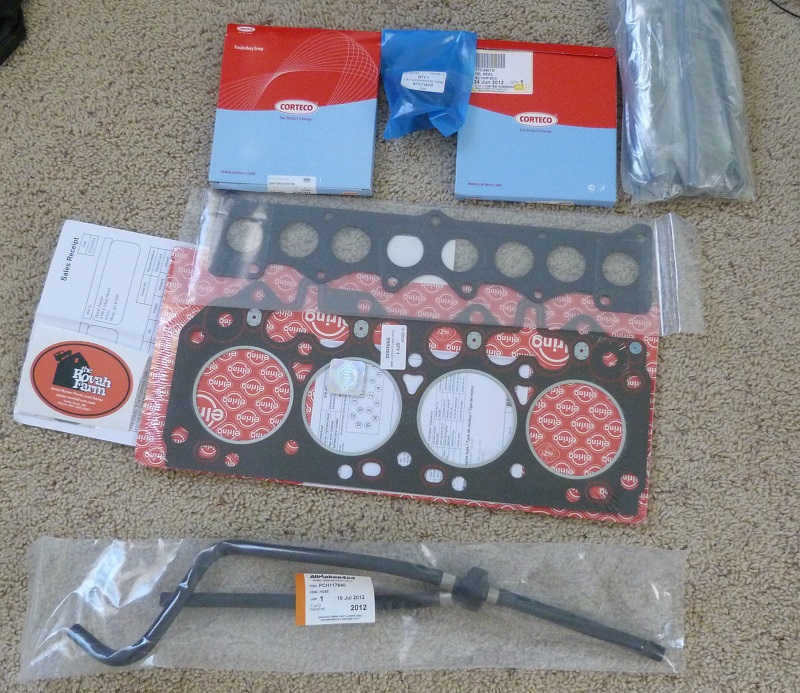 Early christmas from Rovah Farm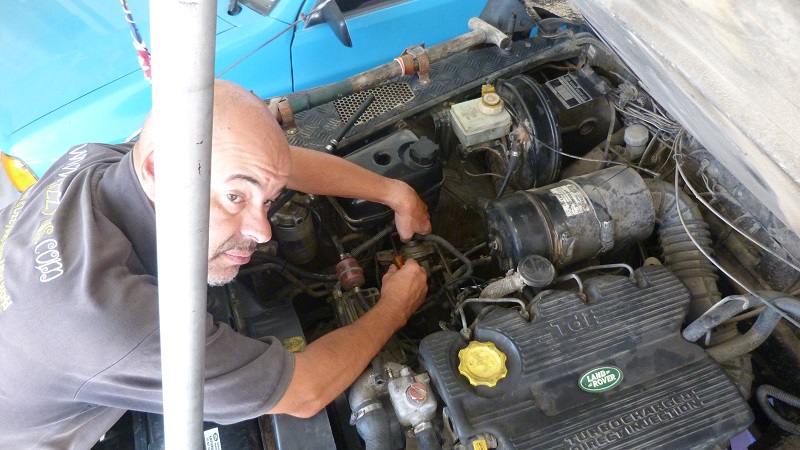 It's hose fitting time
Inshallah
The journey North to Flagstaff was not without incident !Lizzybus decided to overheat again .The last time was as we left death Valley .No problem after that for 180 miles back to Mesa. Driving conservatively we make Mormon Lake , home of the Overland Expo .We had a ball , three days of chatting and hopefully inspiring others to take the jump and live a little . With typical American hospitality we where even given 4 packs of beer to compensate for the Florida burglary ..cheers guys , great beer .Engel gave us a remote thermometer and the guys from Northern California Land Rover club chipped in with a thermostat to hopefully cure the overheating. We made loads of friends , and even as "poor relations"( you should see the Unimogs !) we had a brilliant time .Four days of free camping and we depart Flagstaff to head North to Canada .Well that was the plan , except lizzybus decided to show us who was boss ,when she started to overheat on the way to Grand Canyon .This final part of the journey should have been a glorious adventure, has now turned into a major headache , so much so that even the Grand Canyon failed to inspire .No alternative other than to return to Mesa and effect diagnosis and repairs .We are concerned that this could be a head gasket / cylinder head failure!!
Back at mom and dads and time to find the problem and effect a cure .Spare parts are going to be an issue as the Defender 300TDi was never imported into the USA .Most suppliers who do hold limited stocks tend to charge a price premium . We may have to order from the UK and wait .Not so good when you need to be heading North as we are running out of visa time.
Camel Trophy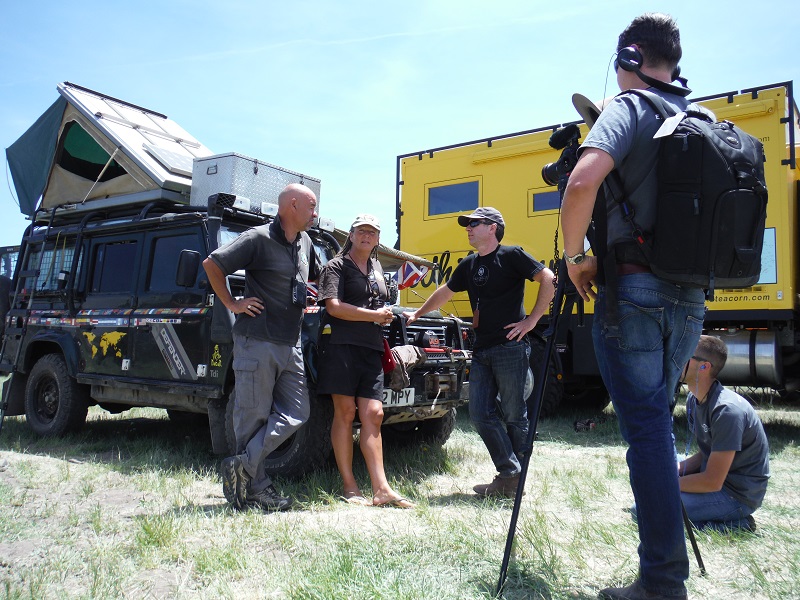 The Lizzybus crew get interviewed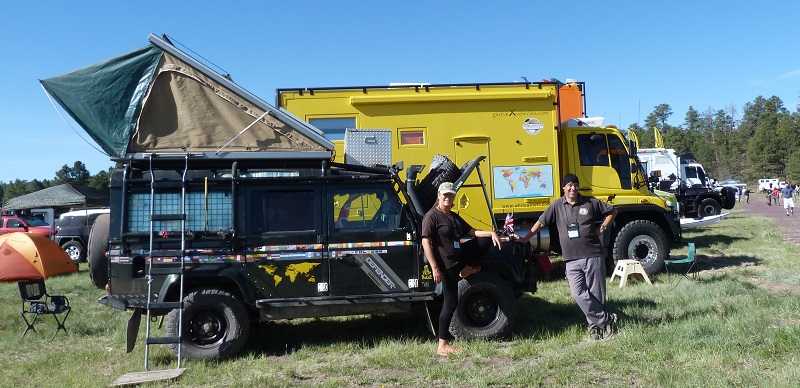 Dwarfed by a Unimog....cool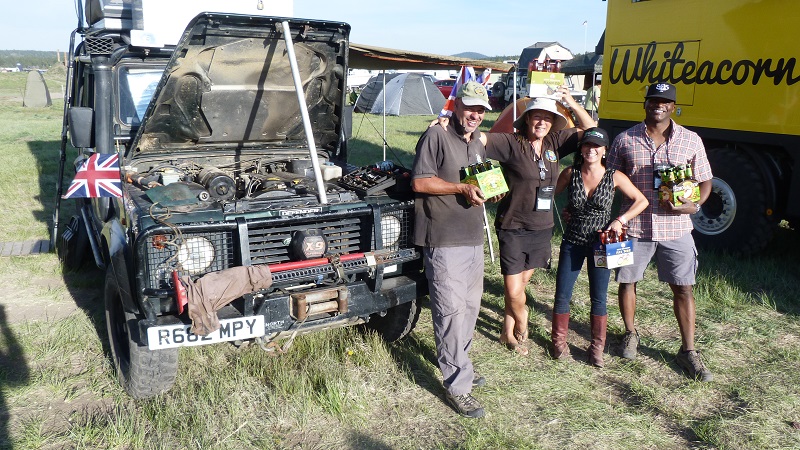 People just kept giving us BEER...cheers guys

Parked up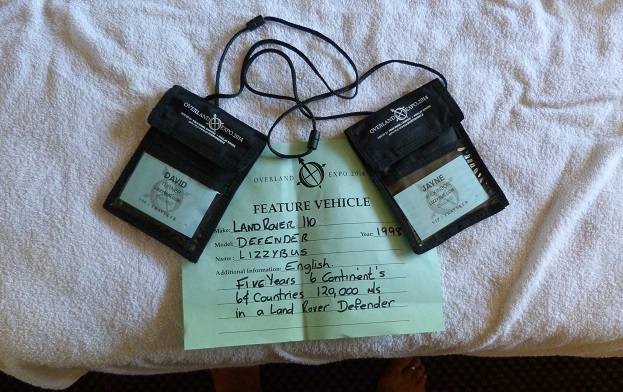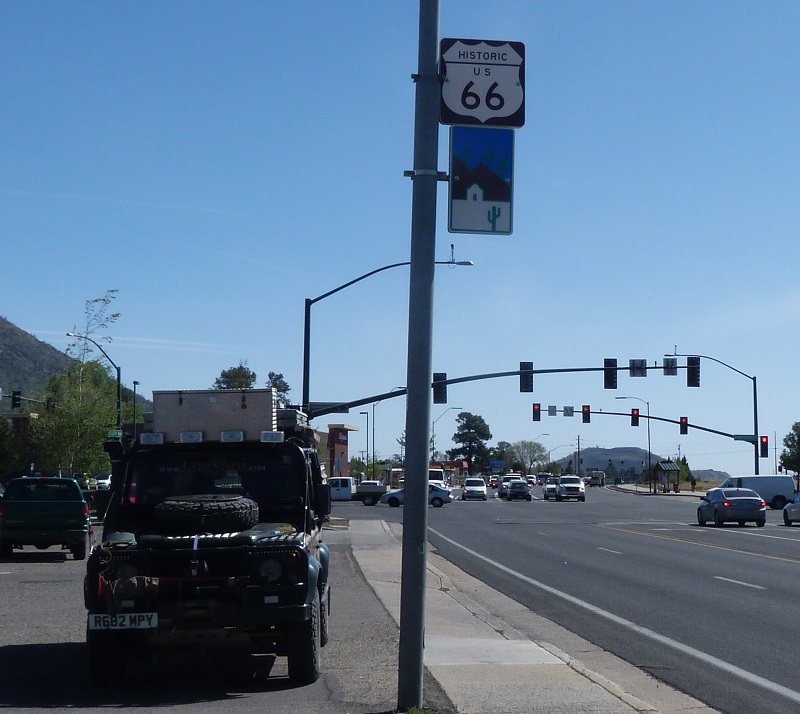 Route 66 Flagstaff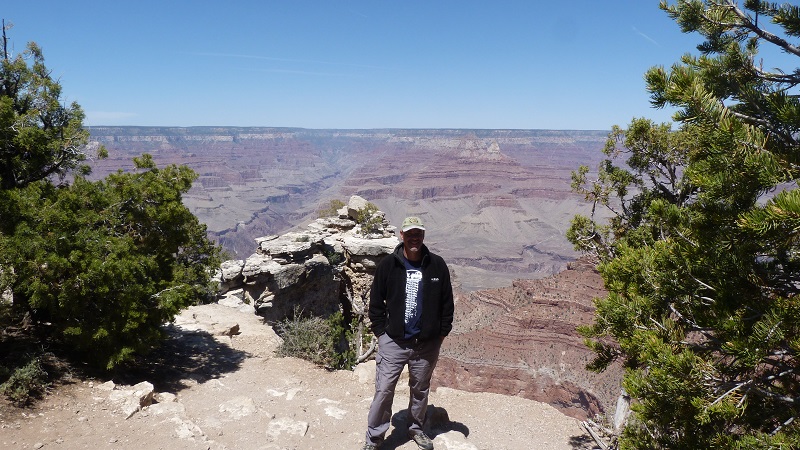 Stunning Grand canyon ..shame it didnt inspire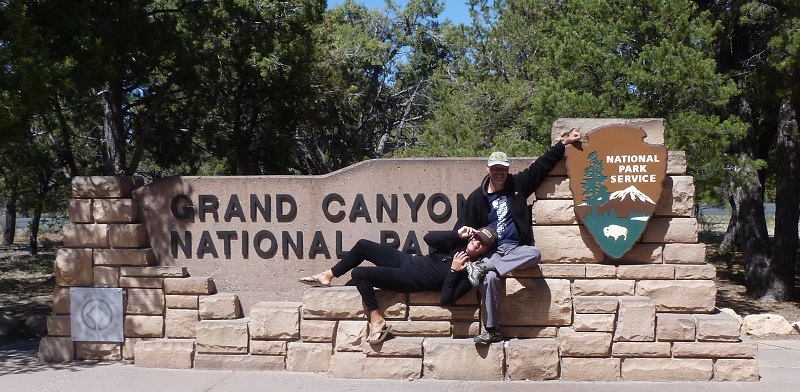 Too much of a good thing!
Its true , you can have too much of a good time .Returning from Death Valley and with the Overland Expo beckoning in Flagstaff , we decided to stay back in Mesa at my parents .The site is empty as everyone has returned home .Mom and dad are back in Blighty so we have the run of the place .Days consist of training in the gym , swimming and of course , eating healthily . Oils changed in the lizzybus and our presentation documents for the expo completed our journey will continue.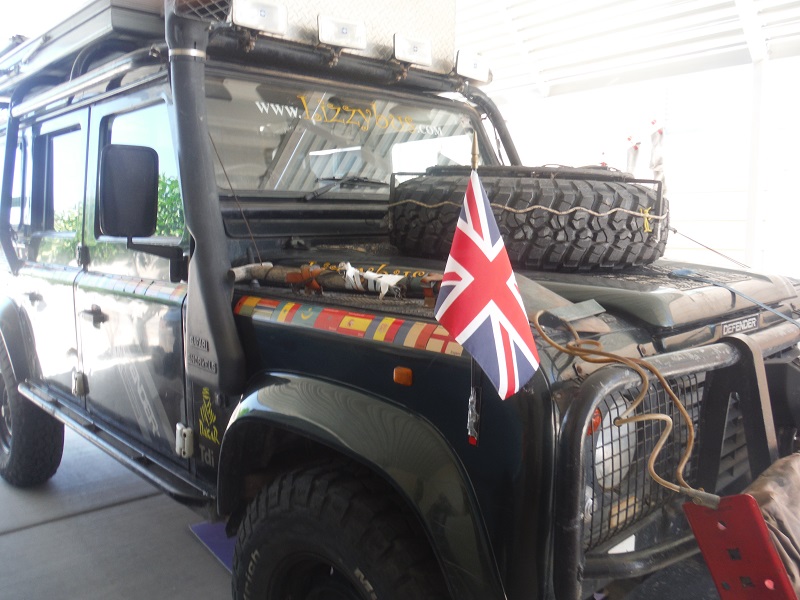 Lizzybus gets the "royal" treatment before Expo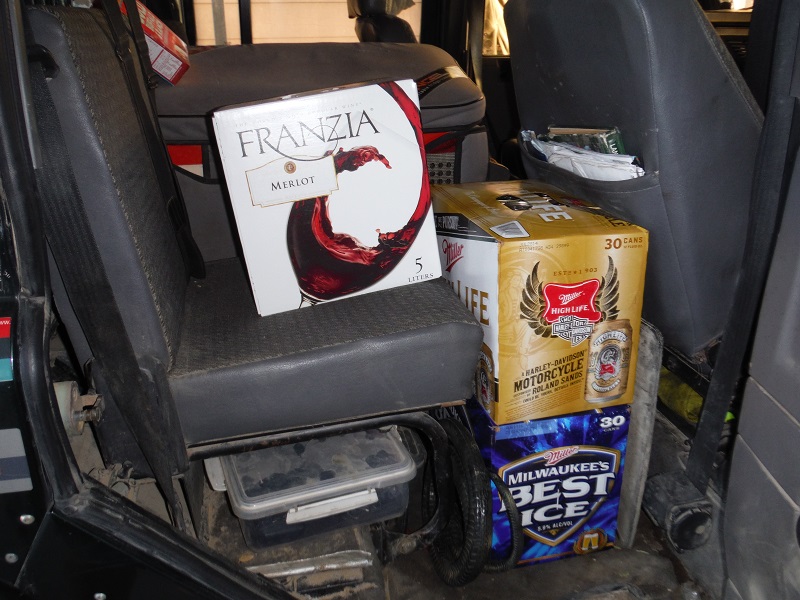 Stocking up on essentials for Expo , Flagstaff (should be enough for the 4 days )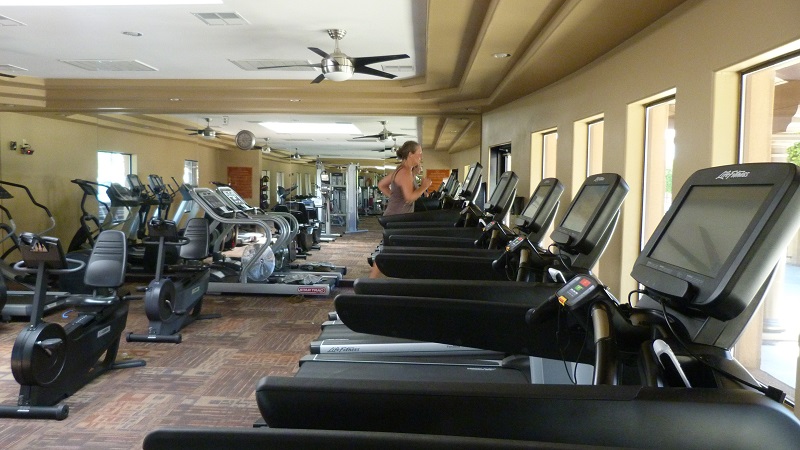 Jayne "gyming" it
Think im getting a bit to old for this gym thing ( Mesa)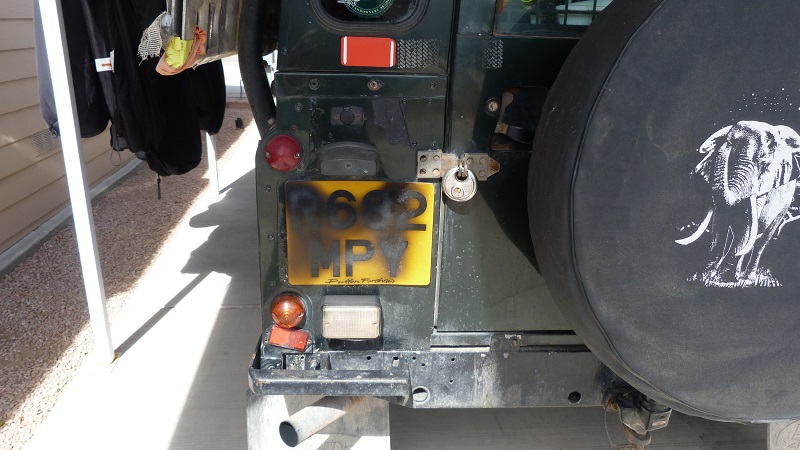 The arizona sun puts paid to the rear number plate ( wonder where the nearest halfords is?)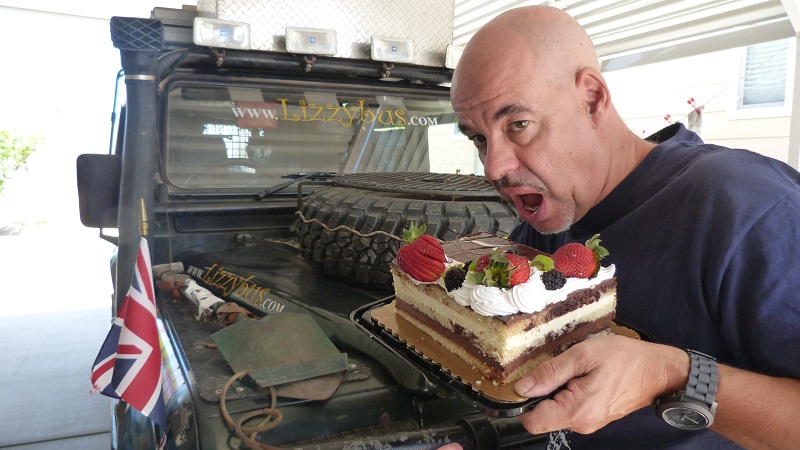 Honestly , its healthy eating
Wake up America
We are ENGLISH , and as such ,we take our history for granted .We where in the Ghost Town of Cerro Gordo , where a retired teacher (Robert) is attempting to preserve the buildings for everyone .On his own , short of funds and with very little time. He is a font of knowledge about the mining and history of the region .So , go out there , visit this magnificent monument to your past , stump up a few $ for a tour and help save this important feature .As they say " when its gone , its gone "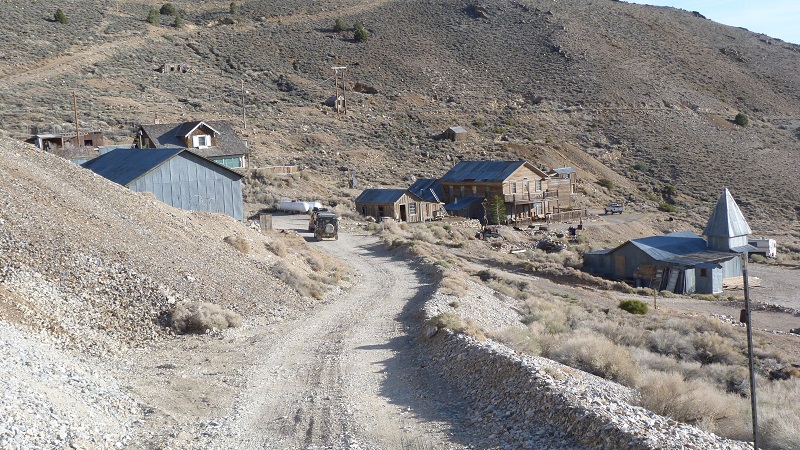 Road to Cerro Gordo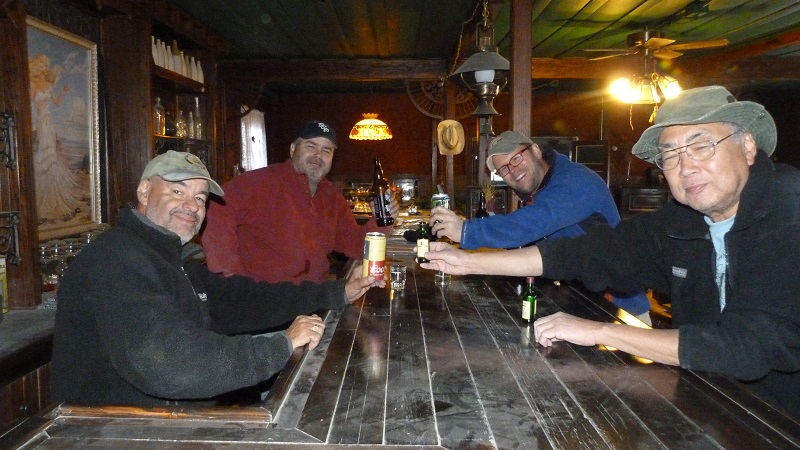 Bar Time , Cerro Gordo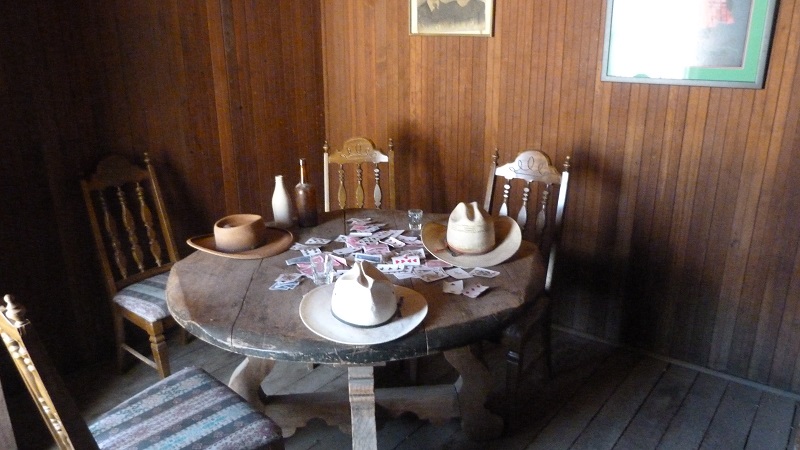 Room ,Cerro Gordo
Explosive stuff ,Cerro Gordo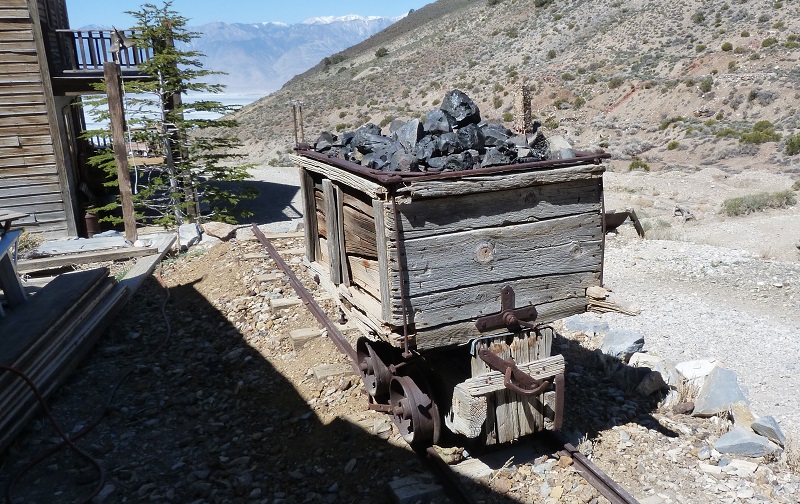 Ore Cart ,Cerro Gordo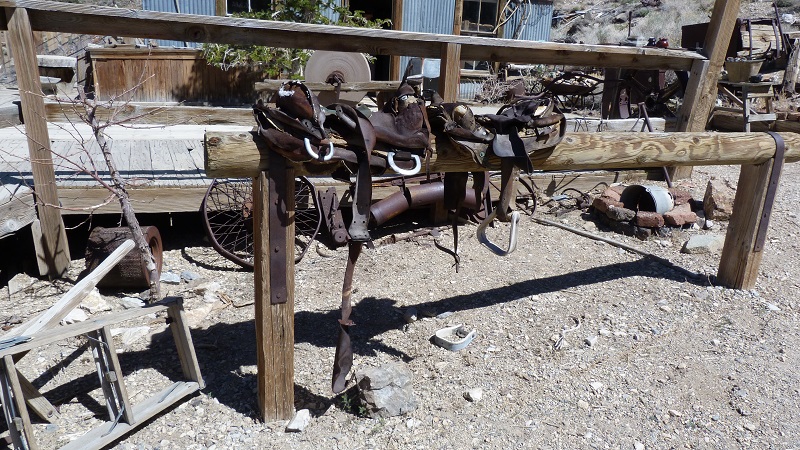 Saddles Cerro Gordo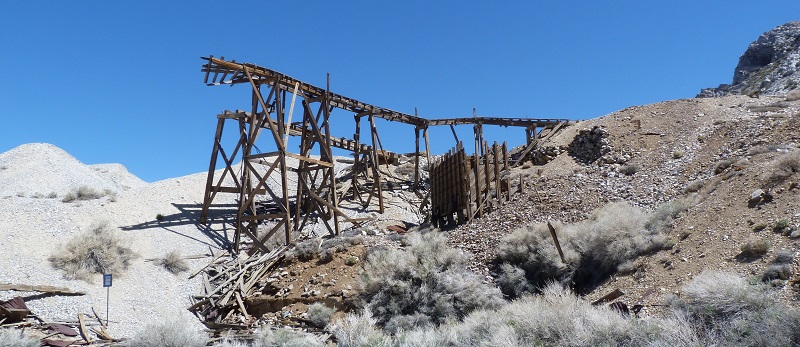 Mine workings Cerro Gordo

Cerro Gordo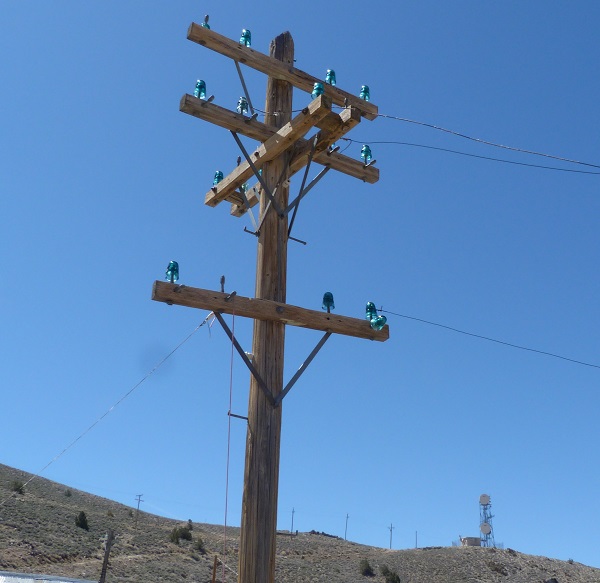 Telegraph Road Cerro Gordo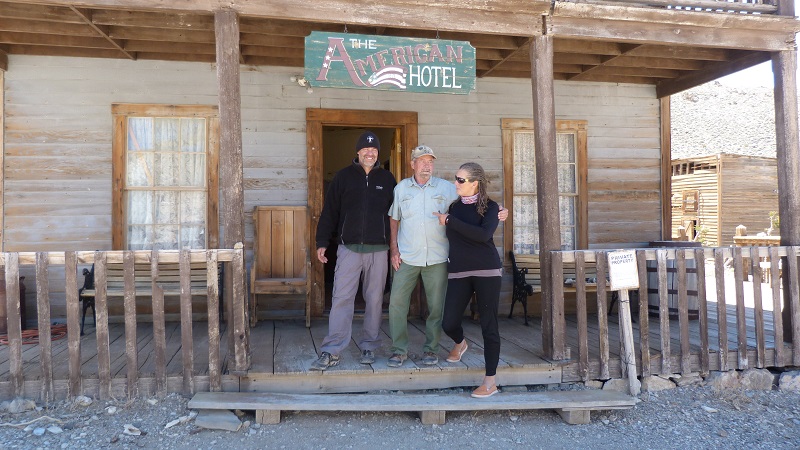 Robert , one man , one mission and he needs your help America
Lost in the desert
If you didnt know , the town of Baker in California , has the worlds largers thermometer .It also has a few gas stations and an expensive crap motel.We have agreed to meet Chuck , his family and other members of the Northern Calfornia Land Rover Club here before we venture into the bad lands of Death Valley .Not really realising what we had let ourselves into , the adventure has just begun .
So , Lizzybus and her new friends ( Disco's 2 , 3 and 4 ) spent 7 days in the bush .Visiting Ghost towns , old mine workings , sand dunes , deserts and abandoned homeseads .we've indulged in rock crawling ( in the Lizzybus) and plenty of off road action .At times we had to decline in taking part as the route was too extreme and we have 8000 more miles to go .All in all , we learnt a lot about the capabilities of the vehicle .We even broke down and had to be towed cross country for 5 miles.It was a thourougly brilliant time and are so glad we took part .So to Chuck and family ( Linda , Tyler and Myla) , Michael and Rupert , thanks for a great time , we loved every minute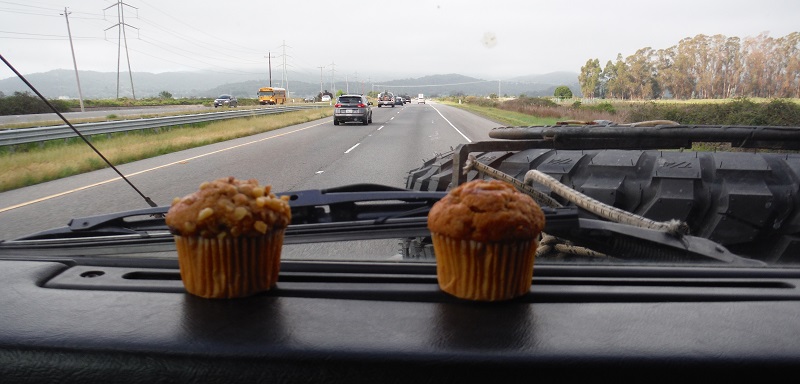 Warm breakfast , on the road , Lizzybus style

Lowest point in the USA

Playing in the Sand Pit ( Dumont Dunes , Death Valley )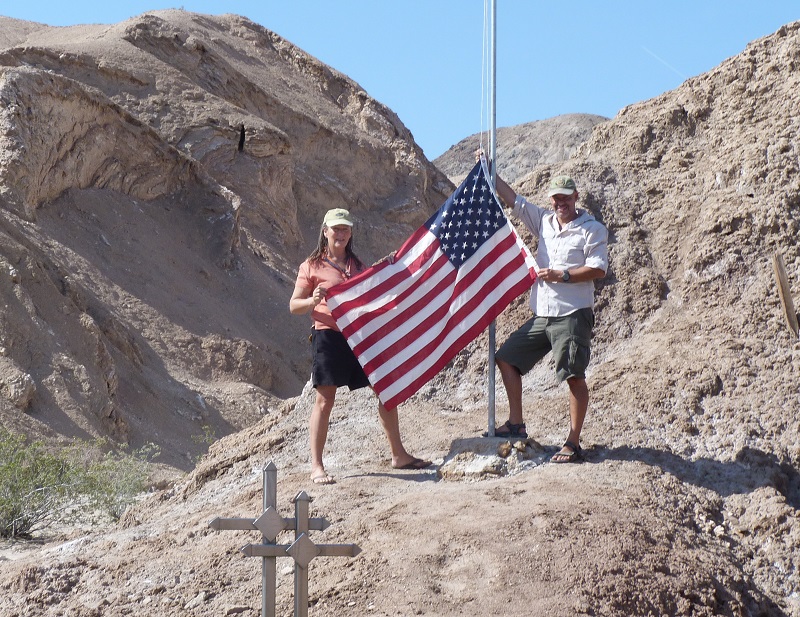 Raising the flag blags the accomodation ( Ward and Bobs Cabin)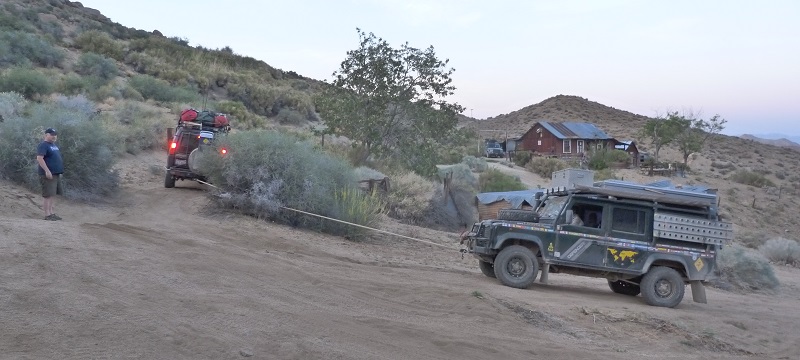 Being towed again!!!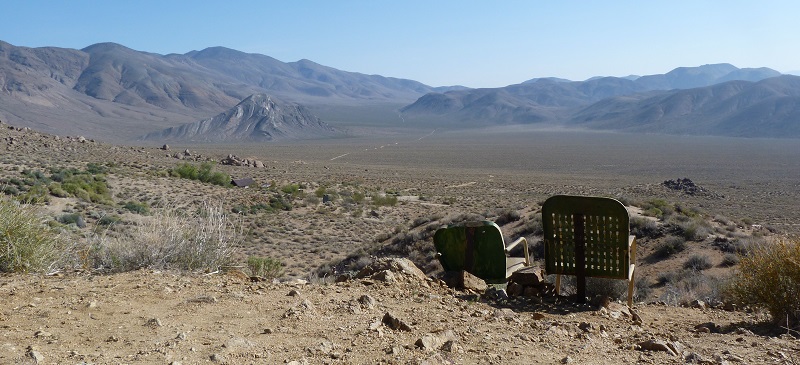 Best seat in the house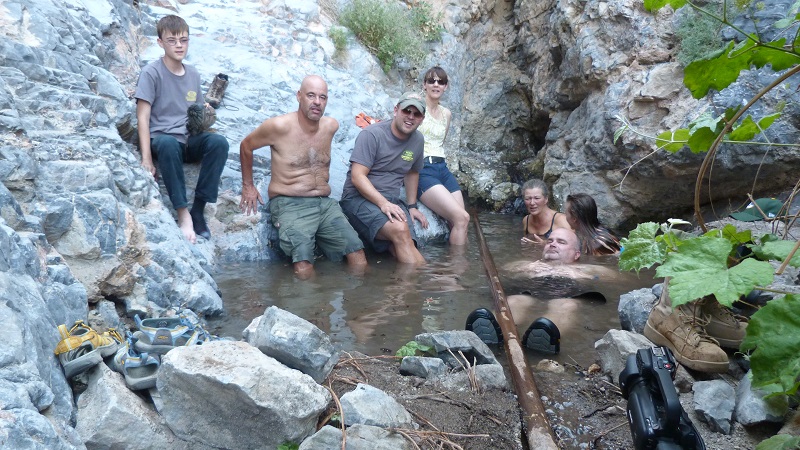 Hot springs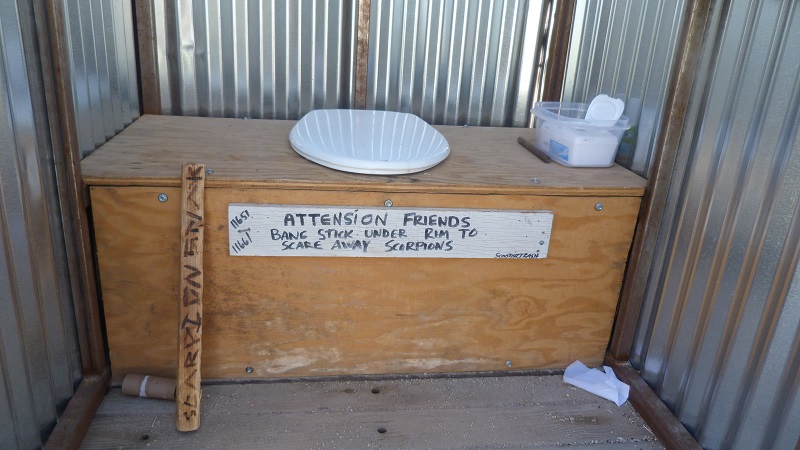 Jayne feels conspired against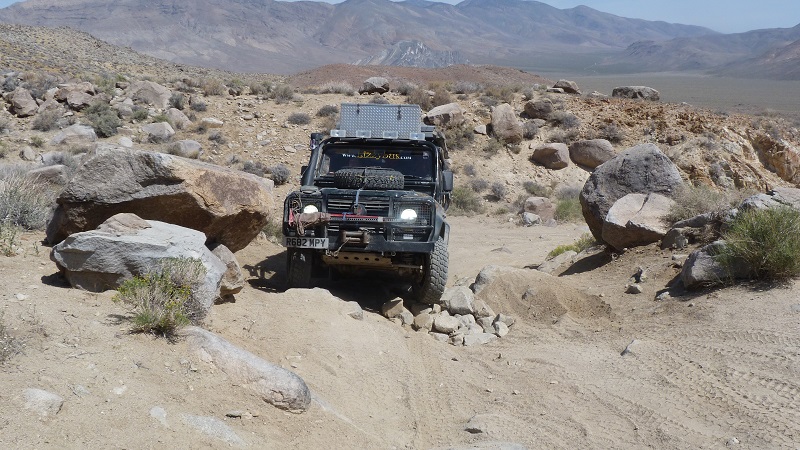 Rock crawling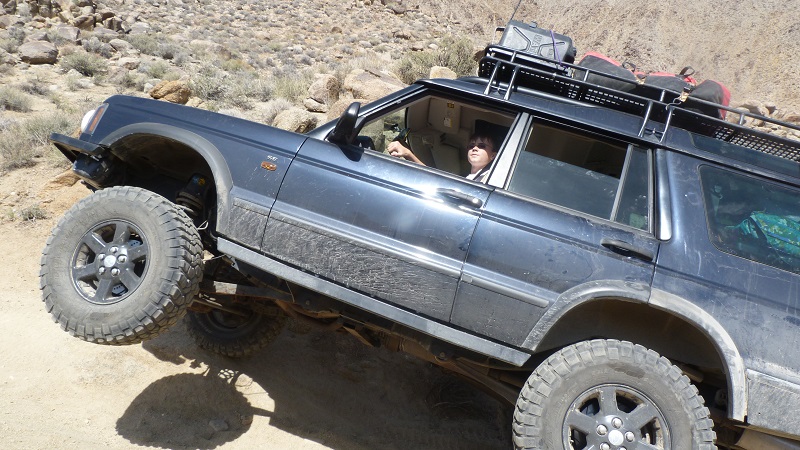 Rock crawling Tyler style...good one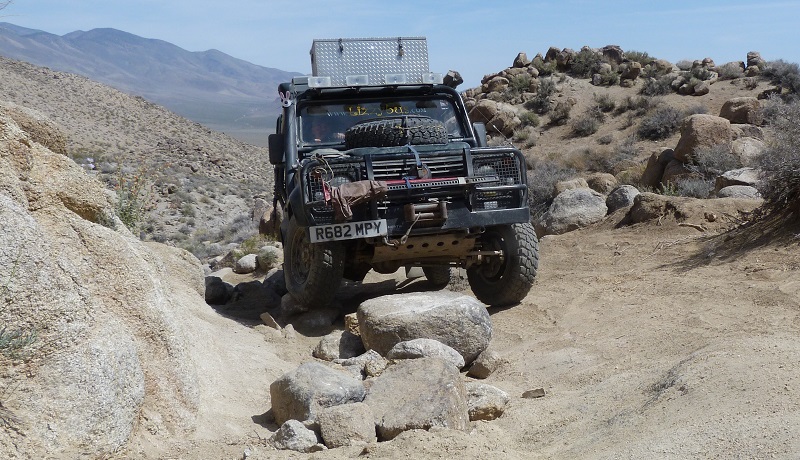 Rock crawling Lizzybus style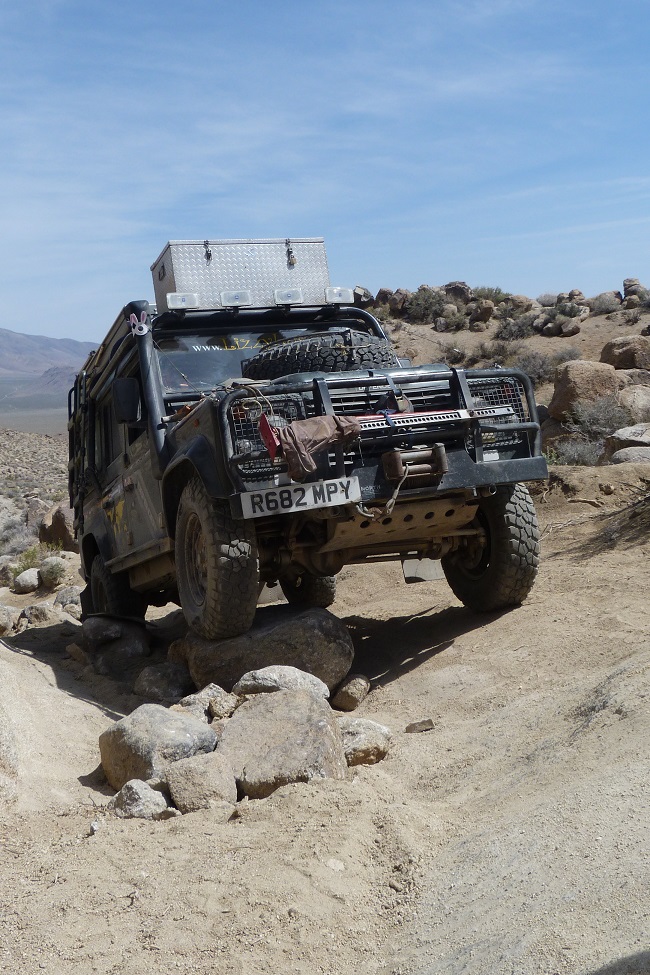 Rock crawling Lizzybus style , Mengel Pass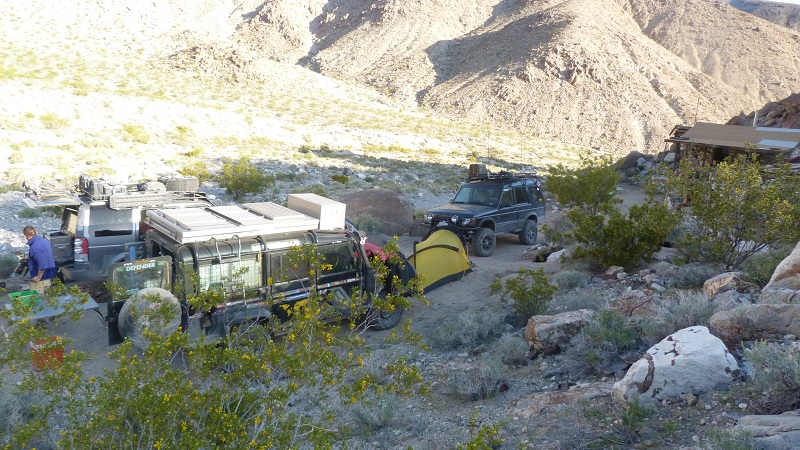 Typical camping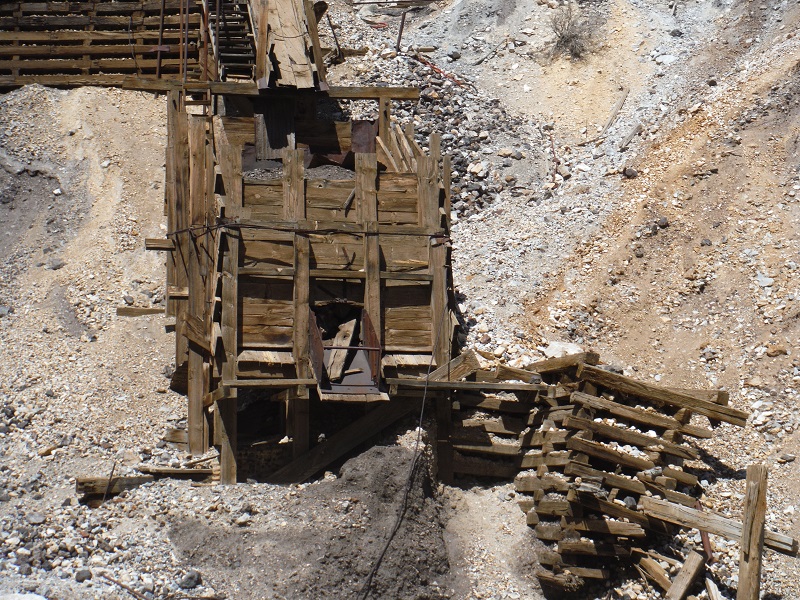 outside government mine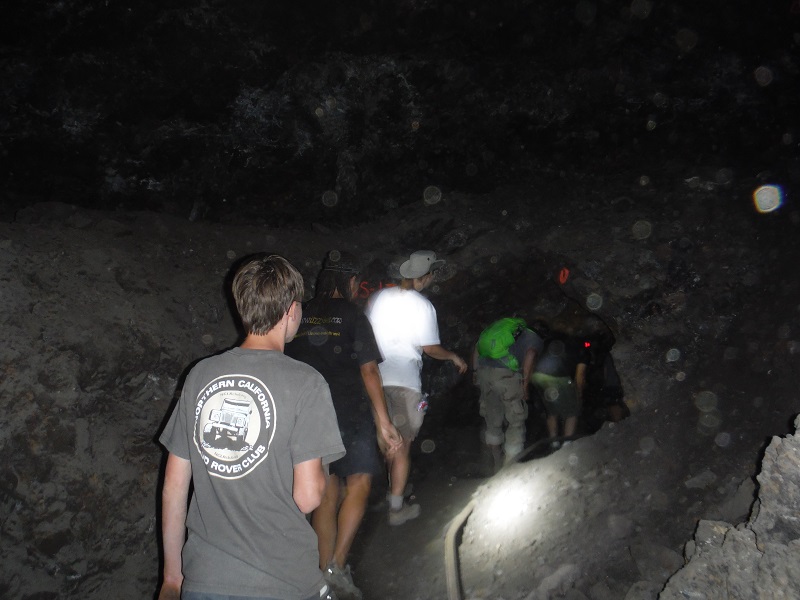 Scary , inside Government mine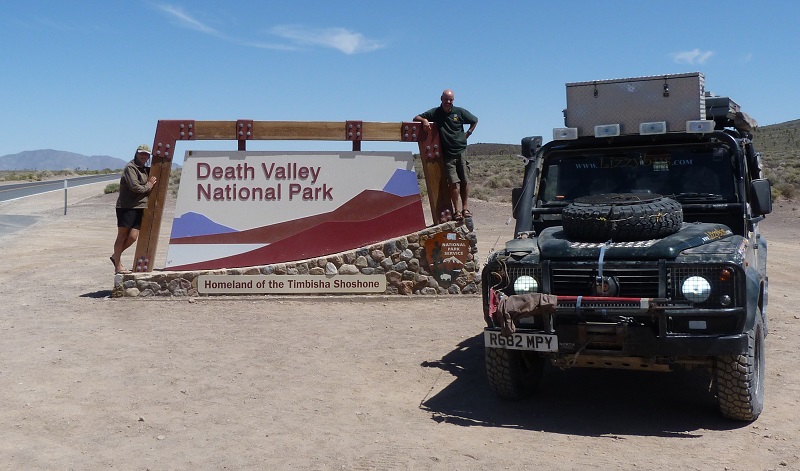 Just incase you didn't believe us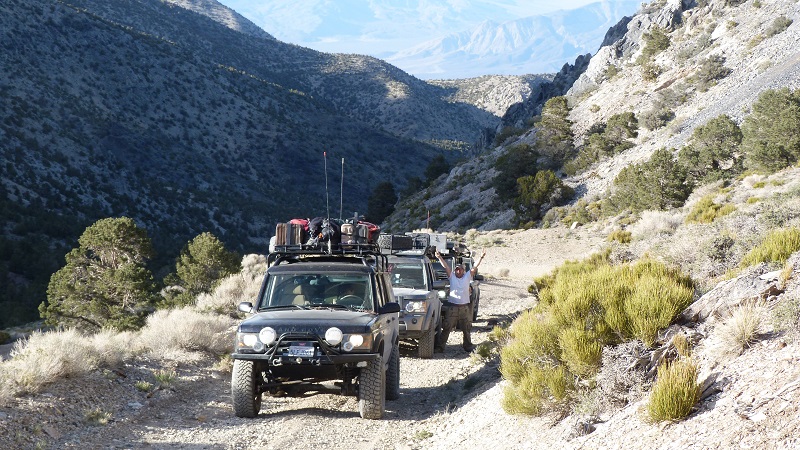 Convoy time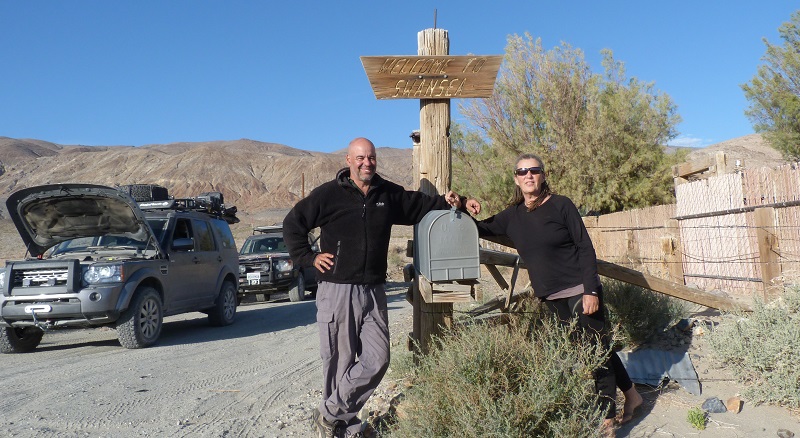 Not quite as I rember Swansea,end of the adventure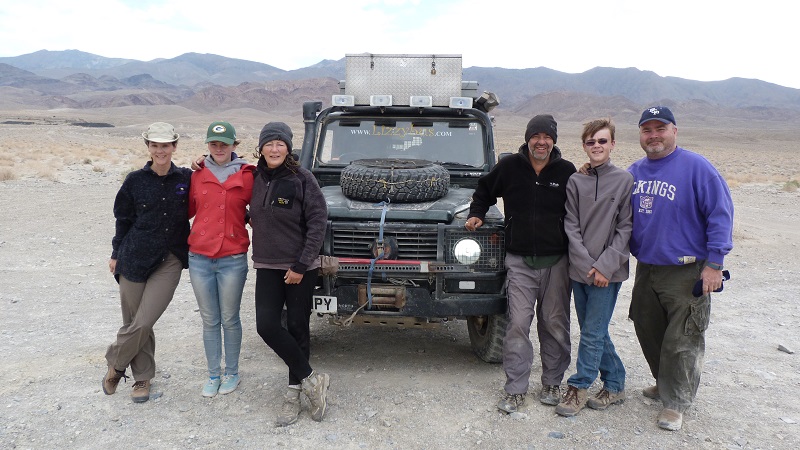 Chuck and family ( new addition of Lizzybus)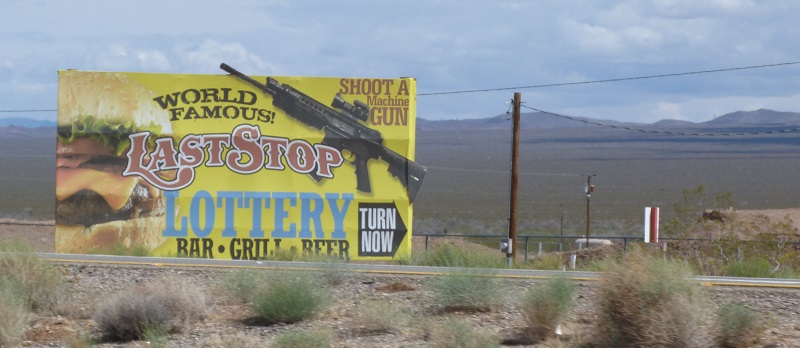 Only in America
Driving us mad!
Ok , here's a fact .We love America .We love the country and the people BUT we do dislike some very rude and impolite drivers .To the driver of the nice Acura .The Lizzybus is an old and venerable lady who has driven around the world .We don't think your Acura could do the same .To berate us for driving at 50 mph is a bit rich , its safer and we get better gas mileage .The fact that the speed limit is 55mph is exactly that , the MAXIMUM speed not the speed you must travel at .we always , wherever possible allow vehicles to overtake .If you will insist on driving up our chuff , you will get the "brake test" , we are sure that the Lizzybus will walk away without a scratch .So for you and other impolite and rude drivers we give you this picture …...

Tempus Fugit
We made good time to salt Lake , despite the cold and the altitude .Two nights in a cheap hotel and a free organ recital in the Tabernacle .No coming of the Lord for the Lizzybus crew , but the city was pleasant enough .Off across the Salt Lake , via Bonneville and its land speed records .Unfortunately nothing to see of the great British conquest here .Back in to the den of iniquity that is Nevada and another convoluted route to Lake Tahoe , gambling and skiing all wrapped up around a stunning Lake.
We have a short period of time to make Baker and our reason for being in California .We have been asked to accompany the North California Land Rover Club and its seven day venture around Death Valley .It is with trepidation that we have agreed to play in the desert with them. But until then we have the delights of San Francisco and PCH1 along the spectacular Pacific Coast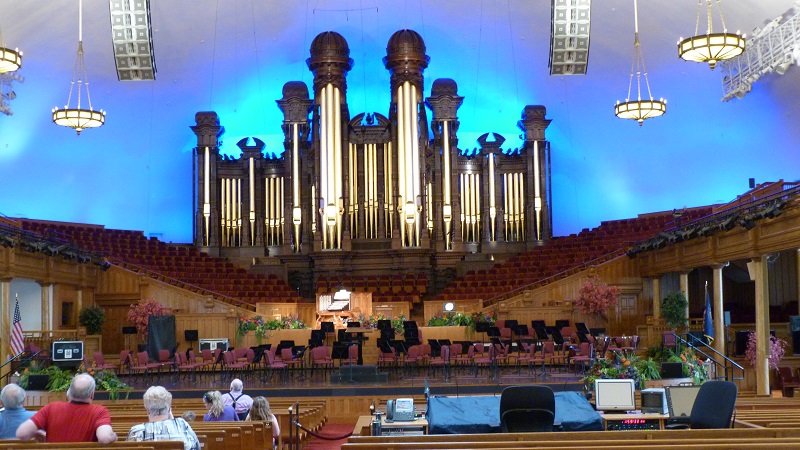 Free organ recital , Tabernacle , Salt Lake city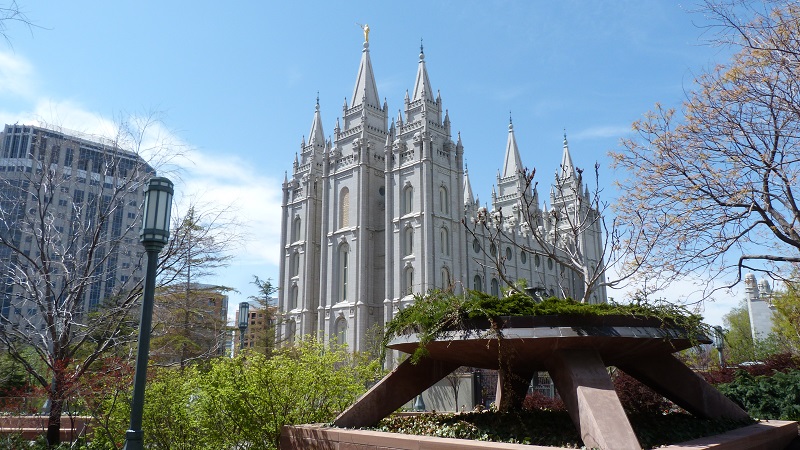 Salt lake City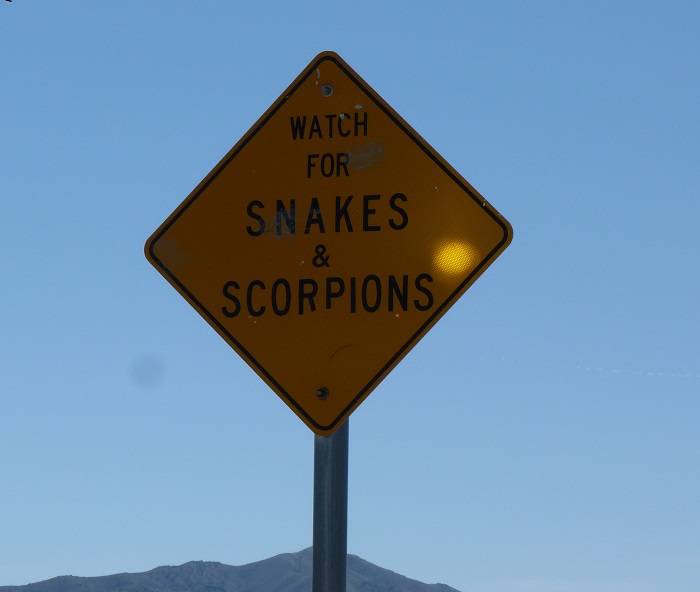 Jayne was not impressed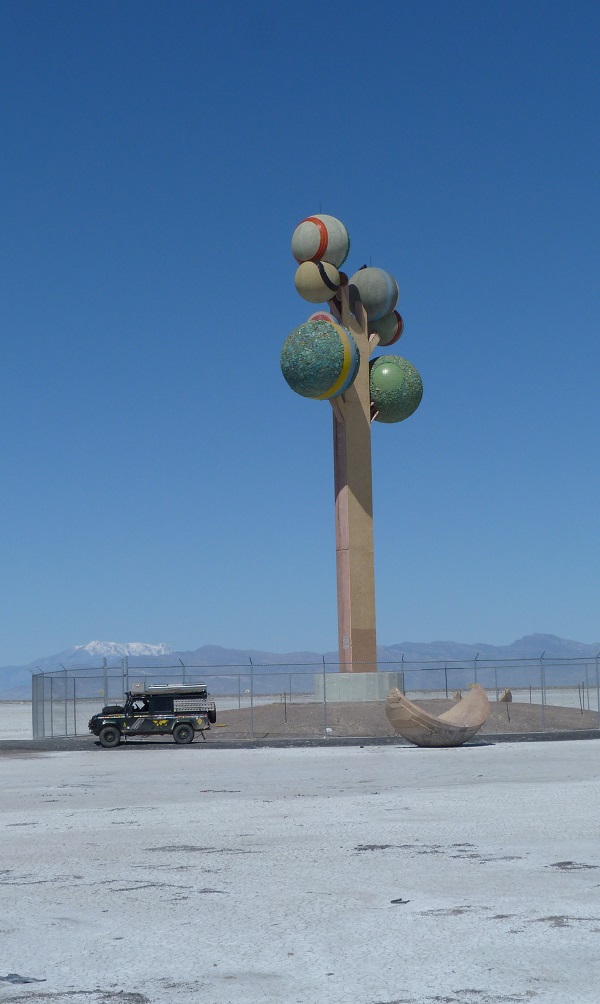 Balls ,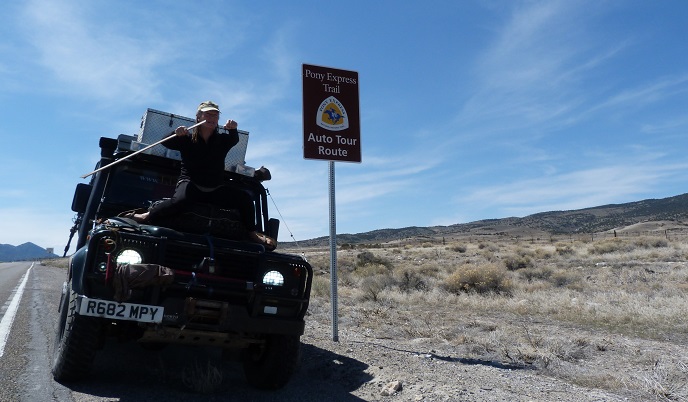 Following the Pony express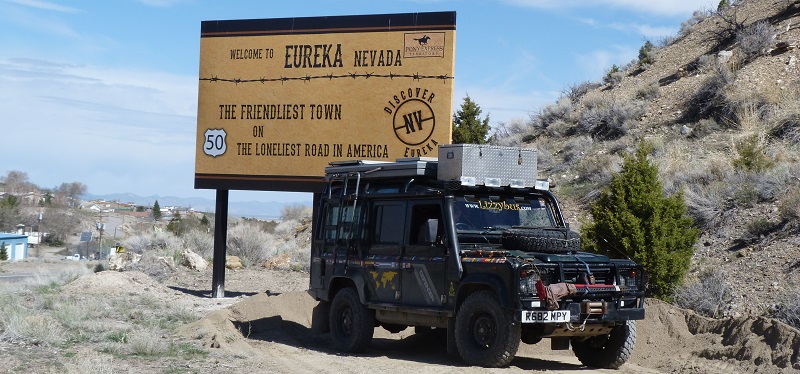 So , back into Nevada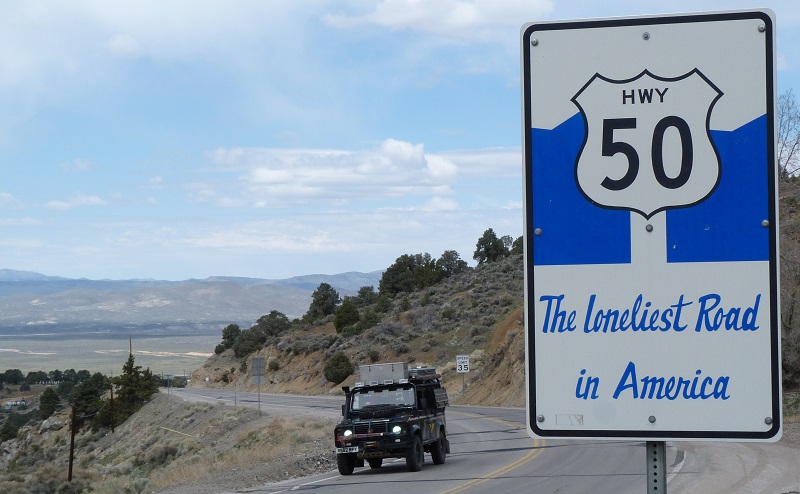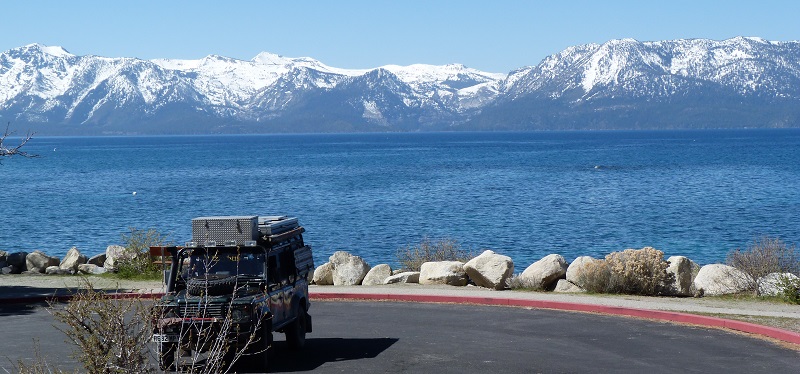 Lake Tahoe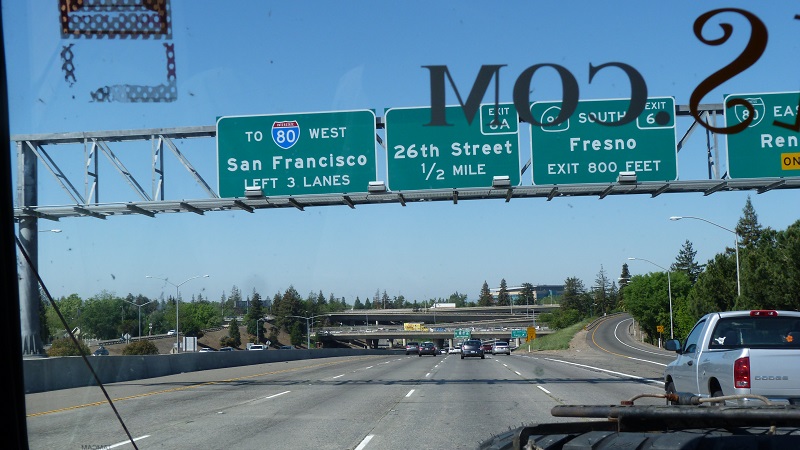 On the raod again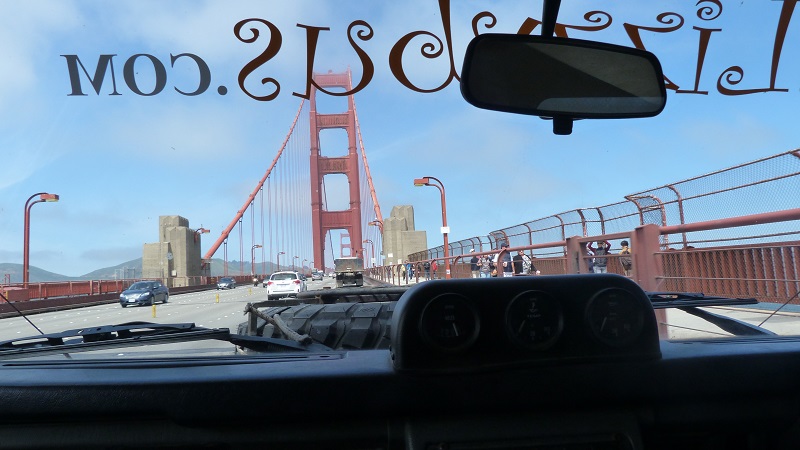 Golden Gate Bridge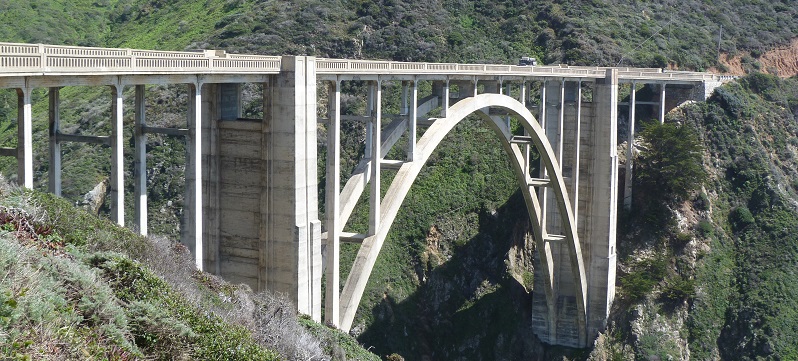 PCH1 California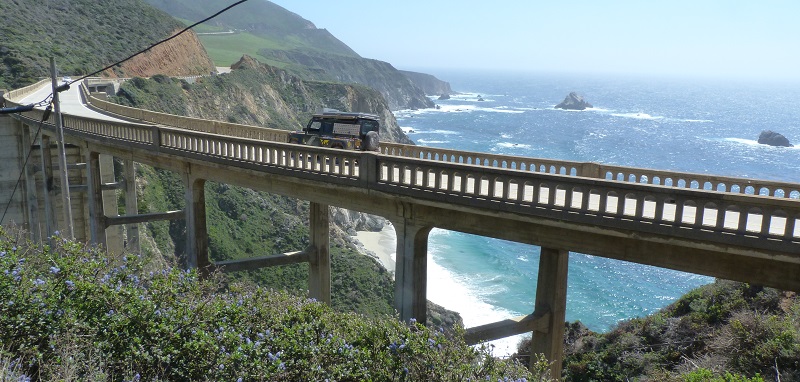 PCH1 California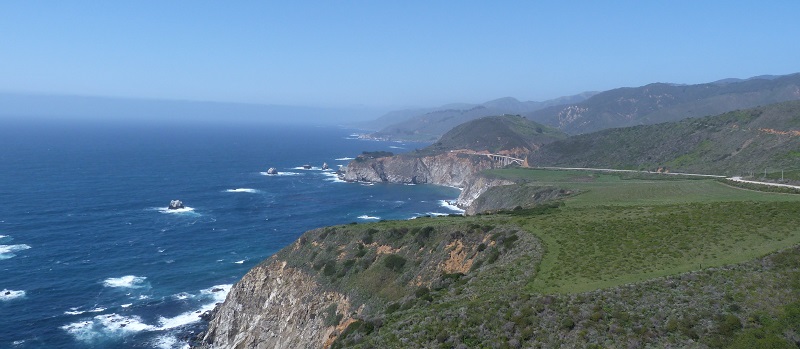 PCH1 California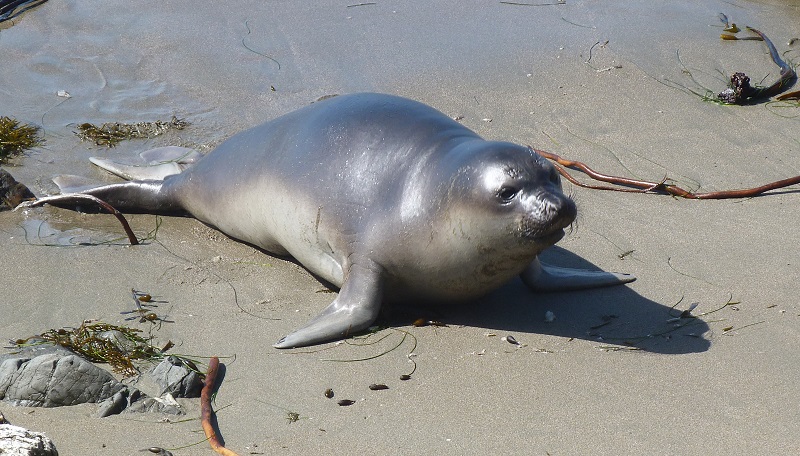 Just cute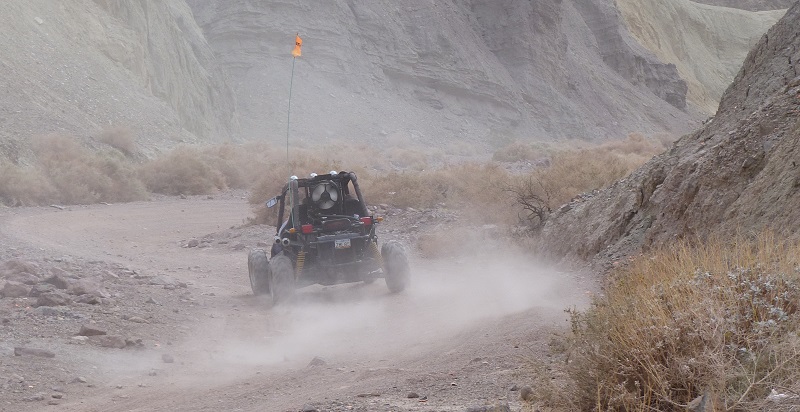 Buggy in the Canyon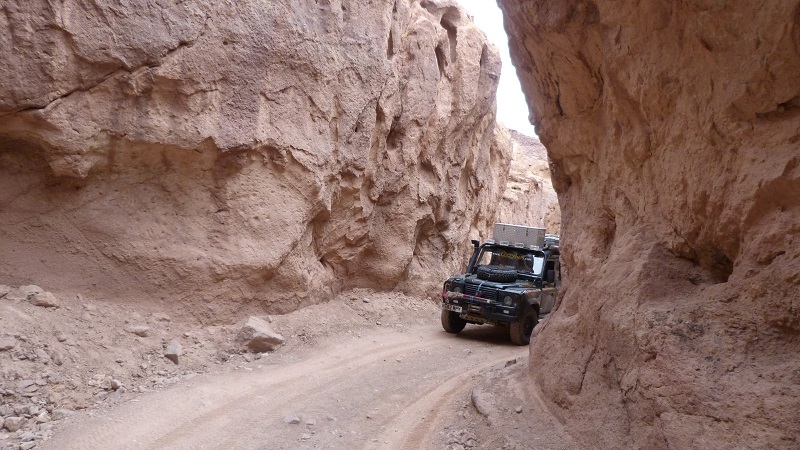 On way to bush camp , Calico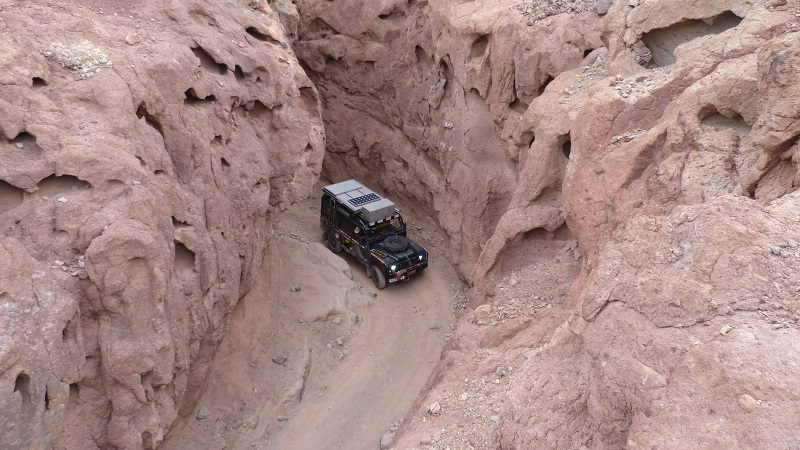 The things we do for a free bit of camping
Another constinant please Carol !
The Promised Land ( something from a Springsteen song )
Utah is a land of extreme contrasts on both weather and scenery .Arriving in Zion NP it starts to get cold .This culminated in us MISSING Bryce Canyon when the temperature dropped to -10 and the alternator decided to falter .Rather than risk running without power in a very cold region we retreated across the mountains to St George and an alternator repair shop . $60 later a faulty connection to the diode pack is diagnosed .Locals in the complex take us under their wing and press us with beer (and fail with Jayne ).For the second time in the US we where BURGLED .At 07.30 hrs Jayne confronted a girl in the front room of our Motel room .The B**ch had prised our window open and climbed in .The excuse ? "thought it was my friends room" and had been knocking on the door ( Bulls**t).Fortunately they had no chance to take anything .We press on to Moab and Arches/Canyonlands NP .This part of the world is absolutely stunning .Cold nights and warm days of hiking through the canyons and it soon becomes time to press on to Salt Lake City , a cheap motel and a chance to freshen up and wash clothing .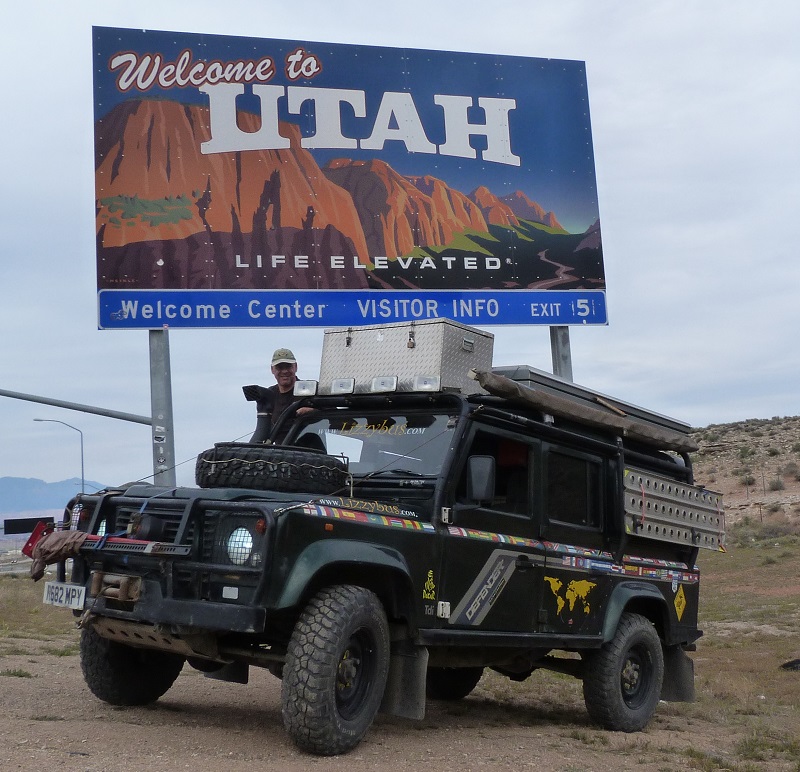 Utah , at last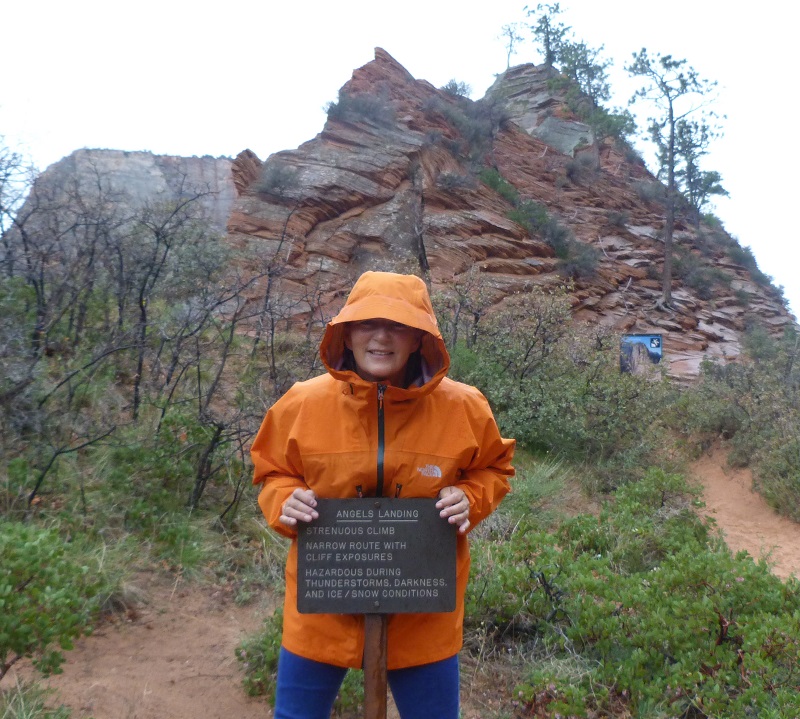 Angels Landing , Zion NP , you have been warned!
Angels Landing , Zion NP .Eeek.. you can fall off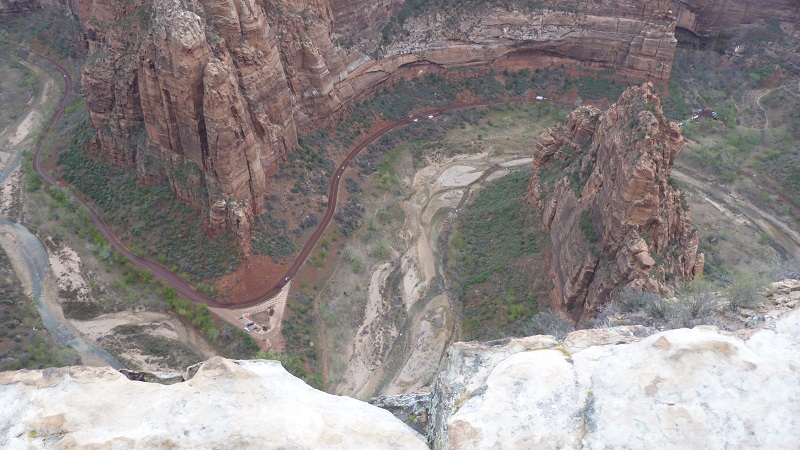 Angels Landing , Zion NP .Bit close to the edge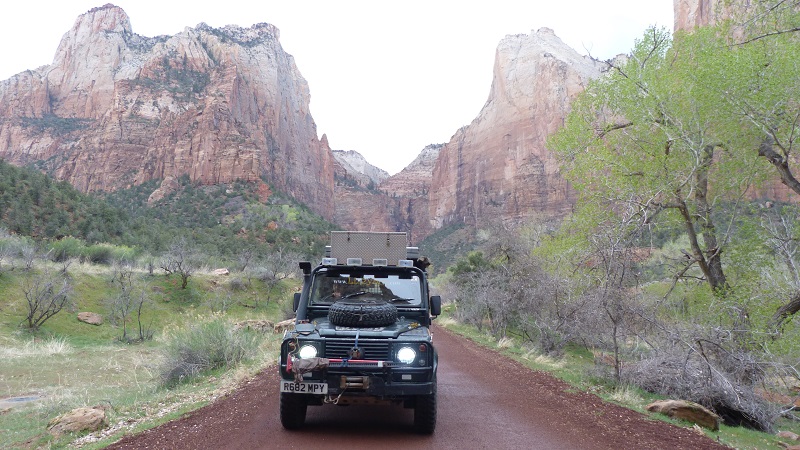 , Zion NP
Zion NP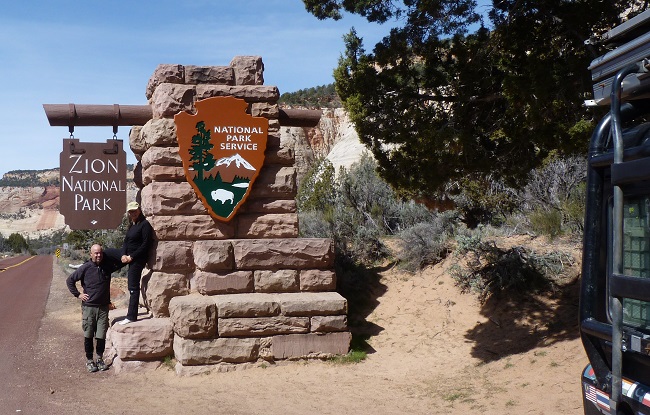 Leaving Zion NP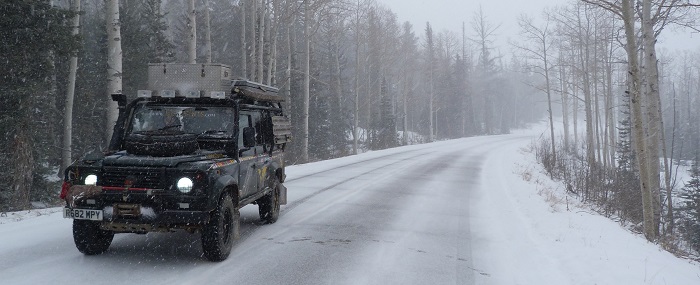 Ceder Forest NP , and its getting a lot colder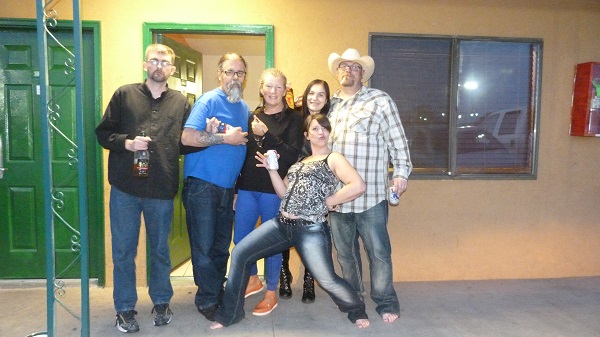 Tee Total Jayne and some un - convinced locals St George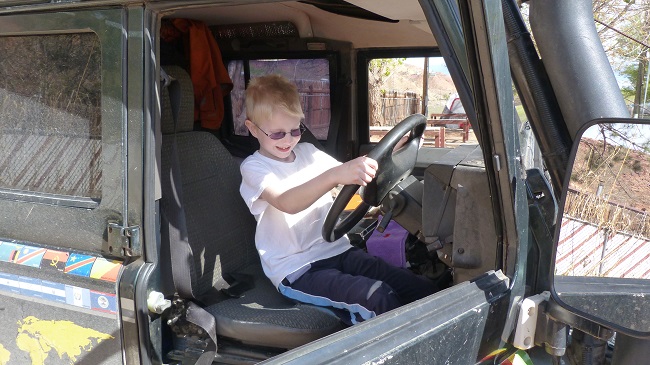 As always , everyone loves the "Lizzybus" , Moab

Arches NP , Moab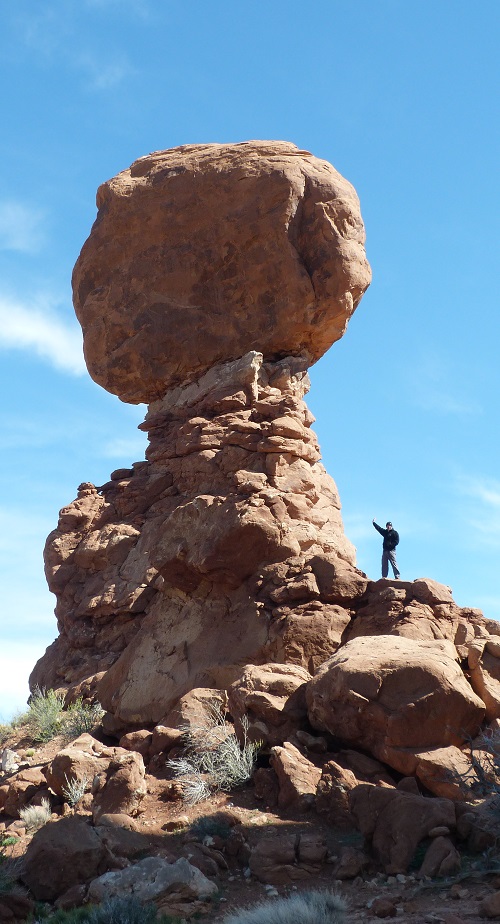 Balanced rock ,Arches NP , Moab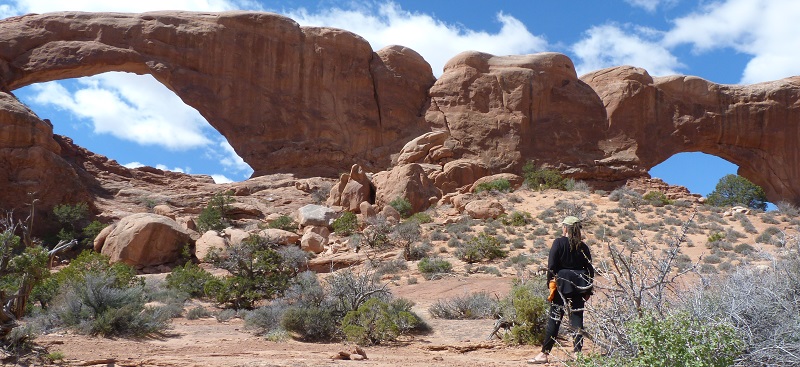 Double arch , Arches NP , Moab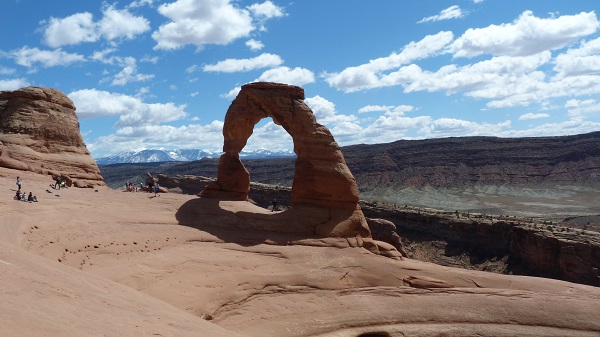 Delicate arch ,Arches NP , Moab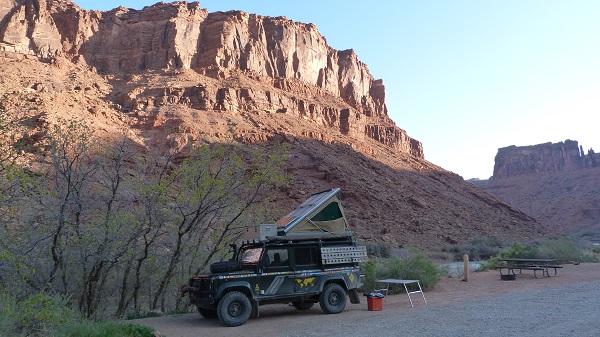 Camping by the Colerado , moab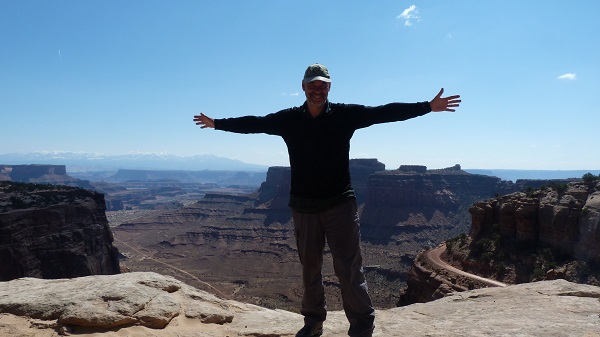 Canyon Lands , Moab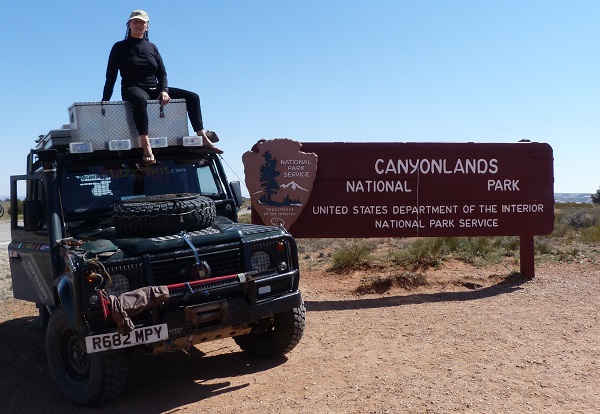 Canyon Lands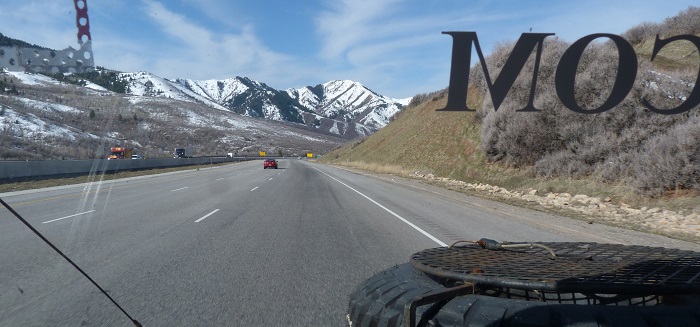 On way to Salt Lake City
Sad day number two
Time to leave .After one week stretched into two ,the extension caused by an invite from John and family to camp up at Apache Lake . No way could we refuse and it exceeded all expectations. BBq pulled pork , beer , speed boats and great company.Away off North to "Sin City" and what happens in Vegas stays in Vegas !
We didn't gamble , honestly .We did however , at great expense , take in a show .Totally blown away by Cirque de Soleil KA at the MGM . Didn't understand any of it, but the show itself was superlative. After a total of three days , boredom sets in and its back on the road , this time to Utah and its great National Parks . Remembering a previous trip to this part of the world , Utah was a dry state , gulp , time to stock up on beer and vino collapso ( red variety) , all for medicinal purposes of course ( to prevent withdrawl symptoms).after all , Overlanding IS the pursuit of cold beer .So , sixty cans and five pints of red we head off .even better news , Jayne has gone T Total and given up on the fags ( so more beer for me )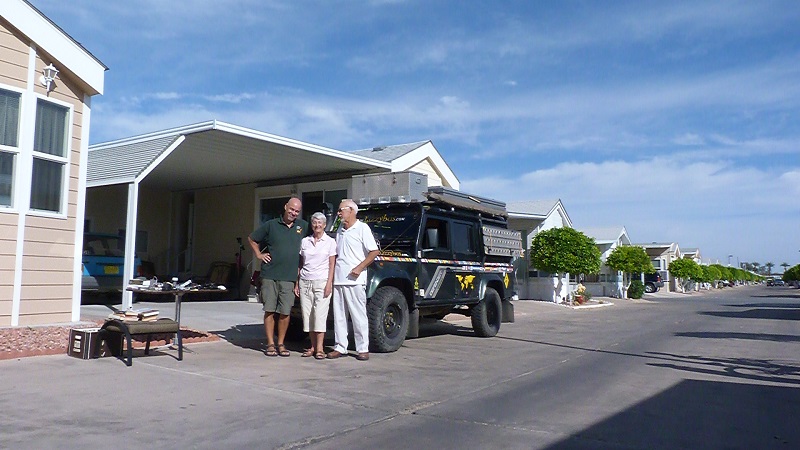 Sad to leave the "old folks"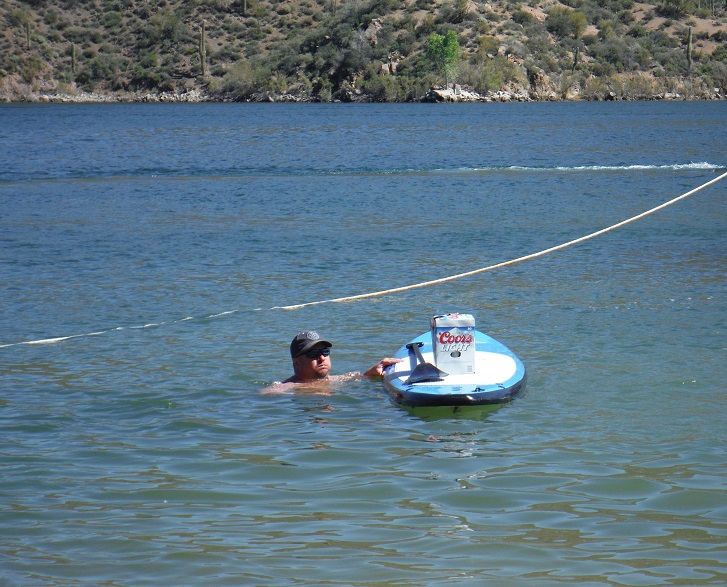 Fresh supplies , Lake Apache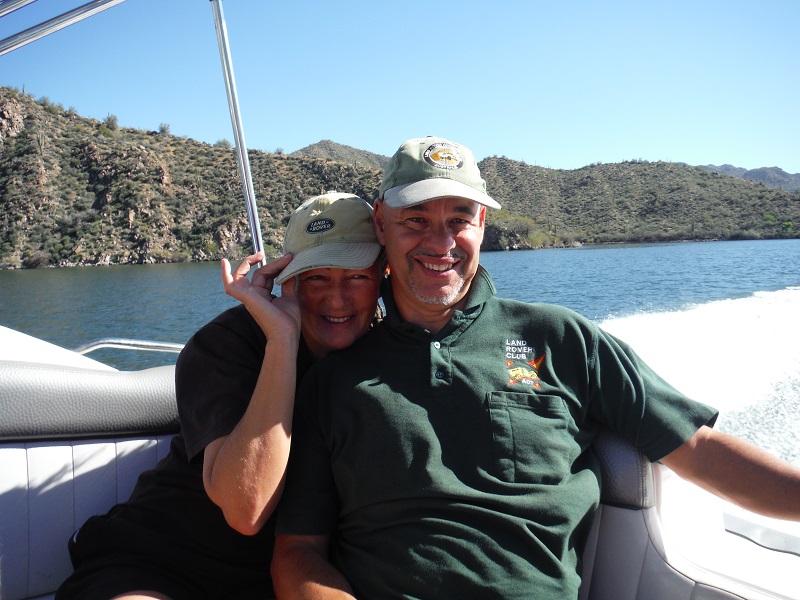 Just boating around .Lake Apache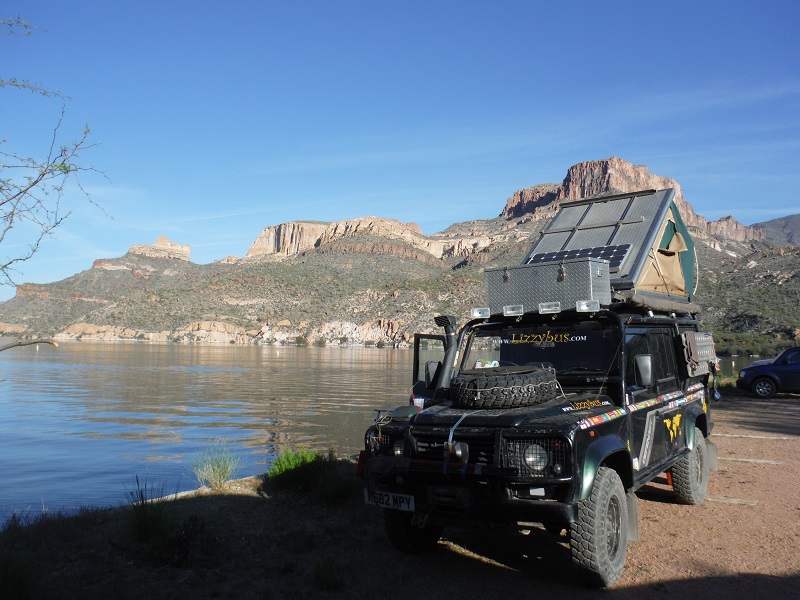 Camping.Lake Apache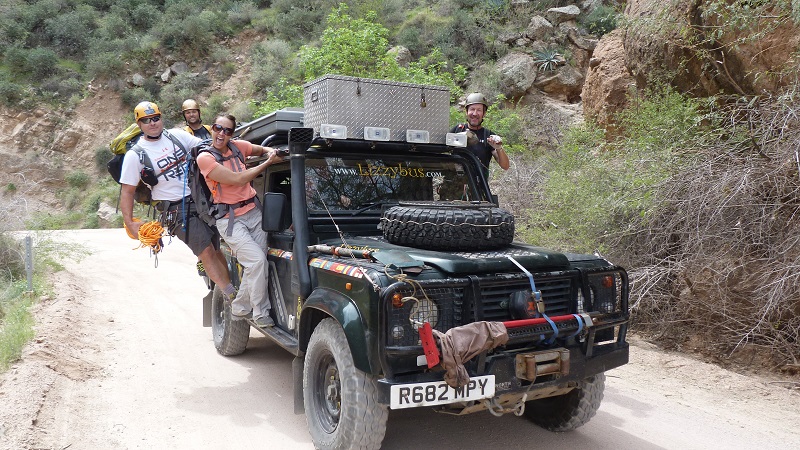 If you thumb a lift , you get it "African style" .Lake Apache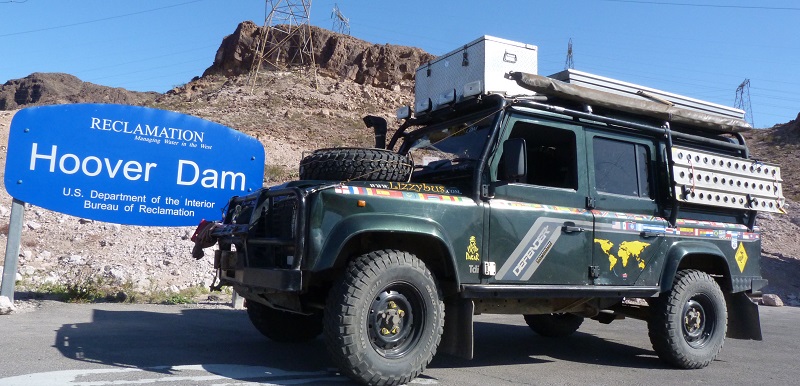 Lake Mead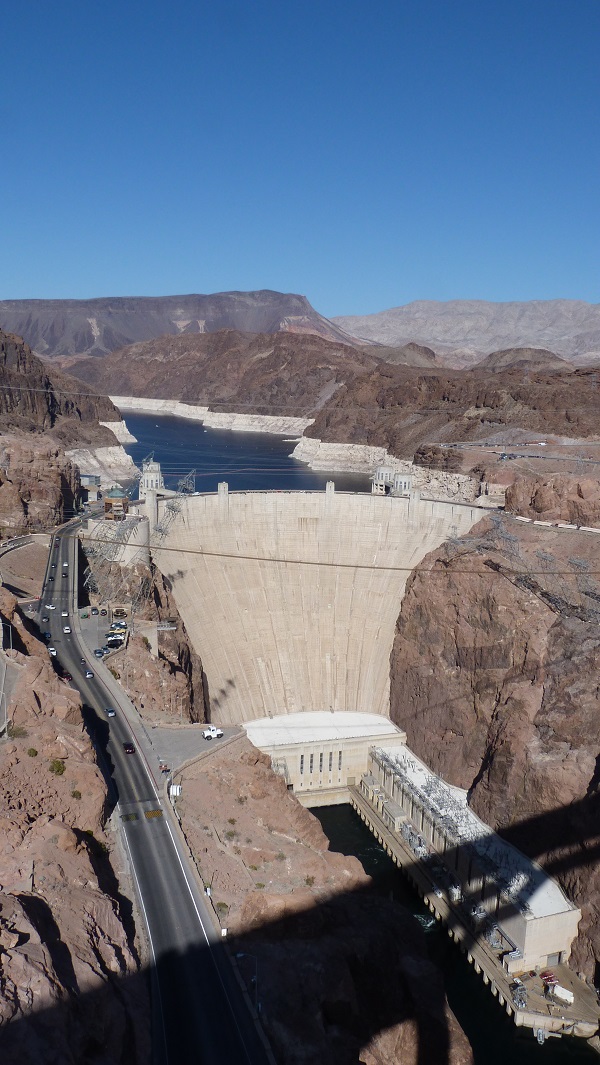 Hoover Dam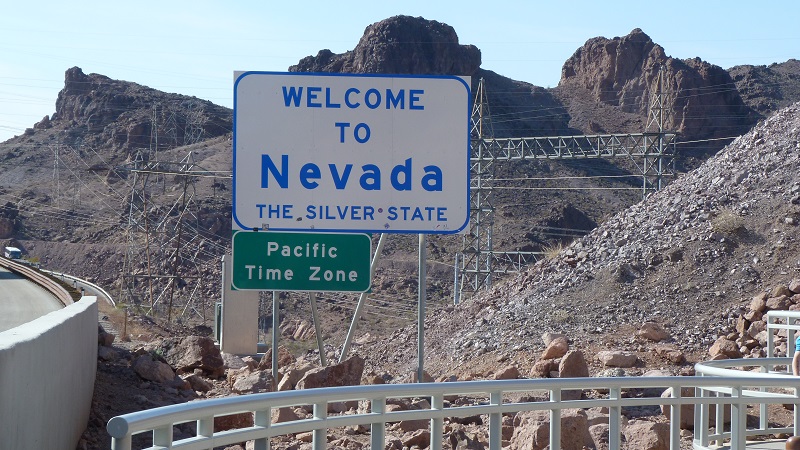 Yet another hour lost !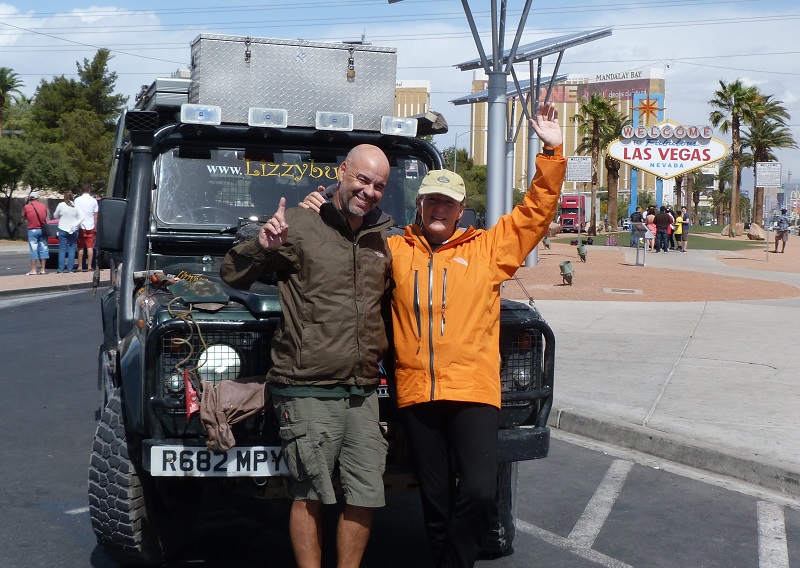 Lizzybus makes it to "Sin City"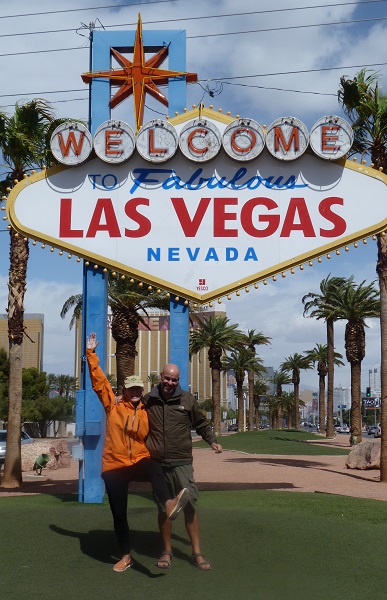 "What happens in Vegas , stays in Vegas"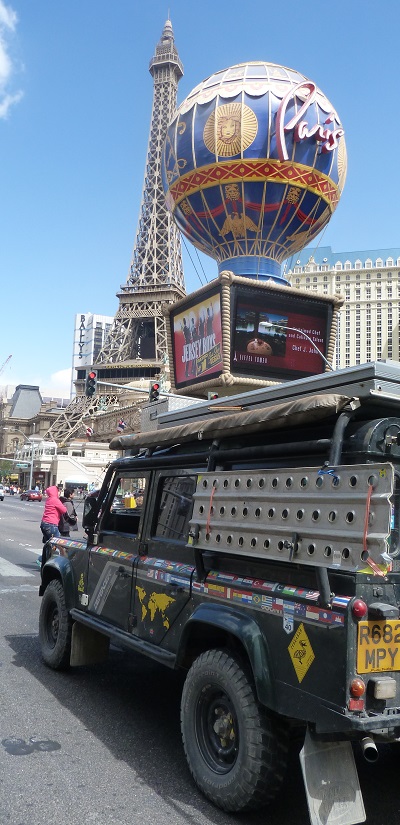 Vegas , big attraction , the Lizzybus
Having fled the nest all those years ago!
Ah , the delights of "being back home" , Mesa regal site , hot showers , pool , gym , free food and beer ( cheers mom and dad ) Even a chance to attend the local free air show , Lightning in the desert .Only problem is , we cant work on the Lizzybus on the site and we need to do another oil change .As we have a stock of filters from Chile , oil sourced from Walmart ,we trawl the garages for a labour only oil change . Whilst parked up , a stranger came over , introduced himself as John (owns his own body shop ) and a lover of Land Rovers .Amazed to see a right hand drive , UK reg Defender on the road , he thought he had missed us .Sitting in his office , lo and behold we turn up .Introductions made , oil changed , we have an invite to his house and full use of both his extensive garage and and his son for any other repairs .As he said , if it had been a Jeep or Toyota he wouldn't have bothered .Small amount of welding on a shock , changing of bushes , dinner and an introduction to "Welding Juice" saw Jayne having to drive back as we cant risk a DUI .Invites are accepted to camp up in the mountains over the weekend and my parents have to suffer extra days before we leave on the continuing adventure around the States .To those that think a Land rover is a problem in the US , its not true , we have so many invites and made so many friends around here its going to be great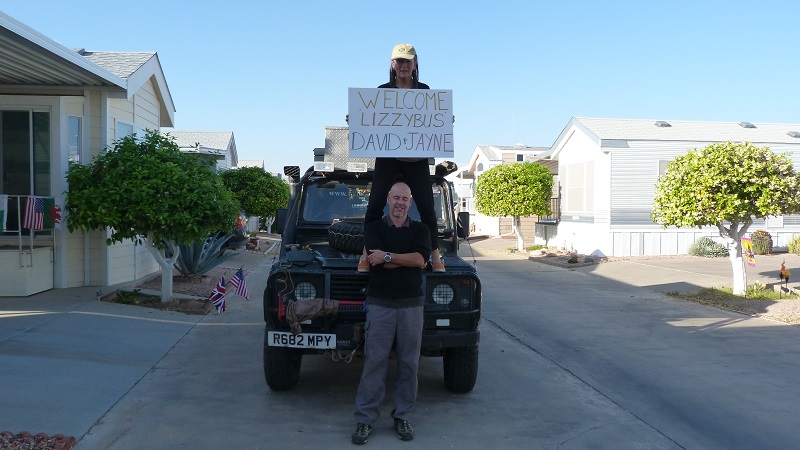 Managed to find parents home!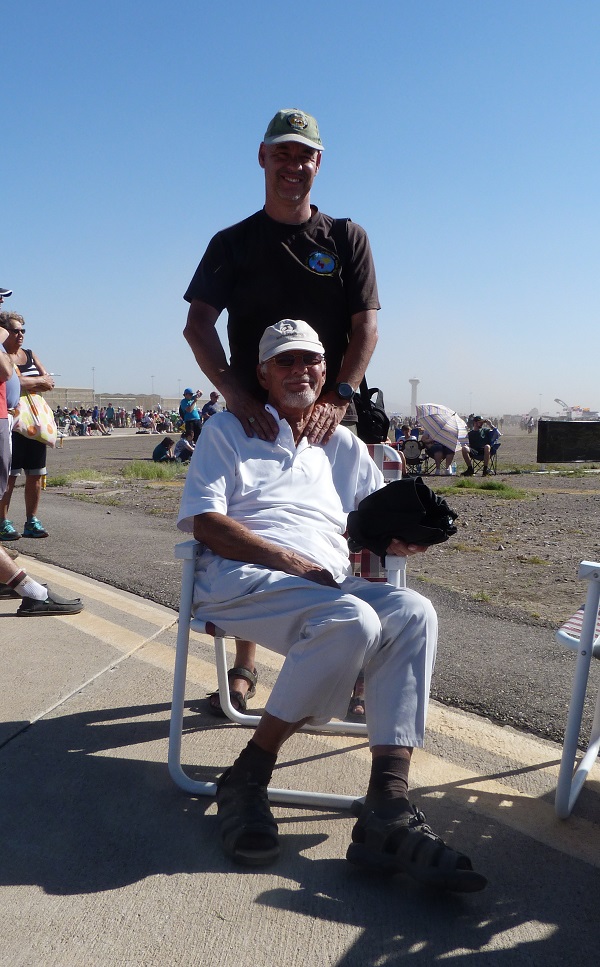 Like father , like son...bloody handsome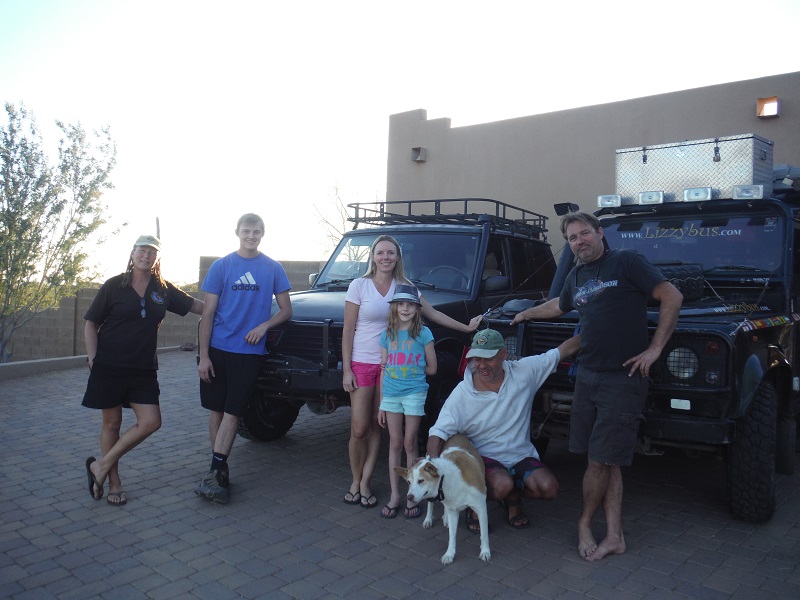 John and family..great friends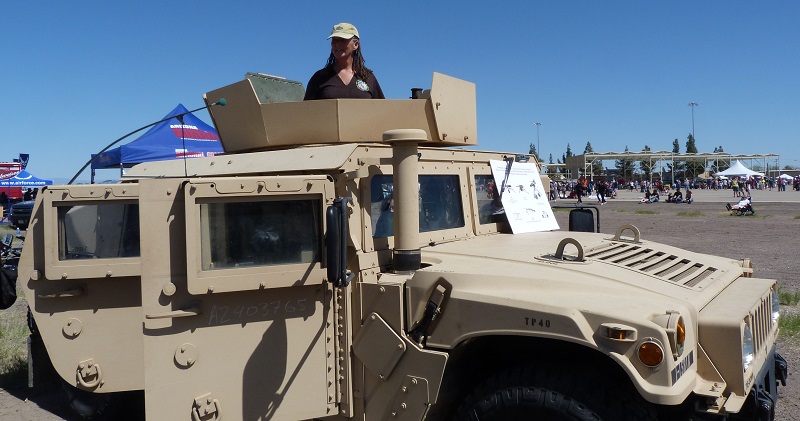 Jayne thinks "Lizzybus2" but where to put the pop top ?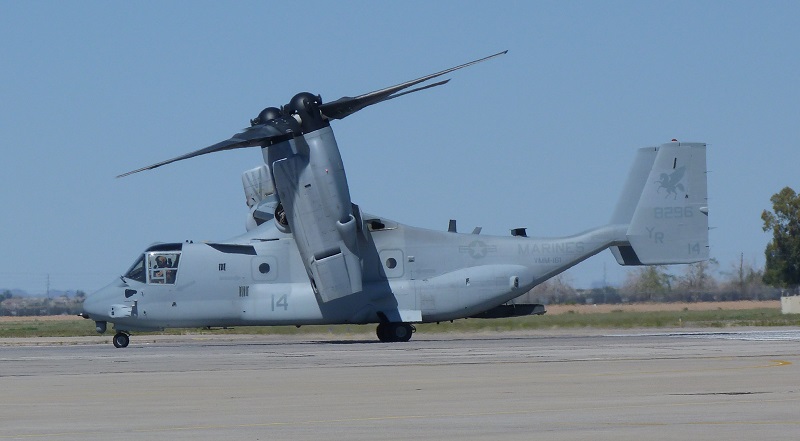 Think its a plane ( or is it airplane)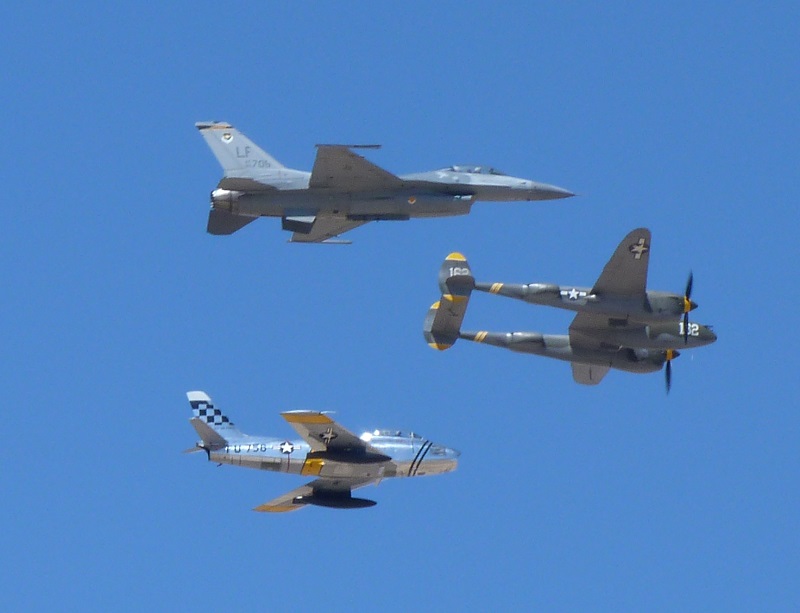 Flypast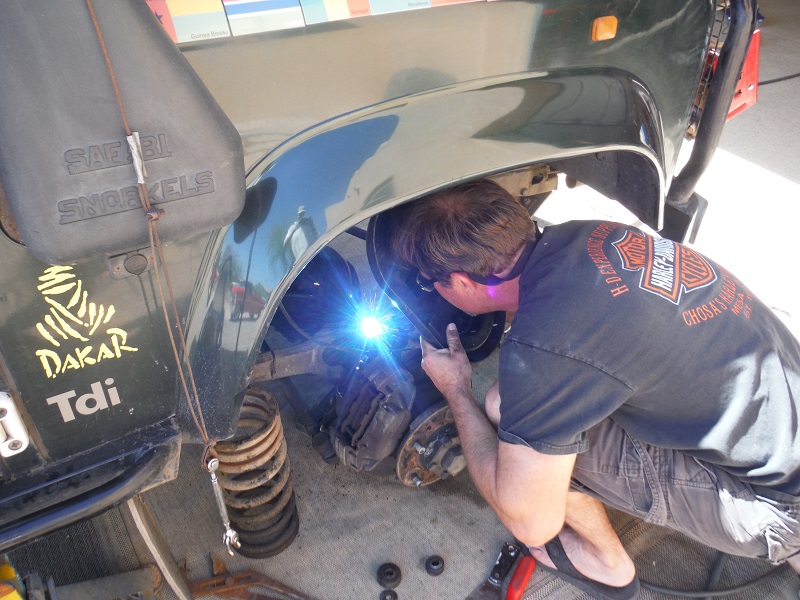 John with a spot of welding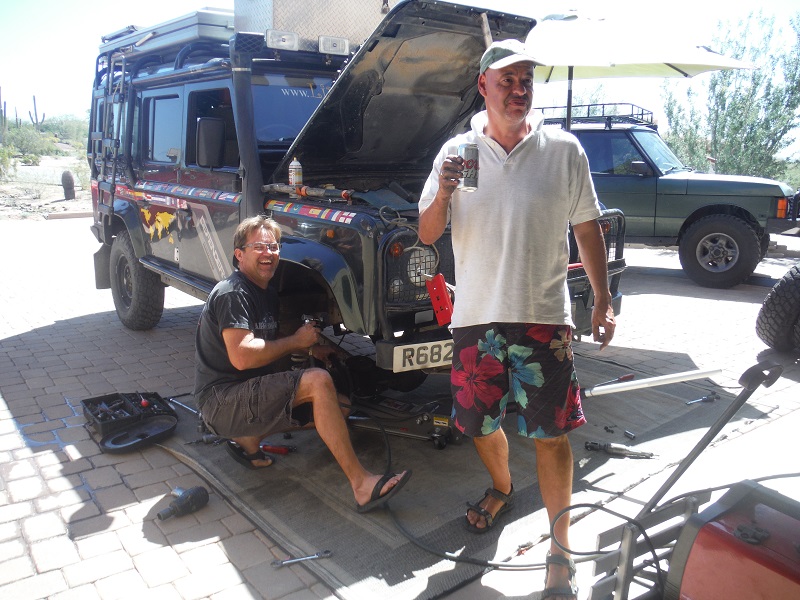 David on the delights of "welding juice"
Houston , we have a problem! ( its cold and wet in Texas )
Mardi Gras in New Orleans . Our second stop ,saw it fail to ignite any spark of excitement .Cold , wet and miserable as we camped on a car park and decidind not to stay till "Fat Tuesday", Texas would be cold and wet as we passed through with ice hanging off everything , brrrrrr , far to cold .But , it got warmer as we speed through New Mexico .Diverting off the tedious I10 we hit the scenic 60 and 70 highways , through old mining town and nice scenery and alleluia we finally make it Mesa and my parents place .2500 miles in 6 days , not bad .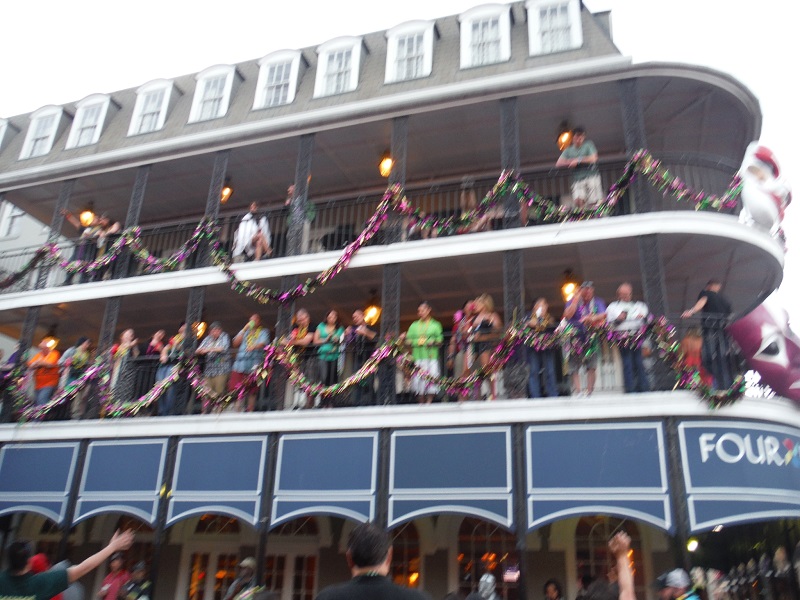 A cold , damp New Orleans and its Mardi Gras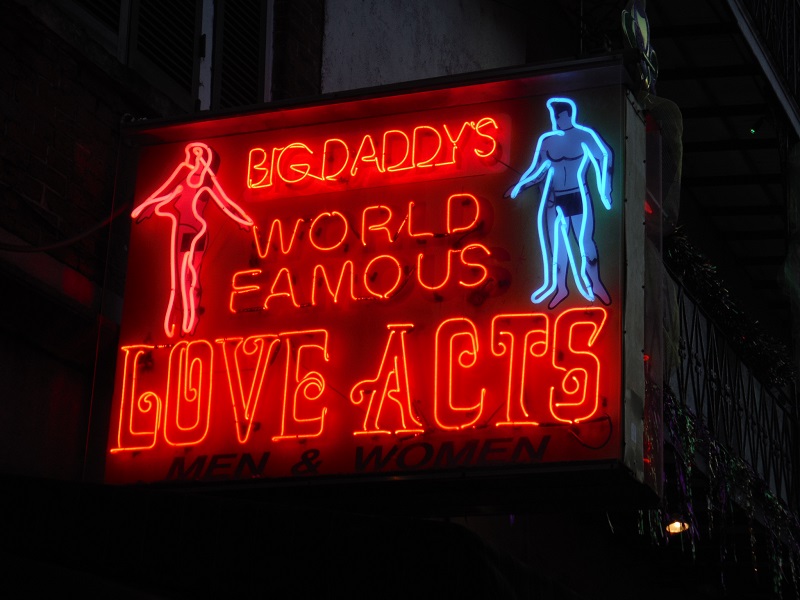 Didnt get an audition .New Orleans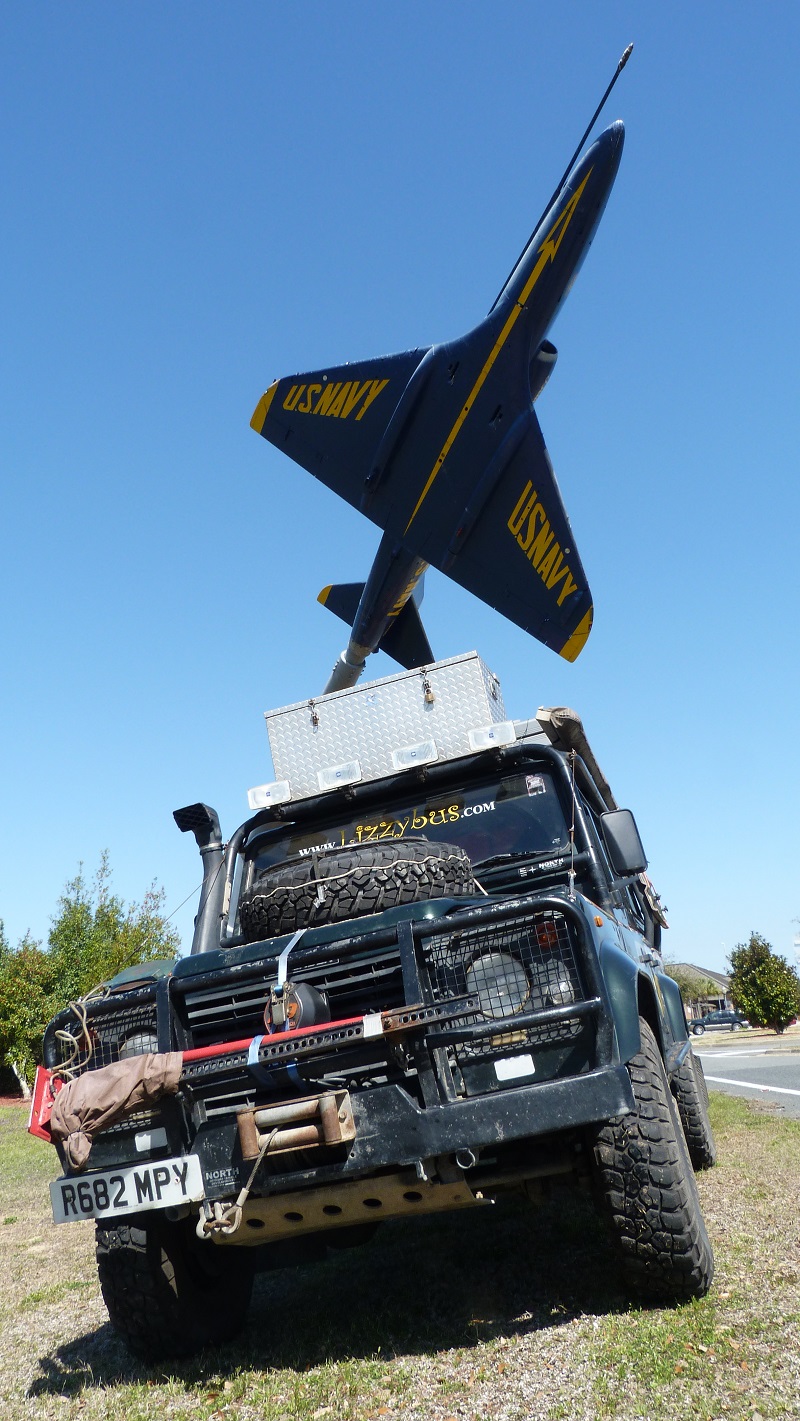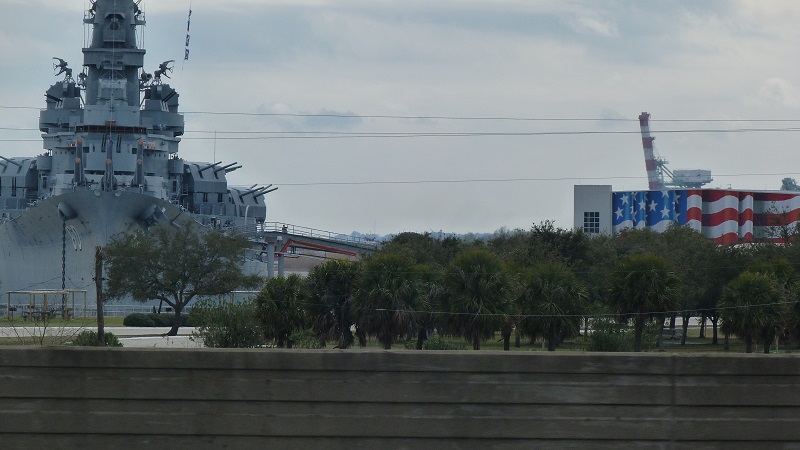 USS Arizona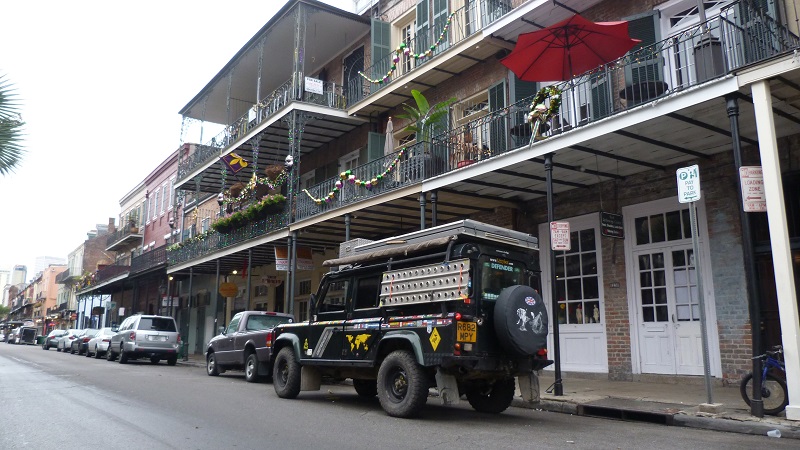 New Orleans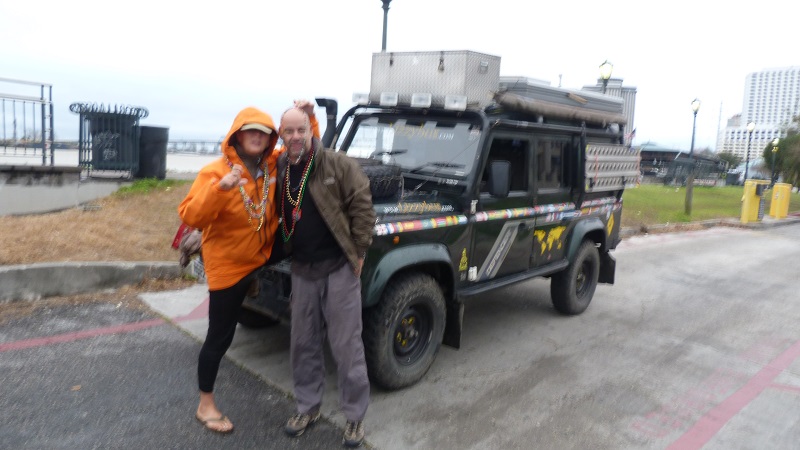 and its not warm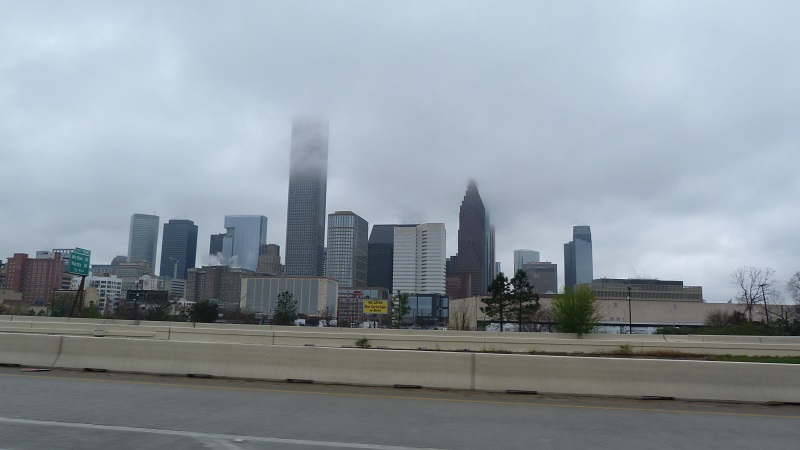 Houston and its cold and wet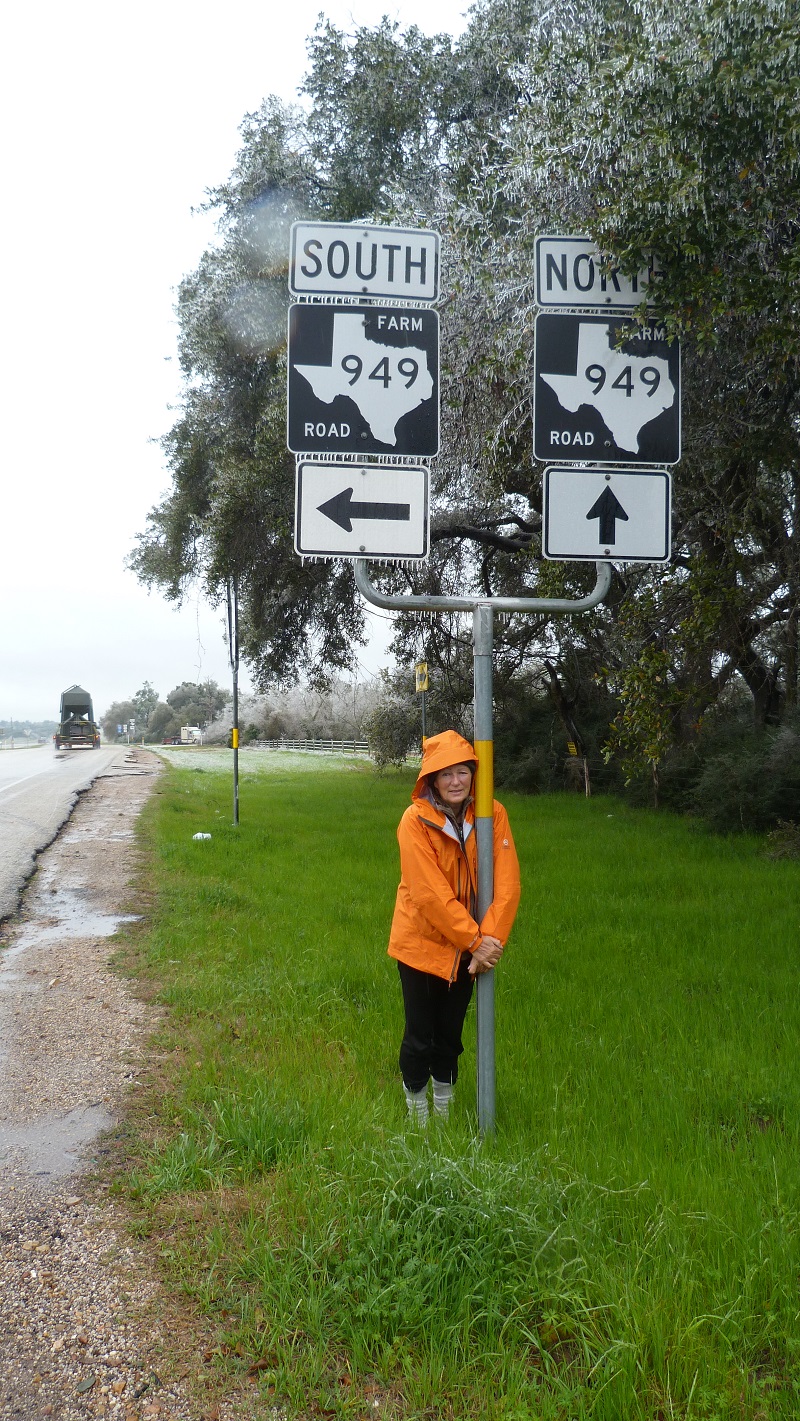 Honestly , it can only get better ..Inshala
Getting better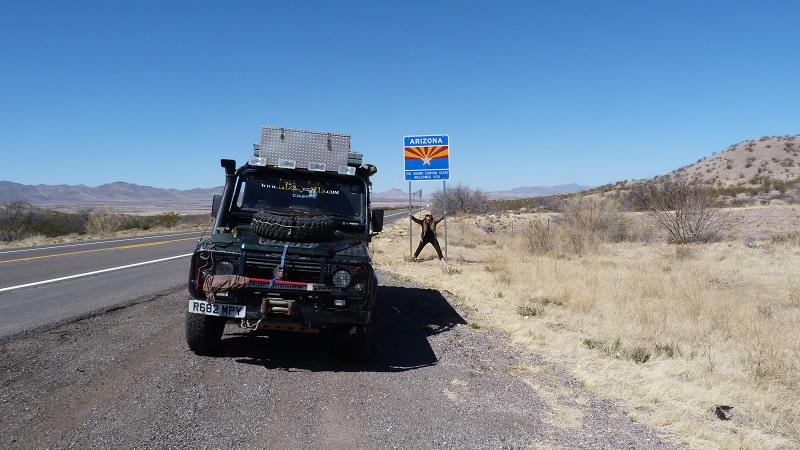 Arizona at last , hot and sunny
Time to move on!
We had blitzed Florida , all theme parked out the time just marched on .Then its a case of packing up for Jenny and Richard and a flight home to Blighty for them , and a cold reminder of home . It was a great time despite the burglary , for us , the fact we had backed up to Columbia in pictures made the loss of all our Central American pictures a bit more bearable . We would have had the house to ourselves but , as the weather here is warmer we had company of two other Over Landers , both in right hand drive Land Rovers .A rare site in this part of the world , almost a Defender convention .Alas , even for us , the party had to stop .Parents in Arizona needed a visitation from the Lizzybus crew and we had 2500 miles to go and it was an ideal opportunity to spend a day at Safari Heritage , Orlando and free use of their facilities as we prepared our beast of burden for the long road ahead .Brakes , oil seals etc. are checked and changed in the dry of their large garage .Between them and Prestige European in Ft Lauderdale it laid bare the myth ( and fear) that we wouldn't be able to get a Defender 300TDi repaired in the USA. Time to put the pedal to the metal and head for New Orleans and Mardi Gras .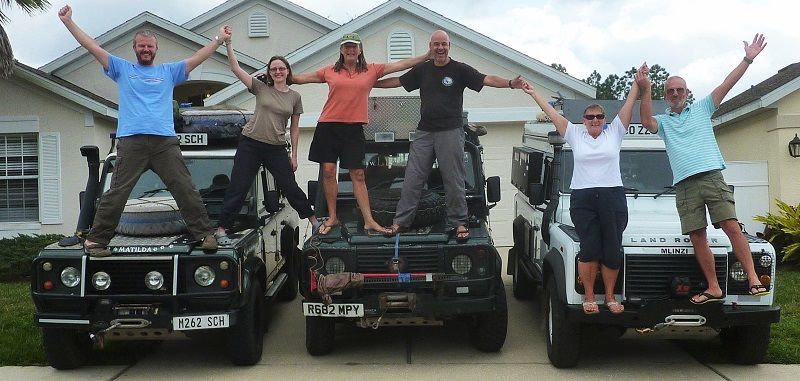 Almost a Land Rover Convention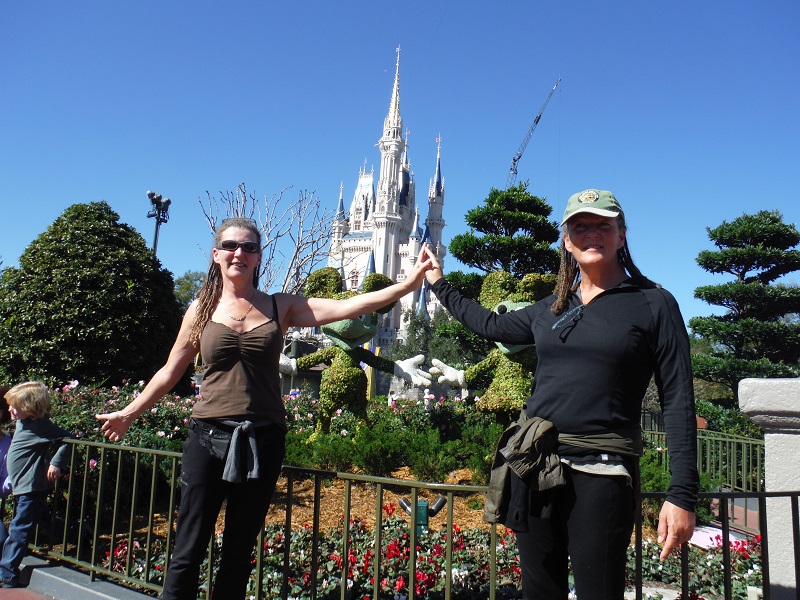 It's disney time
Typhoon lagoon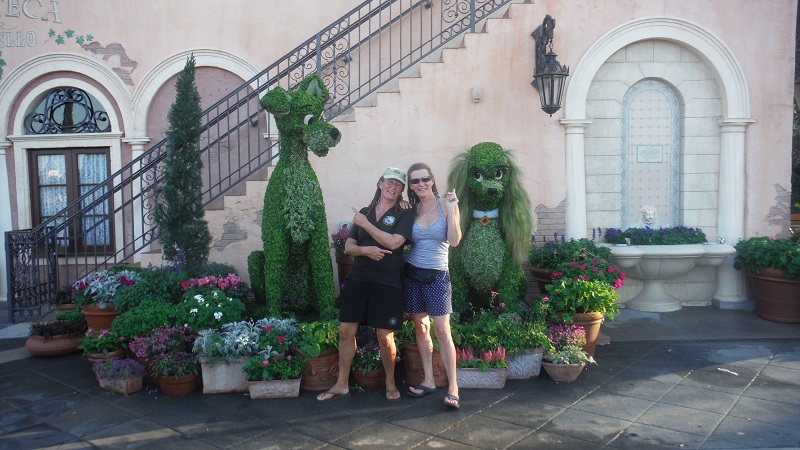 So which one is the lady ?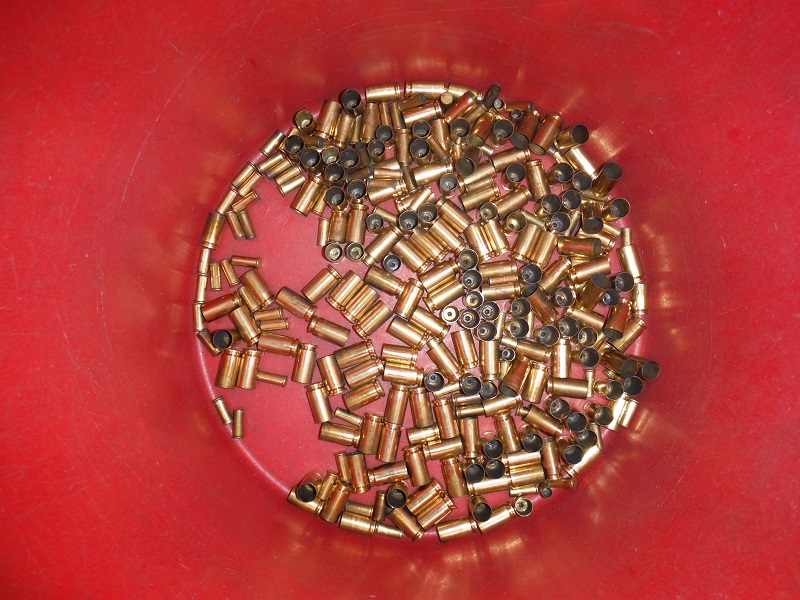 Just a few rounds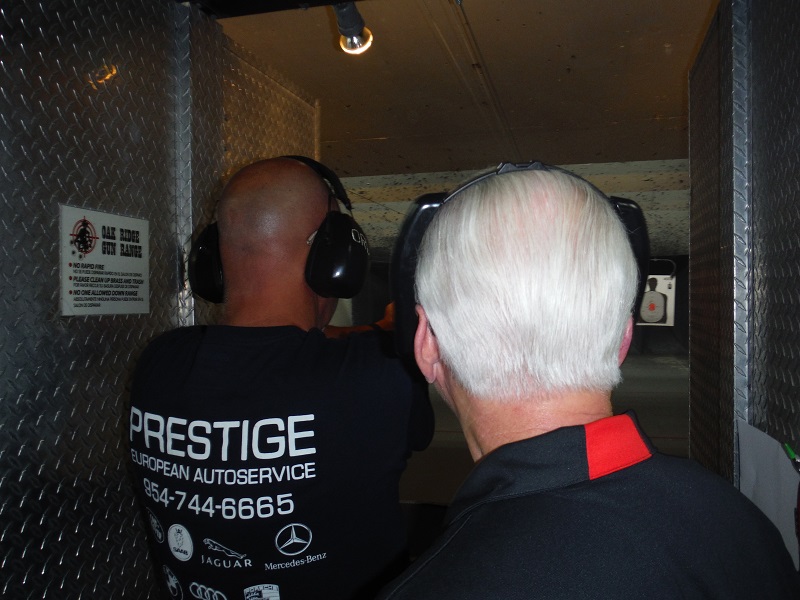 Bit of range time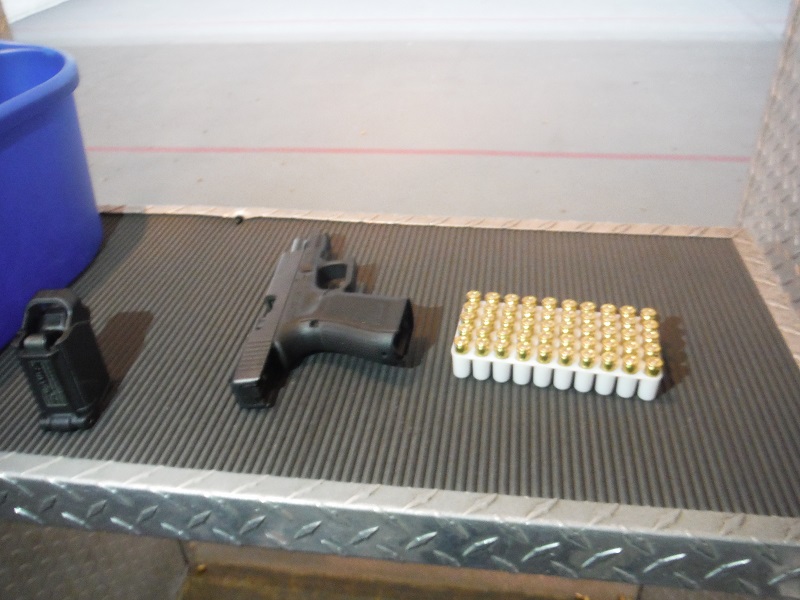 Glock 9mm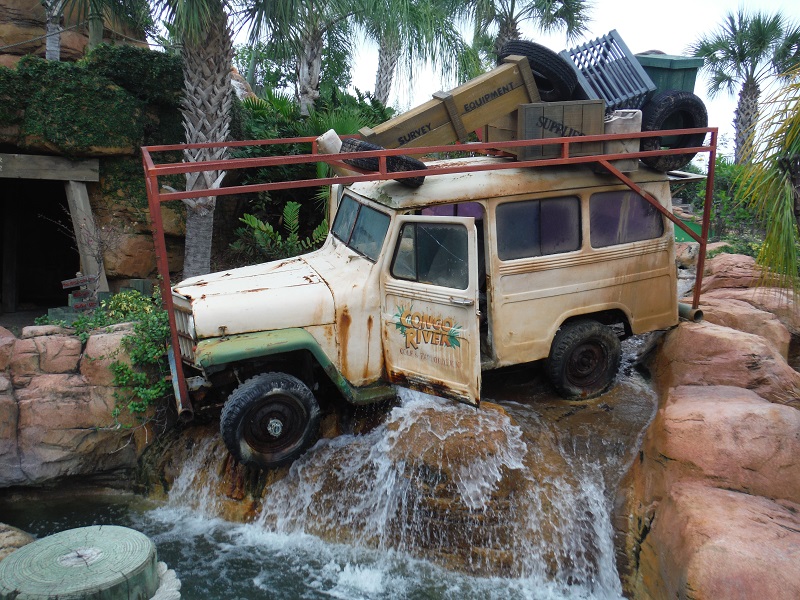 New Overlanding truck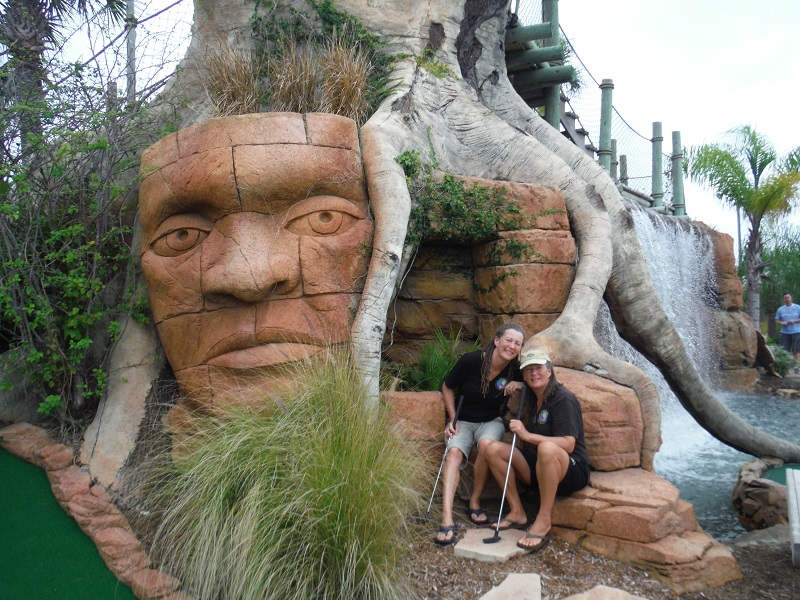 Cool golf ,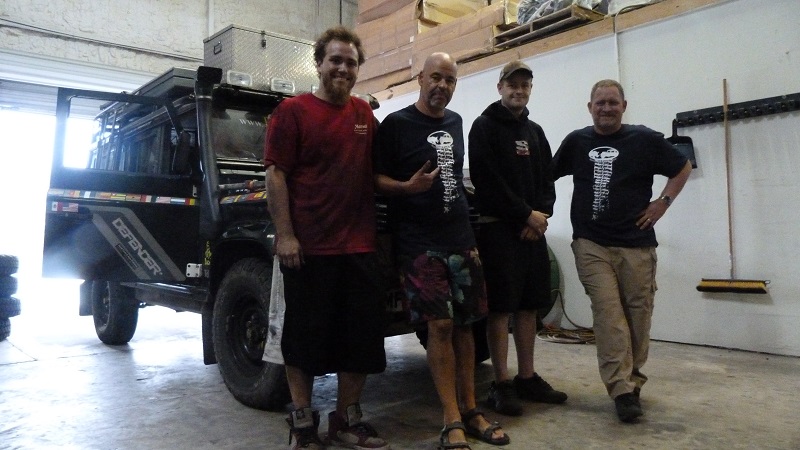 More cool Guys ..Safari Heritage , Orlando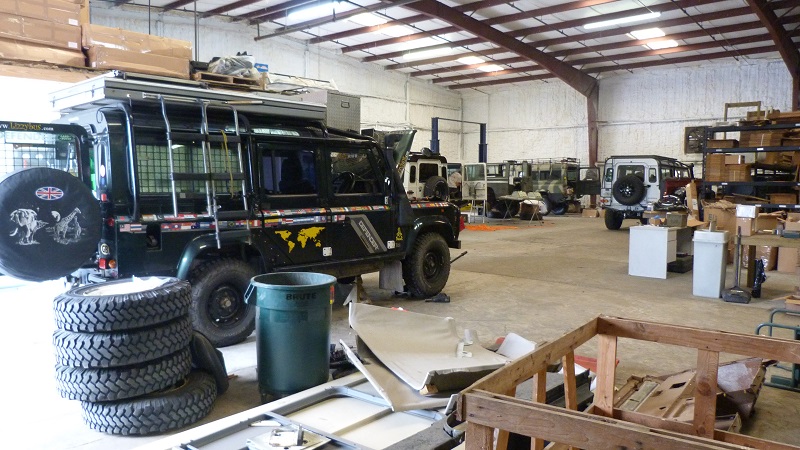 And they say you cant get a Defender repaired in the USA..Safari ,Orlando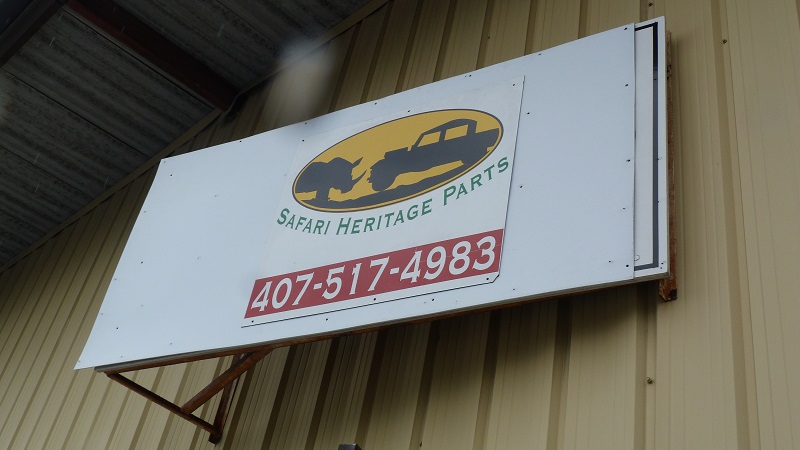 Yet another "saviour" in the Land Rover wilderness
White lies and burglary!
Well , Sunny Florida not! Its cold and overcast but the forecast is optimistic .Jen and Rich , (Jayne's sister and her hubby ) are out for three weeks R&R believe that they are going to be in a "Shake and Vac" motel on I Drive . Little did they know that it was cheaper to rent a villa for a month .The look on their faces was priceless when we turned up at what appeared as someone's private house .
Having secured park passes , Disney here we come .
Despite all our experience of travel , we let our guard down .On a residential golf resort , should be no problems .Didn't use the alarm ( should have asked the agent !) returning from Cape Canaveral after an excellent day , the recriminations start .Jayne had locked the front door , she was most insistent .The front door was however unlocked .So , we've been burgled .Cash , my Laptop AND my back up hard drive are all missing .Five years of our adventure , photographs , contacts , all gone .We are devastated . We found that Jayne , as she insisted had locked the door , but the bastards had forced the "secure" rear door by jimmying the fixed pane of the patio .Amazingly , despite the "security" this pane is held in place by 2 self tapping screws .So , big damper on our holiday .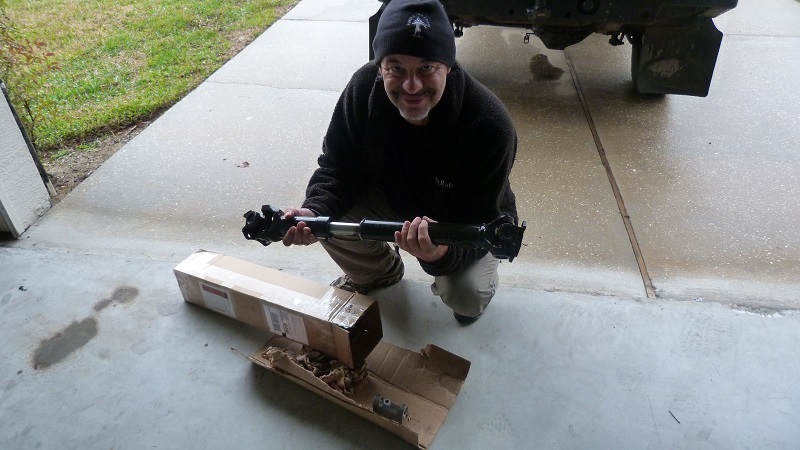 New Propshaft , thanks to Driveshaft Power Inc , Lake worth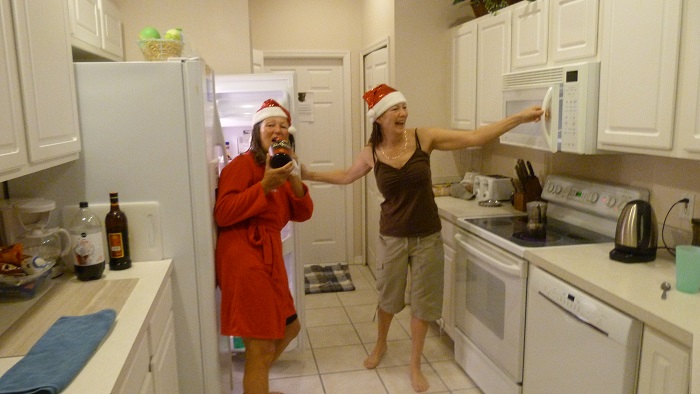 Better than any hotel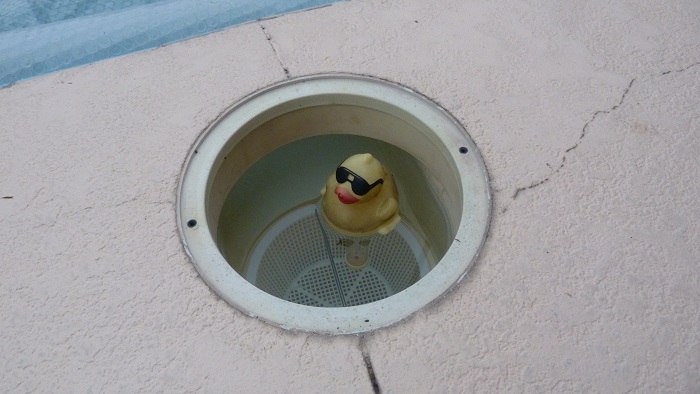 Theres a duck in our pool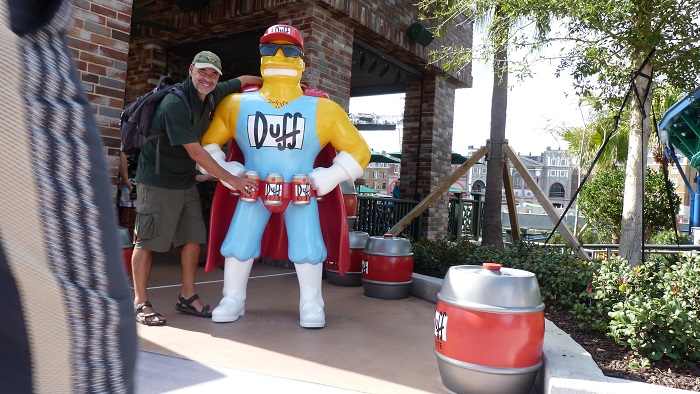 Its Duff time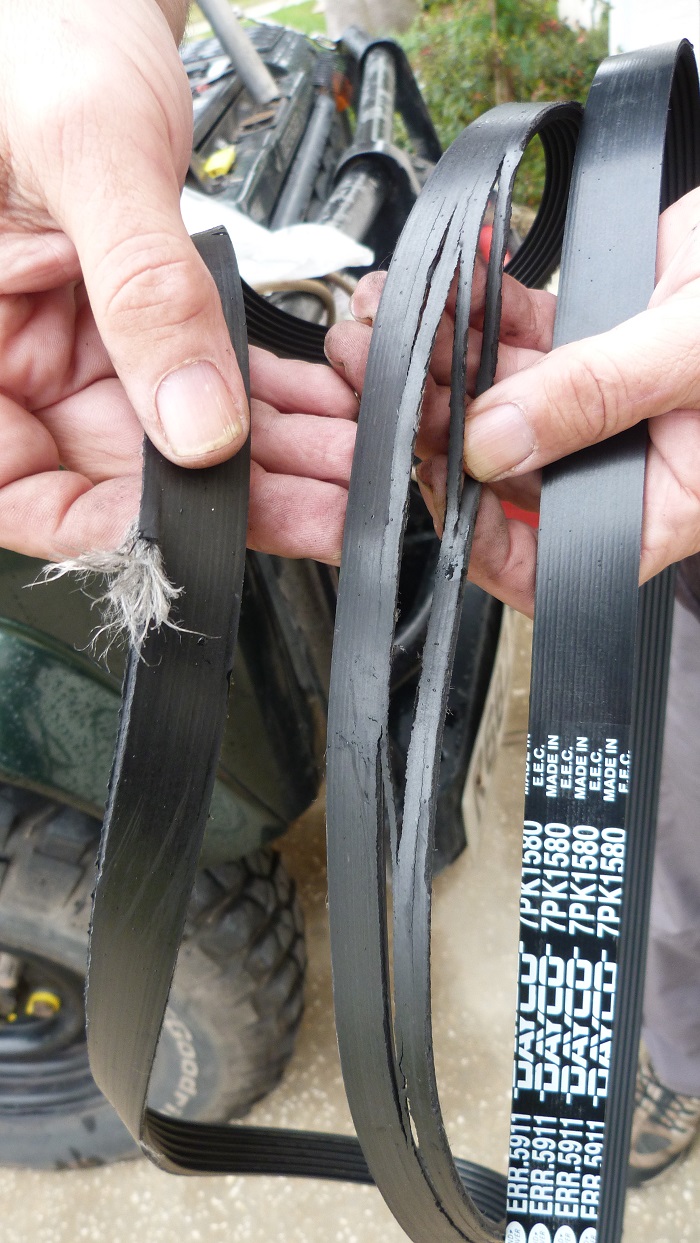 We shredded a fan belt!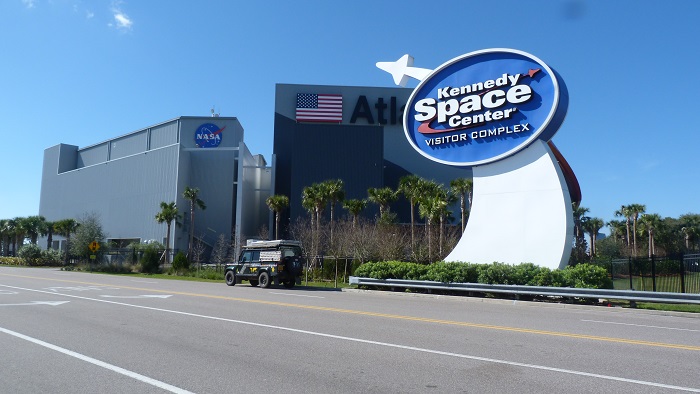 Cape Canaveral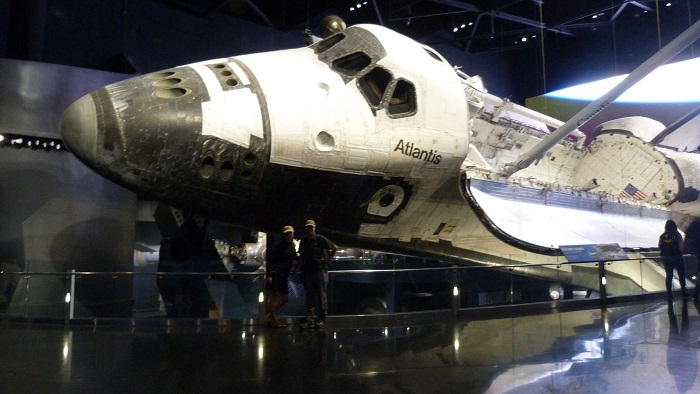 a real , live Shuttle....cool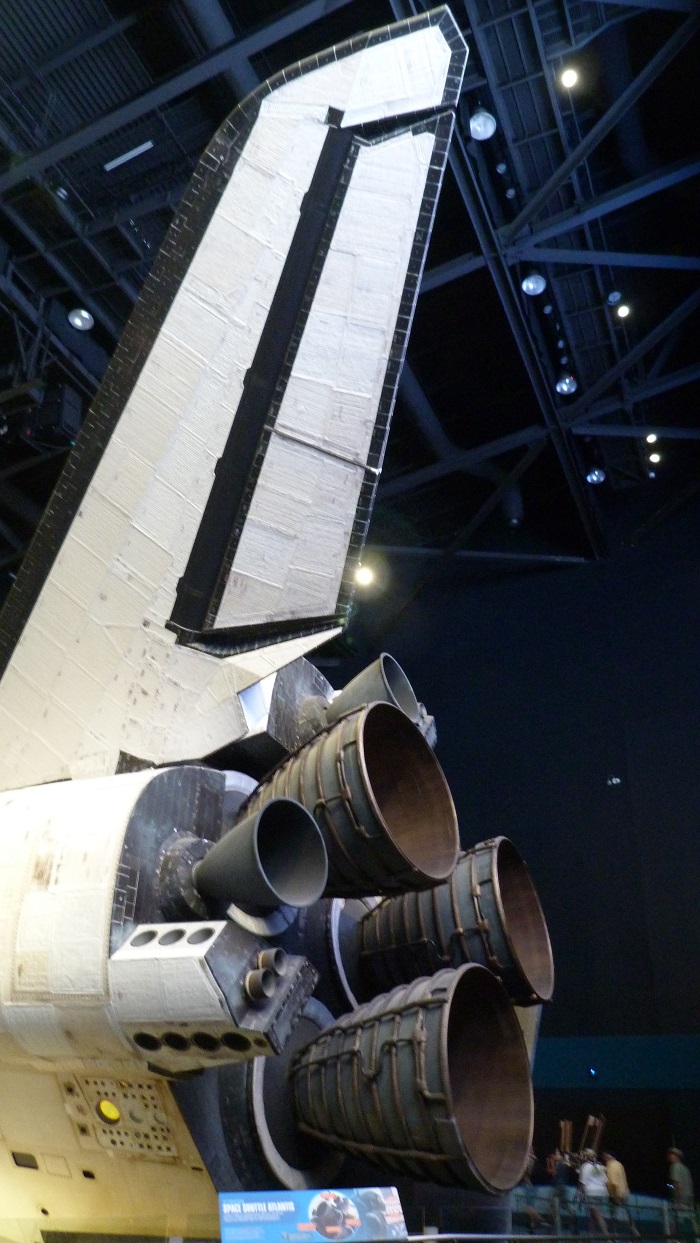 Shuttle Atlantis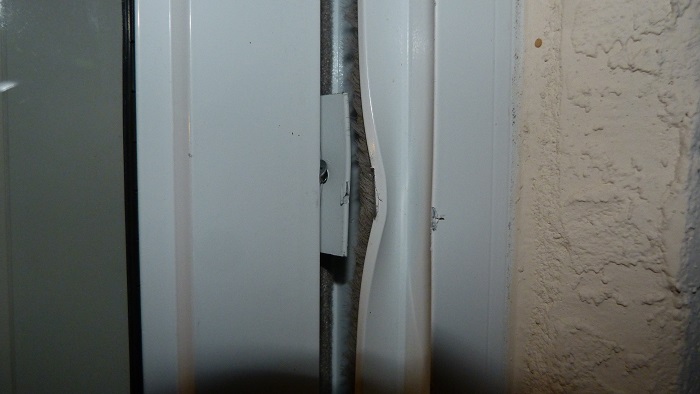 BASTARDS....forced entry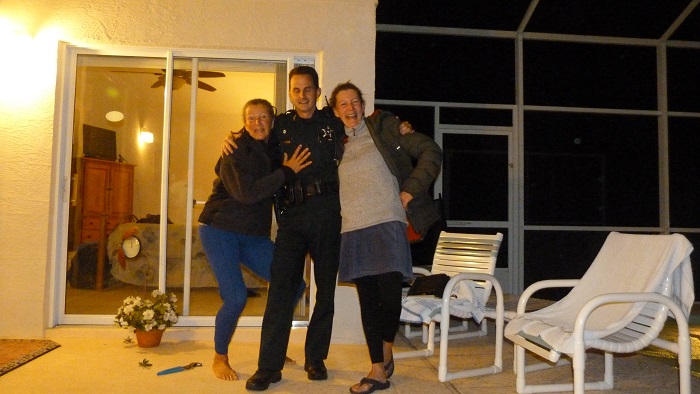 The girls liked the local police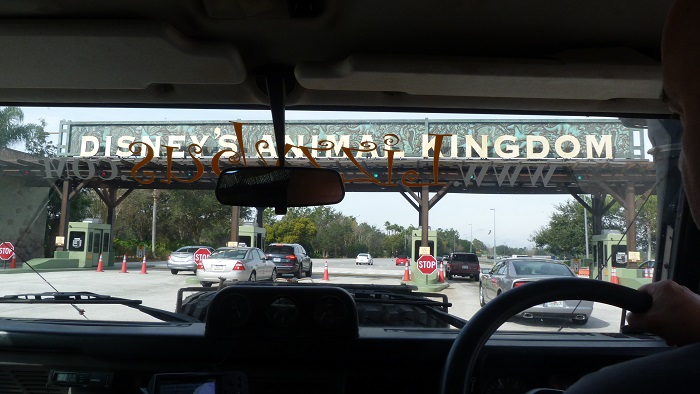 Did we say we went to Disney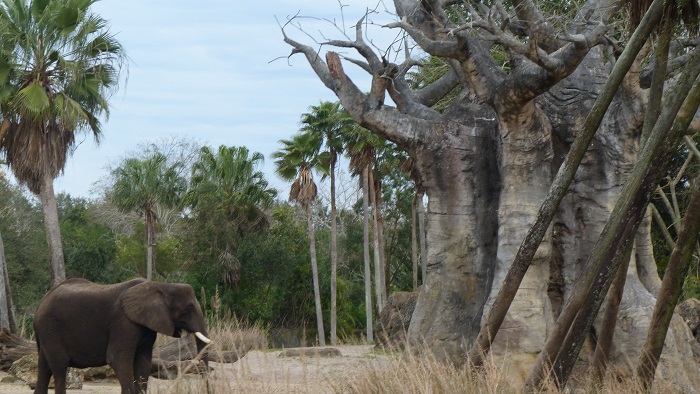 The "african"experience without the hassla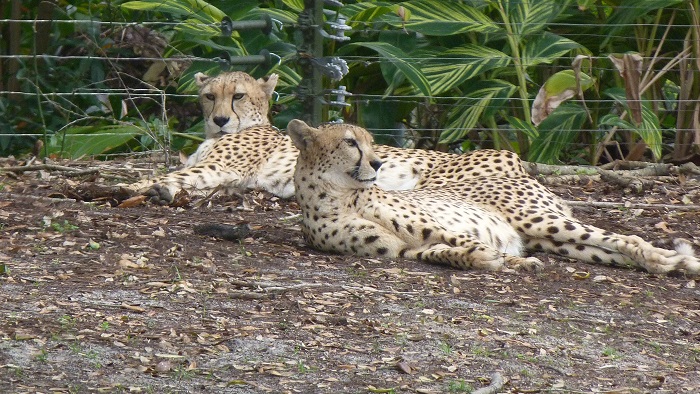 Spare parts time
Road Trip USA
As Border crossings go , Larado was quite easy .Everyone is fascinated by a Right hand drive Defender that has been around the world .We secure ( $12) our I 94 , a quick search and we are in .No paperwork to do on the car .TEXAS here we come .Within 15 minutes , we have handed out 20 business cards and secured an invite to stay at a Ranch ! This is true hospitality and a foretaste of what is going to happen on this leg of the journey .We do , however have to head across to Florida and see family , so to all those who have invited us , we will be returning shortly.
The journey is vast and the pinion oil seal has decided to give up the ghost and p**s oil out the back at an alarming rate .On facebook we get an invite from Prestige European Motors of Fort Lauderdale and a free repair on the seal ! So off we head until there is an almighty bang from the front .Yep , the front prop shaft has let go and flailed the underside of Lizzybus .Now running in 2 wheel drive we continue .Despite the problems , we know we will be in safe hands and the repair can be effected .Spirits are buoyed as strangers , through shouted conversations , window to window even pay our road tolls .This is just getting better .At Prestige ,kindred spirits Shane and Sandra open their home and workshop to us . Bike heaven with Ducatis , KTM and a Heritage Softail in the workshop .Prop is actually beyond repair at one end so a new one is on fabrication by Driveshaft Power Inc , Lake Worth , to be sent up when completed .The leaking seal turned out to be no more than the pinion nut being less tight than necessary .Niggly repairs , oil changes during the day , food and beer out with our tales of adventure neatly complimented by our hosts tales of their journeys .They are also travellers and we will catch up with them ( we hope) again as we will cross paths .With invites to stay and visit coming from everywhere we have tapped into a well of friendship and hospitality around the country .Total strangers offering rooms , repairs ( it is a Land Rover after all ) as and when necessary .
So a new page for this leg .A change in emphasis , yes we are still over Landers and all that entails , this leg is to become a road trip ,USA !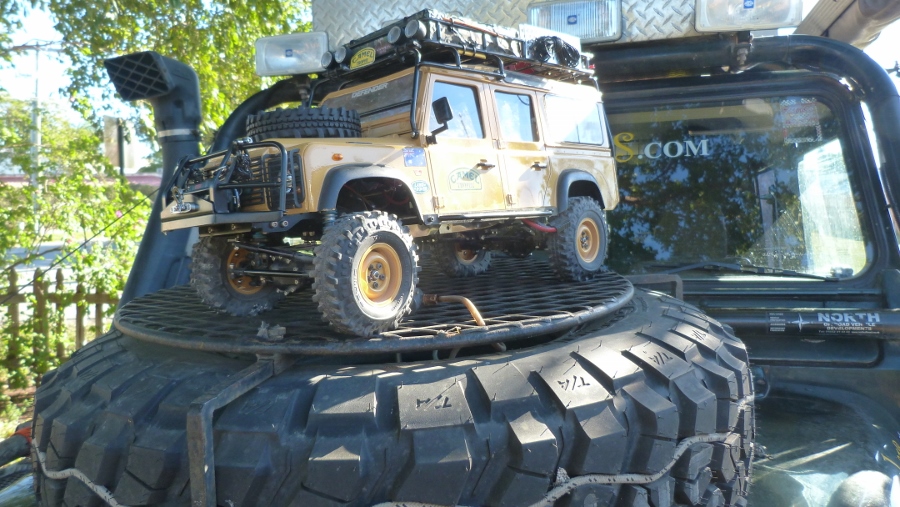 Theres a Camel on the bonnet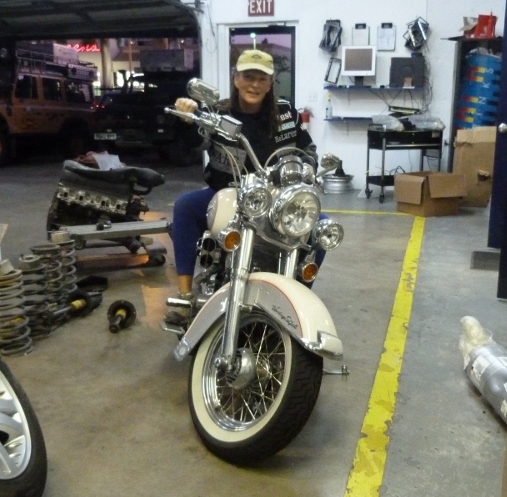 Jayne looking cool on a "hog"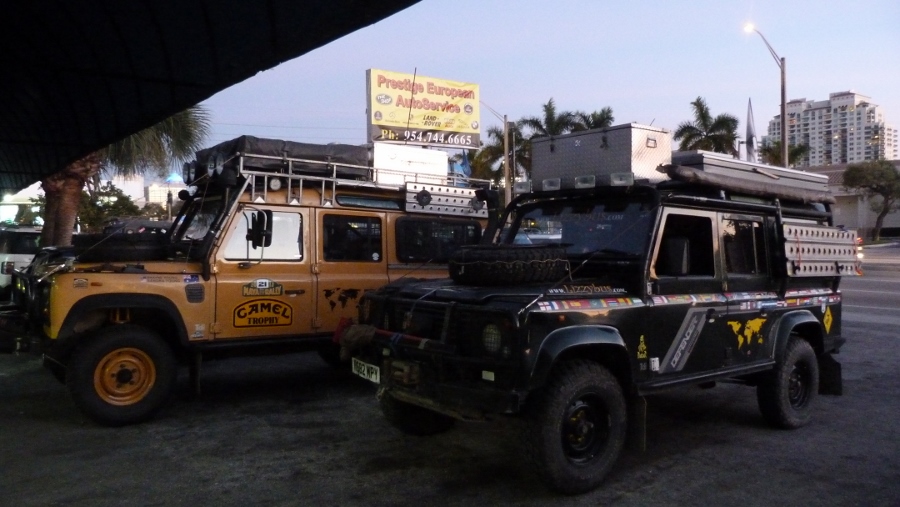 Lizzybus and a RHD Camel ( all a long way from home)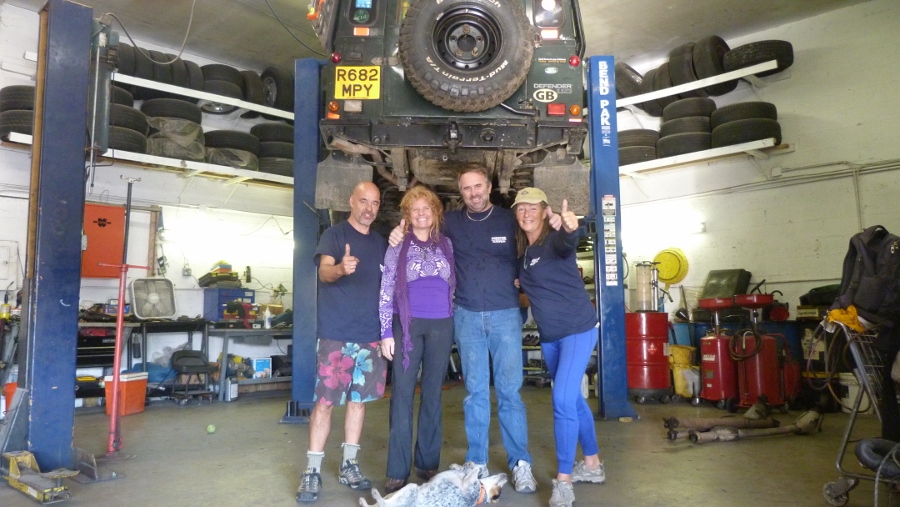 Nerw friends at Prestige , Shane , Sandra and Matilda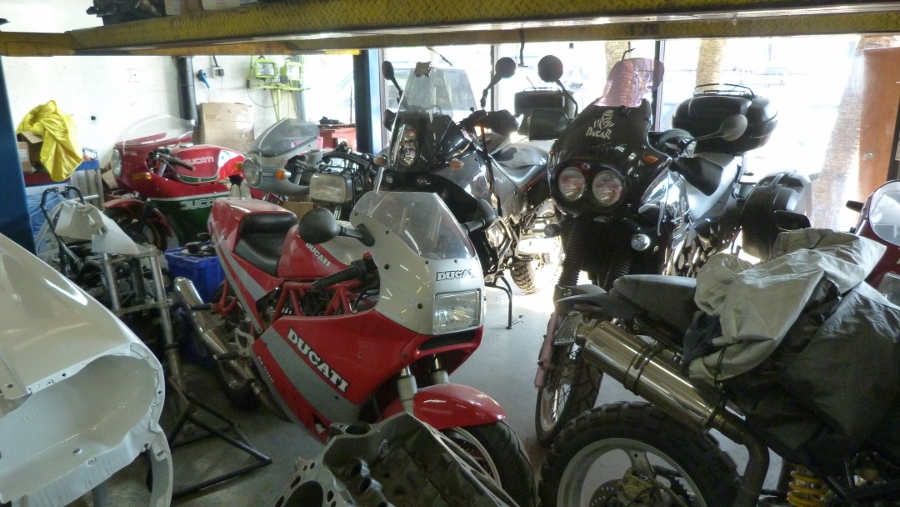 MY idea of heaven
What is with the Lizzybus and propshafts?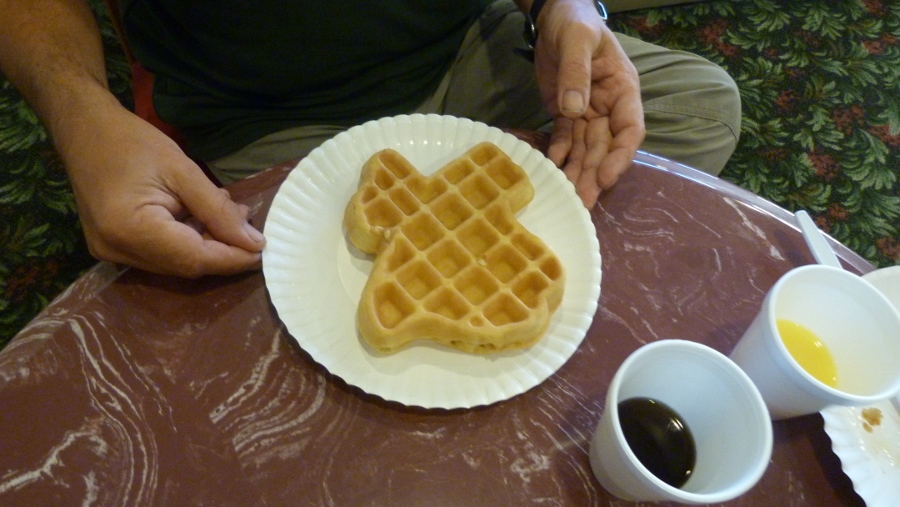 Now thats a Texas waffle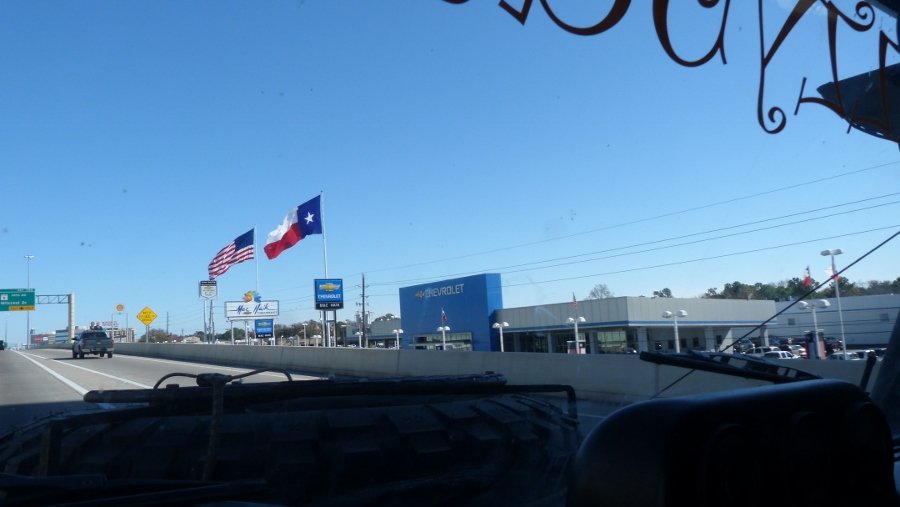 105000 miles , 68 countries and four and a half years...the USA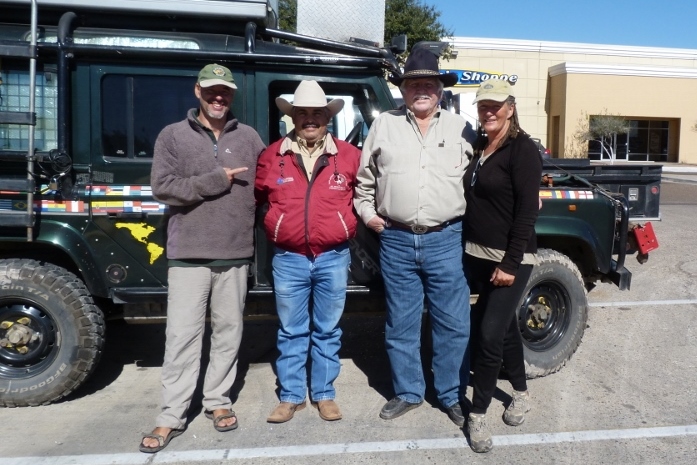 Texans and an invite to their Ranch