Up a Gumtree?

Having only strapped the Lizzybus into the container , it was with great trepidation we followed the containers path across the Atlantic .Mild concern was replaced by horror when we saw her path converge with hurricane Gonzalo and its associated high winds and big seas .Surely the now inadequate looking strapping wouldn't hold .On reflection I should have insisted that the wheels be battened .

Cheap flights to UK , where put on hold as the anticipated price came out at £600 each , compared to the anticipated £200 .We settled on staying an extra 4 days in Halifax and flew on the Saturday at £225 each .A three flight trip ( same price but we could leave at 17.00 rather than midnight ) and It was strange to back in the UK .Rather than visit friends and family , a nine hour wait for a Megabus to Antwerp and saw us arrive after 3 days travel and no sleep in Antwerp. A serious case of jet lag .Hurricane Gonzalo did its worse and delayed the ship for two days , resulting in off loading Friday night .Customs do not work weekends so any chance of an early reunion on Monday have evaporated .For the first time , it looks like we may not make the Saturday UK deadline as we still have the dreaded MOT to get and the gearbox is still an unknown quantity .

Our agent Arjen at http://www.transportpartners.com (arjen(at)transportpartners.com) came up trumps , not only on price but a chance to un load dockside . His brokers in Antwerp ( www.Vreysen.com ) managed to get us out of the docks by the Tuesday !!!Bloody marvellous , as we forwent one night in the hotel for a dash to Calais and the Wednesday morning ferry to UK . Cheap fags , beer and wine loaded up we cross to an emotional arrival ( at least for me ) with home soil .We had done it , lump in throat , we had driven , as far is practicable , around the world .Driving onto English soil was for me , I didn't want to arrive in the UK and await a container and just pull her out , I had to drive onto good old Blighty .

MOT booked at Gum tree , they pulled out all the stops , fitted a new gearbox / transfer case and got her through .Despite all the abuse a wheel bearing ,wheel hub , hand brake , brake master cylinder and a new set of number plate where all that was basically needed .Cool guys , as they finished at 1700 Friday night .Time to drive home on the M25 on a Friday ( not the best ) night but home it was .

1200 hours , Birmingham Victoria Square , after 5 years ,2 months and 16 days ,134,250 miles, 66 countries , 6 continents , we had circumnavigated the whole world .

So there you have it , not an ending but a new beginning .But where does the future lie? Watch this space , you might be surprised .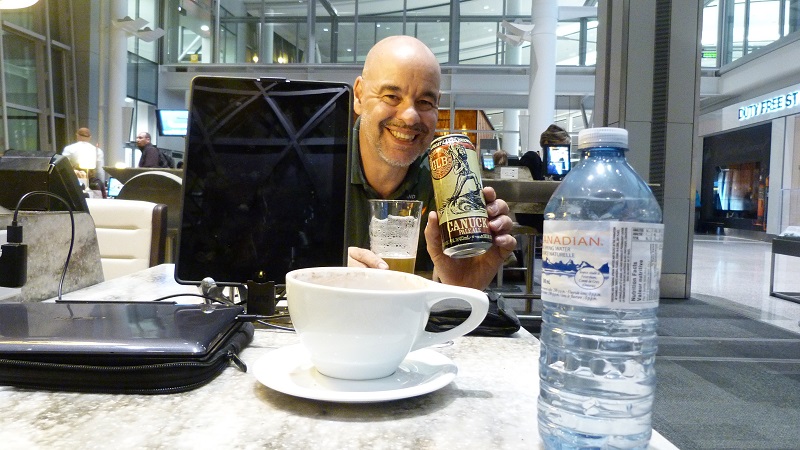 Converting the last Canadian $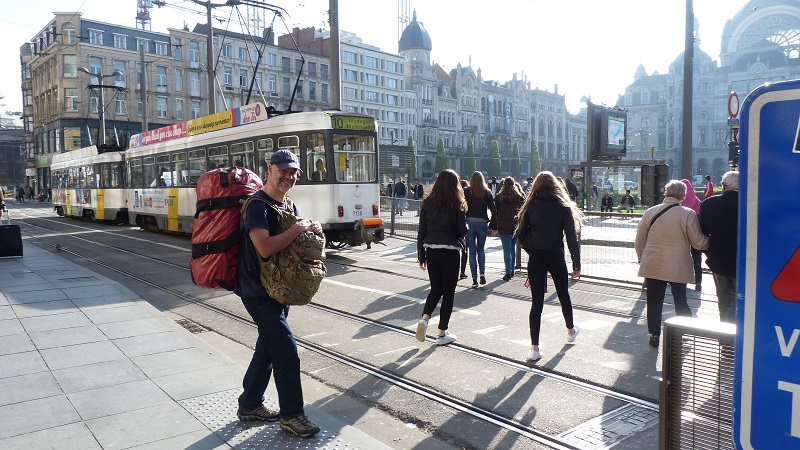 Made it to Antwerp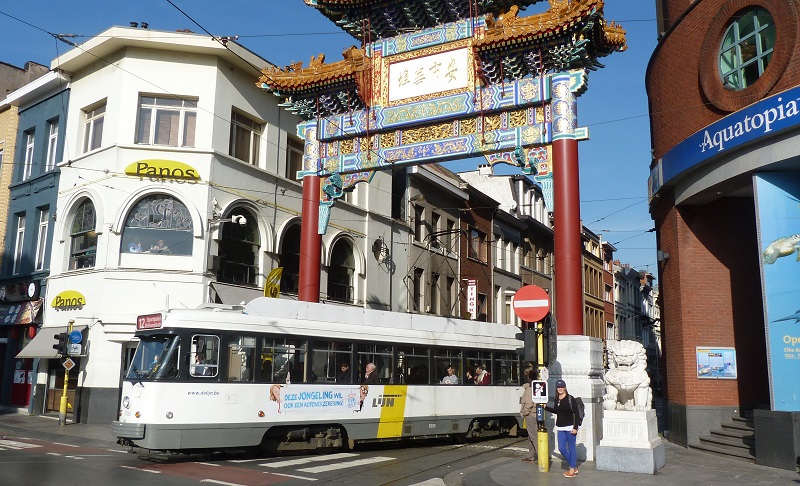 Antwerp and still awaiting the container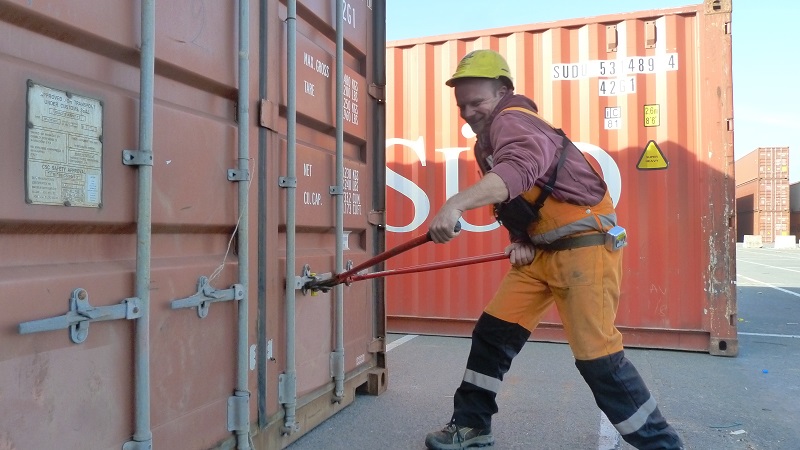 Hope the Lizzybus is still intact!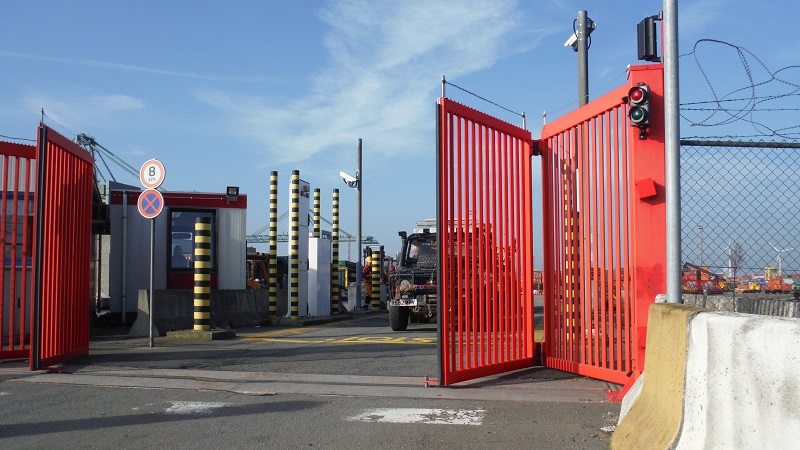 Off on the final leg..driving off the docks
Last leg ..leaving Calais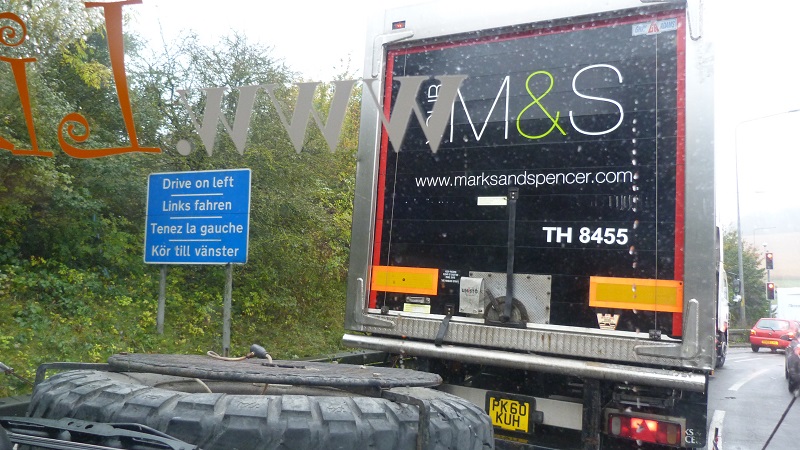 Home...thank god they told us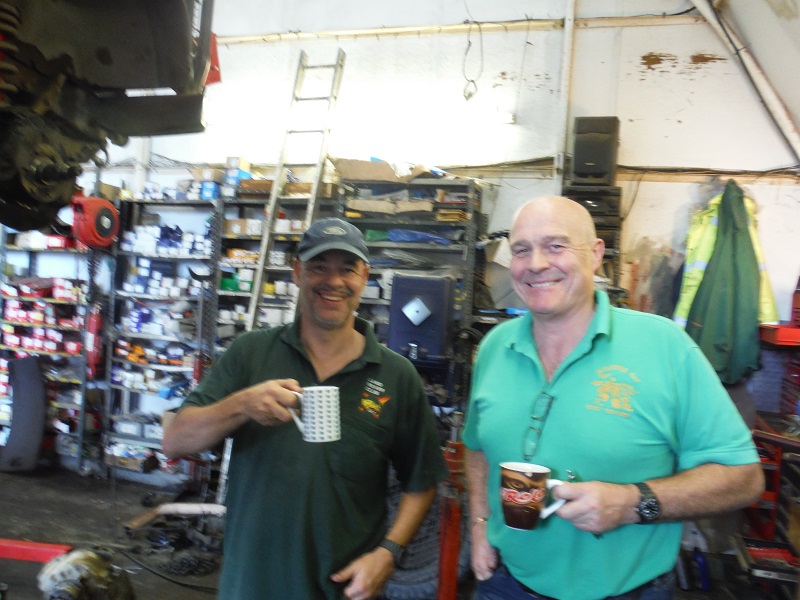 Mr Gumtree himself...cheers John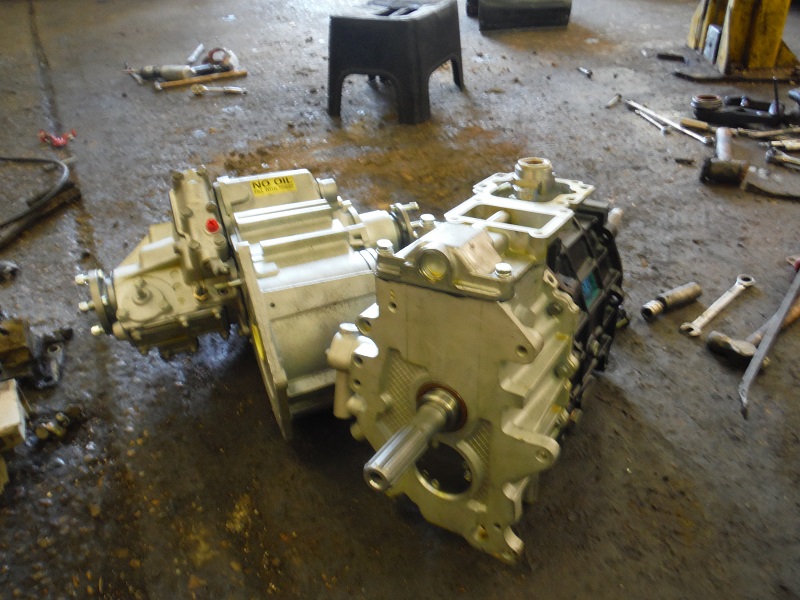 Nice expensive shiny bits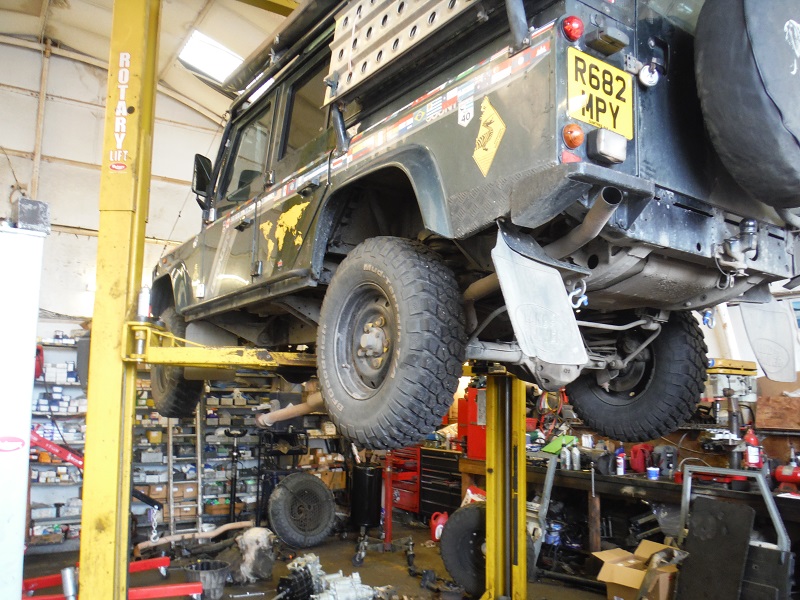 How very Lizzybus , up on ramps .But we still love her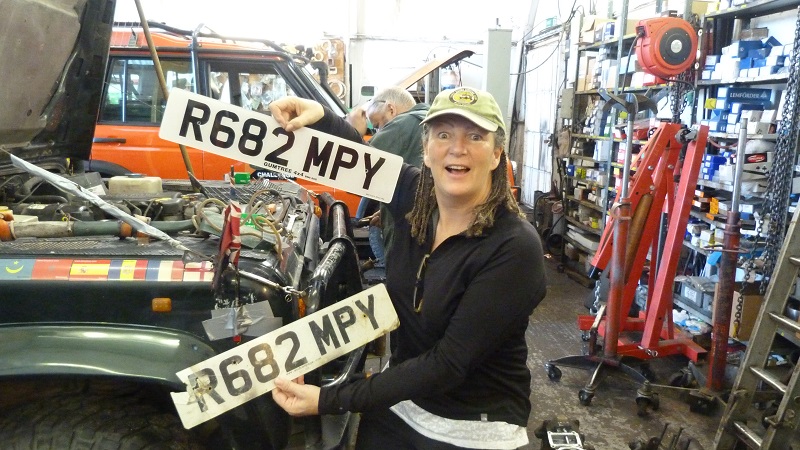 So easily satisfied , new number plates for MOT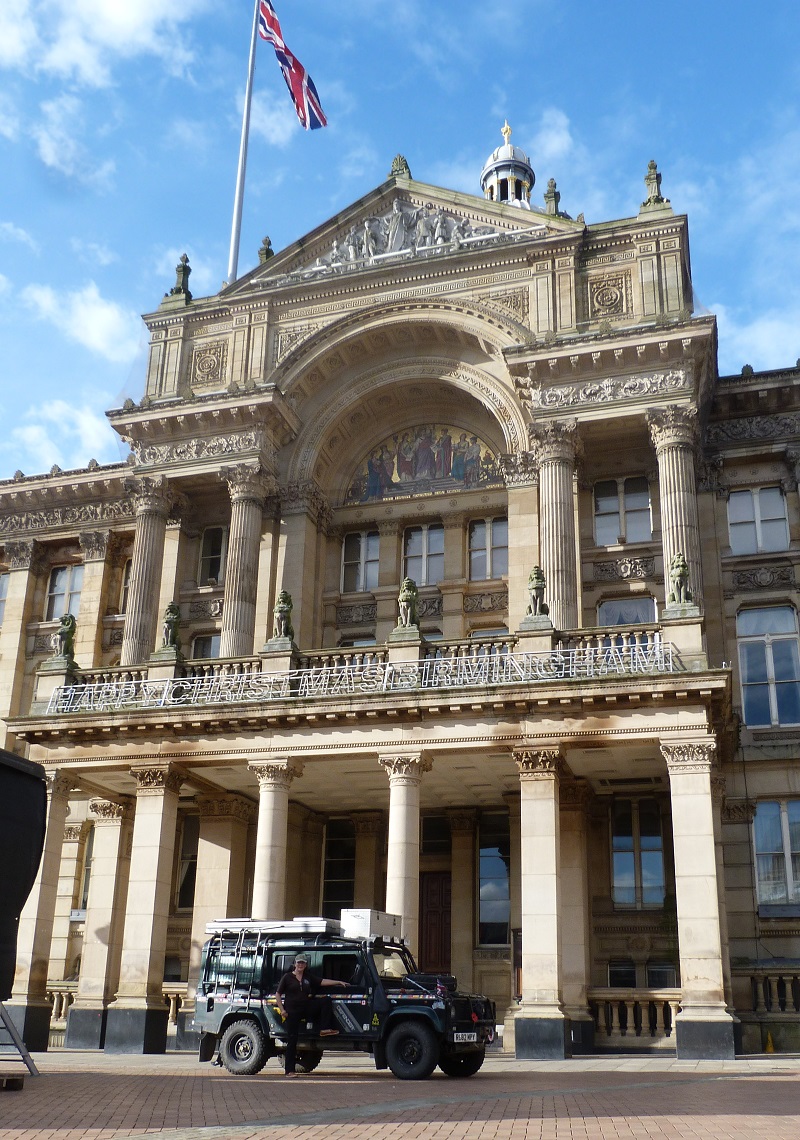 HOME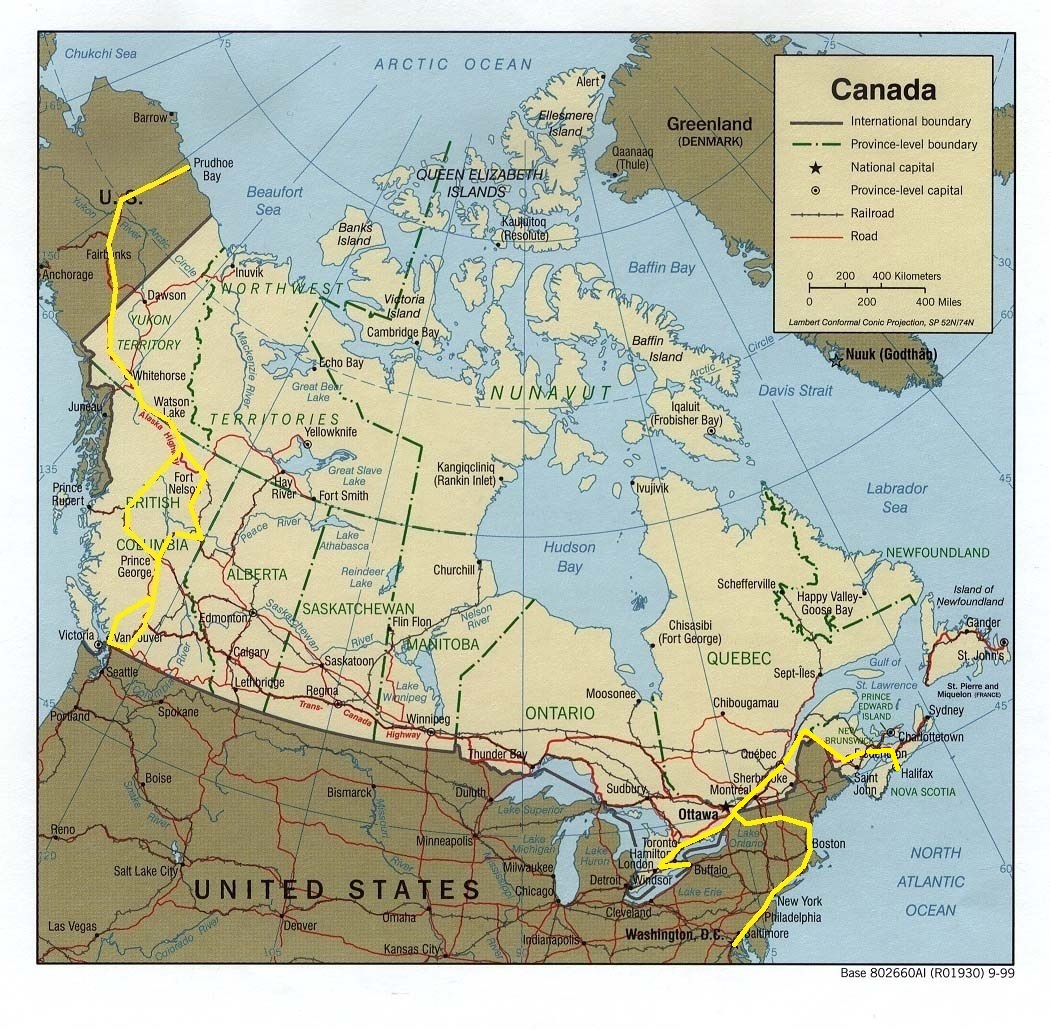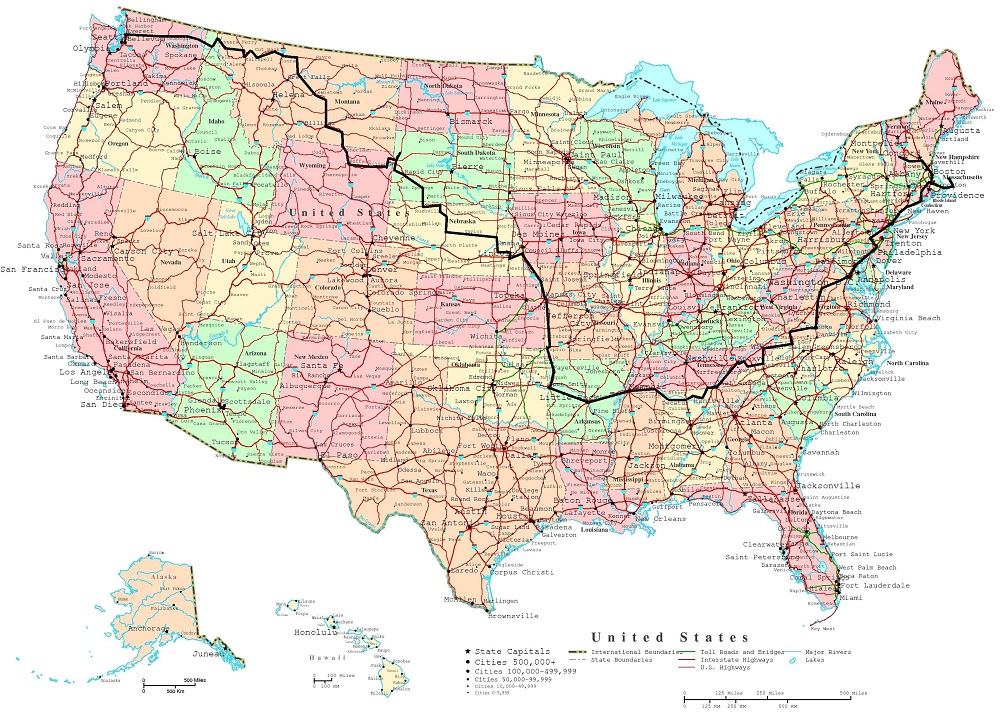 The Slow Route home
Shanks's Pony

We have always said it was a "small world", reinforced when we bumped into some friends we met at the Expo , Perkimog .They are heading South and us West . They even treated us to lunch at a very swank restaurant , cheers guys , every little helps .

We made Halifax despite the gearbox .Cheap ( relative ) Motel sourced , we stuff the Lizzybus into a container and say our farewells , back to being anonymous back packers .Despite various checks , we didn't want to book flights until the Lizzybus was on her way .Guess what , no £200 flights available until Saturday 18th (We wanted to fly on the 14th ) .So a few extra days in Halifax before the journey to Heathrow then on to Antwerp and hopefully re union with the star of the show , Lizzybus .

Its now a fait accompli about coming home .The Lizzybus needs loads of TLC and a rebuild that in all honesty can only be done back in UK .She is virtually un drivable on all except tar roads and that is NOT what we do well .The Lizzybus crew , with various aches , pains , lumps and bumps need a good fettling down the doctors and family need to be seen .This is not the end , merely a well earned intermission in a great adventure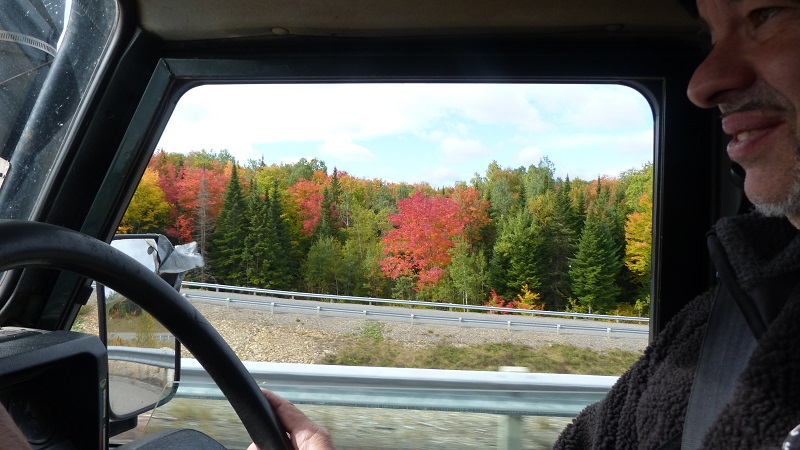 Spring Fall ...stunning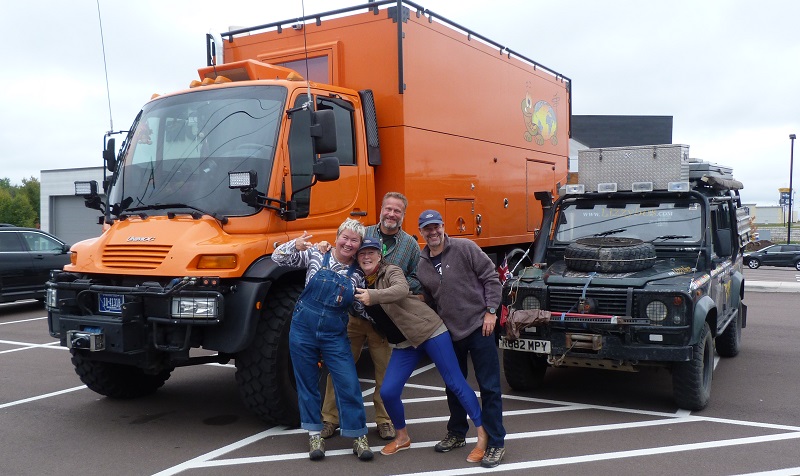 Small world , we bump into "Perkymog" and get a free lunch..cool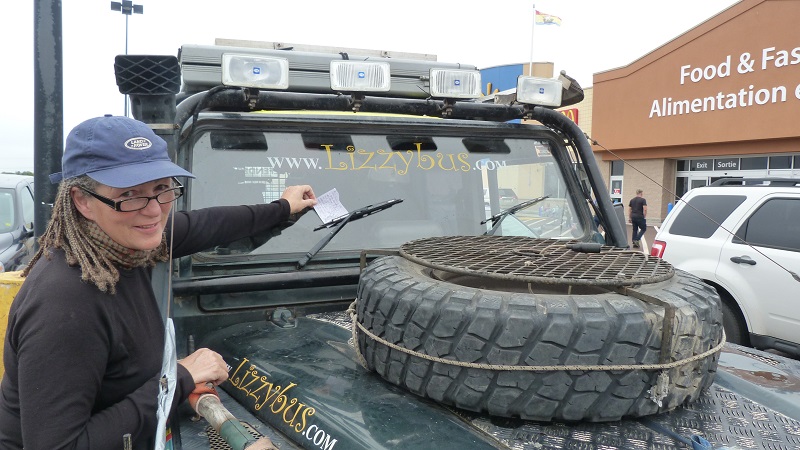 Still getting messages of support

Almost there , well within towing distance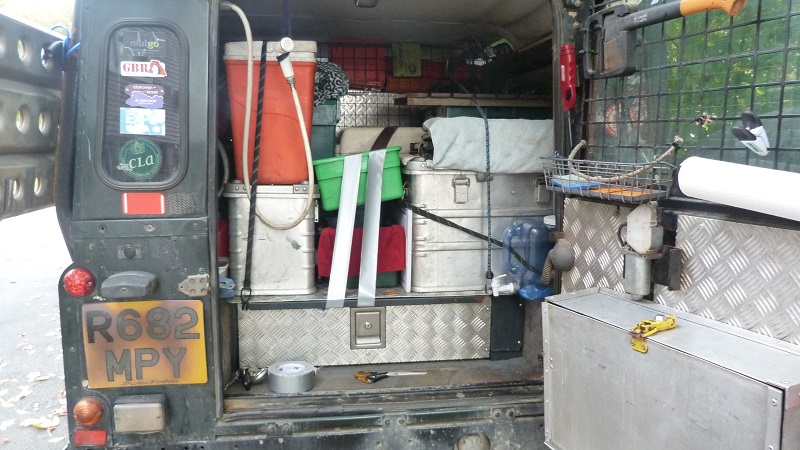 Packing down for the container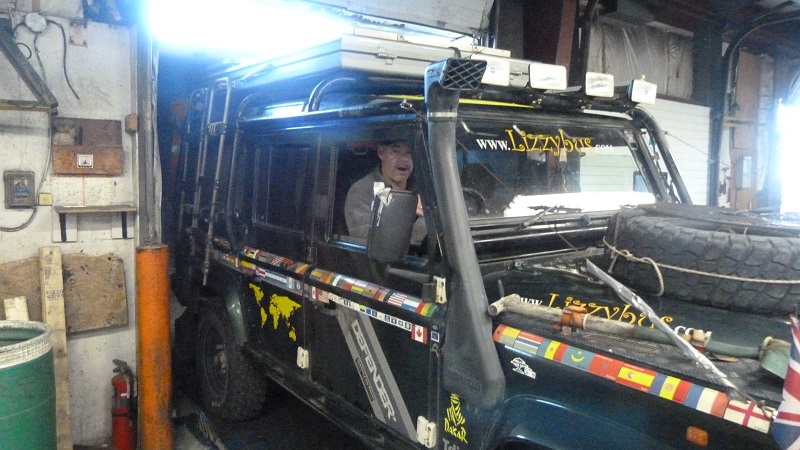 Reversing into container
Stuffed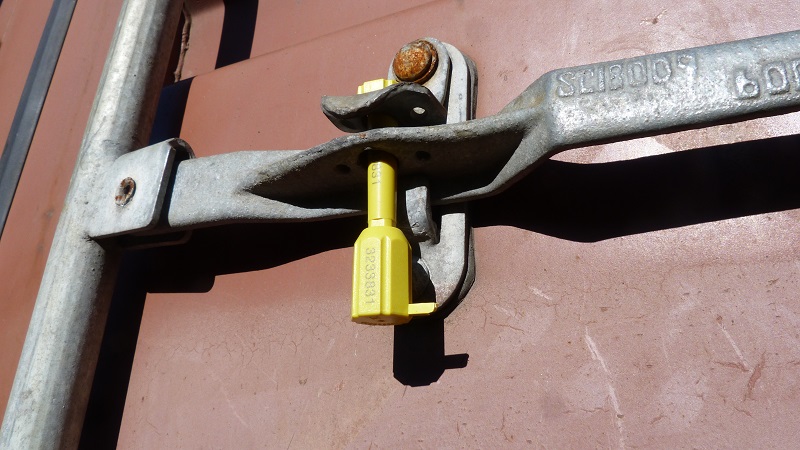 Sealed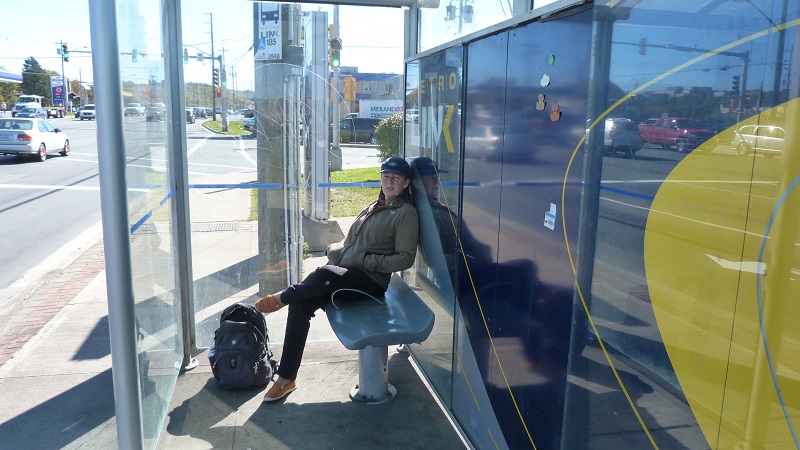 Shanks's pony
Best laid plans and all that !
Seeing as everyone is awaiting our imminent arrival back home after five years on the road , here's our plan .
We are shipping from Halifax on the 11th October and stuff on the 8th .We will hole up in Moncton for a week then explore NB ,Fundy and PEI .Weather is changeable but very pleasant .Having sorted out the shipping ( Affordable Shipping in Halifax) we will fly to ……….ANTWERP and pick the Lizzybus up and drive to Calais , then ferry to Blighty .
Why Antwerp? we hear you ask .Well , I personally would feel a sense of anti climax if we just flew home , waited a week and headed to a container port in the UK and just pulled her out of a container .I want to drive onto English soil , so Antwerp it is .Adding another "foreign" leg to the journey is the only way .
So , that's the plan , the shipping is $1800 and the flights home are £200 plus a coach trip to Belgium .But as always , Lizzybus has some input into the equation and a chance to be a drama queen .Its that moment you hear the fifth gear clattering and some very noisy lay shaft bearings , we know the problem is serious .the gear box is giving up in a most spectacular way .Three hundred miles to Halifax , if we can get to within two hundred , no problem AAA recovery for free .Any chances of exploring this part of the world will have to be put on hold till our return .Holed up in Moncton , we are 150 miles from Halifax so , worst case scenario we trailer her to the docks and hand push her into the container .Order a gearbox to be delivered to friends in Antwerp , fit the box and drive home .
To summarise , after five years and 134000 miles , the success or failure of our trip comes down to 150 miles to Halifax and 120 miles from Antwerp to Calais .All in all , about 7 hours of driving in 4th gear .Will she hold , will the Lizzybus complete her mission ? Don't look at me , what would I know.
If it all goes to plan MOT at Gumtree 4X4 and Birmingham Victoria Square on the 1st November .Be there or be square ( Inshalla)
Paris sous un autre nom
Nous nous dirigeons vers l'Est de la belle ville de Québec .Mais avant que nous arrivions , nous devons payer une visite à un vieil ami Richard .Il était une invitation ouverte il ya cinq ans lorsque nous où les voyageurs naïfs , innocents dans Atar sur le point d' entreprendre l' " minerai de fer " de la route avec trois terres cruisers.Little personne ne se doutait que nous rendre aussi loin .
Occasion alors pour avoir une chance de visiter une ville qui est ainsi associée avec le français étant , bien des gens , tout est français , pas l'anglais et moi avec mon français non classés O Level ( lorsque les niveaux O où, les niveaux S ) .Mais dans ces jours, nous didn 'avez pas Google translate .So , pour tous ceux qui québécois et francophiles c'est mieux que je n'aurais jamais pu le faire il ya toutes ces années .Le reste du Canada deux signes , même l'agent d'immigration nous a accueillis en français ( car il a dû ) , mais pas ici .French ou rien .Mais nous devons admettre , c'est une belle partie du monde et de la promenade le long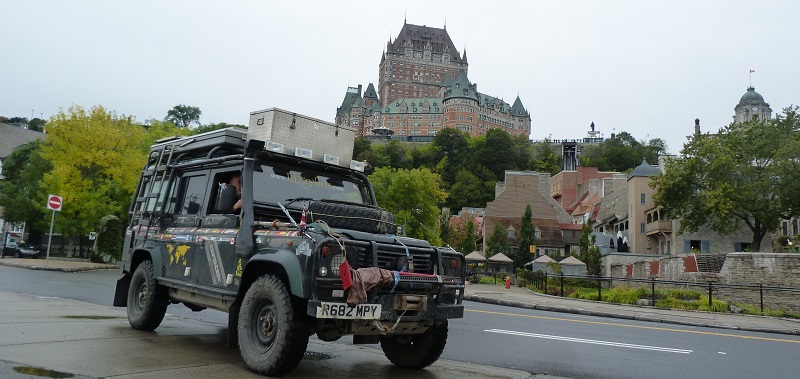 Quebec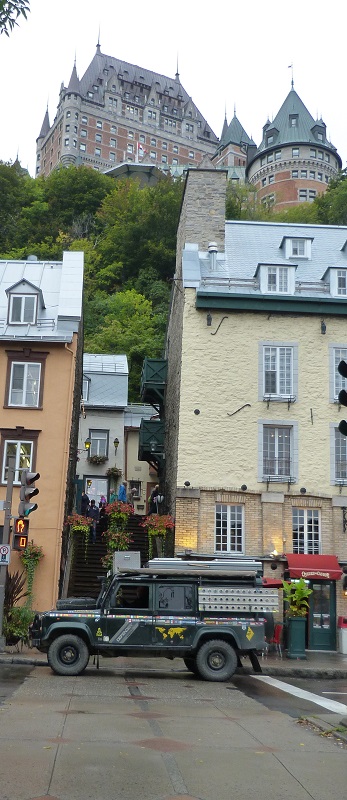 Quebec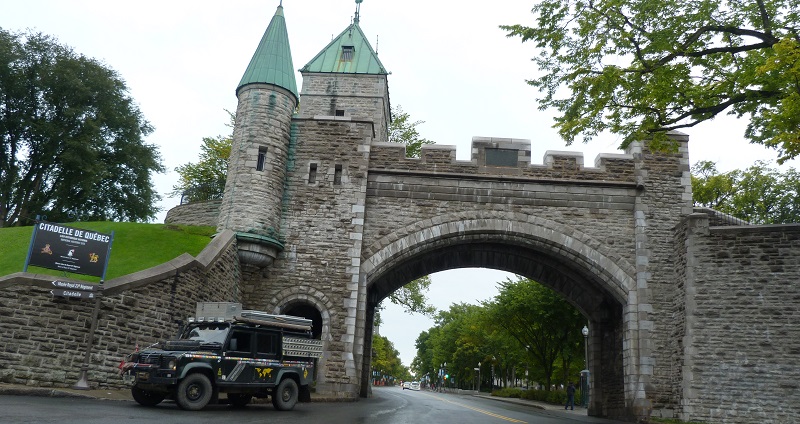 Quebec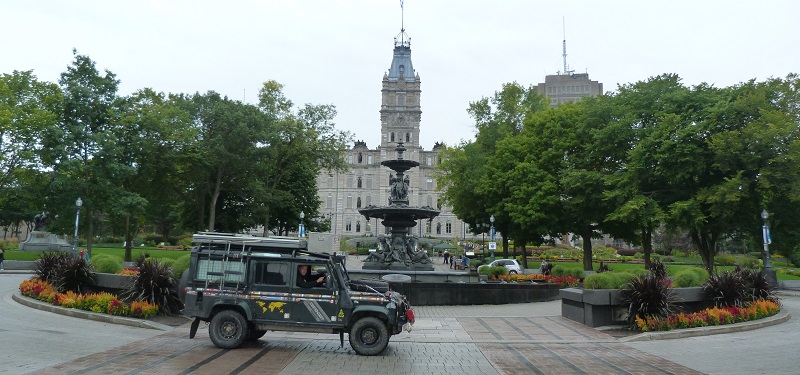 Quebec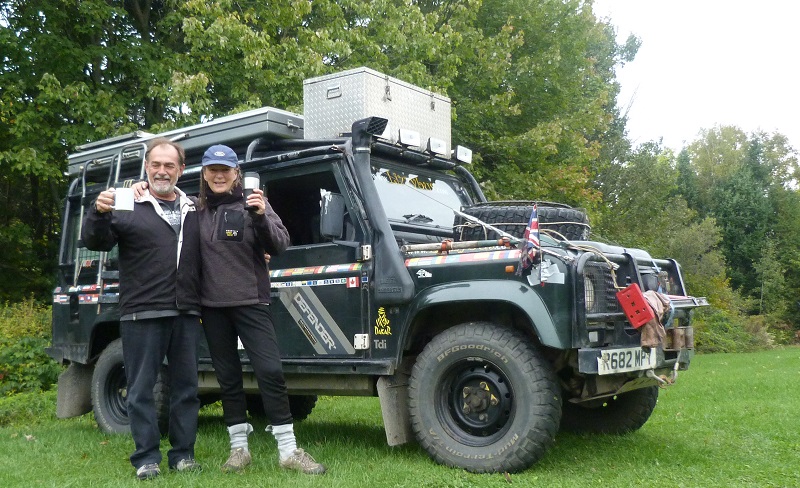 A surprised Richard , five years later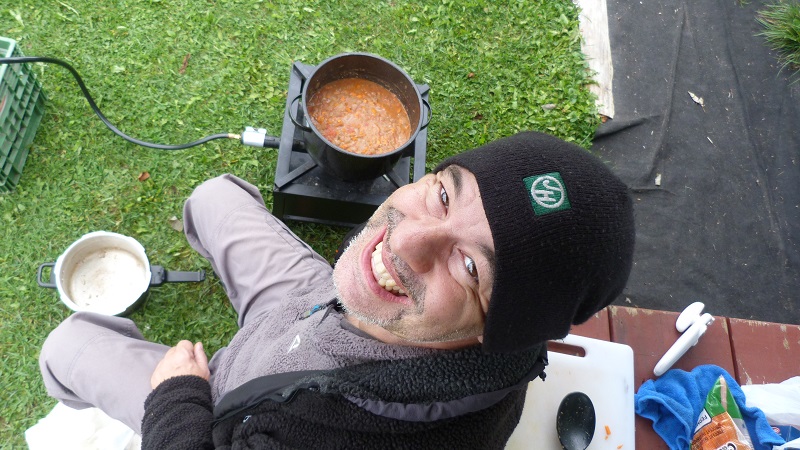 My BIG pot Chilli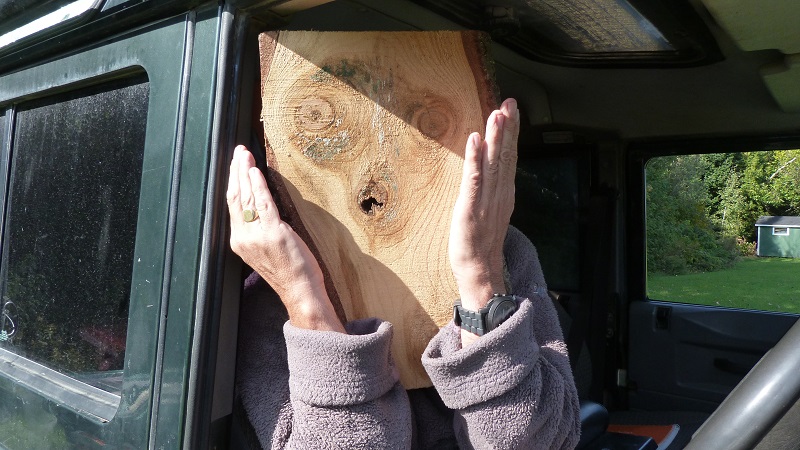 Its either the "Scream" or ET
NB , getting closer by the minute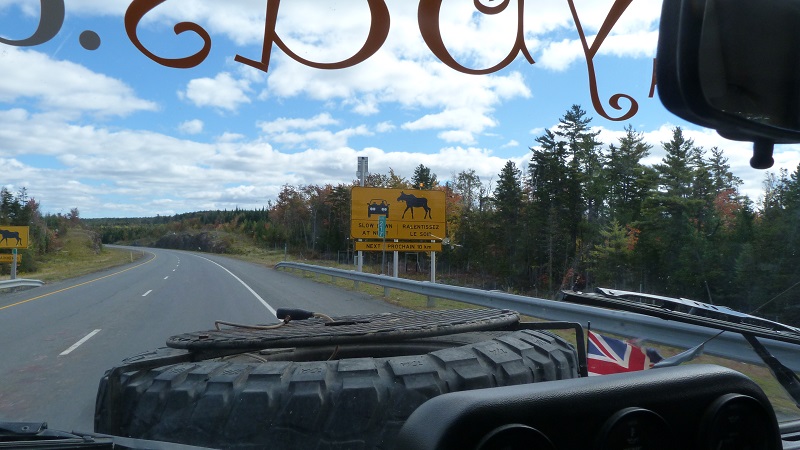 Moose warning (They taste good as well )
Its time to go home




We had decided to use the scenic crossing at Cape Vincent into Canada .Still waiting (three months now) for a decision on our visa extensions ( $280 fee) .Those nice people at the border informed us that , despite having done everything "legally" , should we leave the USA BEFORE a decision had been made we are technically withdrawing our application and become over-stayers .So if we leave , we cannot come back!

Its getting colder and we are getting travel weary with each other so leave we do and head to Waterloo to see Jaynes sister who emigrated to Canada 40 years ago .

Amazing hospitality from both her and her husband Lenny .

By coincidence , three days after we make ourselves over stayers , the Department of Homeland Security dealt with our case . That is , in as much , made the decision that as Jayne and myself are not married , Jayne would have to re apply on a separate application and pay an extra $280 .Don' t you just love bureaucracy .If we want to come back to America ( which we do) I think we have to re apply for a visa in the UK and explain the "over stay".We will let you know .

Mc Donalds and its "high speed" connection , senior coffee plus free refil have become our second home as we attempt to time the run to Halifax for shipping , the flight home and the nightmare of importing our UK registered car into the UK .After everything we have done , this will be the most difficult leg of all

We even got coverage in the local paper....cool

http://www.therecord.com/news-story/4857097-they-re-worldly-wise/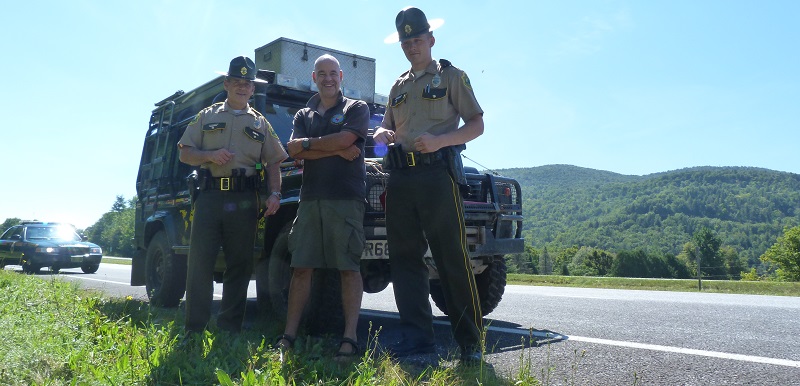 Brush with the Law , Vermont State Troopers....Great Guys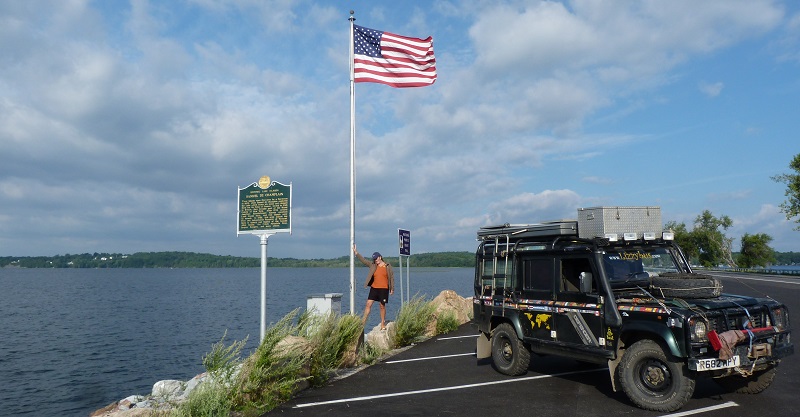 On our way out of the States...sad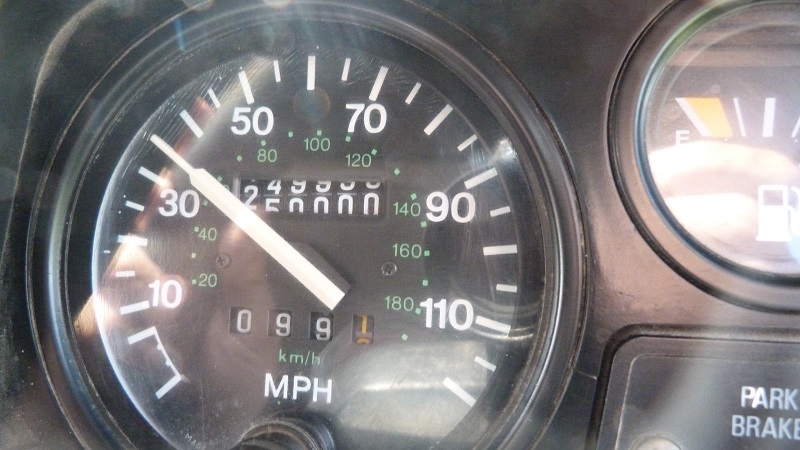 another Lizzybus milestone , quarter of a million miles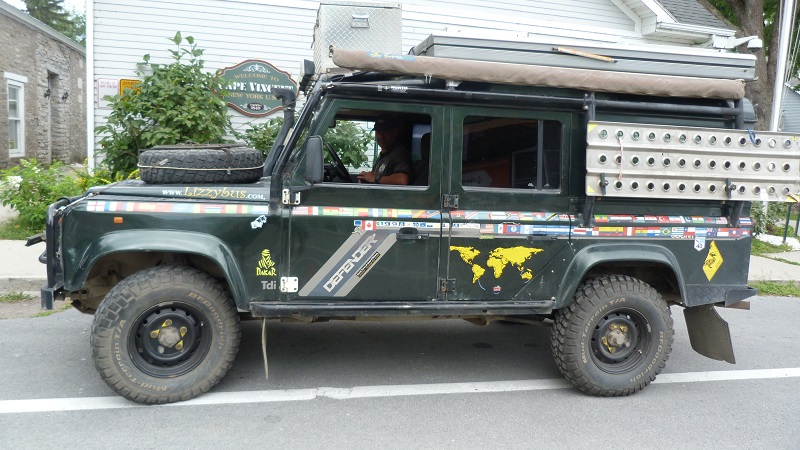 Leaving the USA , Cape Vincent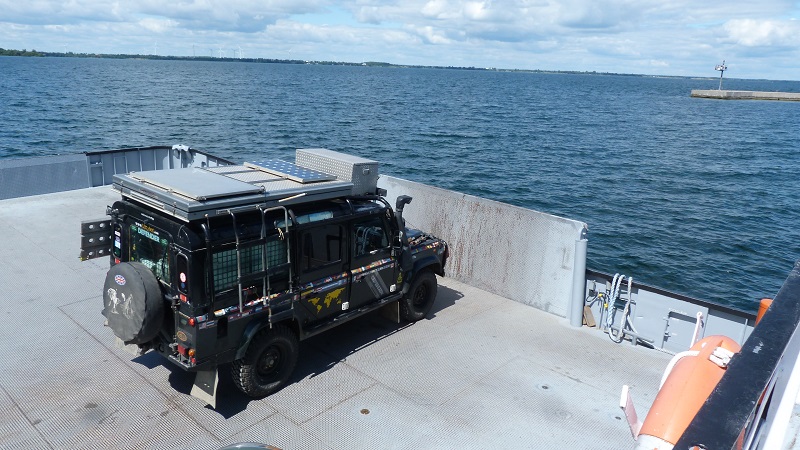 $15 crossing to Wolfe Island (Canada) then free ferry to Kingston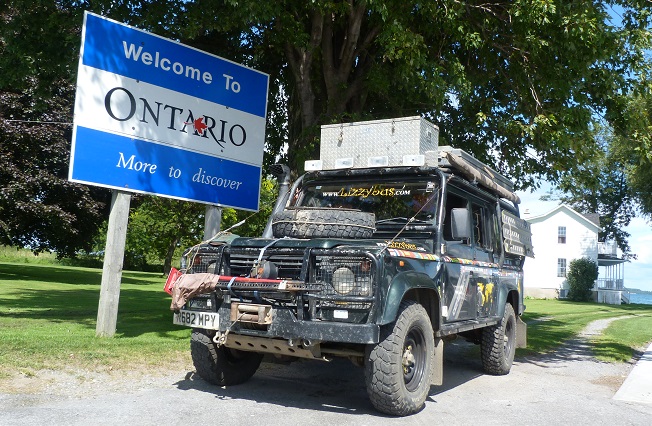 Welcome to Canada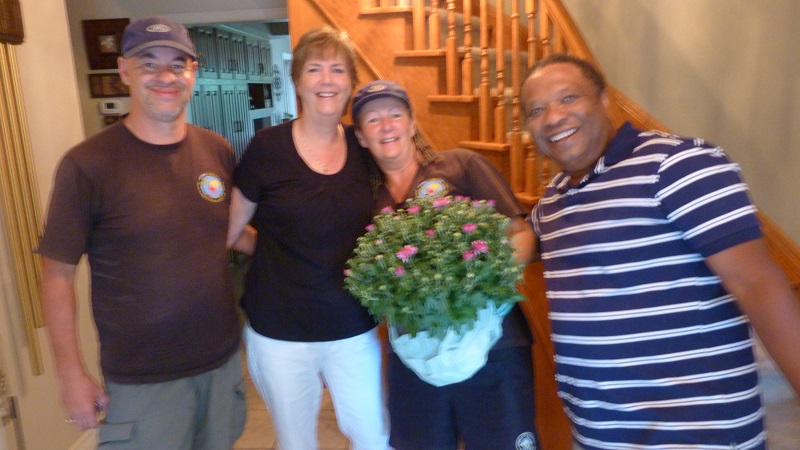 So , 5 years to get to meet family , Jaynes sister Annabell and her husband Lennie .Waterloo Ontario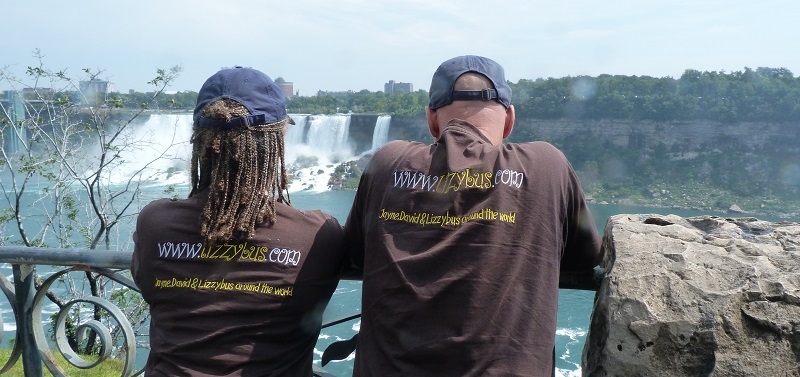 Lizzybus Corporate at Niagara Falls , Canada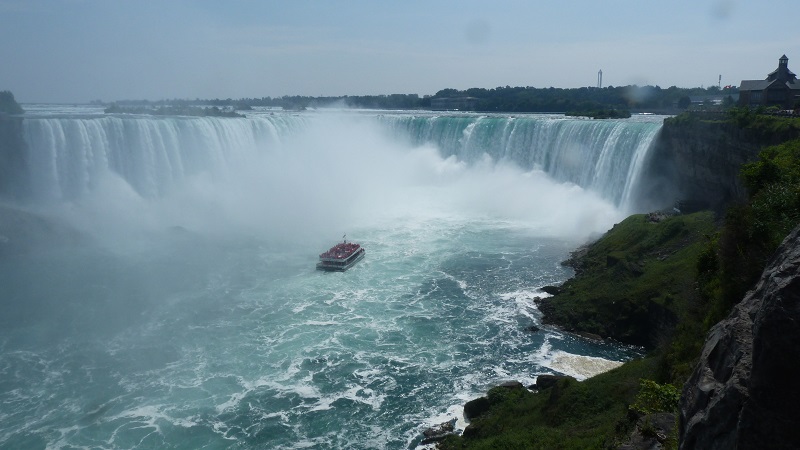 Niagara Falls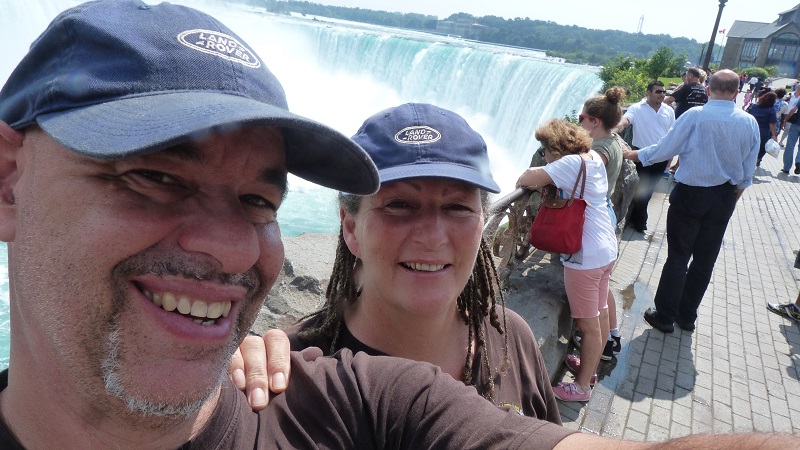 Niagara Falls Selfie ( using big camera )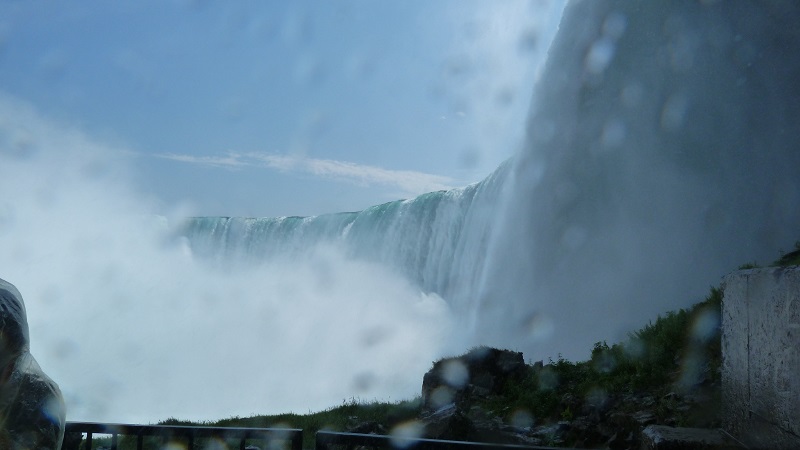 Wet Niagara Falls
Only five years on the road!
Yes , its been five years since we set off on this journey , 16th August 2009 .Africa is a distant memory now .But anyway , we are heading home ( eventually ).The East Coast beckons .We follow part of the Blue Ridge Parkway as it cuts a stunning path through Virginia .Usually , we would normally traverse the whole 400 miles of it but an invite to Philadelphia to visit Steven Hoare , editor of LRI (USA) that coincides with his daughters leaving party and our 5th Anniversary means that this delightful 4 day highway will have to be left for our return .As we are heading North , Washington is on the itinerary .Unfortunately we where let down last minute on some accommodation so ended up in expensive motels .White House , Capitol Hill , Lincoln Memorial ,Veterans Memorial are visited along with the Smithsonian .Again , time constraints and money mean we spend less time when we could have stayed for a week .Superb hospitality in Philadelphia ( including my first "Philycheesestaek") and then off to new York .Again , no where to stay so flying visit and a chance to visit the Statue of Liberty .It is so strange having visited thirty years ago to see the skyline after 9/11.Picking camping spots in national forests , Massachusetts , Cape Cod and Boston .Its a beautiful part of the world around here , perhaps more steeped in history than anywhere else .The leak on the Lizzybus is getting worse ( but still manageable ) , however , a leak can only get worse .Its the "P" gasket , it will cost us $9 to buy from Rovers North and about a day to fit it .I'm hoping we can make it back to Blighty without doing this Bal*s Ache of a job .So that's why we are sitting in a relatively cheap motel in Vermont , hoping that our visa extension gets granted ( we only applied 3 month's ago ) before picking up a gasket and heading to Canada and eventually home .Shipping is looking like good value at about $1300 from Halifax and a single flight at about $360 .Bargain ( well compared to South/Central America )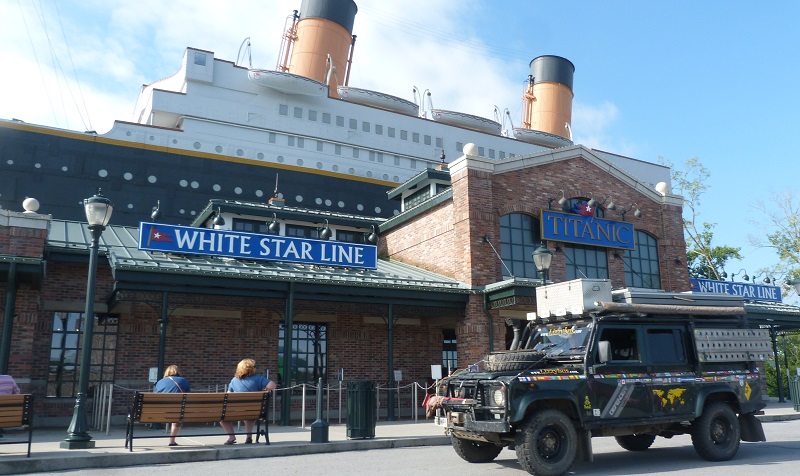 Something that let water in as well as Lizzybus...Pigeon Forge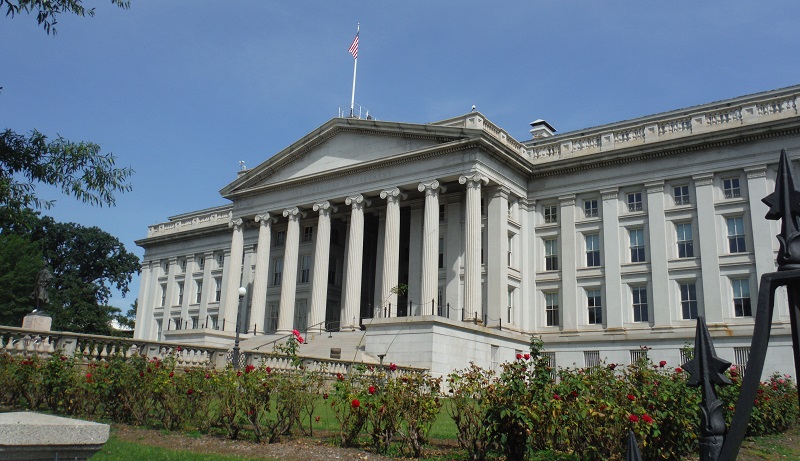 The Whitehouse ( looks grey to me )
Smithsonian...cool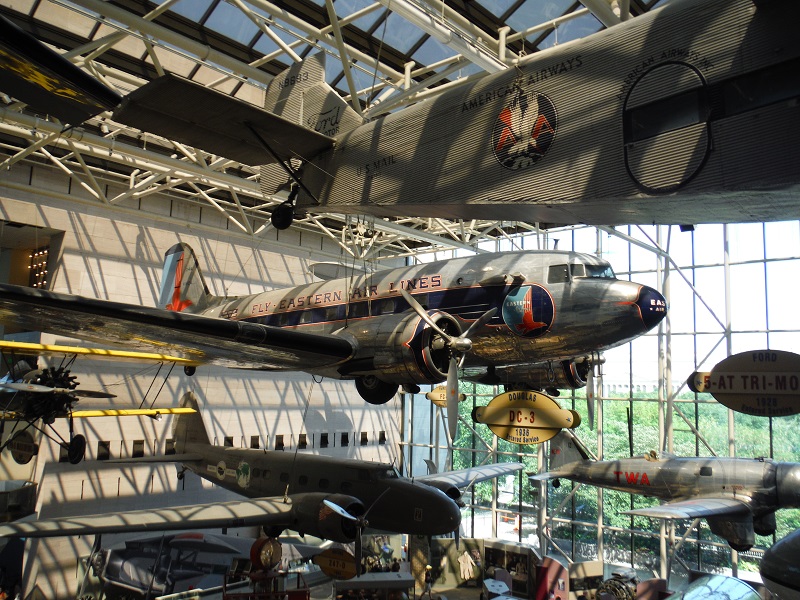 Smithsonian...cool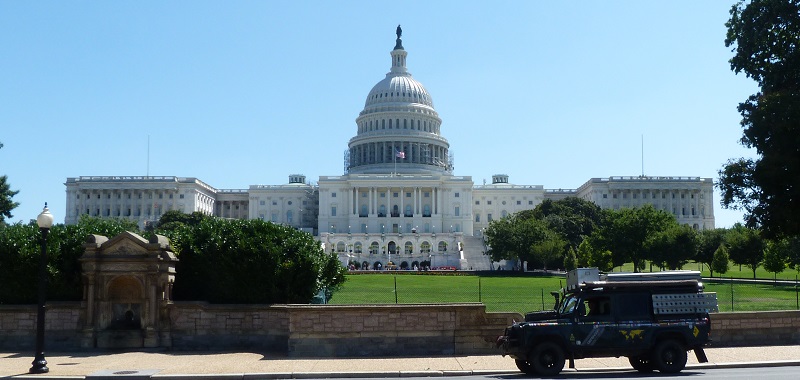 Lizzybus at the Capitol building , Washington DC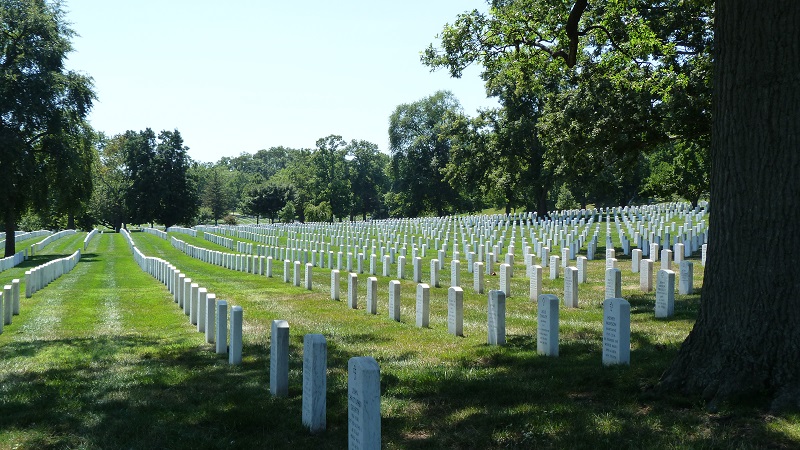 Arlington Cemetary , Washington DC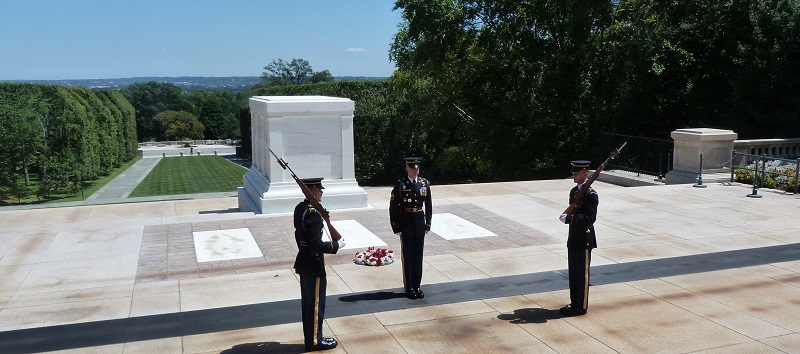 Changing of the guard , Tomb of the Unknown Soldier , Arlington Cemetary , Washington DC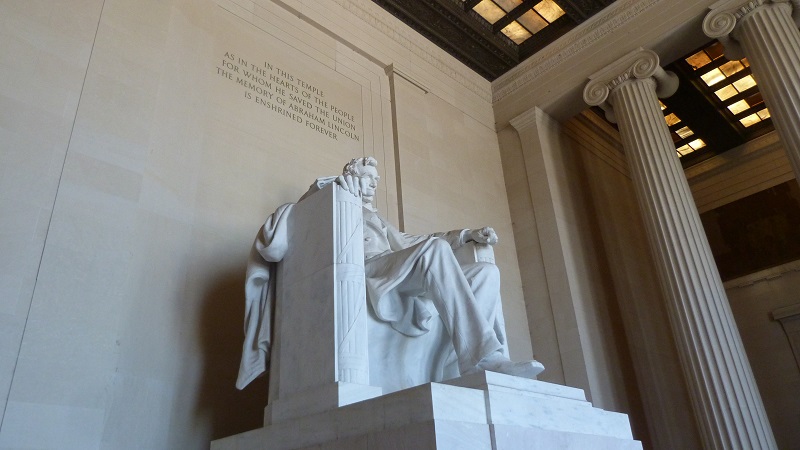 Lincoln Memorial , Washington DC

Veterans Memorial , Washington DC
mmmm...Phillycheesesteak , Heaven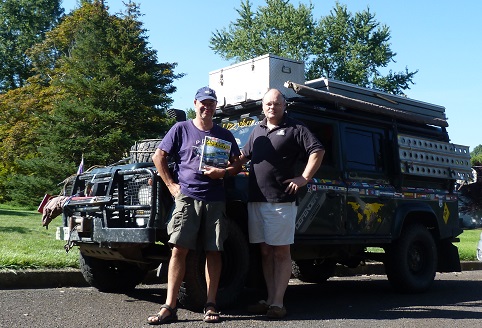 Steve , editor LROI America and general all round good guy and LR enthusiast , Philadelphia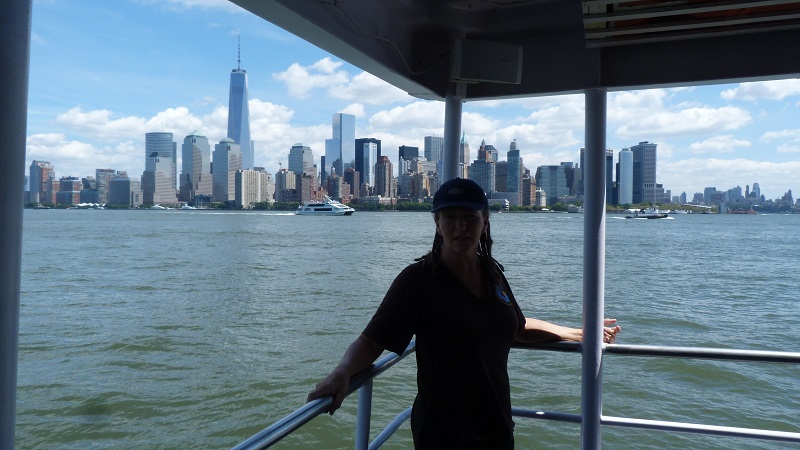 New York skyline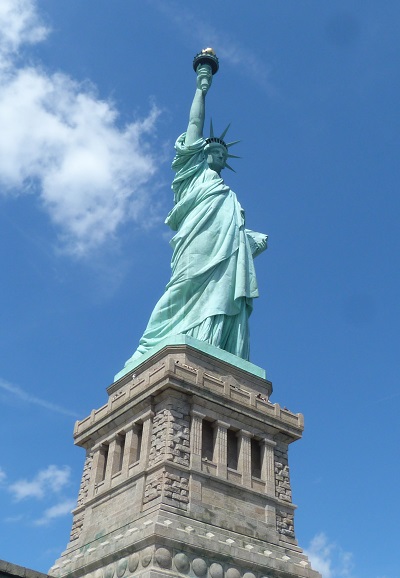 Statue of Liberty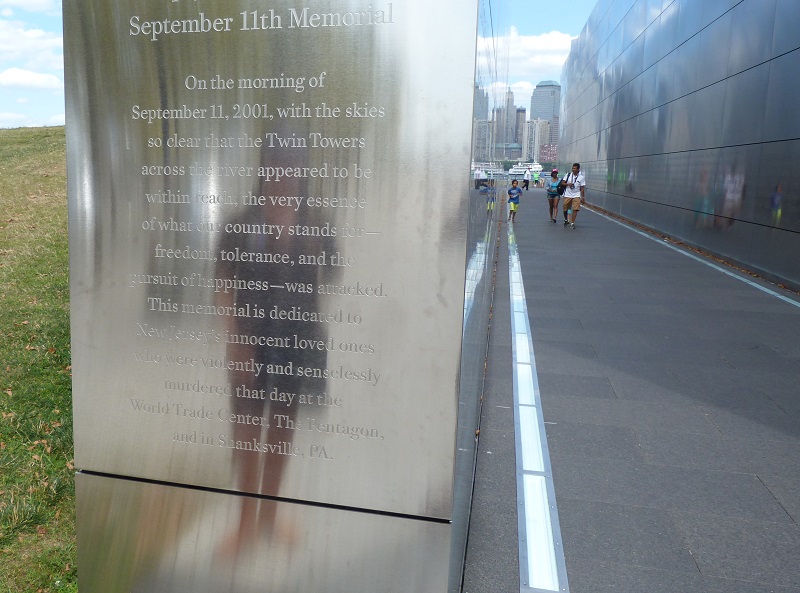 9/11 Memorial , New Jersey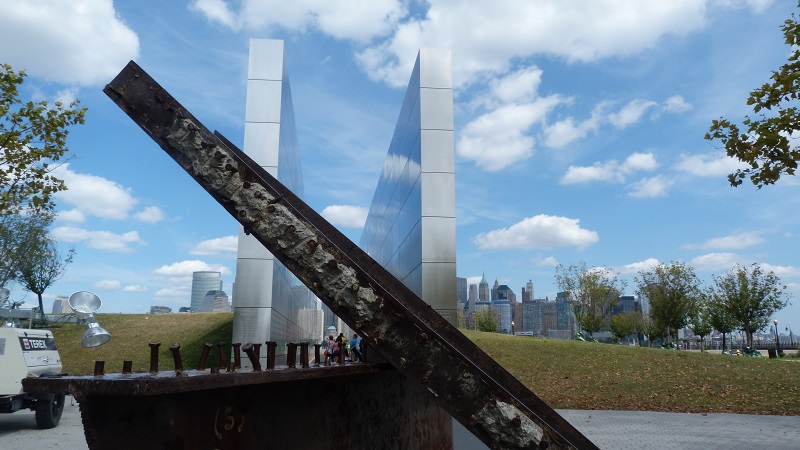 9/11 Memorial , New Jersey
But its only a rock , Plymouth ,Massachusetts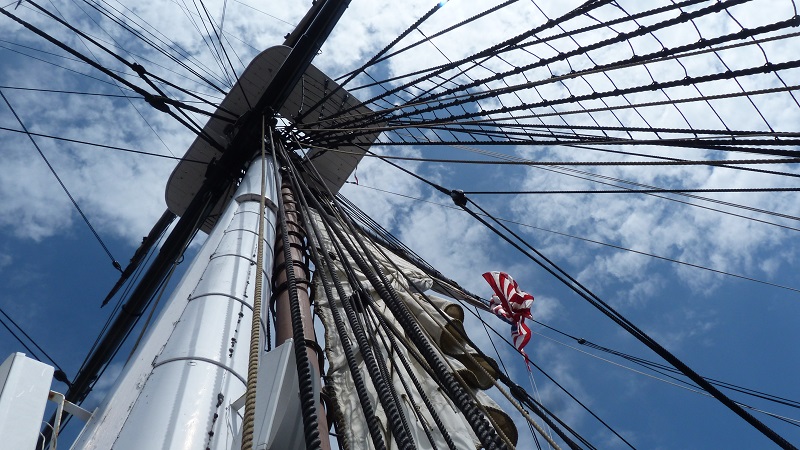 USS Constitution ,Boston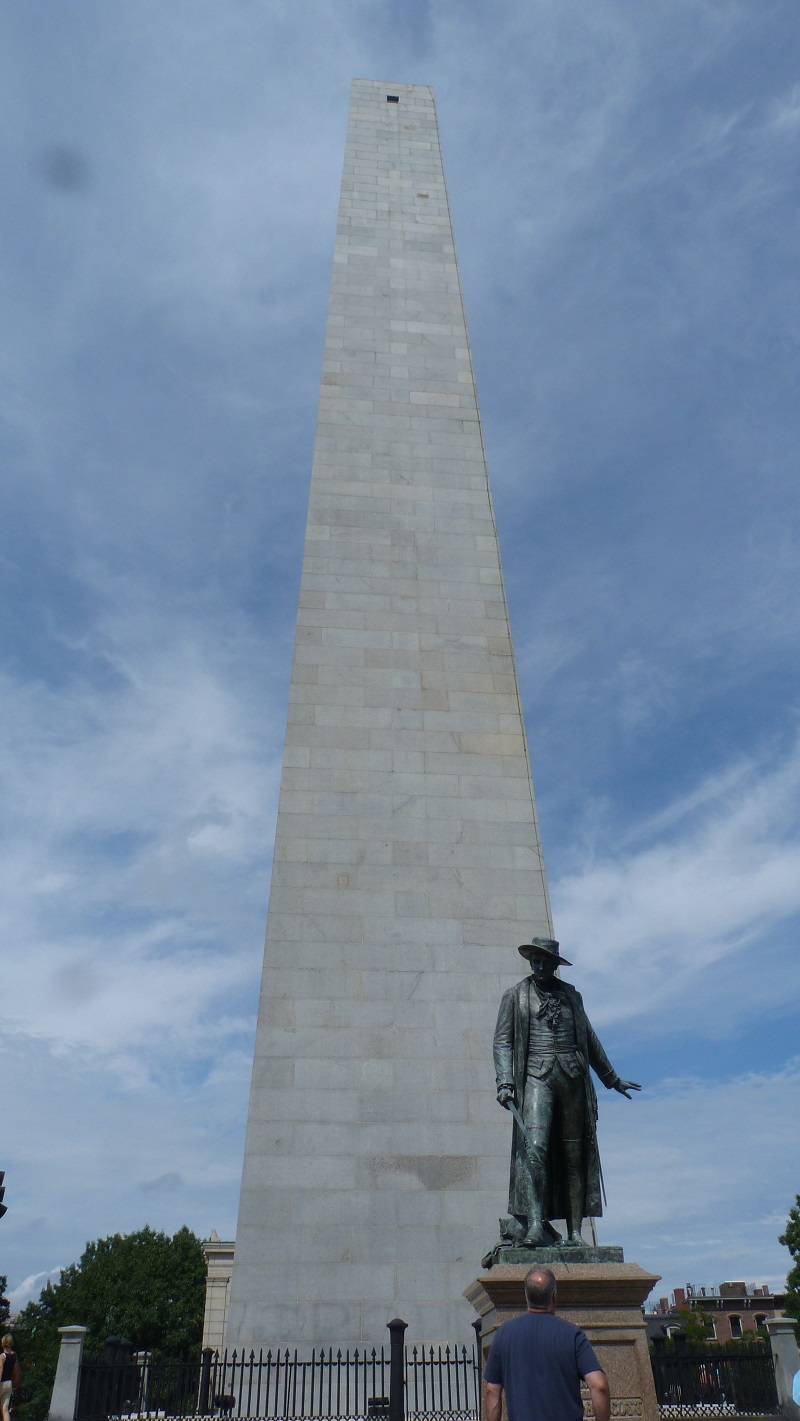 Monument to an English defeat,Bunker Hill , Boston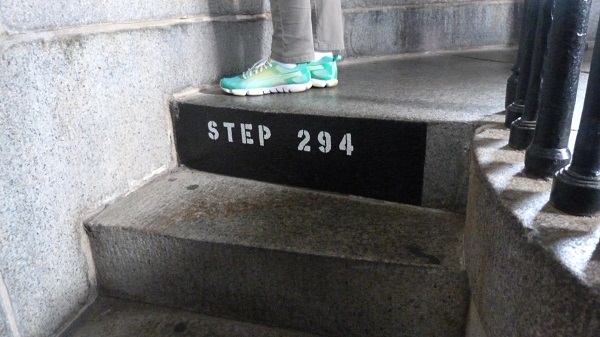 Climb to the top .Bunker Hill , Boston
Elvis , has left the building!




Ok , probably not the most direct route to the East Coast but it will do . Our "theme song" Far , Far away by Slade gave us a few ideas on what to see .Sunsets in the East and in the West (done),yellow lights down the Mississippi ( done ) mornings in the mountains of Alaska (almost done , 24 hour daylight , bit of a problem ) red light off the wrist ( not done , can anyone help me out?) and now "the hound dog singers home" .so Memphis here we come and Graceland .Little Rock Arkansas and a free Land Rover Brolly , Two Land Rover hats and some freebies from Land Rover in Kansas .Trouble is that the weather is closing in and its getting mighty wet .Again we resort to cheap motels when bush camping becomes an impossibility .Graceland made , $35 each ( discounted for AAA membership ) and a lightning tour around the "Mansion" .Well , its ticked off the list and we can press on to the East Coast



We love Land Rover Freebies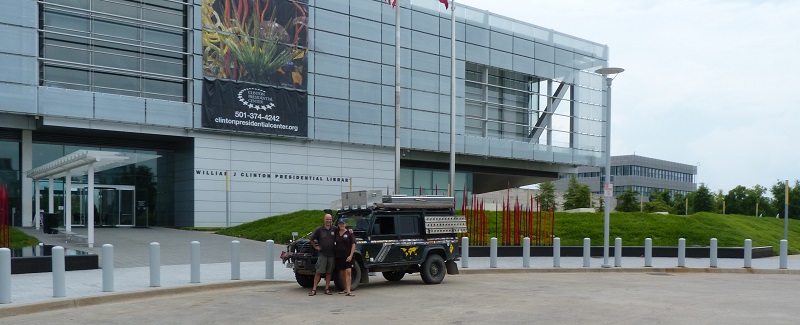 The Bill Clinton Library , didnt see the "little black dress" , must be at the dry cleaners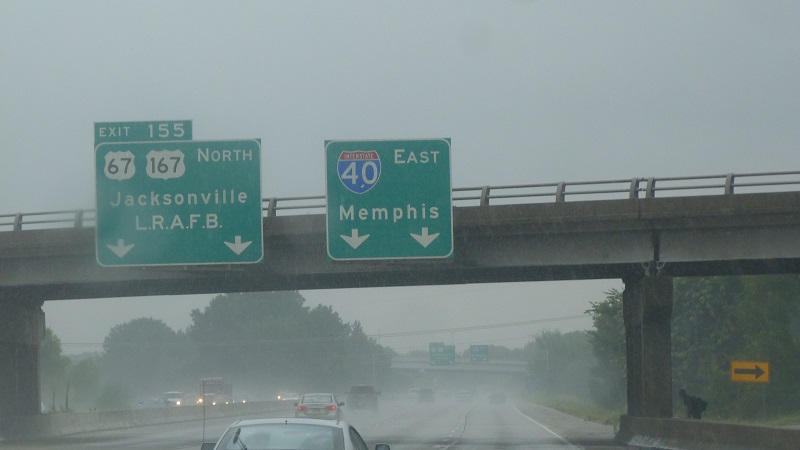 It rained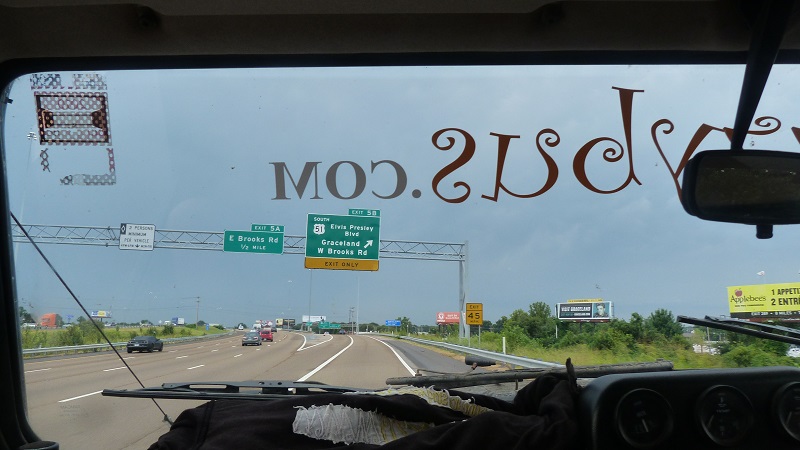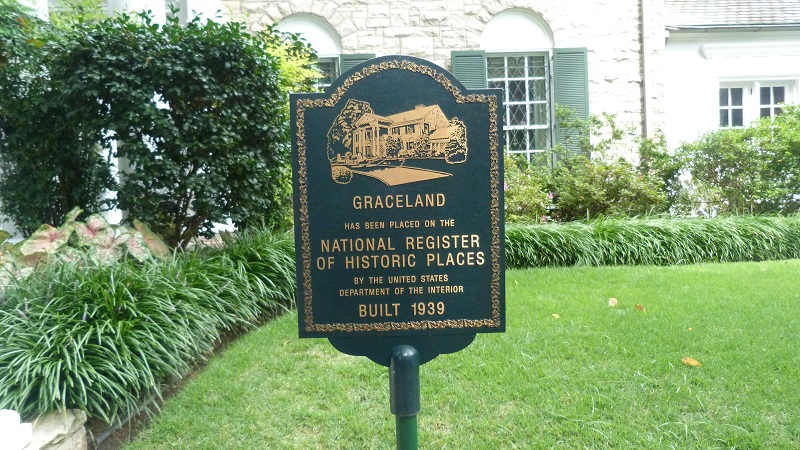 Graceland
Graceland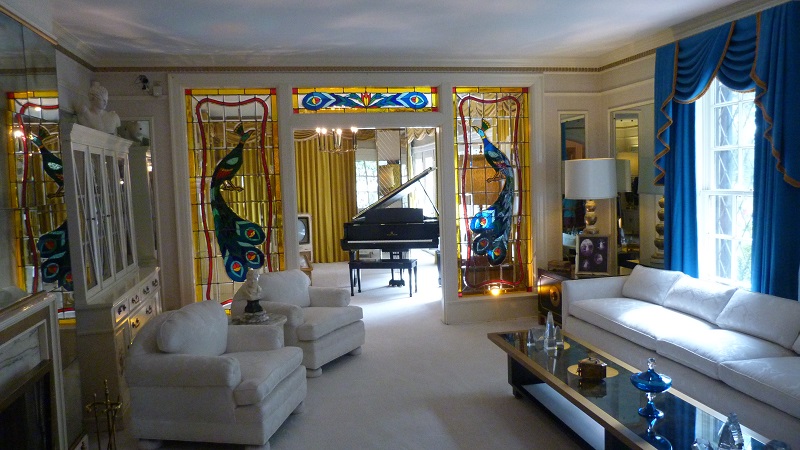 Very devout fans , nice tats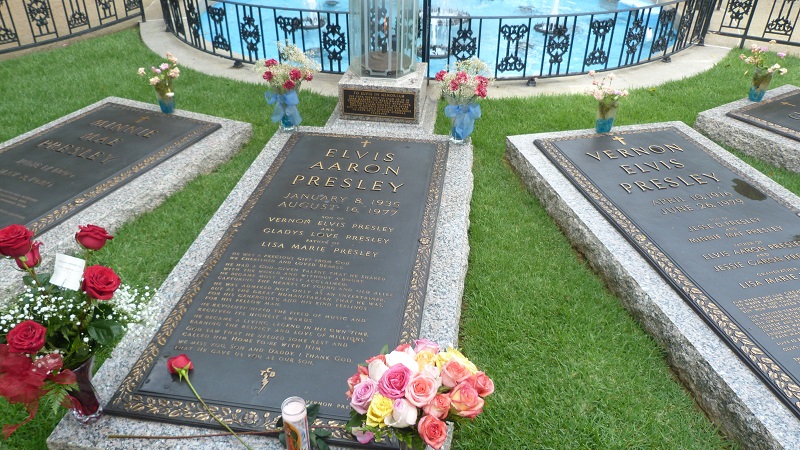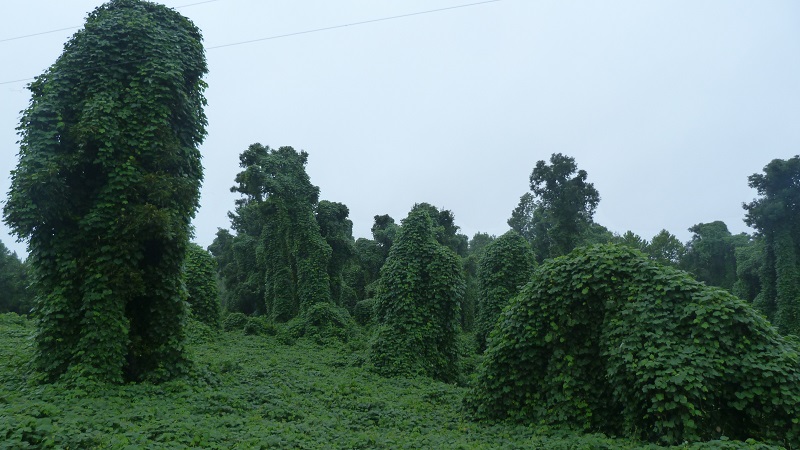 Strange trees
So ,no spires then?

It's a conscious decision to avoid the interstates on our journey west .We follow the Skagit River and close to the Canadian border .Our rewards ? Stunning driving and a chance to get to know small town America .Every stop we have results in crowds of people asking if we are Australian? and , is this the latest Jeep?Our answer are well rehearsed and our stock of 2000 business cards is diminishing rapidly .Our mileage is reduced to about 200 miles per day as we attempt to find cheep or free camping spots ,National parks and BLM land are favoured but , as always , no showers .Anticipating at least 10 days to a cheap city for a motel and some well earnt R&R ( prices around South Dakota $100 night ) our only real chance for a good clean turns out to be local lakes . Not wishing to miss any landmarks our route takes in the Centre of continental USA ( one of many! ) and a bit disappointing , missile sites ,Badlands , Mount Rushmore ($11 just to park).We have given impromptu lectures to Boy scouts outside Mc Donalds , invites to take a shower ( do we really smell that bad ?) at the Dale residence in Raveena and created quite a stir everywhere the Lizzybus turns up .We have crossed through Washington , Idaho , Montana, Wyoming ,South Dakota and Nebraska ( not bad in 12 days )So this journey now finds us in the City of Lincoln Nebraska , a cheap motel (£25 a night ) and making the front page of the local newspapers .Its all so very unreal , but so very natural .Lizzybus gets an oil change , a greasing and her fluids topped up before we head on west .I have discovered the delights of the "little blue pill" which can be bought by the hundred over the counter at Walmart .I know you didn't think rufty tufty macho David needed help in that department ? Unfortunately with the advancement of time and age my back is buggered and Sciatica is crippling my left butt cheek and leg Ok , the pills are Naproxen Sodium and quite good pain killers!( what did you think I meant ?)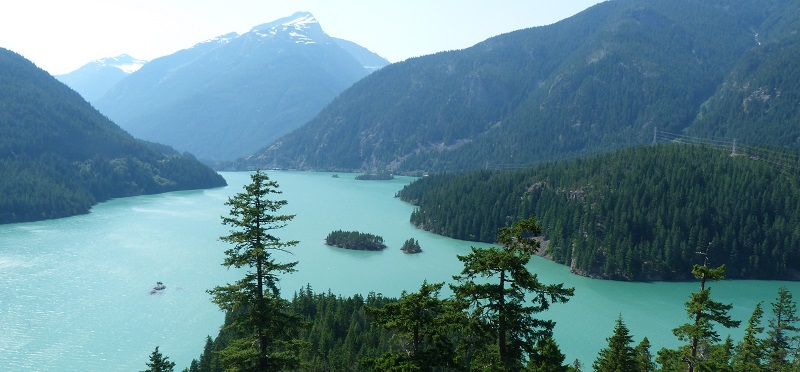 Following the Skagit River , Washington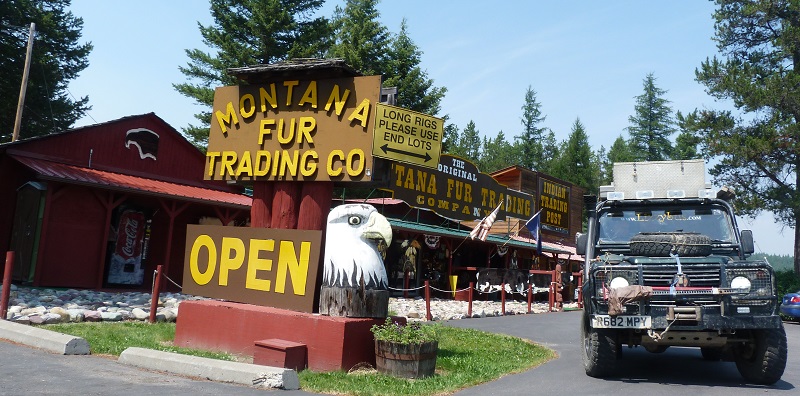 Travelling bthrough Montana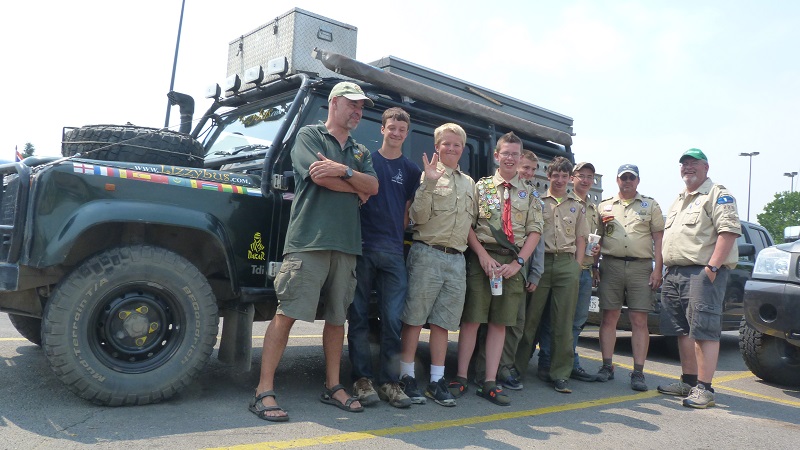 Scout troop , Sheridan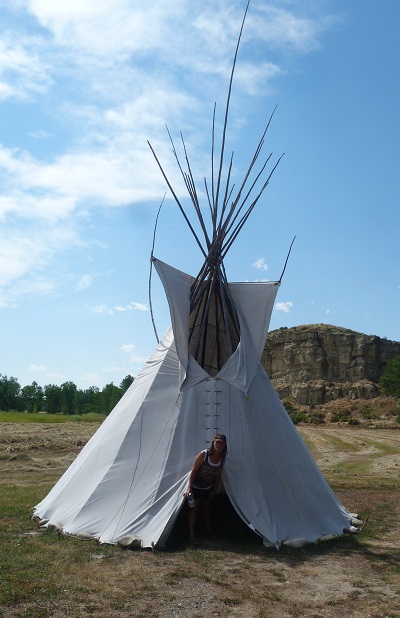 Hiawatha liked her new tipi .Trouble is, it's not a pop top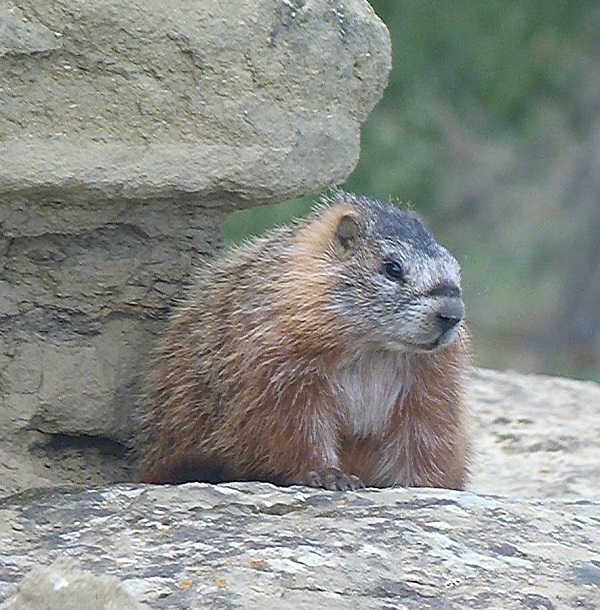 Furry critter . Pompeys Pillar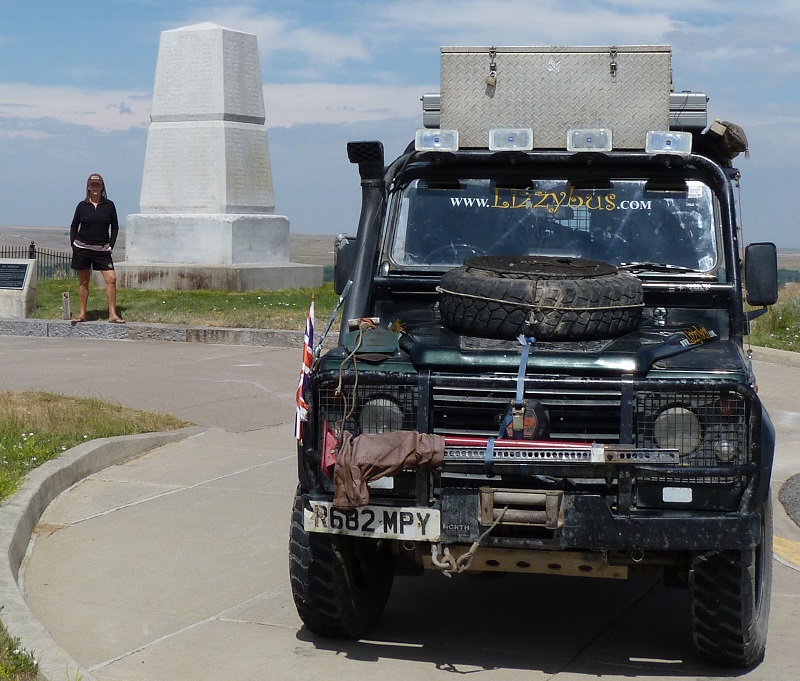 Little Big Horn , Montana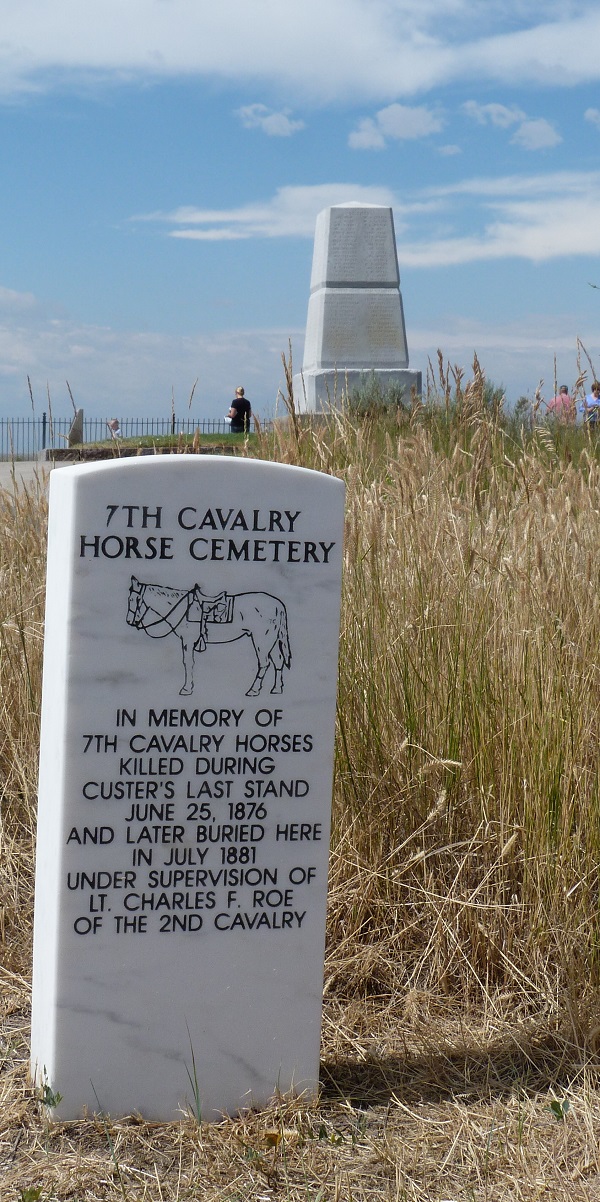 Little Big Horn , Montana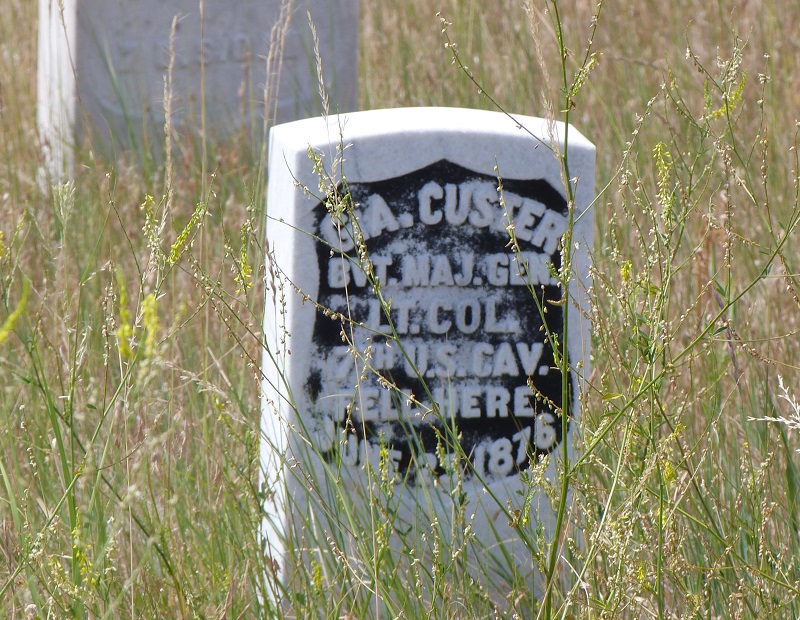 Custer's Last stand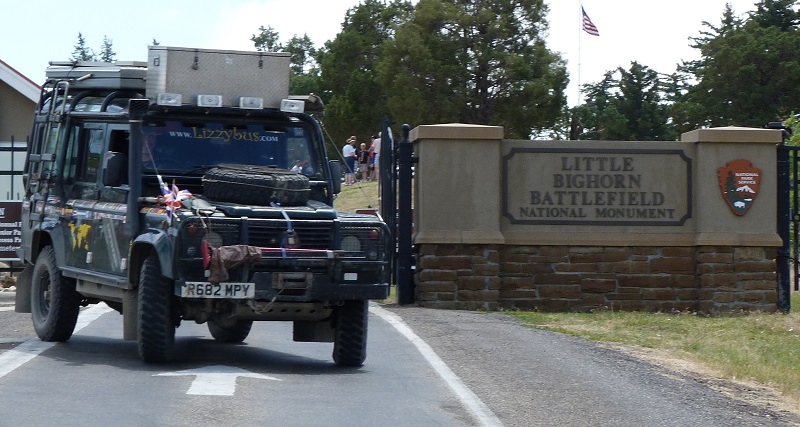 Little Big Horn , Montana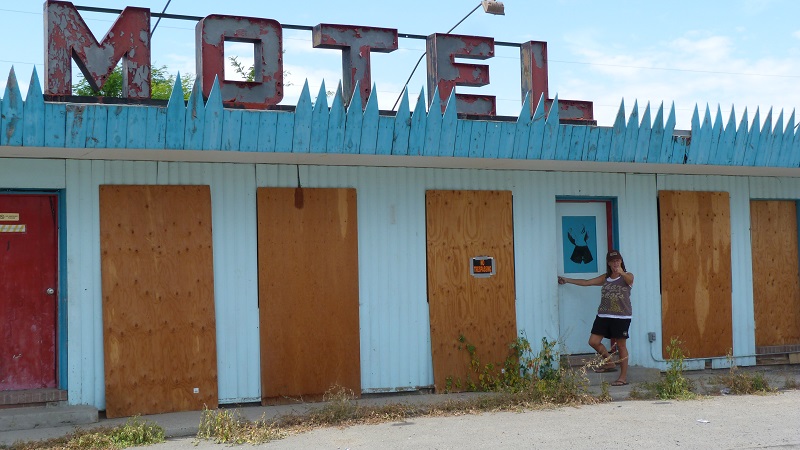 After 10 days on the road , Jayne did ask to stay in a motel , this one seemed cheap enough!!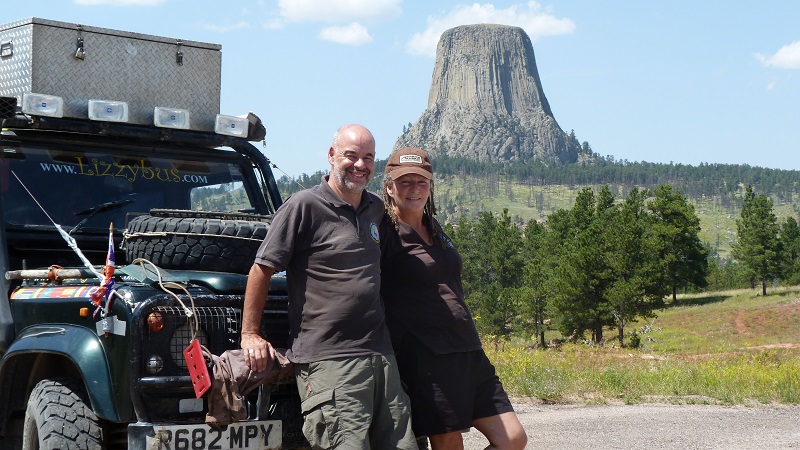 A close encounter of the lizzybus type , devils Tower , wyoming

Geographic centre of the whole US....very impressive , no expense spared here then

Impressive , yes !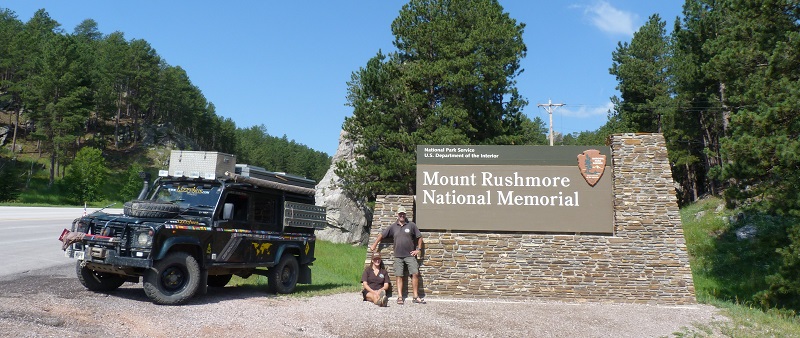 Bid head time , Mount Rushmore , South Dakota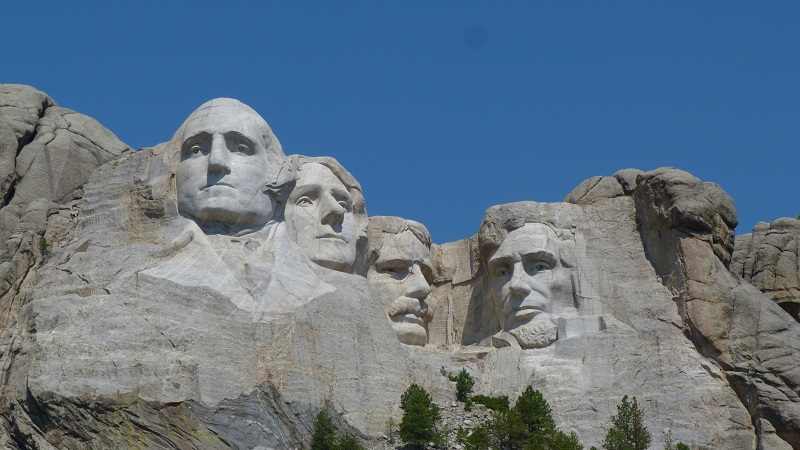 Time to bring on" Team America,F**k Yeah"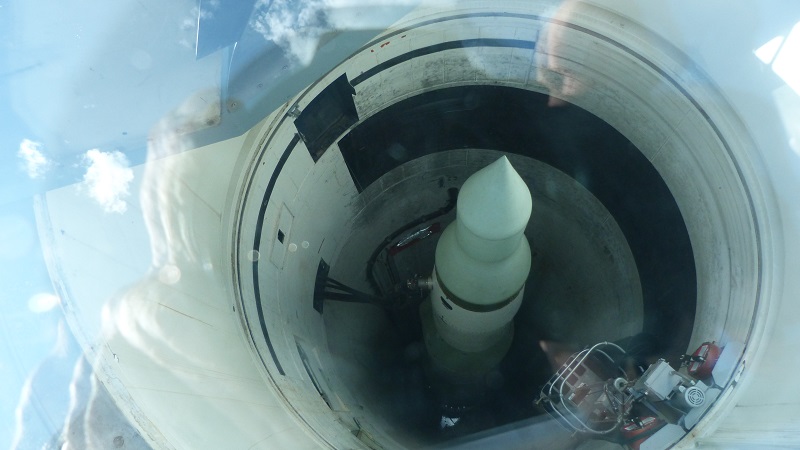 Big sharp pointy thing that goes bang !South Dakota

Welcome to the "Badlands" of South Dakota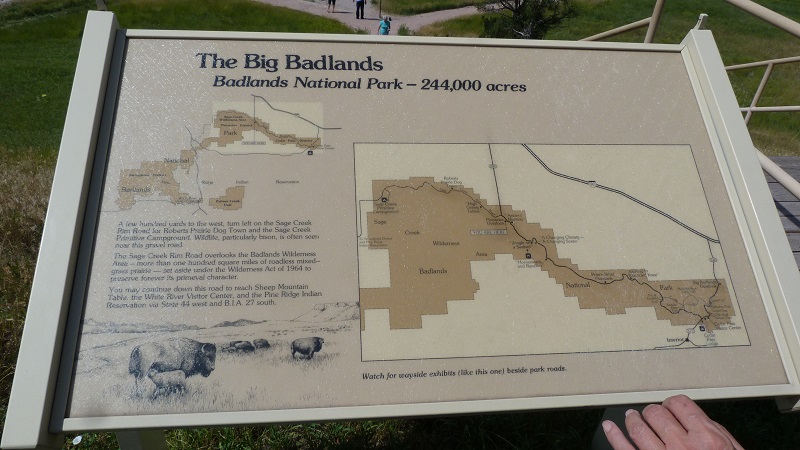 Not impressed about the Snakes , one bite was enough ,South Dakota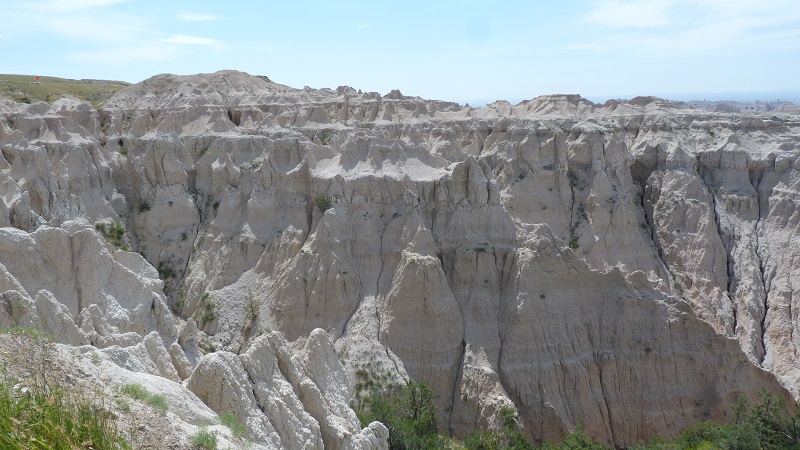 Badlands South Dakota

Badlands South Dakota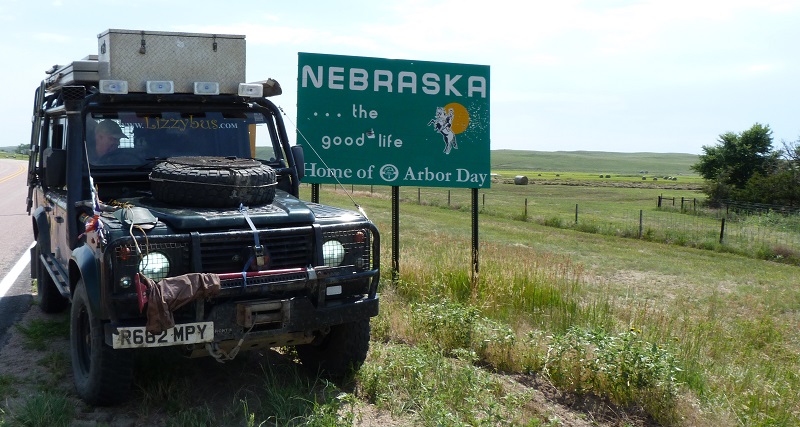 Heading East through ?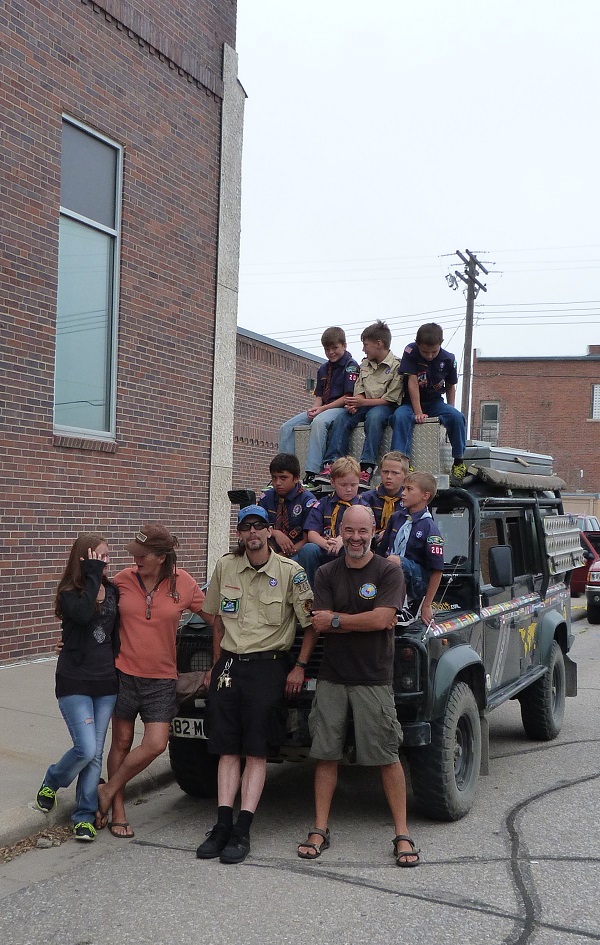 Lizzybus and more friends , Ravenna Nebraska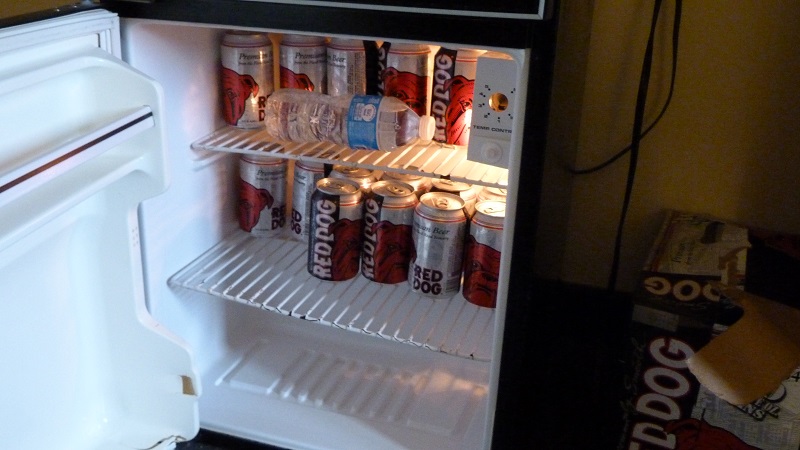 How to fill your'e fridge Lizzybus style , Lincoln
Time to go home
Having returned back to Halifax we met up with "Chucks" ( he of death Valley adventure )father and invites all over Alaska .Unfortunately we are time constrained as our visas are running out and we want to be on mainland USA with some time to spare .Running maintenance reveals that the rear brakes ( changed in Florida ) have worn out in 14000 miles .No chance of replacements we have them shipped by Rovah Farm to our friends in Seattle where we will effect repairs . We also notice that the Lizzybus has sprung a leak from the top of the engine and when we turn the lights "on" ( compulsory in Canada) the engine temp gauge goes into the red?
This is tied in with me buggering my back up and intense pain in the sciatic nerve.
Vancouver in six days and a meeting with the Vancouver Land Rover Club and a chance to reg-ail them of our adventures . Border crossing back into the US , no problems as they announce that we only have 6 days left on the visa and they will not give us an extension .BUT , as we have applied for an extension we will have no issues staying past our out date we are allowed back in .
Back at the Lally family abode we are invited to stay the week as a big BBQ has been organized .The local papers express an interest in our and our hosts intended travel plans and organize interviews for both parties .

Typical Canada

Typical Canada

You "need" to convoy to Alaska , enjoy the freedom of the open road?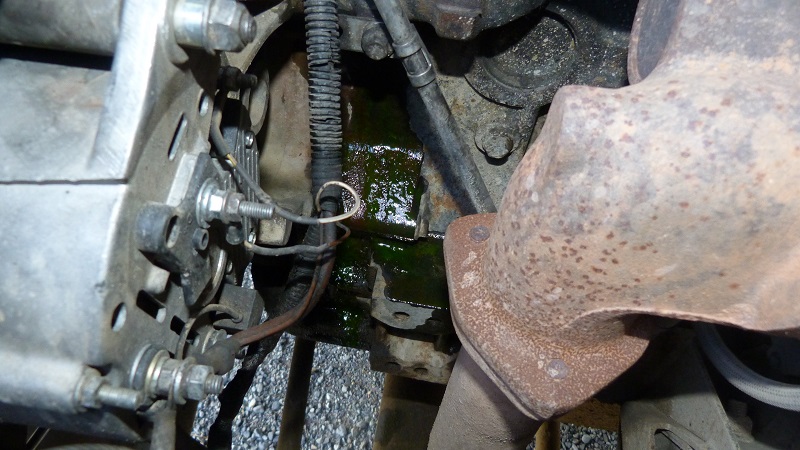 She's leaking green and it's not Kryptonite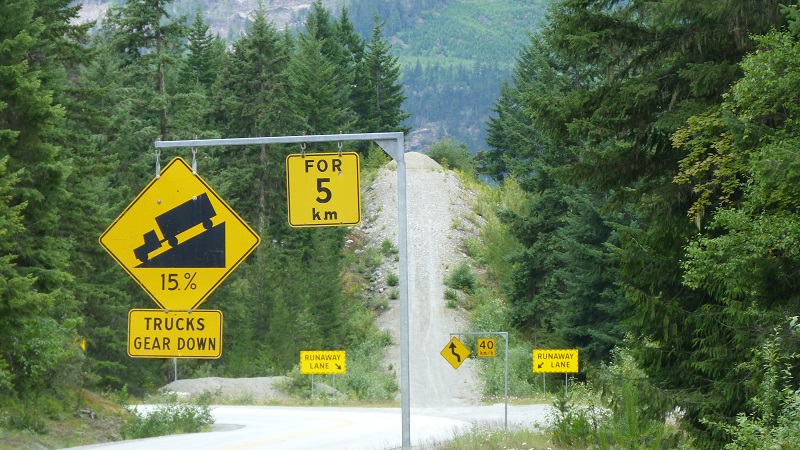 Not what you want to see when you have no rear brakes!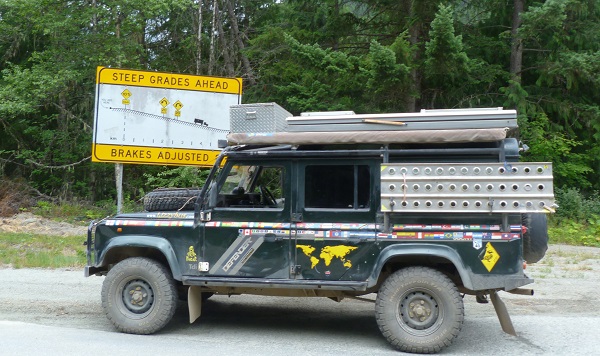 More hilly bits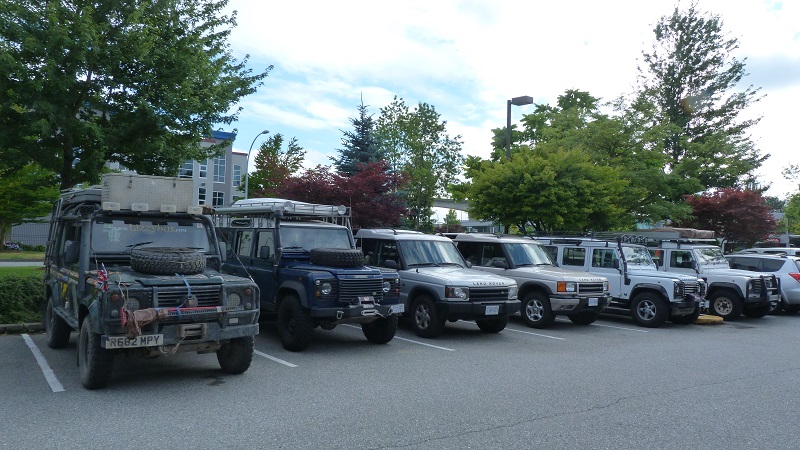 Vancouver Land Rover Club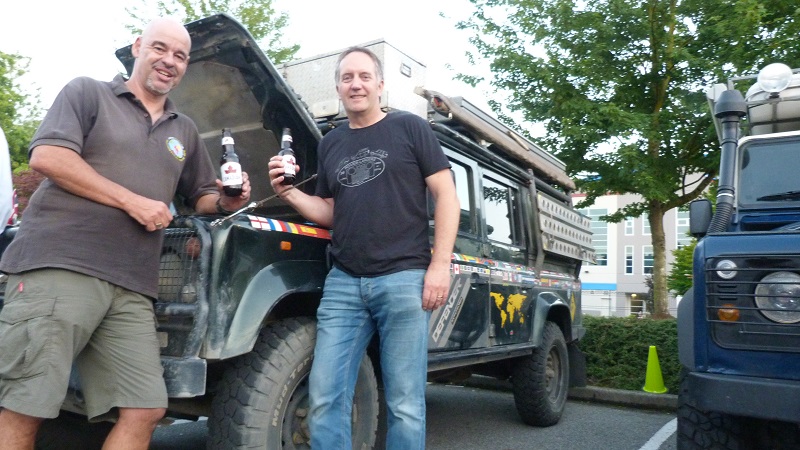 Its all about the beer .Vancouver Land Rover Club
Peace Arch , US / Canada border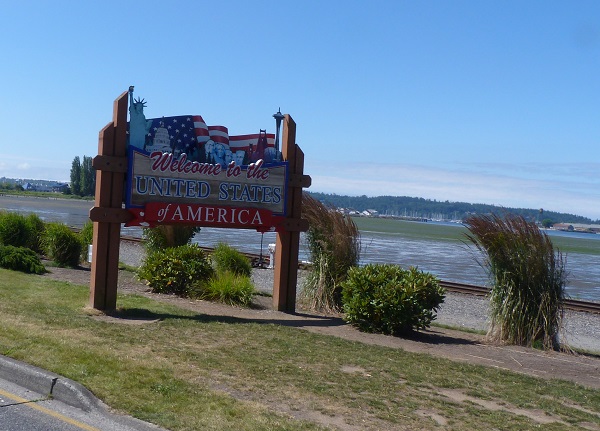 Back in the USA
Cleaning the Lizzybus at Brendons , Cedro Wolley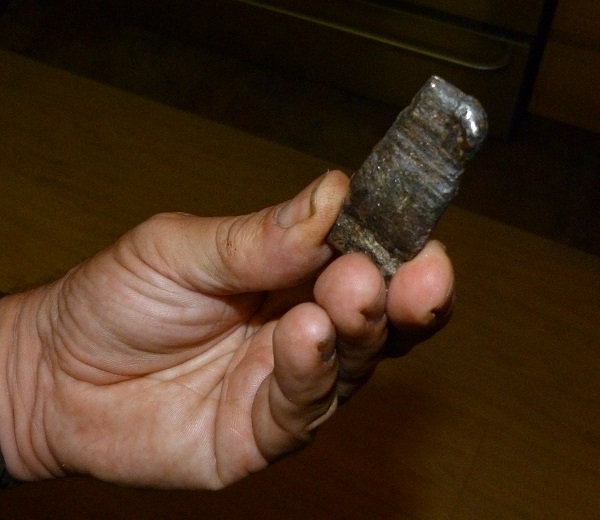 Removed from tyre after Dalton Highway , Alaska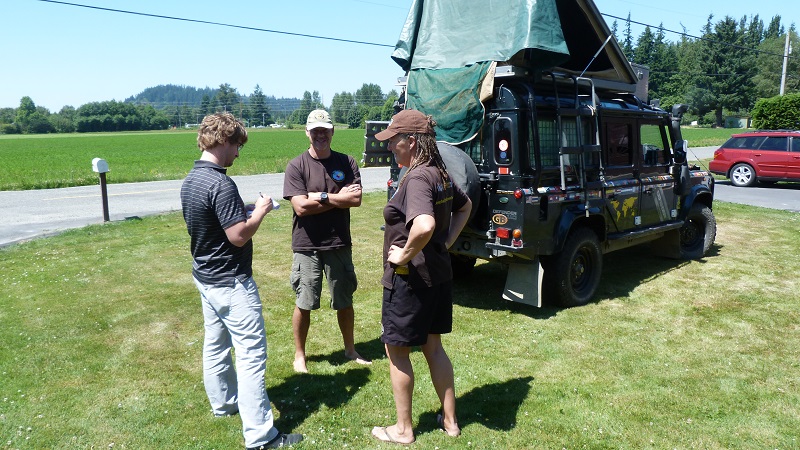 Local Paper Interview
Cue "The Doors"
After five years on the road , we succumb to the inevitable ! The end of the road , the Dalton Highway.The final leg of our adventure has come to an end when the lizzybus rocks up to Deadhorse/Prudoe Bay .Its the end of the line after 42000 miles in the Americas we have become part of a small , select band of brothers who have driven from the very tip of South America ( Ushuaia) to the furthest North ( Deadhorse)We crossed the Arctic Circle one day after the solstice to be rewarded with 24 hour daylight .Road becomes more difficult and culminated in yet another puncture .Our thanks go out to the truckers who helped us change the wheel .
Its a strange day when we arrive .weather is closing in , so quick trip to the general store and hotel before we head south to deteriorating roads .In a way , its a sad day , the journey is over and its down hill all the way home .On the other hand , we bloody well did it .120000 miles , 6 continents , 54 countries and all in a land rover named Lizzybus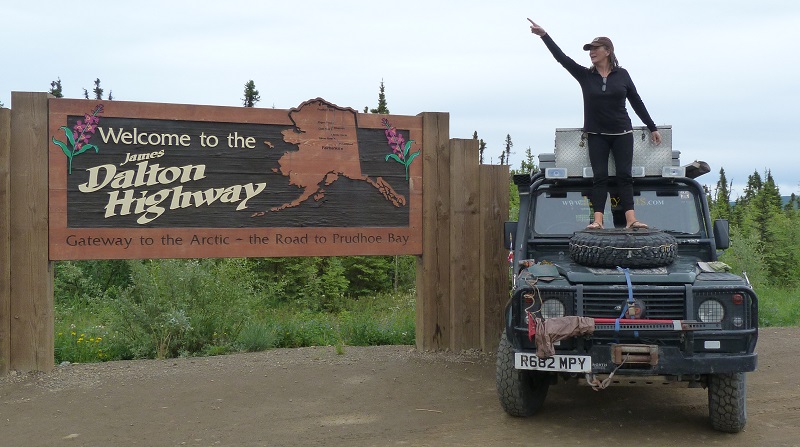 Its that way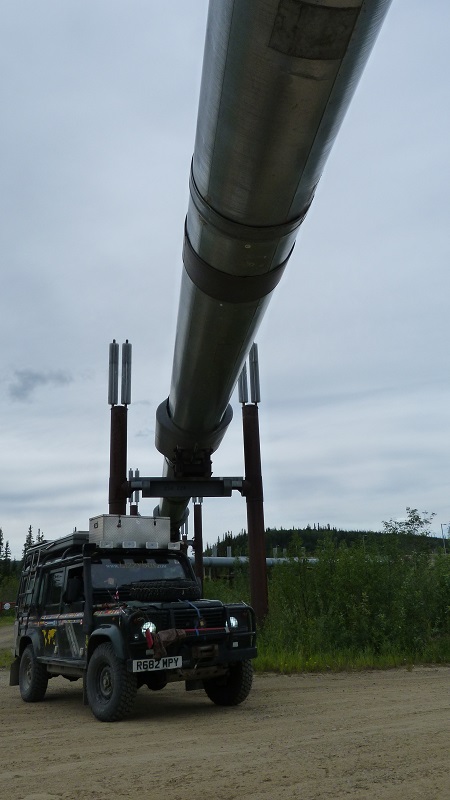 Trans Alaska pipeliner ,raisen d'etre for the Dalton Highway
Crossing the Arctic Circle and endless daytime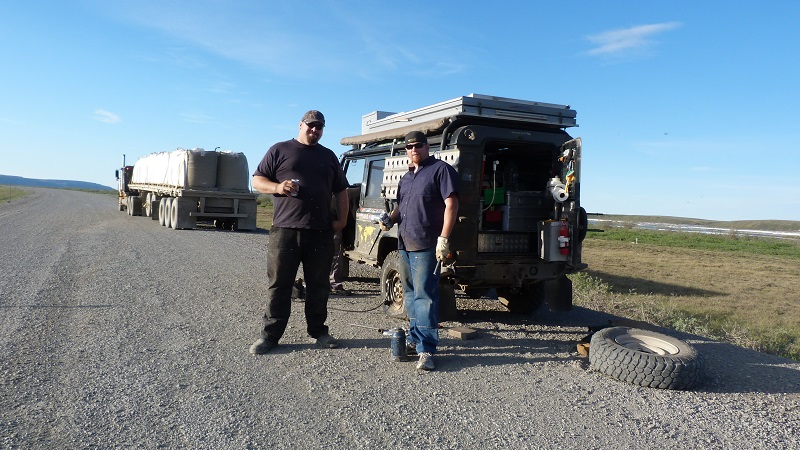 Beer always works with a puncture

Camping on the Dalton , its 12 O Clock at night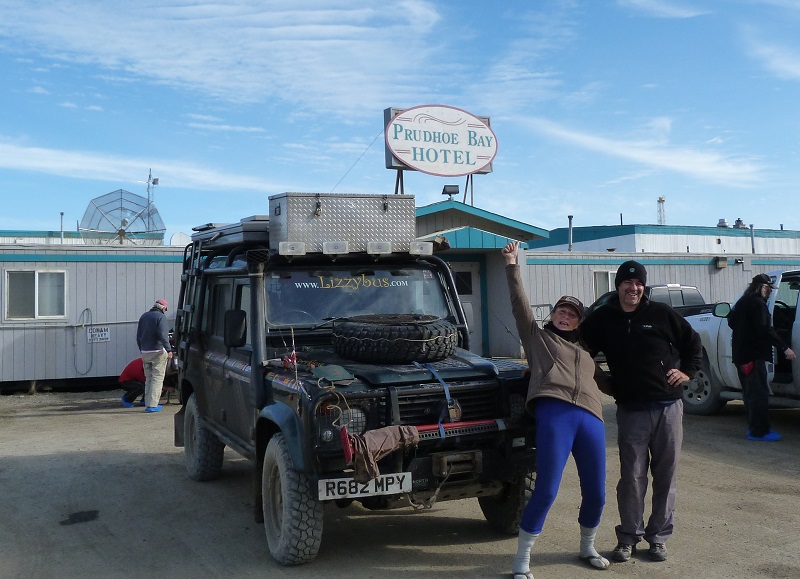 End of the Road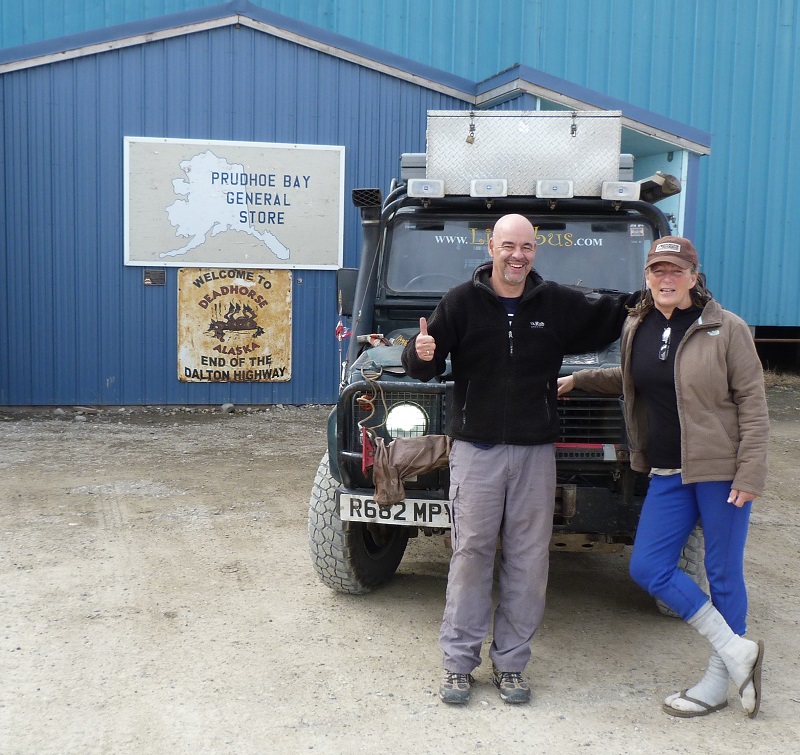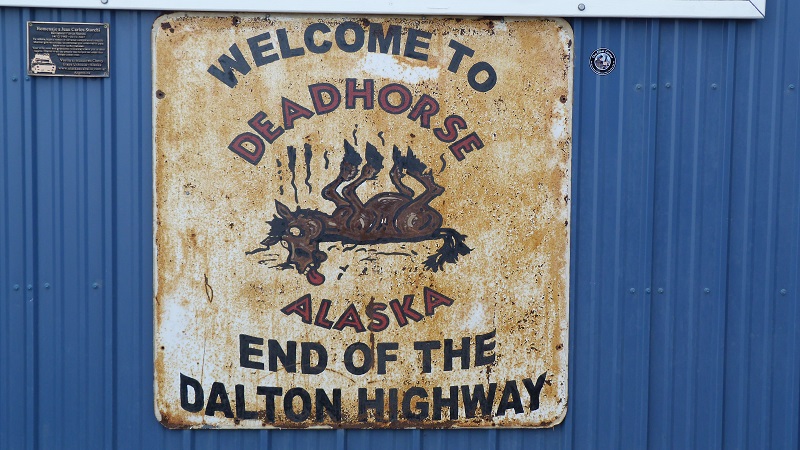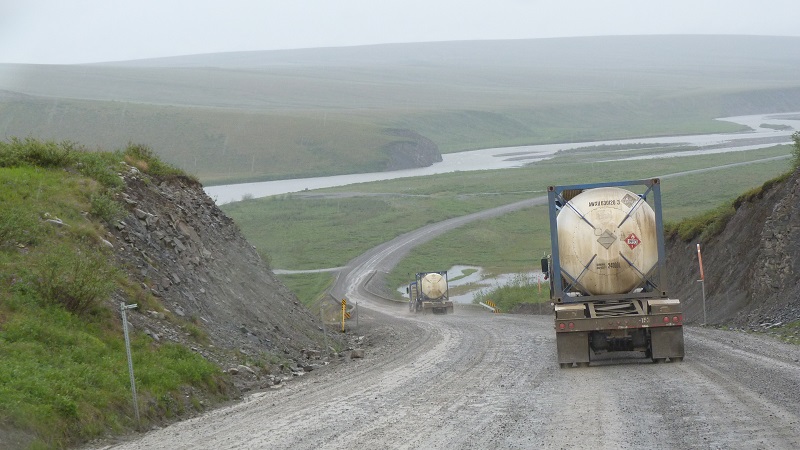 Typical highway traffic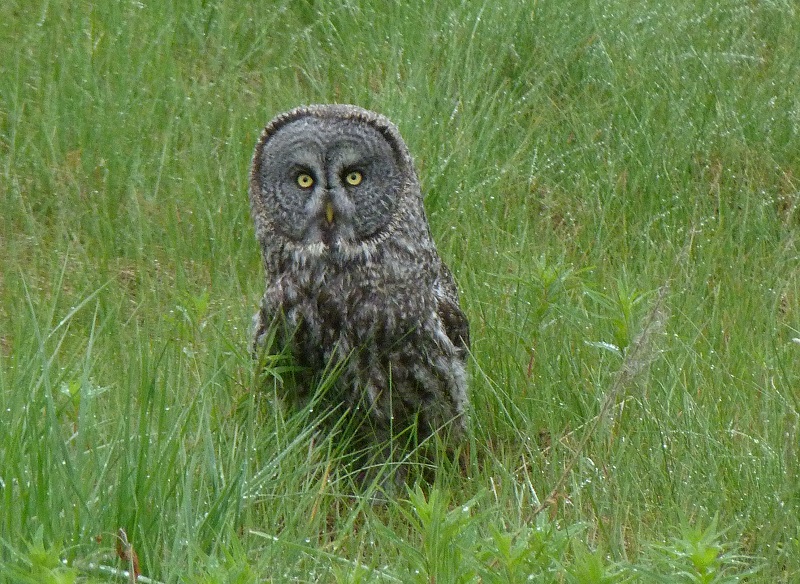 Rare Grey Owl ,over 3' tall , bloody big bird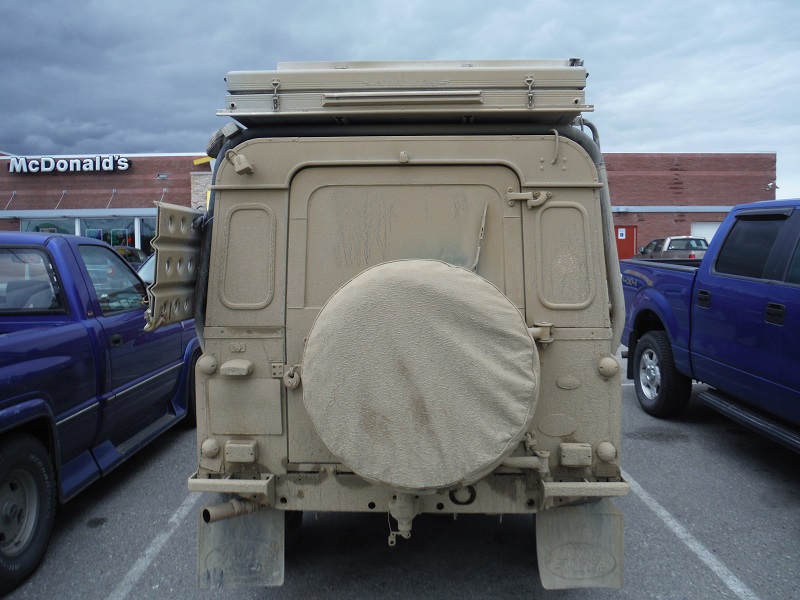 After the Dalton , Lizzybus needs a bath
"Oh Canada"




As border crossings go , Canada/USA was a breeze .No searches , we surrender our I94's and head North .Destination is Alaska via the Cassier and Alaska highway .

Like Australia , distances for a poor Brit are mind numbing .Great scenery is tied in with good roads .Canada is considerably more expensive than the States ,diesel at $6 per gallon .Again , keeping costs down we free camp on the journey North. Weather has closed in , damp and overcast we can cover nearly 500 miles in a day . Again , we cross the border into Alaska and are informed that our exit date is still the 14 July , the time in Canada has been classed with our USA time despite having handed our I94's in .BUGGER ,we hope we can get the extension.

Scenery is slowly getting more and more impressive .Weather becoming less overcast , the mosquitoes getting bigger and more voracious .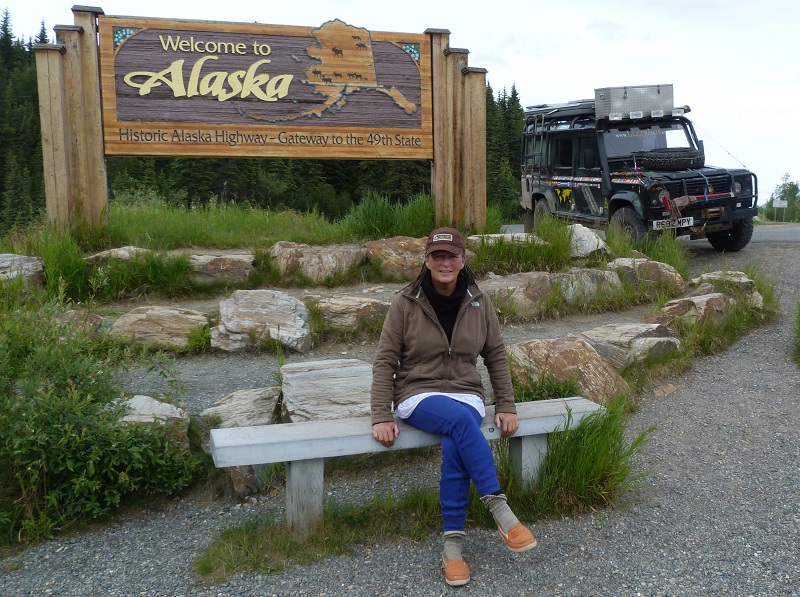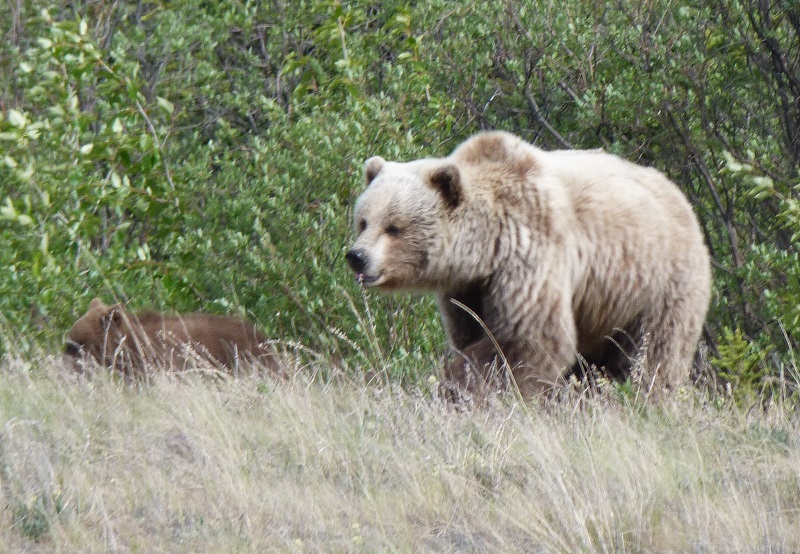 And we bush camp with these guys..eeek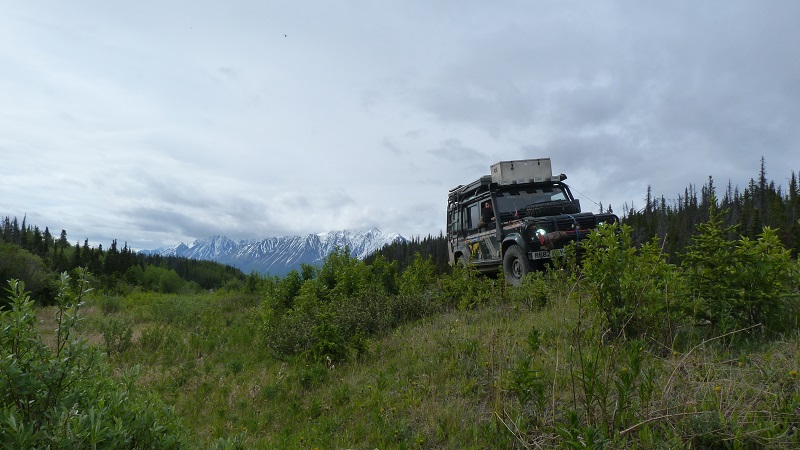 Alaska highway

Overcast and wet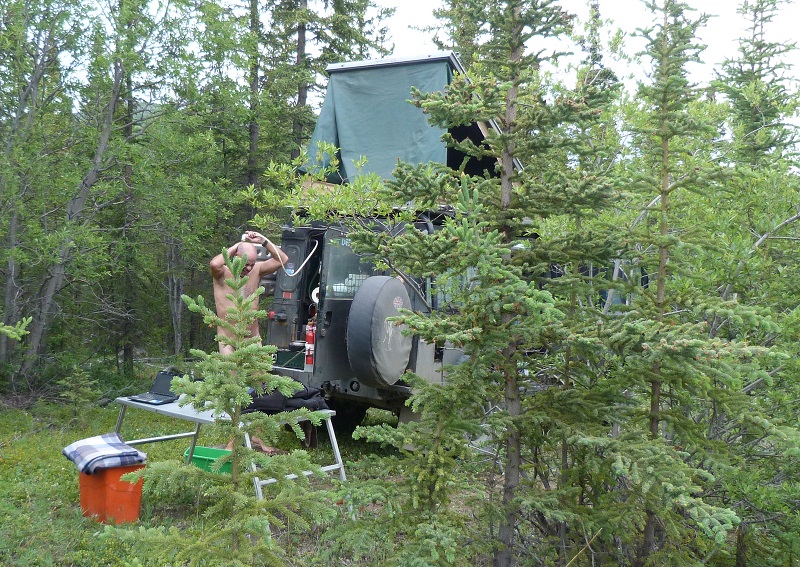 Bush Camping