Lizzybusless?


Well the 29th came and the Lizzybus was slipped , quite painlessly into a 20" container and is to be shipped off to Buenos Aires .Thanks to the guys at F&M for packing us in . Journey time is about 6 weeks .Customs , after all the hassle of inventories can't be asked to check her when we leave! I sometimes wonder why we bother?
So , stuck in a backpackers until the 5th then a flight with China South Airlines back to UK. So it will be with a sad heart we leave Australia and return home.
Our container ship...Kota Lumayan
Thank god it fits
A very close fit
A long wait if you can't get out
Letting the tyres down F&M Logistics
Stuffed ?
Grumpy in the Grampians!
As we seem to have come to a full stop , we are concentrating on living "cheap" in the Grampian region of Victoria (meaning free camping and no diesel expenses) .Normally this works until we either run out of food , water , power or BEER ! Bugger me , we receive an e-mail inviting us to stay at a couples farm in Adelaide "as we are killing time and its local". David and Becky showering us with typical Aussie hospitality .Typical for here "local" is 300 miles away and a two day drive .Nevertheless we had a brilliant time , David is converting a 130 to his "Overland spec" .it's a work of art and no doubts we will catch up again in Africa in the future.
Shipping sorted , we stuff on the 28th .So camping (avoiding the Parkie )in the Grampian Range of mountains .Trip into town (local , only 60 miles) and yet another puncture necessitating a tyre change .Met a fossicker , Owen and his big tub of gold .He even generously gave Jayne a nugget (told her to take the one 50p size but when does she ever listen to me?)
Lunchtime tipple...
To close for comfort!
Cute
Quality conversion
Davids Farm
5l and it fits!
Freezing our t**s off
You may be under the assumption that Australia is all sunshine , beer , barby's and beaches .Its true ,Australia is all that and so much more ., It is also wet, cold and bloody windy .You find us now on the Great Ocean Road , hunkered down in a free camp site overlooking Joanna Beach about to be "blown out" by the Gale Force winds and rain.
In some ways we have done quite well following the sun around the country , there is always a price to pay and this is it .
The fact we have no destination as we will ship from Melbourne dampens the travelling , it becomes more "travel for travels sake" rather than making a destination.
Great Ocean Road with its12Apostles , Grotto ,London Bridge is magnificent .Will move on shortly , away from the sea , inland and find better shelter for our remaining time here in Victoria
Killing Time!
We only have about five weeks before we stuff the Lizzybus into a container in Melbourne and send her to BA so we shall "hang around" the South Coast .The Blue Mountains saw a dramatic change in weather , it snowed !it's a chance to harden up for the rigours of 6 weeks in UK during the winter.
The Coleman cooker after 3 years solid use now needs a new generator arm and has necessitated the purchase of a cheap single small gas cooker supplemented by the awesome MSR Whisperlite.
We arranged to stay outside Canberra with friends we met at the Expo.
Rick and Anne showed us fantastic auzie hospitality and "insisted" we stay till the Monday evening were we where to be guest speakers at the Canberra Land Rover Owners Club. Jayne was in her element .Great time , thanks guys .
Snowy River . Great Ocean Road will be our route for the coming weeks before the shipping is sorted.
Still loving this part of the world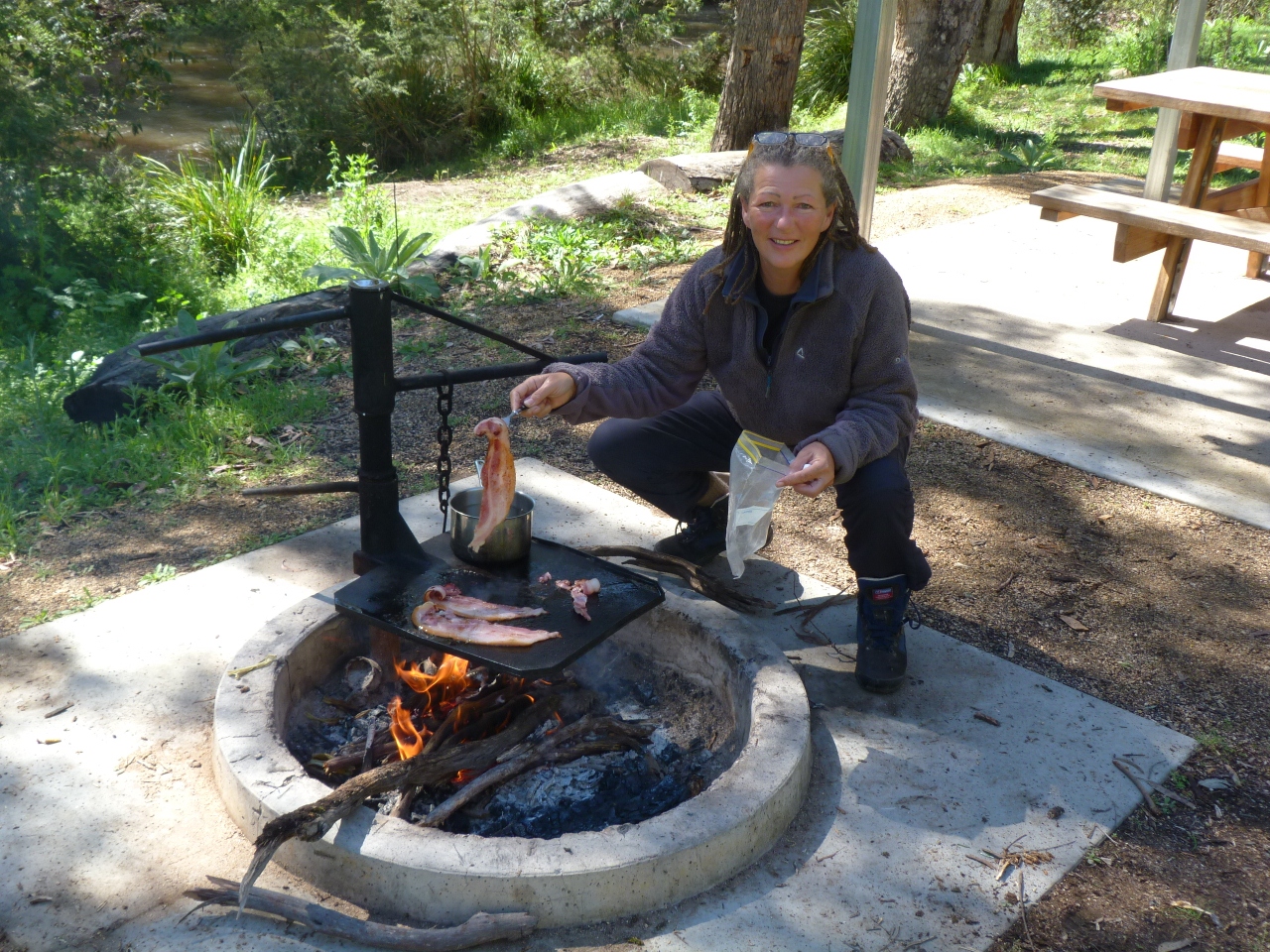 Bacon ...Snowy River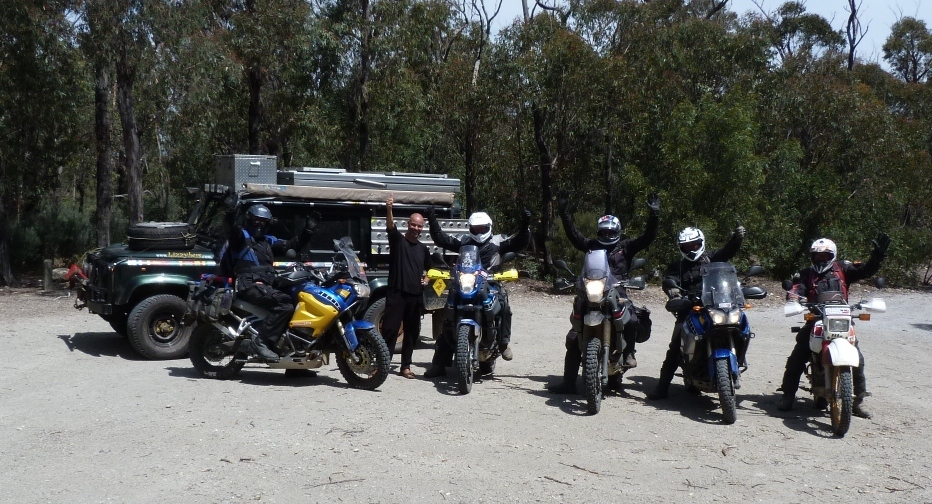 Tenere Tragics enjoying the Barry Way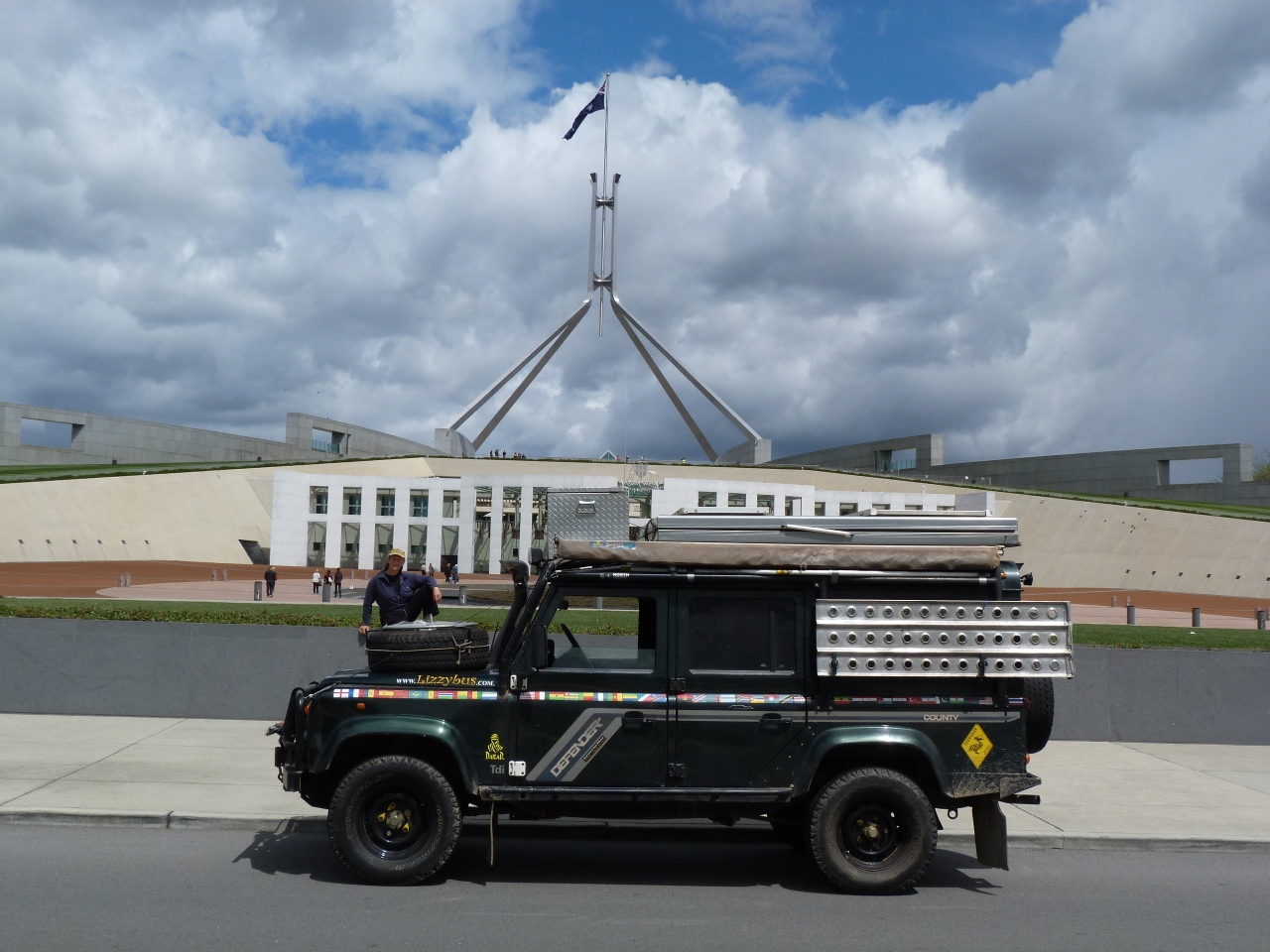 Canberra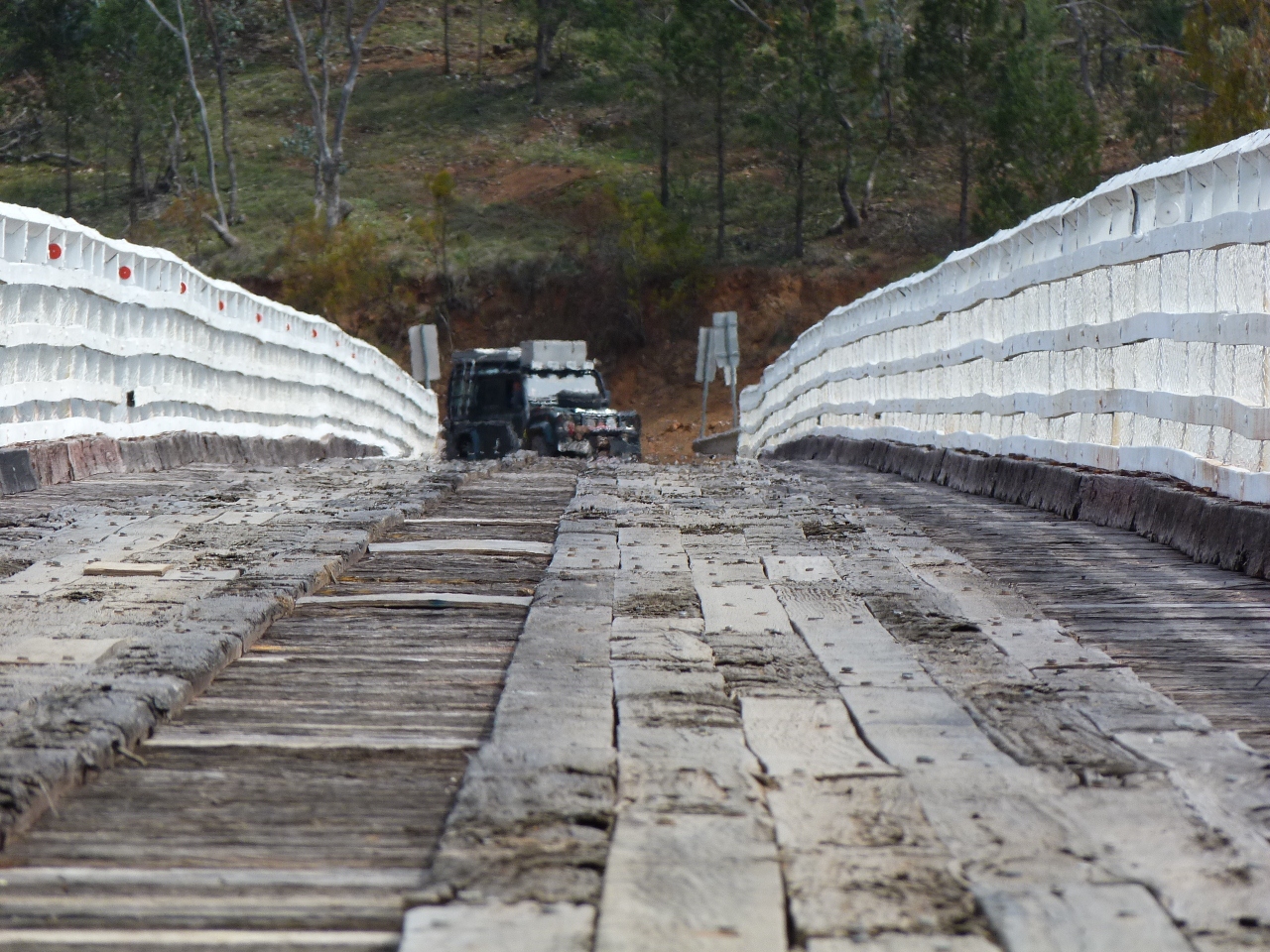 McKillops Bridge ..Snowy River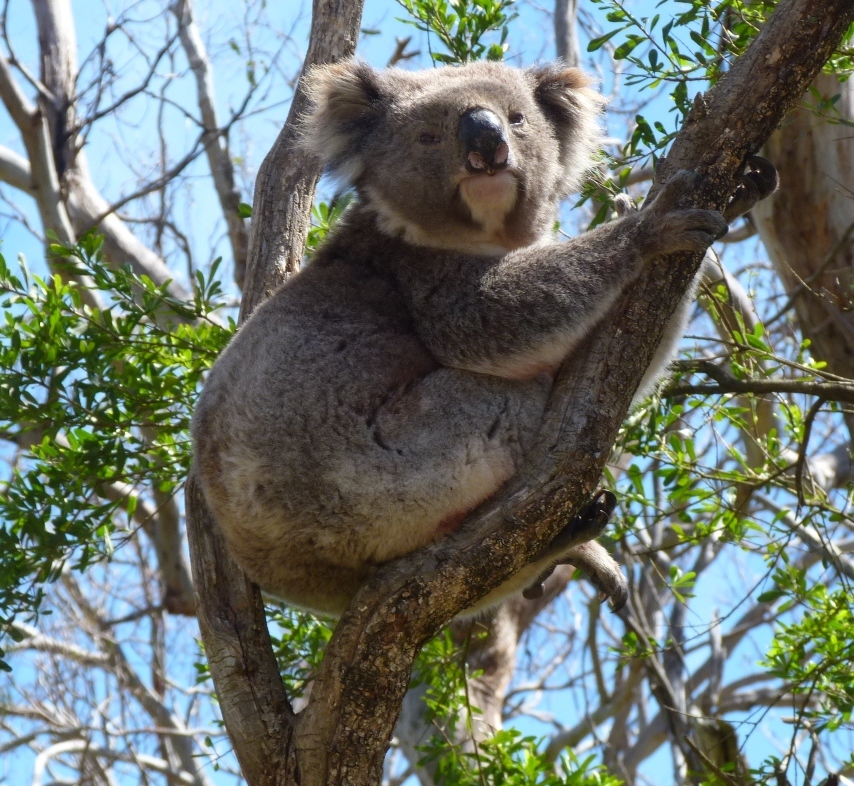 It got cold..Blue Mountains
Very cold...Blue Mountains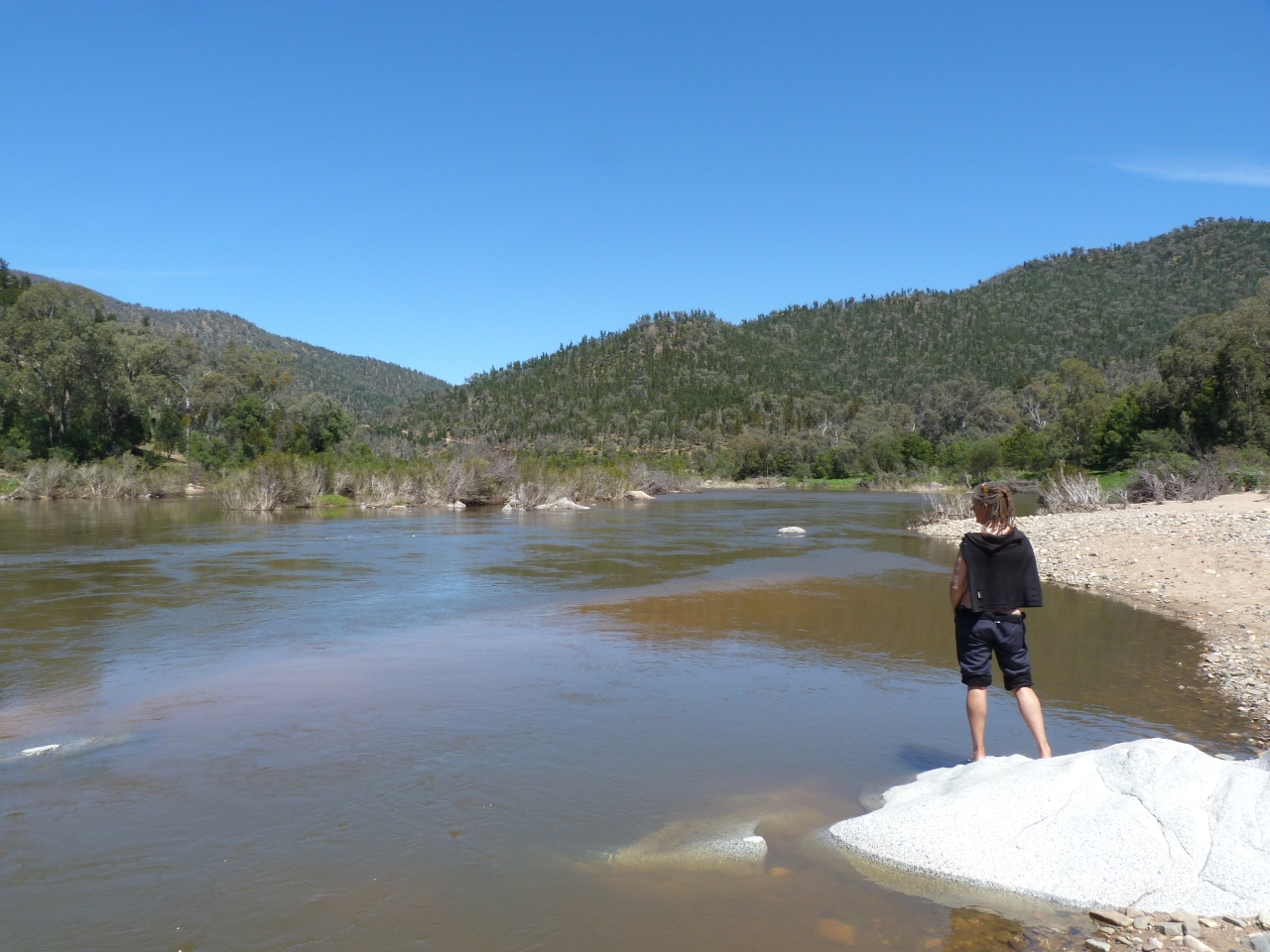 Snowy River
At least it can't bite...Snowy River
Bush Camp .... Snowy River
Firing up the MSR ....Blue Mountains
War Memorial ..Canberra
Blue Mountains.....cool
Things to do?
After seven days at Mulgo off to see my cousin ,Joel in Bondi .The Lizybus is fettled , she feels so tight .Its amazing the improvement these repairs have made !
So , back in UK what did you do this wet, cold and windy Tuesday?
Sorry guys , we where hanging out on Bondi Beach , tough break. Now I remember why we are travelling.
Four days with my cousin Joel , his partner Charlotte and the irrepressible Max (only 4 years old)
What a fantastic time we had in Sydney , treated Royally ,BBQ , Roasts and Fish'n Chips .
Sad to be leaving but we have to press on .Only 6 weeks until shipping to Argentina and we still have the Coastal Highway and Snowy River routes in Victoria.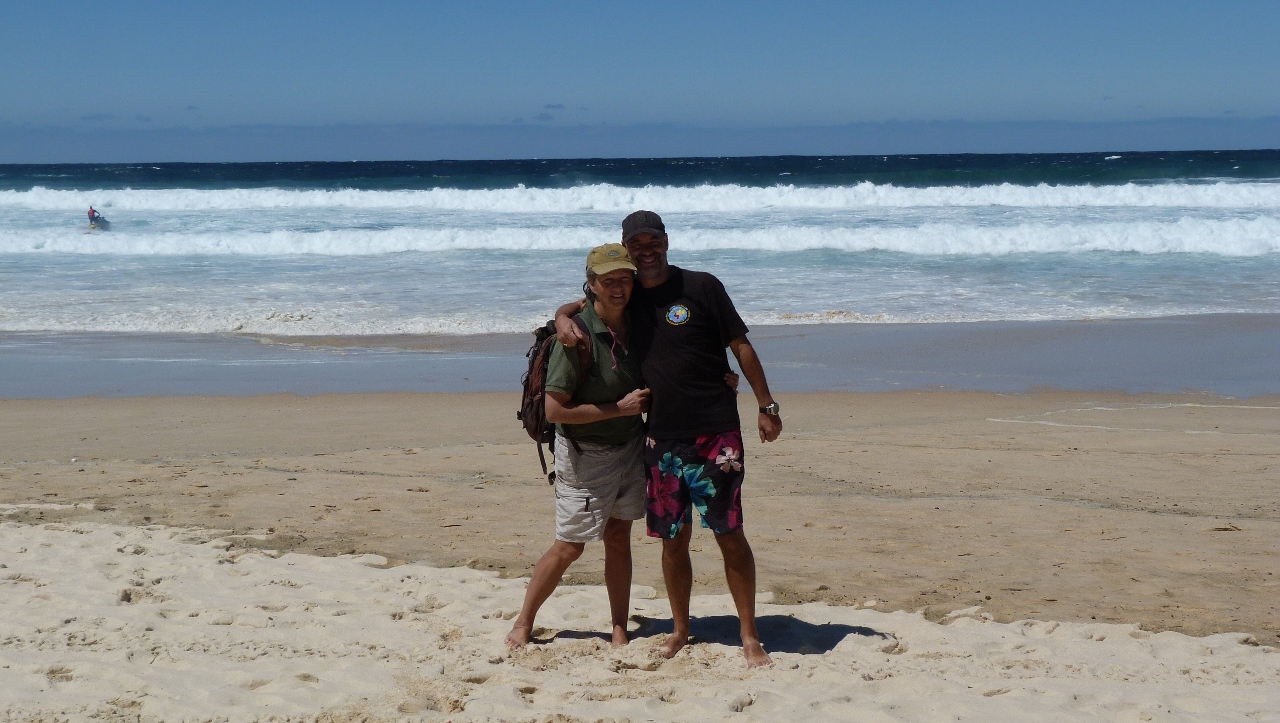 At last , Bondi Beach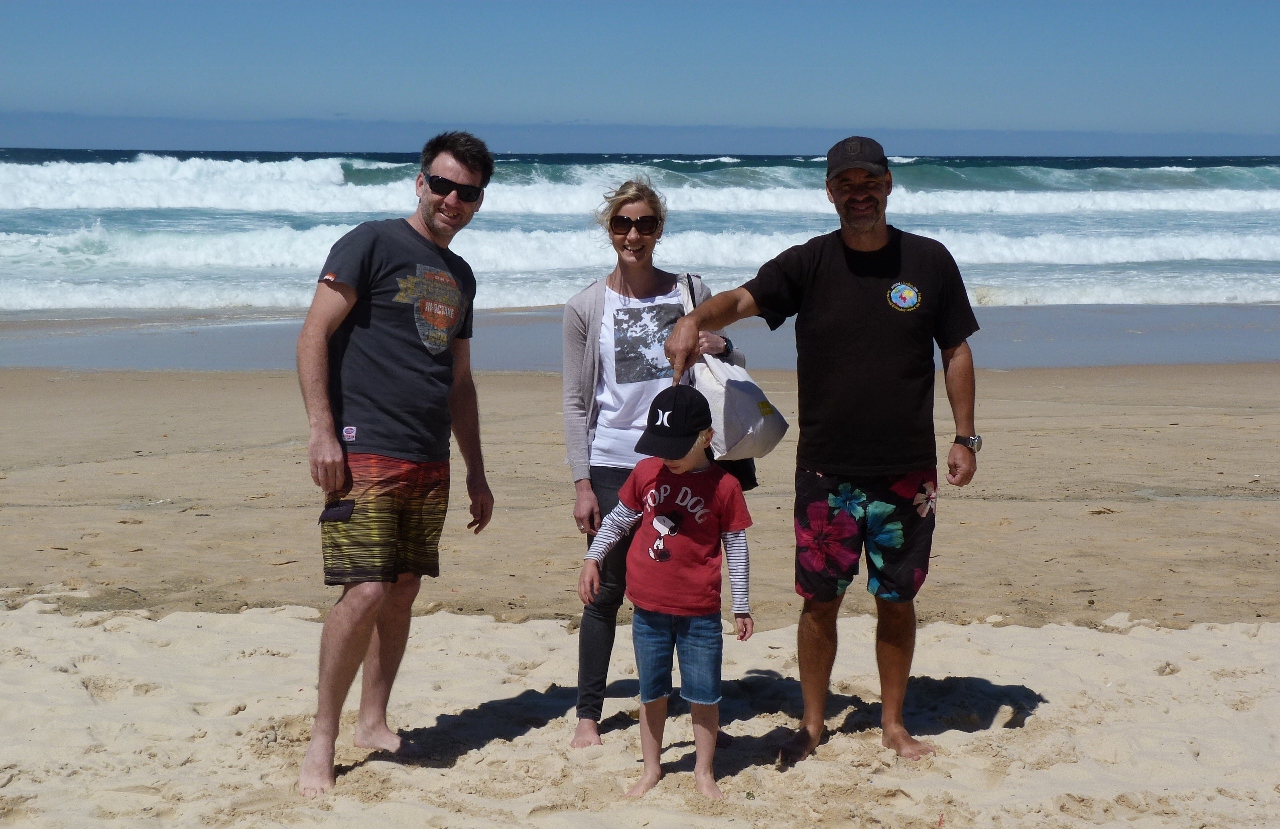 Joel , Charlotte , Max' n me , Bondi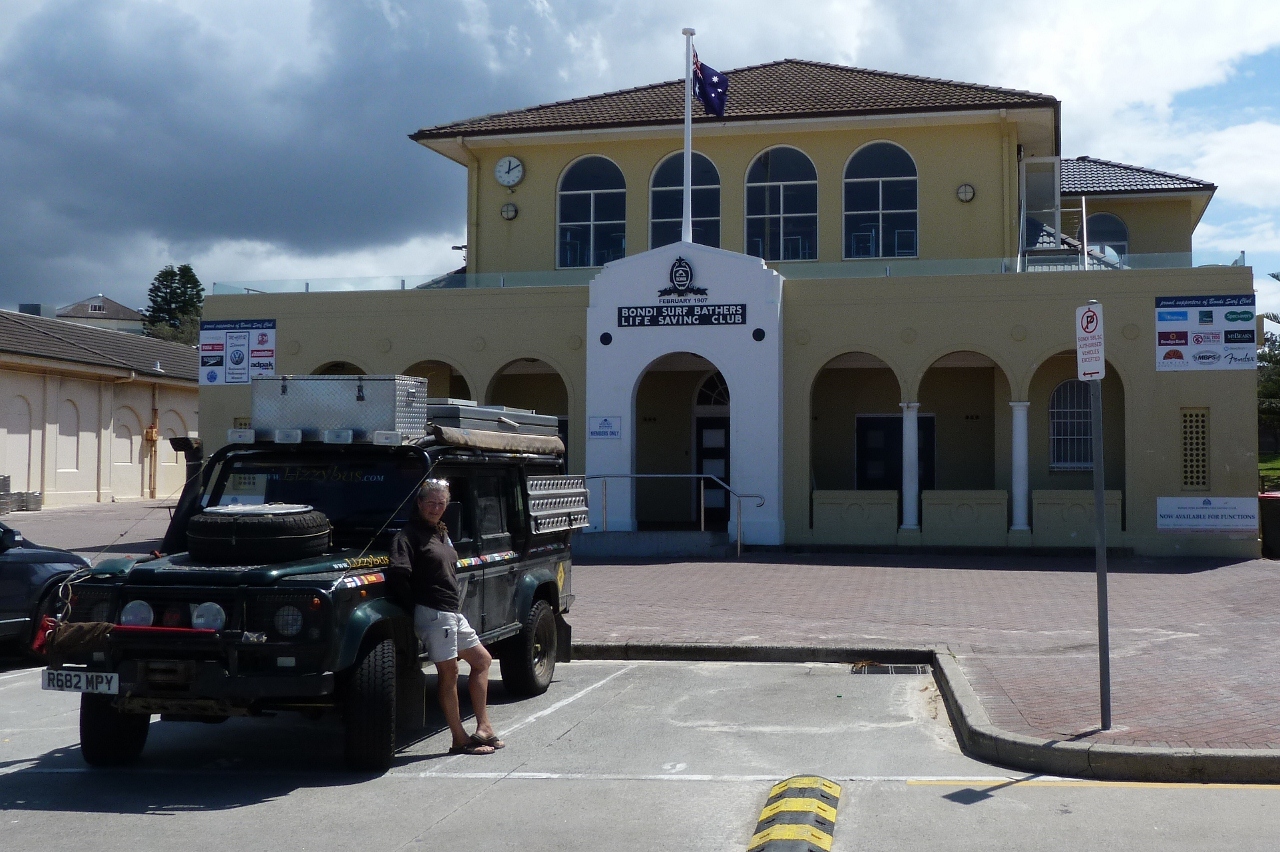 Lizzybus , Bondi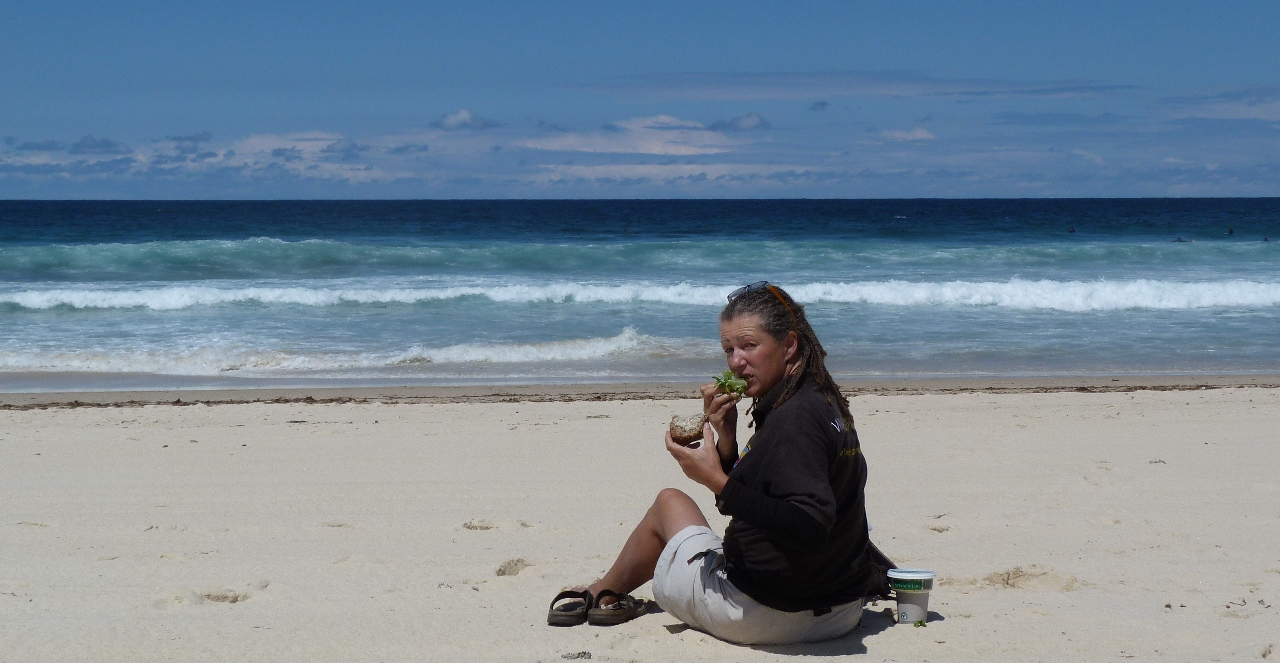 Lunch , Bondi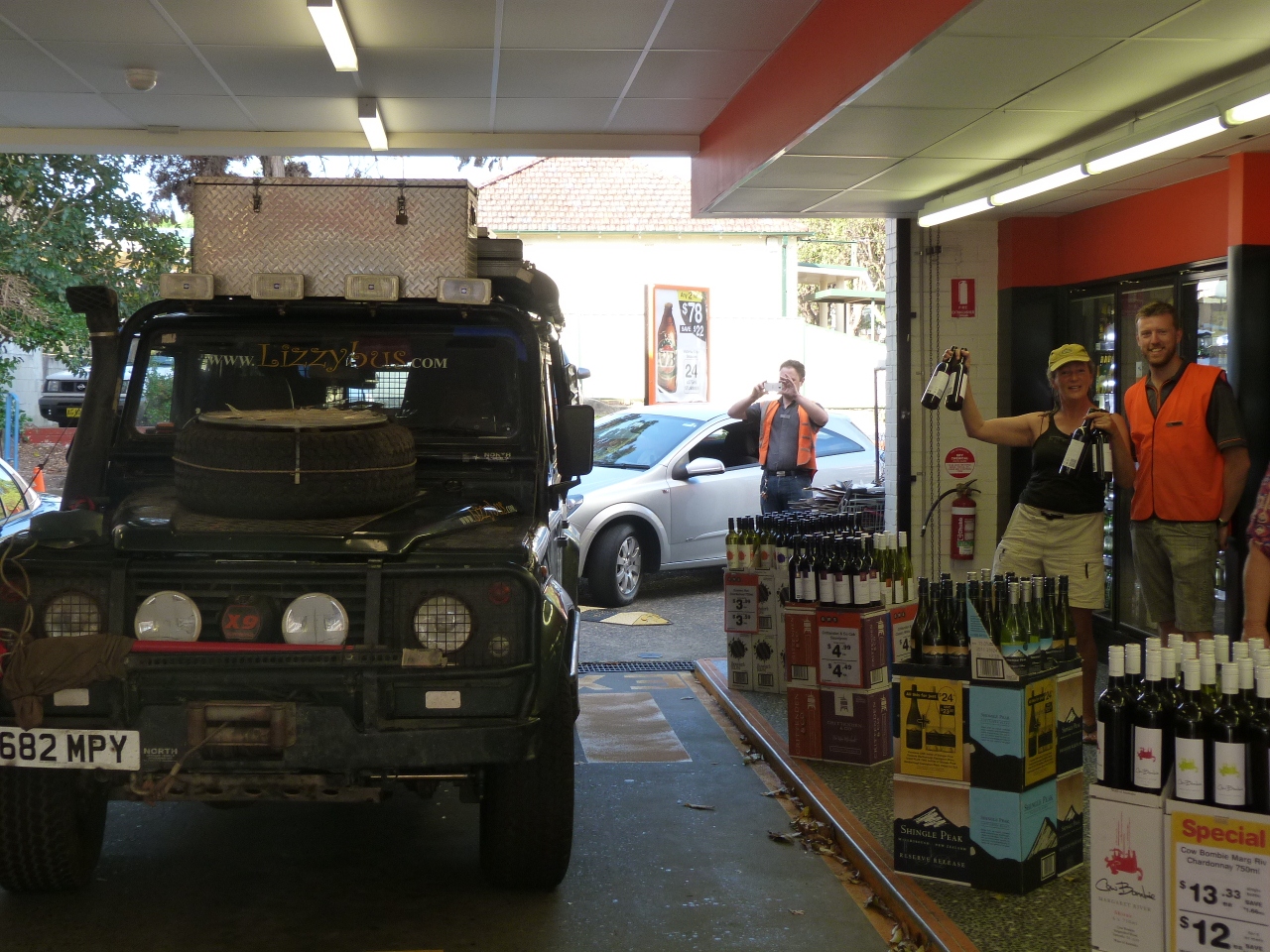 Drive through bottle store....cool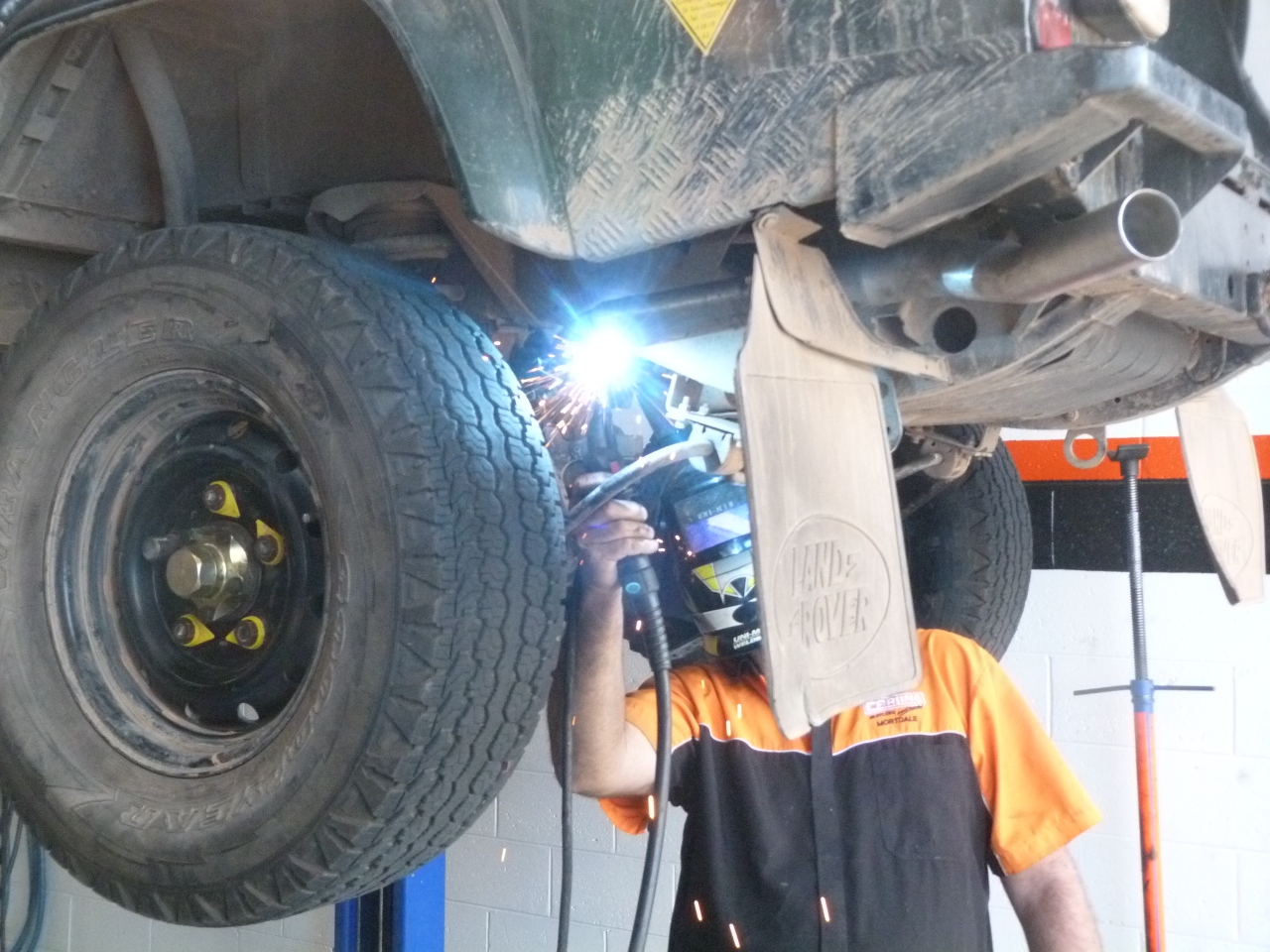 New exhaust pipe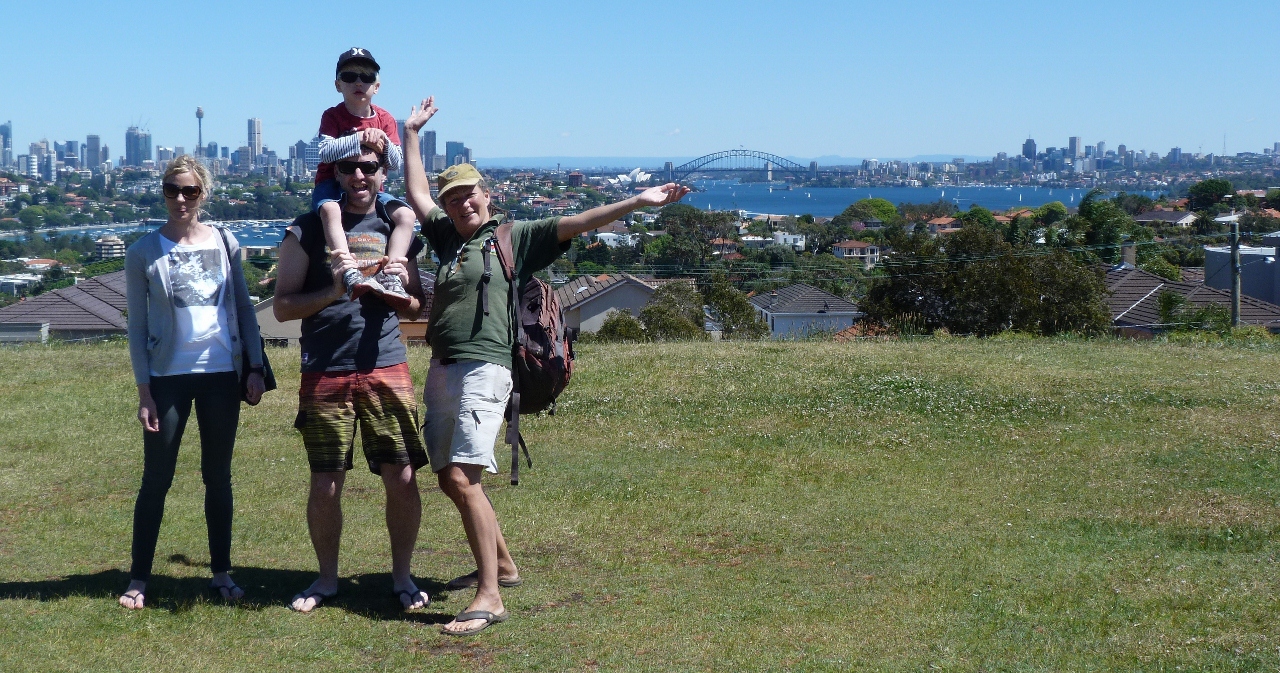 Best view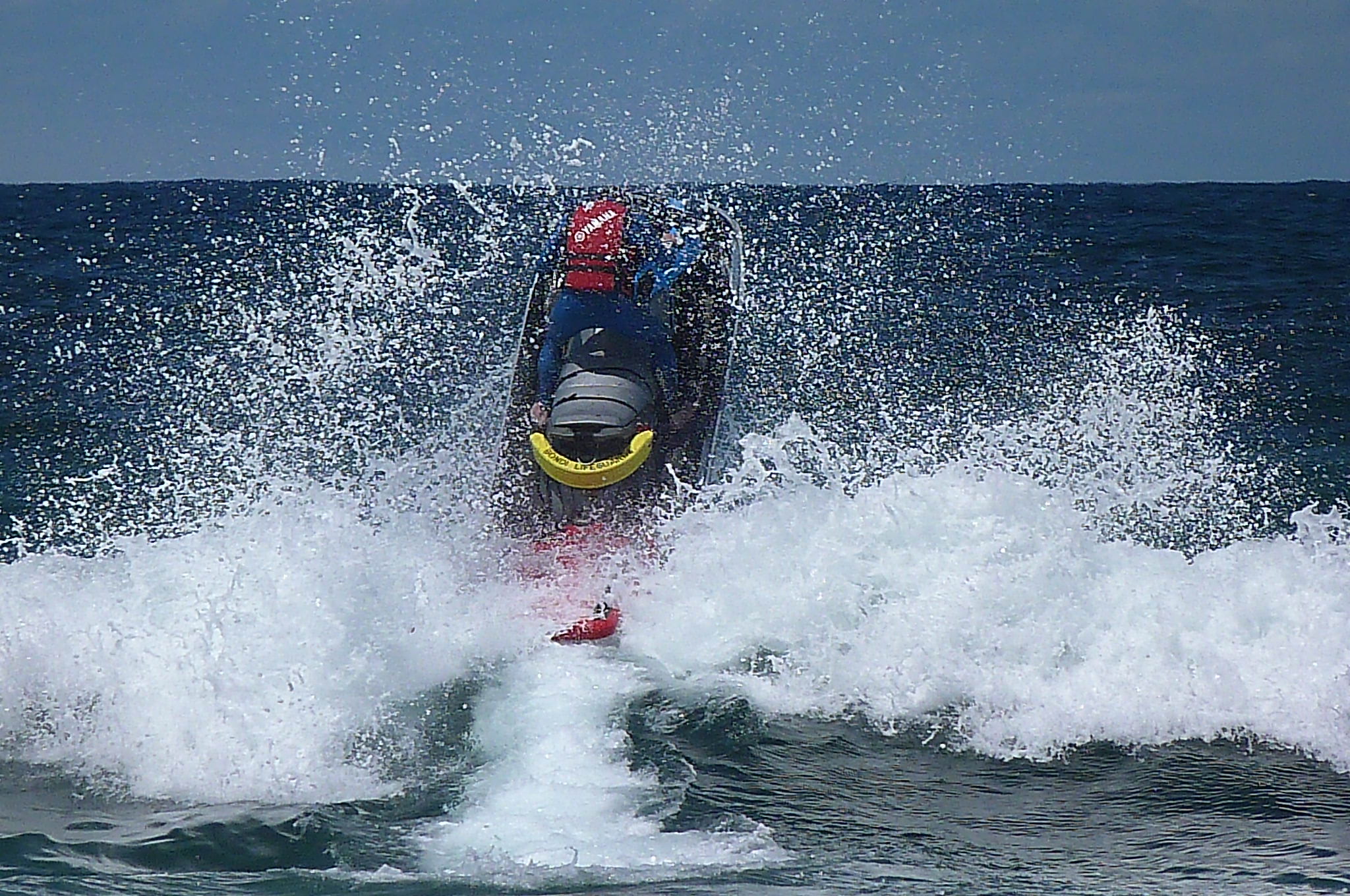 "Bondi Rescue"!
Who or what is a Mulgo?



Cribbed from "True Romance" .What started as a two day max venture to do the calipers and prop shaft has turned into a seven day marathon.

It was noted as we drove in that we had excessive "Backlash". Experts are duly drawn in .The cumulative wear in axle , prop , drive , transfer box and flanges are to blame .

Charged cost price for the parts we.

Change callipers

Change brake fluid

New brake pads

New HD Track Rod ( old one banana shaped )

Grease all wheel bearings

New drive flanges / drive shafts to rear

Replace transfer box oil seal

Clean de-oil transfer box brake

New 2nd battery (deep cycle)

New LED rear work light

New door seals

All in all we spent close on to a grand in parts and supervised by the ever helpful Daniel , a wealth of experience in both Overlanding and Land Rovers plus there are dozens of people he can call to venture opinion.

Result , clonk gone and she feels much tighter .Brakes that work and hopefully some of the leaks both in and out will have been sorted .

So seven days camped in a workshop !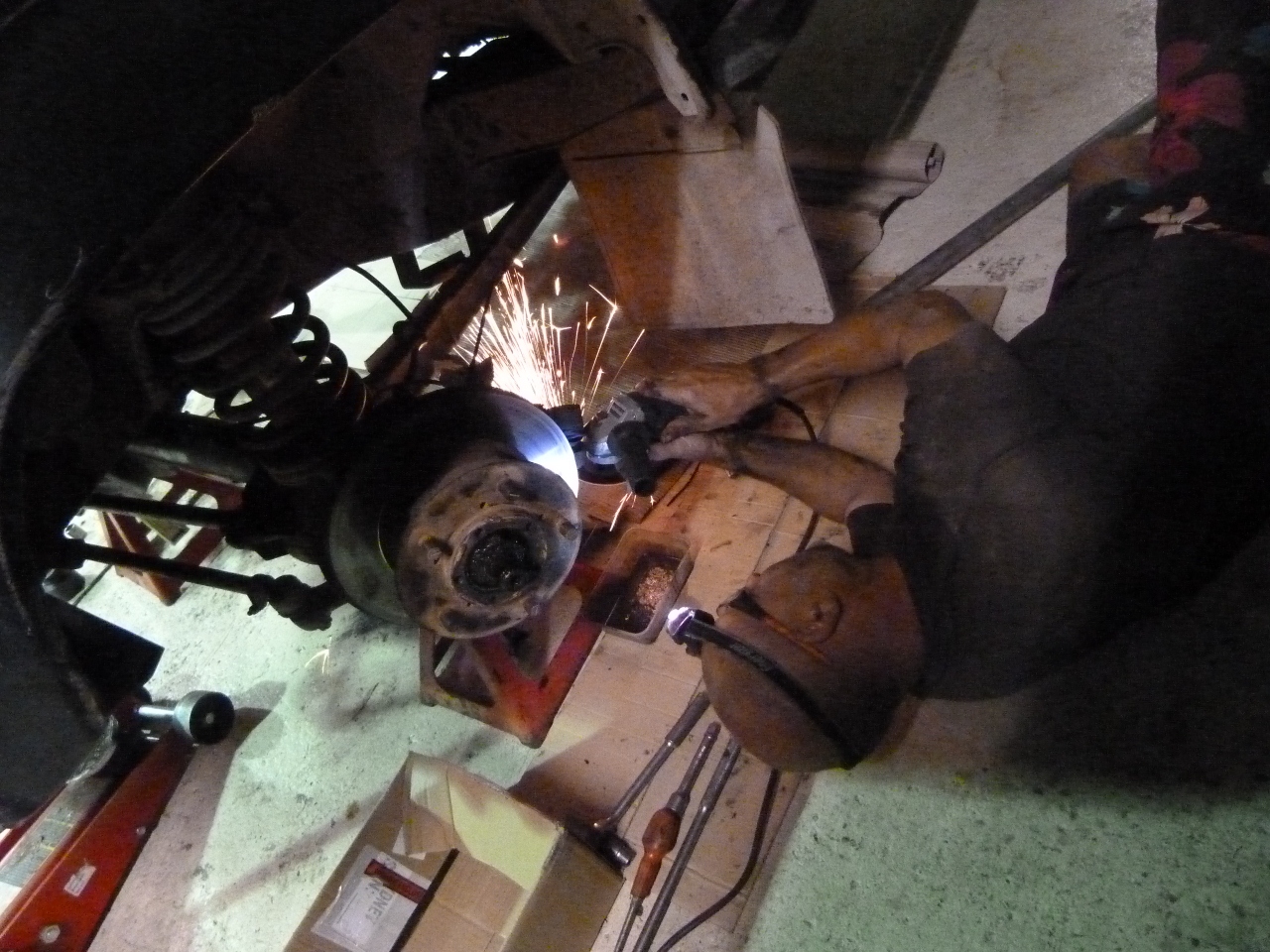 Brute force and ignorance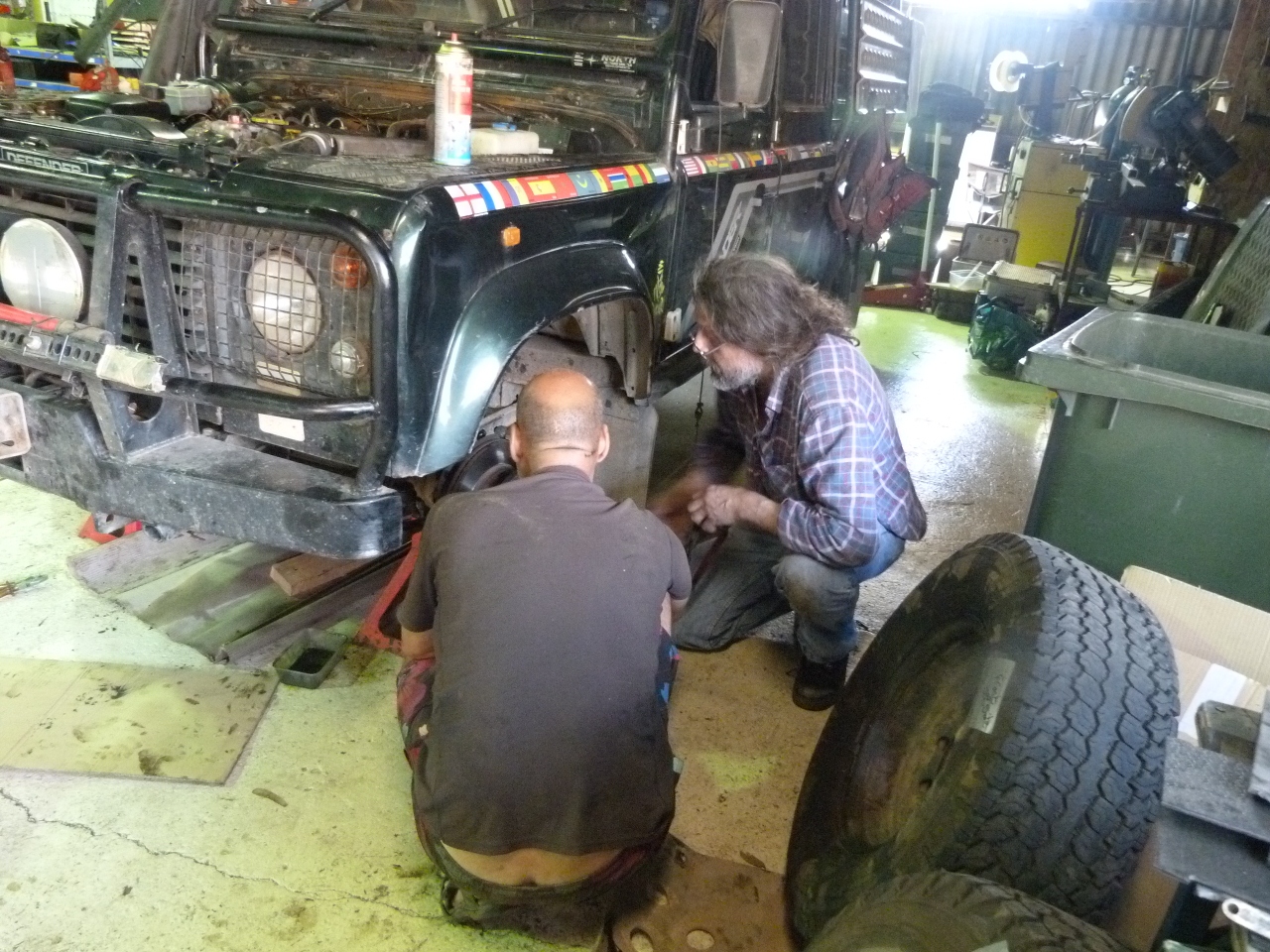 All advice gratefully received ( note the builders bum)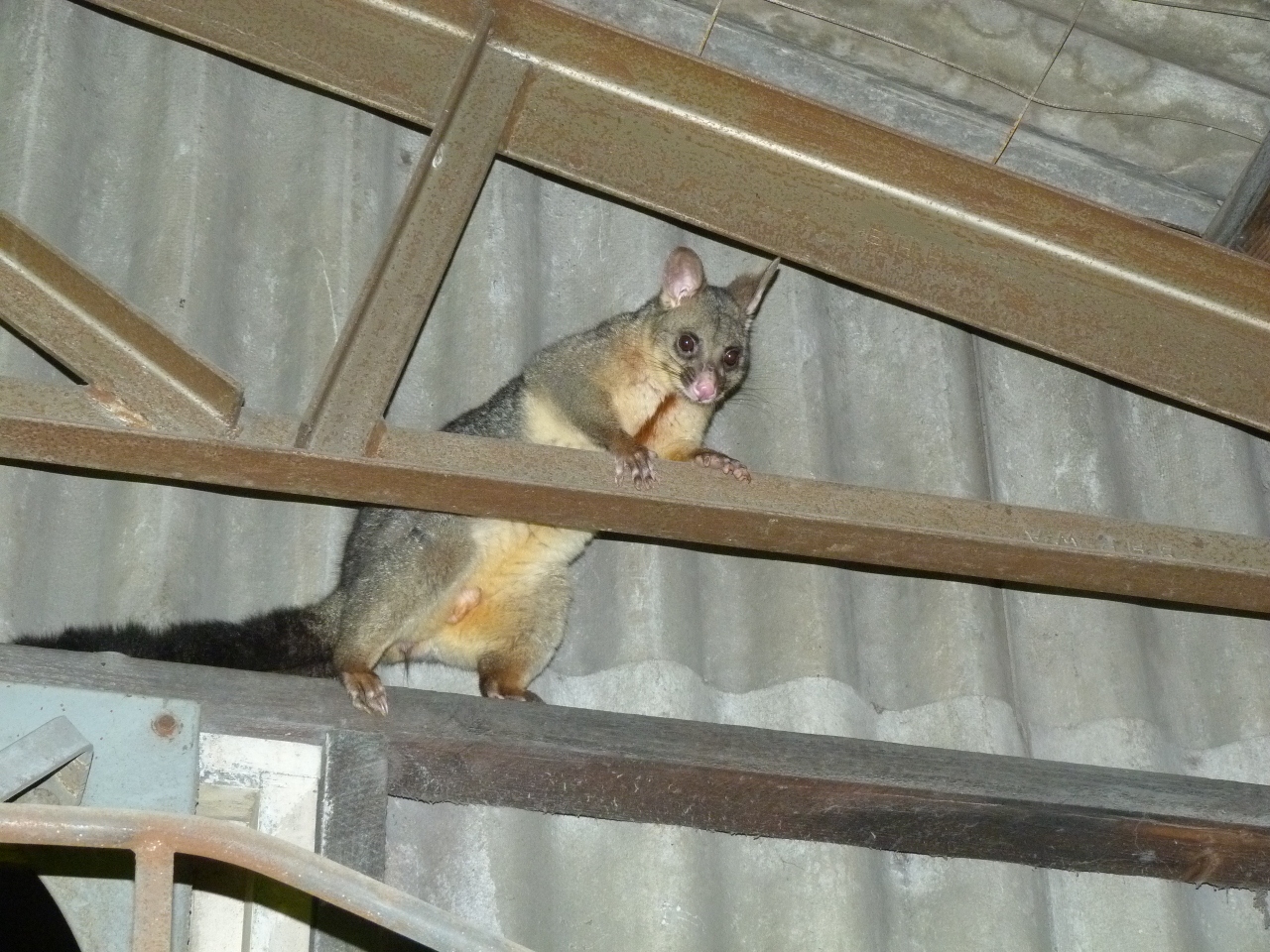 Some visitors didn't proffer advice ( probably a Toyota driver )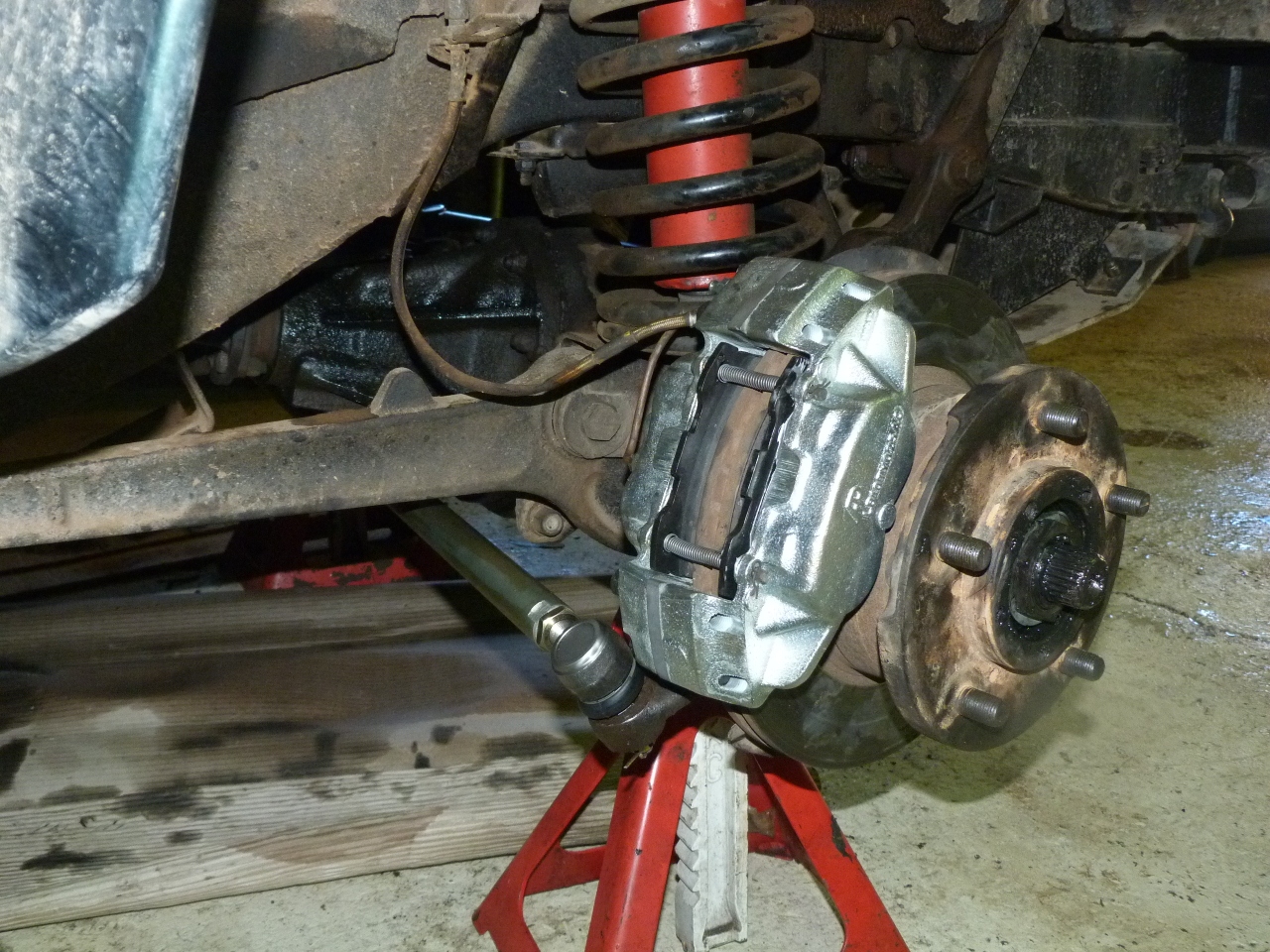 Nice spangly new parts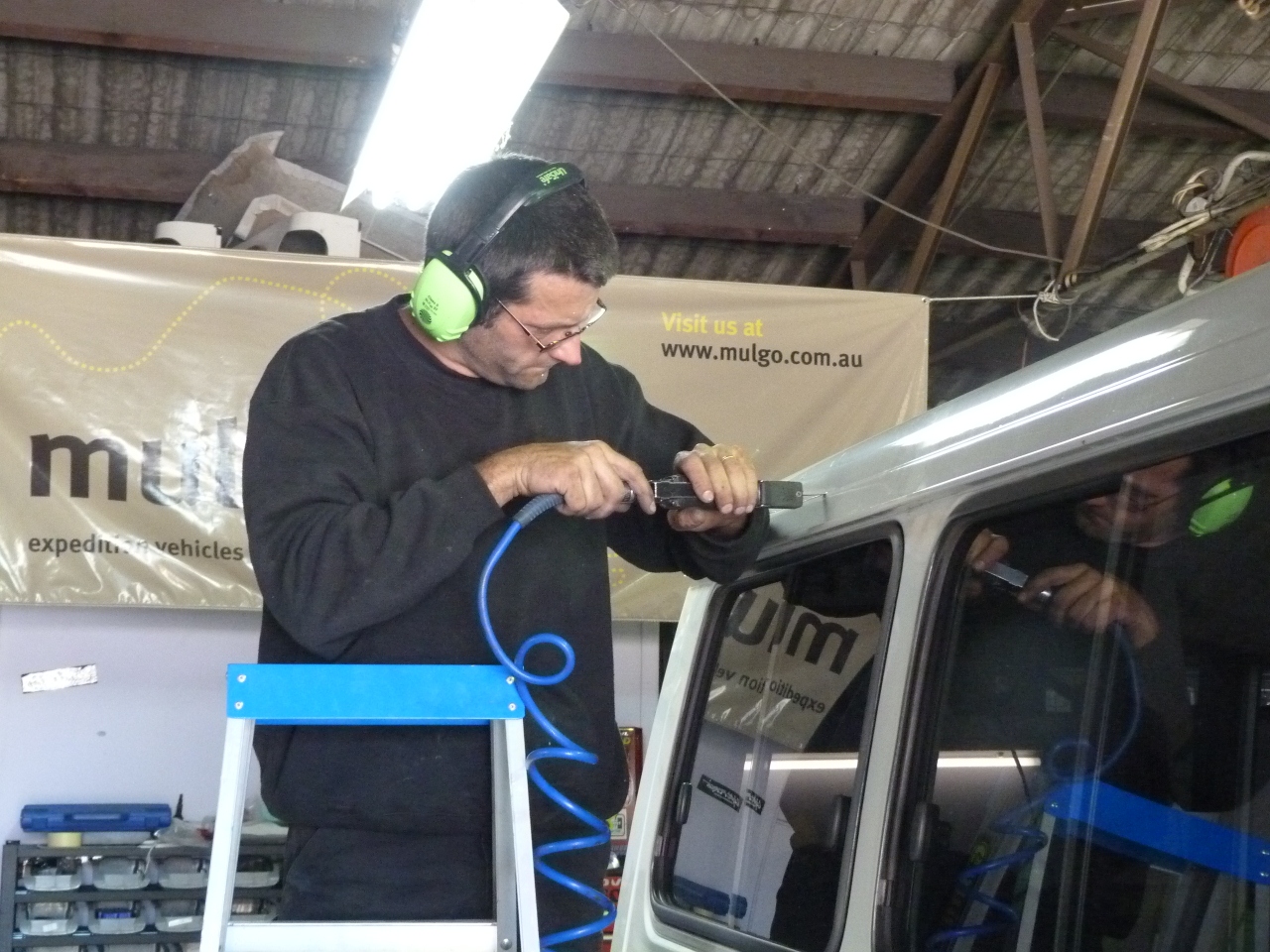 Daniel doing what Daniel does best,cutting the roof off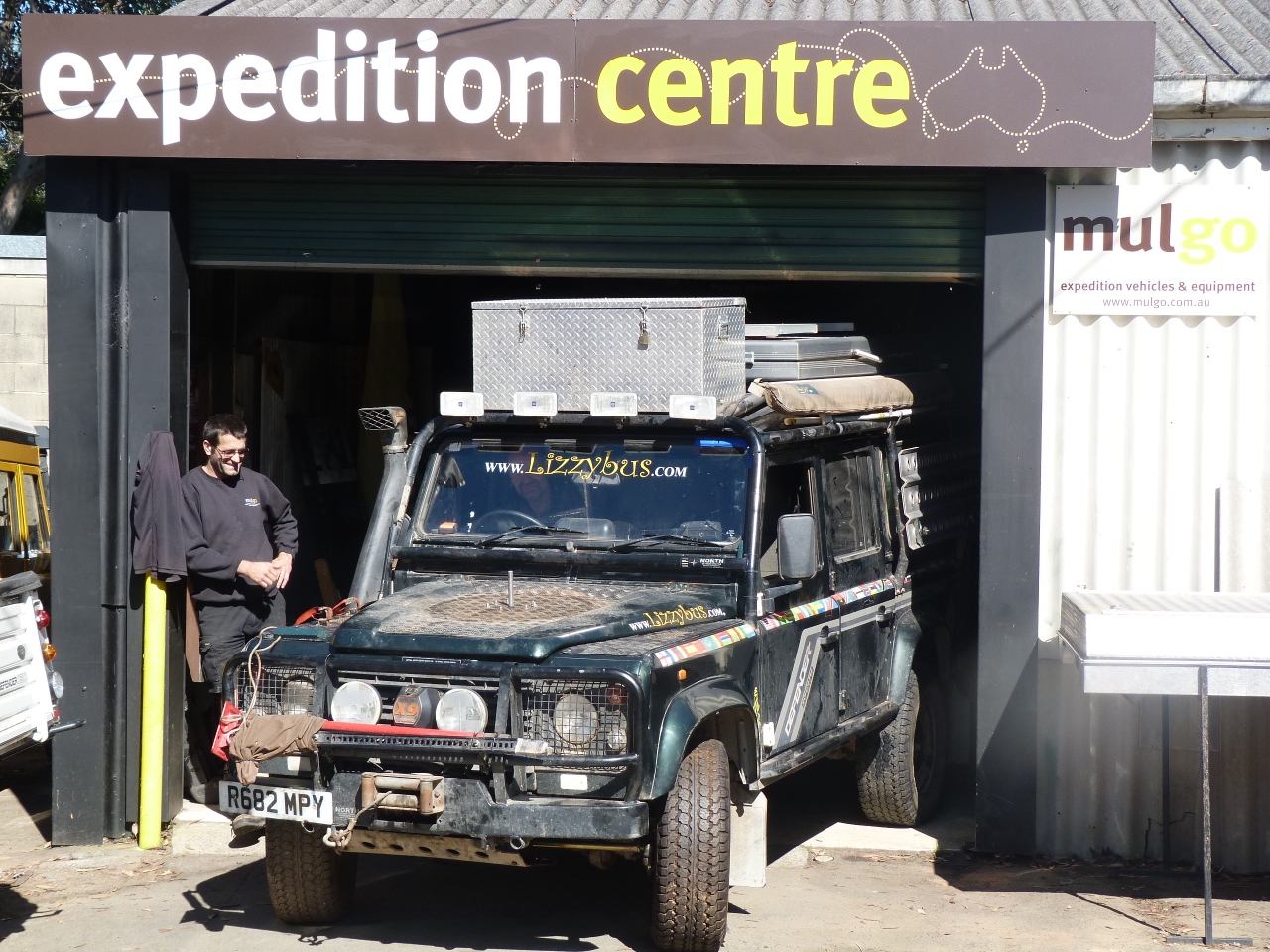 Test drive after 6 days
Mechanic time

 

 

Well , we set up camp on pitch no 27 at the Expo . Nothing to sell apart from our dreams . We had a great time , spent most of our time chatting really didn't get a chance to blag any more kit ( mind you the Maxtrac failed to materialise )The guys at Modern Motors donated four cans of beer and a guy we bumped into at Broke supplied a bottle of red .Thanks chaps . We even made it to the Sydney LROC meeting and where made handsomely welcome .Guest speaker took part in the 1958 Oxford/Cambridge run from London to Cape Town in series one Land Rovers ( and we thought we had it tough)

Its amazing how small things develop into bigger problems .The fact we changed all the brake fluid in Alice has meant that the 16 year old seals in the brake cylinders are now leaking .Rather than re rubber them BMI (British Motor Imports ,

www.lrparts.com.au

) , Richmond took one look and supplied us with new callipers at less than UK price , made by AP and supplied a new prop shaft for free …..cheers guys (still can't believe they had them all in stock)

At the Expo we met Daniel , over Lander , now in business fitting "pop top" conversions to his Swiss standards who has kindly allowed us to stay in his premises whilst we do the remedial repairs (the scope of which is increasing alarmingly) .The clonk on the transmission could be wear in axle , transfer or bushes . When we drove up to his premises , Mulgo (http://www.mulgo.com.au/ and see his great conversions ) , the bloody clutch gave up. At least we have a spare.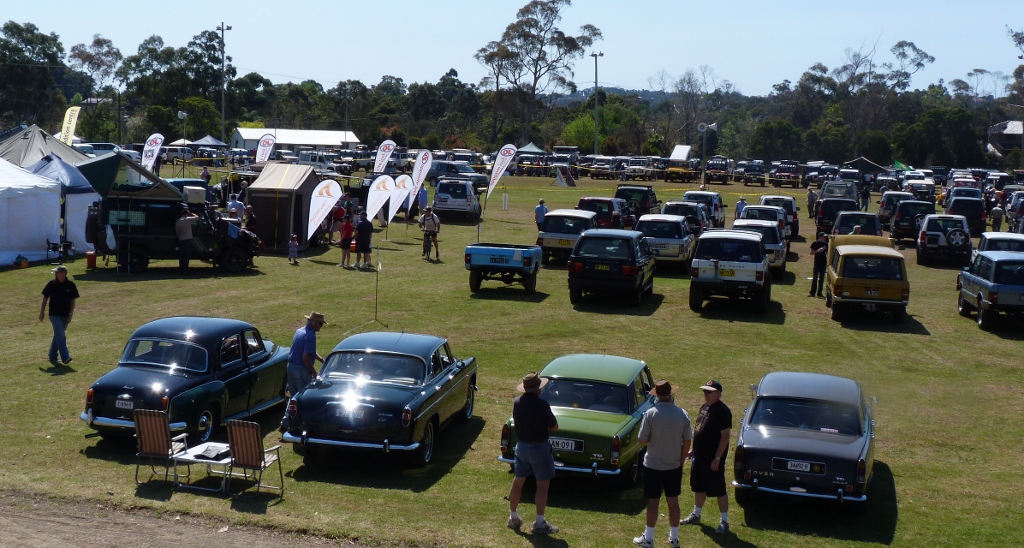 Lizzybus pitch at Expo 2012

Two Icons for the price of one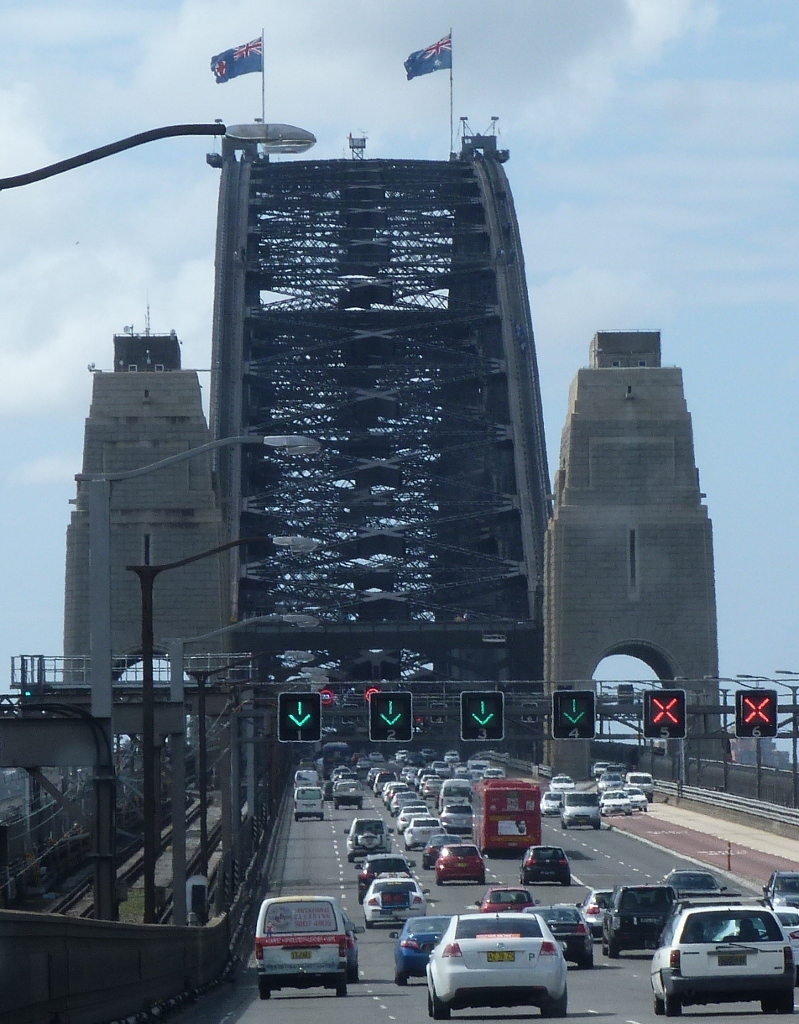 Will it be a case of "a bridge to far "?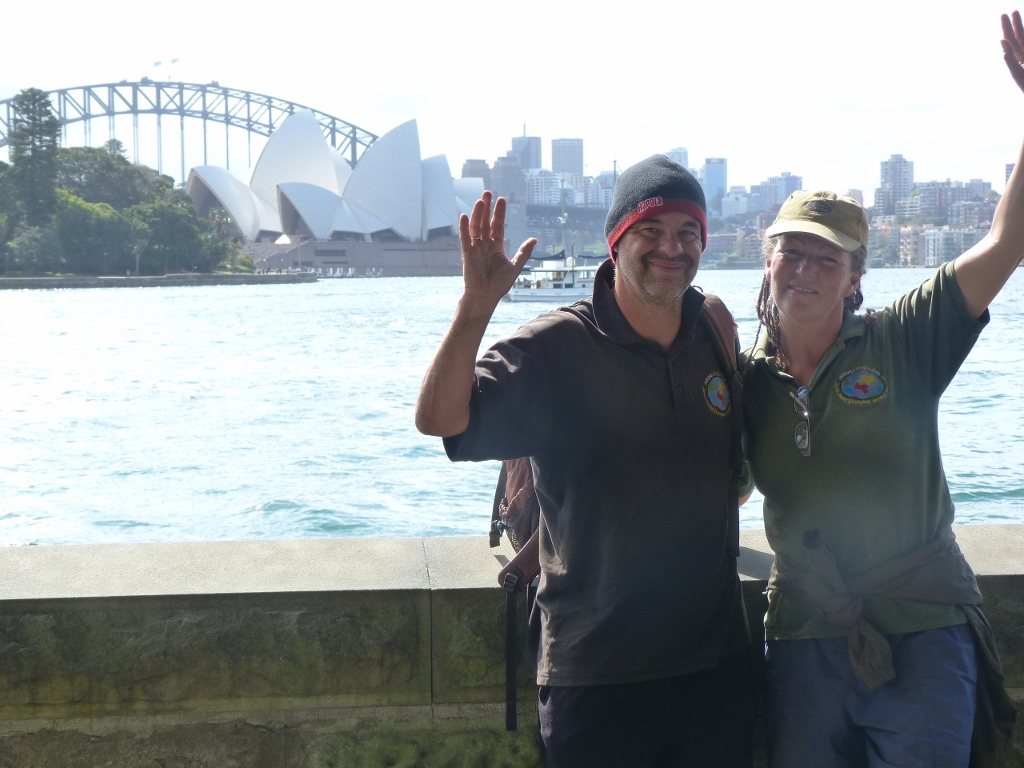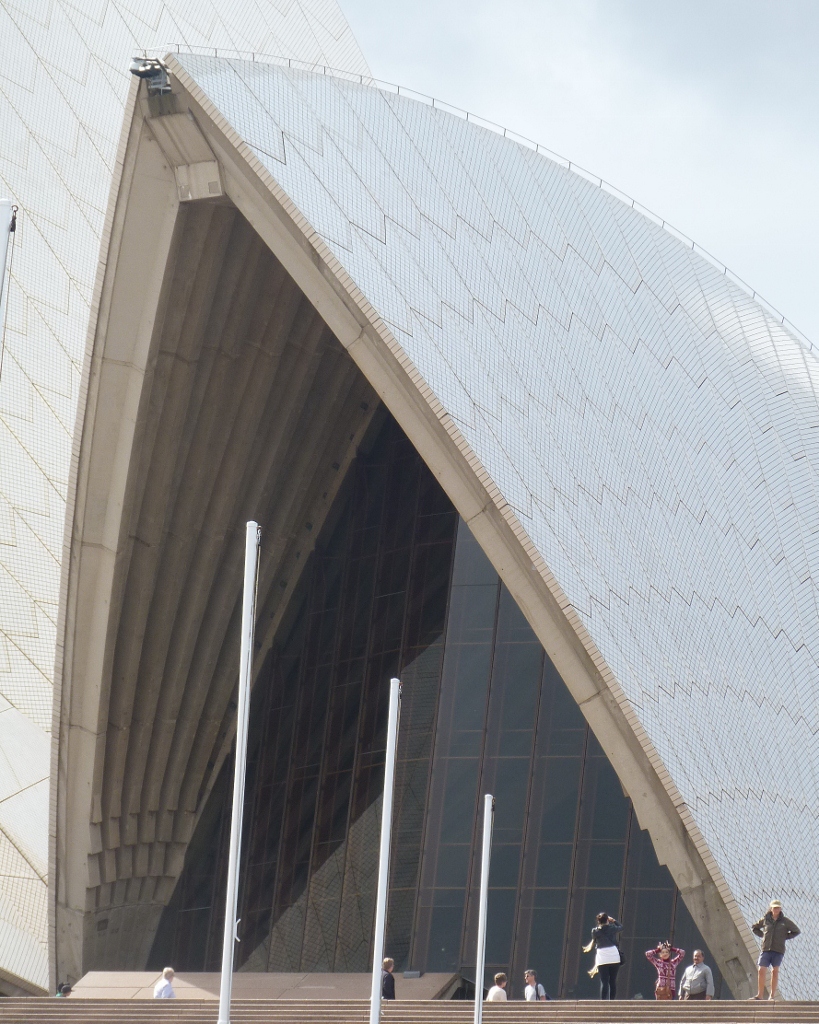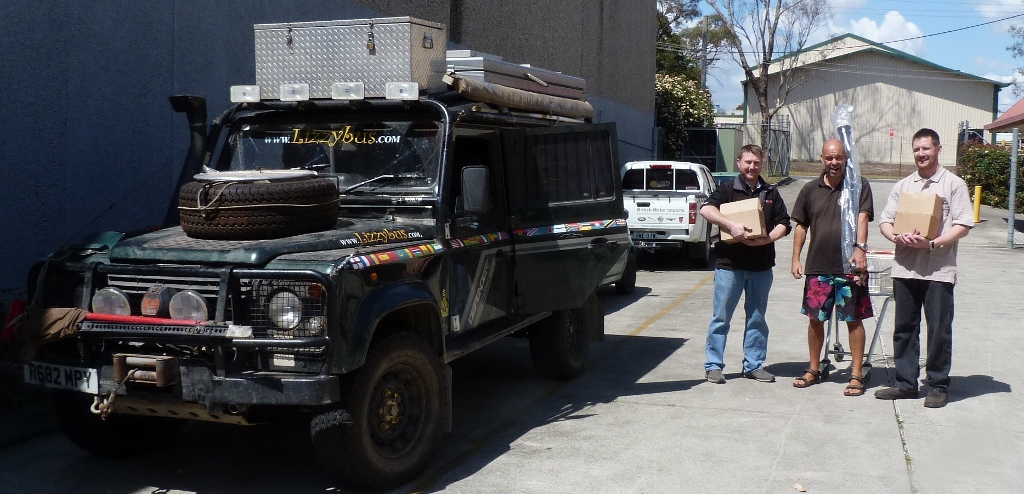 Early Christmas , all in stock...BMI great peeps thanks
Pimp my Ride?




So , would you pimp out the love of your life? .She can be a cantankerous old cow , moody , miserable , yet in an instance transport you to great heights of passion and wonder .The thing is that we have found out that there is a Land Rover Expo on in Sydney (100k down the road) on Sunday 23rd Sept .A short mail to the organisers and we have been given a stand to exhibit her in all her glory and grime.

Maxtrax ( Sand ladders) are willing to give us , for free, a set of their superb plastic sand ladders . So is it sponsorship ( a claim we hold highly) , but it is good kit , are we prostituting Lizzybus .Or is it common sense as we would have bought a set anyway .Who knows and probably who cares , Lizzybus will get on with it and , as always hold centre stage , holding everyone's attention for better or worse .Right , what else can I blag ,mmmmm new battery , suspension , new tyres , a recon prop shaft , the list just goes on and on. Will let you know how we fared.
Sarf Alice

Bearings checked out and another couple of nights of camping in Alice , time to head south down the Old Ghan Railway line to Finke and cut across the Simpson via the French Line .Not a bad idea but as always Lizzybus can chuck her teddy out the pram and protest. Perhaps the best time wasn't as we bowled up to a closed gate only to find we had no brakes .As we where on a piste rd she pulled up short (thank god).The rear brake pipe had sheared at a union .No option than to drive 100k back to Alice and effect repairs.
Not cheap this Australia country .With a new steel hose in place , a$130 lighter we again attempt the piste road to Finke. Bugger , more noise from the front and Lizzybus has dropped the heavy duty track rod guard by vibrating all the bolts out.
So , no option , keep of the rough stuff ( a snatch in from this part of the world is in excess of a$2000 and we have been very lucky so far )
Back on the Stuart we decide to take the Oodnadatta track .Again it follows the Ghan Railway line but is a very good quality graded road .We detour via the "Centre of Australia" and come to understand the meaning of the word "Big Sky". Instead of heading South (as its getting a little cold) we decide to cut across to the East Coast along the Barrier Highway and the spectacular New England region and the Waterfalls Route.Quite breathtaking despite night time temperatures dropping to a bone chilling -4.We are slowly running out of time and will need to make the turn back to Freo shortly so our dream of visiting Tazzie and Queensland will have to be put on hold!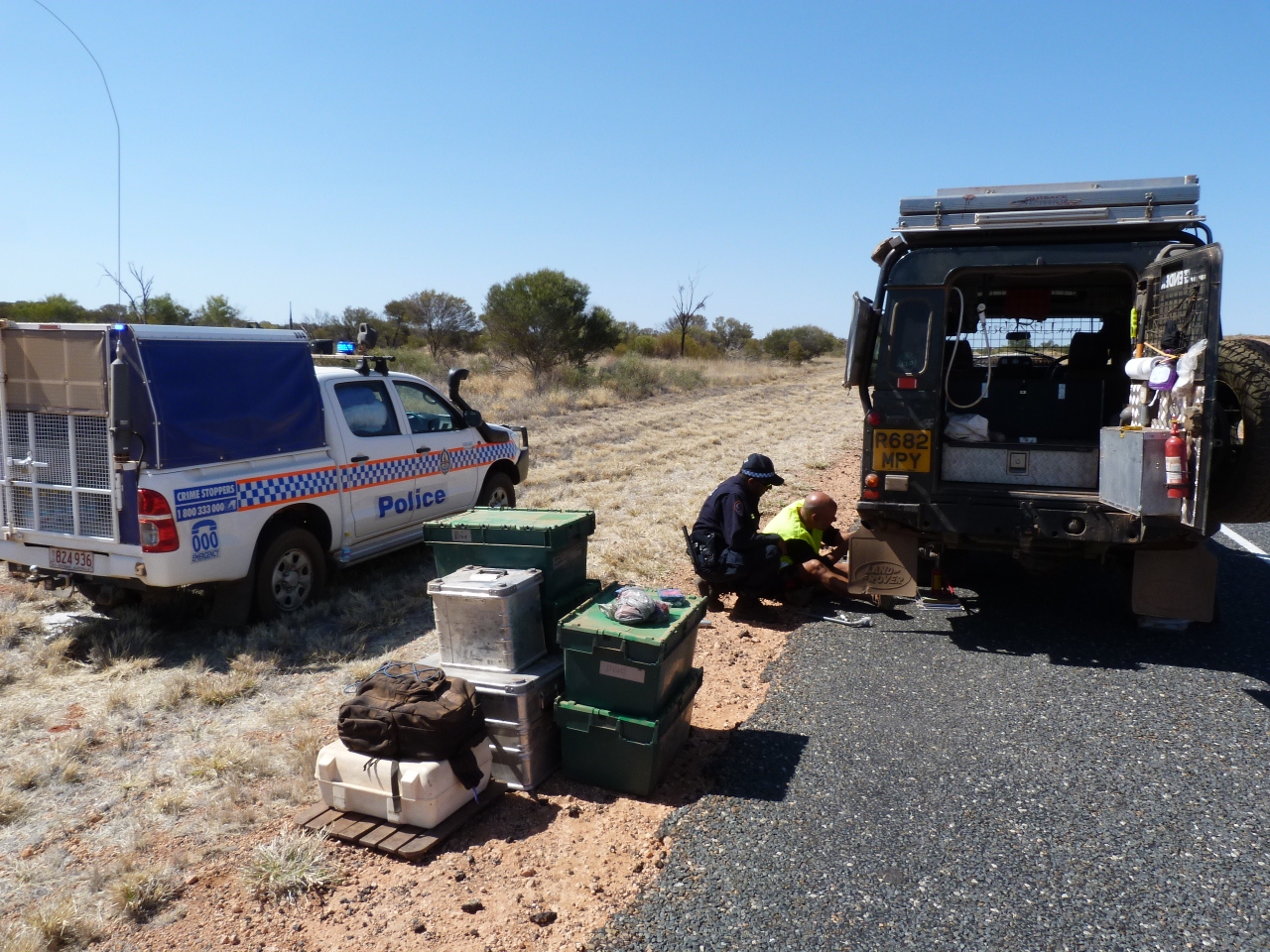 Even roped the police in for some help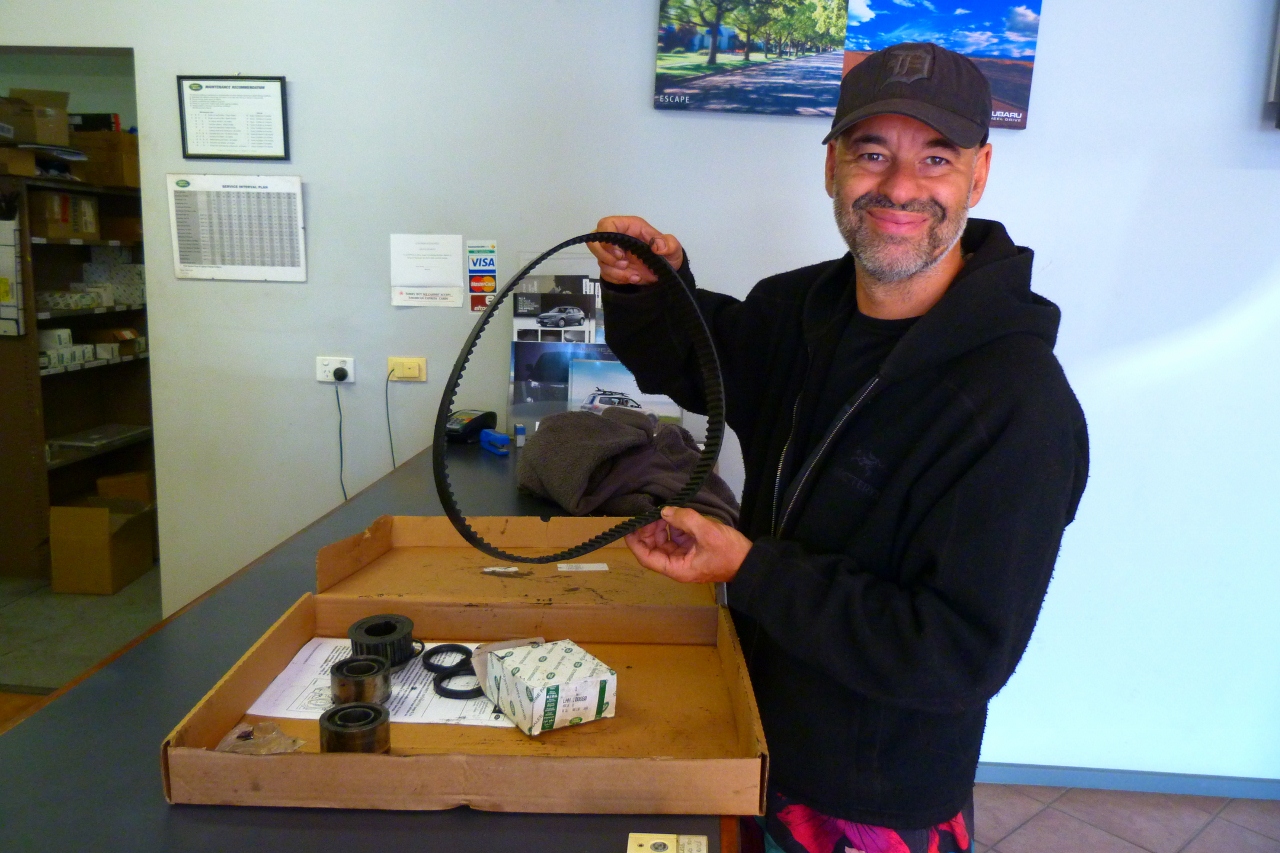 The old worn out bits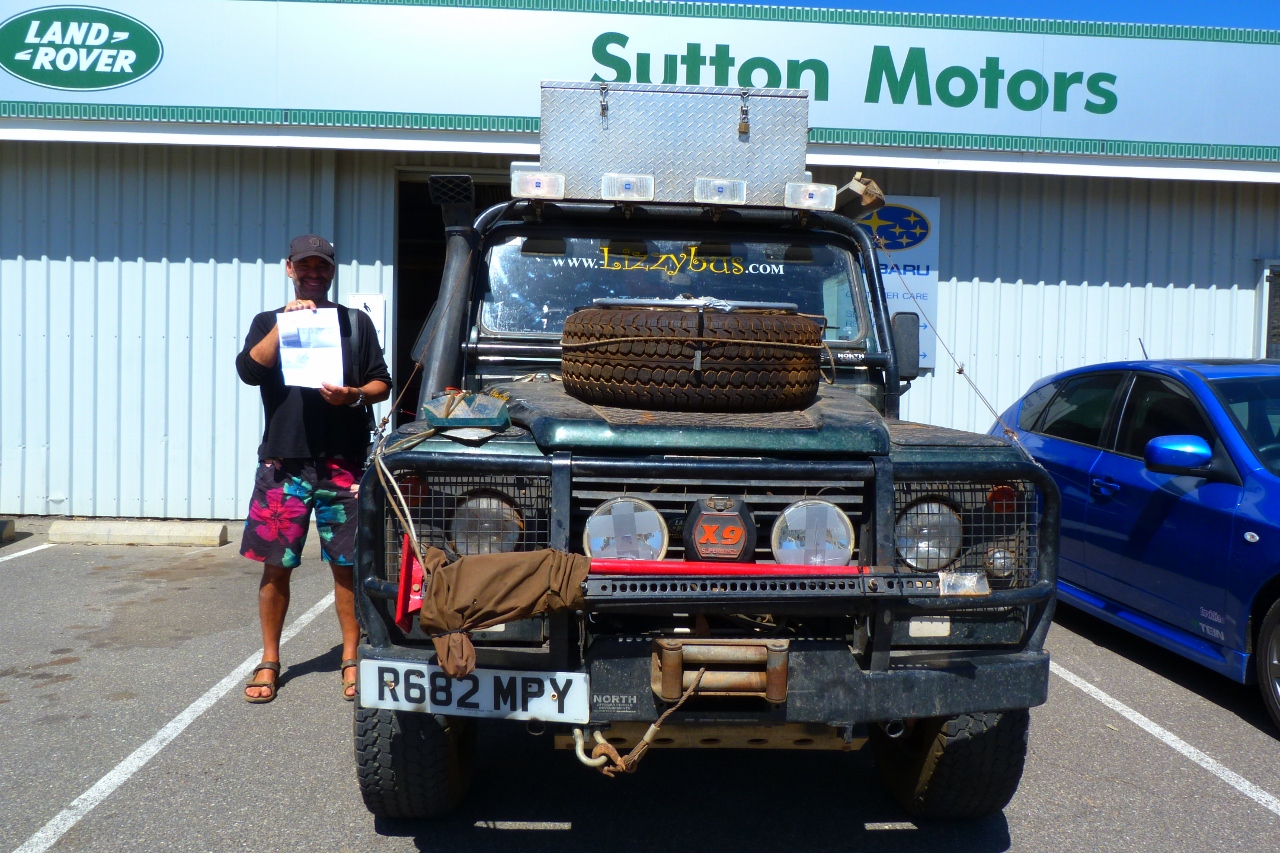 Satisfied customer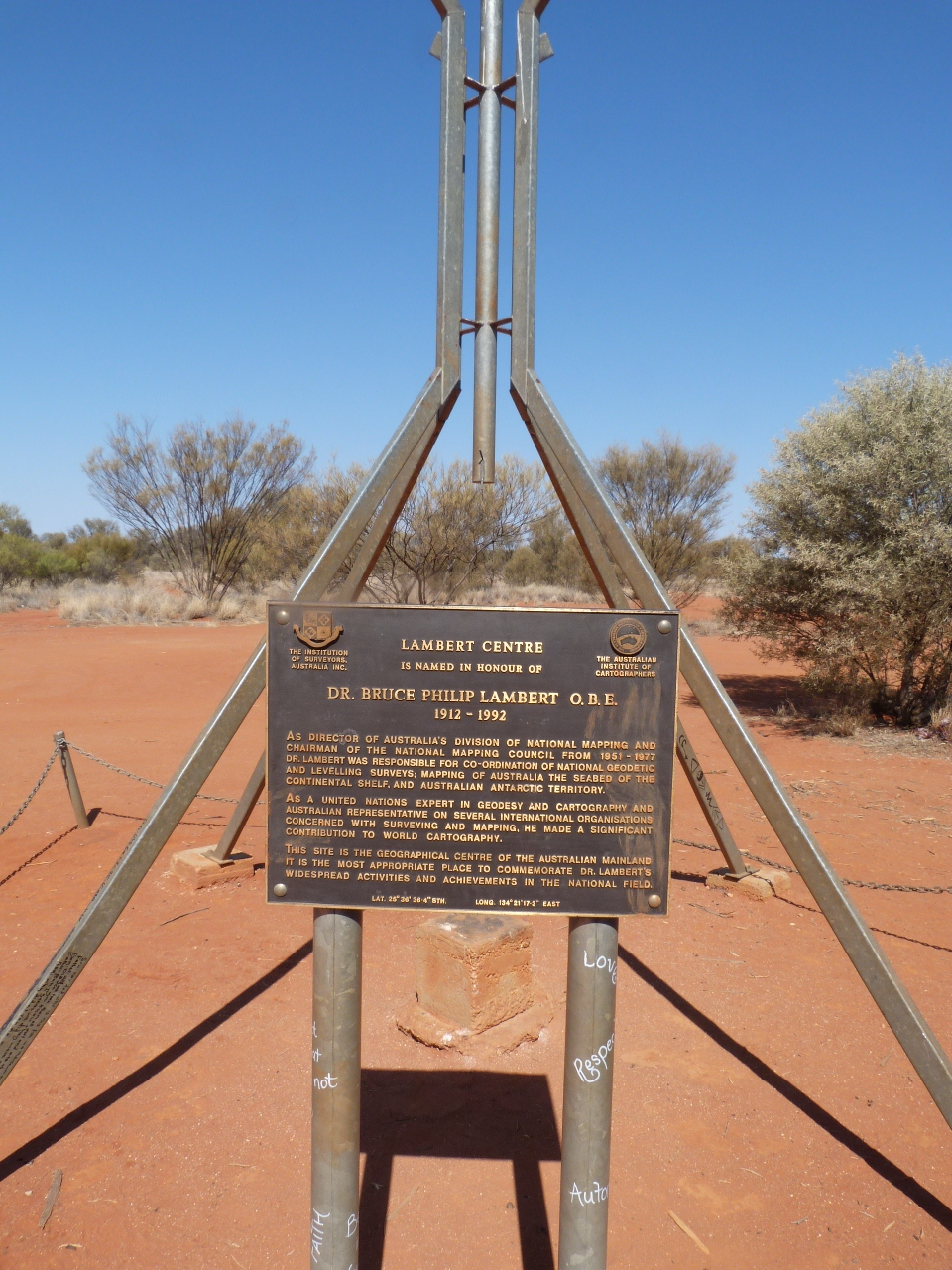 Centre of Australia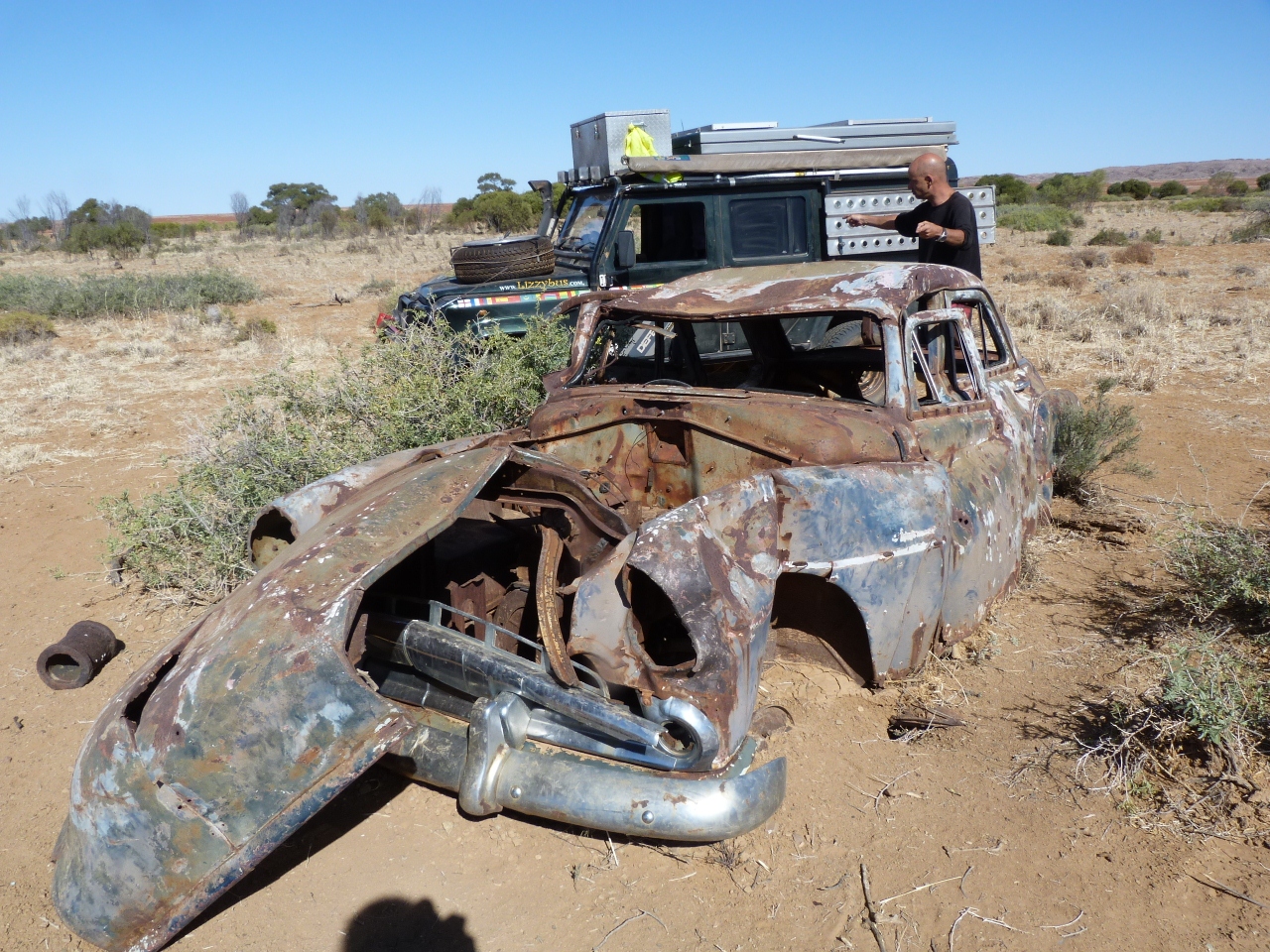 "This is what will happen if you break down again"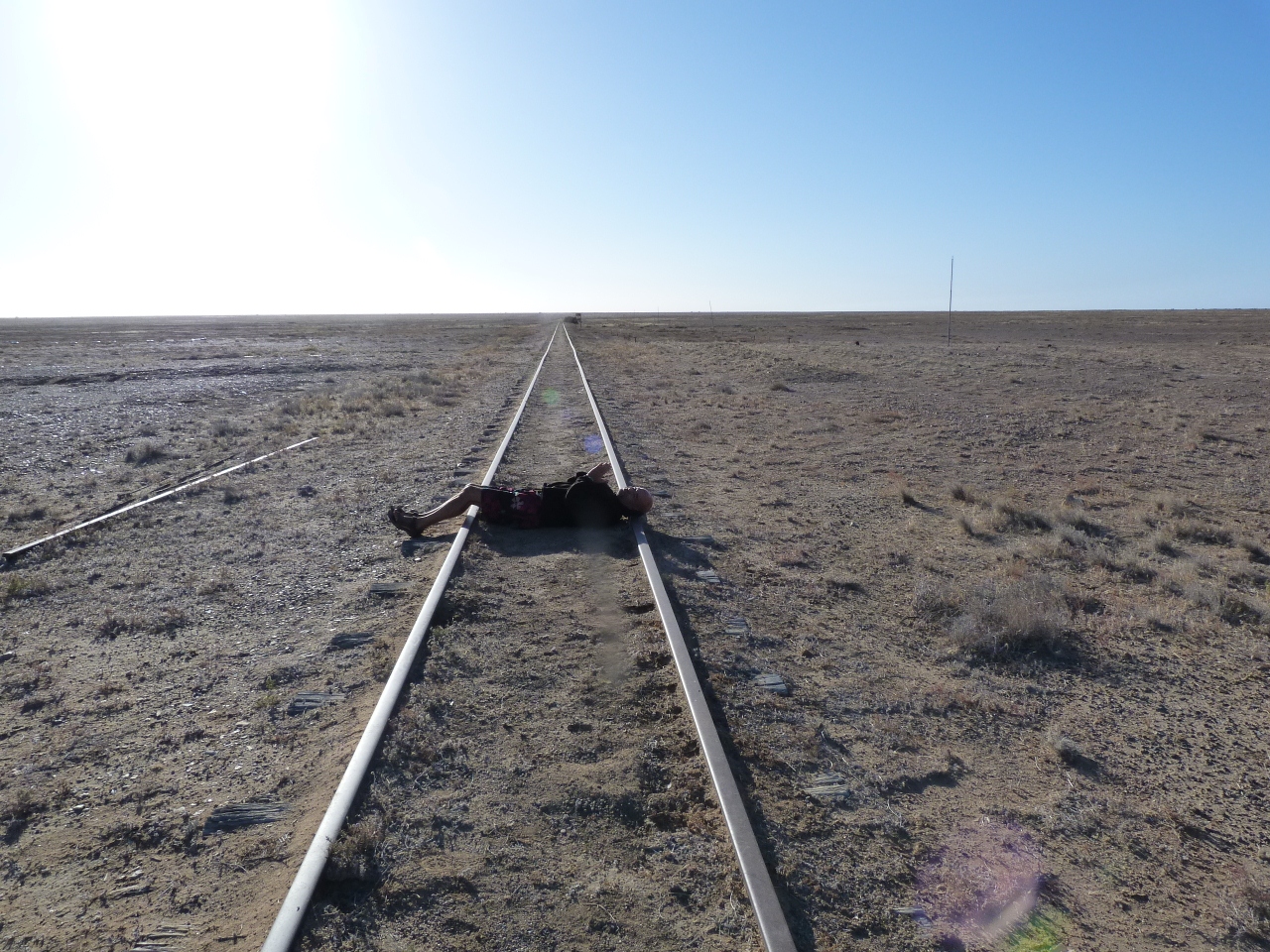 After the last breakdown ,decided to end it all, except the train was built by Land Rover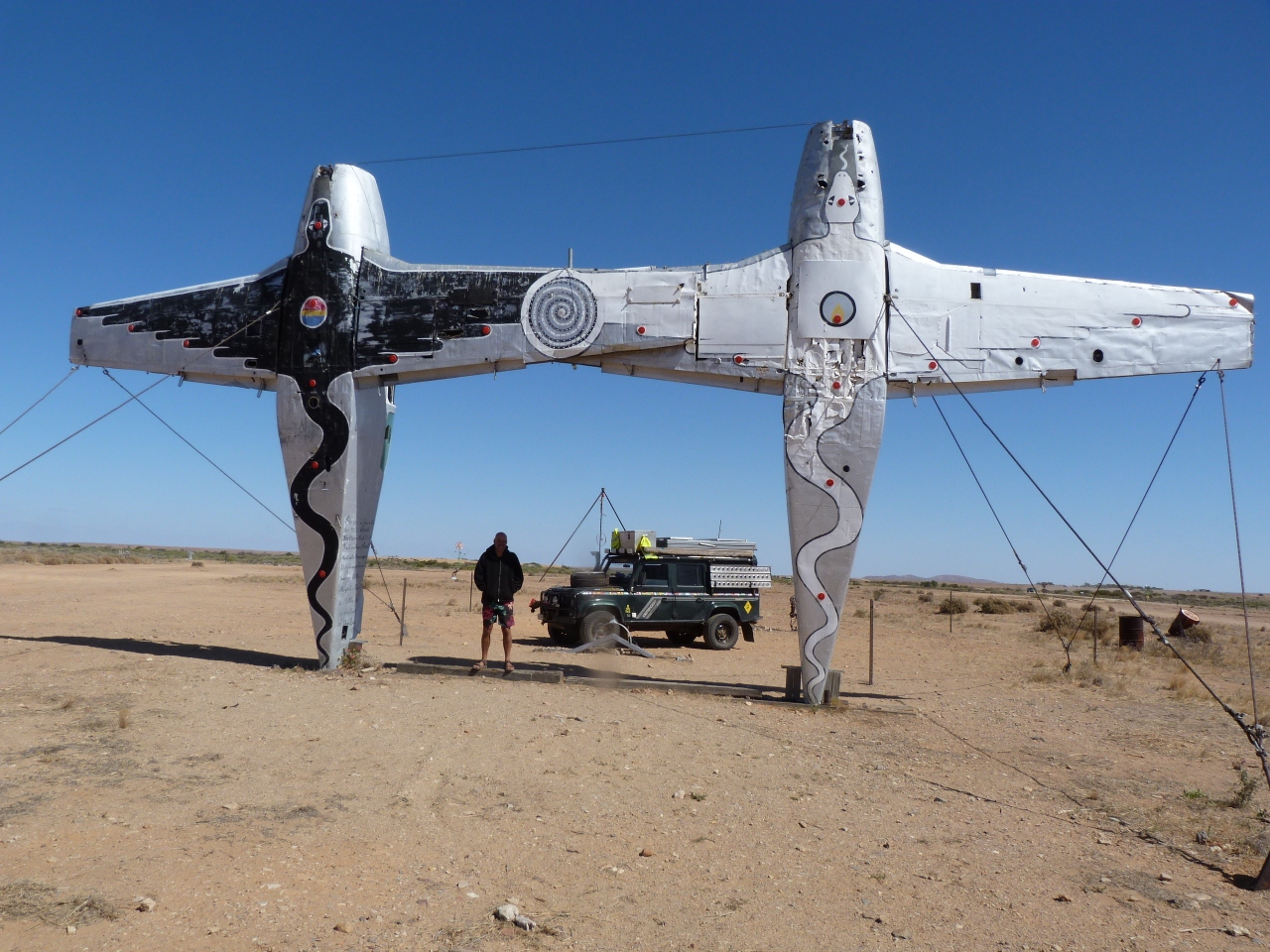 Planehenge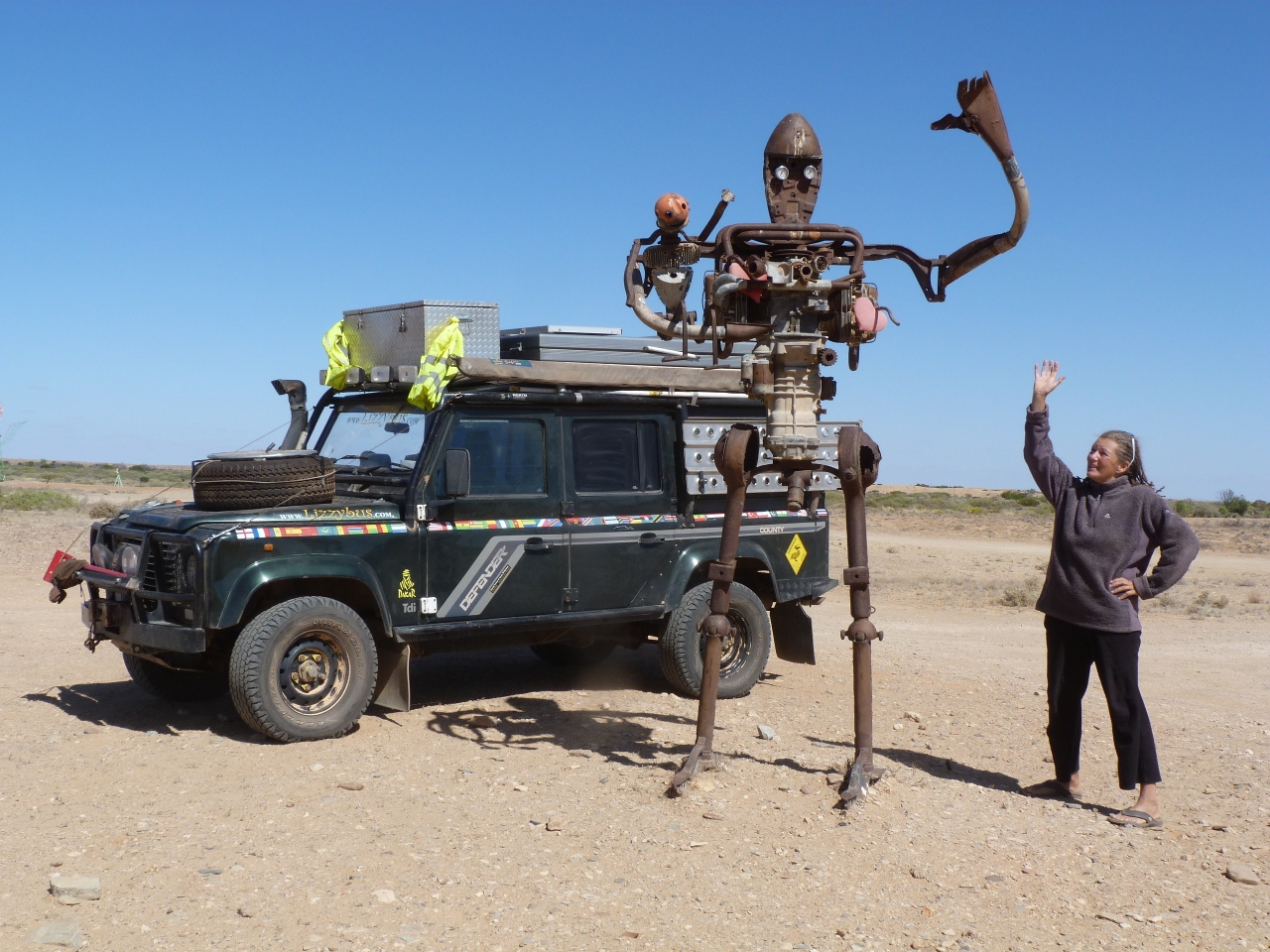 Planehenge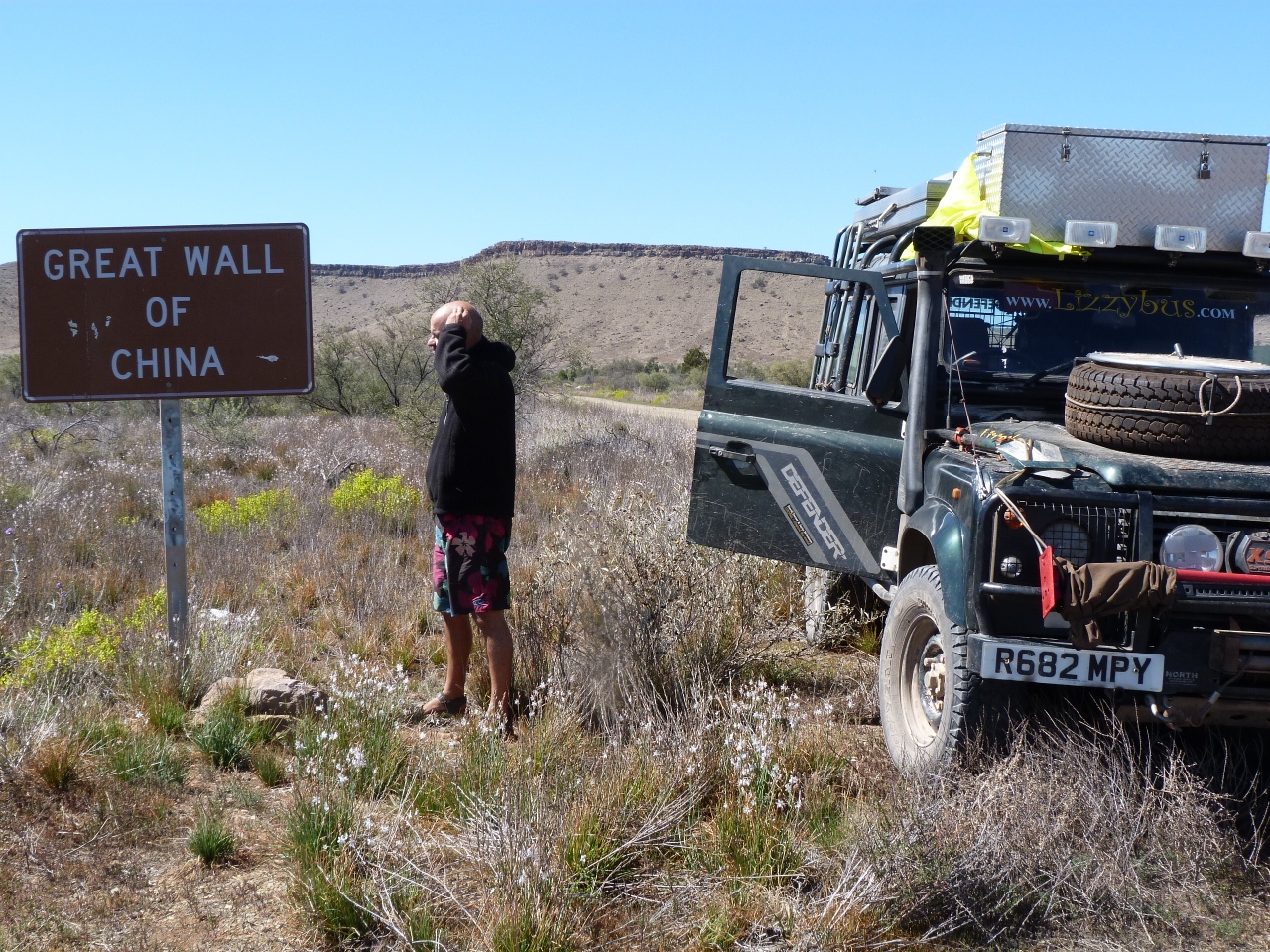 Lost again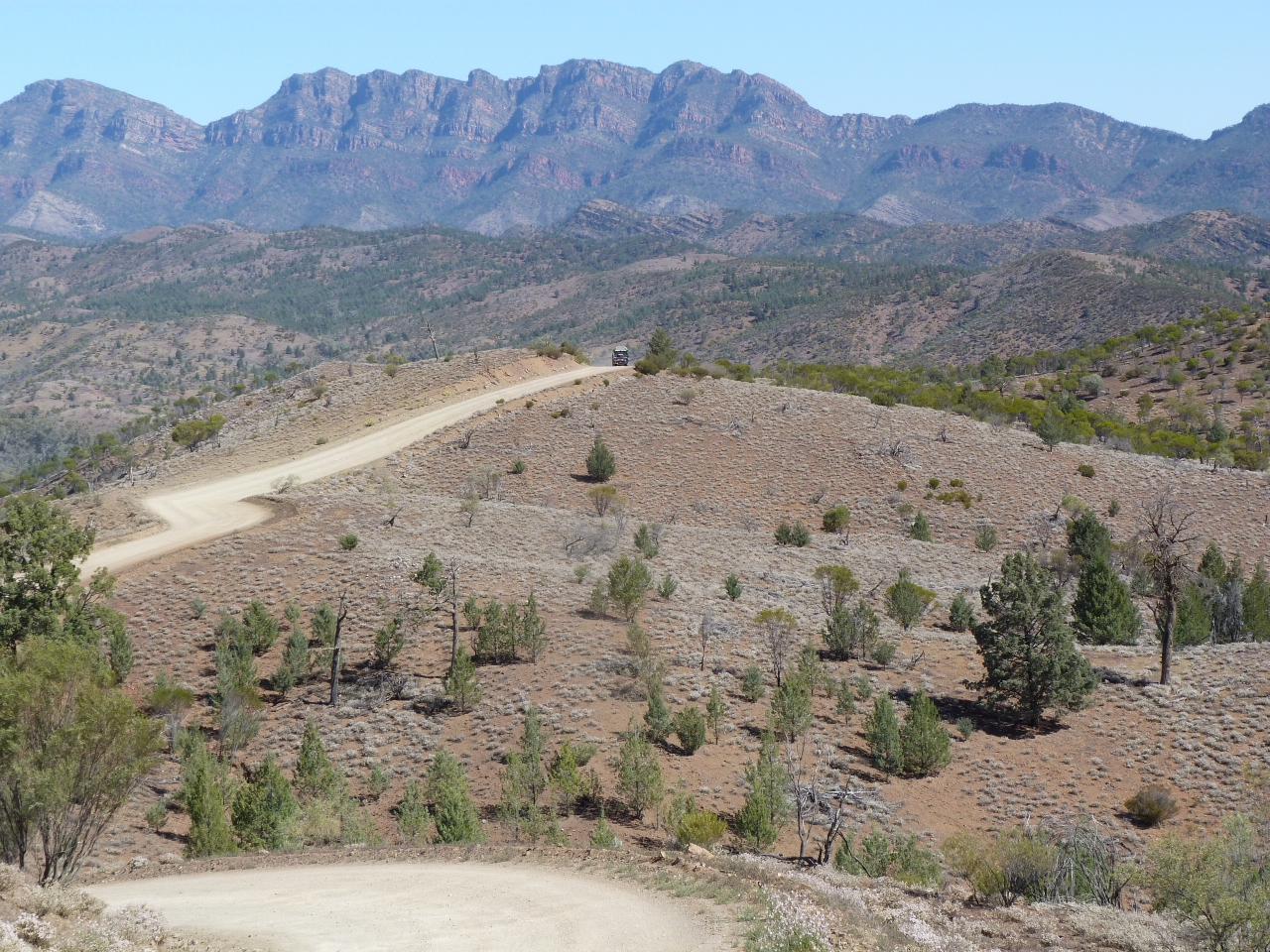 Flinders Range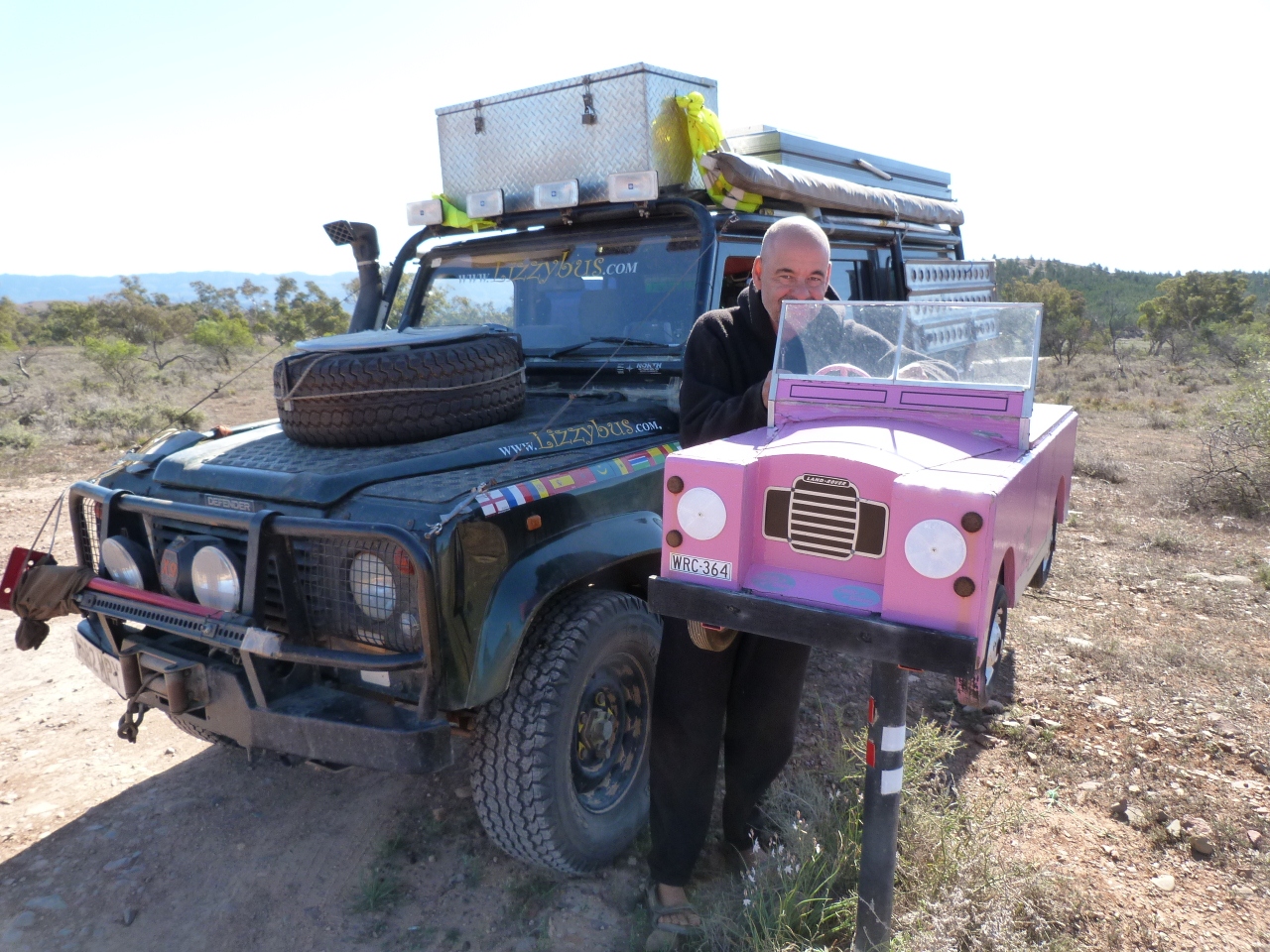 Time to test drive the Lizzybus replacement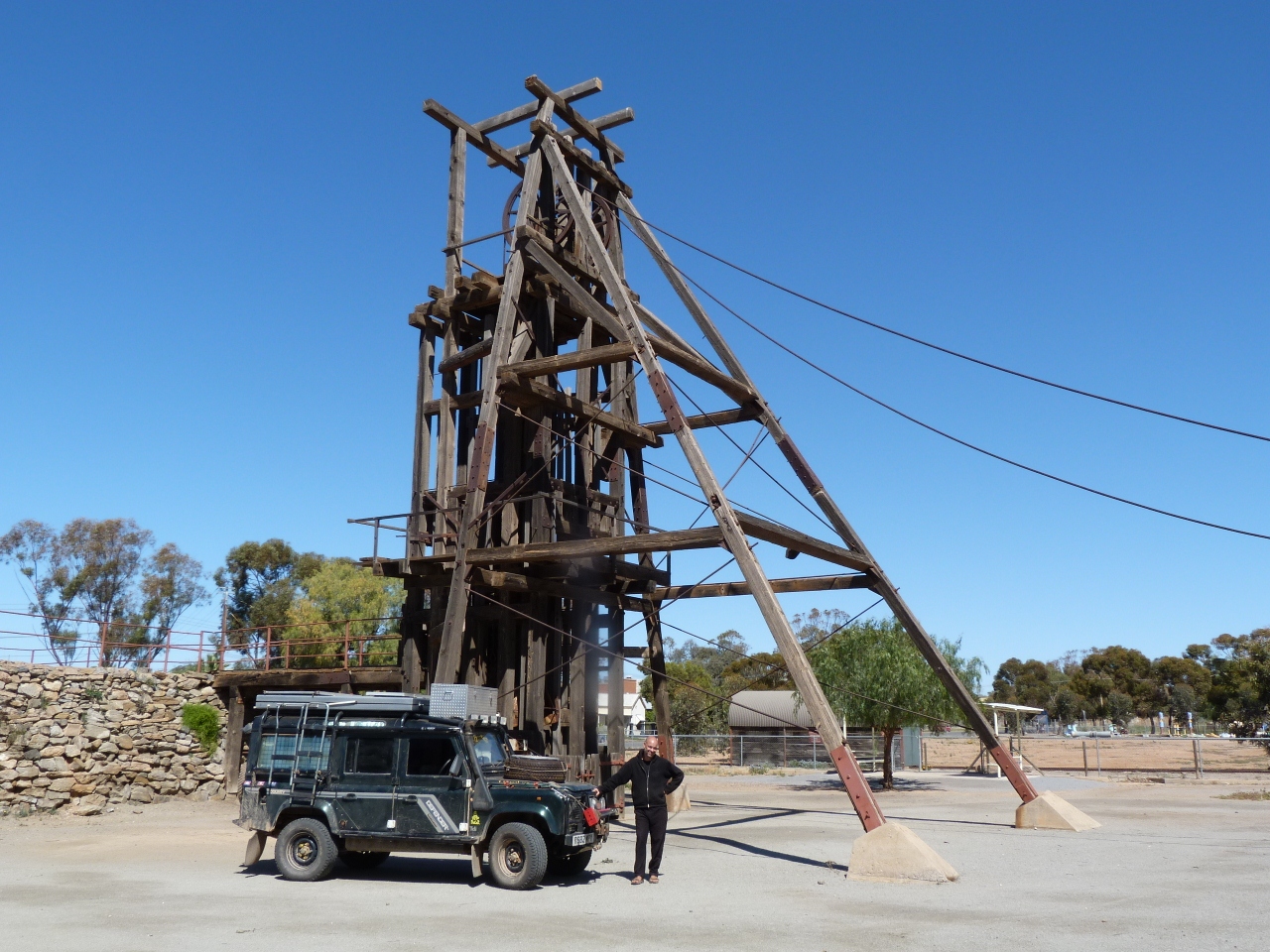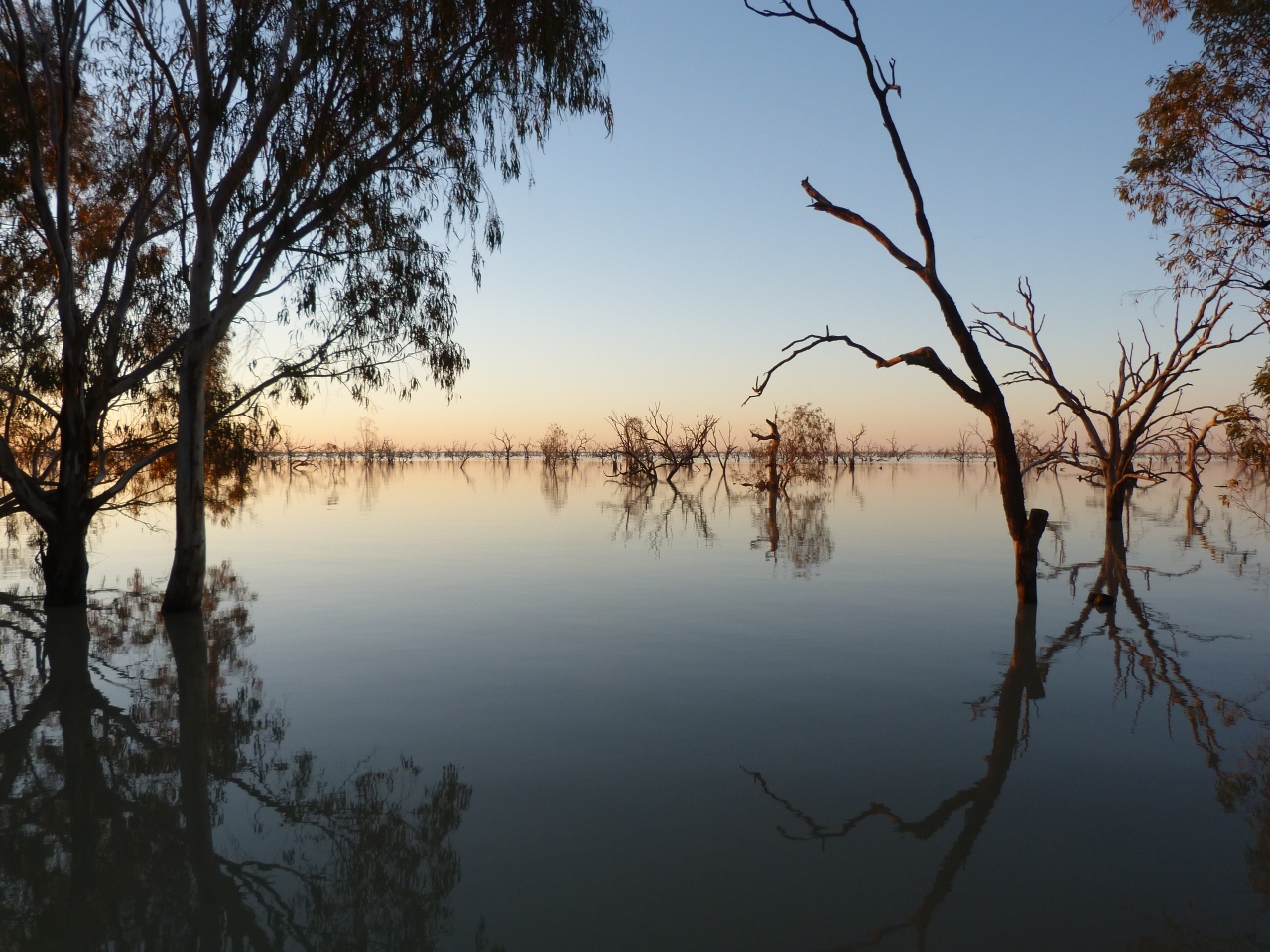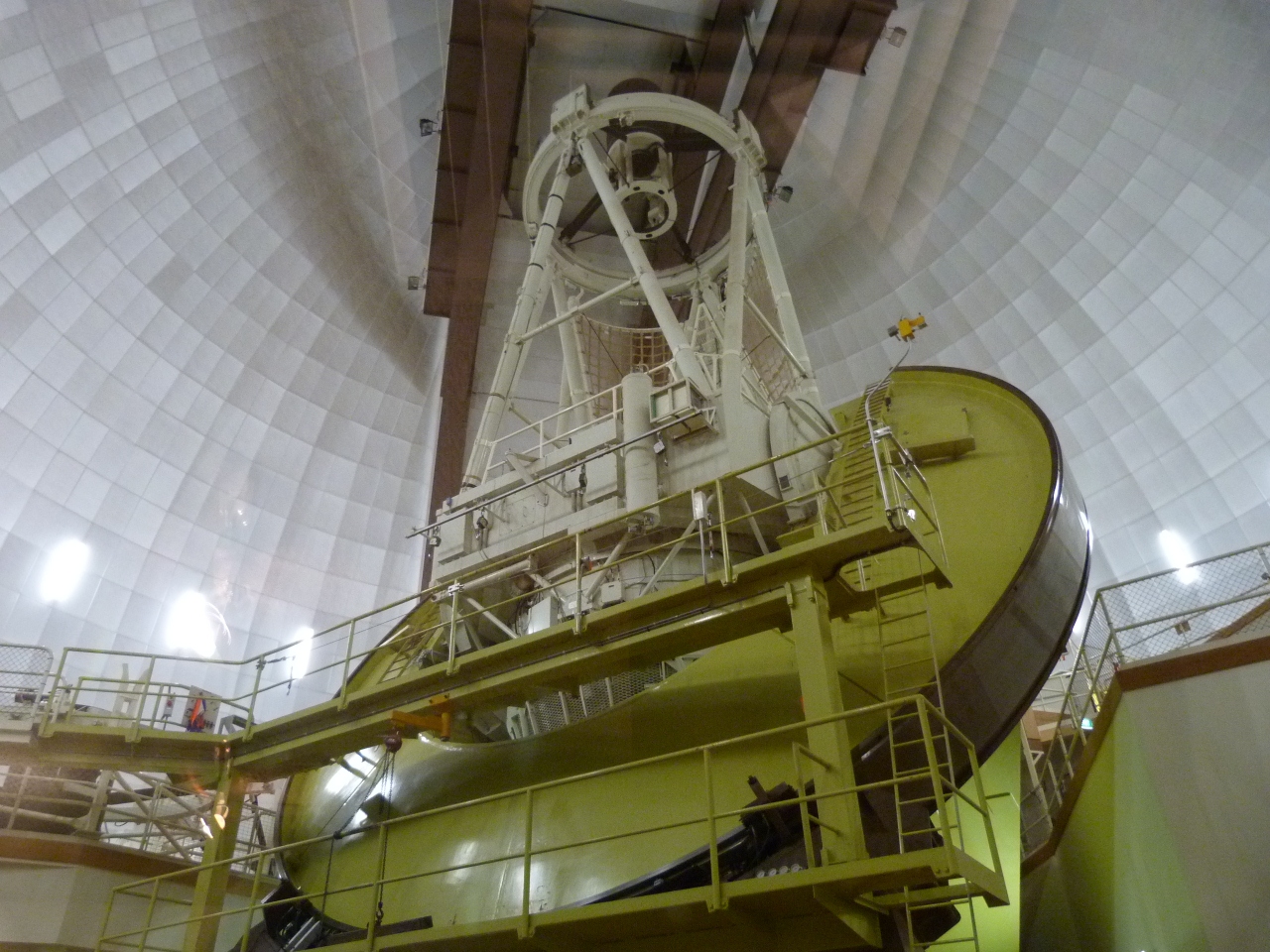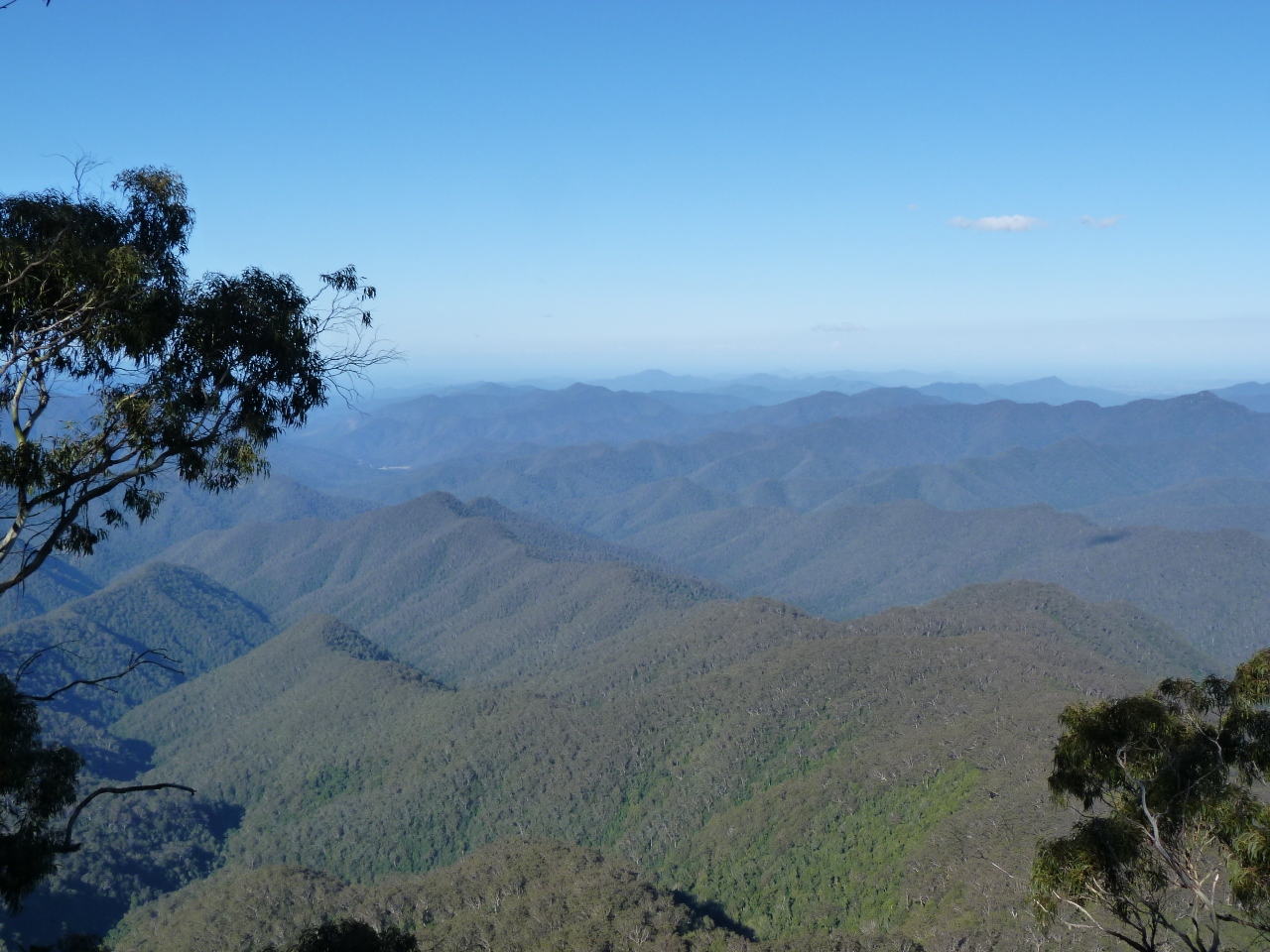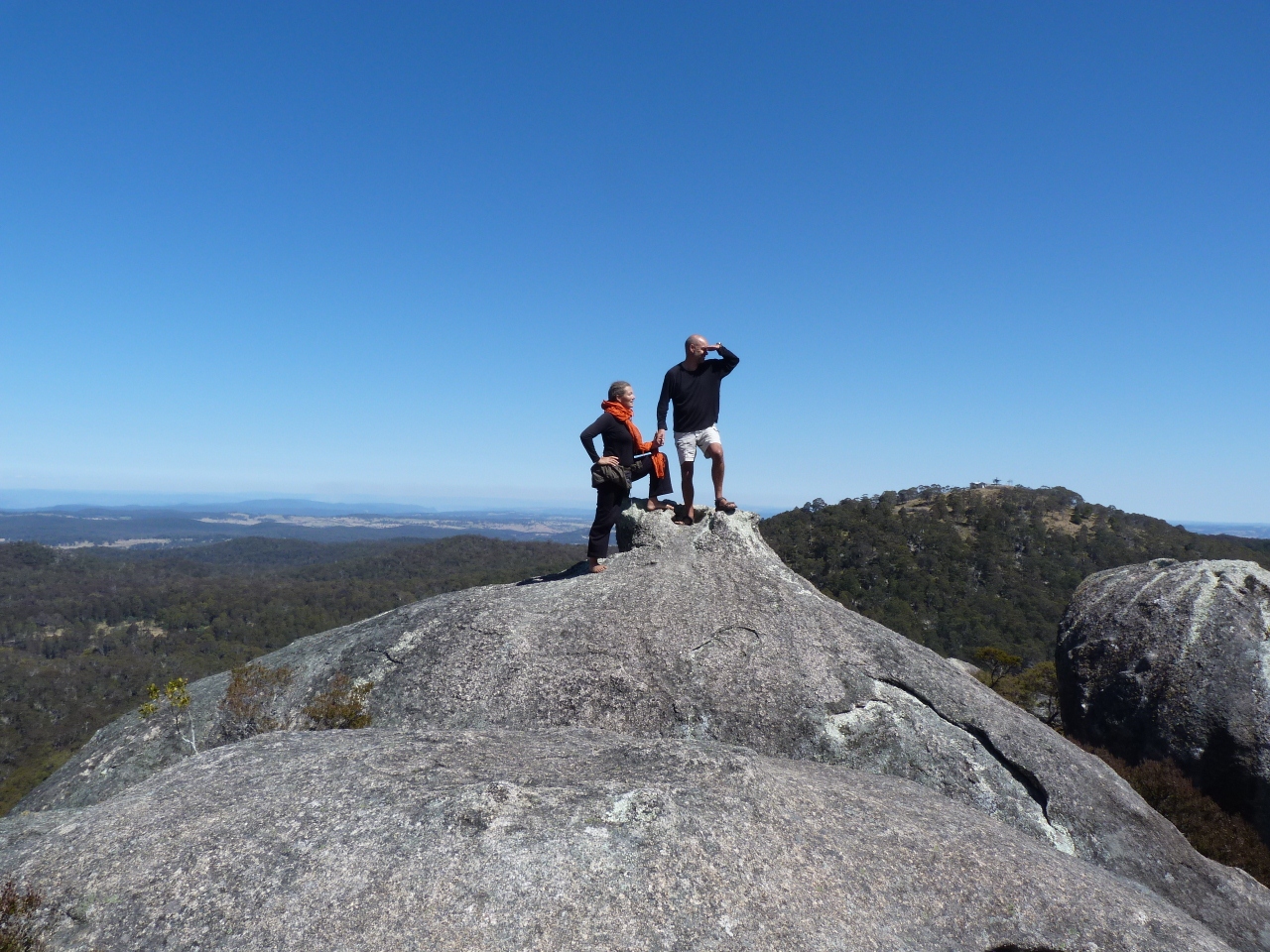 Cathedral rocks
A Town called Alice (or Aleche if you're an Italian)
Onwards took us via the Litchfield National park to the Northern extremity of Darwin .A nice city in a typical Australian pattern.
We wont dawdle but press on down the Stuart Highway to Adelaide , about 4500km away .Its becoming apparent that 2 months wont even scratch the surface so we decide (I'm sad to say) to ship directly to South America and will visit NZ on our next journey .
Aleche was not what was said on the tin .Very relaxed , not the dust bowl we expected. We found a Land Rover dealer that came recommended as we need to change the timing belt .Land Rover handbook says every 72k miles , about what we have done , EXCEPT in harsh conditions every 36k miles , gulp , has the Lizzybus been in harsh conditions , we wonder?
Agreed date and its off to Ayres rock via the MacDonnell Ranges and Kings Canyon .Again no disappointments here , all met and exceeded expectations .No chance to climb the rock as the winds where too high so cruise back to Alice for the belt change.
We are both in tune with the Lizzybus sound. So when it begins to squeal from the back we stop and investigate ( as do the local police!) .Time to dig out the tools and change the now seized rear wheel bearing!!!!
Back in Alice , cam belt done by those wonderful chaps at Sutton Land rover and A$1200 , they even change all the oil seals just to make sure . Time to depart south and cross the Simpson Desert .
Trust us , we will [post some piccies when we find a Maccyd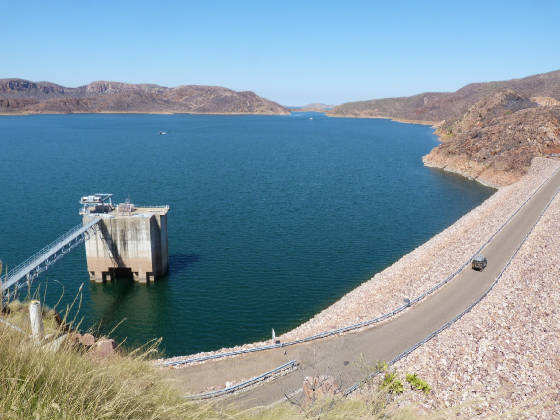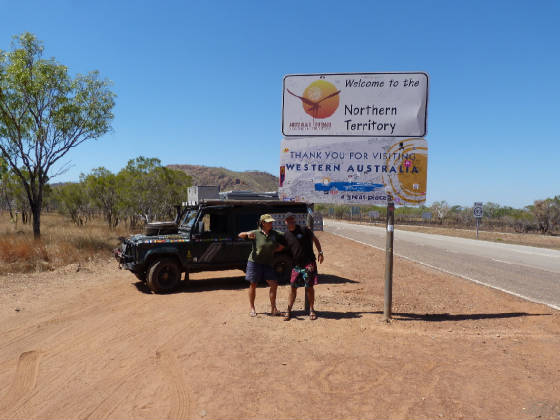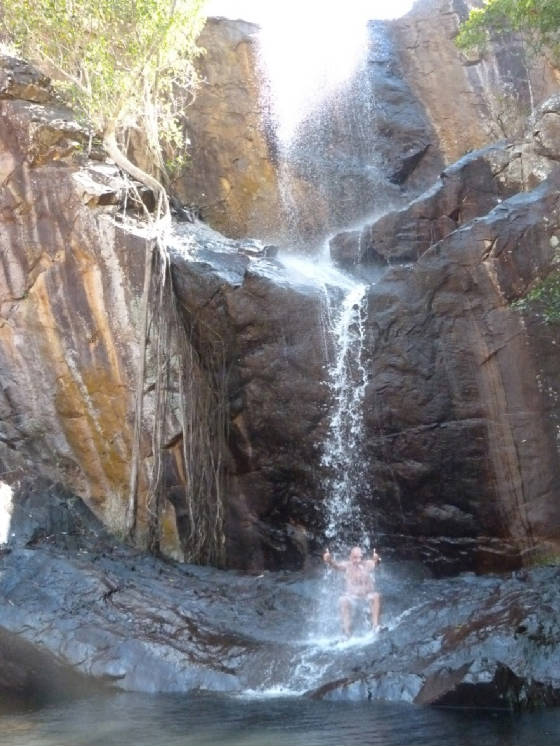 Timotei moment.Robyn Falls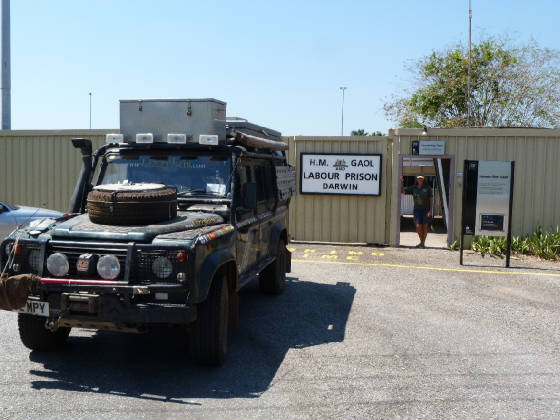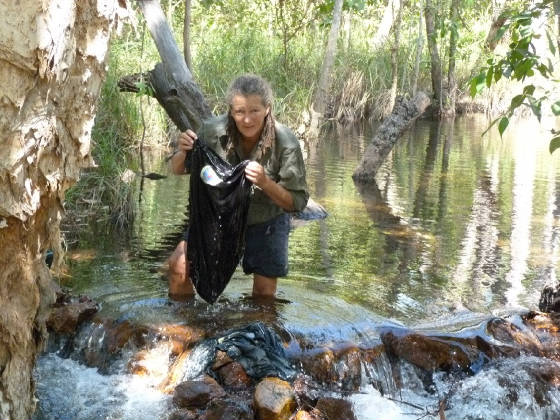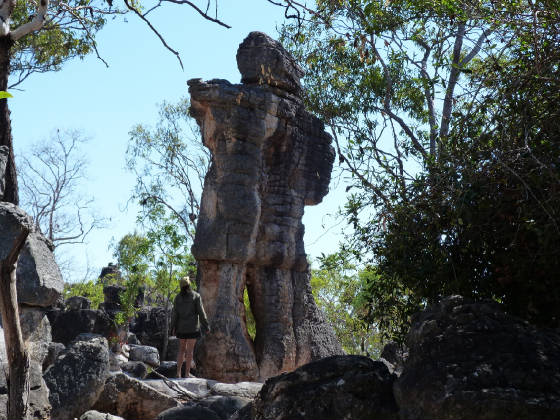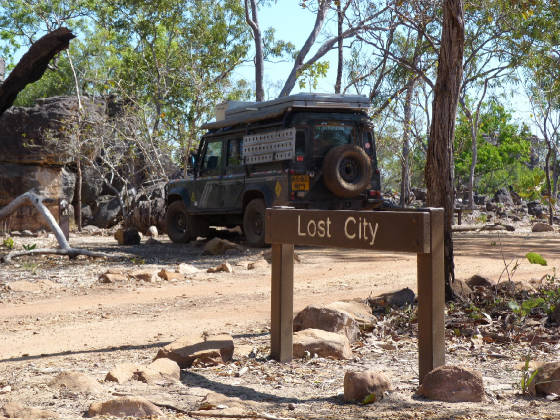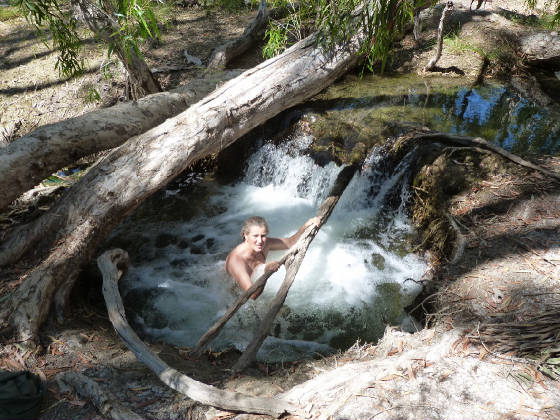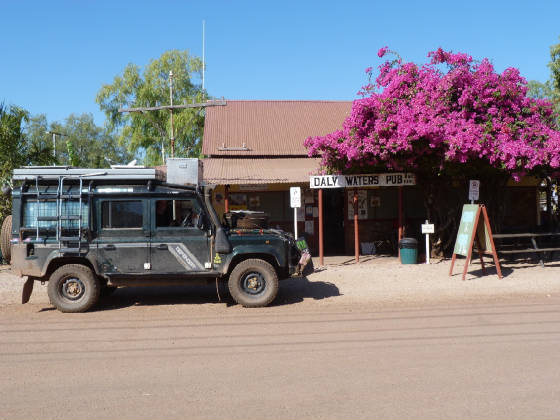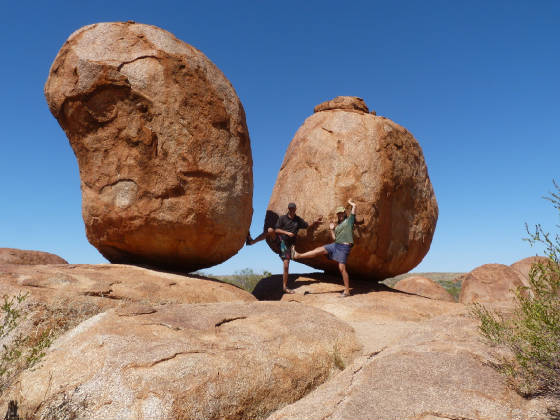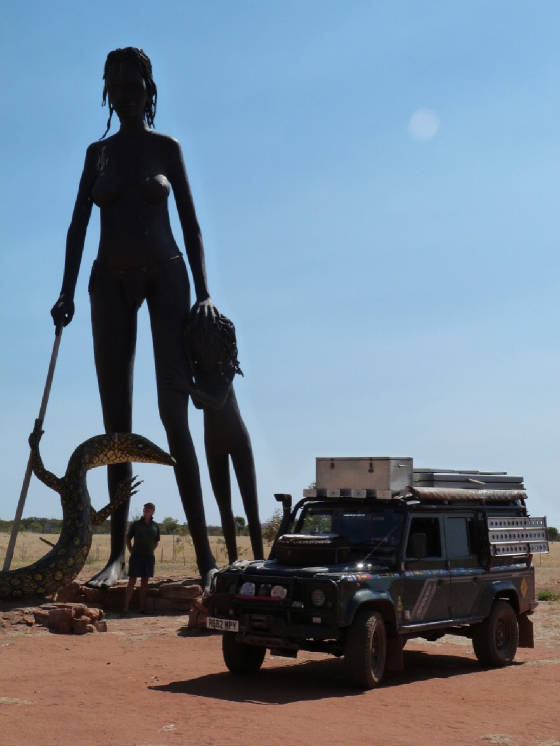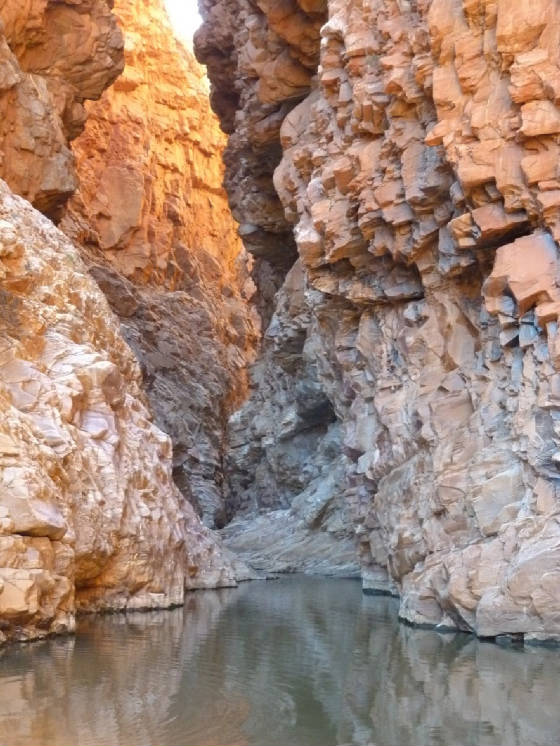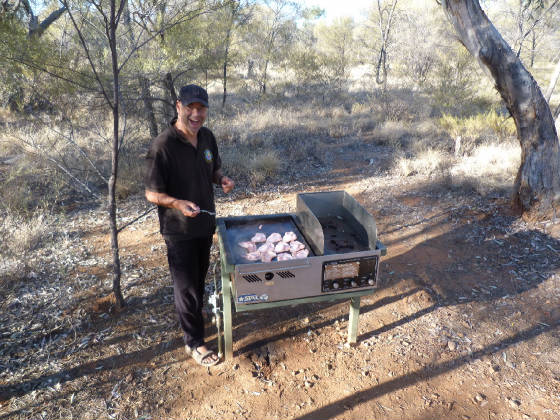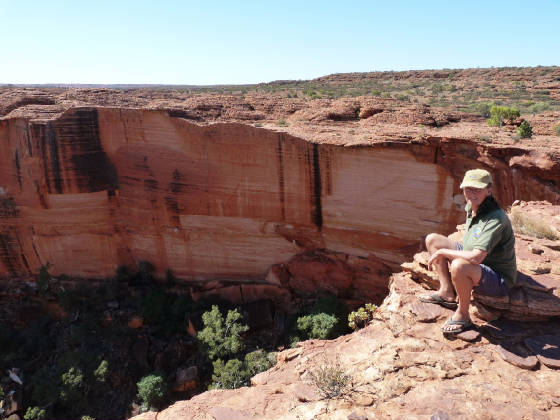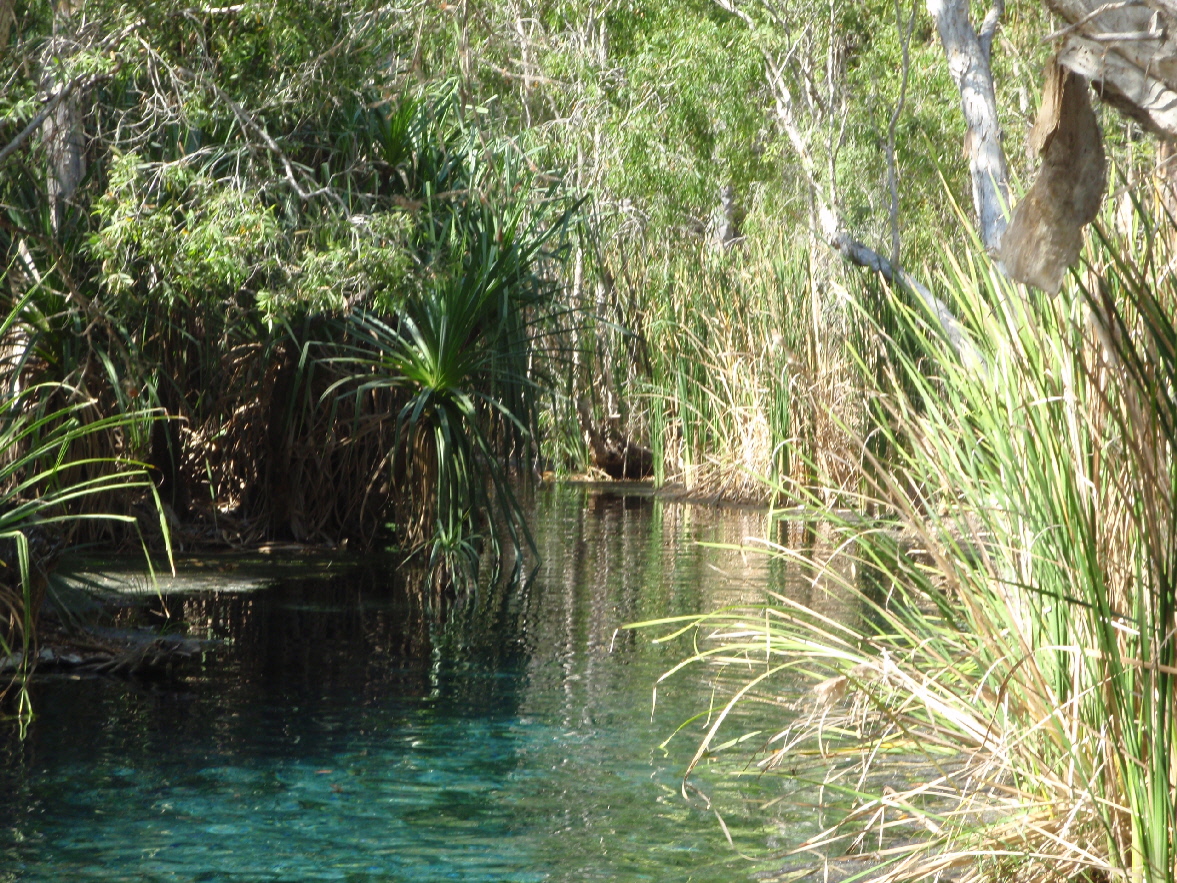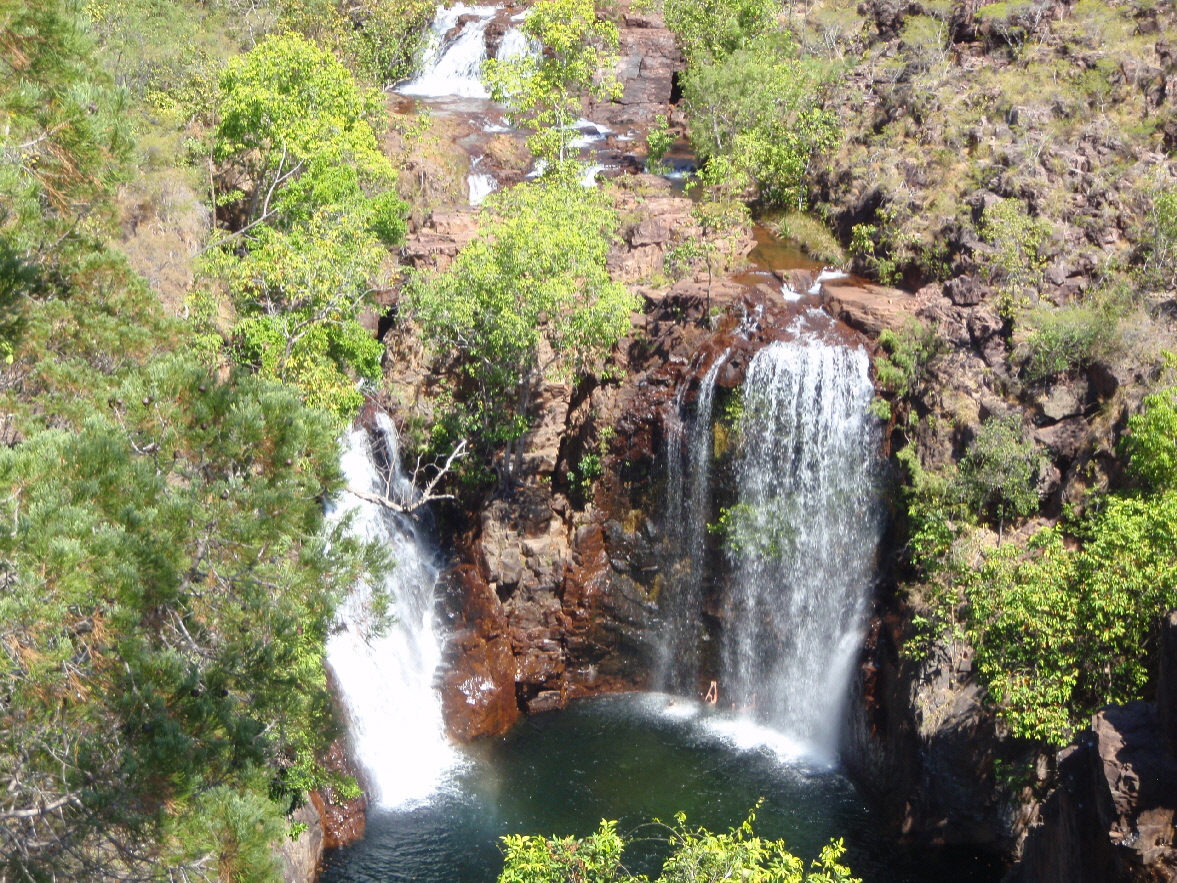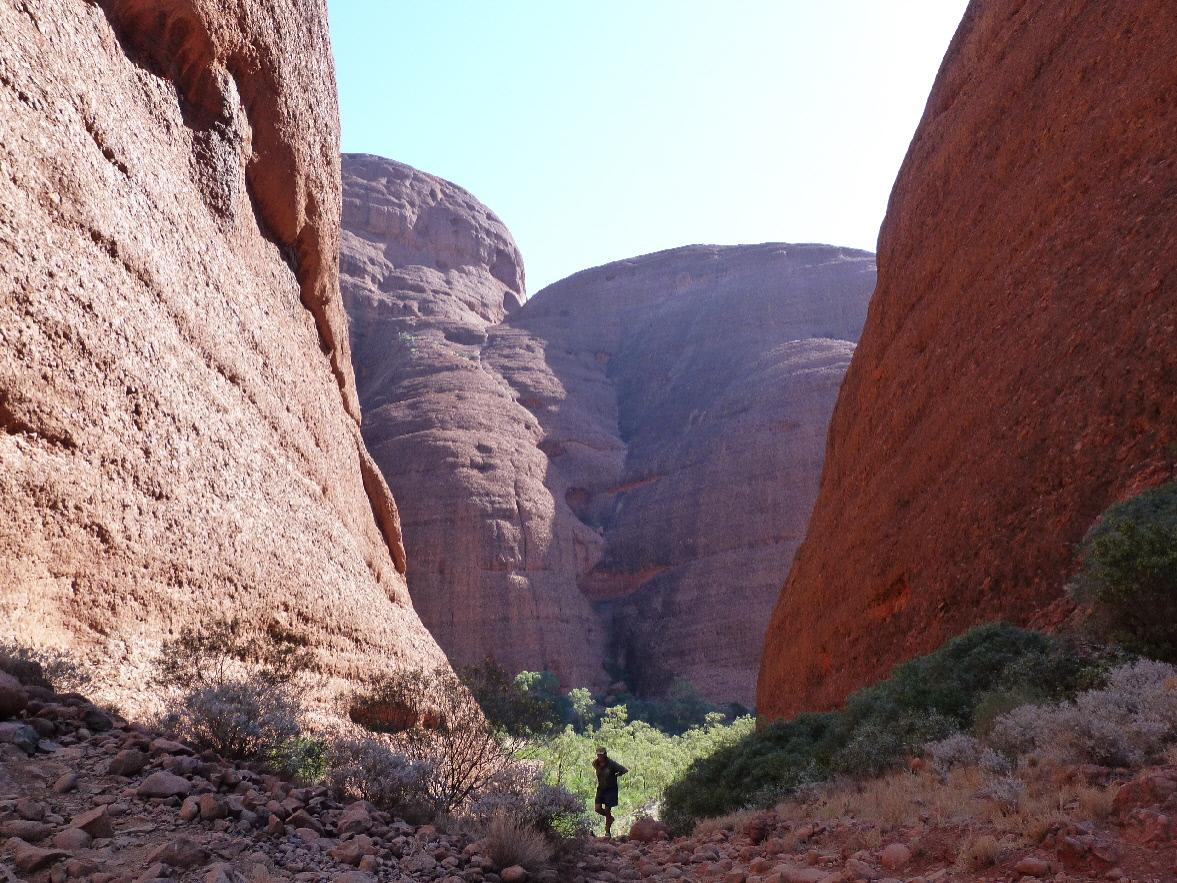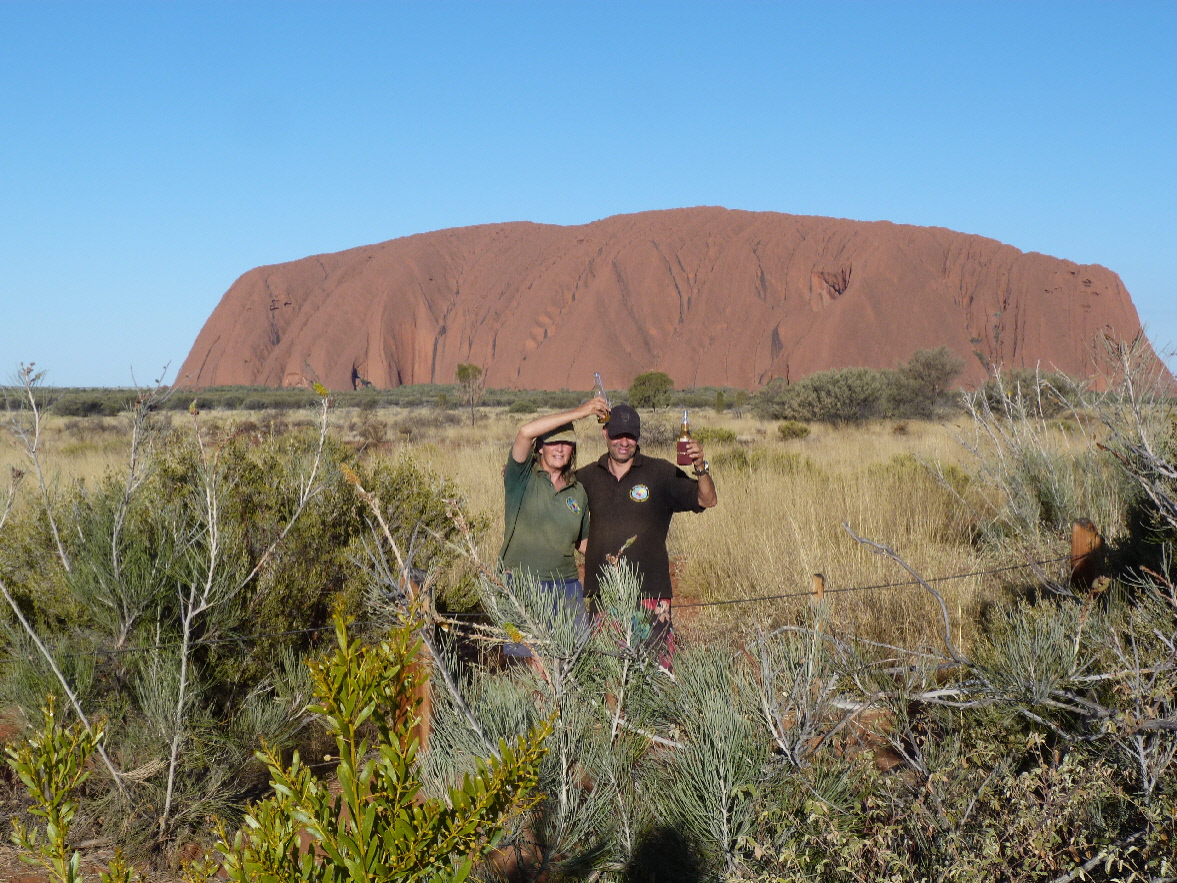 Riding the Jack Hammer


For those who have travelled Africa , survived the Moyale Road to Ethiopia you will understand what a dirt road can be like .Riding the Jackhammer and it doesn't stop for 600km.Dust enters every part of your life .We head along the Gibb River , enthused by our repairs and prayers for a safe journey .We visit Tunnel Gorge , Windjana , a sublime two days at Bell Gorge , Zebedee Hot Springs to name but a few. Truly a magnificent part of the journey .Crossing the Pentecostal river and its signs warning of "Salties". After five days we arrive at Kununnara , bush camping a few km outside of town.
Having been on the road now for almost three years "Minime", Jaynes Laptop gives up the ghost .Ah well its only money!,We explore the further reaches of the "Bungle Bungles" and their stunning rock formations before departing on towards Darwin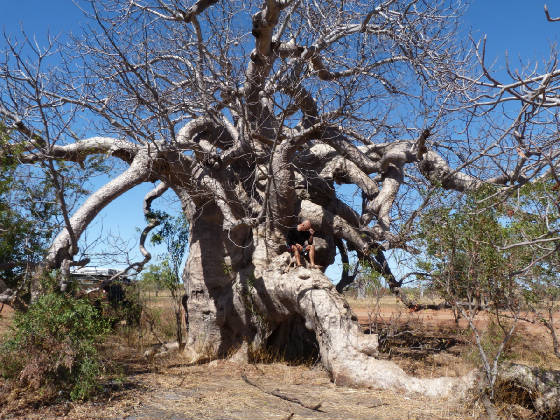 Boab Tree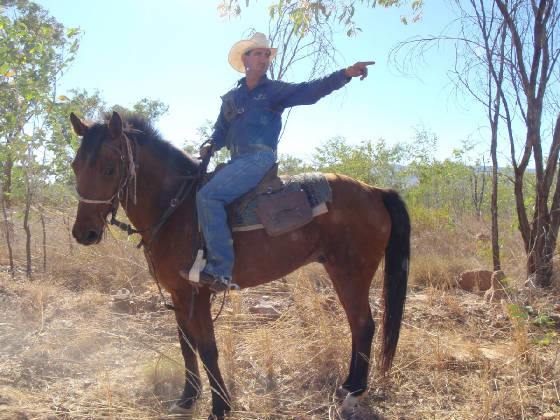 Jayne just loves the Cowboy life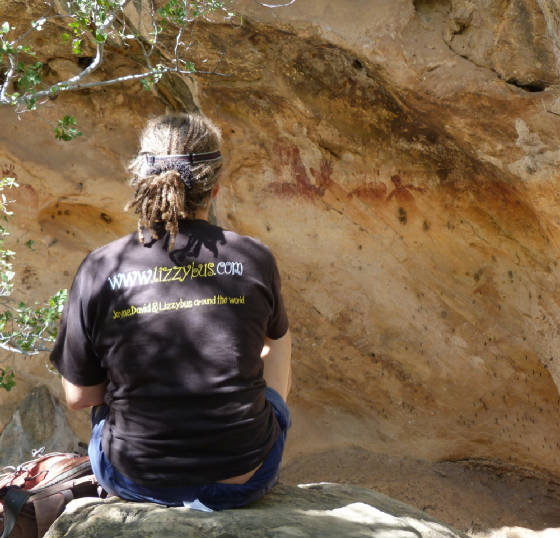 Aborigonal art , the last image, fat , bald and four fingers?Its Homer Simpson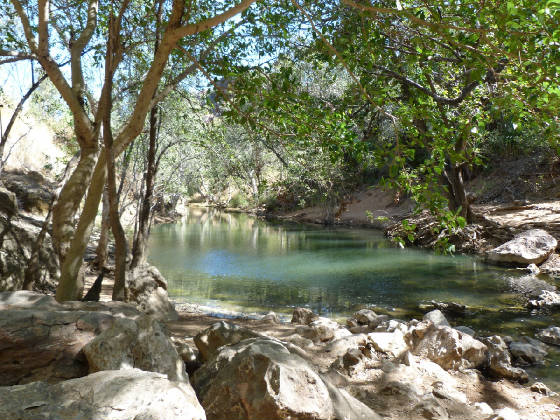 Tunnel Gorge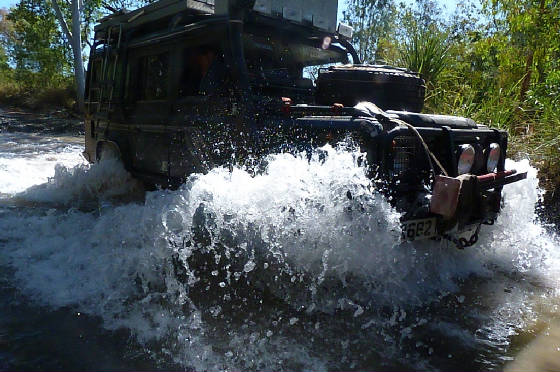 Getting Wet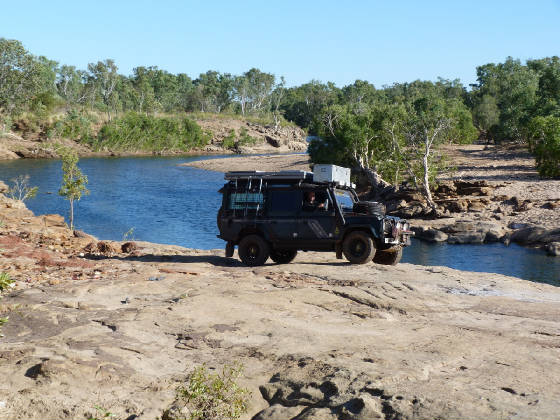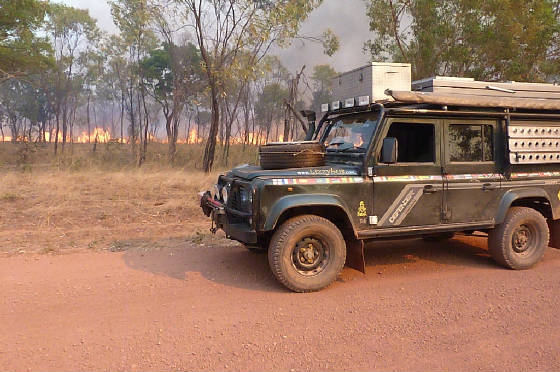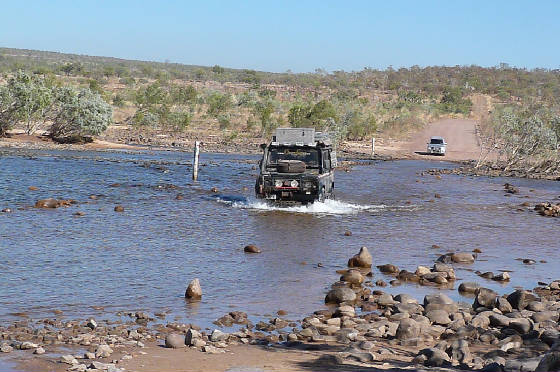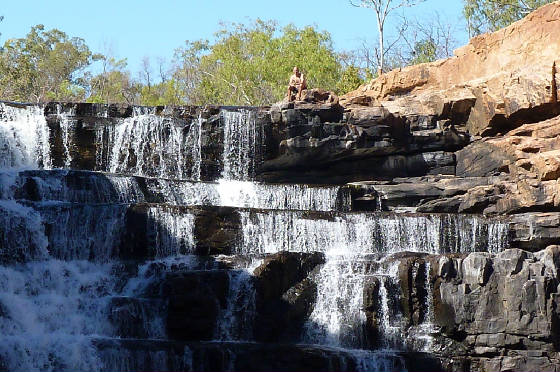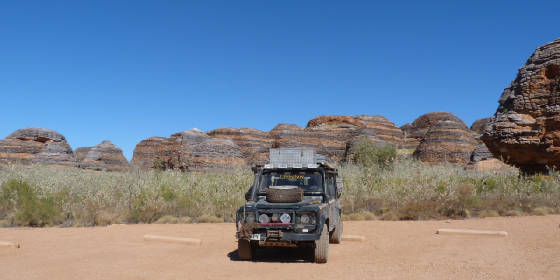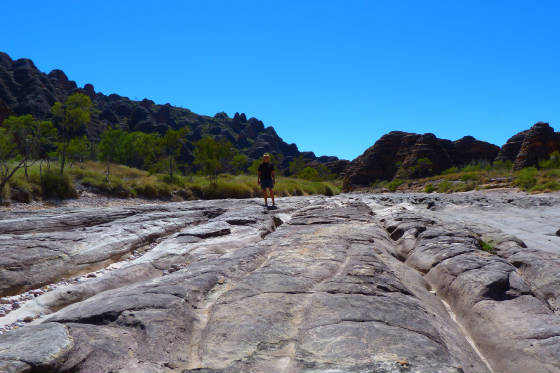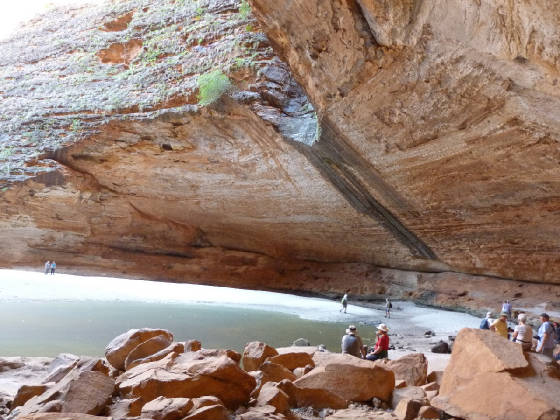 Campdrafting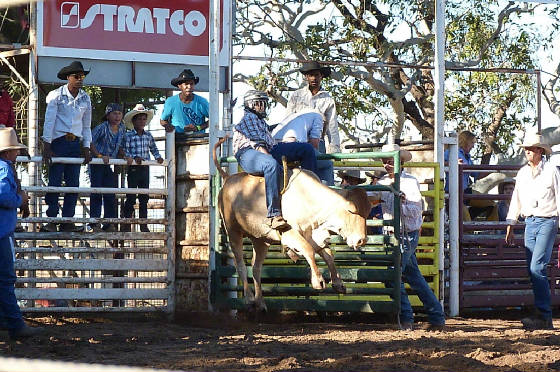 In God we trust!
We have anticipated about four days to do the Gibb .A dirt road , a relic of the stock roads from Derby to Wyndham (great to see recognisable names) a challenge , but hopefully a rewarding one as we carve our way through the Kimberly region. Fully stocked up now with fuel , beer and meat we leave on the Sunday .
The noise from the engine didn't bode too well , nor did the smell of burning electrics .Having pulled over to the side of the road no obvious problem was to be spotted .Would she start , would she Bu**ery .The starter slowly turned her over .First thought , was it the starter motor ? . But what to do ? Sunday in WA is a day of rest .It is also a church day and a parishioner of the local Baptist church , seeing our plight arranged for a tow to the church (oh the embarrassment of a tow from a Land Cruiser) and free reign to camp for as long as it takes. An auto elec is a $100 callout and he is duly summonsed. A few phone calls are made ,we are made welcome by the pastor , Paul who is very accommodating .Starter motor duly removed we drop it in to Derby Auto Electrics who having heard our tale of woe check the motor out and think it's the problem (burnt wiring) , new Bosch is ordered from Perth and will be air bagged for the next day $550 , ouch .Our sparky will strip the motor .Turns out the motor isn't the main problem ,but is a bye product of something else , but we will change it anyway .Attempts to bump start and the noise is terrifying .The alternator has seized solid .That was the problem all along .All these items where exchange in Malaysia. New alternator in stock and 4 nights in, Paul says a small prayer for two travellers along way from home , an alternator . a starter motor and of course "Lizzybus" .It was quite a moving experience.
So to all we met at the Derby Baptist Church , thank you for your time , concern and appreciation .We hope Pauls wife Laura recovers from illness.
A refreshing moment in an otherwise long journey , Thank you. .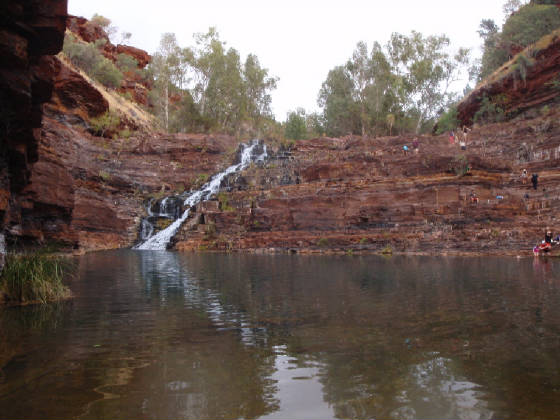 The Australian adventure begins
Having a fully fettled Lizzybus , insurance and a plan ,we head North.
Rather than take the most direct route to Darwin ( a mere 4100km away) on the Great Northern Highway we will explore the coastal route up to the Pilbara Region , Ningaloo Reef ,The Kimberly and finally the old stock road ,The Gibb River Road.
First nights at camp sites are getting expensive $20 night .Despite driving all day the distance on the map is minimal !This is going to be a long haul .We notice "the Grey Nomads" , retirees in motor homes camping up at rest stops for free , we do the same .Visits to Gorges , Blowholes divert us .It is a beautiful country and the people incredibly hospitable .Some places of interest disappoint ,i.e. Dolphins at monkey mia , others excel , Snorkelling at Ningaloo . The cost for things that we wanted to do outweigh the desire , Swimming with whale sharks £500 for the two of us .Disappointment sets in .It is so desperately expensive here unless you can fit some work in (we are too old , visas only available for casual work to twenty something's).Ten days of bush camping and the first "jewel in the crown" , the Karanjini National park and its stunning gorges .Purchasing a 4 week visitors pass for all WA Parks earlier on the trip we avoid the $11 entry fee (4 sites andv you are quids in) the place is as stunning as the brochures depict.
Back to the grind of putting miles on and after a total of 2 weeks on the road and about half way to Darwin we arrive at derby and the start of the 600km dirt road known as the Gibb River Road .Little did we know what fate (or God) had in sore for us!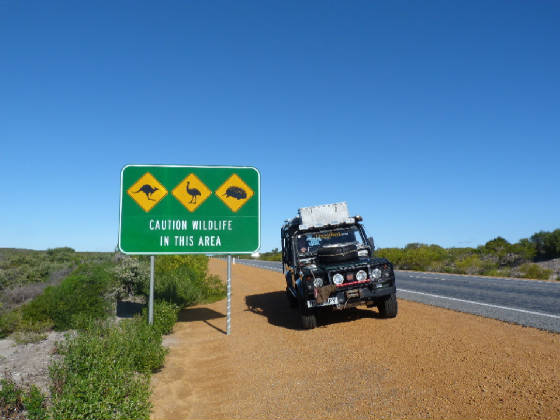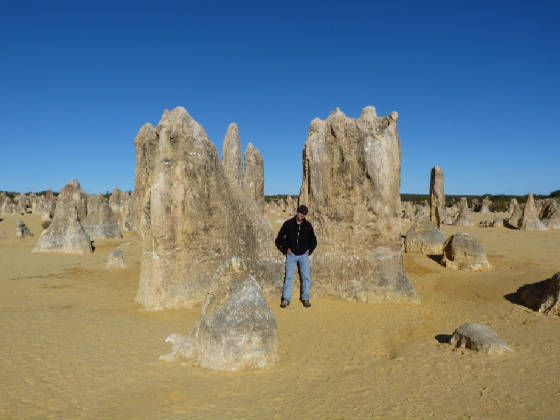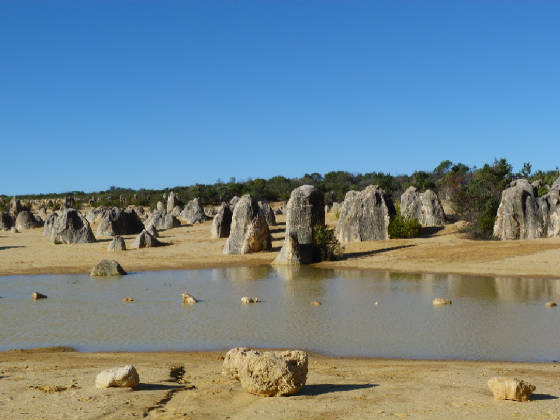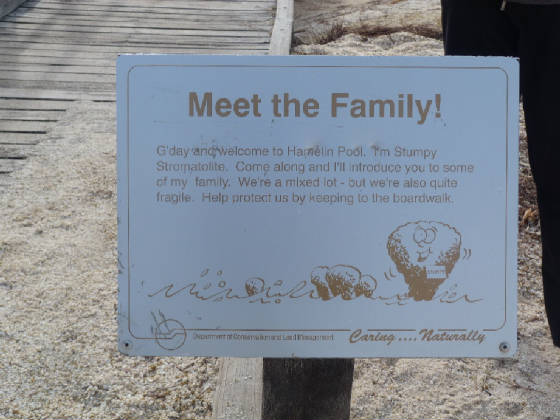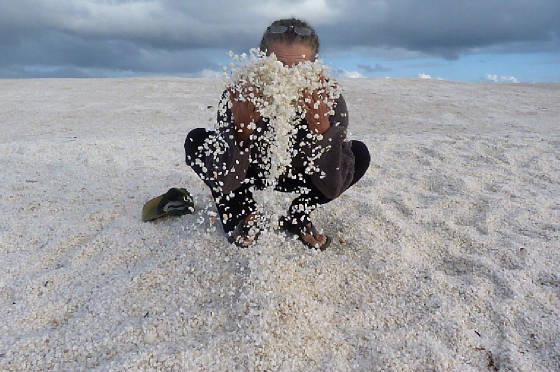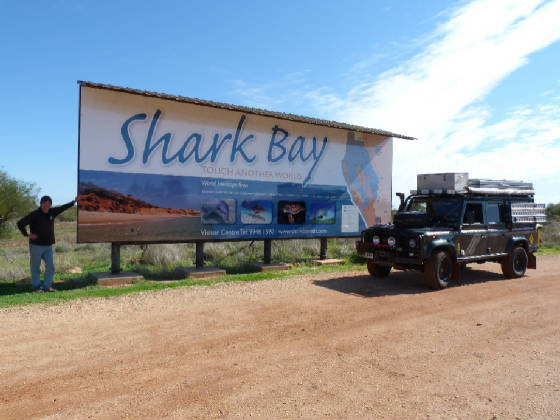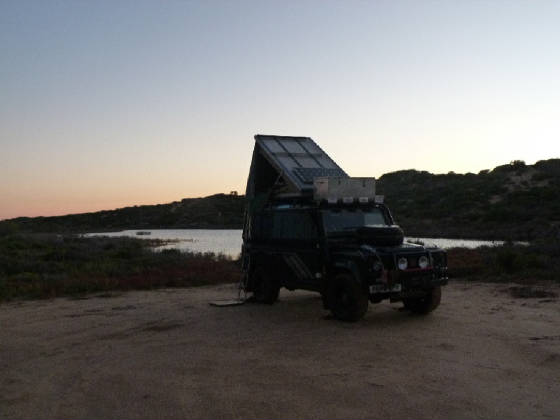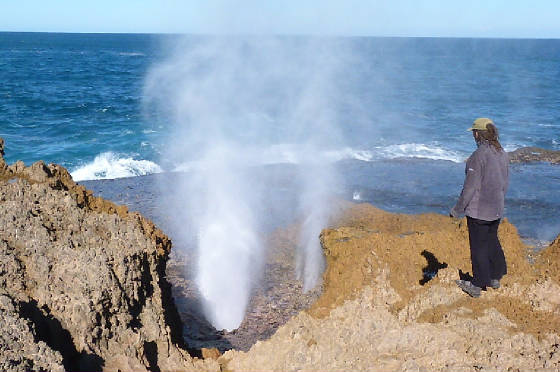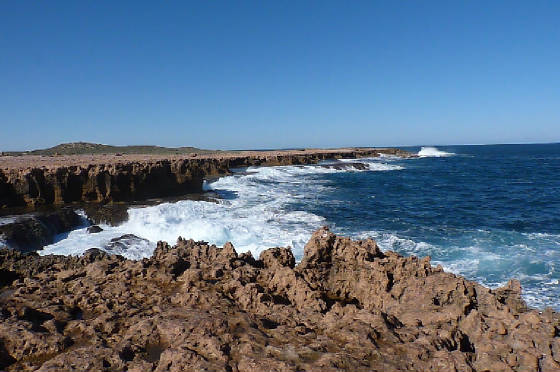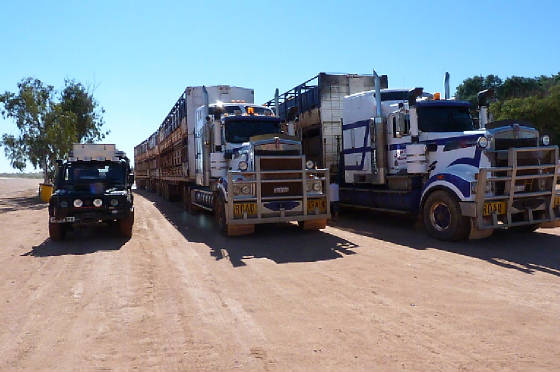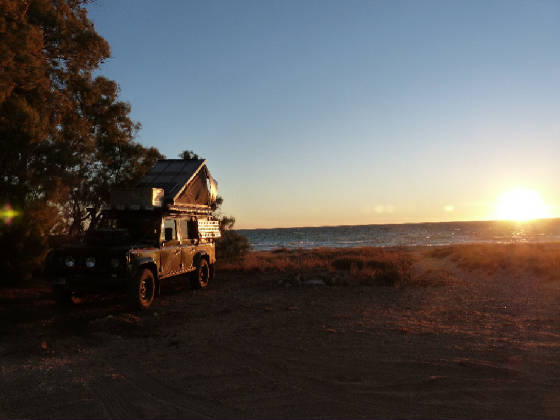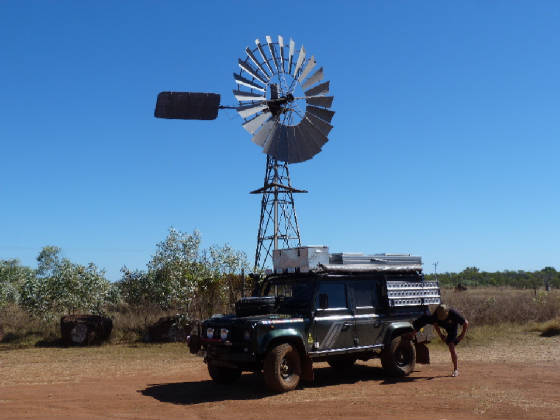 Water Pump , Gibb River
Free at last!
Despite the fearsome reputation of AQIS we had no problems getting through "kit" inspection .I was even allowed to keep my Laotian coffee !
Having cleared the last hurdle and full credit must be made to Graeme at IOSA (Indian Ocean Shipping ), Fremantle who , through his efforts and skill has saved us sheds loads of money and time .
We have to register Lizzybus and obtain a vehicle permit .This involves an MOT type test, GULP . Waiting inline for the inspection is just like the good old days at home , in spite of 100k through Africa , the old girl gets the nod . Insurance can now be issued at the good rate of a$113 for five months .We are now legal , decent and honest .Time to head North and begin the Antipode an leg of our adventure
G'day
Ps , managed to get some piccies off the small camera , all random , but enjoy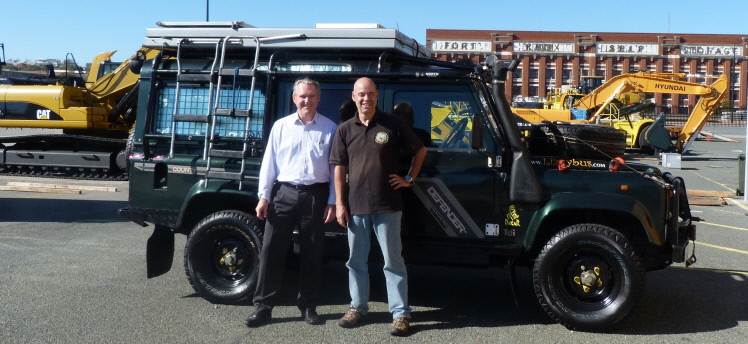 Cometh the man , cometh the hour....Graeme our saviour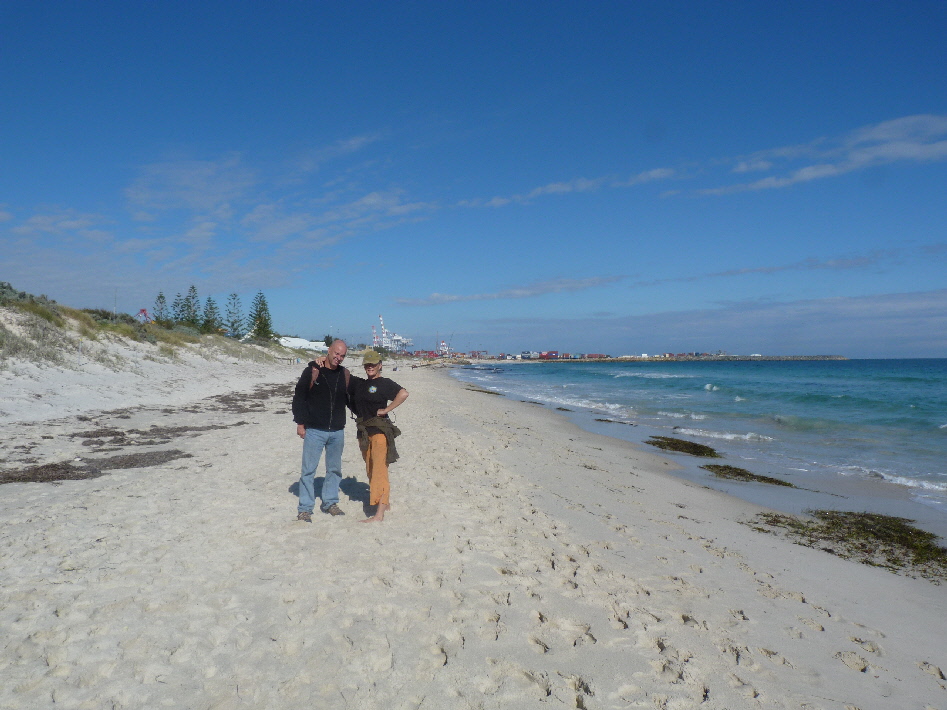 Fremantle Beach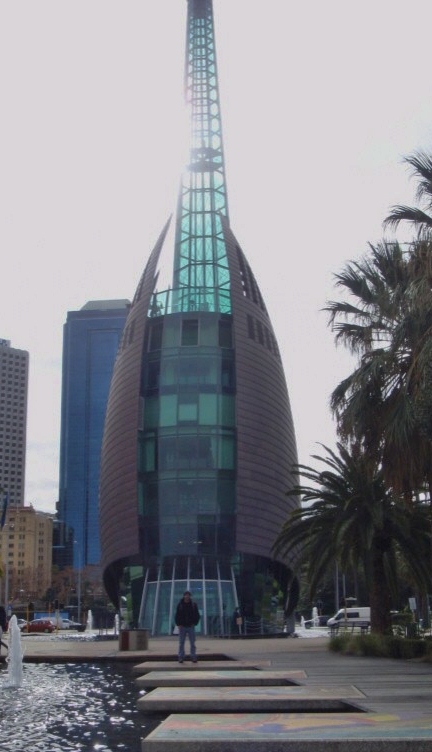 Bell tower . Perth ( not Dublin)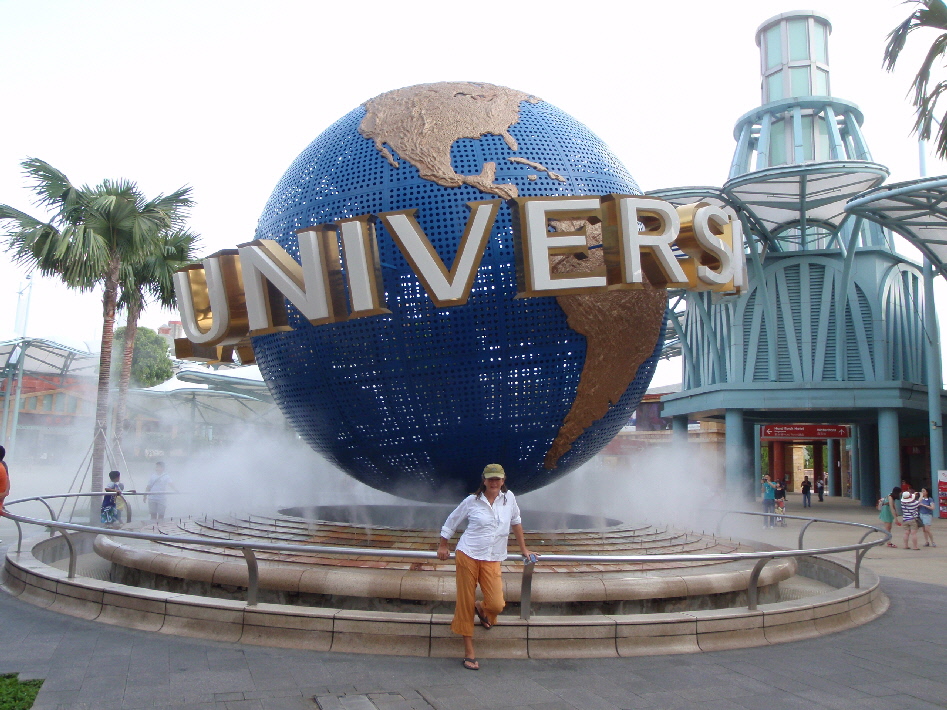 Do you really need a caption?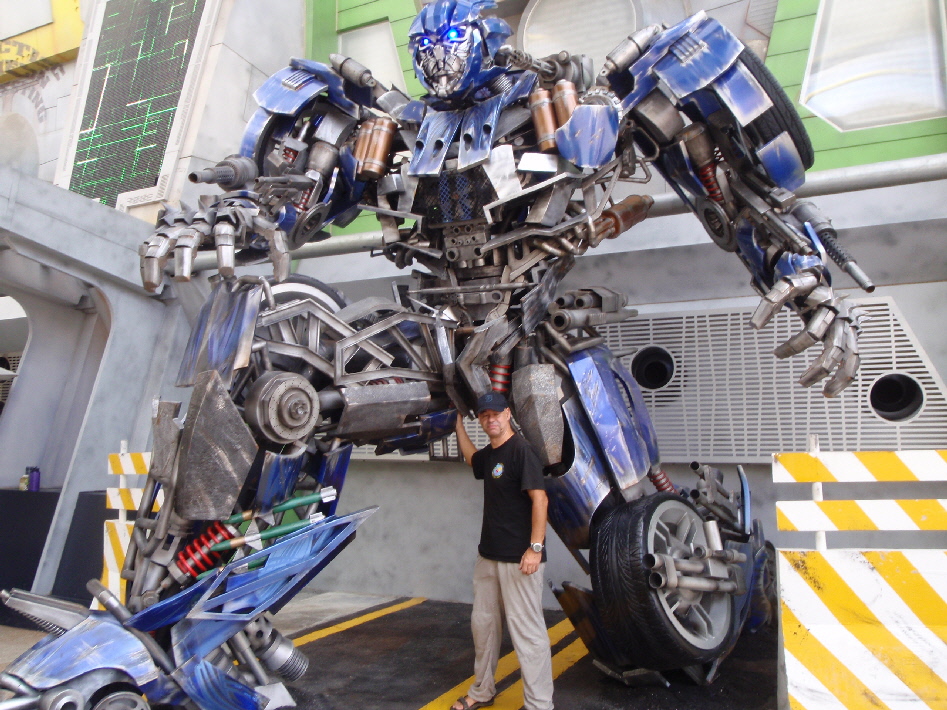 They soon follow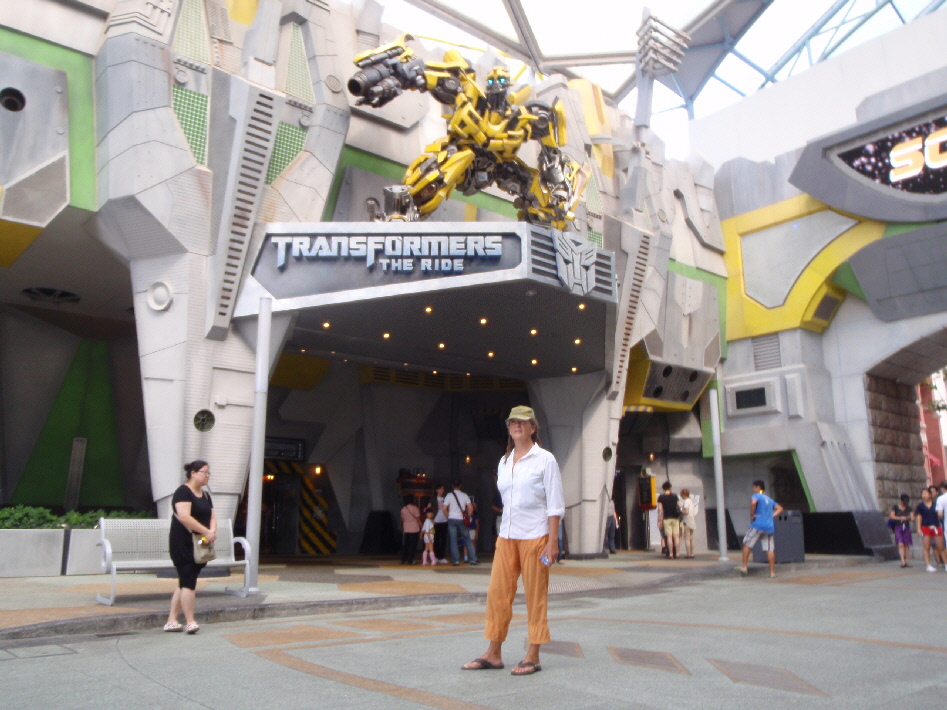 Universal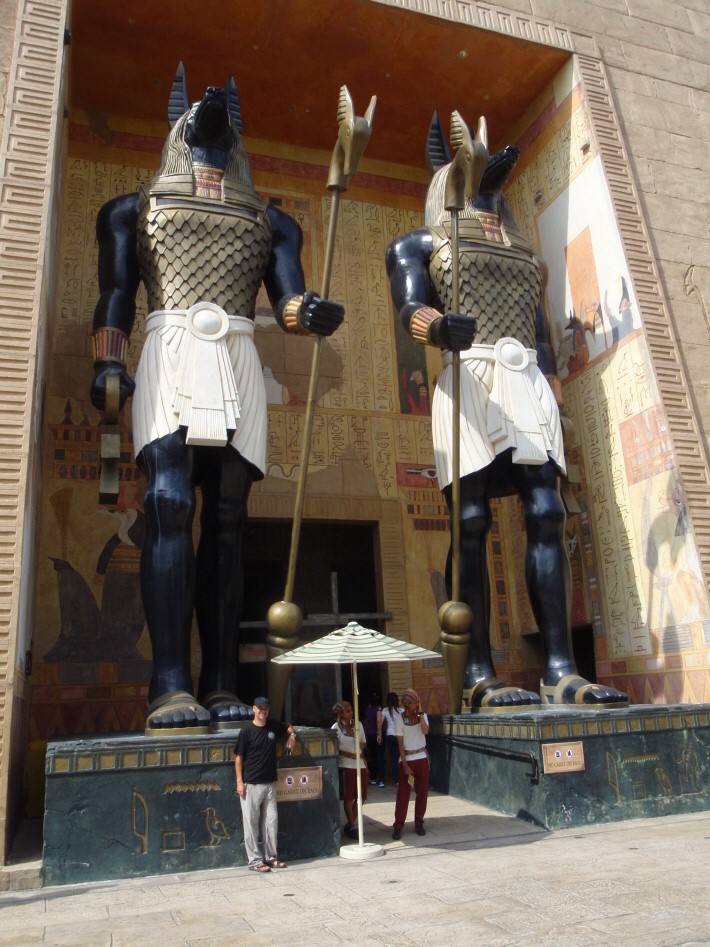 And to think we travelled all the way to Egypt!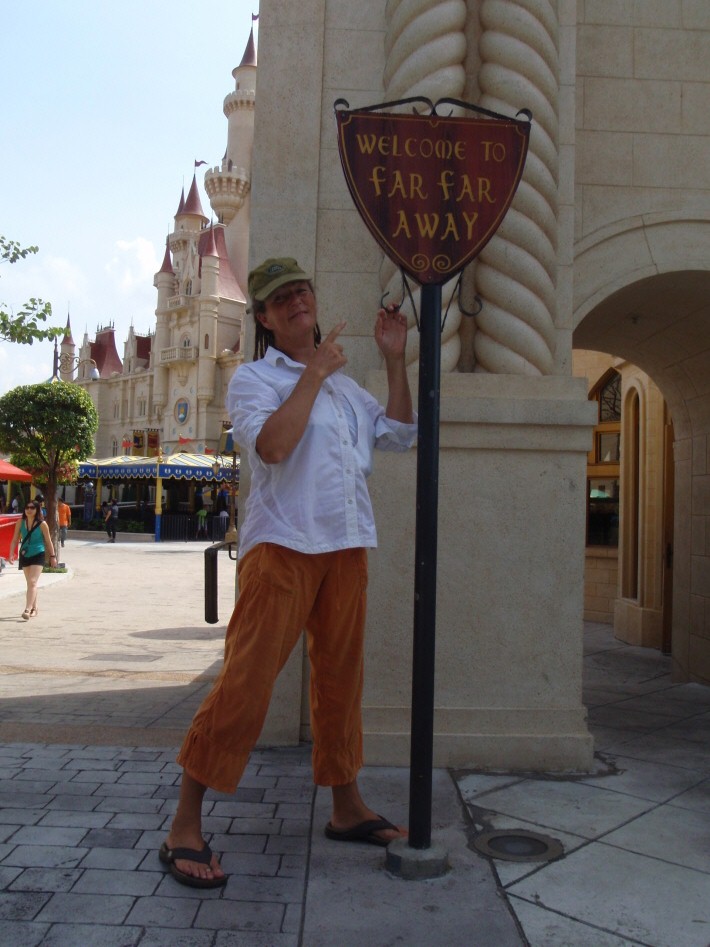 Jaynes navigation , this place isnt on our GPS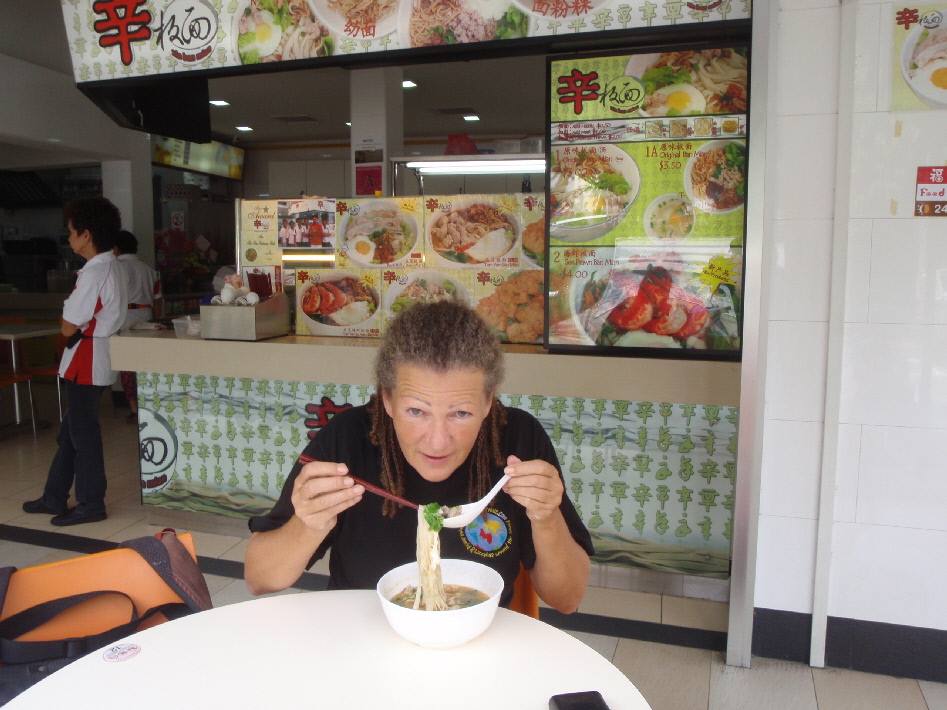 Noodles : Singapore
Who shot JR?


So Lizzybus fans , its confession time . Do you remember when Bobby Ewing woke up and found , surprisingly that everything that had happened was a dream .Well it's happened to us ! We haven't travelled across Africa and Asia for the last 3 years , covered 100000km , been robbed , broken down .No , none of it was true , it was all a dream . Waking up I realise that we are not in Perth , Australia , as we erroneously believed but in a hostel in Dublin .Looking at my bank balance ,we must have flown with Mr O'Leary's cheap ( unless you want a seat or luggage ) Ryan Air . The subtle twangs of the Irish abound not only in our hostel but everywhere we go . The effects of global warming can be the only explanation as to why the weather is so good here , sunny , warm and no rain .We have noticed that pubs around here don't have Guiness ,so we can only assume that we are in a civilised part of the city.
It must be true because the Irish supermarket , "Paddy"Coles sells Irish sausages .
So there you have it , we are in Ireland and not Australia , and if it wasn't a dream then it must be Jaynes navigating. Well must go , will find the airport and be back in sunny Brum ( all that global warming cant be that bad) in a jiff .TTFN
Back to reality
Well , as with all forms of travel , we are being delayed. The vehicle needs to be inspected by customs . She arrived in Fremantle on Wednesday and was off loaded Thursday . We should have been inspected Friday, but that has been put back to Monday! Fremantle , nice quite town 20km South only 20 mins by train .On our second trip ( Saturday ) we spotted the Lizzybus , on the port car park .So near yet so far .Hostel is OK , sharing a dorm is a bit awkward but it's the cheapest option .Food sought from the local supermarket (Coles) entails raiding the bargain meat section for the 50% off .You cannot comprehend how expensive this part of the world .Roll on travelling to Darwin , bush camping should keep some of our coast down.
"Should we stay or should we go?"
E Mails passed across to Grahame , our shipping agent in Fremantle .We use their agent in Singapore and anticipate shipping on the 19th June. The boat is delayed one day but we still load on the 18th .Grahame informs us that if we delay the documents and go to Oz on the 25th , customs operate a first come basis and we will be at the back of the queue .Any storage is charged after 3 days at a$100 day , so it could get quite pricey .No option then to fly asap to Perth .On reflection , a back packers is 40 quid a night and our hotel in Singapore is 15 quid a night .Singapore is also a lot cheaper , we should have sent our docs DHL to him .Still flights from Tiger Airlines are s$200 each , booked on line
Our nice hotel in Singapore is smack in the middle of the Red Light district of Greyling .Not disturbed much by the trade , it is fascinating to see the tolerance and openness of the business .Great fun to people watch
Flight booked , vehicle loaded we travel out to Universal studios , a pale imitation of the Floridian version but entertaining all the same .Changi jail and the Botanical Gardens also act as diversions.
Evening flight and we finally make Perth .Very , very cold .Backpackers is duly sought and due to a cock up in the booking front we are ensconced in the female dorm .So , here we are , forty pounds a night in a 6 birth female only dorm , who said overlanders don't have fun.
Indian Ocean Shipping in Fremantle is handling the shipping .Very professional , meet with Grahame who has everything under control .Ship arrives Wednesday , we will get inspected on Friday (Imshala) by AQIS , when we will find out if the hard work was worth it ?
After the vehicle is released to us it has to be insured and MOT , agin this should be fun .100,000 hard km through Africa must have left a ton of wear and tear on our old beast .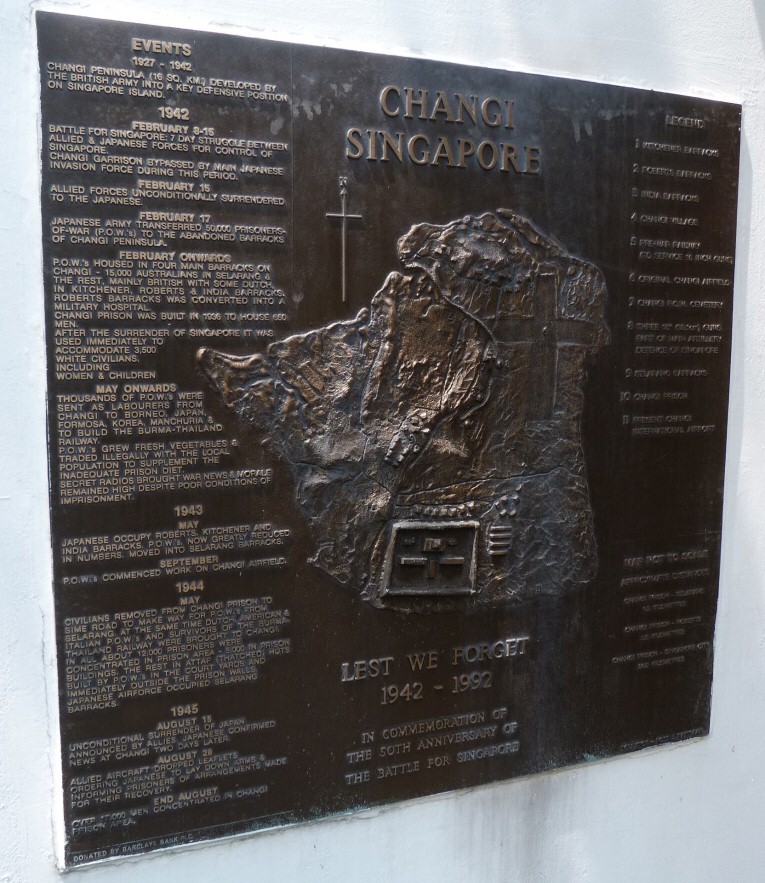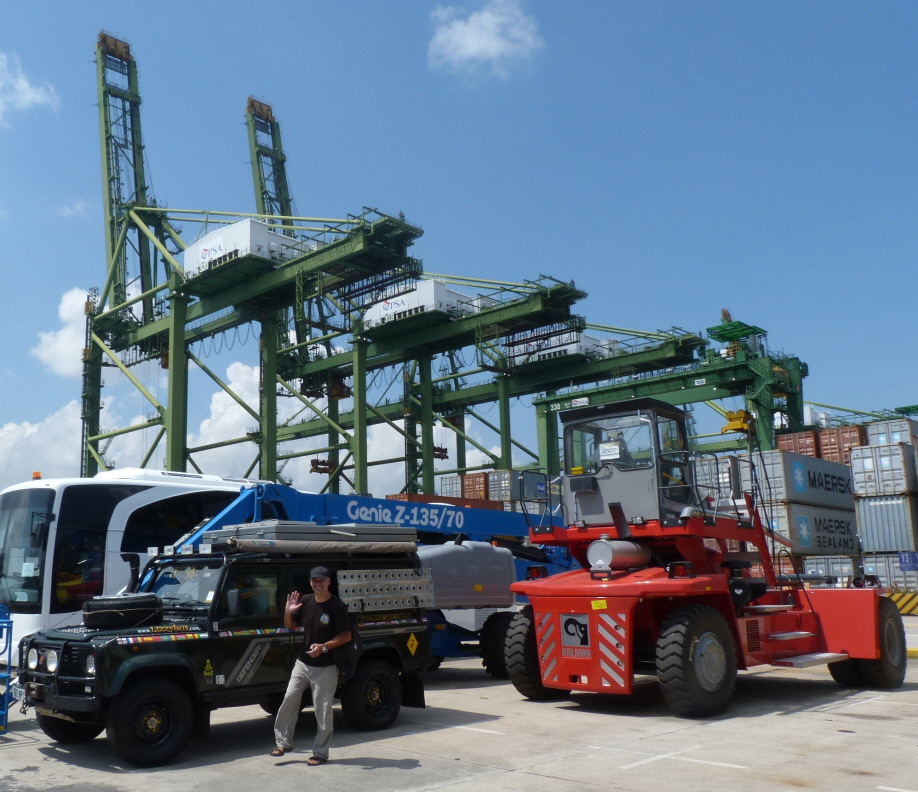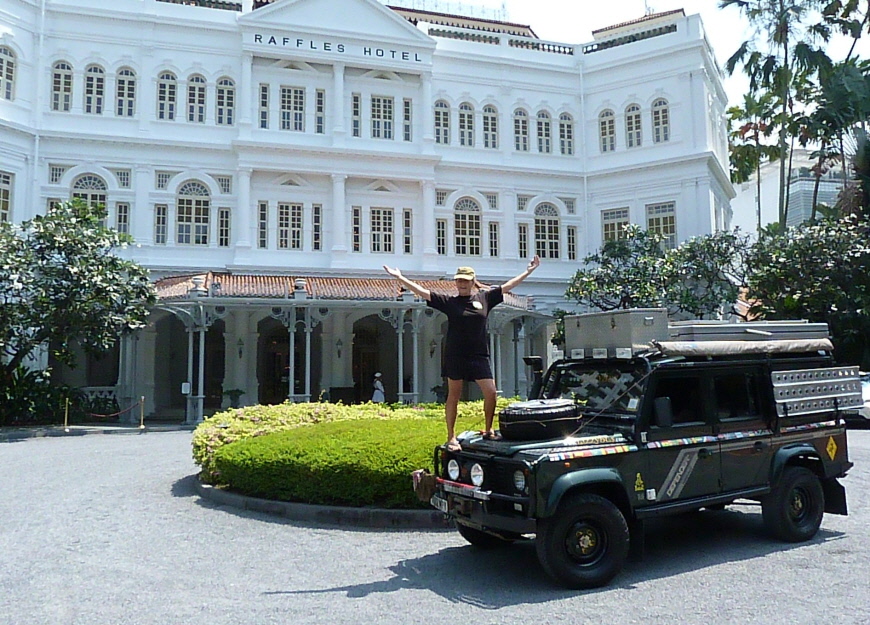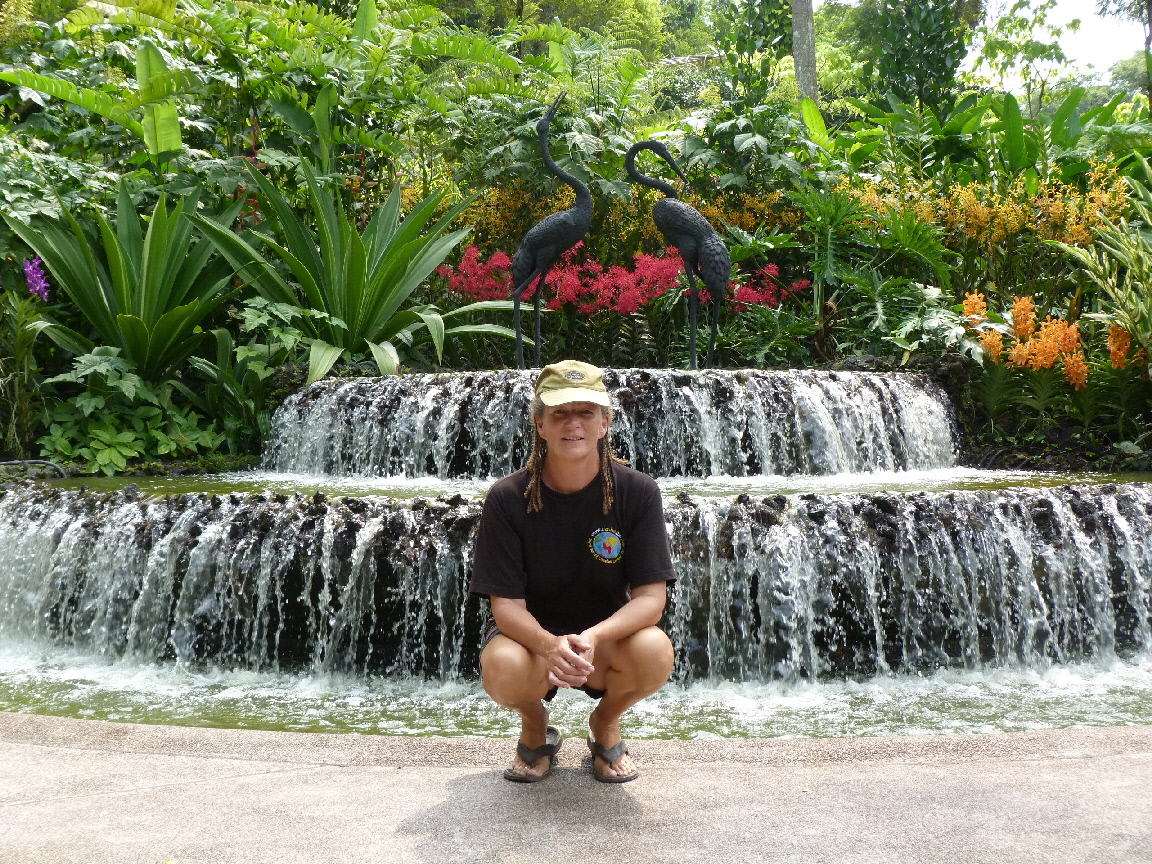 Malaysian malaise?




It's a fair cop , we are still in Malaysia .Why ? Because we are concerned that the AQIS inspection is going to be pretty rigorous .Apart from that we have been having a bit of fun . Total strangers come up to us , ask "where we are you from" then invite us out to dinner or the odd wedding.

So the Lizzybus is getting a thorough seeing to .Jet washed to get nearly 3v years of baked on grime off . The chassis , nice and galvanised as it is , is showing a degree of "staining" that makes her look dirty .This will not do .So she has been under sealed to cover it up .A few visits to the cinema and time has flown by .

We have decided to ship from Singapore by RoRo and hope this will be the cheapest route.

Having driven down to JB , hop a bus to Singapore we have sorted ICP ( International Circulation Permit @ s$50) .You can either drive your vehicle in or have it towed to the port .If you drive ,you need insurance (s$277) for one week (Bol***ks) or s$250 plus to be towed , so driving it is .We anticipate loading on Monday , a few days R&R (Universal Studios here we come) then Tiger Airways to Perth (s$200 each one way) .

Sad days to be leaving Malaysia we had a great time and will return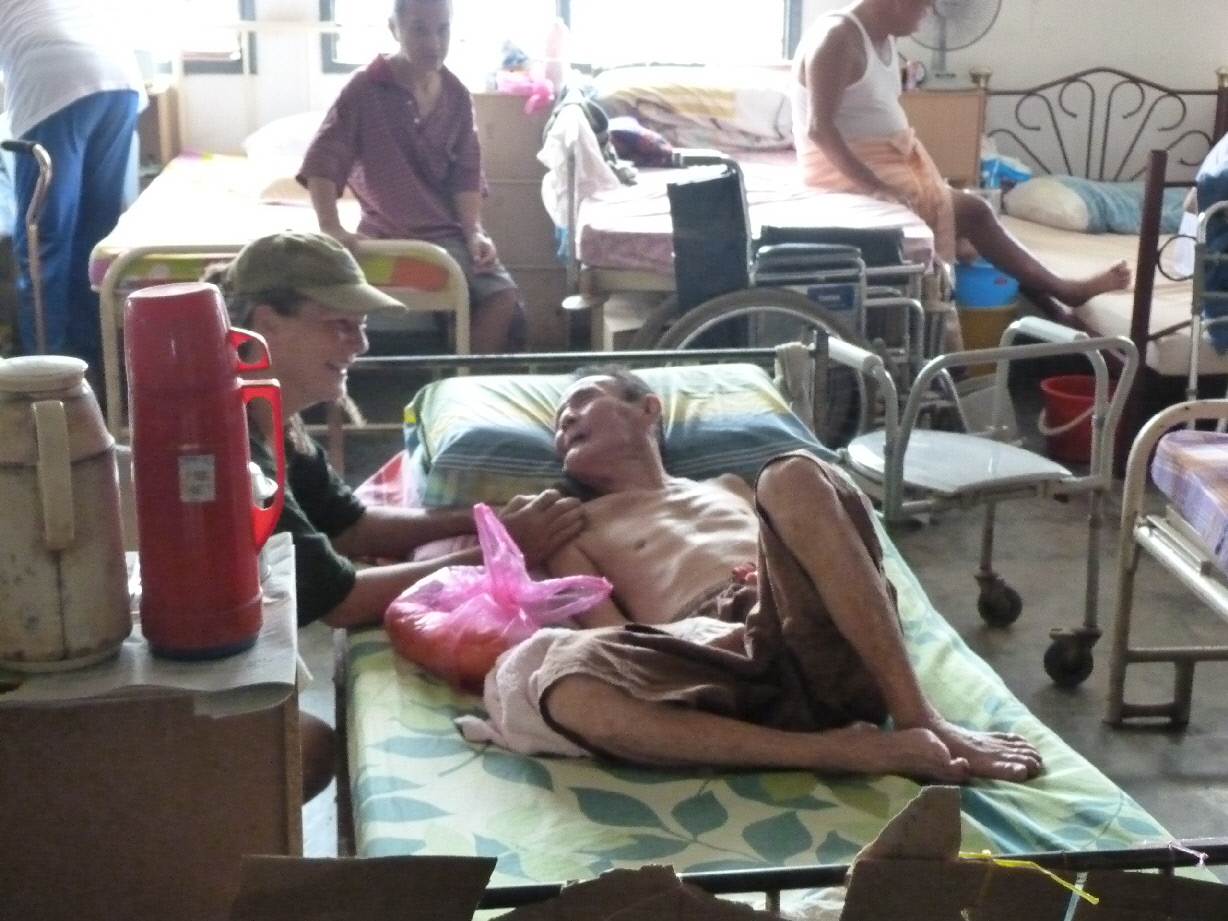 LRM visit to old folks home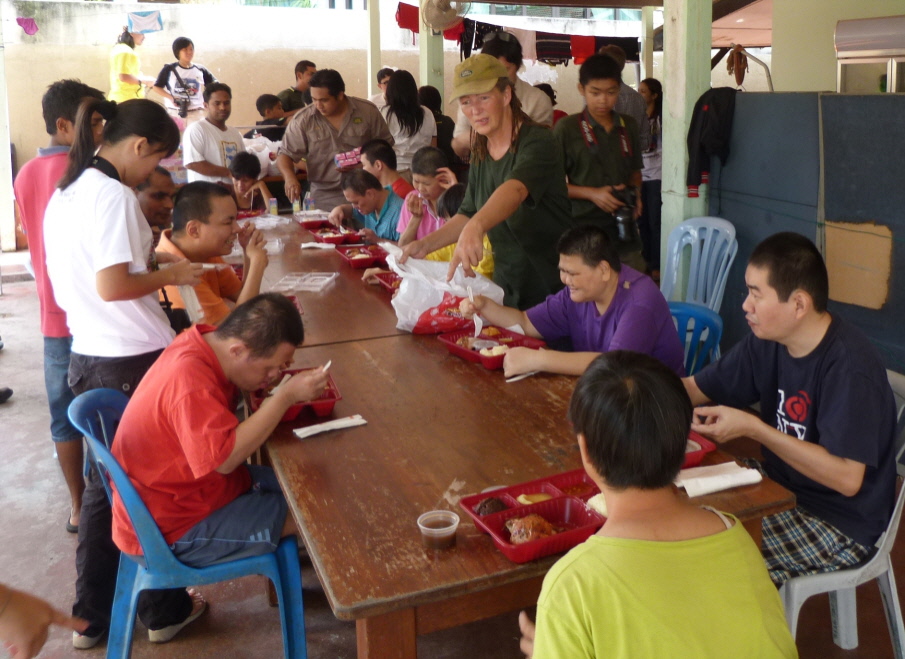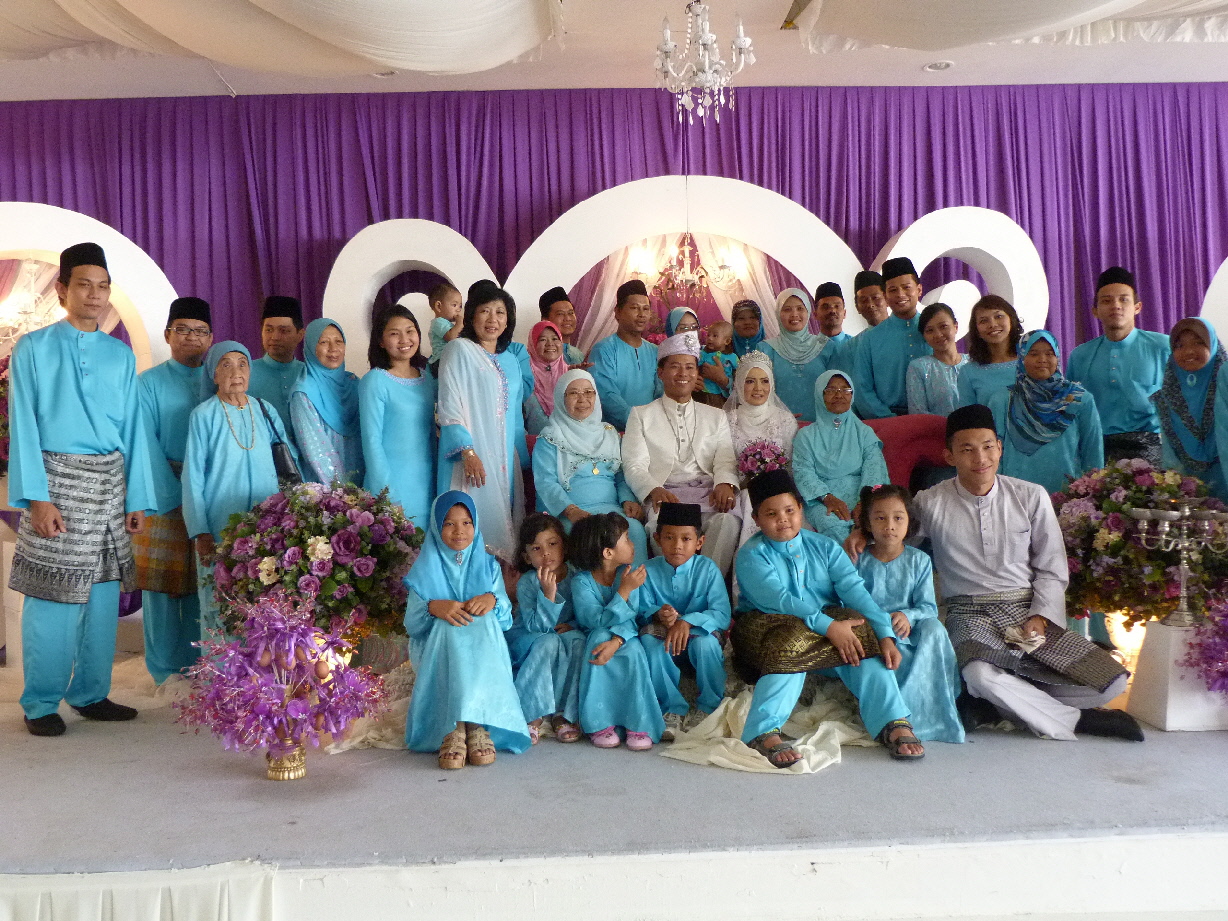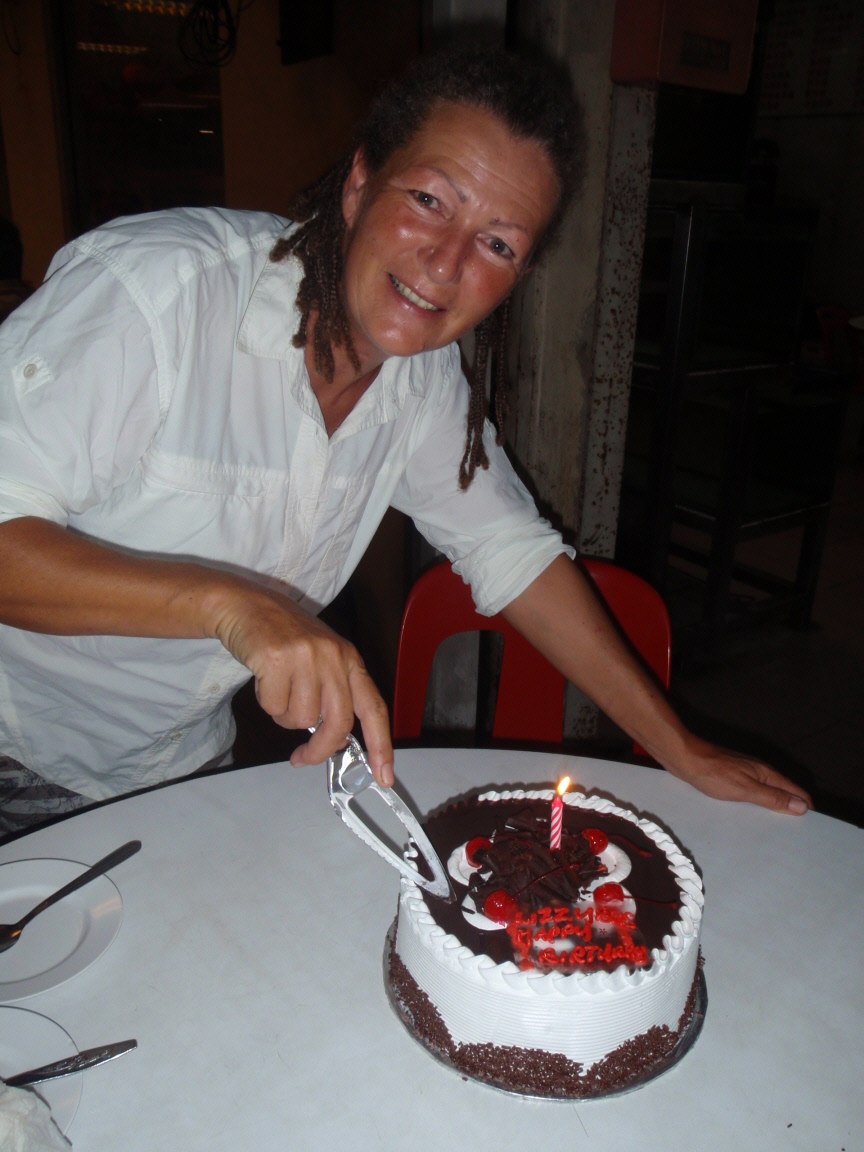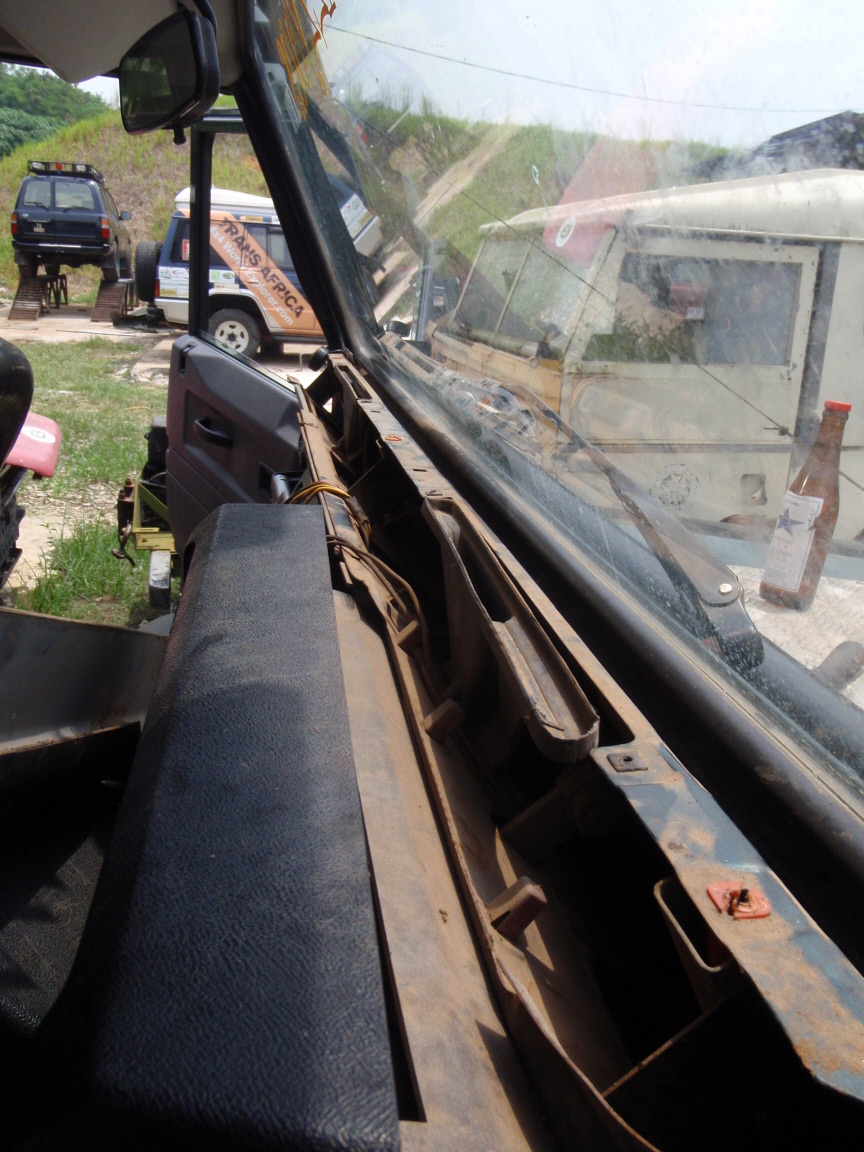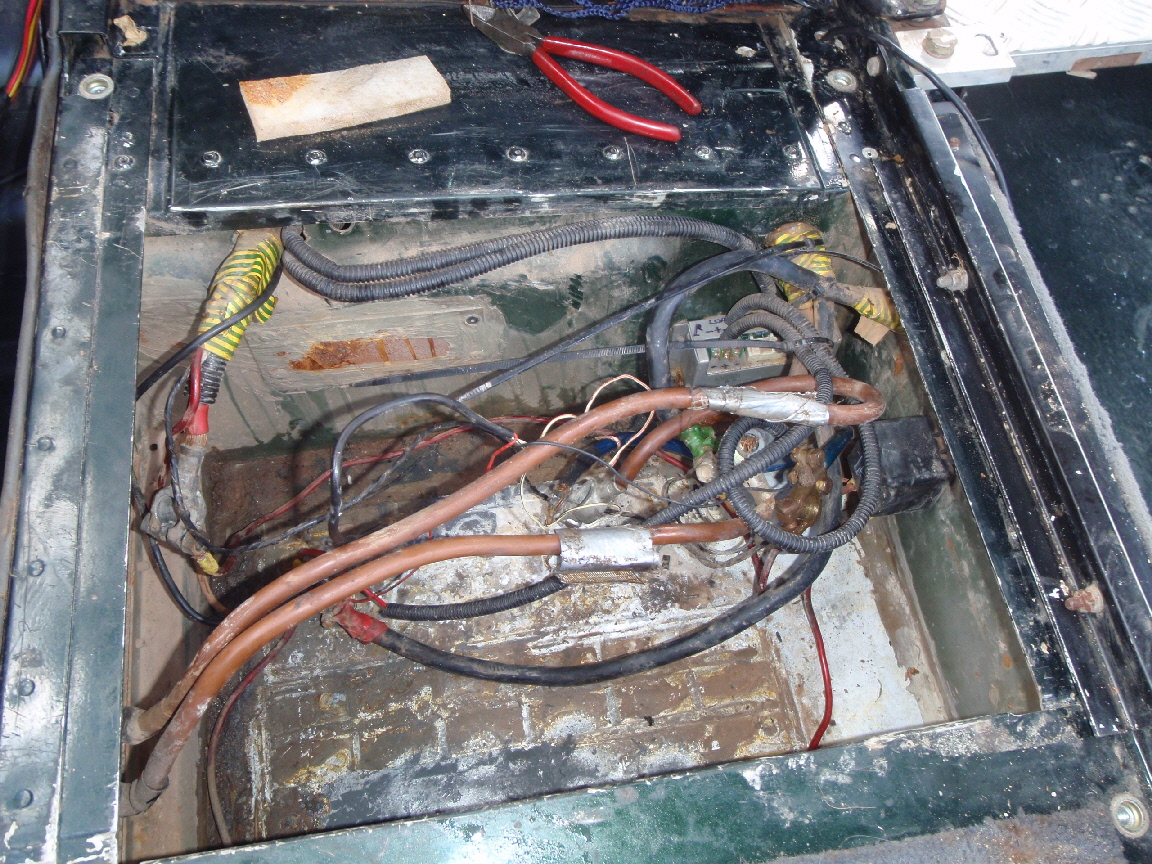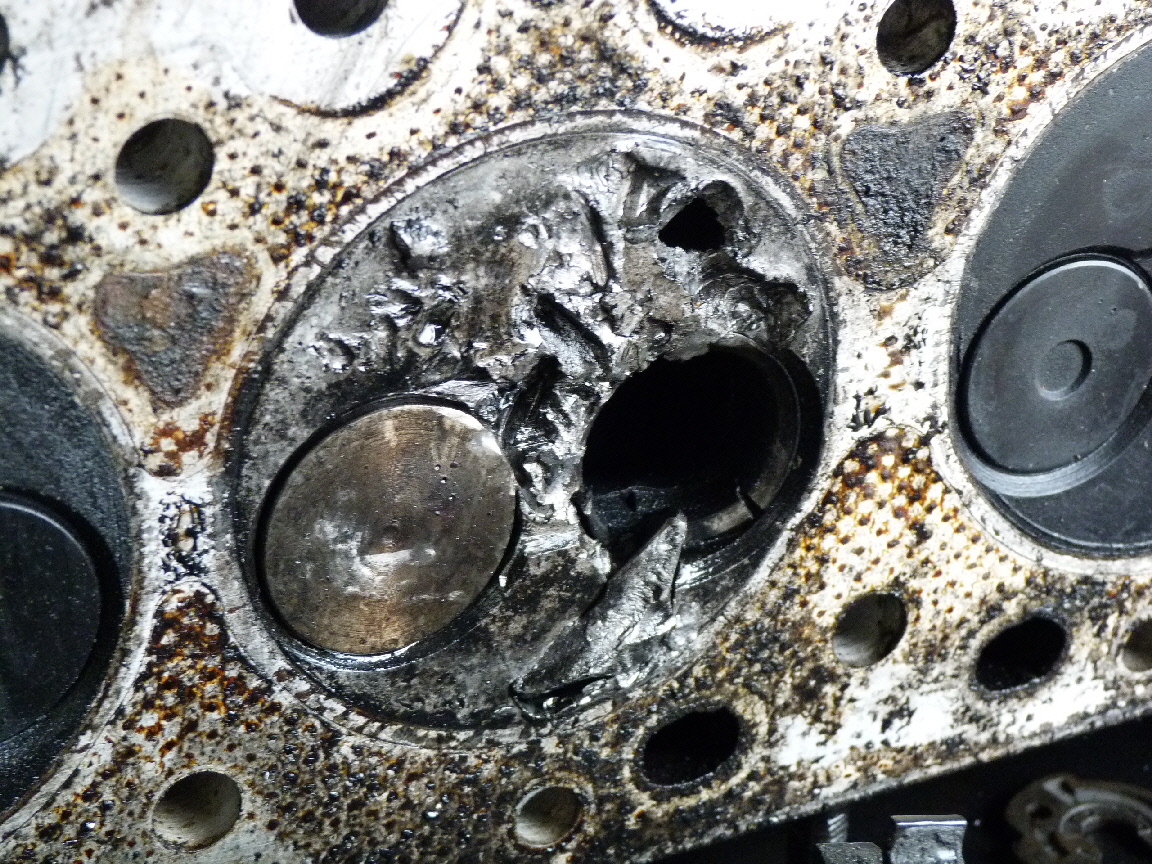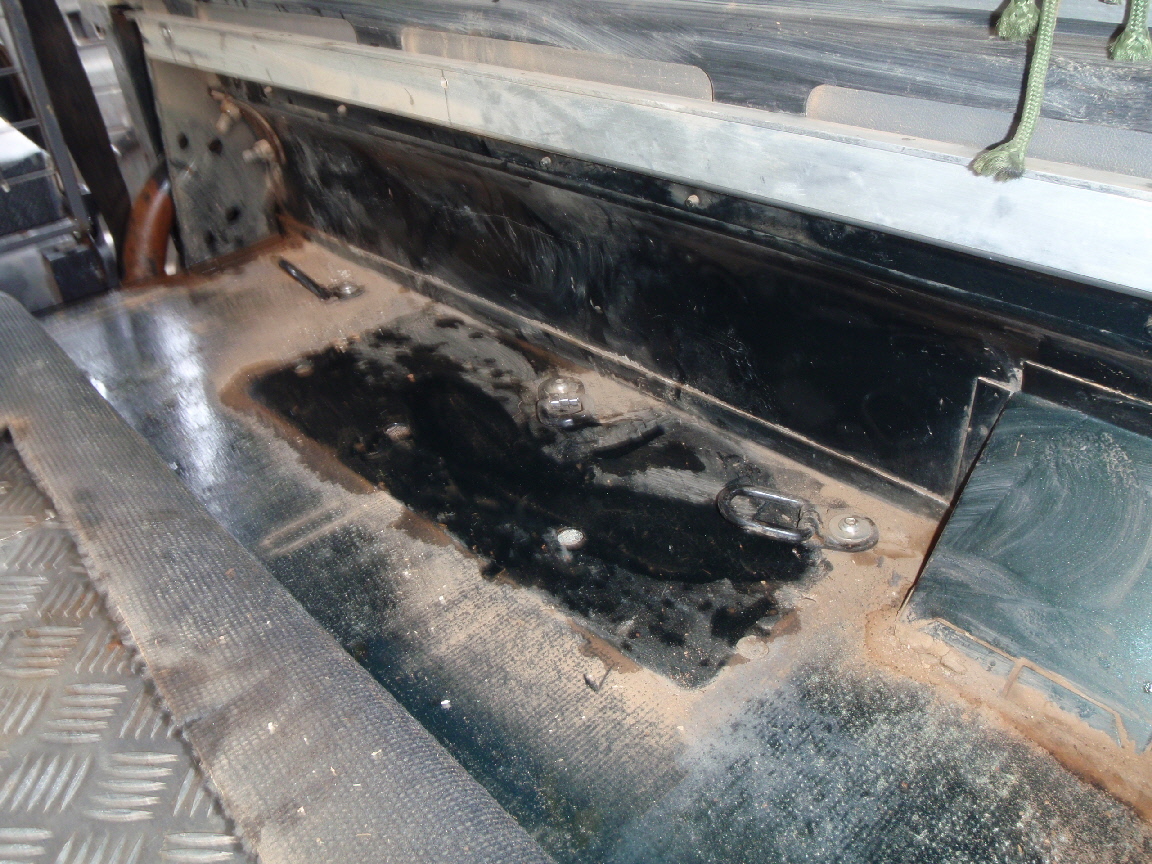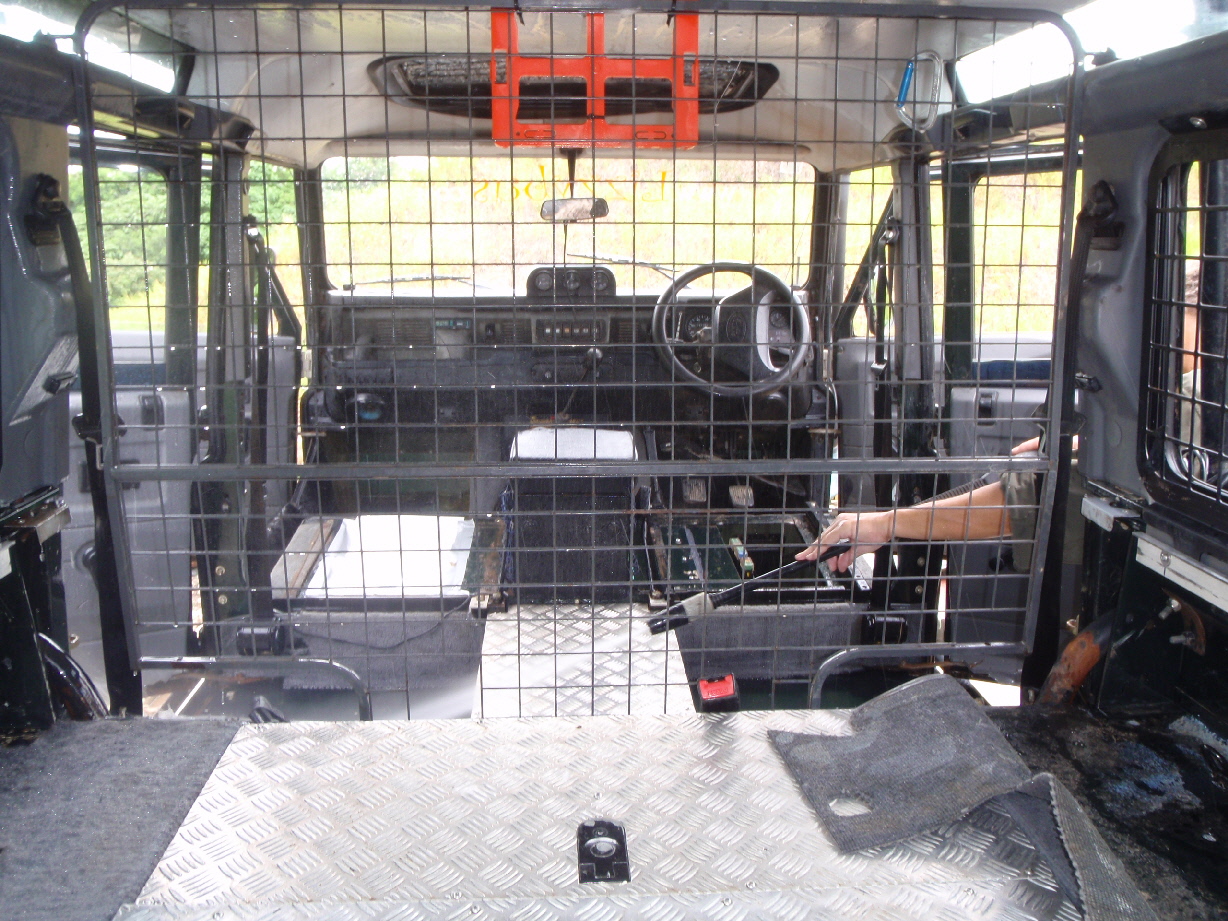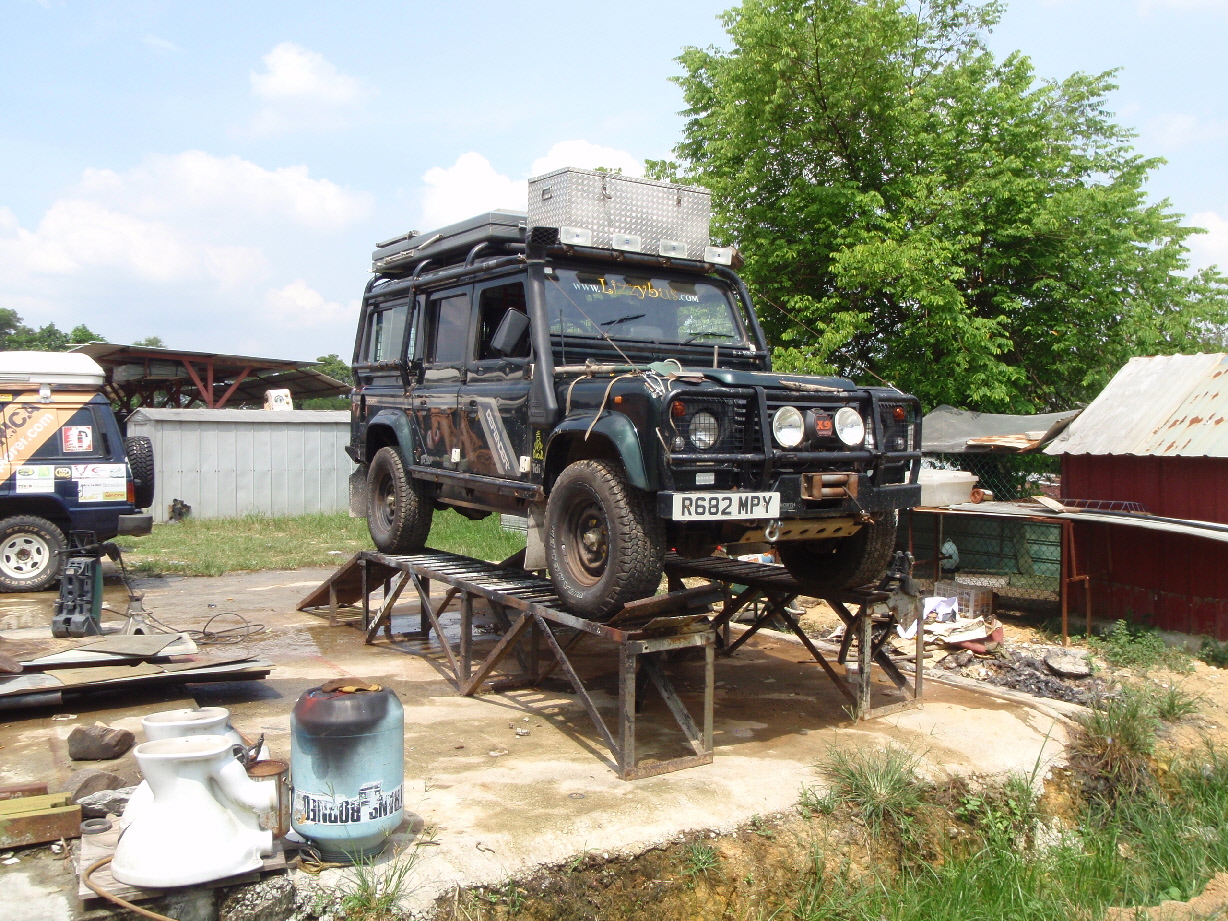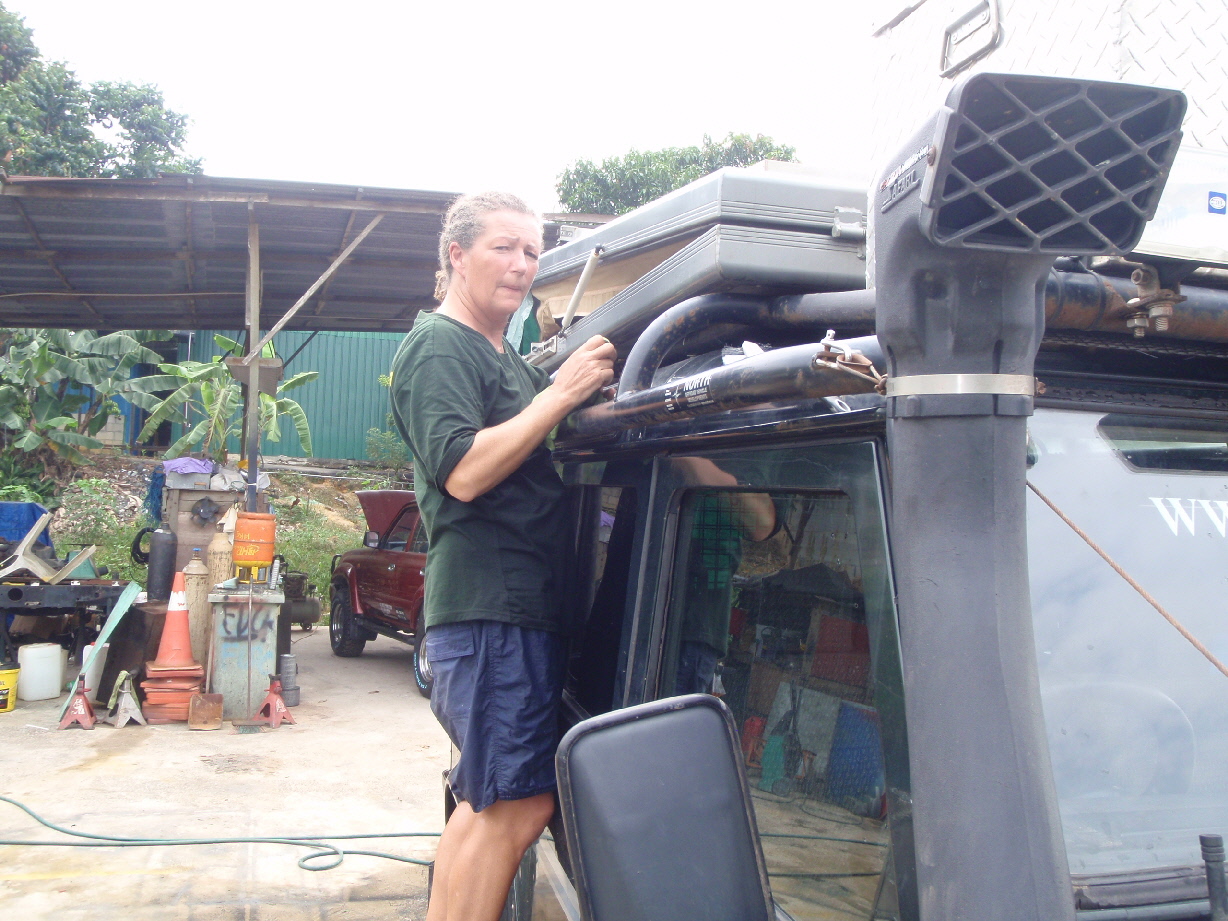 Not fed up are we ?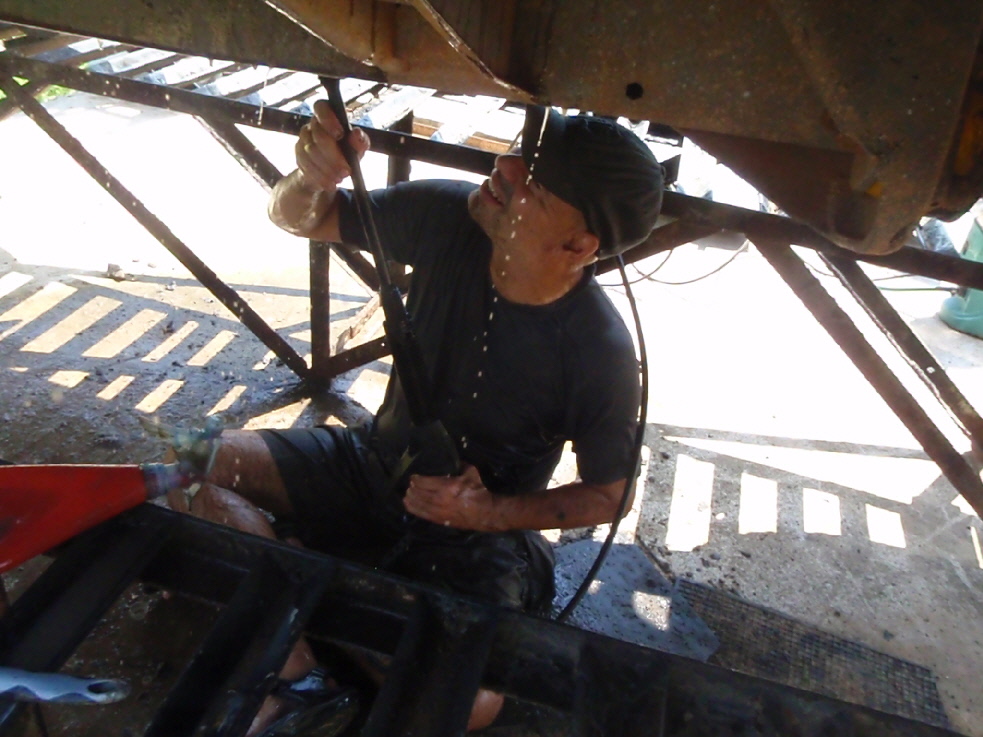 Cleaning underneath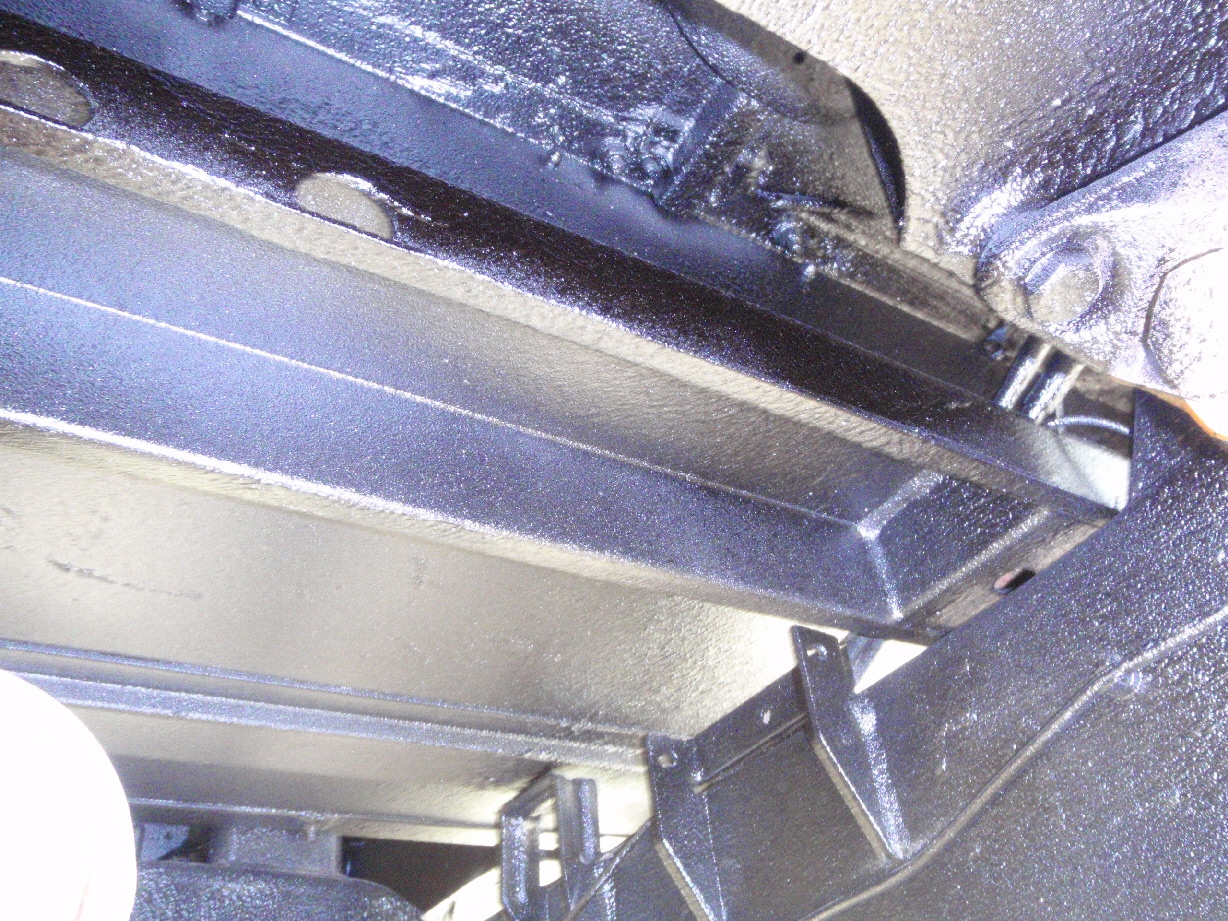 Clean enough?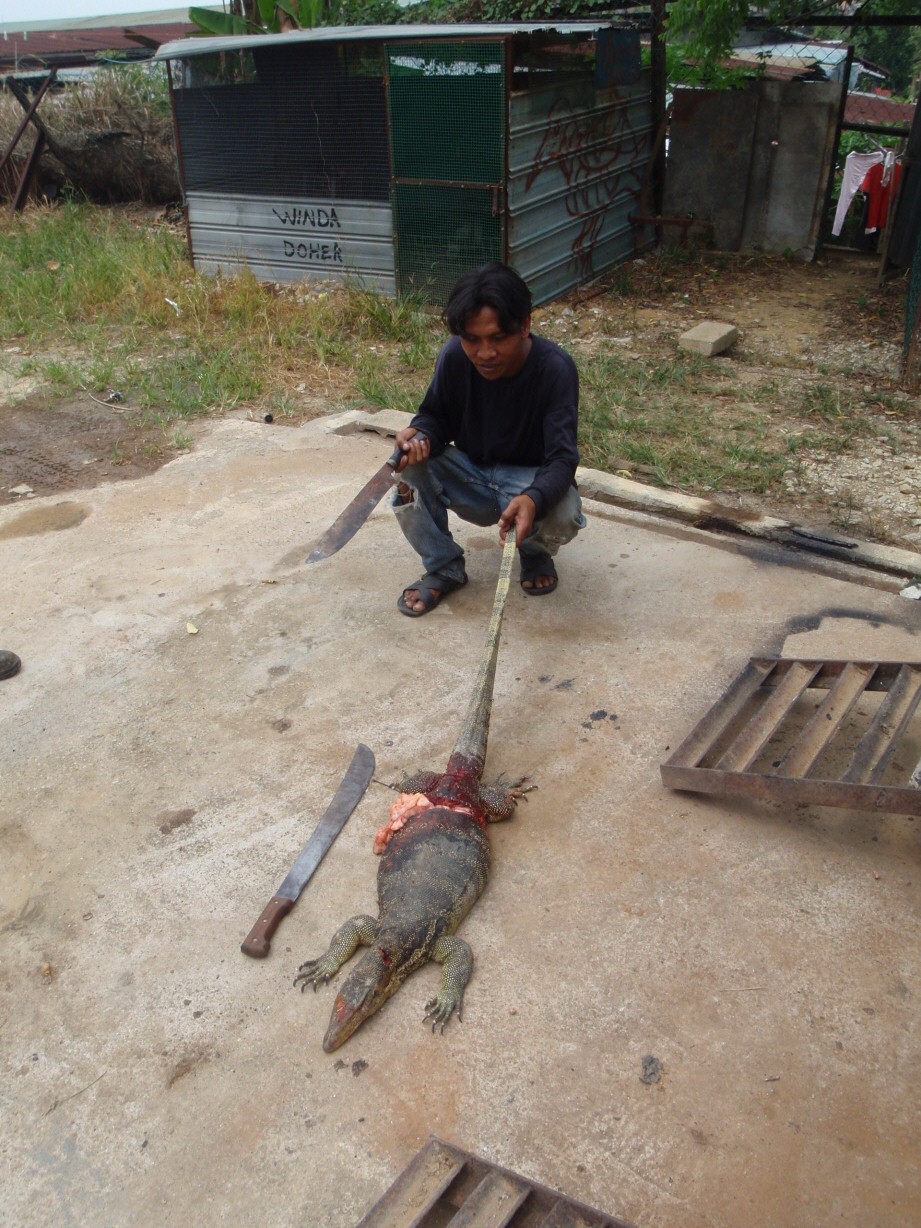 Dinner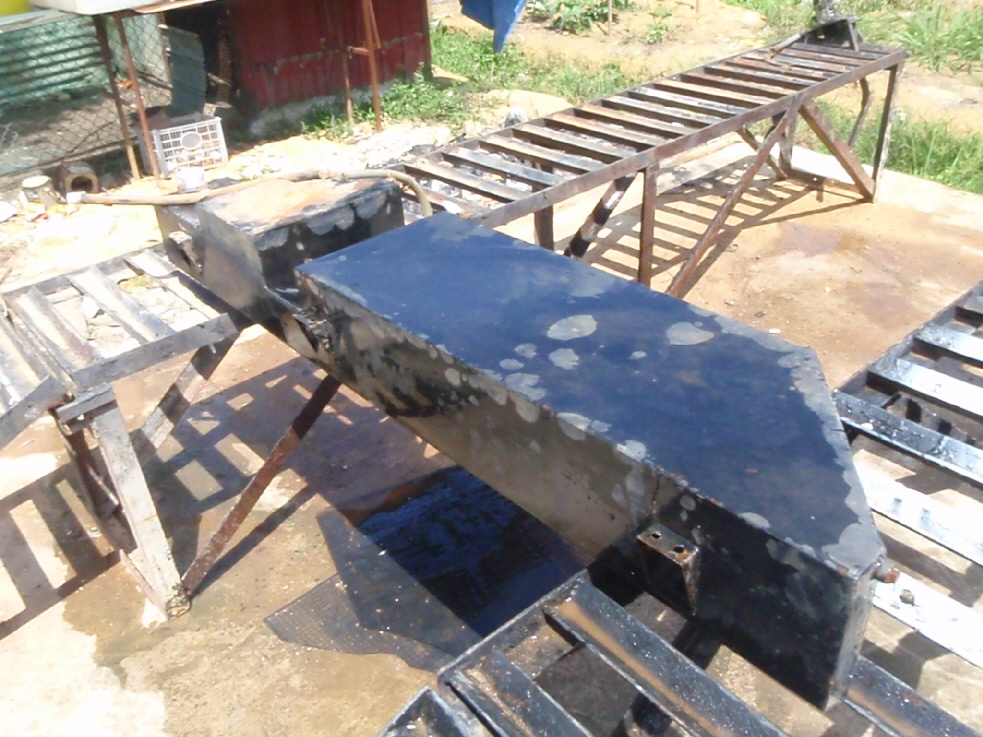 Even the spare tank came off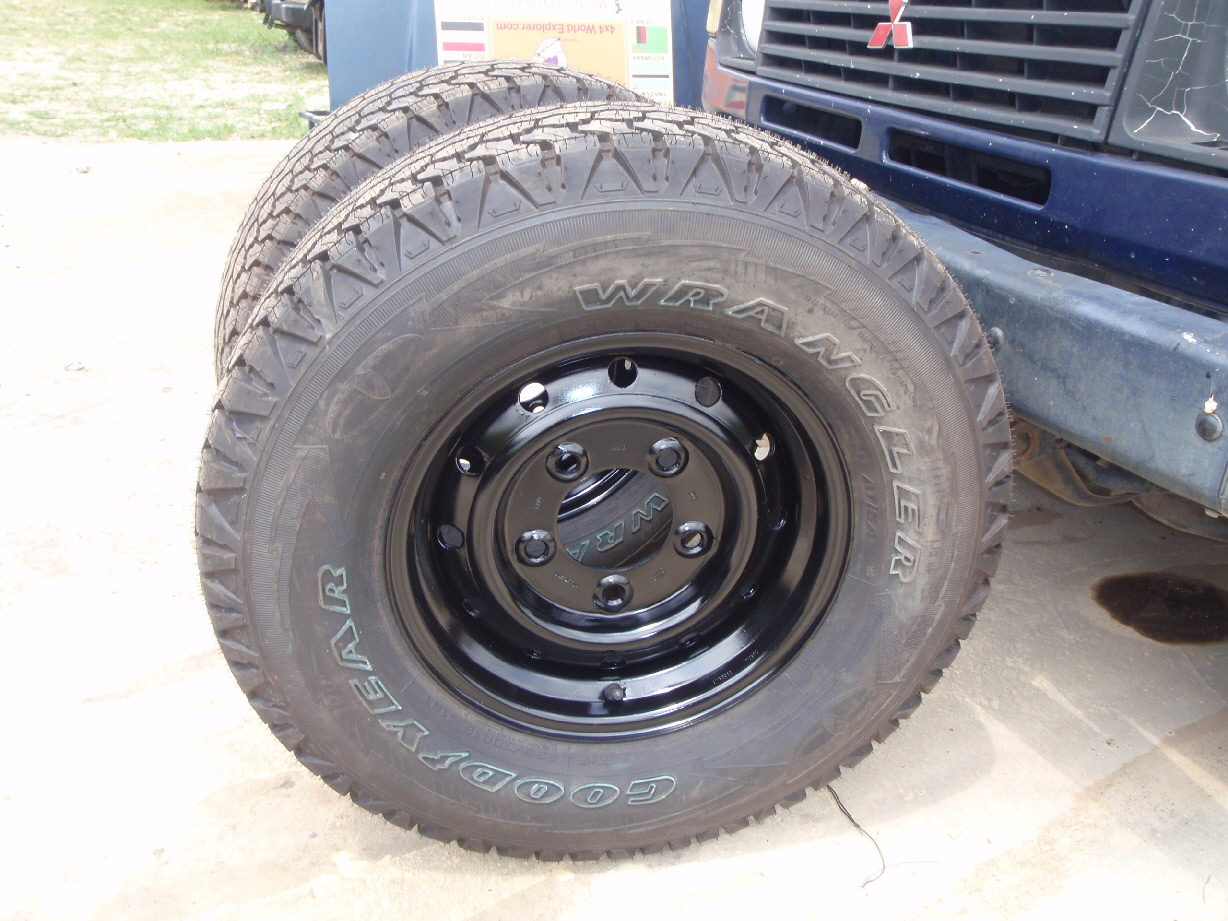 Cleaned and sprayed
South




A chance to bush camp as we head South , rather than use the speedier and less impressive East Coast we cut across the Isthmus and continue down the West Coast to Krabi .Stunning scenery greet us however we decide not to dawdle .Back to the border with Malaysia , overnight in "no mans land" (adjacent the duty free shop) we have to fend off a giant scorpion intent on relieving us of a can of Changs Finest !

At last , a border where they want my new passport , ten minutes later and we are through and head back to Penang to sort out accom and running repairs in KL.

Back to cheap comfortable hotels m, you find us for the last 10 days on the outskirts of KL .

Repairs to the Lizzybus are done by Black Hawk Motors under the watchful eye of Attik .

What can we say .At every opportunity we are taken out for Breakfast/Lunch /Evening meal .Want to camp at the workshop? , no problem .Want to work on your vehicle? No problem. Again one of a few places we can recommend to get your vehicle repaired / serviced .

The starter motor is changed , oils done , bearings , seals to transfer box etc

Shipping to Oz is expensive . We may be shipping by RoRo from KL or Singapore as a container incurs so many additional expenses when it arrives at port (try $300 to move it to a warehouse ) before its quarantine inspection .

By way of a small diversion Attik (LRO Malaysia) invited us to one of their impromptu trips to camp in the jungle . It has to be the highlight of our SE Asia leg .Fun in the mud and good company /food camping in the jungle .

Lizzybus is now covered head to toe in mud .This is not good news when importing a vehicle .The Lizzybus has to be "as new" when she arrives .No dirt , seeds etc and the AQIS are very strict .So , here goes about 5 days of intensive cleaning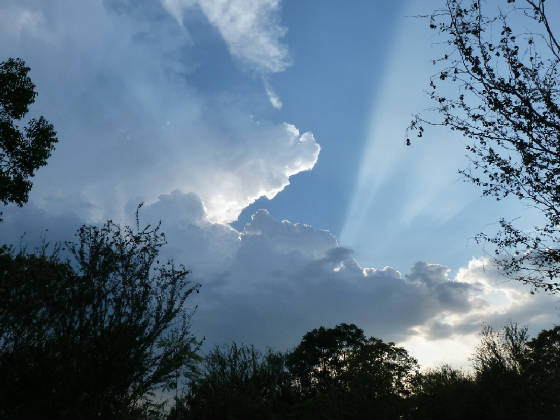 Just before it rains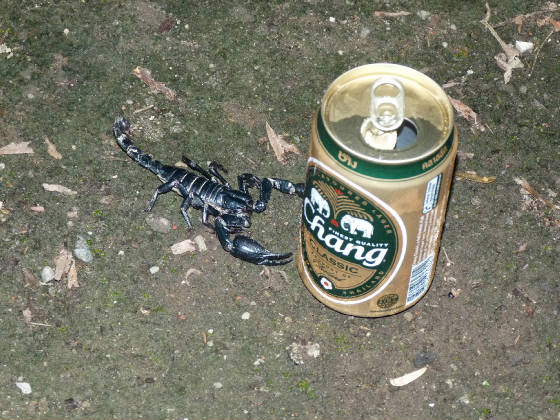 Honestly ? If he want"s a beer he can have mine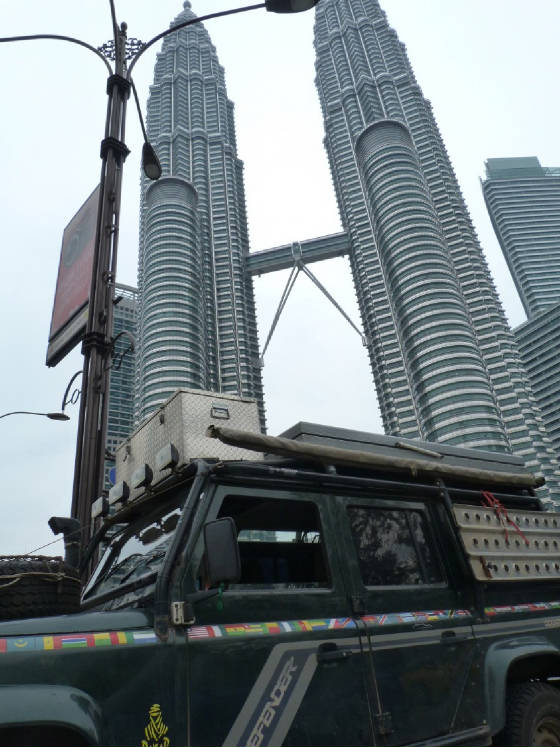 At Last KL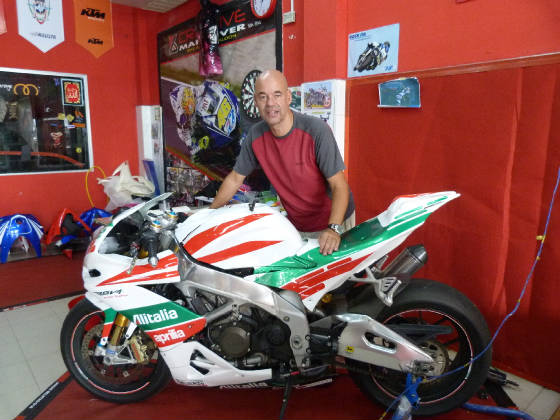 Jealous? Moi ? Creative Makeover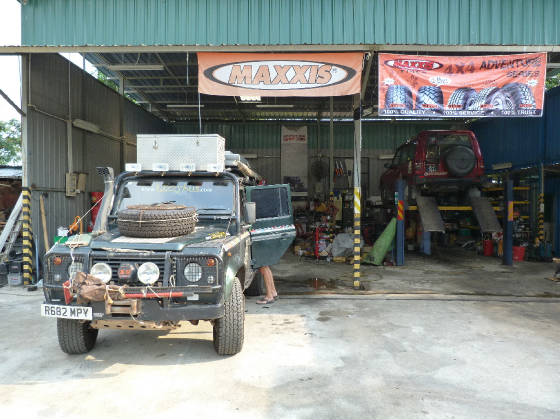 Black Hawk for a few running re[pairs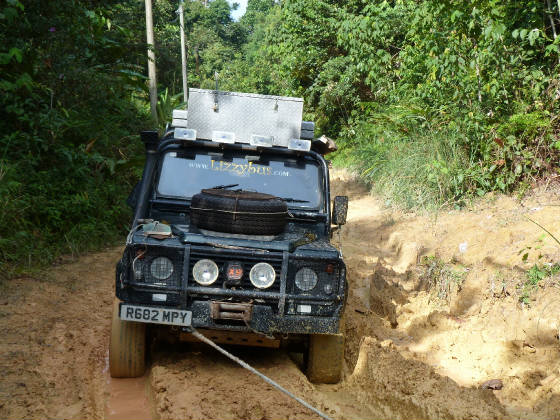 We got stuck in the mud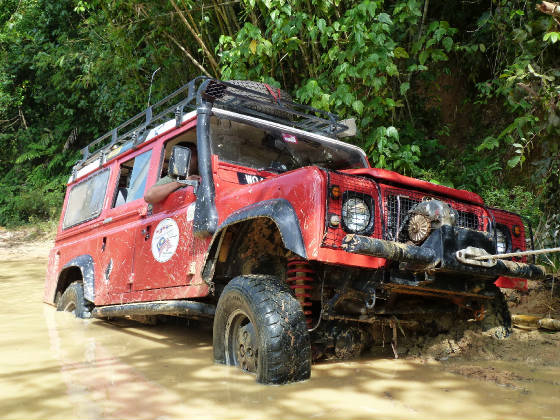 We didnt get stuck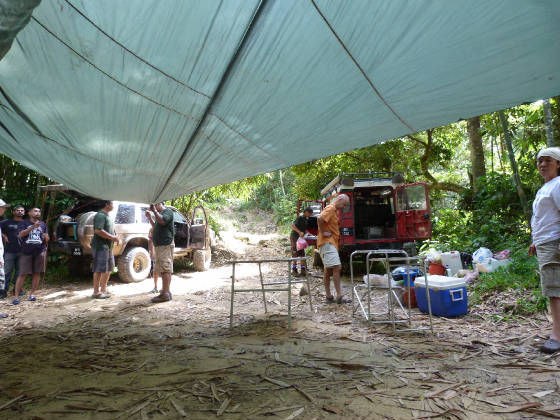 Setting up camp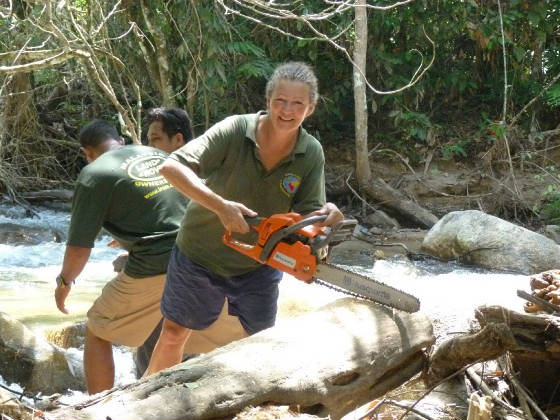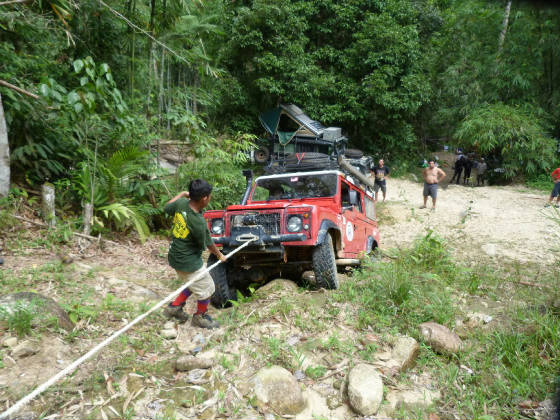 Attik's lads having some fun !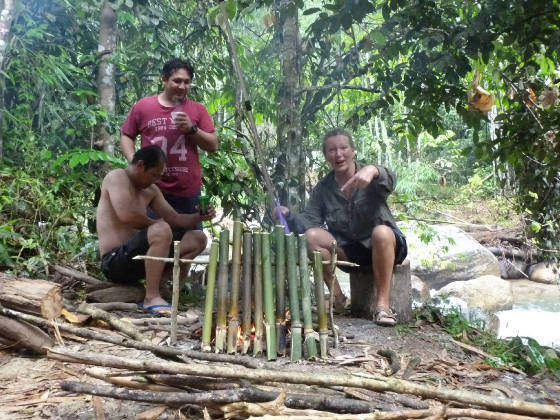 Jayne learning the delights of cooking bamboo rice...yum,yum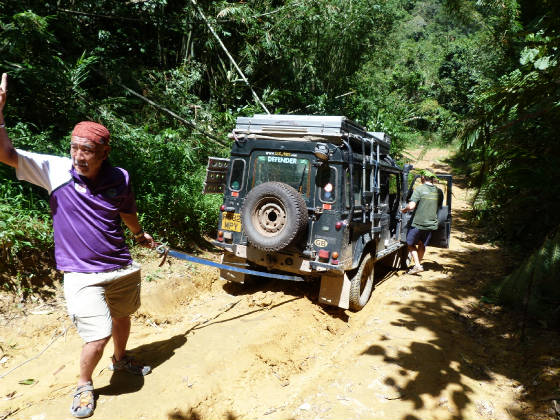 grounded on both diffs needing a helping hand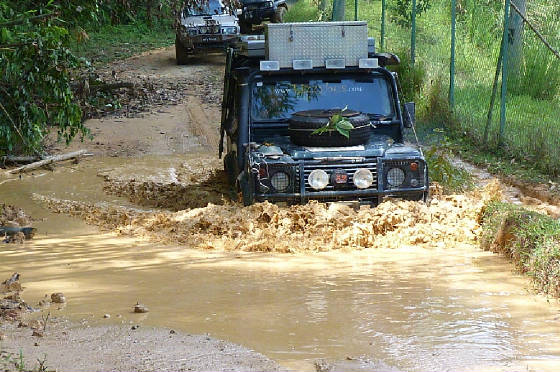 Lizzybus gets wet
Hellfire
Well it's back to the relative civilisation of Thailand .Ten minutes to cross the border using the now very , very full cancelled passport .
Intentions to head straight south are compounded when we realise that, with a small detour we can visit the Burma - Thailand Railway , The Death Railway of WWII that includes the historic ( if factually incorrect ) Bridge Over The River Kwai .
The Cemetery for the fallen is , as always very moving .People visit the steel bridge only because of the name .It tells you nothing of what went on .It's a tourist trap , very tacky and disrespectful to the memory of those who suffered during the construction of the line .We make a quick visit , then travel 40 miles inland to "Hellfire Pass" .Google it and be prepared to be horrified at the inhumanity of it all .
The memorial is reflective of the Australians who had it preserved .It is hewn out of solid rock , a 200 m cutting .We could walk 4 k of the railway yet had to give up after 1k .Too hot , not enough water and insects with a desire on your blood .Imagine , one sleeper one body over a distance of 450km.Again ,we let the pictures tell the storey .If you ever travel to these regions , go here rather than anywhere else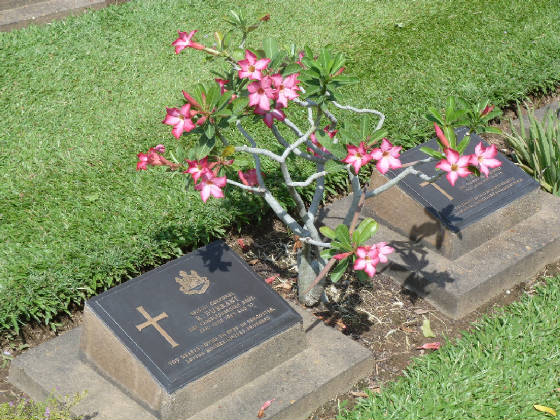 War Grave
Memorial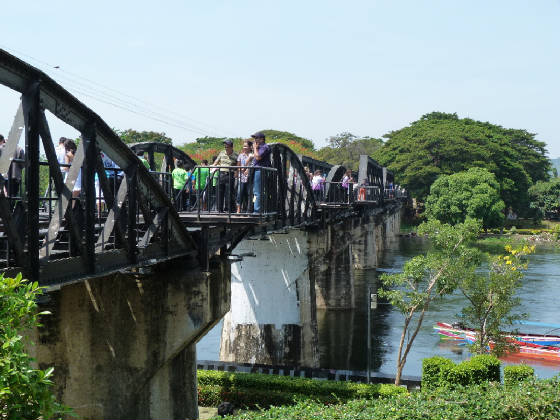 Bridge Over The River Kwai???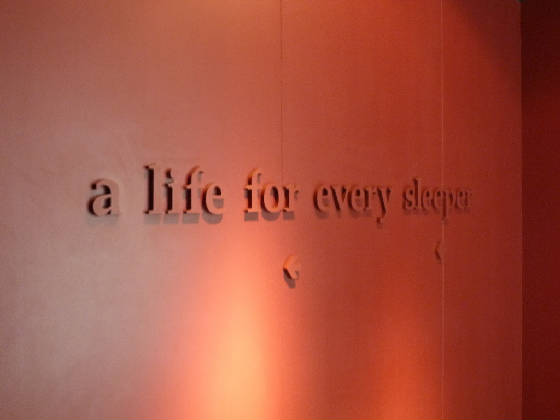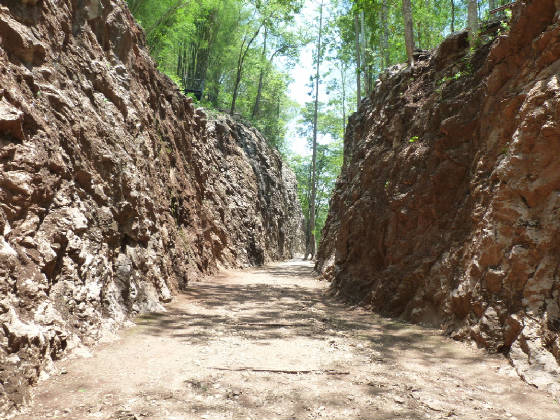 Hellfire Pass...Cut by hand and life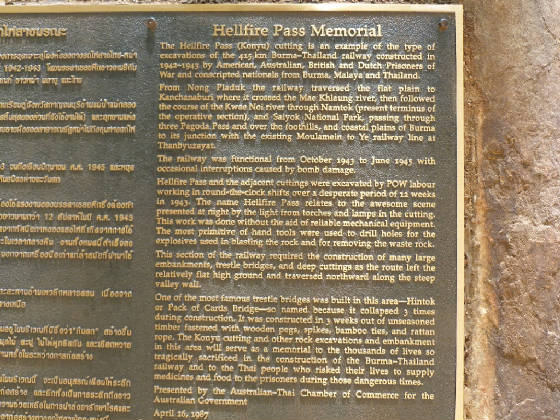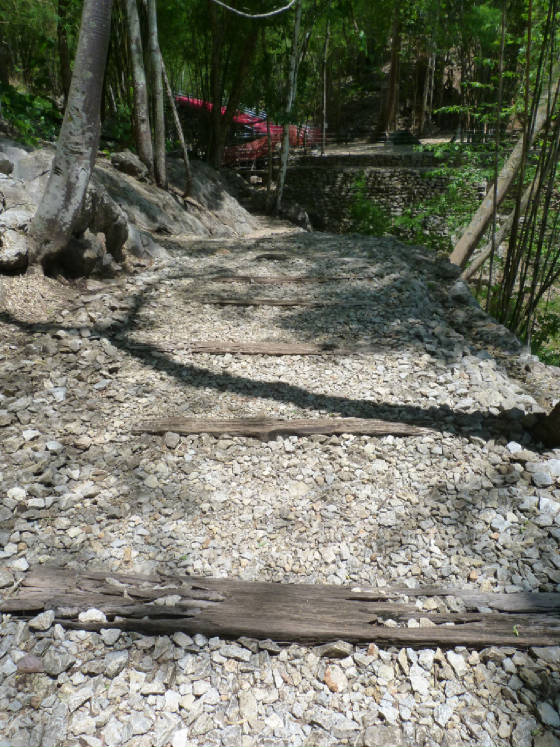 One Life , One Sleeper
Laos Bound!

Well all good things come to an end . Three days at the "Crazy Monkey" in Phnom Penh , a visit to the Imperial Palace we head of for Laos (via Ban Lung ) , roads deteriorate in places and become hard reminders of our travels in Africa . Ban Lung and its magnificent crater lake , a hotel for $15 a night an ideal chance to chill for a few days .

Laos and hopefully VOA , a quick exit from Cambodia and one month visa's for $35 each .

An ignominious start as Lizzybus , getting all hot and bothered refused to fire up and had to be pushed by a group of backpackers for a "bump start" , all very embarrassing , she certainly picks her moments.

Heading for the French colonial town of Penska and Jayne points out the nice policeman with the camera gun .Yep , we got stopped for speeding .Jayne was driving , the "book" with the fines in it was open , average about 7000 , but to us 50000.I have to use all my powers of persuasion, the fine is waived and we are off .Laos is stunning , its people friendly , good roads (to start with )and mucho beer . Short hop north , visiting non descript waterfalls , Buddhist shrines in caves and a most excellent day at a 7km long cave in powered "long tails" ($15)

All in a great place to visit , if not a little wet, It's the Laos New Year and celebrated by a 3 day water festival .Kids throwing water at cars , pick ups driven around with occupants pelting everyone with water bombs .Fantastic.

North to Luang Pubang , on one of the worst roads for a long time , a sense of disappointment at the old historic capital .Tourism has robbed it of its charm , still a great town to kick back and relax but not worth a four day round trip .

Back to Vientiane and a crossing back into Thailand and the journey south to Malaysia, running repairs, stock up on beer and find transport to Australia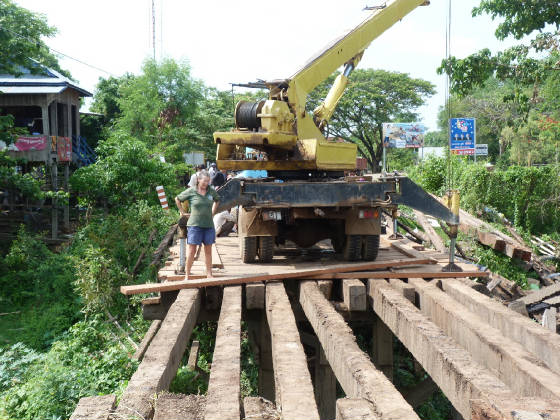 Bridge Building "in progress" Cambodia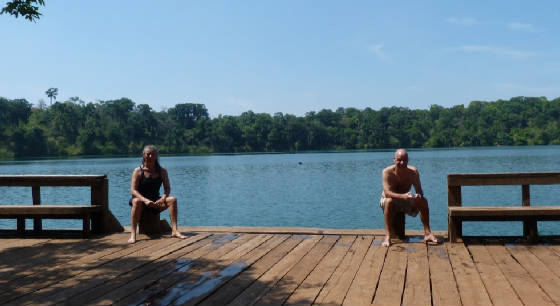 Crater Lake Cambodia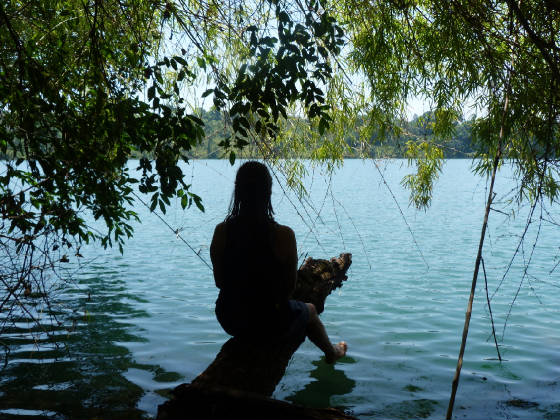 Contemplation Crater Lake Cambodia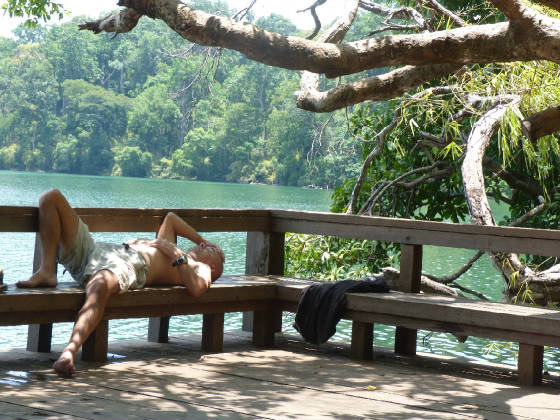 Tough life on the Road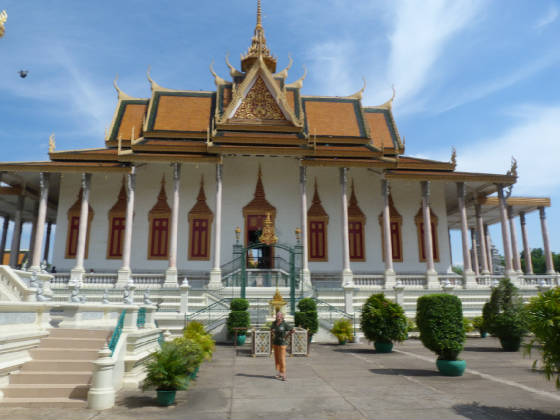 Palace Phnom Penh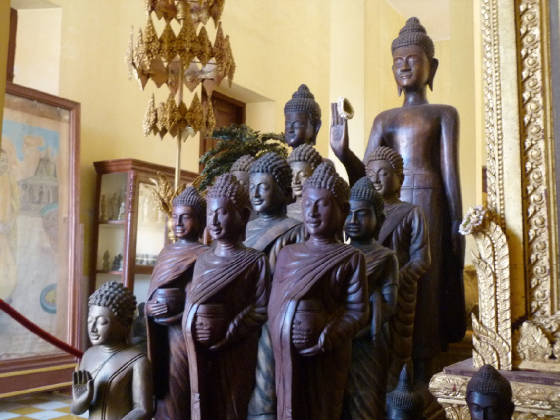 Royal Palace Phnom Penh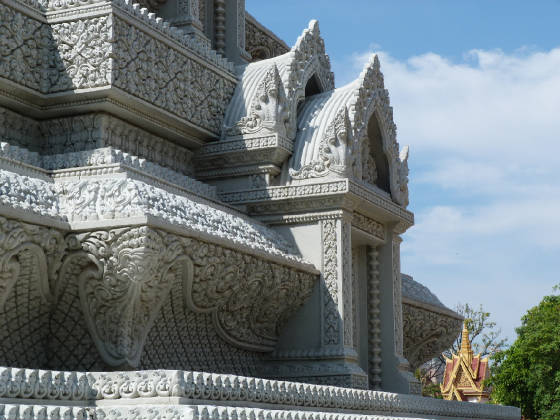 Royal Palace Phnom Penh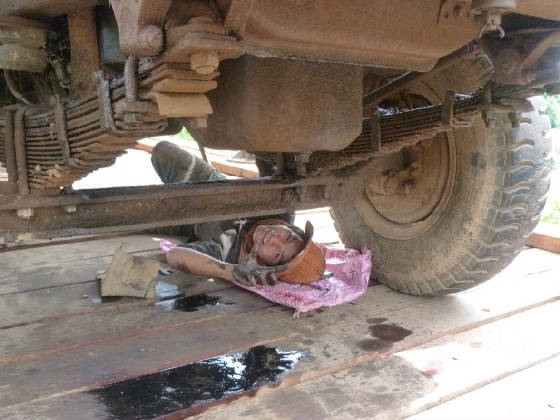 For once it wasn't us
Road to Crater Lake , Cambodia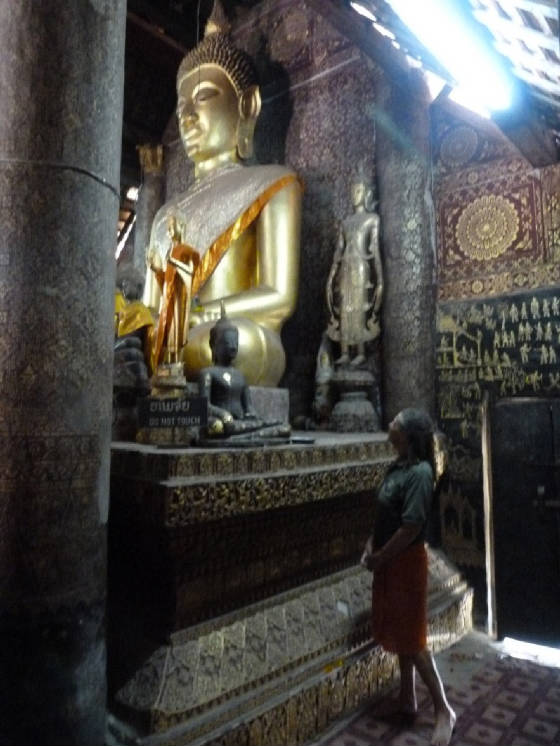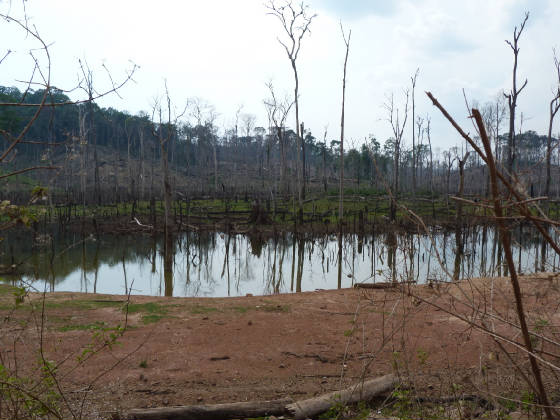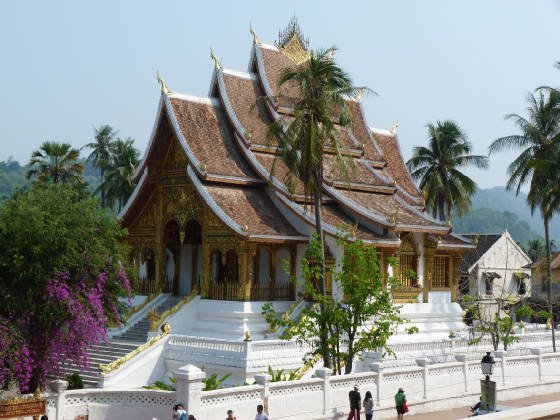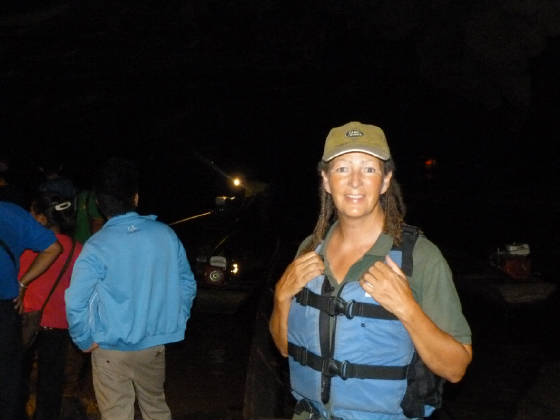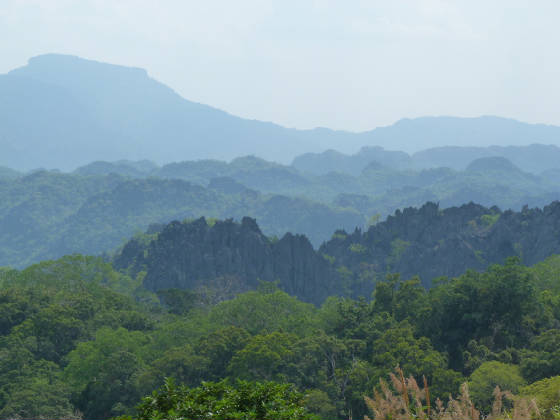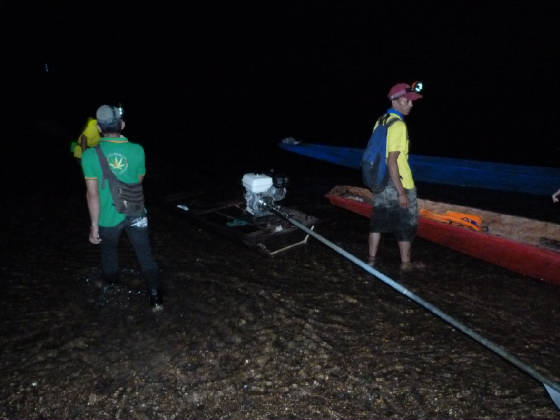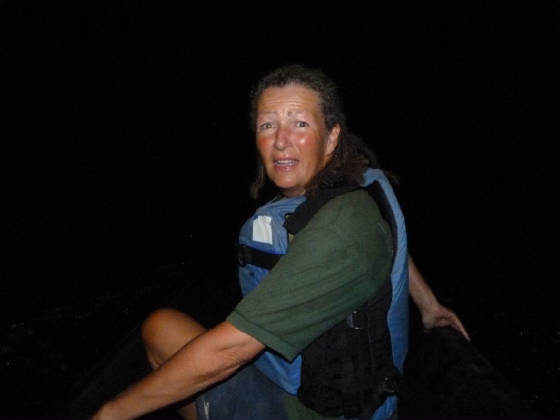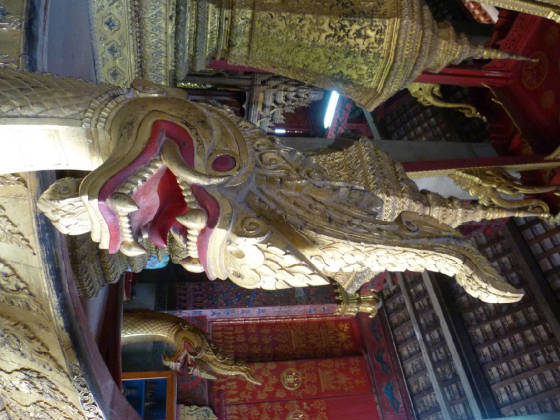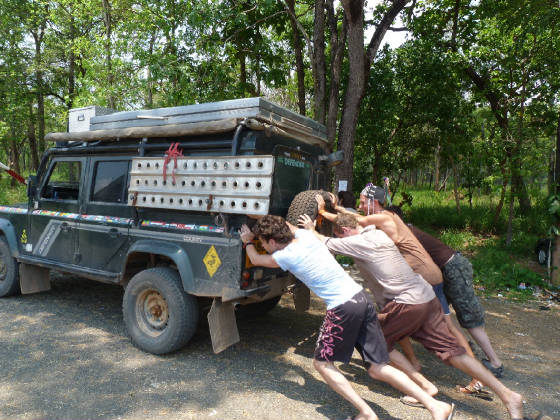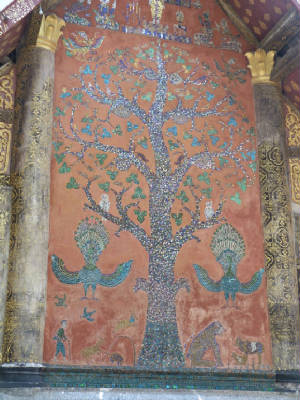 Tree of Life .Luang Prebang, Laos,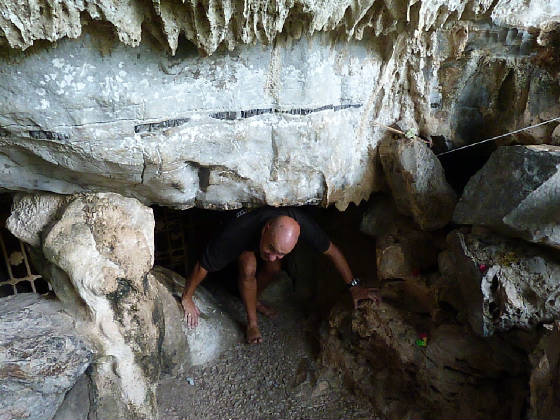 Cave shrine Laos
And they did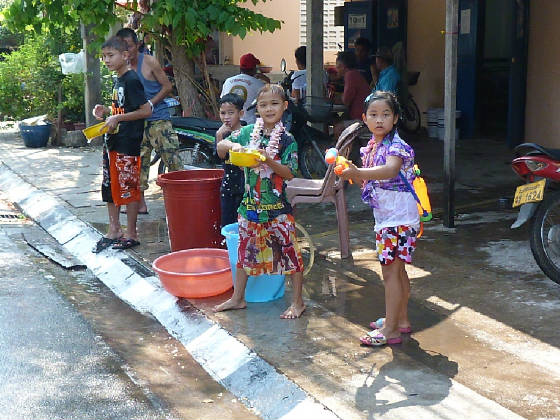 Just you dare!
Look back in Angkor
We love VOA ( Visa on arrival) despite the locals herding us into an office just before the border on the pre text that you get your visa here for 1100 baht ($37 ) , just remember guys , we did West Coast .A quick challenge and a view of their ID card (tour operator) soon put them in their place. Exiting Thailand and into Cambodia .Visa purchased at $20 ( though they did ask , but didn't get,an extra 100 baht each).Having handed over my pristine , virgin passport they refused it because it didn't have the stamp for Thailand in it .So , of all things , reverted back to my old , now cancelled passport . They let us in !
We visited Cambodia about 15 years ago , and boy has it changed .
A lot richer and a large amount of building work .
Siam Reap and the obligatory visit to Angkor Wat didn't disappoint .
On our last visit we missed out on "the killing fields and centre S21"
This time we didn't .I wont comment , just let the pictures talk about a nations suffering.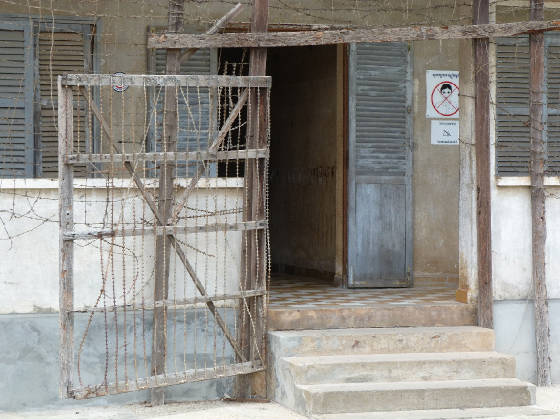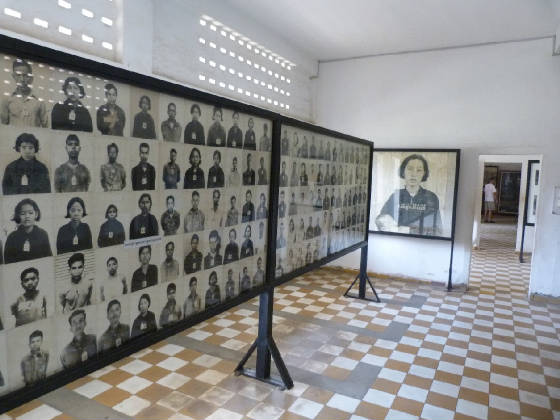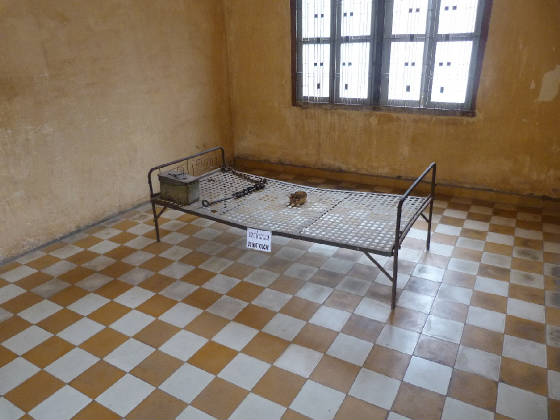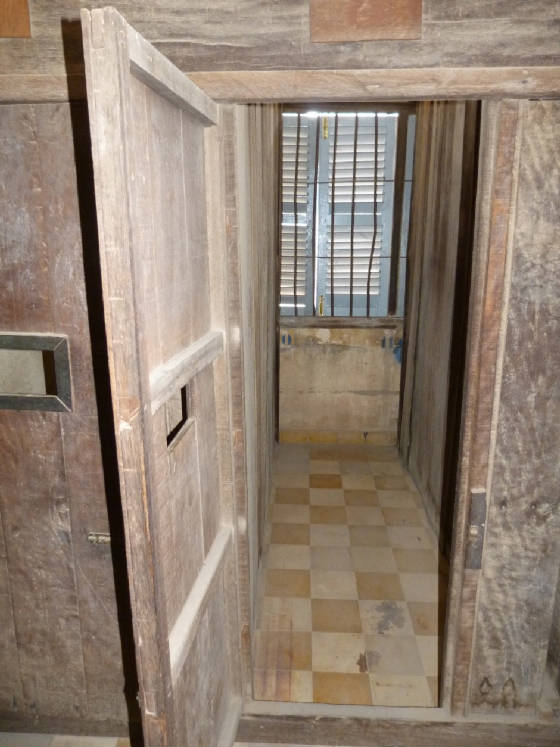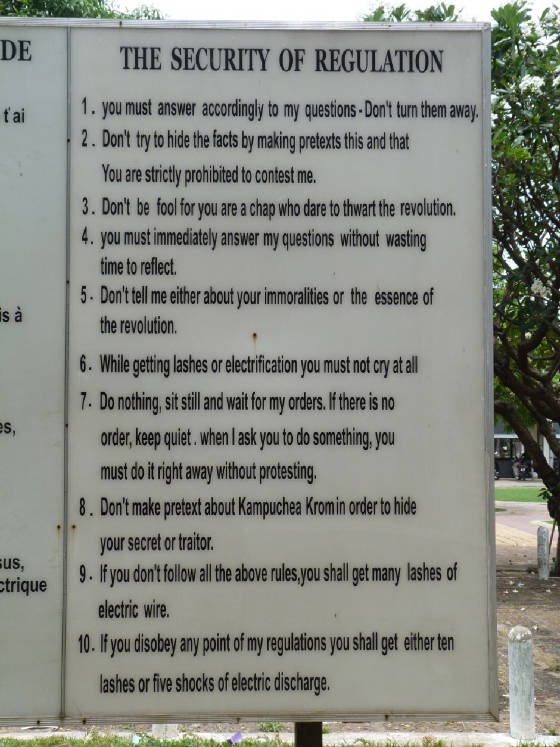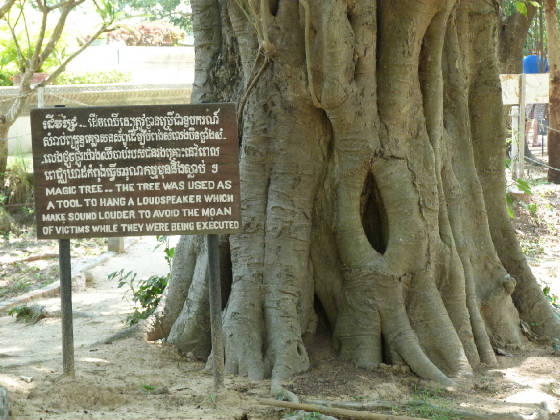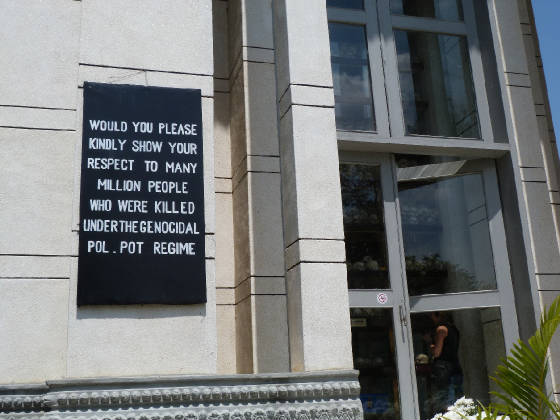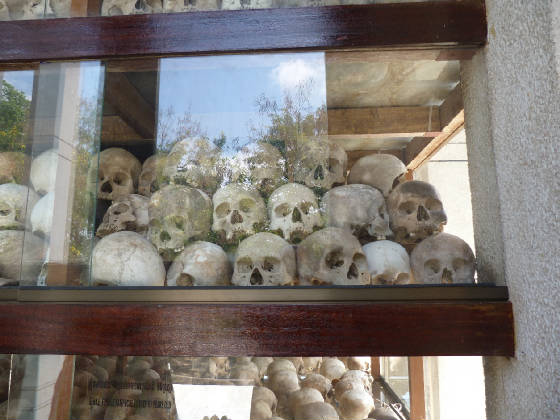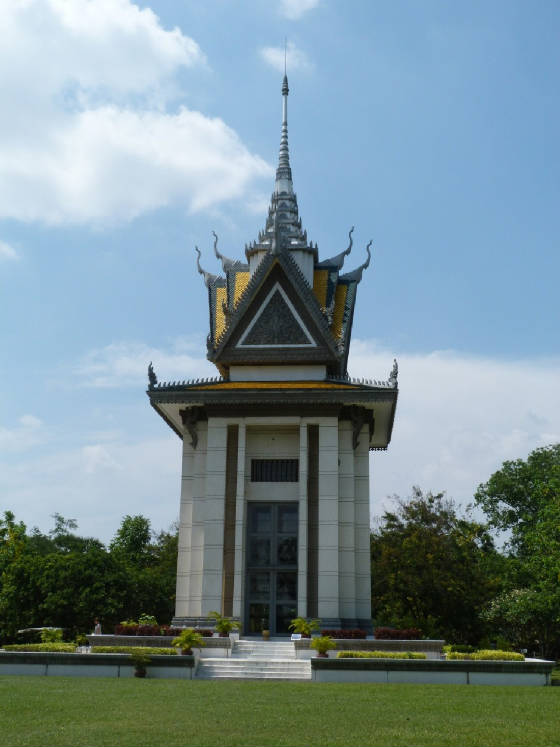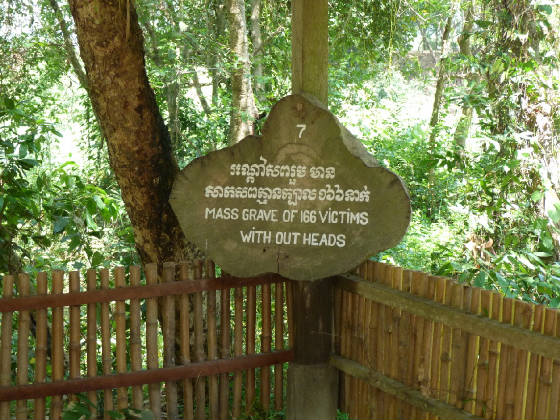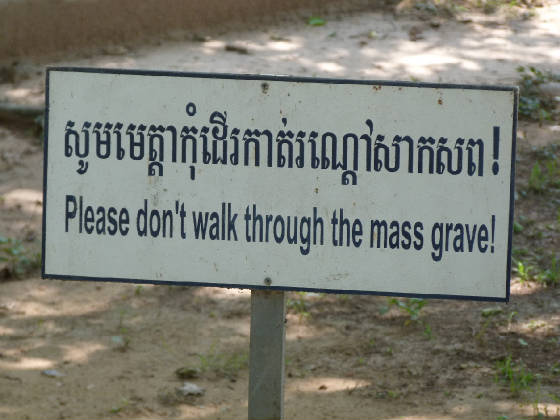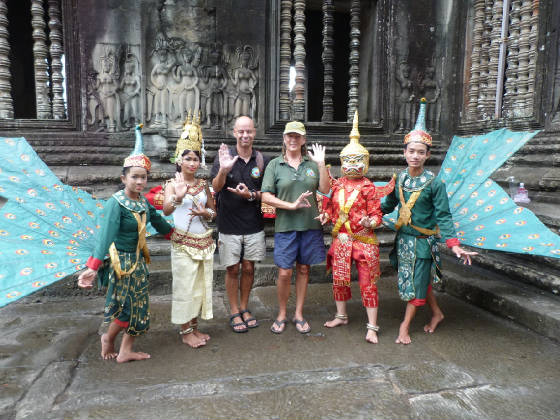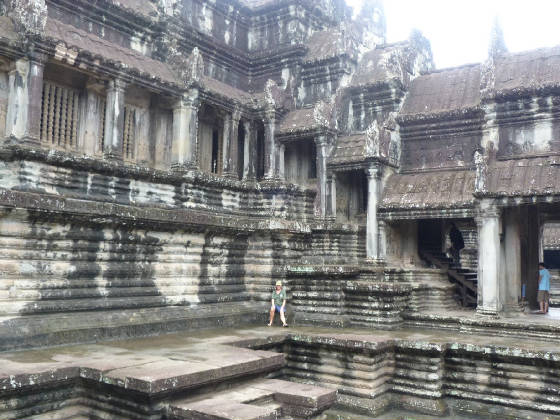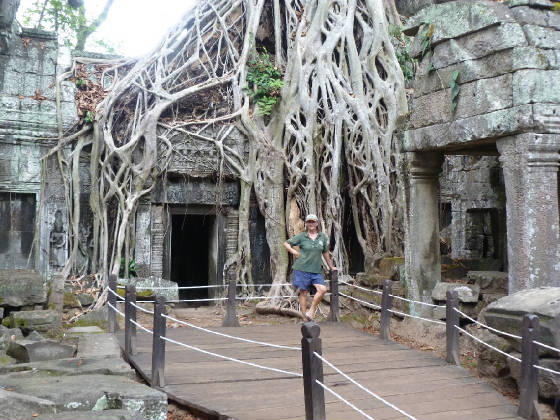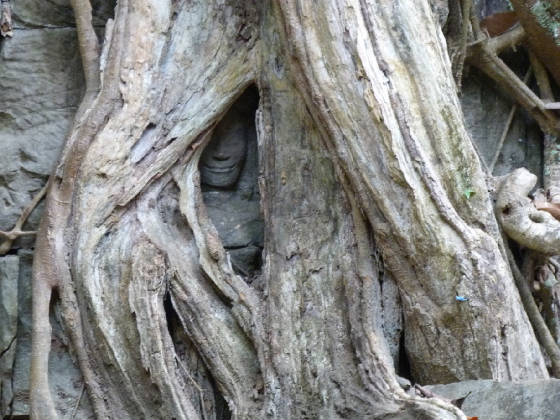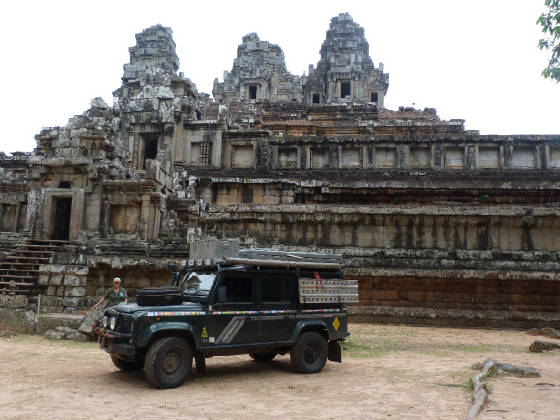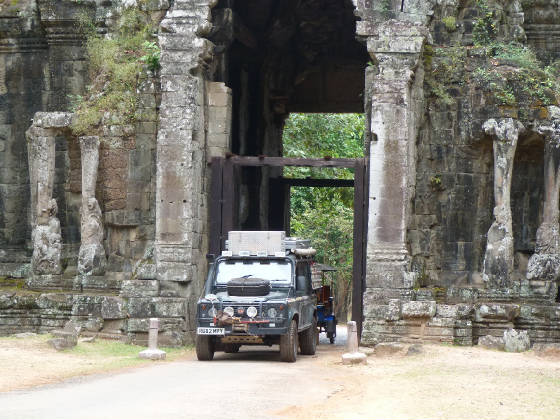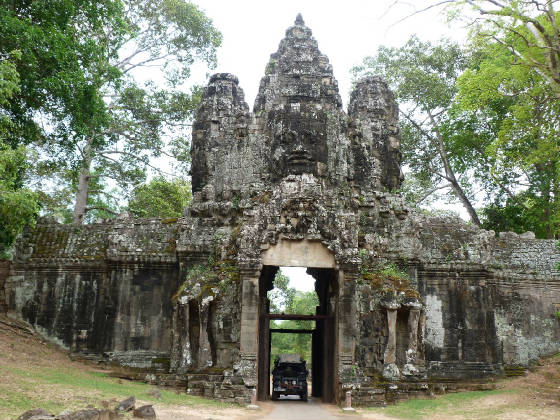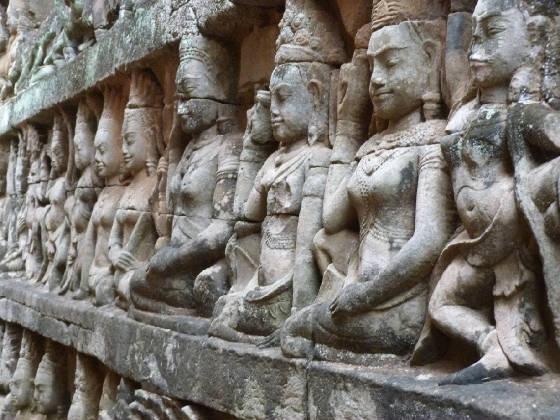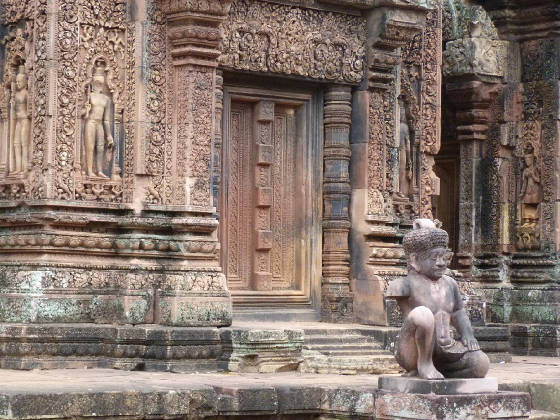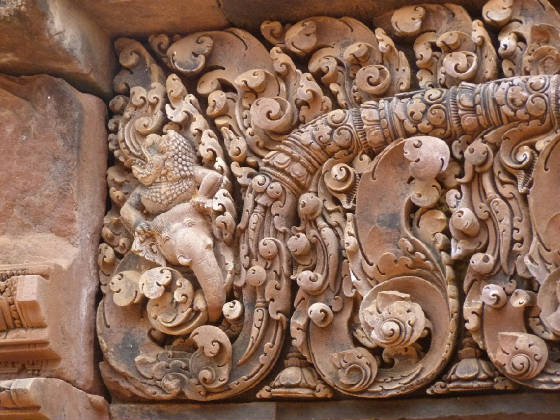 The great run North (again)

We had a plan , of sorts .My passport is nearly full , an application from Thailand only requires a copy of my old document . Back to good old DHL and for 30 pounds ( cant find the sign ) docs are dispatched to Hong Kong and we head for the border .Thailand doesn't recognise the Carnet so a Simplified Customs Declaration is issued .We have 2 month visas and will spend our time in Koh Tao ( small island) while I take my Instructors course. That's when it all went off plan and took on a life of its own .Just before arriving on the Island , a quick look at the customs form revealed that we had been granted 1 month .We have to be out of Thailand by the 2 April or we could face a 1,2 million Baht fine ( a lot of money) Course finishes on the 29th and the passport ( to be delivered to Koh Tao ) could take up to 4 weeks .Its all going to get very close .

Enough ofv the doom and gloom , back to the important things in life! Diving.

Crystal Dive came highly recommended , and despite a small hiccup at the start we secured a hut on the beach for 300 b a night .Jayne's diving was 7000 baht for 10 dives ,

The course is run by Matt , Justin and Darius .All very experienced instructors .All I can say is that it was an intense 2 weeks , the level of training superb , a great place to learn to dive .But , to be brutally honest for "fun diving" not as good as Sharm and Ocean College .

So all in all , a good choice to get your diving qualifications .

Each day heightened the tension waiting for the passport .Two days before the IE exams it finally arrived .Exams dispatched over 2 days ( most nerve-racking) and ……..I passed .Another career change and I am officially a Scuba Diving Instructor .Leave on the next ferry back to the mainland and a drive of 600 miles to the Cambodian border hopefully without a hitch.
Thailand




Sorry for the delay folks but we crossed into Thailand.

We have been granted only 1 month for the truck and this will cause us problems .My passport has been sent to Hong Kong so I can have a replacement sent back (old one is full).

The plan was to droive to Koh Tao , await passport and head to Cambodia .Two weeks into my Instructors course with Crystal Dive and the passport still hasn't arrived .we have to be out of Thailand by the 2 April or we will incure a 1.2million baht fine .it's a case of finishing course and leaving .Its very stressful but hopefully it will all get sorted.Internet is very patchy so this is just a short reminder that we are alive and kicking and living the dream
Fear of flying
I have , until now ,no fear of flying. My view has always been that the pilot wants to live to a ripe old age , just like me .
Having endured the TukTuk from hell , we arrive at Chittagong International Airport for a forty minute flight back to Dhaka.
The plane that we are confronted by (Biman Airways) is a re-sprayed DC10 of indeterminate age .Things don't quite fit , green overspray on the windows .Eeek , plane gathers momentum and for forty minutes I am praying to god for a safe landing , every bump , drop , turbulence and I'm thinking "this is it , goodbye cruel world" I have never been so relieved by a bouncy landing. Eight hour wait at Dhaka and better flight to KL on an Airbus.
The change is outstanding .Clean , tidy ,completed .KL is simply stunning .Free wi-fi and egg McMuffin at McD's and then a slow train to Butterworth .The journey in the coldest aircon compartment carves its slow way through the jungle , its inspiring .Ferry to Penang and the UNESCO city of Georgetown. Hotel selected was Mingood , in the centre , air con free wi-fi and breakfast £16 night we await the arrival of our container and her precious cargo. Next morning at Lean Bee Shipping we are greeted by the staff as "Mr David" and the container is at the docks in Butterworth , fees duly paid and an Agent sourced .Not cheap but Mr Raja seemed to know his stuff and will get our Container asap.
Then follows the fun and games. Customs will not release the container without the land rover having an ICP ( International Circulation Permit ).All attempts to locate the Dpt Of Transport (JPJ) for one hear ends up with us being informed that KL is the ONLY place that issues them. Armed with Carnet , Passports, Bill of Lading , Driving ? Reg documents we have no option than to take the overnight bus back to whence we came and secure the document .
Set in the magnificent area of Putrajaya every government Dpt is represented .Taxi to the JPJ and at 08.00 the office opened , at 0830 we where issued the ICP ( no charge).
Following day , the momentous opening of the container and our beloved Lizzybus is back , safely in our hands . Old thing even started first turn.
New tyres ( 6 in total) sorted , dodging the evening rain storms ( she still leaks like a sieve ) we prepare for our onwards journey to Thailand ,Loas and Cambodia. We have to miss Vietnam as you need a Vietnamese driving licence to drive , an international one just doesn't cut it
A Tight Fit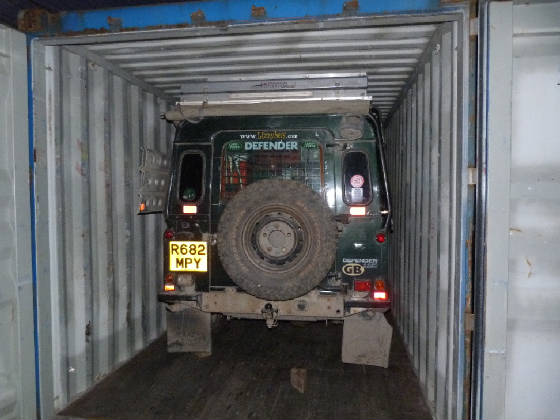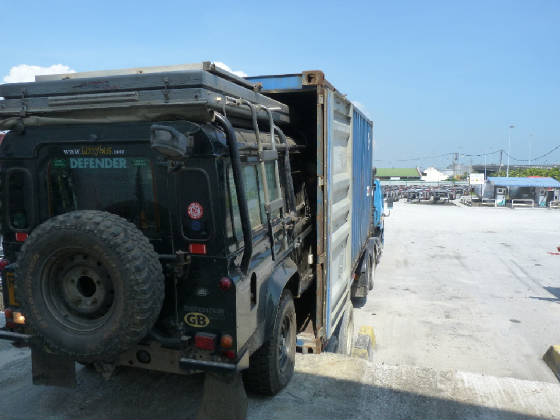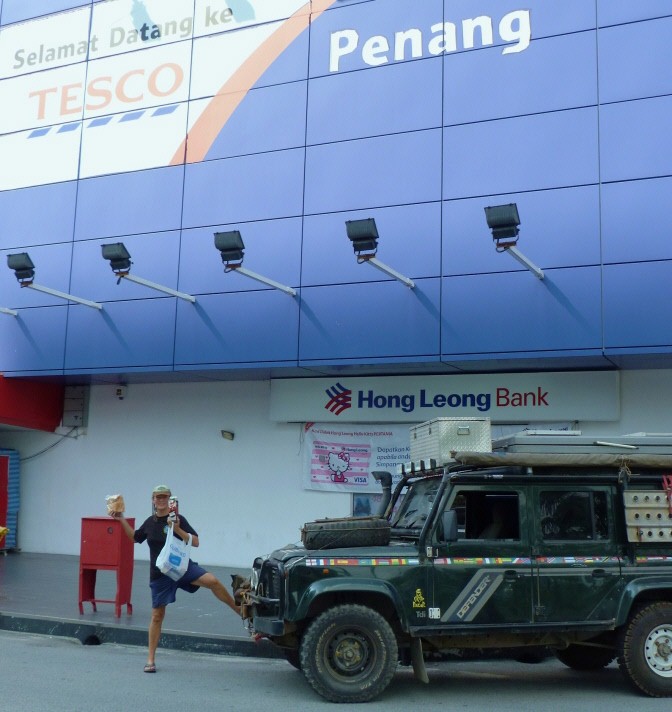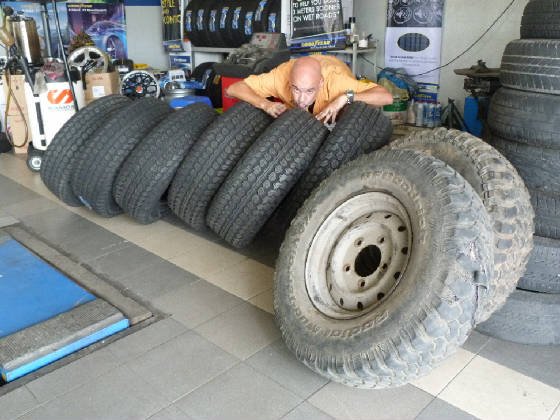 Only a fool breaks the 2 millisecond rule
Driving in Bangladesh is a scary thing to contemplate .Single lane roads with hundreds of coaches /lorries/cycle rickshaws and TukTuks all vying for road space .Overtaking is an act of faith rather than a thought out manoeuvre.
So after 40 countries , 90k km and 2.5 years on the road we had our first crash .
Braking for a lorry in front , the 2 millisecond rule applied for the car behind who slammed into the rear end of Lizzybus .
The entire front of his Toyota was caved in , bonnet bent in the middle and loads of vital fluids leaking from the stricken vehicle .Lizzybus now has a tiny dent in the rear cross member and nothing else .The HD corner protectors did their job again protecting the bodywork . Having established no injuries we drove off to Chittagong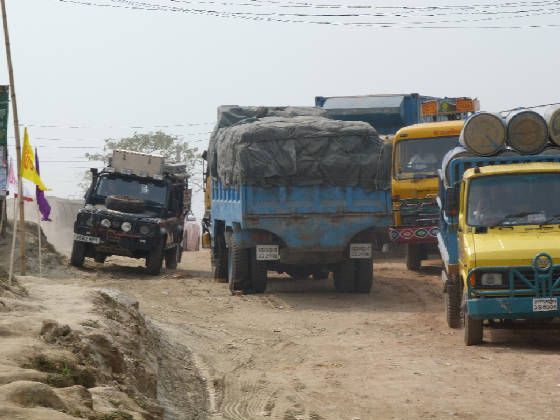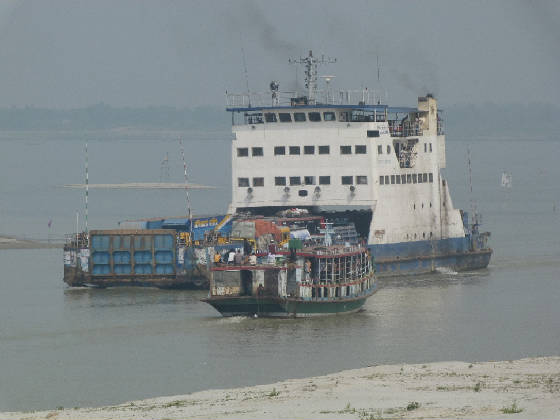 I don't like Mondays
Four days pass quickly mainly through the hospitality shown by the Customs Officers . They wont let us pay for anything , treat us to meals at their homes , we have become honoured guests .Days are spent chatting to children and the words "Aunty /Uncle" mean another hour trying to keep the conversations going but its becoming hard work.
Cricket goes down well , mind you we have a very poor bowling action.
Monday and a figure on which to base the bond on is ascertained . 2,950,000 (yep 2.9 million Taka ) , don't worry you ONLY have to deposit 10% , cash ,with the local bank for a bond to be issued . We thought they had got the decimal point in the wrong place . No , we have to find the equivalent of £2000 and pay it over .
We submit a letter and meet the Commissioner who will see if he can get the ruling on bonds changed. Later that evening we are told that we now no longer require a bond , just sign a guarantee that we wont sell the vehicle and if we do will pay shitloads of duty to the revenue .It appears that they realise the local regulation is at odds with the international treaty they signed .So Lizzybus has changer their law .
Everyone we met was apologetic for the debacle .
We loved every minute of it and had a rear opportunity to see Bangladesh in the Raw .
Photographs with all a sundry saw a late departure and a short hop to a hotel 40k way .
We will make speed to Chittagong and try and ship out ASAP to Malaysia.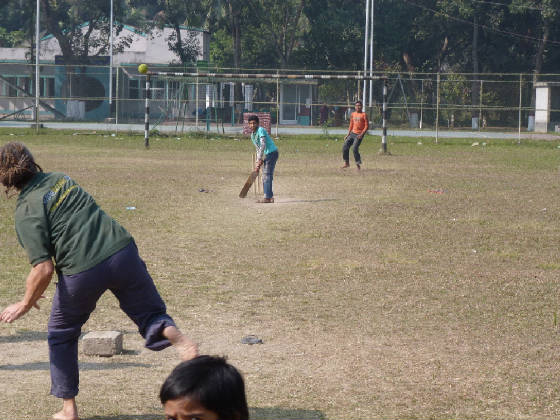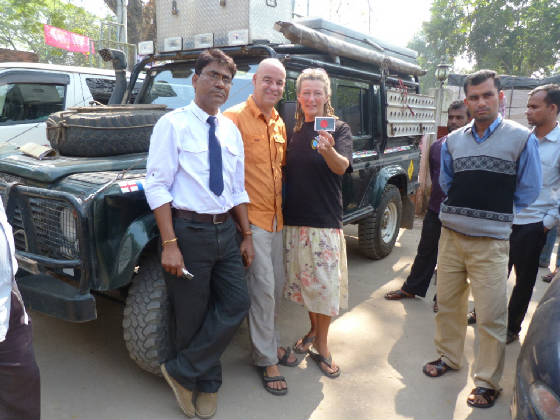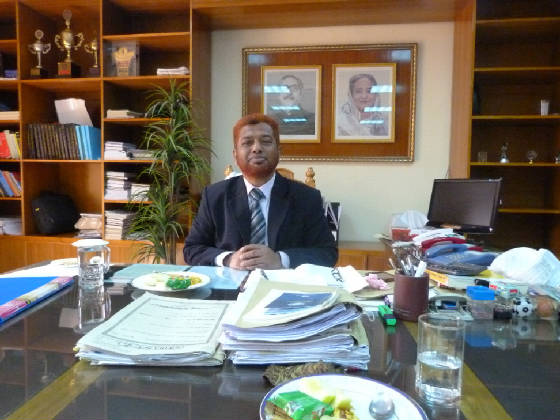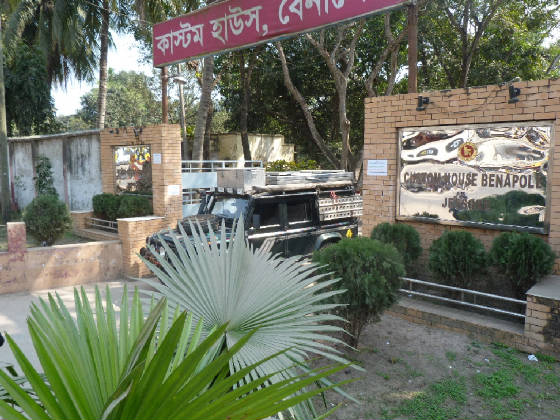 Life? Don't talk to me about life .Loathe it, hate it ,you cant like it!
Well lizzybus chums its all fun and games . A late departure from Calcutta caused by an impromptu trip to the doctors for moi . To put it in its most basic form ( and not for the squeamish) blood in my stools .Paranoid about the Big C blood test , ultrasound and stool sample proves negative (though on the stool side the report came back as them "smelling offensive" , so nothing abnormal their then ).
Hit the border at Beanpole (Benepole) leave India on the Thursday .Bangladesh customs proudly announce that they no longer recognise the Carnet and Lizzybus gets impounded .We cant turn back (India visa forbids a return for 60 days).A visit to the chief of Customs elicits sympathy but nothing else .We show our carnet , endorsed for Bangladesh only to be told that we need a bank guarantee from the local bank .No problem but Friday is a public holiday and the banks open on Monday !!!!!
We can however leave our vehicle in the secure compound .
So that's where we are ,camping in a secure customs compound in Beanpole .
We have however become honoured guests of the customs service .Paraded like a prize catch at opportunity for everyone to come and question us as follows;
"where are you from?"
"what is your occupation?"
"what is your education"
"you come for breakfast/lunch/dinner/stay with my family"
The hospitality is overwhelming and very intense by the end of the day we are getting tired and irritable but put on a brave face considering that we will be here for four day's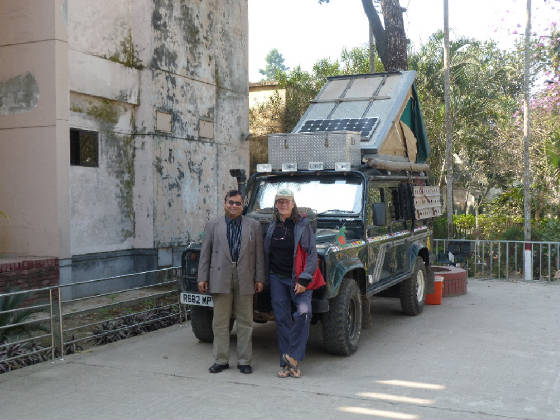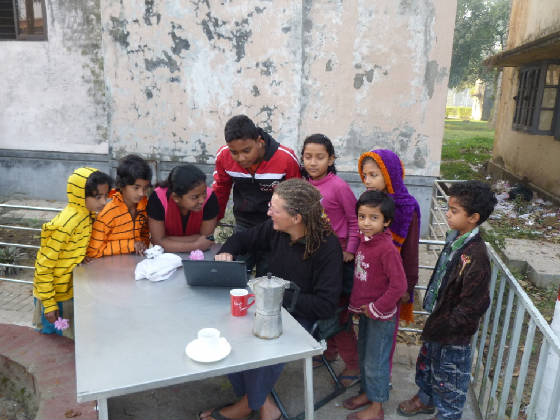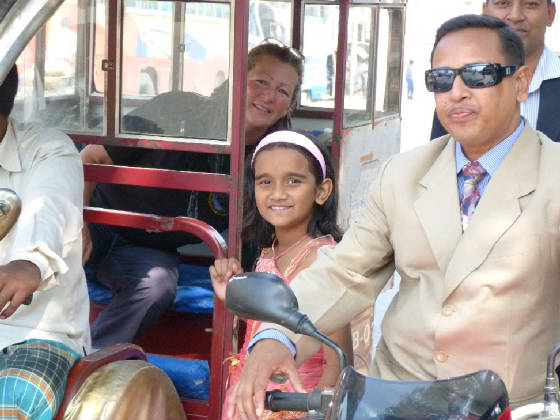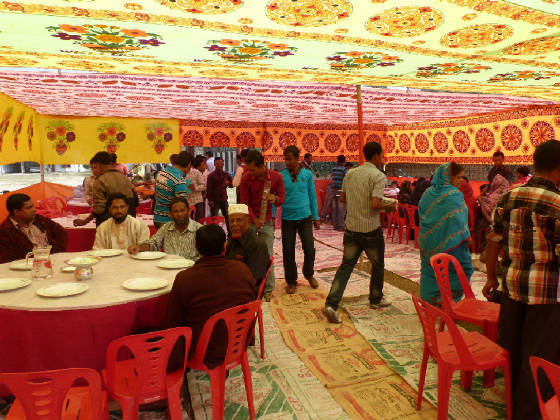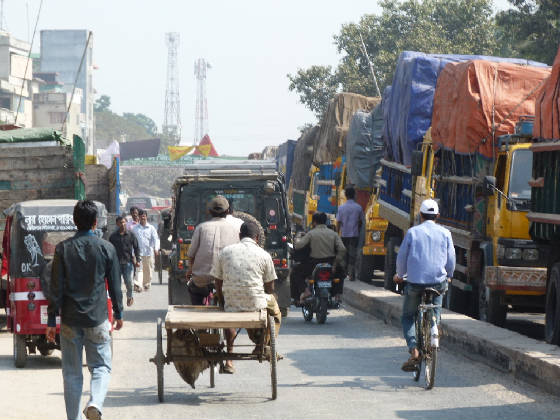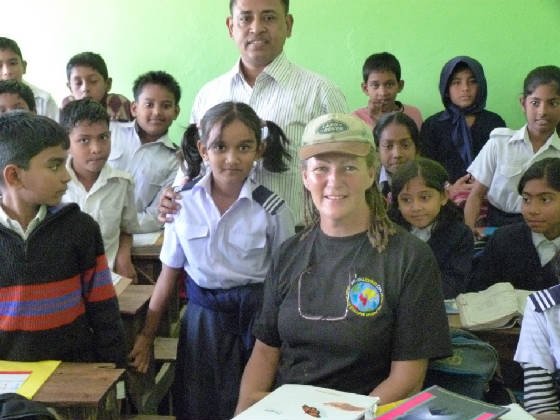 Well "Lizzybus" fans we have some bad news and some good news for once.

The web site was to have been updated with great tales of adventure and daring do .But I have decided to change host .But when we return ( Imshala ) the site will be a multi media extravaganza , no more than this tale deserves.Keep viewing , I will try and get it done ASAP
"Oh,Calcutta"


Having spoken to various overlanders (camped up at Agonda Beach) plus an e-mail from Klaus (still German and still in South America), the consensus of opinion is NOT to ship from India .So its Bangladesh then !
Its sad that we leave new friends so soon after meeting up (Mark and Jeanette , the Joneses) . People of similar outlook travelling around India.
So , after 10 days on a beach , horizontalised to a state torpor we depart.
We intend to miss Chennai and head for Calcutta (Kolkata),pick up Bangladeshi visas then head for Chittagong and a container ship .On our way , pick up the sites of Hampi (abandoned city) and Konark (Sun Temple).
That was the plan , (plan the dive , dive the plan ) or so we thought.
The great god of the 4 round circular black objects was about to intervene.
Having only one spare ( other ripped in Iran) and having been so spectacularly unsuccessful in India in getting replacements the first flat occurs at end of the first days driving .Bush camp next to a railway line .Any other country that the British left had a rail structure that fell apart and doesn't work .well in India , they kept it going .Every hour , ten metres from our tent , not the best nights sleep.
Tyre repaired we visit the city of Hampi , the usual impressive abandoned city ( im not being dismissive here).Day three and the un mistakable sound of a tyre going flat reveals a badly blistered tyre .Time to change .On checking the other rear tyre it is also badly blistered .No spare and a tyre about to de-laminate on us .Time for drastic action.
£200 later and a pair of "skinny" truck tyres adorn the rear of Lizzybus.
More bush camping (quarries, cotton fields and forests) we press on .Front tyre decides to slowly deflate Checking that one , no more than a faulty valve .Unlike the UK however , Sunday and all the shops are closed .Managed however to find some guys working late at a MRF shop ( cheap Indian tyre outlet) who gave us a tubeless valve for free !Finally a complete working set of tyres and a plan to change them all in Malaysia!
GPS drops us right onto the hotel of choice in Calcutta .£12 a night in the heart of the city .
Jayne has been suffering severe pain and swelling in both ankles .So much so that she is forced to walk like a duck at a ducks speed .A consultation with a doctor coats 200r (£2.50) , blood test for gout! 310r (£4)and anti inflammatory drugs 76r (£1).She hasn't got gout and the swelling and pain is beginning to subside .Having arrived on a wed the doctor was the first port of call .Bangladeshi consulate the next day for visas ,except Thursday the 26 Jan is Republic day and everywhere is shut .Bo****ks. Friday visa application ,3250r each (£42) plus 1500r for same day .We elect the Monday pick up after they called us back for an interview.
Calcutta , Black Hole? No way , great city ,a lot more destitution mind you , superb colonial architecture and great cheap street food .
Bush Camping
Hampi
Hampi
Cricket Calcutta Style ( don't mention the australians )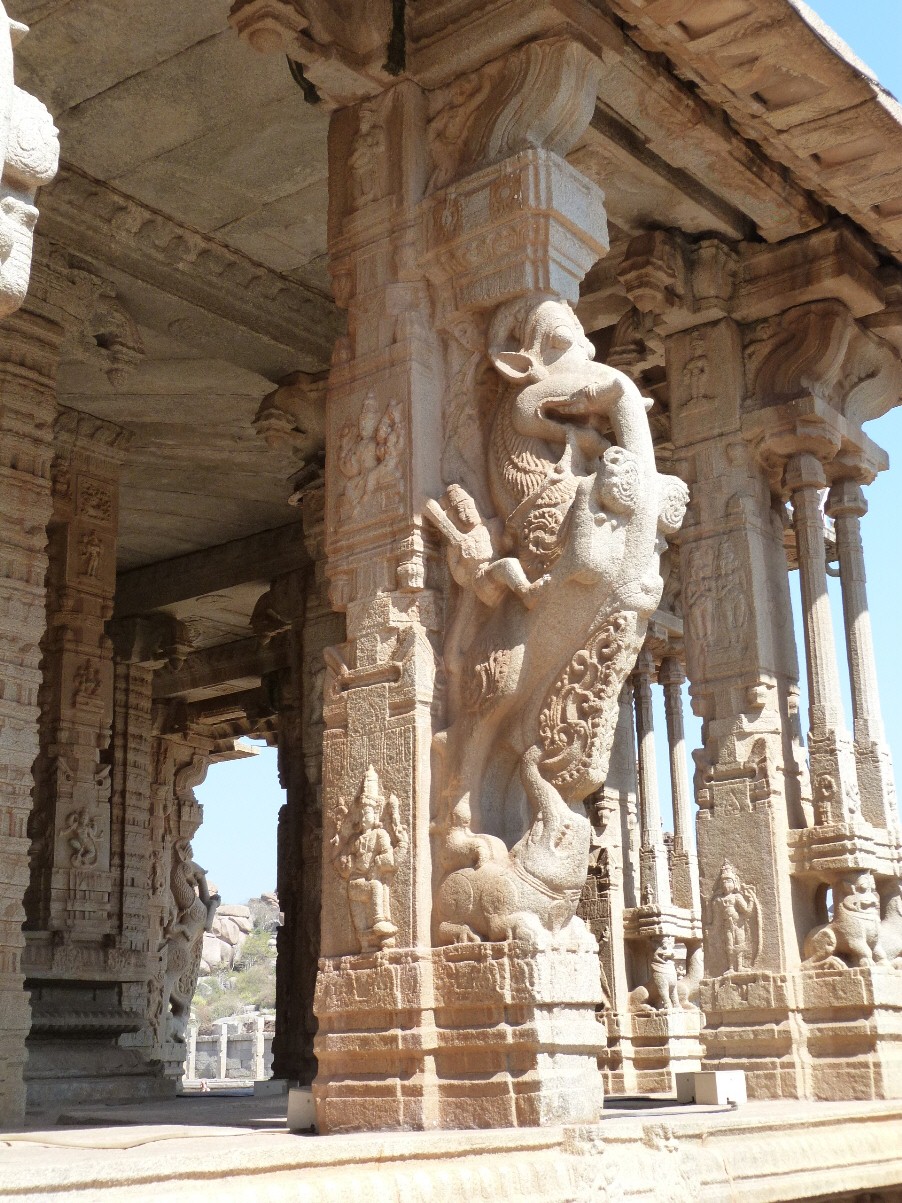 Hampi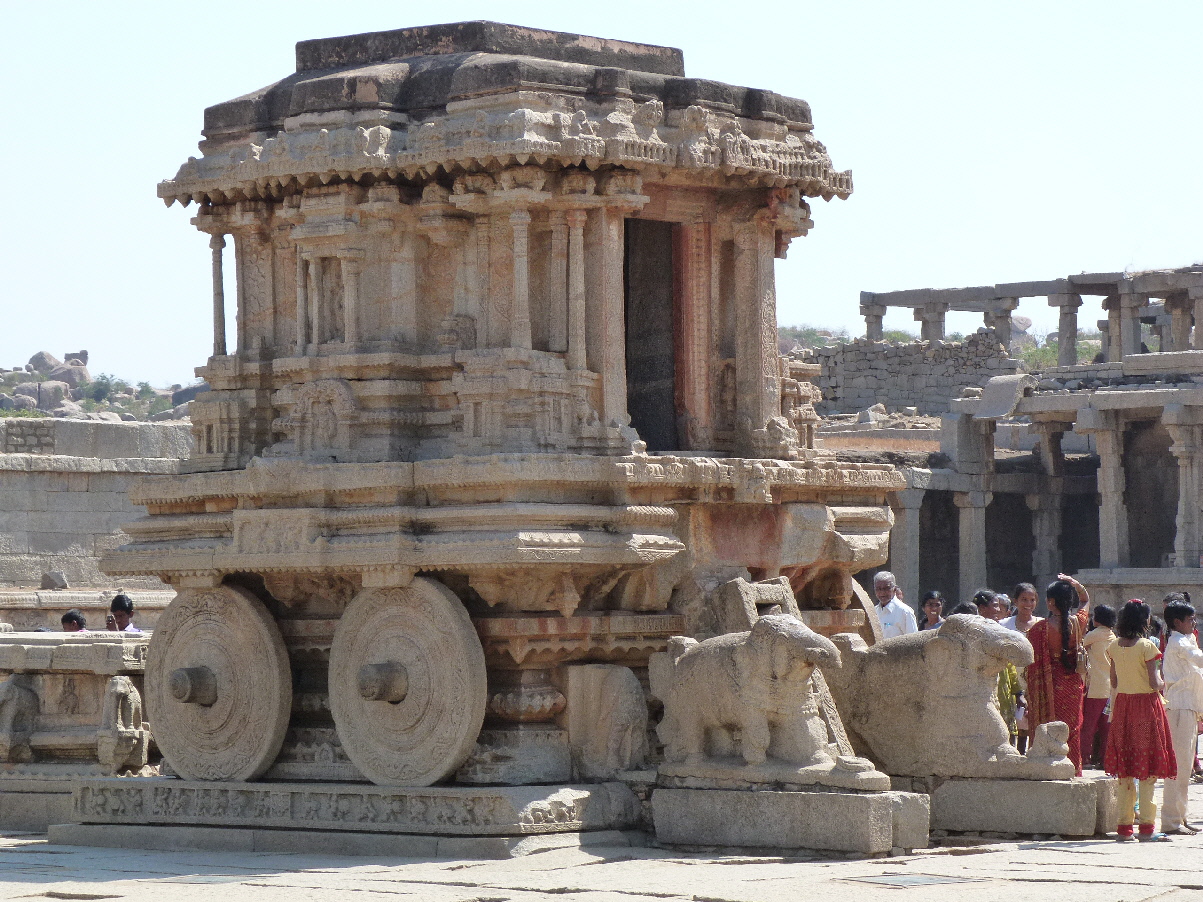 Hampi
Entertainment on Republic Day
Blessed by a Hefalump : Hampi
Hampi
Sun temple Konark
Sun Temple
School Run
Sun Temple
Repairing the repair
Victoria Monument Calcutta
Sun temple
Sun temple Detail
Victoria Monument
Victoria Monument
Victoria Monument
Victoria Monument
Victoria Memorial
Mellow yellow



So , Baga in Goa was our New Year stop over , as a holiday destination it is perfect if you like the "Blackpool" experience .The beach is guarded by rows of beach bars , each trying to outdo each other with its sound system and choice of music .More than enough restaurants/bars , all offering similar fare and prices .Time to move on South , Palolem and Patnam beach are recommended as they represent what Goa was like before it became Baga .It may only be 64 miles south but it is a world away from what we have left and will take a day to drive .Beach huts and bars , right on the beach .Clientele , all Europeans , no jet skis running you over .Very nice , very pretty but prices for a hut are 1500 a night .That's £19 in a country where a fish curry cost 60pence.The price for rich western tourist and supply and demand .Its better than Baga , but not what we want.
A British cyclist ( and we thought we where mad) recommended Galibag Beach .
Three bars on the beach .A single room , double bed and fan 150 a night .Cold shower and 50 yards from the beach .So , its cold beers at night , 60p fish curry and a sunset where the sun slowly melts into the sea .This is what Goa is about .
I have christened the Lizzybus horn "Mellow yellow" because she is not a raucous cacophony of noise compared to local arse***es who sit behind you , constantly blaring trying to force their way around .You should only overtake , uphill , on a bend and slow down as you are doing it .But don't worry , your safe , you have a load horn , just like everyone else.
New Corporate Image
A very tight fit
Santos Beach Bar
Jeanette and Mark aka roots2boots.com
Womens Work !!!!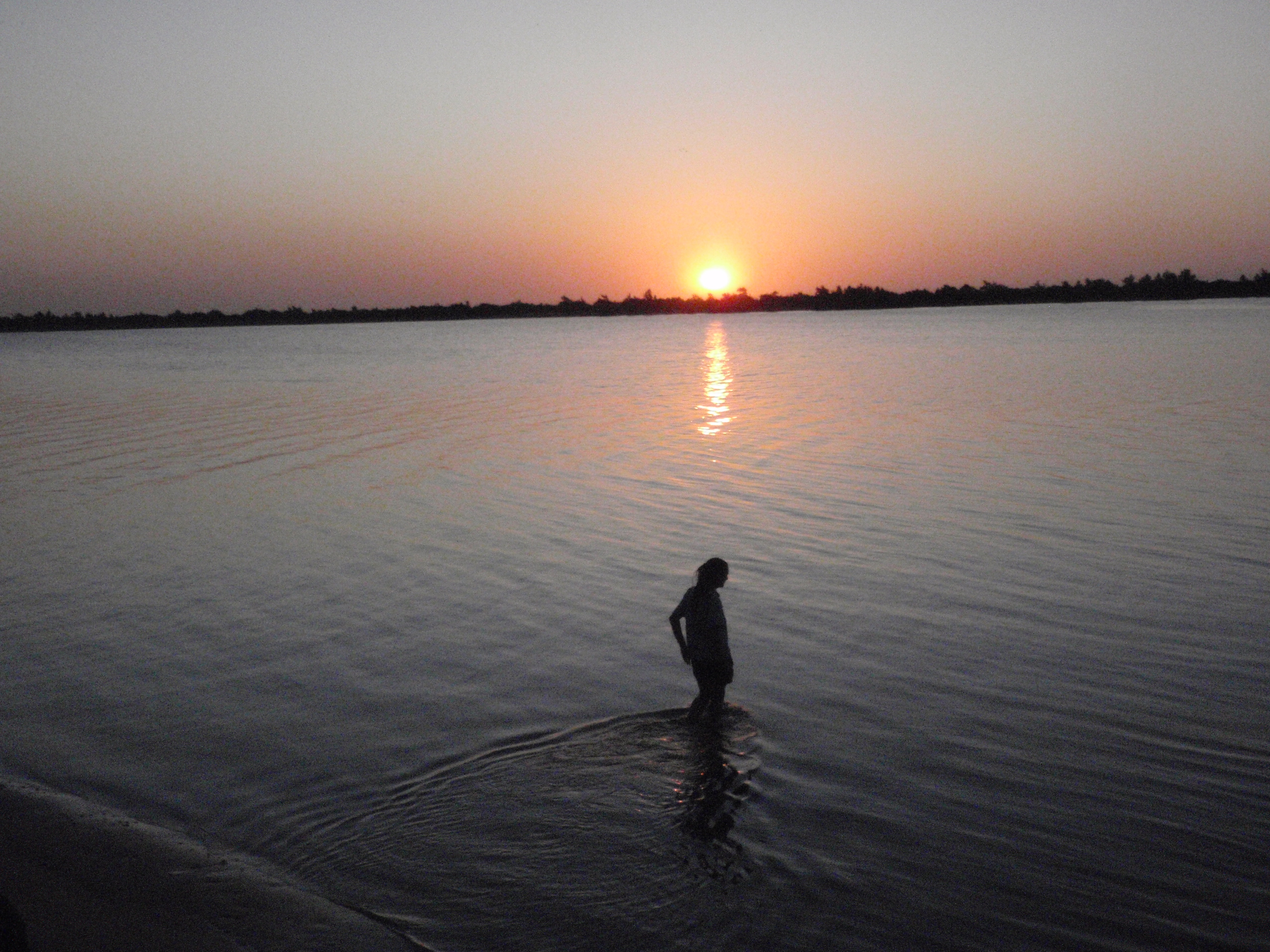 Sunset
New Years resolutions?
Well , didn't make any because I always break them .So , Happy New Year from the Lizzybus Crew.
We spent the night watching the fireworks on a beach in Goa .Tens of thousands , most drunk but all having a good time .We have found a hotel with a pool .Its not cheap but its very expensive around here for the New Year .We have decided to ship from Chennai and not Bangladesh .The shipping is more expensive but the flights to Malaysia a lot cheaper .
We will sort a hotel in Kuala Lumper and await the arrival of the Lizzybus .Anticipate a 20 Jan sailing . My passport needs replacing , so we will send a copy from Thailand to Hong Kong and a new one will be DHL'd to us . £154 for a passport !We have managed to get "corporate" T Shirts with the lizzybus logo so expect to see them in a few pictures. Apart from that , not much happening but I may be doing my instructors course in Thailand Ah well , back to Hard work again..
MERRY CHRISTMAS
lizzy"santa"bus
All tyred out


Stopping overnight in Dehli a chance to push on to Taj Mahal in Agra. Again we decided not to stay in a major city , could be very injurious to our health .Skies are overcast with smog .The main highway has toll booths and to our surprise about half just waive us through without payment ( must be the number plates ) . A backpackers in Agra , 400r a night with views of the Taj Mahal .The Taj is as beautiful as you would expect .Aside the Taj , the fort is also a great experience .Enjoy the pictures .
Next is Jaipur , again great places to visit and the quirky Hotel Pearl Palace to stay for a few nights .Next on the adventure Udaipur , its water bound palaces as featured in "Octopussy" .Rabbit warren of a town eventually leaving Lizzybus down by the lake shore for a couple of days .
All things come to an end .We have to push on South to get to Goa .
When we where in Iran one of our tyres had shredded leaving us with one spare .200k from Mumbai and we loose our last spare .Should be no problem .Mumbai , massive city and we will change all 6 tyres for Michelin 7.5x16 tyres. Should be easy to get ! No way , cant get replacements in our size and despite what the Michelin web site says , you cant get a 7.5 tyre .So because of this we are spending Christmas in Mumbai .This is a massive city , we have seen the " Gateway to India" , Elaphantina Island ( no elephants however , Jayne wants her money back).Both of us have caught a cold so not much different from home .
So , Merry Christmas from India (Mumbai ) but we will try and see in the new year in Goa , on a beach where the temperature is in the mid 30's and not a sign of snow!
Taj Mahal
Taj Mahal
"Classic" Taj
Agra Fort
Agra Fort
Fatehpur Sikri - Fort
Agra Fort
Fatehpur Sikri - Mosque
City Palace - Jaipur
Astronomical Instrument , Jantar Mantar - Jaipur
City Palace - Jaipur
A bit livlier than Sid - Jaipur
Hawa Mahal - Jaipur
City Palace - Udaipur
City Palace - Udaipur
Dry Cleaning - Indian style , Udaipur
Jagniwas Island Palace - star of Octopussy
City Palace - Udaipur
Elephanta Island Shrine - Mumbai
Jagmandir Island Palace - Udaipur
Jagmandir Island Palace - Udaipur
Elephanta Island Shrine - Mumbai
Gateway to India - Mumbai
"I've got that sinking feeling!"


You will never forget that sinking feeling in the pit of your stomach when you know it has all gone horribly wrong .You put the key in the ignition and "Nothing", that grinding noise or unexpected loss of power .You cast your mind back and think ," should have sorted it earlier".
Travelling to Shimla and a respite from the pollution , Garmin said 4 hours .Yeh , like we believe that .Again the roads conspire to slow you down .Trucks everywhere and few opportunities to overtake meant we only made Chandigarh
Lonely Planet recommended hotel wanted 1400r a night for a room .It's late , were tired .Usual request for passports and its that sinking feeling .We haven't got them .They are not in the dive book .F**k , bo*****s , I cant recall picking them up when we left the hotel in Amritsar .The hotel wont let us stay without them .We tried a cheaper hotel , again we need passports to register and they are strict on this ruling. No option but to return 200k back in the morning. Feeling very sick , but not as sick as the phone call to the old hotel that informed us that they had checked and they didn't have them!!! No passports and no way of getting accommodation .Not looking good and despair is setting in .A thorough search of Lizzybus and we found them with the vehicle documents . Crisis? What crisis .
As we leave in the morning Jayne insists we go to "Rock Garden" , she recalls it from a few years ago on TV . Made up by one guy using nothing but reclaimed rubbish it is a great study of a mans determination to put things right .Great place.
Shimla was a short respite in the mountains , clean air and cold nights .
We stay for one day and head off to Agra .
Rock Garden - Chandigarh
Rock Garden - Chandigarh
India


I think that I was expecting India to be more up market than Pakistan . I suppose from watching Sat TV from India and their desire for western standards . How wrong . Its the noise that gets you .On every truck , car TroTro a horn needs to be fitted , preferably the loudest available .When you drive , its easy ,whatever you need to do ,is preceded it by keeping your finger on the button .Always expect the unexpected ( people driving the wrong way down a dual carriageway !)
One of the holiest Sikh sites is the Golden Temple at Amritsar .Been there, done it and got the T Shirt .
Sorry , just joking ! An amazing place .No fee , open to anyone the Golden Temple shimmers in the sun surrounded by holy waters . Plenty of feet washing as you go in. We gave a donation and ate with the locals in the covered dining area. Up to 70000 are fed per day .It was a serene experience , the Gurmukhi chanted throughout the complex .One truly feels at peace here . Quite a different religious feel compared to the raucous , incessant Muslim call to prayer that starts at sunrise and only finishes at sunset . We spent most of the day here .
The persistent Delhi belly has returned for both of us and is making us a bit irritable .The roads are appalling .Its not the construction but the driving. In summation , just go where you want , when you want and keep the horn pressed . We haven't seen the sun for 2 days due to the pollution , a grey haze to everything . Our eyes are streaming , runny noses , bit shit really .We are off to Shimla for a bit of respite !
Pakistan / India Border
Golden Temple - Amritsar
Golden Temple - Amritsar
Lahore


We arrive at Lahore .Exactly what it say's on the tin .Dirty , dusty and very noisy .Pollution permeates everything , smog hangs in the air and an be cut with a blunt knife . Despite this , we are given a welcome by the locals .Everyone is just so curious .
We have timed it well .Next day , the city is deserted , the culmination of the religious ceremony , Ashura .We head for the fort to find roads blocked off with razor wire armed police and military everywhere and helicopters hovering overhead .We decide to watch the festival instead .I hadn't the heart to tell Jayne that the security was to prevent bombings ( as occurred most years) The culmination is when devout Muslims "scourge" themselves with chains with blades on the end (Zuljinnah).My idea of religious festival begins with little bunny rabbits and ends with a chocolate egg .I am not judgmental but , at the risk of drawing fatwa on my head , what the f**k is this about . Small children whipping their own bodies .Blood everywhere . Its this mentality that is helping to send intolerance to higher levels . So , no bombings this year !
Quick run around the fort and off to Wagga to watch the famous "closing of the border ceremony .Just as I remember from Michael Palin , the ceremony was a pageant of soul stirring , bravado , high stepping, jingoism and much shouting and waiving of fists at the opposition . It was marvellous , We wished all our border crossings had been this good .
The morning crossing was marked only by its efficiency as we left Pakistan for India.
On a reflective note , we could have gone up into Gilgit but with the Bug and general run down feelings we talked ourselves out of it .With hindsight we should have gone North for a week to the Hunza Valley , but at altitude and this being winter some of the high passes would be closed. Pakistan was a revelation and a surprise .We loved it , despite the poverty and pollution it was a great country , we will return at a later date and do it some justice inshala
Border closing ceremony - Wagga , Pakistan
Border closing ceremony - Wagga , Pakistan
Local Coach
Zuljinnah!
Fort Lahore
Fort Lahore
Fort Lahore
Religious Celebration
Fort Lahore
Fort Lahore
Border closing ceremony - Wagga , Pakistan
Lahore Mosque
Lahore Mosque
Border closing ceremony - Wagga , Pakistan
Border closing ceremony - Wagga , Pakistan
Convoy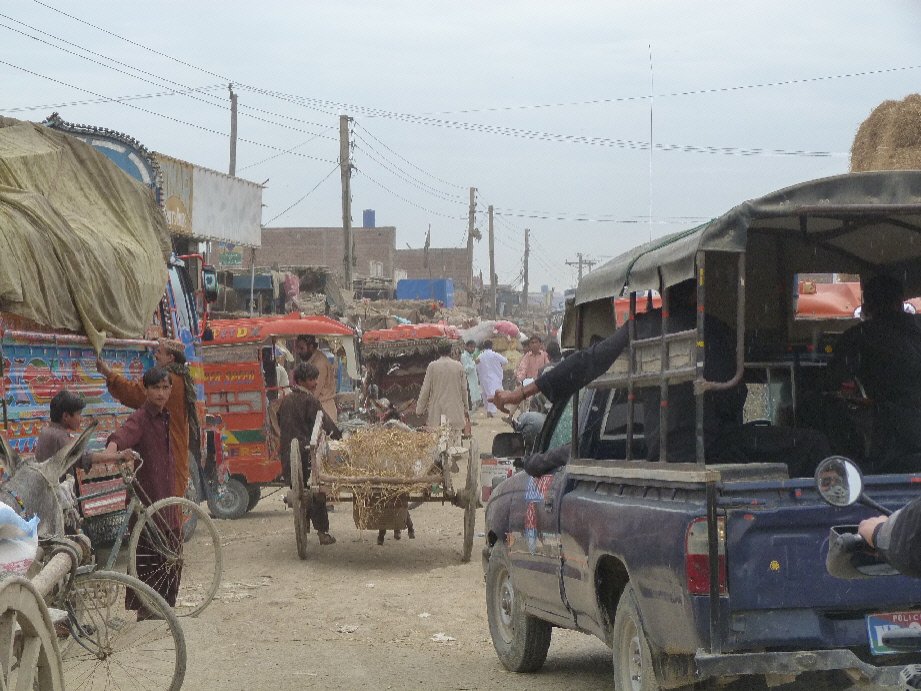 Convoy
No Eddie Stobart
Fire Truck - we feel so safe now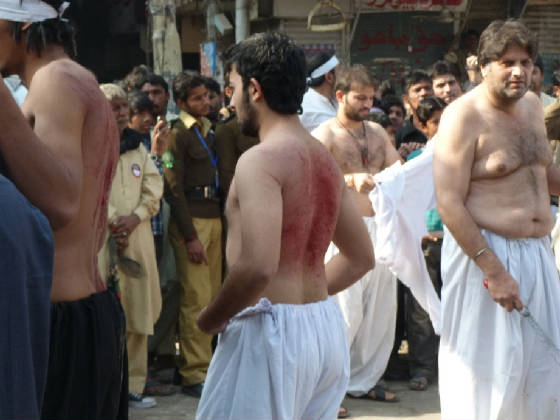 Zuljinnah!
Zuljinnah
Pakistan
Zahedan to the border and only 3 changes of escort. Ours didn't have the ubiquitous AK 47 .A quick crossing and the world has changed for ever .We are in Pakistan , very close to the Afghan border .Our guard has an AK47 .I wish that they would point them down , rather than up. If he has an ND then a hole in the floor pan is better than cleaning brains off the headlining and the subsequent hole in the roof tent !
Again escorts are changed with relative frequency. We had hoped to make the town of Quetta , progress as it saw a bush camp by the local police station in the desert . Jayne was not that impressed with the amenities , open drop toilet with the local wildlife helping to dispose of the fresh contents (yuk).
After 12 hours of driving and waiting for changes in escort we made Zahedan .Dirty , dusty exactly what was expected .The hotel did however have BEER at £4 a bottle .We only had 2 , we deserved at least that.
Bumping into fellow travellers on motorbikes we are again escorted on the most "indirect "route" to Multan .Yep , we went South .The roads , not as bad as Africa are still pretty appalling .The driving even worse .No problem to drive against the traffic on a dual carriageway .
we are now laid up for three days in Multan having caught some form of bug that sees regular trips to the loo . We will head straight for Lahore then cross into India. Hopefully it will be a bit easier there?
our police escort
our police escort
our police escort car
Axis of evil

Big day , Lizzybus is about to enter another "bad country" , Iran .Money is changed in "Dog biscuit" at a good rate meaning that I could draw in Turkish on my card and convert to Rial . Iran has no ATM linked to the outside world and I want to keep hold of my $ .

A Belgian couple we met gave us a fuel card that allows you to purchase fuel.

Border was quick and painless but as we left we where told we had to pay 330 euro for a fuel card and that we couldn't get out without a note from the bank to say it had been paid. The office took our documents and we where handed a pink printed slip with the amount on it. We refused and rather than drive straight out ( on reflection the better course of action ) we negotiated $170 .Had over , think so . Others have reported no such fee at other crossings .

Iran , most friendly and stunning country .Everyone wanted to talk to us . Cars passed , horns honked .Using our card we find that tourists pay 3500l for diesel but the locals only 1500 , insult to injury. Turn up at a station with no card , no problem they bill it at 1500 , charge you 3500 and pocket the difference .Not even a chance at negotiation. After all Twenty pence a litre is a lot of money .

Because of the cold we had to use hotels . £14 a night for very hot rooms and scalding showers. We have been granted a 15 day visa so miss Tehran and head South to the Pakistan border .Iran is very underrated , a very civilized and pleasant country

Crossing the mountains in the north , visiting the cities of Tabriz , Zanjan ,Esfahan and Shiraz . Persepolis , where we where "papped" by loads of school kids just because we are tourists .As you head south you can feel the Persian influence ease off and the sub continent kick in.

90k from Zahedan we are stopped and given ( despite our protestations) an armed escort in a pick up truck .Rather than make the border we had to find a hotel in Zahedan and be picked up in the morning by other armed escorts .Its dangerous around here by all accounts!
Arg at Rayen
Rayen
Not the wine - Shiraz
Rebuilding Arg at Bam after earthquake
Imam mosque Esfahan
Imam mosque Esfahan
Iman square Esfehan
"Papped"
Persepolis
At least its winter
wide load
Trust
We have trusted Lizzybus to loads of people. Those such as "Big Ollie" in Namibia ,Foleys in Zambia and Landrover Specialist in Amman have been superb and come highly recommended.
In Kayseri we found a firm called UMT OTO . Specialising in Land Rover and the Turkish equivalent.
Its refreshing when you arrive un announced , point out " we have a big problem " a shake of the head , no , not big problem " Small problem".
Straight into the workshop and under the close eye of the "Old man ", the founding father ,work was carried out over the day .Prices that couldn't be beaten and confidence that it was done right .Tappets , fan belt , windscreen , new light guards , rear tail light , transfer box oil seal, new pre heaters and spare hoses .A hive of activity for a whole day .If it wasn't for the fact it was Saturday we would have had even more done. Cost ? 1000l
So , if you are over landing and need your vehicle fettling go here .
Fantastic journey through snow capped mountains to the Black Sea and Trabzon. Heart in mouth moments when we slide on ice into a snow bank narrowly missing a jack knifed lorry .
We found the Consulate to be told return in the afternoon .Our visas had been approved , issued the next day after a payment ( and 2 hour wait) is lodged at the local bank.
Our Saviours
Forsaken
After 6 weeks its time to move on .Jenny came up trumps and sent all our new documents back via DHL that arrived 2 days later , a major relief .Paul Gowan craftily managed to keep me from paying out for the extra monies for the Auz leg , cheers . Lizzybus has a solar panel , suspension re-bushed ,new gearbox oil , greased up and oil changed. We have to head North East to Trabzon to pick up our Iranian Visas .Back on the road again everything is "Hunky Dory".Two days at Pumakula and its all very magnificent Travertine rock formations and ancient Roman ruins .We discover that its getting very cold .Up through the mountains to Cappadocia to see the strange rock cities we are struck by the curse of "Lizzybus".The town of Nevisher saw the fuses blow for the indicators , fuel and temp gauges . Carrying on using comic hand signals in Goreme a funny "grinding" noise from engine bay....gulp! A quick listen and it appears to come from the water pump , a small stain shows the pump may be leaking. Rather than risk driving a small garage confirms its the pump and are prepared to change it. Up comes the bonnet and "crack" the braii smashes the windscreen B****cks. No chance of a replacement in this town. New fuse in and the electrics work for the next 10 minutes. Off to the auto electrician who cant find the problem. To end the day the key for the rear padlock snapped in the lock. Please , when's the next flight to England , I don't want to play anymore!
Bush camping in Goreme and the noise has returned , despite the "experts" saying its the pump , its not. Moral of the storey , don't tell them what you think it is because they will just agree with you. Temperatures at night are down to -6 .
Capadocia is a great region for ballooning across and on our way through we saw a company with 10 Defenders out the front. Sat morning and they recommend a garage in Keysheri and off we traipse armed with loose directions and a phone number. Imshala!
Bush Camp Cappadocia
Cappadocia
Its getting cold!
Pamakula
Pamakula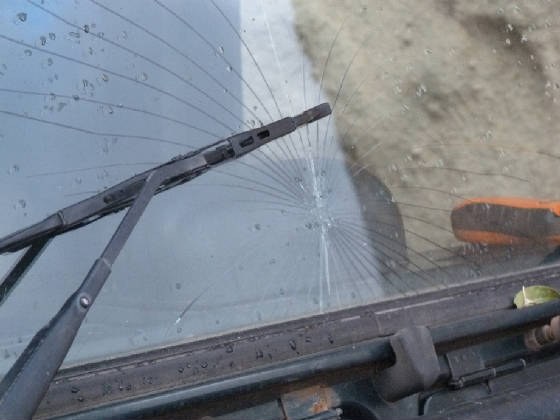 S**t Happens
Return of the "Noz"

Big thanks to "Noz" ( aka Mr T Senior) and the "Welsh Dragon" (aka Mom) .They stepped up to the plate , sorted the Indian visa's ( including new photo's delivered by Jenny ) in two days , blagged letters of recommendation from my old boss Mike ( Purcell Parker Solicitors) and secured from London our Pakistan visa's in three days. It's at times like this you realise who you can rely on, nice one folks. Just need the Carnet updating and we can be off .Iran , Pakistan then India.
Jayne's first choice for Christmas would be back home with family , failing that ,the beach at Goa.
Break out the sunnies and speedo's
Waiting for a mission


Well after 3 great weeks we have said goodbye to Dell and James, Jenny and Richard. We indulged in all things touristy, boat trips, monument visits and Braais on the beach.
Passports back to UK for applications for India and Pakistan visa's.(Pakistan is £104 each and we need a letter of invitation).Our Iranian tourist company (Iranian visa.com) has secured our visa number so we have been" approved" by the ministry of tourism. We can pick this up from the consulate at Trabzon before we push into Iran. All that we need to is complete the form formalities , photographs (Jayne's hair to be covered) and fingerprints taken Its just case of waiting for everything to fall into place. The UK visas are sorted by my dad , fortunately both consulates are based in Birmingham.
A solar panel has been sourced ,85 watt and should help us become more self sufficient in future. Oils are changed but the weather here since family departed has gone from hot and sunny to 4 days of solid rain. So working on Lizzybus is a bit difficult .We anticipate an additional 2 weeks stay .
Well at least we can dive: Elite Divers
Canyoning
Sunset on "our beach"
Braai on the beach
"Dinnering"
mud
Even more mud
Tubing
Saklikant
James , on finding the size of his bar bill
Turkey
We have been given a very nice map for Turkey .Its a very BIG map .We haven't quite got the scale yet. After 5 hours of driving from the border on nice fast roads progress on the big map is not very far. Turkey is bl***y massive and diesel is 3.7l per litre (£1.32l or in old money £5.80 gallon)
We have to make Fethiye as quickly as possible .Dell and James are in the region for 10 days and Jayne needs some family time.
Border formalities are quick and simple ,as we have no green card insurance for 3 months is extorted from us .Visa on demand is $20 each.
Bush Camping is the order of the day and results in interesting meetings and plenty of beer drinking with the locals.
Apart from the odd detour to wrong GPS co-ordinates we are now in Fethiye , in a rented apartment for the next month. To be sourced are a few running repairs on the truck . Indian , Pakistani visas from the Uk and an Iranian visa from here
Friendly local
The Road to Damascus
It has taken two weeks and a lot of running around by Jenny in the Uk but we have our passports back. Nice new Syrian visa stamps in them .The consensus of opinion is that we shouldn't go through Syria! Well , there is no other way (apart from Iraq !)We know better , others have gone through with no problems .The main trouble starts on a Friday and tails off at the weekend .A border crossing on Monday morning is the order of the day.
We had been warned that they can search your car quite thoroughly and Sat Navs ( even our 15 year old Garmin) can get confiscated. Their is even a $100 "diesel tax" on entry and one on departure .Ouch !this is going to be expensive.
Rocking up to the Border saw the Lizzybus crew spring into action. Jayne schmoozing the officials and a cursory search of the vehicle.$73 for Customs Fees and insurance .When asked "Benzina or Diesel" I lied and said Benzina .They accepted this (despite the Lizzybus mechanical clatter and smoke) we leave having not paid out the $100......great.
Roads are clear , few check points we skirt Damascus arrive at Homs and decide to overnight at Crac d'chevalier. A complete Crusader castle perched up in the mountains. Camping price agreed , next morning we explore the castle .The owners of the site refuse payment .Everyone we met was amazed at our story and we saw only friendship and respect .Diesel is in short supply but you can get Euro diesel without queuing (22 cf to 15 for truck) Turkey has UK prices so both tanks are brimmed.
Leaving , with a heavy heart .Syria is truly stunning , worthy of so much more time .Its people friendly .No overt signs of the troubles we leave as family have already made it to our next destination .Again the words "Diesel or Benzina" I fail to convince the customs officer who demands the V5 document .The question is asked again , so with all the dumbness I can muster " for the vehicle , ahhh ....heavy oil" sure enough I show him on the V5 Heavy Oil. So she's not petrol or diesel but heavy oil!. No payment again .We cross into Turkey .
Crac d'chevalier
Crac d'chevalier


Crac d'chevalier

What did the Romans ever do for us?



But apart from the sanitation, the medicine, education, wine, public order, irrigation, roads, the fresh-water system, and public health, what have the Romans ever done for us ? Ok, i accept i have used this tag line before BUT i hadn't been to Juresh .Quite imposing Roman settlement 40k North of Amman .Intact Hadrian's Gate all in all a good diversion before we leave for Syria .

Its strange but having no control over your fate is very stressful .The visa situation , at the mercy of an unseen consulate 5000miles away and the possible of a "loss in transit" plague our waking hours. Had i have known about the Syrian Embassy in Khartoum issuing on the same day i would have had them done there. Our man in Amman , working for DHL is a great help but the visas will take the published 6 days to issue.

They arrive on the Friday , so its a go for Syria on the Monday , not wishing to run the risks of Friday Prayers.
Our man in Amman
Hadrians Gate
Jeresh
jeresh
Amman



Its bad news to discover the city of Amman is built on 14 very steep hills when you are running a 3.5 ton Landrover with only the front axle working.

Mansour Hotel will be ours for the foreseeable future .At 10d a night we get a bed , shower and breakfast. A search on Google for Landrover repairs/service/spare reveals not a lot.

Things to do ,

1)Find out if we can get visa's

2)Repair the Lizzybus

3)Pray its not the axle or transfer box

4)Find beer

for the first time beer isn't the priority

Syrian embassy , very helpfully say no!. You can chance the border.

So , we send passports back to UK.DHL for 10d

We have found a Landrover specialist outside of town. Brilliant .His work on his own vehicle is excellent and their is a stream of customers going in and out.

Driveshaft's and prop back in the diagnosis is excellent .The "F**Kwits" at Liveridge have struck again. The welded up drive members have half stripped themselves. Fortunately i have spare driveshaft's for this very reason. The brake discs are replaced (totally worn out) so hence the poor braking. The stub axle is also replaced as the remnants of the old bearing had done some "welding "damage. My spare pads are popped in and we are good to go. Total cost £250 .

Time to explore the Hashemite Kingdom of Jordan.

Dead Sea route back to Aqaba ( diesel is 5d/l) .Floating , as you do in the dead sea ,is a very strange sensation .Petra , stunning ,vast , but at 50d each for one day very overpriced .Having made a day of it and wishing to avoid temple fatigue its time to start Bush Camping .Wadi Rum , inspiration to TE Lawrence saw us camping under a magnificent rock arch .To be honest it doesn't get any better than this .The return via the Kings Highway is everything it is cracked up to be .Our passports had arrived at the Syrian Embassy but are going to take 6 days to process.

That is why this is being up-dated from the Prison cell sized room in the Mansour . We have located beer , unfortunatly it is 1.8d a can (£1.7) BUGGER.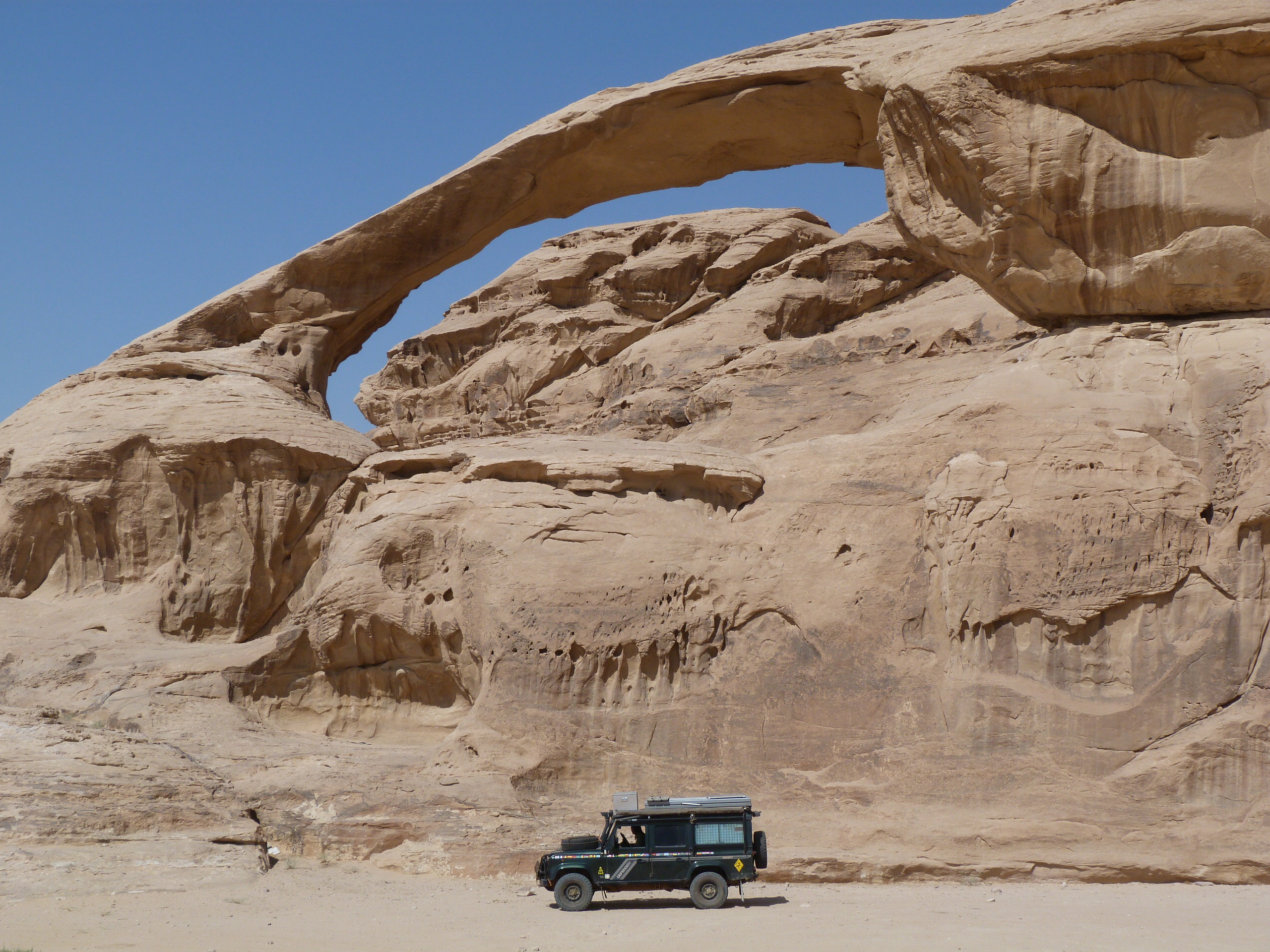 Camping Wadi rum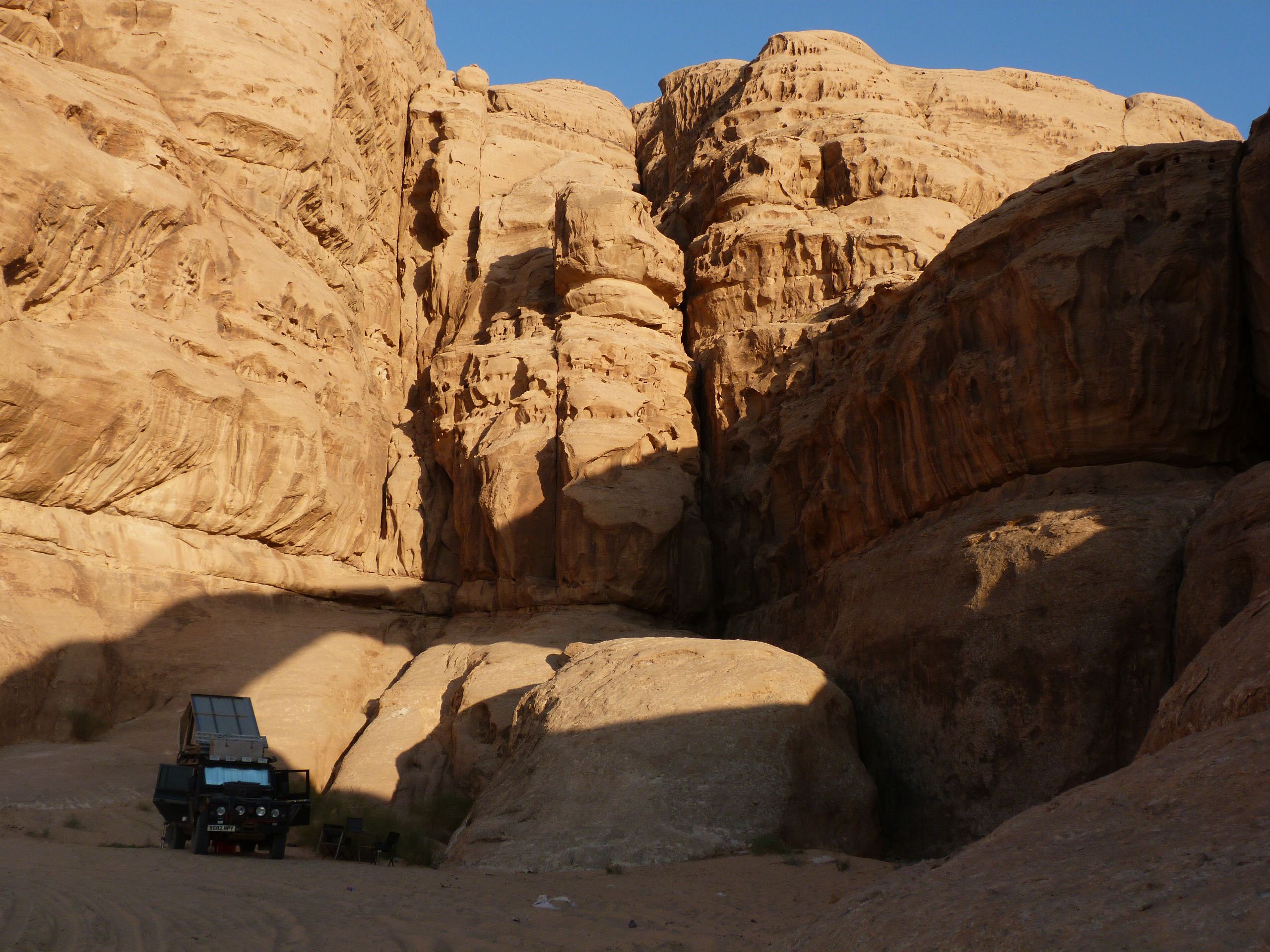 Camping Wadi Rum
Petra
Petra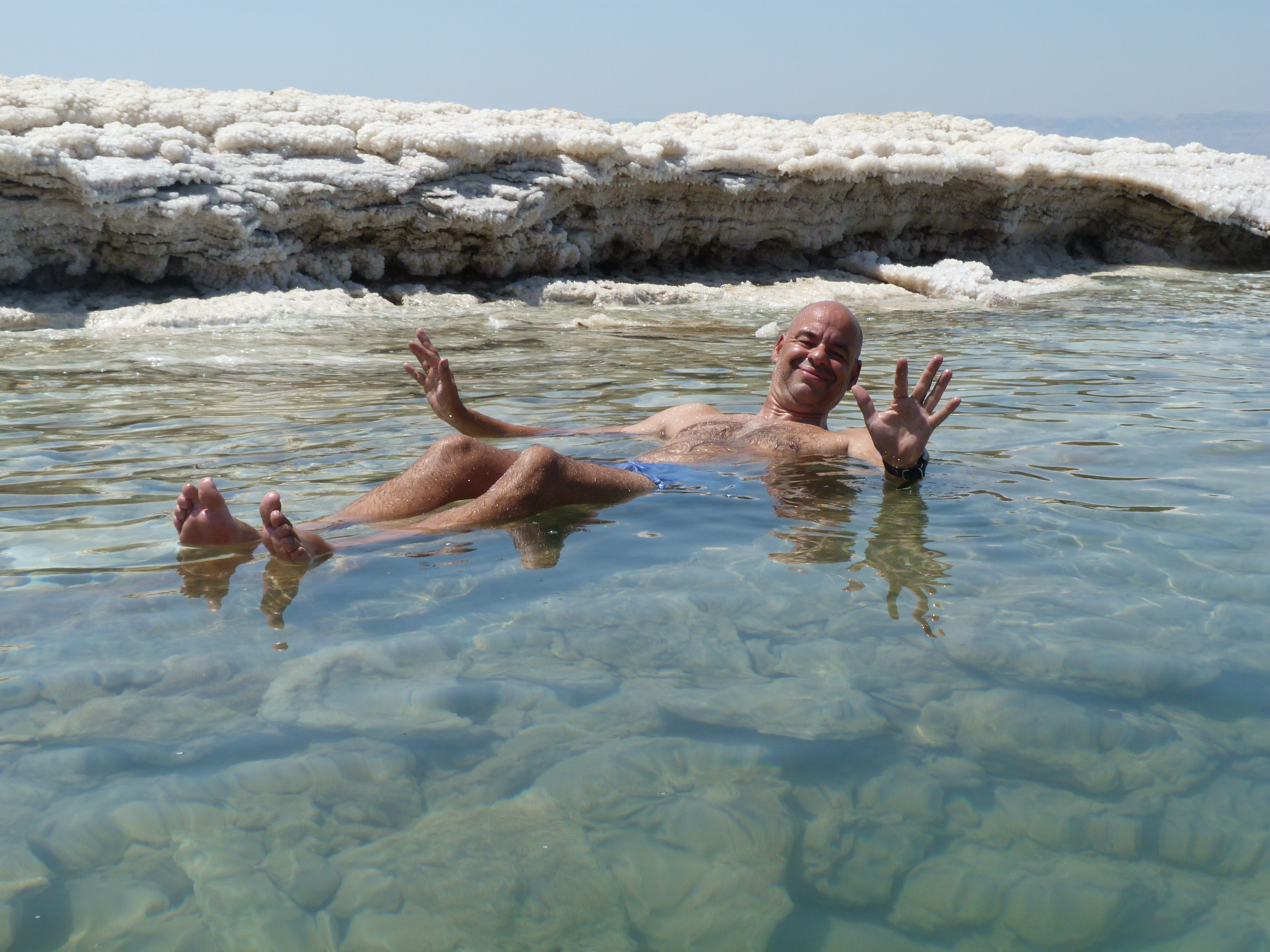 Floating in Dead Sea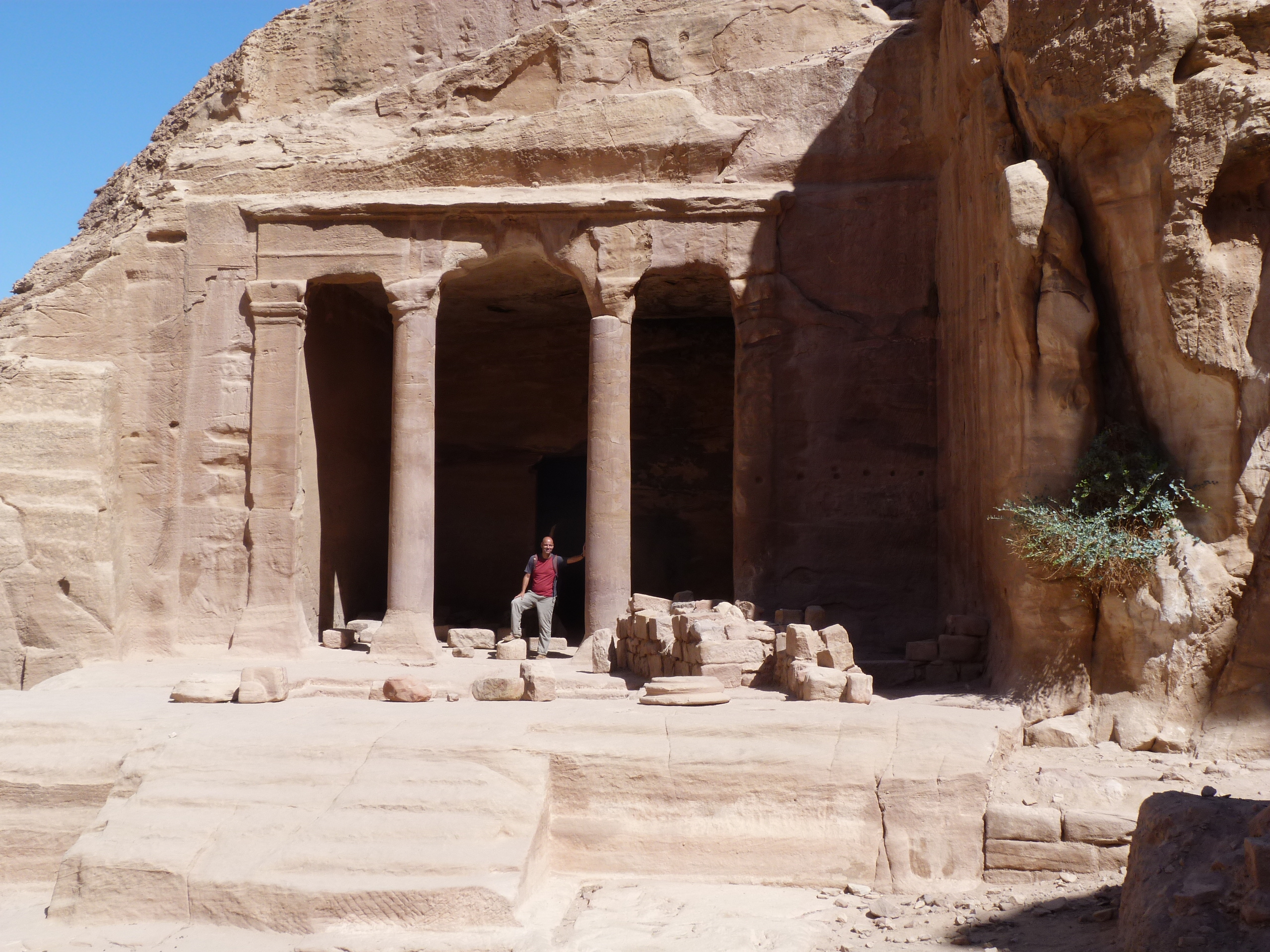 petra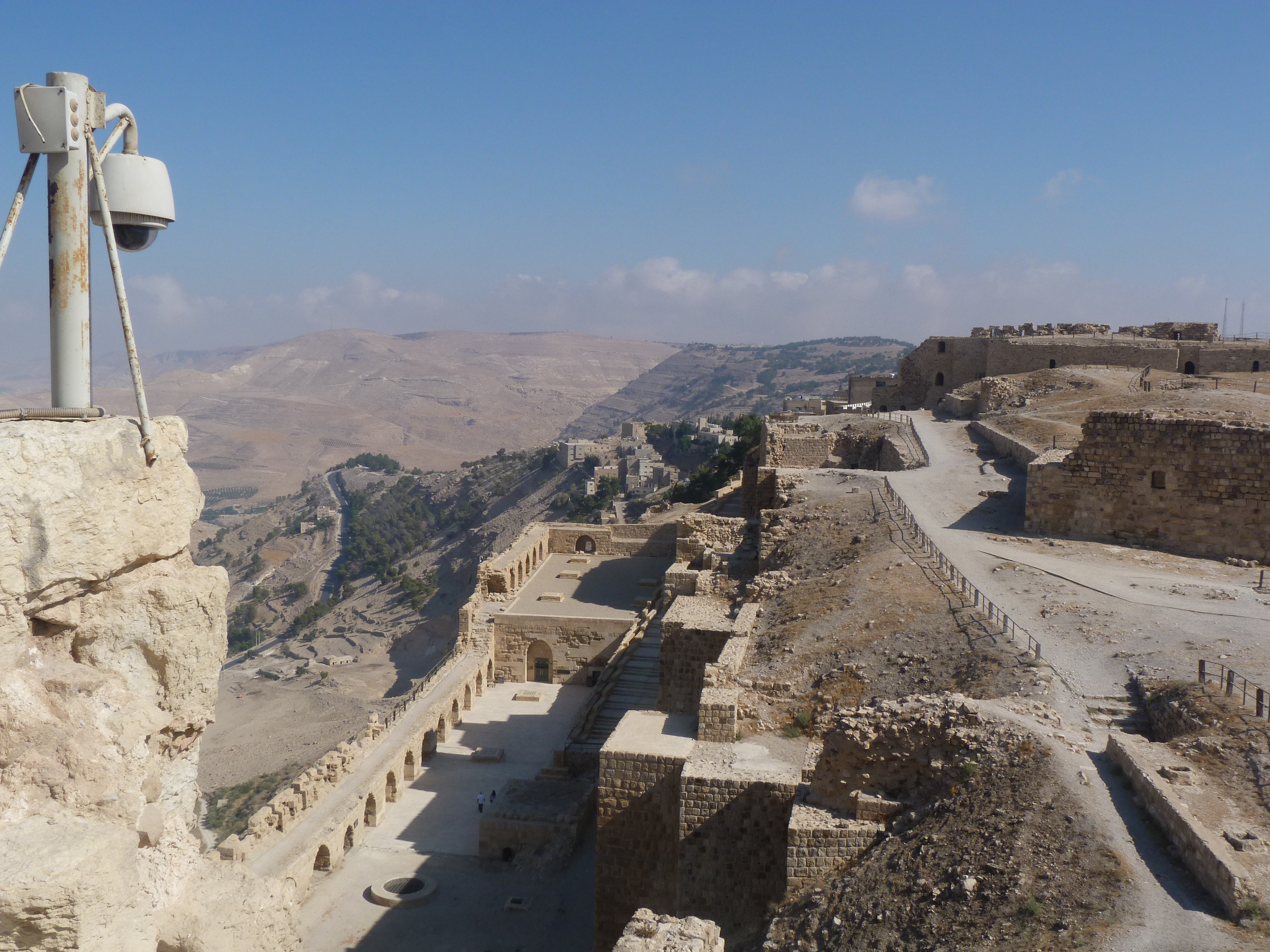 Crusader Castle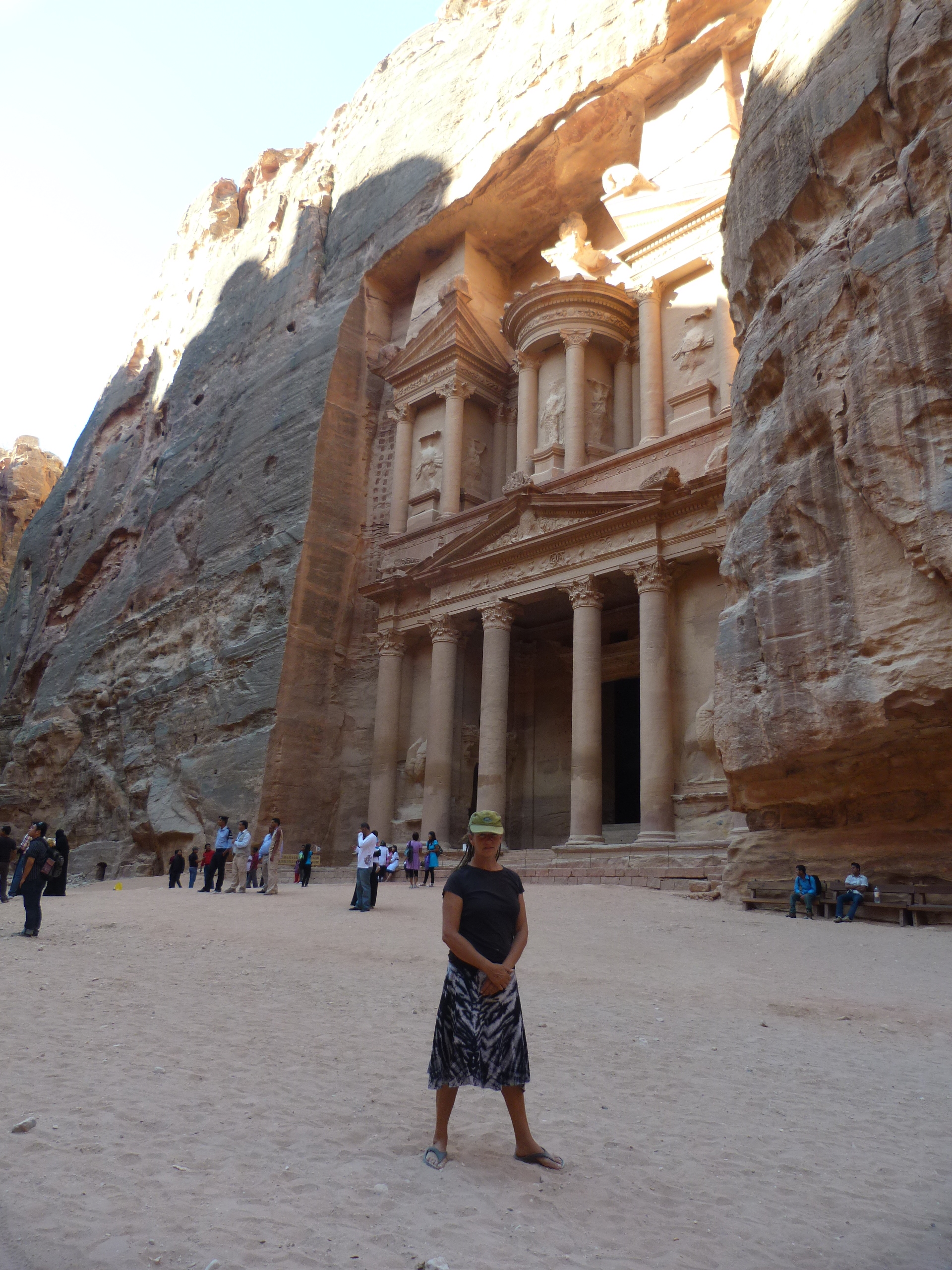 Petra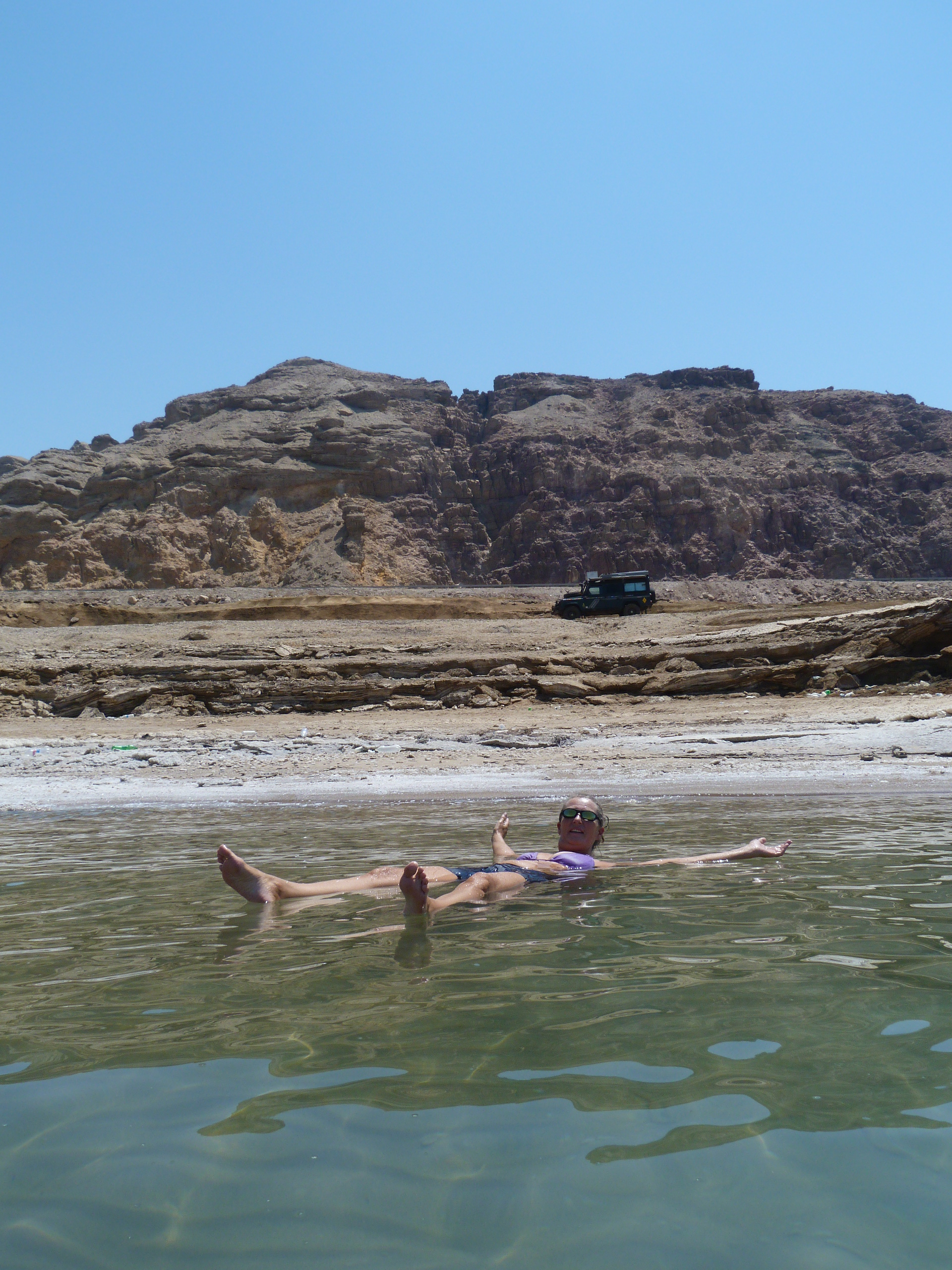 Dead Sea Floating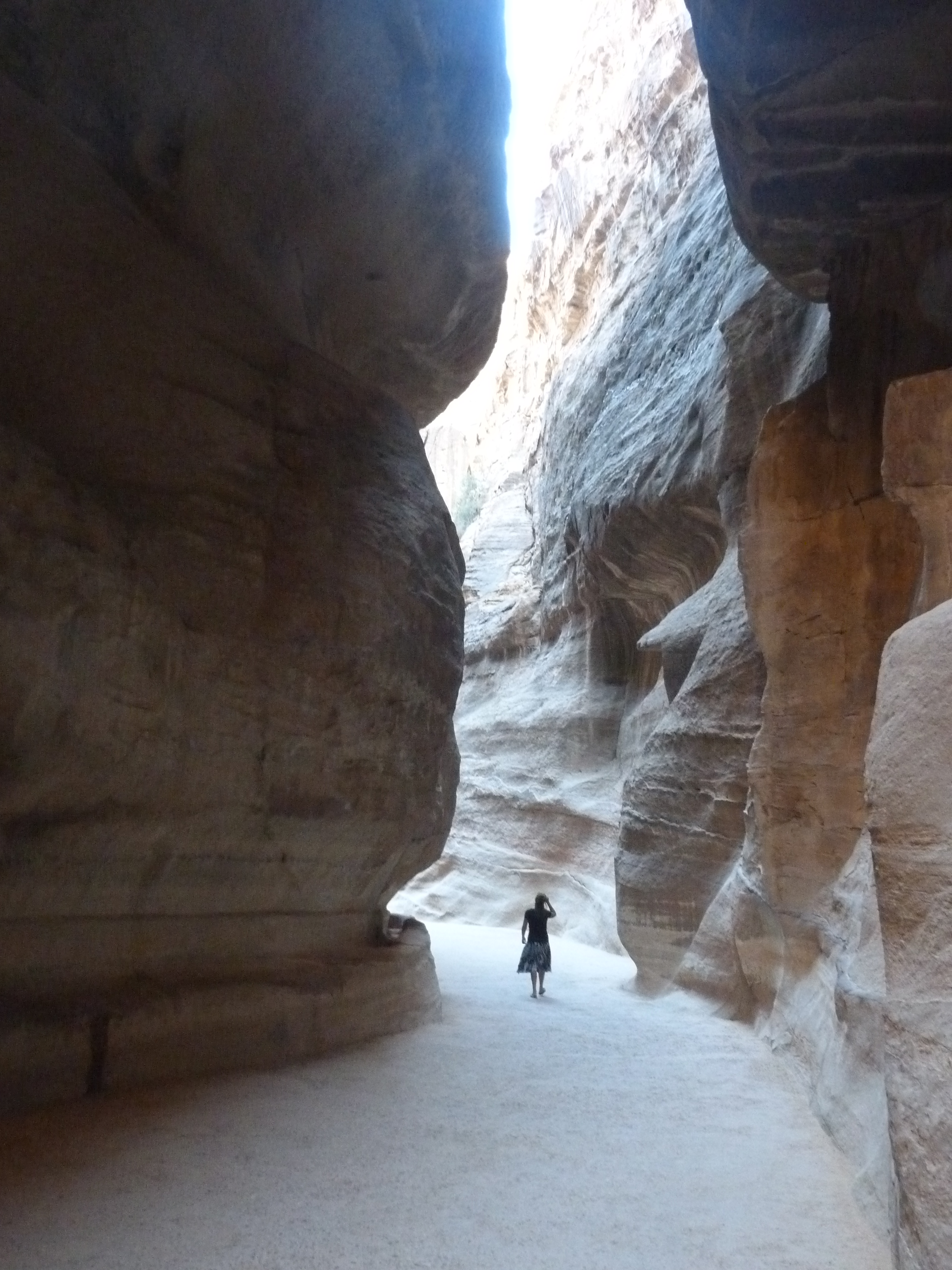 Petra
Katie Price (sorry I meant JORDAN)




Ahh , Egyptian bureaucracy what more do you want before you leave. Boat sails 1500 , we arrive at 0900 then spend 3 hours running from police to customs and then immigration. Number plates surrendered we catch the high speed ferry to Aqaba .This is not worth $400 .

Jordan , everything closed , insurance has to be paid in Dinar along with registration for Lizzybus .With no money exchange open we finally change some le and US$ at a shop .We are in and its 20.00hrs.Small campsite on the edge of town we hunker down for the night.

We have decided to bottom out the visa for Syria first , rather than chance the border .We will travel to Amman , try the consulate and pray.

The route to take through Jordan is the Kings Highway. Scenic , covering most of the important locations we will save it for when we explore the region after Amman. The Desert Highway will get us to town in about 3 hours .No , not quite.16 k out of Aqaba and to the most spine shivering noise ,we loose all drive .So , at the side of the road we remove the rear drive shafts and prop shaft and convert Lizzybus into front wheel 2 wheel drive by locking the differentials . Time to get repairs done we carefully carry on to Amman.Then ,(to add insult to injury) with 40 k to go , a metallic grinding from the front and a wheel wobble we have to pull over at a local tyre centre .The front wheel bearing has collapsed and the vehicle is un-drivable. Bo*****s. Time to change them at the side of the road .One and a half hours later and feeling very conspired against .we arrive at a cheap hotel in downtown Amman at 10d a night .Tomorrow , the fun begins!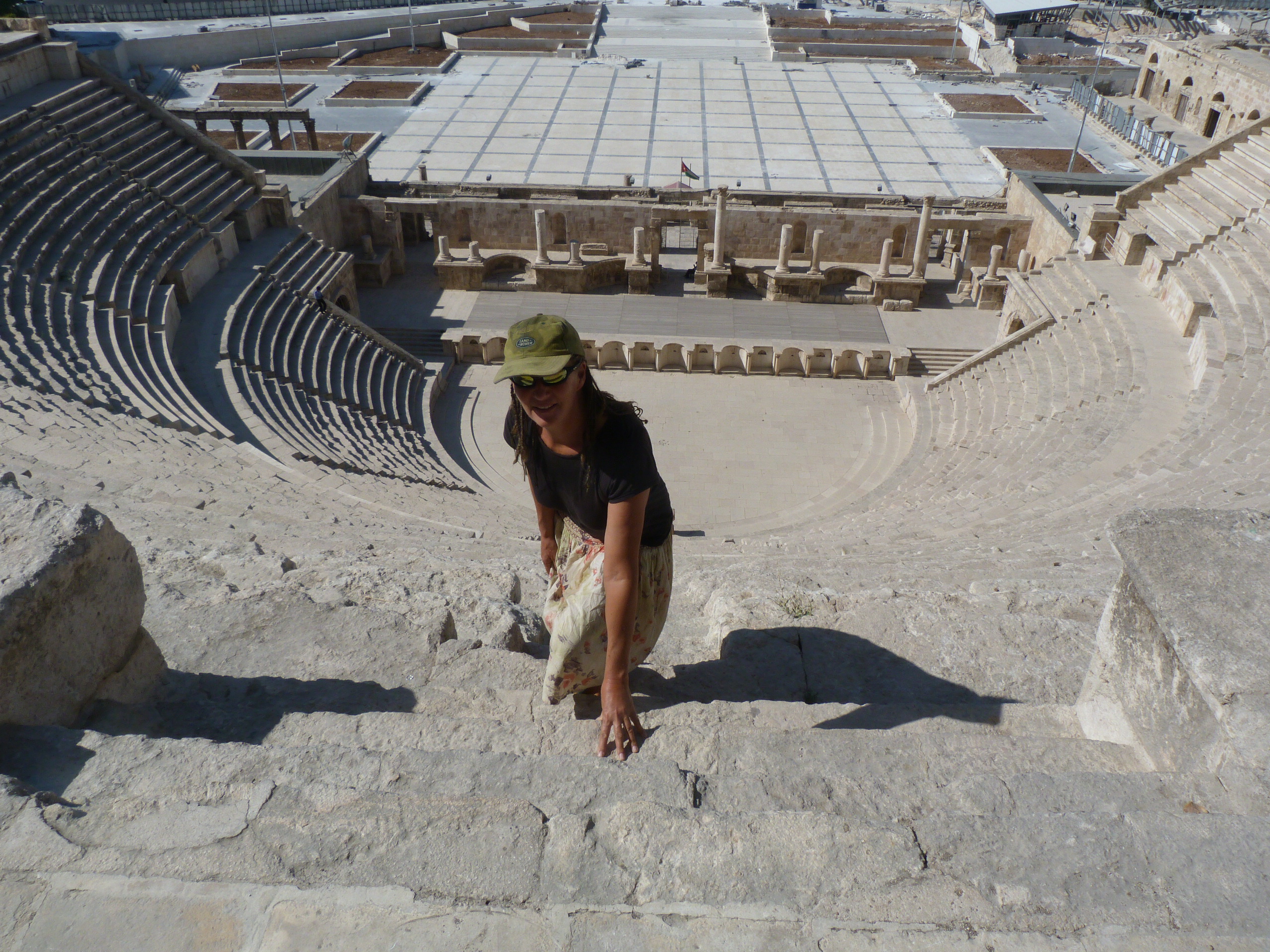 Roman theatre Amman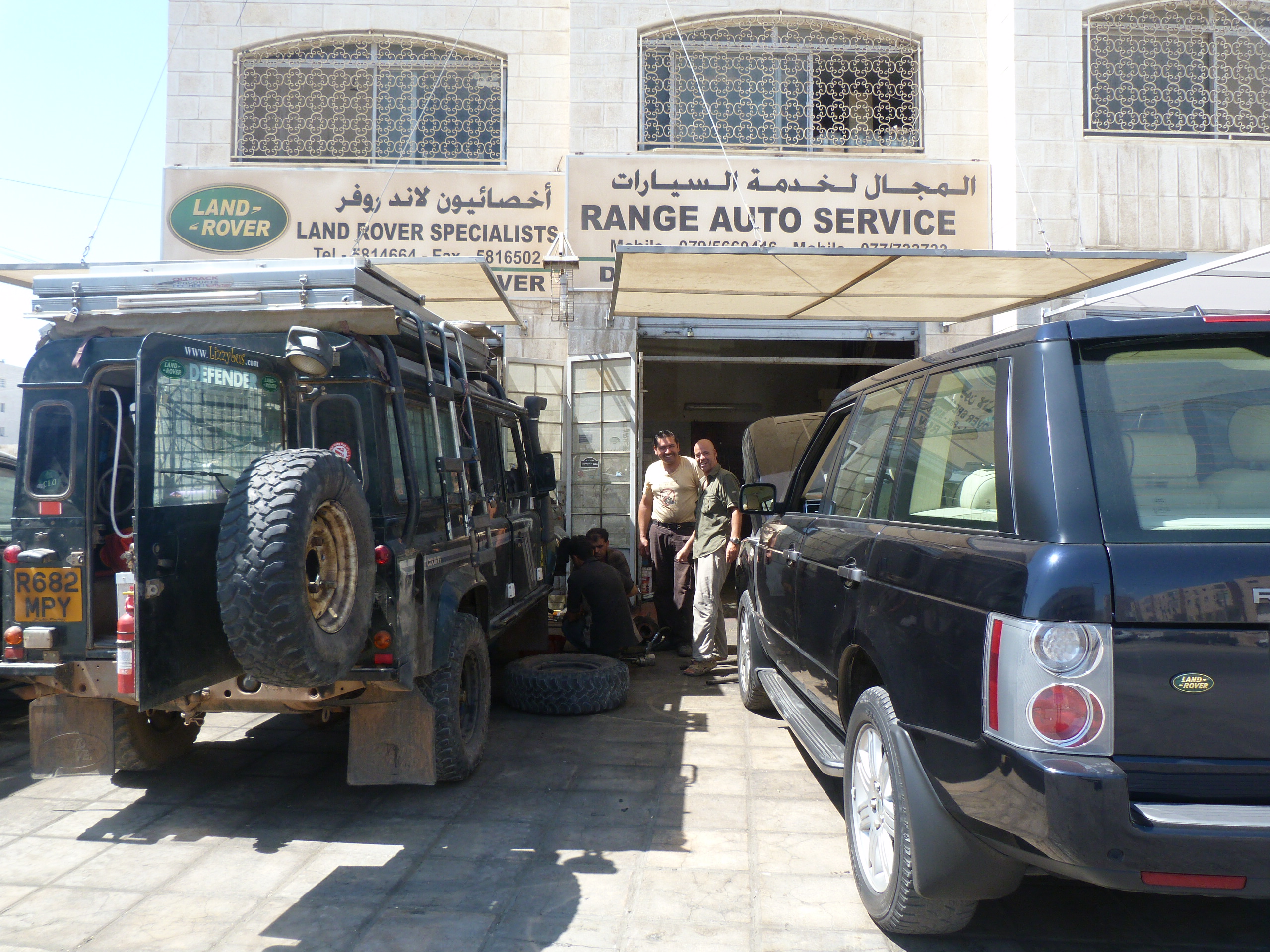 Lizzybus at thye garage again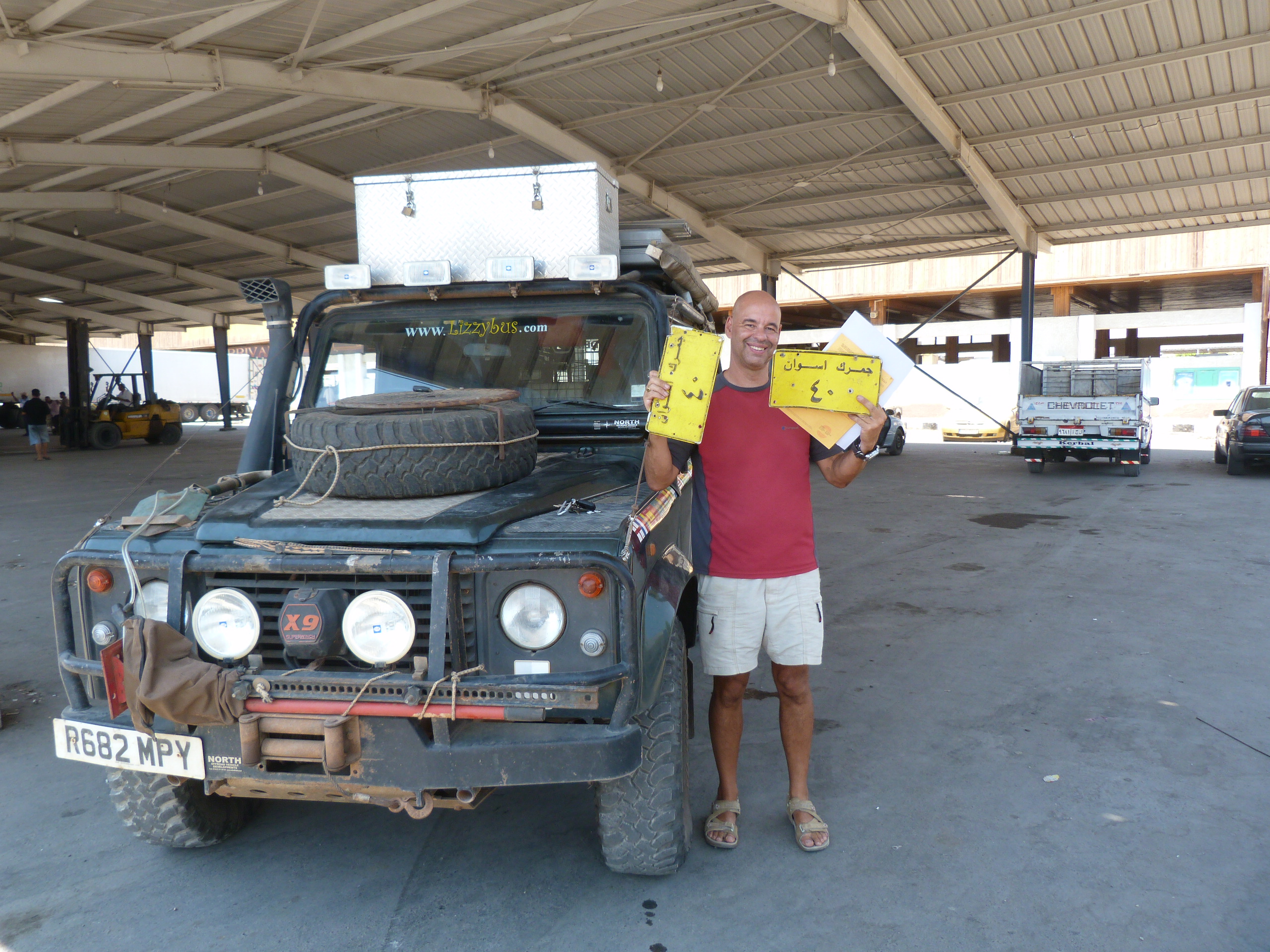 End of the Egyptian number plates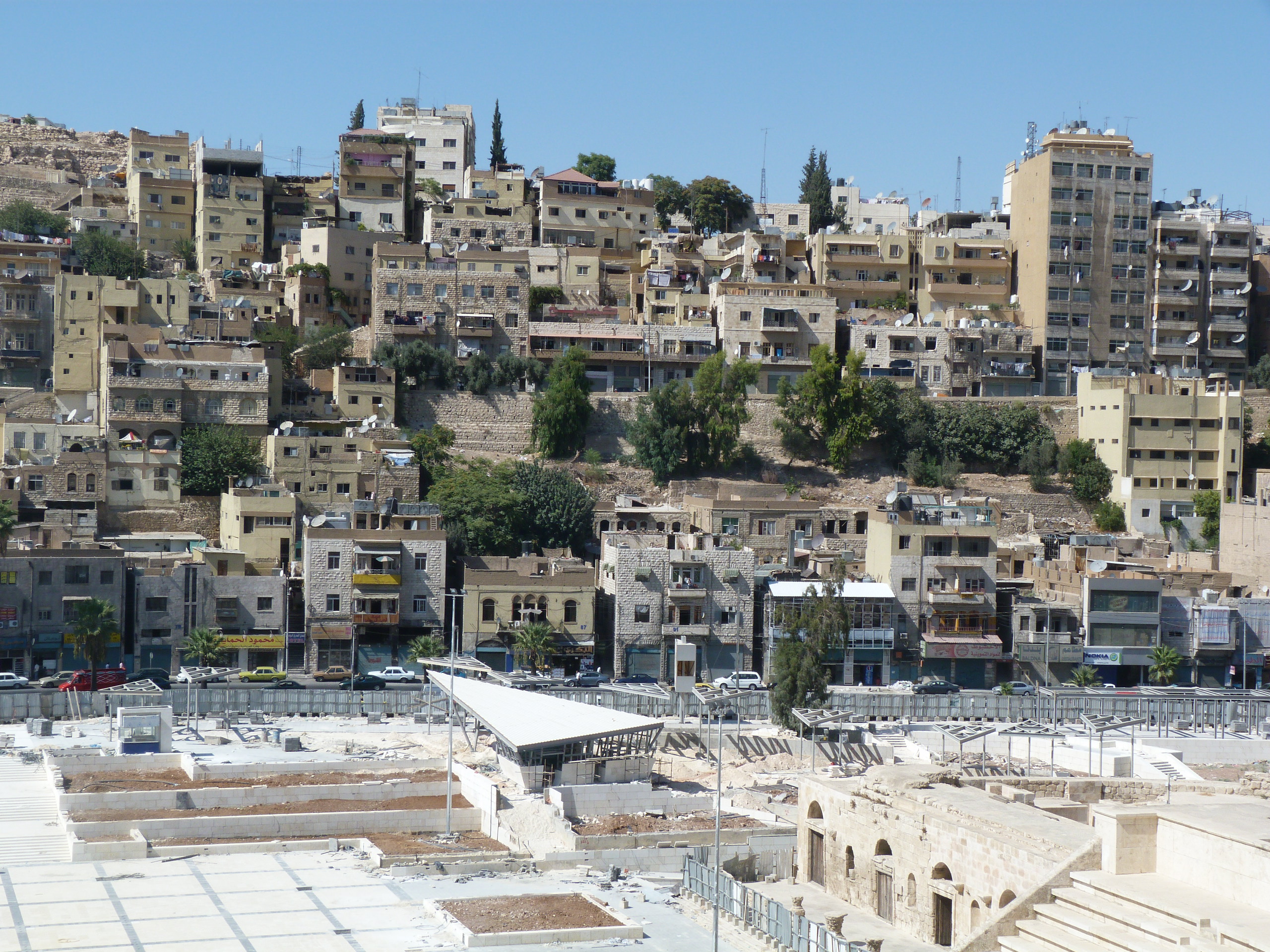 Amman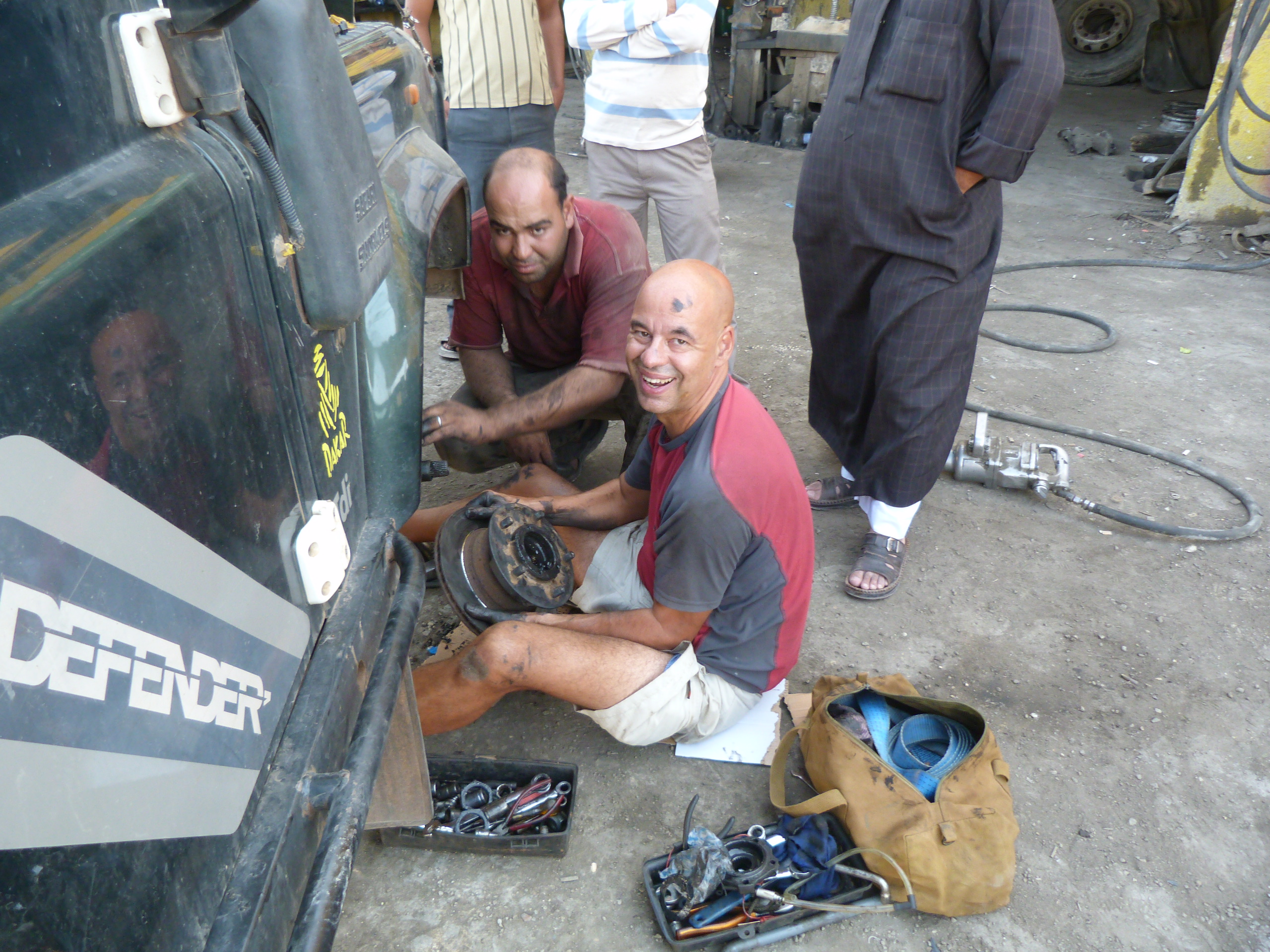 Pass the bearings darling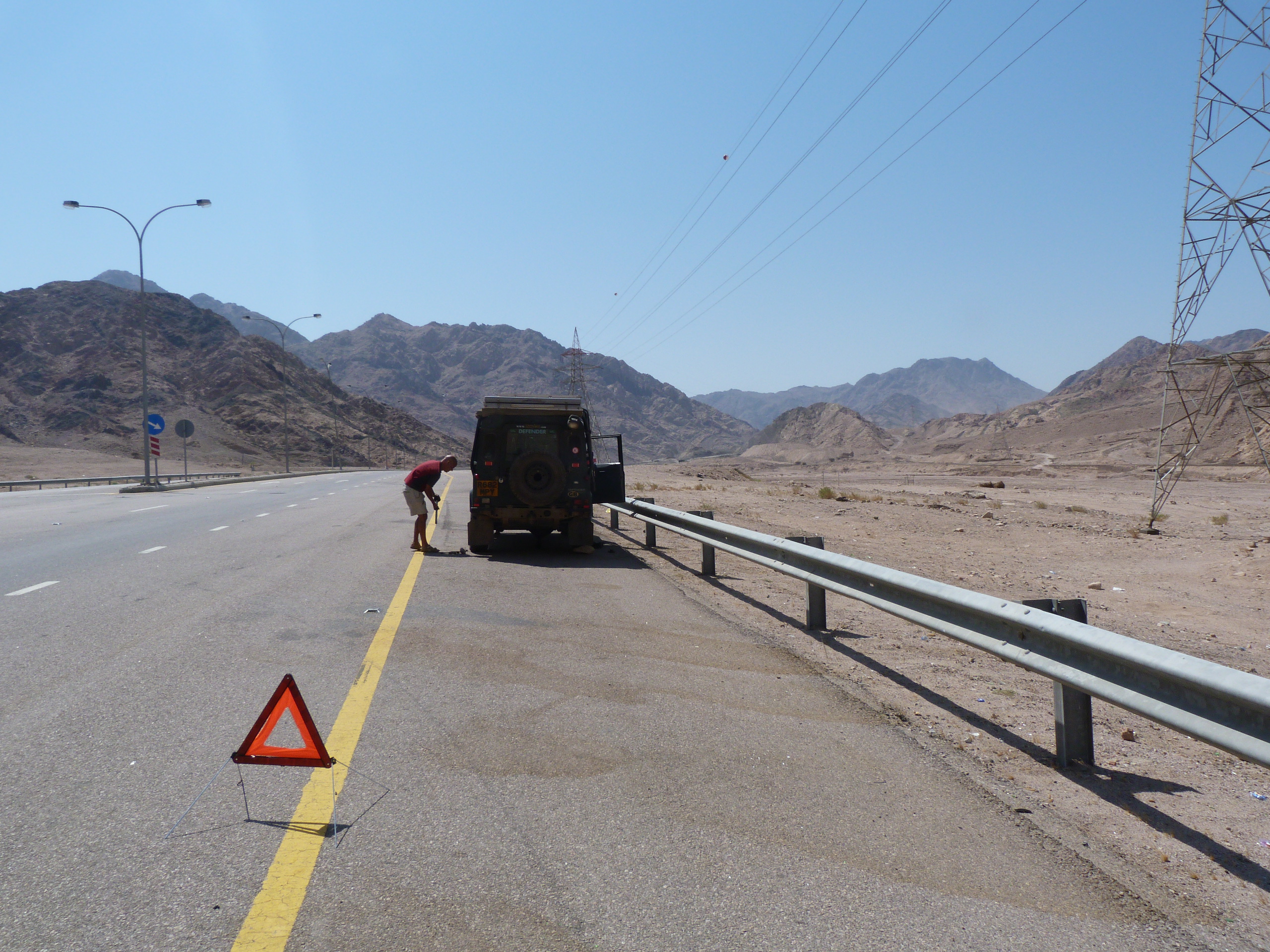 It just stopped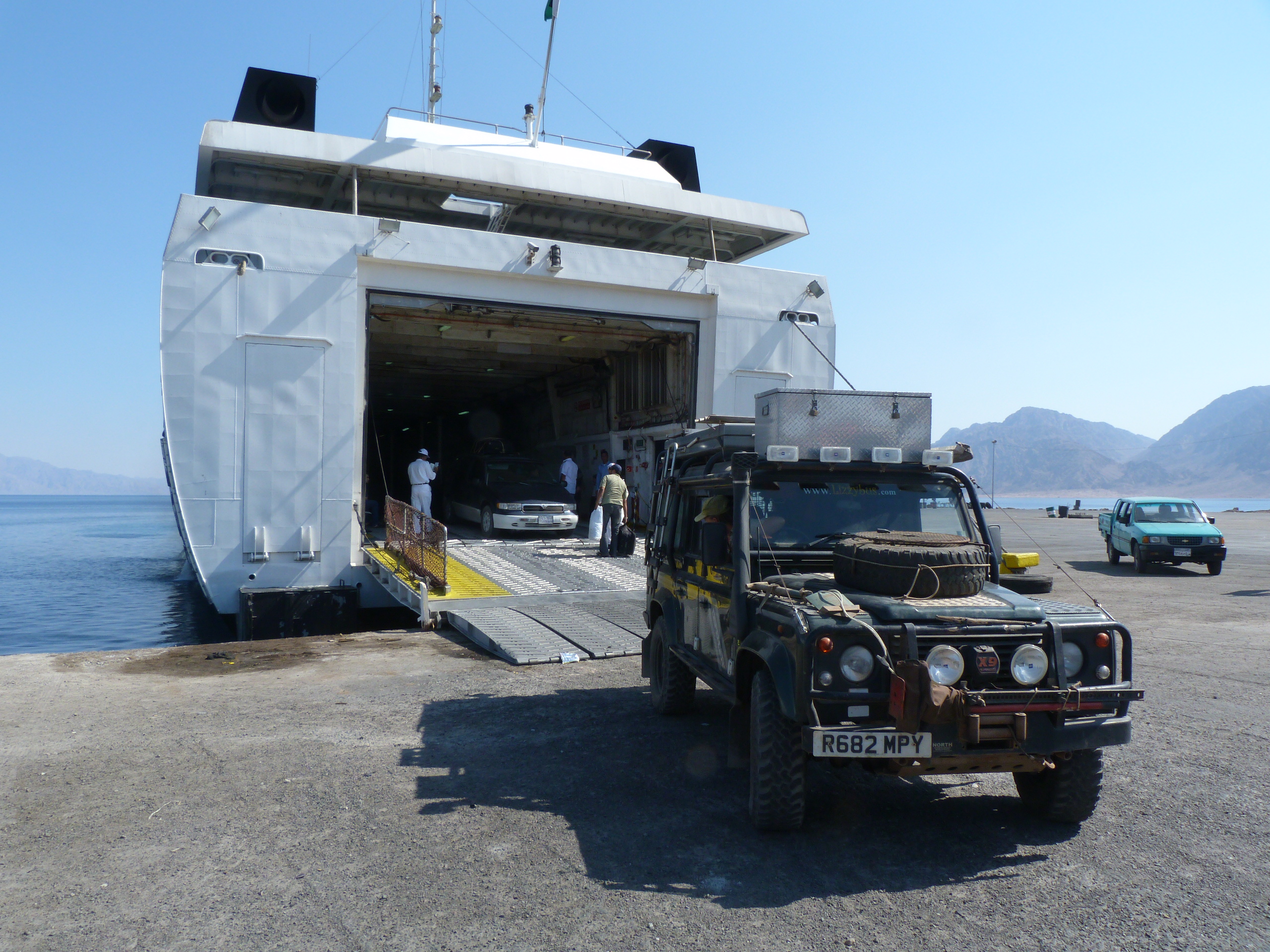 Loading up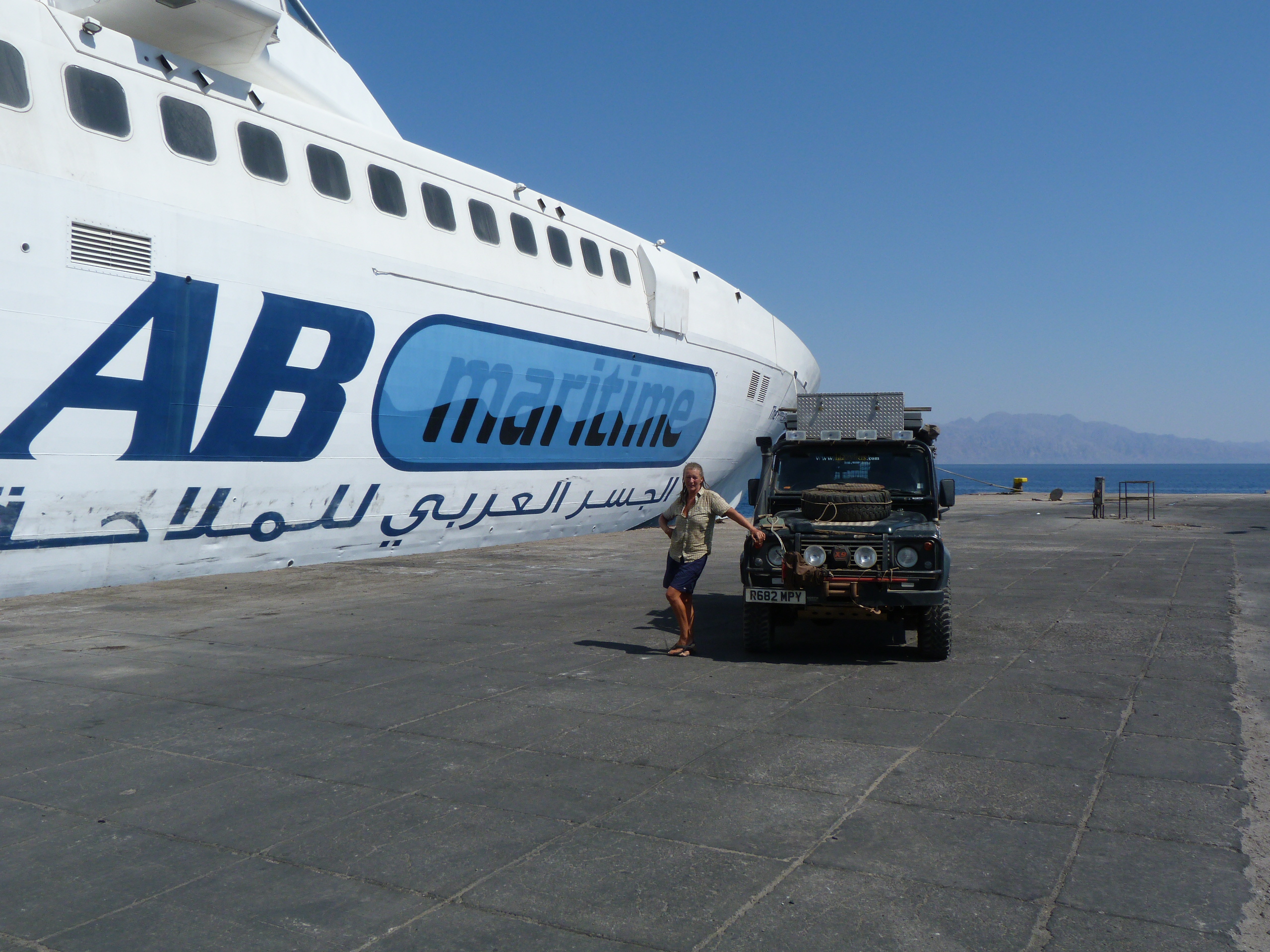 $400 ferry for one and a half hours(.ripped off royaly)
No Mr Bond , i expect you to dive



Well at a rate of £23 day all inclusive (including beer!)we will wait out Syria ,on the Sinai and catch up with some diving.

Our new home is the Luna Sharm .Nothing spectacular but at the price our best option.

My intention is to do my Divemaster course ,

At a total cost of £1000 (DM , Rescue and EFR) we went with Ocean College. We have dived with them in the past , the swinging feature was that Jayne could have the internet booked , 4 day dive packages at £99.My EFR and Rescue was done with Katie. I make my apologies to her now .Your final Rescue day culminates with the entire boat on a lemming like quest to drown itself on my watch. Everyone had fun watching me run around like a demented chicken as various instructors/guides attempted suicide by drowning ( often multiple) .Sometimes it was difficult to draw a distinction between a scenario and minor genuine situations ( like a dropped weight belt , sorry Katie)

I am now officially the "dive bitch" on the boats .My DM instructor is George. A great guy with a wealth of experience .I feel so sorry for what he has let himself in for trying to turn me into a Pro.

For the first time in nearly 2 years i have structure and work in my life. Up at 0600 and on the 0730 works bus. Hard days work but great fun and a pleasure to work. The course will take about 5 weeks and then we will be off .I never realised how painful divers can be. They can get lost on the walk to the bus.

But after all is said and done i had a fantastic time .Jayne , well , she became a minor celeb in the hotel. Most people who come on a holiday like this would never meet us Overlanders yet alone realise we ever existed. Jayne sold dive packages to clients and took people snorkelling to her own special place. Not bad for a girl , who , 6 years ago wouldn't have water from the shower sprayed on her face. She is now a "proper mermaid".

Work completed , exams passed .Nuweiba and the Soft sands resort , faded back packers for 60 le night inc breakfast. Complete opposite to Sharm , laid back and peaceful. We have been in Egypt for 3 months and have to leave by the 24th , no lingering here then.
"Luna" friends say goobye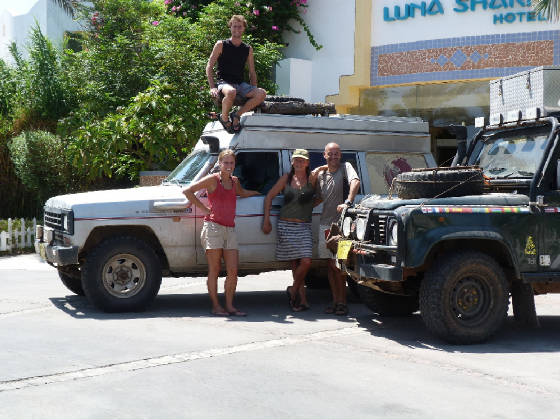 Fellow Overlanders Jo and Anna from Belgian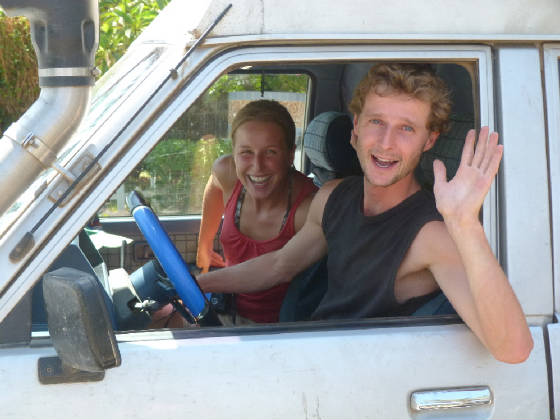 Jo and Anna depart
More Diving Vicar?


Well, 1 week into our stay and the Revolutionary Government sent a dictat to keep the people happy ! £35 for a family holiday in our hotel.200 turned up and chaos ensued. Evening meals became a free for all .It was like the first day of the Harrods sales .Mayhem , people taking as much food as they could , leaving most of it. Some of the Brits decided to move out and instructed their tour operators to sort .As an independent we had no such luxury.
Fortunately it was only for a few days. This diving is hard work .Jayne has been abandoned to the poolside and free snorkelling on the beach. Still , despite everything we are having a ball and its still good fun.
After 5 weeks i passed my DM course , blagged a few days "fun" diving with Jayne for selling a few courses /packages to those in the hotel. A big surprise was when An , Jo , Kristine and Andrew turned up at our hotel .They where on their way through and wanted to do a bit of diving.
They have visas for Syria , purchased in Khartoom .Its difficult for them to decide what to do as Syria is getting worse not better. Our view is , chance the border , drive through in one day , go on a Tuesday and not a Friday ( usual violence after Friday prayers).We will see what happens. Either way we have to go to Nuweiba to get the ferry , as to cross at Eilat and Taba will leave a trace of "Israel" on our passports and neither Syria or Iran will let us in.So it will be ferry time from Nuweiba at the princely sum of $400 ( robbing bastards )
Cheers must go to Paul Gowen for getting a replacement carnet out to us when we realised that our current one doesn't cover Syria, Iran or Pakistan.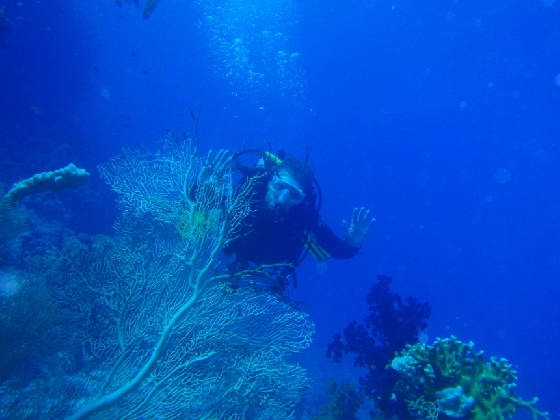 Diver Jayne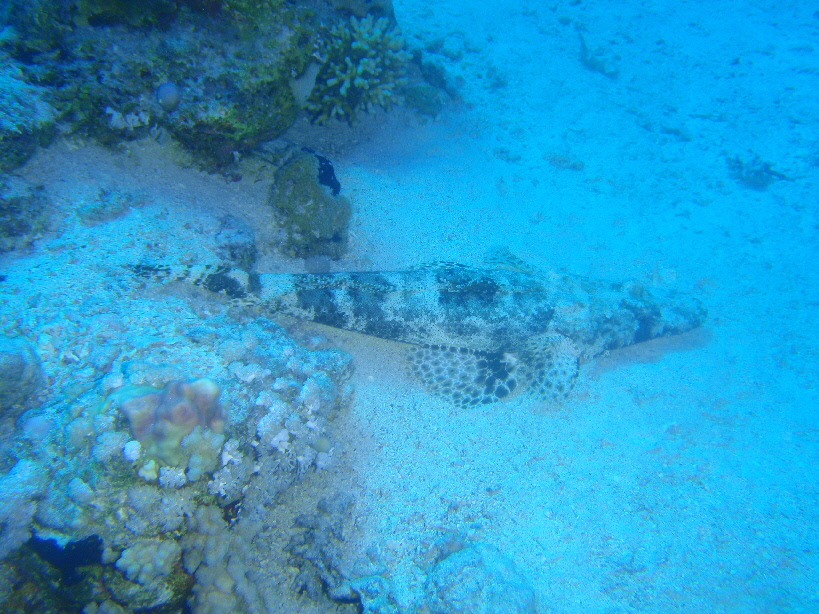 Crocodile Fish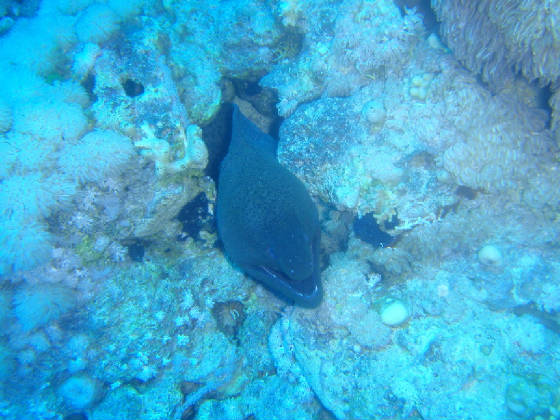 Moray Eel
Scorpion Fish
El Alamein

To have travelled so and have been so close i felt i had to pay my respects

A moving experience .The British (Commonwealth) and German War cemeteries .

Standing as a testament to all those that died at El Alamein , you cannot help but be moved by the rows of headstones , most named to young men and women who paid the ultimate price for freedom and those "known only to god".The contrast between the individualism of the British memorials and the collective memorial for the Germans is quite intriguing.

When one stands there , overlooking row upon row of uniform headstones you are overwhelmed by a sense of grief and loss.

I am not a particularly emotional person but standing there , i will admit that i choked. A place for solitude and thought .Even Jayne was moved by their presence .

 

"lest they forget"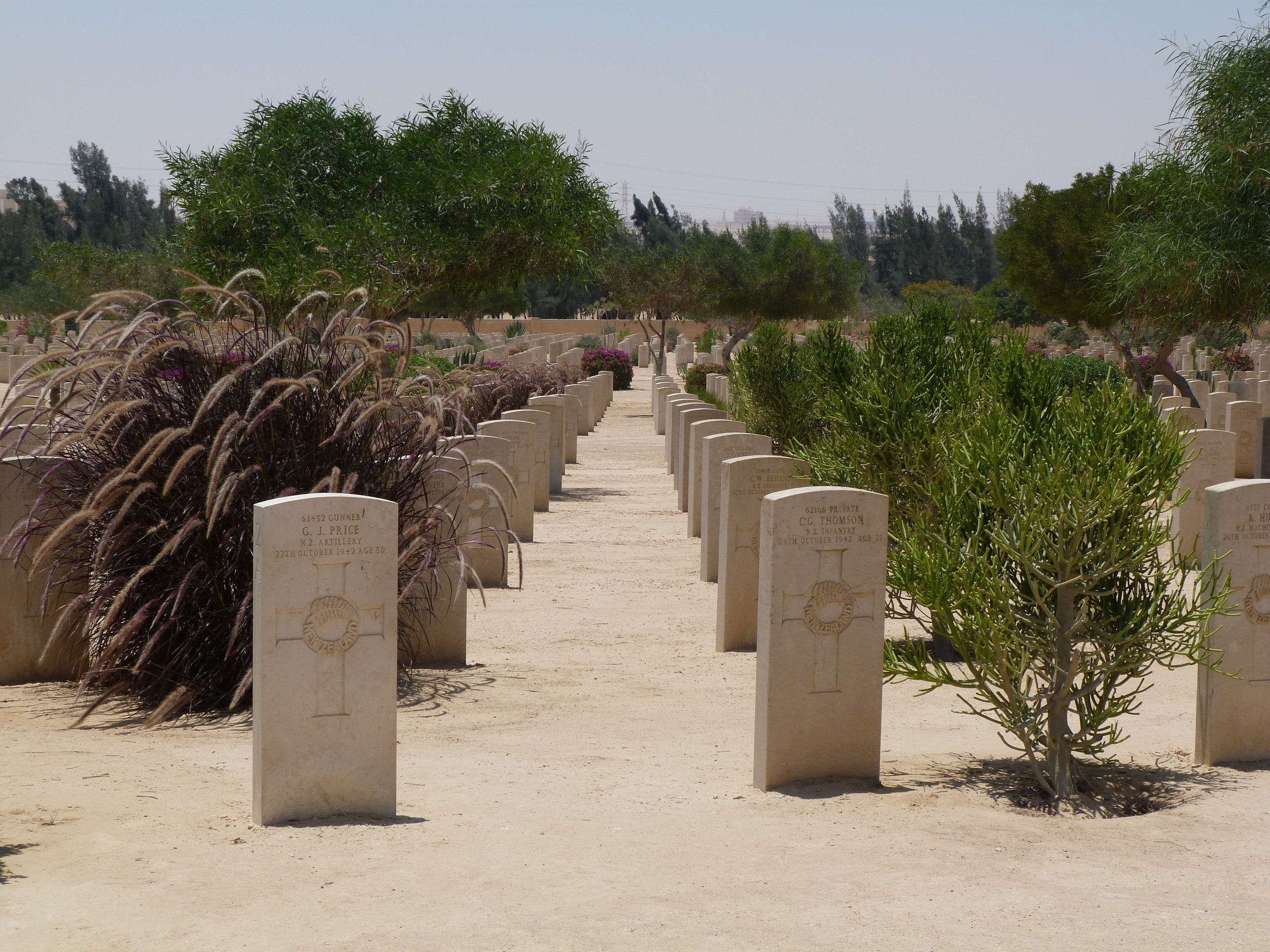 Med to Med
Heading North from Luxor , parents packed off with a few tears back to the UK we move on. Get this , Diesel costs le 1.15 per litre (TWELVE PENCE) . Good roads along the Nile up to Cairo. This is one manic city. Traffic is incredible and possibly the worst we have seen on the whole journey. Elevated roads, diversions and a hesitant sat nav mean we finally make a hotel in Giza late in the evening. Overlooking the pyramids its costing £24 night. Despite everything you see on the TV we saw no signs of trouble though the building next to the Cairo museum was burnt down during the revolution ( It was Mubaraks party HQ)
We have visited the pyramids and the Sphinx .All good touristy things.
Simon and John are up in Alexandria waiting to ship out to UK.
Again a hotel is sourced and we spent the last two days there before heading out.
This for me ,is journeys end to Africa. down the coast to El Alamein has meant that we have travelled from Med to Med in 2 years.64 thousand kilometres ,33 countries and i have loved it.
I will miss Africa , she will burn brightly in my heart .Despite its problems i could quite happily come back. Jayne on the other hand is quite happy never to see west coast Africa again.
Lizzybus hits the buffers
Well Lizzybus fans we have on one hand the good news and on the other , the bad.
We will start with the bad .Its kicked off big time in Syria. B*****ks , this means if we leave Egypt and enter Jordan ,we will have to go through the world famous Egyptian bureaucracy to get the Lizzybus back in if we can't progress through Syria to Turkey. At the moment the borders are being closed off and the consulate in Cairo is not issuing visa's .It looks like we may have to container lizzybus to Turkey and catch flights.
BUT , we did extend our visas for Egypt until the 24 Aug so we have plenty of time for it all to calm down.
We made it to Luxor and the good news that my parents are flying out for a week to see us and visit the sights .Hotel Gaddis , booked on line for £9 per night is our home for about 10 days .Cheap , cheerful ,clean and free breakfast its ideal for our paltry budget. Luxor , classed as the "hassle capital" is awesome however and we soon visit Luxor Temple , Karnak and Valley of the Kings. Parents enjoyed it and the 7 days blew through all to quickly .I will miss them as we haven't met up for over a year. Next place will probably be Sri Lanka if we ever get out of Egypt. Mom made the announcement that it was soon to be my birthday , my 50th birthday. BUGGER , i thought it was my 49th. Saga here i come.
Accommodation is being booked on the net for a months stay in sharm (£600 all inclusive) so the budget is being protected and a chance to do mucho diving !
We can afford all this time as we will meet up with Jaynes sister Jenny in Turkey on the 23 Sept .
Murder on the Nile
All thoughts of an Agatha Christie type luxurious cruise down lake Nassar to Aswan are soon dismissed ( despite the hefty $450 price tag for 1 day) when our "fixer" managed to get us on the ferry first .Warned about the lack of shade we found the most desirable spot is under the lifeboat. Armed with kip mats , a couple of beers we set in for the cruise with Paul and Roland. Disturbed only by the call to prayer and a rude torchlight and aggressive announcement of "passports" our cruise continues. As an adventure it couldn't be bettered , but at the cost , no way Jose . Jayne loved the challenge .
Arrival at Aswan saw a scrum of epic proportions as the "transfer lounge" filled with a throng of hundreds. We are just too " British" and leave almost last. Offers of a taxi from a local are turned down until the man announces that he has bee sent by Magdi to pick us up.Kamel , a bear of a man spirits us through and offers us all a lift in his 7 seat Peugeot taxi.
I'm not surprised when , driving he has his left forearm on the wheel steering, phone pinched on left shoulder and with right hand texting on another phone .All whilst driving up the chuff of the car in front using i know not what to "toot" his horn ?.Welcome to the art form that is Egyptian driving.
The hotel of choice and perhaps the best value is the Hathor.110le per night (inc breakfast) with a view over the nile from our bedroom and a rooftop pool with an even better view. Five days later , Lizzybus arrives and we are gently introduced into the country that has made bureaucracy a way of life. 6 hours to officially import the vehicle , buy new number plates, arrange travel permit (i think) Kamel did the running around , getting us to the front of animated queues and generally "backshishing" his way around. trust me without Kamel we could not have done this on our own.$25 well spent.
In Denial!
Crossing the border at Metema it becomes apparent that we have left the cool conditions of altitude (2500m) of Gonder and entered the furnace of the Sudan .All our timing was to allow us to maximise our 2 week transit visa. The only way out of here to Egypt is by the ferry from Wadi Halfa to Aswan. That ferry costs $500 and sails every Wednesday and your vehicle is put on a barge and arrives the next day. Well that what it says on the tin. The land crossing to the North of Port Sudan is for business traffic only and not lowly Tourist like ourselves who have paid $100 each for the pleasure of this journey. Border formalities are the usual variation of hand writing every document before putting the information into a ledger .Despite having a visa we still had to pay s£120 for "alien registration" , preferring to do it here instead of Khartoum .The heat is noticeable and its about 45 in the shade .A nights free camp and we make Khartoum. The Nile Sailing club ,this haunt of overlanders is a "Sh*t tip" and only slightly pricier than the Khartoum Youth Hostel. We again meet fellow travellers Simon and John and decide a plan .The fridge is suffering in the intense heat and spare battery life can now be counted in hours. Our smuggled beer (31 bottles Dashen , 6 Tusker)have been removed from their hiding place in the tent .Its hot , expensive and we don't think Sudan can hold our interest for 2 weeks , so we decide to make a run for the border and catch the week earlier Aswan Ferry. At least in Egypt they have a tourist infrastructure and a possibility of hotels with beer , air con and a pool.
The roads are fast tar and afford us the journey along the Nile. Desert and rock gives way to a strip of land 500m wide saddling either side of the great river. Fertile and green yet for us it offers no respite from the intense heat .We carrying 40l of water and are drinking about 8 l per day yet have no need to pee. Jayne is suffering with heatstroke merely through the actions of sitting in Lizzybus. Any temple visits ( all pre Egyptian) are restricted to about half an hour because of the heat.
Things are set in motion , we track across these wastelands to Wadi Halfa and contact our fixer" Magdi Boshara .He informs us that there are no 1st class bunks avail and we would be travelling on the deck. At least we saved $50 on the price (of $500).Scabby hotel for 2 nights .A room in name only and a fan that very successfully pushed the hot air around . Wadi is a frontier town set only for those wanting the ferry . Roland and Paul (aka Brutus )from Holland had the same thoughts as us , Egypt here we come.
The historic circuit
Visa sorted we depart Wims with the intention of completing the Northern Circuit.
This will involve about 1000k of roads , high into the mountains and visits to the Rock Hewn churches of Lalibela ,monasteries of Bahir dar ,more churches in Mekele , Stalea of Axum and finally the "Camelot" of Ethiopia , Gonder .
Fuel tanks brimmed we travel this great odyssey. the route and destinations as impressive as we thought If the internet is forgiving i will cut the wordage and paste some piccies.
We depart Gonder after 5 days for the delights of the Sudan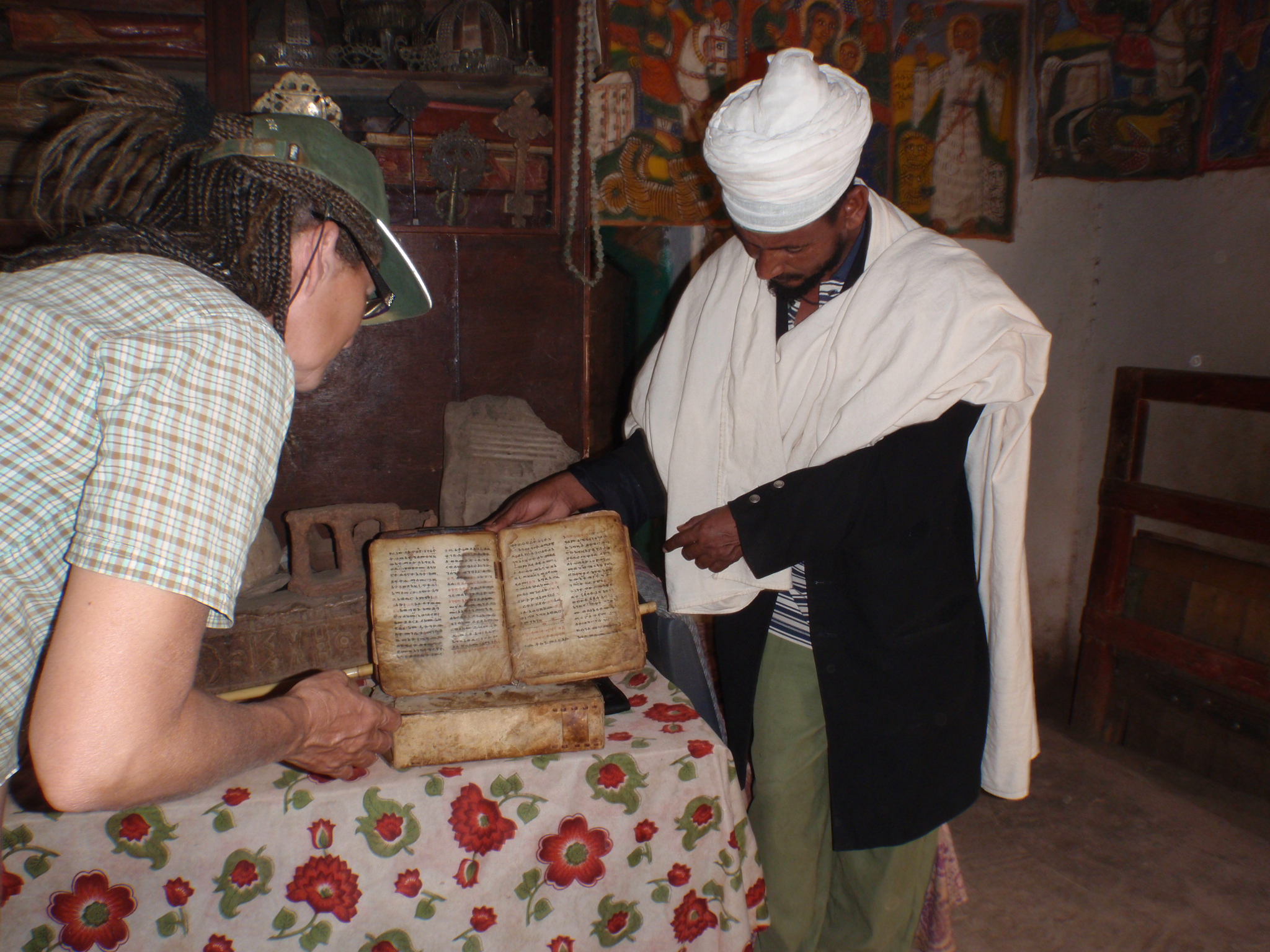 500 yr religious book Lalibela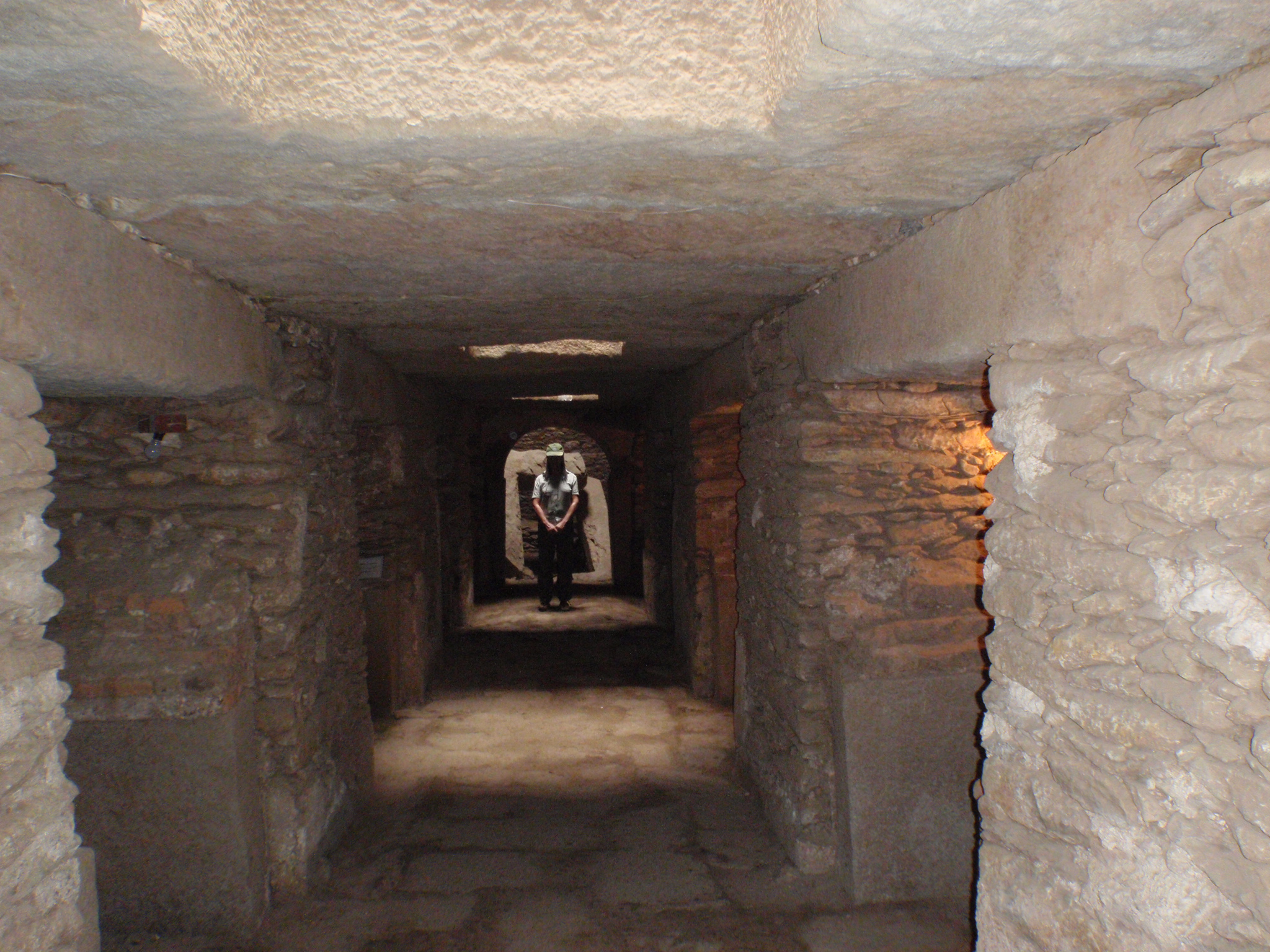 Axum Tomb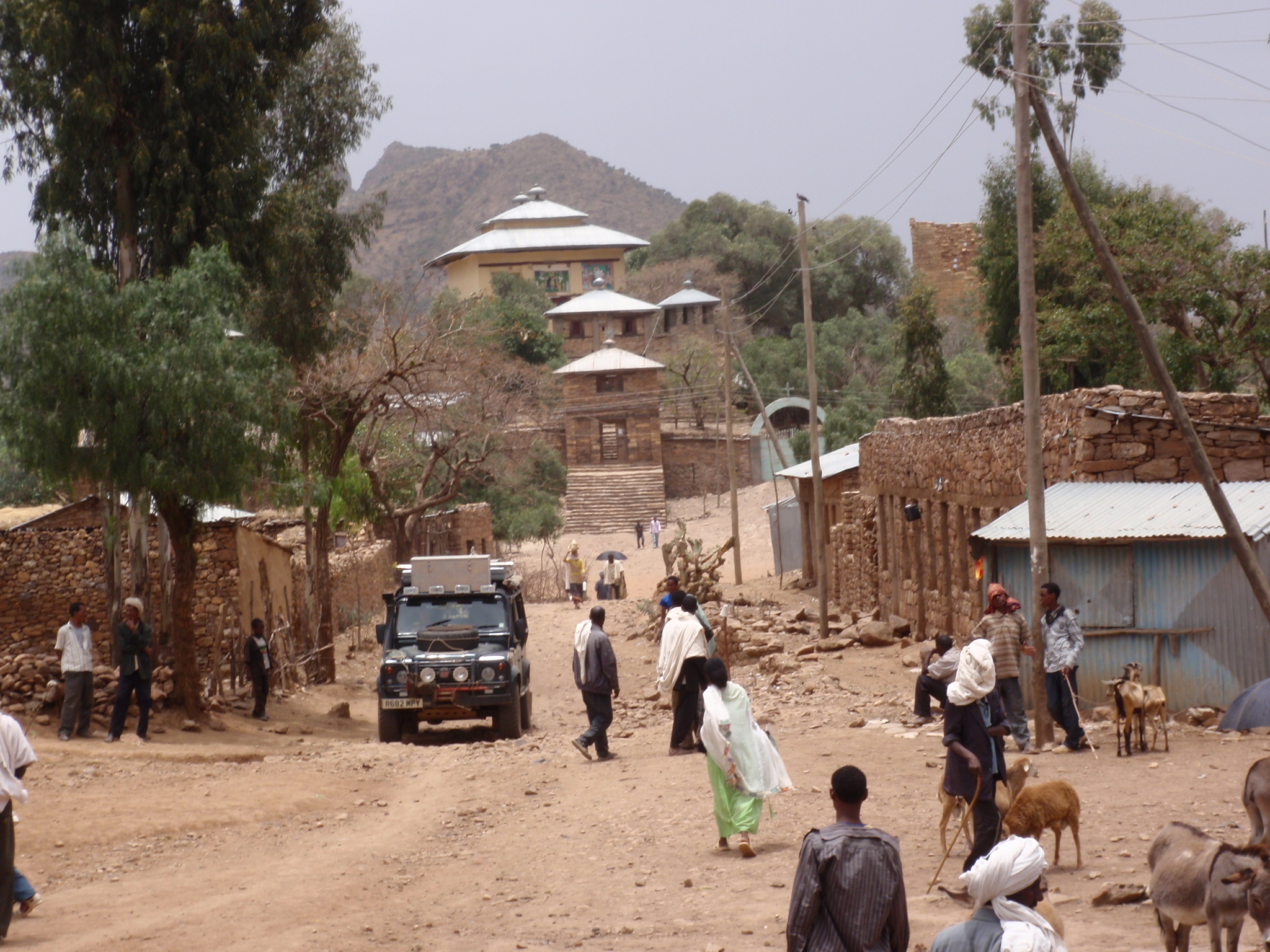 Outside Lalibela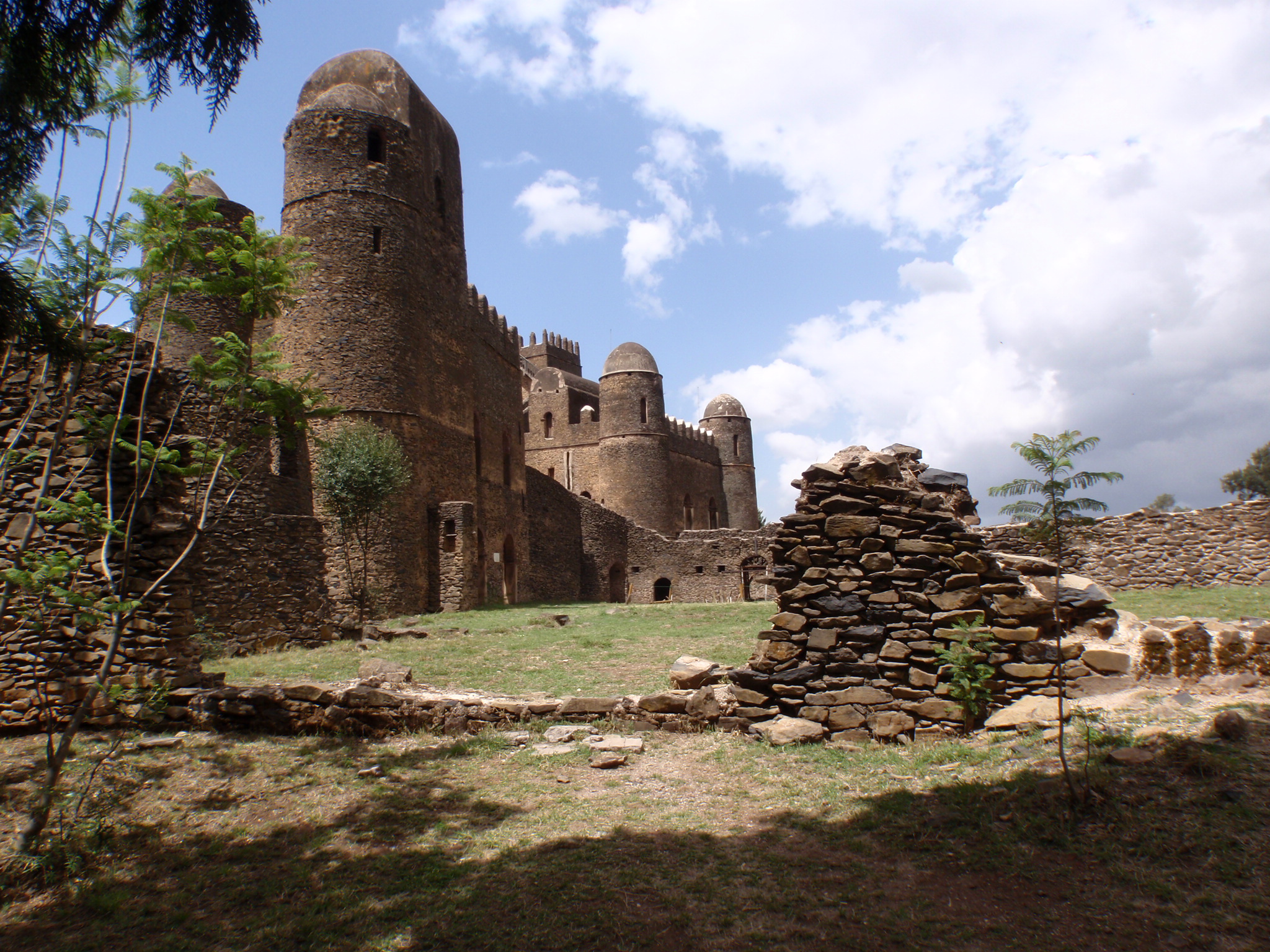 Gonder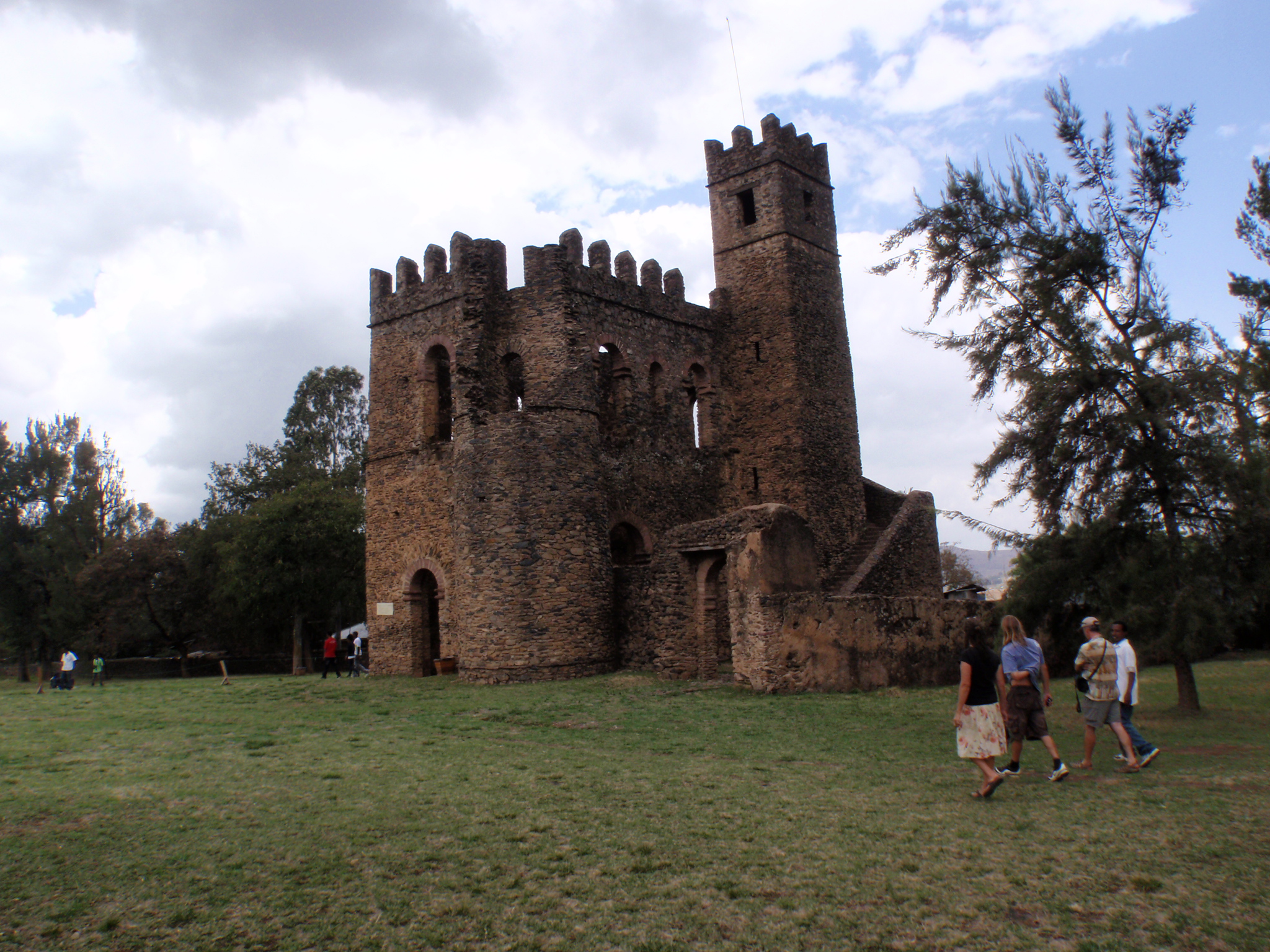 Gonder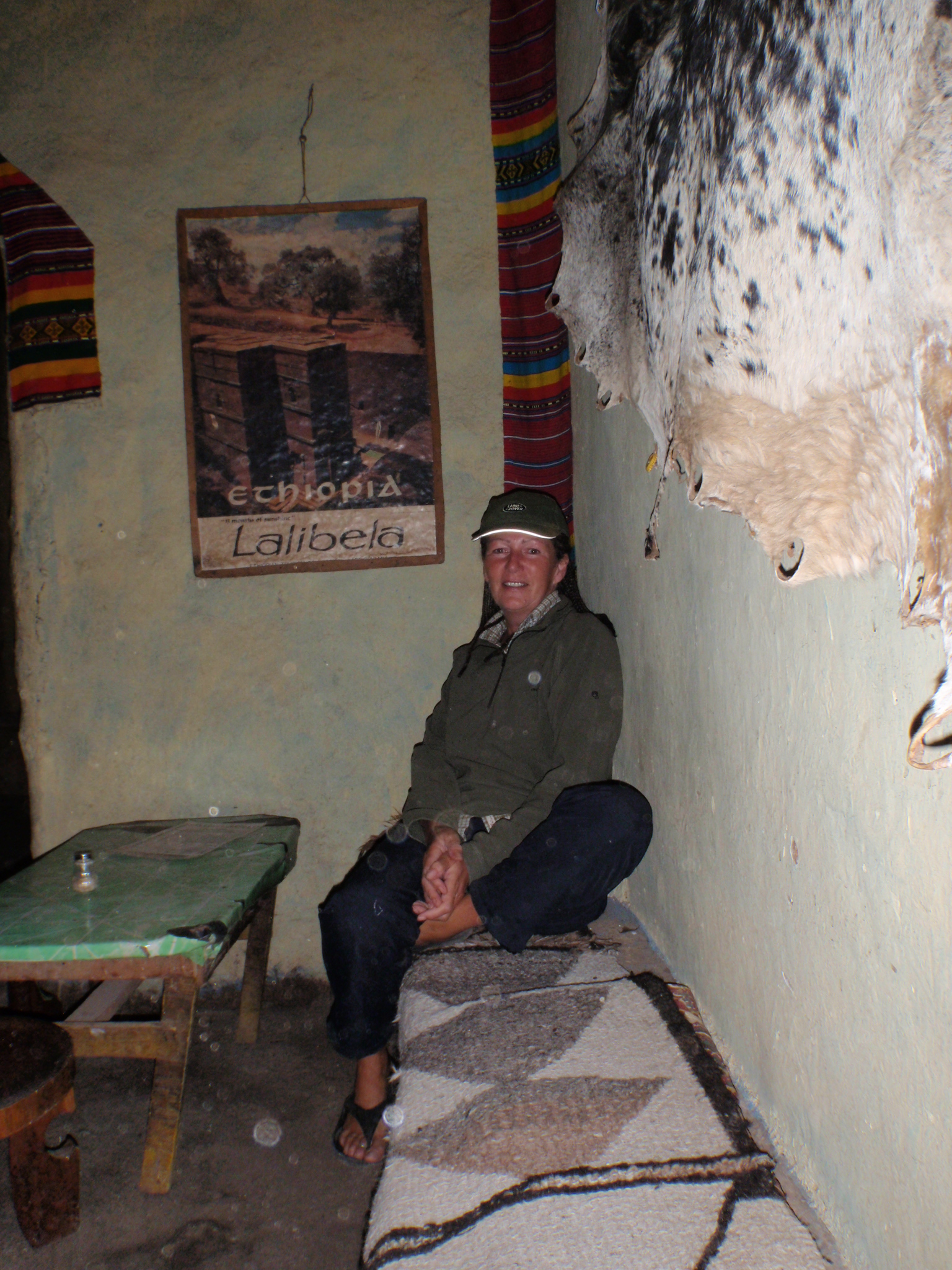 lunch time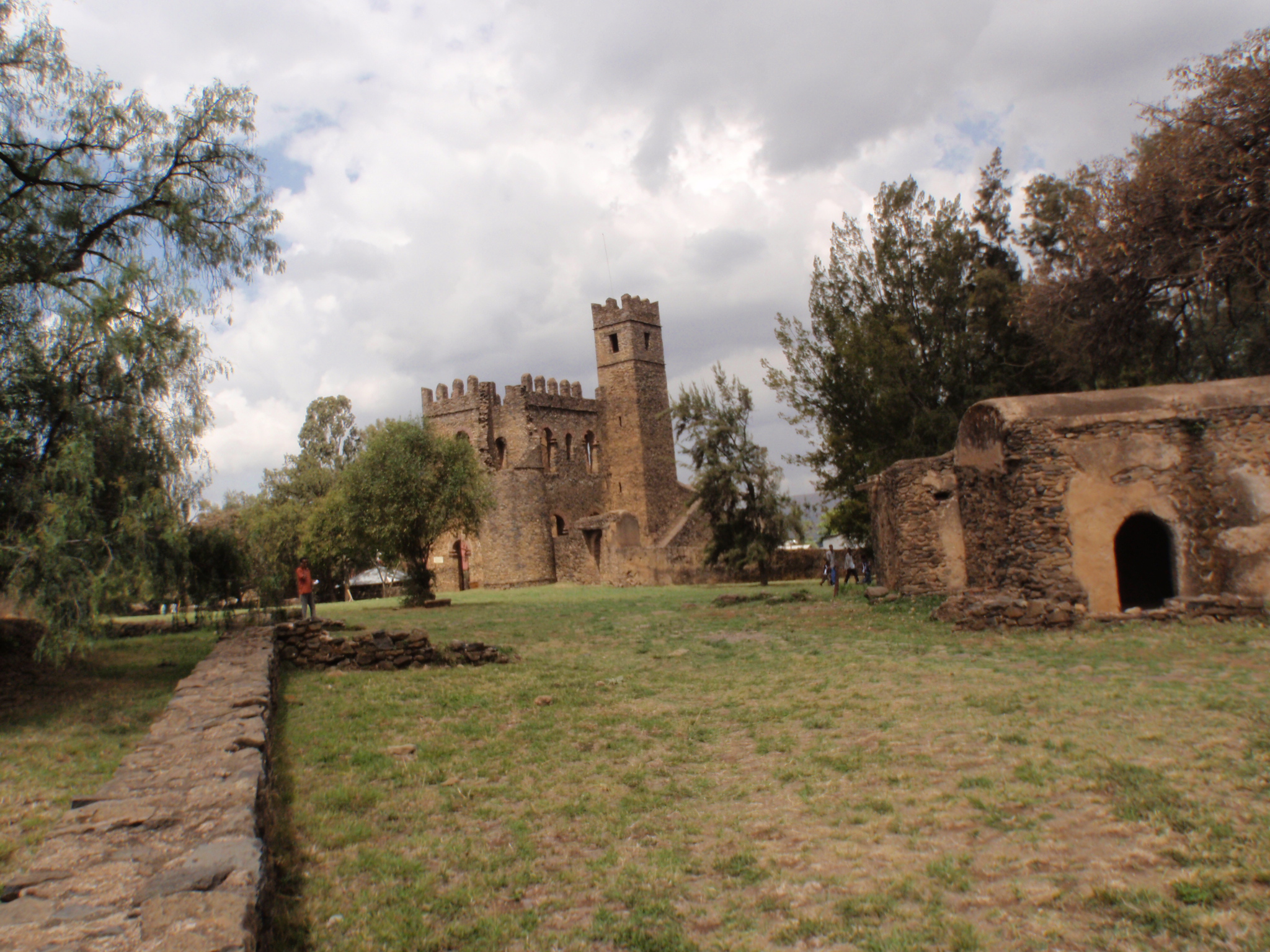 Gonder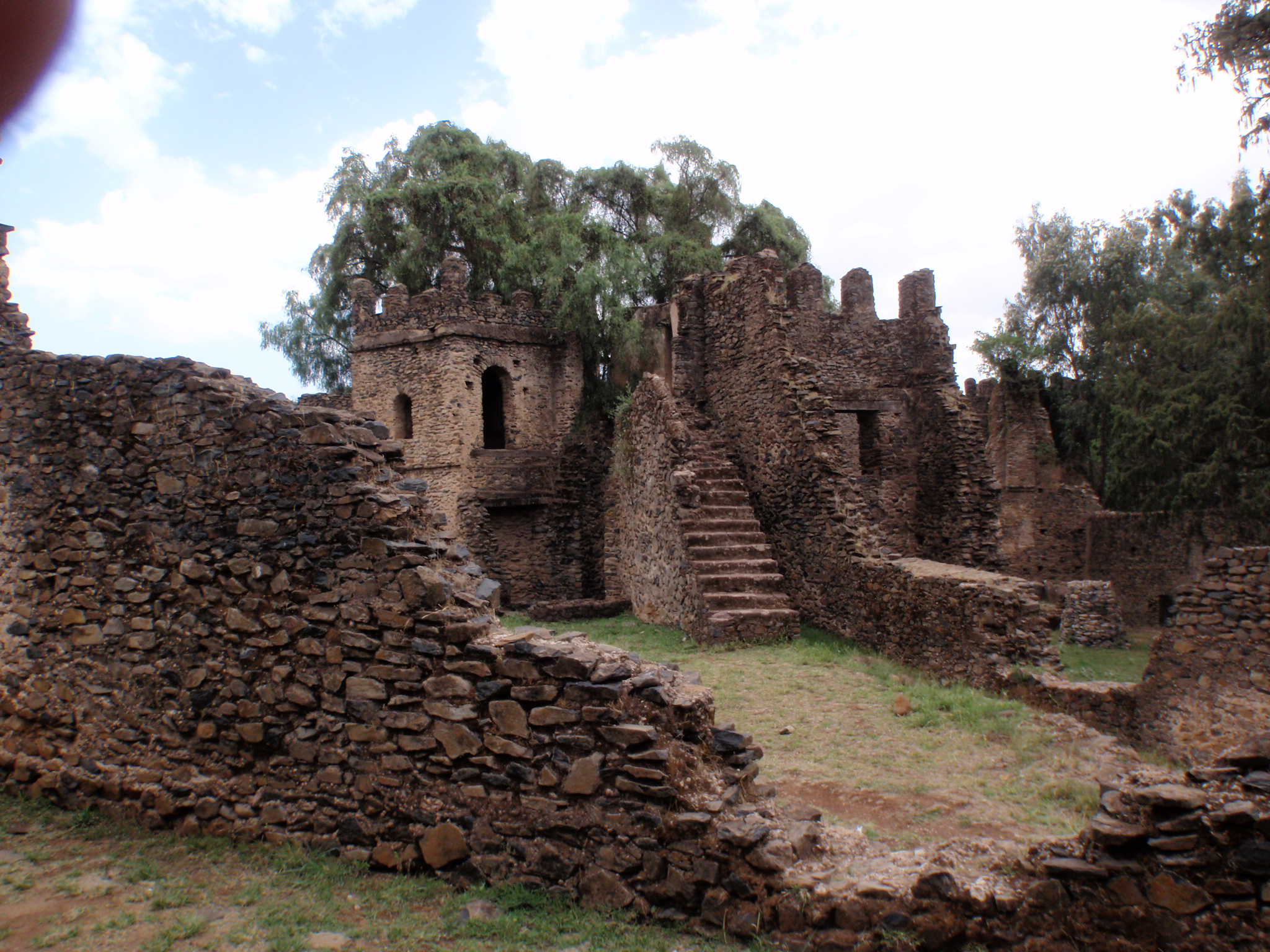 Gonder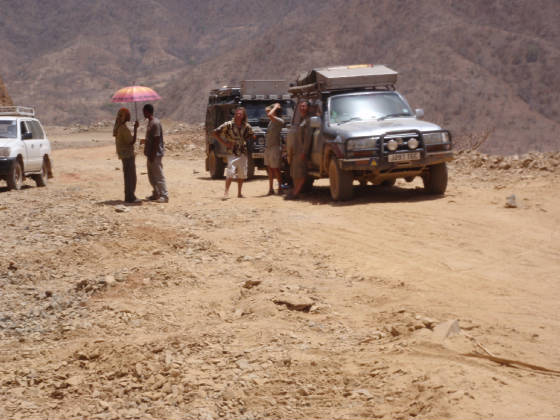 Meeting up with friends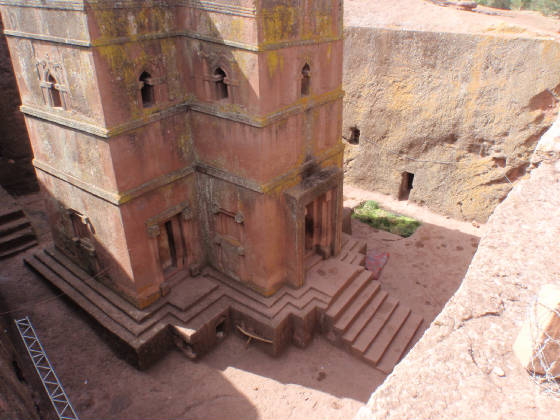 St Georges church Lalibella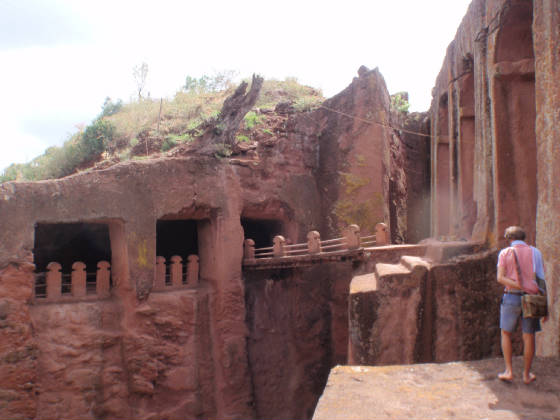 Lalibella
Lalibella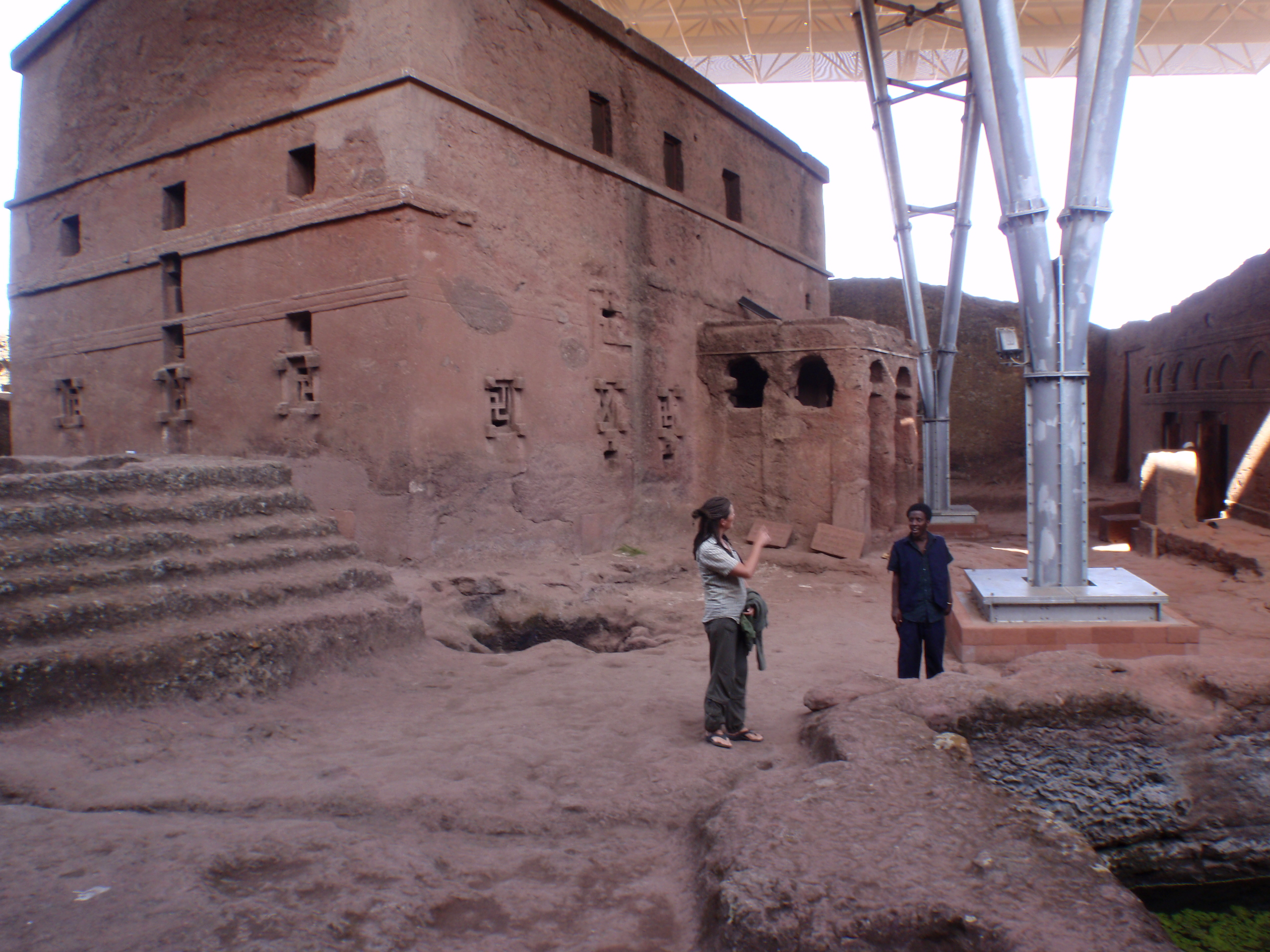 Lalibella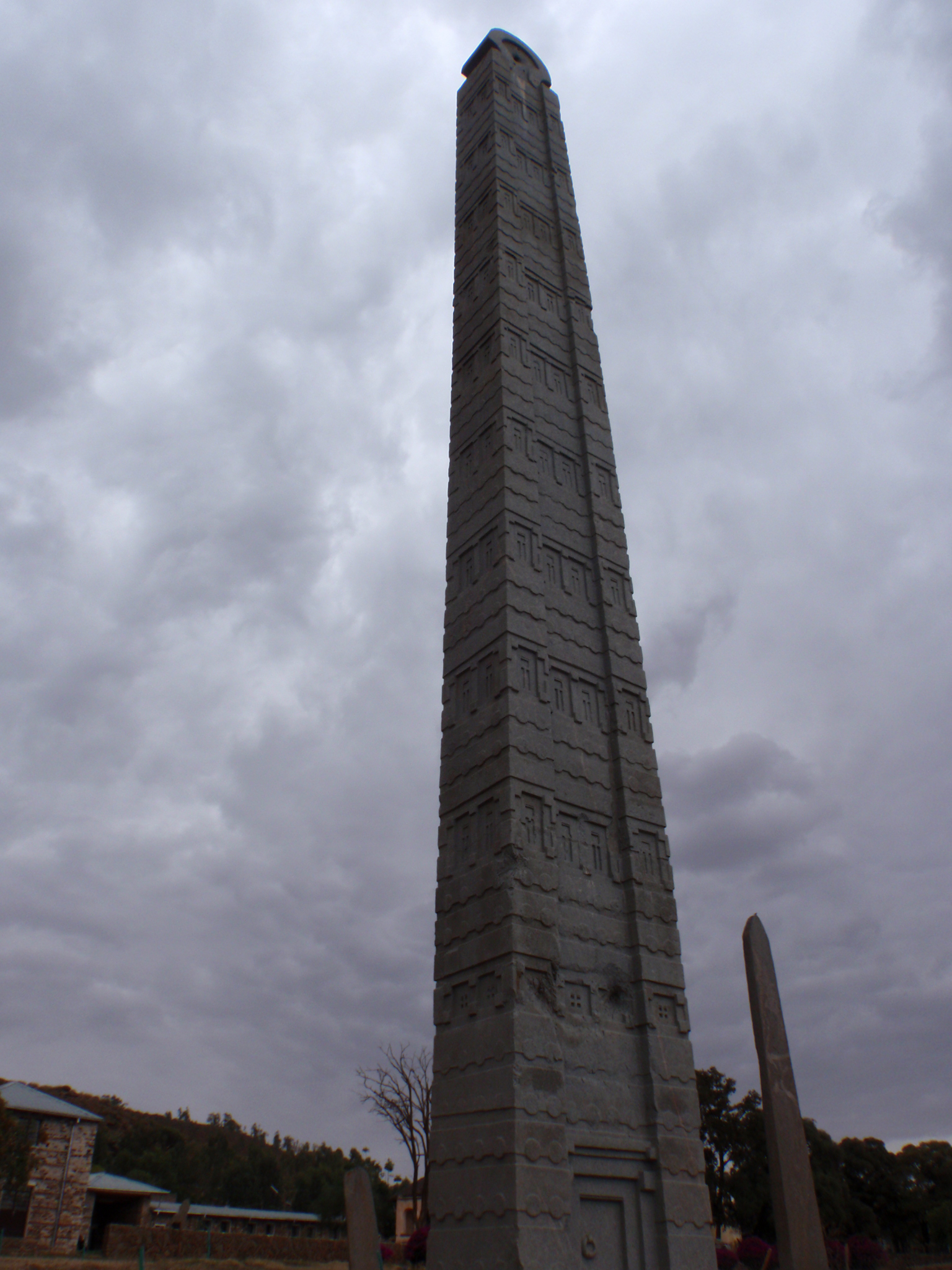 Axum
Axum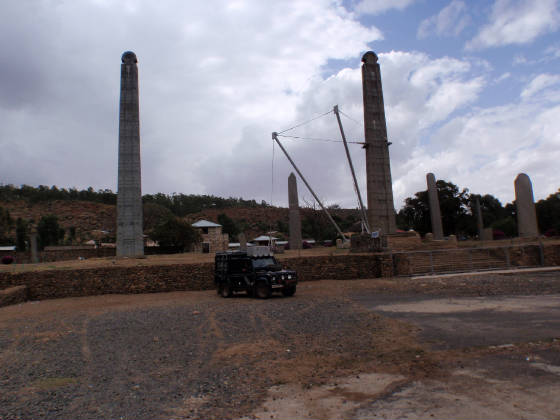 Axum
Lalibella
Shit we are in Ethiopia!
After everything we had heard about Ethiopia ,it was with trepidation we proceeded North across the border. A cheap hotel to camp at , beer at 9birr a bottle and 80 birr to camp .Most expensive meal on the menu 55b .We have made our first faltering steps on the nice tarmac road towards Arbe Minch.
With everything we have heard about this country , i don't think we would have batted an eyelid if the 4 horsemen crossed the border with us. Visions of Sir Bob and Live Aid , war , famine , desert wastelands, poverty, starvation all abound .
I am writing this note from Wims Holland House in Addis .Its raining as we are now starting the wet season. We have our Egypt visa (310b each , next day issue) and will collect our Sudan Visa ($100 + copy Egypt visa) .
Lets rewind and tell it the way it is.
This country is very poor (as are most African nations), the people charming ( we haven't been stoned yet! ) a working infrastructure , stunning scenery , food is very Ethiopian if you want and available, beer is cheap and plentiful .People are not starving the way they are in West Africa .Is this the same country we had been warned against?
The route has taken us along the main arteries of Ethiopia...the roads. This is where most people hang out , walk their animals , conduct business. Its very alarming to be confronted by a sea of humanity that seems so intent on ignoring the dangers present on the road. We are worried despite our best endeavours that we will run someone or something over.
The kids are a lot more "aggressive" , holding hands out and demanding money but their are just as many who will greet you with a smile and a wave of the hand.
One village saw a great bit of "elk swerve" when a "prize" cow was forced to run into the road with the obvious intention of the owner for us to hit it and pay out considerable compensation .Jayne with great skill swerved and a disappointed farmer would have to wait for the next ferangi to come through.
on the way to Addis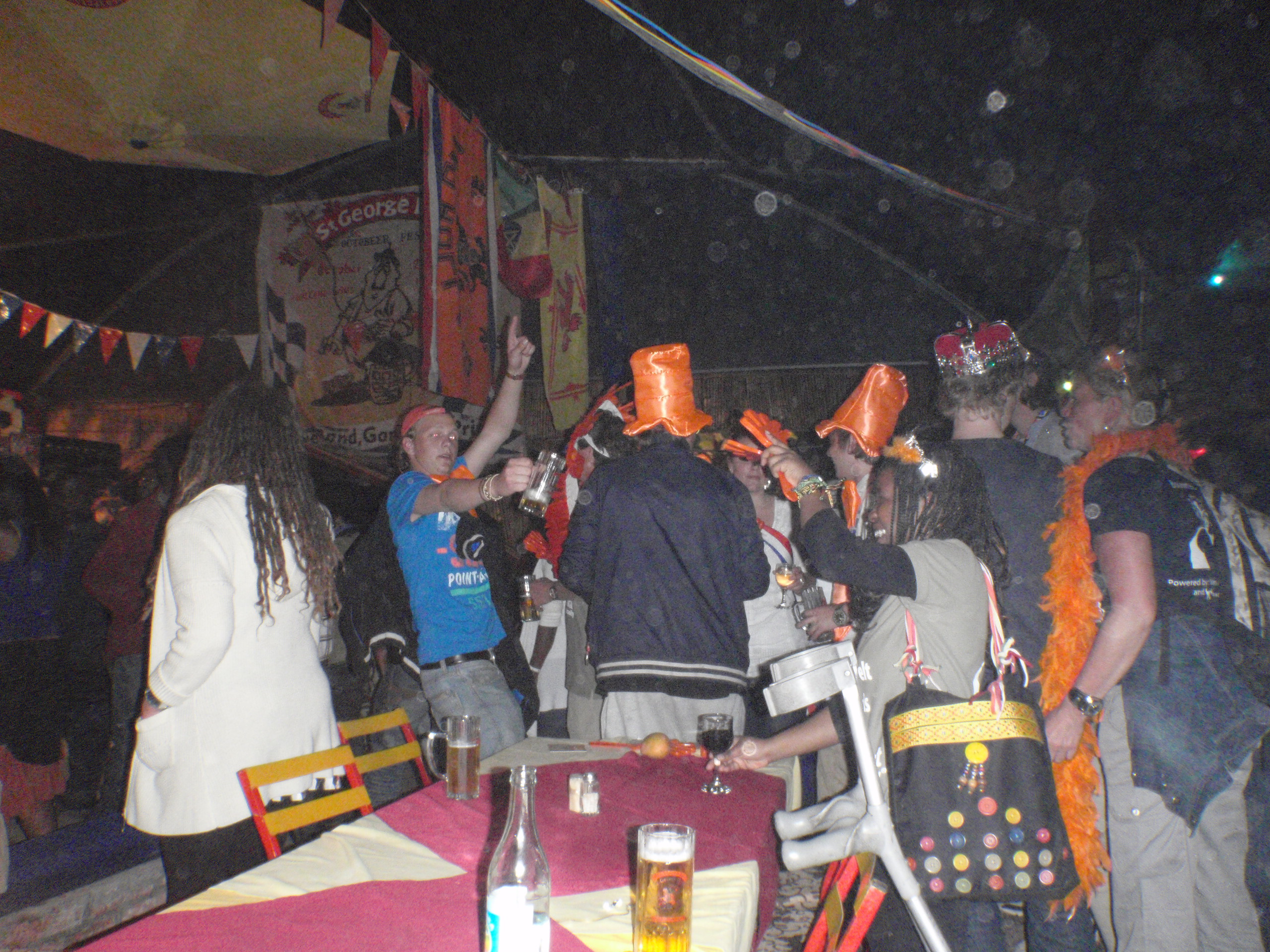 Reggae night at Wim's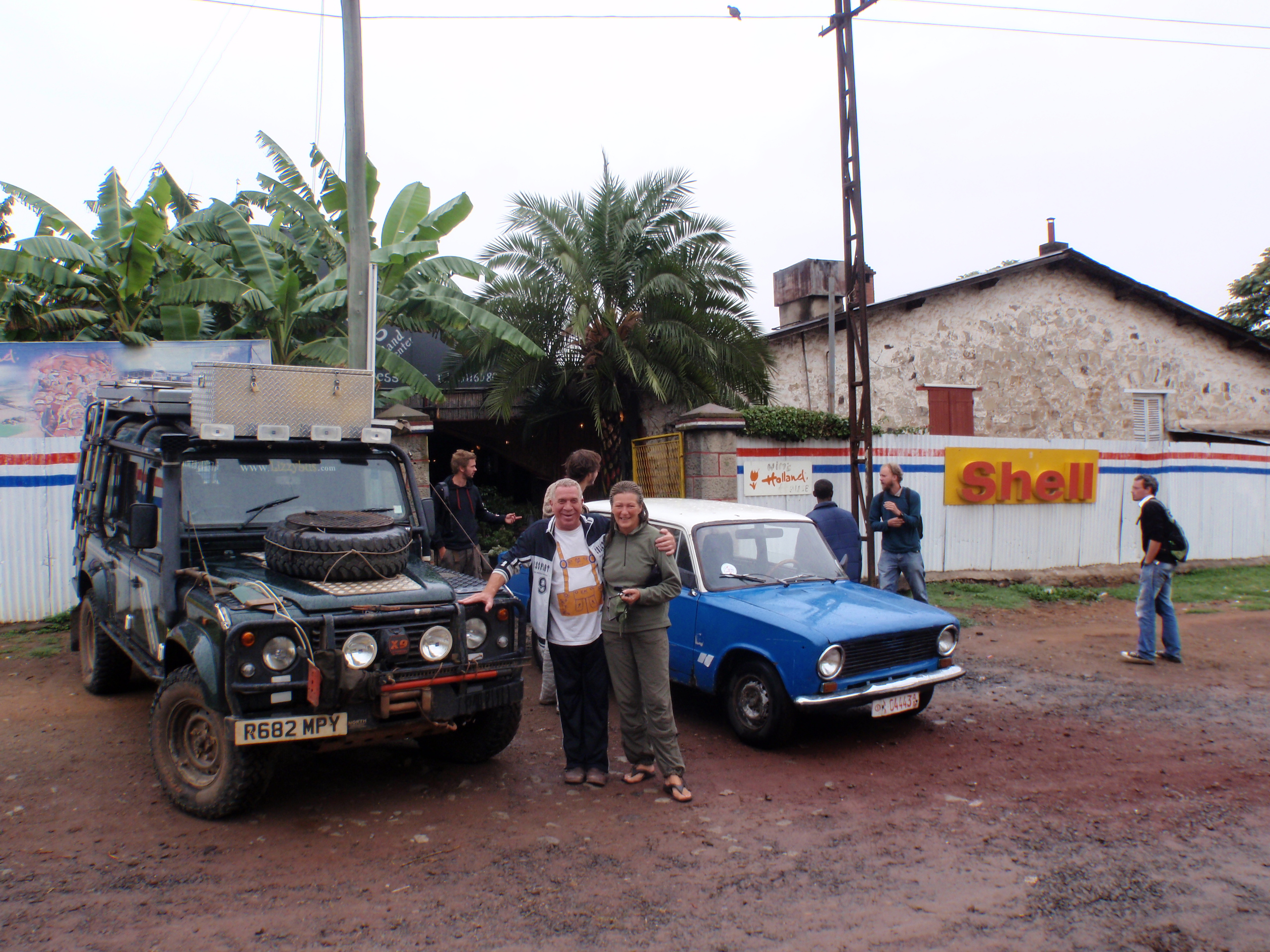 Wim's An Addis Institution
A jaded experience

The usual route up to Ethiopia is to travel along the road to Moyale via Marsabit. Its reputation is that of a truck breaker. We can however cross North of Lake Turkana , we need to travel in convoy as chances of getting stuck are pretty high. We heads off and travel direct to the Jade Sea .A hard journey involving rock roads ,washed out river beds and a bit of free camping. Having pitched up for the night we where told to beware the bandits. Gulp, hastily breaking camp we pitch up to the surprise of the local constabulary behind their police station. Cheers guys , we had a great nights sleep protected by a policeman with an AK47.The road gets worse , the vista , that of a sun baked alien world of furnace heat and volcanic brown rock. The Jade Sea , Lake Turkana ,was spectacular just as we rounded the hill. It was made even more interesting by the failure of our brakes and the last 30km done in low ratio .Their is no respite from the heat , it is as though we had reached the gates of Hades and where being invited in .If they ever want to fake a mars landing this would be the ideal place to film it , the landscape is so otherworld. The campsite offered an opportunity to change the master cylinder , ably helped by the safari mechanic who resorted to the tool of choice in Africa to remove the nuts holding the brake pipes.......a pair of mole grips! It got the job done .Its now decision time .Simon and John had rocked up. If we cross to the north we will not have our passports or carnet stamped. This could cause us problems in Ethiopia .We could , however , cross the desert , hit Marsabit and then North to Moyale and an "official " crossing. Their had been rains in the area so we chose the desert route. Convoy at high speed , great route to the shitty town of marsabit .The road north is indeed a ball beaker .We lost the bonnet lock , leak on back axle , broke the solar panel .The Ethiopians where great letting us cross , no probs with documents and even advising that the locals with fluorescent jackets demanding money for the tourism board (150dr per car) where trying it on.

So their it was , we where in Ethiopia and all that it entails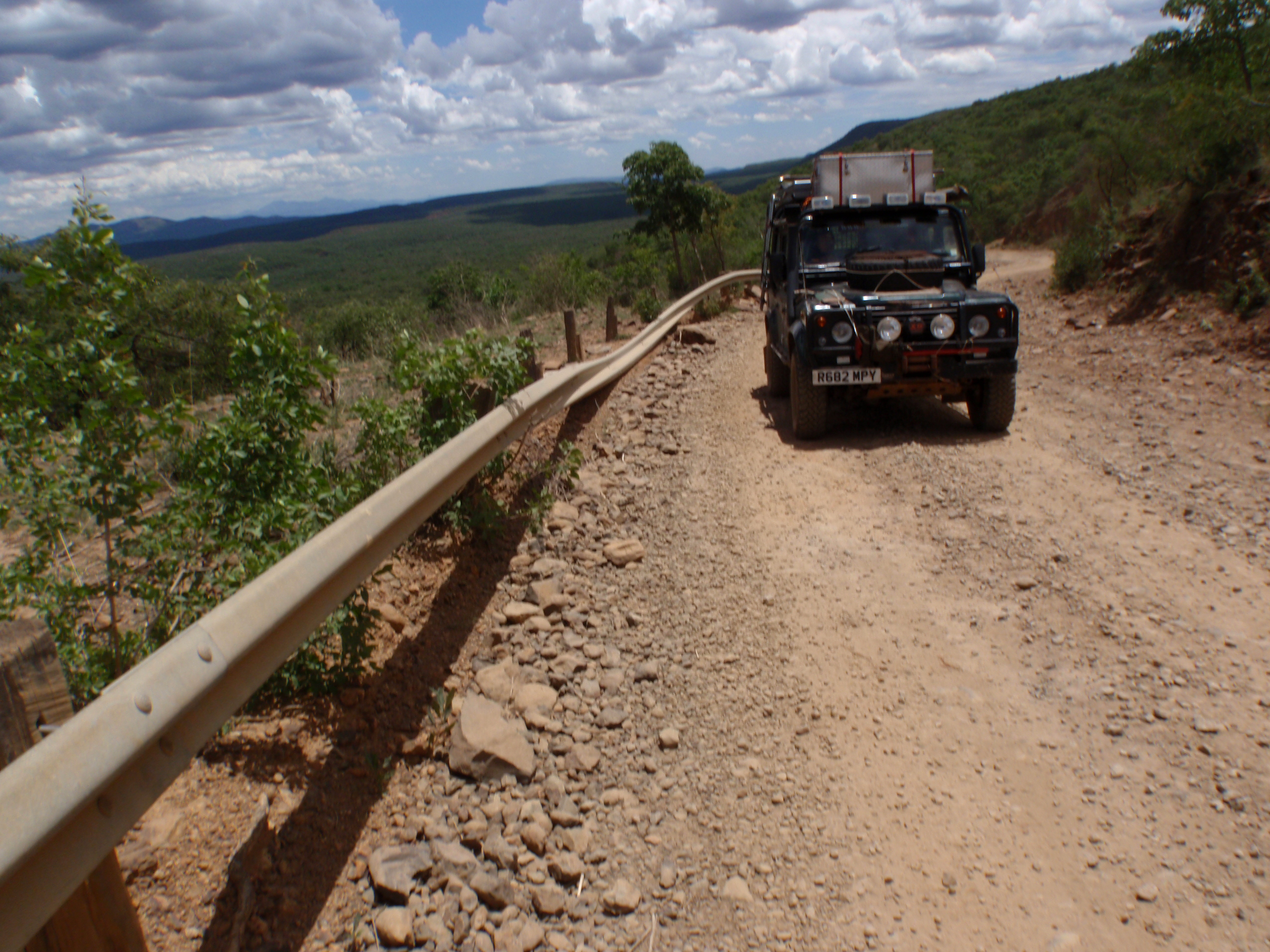 Road to Turkana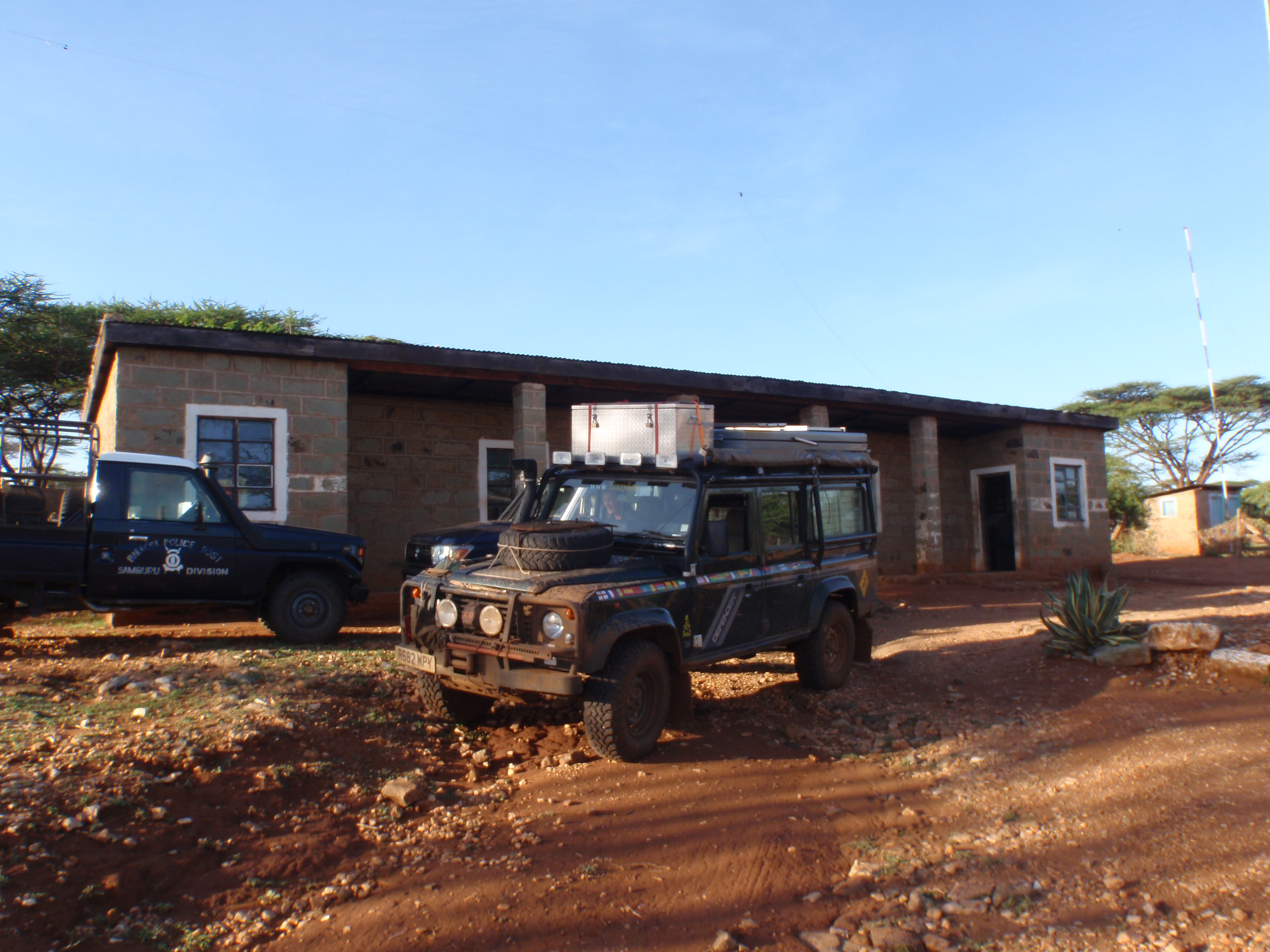 safe for the night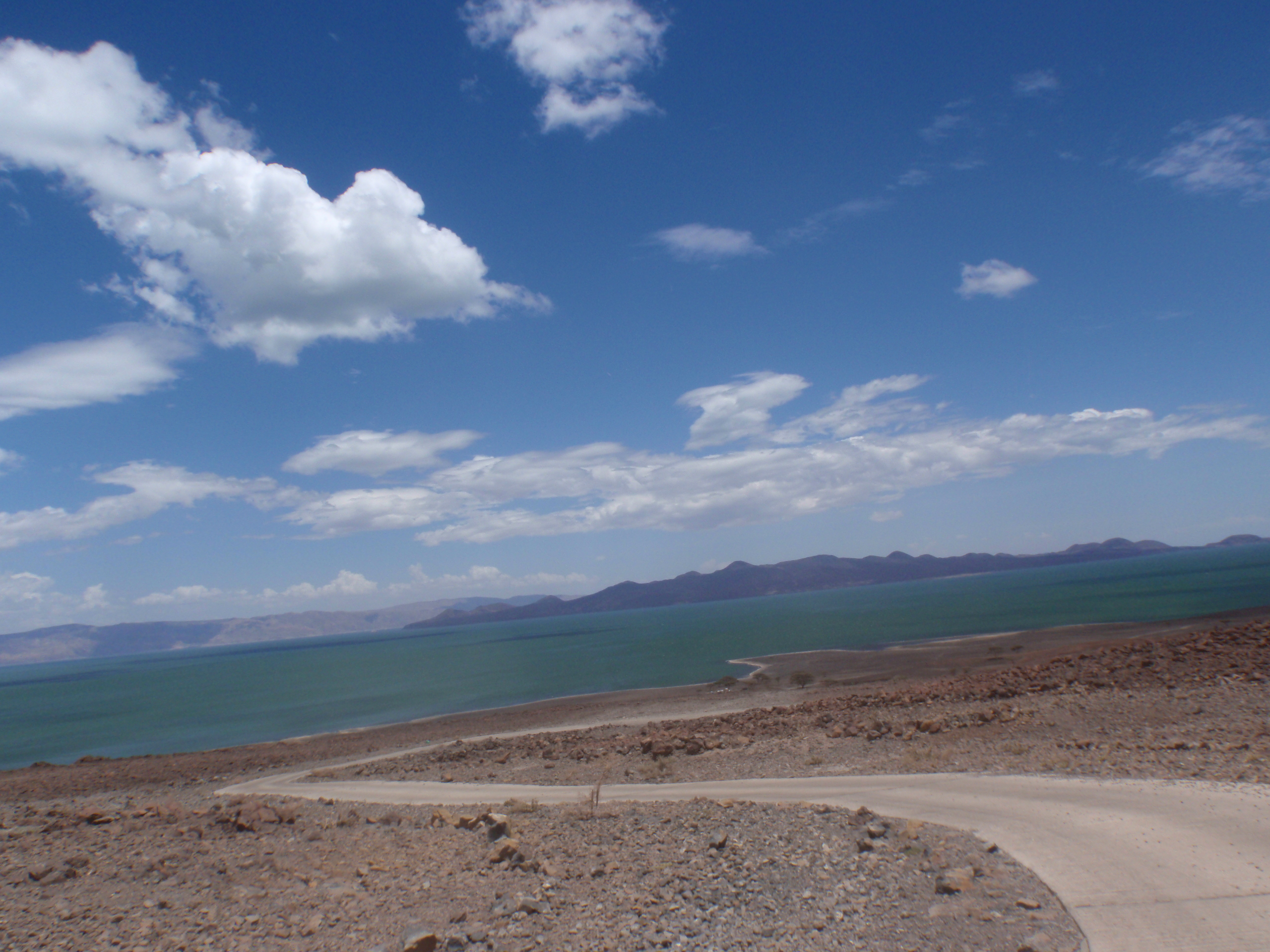 The Jade Sea (Lake Turkana)
Up the junction
Shoprite (South African Supermarket) has outlets in Tanzania , great news as fillet was £3.5 a kilo. 1.6 kilo later , cooked on a brie in Arusha when rumblings of discontent start to bubble.
Border crossings are easy in East Africa , having booked out of Tanzania we obtain , between running to the toilet and buying border visas for $25 each and $40 for lizzybus we arrive in Kenya .Between bouts of the squits and puking we know we will not make "Nairobbery" so pull into the first hotel and sleep from 15.00 till the next day.T4A puts us at the renowned Jungle Junction , an overlanders haunt. Typically German ,notices everywhere !Great place however to meet fellow Nomads . Lizzy gets a few odds and sods , Tyre repaired , hopefully the alarming wheel wobble has been cured by replacing the panhard rod bushes (well worn).A planned replacement of the rear door hinges was shelved after the backing plate fell off .As always a simple job on lizzybus turns into a marathon .The backing plate can only be refitted if we take the long range tank off BUGGER .More friends made over the days , some returning after a long absence , Simon ,back on track , a surprise visit by sandlover , Spike and Jean from France , Austrians peter and Traudi ,veteran travellers around Africa .As a small diversion we dined at Fogo Gaucho , all you can eat beef , chicken , alligator and prawns .Followed by six of us chancing fate and catching one taxi home .A visit to our first Kenyan game park puts SA and Namibia into context ,We thought $36 was expensive , Lake Nakuru to see Flamingos was $60 each and $25 to camp. The campsite had no facilities except a long drop toilet and cold showers. A complete rip off .If you go to Ngorogo , to drive into the crater costs $450 (for three people) So if you do wish to view game , ignore Kenya and Tanzania and stick with SA and Namibia .It was during the game park visit that i discovered some bugger had broken my camera !.Time to move on and the highlight for Jayne and a visit to the cheese factory in El Doret .1 kilo of cheese later we head for Nabiri Riverside lodge .This fine establishment outside El Doret had been recommended during our stay in Morocco.500n each to camp , hard standing and banda we meet up with Simon and John. We intend to visit lake Beringo and on to Turkana (the Jade Sea ) and a crossing that may mean we miss the notorious Moyale Road .Only time will tell as its going to be convoy time.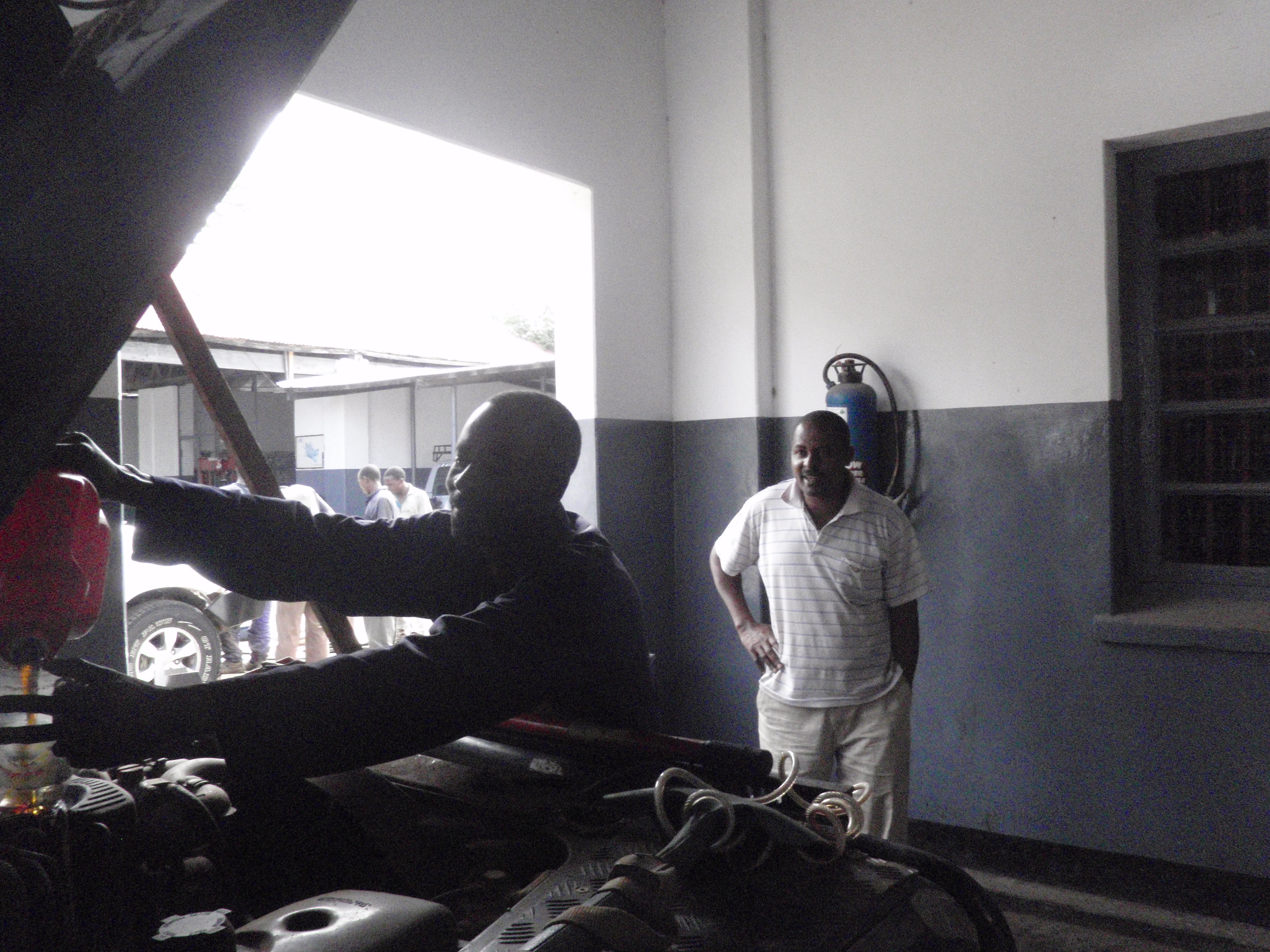 Lizzybus gets lubed up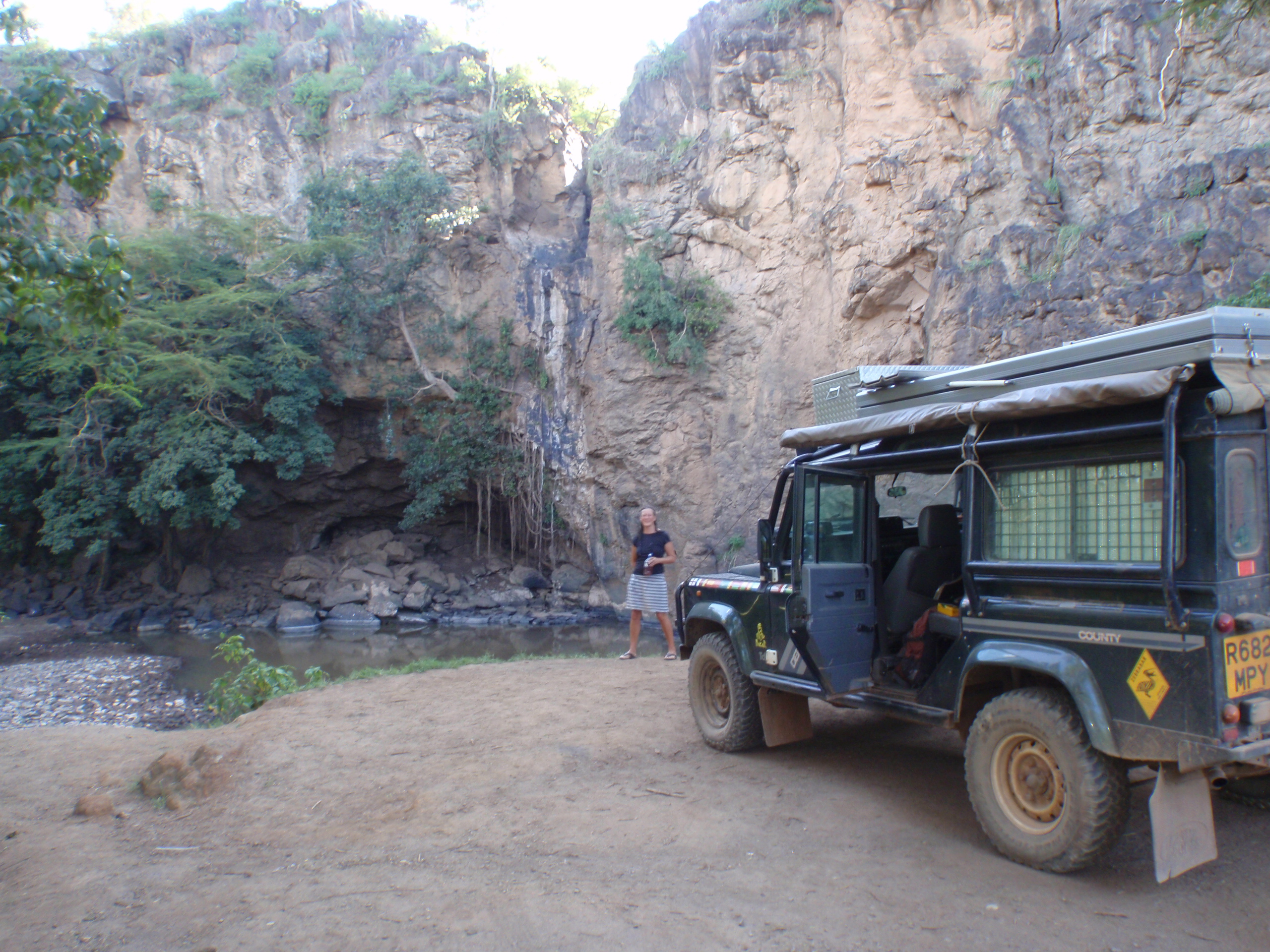 Lake Nakuru
Bohemian Rhapsody?
Sad pun but true. We have crossed over to Zanzibar and left Lizzybus all on her own at the campsite .Keeping to tradition we elect to take the "slow boat" , the Flying Horse with the locals .Two and a half hours we make the Island. We are quite surprised at how vibrant the place is .the local tourist map shows the centre as a labyrinthine maze of unmarked streets. At the port , hop a taxi to the Guest house , Jambo at $25 per night only to be followed in by the driver looking for his "finders fee" , shame , he didn't get it.The guide book announces that their is no home to visit for Mr Bulsara and the nearest memorial to the Great Mr Mercury is a bar called Mercurys .Shame he had never drank there .But in a way sitting in Zanzibar watching the sun set drinking cold Tusker beer in a bar called Mercury's is more than enough for us.Wandering the museums and local fort will do before we return to the mainland. A chance to scuba dive on the North of the Island shows the contrast between us and the locals .The dive school is set up in a high class lodge ,Infinity pool , stunning thatched cottages complete the $250 a night price tag .This is where you come to enjoy Zanzibar , you don't have to step out of your complex.Fast boat back to the mainland and due to timing i missed the chance for a Zanzibar pizza , Folded and Stuffed naan bread.Their is supposed to be an agreement between the East African states to allow free travel with a single visa per country .But we think it is for embassy based not border based. Rateher than cut in and out of Kenya and Tanzania we travel up to Kilimanjaro .
What can i say about Mount Kilimanjaro .The snow capped peak dominating the landscape, herds of majestic elephants crossing the foreground !.Well no , its raining , misty and we can see diddly squat .Off to Kenya then.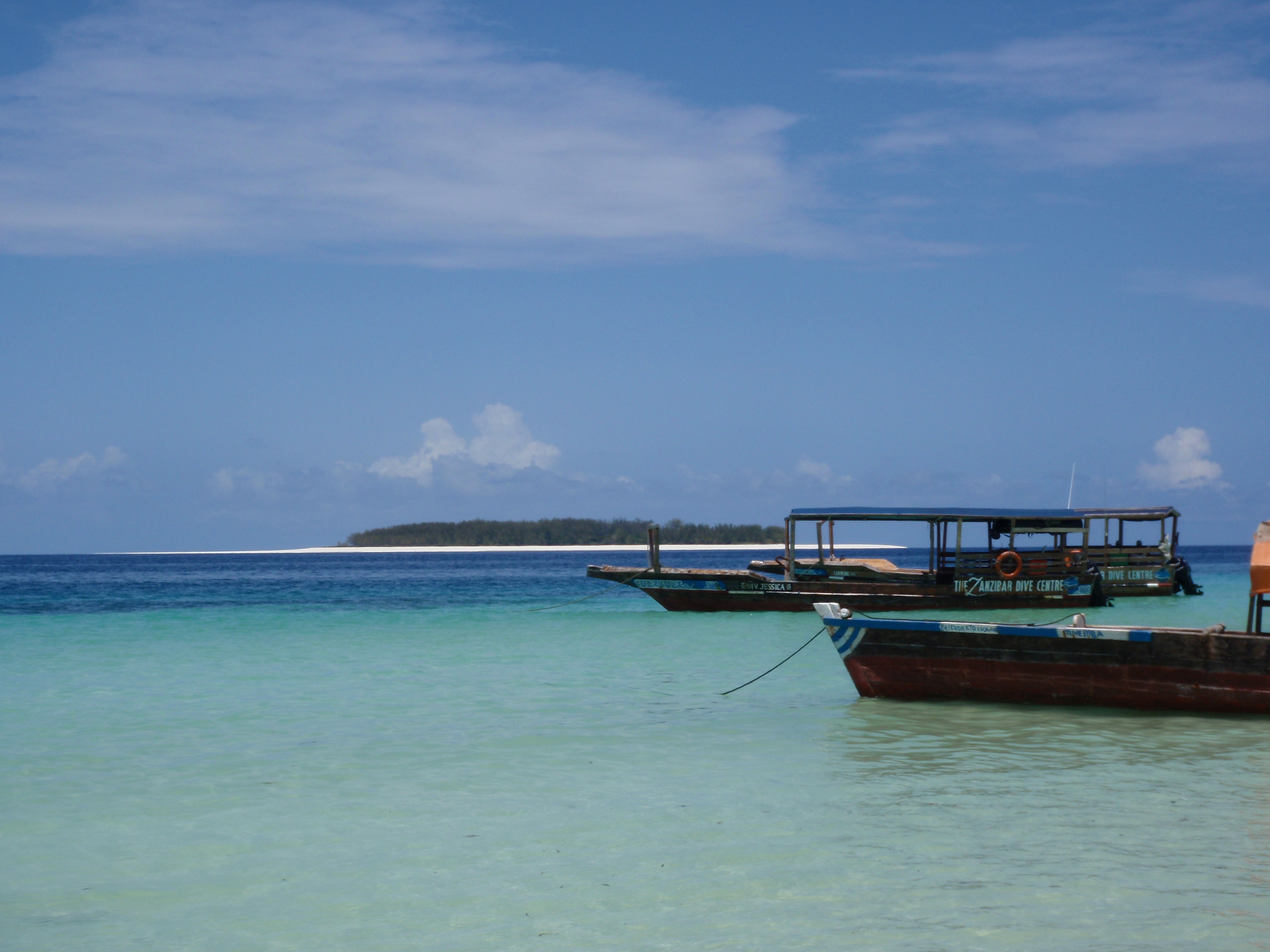 North Zanzibar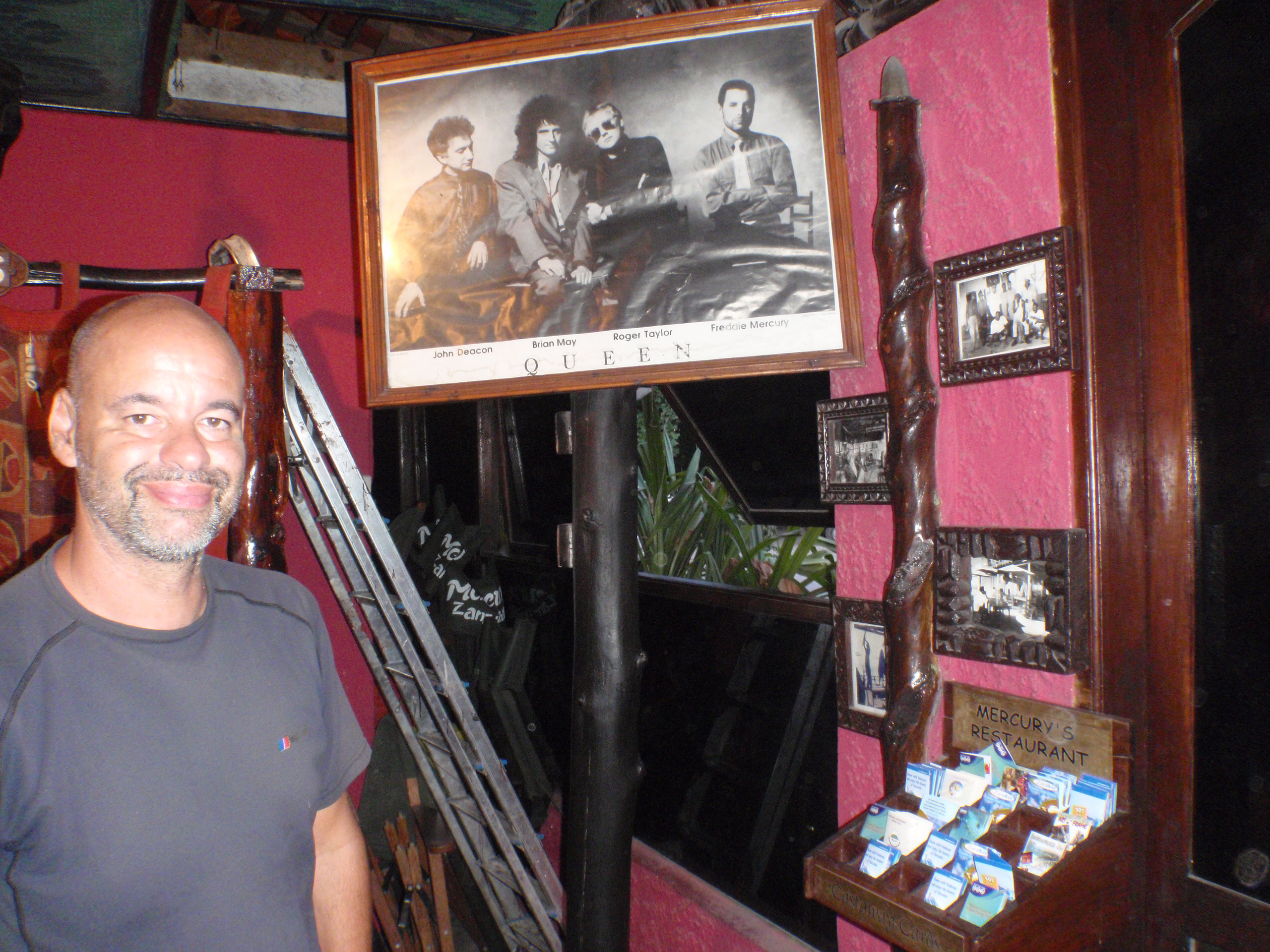 Cold beers at Mercurys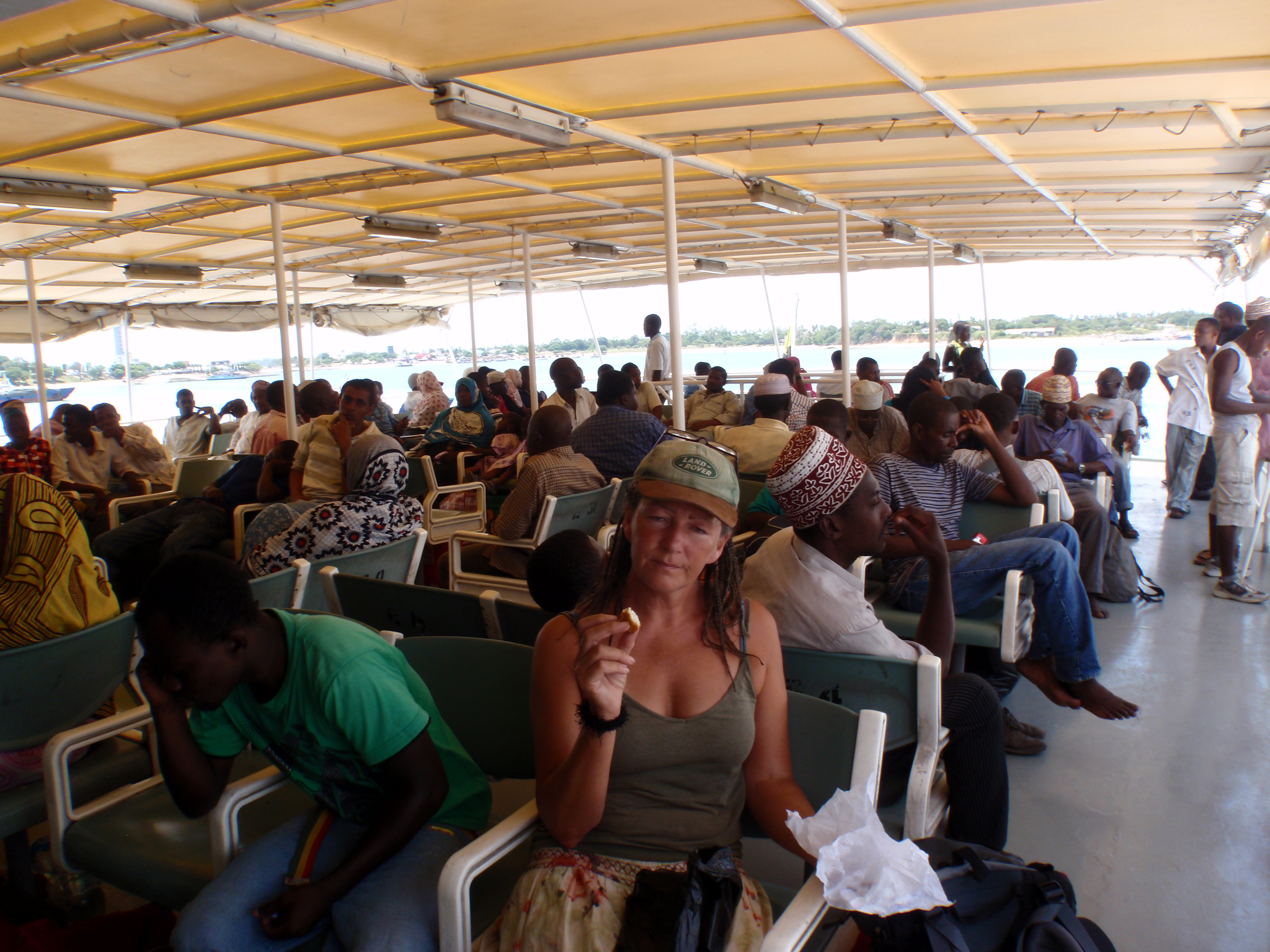 The "Flying Horse"
The Big "M"



We have become soft and complacent with our travelling. Malawi and Mozambique with all their friendliness have led us into a false sense of security.Leaving Malawi to Tanzania we crossed into "no mans land", a throng of the locals jockeying to see what they could do for us. We had about £8 worth of local money left. We agreed an exchange rate and breaking all the rules (18 months on the road , we should know better) the lad proffered his hand , our money was GIVEN over , the crowd pushed in and he was off .F**K , acting just like newbie's , the others all denying they had anything to do with it .Should have gassed the lot with my pepper spray .Ah well , it was an £8 wake up call to be on the alert.$50 each for visa's and $25 for permits ( official stamped receipt given) jaded we buy 3 months of "yellow card" insurance (covers East Africa) for a discounted price of $110 !The road to Dar is a nice fast tarmac route. Why let good tarmac spoil an African road? So speed bumps, un announced are everywhere .The same with the police who impose order on the roads by fiendishly hiding everywhere .Obey the speed limits or else! They are so sneaky that they will place one speed camera and 1 k down the road when you think the danger is over you come across the second one. Thank god we have Lizzybus, we would be proud if we could get caught speeding. The route is magnificent as we drive through national parks and see elephants, giraffe zebra etc.The street food consists of Chip omelette with chilli sauce , washed down with a bottle of coke. All eaten right handedThe bustle of a typical African capital city, a short distance south we hole up at South Beach .stunning azure blue seas of the Indian Ocean, fish and bathwater sea temperatures. We contemplate our next move .Probably Zanzibar and will leave Lizzybus at the campsite where she will be quite secure with armed guards (at a fee of £2 day)A common cold manifests itself and having read all the books I am convinced I am going down with the "Big M " , trip to local clinic and for £2 we are both checked and found to be clear .We are at the moment self medicating with the local pills (if required) .

So here we are, sitting on a beach, by the Indian Ocean .Clear water at 32deg listening to a local entertainer playing music that can only be described as "Merv and his Magic Tones".Jayne has bought 2 fresh lobsters for a £5 and is now having a moral dilemma !The pot or freedom in the open sea ?.They are quite pretty with an electric blue hue to them .Stored in sea water in the washing up bowl (everything has 2 purposes ) hidden under the landrover where it is cool and they cant escape. All i can say is "bring on the melted butter"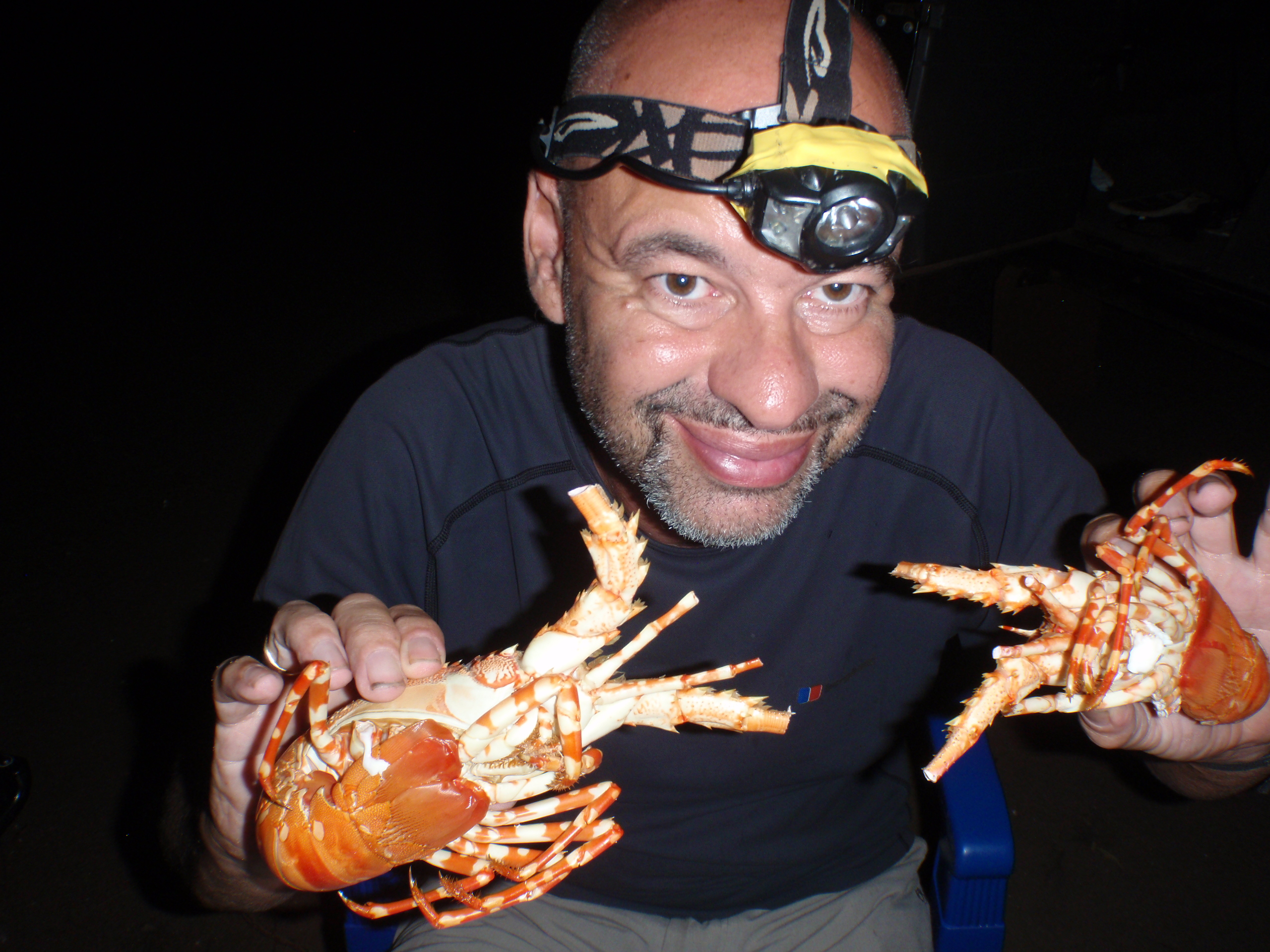 Melted butter anyone?
Malawi


All the books describe Malawi as "the friendliest people in Africa".They haven't got a pot to p**s in , poverty everywhere but they are so charming. We have travelled up along the banks of Lake Malawi. Stopping at cheap campsites 2000 m per night , Palm Beach , Fat Monkey each offering their own take on Malawian living.Snorkling in the lake viewing the myriad of fish and ignoring the dire warnings in the travel books about catching Bilharzias .We leave the Lake side to visit the capital Lilongwe to send insurance docs back to UK we again we bump into faces recognised from our earlier journies.The owners of Muphasa backpackers put our journey to shame when they recount the trials and tribulations of taking a uni mog down west coast. We had it so easy. Pushing north and again more regulars at Nkhata Bay , a chance to scuba dive was taken up at the cost of $30 each. This manages to avoid the "scuba review" we could have been forced to take. A good dive apart from my slightly wet regulator!

A diesel shortage in the North of Malawi and its very high cost ment we couldn't extend our journey so reluctantly headed on for the Tanzanian border .Malawi has worked its magic and stolen our hearts.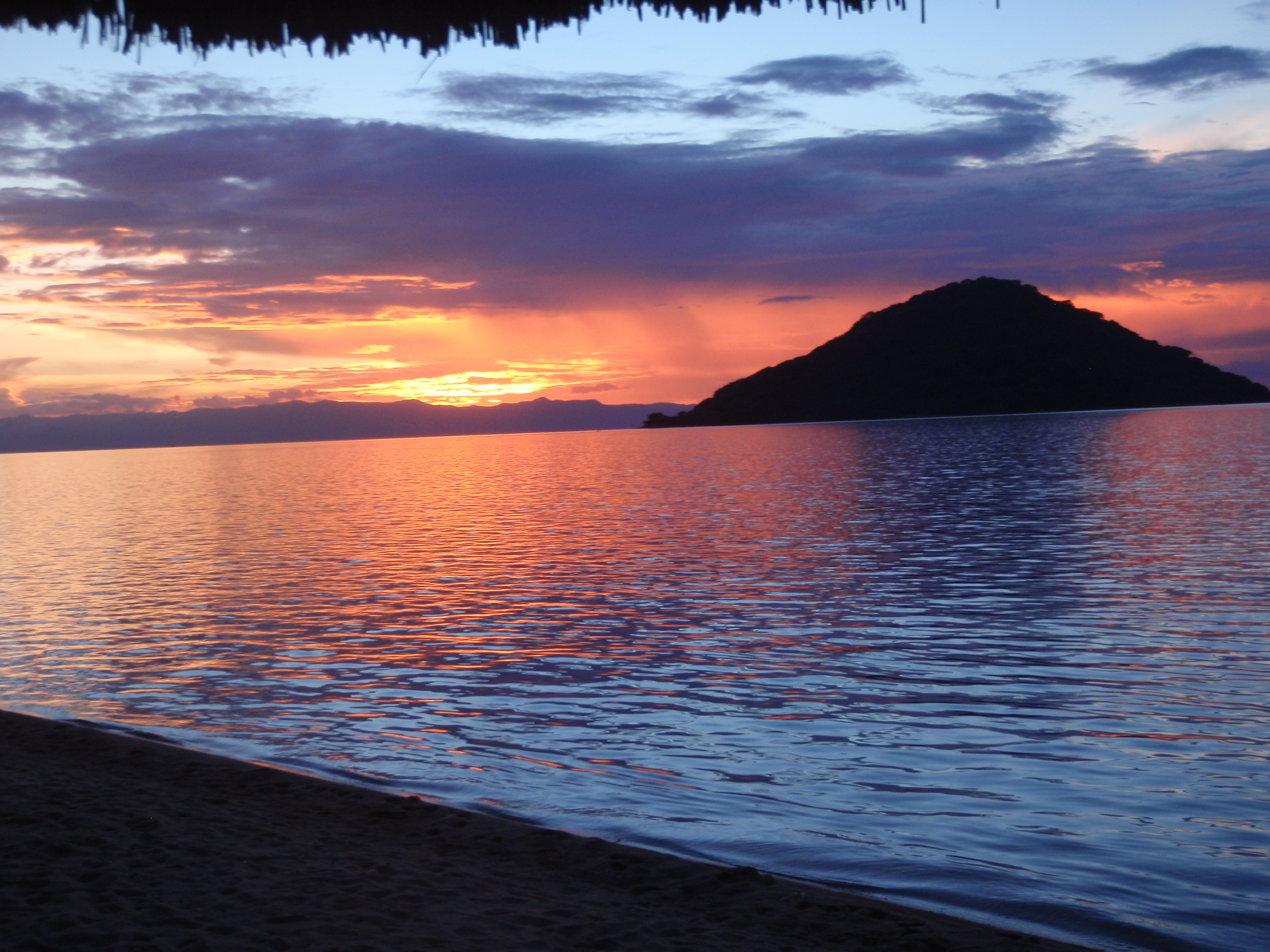 Sunset at "Fat Monkey"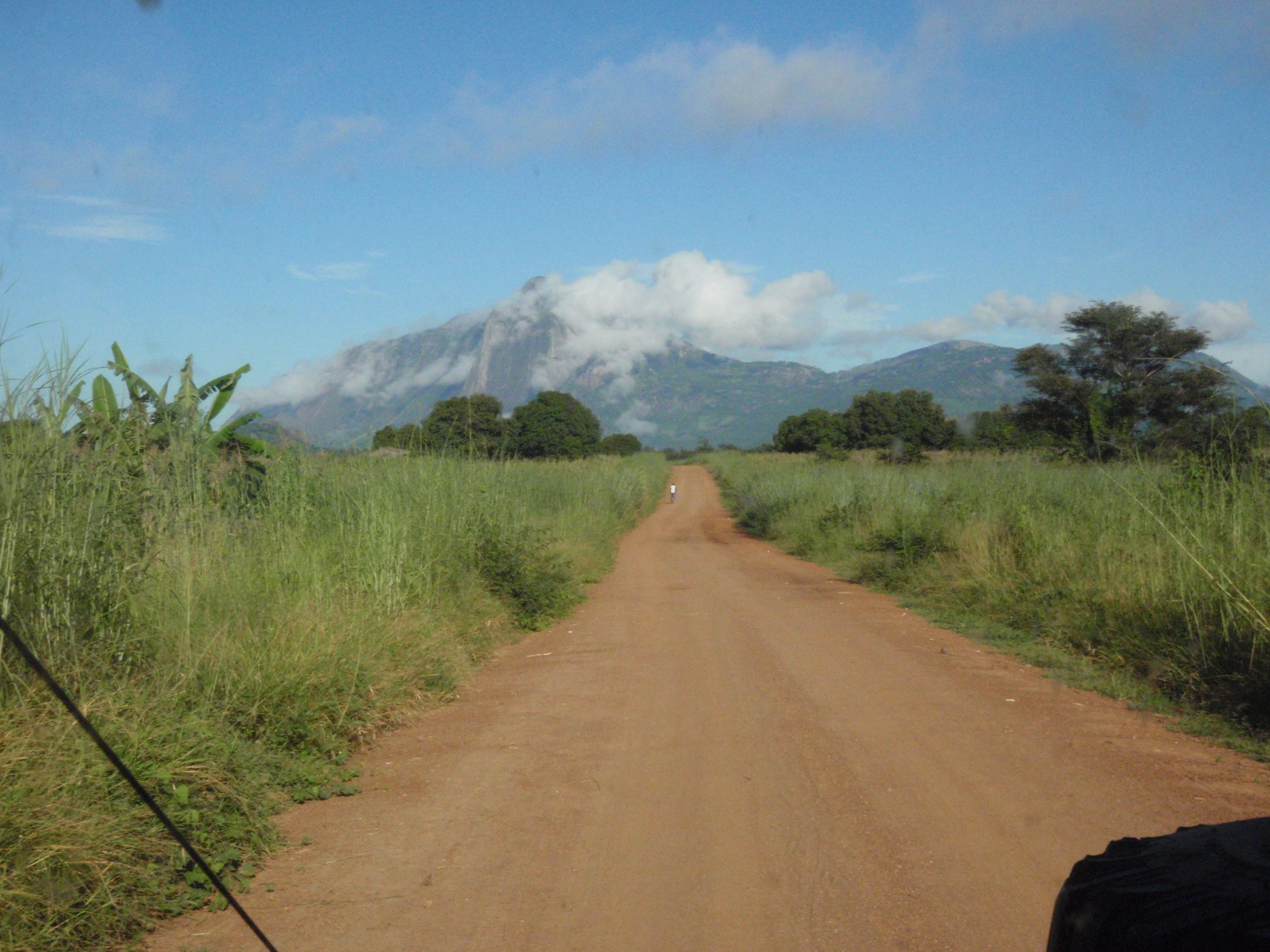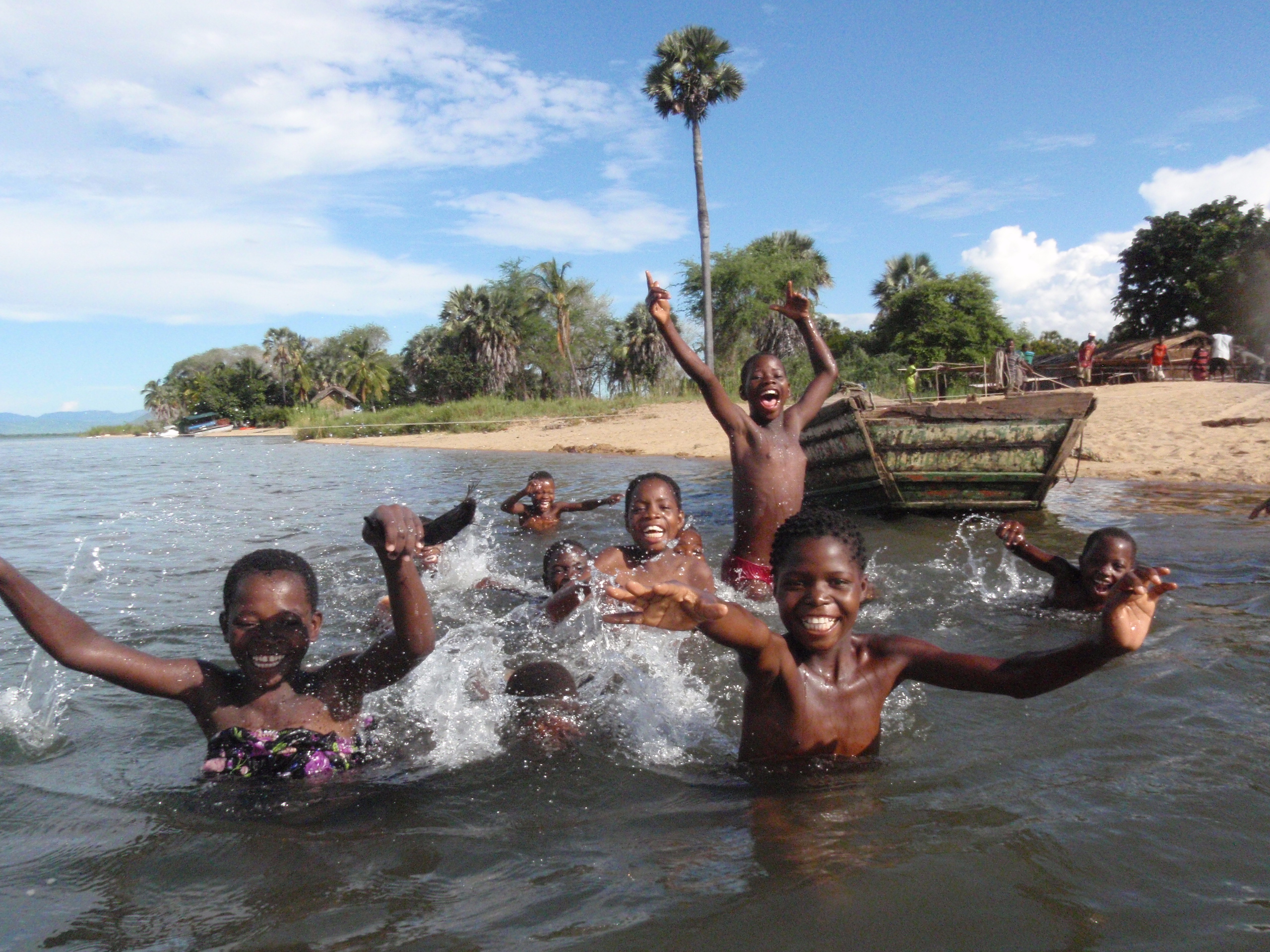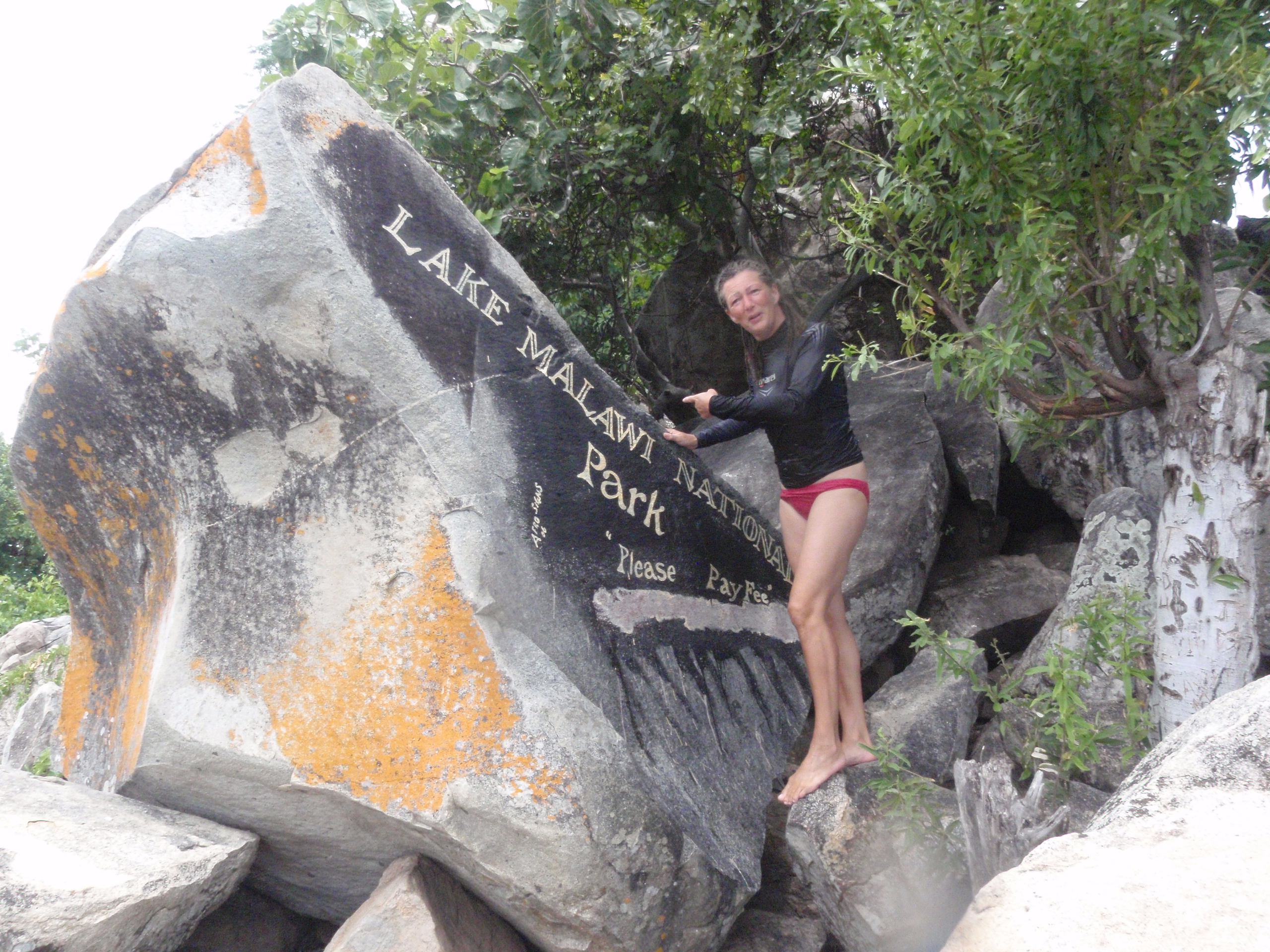 Mozambique



The consensus of opinion within South Africa, the "must do" in Mozambique are Tofu and Vilankulos. Heavily influenced by SA tourism , the beaches are nice but nothing special and the prices are at SA levels with poor facilities Fatima's ,for example, on the beach , nice but only adequate despite a charge of 700m per night .Vilanculos , similar but a bit cheaper at Baobab backpackers. The British advice was to head north to avoid the SA areas. Cheers Simon .Three days of free camping as we head up North to Isla Mozambique saw some of the best of free camps .Lakes , phone masts and local villages .We are touched by the poverty of this country and the absolute friendliness of the people .We sleep soundly at night secure in the knowledge that we are safe .The roads are great with only a few sections still under construction.Isla Mozambique and a small pension "Casa Branca", costs us a princely 750 m per night including breakfast and our own bathroom .Fascinated by the historic decay of this old colonial capital we stay a few days before departing for Pemba. Pemba Dive and Bush Camp , great in the dry season , nightmare in the wet relieve us of $20 per night so we move on to Russell's Place , secure camping at 500 per night , free Wifi and short walk to the beach. A plan is hatched for a sprint to Malawi via a crossing at Mandimba.Should take us a couple of days .Wrong , a nice tarmac road peters out to a dirt track and rivers 3 foot deep .We are truly in the East Africa "Wet Season". Being on our own we decide to return to Pemba and source another route further south to the crossing. Had we have been in convoy we would have chanced our luck on this route.The second attempt (Cuamba via Namialo) fared slightly better but the road was a parched dirt road that battered the suspension of poor Lizzy bus for 3 days, T4A shows a camp site which has now turned into a logging site, and for the cost of a very cold beer , we camp up at Nampula, guarded by the local security force armed with AK 47's.

After the 3 days and two nights of free camping we make the Malawi border, no hassle, quick stamp of passport and Carnet, insurance purchased and we are in.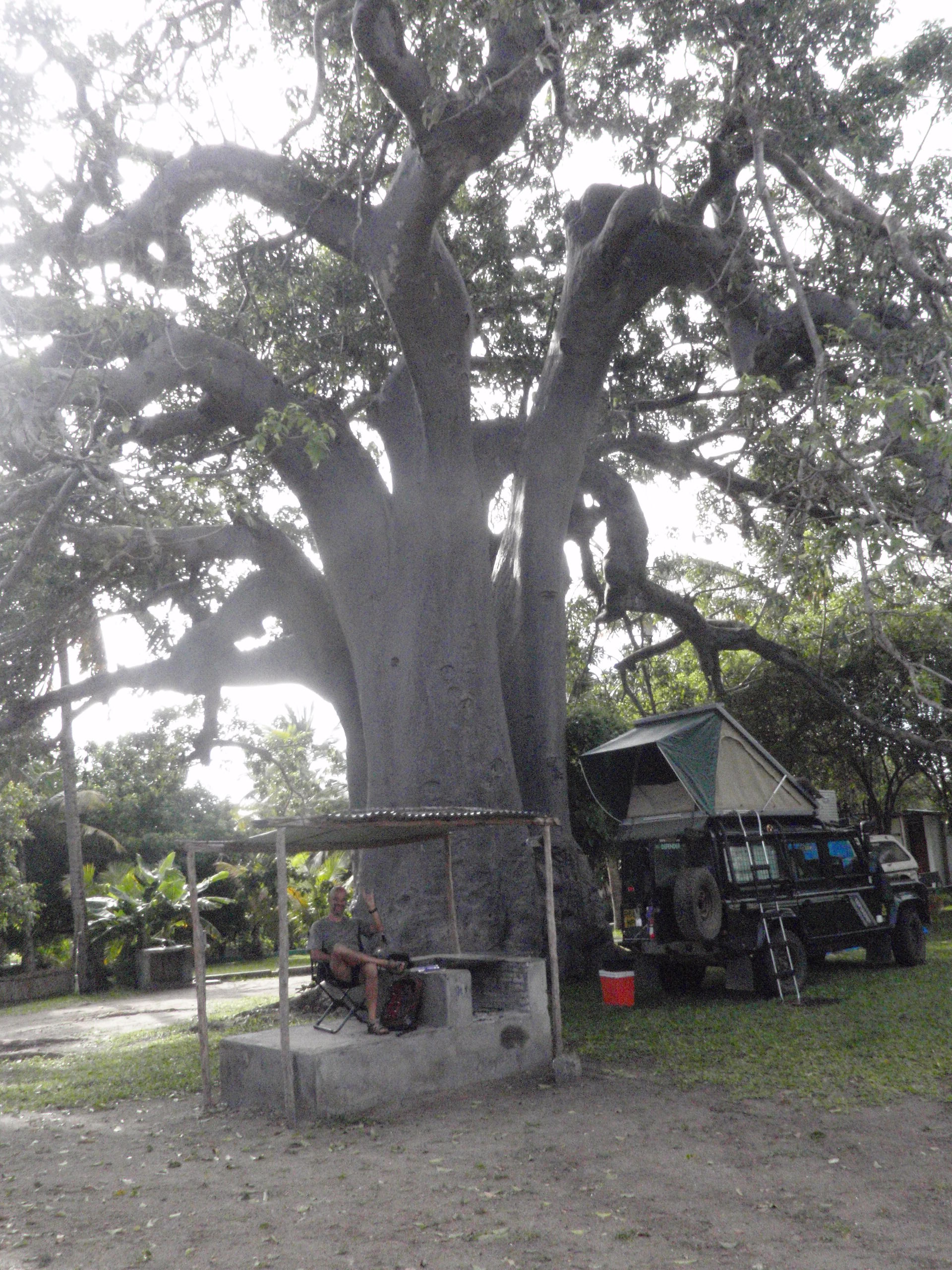 Boabob backpackers
What is it with Land Rovers
As usual with enforced stoppages it gives us an opportunity to catch up with little jobs on Lizzybus that have been left as none urgent.
The carpets get a cleaning to try and remove the accumulation of EP90 oil and dust .The brakes are a bit erratic at the moment, running from low to no movement and a slight bind. Order in UK for a replacement master cylinder (30kg allowance he he he) but the problem may be the servo unit. Sourcing a replacement in Durban costs a princely 900r the morning is set aside to change it, and then change it back when it appears not to be working .Ah well the joys of Landrover ownership, back to the shop in the morning to get it exchanged. Next day will see it fitted again in less than 40 mins (practice makes perfect ) .On the plus side it was hot and sunny and it looks like it will continue. Jayne returns, and a chapter in her life has drawn to its end..
We head towards Mozambique cutting through Zulu land and towards the Kruger National park.
At 360r per 24 hours in the park and 160r to camp its not cheap .Having seen a plethora of animals in Etosha we hoped this could top that experience. At Etosha the animals are concentrated around a few water holes that the rangers control. Kruger is more natural, wetter and the grass and shrubbery a lot higher.st day , very disappointed and saw nothing. If an elephant was to pass within 20m in the bush you wouldn't see it. Feeling hard done by , next day was a fantastic experience. Rhino , hefalumps , crocs , giraffe , hippo and lion , all spotted .The day was complete .
Mozambique, here we come .Border formalities completed, VAT cheque to be sent to our UK address! The change in countries is immediate and dramatic. We are again in 3rd world Africa. A stop check by police (only 1 in 5 days) brought a smile to our face when the officer (inspector no less) explained that as he had waived me over I should have indicated? He followed this up by showing me by pulling over 2 more hapless drivers as an example. Yes, i agree they did indicate. Must have been their lucky day. After the usual "interaction" a wave and salute we where off to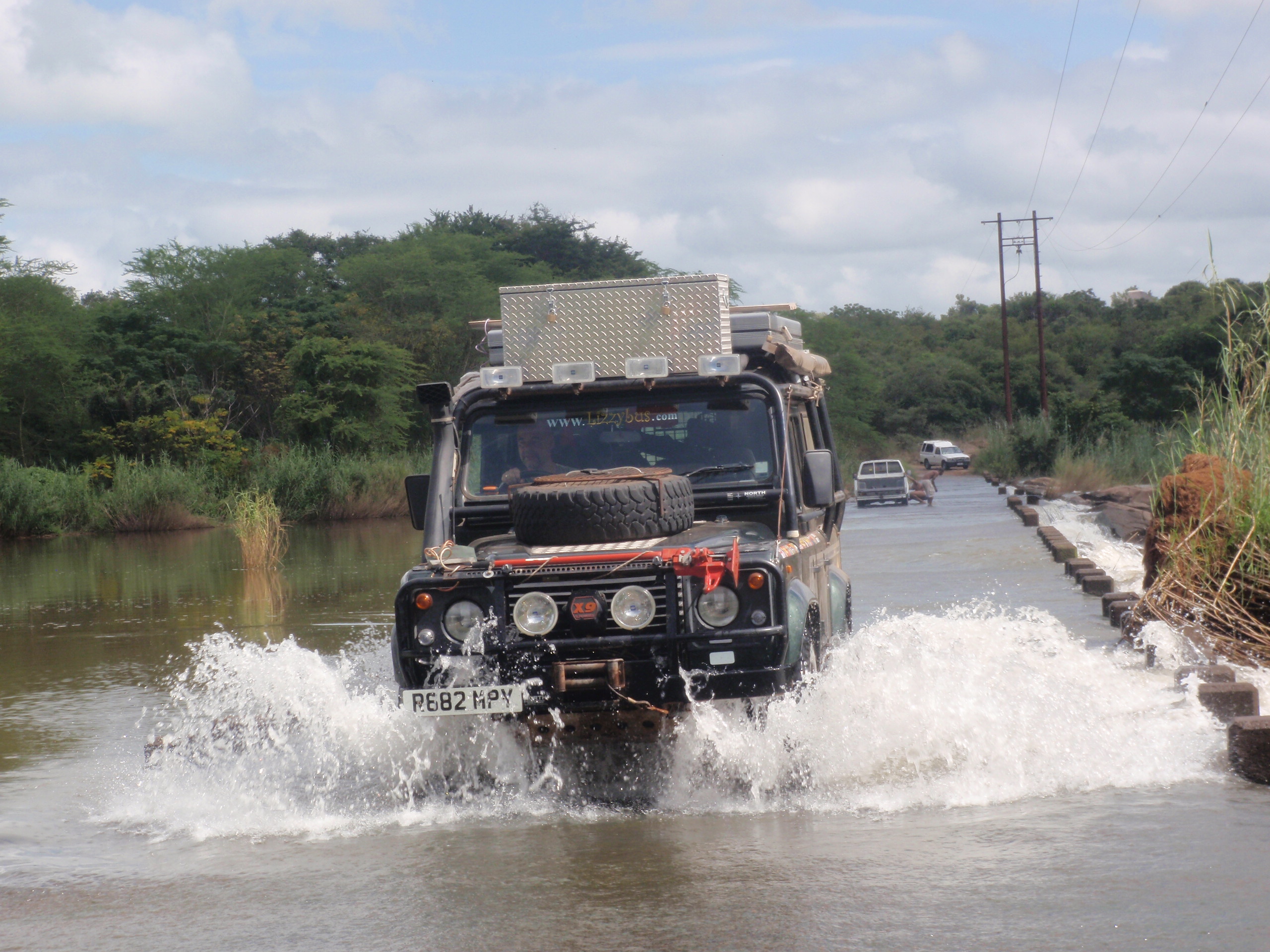 short cut to border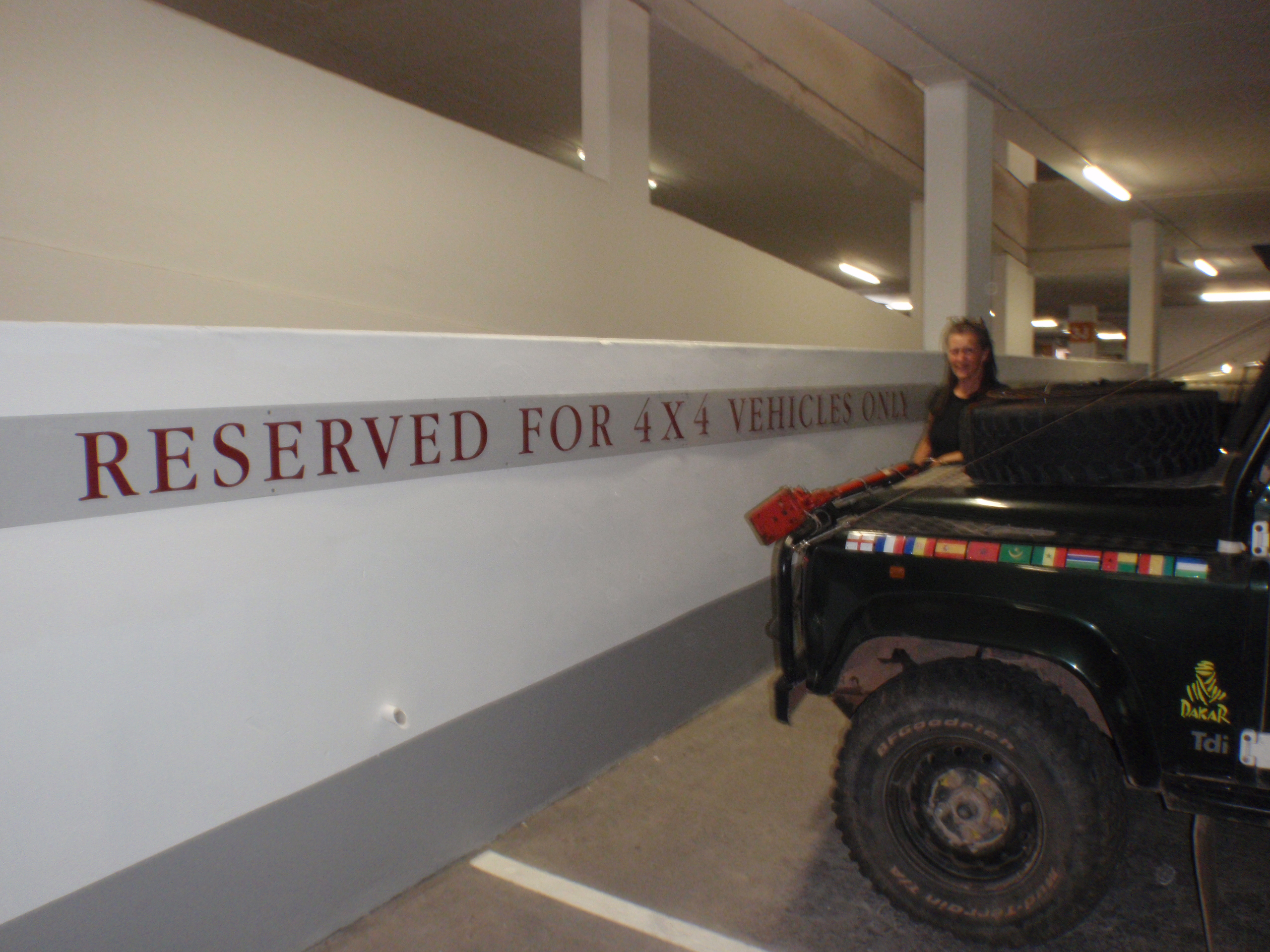 only in South Africa

Wrenched Home




Gadding down via the Drackensburg we head towards Durban. A short stop at some new friends (met over coffee and put us up for a free night)Jenny and Ron plus Hilton and his partner we where directed out to the stunning "Wild Coast" .Their are messages that we all dread and this was one of them. A text from Jenny (sister) saying "did you get the text about mom?", Jayne knew then that her mom had passed away on the Saturday. We are so far from home so arrangements are made for Jayne to fly back. At 6800r return we just know the insurance company will wriggle out of paying ,so I am left behind in a very wet Durban , cheap dorm room in a back packers .Offers of accom from our new friends are very touching but with this enforced absence (first in 18 months) as the weather improves i will travel up coast to Sudwana.

Please remember, it is the quality of life and not the quantity that counts. This makes the passing a little easier for those who are left. I feel little maudlin at the moment. Everyone seems to be worrying about ME, im Ok, 167 films on the hard drive, 250 gigs of music, beer, steak and a dorm full of young female antipodean backpackers (mixed dorms) on their gap year. Must rush off and complete the clothes washing.

.TTFN

Ok , i lied about the backpackers




 

It aint half cold mum




 

As the Emirates plane banked over Birmingham airport it was suddenly brought home to us, all is very white and cold.

Priorities where first to see little baby Ben and family. What can I say? He is so cute .Jayne was in her element. Well done Ricky and Briony, a rough ride but worth it.

Landrover spare sourced on the internet .Drive shafts from Ashcroft transmissions are slightly cheaper than Landrover but are "indestructible" .At £350 a pair the option of spending £70 on cheap copies made in China was tempting. The thought of African roads and "chocolate" driveshaft's made this decision a no brainer.Must also say thanks to KAM who basically say either theirs or Ashcroft's are the best for strength and value (unfortunately they didn't have mine in stock so advised on Ashcroft).So if you are looking to replace drive shafts try the above. Enough free plugging. The 60 kg allowance was soon used up.Jaynes new passport , despite the poor weather arrived in 5 days. The Ethiopian embassy eventually issued a 6 month visa so we have to be in Ethiopia in less than 6 months' cannot get this visa in Africa because Pretoria issue 1 month visas and Nairobi have stooped issuing altogether. Carnet from Paul at the RAC arrived and as we intend to travel through Egypt 8x (£8000 duty) cash bond is now in place ( mind you Lizzybus is now worth £1000)

All too soon the flight home is upon us. At the Emirates desk we caused some confusion as we had no return ticket and technically could be turned away by the SA immegration.Emirates , to avoid heavy fines issued us with return tickets , at no extra charge unless we confirmed the flight. Well done emirates.

Lizzybus was duly handed over, a good deal at 750r for her storage. She even came back gleaming. Back packers awaited and 4 days to sort out kit, change oil. air &diesel filters. Rear diff pan replaced with new, access plate on transfer box replaced with the excellent Rocky Mountain plate that is finned and increases the oil capacity of the transfer box.

Hopefully this means we can leak longer before topping up.

We plan to head drown to Durban via Lesotho ,onwards to Sudwana Bay , scuba diving ,Kruger national park then R&R on a beach in Mozambique

 

 

A New Star is Born

During the drive to Stellenbosch ,Jayne discovered that her first grandchild had been born to Ricky and Briony! Ben's arrival into this world was a fraught time for all, least of all for Jayne who, having been told that the waters were about to be broken didn't hear anything for 2 days. Needless to say, ALL new parents announce how beautiful their offspring are, though very few in reality are. Baby Ben is bloody gorgeous. Congratulations!!!!

A few days living it up in Cape Town at Jackie's and Elaine's, Jackie's mom, Eileen having made it over from UK.

Messages from the RAC about our carnet expiring at the end of November cause us a little concern. It is not just a matter of extending , we need to get a carnet issued from the South African Customs via the AASA .This will cost a packet and have to be fed ex over to UK and also by return. As we fly from Jo'burg a visit to the AASA at Kyalami will be in order. If we fail to obtain an extension then our cash bond of £3800 will be forfeit (gulp).

Hoofing it through the "Great Karoo" we make a run for Jo'burg and our flight home. No subtlety in this leg , as quick as possible as we have loads to sort out..3 days and 850 miles later our first port of call is the AASA at Kyalami racetrack. I have died and gone to heaven but unfortunately they wont allow Lizzybus to do a timed lap .The AA are most helpful and arrange a letter of grace from the SARS that extends our orig carnet by 3 mothes.This means we have to be out of SA by 28 Feb or the bond gets cashed.Mind you if we are out by the 13 Feb we can get our VAT back on our big expenditures.

Car storage in a secure compound "at a good price" is arranged with Alternative Airport Parking (www.247airportparking.co.za) who will pick Lizzybus up at the airport and deliver her to us when we arrive back in SA

A cheap backpackers, Gemini, (180r night) in the rough side of town will be our home till we fly back and for a couple of days when we return.

We intend to stock up on parts in UK and head off to Durban, Lesotho, Sudwana bay and on wards to Mozambique.

Passport for Jayne is needed plus the "unavailable in Africa" Ethiopian visa from the London consulate, a new carnet and hell a couple of new International driving permits.

So Christmas back in the UK, 32 deg of Africa left for the -10 of a now very cold British Winter.

 

Hand, eye co-ordination!

We have to return to Cape Town so Jeffrey's Bay was the furthest east we would travel. Back to Jackie's and a surprise for Jackie's mom , over from UK.Rather than returning on the same outward route we heeded advice from some South Africans and headed inland to the Baviaanskloofberge mountains. A fantastic drive along the gravel R311.A quick "Adventure Tour" of the Kango caves and an overnight at Attakwas Backpackers. The owners are a mine of information on the area and recommended the warm water spa on our rote onwards. Years of practice in the deserts of Iraq , shores of Normandy and jungles of Vietnam have developed my hand eye coordination to the present peak of speed and judgement. Years , toiling and practicing into the night on the X-Box 360 have lead to the pinnacle of my prowess

Because of this I think any untrained person with lesser developed skills would have chopped his () or her) thumb and forefinger off. As it was with my heighten powers and speeds I only nearly managed to chop my thumb and finger off with the axe So much for a Braai at attakwas .The owners of the backpackers looked suitably impressed with the wound and described it as an "African Cut" as it would leave a good scar. So no need for stitches then!

Following the N62 we finally make it back to Stellenbosch and a room at Stumble. Jayne has discovered that Tequila is not her most favourite drink as we watch South Africa get beaten by the USA at football.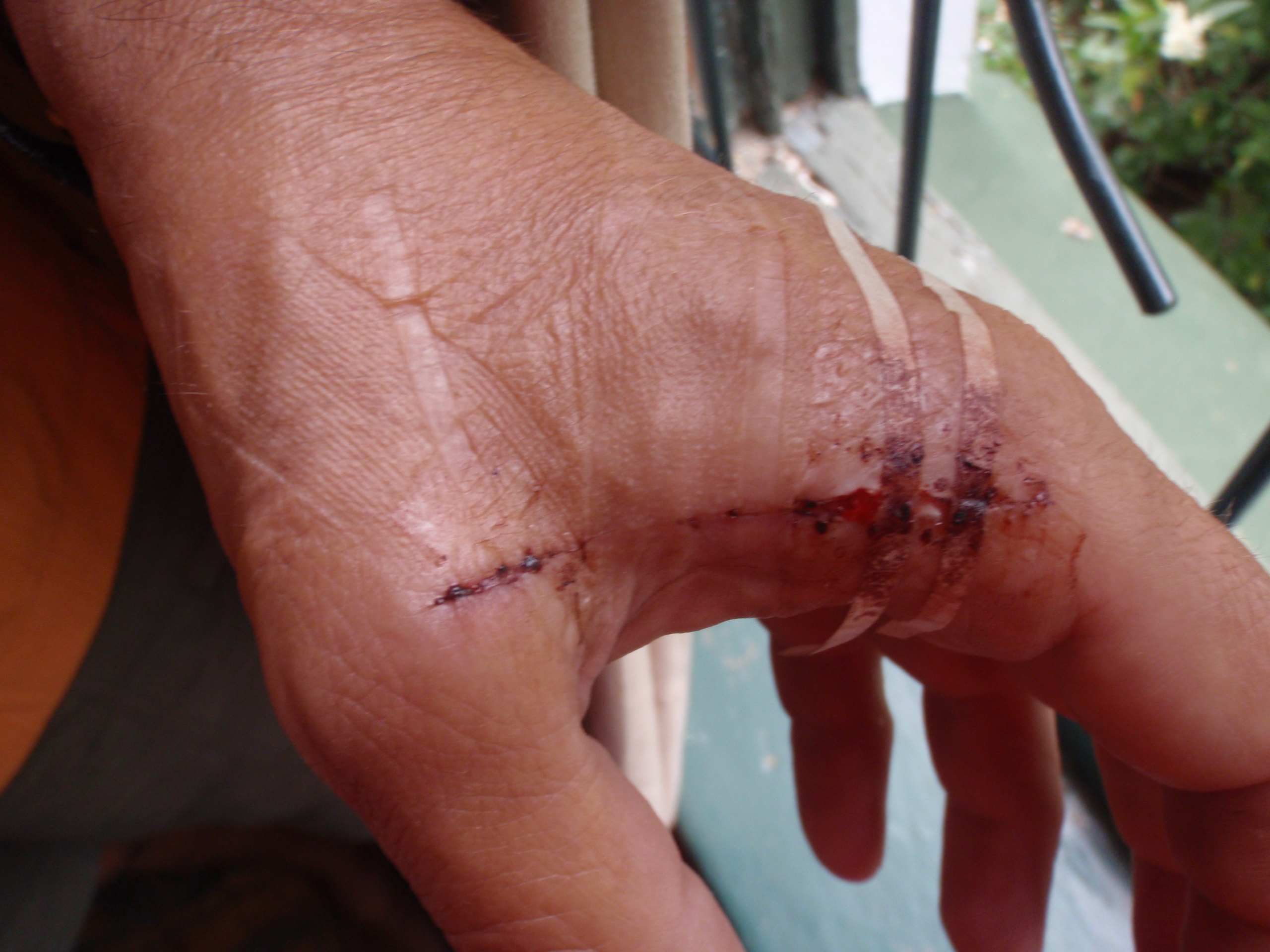 The result of good hand/eye co-ordination and a small sharp axe (and no alcohol)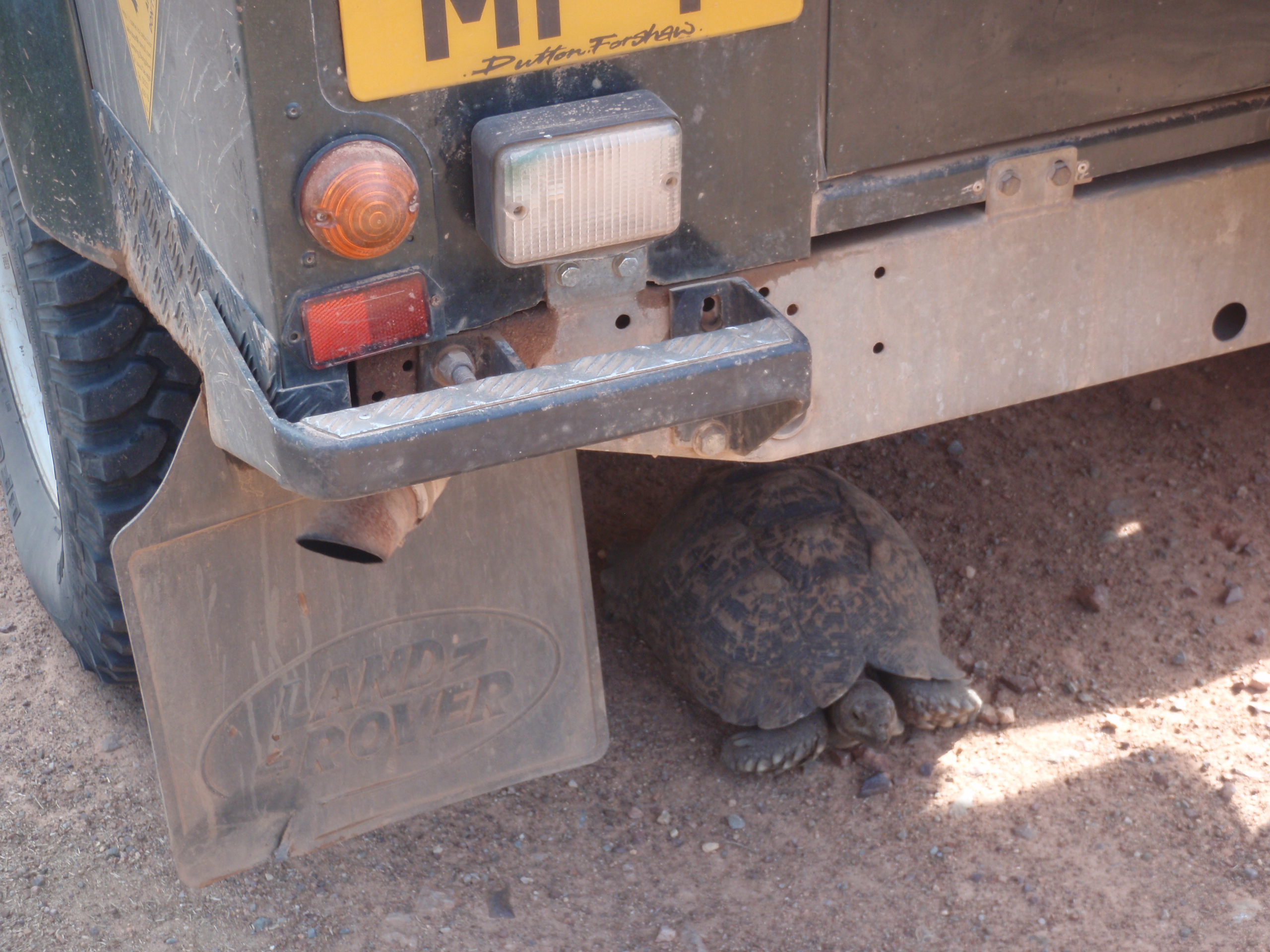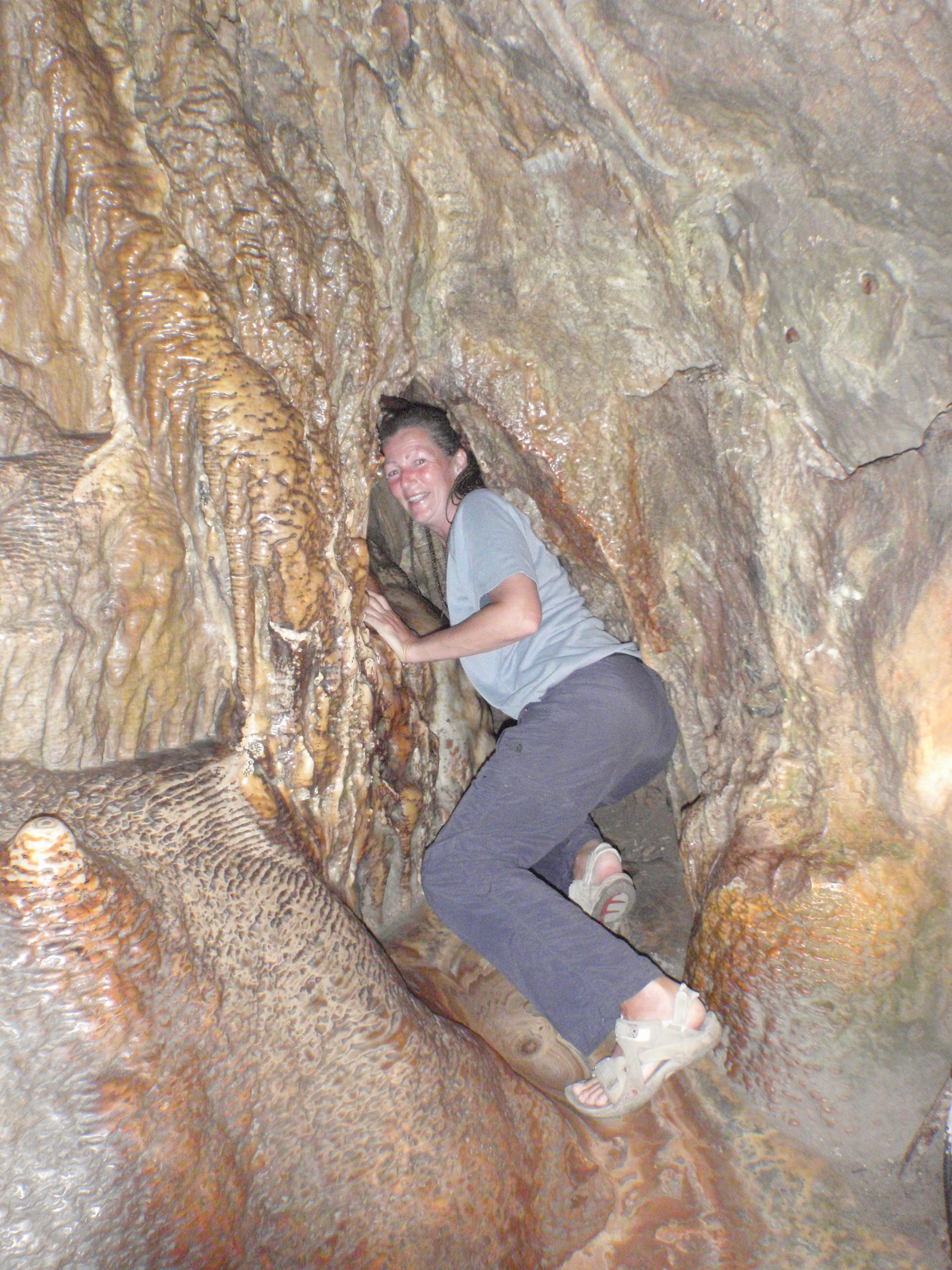 Kango caves
Lizzybus in Crisis! Read all about it.
Yes its true folks Lizzybus has hit a major crisis that mean we have to curtail the adventure. On the 30 Nov 2010 an incident occurred at the Onrus Campsite .It is with great regret we have to inform the world that we have lost the stovetop coffee machine. This is an irreplaceable piece of equipment that seems to be Unavailable in South Africa. It means no more "waking up to the smell of fresh coffee",no more caffeine jolt. People we are looking over the edge of the precipice and we have vertigo. We will of course do all that is possible to keep you advised about the lack of decent coffee in the Lizzybus Camp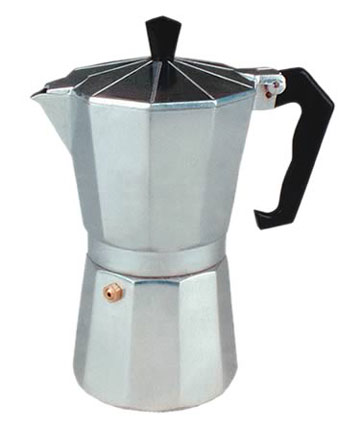 If you should see this item, please call. There is a substantial reward
I love the smell of Napalm (in the morning)
As with all Lizzybus plans things change on a whim. The route down through the garden coast has been put on hold (for the best of reasons)
Prior to our Stumble departure Jayne finally managed to get in contact with a family friend who runs a business from Cape Town and we have been invited over. A house in Pinetown, thatched roof, pool will be our home for the next week. Jackie and her partner Elaine played admirable hosts with great food, plenty of wine and excellent company .The Cape Peninsular has became our playground for a while.
Departing, back to Stumble and on down the whale coast to Hermanus and a session of whale watching from the shore. The best viewing was off the beaten track whilst having lunch on a bench at Pearly Beach .About 20 whales and their calves in the bay. The coastal route via the 7 passes road to Knysna (silent k) is worth the effort .Camping each night at empty municipal campsites for an av cost of 65r .Today you can overlook a site with spaces for 200 vehicles, vast campsites and very few campers. The season start in December and their is a reserve list on one site of 100 .Glad then that we are returning UK as we could be homeless.
Rocked up at Jeffrey's Bay, 126r to camp on a fairly exposed site or Backpack it at Cristal Cove for 200 r plus a reduction if stay a few days .So Cristal is our home for a week. Own room hot showers and 2 supermarkets 3 mins away .all very pleasant and a lot cheaper than a B&B (200 each).Overlooking the beach and intending to stay 5 days we spent a week .Weather is a bit hit and miss , cloudy , wet and windy and then hot and sunny .One doesn't appreciate camping in these conditions. The Bay is one of the top 10 surfing destinations and the right point break the best in the world (according to Scott, antipodean "have board will travel" met at Big Millie's) It's fantastic to watch people surfing (in office hours).As they say "Charlie don't surf" but i wished i could
Well it had to happen; my love affair that was developing with South Africa has crashed and burned big style. I have weighed myself , since crossing into Africa , the west African diet netted a loss of 20kg , Namibia and South Africa have seen me put on 7kg
A welcome in Cape Town!
Well what can we say about Cape Town. A great city in a laid back "cafe culture" environment. Having decided to stay at Cat and Moose Backpackers for a few days we stopped for a whole week. We have climbed Table Mountain having had our initial attempt thwarted half way up due to the "Table Cloth" .The cloud rolls over the mountain like a table cloth , very wet and very cold .We decided next day to do the climb with proper kit , i.e. boots , waterproofs etc and not as we had started sandals and a jumper .The view from the top is as one would expect , spectacular BUT not as spectacular as the view from Lions Peak opposite which we climbed the next day .Days spent exploring the old colonial streets , museums ,holocaust museum and the Botanical Gardens kept us busy for the week. A trip down the Cape Peninsular saw the spiritual end of the first leg .On reflection and quite by accident it had been exactly one year to the day that we first stood on African soil ,6 Oct 2009 and to within the hour one year later the end of the Cape Town leg , Cape of Good Hope
The route south along the coast took us along Chapman's Peak drive, 9k and 114 turns along a road cut into the mountain side .Adding to the excitement we spotted a pod of 9 whales feeding close to the cliff edge...cool .Landrover fettled for a second time (all her fluids) Stellenbosch, home of the South African wine industry our next destination. Another backpackers Stumble Inn but no secure parking 2300 and a hue and cry outside saw some low life cutting the webbing on the roof tent cover ( cant think why ) and an attempt to steal an empty jerry can .We again need to sort out our storage on the roof. A night of purgatory at Kleinmond ,on the coast (again great roads) , nearly blown off the roof tent which again leaks like a sieve , the tent has to go. If anyone is considering the German made Autohome tent range take our advice! Don't bother they are s##t.
A dealer in Somerset West, 4x4 Megaworld is now in the process of fitting a new hard top tent and a big box at the front .Not cheap but this should last. Back to the Stumble and two days later Lizzybus returns with a larger large box on the roof and a new aluminium pivoting outback roof tent .We now have 90 days to claim our VAT back.
Due to the impending arrival of Jayne's first grandchild flights are booked from Jo'burg to Brum via Dubai so it's back to the UK for Christmas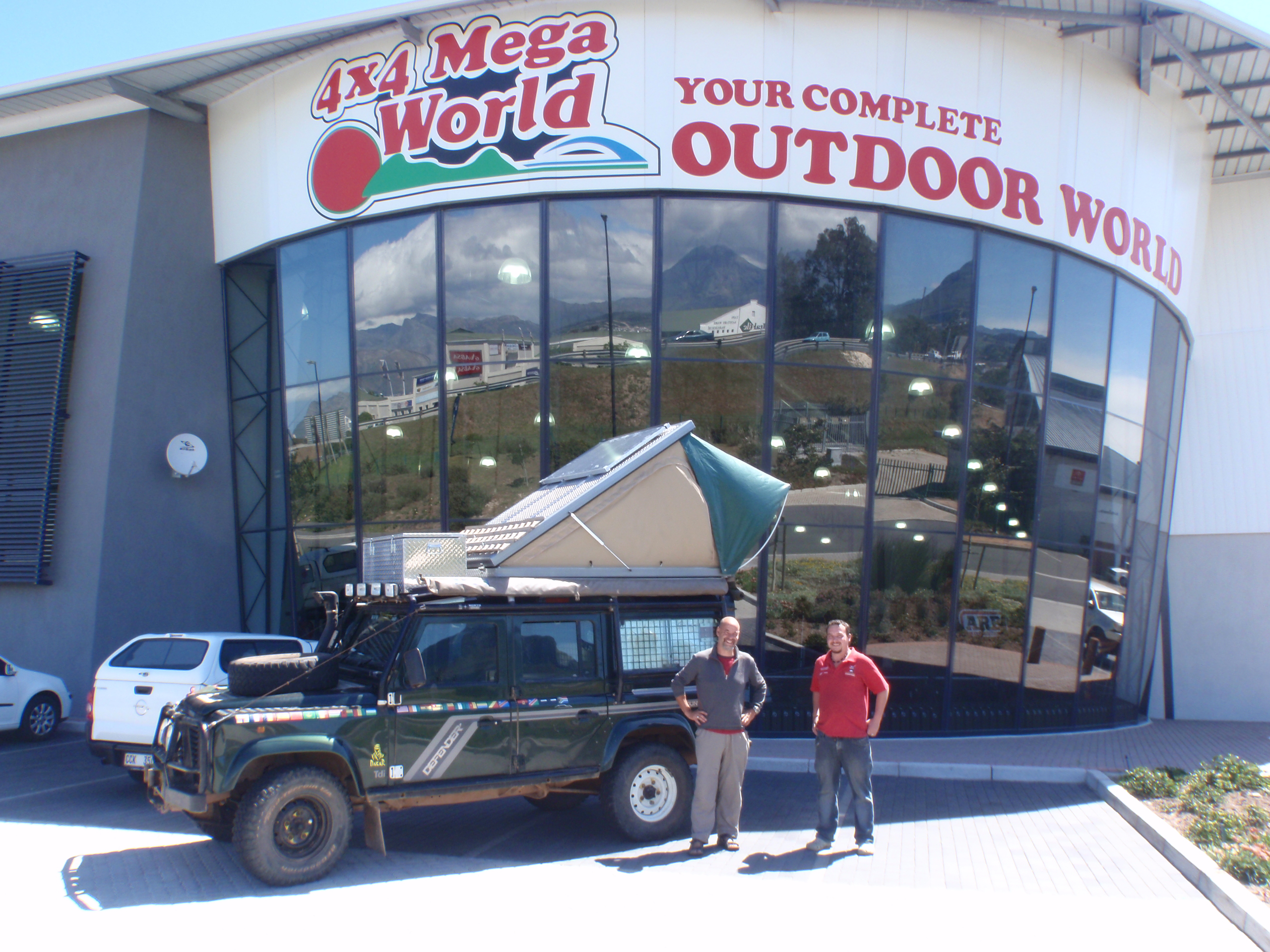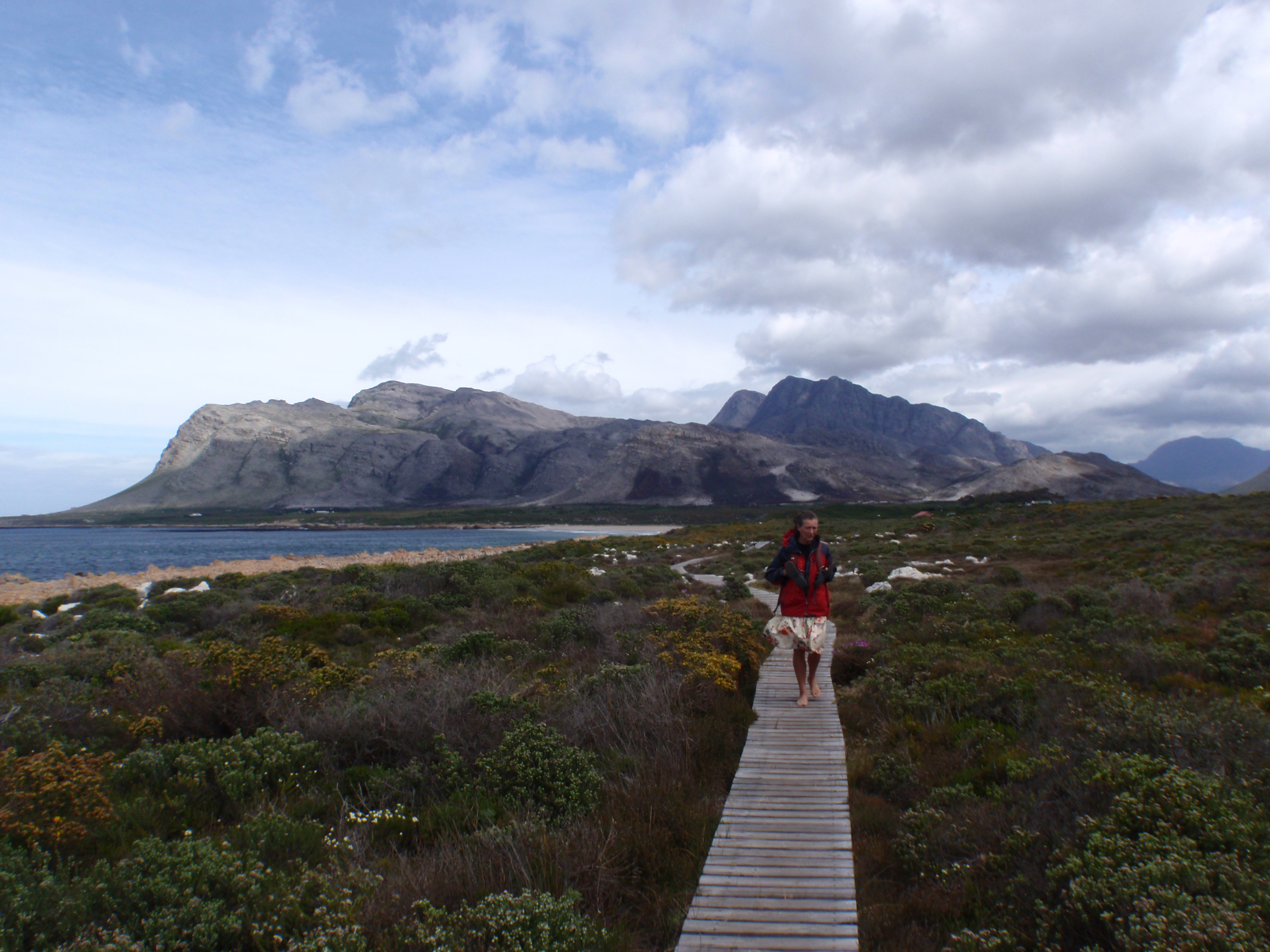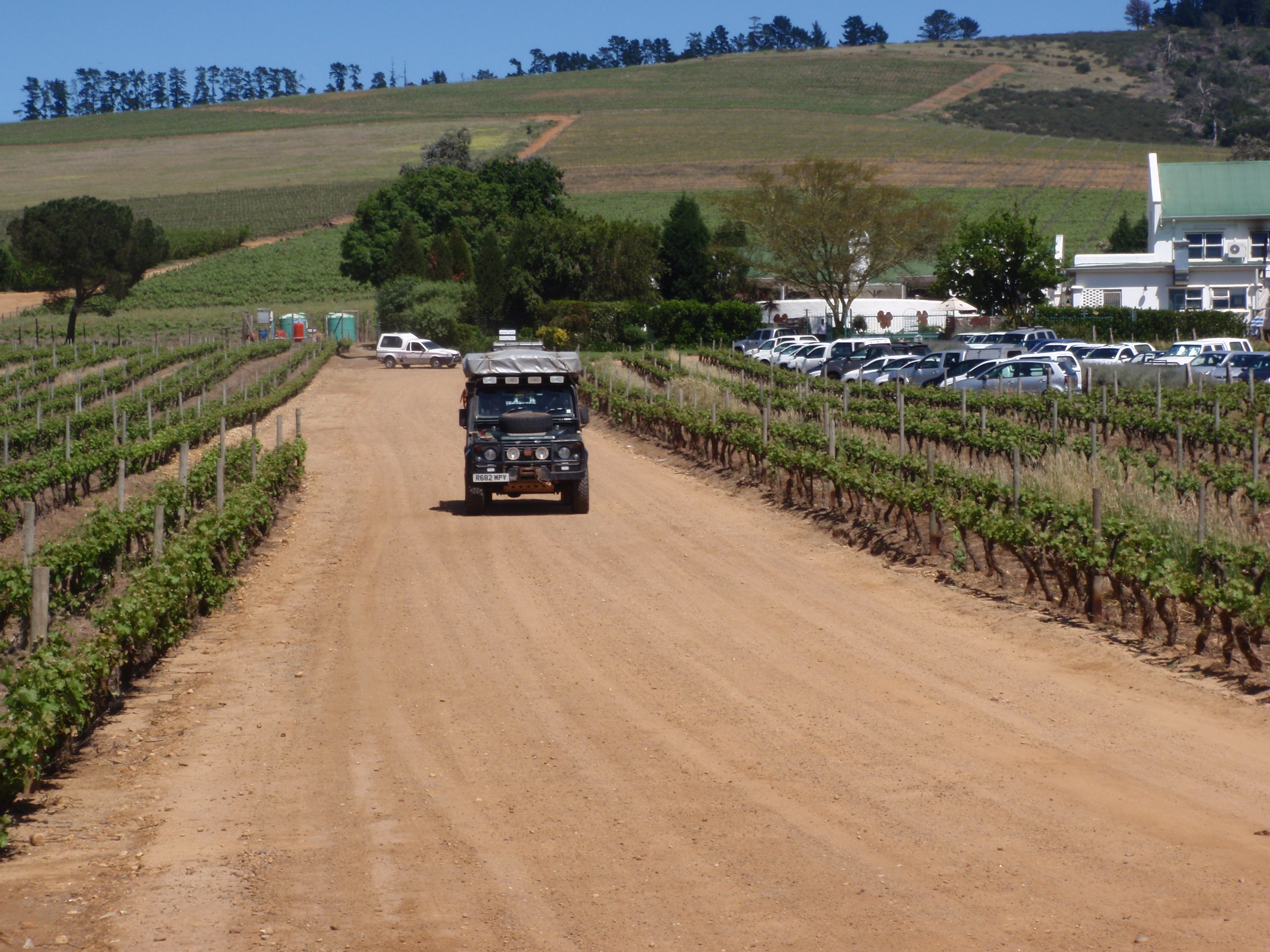 South Africa (at last)
Best border in Africa? You bet .Drive up, scan passport and we where in. Very similar to Namibia but more populous .Roads running through great mountain scenery , words becoming superlative as time goes on .We had been warned by South Africans that you should keep out of shops that are predominantly black .Shopping at the local Shoprite in springbok we could see why. A distinct uneasy feeling as you walks around. We hope this is not a taste of our future travels in SA!
Then it happens. on the N7 south after 13 months on the road, 34000km,1 turbo, 1water pump , clutch ,transfer box , 3 tyres and shitloads of diesel we see Table Mountain .Was it worth the journey ? No!!!! (Only kidding) we bloody well made it and what a journey .Cat and Moose backpackers and again we have a dorm room to ourselves we settle in.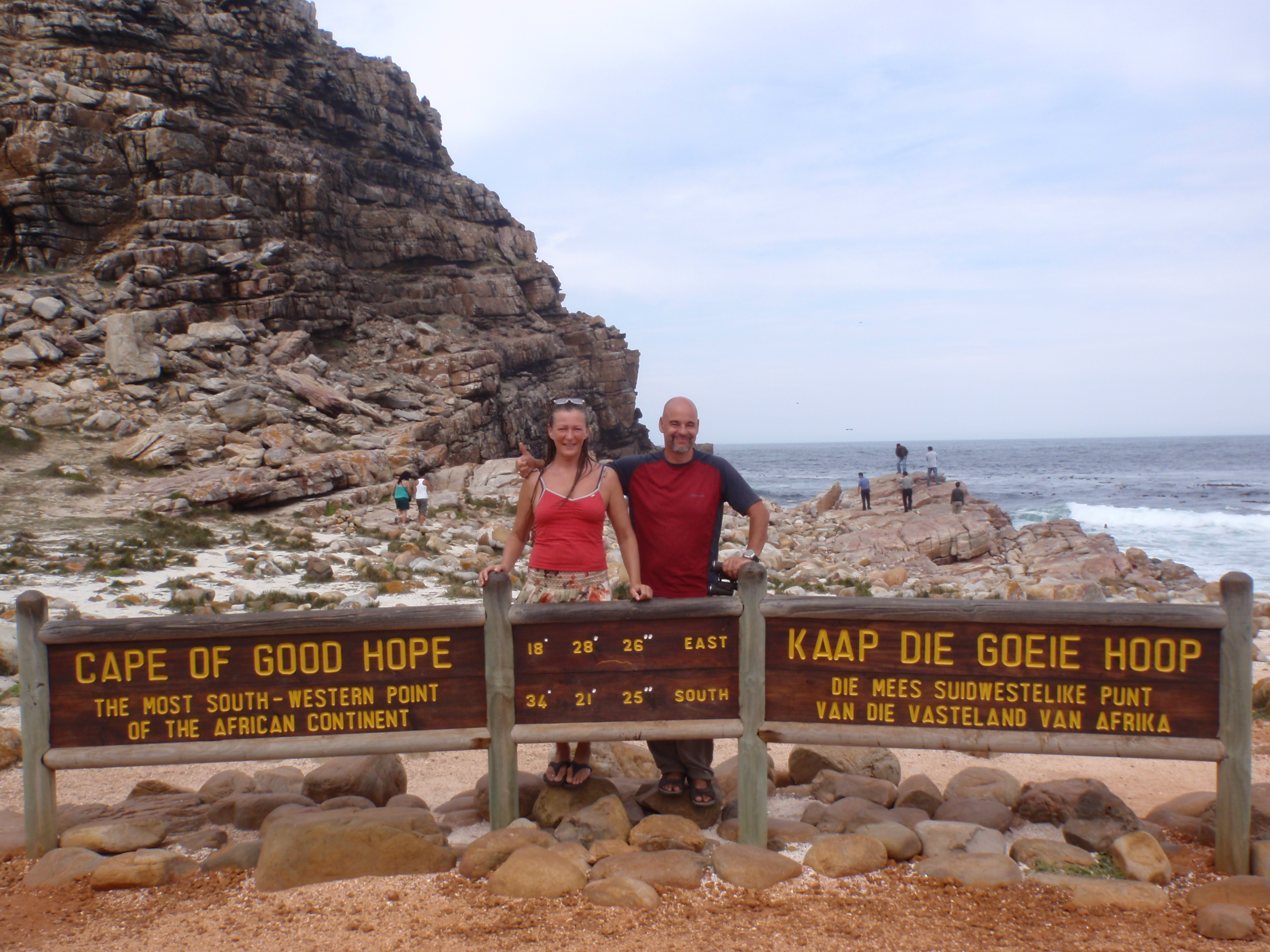 made it at last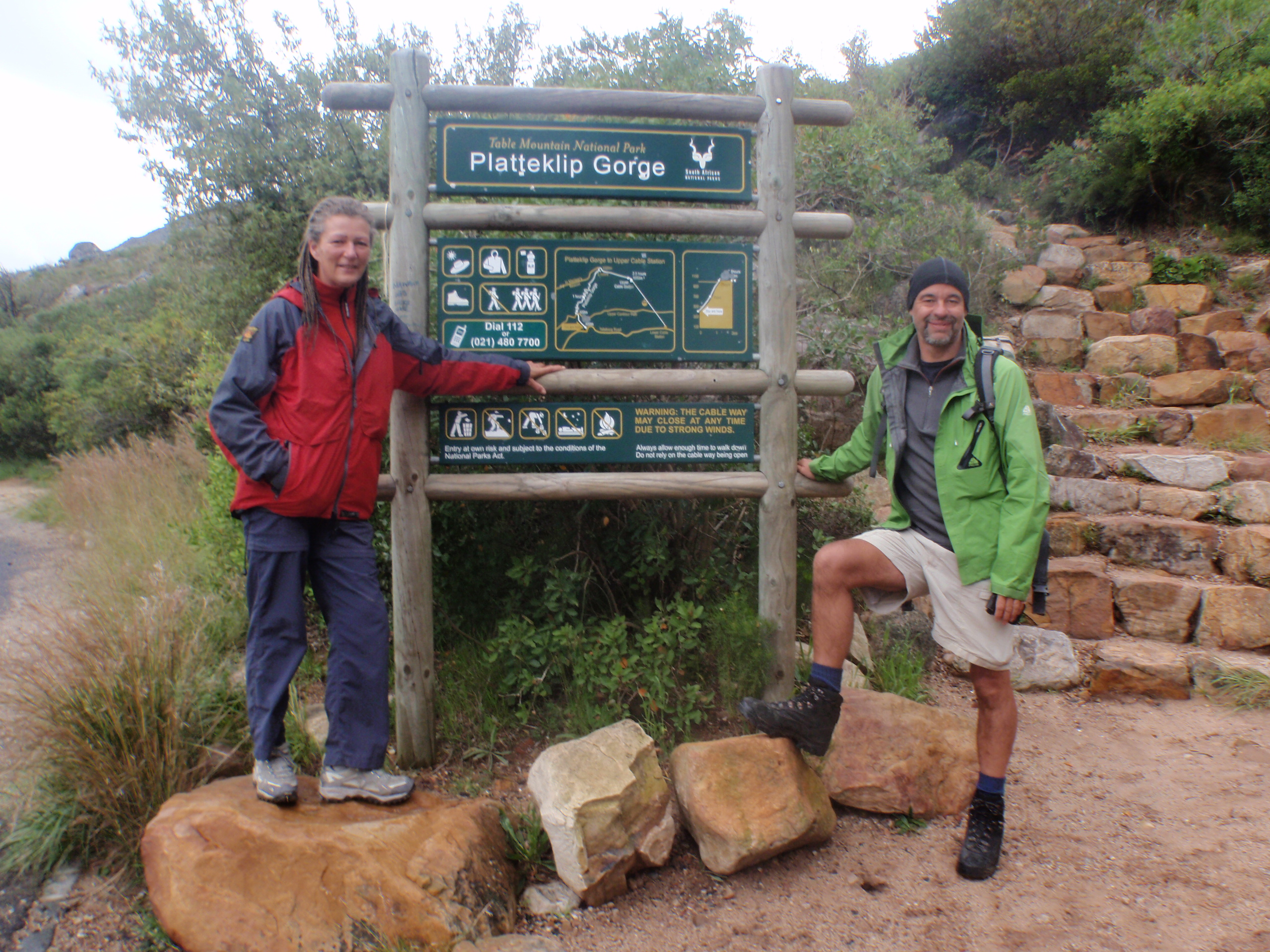 about to climb table mountain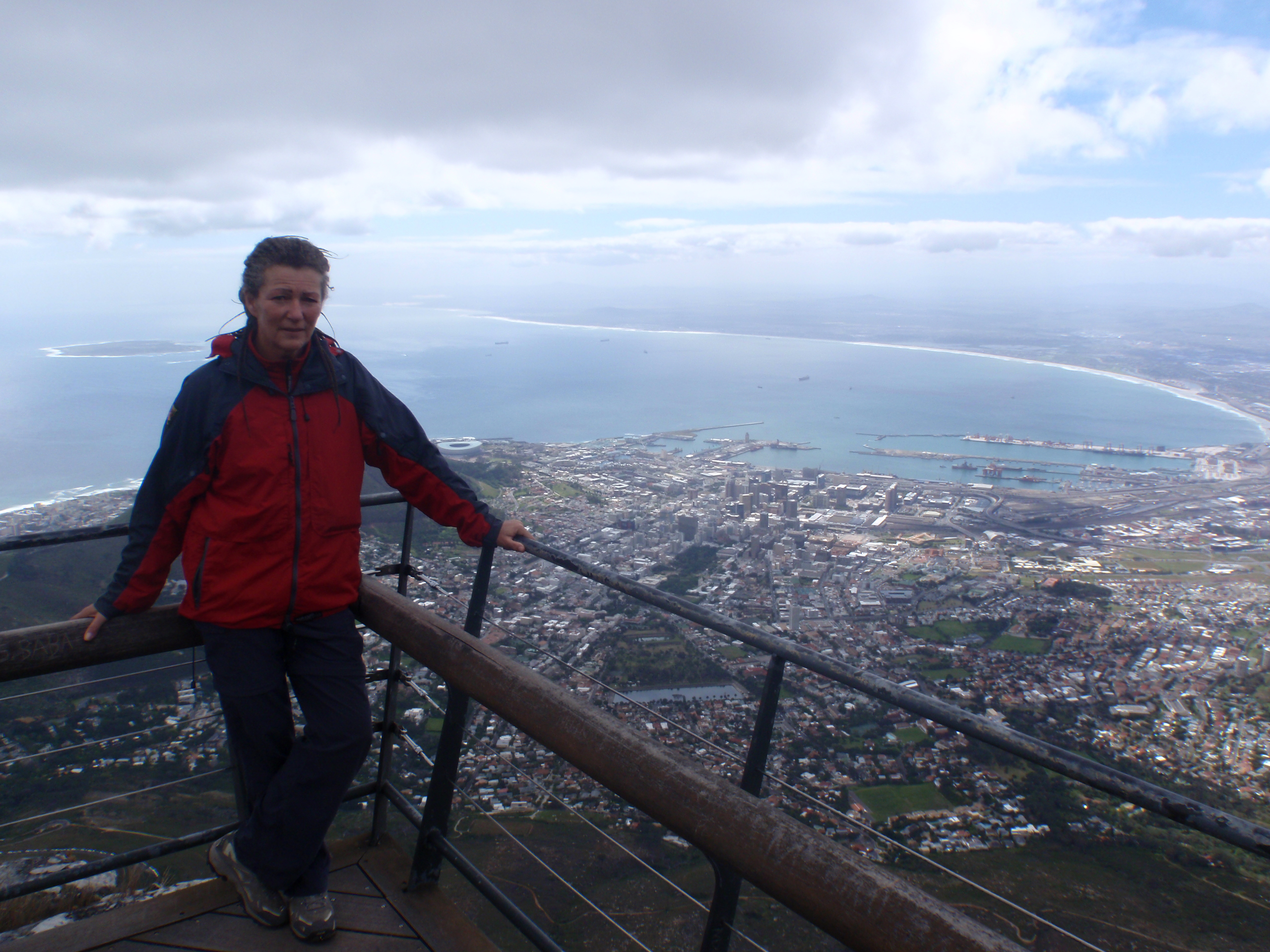 the view of Cape Town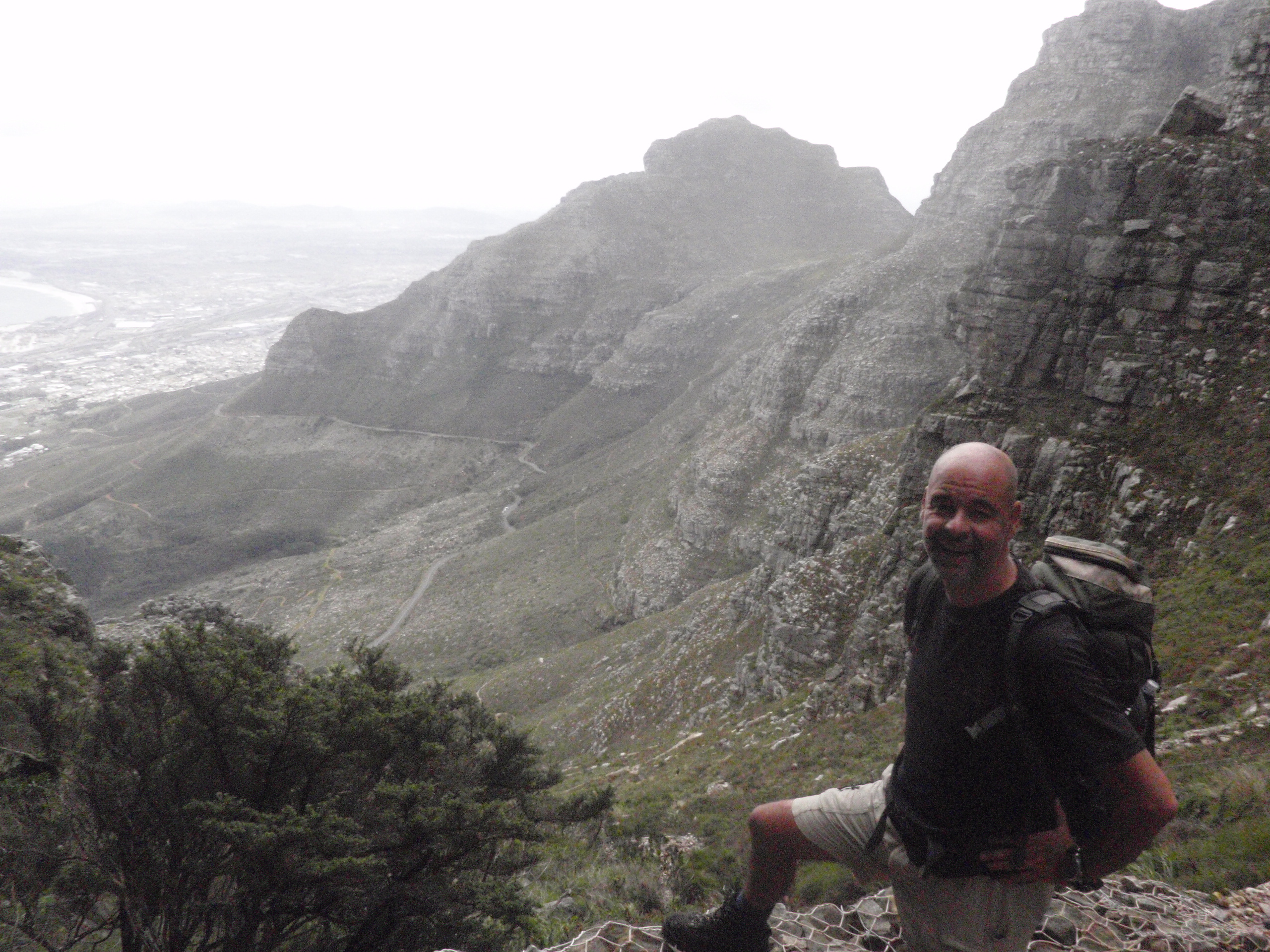 climbing table mountain
Ghost town
The damp squib that was Dwseib castle leads onwards to the" one road in same road out" town of Luderitz .On the coast and very windy we descend upon the Luderitz Backpackers as Shark island Campsite would have seen us blown out. A whole dorm to ourselves for two nights. Typical German /Namibian town, closed in winter, doubly closed on Saturdays and Sundays. A trip to the diamond town of Kolmanskope abandoned fifty years ago and slowly returning to the sand dunes as time marches relentlessly on. a fantastic little tour taking up the morning before departing on the route south and South Africa. As we range in a southerly direction we stop at the Fish River canyon. again an impressive sight reached through deserted dirt roads and on to the Ai Ai hot springs .We never got challenged for tickets at the springs so we took full advantage of the magnificently presented spa baths .During our overnight camp Klaus and his Land cruiser arrived. Its spooky how we keep meeting people as we have travelled. Agreeing to travel down to the border with SA a rendezvous site was arranged.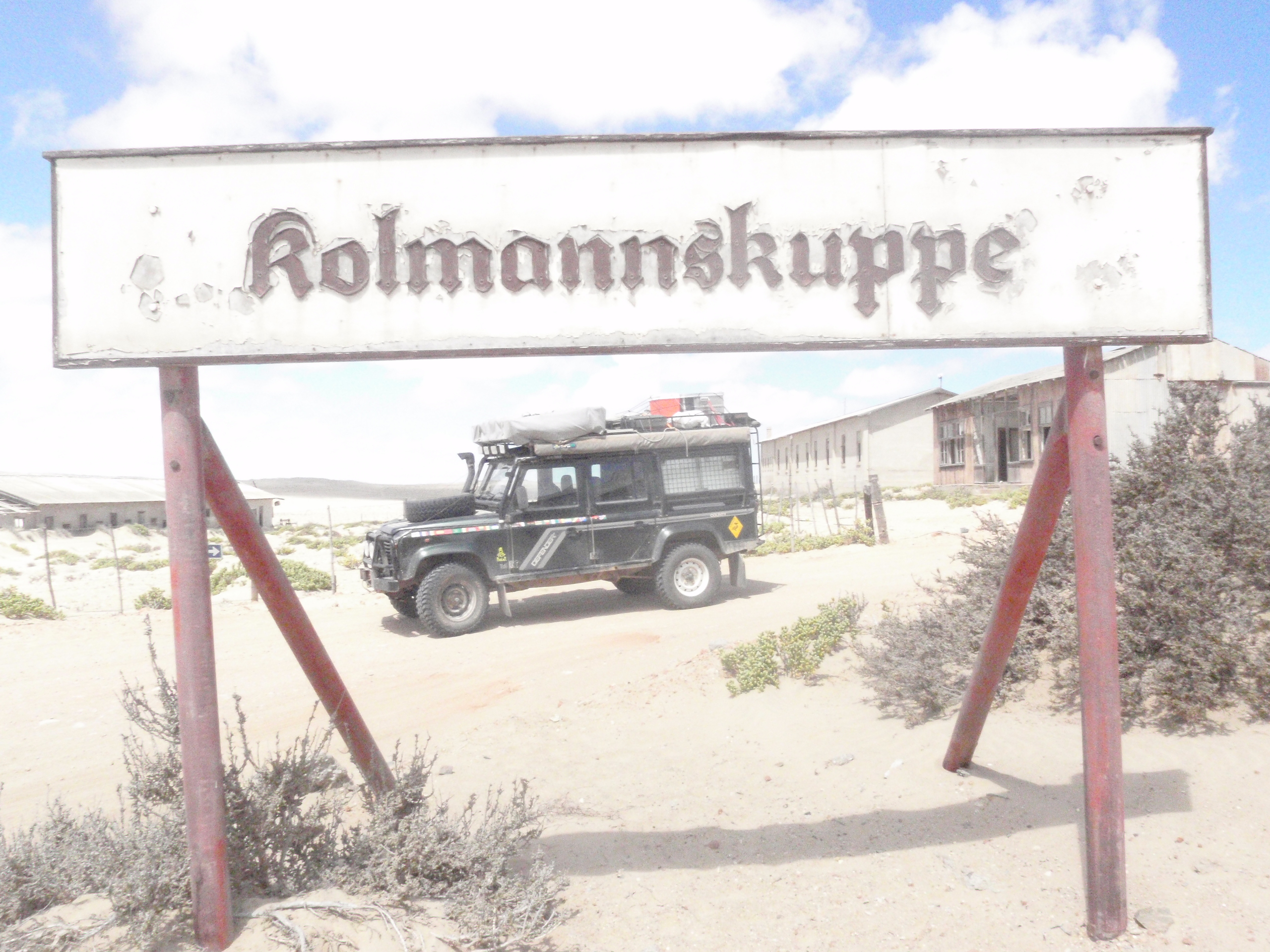 Ghost Town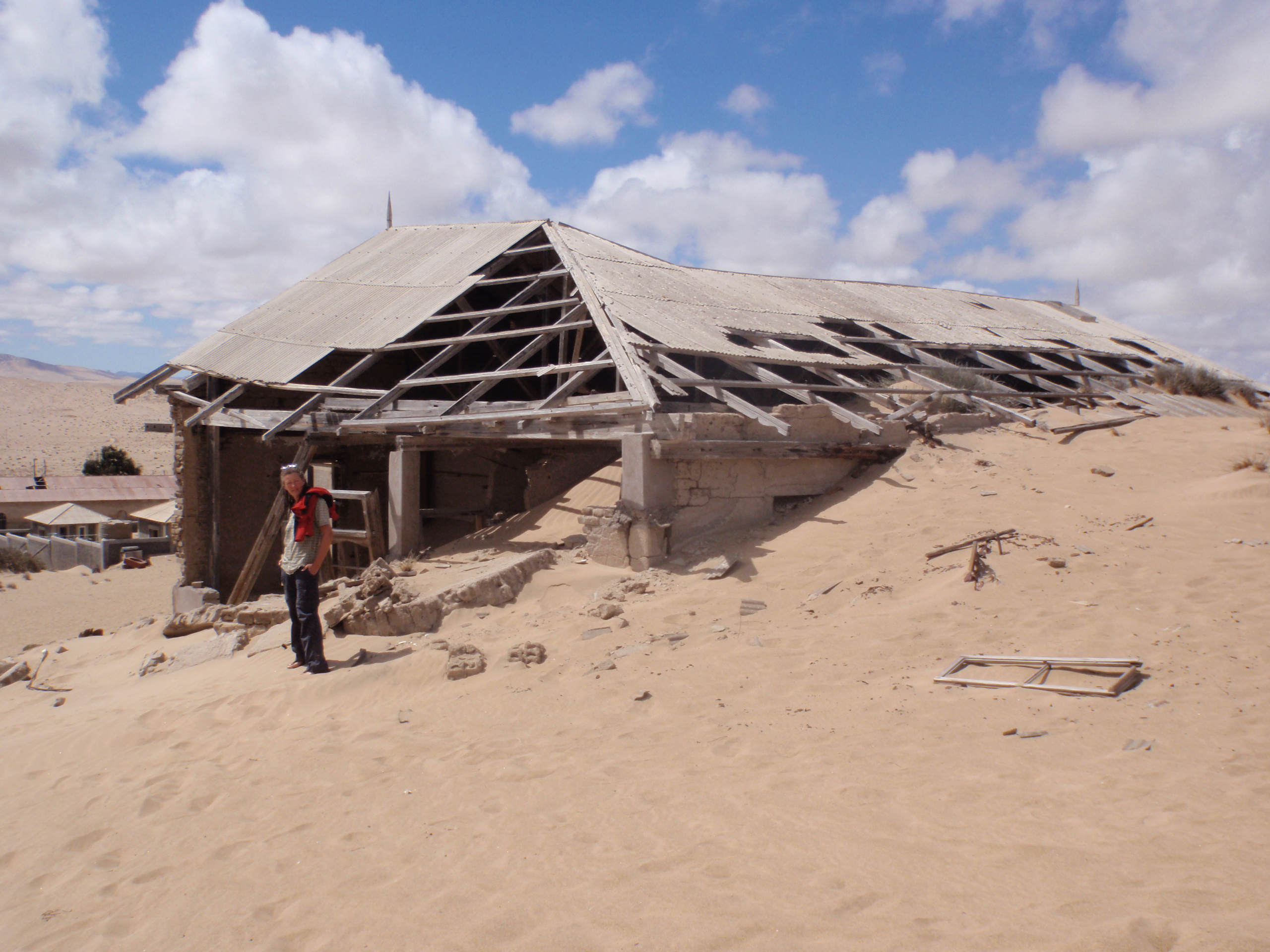 but Dell you could havebought this house a bit cheaper !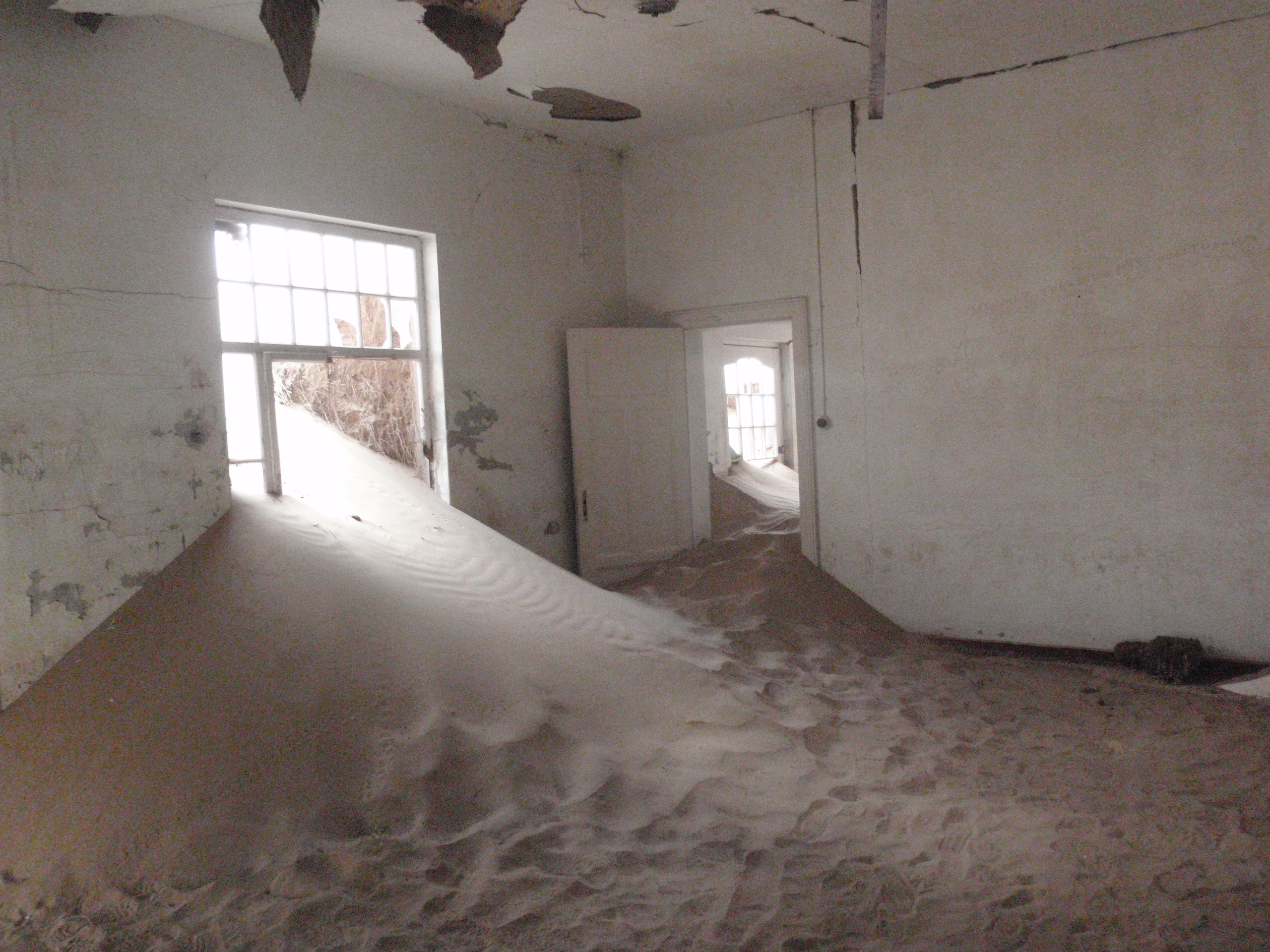 dont think we can hoover it up!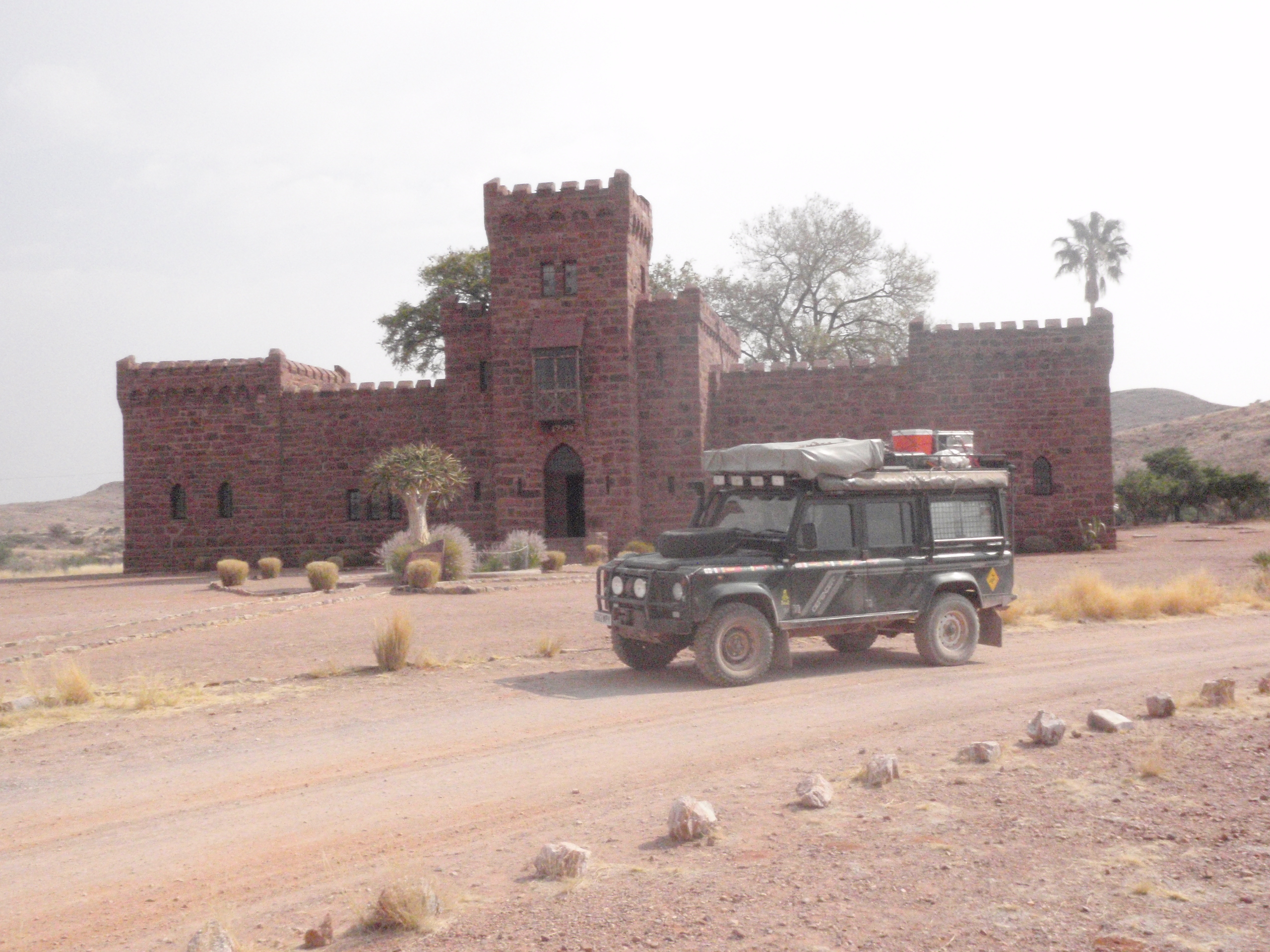 call that a castle?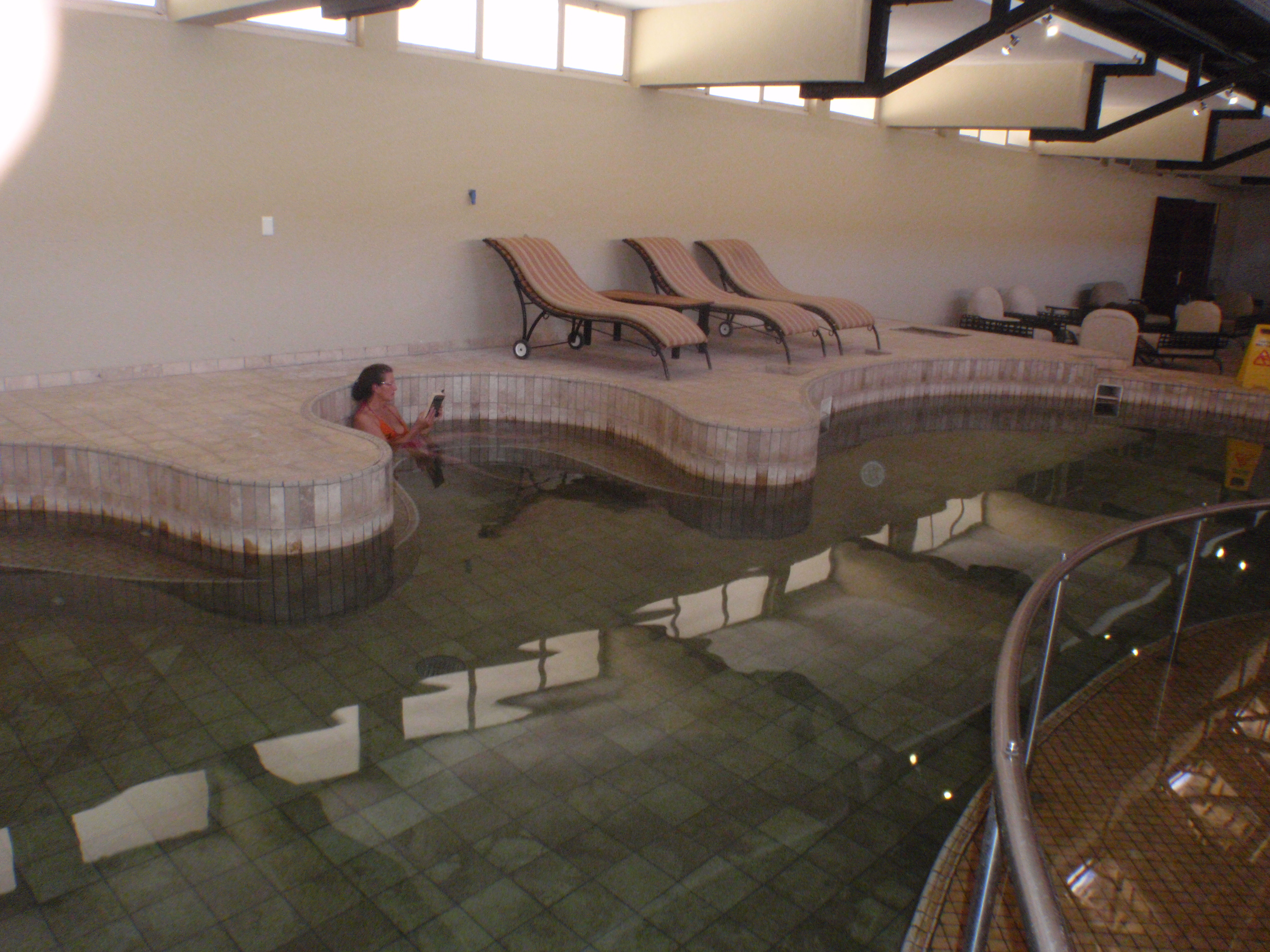 Its not all hard work being an overlander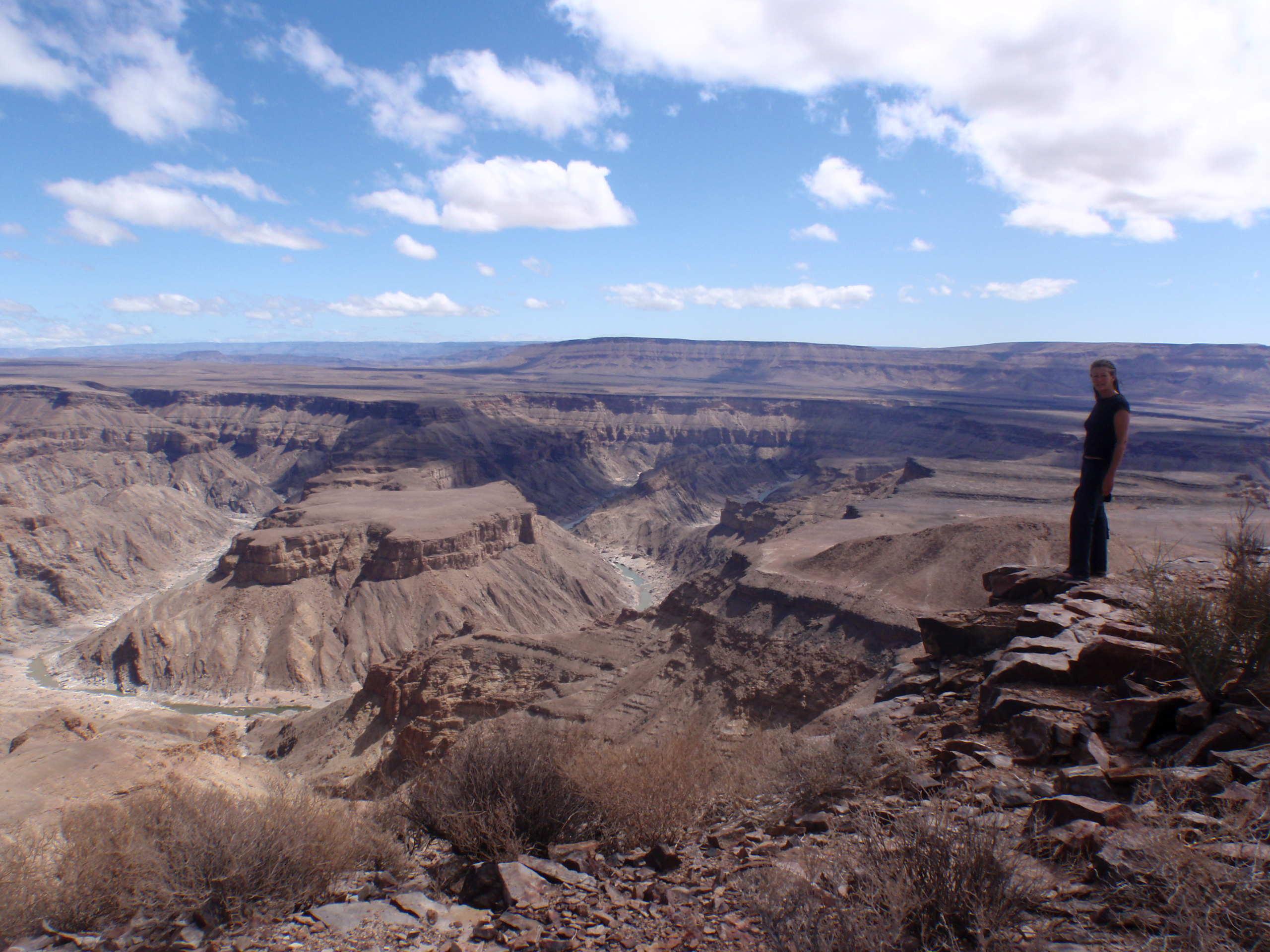 Fish River Canyon
  

 

 

 

 

Too much of a good thing

It's not true; you can never have too much. So the inspections on the route down never found our secret hoard of fillet , rump and boerwoars .Sod smuggling drugs , meat is where the action is.

If you are in the mood for a bit of African conservation work we would recommend Africat foundation (www.pawsnamibia.com)at Okonjima.Volunteers help out bush clearing and repair work and are rewarded with cheetah conservation and a sense of putting something back in the world .Clive runs a brilliant operation .Volunteers are housed in safari type camp tents, fantastic hot open air showers, good braai cooking .We stayed 2 nights and had a great time.

We head south for the Sand Dunes at Sossusvlei. Sossusvlei Campsite provides big hangers for over Landers as it is so windy here.

The dunes were impressive .we climbed the tallest at 130m high. Three hours to climb five minutes to run down .the minor dirt roads gave a chance to see some spectacular scenery and a bit of free camping as we head for Dsweib Castle .It may be called a castle, its more a four bed roomed detached house with a few extra rooms added.Being English means we know what a castle should look like.

 

Botswana

And why not , almost criminal not to get another flag under our belt so Botswana it is .The crossing from Zambia at Kasane saw the usual border gamut of hawkers , money changers and chancers.The formalities where easy and a ferry crossing saw us across the border .Botswana was devoid of these low life when we arrived. There was no one but officials....great. Having been told we needed expensive insurance on the Zambian side and could only buy it in Zambia, the whole Botswana fees came to 13 Euro .That was for 1 months 3rd party, driving permit and road tax. Refreshing.

The plan to travel on the "Great sand Road" fell short of its goal when i had a panic attack about finding the town of Savuti half way down the road. As usual none of the maps or sat nav matched and i was very concerned about the high mpg sand was giving us. So a quick free camp and the "pussy" tarmac road .On reflection we had ample fuel and should have continued. this puts a strain on both myself and 2she who must be obeyed" and we didn't speak all day .Maun should have led us into the Okavango Delta .Vast wet lands and a complete contrast to the savannah we had been travelling .Again the maps gave no proper indication how to get into the delta and despite asking locals we never made it in.

Back to Namibia then. Did i say that Jayne had got stopped for speeding? Well she did and a serious amount of grovelling meant we didn't have to pay. Thanks for the "patches" dad, they work.

 

Is Vic their?

 

Another day another border. Zambia from Namibia is a breeze if not a little expensive. Visa on border $50 each (being English they used to charge double for us), carbon tax, road permit, insurance plus some other document that I have no idea what was for. Having paid up, 15km outside Livingstone a police check. Insurance and horn! Having worked admirably down West Coast the horn had given up the ghost 2 days earlier .police officers eyes wide open to a chance for bit of extra income we negotiate a "get out of jail for free" and a promise to have a new horn fitted in town.

Livingstone is Vic Falls .Adventure sports such as bungee, white water rafting, micro lite fly over's abound. We had decided to get Lizzybus looked over by Foley's a recommended Landrover specialist .We drove straight to the unit and agreed a fettling in 2 days time .

Victoria Falls , we first viewed from the border with Zim for free .Awesome sight made even more entertaining watching loonies jumping off the bridge attached to a bungee line .$40 gets you into the park area where you can wander "up close and personal " .You get wet but never bored with the majesty and power of the falls. The white smoke (water vapour) is still visible this time of the year.

We where up to our usual "swank lodge" camping at Maramba Lodge .nice pool ,free internet (we blagged the code) , hot showers , Charlie Boorman in residence and the local elephants running amok through the camp. All in all a good three days and Lizzybus was fettled, including a new horn and a few bushes. Thanks Foleys!!!

Zambia was nice break but its time to head south and back to Namibia and SA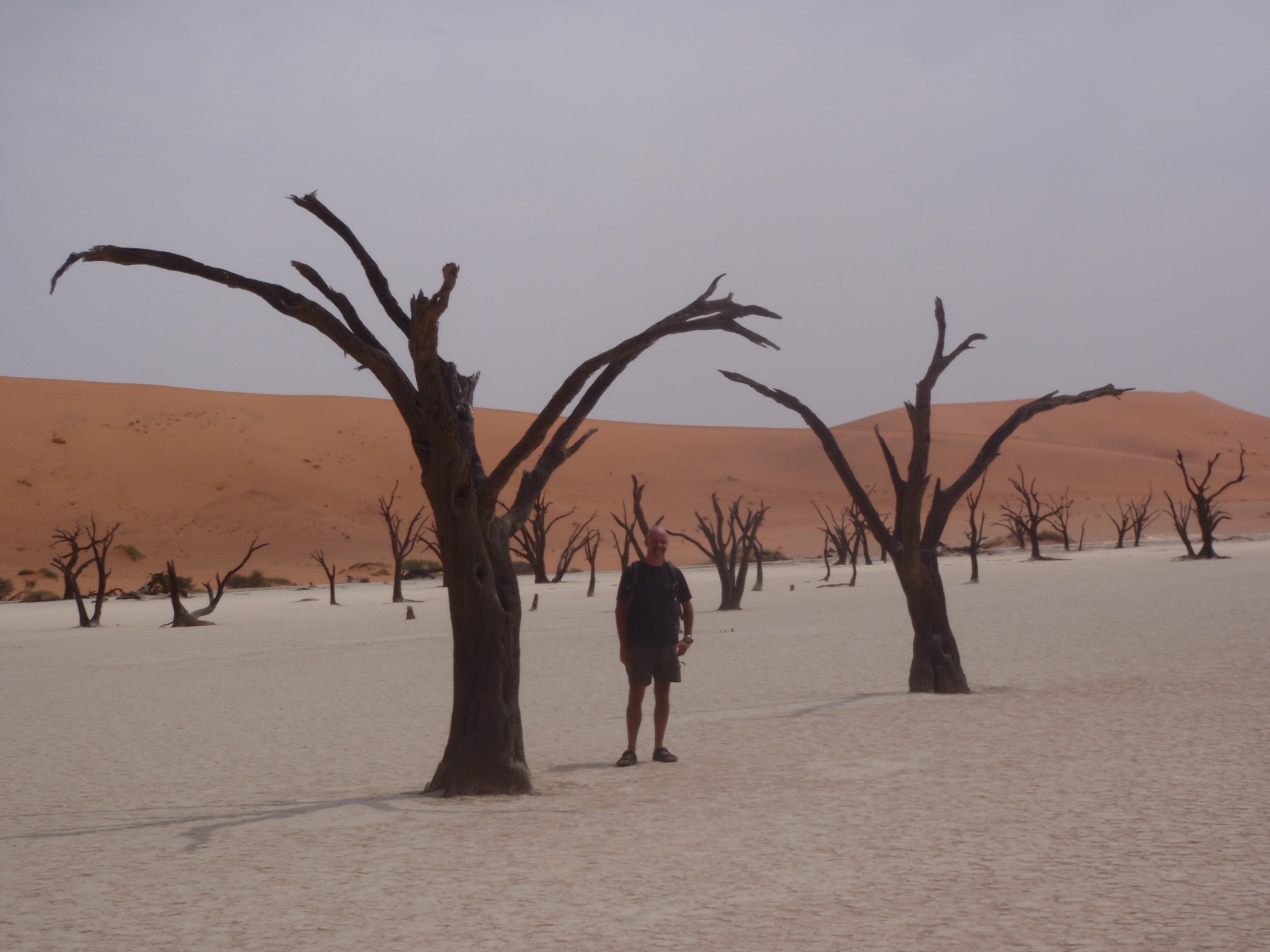 a hard days climb
made it to the top of 130m high dune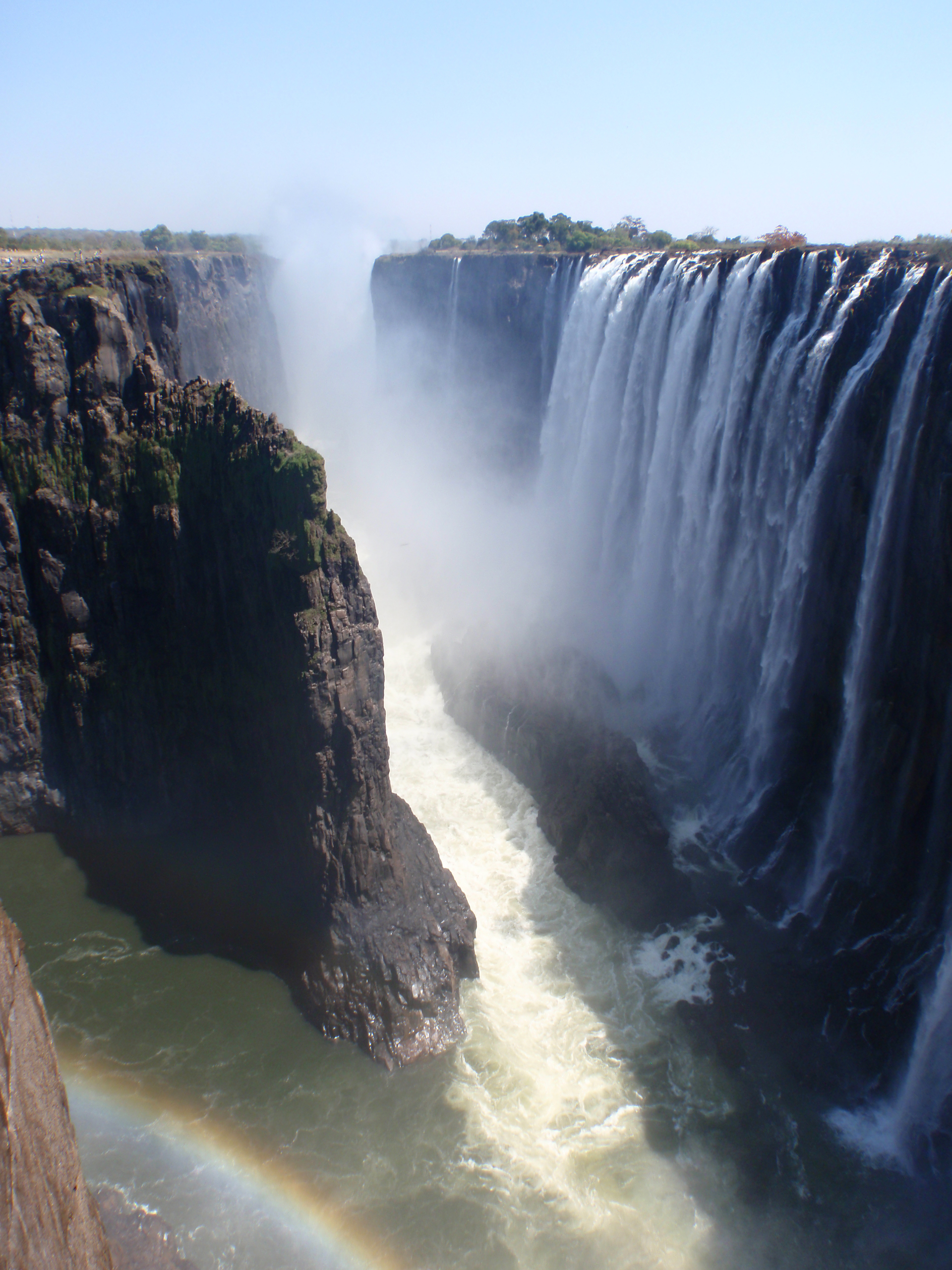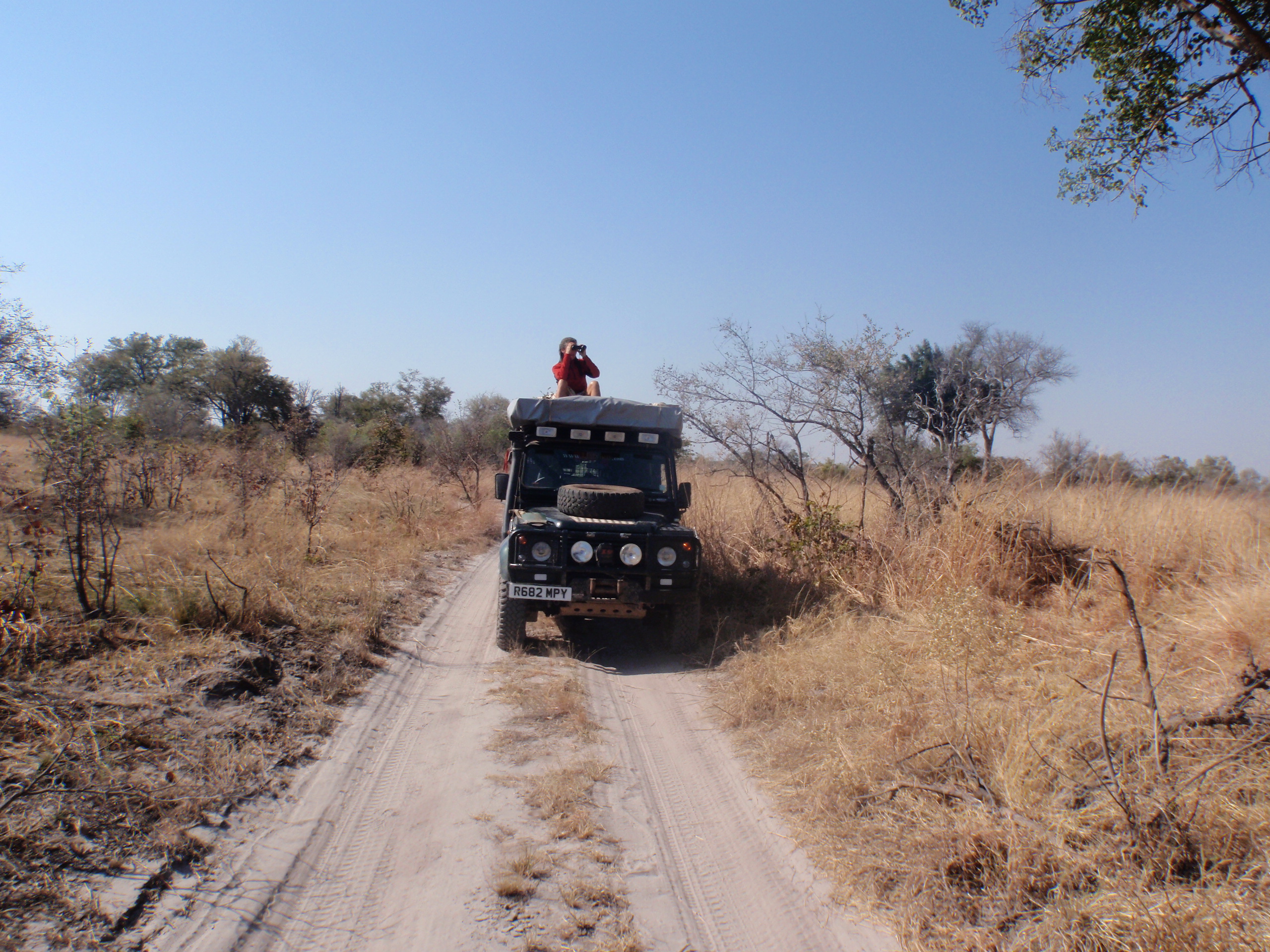 Elephants!!!

Big Game

Keeping in theme with the "touristy thing" we went to see the worlds biggest meteorite .Entertaining for 10 minutes and $20n.Made so very special when Julian turns up on his motorbike .It is such a small world .We keep bumping into people in the most unexpected of places !

Muduma National Park, unlike Etosha allows you to camp in the reserve without being "protected" by a fence. You are very much in the wild. To look out of your roof tent to see an elephant nonchalantly walking past about 10m away is an experience, second only to hearing the roar of lions during the night. Trusting that we won't get served up as a quick snack for a hungry predator, no need to unwrap.

Being so close to Zambia it would be remiss of us not to hop across and visit Victoria Falls

 

Etosha

 

Well its time to depart Chameleons and head up North and do a few "Touristy" things.1st on the list is Tasha National Park. We have been in contact with Sam and Simon and they will meet us at the campsite Halali in the park. We can split the camping spot and save about $100n .During the drive up we camped outside the park and was introduced to the delights of springbok biltong by a Namibian couple enthralled by the tales of our adventures. They had half a bag left (250 g ) and insisted we try the delicacy .Its similar to American Jerky but with class .Namibia is the spiritual home of the meat eater....I think i have found heaven!

The drive through Tasha was an awesome experience. Up close to herds of Elephants, Zebra, Giraffe and then more Zebra. It was as good as you can imagine and then some. We even saw a leopard sunning itself on the side of the road as we whizzed past in Lizzybus. Route swapped with Sam and Simon we leave for more game experience for the Caprive gap. A small finger of land heading east into Zambia .Again camping is easy to find if a bit expensive $180n night. Its great to be serenaded to sleep by the roar of the owners pet lion and yes you can stroke him if you want to and no he hasn't been fed yet !!!.

The funny rumbling noise from the engine manifested itself at 12.30 hours when the water pump gave up the ghost. Not wishing to drive on and bugger the engine we pulled over 120k from the nearest town to effect repairs.

Not a problem i thought , i have a spare new pump in the back .Bonnet up ,water pump pulley removed all you have to do is remove the power steering pully.Its only 3 bolts , yes 3 poxy welded in , wont move bolts , and yes they have to come out because only then can you get to the pump.

2 bolts started to round off. Jayne used her feminine wiles to flag down some guys returning from a fishing competion.They phoned a recovery truck when they couldn't get the bolts out. The guy on the phone announced that as it was Sunday it would cost $4500 for a tow to the nearest garage at Katima Mulilo no option , the bolts have to come out and the pump has to be fixed. Drilling the last 2 bolts out took 5 hours, the cordless drill wasn't charged and the radiator and intercooler had to come out.

Locals took great delight when they warned us about the elephants if we camped .Having finished at 21.00 we had no option. Sleeping with 1 eye open listening to hefalumps crashing through the bush we slept.

 

"Big Ollie" to the rescue




Chameleons is a quirky backpackers 5 mins from the city centre .We camp at the rear hard standing and make full use of the facilities .We met Klaus , a German land cruiser owner who has previously circumnavigated the world. Trouble was that he had a broken rear diff and was waiting for the replacement to be sent from the States as the cost in Africa is eye watering. He had been their 2 weeks already!!! Regular trips to the Pick n save result in big Braai offerings of fillet steak, ribs. Bottles of wine for £2 and 750 mil of beer 80p. Lizzy is fettled in grand style by Ollie who installs the turbo in a day and does a few other jobs the following .Grand bill $7500...bargain .Lizzy was like a scalded cat on the route home. We head off to the Etosha national park with the intention of splitting the expensive camping costs with Sam and Simon .On our route we decided to visit the cheetah conservation centre outside Otjiwarongo, well 44km down a dirt track. Described as a "donations greatly appreciated" it has become $115n for a short walking tour and $330n for a short drive around to get closer to these shy retiring animals. As these prices are EACH and not wanting to drive back we plumped for the short tour. Yes it was very short, less than 30 mins to see a few kept in big pens. £30 for a half hour tour, most of our daily budget in 1 hit.

Numb in Namibia




 

We have made it to Namibia and it's a bit of a culture shock. No free camping so we stop at a campsite. Hot showers, flushing toilets with a toilet seat,loo roll,hardstanding,electricity Braai for cooking. Supermarkets with European foods at roughly English prices .We will travel down to Windhoek to get the turbo repaired. our host suggested we try an engineering shop opposite .On opening the bonnet Jayne notices a 3" split on the underside of the top turbo hose. This was the cause of our problems and was easily repaired with rubber glue, an inner tube and the ubiquitous duck tape .Our engineer had removed the inlet hose on the turbo and we could feel the play in the bearings. Despite the repair the turbo is on its way out and will cost 7500$n to replace. We decide to travel up to the Caprevi Gap and view some game hoping that the turbo will run a bit longer.It has become apparent by the shrill scream every time the turbo kicks in that this job needs to be done now. So all change on the route plan. Down to Windhoek we settle at Chameleon Backpackers awaiting an English ex pat who specialises in Landrover Repairs..

 

Angola in 5 days?(or the Great South Run!)




 

We know its possible to cross Angola in 5 days .But , those that have had crossed at Songolo and not Matadi as we intend .We will loose 1 day to Cabinda and we have no turbo. Up for the challenge , we have to be.

Cabinda at 0800 saw the ceremonial raising and saluting of the flag. A computerized check in made us aware that the time in Angola will be monitored. Cabinda in half a day saw fast tarmac roads and a fill of both tanks at 29 l ( yes , 25 pence).Into DRC and a free camp in the jungle. Early start for the crossing and we lost an hour by missing the turning for Matardi!When we made the bridge we needed to find some money. we hadn't got any DRC as we didn't expect to be their long enough (only 1 day).The fee was $5 or local equivalent. Having spent all our dollars on Nigerian visa's we had $4 left. they didn't want Euro so negotiations resulted in our last dollars AND 2 cans of cold beer to pay for the crossing.The border is out of the city up a dirt track.DRC immigration took 1.5 hours to process us out.They even wanted to know why we weren't with our other English friends who had passed earlier (Sam and Simon).We eventually made the dirt track towards Nzeto .Progress was very slow. Roads are potholed gravel ,covered with an inch of grey dust which gets everywhere. We fall short of Nzeto and camp in a cut out where we see precisely 2 lorries in the whole night. A short section of new road led to Nzeto and as with most of African roads the prize is snatched from us as it deteriorates to a sand track. No turbo and averaging about 30km an hour drastic action is called for. The roads are a mixture of tarmac/pot holes in about a 50/50 mix. Luanda is dispatched in half an hour and we make the new tarmac road south. We have 2 days to do 850 miles. Up at 0330 we put in two days of 14 hr driving. A great tarmac road is reduced for the last section to the border as piste road .We make the border at 1400 , Sam and Simon (4.2 l turbo land cruiser and hitting 100km hr on the good road sections) are most surprised that we had made it in one piece and had beaten them. Angola , what we saw of it is quite stunning and deserved more of our time. One hopes in the future tourist visas will be easier to obtain.

The crossing into Namibia was an experience. Angola customs refused our carnet demanding we pay a fee of $30 .Getting late we paid the "official" import fee, despite our protestations that we had carnet and where leaving. We did however get an official receipt.

 

Rice Puddings to celebrate 1st Aug




Crossing into Gabon on 31 July we head for the equator .1st August ,Happy Birthday David and a celebratory box of Pringles , toblerone are produced as prezzies and my birthday meal was mashed potatoes and Heinz baked beans(donated by John and Joan).In the town of Ambrosia their are celebrations for this momentous of days.Lizzybus has been miraculously converted from a 300Tdi to a di.Yep the Turbo is "Donald ducked" Not enough strength to pull the skin off a rice pudding. No power , hills now have to be taken in 1st and 2nd gear where as before 3rd or 4th would suffice. Fuel consumption has rocketed and we produce more smoke than a .I am paranoid that the seals/bearings will collapse and we wont be able to continue. I put the problem down to a faulty waste gate actuator in the absence of any obvious cause. We have no option other that to carry on.Painfull progress through beautiful mountains and forests we finally come across the "road of torture".The road to point noire is marked as a main road. The Chinese are putting it in as we speak. You end up following the old route with tantalizing glimpses of a nice new tarmac road through the rain forest. Despite the lack of power it was a great drive .Its a shame in some way that soon it wont be possible as you will be able to drive in a superhighway through the jungle .We arrive point noire intending to stop at the Yacht club for free .

No map of the town, no real working French I end up asking for the "club nautique" and we find the site.

Set up on the car park of the club the locals ask for 6k per night, Each! We agree but are told that despite the security presence not to leave anything out. On our 2nd day Simon and Sam turn up (again Angola consulate, Abuja).Asleep in our roof tent , both end flaps open we are disturbed at 0330 by a small "clink" from the ladder .Staring out , approx 3foot away I make out , illuminated by the sodium car park lamp and highlighted by the stark white washed wall a black face attempting to hide from my gaze. A moment of hesitation before i loudly introduced this "robbing bastard" and his side kick to a few choice Anglo Saxon swear words. They ran off. Despite this obvious commotion security was no where to be seen.

Next morning we leave without paying for the 1st of our Angola crossings.

We have a 5 day transit visa but 1 day is to be used on the crossing of the Angolan enclave of Cabinda.

 

Lizzybus heads south for the winter


The die is cast and we have decided to chance the Mamfe crossing in the South.Afterall we are in a 4x4 and should get through.Fast road down , stopping at cheap "bucket shower" accom.Worryingly when in a flop house in Makurdi Jayne passed out in the toilet and took the full fall on her nose and forehead .I thought she had pulled the sink off the wall , went over to investigate and saw a pair of legs sticking out through the toilet door. Next day Jayne has a headache , stiff neck and couldn't walk in a straight line. We decide to press on .Border formalities quickly dispatched on both sides we cross into Cameroon .The road despite its fearsome reputation is well graded dirt , not rained upon and the 60k is

covered in 3 hours. Heading for Bimenda we are on a very nice new , Chinese built tarmac road and feeling very confident. the road then becomes fast sub base and then a dirt track through the jungle. New bridges are being put in but the road in no way near to completion.

As it gets late, 30k from the city of Bamenda we camp in a small village. We ask permission and the whole village of Kurebai turn up to welcome us. A short guided tour around the town, we settle for the night on the village green. An audience awaits our awakening before many handshakes we depart.

Bamenda is a tranquil town surrounded by spectacular cliffs and waterfalls. We stop at the Baptist Mission (no drink or tobacco allowed) in an immaculate room .We have decided to do the "Ring Road", a 360 k dirt road through the Cameroon grasslands.Dusty dirt tracks, rocky paths, amazing mountains we spend 3 days on the road.At Nkambe we met Julian, a German motorcyclist heading for South Africa, last saw him at the Sheraton Abuja.Its a small world we inhabit.

Tarmac down to Yaoundé we hole up at the Presbyterian mission. Cheap camping in nice grounds within the city and close to the embassy's we need .Julian beat us there and later that evening John and Joyce (Kiwis we met in Abuja arrive).Gabon visa, 3 days and 50k cfa each are requested then 60k and 2 days for DRC visa .This visa business is getting bloody expensive. We now have all the documentation to get us to South Africa .We are going to run south as fast as we can .We have been in West and Central Africa long enough we are looking forward to some English speaking 1st world comfort !





Decisions, decisions

Waiting at the Angolan embassy we meet a few other over Landers heading for Angola. They are aware that a couple have used the crossing in the north at Mora and the roads are good. If we take this route it will add about 800 miles to the journey but we could go to the reserve at Yankari Nation Park and its hot springs. We would also avoid the road to Mamfe which is, in the wet season virtually impassible.Monday and the forms are handed over, Wednesday we pick up the visas.Agian, a few over Landers are in .They are stopping at the Sheraton (on the car park for free) and we will join them ion Thursday.They know a couple who crossed from Mamfe in a 2 wheel drive and had no problem. What to do? The joys of over landing.

Hopefully the leak to the rear axle has been sorted. I ended up taking the vent pipe off and cleaning the crud out of it.

We have decided to chance a little used route through Gabon to Point Noire and a crossing through the Angolan enclave at Cabinda.By doing this we avoid crossing the Congo at Brazzaville/Kinshasa and the associated corruption and buggerance we would get.Hope this is the right decision ....only time will tell

Abuja

Having failed to find a hotel on Tuesday night we freecamp.

Lying on top of a large metal Landrover, partially shaded by trees in a roof tent that has upright metal poles a massive thunderstorm hits.We had pulled 200m from the road across a ploughed field.Lightning illuminating up the heavens I hoped that we would not become one of gods' lightning conductors considering the attractiveness of the target. Its during this storm we found that our expensive German made tent is in-fact a piece of crap.Despite the promises of the supplier ,it leaks. Not only that ,in the previous months all the rubbers on the ladder have fallen off and the bolts that secure the base to the mounting frame have also fallen out. Come south Africa its being changed to something that will last. I digress , having avoided the physics lessons on Faradays box our concern with the amount of water that came down was whether we would get bogged down crossing the field. Damp and thoroughly disheartened we plough through the field in low ratio and continue our journey.

We are stopped at every occasion by police , customs , immigration etc.But in truth most are interested in who and what we are and have a genuine air about them. a few checks are of the "what have you brought for me" request for dash.

The traffic police seem quite keen on announcing that it is illegal to drive a right hand vehicle in Nigeria. Pointing out our import papers, the checks at the border and our imaginary chat with their high commission in uk usually sorts the misunderstanding out.

We did have to delete a few pictures of rather impressive truck crashes when the locals saw Jayne taking a piucture.Stopped by the police for "right hand drive" the local came up shouting and swearing saying we couldn't take pictures. He even said that we couldn't do it in England. No mention of England being a free country was made and to placate feelings, profuse apologies and deletion of the offending pictures.

Abuja is a refreshing change in African cities. Western in standards, lunatic rather than insane driving. Clean with footpaths, power , running water .We buy the Congo visa for 15000 each (£75) and obtain on Friday the forms and requirements for the Angola transit visa. Good news is that is only $30 each. After we obtain this visa we will drive down to Calabar, pick up the Cameroon visa and cross at Ikom .The first 60k of the Cameroon road is supposed to be hellish in the rainy season .And don't we know that it's the rainy season now.

When you pay for your photocopying they want to charge you per document even though two are on the same sheet!

When you go to the British Council (they advance UK interests in African countries) where you can get free wi-fi in the cafe, check the menu first.2500 for a burger (£12.50)

Abuja is great , not a lot to do but very expensive .Our room is 6700 per night , but we get Sunday for free .So our six nights will cost 33500 (£155).We could camp at the Sheraton for free but on checking no other overlanders are there so we decided a room here instead.


Seven circles of hell

We hit the Benin border, a large numbers of trucks are parked up and we wend our way to the front. The local police (for a fee) wish to authorise our vehicle. This is strange as we are leaving not entering. Refusing to pay we are allowed to complete border formalities for Benin. All very simple.

Now the fun begins Nigerian bureaucracy

A ramshackle two storey building will be our home for the next four hours.

First port of call is to the Register of diplomats and foreigners movements.

Nice woman requiring a list of every place we have been to and our itinerary in Nigeria. I didn't have the heart to say we just wanted to pass through as quickly as possible.

Then the police wanted a word .Well, a lot of words to be precise as we went through the same documents as before. And bye the way can we search your vehicle. Jayne takes them off and will hopefully let "Sid" work his magic. In the meantime I am now dealing with the narcotics branch. And yes, they wanted to search the vehicle as well .They open up the roof box and also want to look inside the tent. Satisfied that we are not international smugglers and are not going to get any "dash" from us they retire to complete the papers.

Next we have customs. Interestingly they want me to pay for a "laissez-passer" .As we have a carnet for the vehicle i asked for that to be stamped. They managed to stamp both the import and export side of my document, no doubts this will come back to haunt us when we leave. They then went out to search the vehicle and see if we have any "dutiable" items. We hadn't so they asked for a bit of dash instead. No chance.

Finally we get to see the immigration officers in a dark and dingy room .they didn't ask if we had anything for them and stamped us in for a whole month. I anticipate a week will be enough, but then what do I know.

About to leave, i was called back and taken to an annex where a scary guy started to demand where i was going and what we where up to? It all seemed very strange and some sort of precursor to a demand for money .I lied to him and said that back in England i was a police officer and did not expect to be treated like this.He was taken aback and i was shooed out of the room. To this day i have no idea who or what he was . That was the easier crossing according to the book !.

Great, four hours to get through and the clocks go forward an hour. It's getting late and dark. Two miles down the road the first checkpoint. Police , documents shown and demands for "what have you got for me" .A smile and a refusal , off to the next checkpoint , Customs , then Narcotics ,Joint Benin/Nigeria border police and immigration . All met with the same smiles and patter , eight months on the road from england,22thousand kilometers,16 countries and we have given everything away. Works every time.

Not wishing to drive all night we pull into the nearest "hotel" Hotel Raslab, 2500 a night (£12), safe secure we bed down for the night.

Everyone is fascinated about who we are and what we are doing. All agree that corruption is bad and that average Nigerians are good people. We even had our dinner paid for.

Depart in the morning, tarmac roads slowly being reduced to rubble by the lack of maintenance and large lorries passing at impossible speeds. Nigerian roads are dangerous .We passed lots of truck wrecks on the highway, loads shed, burnt out and obvious fatal crashes. We average 150 miles per day as we head towards Abuja the capital.

We hope to pick up our Angola visa here as the consensus of opinion it's easier to get here than anywhere else on route. Trouble is that the embassy only takes applications on Mon and wed mornings and issues the visa on the following wed, Fri or Monday. We crossed on Sunday and are making slow progress.

 

 

 

 

 

 


Been in Benin

 

We had been warned that the locals were up in arms over petrol prices and that Friday was the crunch day .Current price of diesel is 575cfa litre (£0.75).We decide to leave for Lake Togo and then on to Benin. As we depart Chez Alice we are told that the transit visa is no longer available. We decide to stay another day and drive through the chaotic streets to the Benin embassy. we ask about the transit visa and are told "they don't know".So , for 10k cfa each we buy tourist visas , but we cant have them till Monday .On Friday no one will be in the consulate because of the impending petrol price demostrations.So Monday it is .Friday morning we receive a text from the helpful secretary to say that if we get there by Four o clock our visas would be waiting.Yipee!!!

We had a great time at Chez Alice, strange eclectic place and a good internet connection and a big telly to watch the football on. Four nights' accom plus food came to 52k cfa (£67).

We met a Belgian couple travelling around the region on a 125 motorcycle....and I thought we where mad.

An early start saw us at lake Togo in twenty minutes. An executive decision was made that this was too early and we should press on to the border.

Quick crossing into Benin and overnight at Grand Popo at the Awale Beach Resort .Cheap to camp but 2k cfa (£2.60) for two bottles of coke!

The need to move on is pressing .One country in a day and we head up to the quieter border crossing to Nigeria at Idiroko .The book advises that this crossing means less hassle and no need to head towards Lagos.

To go or not To go? That is the question



We have stayed at Big Milly's for nearly three weeks.It was difficult to sort all the kit out between the rains.Its not a problem as we have no time constraints now but we realise that we have to move on soon as we are beginning to stagnate. Trouble is we keep meeting loads of new interesting people either overlanders like us or volunteers. Opening up the roof tent did however show a problem. In storage, a rodent has got in and decided to eat part of the tent. We now have a hole the size of a golf ball in the fabric of the tent. Its time for the duct tape. Both Jayne and I consider the journey to be paramount. I feel that we could do a little more exploration of the countries we are in; Jayne wants to get through them as quick as possible. We have reached a compromise; we will detour as we travel. North then from Accra into the Volta region rather than head straight and more direct across the coast. We arrive at Hohoe and the splendid waterfalls at Wli.Camping at 12cd a night in a German run campsite. we meet some English volunteers who where going to climb the falls (all very strenuous) The route takes you into the jungle and a precarious 2 hour clamber up the mountain. All very worthwhile. At night we are at the border post with Togo watching Ghana beat the USA .They are so excitable the locals. The matched ended , all then left and crossed back into Togo Our overwhelming memory is sitting in a ramshackle customs hut , at the rear (front seats for customs officers only)with 50 Ghana supporters when the second goal went in. We stayed an extra day to catch the England match (that was worth it then).The border is 800m from our campsite but doesn't do transit visas on demand, thank god we bought ours before we left. This crossing is not as fraught with touts and sharks as the other crossings.Lizzybus may have the curse of the slippy clutch again. Having chilled out, a short trip down the dirt road into town allows opportunity for internet access and brim the tanks (1.18 cd litre £0.60) Having range for a thousand kilometres means our next fill will be Nigeria (£0.45 litre) we leave and cross into Togo .The scenery is mountainous and the area is set over for coffee and cocoa production. As we cross the guards take interest in our flag stickers on the side of lizzybus.They demand to know why we hadn't got Togo !We announced that we had only just arrived and proceeded to place the sticker in line .we even gave them one of our spare stickers much to ttheir joy. Overnighting at an en suite room at the Auberge Bafama Bafama in Kpalime (5000 cfa £6.50) we travel south to Lome.We sought out and found Chez Alice on the coast for a couple of days (3500cfa .bucket showers and shared toilet).We will move on to Lake Togo for a couple of days before we cross into Benin.I will try and post some pictures but the internet is so slow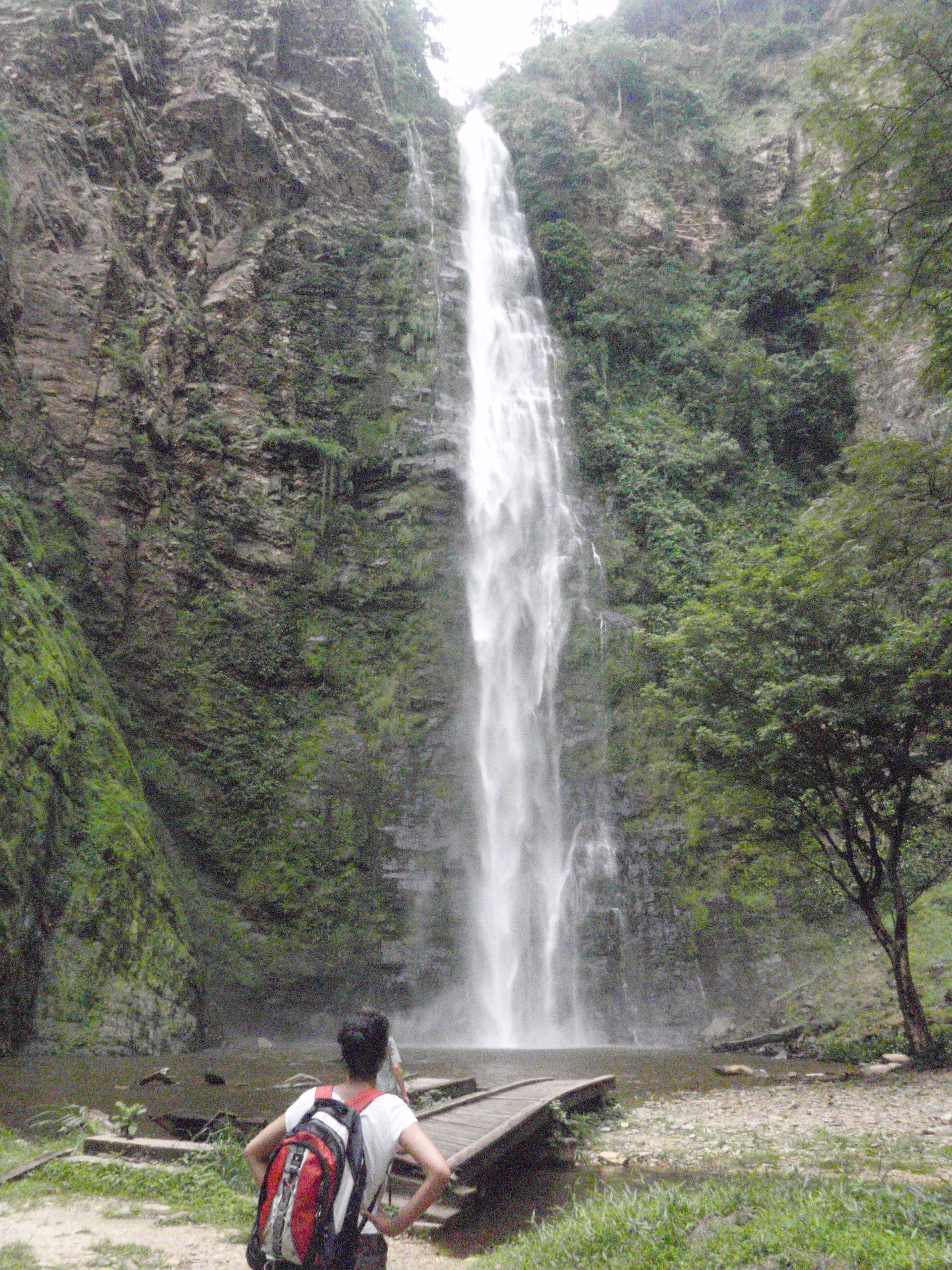 Wli Falls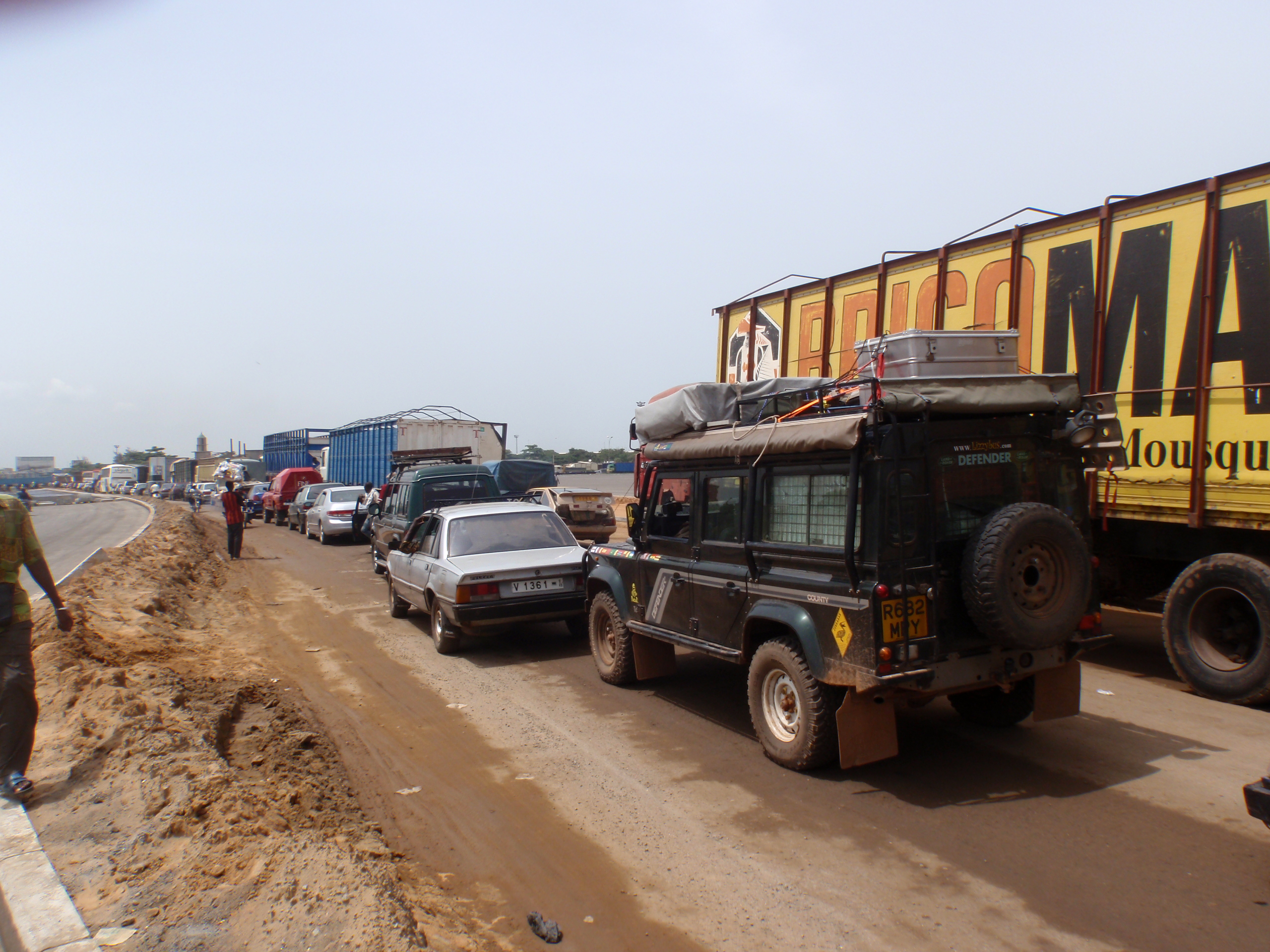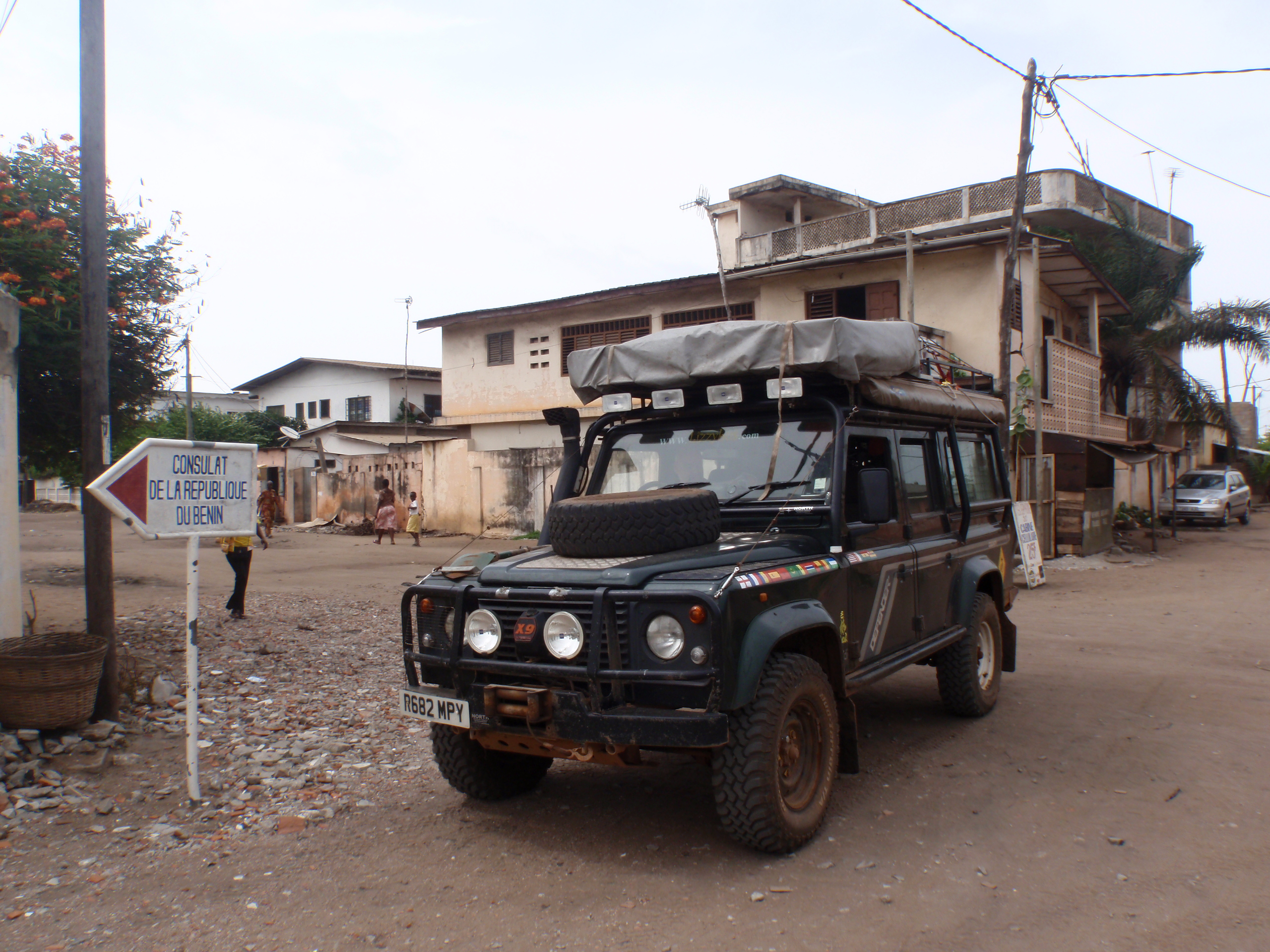 The Return of the "obrami"


Guess what? It's the rainy season in West Africa. My god does it rain. Grey sky's punctuated by rainstorms of biblical preportions.We opt for a room at Big Millys for 23cd (£12) per night for the duration.For this price swe get a very nice open air bucket shower and a loo that has bucket flush only. (Well it beats using a spade)A new cooker storage housing is mounted on the rear door (thanks Andre it's "the mutts nutz").At last we can keep the Coleman cooker to hand .Ali box secured to the roof and cover for Engel fridge fitted. A drive into Accra (2.5 hrs) is as exciting as ever and we locate the Nigerian embassy .$130 each for a visa plus an extensive list of documents to copy .Three days later off to get the Togo visa ,50k cfa (£30 each) issued that day. Between the showers we attempt to sort our worldly possessions and put them in a semblance of order .Eating in we are averaging 50cd per day all in (inc beer tab).Our budget is 90cD.
The tyres on Lizzy are looking very worn and will probably only get us to South Africa .We carry one new tyre so we have decided to replace three with new 265/75 - 16 BF Goodrich Mud Terrains .In UK these cost about £125 each , we located the only supplier and he charges 356 cd each (£178) .However , if i had replaced them in Uk they would have worn by about 25% by now so I have saved £31 in deprciation.This flawless logic makes the price easier to accept .On the other hand we have to travel through Cameroon at the height of the rainy season so we need all the help we can get.
Nice new tyres fitted we arrange oil and diesel filter changes , greasing of the UJ's and it is off to Togo ,Benin,Nigeria,Cameroon,Gabon ,Congo,Angola then Namibia.
We have bumped into two other couples on their way south and we all agree Cameroon will be hard work because of the season, Angola and Congo because of who they are and Nigeria is just corrupt.



The Long and Winding road


A seven hour queue to catch the Afriquah flight home .At least we were booked on , fifty or so were their on a "first come first served" on any spaces left .All this because of the cancellations caused by the volcano.
Overnight to Tripoli, delays then finally UK, Gatwick and the long coach journey home. Five weeks, one wedding and time flew. Making the "father of the bride speech" in a tux donated by James (the groom), shoes by Ricky (Jayne's son) was the highlight.
Flight back with a 48kg baggage allowance (each!) meant re supply with new aluminium box for the roof, power inverters, battery charger, corned beef and most importantly a sea fishing rod. I t has been decided that I shall become "man the provider".Waiting at the luggage carousel, our kit came off last, we where just glad that nothing had gone missing. Picked up by Janick we stayed the night at their home and then on to big Milly's to sort everything out , catch our breath , organise visa's , insurance etc.We have a long journey ahead.
well it all came out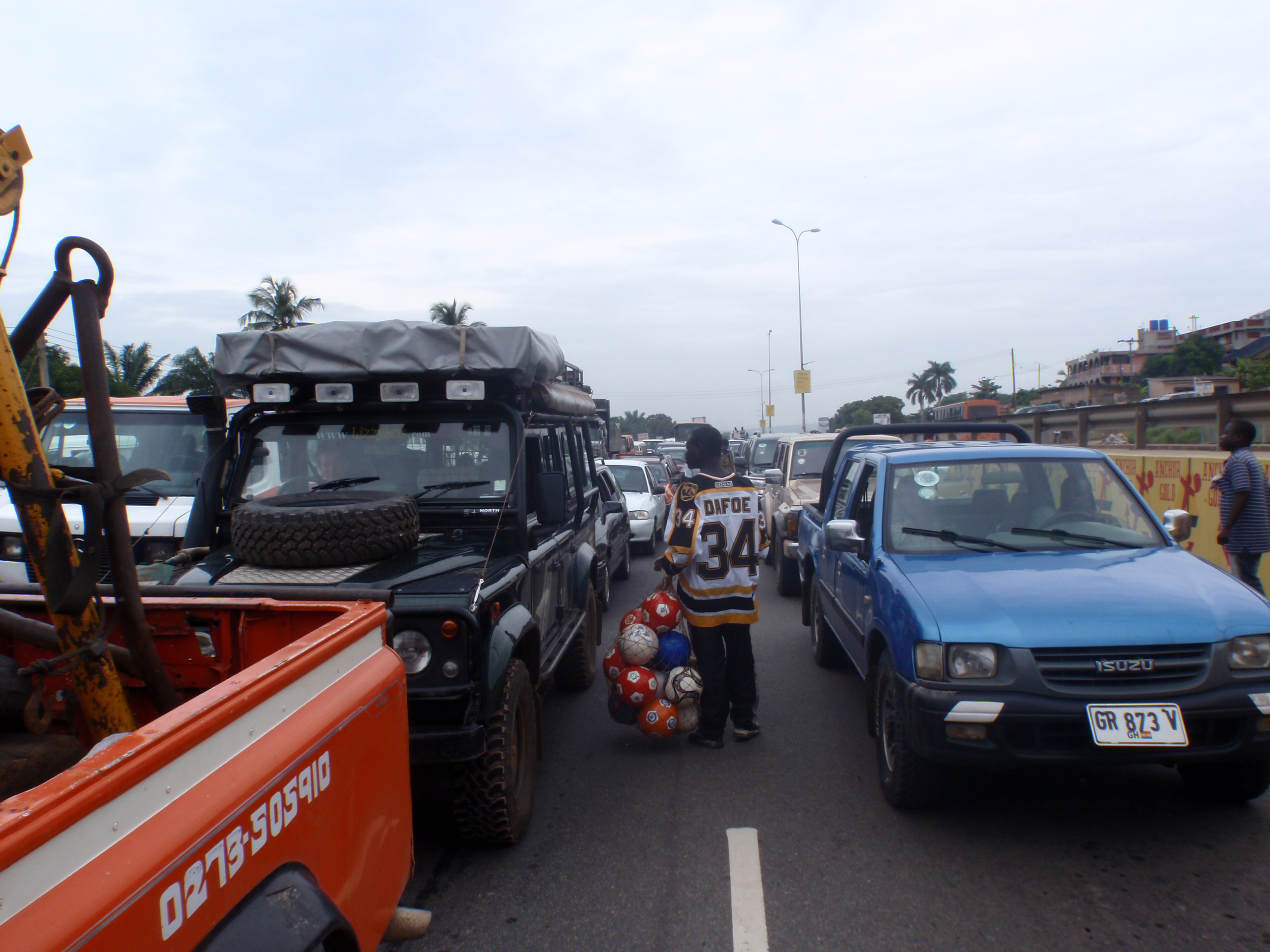 the road to Accra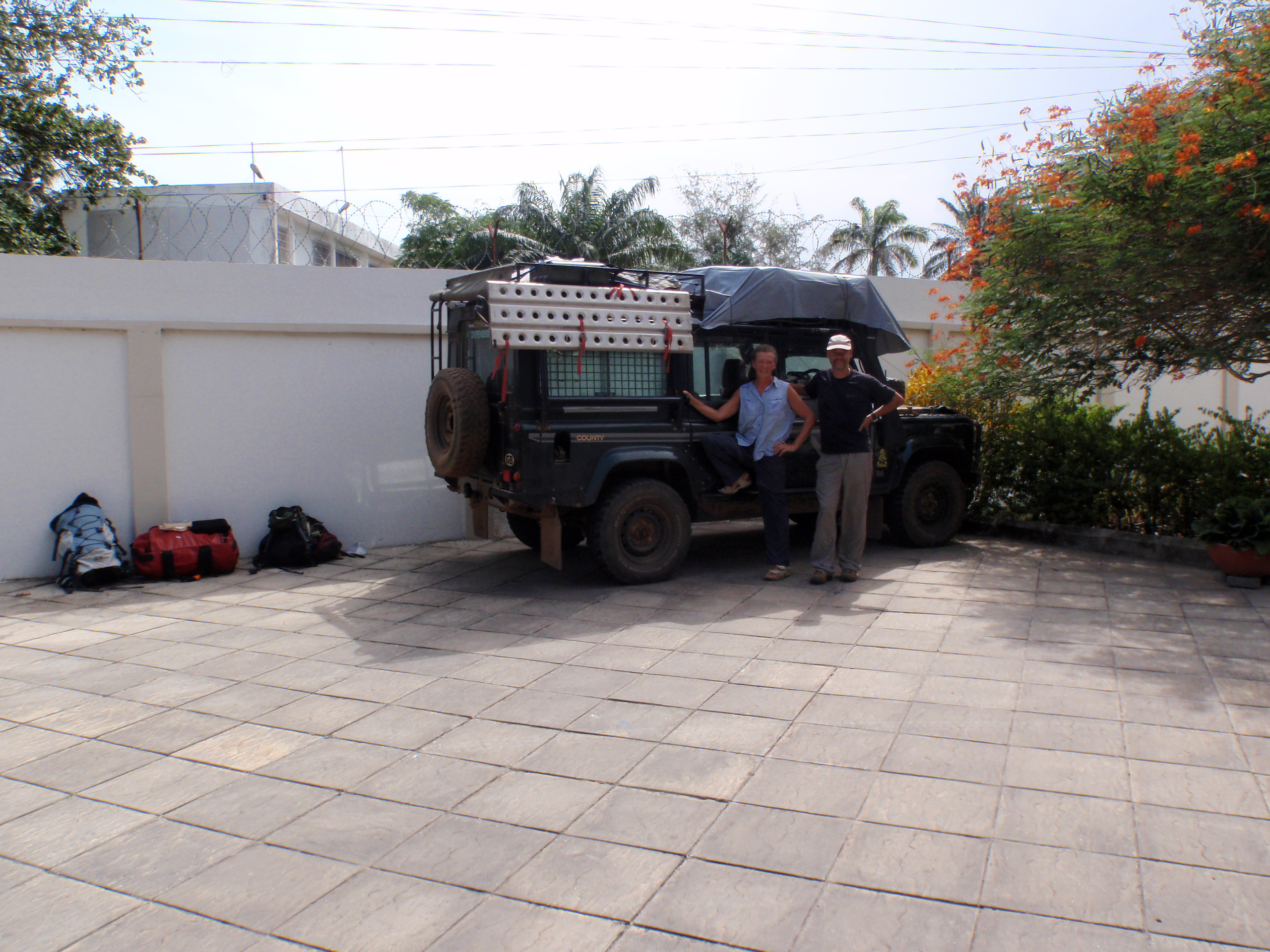 Lizzybus home for the next five weeks
Of Green Turtles



Clearing Guinea police checks and no sign of customs we reach Ghana We hope this is the answer to our prayers.

It is described as a stable African country, developing rapidly and showing that democracy can work in Africa. Its is the best place to be introduced to the delights of this continent.

Might be useful if I could get in then, as the immigration officer proudly announces that there is no room left in my passport for his stamp.

This is true, my passport is rammed .Every country takes about 2 pages with visas and entry and exit stamps .Fortunately he finds a small space between Australia and Tokyo and we are in.

They even "scan" the passport (as opposed to handwriting everything in a ledger)

Buoyed up, Sunday morning a border crossing done in 1 hour with minimal hassle we are greeted by a Barclays Bank .ATM raided, we have money, cold beers, we head for the coast.

The road is in fair condition (odd pothole to keep you awake) Usual police checkpoints but their is no interested in us.Dixcove and a slow journey along the coast to Accra is our plan.

We arrived at Green Turtle Lodge down a 20km corrugated road .We enquire about a room to be told "fully booked for 2 weeks" .we can however camp for 4cd a night (each ).Self composting toilets and open air showers complete the "eco" theme. We agree we shall stay a couple of days.

11 days later we are still there. A long beach , totally relaxed way of life , we are sucked in and cocooned from the recent memories .Our budget is being saved despite eating in every night .Trips into Takadori (1 hr 30 miles) keep batteries and beer topped up.

Other overlanders arrive .Rob and Zina on there way to Angola in a 110 Landrover .Shame we have to fly back to UK it would be nice to travel south with them.Mikaela and friends , 6 up in 2 Landcruisers heading back home to South Africa to catch the world cup.

Turtle Lodge has worked its magic.

We decide to travel down the coast, visiting coastal slave forts as we go.

We want to see if it gets better as we head for Accra and also try and sort somewhere for Lizzybus to left.

We had been told of a great resort you cab camp at about 60 miles down the road.Anomabu Beach Resort ,camping rate is $10 each .As we contemplate camping we meet Jannick and Naomi in the car park. Working for the EU in Accra they offer to look after Lizzybus while we are away. They even have 24 hr security .A room, with fan $25 and free "buffet" breakfast. A room it is then.Tardis like, big comfortable bed and power we stay one night before heading to Hans Cottage Botel, resplendent with its own crocodile pool. Ideal for us to travel to the Kakum national park and its much hyped walkways through the rainforest canopy. We are inexorable drawn east to Accra intending to stay at "Big Millys Backyard".Arriving Easter Sunday, again no accom available we camp. The beach is packed with about 60 thousand revellers all intent on having a good time. Our initial intention on this part of our journey was to rent a hut and stay for the month. The beach (as with a fair number in Africa ) is in areas covered with excrement ,a sign warns of taking items onto the beach and during one of our walks the owner of the lodge volunteered to take any valuables back to the camp. It couldn't compete with Dixcove and Green Turtle so we decided to return .Despite this it is one of those places that grows on you the longer you stay and is a great place to meet other overlanders and chew the fat . It is , as they say a "Ghanaian Institution"A visit to the intended home for Lizzybus revealed a mansion in the diplomatic quarter of Accra .5 mins from the airport and group 4 security permanently on guard .We feel safe leaving her there. We return down the coast and stay at both Turtle and on to Hideout Lodge. The advantage of Hideout is that we can power our electrical items. Seven days at Hideout .We made contact with Mark, MD of OTR (Ghana),who arrived in his Landrover 4 years ago and never left .An offer of accommodation for 2 nights was gratefully accepted .Hot showers and soft towels swung the deal.

So, we depart Ghana for 5 weeks and return to Uk to stock up and witness "Dellibells" becoming a Hope - Urwin.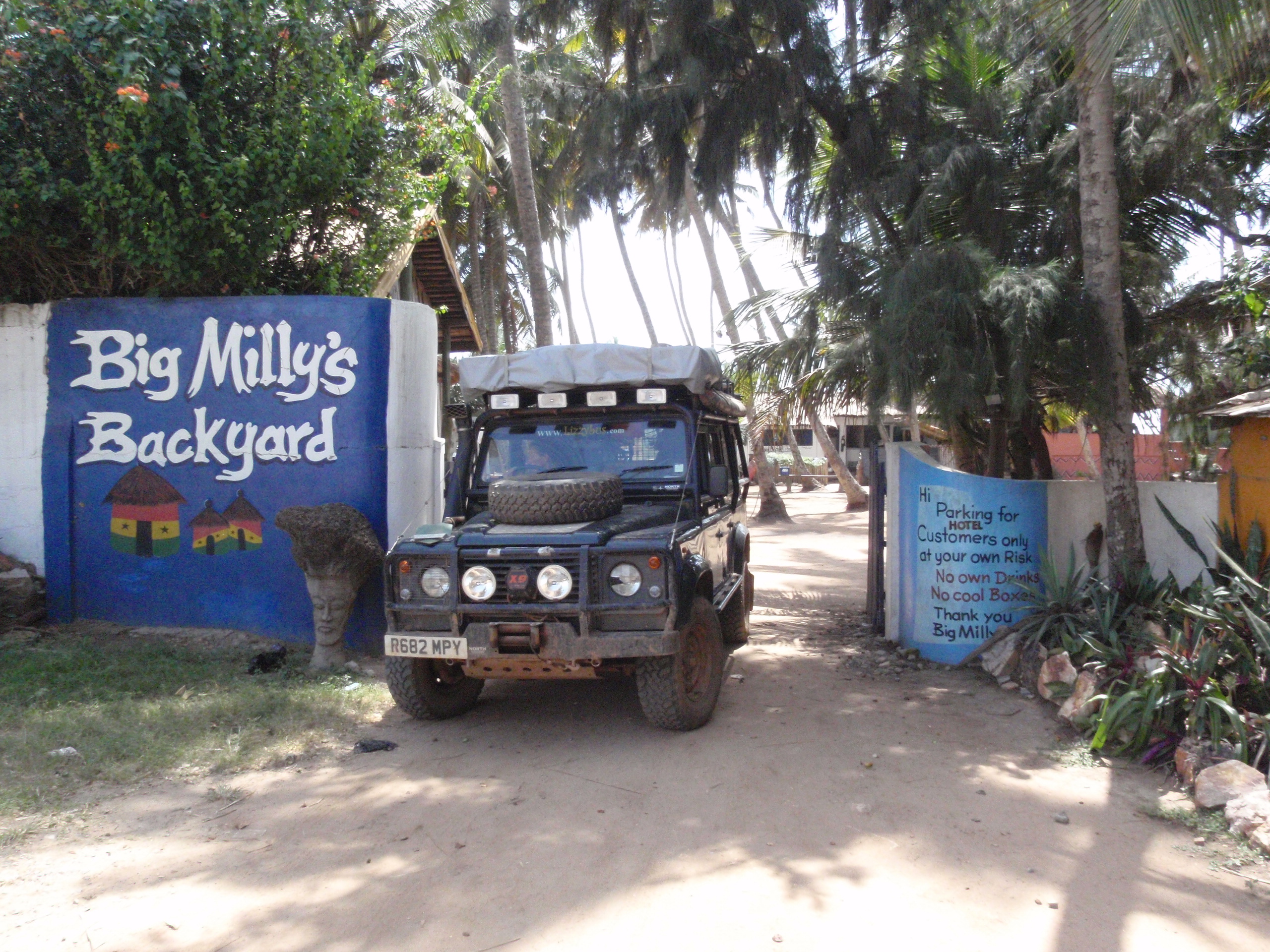 a ghanain institution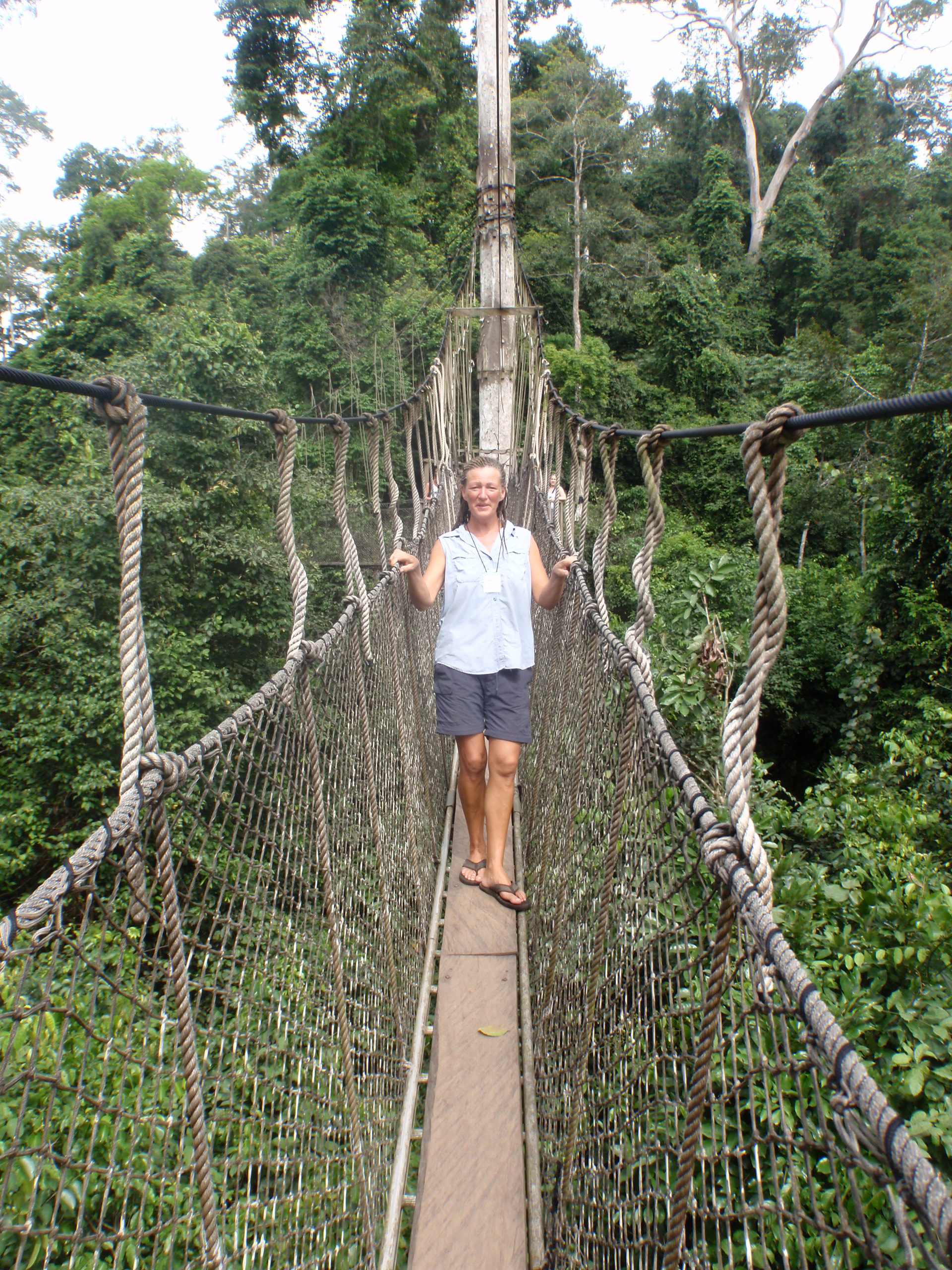 jungle walkway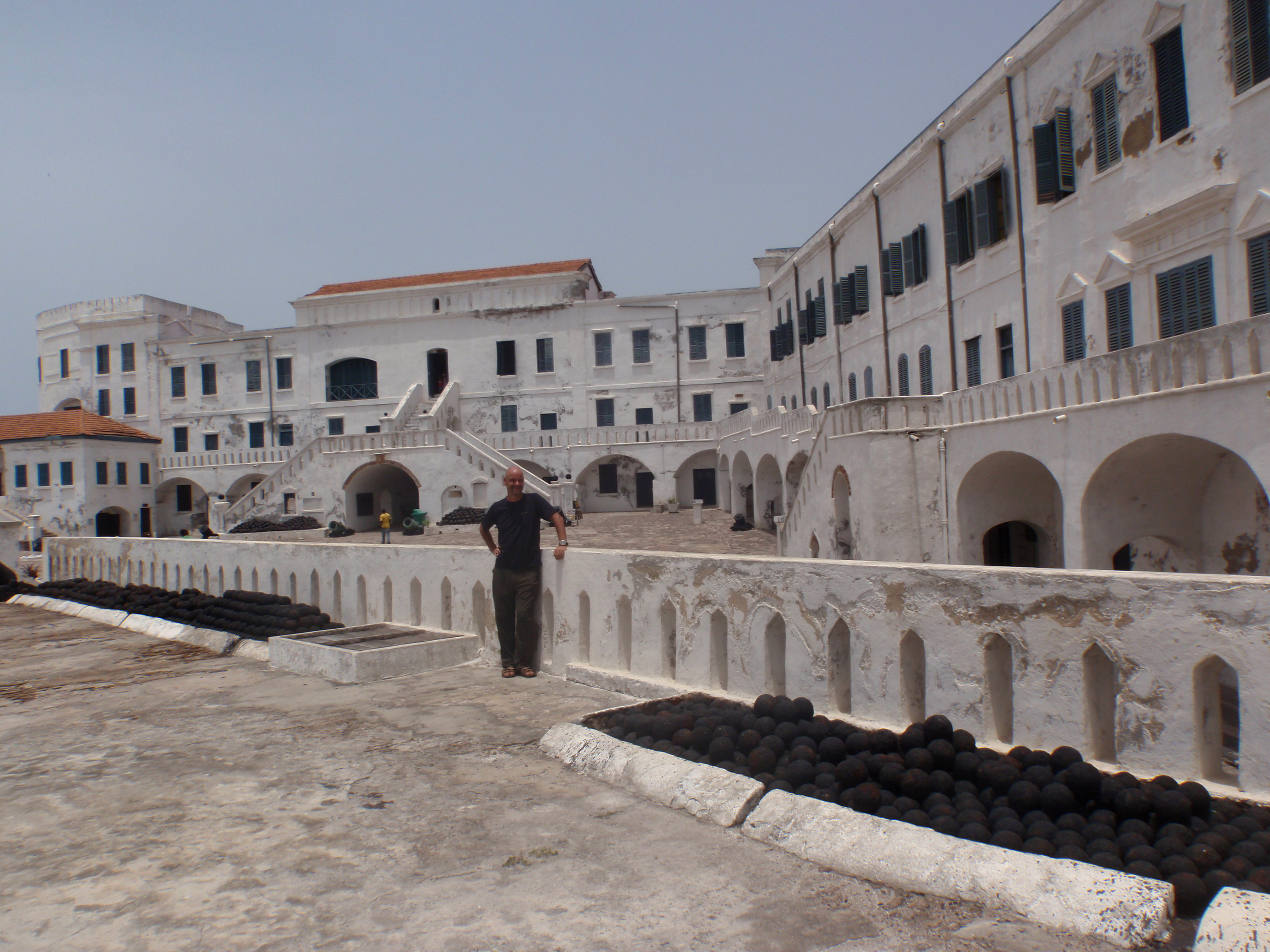 slave fort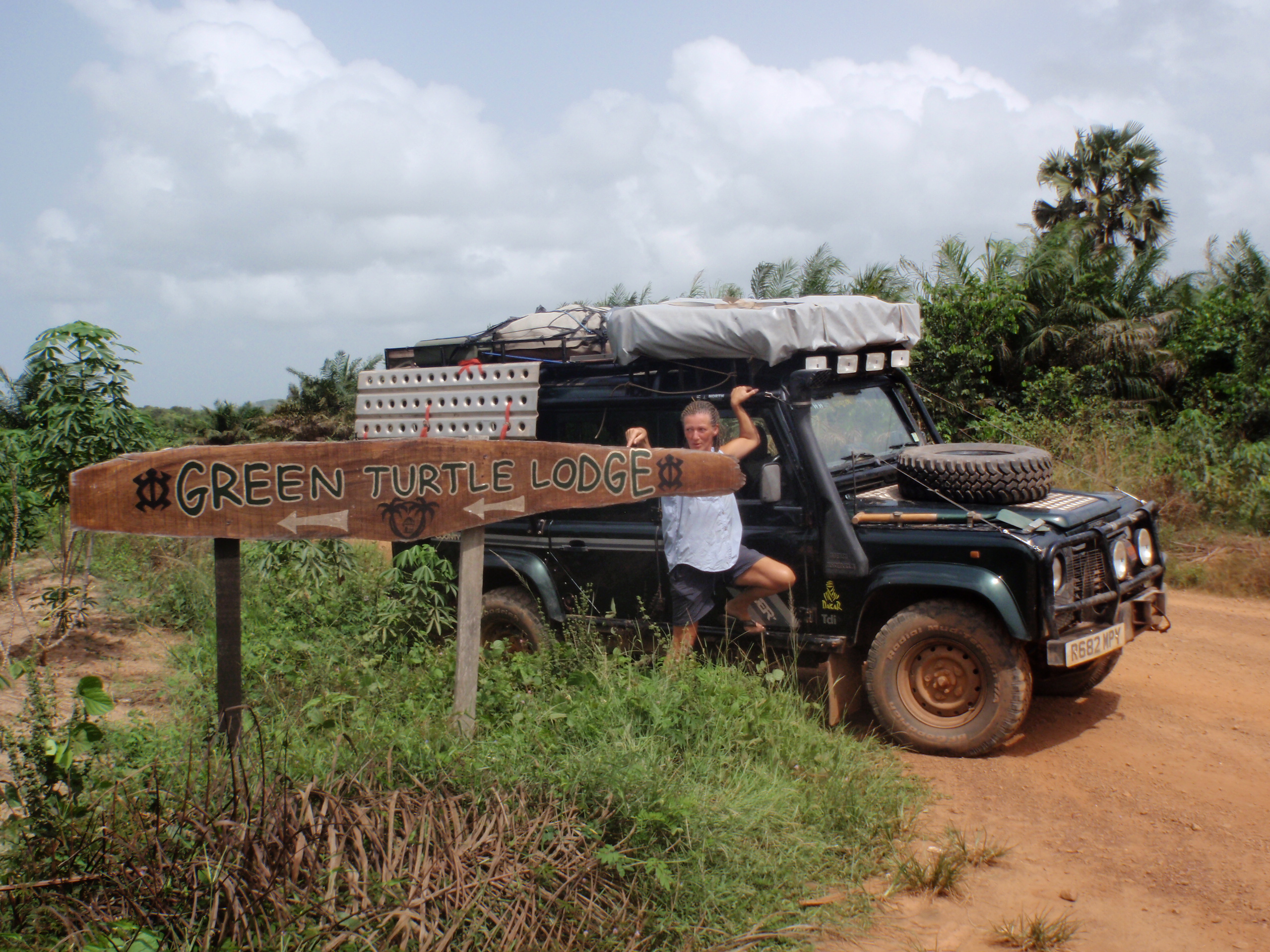 a home at last
SHOCK......Lizzybus crew quit .You heard it here first
There are no "border" formalities at Bossou , just a military checkpoint where your details are taken. This poses no problems until money is demanded .After the usual refusal things become a bit more sinister .We are compelled (somehow refusing a man with an AK 47 is problematic) to give one of them a lift to Danane where we could get some money to pay and complete formalities at the local police station.16st , 6" soldier squeezes himself and his rifle into the (no way was he getting in the front) rear seat. The road deteriorates to a single track of potholes, log bridges and truck swallowing mud pits. Speed drops down to about 8 miles an hour .The experts say you should walk through and check water filled obstructions before you drive them. Me , i trust in god as we would still be on the road now and i would have caught some incurable waterborne desiese.The only advantage with our passenger is that on all the subsequent military roadblocks (remember these are just rope across the road with plastic bags tied on ) we are just waved through and didn't have to pay 9 that was to come later)
At Danane we palm him off with about 12 Euro, which on reflection was far too much .Tired, upset we are duly stamped into the country.No "Douanne" for lizzybus, and we apparently do not need a Laizze Passage or the carnet stamping? Unsure we head for the city of Man. As soon as we hit the well tarmaced road we are stopped at another checkpoint with both police and soldiers. Opening words are "Deux mille francs". Asking what for, we are told it's for the vehicle.Pissed off we refuse. A police officer comes over and things are soon sorted and we are on our way, no payments made.
Outskirts of Man, Jayne decides to do the document run at the main military checkpoint. Again a rag tag of soldiers, various uniforms. They don't know how to deal with women who are not subservient. I go to see where Jayne has got to. she is sitting by the commander , resplendent in his chest rig being told in no uncertain terms that " we have paid all our money out at the other checkpoints , our documents are all complete and that my husband is a Police inspector in England (promotion at last ).I will sit here until you sort this out" Jayne parks her bum by the incredulous commandant , she keeps full eye contact. Commandant then eyes up at my watch and asks for a look. This is going to be one of those "over my dead body moments" (which I think could be arranged)Its my suunto dive watch worth about £300.He asks if he can have it , a short refusal , realising he was loosing face , he laughs and we are on our way.
Small hotel in Man , aircon and security we both come to the conclusion that we will "cut and run" We will head as quickly as we can to the Ghana border. I admit it Cote D'Ivoire you beat us. we chuck the towel in.400 miles in the next day ,28 stop checks later we make Abidjan .Its a shame because this region deserves more of our time but we have to be happy and clearly we are not. The road blocks as we head south become less onerous and we are on more than 50% of them just waived through.
We have since found out that we had crossed into the rebel side and not the government side.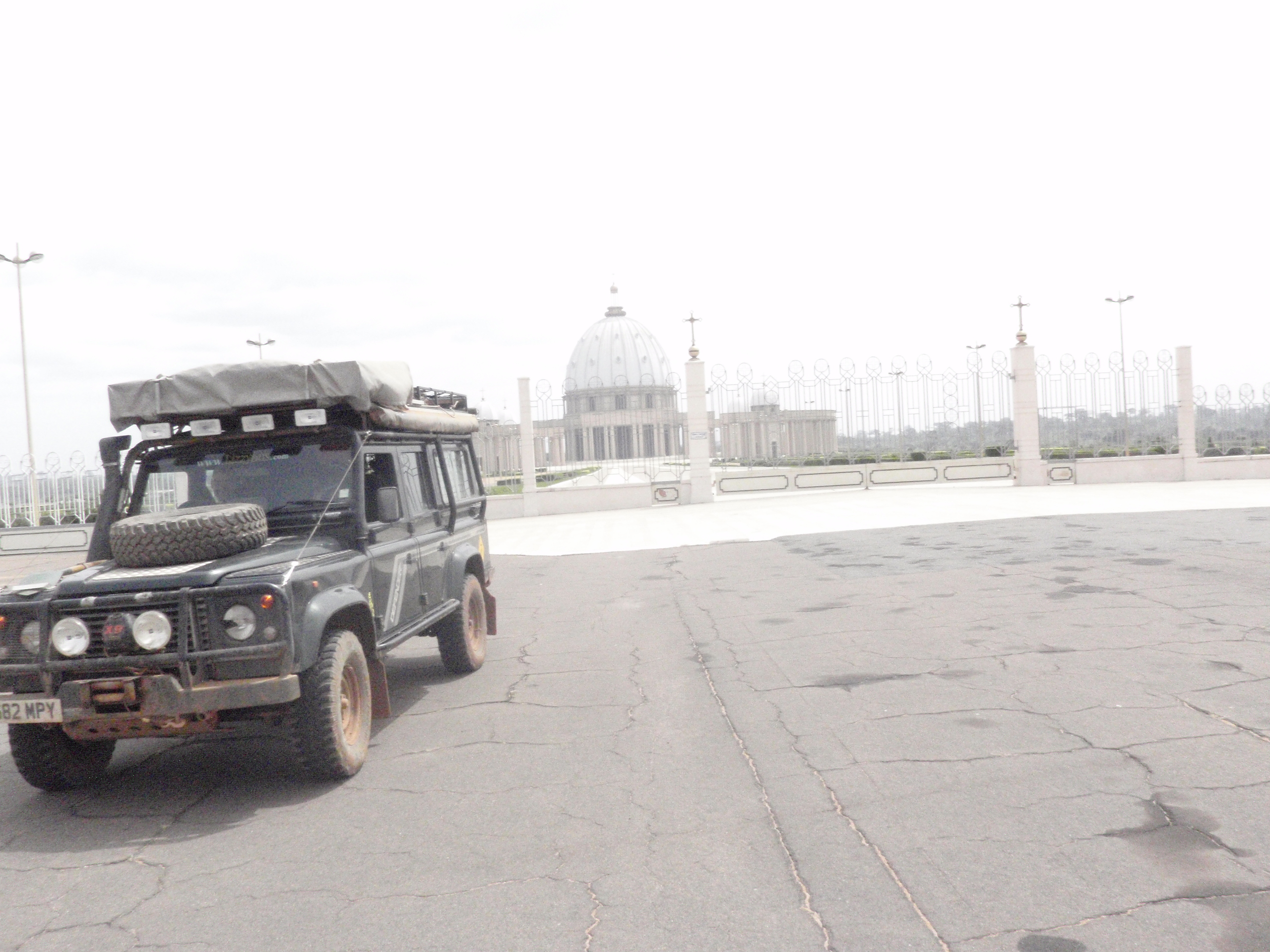 yamasokoro
A Bridge to far

Leaving Ganta, a hard 100km drive along dirt roads, we arrive at the crossing for Cote d'Ivoire at Kahnple to cross into Danane.

As well pull over the guards are bemused that we intended to cross and advise us to view the bridge before decided to cross. A lorry is parked on our side , goods from the far bank are being manhandled across .It is a rickety wooden bridge in a very poor state of repair. On inspection I thought would take our weight. The guards are most insistent that we shouldn't really cross .With the way my luck runs i could only imagine the feeling in the pit of my stomach when the Landrover topples into the river! So discretion being the better part of valour we decide not to continue. We are told of a land crossing into Guinea then into Cote D'Ivoire.Its back the way we had just come , but we are not in a rush and their is no need to tempt fate . Fortunately we have a multi entry visa for Guinea so border formalities shouldn't be a problem.

Hitting the crossing at Yekepa we had the superintendent of police giving us a grilling over what we had been doing , where we had been etc before they would stamp us out .Jayne uses her usual "you don't intimidate me" attitude , taking him on ,eye to eye contact , he soon wilted. Formalities completed we enter Guinne.Free camping in a clearing in the jungle 10k from the Cote D'Ivoire border , dinner is cooked before the sun goes down , kept hot in the pressure cooker and eaten in darkness( lesson learnt in Liberia ).An outdoor shower in the morning for moi and we head for the border.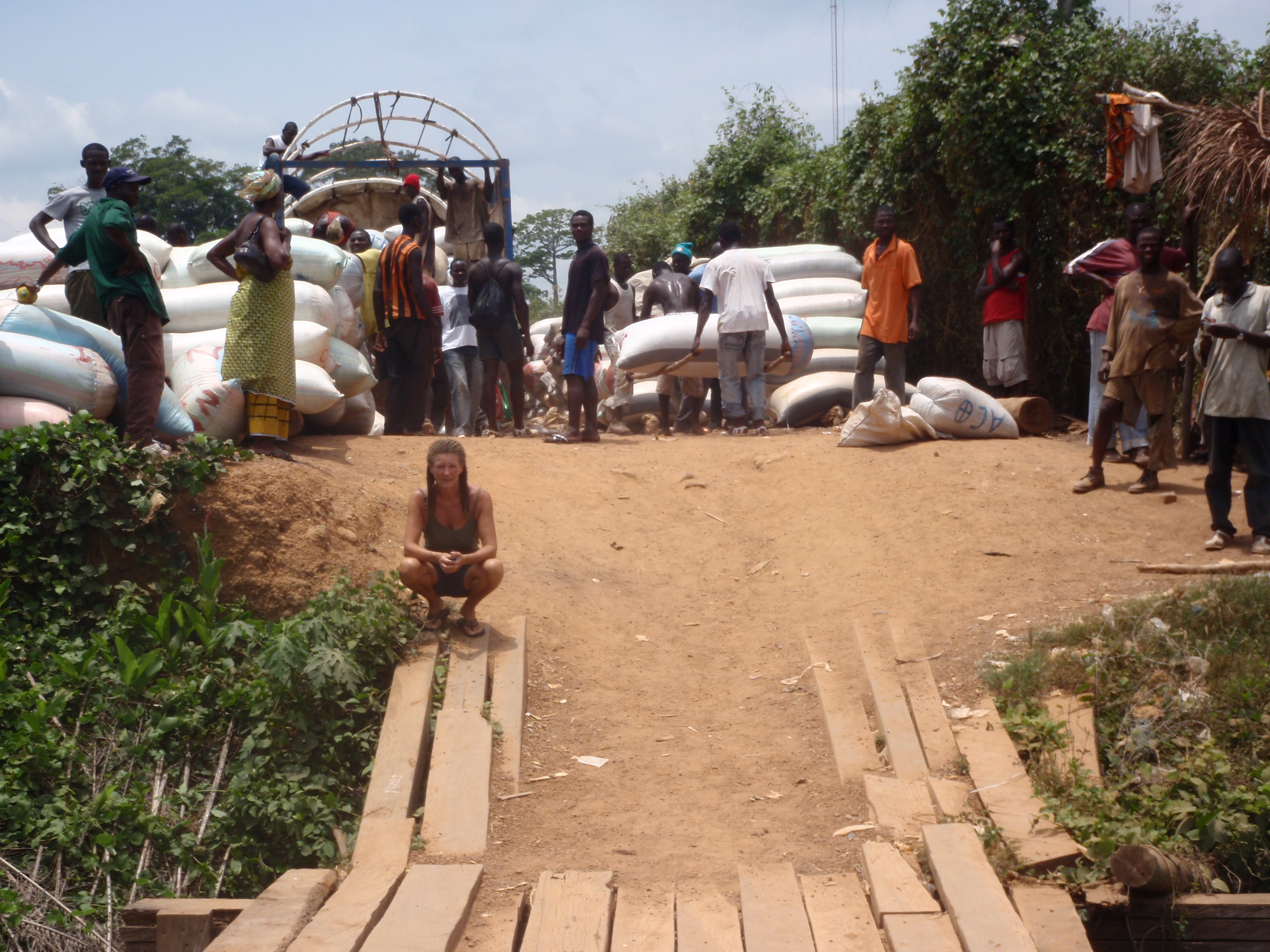 a bridge to far
Monrovia..the capital of "where the f**k is that"


Monrovia A strange city still in the process of discovering itself after the civil war. Once very prosperous before having its heart and soul ripped out. At least here we have some electricity and semblance of infrastructure. You can overlook multi-storey buildings , probably corporate headquarters , burnt out shells ,desiccated housing only people looking for a roof over there head .Life continues , it always does no matter what is thrown at you .People survive selling what little they can. Hotel $55 per night, we arrive Sunday to pick up visa on Monday (forward planning, we don't want to stay in the capital to long). Monday, yes, JJ Stephens 201 year anniversary Bank holiday everywhere closed. If you drive a car in Monrovia it most important investing in the biggest, loudest horn you can. It's the only thing that will work and you need to use it at every opportunity real or imagined .This noise runs from 0600 until late at night .unfortunately our room faces the main road where Lizzybus is parked. We feared for or vehicle , but true to there word a number of watchmen oversee her safety and well being all night .I think it takes 3 people to carry out this duty.! 1to watch over the vehicle, 1 to watch the watcher and a third "just in case". 0930 sees us at the consulate, again not where indicated on the map and at $75 each, come back in the afternoon to pick them up. Visas issued we intend to leave next day. Strangely the city was quite, Chelsea where playing, outside groups of people huddled around TV perched precariously on tables, chairs .We knew who had won when the city erupted in one almighty cheer .Clearly football is a universal language. $3.55 (US and Liberian dollars are interchangeable at good exchange rate) per gallon (imperial!), more US dollars issued at a working ATM we fill up and head towards Ganta. There is a crossing at Harper (on the coast) but the connecting roads are of poor quality .Our route only requires about 100k of piste road. Ganta and we meet 2 Americans Aaron and Nick , veterans of the peace corps who invite us to stay at there house .We camp in there rear garden much to the interest of the local children. Jayne cooks up Spaghetti ala corned beef for all. The icing on the cake was the tub of hard fat cheese sprinkled liberally over the meal(not quite parmesan but we are 4000 miles from home).Our hosts loved it .Invited to the local school we see the arduous conditions , small class rooms with over 100 students of all ages crammed in .You have to reflect on how anyone can progress in these copnditions.But it also heart warming to see people at least making the attempt to make a difference. We carry on to the border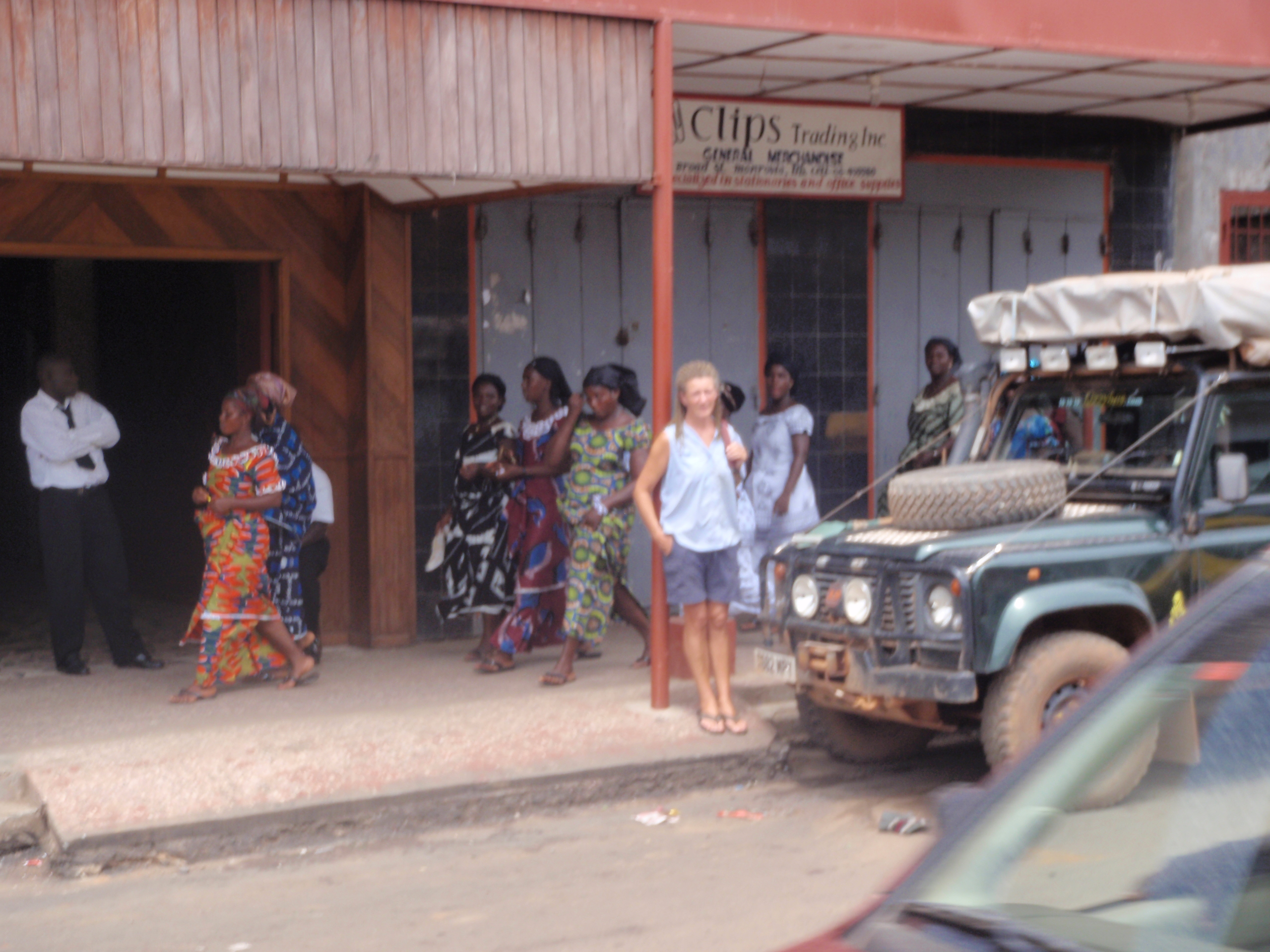 outside hotel - monrovia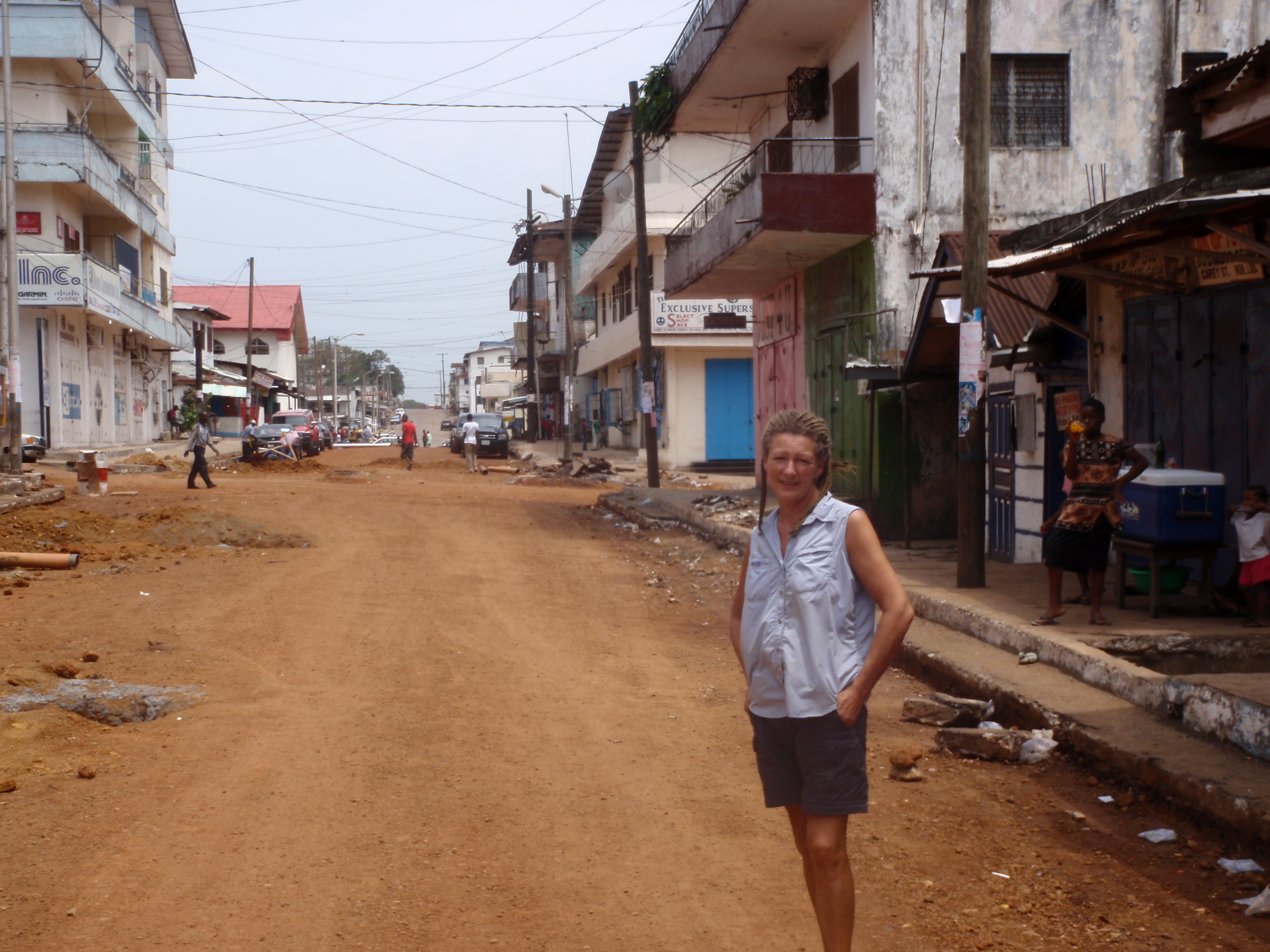 typical street - monrovia
yes we have travelled from england
Liberia , where the f***k is that

Long drive to Bo on good roads .We stop at a ceckpoint and decide to give a local sergeant in the army a lift.This is quite adventageos for us as we are waived through all subsequent checkpoints till we arrive in Bo 167 miles futher.We overnight in a run down , former glory 1970 hotel that has never been loved since its inception.Windows that will never open , peeling paint , miss matched tiling add to the effect .It was cheap 50k for the night .We grab street food of fried chicken , beans and noodles for a sum of 4k and eat in our room.Electricity from 19.00m to 0700 ensures all is charged up.Secure parking , made even more secure when Jayne locks the faulty passenger door ( button fell out in morocco) and annonces she has lost the keys .Frantic searching , they cant be found .They must be in side.All the doors are securley locked.End up bodging the passenger door thro the broken handle .The keys?gently chilling in the fridge .

Liberia border after 139 miles of gradually deteriorating road and a 2.5 hour wait to get through.Apparently we should have been issued with a laizze passage at the consulate when we got the visa.Duly stamped out of Sierra leone , our visa expended if they wont let us in we have a problem.My fixer , very helpfully smoothed things out and they let us in with a heartfelt " welcome to our country".Next stop check , getting late ,its 17.30 , we like to try and camp at about 16.00 we ask to camp behind the police station .They agree , probably the safest night we have had.Jayne ,(against my advice ) decides to try and cook the last of the cous cous that has been sitting in our fridge for 4 days.Welcome to "insect hell".As soon as she turns a light on ,every moth and flying insect descend upon her .Me , im still hiding in the landrover , i could see this happening ( i dont do insects ,ok !).Dinner is eaten cold and in the dark.

Next day we press on for the capital Monrovia and visa's Cote D'Ivoire.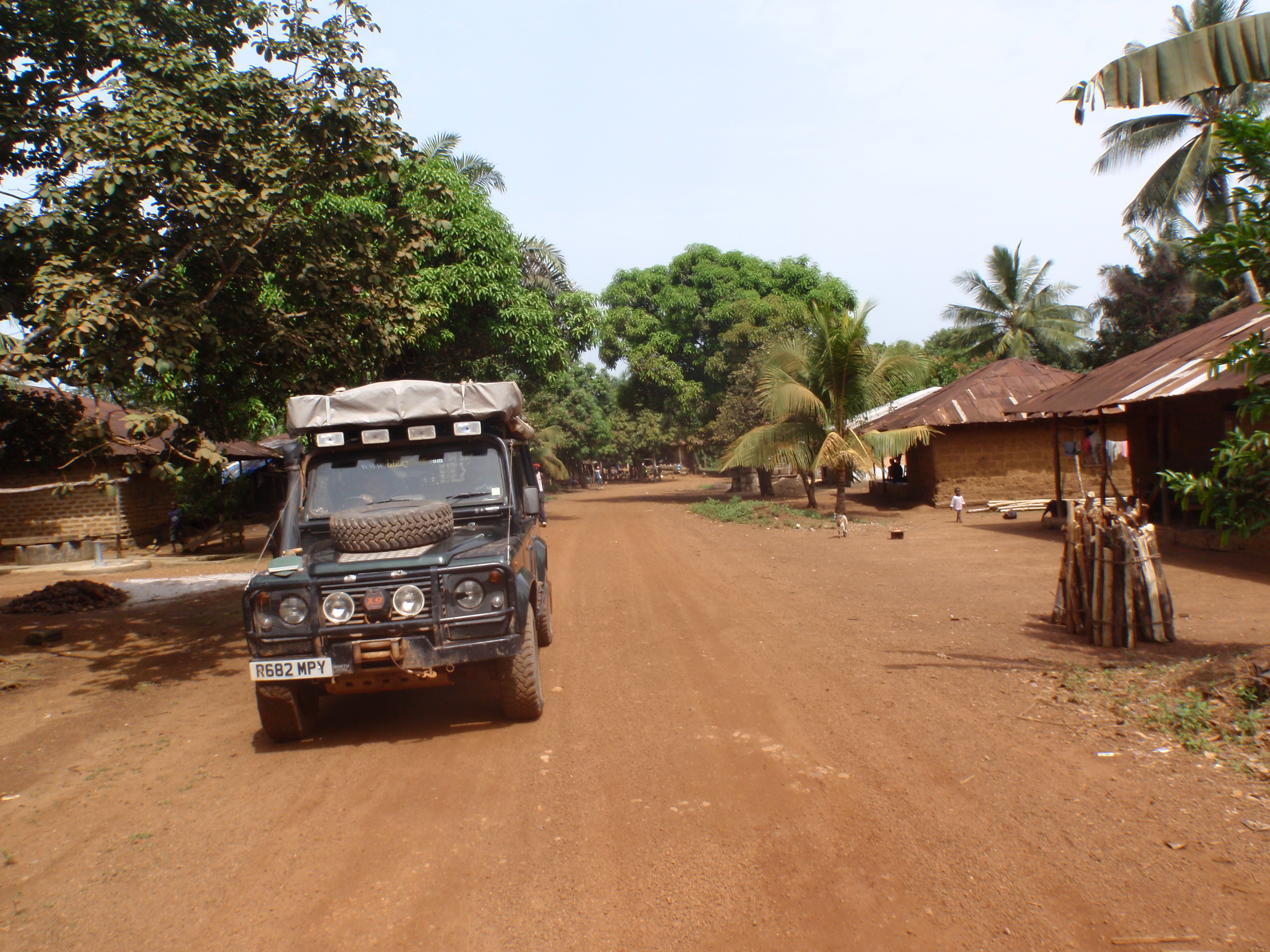 road to liberia
You're going to Sierra Leone ? But its dangerous !

Rush hour Conakry, hundreds of cars all trying to force their through grid lock. The answer? Pick on the tourist .As usual, we are spotted and told to pull over to the side .Mayhem as traffic backs up, but what the hell a chance to make some money.

Smiling, all documents, fire extinguishers, triangles correct .The officer notes that Jayne is driving in flip flops. This is very serious. We see cars, scrapped in Europe driving around with the canvas showing on the tyres, nine people on board and a roof rack with so much luggage on it doubles the height of the car, this is the norm, but flip flops!!!!!

Jayne turns around, tells me to swap my sandals for her flip flops and pronounces that it was now all ok .Reluctantly they agreed.

The light at the end of the tunnel is a crossing into English speaking Sierra Leone 145 miles down the road .More check points.

With a police or customs checkpoint you can normally get through without to much bother .military checkpoints are a different matter. The local commander informs us that our Typhoid was out of date and we couldn't continue until we got inoculated .We tried to argue, he kept insisting. The only required injections are for yellow fever .We re checked the forms and it showed that we where in date. The commander gave our documents to his subordinate and said that we where in order and we could go. The soldier promptly locked them in a drawer and demanded 40k to complete the process of writing in his book. I refused .stalemate , but he did have a Lugar pistol tucked in his waistband .He kept demanding money , we said we had none as we are on our way to Sierra leone .An hour later , i decide to try with a few US dollars , 3 to be precise. Soldier liked this; nice new dollars' he now wants $200 to give our documents back. We arrive , eventually at a compromise of $3 and 15000 lo ,Back on the road more checkpoints but a hardening ,devil may care attitude on our part sees us parting with no more moneycal money.A total of 7 checkpoints sees us at the Sierra Leone crossing.

Outward thro Guinea customs sees the head of the anti drugs unit asking for some drink. He is sadly disappointed when all he gets is a bottle of water (well at least it was cold) and not the rum he expected.

Sierra Leone border and the military welcome us. Speaking English they are amazed at our journey, fill all the relevant documents out and direct us to the police post .There is an air of tranquillity and no one asks for any money. The same at the police and customs post, no demands, threats just an acknowledgement that they where happy to see some tourists to a country that a few years ago was being torn apart by civil war. The only strange request came from a CID Immigration officer who asked "what our mission was?" The reply, tourism was all that was required. Feeling safe we free camped and headed for Freetown.

What a difference a border makes .People here are more industrious and friendlier than the previous countries. Admitted we still get stopped at road checks but most times are waived through or just engaged in conversation as to where we are from. Such a relief.

We intend to pick up a Liberian and Cote d'Ivoire visa here. Their is no Cote d'Ivoire embassy but a French embassy can issue one.Unfortunatly the French embassy is now closed and their duties are covered by the British Consulate and they wont issue us with one. Liberia is issued within the hour at a cost of $150 .We head through bustling Freetown towards the beaches .Out guide book (which is never wrong and certainly never exaggerates) states that you can camp at Franco's on Sussex beach. He runs scuba diving and if you eat at his restaurant you can camp for free. Sounds like my type of place, cheap Italian food and scuba diving He stopped doing this 4 years ago.......off to no 2 beach then. Down a rutted dirt track about 16 miles from town.

Renowned No2 beach, a small enclave of huts run by the local community .5000 per day gets you onto the beach, negotiated a deal for 50000 to camp and use the facilities. They don't fully understand that when you are paying to camp you expect that the showers work most of the time and you shouldn't have to pay to use a sun shade or table and chairs. We fortunately have both. Dinner of rice and barracuda is provided at a cost of 60k.in terms of money I could get a cash advance off my visa card. In the bank i was told that the rate was 630 to the pound .the fee to withdraw 150k was 100k......so off to another bank. Found anATM and took out 200000 , we are rich .The actual rate is 6300 to the pound and I had just taken out £31.......doh.At the cash desk , for a fee of 40000 i withdrew 2000000 ( yep ,2 million ).

Life doesn't get any better .A tropical lagoon behind us, crisp white sands in front and few visitors .Any trips into town mint we found local chop houses where a meal can be had for 3000 each .Such delights as cassava leaves with a bit of pigs intestine .We stayed for 7 days .Needing to progress towards Ghana and our flight home we locate the Ghana embassy .Typical for us, we arrive on the Monday which just happens to coincide with a bank holiday in Ghana. So the consulate is closed .Next day and $20 each lighter we are in possession of nice shiny visas.Im starting to worry as i have 2 pages left in my passport. We loved our time here and can see hope for this country which we didn't see in some others .As we leave , heading for Liberia the road improves to an unfamiliar tarmac with no potholes stretch all the way to the town of Bo.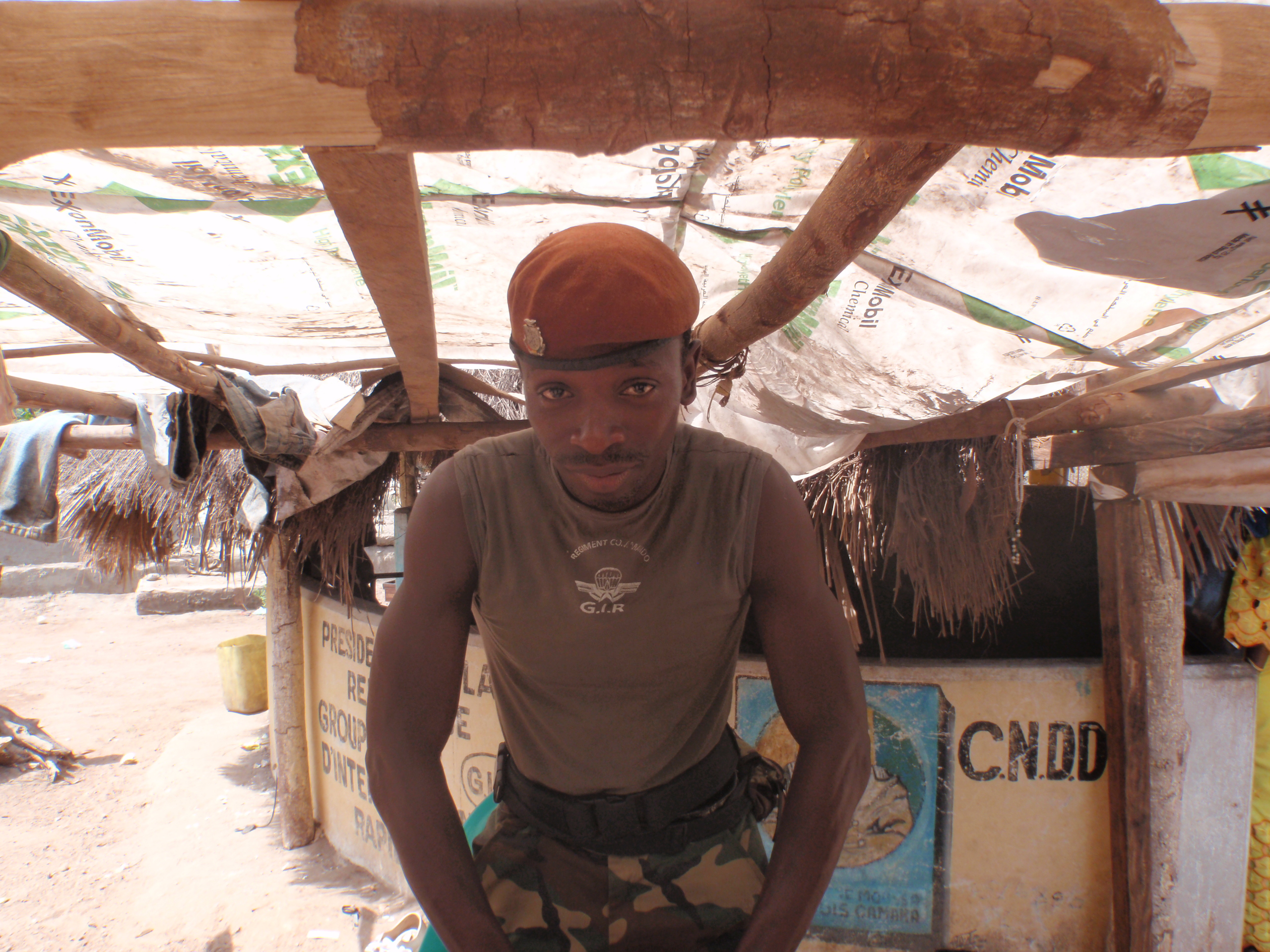 this man will rob you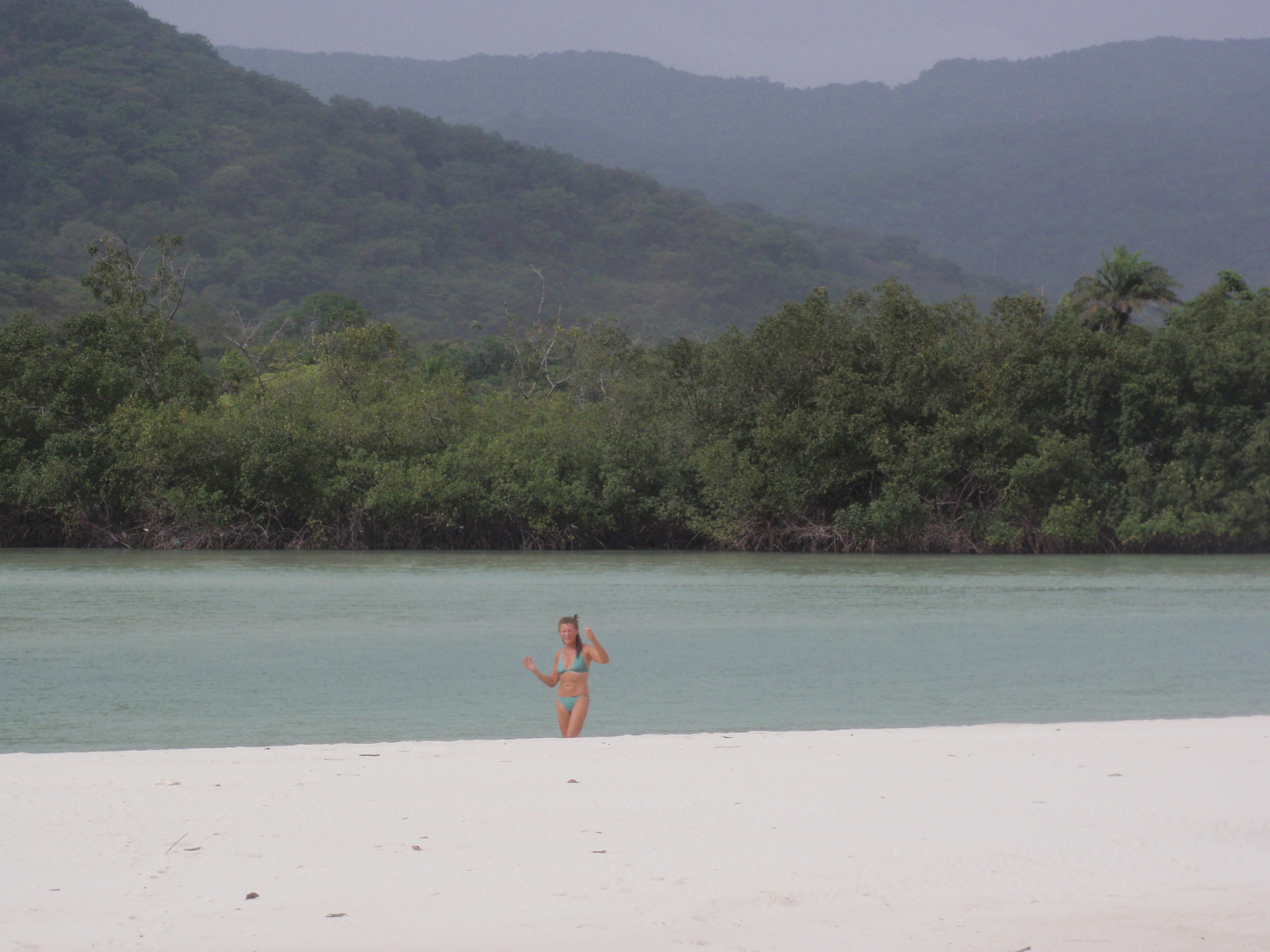 No 2 Beach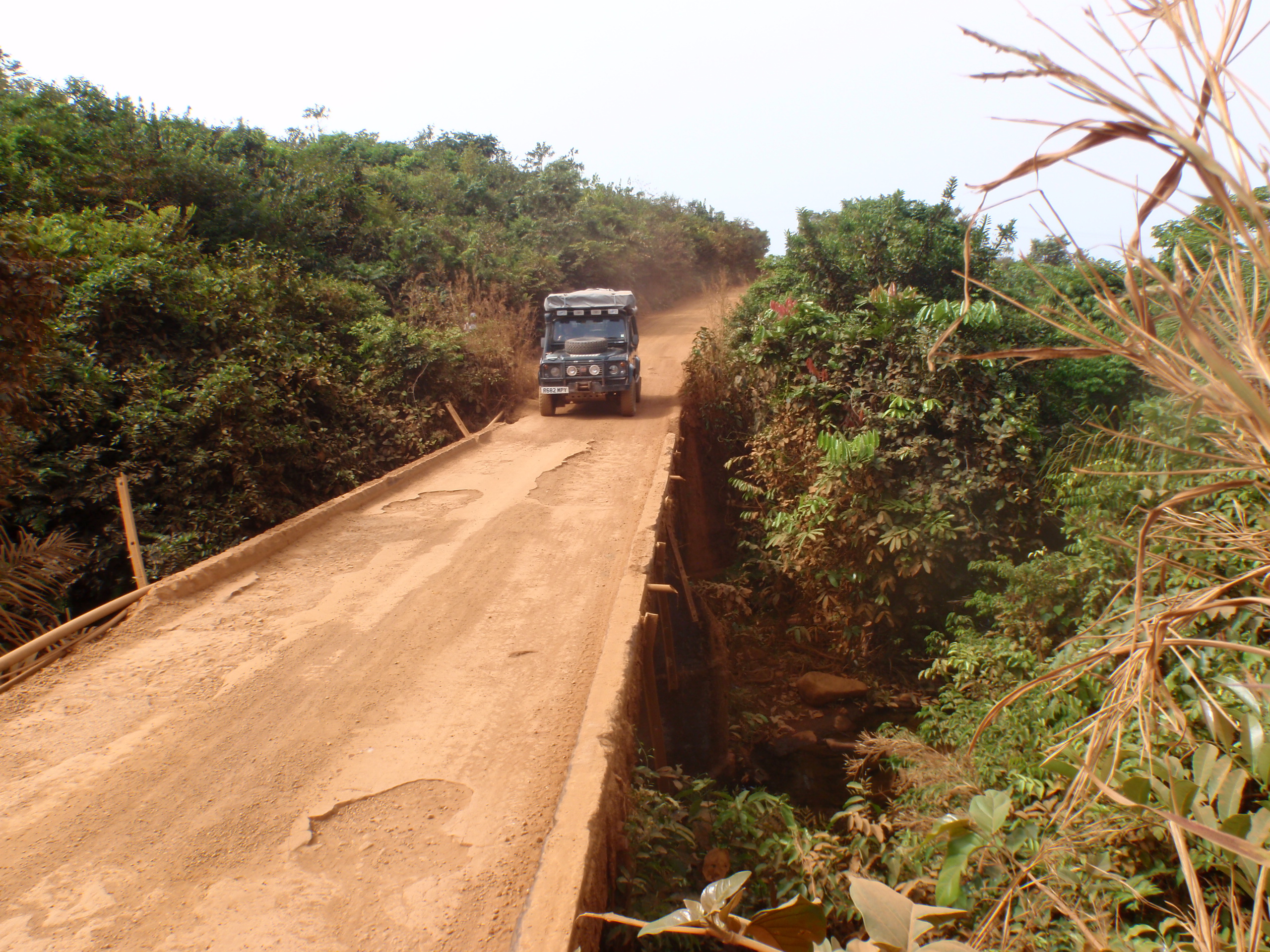 road to No 2 beach
Conakry

From Kindia we head for the capital Conakry .We have decided to get the Cote d'Ivoire and Liberia visa's and carry on for the coast route .The books warn us of various checkpoints including km39 .Here they attempt to extort money from you , the advice is to pay a few dollars only .We have already been stopped checked by the military ( the worst) and had demanded ( having seen passports , laizzez passage , insurance , driving licences ,yellow fever certificates ) to see our " tourist papers" !!!We politely pointed out that we had visa's and that would suffice. A short while later they relented .KM 39 arrived ,lying through my teeth when money was demanded (for what reason I have no idea , other than you have money) i announced that in England the police don't pay....it worked .

To any West Mids police officers who may be reading this, i send my my apologies but these are desperate times.

We have become "Pavlonian" in our response to the sound of a whistle. On hearing its shriek we know that the police , army , customs whatever are directing it in our direction want us to stop for some imagined transgression that will require us to pay them. Trouble is, we are completely legal .You are playing from a position of strength if, at every question you produce what they are asking, but sometimes even that isn't enough. Hotel Plien Sud was our chosen abode at 110k a night .Not cheap but secure with good food.

We decide to get some money and buy some beer .5 mins from the hotel, the whistle goes and we pull over .A police officer saunters over to jayne who was driving .He says her 1st infringement was she is not wearing a seat belt .she very politely tells him that she had taken it off so she could speak to him and had been wearing it. This was the truth so we dug our heels in .He eventually realises that no money was to be forthcoming so let us on.

Driving back to the hotel, again whistles and police run over .Jayne is not wearing her seat belt (i was driving) .She hadn't even undone it .Profuse apologies from the officer who could clearly see she had it on. Driving through traffic a man in a scruffy black uniform, beret and handcuffs hanging from a belt directs us into a parking bay (must be a cop....the scruffy uniform gave it away!).We park up .Walk over; demanding to know what was up this time. Turns out he was a parking attendant. (why the handcuffs god only knows)

We decide enough is enough and reluctantly agree to head to Sierra Leone in the morning as fast as Lizzybus will allow.
Mr AK 47

 

Having left Gabu the map looked like a direct route to Labe .One border to cross and we could make it in a day .Unfortunately the great god of African roads has a perverse sense of humour .Leaving hotel Vision the road deteriorated rapidly to pot holes linked by broken tarmac .3 hours to travel the short distance to the border post .Having breezed through out going Guinea Bissau formalities we where directed to a dirt road , the direction of the Guinea border. The dirt road is a welcome relief from the pot holes previously .After 20 miles of dusty track we rounded a corner and headed down a steep hill to be met by a very wide river and a chain pulled ferry (on the opposite side) .we knew Labe was out of the question that day

We waited for a dug out canoe to take me across the river .On the far bank fevered negotiation take place on how much the crossing will cost.

we are bit of a disadvantage as we haven't any Guinea francs (only CFA) and its a long journey back to get to a land crossing.Unpeturbed we start to bargain .Captain wants 10000 francs .I ask if he accepts cfa to which he agrees 10000 cfa .I know there is a great disparagy between the two rates and offer him 5000 cfa.As with any kind of discourse in Africa everyone comes out to have their five penneth work. Then to the scene comes mr AK 47 .He has a very nice camouflage suit on , probably with the army and starts shouting at me 10000 cfa or 10000 francs .He has his rifle pointing down and you can clearly see two magazines of ammunition taped together .I still don't know what hew as expecting to fight. I

stood my ground, engaged the captain and the deal sealed with a hand shake at 5000 cfa.Mr AK47 was not happy missing his chance to make some money.

We wait for another vehicle to arrive and the ferry is hand hauled across the river. Great, the taxi, roof rack overloaded, flat battery and no starter motor was stuck .Lizzy to the rescue, pulled her off and up the steep hill.

Having crossed we are held at the military checkpoint. Yes Mr AK 47, now sporting dark shades and a steel helmet is waiting. His older accomplice asks to see our passports then our vaccination docs.Realizing that all was in order we can go, but could we give a lift to 2 old crones to the next village? We agree and as Jayne unloads the Landrover she takes Sid out of his resting place and proceeds to cause Mr AK 47 to scream and run off .I almost thought he was going to shoot Jayne .Our fun over we ask to leave , Mr AK 47 demands money to lower the road block ( as always a piece of rope with bags tied to it ) his only chance of saving face or making money .We refuse and appeal to his compadres sense of fair play stating we where keeping these ladies from there village. After A short discussion we where on our way ....no money paid.

We hit immigration and customs .For the first time we have to use the carnet du passage .This document acts as a guarantee that we will export the vehicle .It has a cash bond of £3400 riding on it.

This means that I have to see the commandant of the Douanes .In his office he sits down and calmly stamps the appropriate pages, no money asked for and we are off.

The roads are, as usual potholed and slow to progress.

We have decided to travel up country to the fouta dejanne region. An uplifting area with mountains, waterfalls and generally spectacular scenery. Dirt road and slow progress to Labe .Three days to cover 170 miles .Free camping at night. As always we are victim to every road block that can be mustered .On average about 5 times a day we are stopped, documents checked, money demanded and the usual refusals on our part.

The rear offside brake is making a nice grinding noise .Not to worry as long as it's the backing plate I will change it in Labe with some new pads.

Auberge in Labe and a morning to change the pads .Vehicle jacked up everyone comes out to offer advice and help .One pad has vanished (despite being held in by 2 metal rods and split pins) and the grinding noise was the piston on the disc (not good) .Pads replaced, fill up diesel at 6500 g francs per litre we head south .Eyes peeled for roadblocks and potholes we head for the capital Conakry.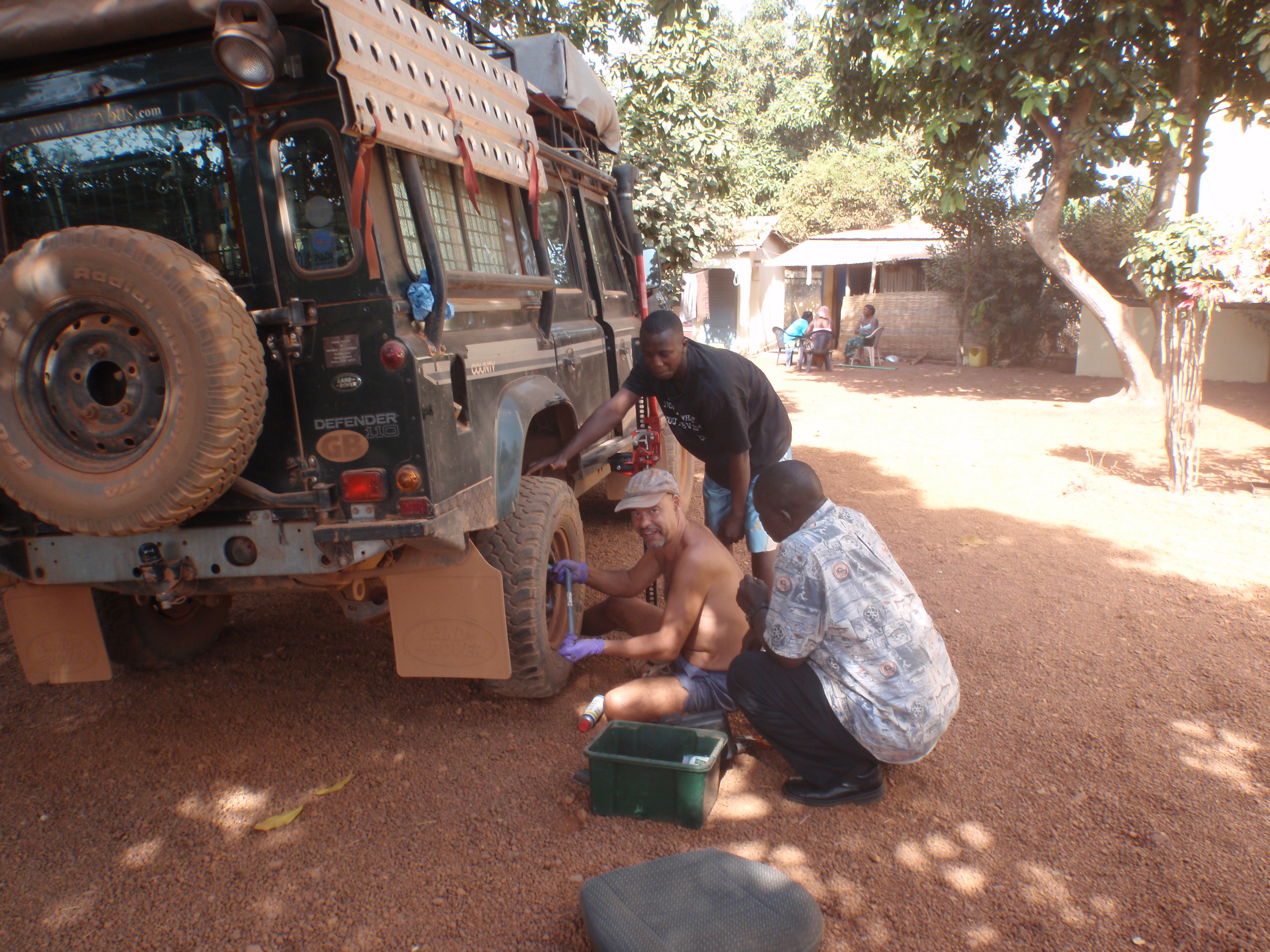 all the advice you can use when changing pads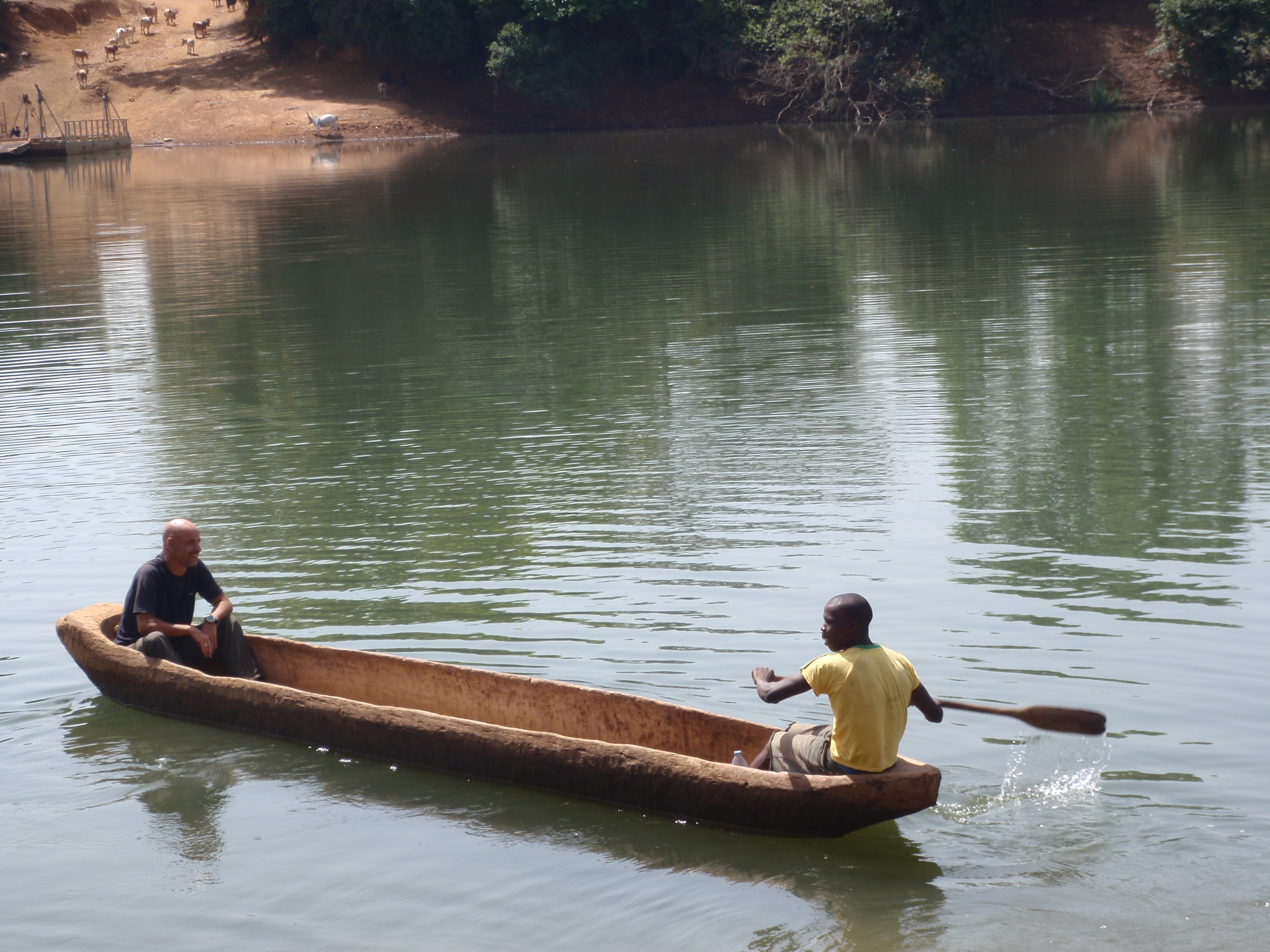 off to negotiate a price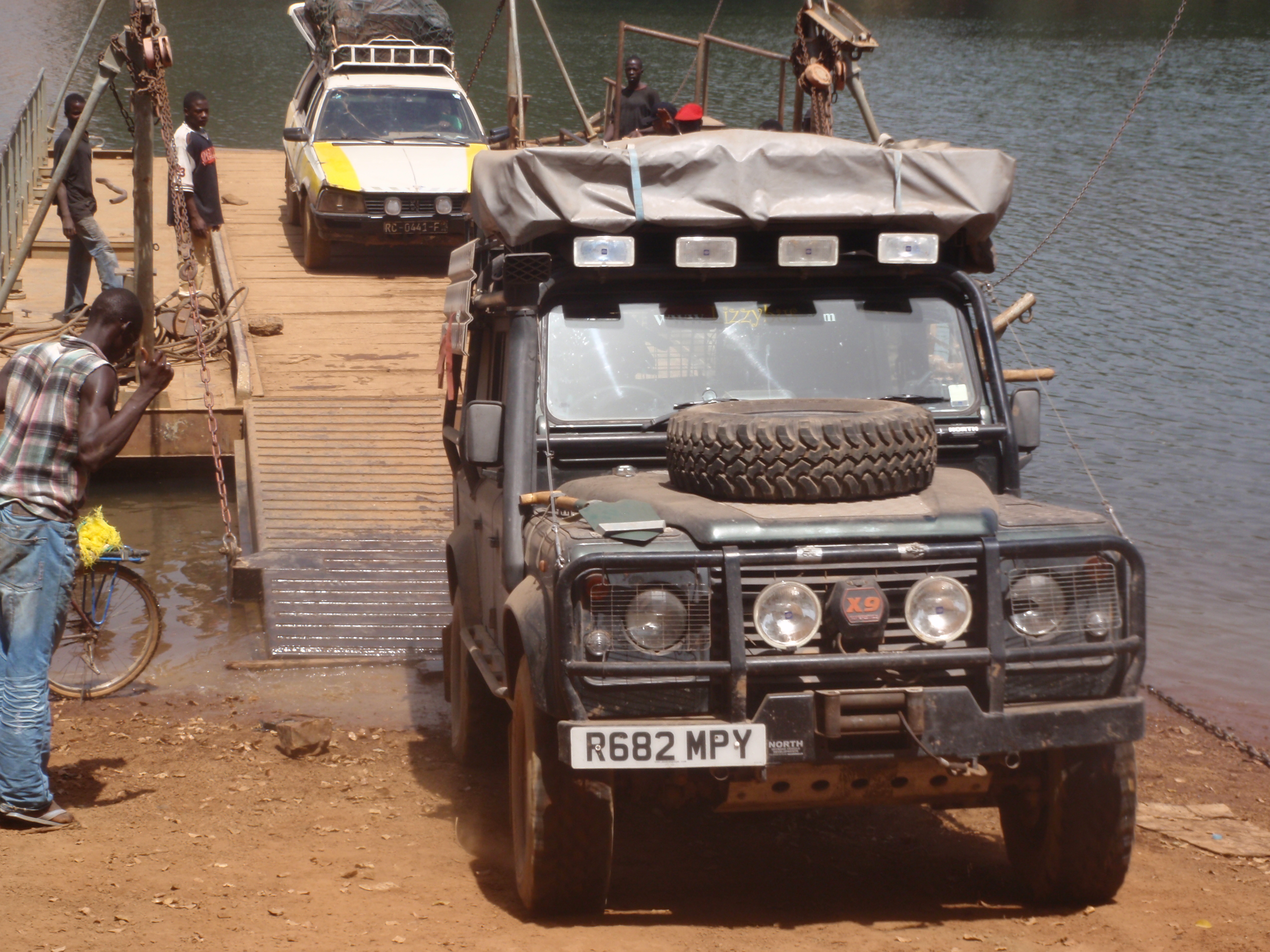 river crossing

Moonlit nights

Having ended up in Bissau we have to make a decision on our chosen route to Ghana. We have 2 options. We have a visa for Sierra Leone, so to get there we have to go through Guinea. After Sierra Leone we can go either through Liberia ,Cote D'Ivoire then Ghana or we can head back through Guinea and straight into Cote D'ivoir then into Ghana. The second route saves us a couple of "visa days" and some money .We keep our options open and get a 45 day multi entry visa for Guinea.

Bissau is a run down city , pot holed streets and no working infrastructures .Their is no power , yet someone erected street lights throughout the city .All day people try and make ends meet selling odds and sods to anyone who will buy .The men just sit outside all day doing nothing while the women appear to do the work (nothing wrong there then) .The whole city has the appearance of the aftermath of a disaster .At night the only relief from the pitch black streets is the drone of generators for those fortunate enough to be rich enough to run them and the dull glow of bulbs powered by the same generators .It is amazing what we take for granted when we are home .Yet despite the poverty there are people driving around in new 4x4's .There are no signs of industry so as is the norm it comes from corruption .The only others are ex-pats or workers for NGO who seem to do nothing all day but drive around in new Toyota Landcruisers , vehicles plastered with stickers for there organisation or UN in big bold letters.

Our chosen accommodation is in the heart of the city, Pension Creola .22k cfa a night but we have our own room, shower, running water and power at night .Everything goes on charge at every opportunity. Run by a Swiss chap and his wife it is a welcome diversion .The Guinea embassy issues in 2 days the requisite visa for the princely sum of 40k cfa.

We head for the border and overnight in Gabu at the Hotel Vision .8K cfa for a room with fan or 15k for the executive room with aircon .We plumb for the fan room as the electricity comes on at 19.00 hrs African time (so that's 20.30 hrs )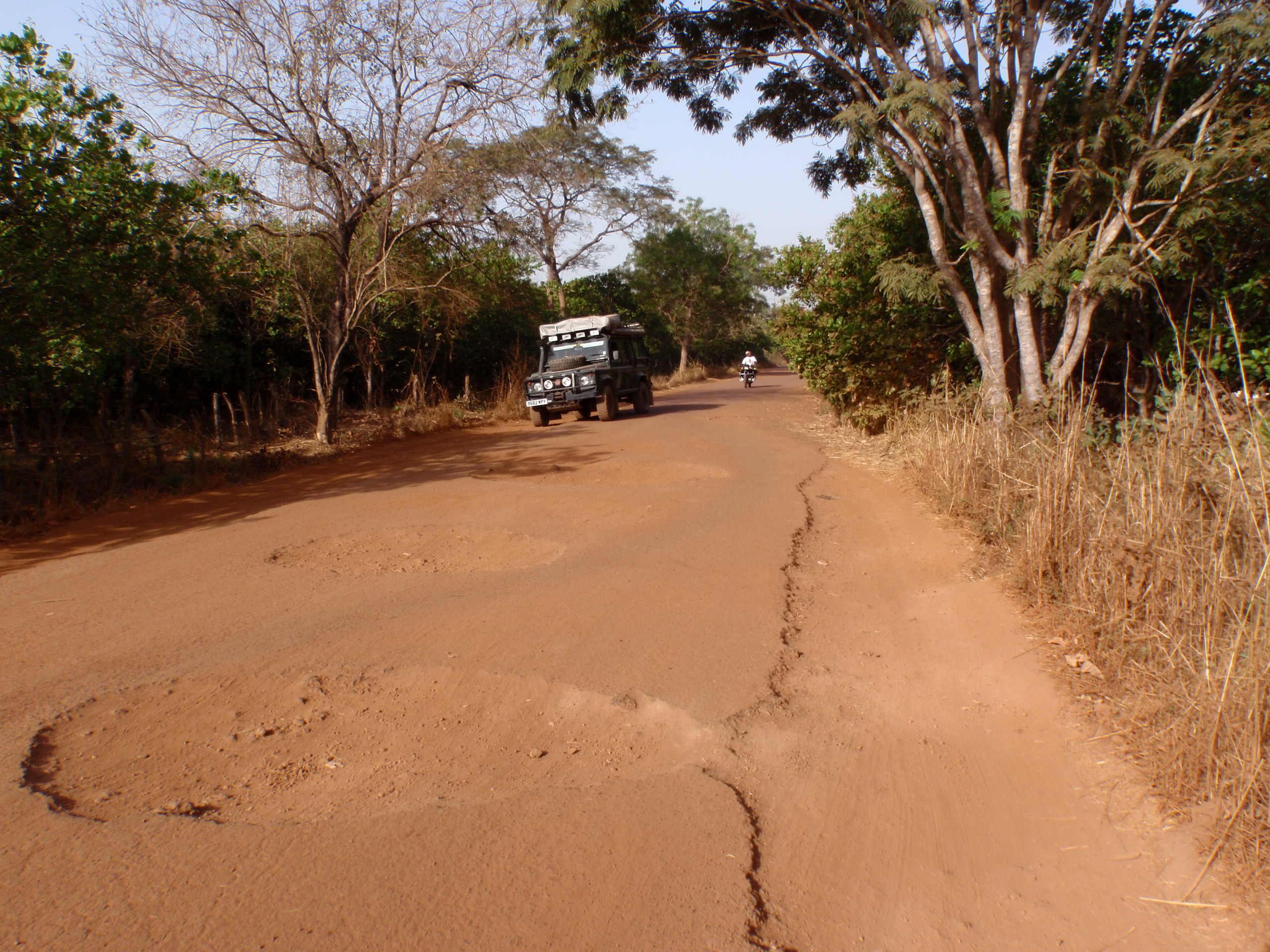 a michelin marked road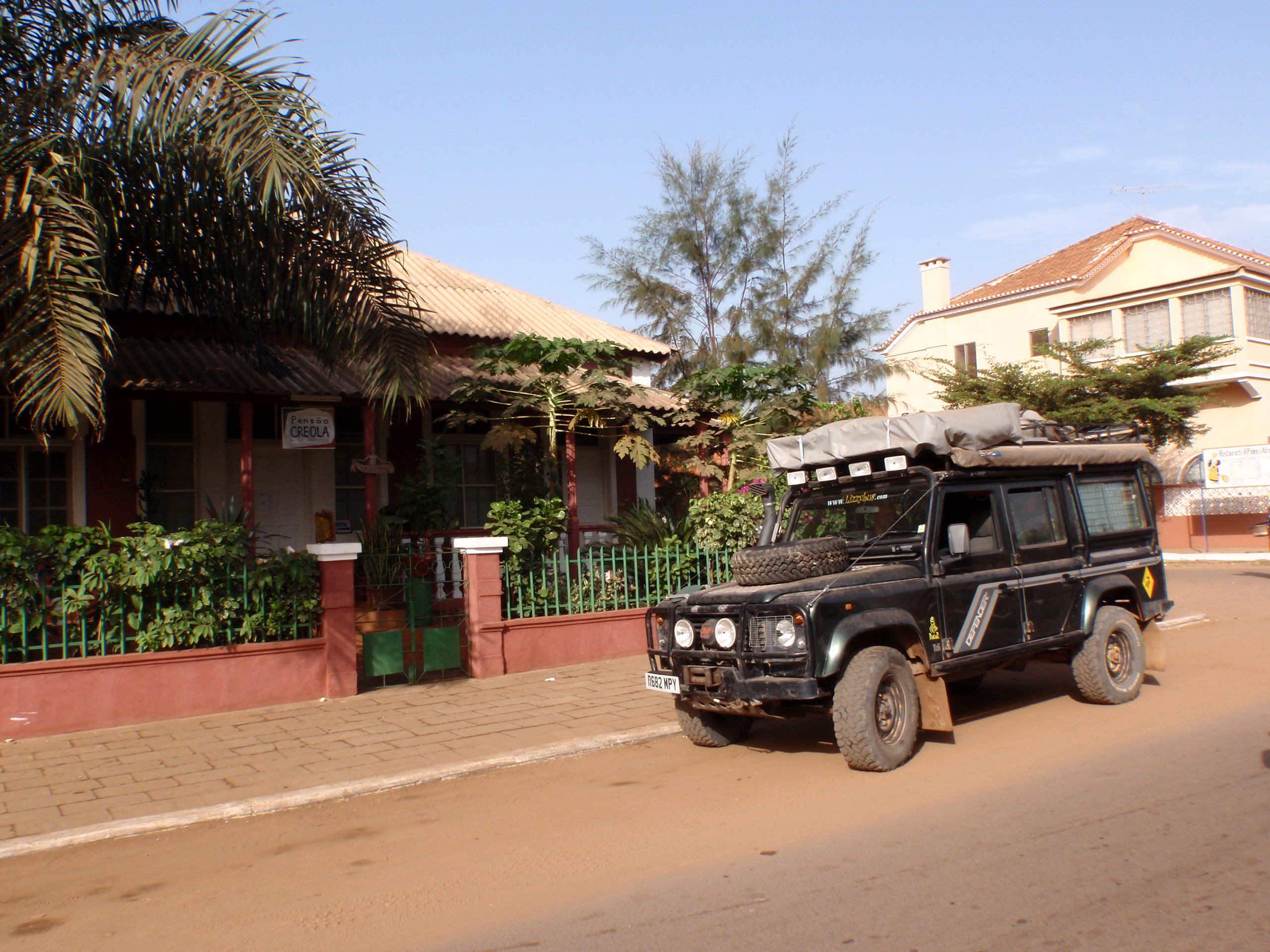 pension creola
Trouble in Paradise

We have sun, sand, palm trees and about 15 miles of beach to ourselves. Paradise? You bet .Except in Africa you are never alone .Every evening about 20 of the local kids would come down and disturb our peace (bah, humbug) they soon get bored .we met up with an enterprising local Saloman .Well travelled and building his own "eco tourist complex".He took us around and introduced us to the locals (including the chief) announcing that we wouldn't be troubled as we where with him. Next day he took us to a compound where his brother was. It got interesting as he was a soldier and this was the local barracks. The most slovenly, ill disciplined army you could imagine .We had lunch with them , a tasty concoction of rice and cat fish. As we where so close to the disputed cassamanca region they where their to fight off any invading army from Senegal. The officer in charge came over to question us .He had the notion that we could be Senegalese spies or operatives from the CIA!!!!Jayne soon had him eating out of her hand. We moved on and found some of his friends who where making palm wine. This involves shinning up a palm tree and decanting palm sap into a plastic bottle .The results upon a bit of natural fermentation is an unusual alcoholic concoction. Mind you most people spend more time drinking what they have produced rather than trying to sell it

When we made plans to travel through this part of the world I ensured we had sufficient anti malarial drugs .I also invested in a book called "where their is no doctor" .Its about basic healthcare in under developed countries.

Jayne, despite taking every precaution is a magnet for any biting insect .If it's in the vicinity it will take a munch out of her. A one a week dose of Larium should then keep malaria at bay .Jayne started to have flu like symptoms (aches , headache malaise etc)and the worst case of "Banjul Belly" I have ever seen. I must have dug 20 holes for her ( usually at about 0300 in the morning )The book advises that with any of these symptoms treat as malaria as the risk of cerebral malaria in this region is very high .Treatment consists of taking 5 Larium in one sitting .Having taken the dose things seem to have calmed down and Jayne is on the mend ( well she feels well enough to smoke and drink so its an improvement).After 5 days of free camping , a broken power inverter we have headed south to the capital Bissau to pick up a visa for Guinea .We find ourselves at Pensao Creola run by a friendly Swiss guy and family .its 22000cfa (£29) a night , but we have our own shower , toilet 24hr power and are in the city centre. The room is spotless. We will stay for 3 days .We deserve a bit of luxury after our 10 days of free camping.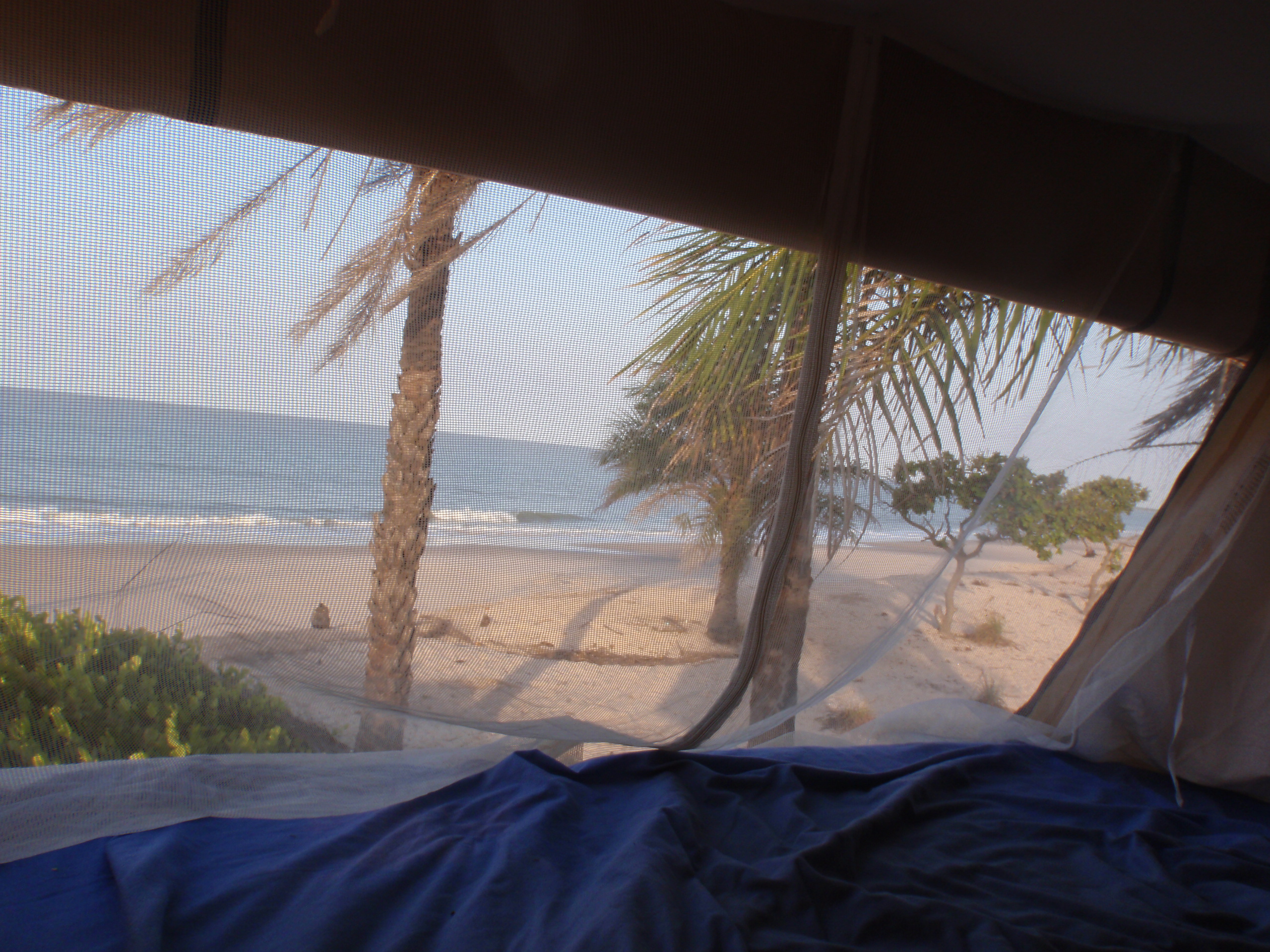 view from our bedroom....COOL!!!!!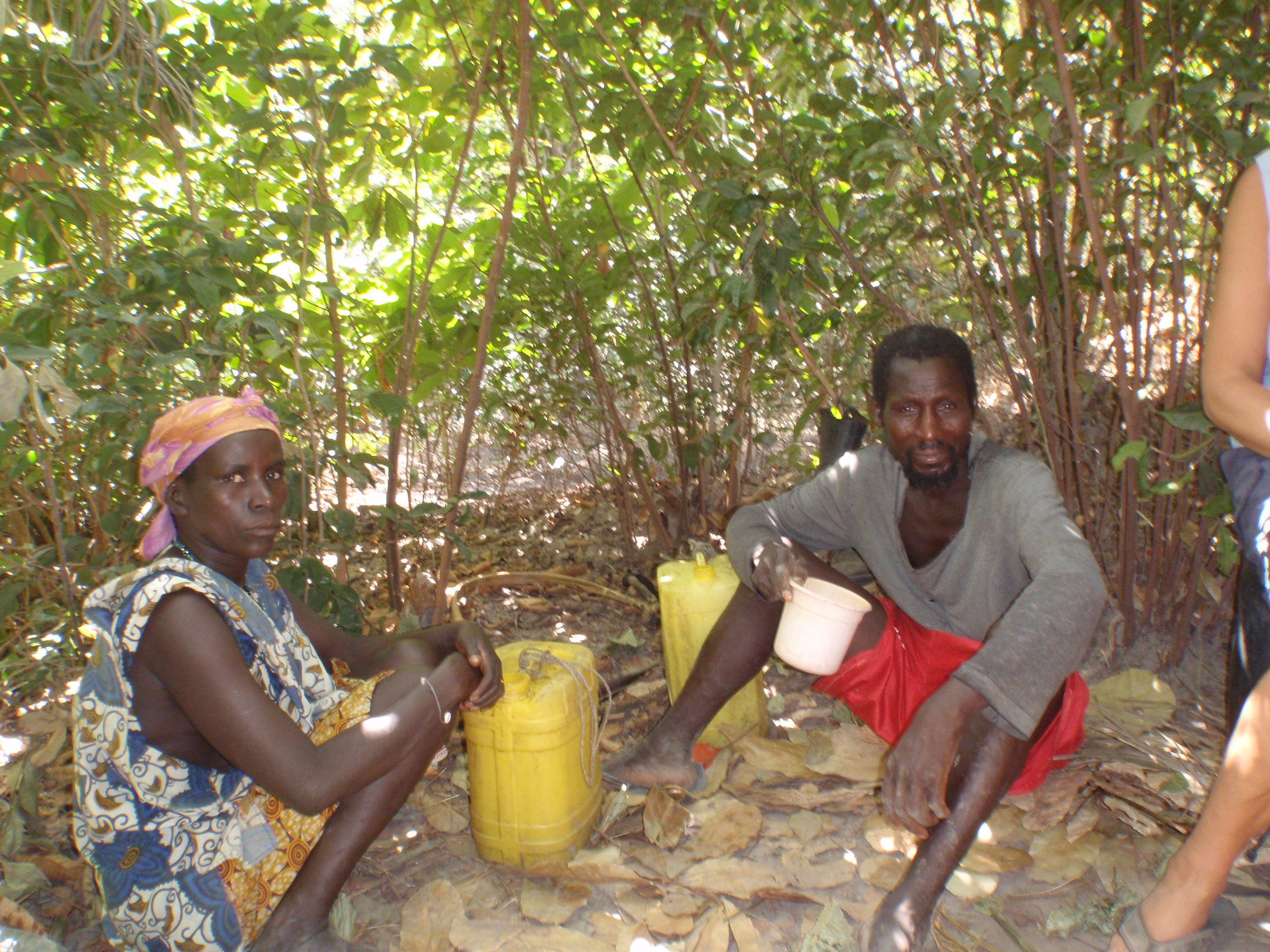 palm wine
The coast is clear

 

Being the "honest upstanding " citizen I am , we decided before we leave Gambia to buy insurance to cover us for the countries we travel through on our way to Ghana.900dl (£22)for two and a half months , saves the hassle at the borders.

Having said farewell to Mick and Jenny, border formalities were dealt with in less than an hour!!! Back in Senegal we find Solo's bar and camp behind it. We are in Abene, resplendent with a beach 20 yds from our site, short walk into town and the locals landing the daily catch a short stroll up the beach .For the next 5 days we are living on fresh day caught fish cooked on the embers of a beach campfire except on the first night where we had 1kilo of prawns brought over from Gambia. Life doesn't get any better .Having decided on our intended route we head for the border crossing at San Domingo. Having cleared Senegalese officials the crossing goes like this:

1) Drive down through "no mans land" and take note of the signs warning of mines.

2) At small hut have car "officially" entered into the country (cost 1000cfa, £1.50 and no receipt).Everyone else paid so i duly stumped up.

3) Meanwhile they decide they want to search the vehicle .Jayne's department and "no you can't have any money"

4) Over to police post .Passport handed over and vehicle documents checked again. Guy says you have to pay 3000 to the police .I retort (with a straight face) that in England i am the police , suddenly things change ,no money required and could i go to the customs office

5) At the customs office a fee of 2000 is mysteriously waived, my documents stamped and told that 8k down the road is another checkpoint.

6)8k down the road and it's the checkpoint. , straight to the front of queue 2500 fee for a "passevant" which is duly issued , notarised and the correct amount on the receipt.

All in all probably the first official fee.

Instead of going to Bissau we turn down a 40 mile dirt track, through savannah grass lands to Varela.Again a magnificent beach where we are 20 m from the sea. The only people there are a few xpats or NGO workers fishing .The beach is pure white sands stretching 15miles up coast .We wake up to a magnificent vista every morning of sun, sand and palm trees .But then things change !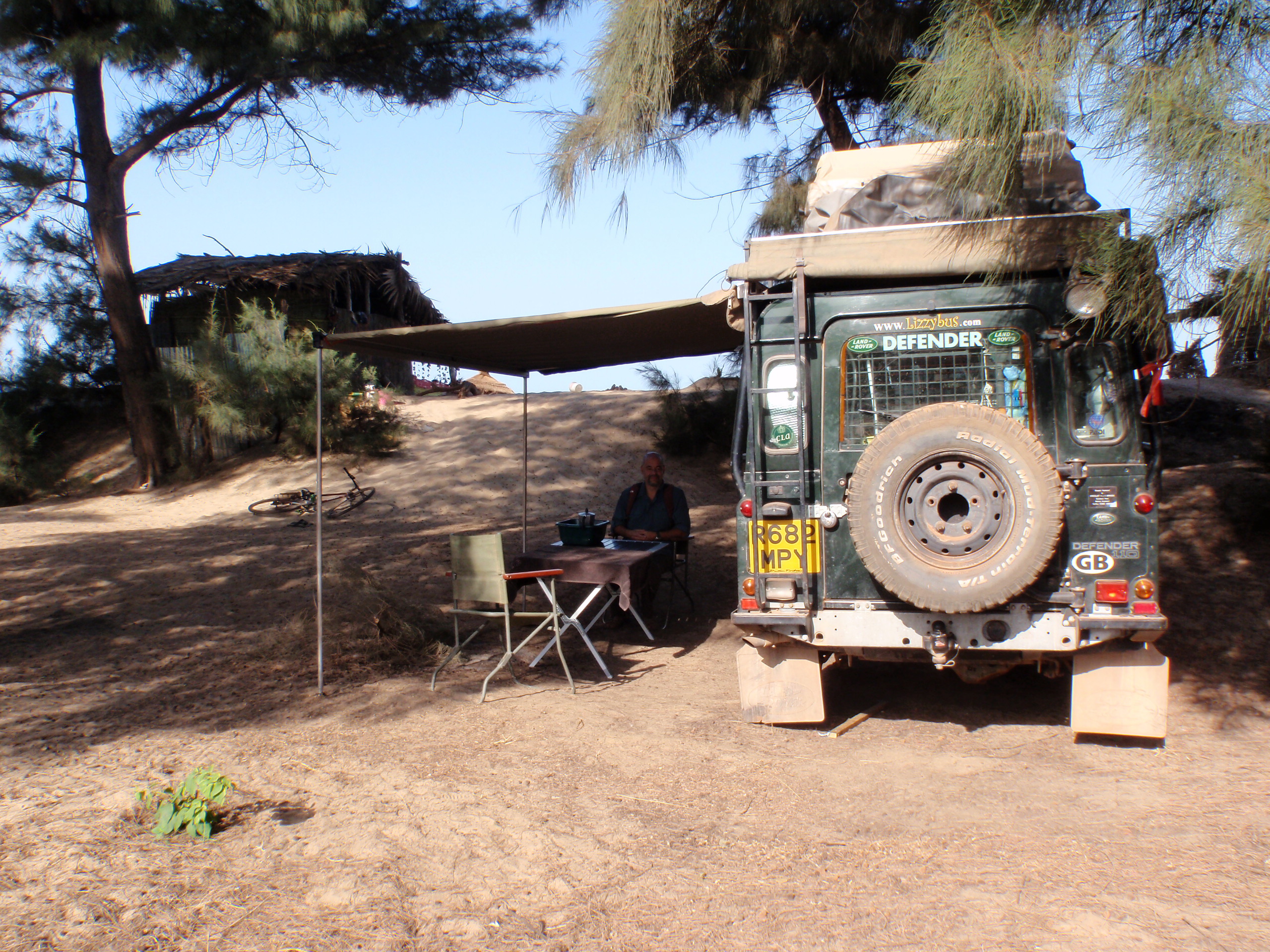 free camp at solo's bar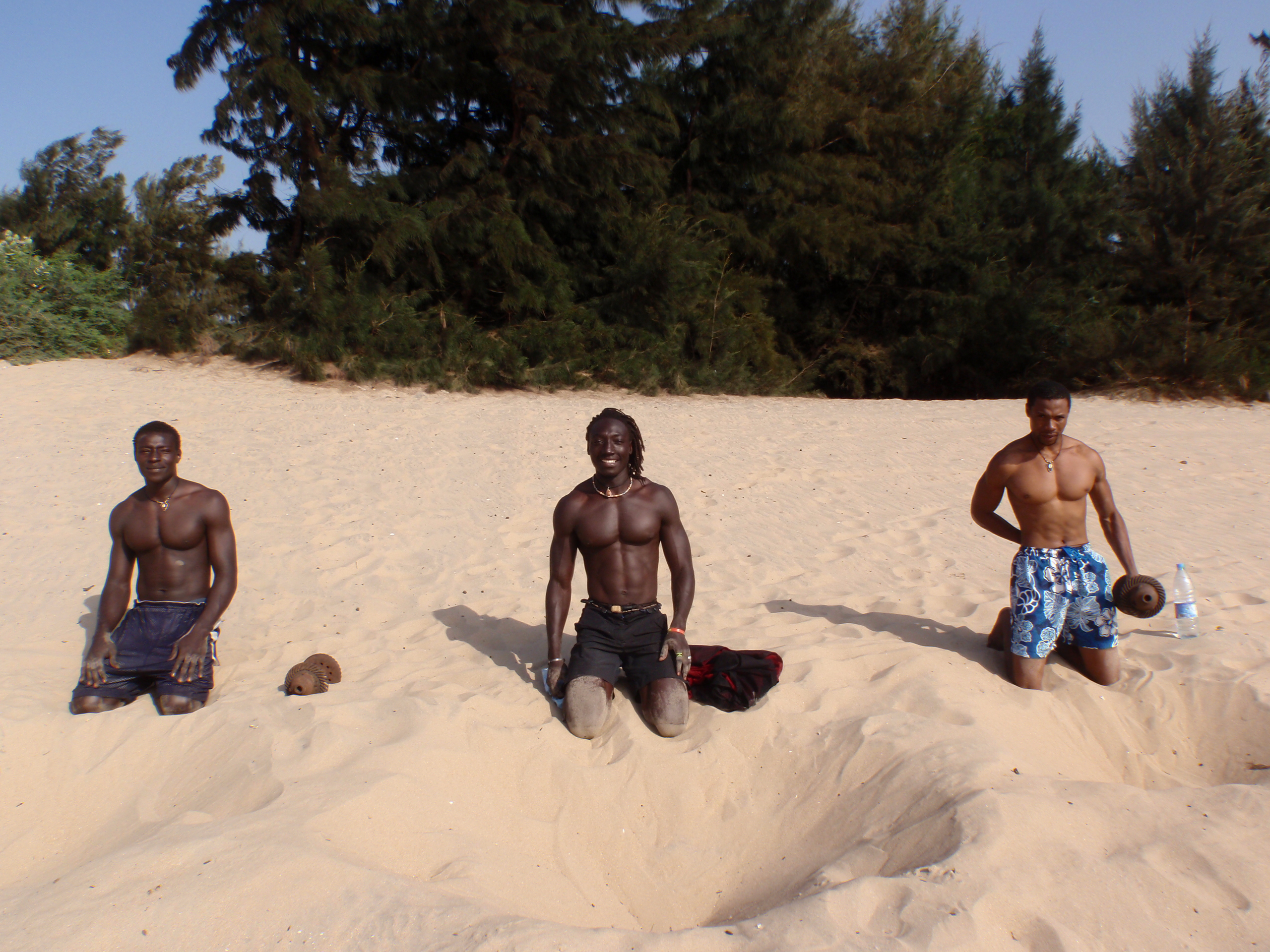 Jayne could see the advantage of "al fresco"gym membership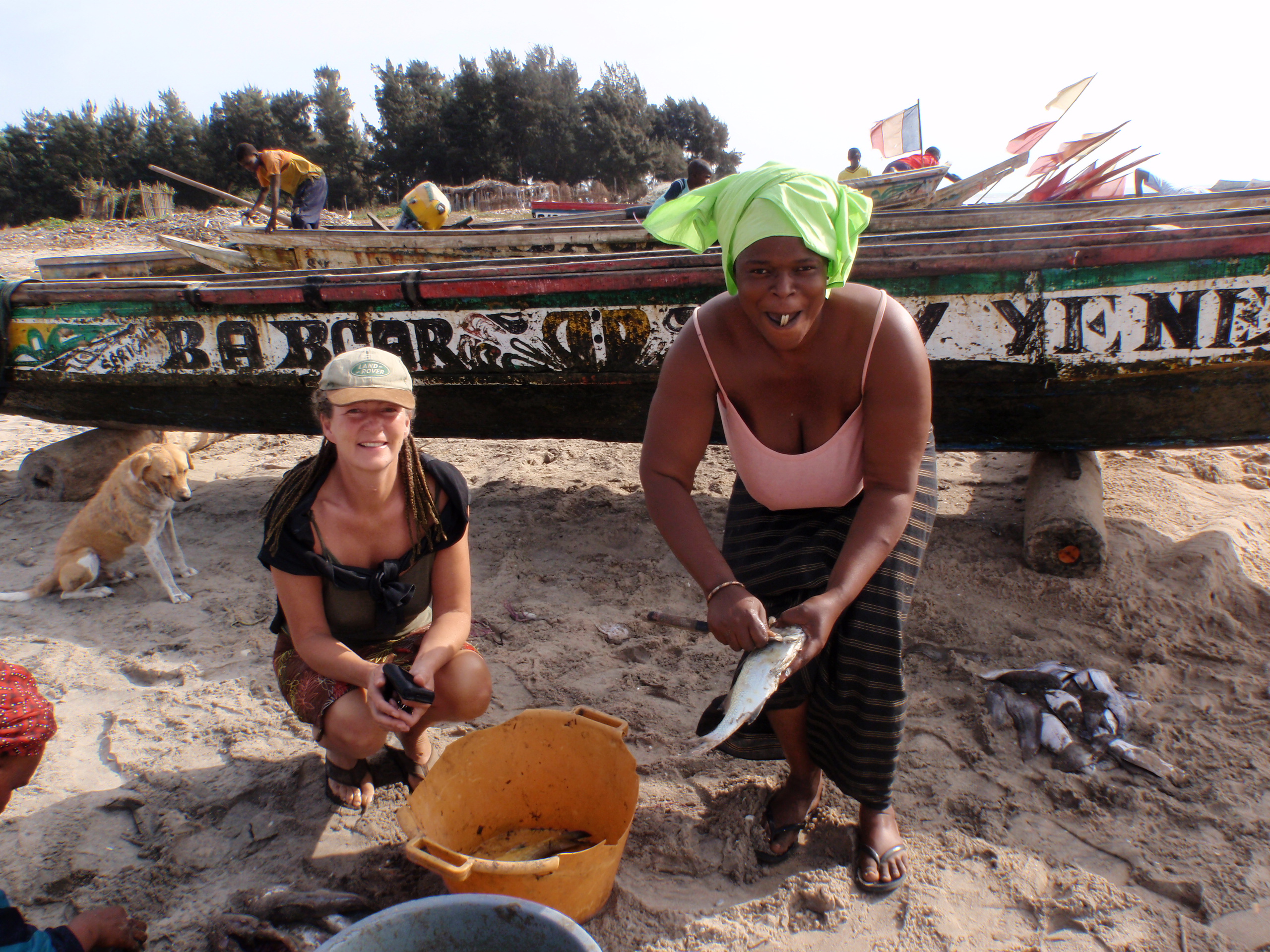 fish for dinner
The Journey Continues

Having spent six weeks back in the UK ,suffered the cold and the snow time has come to return to Lizzybus.

Jayne's mom is on the mend , though it is at a very slow rate .It was hard to watch Jayne say goodbye to her mom and leave the hospital.

We have booked return tickets from Ghana back to the UK for April as we have to attend Adele and James wedding (Jayne's daughter and intended).A 6 o clock start from Birmingham airport sees us back in Banjul by the afternoon. From scraping ice off the car to 34 degrees in less than 9 hours. Weight allowance of 20 kg each is taken by food , landrover spares ,Zarges box. We where picked up by the owners of Sukuta Camping.

This fine establishment arranged for Lizzy to be stored in a secure compound. The campsite is run by a German couple and is magnificently presented .Safe and secure and well shaded.

Checking our mail we found that Jenny and Mick (overland to Gambia by Renault 4) who we met in Marrakesh are only 5 miles down the road in Bakau .We phoned and agreed to meet up. It was great to see them and their children. After a few beers we agreed that we would "kitten sit" for a few days while they went to Senegal and get new Gambia visa issued.

They live in a local compound and pay the equivalent of £25 month for a 2 bed ,1Bathroom and a living room. It is very basic , intermittent power and water .The compound houses about 10 families in a very communal manner .

Jenny and Mick had gone to an area of Senegal called Abene in the Basse Casamanca .A fantastic coastal region unspoilt by tourism. We have to make a decision on what route to take to Ghana. We can go inland by returning to Dakar ,pick up a Mali visa and drive via Burkina Faso.In Sukuta we met Dizzy whom we had originally met in Dakhla .He had hitched up with a lad from Spain who was travelling along the coast via Guinea-Bissau,Guinea,Sierra Leone &Liberia .Deciding that we didn't want to back track we track down the Sierra Leone consulate and purchase 2 visa for $200 the pair. A Guinea - Bissau visa issued the same day for £16 the pair. Its decided coast route it is.

Given a recommendation to stay behind Solo's beach bar in Abene we set off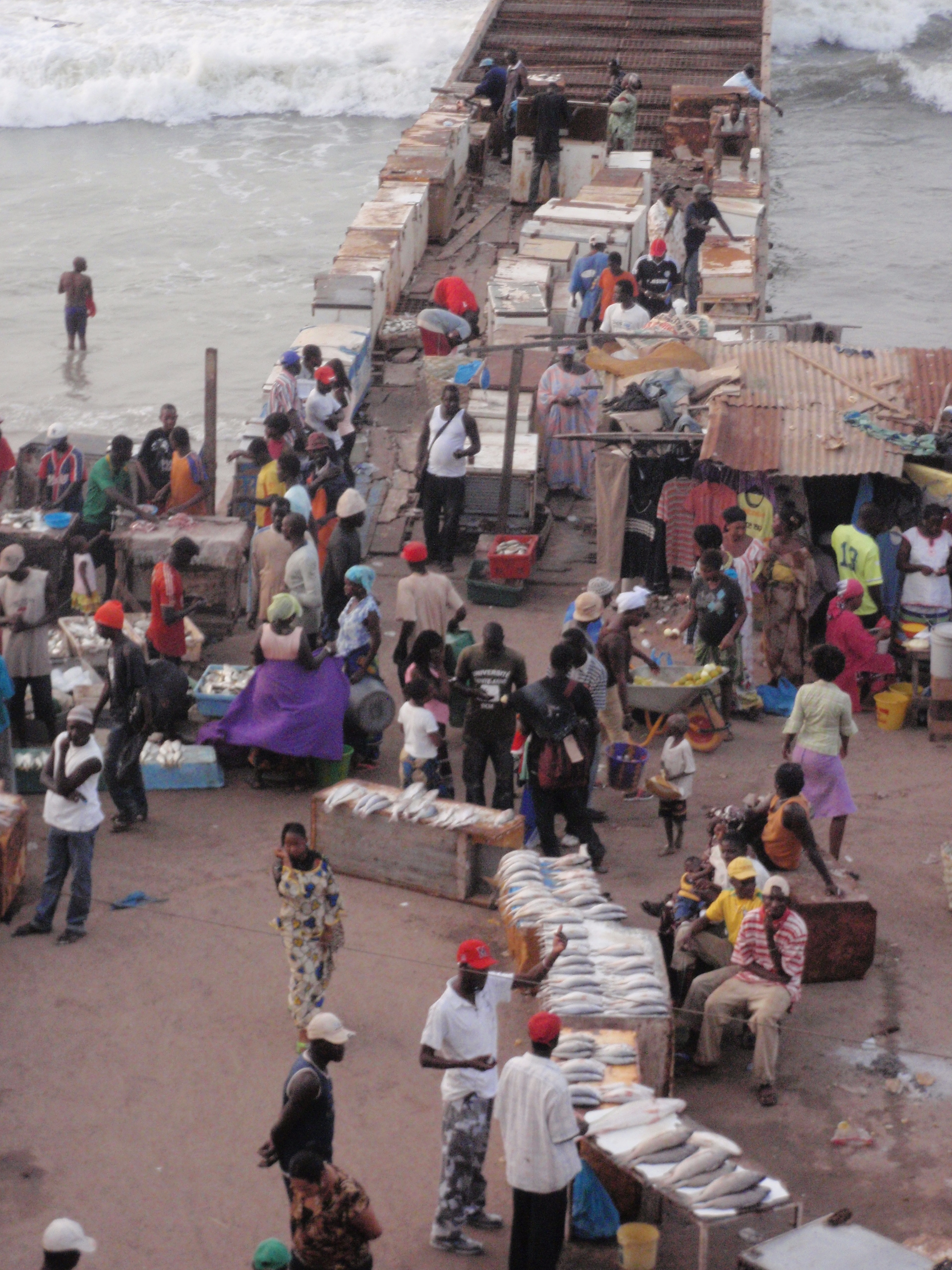 local fish market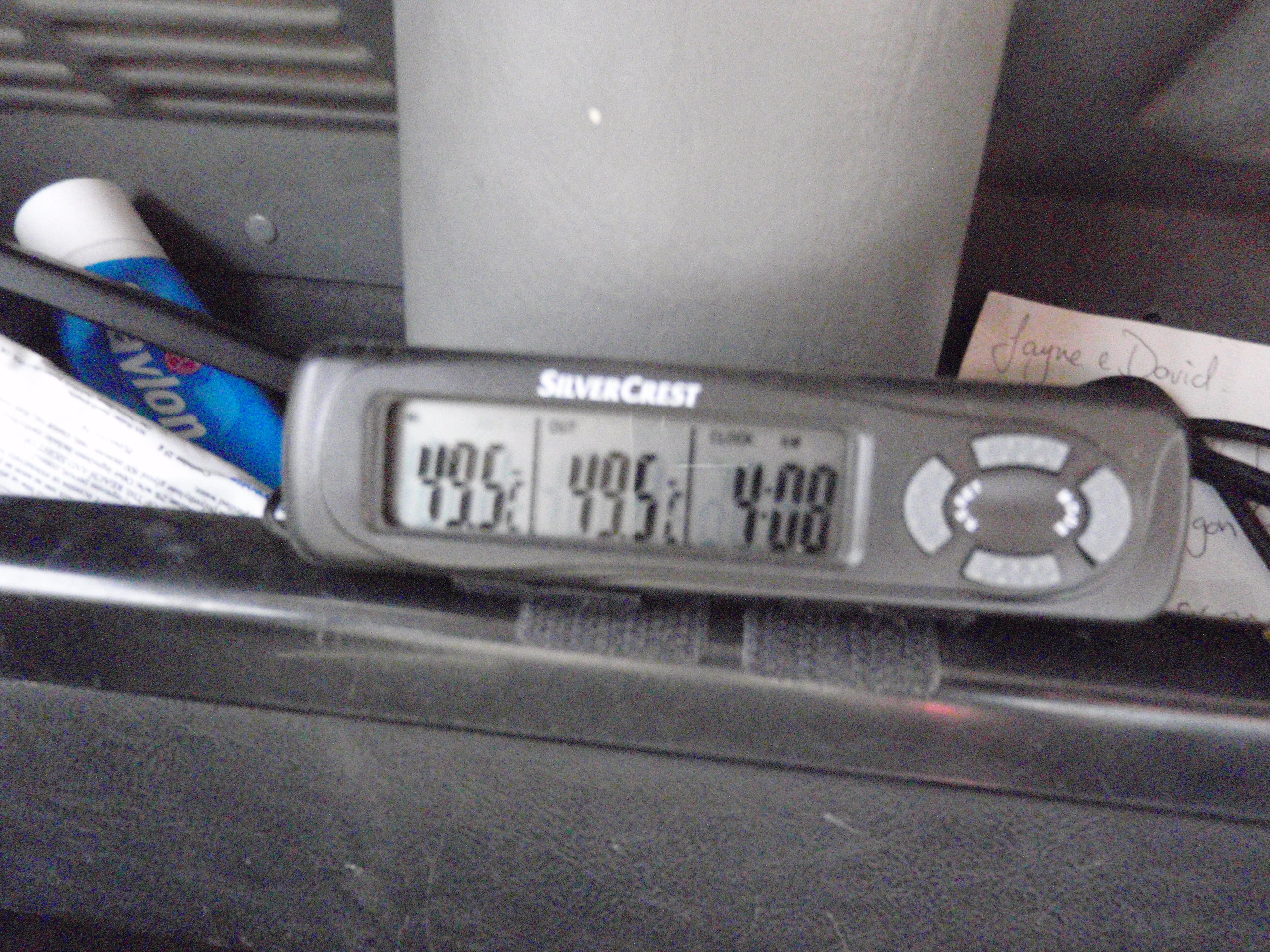 its starting to warm up!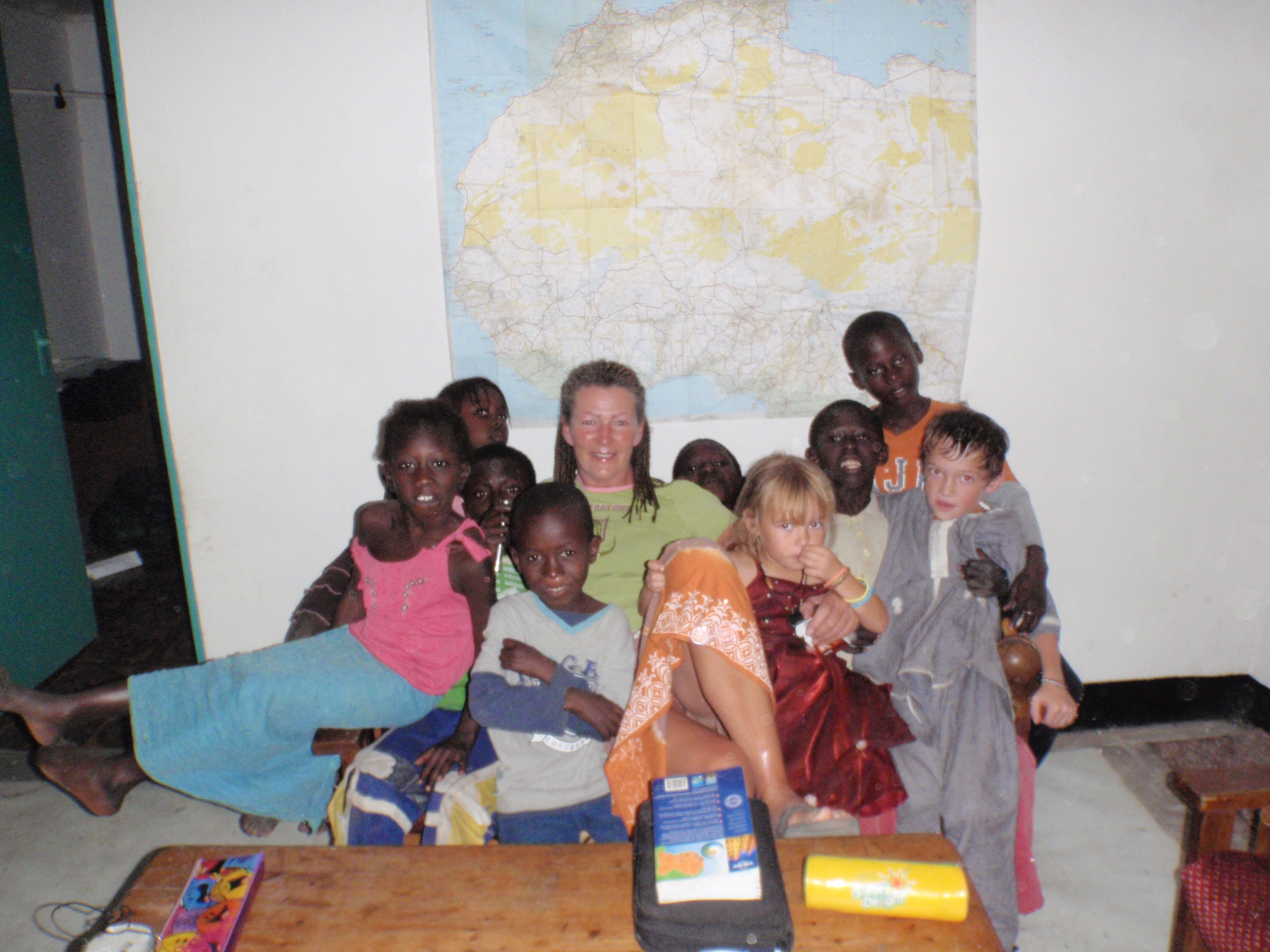 communal living