Senegal
The road runs straight down to the border at Rosso.Talking to other overlanders and reading the travel books Rosso is bit of a wild west town and you are liable to every crook trying to fleece you (nothing new there then).A better crossing is 70km west at Diama where it is more relaxed and you cross over a dam. The 70 k is along the bund wall and takes you through some wetlands and a national park. We decide Diama it is.
We are so use to dusty desert roads the wetlands are a blessed relief .Loads of wildlife, wild boar, monkeys, lizard's .We fail to make the border and free camp 200m from the track .We watch as wild bore, intimidating with their tusks walk across our campsite it feels as though we are in a nature documentary. Lie awake at night as all of nature comes to life .Wild boar snuffling around the Landrover .Mosquitoes the size of hummingbirds sensing easy pickings on tasty morsels (Jayne, not me).
Next morning we cross the border .Customs charge us 2500u to cross, but when he thinks im a police officer, he apologises tears up the receipt and takes the money out of a drawer and hands it back to me! Senegal Police charge the pair in front 20 Euro to enter but waive the fee for us .About 3 hours to cross border and buy insurance and we where in the first "real" African country.
We have gone from the dry and dusty deserts to dry , dusty grasslands .I remember "the tree of life" at Disneyworld and can see were the inspiration came from .Large number of baobab trees litter the plains. Villages where the road carves through are no more than mud huts with a thatch roof .Despite the poverty Jayne is fascinated on how all the women are finely dressed despite their lack of resources.
A word of warning to those following in our footsteps .......DO NOT go to Zebrabar camping , you will never want to leave .We had travelled the short distance to St Louis and found the campsite .Set in the wildlife park Langue de Barbarie , it has an observation tower to view the area, sympathetic accom and camping area .Trusted enough to have an honesty book for your purchases and sunsets over the River Senegal that will steal your heart we decided to stay .Popping into St Louis , an old French colonial town .It is a lovely old place , fading glory in the peeling paint and rust of the bridge ,designed by Mr Eiffel. It is slowly falling apart .We parked up,there are no signs to say where you can or cannot park. Yes , we got clamped .I was apoplectic ,a small hand written note gave a phone number .So , side of road letting the tyre down to get the clamp off , a group of locals advising us of the dire consequences of our actions. The local traffic Gestapo turn up , we enter into negotiations and a release fee of 3000 is agreed (£4).Every time we go into town we run the gauntlet of police stopping us to check insurance , passavant , triangle rouge ,fire extinguishers. I think over time they recognise you and start to ignore us and pick on others. .
On the Wednesday night Jayne realised that there was a problem when her twin sister didn't text at the normal time .A short while later we receive the bombshell that their mom had a stroke and was in hospital. No further details are available.
Next day we find out it was a massive stroke, she was in hospital and it didn't look good. We decided that there is only one course of action and that was for Jayne to fly home .The best place for a direct flight was the Gambia, destination of choice for middle aged women looking for something "extra" in life.
A sad day as on the Friday we leave Zebrabar facing an uncertain future and head for the border.
For the first time on our travels I think we had finally come to terms with our new way of life and appreciating what an opportunity we have to be doing this odyssey....thank you Zebrabar.
A quick look at the Michelin map shows a nice red line down to the border. That is Michelin saying you have a primary tarmac road to travel on. But this is Africa .The road soon starts to become impassable due to the large number of very big potholes. Average speed drops and we spend more time off the road than on it.
Saturday morning make the border with the Gambia. Not a case of making it more an attempt to drive through a village called Karang not realising it was the border stop .Fortunately Jayne pointed out the error of my ways. Formalities over , we head the last 40 k on a good tarmac road to cross ,by ferry into Banjul. What can we say about the ferry crossing? Its not P&O .Waiting for the ferry everyone wants to come and talk to you and by extension, see what you want to give them. It gets very wearing to asked for jackets because its cold .Money because of British slavery(Uh?)did we want drinks , ciggies all at very good price (they mean you pay "tourist"not local prices).I think we could have swam across quicker .Make the campsite in Suukuta and bump into the guys who didn't have visa's who we saw in Dakhla .They had sold 1 car and where going to fly back on Monday to Manchester .They told us that they needed 1 more ticket but on the Friday 6 seats on the flight where left.
Monday morning, down at the Thomas cook office 2 tickets for Jayne and myself purchased (£340 each, 1 way), Lizzybus to be left in the safe hands of the partner of the campsite owner (princely sum of 26euro per month, secure parking) 1500hrs on the flight home to whatever awaits us.
My god its cold here .We will return 2 Feb 2010 .In all, we had to come back, Jayne's mom is desperately ill.
On reflection , we did good for two newbie's who had never offroaded,never put an expedition vehicle together .Their are things we will change but I wouldn't have missed it for the world........the adventure will continue , watch this space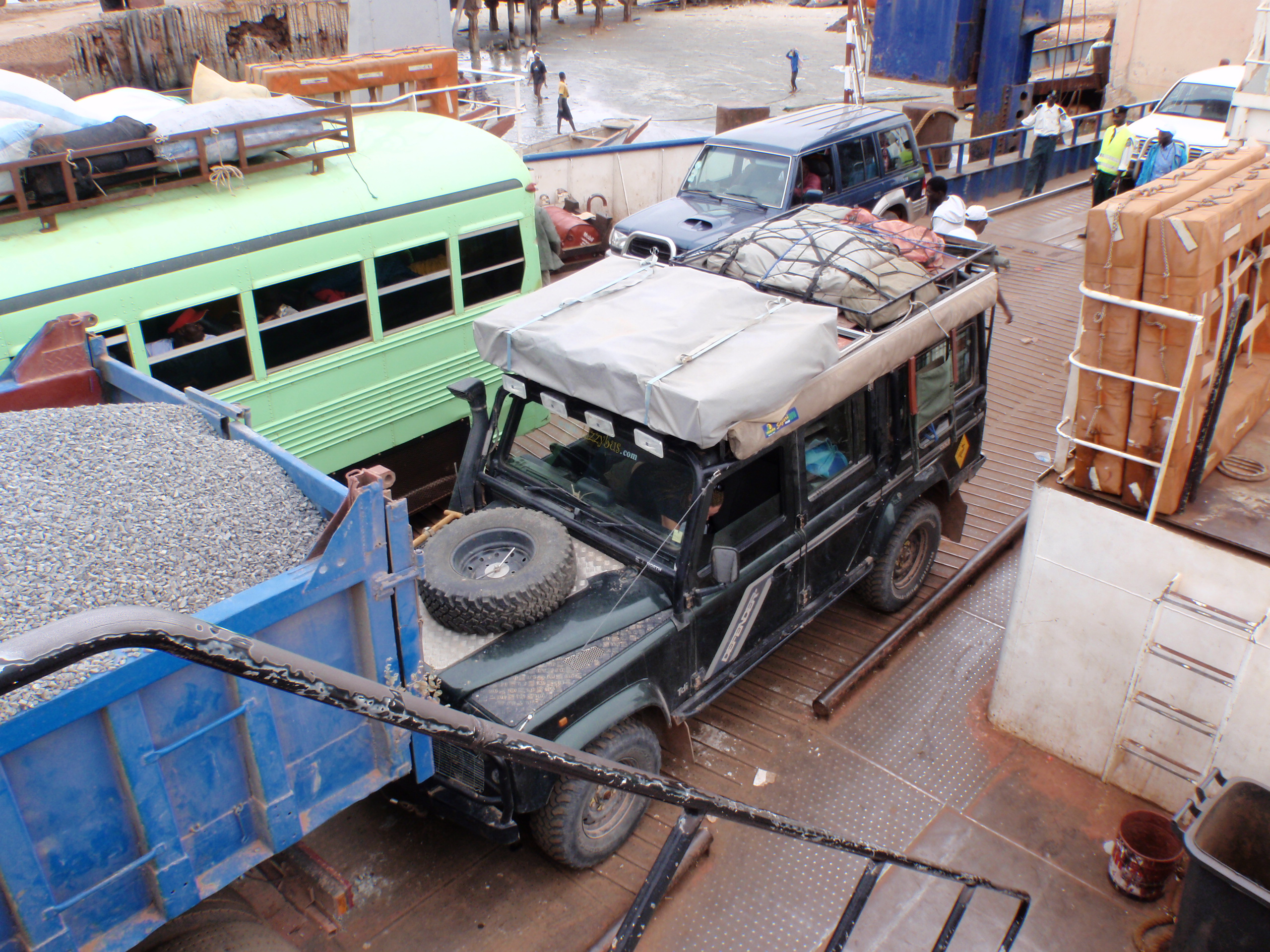 Ferry to Banjul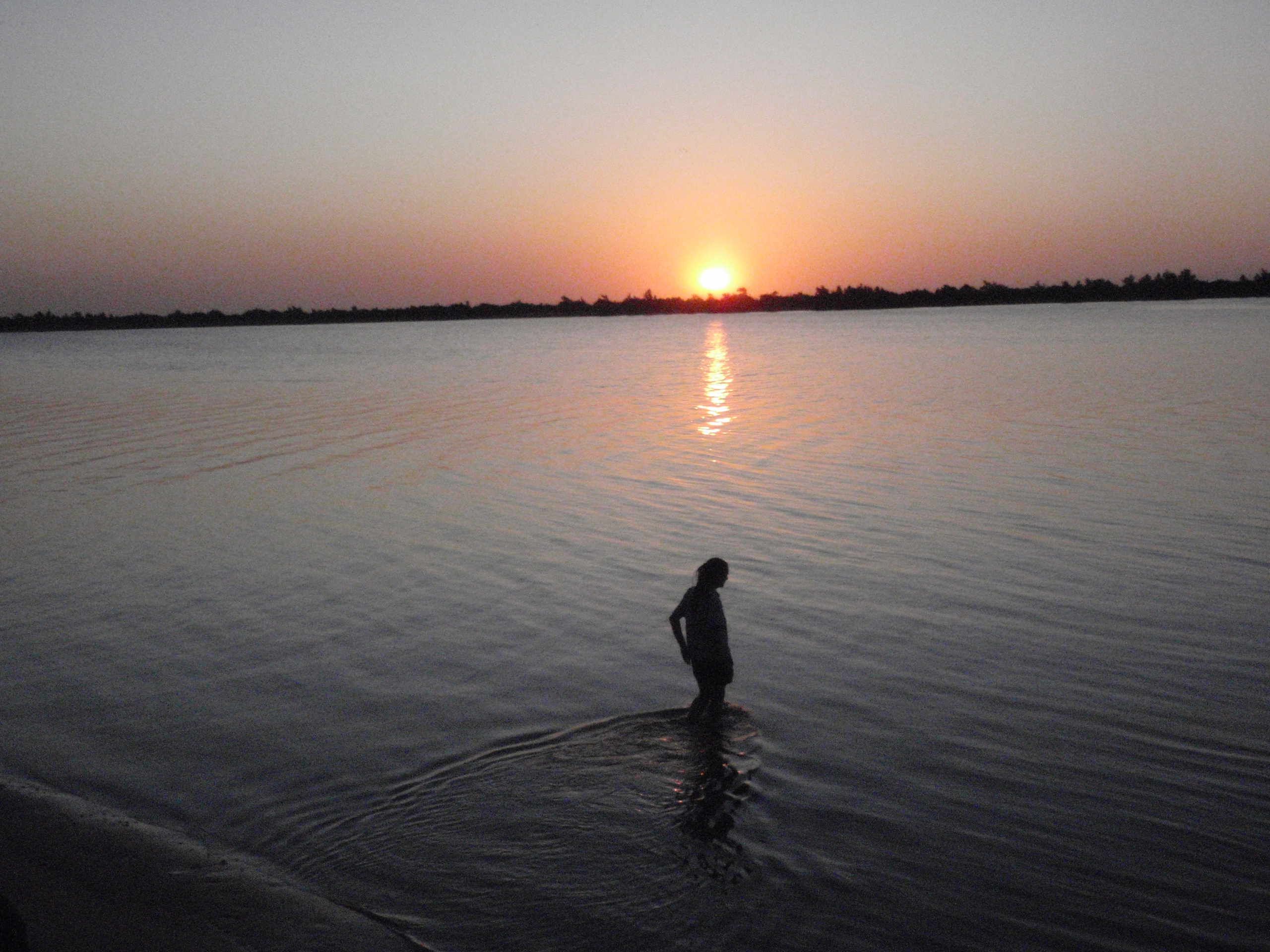 worth the journey!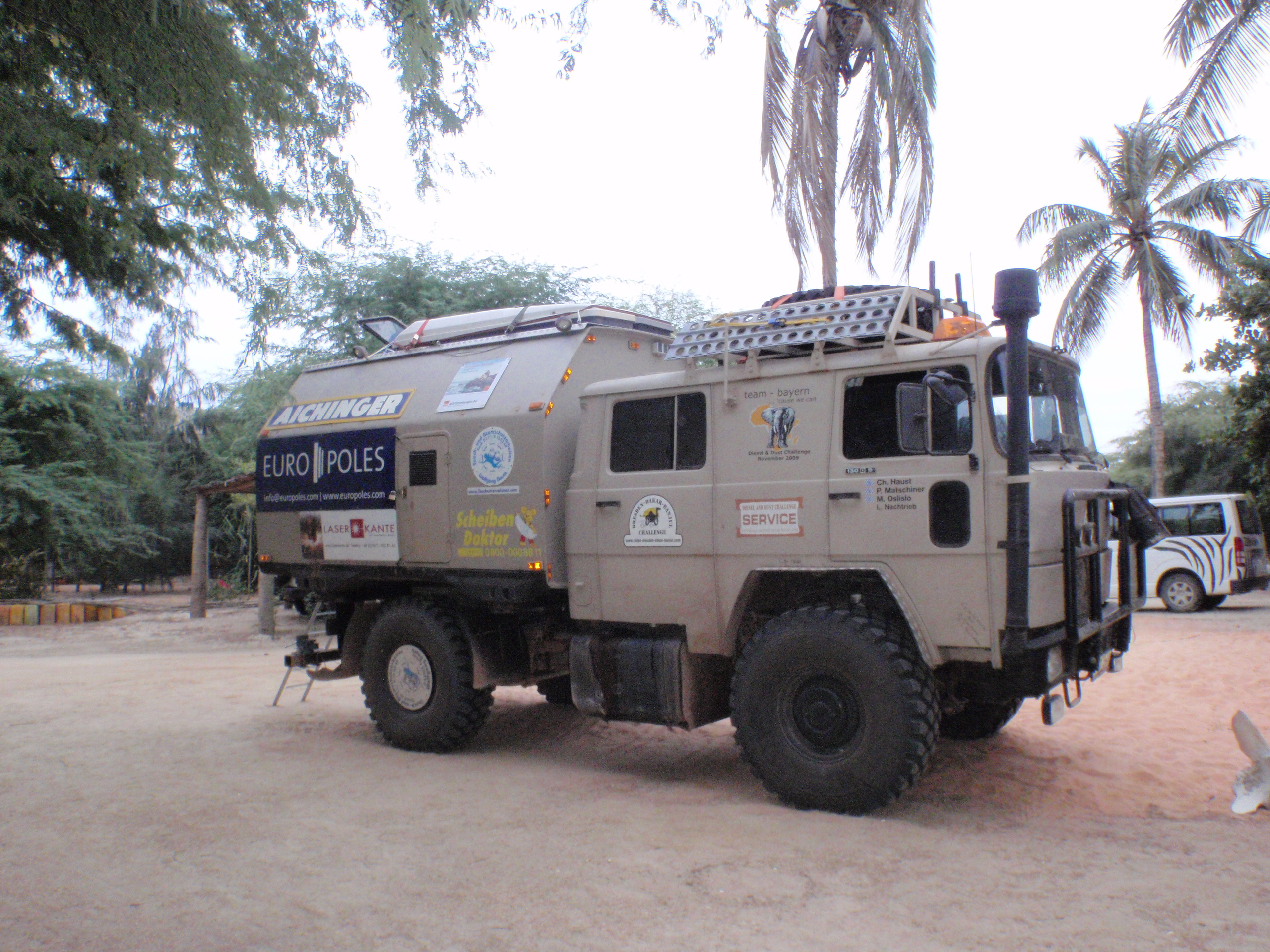 Boys and their toys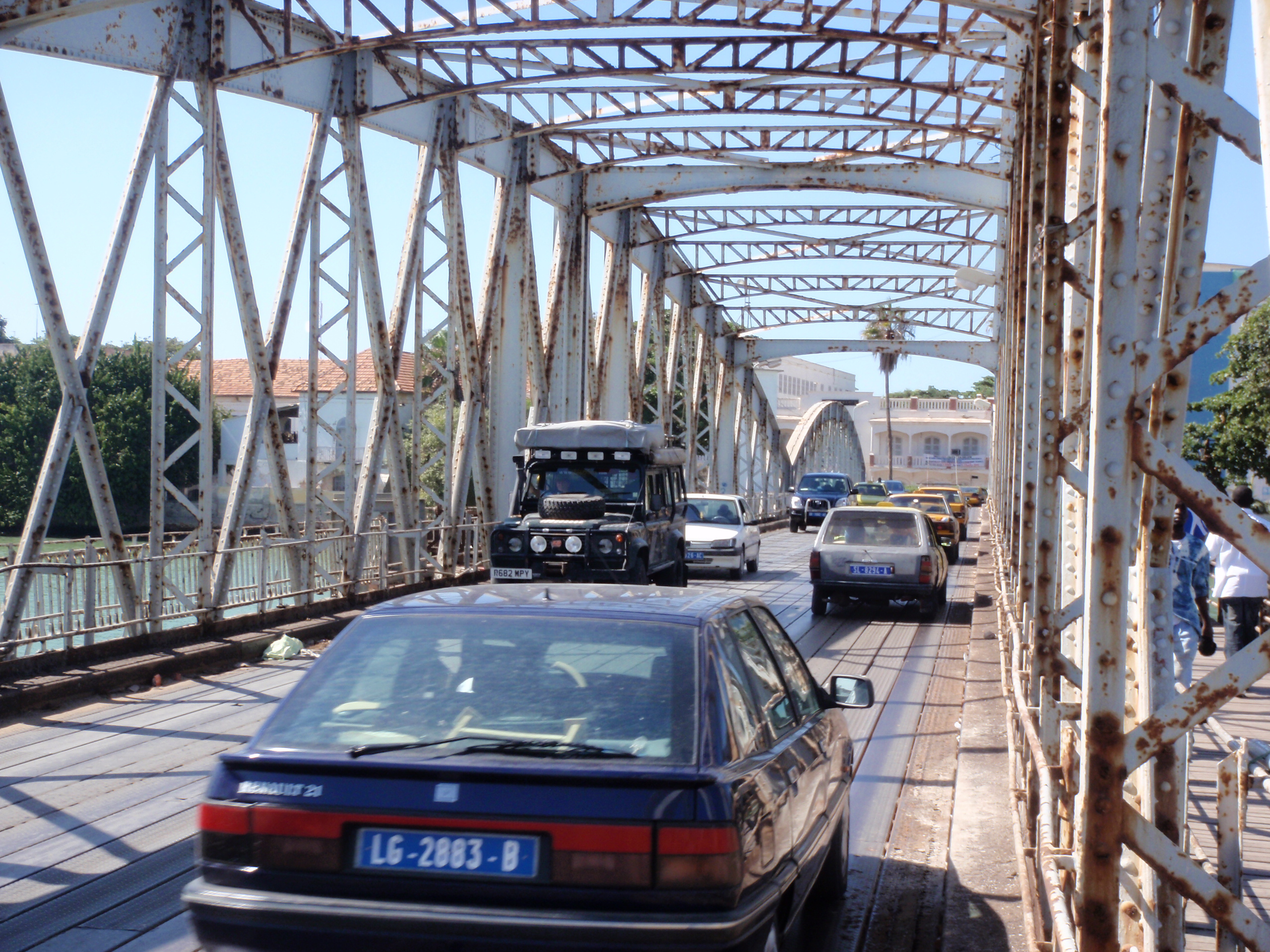 Bridge into St Louis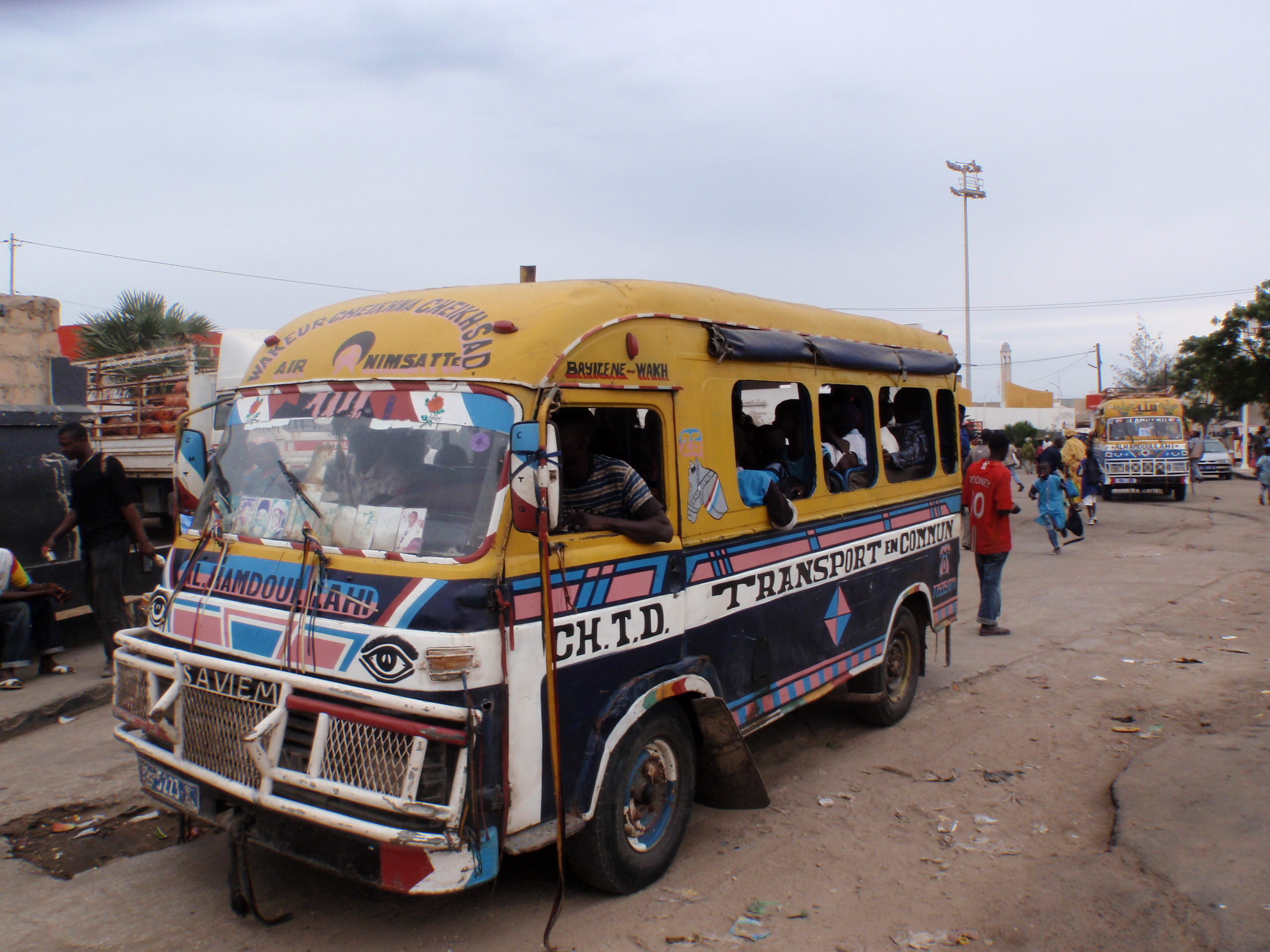 Local school bus
2010

there is still so much to say , before i doi have a happy new year we will update shortly
Change of change of plans



Speaking to our host at Bab Sahara, it would appear that the Swiss intended to leave in the morning for Nouadhibou via the rail piste .It was believed that it was a local tribe involved in the kidnapping and not al quida .No restrictions had been put on travel, furthermore 4000 extra troops had been put into the area.It was considered SAFE.

We're British, we had an Empire (once) where the sun never set .We will not walk away from a challenge especially if the Swiss where about to do it. This is for Queen and country and by jingo we will not let any Johnny foreigner dictate where we can go or what we can do.

So we tagged along .Very obligingly our hosts in their 3, 4.2 litre V8 turbo diesels put us towards the rear so we didn't get lost. After all, Lizzybus is a 13 year old 3 ton 2.5l diesel landrover.We would of course slow them down so position 3 it was.

These guys have years of experience driving on the piste roads out here and we wanted to learn .Tyre pressures dropped to 1.2 bar and off we shot. I'm not saying these guys where fast, we hit about 50mph across the roads, quite disconcerting when the tyres are flat and the Landrover crashing around on its hard suspension. When we hit sand the difference was amazing Lizzy just ploughed on .At the end of the day they had located a safe spot to camp .We made it at 1600 .ON TIME!!!! We never got stuck

We followed the railway line; we even met the local garrison commander who let us stray onto the north side of the line to view "the world's second biggest monolith" despite the ever present danger of landmines.

I think we kept the group amused as they were laying bets on which bit of the landrover would fall off.

After two days and 500k of desert driving we hit the main road .By now Lizzybus was feeling the heat and pressure of keeping up the intense pace .She just refused to go on .Yep, the clutch was slipping in all gears .Sitting there thinking "why did we put it all at risk" we limped into Nouadhibou having waved goodbye to our new friends.

Clutch didn't smell fried and as it cooled it would seem to have regained most of its bite.

(When we get back to UK I may bring a heavy duty plate out just in case). All in all it was quite an experience .I spent most of it worrying if we where causing damage to our vehicle .Every bump and jump (4 wheels off the ground) causing the contents to be violently thrown around.

We learnt that tyre pressure is everything and in future we go at our own speed.

This leg was supposed to wipe away any nagging doubts about Lizzybus's ability to cope with the journey , but at the very last hurdle she let us down .On reflection the clutch was the only problem and bearing in mind what we forced her to do ,she had acquitted herself with pride having been matched with some of the best vehicles available .These guys had onboard air ,advanced nav systems , new 320 wide tyres running ultra low pressure ARB and Black Widow equipment from Oz (very expensive) and years of experience.We kept up and never got stuck , a true testament to a Landrovers hardiness . I think we even impressed the land cruiser guys who expected to be pulling us out or recovering bits off us .Overnighting in Nouadhibou next day saw us back at the Auberge in Nouakchott for a few days before the road south to Senegal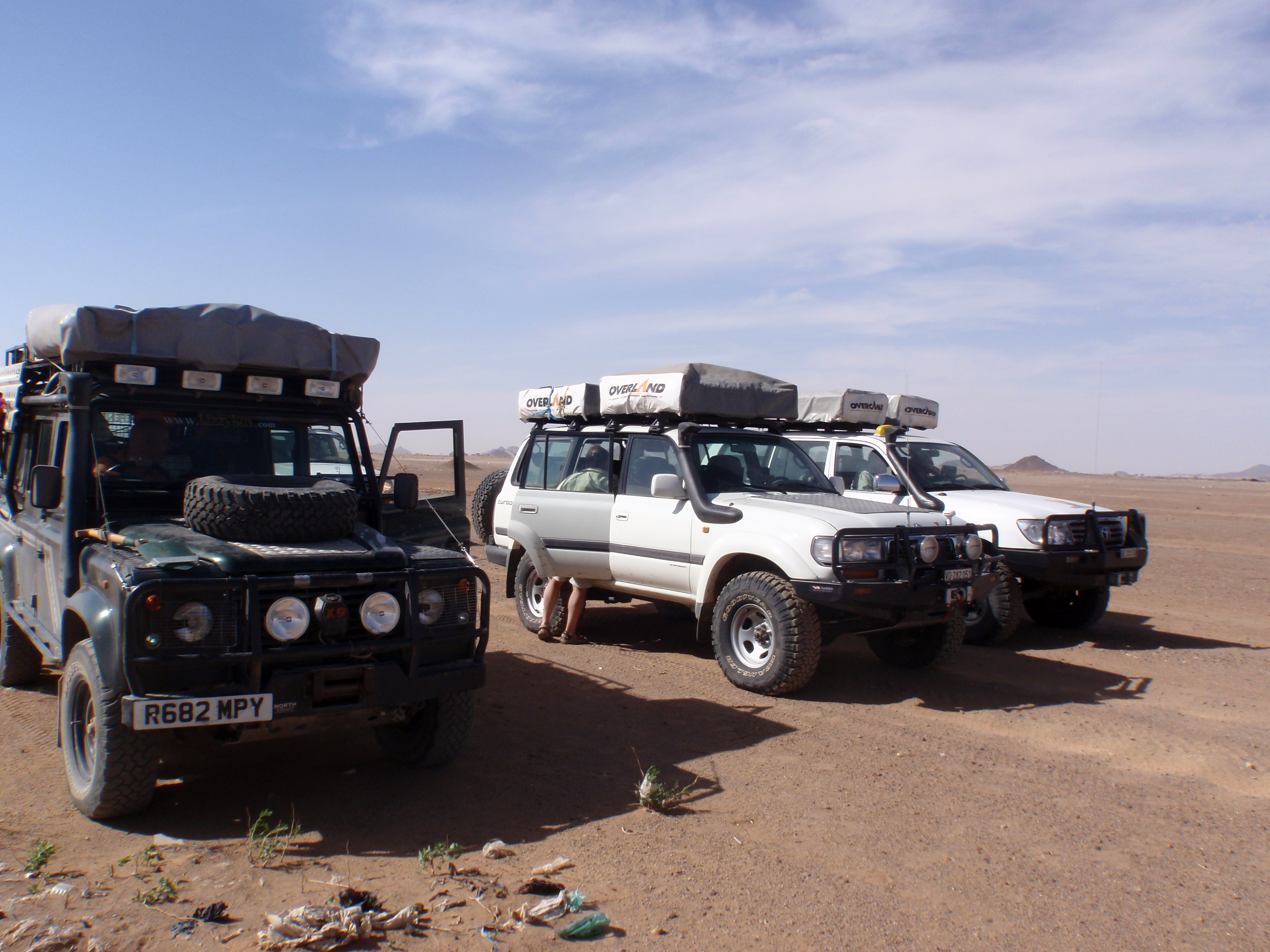 Lizzy and the Land Cruiser's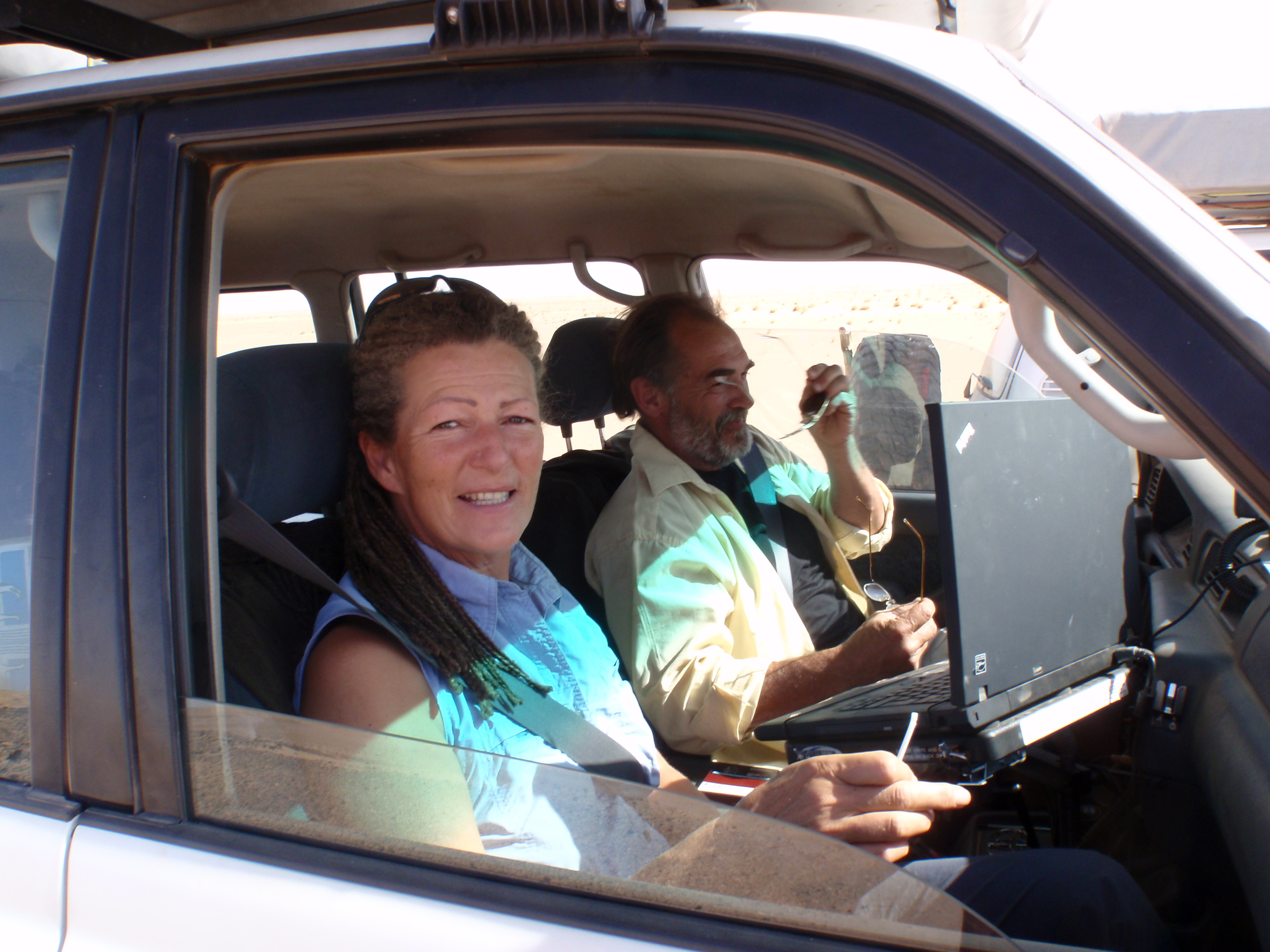 Betrayed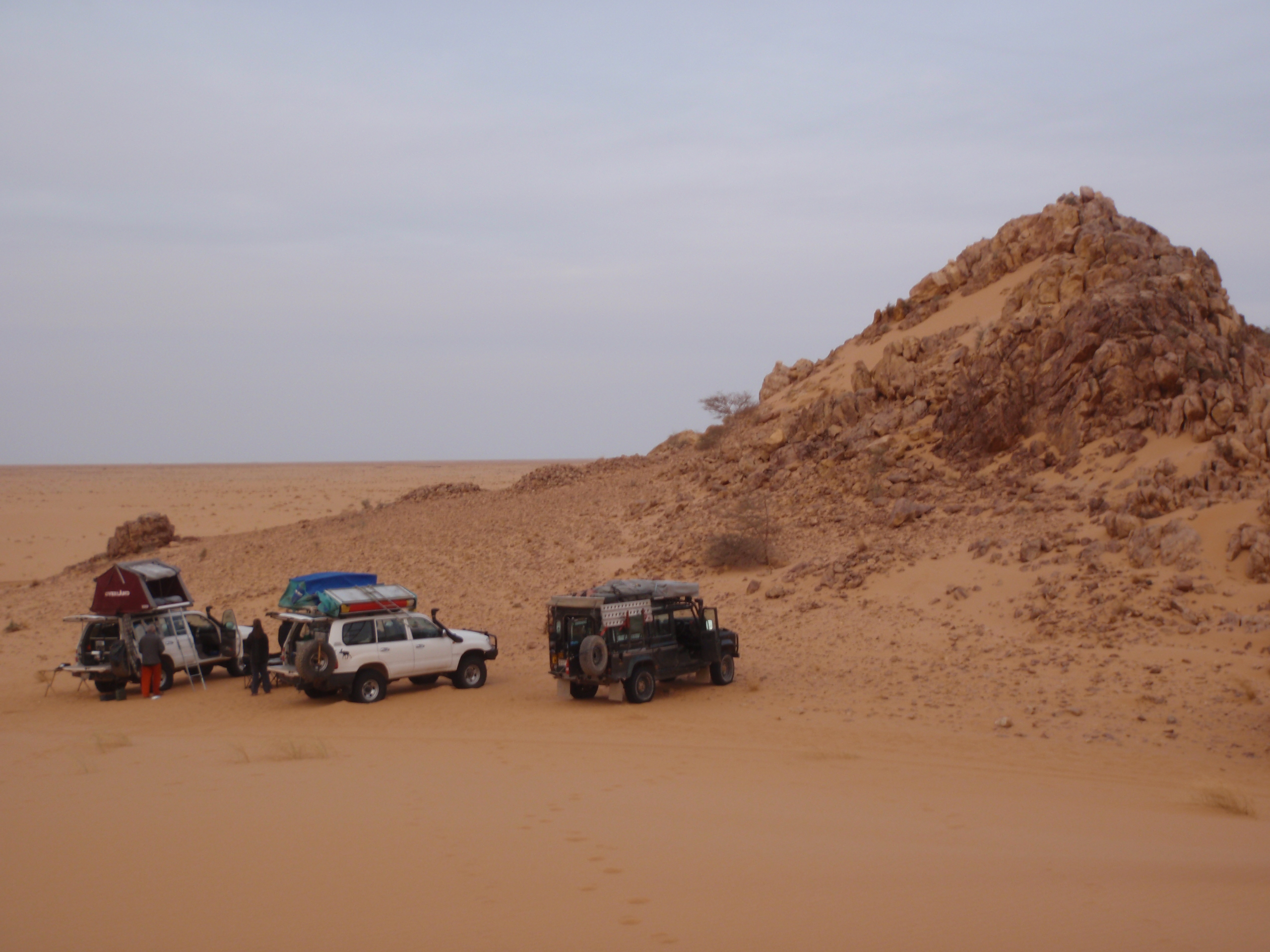 Nights camping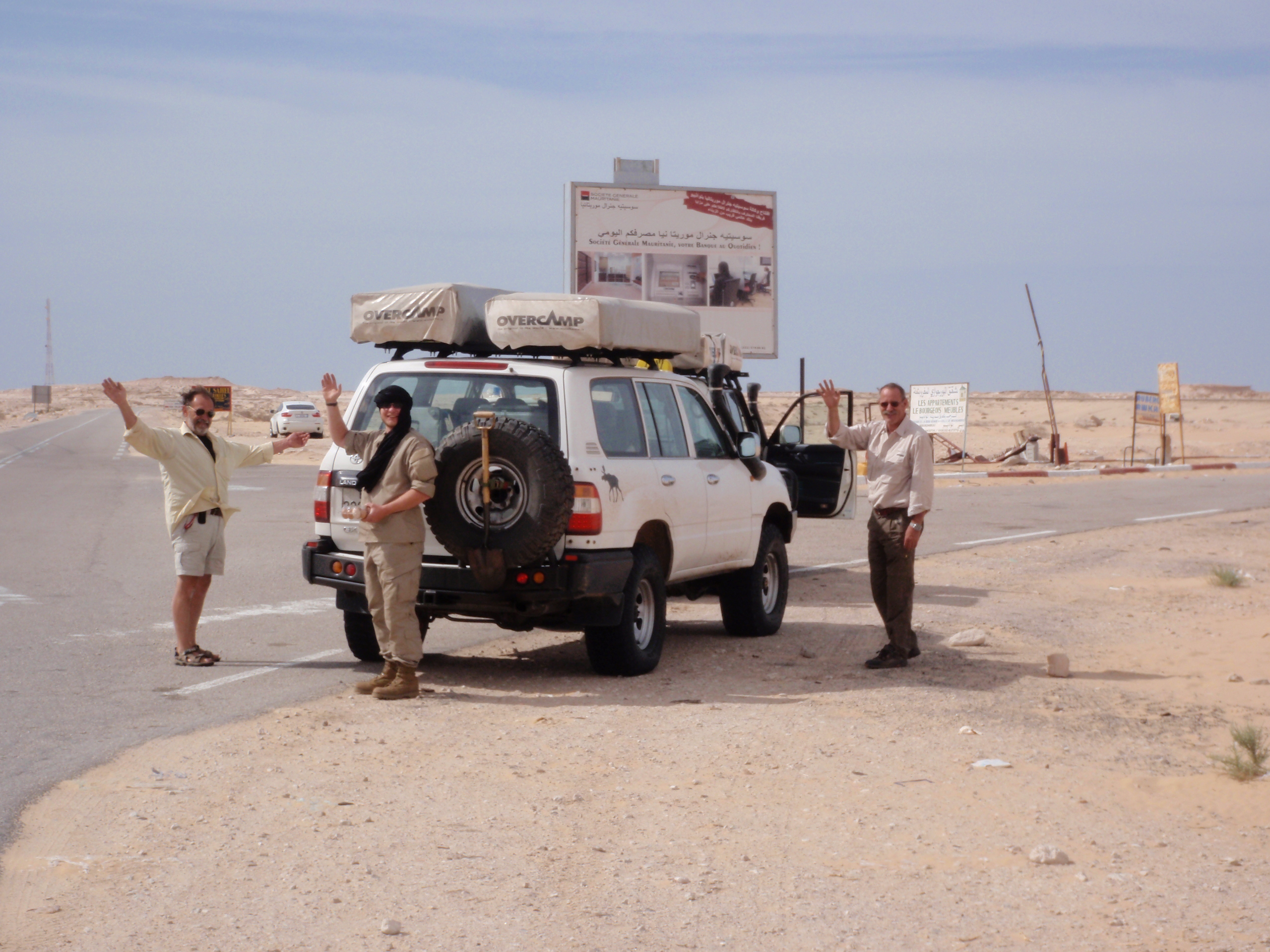 Goodbye
Change of plans
Just when you think that you have it sorted when they change the rules on you .Not just the rules , bur the game .
Having travelled up to Atar we had decided to go back to Nouadhibou via the railway line piste .We didn't do this originally as a couple had only made it 50k .We met sandlover.com as we where returning from the abortive run out to Chingueitti .They had done this piste and said it was no problem.
The plan we had was to tag onto a group of Canadian and Swiss in their 3 landcruisers as they where taking this route .They have some very impressive kit and have spent plenty of time out here .We thought this an ideal opportunity to learn from people with the experience .We could then take the piste down to Nouakchott along the Atlantic route and avoid the tarred road.
Justus our congenial host at Bab Sahara came over this morning and announced the bad news.
4 Spanish tourists have been kidnapped from a convoy , at gun point on the Tarred road to Nouakchott . We had travelled that road 6 days ago (gulp!)
No way can we risk going into that part of the world . If people are taking tourists hostage who knows where they will strike next .
HMG has a policy of "no negotiation" .
The tyre is being repaired as we speak and in the morning we will head at speed back the way we came to the capital and then on to Senegal.
Its with a heavy heart we make this decision, their is so much to see and do here .
We have enjoyed kicking back here ,my thoughts go out to those who have been kidnapped and the effect it will have on the communities in this country .A lot of them rely on tourism .One hopes that people like Justus who owns Bab Sahara can ride out the storm , but in my soul I know he will have to close down. He employs local people , puts time and effort into the community here .He will be a sad loss to the region.
We have to cut and run , we don't want to be a statistic or a headline .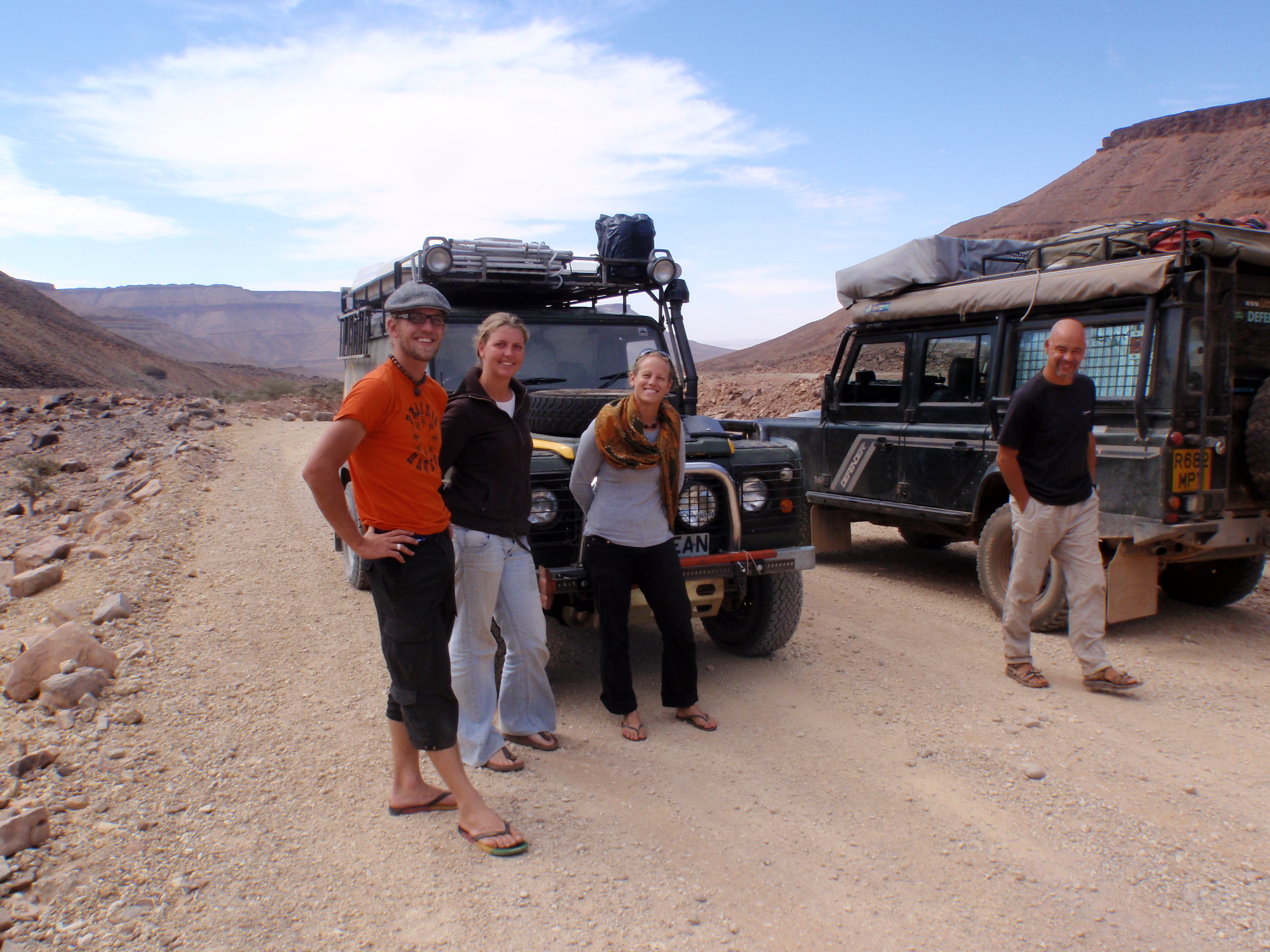 chance meeting in desert...sandlover.org
ATAR

 

We leave the comparative luxury of camping in the car park of an auberge to travel North East to Atar .This should be a change in scenery as it is a plateau area rather than desert .The usual start to the day, police road block, fiche handed over .Filled to the brim with diesel we strike off up the highway .Usual gamut of sand dunes including the whitest sands and a small sand storm .Cutting into the plateau area and free camp by a dry river .I never get over the silence in these desolate regions.

We head for Terjit, jauntily described as "a lush oasis fed by warm springs" well you have to go and look. Very pleasent,tiny puddle of luke warm water and a cold plunge pool set in a small concrete bunker .all for the princely sum of 1000u each .the book recommends you stay a few days....I think not.

Finally make it to Atar, a desolate outpost of a place, lacking in charm, dusty, but the scenery is spectacular .Desert Piste has given way to plateau and canyons.

We track down an acquaintance me made in Casablanca, Justus, a laid back Dutch guy who runs Bab Sahara and has a supply of beer for his residents .We set up camp when a group of very well equipped Swiss turn up in their Land cruisers.

They have a problem with the locker on one of the drive shafts (and they laughed at our Landrover , at least our diff locks work ). They have sat phones, air con, state of the art GPS capable of real time tracking and split topo/map views. They have been here on numerous occasions. We are definatly new kids on the block (but we haven't broken down)

They are going to do the run to Nouadhibou along the rail tracks and will allow us to travel with them.

We decided to go to Chinguitti for the day by an easy Piste .Great climb up a gorge onto the plateau .the road is "rippio", i.e. corrugated .The best techniques is to speed up until you skim the surface .Its quite scary doing 55 in a 3 ton Landrover as you loose a lot of control due to the lack of contact with the road. Anyway, we hit something and the front tyre got cut.(I wasn't driving)

Side of road, high lift jack changing wheel. Decide to head back to town. On way back saw our 3 in Land cruisers, their view..."get on with it, you've got another spare" .That's ok for them, they have 6 spares between them and we want to get to South Africa.

It's a small world, as we descend, a defender,"sandlover.org" on British plates.

Seems the driver and passenger are also on the way to South Africa and the hitchhiker Gambia .They recognised us off the net.......famous at last.

Checked the MPG.We got 23 instead of 30 on the last tank. No option then to change the inline and main diesel filters, air filter and re seat the airbox again .Loads of diesel improver in the tank .Hope this cures the problem.

Justus took the tyre away .Small hole in the side wall so they fitted an inner tube .Its become the spare of last resort .Hopefully we can leave in a day and head off.

Noticed that it a lot more expensive here. Bread is 100 and internet 500hr .We wonder if this is the same for everyone or just because we are Brits?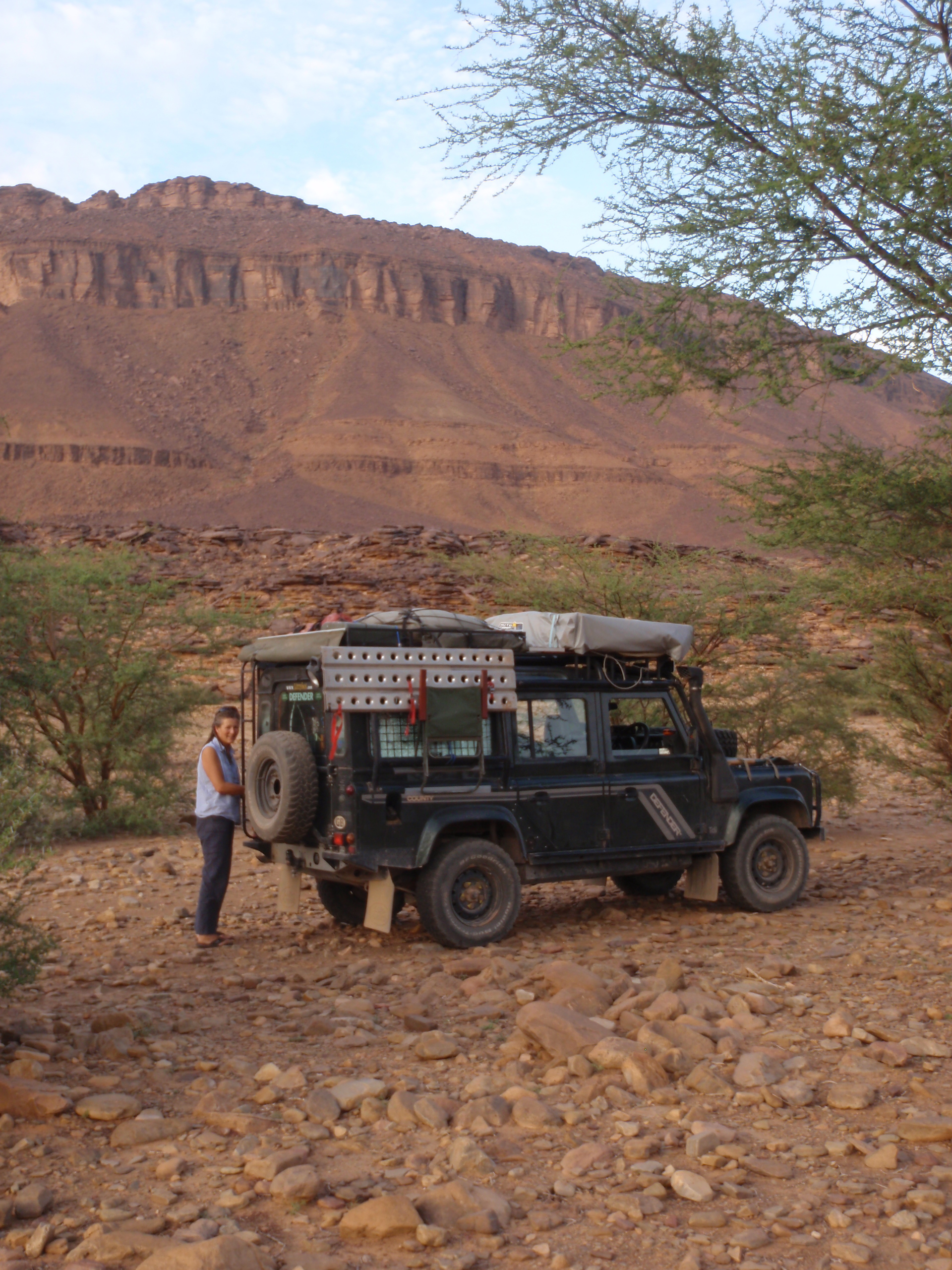 Free camping outside Atar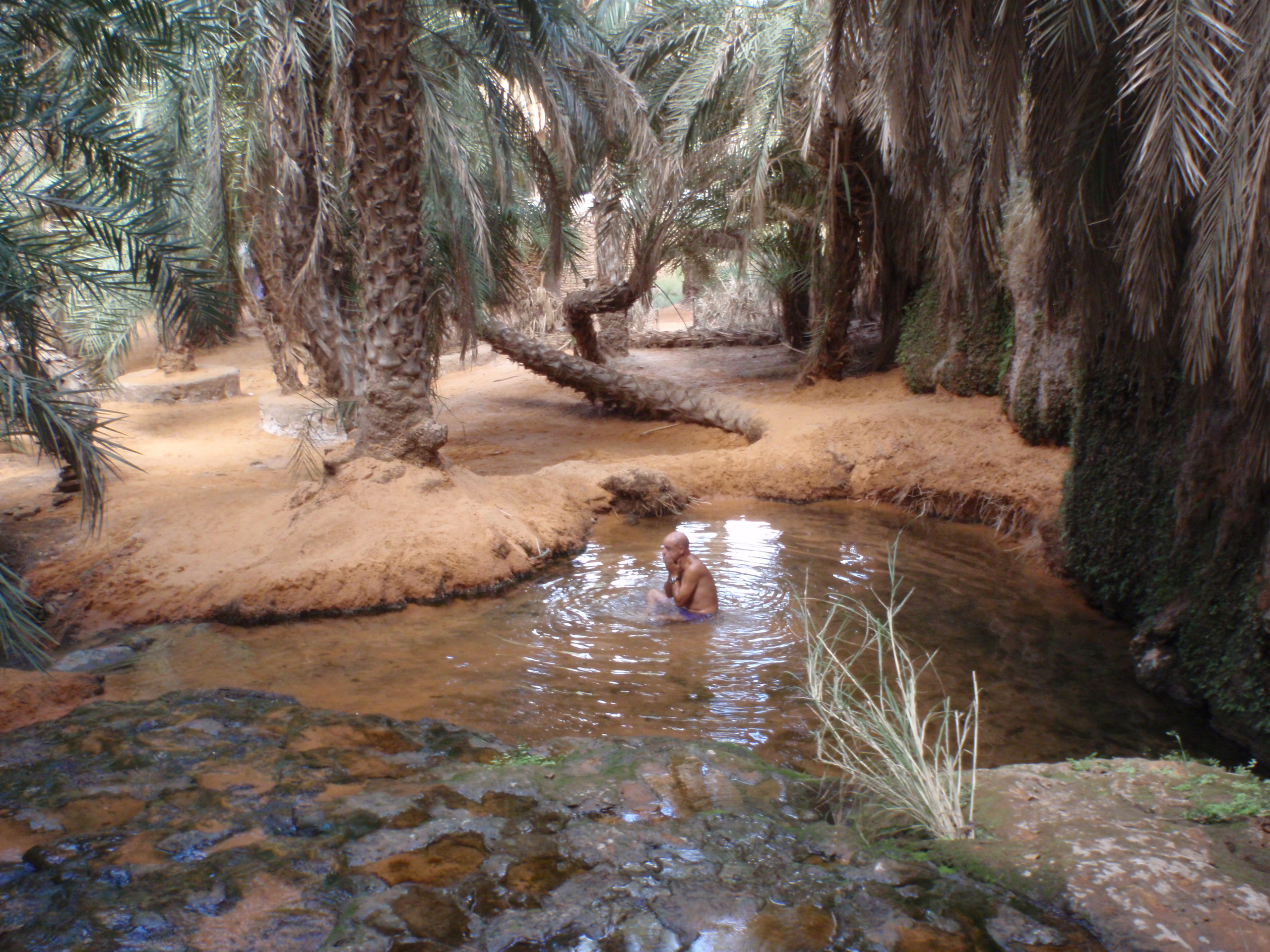 Hot springs : Terjit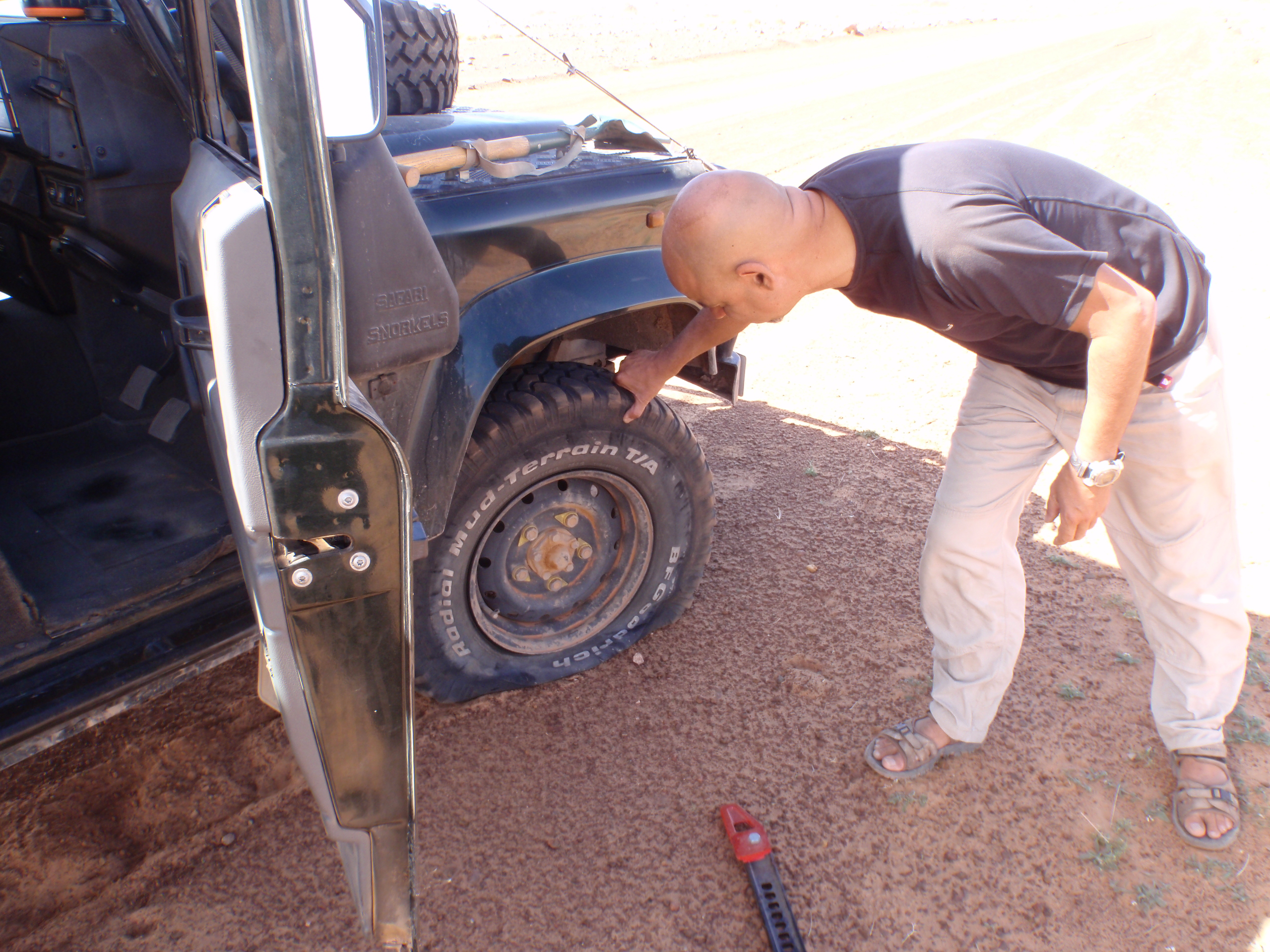 No problem ! Its only flat on one side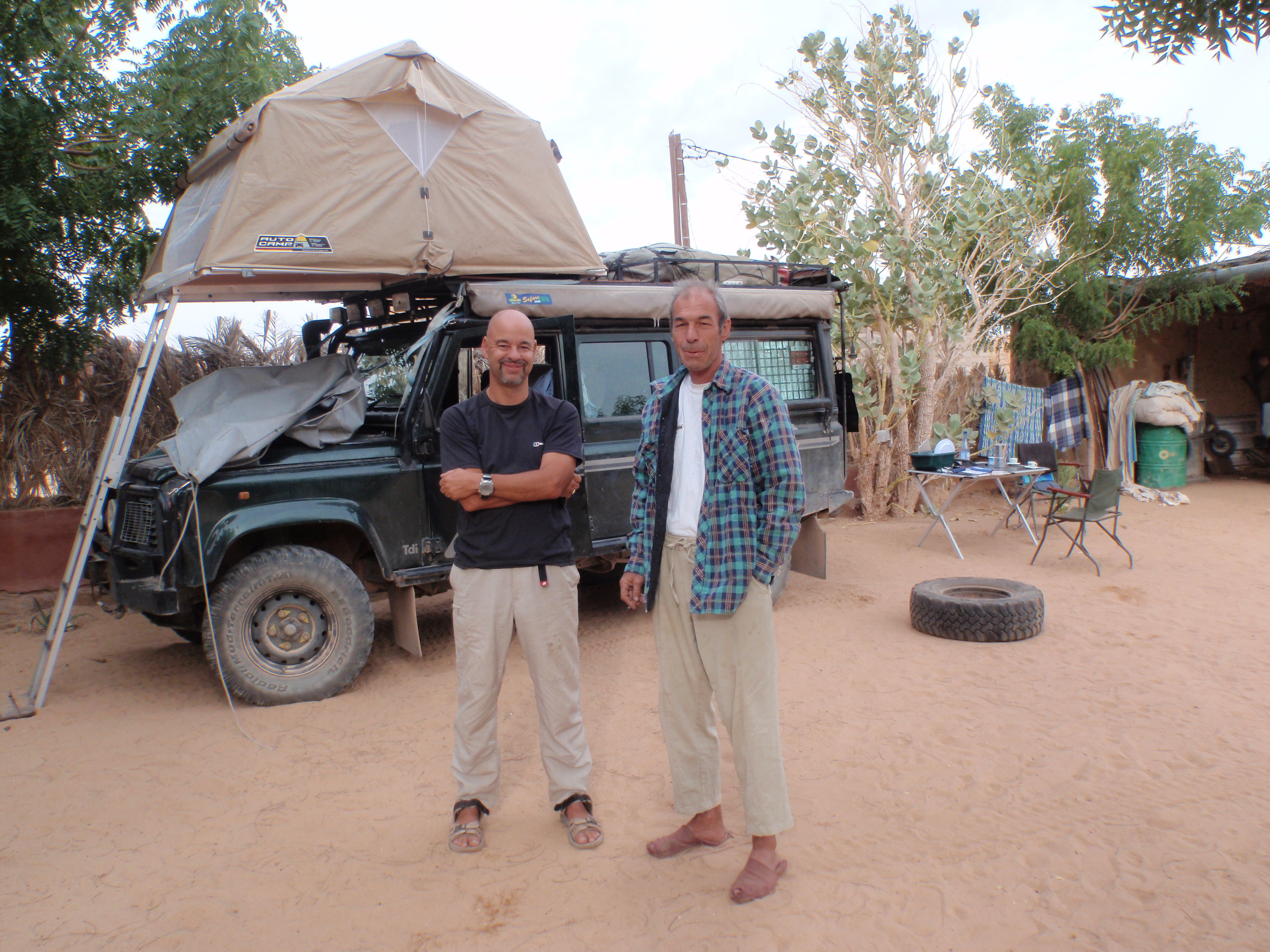 Our host at Bab Sahara
Piste or not to Piste
Having overnighted , our intention was to travel from Nouadhibou to Atar in the east along the railway track .This journey was covered by Michael Palin in his travels in the Sahara .We are on our own , but it is a possible route. The locals said you needed 2 vehicles , just in case but we found an English couple who had returned having only made it 55k and spent most of their time digging their landy out of the sand.
We decide discretion is the better part of valour and to drive down to Nouakchott on the tarmac road .We decided against the coast route because of the amount of time we have been travelling and the fact its better as a convoy of at least 2 and a guide.
We went to the port area where you can see beached ships ( insurance jobs) rusting away .Thought it might be atmospheric .So having crossed the beach in Lizzybus we where overwhelmed by the smell and millions of flies getting everywhere and covering all the dark surfaces in the Landrover .You have to drive very fast to get them sucked out. Not a pleasant introduction I'm afraid.
So 300 miles of more desert driving, camels, sand dunes we make the capital.
Book recommended Auberge Menata but they where full up with over Landers .The proprietor took us to their bed and breakfast ( Maison d'hotes Jeloua )and allowed us to camp in the yard and use the facilities .We spent 3 nights under the trees , at night a colony of large fruit bats used to descend and eat the fruit on the tree ( I hope they were fruit bats )Fantastic spot , clean , cool , free wi fi and in the centre of town. It even had beer ( still can't explain why we left , ah yes , they ran out of beer and it cost 2000u a bottle)
Not much to do here but it's a great break from driving.
The city has two main roads running through it .The side streets are sand and goats are left eating at anything they can find. It is very hot and dusty .everywhere you turn someone wants to change money for you at "a very good rate".Fortunately we found an ATM
We head for Atar in the next couple of days .Good thing we bought insurance, they inspect it at every checkpoint .We have been stopped about 15 times already .The best opening gambit is to smile, shake the guard by the hand (he has to move his AK47 then) and because we are right hand drive goes to the passenger side every time. Loudly announce you are English and understand no French .All this is true in our case, but as we have all the correct documents (plus a Fiche if needed) they can't be bothered with the hassle of getting something from us and pick on some other unsuspecting soul.
The Fiche is a copy of your passport and other details (i.e. car, visa etc) written on it.
Like all police officers they loathe hard work (sorry, paperwork)
"Silence of the Goats"
In the middle of a cosmopolitan city all you could hear was the sound of goats .When we where in Morocco even the Marjane was selling live ones .You would wake up to their sounds ,eat to the sound and eventually sleep with them .Until Saturday.....total silence .It was Aid el Kebir.
Didn't' quite see streets of blood but quite a few Goats being cut up!
our new home for a few days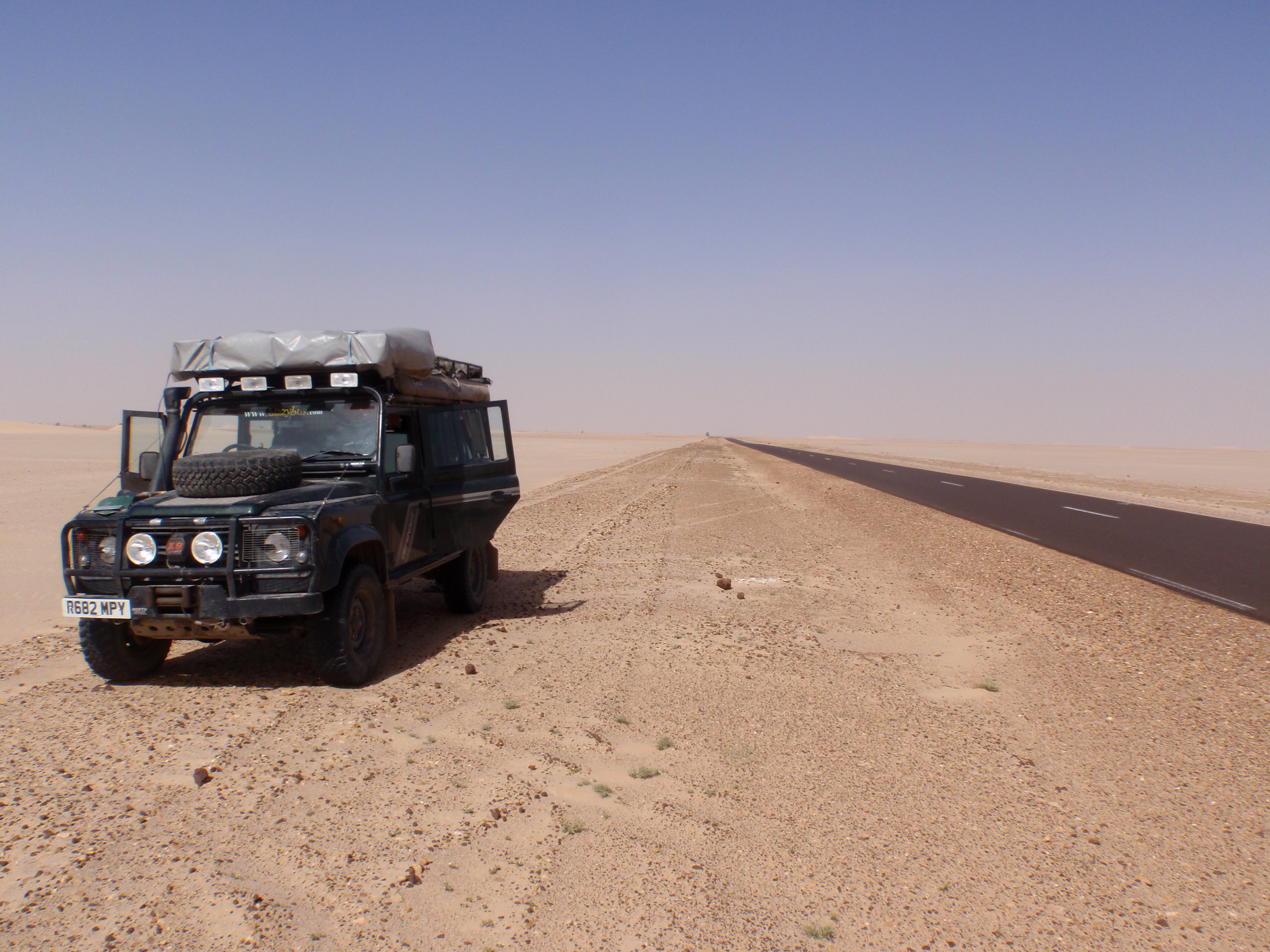 300 miles of this !
Bagdad ?..shouldn't let Jayne mapread
Another world
Having dealt with border formalities we had only one direction to go, South across "no mans land" .We have crossed many borders around the world but we where not prepared for what met us as we went through an arch from Morocco into the zone. It was a shock to the system. It was literally the same as WW1 "no mans land" between the trenches ,crossed with a Mad Max post apocalypse scene .Barbed wire , rubbish , burnt out cars that have been scavenged .People having been refused entry unable to return living in squalid makeshift shacks .No clear route defined , all you had was a Piste road for 5km .Its amazing that in the C21where a good quality road runs from both borders it all comes to a stop here .We crawled across having gone down the wrong tracks and made it to the Mauritanian border post to find it closed .
Waiting for someone to turn up , 15 cars in a queue (Lizzybus not at the end for once ) we eventually crossed and handed over our documents .Money or gifts demanded by all .By this time ,fed up ,getting late I handed over 20d to one guard saying I had no more money , having tried to placate him with a pen or some batteries .Car duty of 20 euros paid ( an official , unofficial payment according to my guide book ) money exchanged and insurance bought (8500 u for 20 days ,approx £20). The vehicle was given a cursory search (so I could have brought beer in) and we where in.
It came as a bit of a shock when I learnt that "no mans land" still has landmines a short distance from the track .A tourist had been killed last year when his car hit an anti -tank mine
I always considered Morocco to be poor, its positively 1st world compared to here.
Into Nouadhibou, driving in the dark looking for a camp site .Street lights don't work, cars everywhere .We finally put down for the night at a secure site in the centre of town.We have made it to Mauritania
Onwards south
Armed with visa we head south from Mohammedia. Following the wild Atlantic Coast road, we turn off onto the more "picturesque" B roads.
Passing empty sand beaches, cutting through mountain passes the scenery is stunning. We head south to the Western Sahara. Here it becomes desert again a vast empty quarter bounded by the Atlantic one side and the occasional glimpse on the horizon of mountains .Having perused the map I thought it would be a 3 day drive , how wrong I was .The road would loop from running along cliff edges to inland where it was more featureless desert .It becomes boring into the second day .we free camp where we can ,overlooking the sea or at thee occasional low rent campsite.7 days later we make it to the border at Dakhla having covered 1460 miles .Pity anyone without a visa .
In Tan Tan our wallet got lightened by 400d when I failed to give way to traffic coming onto the island .You are supposed to Stop at a small sign written in Arabic . I wouldn't have minded but we where the only people on the road. The very nice police man pointed out that I should have stopped at the sign and told his colleague to get the special book .In my understanding of the fine i thought it was 45d, His mate returned with a big book, when i proffered 50 d, they laughed and pointed out 400d, the biggest fine available .I didn't argue as they didn't ask to see our insurance documents (it had run out 3 weeks earlier!)
I think I found the only un-bribable police officer in morocco.
It was surprised when he gave me the official receipt. Judging by the way the locals drive I do feel hard done by.
As for the insurance, in the time it was valid we passed through many roadblocks with just a wave from the police I didn't see much point in renewing it.
We are now being constantly checked by the Gendarmerie Royale who want to know where we are going .To speed things up we now give them a "fishe", photocopy of passport with other important information on it (i.e. date of entry, vehicle details etc) Also, hanging around on both the entry and exit of towns, the Surete National .All these guys do , is hide with radar guns and stop anyone infringing their road traffic laws.
One road check did result in a surete officer walking away with the idea that I was a police officer .Don't know why he thought that (do we father?) and deciding he didn't want to pursue the "no insurance" offence and was most upset that his colleagues in Tan Tan had fined us 400d .He also thinks Jayne is a nurse.Money never changed hands.
Dakhla was our last night in Morocco ,240 k from the border.Set on a spit of land , lots of campervans have made it down.Its very laid back as befits a location for surfing and paragliding .White sands worthy of the Seychelles Met a couple of English guys on their way to sell a car in Senegal . Problem was .....no visa .So his son had to fly to Rabat and sort it out , they will end up waiting 4 days on the campsite.
We make the border at 1500 hrs, dispose of our last 2 cans of beer (gave them away!!!!!) and cross .All documents are checked, vehicle signed out.
7 weeks in morocco, 1 fine, 30 mpg, 4400 miles, 1 clutch and copious amounts of beer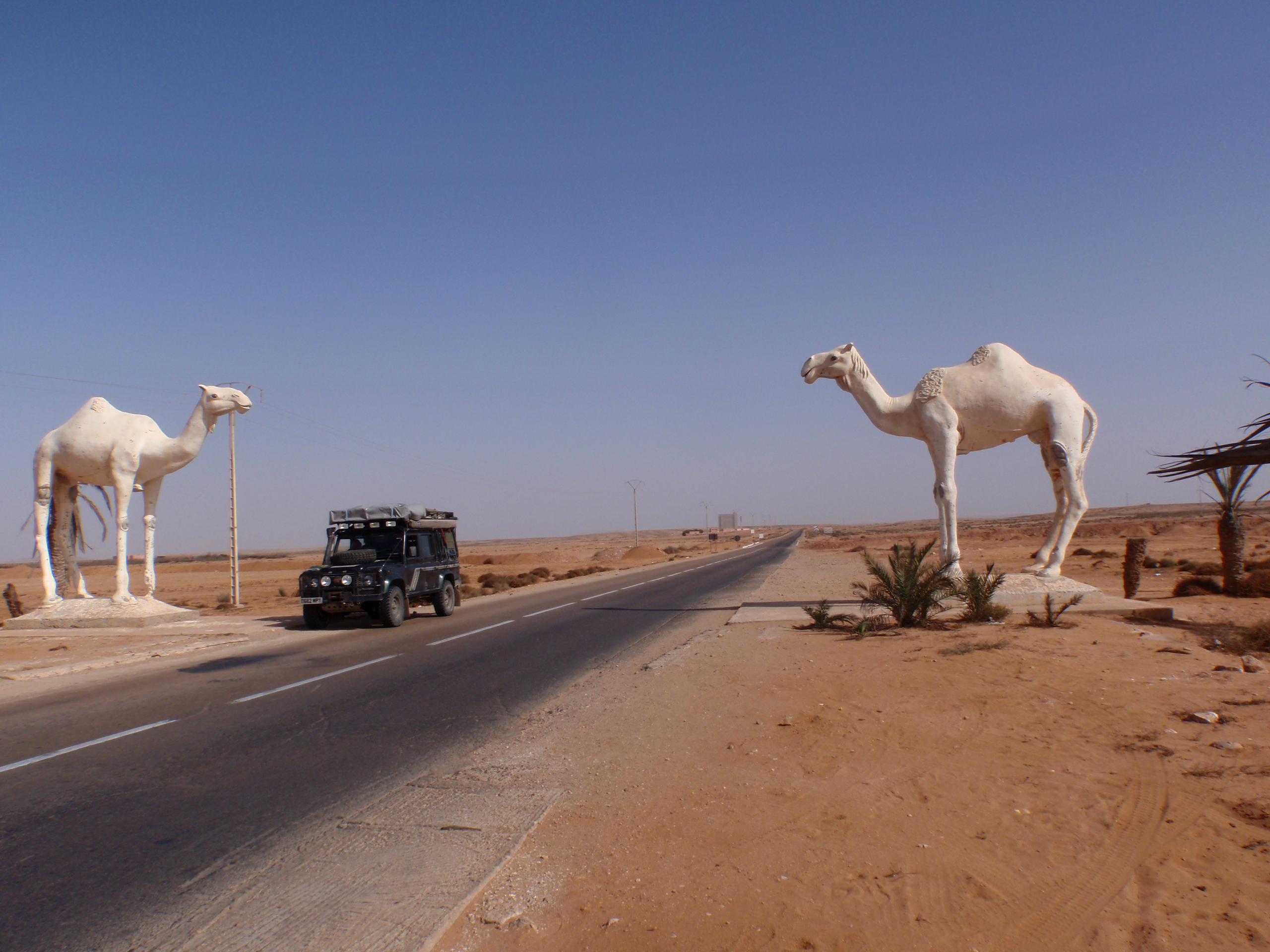 Gateway to western sahara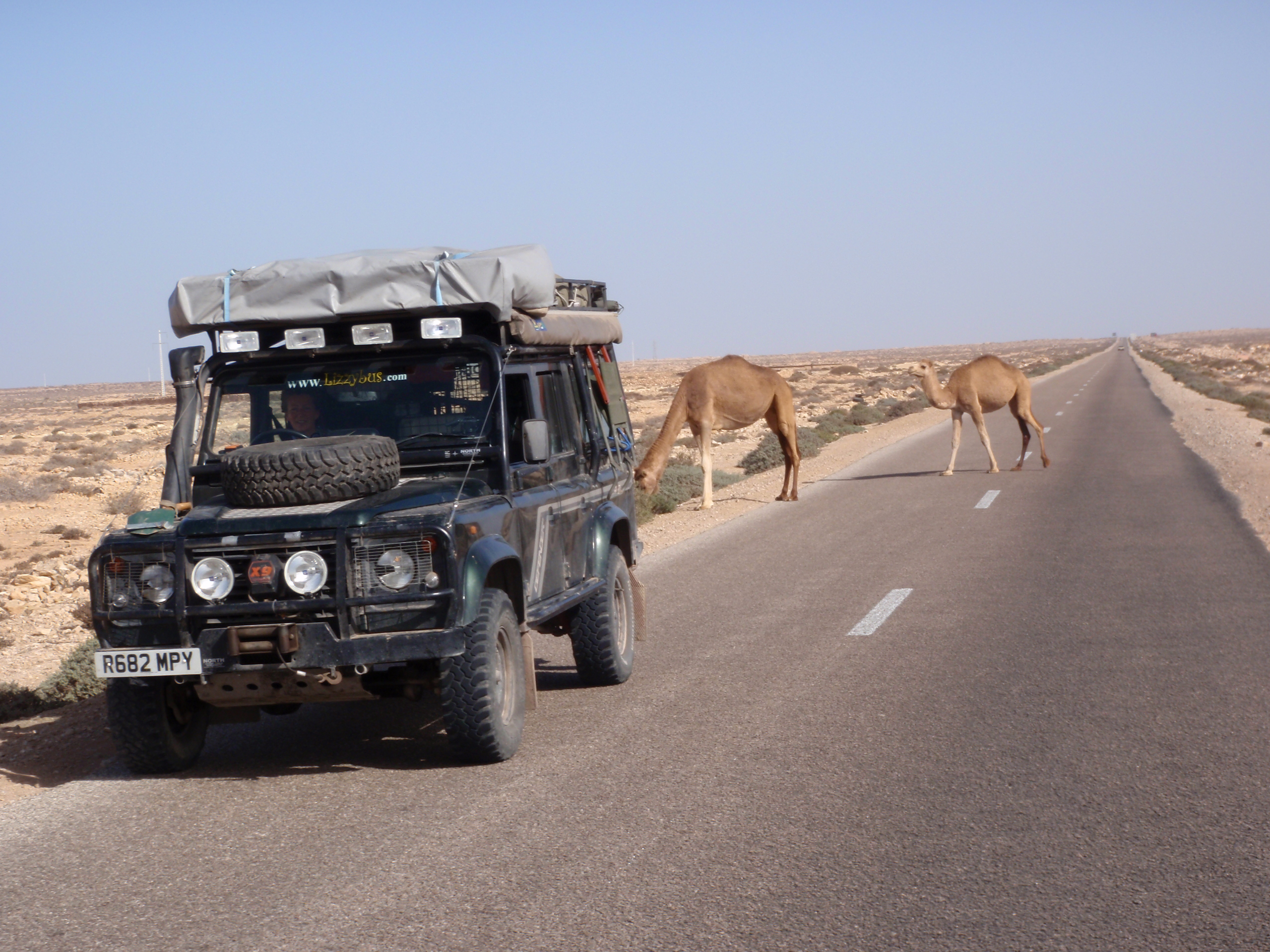 well what did you expect in a desert?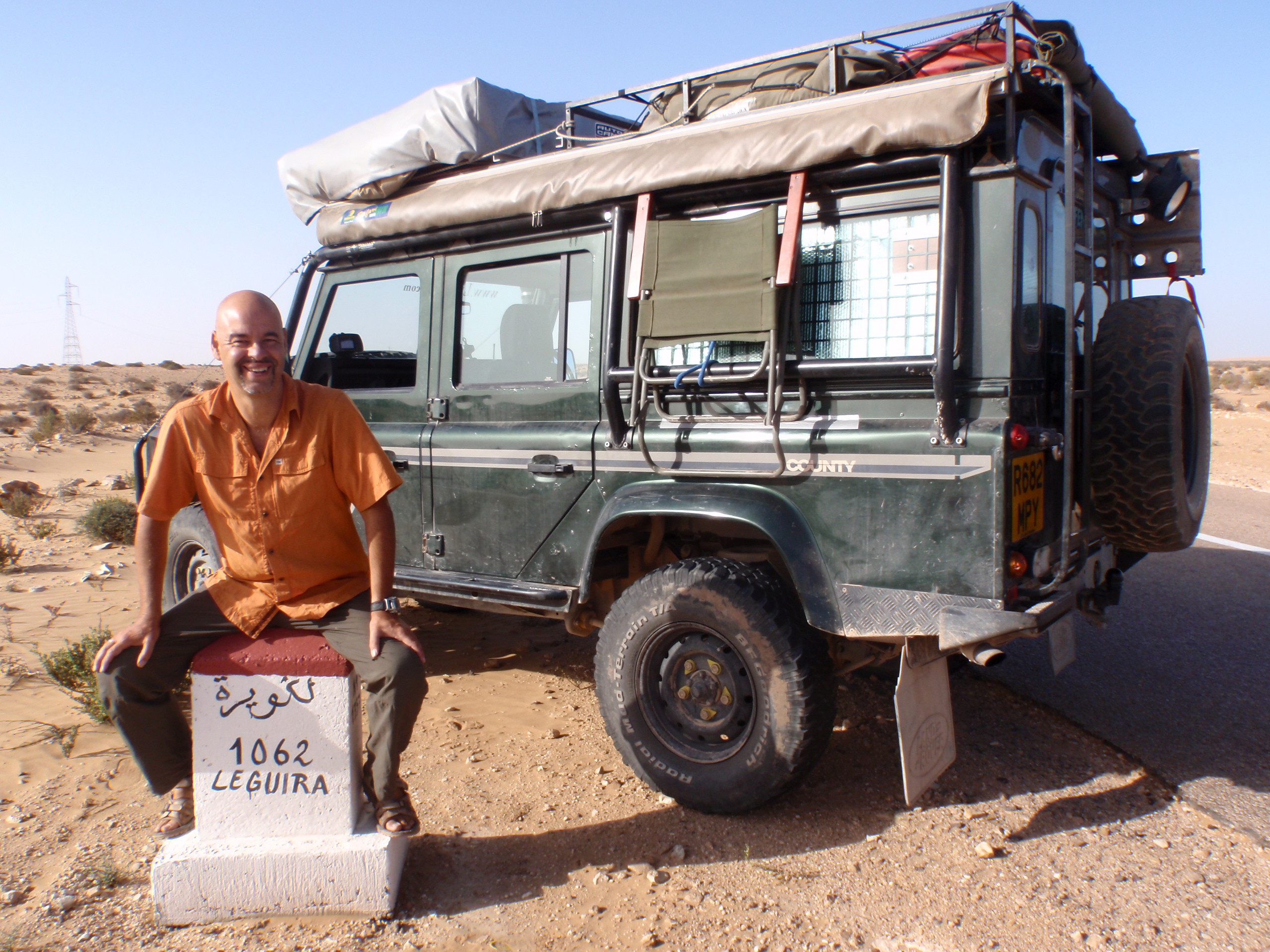 Driving for 3 days and still how far to the border?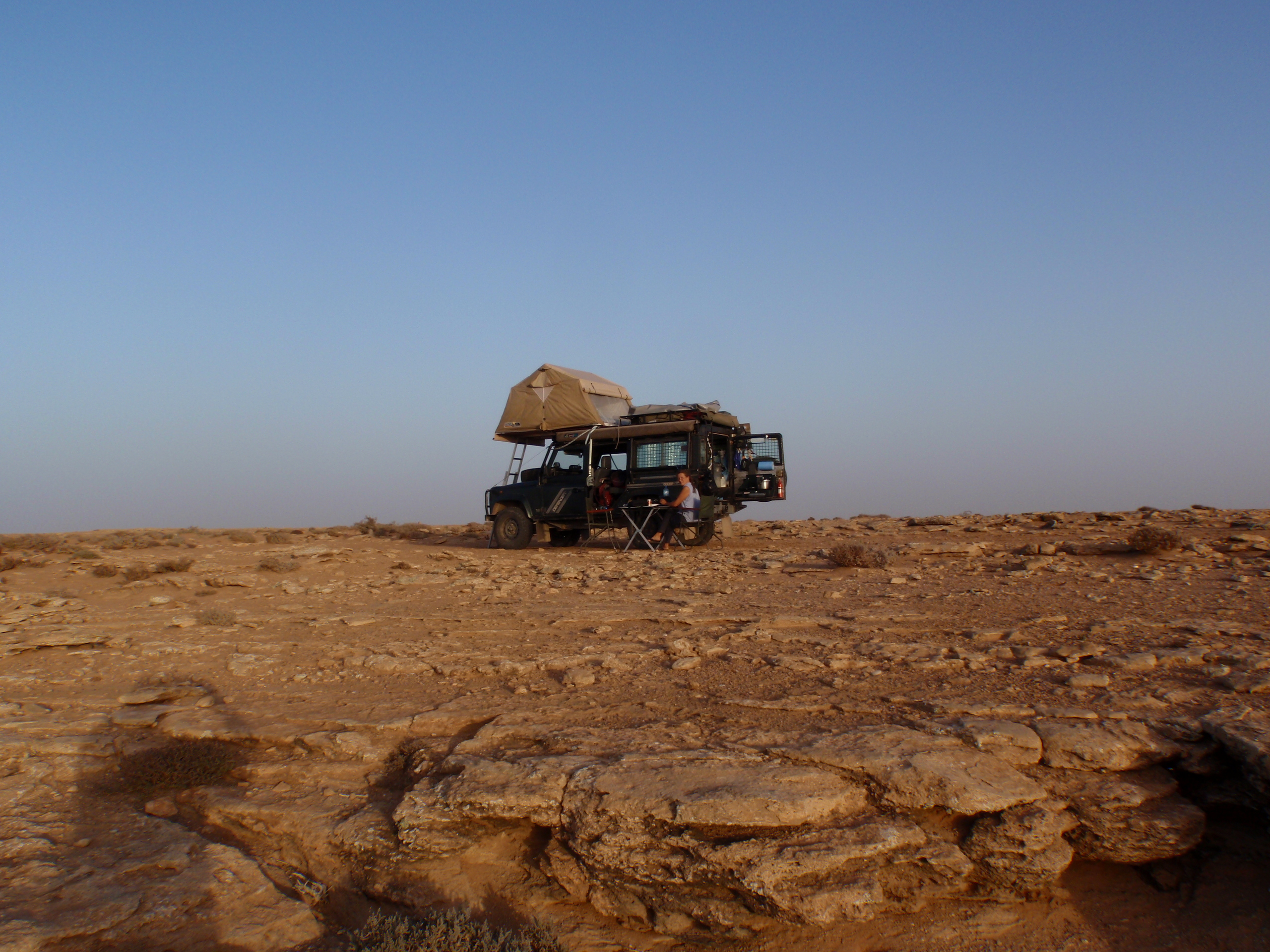 Free camping on coast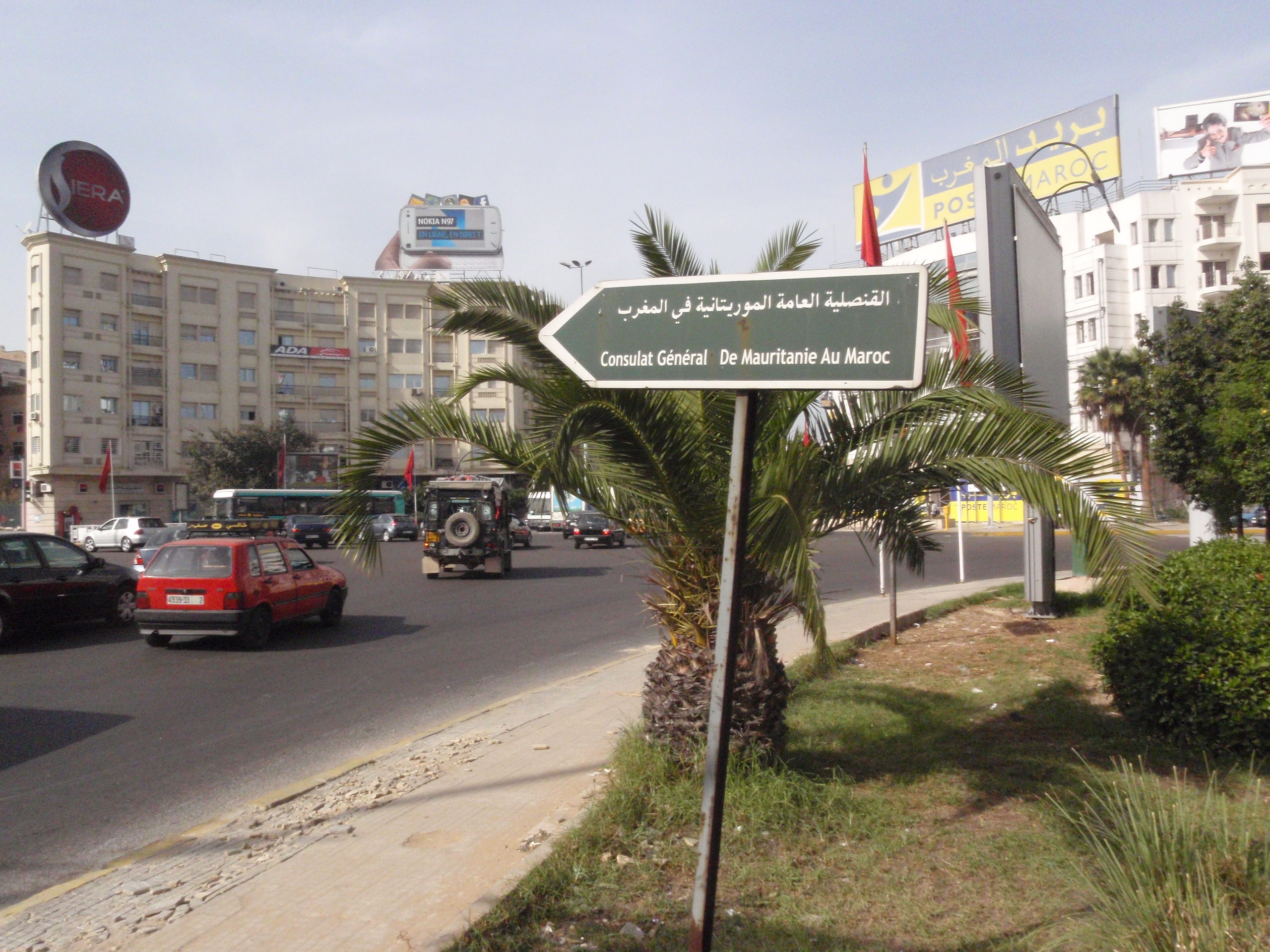 It's a lie !
Unwanted


The general consensus of opinion on the internet and those travellers we have met is that the Mauritanian Visa is not available on the border but at the consulate in Casablanca!
Others, possibly more in the know say it is available at the border.
As Casablanca and the border are 2000k apart we have decided not to take the chance and buy it now whilst we are in the vicinity.
Armed only with a vague map and the address we amazingly after a couple of hours in the insane traffic found the consulate .Well , not a consulate anymore, a mobile phone shop.Wouldnt have minded much but they still have signs up for the consulate .
The nice security guard, obviously used to people demanding a Mauritanian visa handed out a piece of paper with the consulate address in Rabat, 80 k up the road. So Dave and dog you where right, Rabat it is .No map, no idea (nothing new their then) we
made the embassy at Rabat, Thursday 1500 hrs, to be told "go away come back tomorrow" B*****s.
Arrive Friday morning , fill out application form in best "O Level French (grade unclassified) , hand over 680d ,told to return at 1500 .What they forgot to tell us , or got lost in translation was "on MONDAY !".
Return to Mohamedia, book into a room for 4 days and sulk.
Monday, arrive 1500 visa's issued .People have turned who have had to fly from the border as visa's are not being issued there .Feel vindicated .Did you know that Mauritania also has a Poets day. So, if you want to go to Mauritania, visa from Rabat, paperwork done and handed in on the morning, nice visa issued the next day at 1500, except Fridays when the visa is issued on the Monday because they bugger off early on a Friday. No doubts it will all change .Does Mauritania want tourists?
Armed with nice visa in passport return to room
Now children, remember if you have to use a sharp knife make sure their is a responsible adult around to supervise you.
I didn't and in an attempt to make a filler pipe for the transfer box managed to cut a 3cm laceration to my knee.
Great, chance to use the sutures in the first aid box.
On the Piste
Time to get down and dirty, Sahara time .From Zagora we head south to Tagounite and follow the Piste North East 239k to Merzouga. It is described in Chris Scott's book, Sahara Overland as "one of the best desert itineraries in Morocco". He was so right .The route covered desert, mountain passes, chotts, salt pans, dunes, and oueds. We even got bogged down to the axles in a dried out oued.Free camping under the stars our confidence is growing .Jayne now has a dickie seat, on flat fast sections she sits on the roof rack! It took us 3 days to complete the journey finally ending up at the large dunes at Erg Chebbi.All I can say is thank god for Garmin GPS. Pre programmed a list from the book prior to departing , kept us heading in the right direction. It was an exhilarating drive, sensory overload in the "great scenery" dpt.
Our tails are truly up.So more "Piste action" is required. Nekob to Tinerhir via Iknioun,described in the Morocco handbook as requiring a "solid 4X4".Again nail biting, low ratio drive up into mountains ,dropping into a lush , hardly visited valley's This is what we wanted Lizzy for .Finally , as a glutton for punishment Todra to Dades gorge. Not to be undertaken lightly. As we drove down another track , no markers to show us the way , 30k from the smallest village we had to turn back because this wasn't the path , just a track to an impassable gorge. Leaning at ever gravity defying angles we retraced our steps….my heart stopped, a black trail of oil where we had just come from. I was nearly sick with fear , what had I done , what has sprung a catastrophic leak , can we make it back .Convinced it was us ( we hadn't seen anyone else) ,checked everything .The oil was black but dry , phew not us .We must have missed it on the outward leg.
So an overnight in an auberge sleeping on a couple of sofas (20d each), we are so cheap!
Drive back to our nice campsite in Marrakesh for a few days .Few repairs ,reseat the air filter box which makes Lizzy sound like she has a death rattle. Change the oil. Everything on an overland trip must have a dual purpose .I don't know why Jayne got the hump when I used the washing up bowl to drain the sump oil into?
Off to Casablanca to pick up a visa for Mauritania and a trip to the seaside and the haul South .Mind you Mauritania is DRY ,no beer .Stocked up at Marjane ,beer on special offer ( thank god they take credit cards).Jayne has now run out of Silk Cut Silvers and is now on an enforced smoking ban.
Food is becoming bit of a hot topic in the Lizzybus camp. Not only do we keep talking about it, Jayne is withdrawing from cheese! Managed to get an omelette fromage, Jayne was rapturous till it arrived…..Dairylea cheese. I'm still smiling.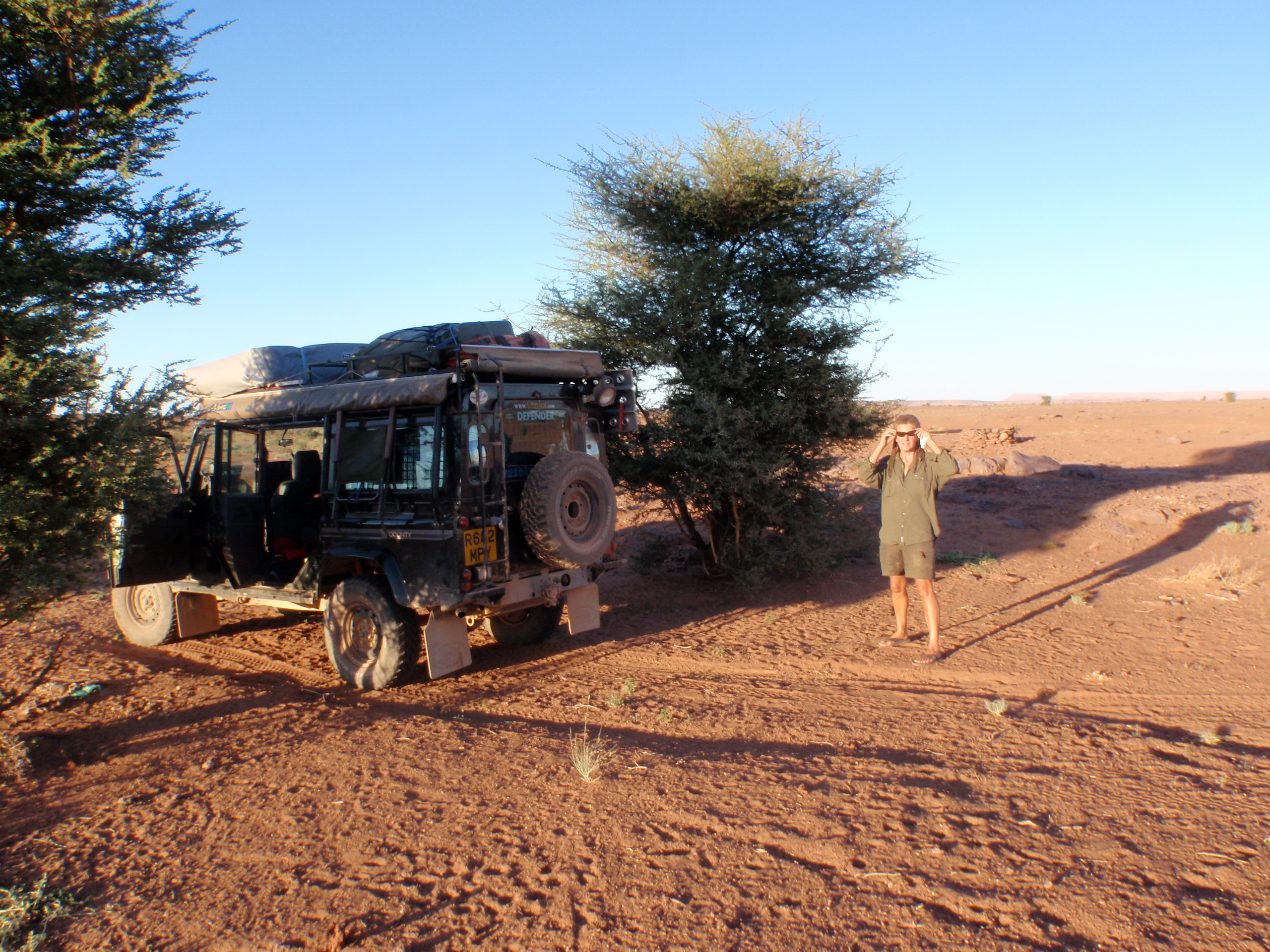 free camping in the desert
Surfing Time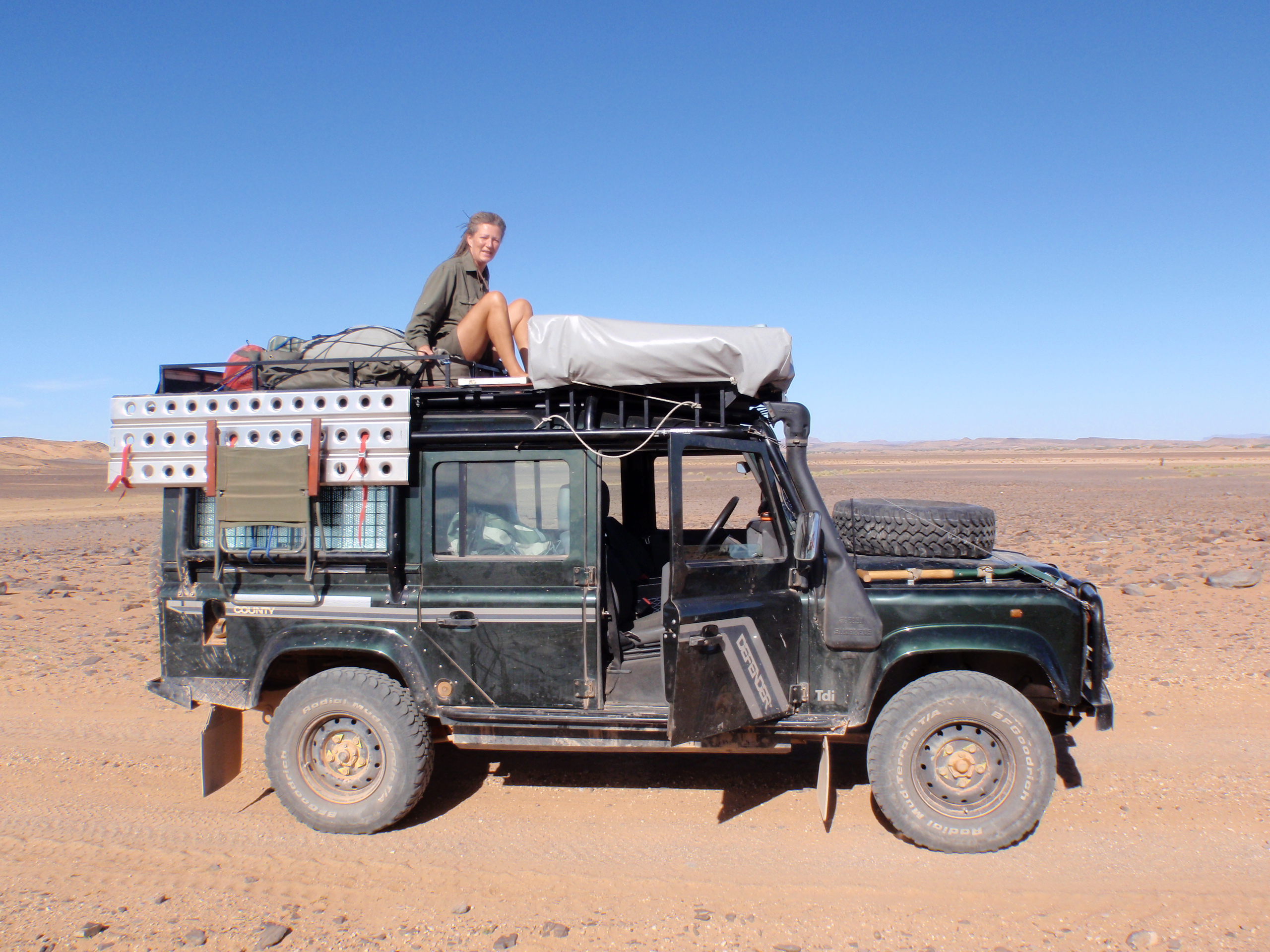 jaynes new seat was more comfortable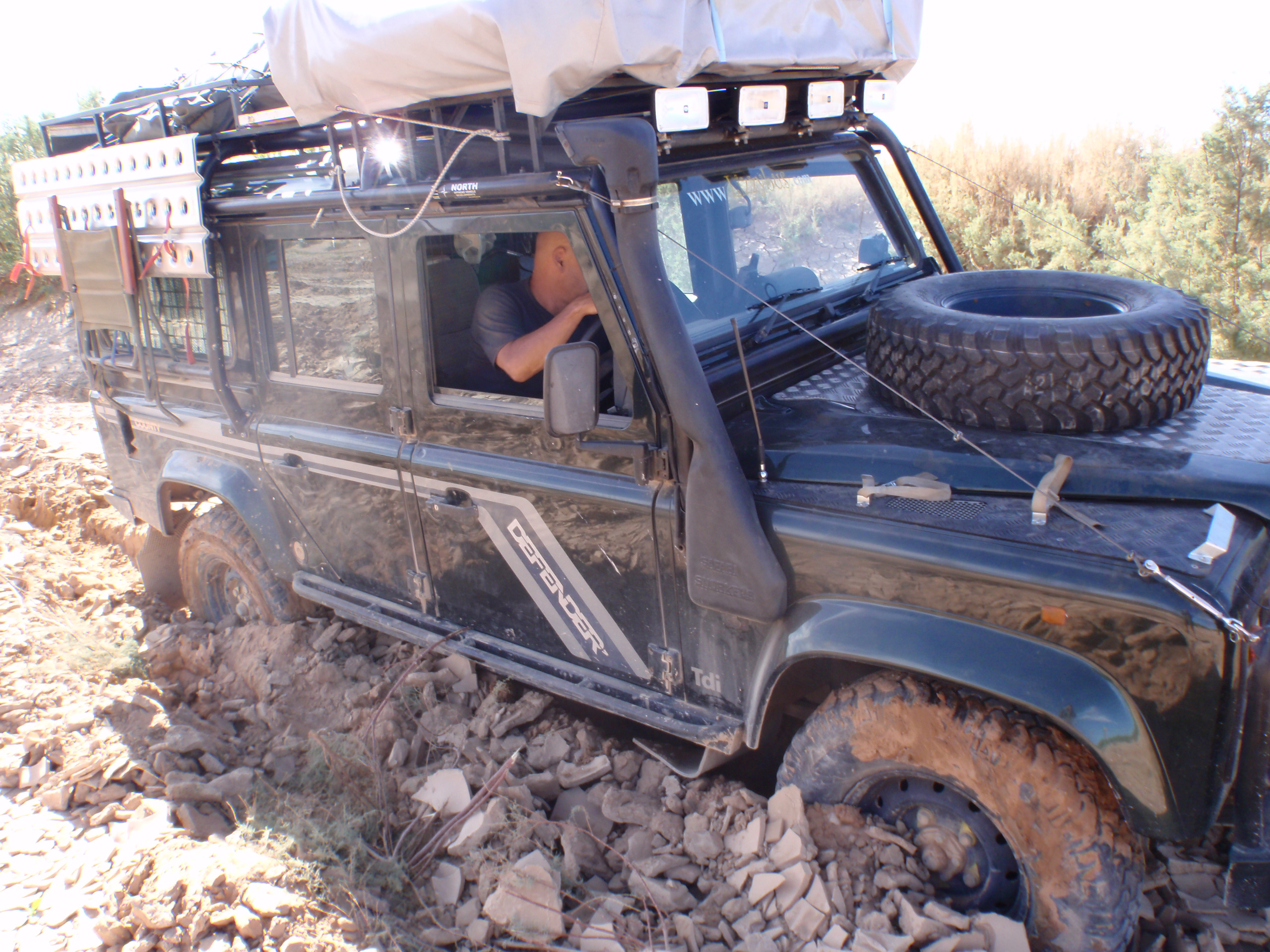 bogged down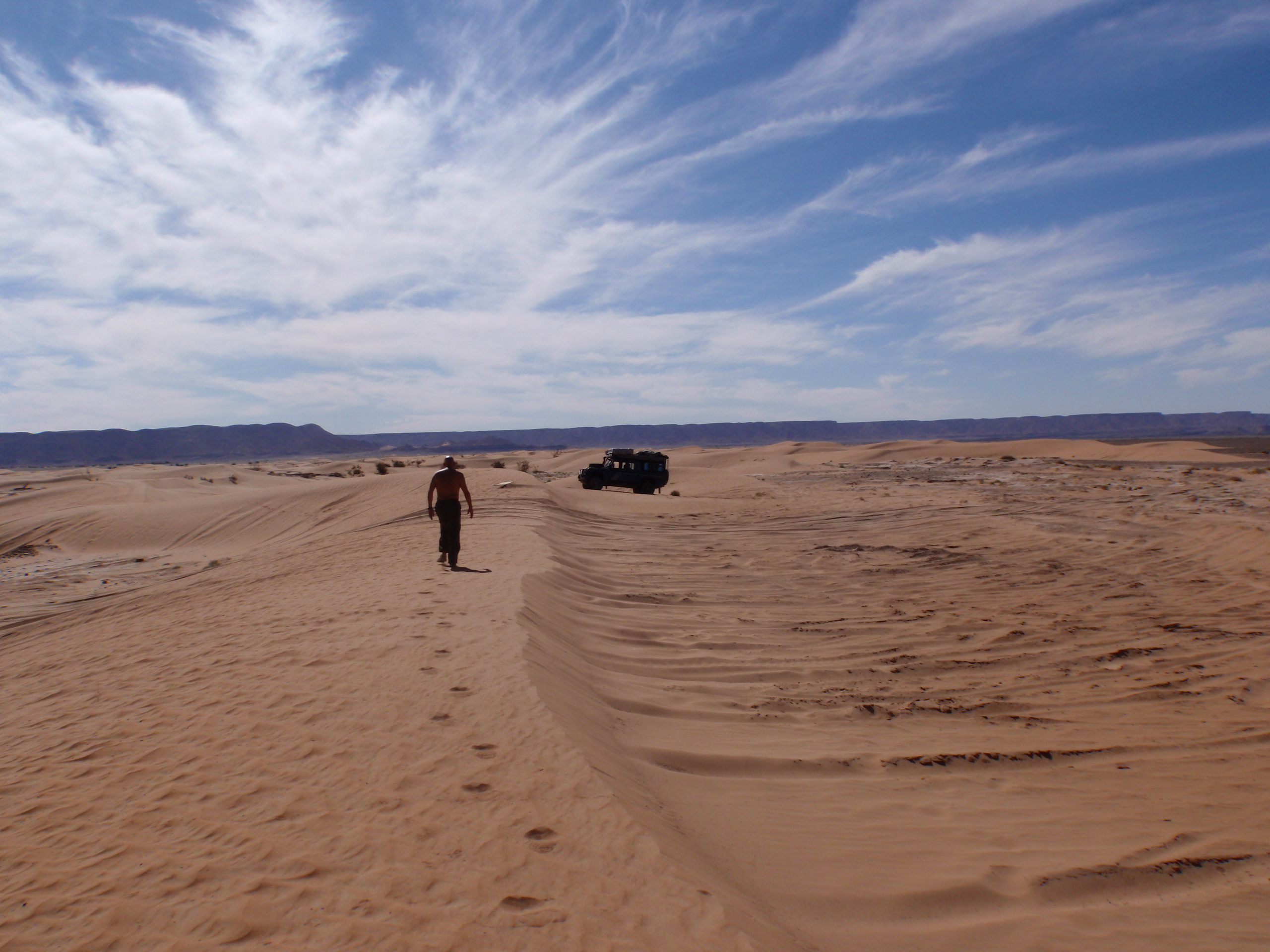 when does the tide come in?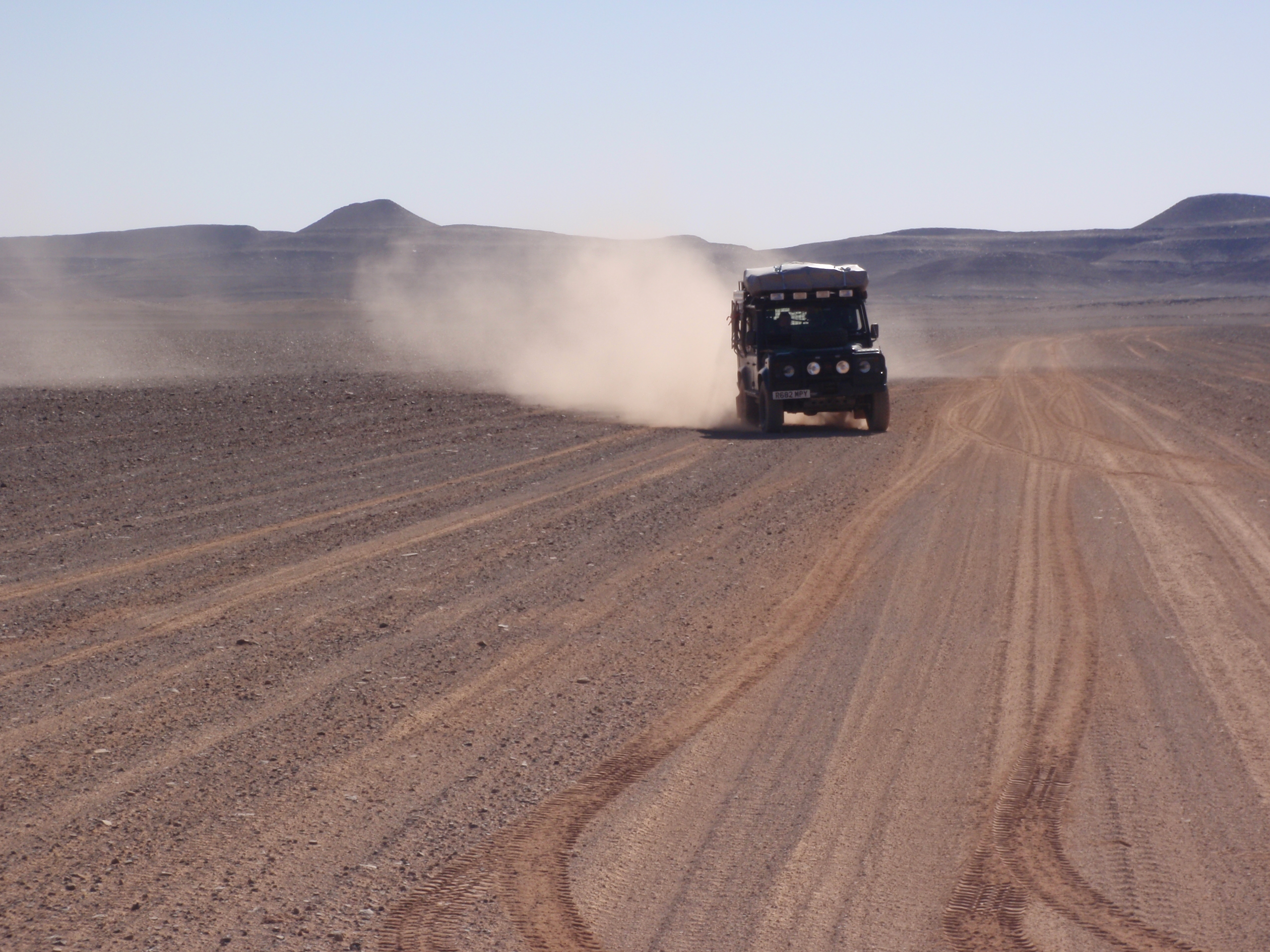 dust
Me and the mechanics
On a Landrover forum someone asked about recommendation for a mechanic in morocco should his vehicle break down (how did he know)
It was posted at Zagora they find you.
Well they do and they did.
Camped up in a Palmier campsite, an hour after we arrived a lad on a moped turns up, looks at Lizzy, crawls under and pronounces that the UJ need greasing.He will do it at his garage tomorrow for 20d .I know that this is the opening gambit for someone to get underneath, suck in through their teeth and announce the demise of some major part of my vehicle. But hay ,£1.60 to get my UJ done without getting my hands dirty ( despite doing them 2 weeks previously) and forearmed about the "necessary other items" we turned up.
It was chaos, loads of 4x4 there .UJ greased the boss gives Lizzy the once over. Everything Ok? You bet .He does recommend however , that the rear springs need "helpers" and I agree with him, the rear is sagging and on heavy going is prone to hit the bump stops. In best pigeon French he tells me best price is 2200d (£180).My Italian friends had them done at the same place for 100 Euro .I agree a price of 1100d (£90), nothing more .He agreed and they did the job .Bearing in mind that our next leg 160 is across to Merzouga via the desert piste it was a good decision
lizzy in the doc again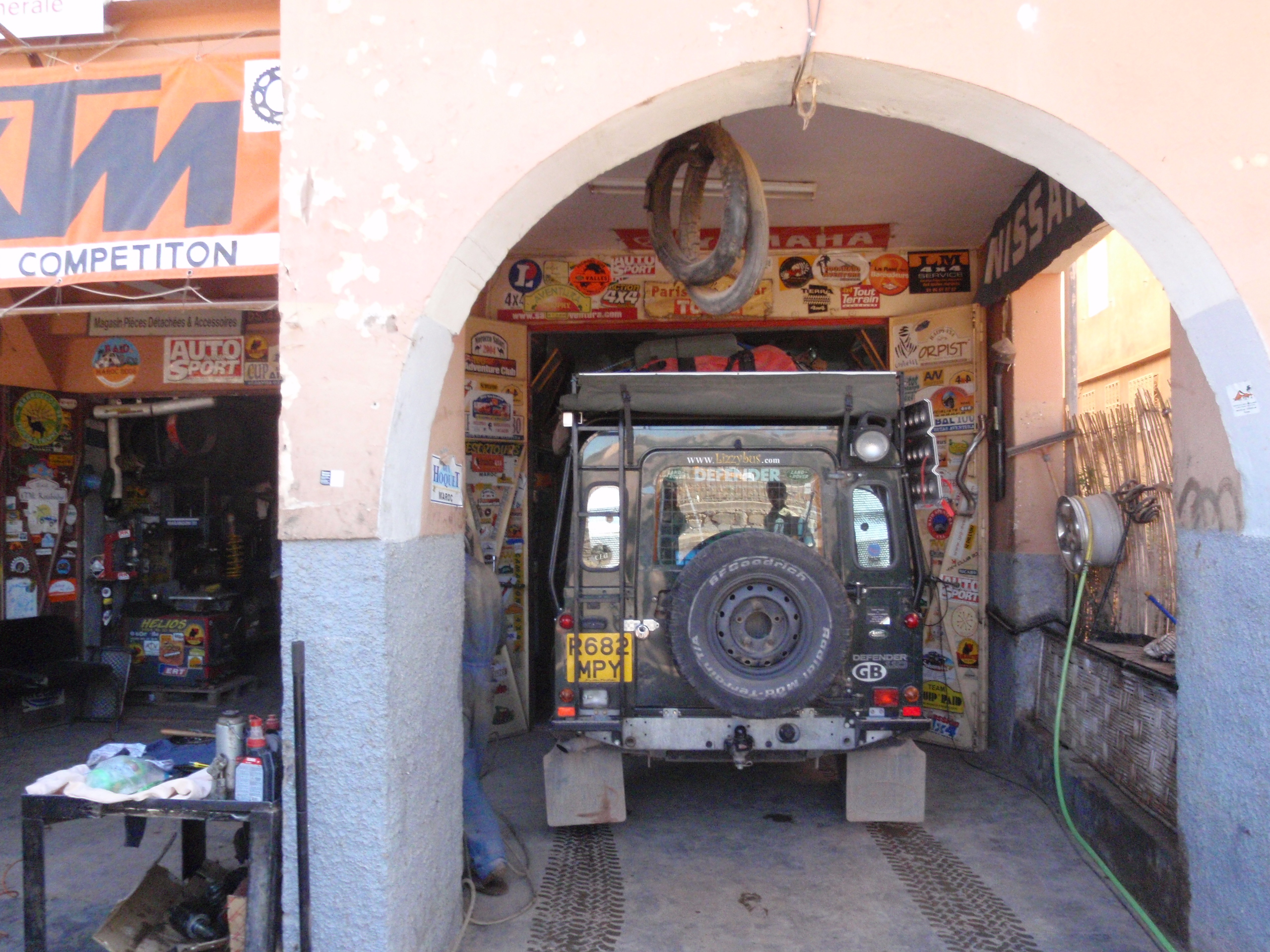 Berbers
Time to head south to Zagora and some fun in the Sands of the Sahara.
10 nights paid for for the princely sum of 630 d, £5.20 a night!
South took us over the Tizi-n-Tichka pass .A winding road over the high Atlas , again stunning scenery ,switch back roads .Decided as we now had a serviceable clutch to "get down and dirty" by taking more minor roads .Telouet to Ait Ben Haddu looked promising .Described in the guide book as "80k excursion for 4x4 only" , how right they where. I don't mind rough roads with a bit of old tarmac on top .The road ran out and the track began. This region is "mud house" construction. Clinging to the side of mountains, fillings being loosened, mile after slow mile .Late in evening we gave a lift to 2 men who had moved a few boulders out of the way for us. It was getting dark, when I got out……rear on Lizzy showed oil leaking out everywhere. Heart sinking fast, wondering what we had broken, the penny dropped. The oil, finest 80/90 was dripping on the mud flap .Opening the rear door I was relieved that it was only a 2l bottle the had tipped over and poured its contents into the rear. The rear was flooded with oil .The guy we gave a lift to invited us into his auberge .Slept on a mattress on the floor had dinner with his family .Next morning, early rise and breakfast .He wouldn't accept payment, so forced 100d for "his family" on him.
Continued down the dirt road to be confronted by a digger and rock breaker making the road as we approached.This was the ideal opportunity for the local kids ( who should be at school, sorry ecole) to plague us asking for money , food and our football.
Arriving at Ait Ben Haddu, UNESCO heritage site featured in many "sword and sandal" movies. Again a quite impressive site worth of the journey getting there.
Over another set of mountains to the Draa Valley and the run down to Zagora.When you hit the peak you can see a green ribbon of palmiers stretching into the distance, that is Draa valley, closed in on both sides by the dry, arid escarpments, quite a contrast .Jayne decided that our diet would become more "date" orientated as you can pick them fresh from the tree.
no school today?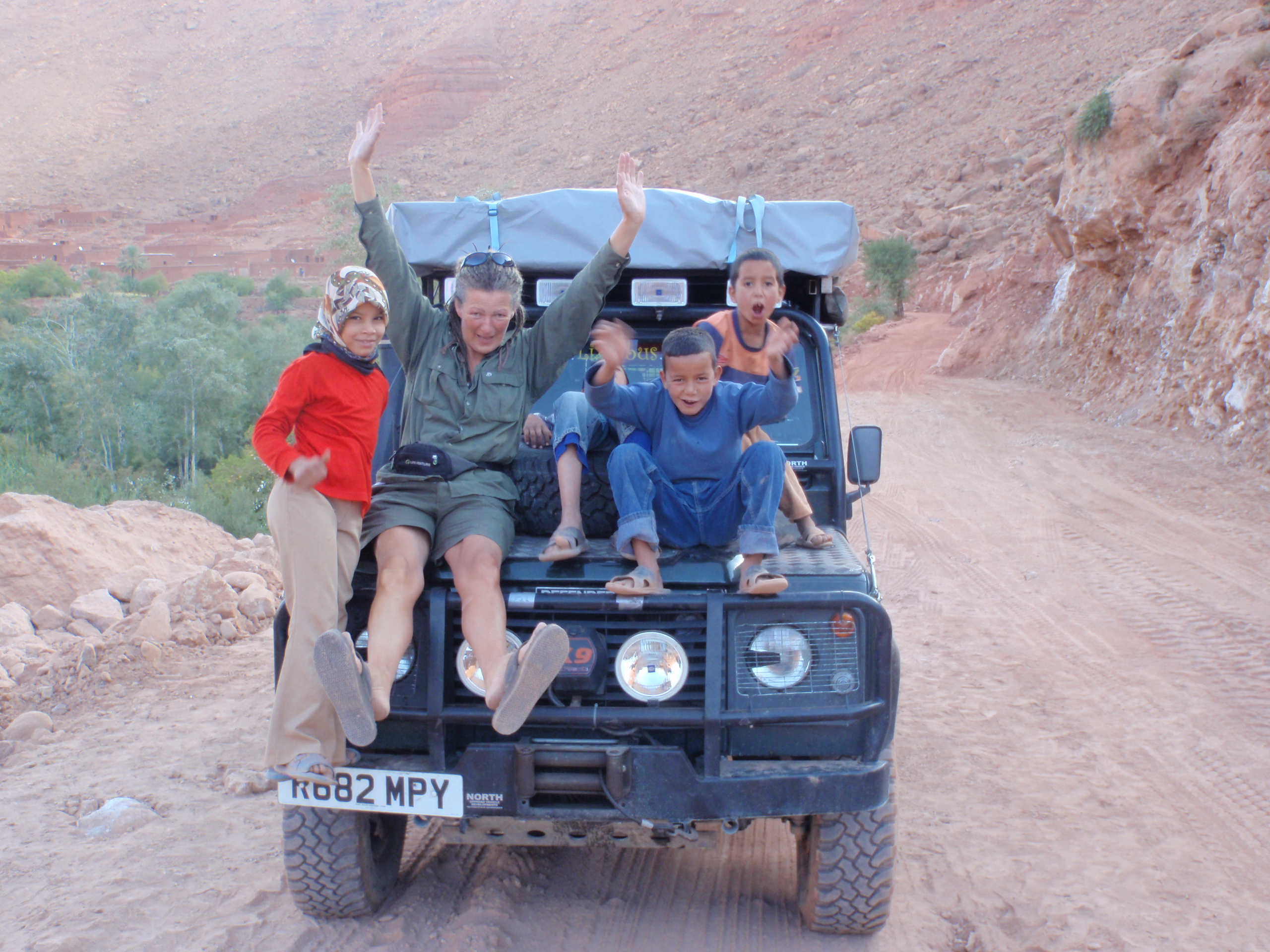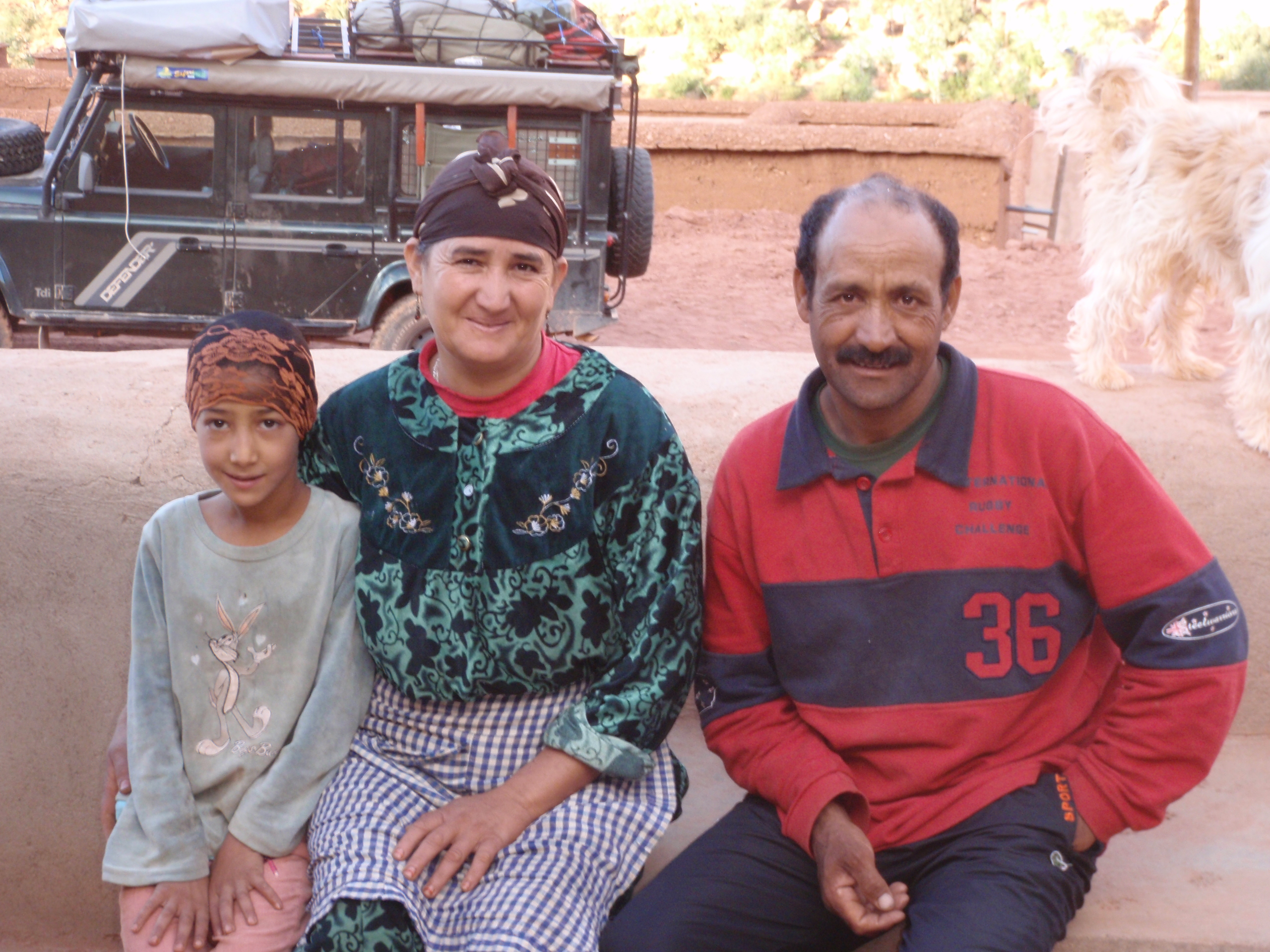 berber family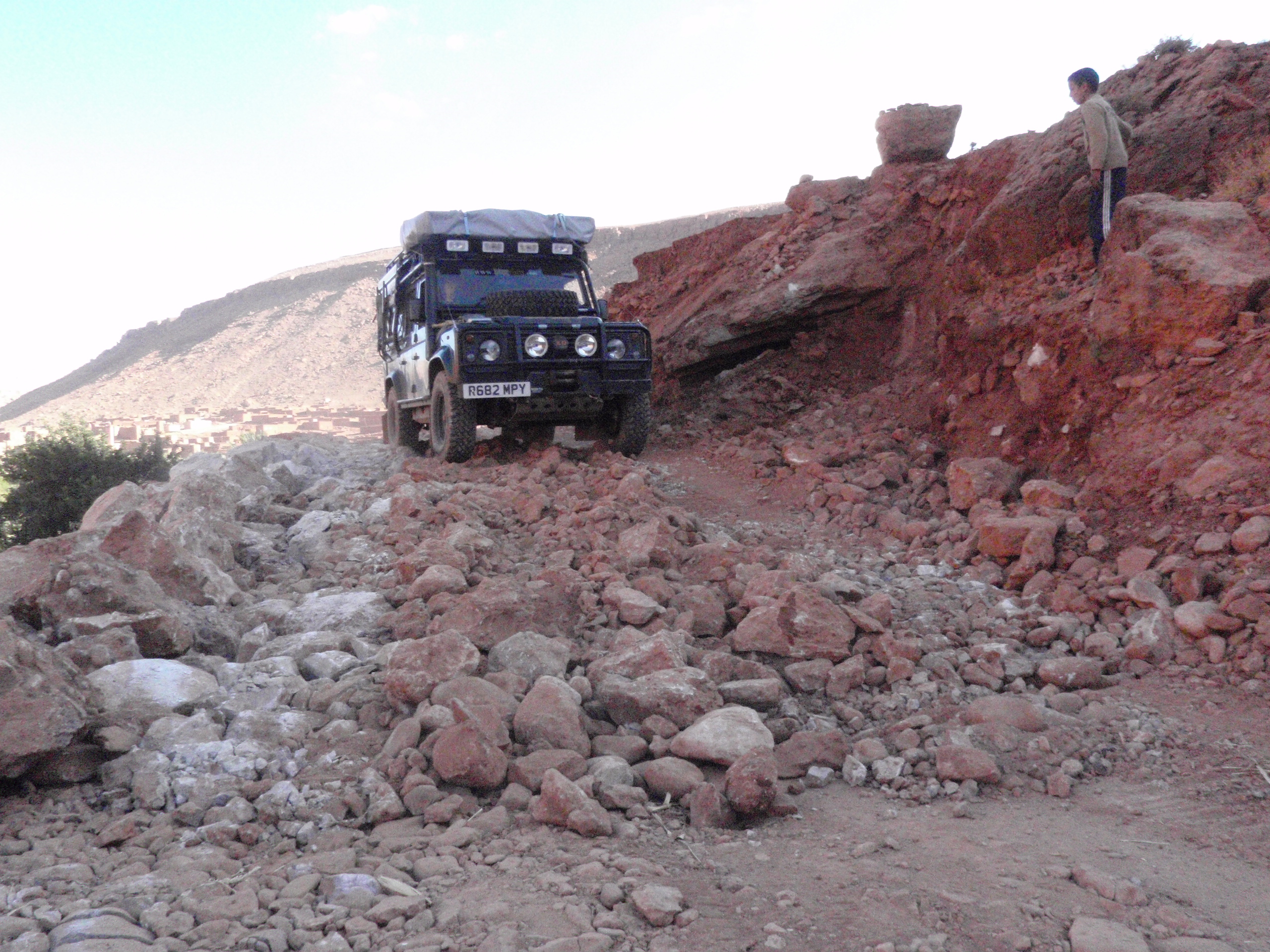 new road !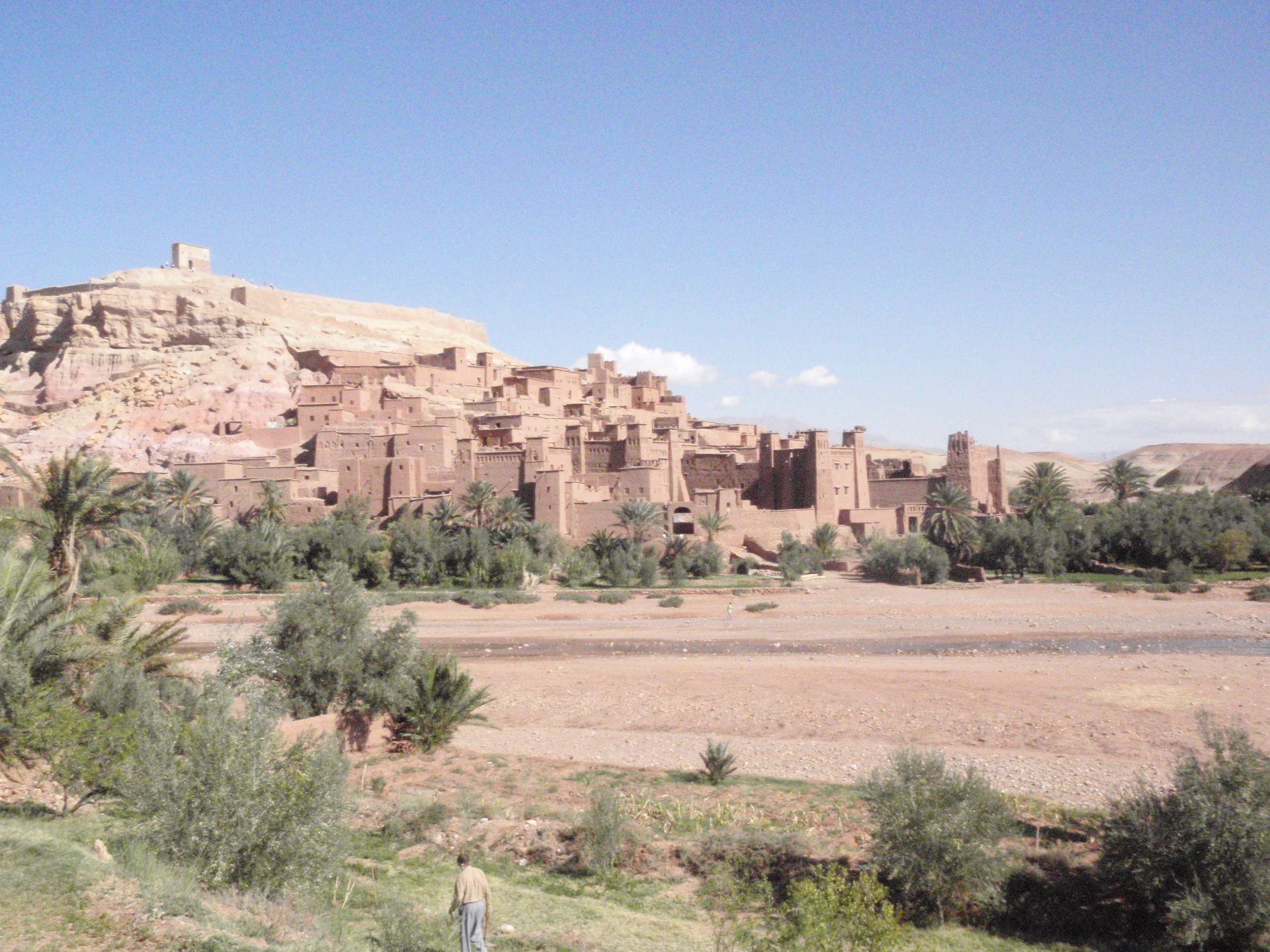 Ait Ben Haddou
Fatal attraction
Ah the joys of Landrover ownership.
So sitting outside a back street garage in Marrakesh having arrived at 0800hrs
Found this mechanic from various postings about repairs in Morocco .We where going to chance getting to Zagora but the clutch slippage had dented our confidence .We had to stick to more major roads rather than going off the beaten track.
Armed with GPS we found the workshop.
New parts where ordered ,clutch, plate and release bearing .He also said he would check to see if the rear crank seal was leaking.
This clutch was supposed to have been put in less than 10k before when we had the chassis swap.
Haynes manual in hand (just in case) the mechanics removed the gearbox .Luckily I was on hand with illustrations to show them it was easier if they removed the transmission tunnel first. A morning to get it all out.
Rear engine oil seal had a minor weep on it, but as he had a replacement it was put in.
So my only conclusion is that the clutch had never been replaced. The tale of Lizzybus has been about asking so called "experts" to do work on our vehicle knowing we where about to depart around the world and finding it either hadn't been done or had been poorly executed.
I digress.
Anyway, 1 installed clutch and an empty bank account are testimony to my 12 hours at the garage
usual home for "Lizzy"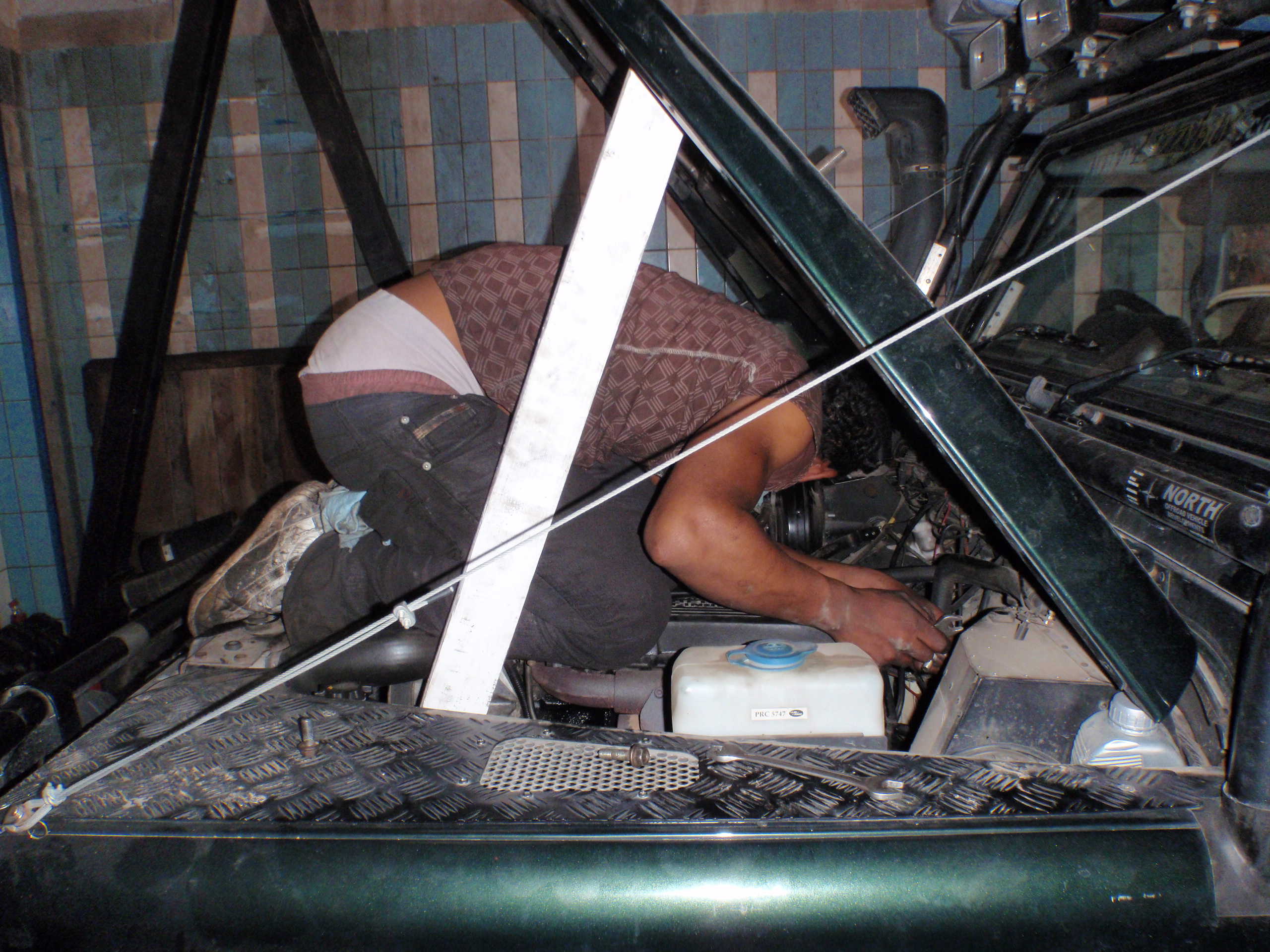 nothing wrong with child labour!
Marrakesh
Cascades to Marrakesh, 160k of the most boring, flat featureless road that you could find.
As usual campsites have closed for the winter. We found Camping Le Relais de Marrakesh .Its that good; as I pen this article (pre spell check) we have been here 10 days! It has a decent pool, warm clean showers, no howling dogs and we have a shady spot. The icing on the cake £6 per night and free wi-fi…There is a Marjane supermarket around corner so copious amounts of beer in the fridge.
Clutch is to be replaced in morning so the usual for me of up at dawn and hanging around a garage till job done.
Met Malcolm, he owns street bike in Halesowen .God had given him a pointer about work life balance by means of a heart attack. So he is here on his bike enjoying himself. Mind you when he got his phone bill I thought I might need use of our extensive medical kit.
Also met Jenny and Mick plus family, on way down to the Gambia for a year driving a Citroën 4 plus worldly possessions in a trailer .All we can say is that you didn't come back so must have made it over the pass at Tizi-n- Test (much respect )
So whilst here we have done the tourist things, Jemaa el Fna .As it says in the book, large area with loads of street food and entertainers. For 3 of us it cost 70d for salads, bread, chicken kebabs, sausages and a liver dish .Frenetic activity of every man and his dog attempting to catch your attention for a handful of dirhams. Lots of singing, banging of drums but no snake charmers (much to Jayne's disappointment)
You must understand about the driving around here. Traffic lights are for information only .Traffic islands, give way on them or as you approach? Who knows, who cares .They seem to have a death wish .Imshala! Three ton of Landrover, just ignore it.
They make the Italians look like novice nun drivers driving Miss Daisy on a Sunday morning to mass.
Tis the season for the great French migration to their former colonies. Each day, more and more large campervans, each with aircon, sat TV etc turn up. Jealous?us ?.No way .We have all we need, fridge, petrol cooker, roof tent 4 wheel drive and a plan.
There are also loads of 4x4 Toyota land cruisers on there way down south to play in the sands of the Sahara .We need to find out if visa are avail on the border for Mauritania? We've met a couple in a Landrover from Holland on their way down to South Africa on a 2 year tour .They are saying that the visa is now avail from Casablanca! They will mail us and let us know.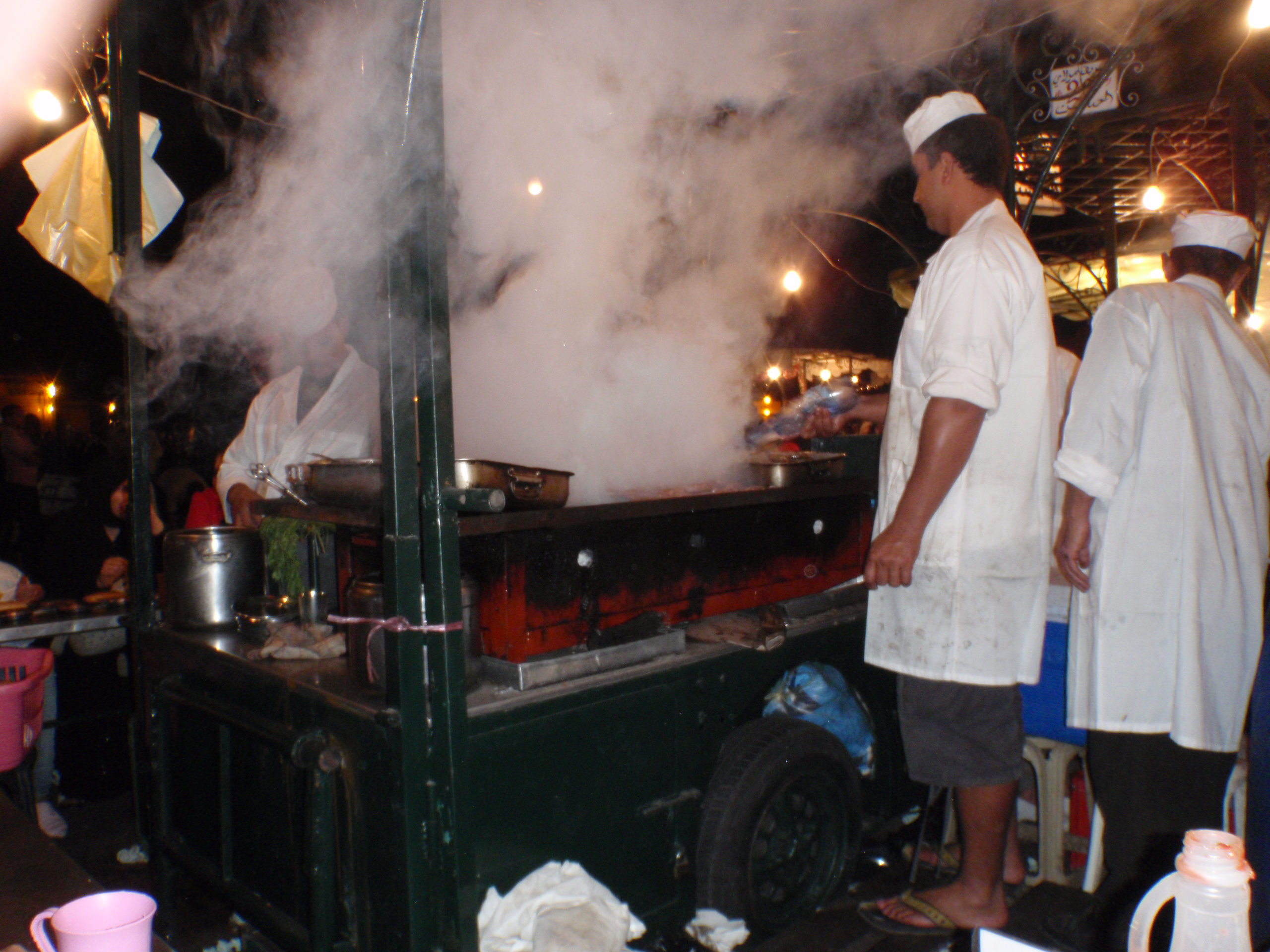 dinner out
Jenny,Mick plus family and a lot of faith in something French
Closed!
Having been adopted by 4 stray dogs, the remains of our dinner where duly dished out. They where much appreciated .our reward? A cacophony of barking and howling all night.
Overlooking the Azigza lake , watching the sun slowly climb into the sky .a chance to try out the"alfresco" shower arrangements .Stark bo****k naked , standing on a wooden shower tray , having washed in a bowl of tepid water ….on with the cold shower. Quite invigorating and apparently amusing to Jayne. Photos were taken but modesty and the protection of the innocent will prevent them from ever being shown in public!
Off then to the cascades of Ouzoud and the village of Azilal.Great drive through cedar forests, stunning views over the plains .We should have camped at Zebra camping…but guess what? Closed .It's a very nice site with adobe houses to stay in. Rather than camp on a scabby car park in town we again free camped. More outside showers for me then.
Cascades, big set of waterfalls, quite impressive .What more can you say, other than it was worth the journey.
Marrakesh, here we come.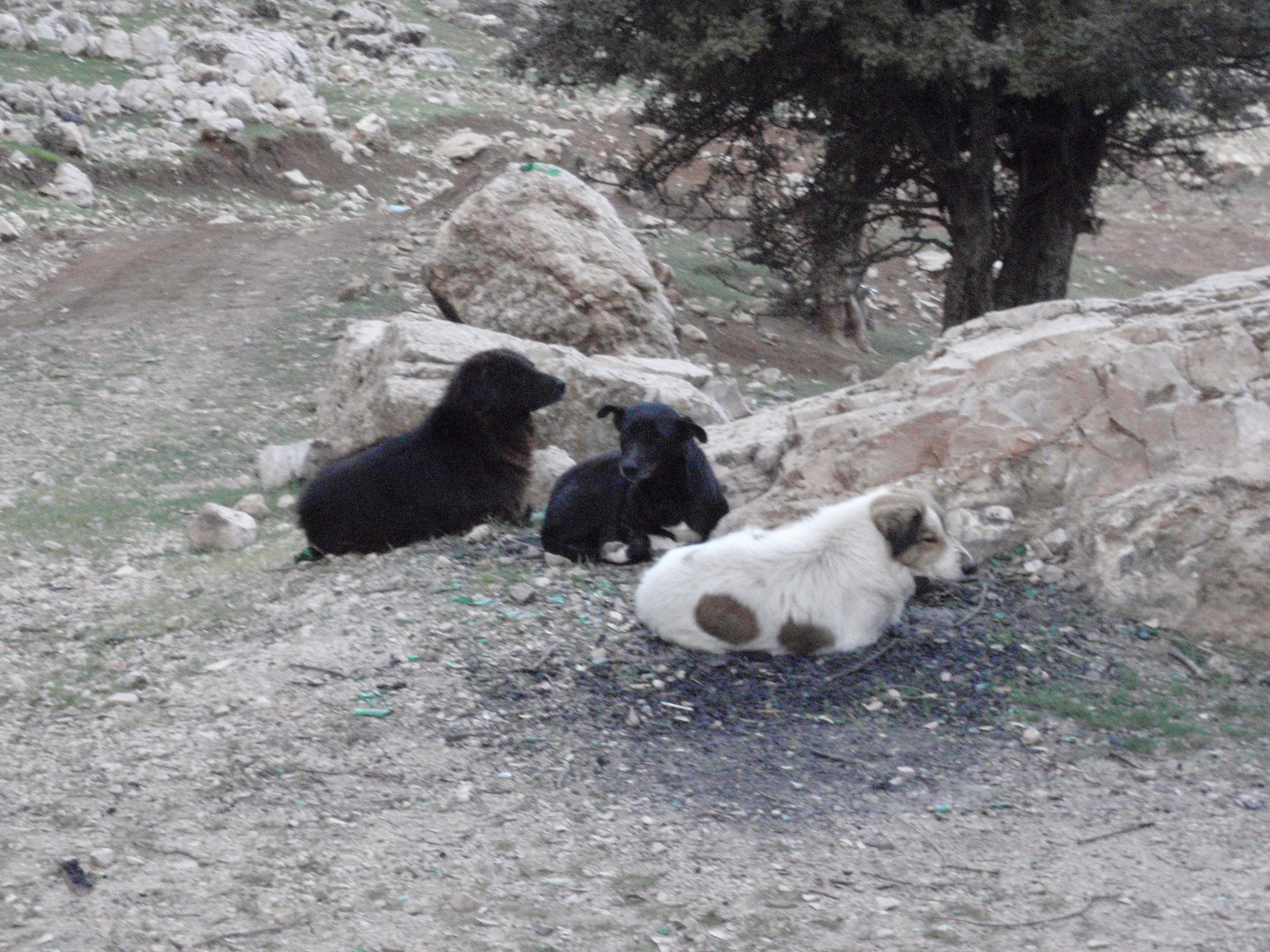 barking mad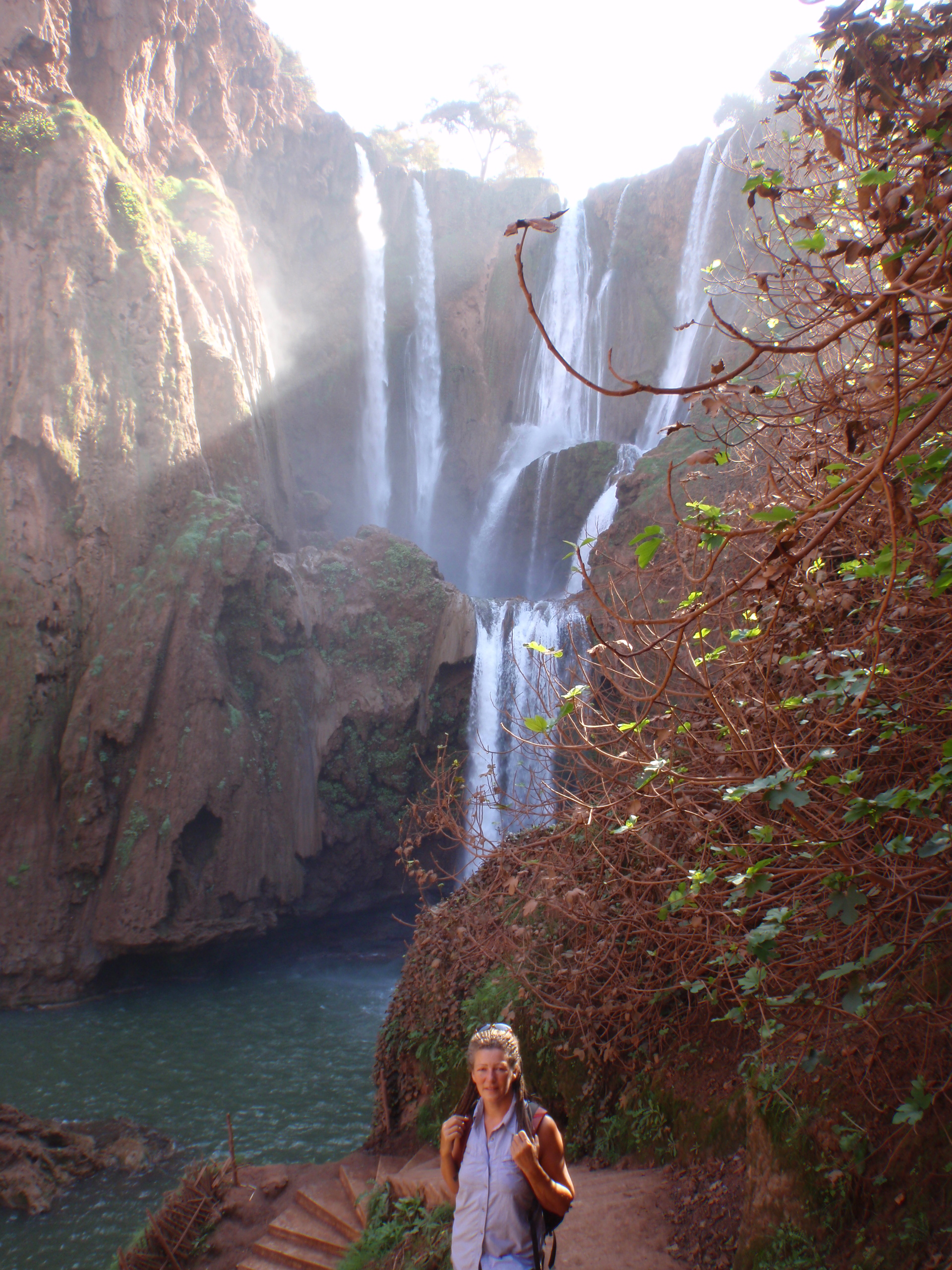 cascades
El Sid



Having endured 2 nights at our palatial campsite it is time to move on. Fes is next on our agenda .I must however comment on the fact that Morocco has an incredibly large number of stray dogs. These poor half starved animals take great delight howling all night and sleeping it of in the day so glad that we invested in a large number of earplugs.

Spent the morning in the ancient city of Meknes, resplendent of ancient mud walls. In the medina made an attempt to buy a "Roti poulet" (spit roast chicken for those who don't understand French…like me) I think the price was 40 d but an enterprising passer bye, his eye on a quick buck decided to bid the chicken up for me to the princely sum of 120d (£10), needless to say I walked away from that bargain. Everyone wants to help you, show you around either for a payment or a kick back from the appropriate proprietor of whichever establishment you end up at. Everywhere is poor, can't blame them really.

Arrived Fes .Camped at the "International camping" 100 d a night, expensive, close to town and we had exclusive use of their facilities and electrics. Great, but the pool was empty and we don't need the power. A party was in noisy full swing till 0600 when morning call to prayer kicked in ( no howling dogs this time ) I think I am going to invest the Turner fortune in an ear plug company .

Moved camp in the morning to Diamond Vert, outside city but with a 3d bus every half hour & 65d per night Stayed 2 nights .Met a couple Katrianne and John plus their banana yellow defender .They are veteran travellers around Africa and have been giving us loads of advice and GPS spots .We now have a 4th member of the "Lizzybus" crew….Sid, the black mamba.

Donated by our new friends. Leave it in the truck and it scares people off. We also need to get a "tocalosh"; again it scares the locals off as it has great powers.

Having had the obligatory tour of the town for 15 Euro , we disappointed our guide by not buying a camel rug , ceramic tajine , natural herbal remedies , leather jacket and hand made rug (fixed price by the government no less ) , all in all it was an enjoyable tour . TThe tanneries are what you expect, but the "foul unholy stench" was a disappointment, I have had clients with worse BO!

Having exhausted the sights of Fes (didn't see a single hat) travel took us a few kilometres south to Azrou .Complete change in scenery as we travelled mountain roads through cedar forests. We stumbled across Irfan on our journey .In the Middle of North Africa a small town that looks as though it had been transferred from the Austrian alps .It does have one thing in common with Austria….expensive .

Camping Amazigh for 2 nights as we explored the area .Wonderful forests , lakes .Despite the slipping clutch we free camped for the 3rd at a crater lake Aziza . Chance for a big fire to keep spirits up

So TTFN

D, J, LB& Sid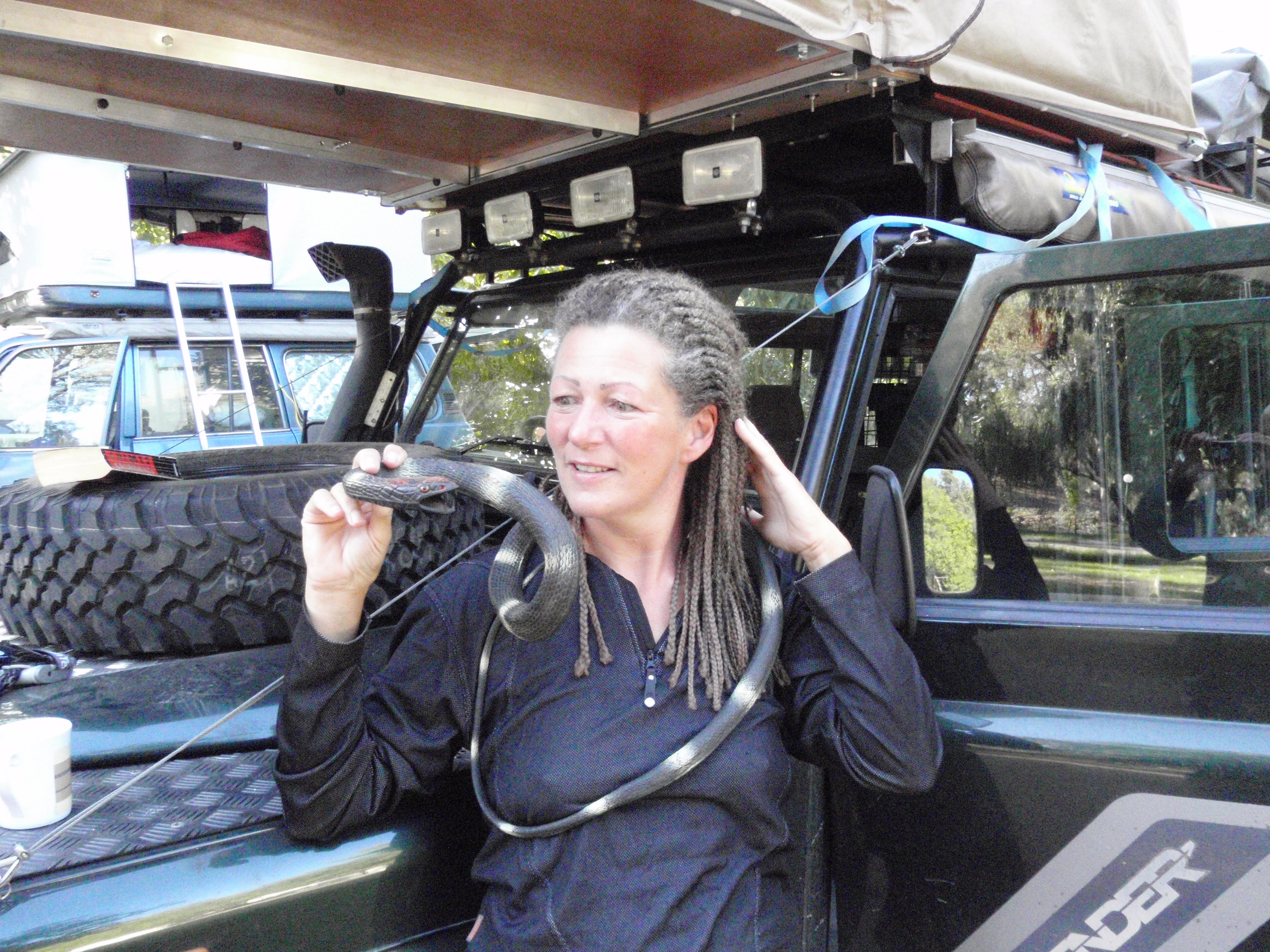 our new companion "sid"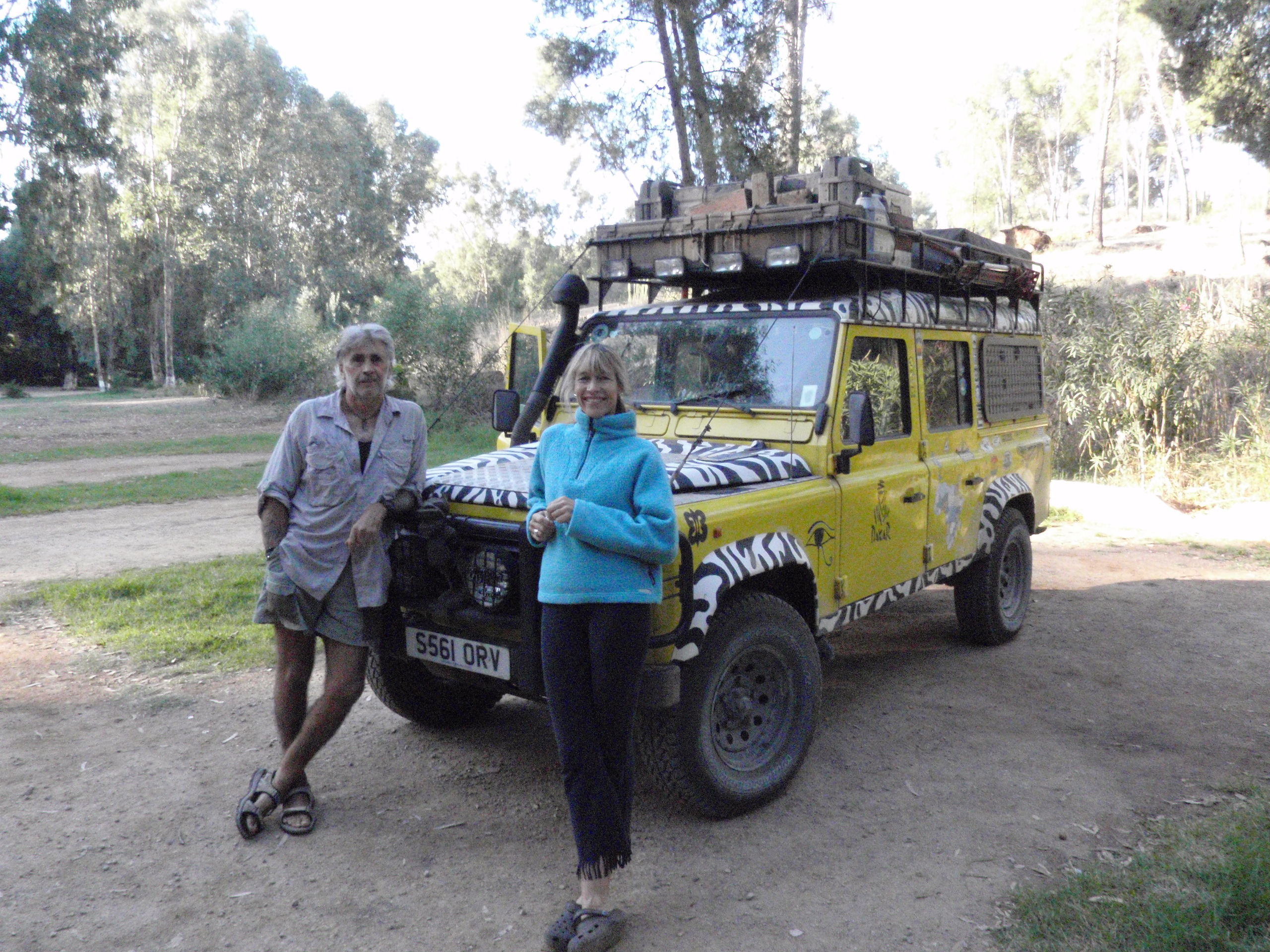 new found friends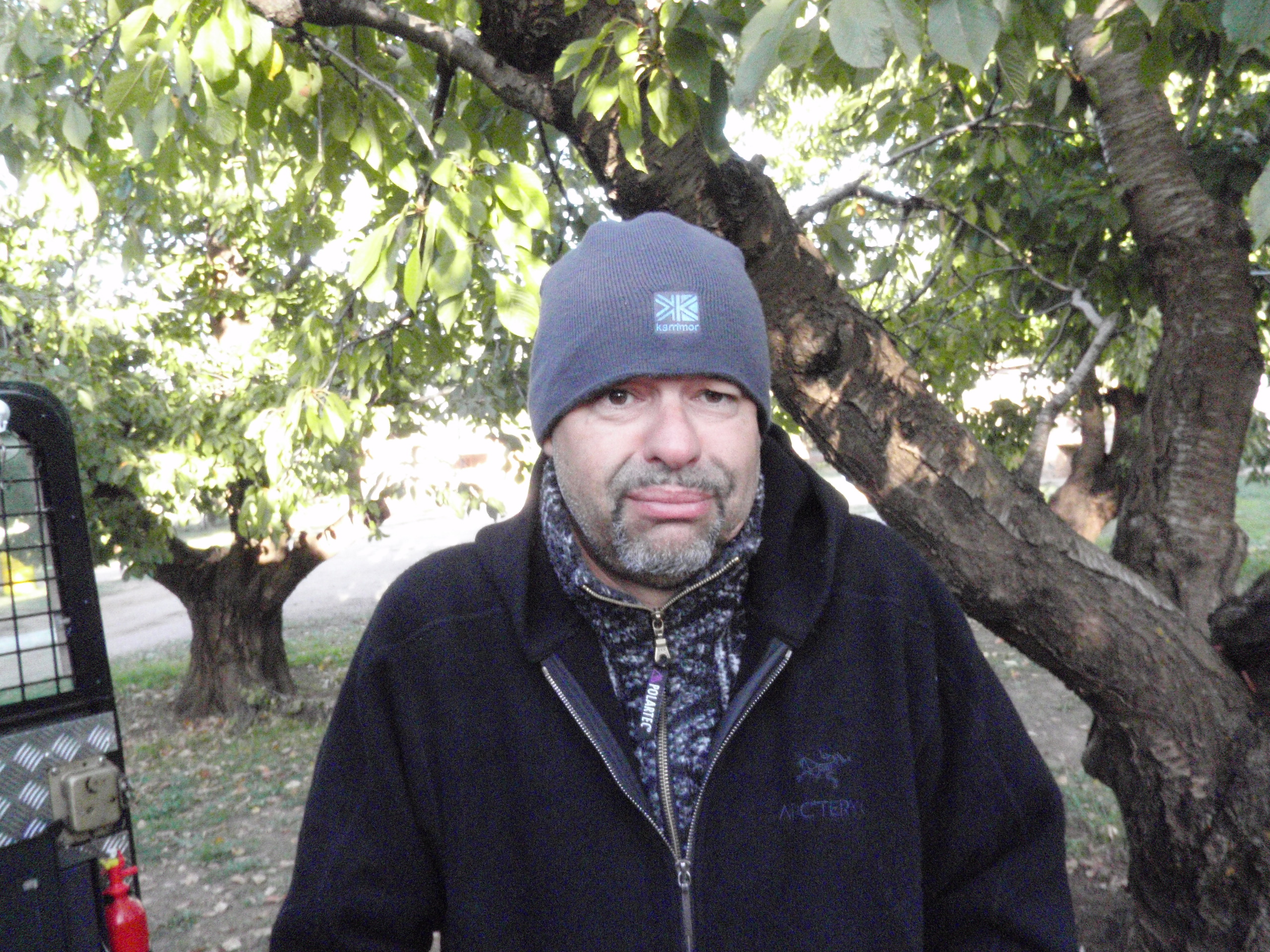 its supposed to be warm
And then there were 14!
Trusting in fate we purchased the tickets to Ceuta. 150euro one way. No going back now.
Arrived at Algeciras for the 13.30 ferry. High speed link to Africa. Suddenly 13 land rovers of all persuasions pulled up behind us. It was a Protrax party spending 10 days having fun in morocco. Jayne fluttered the baby blues and Charles (the leader and all round good guy) agreed we could tag along.
Arriving at the border , shepherded into one Queue 14 land rovers ( Lizzy as tail end Charlie ) 10 Euro and our fixer took us through all the relevant documentation and booths and 2 hours later we where in . So we didn't need an insurance document. 1st town, convoy stops and those (including us) purchase insurance £80 for the month. It took them 3 hours to issue 7 insurance docs.
Losing light fast we head to the costal town of Martil .Camped , no hot showers and loads of voracious mosquitoes .Discovered that beer was going to be a problem….they don't sell it . Bugger, why didn't we stock up in Spain. A six pack from the group was generously donated..thanks guys it was a life saver.
We went our separate ways, us to Chefchaouen, and them to Mekenes. Even waived as they past us, we of course, chilled out in a Café drinking coffee.
Overnigthed in Chefchaouen, set high in the Rif mountains, spectacular scenery. People even offering best "kif" in region. Had to refuse the offer as Jayne didn't want to succumb to "refer madness"
Short hop through farming country to Meknes .There is a camp site just by the city walls. Guess what? Closed. As we drove around following the camping signs we got very losy , Jayne ended up driving thro the Medina , hard work as a local in a car , bloody impossible in a 3 ton landrover with all the gear on board .So ended up at the only other site , 16 k outside city .it's a sad campsite .Run down , needing total refurbish but had a better past , pool , secluded corners with water features.
A morning in Volubis .The best Roman remains in Morocco .A full size town, including forum, baths, and triumphal arch. Jayne has now agreed to watch life of Brian (what have the Romans ever done for us…?)
Back to run down campsite for another night of fun and frolicsome s @ 60 d (£5) per night .I still wonder where 13 landrovers went to if the main Meknes campsite was closed . Perhaps someone could mail me? We have decided that a game plan of where we need to go will give us some structure to our travels. The big map has come out and journeys are afoot.
Keep watching this space for more exciting adventures
D, J & Lizzybus
Apart from the wine, roads, aqueduct, security, what else Reg?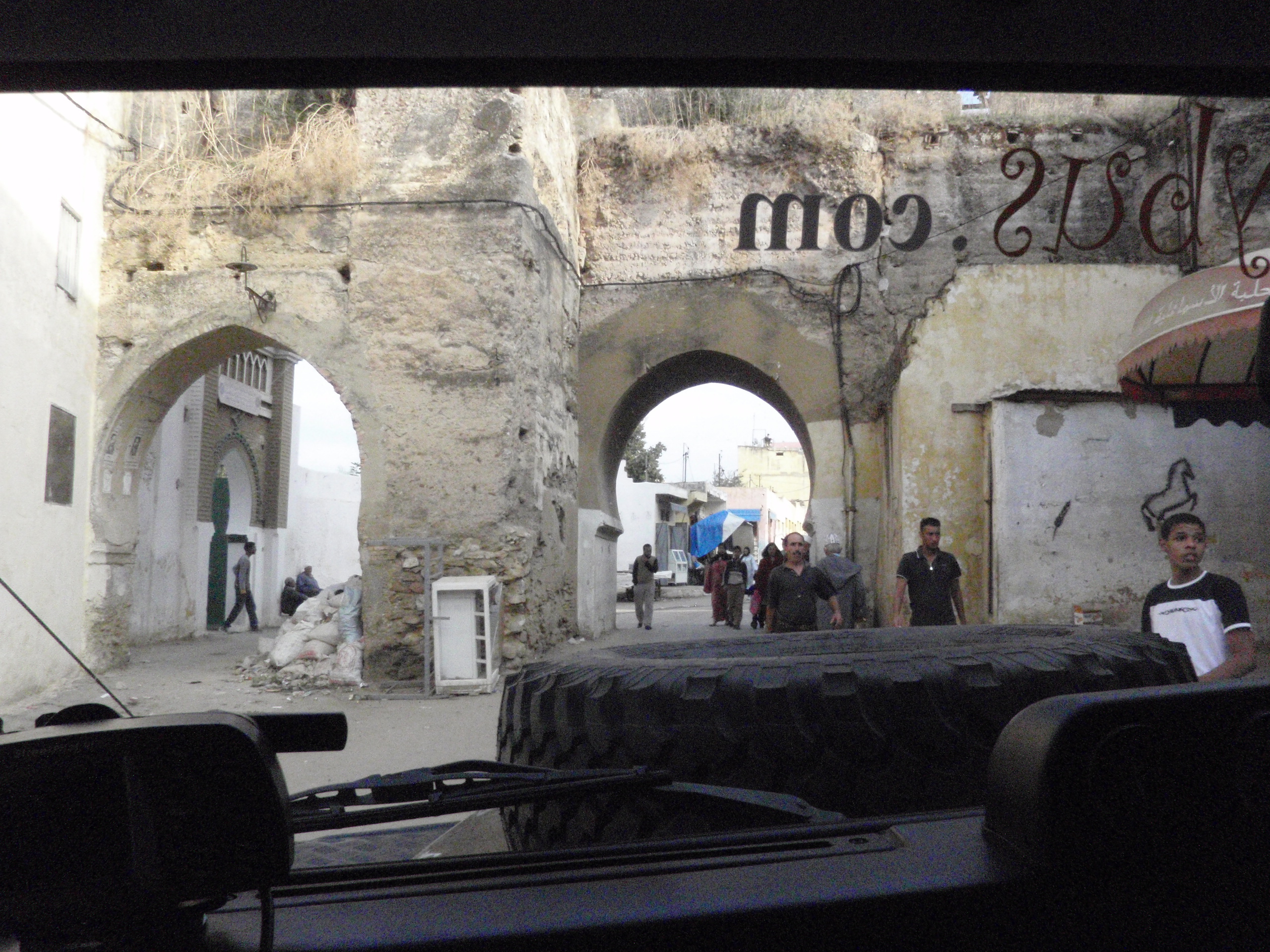 wrong turning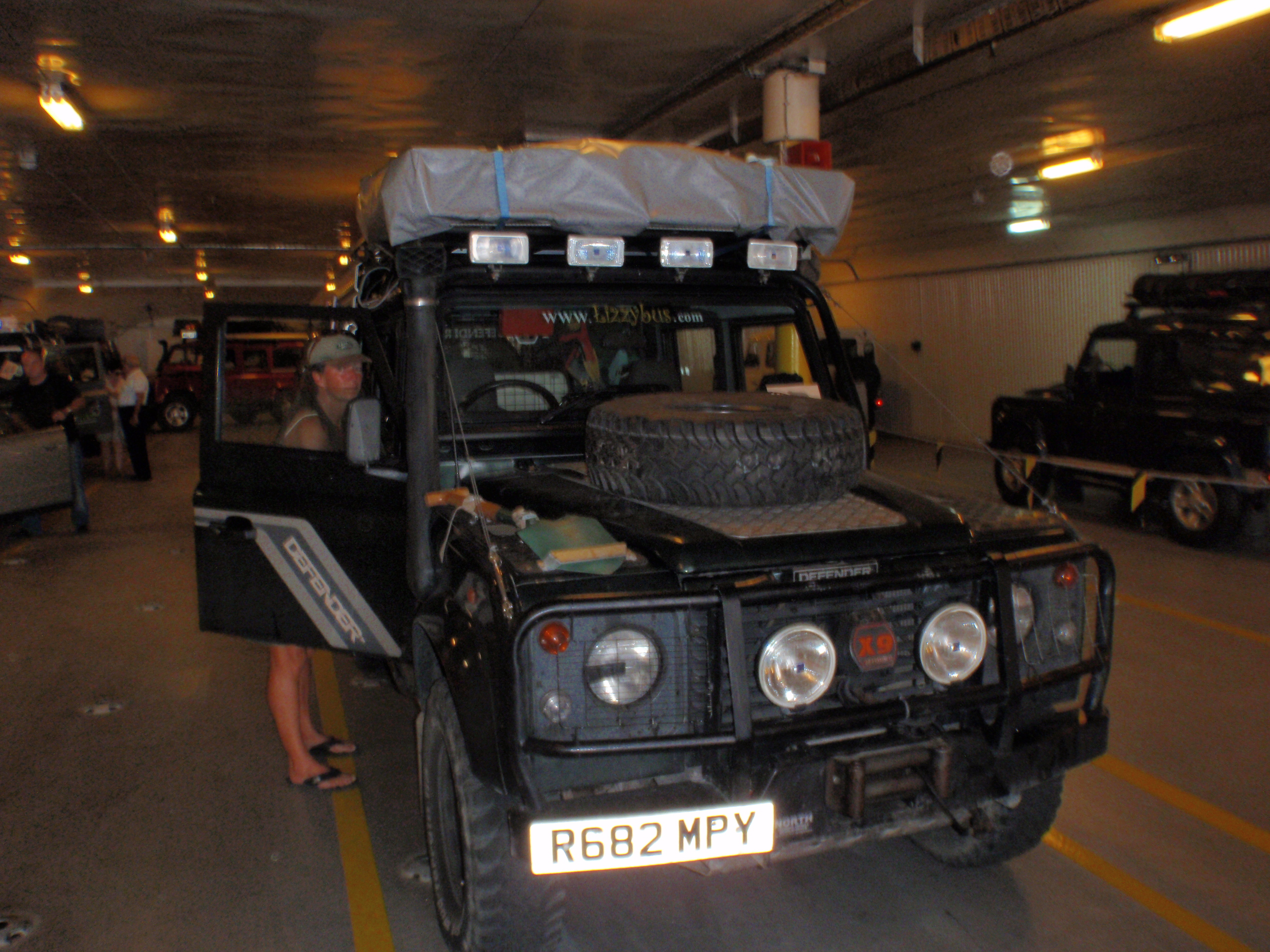 fully loaded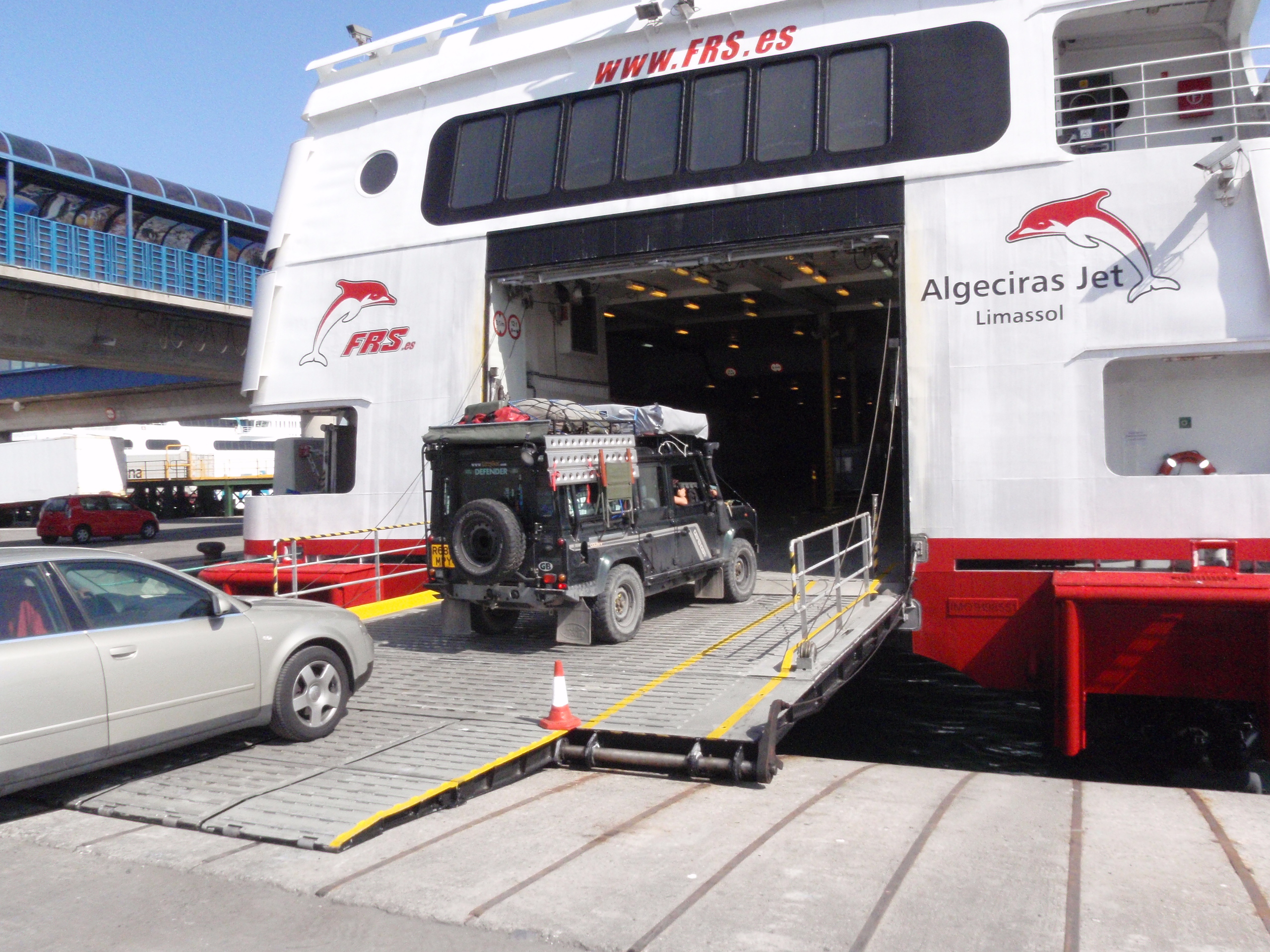 boarding the ferry
Gibraltar
Well we've hunkered down in Tarifa for a couple of days before the crossing to morocco. It's a very pleasant "surfer" type town, laid back; every other shop is a kite surfing store.
Lizzybus hopefully has been fettled (but she is a land rover).
We shall depart Algeciras-Ceuta on Tuesday 6 Oct. Ferry crossing is about 35 minutes and cost 150 Euro. As always we try to make life as difficult as possible. We have been informed that we need Insurance to enter morocco .In my infinite wisdom I had insured Lizzy with Lancaster Insurance .Their green card cover only extends to Europe and not ( as most do ) morocco. We may be denied entry .I had been lead to believe that you can buy cover in Ceuta, but that has changed. So phone calls to insurance company have lead to a point blank refusal for a green card….bugger.Then we mate Dave and dog on the site who says ,in the 40 years he has been coming here buy your insurance in the 1st town. They will let you into the country.
We will chance our arm; can always try a bit of baksheesh.
Because the camera went awol and Jayne decided she also needs a lap top , we went to the rock for a day. Driving down , we can see over the strait's the Moroccan coastline , it looks very close.
Ah the last bastion of britishness. All tax free. Well you may think we are in a recession and the pound worthless abroad? Well I can tell you that's not true in Gibraltar. I bought 2 tickets to take the cable car to the top of the rock. Total cost £13. We only had Euro…total charge 19 Euro ,an exchange rate of £1 / 1.46 Euro .So the pound is still a mighty currency. Thank you Mr Brown.
Most prices despite the tax situation are on par with UK.But we needed these items so credit, cards got flexed. Brimmed all the tanks before we left. BP ultimate diesel, £95 for 129l = 73 p litre (or if I had paid in Euro £1.06).
It was a great day in Gibraltar, shops close at 14.00 on a Saturday, and police officers talk to people. We had been advised not to drive across as the customs will give you a hard time on your return.No such luck then, 1 notebook and on Olympus camera later waived straight thro.
As is normal when travelling in Lizzybus, as we queue for customs a German cyclist from Stuttgart came over and asked to take our piccies…ah, so refreshing.
Well that's all
Off to the dark continent in 2 days time
The Rock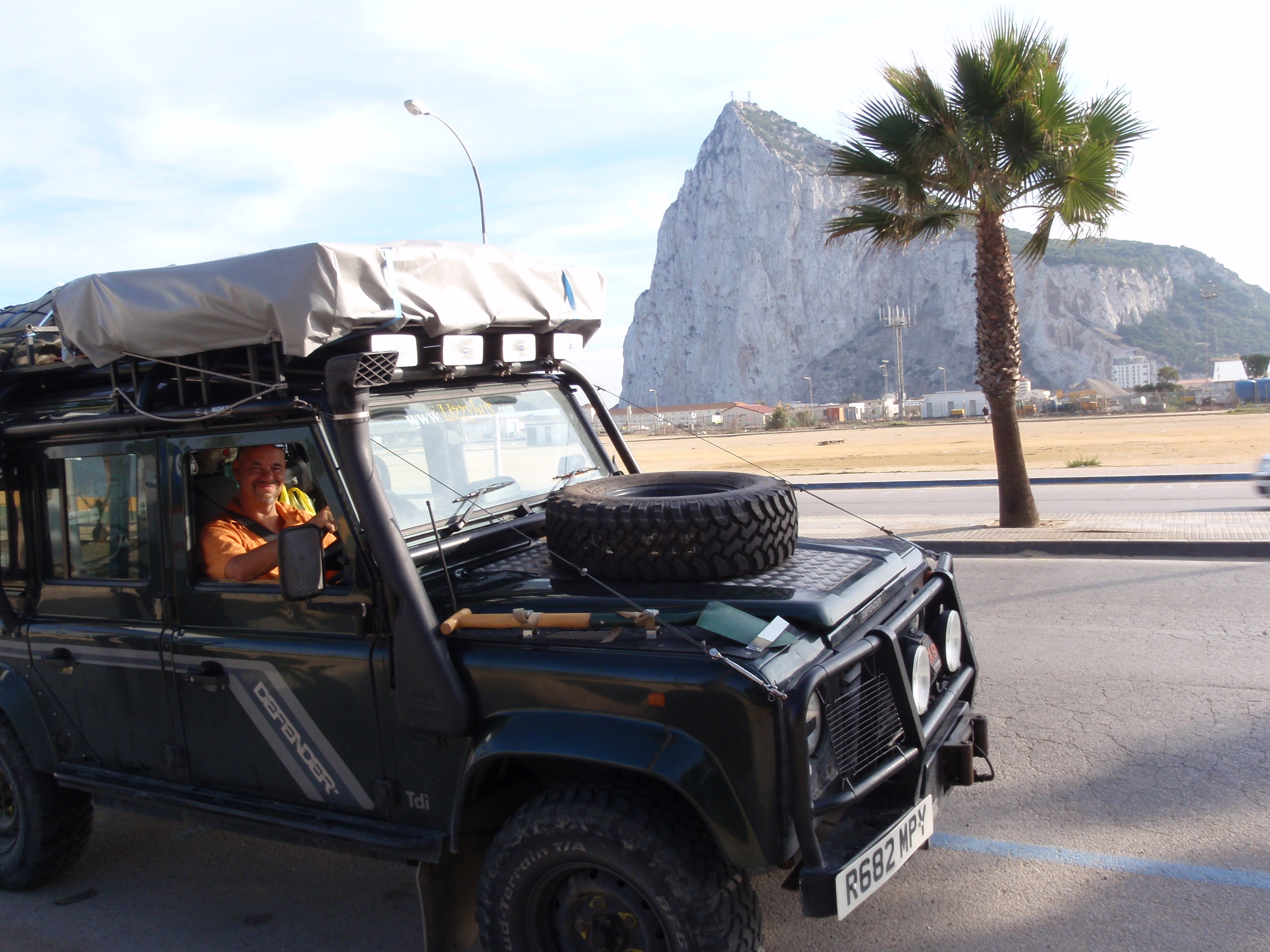 Hello children,
Do you want Uncle David to tell you more stories about Lizzybus and her big adventure? You do! Good, then if you are all sitting comfortably I will continue.
If you remember Lizzybus had been very ill and had to go to the doctors. She couldn't keep anything inside her and she kept leaking AP80/90 all over the place. It wasn't very nice was it .Those nice people at Redline Cars made Lizzy better but they noticed that she had a few other problems. So after uncle Richard and aunty Jenny took the big plane home and everyone was upset Lizzy had to go on a big journey. Lizzy was going to have a new pacemaker and wheel carrier fitted. Because the Landover that was giving Lizzy the wheel carrier had been sold she had to be in Estepona by the Wednesday. So she drove all day and nearly into the night. Isn't Lizzy a brave girl? When Uncle Ian saw her, he was so proud, his other Landover didn't have to travel around with a 6" spike on her .The pacemaker was fitted inside her
and that made the annoying red light on her dash go out .That day Lizzy went on a short holiday to the town of Tarifa. Did you know that this town is the furthest south in the whole of Europe? Well it is and they are so proud .it is also very windy and it seems that everybody there is a kite surfer.
Well Lizzie is having a rest for a couple of days to get over her treatment and then she is going to go to Africa.
So children, if you want to grow up as brave as Lizzy , always eat your vegetables and do what the grown ups tell you to do. I did and look what happened to me !
Lizzybus, David and Jayne
spare wheel carrier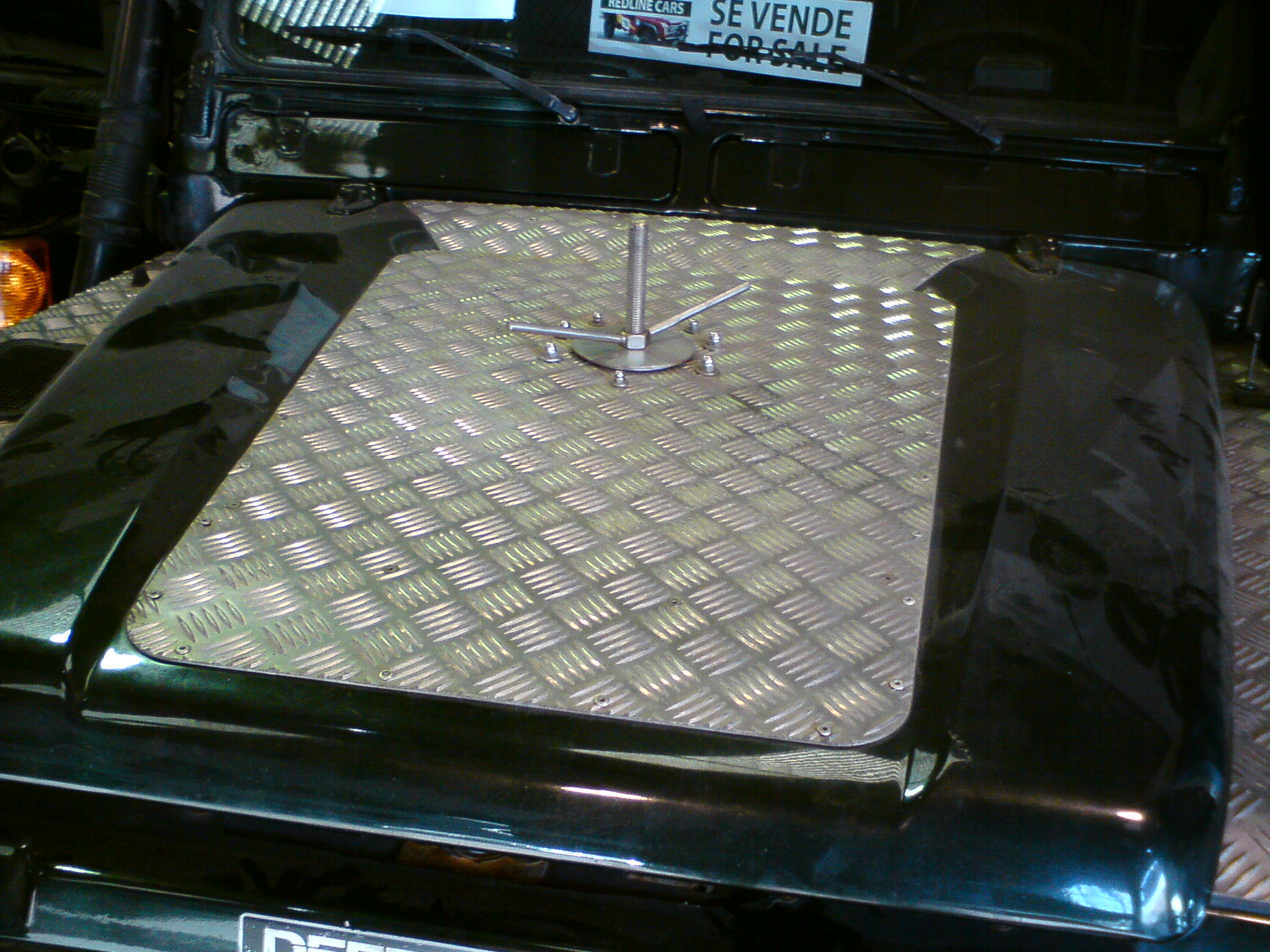 We are so, so sorry! 2 weeks and we haven't let the growing army of viewers into our comings and goings.
Broke the roof tent when "dimble brain" thought they where clear of a metal sun awning in the local supermarket! Doh…tent base now has a 4x3 inch hole in it and a bent bracket. Made good the repair with ply and part of next doors car awning .This was donated to us during a freak storm, when it was torn off its brackets and sailed into our front garden .In true "Nomadic" style we had moved on from the 2 bed apartment .We now reside for the last week in a 3 bed villa, 20 meters up the road. Having picked Jenny and Richard up we have had to endure 2 weeks of mornings in town drinking coffee and people watching. Driving across country down gravel roads to our own private beach (good practice for low ratio and the inevitable Moroccan roads), cold beers and the odd small meal at the lobo (cheers bob, 4 pounds extra on the waist).It rained on Tuesday flooding out most of the town including the restaurant, again all hands (well Jayne and Jenny) to the pumps in the great bailing out. We have discovered the lovely port of Aquilas, typically Spanish with little ex pat influence. The drive there through spectacular mountains affords you the opportunity to pick fresh almonds, pomegranates and figs from the side of the road The "Guns of Mazarron", apparently inspiration for Navarone .2 huge navel guns high in the mountains protecting Cartagena. During one our forays into Sierra del Moreras , an off road haven of gravel tracks on the way to our private beach ,Jayne informed me that next to where they where sunbathing , a photographer was taking "adult" pictures of his scantily clad model before they both cavorted naked in the sea . And where were Richard and I? Typically fixing the roof tent and missed the whole show.
It's been great to Jen and rich with us to share some of our experiences, but with all things it must come to an end. On the 29 Sept we press onwards to Algeciras and the trip across the straits to Morocco. Will visit the rock and replace my camera that somehow has got lost (and can't find its way home)
It is a sad day in the Lizzybus camp as I write this. Two weeks have passed us by at breakneck speed and we have taken Jen and rich to the airport to return to the UK. This has been especially hard for Jayne as this is the second time that she has left her twin. I know Jenny feels exactly the same. I even shed a tear at them departing.
So, time to sign off,
Lizzybus, Jayne and a "dimble brain"
Beach Road.Spanish style
Did we soldier on? ready to tackle the dark continent and adventures that await .Did Lizzybus acquit herself with dignity and pride? The answer my friends… no .We chickened out.

"CLUCK CLUCK" (not clonk clonk).Caution was not thrown to the wind in this tale. We found an apartment in Bulneavo for 400 euros per month. Our tale is that of a swimming pool, beach 100 yds away, microwave, double bed all the comforts of civilization.

Lizzybus was duly booked in for repairs 300 miles away in Estepona with those ever so nice people at Redline Cars. Jenny (Jayne's twin) and her husband have decided to fly out and holiday at our des res for 2 weeks from the 12 Sept.

2ndSept drove down to Estepona. 7 hours turned up, free camped on the beach taking in the generous hospitality of a beach bar (it's a tough life but someone has to do it).Redline repaired the transfer box by replacing a small O-ring on a secondary shaft. Well if NASA can't get it right on a shuttle what chance did Landrover ever have? When we return they have a spare wheel carrier on a bonnet for us.

Jayne very generously volunteered to decorate the "lobo de mar" for Gayle and Bob. It has been a strangely fulfilling week of painting walls, doors, shutters .The place looks great after the makeover, it looks refreshed. Our fee? Fine food and something to do in the daytime.

We are now in the process of repacking and sorting everything out (again) before our visitors. After that we will be back on the road…normal service will resume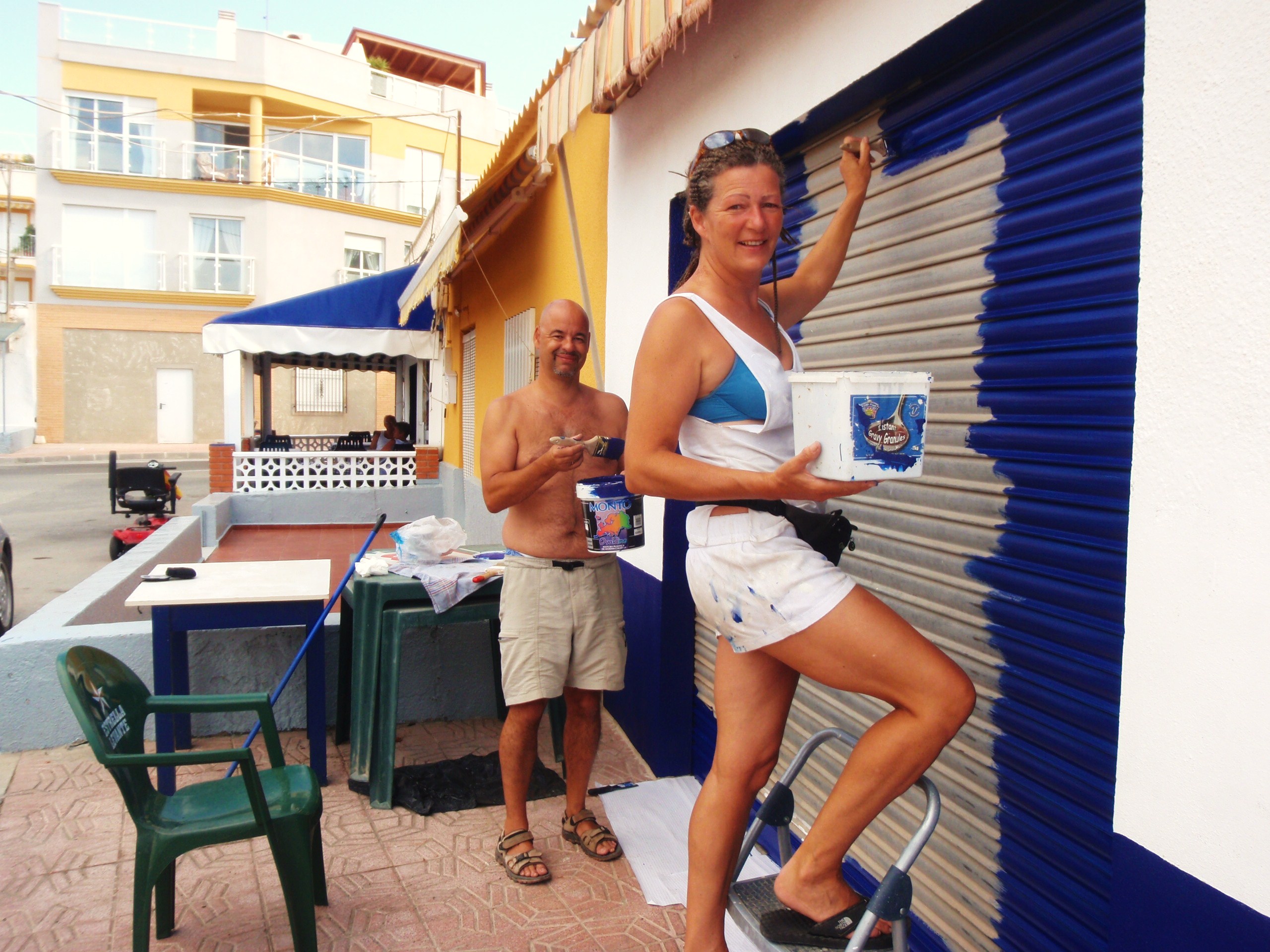 new found vocation